Written by Phil Bradburn - https://untrainingultrarunner.com
"There is nooooo way that I am going to run this race – I have seen what it does to people! And those swans…. And those dodgy people around Milton Keynes hiding under bridges like trolls….. and the mooring hooks that everyone trips over, and the low bridges that runners crash into…. And those bloody fishermen with their stupid long carbon fibre poles who make you hurdle them on Sunday morning as you approach Hertfordshire…. NOOOO WAAAAAAAAY!". Me…… September 2017
So obviously just over 6 months later I would find myself stood on the start line in Birmingham ready to run the race. That's standard practice right?!
Pre-race
The run up to the GUCR was far from perfect for me. I had injuries galore (I had not been 100% since the Grandslam in 2017 and had picked up a minor injury on a marathon (Moyleman in February) and as a consequence had a few weeks of on / off training and low mileage. You can read more about my whining and see the inevitable kit laid out here. Nevertheless, I was manning up and I was feeling ok about the race and very excited to get started. I had assembled the most amazing set of crew and buddy runners and issued detailed instructions on how to handle me.
Friday before the race
On the Friday afternoon we headed up in the car, after ramming my friend Marek's car full of gear and food. At points I thought we would never fit it all in! I certainly don't travel light!
Anyway, I had left Marek (left) and Susie (Right) to get on with it while I went to the loo. I was too nervous to help much and was just getting in the way.
Soon we were on our way and we were contending with shit traffic for the whole journey despite leaving our house around noon. There is a lesson for you boys and girls – traffic is shit on a Friday of a bank holiday weekend!
Anyway, we were having the best time on a road trip and I was getting chance to check out the pre-race chatter on facebook and to start panicking about how come I didn't know that I had to take completed reverse sides of the race numbers with all the details of emergency contacts! I had read and re-read all the details and documents and don't remember ever seeing it. Then I found the bit and then started worrying even more that I had completely forgotten to take in some vital detail that would probably get me DQd or something. I was really nervous then! ARGH! I checked the weather forecast – well, that was a shit idea! It was getting hot and wet for the weekend! with Thunderstorms. Oh… JOY!
Registration
Anyway. We eventually got to Birmingham to torrential ran! We were staying in the Premier Inn, on the other side of the canal to the start line. We dropped our stuff off there and then quickly made our way to registration in the Travelodge and picked up a sheet with a new diversion on for the race, and my race tech t-shirts and hoody, plus buffs. I also signed the disclaimer.
Soon we were off to O'Neills for the traditional pre-race meal (burger and chips and a couple of pints since you ask). And a quick catch up with Mark Thornberry, Karen Webber and others. I spotted Joanna and Stephen Turner as they were leaving (but they were out of ear shot so I didn't bother trying to catch their attention).
Around 8pm we left and picked up some water at the supermarket across the road. The whole place seemed to be full of runners who all stuck out amidst the nightlife of Birmingham. We bumped into Jo and Stephen. She was crewing and buddy running for him. I'm sure I'd see him tomorrow on the race.
We made our way back to the hotel in the drizzle and after seeing Mark Thornberry and Karen Webber we made our way to bed. Sorted my stuff out. Set a tonne of alarms and tried to get some sleep. The night before I had managed zero sleep with some flight path change in our village and I was pretty exhausted and also a bit pissed off. This was my last chance to get rest before the race.
Morning of the race
We woke up around 4:30am and had porridge and black coffee – and tried to have some nervous poos. Nothing was working properly yet so I'd likely end up crapping on the side of the canal in Birmingham at some point! But thankfully things rectified themselves and I was able to "go" before leaving the hotel at 5am.
Milling around in Gas Street
Stood around at Gas street at the start, I was feeling a bit nervous. Lots of tough runners and I knew that over 40% just wouldn't make it and a fair chance that it would be me. I have had some disrupted training this year and my build up didn't quite go to plan but none the less, I did manage about 300 miles of training in April and a good couple of 70 mile weeks at the start of May before my taper – so I was fairly ok with that. Not everything goes to plan and I guess that is part of the beauty of doing these races.
What I was less ok about was starting the race feeling exhausted. My sleep was interrupted on the Thursday night due to never before heard planes circling over our village. Gatwick must have changed its flight paths. It made me angry. Then Rob Pinnington told me to man the fuck up or words to that effect in a message on Facebook and that seemed to do the trick. Friday night was a better night sleep in the Premier inn just overlooking Gas Street in Birmingham. But I still felt pretty knackered. Not the ideal start to a race that would see me running all weekend.
We milled around at the start. I was reminded by James Adam's blog that it looks like a reverse Graduation ceremony – lots of youngsters standing around seeing their older parents off! Bumped into a few friends and crew of others. My wife Susie and friend Marek were there to see me off. Marek had driven us both up there on the Friday (5 bloody hours to Birmingham and it had rained overnight)
Soon Dick motioned that we should go down to the canal for the briefing. He didn't want to start late like a previous year. While I was stood there listening to him do the briefing, I found it a bit of an out of body experience – I had seen so many race briefings at the start of GUCR on Youtube, and it was hard to think I was actually experiencing it for myself.
06:00am – Gas Street Birmingham – Start
We soon shuffled off into a half jog before the canal path went through a tunnel and then widened out. The usual chatter. Been here before? Done this one? It's hard isnt it? All that kind of nervous chat while you each other weigh up the extent to which you should feel out of your depth. I had a brief chat with Paul Gilbertson as we jogged along the canal. He was looking like he might be fast! So at some point he pushed on.
I had agreed to meet Marek and Susie at the first yellow crew point – just before Catherine de Barnes Bridge which I remember being pretty rural by that point.
I soon joined up with a chap called Rod and another chap who were running together. I am useless with names so I'm sorry if that was you! We were just enjoying the miles and in some ways it felt easier to be running my pace but chatting to others.
The ground was good. There was a little bit of spitty rain, but nothing bad at all.
07:42am – Elmden Heath – 9.7 miles
I had been running well, but was low on water so I filled up when I saw Marek, and Susie. But there were no snacks – so I asked for some savoury and some sweet at the next crew point about 5 miles later. What I learned is that all the crew points were "about five miles later" whether they were 2 miles or 8 miles. That's clever motivation.
08:22am – Knowle Locks – 13.7 miles
I spotted Susie here and grabbed a bag of sweets and a bag of savoury food. In practice it was crisps and some salted peanuts, and some Haribo. Susie had said she got to hold an Olympic torch from 1948. And a chap had borrowed it from Jeffrey Archer and was using it to raise money for Sense – the charity. They are doing a relay with it from Much Wenlock to Crystal Palace. Susie was so happy about holding the torch! I marched out of the checkpoint and munched all my stuff til it was all gone
09:02am – Kingswood – Bridge 65 – 17.2 miles
I'd grabbed a couple of ham wraps from Susie and I'd eaten them both during this section. The first one coming out of the crew point. I was hoping it had not developed mould as it was next to my sweaty body (was remembering Dawn Gardner's incident !!!)
10:07am – Hatton Top Locks – 22.5 miles
This was the aid station 2. I came running in and saw Susie next to the café. I asked for a calippo – she went to get one for me as I munched on my ham wrap on the way to the aid station. I saw Karen Webber and the other crew for Mark Thornberry here – and I filled up with some squash at the aid station. Susie passed me my calippo as I left.
My shorts were really pissing me off – and I had for the eleventy billionth time managed to scrape them out of my crotch. They kept riding up and pissing me off and was actually thinking of ditching the fucking things altogether on the race (obvs still running with compression shorts underneath!)
Thanks for the photo Ross!
I left the aid station munching my calippo.
Chap on canal: "Is this a sponsored walk today?"

Me: "It's a run from Birmingham to London – non-stop, for most of the weekend"

Chap on canal "Yeah fella… are you sure?…. it's just that you're walking!"
I could see Fi McNelis in the distance – but I couldn't catch her – she was going super strong. I had to stop briefly to wee (checking the colour – which was looking darker than it should…. so I realised I would have to up the drinking).
I finally caught up with my favourite Slam friend Georgina Townsend. When we both did the Centurion Grandslam in 2017, we would regularly spend some miles together because we would have a tendency around 30 – 50 miles to run at a similar pace (i.e. I could keep up!). A swan stood in our way. Protecting her cygnets. FUCK OFF SWAN! It just stood there hissing at us like a big white snake and doing her job well. A passer by helped to distract her while we pushed past behind.
11:09am – Bridge 42 – Ford Plant – 27.4 miles
I got a top up of bottles and pushed on. I caught back up with Georgina and the others and just got pulled along for some good easy miles. I went through the 31 mile point just before noon . Neither me, nor my crew remember anything at the next crew point.
12:49pm – Blue Lias – 35.1 miles and then Birdingbury Bridge CP
I was really hot at this point. I was getting regularly doused with water to keep cool but I was a little bit off the pace and had dropped the group. I picked up the back piece to my hat so that I could keep a bit cooler. I soon hit the aid station, saw Keith Godden and moaned about the heat and filled up with water. I bumped into Georgina again, and said that I'd see her shortly when she caught up with me. I was feeling way too hot and bothered and super grumpy! This wasn't going to be a good day. I had my crew moaning at me about not drinking, but I had been refilling at aid stations too – and having extra drinks along the way.
2:01pm – Jacksons Bridge – 40.1 miles
When me and Georgina run together we have such a great time – just chatting shit and moaning – which is great because it is only ever a positive experience. I rarely speak to other runners while on a race but we both seem to be able to groove along and chew up the miles as we do. We eventually bumped into Ian Shelley – hugs all round and we had a bit of a catch up with his race so far. He told us a runner had ended up in the canal trying to avoid a cyclist. I remembered that I had to clamber over / through a tree at some point but can't for the life of me remember when or where it happened.
After a few miles and still chin wagging as usual, and moaning about all kinds of stuff we jogged down the side of a bridge and spotted my whole crew! Hugs all round. It was beautiful to see everyone.
3pm Braunston Marina – 44 miles
Our crew said that there was ice cream ahead! WHOOOOOOOAH! Music to our ears. So we headed off at breakneck speed to go get ice cream. There's nothing more motivating for us two it would seem!
A few miles later, hoping we would find the rumoured source of calippo and ice creams we had been hearing about we accosted a random chap….
Us – "Hey, is there an ice cream shop here?"

Him – "There's a stop up there. At a pub. It just beyond 2 bridges and there are refreshments"

Us – "But…… ice cream shop?"

Him – "There is an aid station"

Now that didn't seem right at all to us……

Anyway, we saw a sign for a shop and ice cream at that second.

Him – "Wait for the aid station – they have refreshments"

Me and Georgina looked at each other and I could tell we were both thinking that this guy was an obvious imbecile……

Us – "Or….. we will go get ice cream now!"

No bloody competition is it!
So we grabbed ice creams and cold drinks (I had a calippo and a strawberry milk drink) and walked while we ate. A couple of other runners looked super jealous and relayed a similar convo with the random chap.
We got back to jogging and ran on. Eventually we made it to the Buckby Top Lock. Georgina was running low on drinks and I told her that my crew would sort her out. My shorts had AGAIN stayed rammed up my crotch!
4pm – Buckby Top Lock – 48.5 miles
It was lovely to see my crew. I had stones in my shoes and Paul Pickford cleaned them out (or so he says!) and when he was putting them back on me he pulled my leg up….
"ARGHHHHHHHHHHH" i screamed.
Thinking I was cramping, he tried to straighten out my leg even more… I turned the air blue! In fact my arm muscles hurt so much from bracing against the intense pain.
Anyway, stocking up on more junk and getting ice cubes shoved in various places (buffs around wrists etc) I headed out with Georgina for the next bit. I got two calippos as I left the crew stop (Thanks Vanessa!) and a tonne of ice poured down my back including down my arse crack. Which stung like hell. As we were going under the road I discovered I had an ice cube down my arse crack.
"Georgina – here is a calippo you can have – I have two!…. But….. we need to stop. I have an ice cube in my arse. Can you do me a favour?"
At this point Georgina looked fucking horrified "Ummmmmmmmmmmmmm………."
I realised what I said and clarified quickly that I didn't want her to fish an errant ice cube out – just to stop and hold everything else while I did FFS Georgina
Me: I have ice down my arse crack. I'm gonna have to get rid of it.
More jogging….. and then we rounded a corner and spotted my crew again at the official checkpoint
Thank again Ross Langton for the photo.
You can see how bloated and fat I was / was feeling! And my shorts up my fucking crotch AGAIN!
5pm CP4 Heart of England – 53.1 miles
We stopped here briefly. My crew was moaning at me that I wasn't drinking or eating. I gave some half arsed excuses and then got on my way. Georgina was still in the aid station and as I passed she said she would catch me up.
I ran on and I knew that this next section would be hit and miss in terms of seeing my crew but that I would see them at some point probably around 60 miles.
Anyway, the temperatures seemed to be getting higher and I was starting to feel a bit sluggish. I saw Jo Turner a couple of times at various non-descript places along the route, and then I went under a bridge and recognised it as where I should have been able to see my crew. They weren't there so I figured they may have gone on to the next point. But I didn't see them there either. I was getting grumpy because of the heat and I was slow. I walked. I jogged.
It was at around this point that this happened:
Random lady: Can I ask? What is it you're doing?

Me: Run from Birmingham to London

RL: Oh right? Is that like a marathon?

Me: 145 miles.

RL: Where will you sleep?

Me: It is non stop – probably have a few short kips

RL: Are you doing it for charity?

Me: No….. just for kicks!

At this point RL shouts after me YOU'RE CRAAAZZZZEEEEEEEEE
Eventually it occurred to me that it was starting to get to late afternoon and it would be going dark soon. These miles wouldn't click away at all. I was getting irritable. I know it is hard for the crew (I had done it the previous two years and getting between places was difficult – but I was starting to fear that I wouldn't see them at 60 miles either and I would have no headtorch to get to the 65 mile point where I would be able to meet my first buddy runner – Tracey Watson. So I phoned my wife and moaned a fuck load about needing water, torch etc and that I'd managed to miss my crew. She said she would find out what was happening and let me know.
I felt better instantly. I knew they would be doing their best but they didn't know how slowly I was moving so probably had unrealistic expectations of when I would arrive with them and I didn't want to be in a position of where I wouldn't be able to complete even half of the race.
I came across another crew and managed to bag some water off them. It was then that one of them noticed my Steigen socks (they're Australian and the only ones that I wear these days because they're so thin and comfortable and didn't get a single blister during the slam last year and the chap explained he had been responsible for getting them ot the UK and US). We had a chat while I drank their water. They were tended to their own runner who was getting what looked like a lovely massage and his legs were on the ice box. I felt guilty when his crew made him move his legs so they could get something for me! Anyway, I had a nice drink of water (I'd got bored of my own – it tasted funny and hot).
On I trotted, in search of the bridge crossing so that I could avoid the Northampton Branch. As I switched sides of the canal I came across Jo Turner and a lady and child who had a cool box.
Jo – "anything you need?"

Me – "Yes….. icecream?" I ventured tentatively – not expecting anything to come of it

Jo's friend – "here is a calippo – it's a bit melted but you can have it"
I was ecstatic! so I skipped down the canal (metaphorically) and poured the melted strawberry / cream calippo into my gob.
7pm – Gayton Junction – 60.6 miles.
I was pretty grumbly here. I got a bad time for not drinking my water (but I had other stuff but no one believed me LOL). It was lovely to see Paul, Lou and Vanessa. Hugs all round. They told me to get moving and they would see me at the Buddy pick up at 65 miles. I had a little sit on the bench. We saw Mark Fox who asked me about Chris Larmour (his runner) but I didn't know at the time who that was.
I ran on. I was desperate to get through the Blisworth tunnel section before dark. This was the bit where you divert away from the canal for a mile and a half before rejoining it. I didn't want to be running in the traffic in the dark (albeit with a headtorch) because I had read horror stories in other blogs about runners missing the turning.
My fears were short lived. Steve Turner was just ahead of me and moving really well and I was enjoying some good running as the temperatures were coming down and there were some downhill tarmac sections.
Eventually I rejoined the canal on a beautiful bouncy track surface – I really was bounding along like Tigger! I reached Stoke Bruerne but no sign of my crew. I hadn't looked ahead at the instructions so I didn't know where I was going. I phoned Susie and we established that I was at the top lock – not the bottom one. So I carried on until eventually I spotted them.
8:23pm – Stoke Bruerne – 65 miles
My crew – and others were there. Also spotted friends Paul Commons and Karen Grieves who were there for their runner – Ian Shelley. I changed into my warm top, had a pot noodle and put my main headtorch on. After a stop we left there at 8:23pm – with Tracey Watson my buddy runner – and with Fi McNelis. We were looking for a bridge to cross – couldn't see it so we crossed another one.
I put on some good jogging for a bit and then needed a wee. I told Tracey I needed to change my shoes from my trail shoes to my road shoes so I'd like to make sure that my pale blue new balance 880s were in the car for the next point. She texted once I stopped for a wee.
I think we were making good time and after a little while we saw Navigation Bridge – basically the half way point – and I was delighted to be hitting it in the twilight! That was the sign that the run was going ok. I knew that a lot of people drop here so I was pleased I was feeling good and that I felt full of beans!
9pm (ish) – Navigation Bridge 70.5 miles
I was in and out of the checkpoint quickly – only giving my number and we pressed on. Some good jogging going on and we were with Stephen Turner. He's such an amazing runner and he and his wife had just been to Romania for a race. He had also done TP100 a few weeks earlier. I don't know how he does it! Anyway, I didn't have any business being as close to him as I was and generally we were leapfrogging along this whole section.
10:50pm – Proud Perch – 75.8 miles
I was still grumping about my shoes. I was being a total asshat. I needed my shoes. But just didn't have them. So was getting super grumpy. I shoved some caffeine bullets and headed off again with Tracey. I had changed into New Balance Zante V3 which gave me some much needed relief as they felt much lighter on my feet and they had more cushion in them. I would need to change when it rained though – because they have zero grip – but for now they were nice. We didn't seem to see any nightlife through Milton Keynes – perhaps the weather kept them all indoors! I was now drinking Mountain Dew but the problem was that I was suffering badly from being burpy, bloated and indigestion.
I was mainlining Rennies to the extent that my crew were googling "calcium carbonate overdose"
00:20 – Peartree Bridge – 80.4 miles
This was where I buddy ran with Pickford in 2017. I had a sit down. Got stones out of my shoes and faffed for a few minutes while I moaned some more about my pale blue new balance shoes. Marek was saying that he could get to this point in 20 minutes – but I decided to press on – he could meet us later and before it rained.
As we left the checkpoint it was spitting. Soon after Tracey insisted that I stop to put on my jacket because it was threatening to rain. We saw Stephen Turner and he was still running in short sleeves and insisted that the rain would "blow over"
01:29am – CP6 Bridge 99 – 84.5 miles
I got into the checkpoint and Tracey handed me over to Pickford. I had my jacket on already because Tracey had made me put it on incase it started to rain – which it had already – but was only light at the moment.
I had another moan about my shoes and switched into some Pearl Izumi Road N3 which were more sturdy than the NB Zante v3 and had some grip incase it rained. The aid station people had told me that it was a lot of tarmac for around 8 miles. So I judged that it would be the right shoe choice.
This whole section is a bit of a blur but essentially it pissed it down. A lot. We had been pressing on and seemingly with the thunder, lightning and heavy rain all the frogs and slugs and snails had come out for a party. Frogs. Loads of them. During the biblical rain and thunderstorms overnight. I accidentally crunched some of them. I thought I was hallucinating anyway. So it's almost like not real.
It was weird too as, even with the canal on my right hand side, there was the illusion that we were running up hill. Such an odd experience. I commented on it at the time to Pickford.
02:10am – Soulbury Three Locks – 87 miles
We saw Vanessa, Susie and Lou here. This crew stop is near a pub and we spotted Jo Turner waiting for Stephen. Cuddles and hugs and more Lucozade and a lump of chocolate. Made my spirits soar
03:15am – Tesco Leighton – 90.5 miles
I'd had a brief sleep on a bench when it had got a little warmer. Pickford had shielded me from the wind and let me have just five minutes sleep. I was so tired I just needed a quick shut eye. I didn't actually get to sleep but the rest was really good and I had been aware of my pace dropping.
04:28am – Slapton Lock – 94.2 miles
We met Tracey and Pete here. They were not letting me sleep in their lovely car so I grumbled and marched on. We also saw Jo waiting for husband Stephen here. He had had a sleep so was full of energy and soon bounded past. We had had thunder and lightning and heavy rain most of the night.
06:10 – 06:40am – Grand Junction Arms – 99.5 miles
I arrived at the aid station and felt like I had broken the back of the race. My pace was reasonable but I really, really needed a sleep. I walked to the car up what seemed to be a cliff face! and got into the front of Marek's car. I was finally united with my pale blue new balance YAY!
I took my old socks off and noticed a big blister from the soaking during the night. I changed my top into a short sleeve one for the day time. Susie had passed me a new pair of Steigen socks. I noticed when I put one of them on that it was a 3/4 length sock. I had made an error when I ordered it from the website because I prefer 1/4 or 1/2. Anyway. I moaned about it to Susie. I already had one on. She said I could have a different pair to put on, but I couldn't be fucked. I would rather just put the second sock on and moan like fuck!
Snuggled up under a blanket and tried in vain to stop the light keeping me awake, and the pinging noise from Marek's phone from keeping me awake. I had 15 minutes, plus an extra 5 minute snooze before I was moved on from the comfort of the car.
I thought I was hallucinating my nut off at several points of the race. Bloody pandas across the other side of the canal. Like the Godzilla tree that I saw near Tring…… and the hanging ape off some old disused factory! The things you see on the canal!
08:00am – Cowroast Lock – 102.5 miles
This is where possibly my biggest disappointment. The crew were there. The whole crew AND WITH MCDONALDS BREAKFAST!!!!!!!!!!!!!!!!!!!!!!!!!!!!!!!!!
I went and sat on a bin – keep it classy Bradburn! I eagerly got started on a hashbrown. But a few bites in – I couldn't take any more. I took a few bites of the double sausage and egg mcmuffin and struggled too. Damn my stupid body !!!!!!!!!!!!!!!!!!!!!!!!!!!!
I even had Susie give me it component by component – but I couldn't even do that. I felt a failure at being able to finish a fucking McDonalds. How weak am I? Usually I can hoover one down in 2 minutes flat and here I was struggling like an idiot. I couldn't even drink a cup of coffee. I'm useless! I felt like I had let the crew down because I had failed a Mcdonalds!
Off I headed with Paul once again and next point he would hand over to Tracey.
08:23am – Berkhempsted – 104.3 miles
I didn't stick around at this point – we had 2 minutes only just to change things over from my buddy Paul. As we left I asked Tracey if she had the maps? No….! Paul still had them, so I walked ahead and she went back to retrieve them. I then demanded my sunglasses then decided I didn't want them. I'm such an asshat.
Anyway, as I carried on I eventually saw Lou Fraser with the maps and we walked together perhaps for a mile while Tracey caught back up. Was nice to see Lou and have a walk in the warm weather. I stopped and moaned about stones in my shoes. Emptied out some non-existent stones and then marched on saying goodbye to Lou. Tracey caught back up with me before the next bridge crossing.
9:40am – Boxmoor – 108.5 miles
We bumped into Jan Strachan here who was out to see us come through along with other runners. Lou and Vanessa were here to tend to me. I didn't stick around and we soon got on our way. I remember last year buddy running here and we had somehow got stuck in the car park of the pub.
11:35am – West Watford – 115 miles
Changed back to Paul to buddy run with me. I found it hard to find somewhere suitable to sit such that I would be able to get up again! So I had to walk up some steps to a suitable place to sit at the correct angle. I had some strawberries, and I had more Lucozade. I was basically force fed more and more LOL.
1:31pm – CP8 Springwell Lock – 120.3 miles
I was with Paul and we came into Springwell lock. The aid station was across the lock but they took my number this side to avoid it. Jerry Hunter handed me a piece of paper and there was a message from my mate Marcel McKinley. I'd met him a couple of years ago when I was crewing GUCR for my friend Michael.
I had a brief lie down on the bridge. It was soooooo lovely. I had some strawberries. My whole crew was here. More ice. I had a 5 or 10 minute shuteye here. Anyway, on I went with Paul after a kiss from my wife Susie (after she had force fed me some mango slices)
During the heat of the day, I was walking and moaning like fuck. It was a couple with their son. The conversation went something like this between them and me and Paul.
Canal people: Wow – is this a sponsored walk today?

Us: No….. it is a run.

CP: Oh right, you're walking though?

Me: (indignant!) I have run 120 odd miles already, that's why I'm walking

CP: Where from?

Us: Birmingham to London. Through the night. No overnight sleeps.

CP: For charity?

Us: Nope. It is a race – all for fun

CP eyed me up suspiciously……. Perhaps I didn't look like I was having fun.
Sunday 2:36pm – Wide Water Lock 123 miles
I got an amazing massage from Vanessa and Lou. More ice including in a pack on my leg where I was really swollen.
3:57pm: Cowley Lock – 127.5 miles
We saw Susie here and I had a Ginsters pasty, Paul had a ham and cheese sandwich and we cracked on. We soon went through the Tescos car park because of work being carried out on the canal path. We were getting closer and closer to the end, though slower and slower.
A group of teens / early 20 somethings were walking down the canal and were interested in what I was doing. They couldn't really comprehend running from Birmingham to London…. just because….. but they seemed quite impressed.
Near here Javed Bhatti ran up to us – he was moving well and said that the left turn was only about half a km ahead (it wasn't – I reckon it was 2 miles in the end!) I'd met him at Ultrafest in summer 2017 – and he had been doing a talk about sleep and ultras. Fascinating stuff. I told Paul about the fact he had done the double Spine race – basically done the race and then turned back and went back to the start. Over 560 miles in total! Insanely tough guy! Anyway, you can see me having a sense of humour failure in the photo below.
Lou and Vanessa met us with a McFlurry. OMFG. It was amazing. It was melted but I didn't care. It cooled me down. Gave me some calories and I particularly enjoyed the chocolate pieces. They'd bought it a while ago when I was moving better and we'd misestimated times. So I had only myself to blame. But I enjoyed it anyway.
Eventually, with more moaning from me, and whinging about the sun and the fact it was getting hotter, we arrived at Bulls Bridge and the infamous left turn….
5:30pm Bull's Bridge – 132 miles
This is such an iconic spot and with 13 miles to go to Paddington it is the main photo opportunity for GUCR runners. It instantly makes you think about the first half marathon you did and how this distance seemed so far when you first started running. And how it would feel even further right now! In my head I did some calculations. So.…. I'm going about 3 miles an hour….. that's about 4.5 hours plus any stoppage.
Walking up the slope of the bridge was tough. I got to the top. Pickford manouevred me into the right position for the photo. I could barely stand up!
What I didn't know was that I would have a whole minute of swearing rant at everything and everyone and no one and nothing at the appearance of more floating walkways. Fucking hell.
Going through my mind was Fuck this shit. Fuck this canal. Fuck the other canals. ARGHHGHRGHGHGHGHGHGHHGH but I wanted to finish and I'd enjoyed it – I just didn't want to enjoy it any longer!
When you're not sure that you can trust your legs, and the feedback you're getting, then try walking on a plastic walkway floating on the canal. I felt seasick and super pissed off. I even had a go at my poor buddy runner Paul.
My rant involve me going on about how I was going as fast as I fucking could and he could just fuck the right off now. Anyway – it lasted about a minute and Paul just agreed with me and said yeah yeah just keep moving, I know….. its hard, just keep moving along.
My mood wasn't helped by having to pick my way through a building site because the fencing had collapsed onto the canal path.
Eventually we arrived at the next checkpoint Hambrough Tavern CP9. Thankfully there were no hissy swans at this point.
6:05 pm – CP9 Hambrough Tavern – 133 miles
I got into the aid station. Filled up with some drinks and then went for a brief sit down with Kenneth's crew. I stole a seat. I didn't ask. I just sat down. I was so tired. My buddy runner Paul let me have a quick 5 minute sleep before getting me to my feet and getting me moving. Kenneth's crew were bloody amazing people. They were willing me along at every opportunity when they saw me.
I felt ABSOLUTELY FUCKED! I was tired, hungry, thirsty but didn't want to eat or drink. I wanted to get to the end, but I also didn't want to get there. My brain was frazzled!
The heat of the day just wasn't abating. If anything it seemed to be getting even hotter. This wasn't doing my mood any good at all. I was finding it hard to drink enough. My feet were mashed – it felt like there were a billion hot coals in my shoes – and my left leg was still swollen and every time I started up again after stopping, my legs and feet took some time to warm up again so they were moving and not so painful. I left the aid station around 6:05.pm.
On any other day, I would be finished within a couple of hours. Easily. Not today with 130 odd miles in my legs….
I moaned and moaned and moaned. In my head the Hambrough tavern (from my memory of previous year buddying / crewing Paul Pickford) was that it was half way on the 13 mile stretch to the end. But of course it wasn't. There was 12 miles to go! My brain was playing tricks on me and fighting against the evidence around me.
Positive Phil ……Oh look…. an aircraft….. oh look a sign saying "Northholt"….. yeah but we must only be 5 miles from the end by now surely……

Realist Phil ..…. you're deluded…… you know that northholt is no where near Little venice. Don't be so retarded.

Positive Phil ….. but you remember last year…. its close

Realist Phil…. but your buddy runner is on the phone telling your crew that you still have 9 miles to go…..

Positive Phil…. it's just round the bend of the canal…..

Realist Phil … you're totally fucked up – look….. no sky scrapers, you're in suburbia! Greenford?! Look…. face facts… you're out here ALL EVENING!
And so it went on with this unspoken internal dialogue back and forth. I think it was my way of keeping my brain occupied so that it couldn't stop my body moving forward slowly and to take my mind off tromping through possibly the least cared for section of canal along the whole length of the Grand Union.
8:39pm – Piggery Bridge – 139 miles
Eventually we met up with my crew beyond a bridge. Vanessa and Lou were there plus Kenneth's crew. I was so happy to see them. They had asked me what I needed and I'd given a message via my buddy that I wanted a fruity non gassy drink. They had got me oasis I think. It was nice. I managed to lie down for a bit to try and get a bit cooler and eat a calippo. I then had a second one. It tasted so good and I felt great.
I was pulled to my feet and just about to start off. Vanessa asked whether I needed long sleeve top for the last section. I felt fine but instantly I started to shiver uncontrollably which worried me and I asked for a long sleeve merino top. If I was having to death march this in, I didn't want to risk not finishing. The temperatures were still high but I felt so cold. Paul and Lou made me into a cuddle sandwich and kept me warm while Vanessa came back with my top. I changed and put my headtorch on my head in readiness.
And off we went……. more canal towpath. At least it was flat. If only I could run this section I could be finished soon! But all I could do was moan at the sun. Moan about my feet. Moan about the psychopathic cyclists who couldn't be bothered to use their bells or to give space and there was no way that I could react to them to change course. So I just kept walking as fast as I could in a predictable line.
This section was so soul destroying. We seemed to stay in suburbia for ages and the large buildings in the distance didn't seem to get any closer. I didn't recognise anything (despite cycling this before) and then what seemed to be a mountain ahead indeed was a mountain! The biggest bloody hill I've seen on the canal. I could barely get up it!
Anyway, as we got the top, we had to leap out of the way because of an asshat cyclist. And then we tentatively made our way down the other side. Then things messed with my head. I had to negotiate not getting run over by a moped rider on the path, then the path was shut and we had to find our way back onto the canal.
The next bit was the last stretch, none of it was familiar. I was as grumpy as hell. I had a meltdown claiming we were going the wrong way. Pickford was having none of my bullshit and let me look at the map.
We were getting closer but in my head it felt ever further away – I think as I was moving slower and slower. Eventually I realised that I was doing this, I could do it, and I was going to finish and I could definitely make it from here. I couldn't move any faster but I was surprised no one had over taken in the last several hours.
Eventually the train line came close. I remembered a section of graffiti near the westway. I saw Trellick Tower. And eventually – the finish line in sight!
10:38pm The Finish line – Little Venice – 145 miles
Paul said, give me your headtorch. I had a bit of a strop and moaned I couldn't see where I was fucking going and didn't want to fall over before the end. He was only trying to help and I felt bad about being a grumpy fuck.
Coming to the finish line I was aware of runners behind me. I turned around and muttered a greeting and motioned to go on ahead, my buddy runner moved out of the way, and I said watch out for the mooring hooks. "Hey dude… it's fine. We will stay behind. This is how we roll".
That….. Is what you need to know about GUCR! No sprint finishes like in some of my 100s last year. This is a different beast.
I didn't stop my watch. Dick shook my hand. Put my medal around my neck and he said "Gosh – 4 runners all together!"

I embraced my wife for what felt like a whole minute. I couldn't believe I had finished. That I could now finally sit down and sleep without interruption for the first time since Friday night. It was now Sunday night!
I saw the famous yellow sheet of plastic with all the finishers on. How I longed to be on that piece of plastic with scribbled names and finish times on. Staring at the names of the runners on that board just filled me with awe.
The atmosphere was amazing. People I had never met before greeted me. Other runners. Other crew. Random strangers. And most of all my crew. It was so lovely to see them all and thank them for helping me to finish this race. Tom Garrod shook my hand and told me that Mimi – my coach would be so proud – and I shuffled off to the car (I felt instantly cold and really needed to sit down).
GUCR 2018 – 40h 38 minutes. Well inside the 45 hour cut off and 32nd place out of 54 finishers and 98 starters. I felt pleased with that given my injuries in feb and march, and the weather I contended with on the race weekend. It would have been nice to be sub 40 – but hey – I don't mind that much! I did what I could do on the race and whats 30 odd minutes on a race that takes all weekend!?!
https://www.strava.com/activities/1601863074/embed/8648bc943adb5816af8068029f06fa12b8302def
That was by far the hardest race I've ever taken part in and the one where I have eaten the most ice lollies – approx. 10 callipos! There is absolutely no way I would have been able to do it without the best crew and buddy runners ever.
Thanks to….
Paul Pickford for buddy running 55 miles with me through the shittiest thunderstorm and rain, and putting up with me for the death march to the end.
Tracey Watson for being a total loving bitch to me pushing me along and beasting my ass on the sections she buddy ran with me.
Lou Fraser for being so kind and giving up her time all weekend to dish out cuddles and calippos and to put up with my whining about shoes.
Vanessa Jane Armond for being amazing and putting up with all my diva strops and doing her best to make sure I was eating and drinking (even though I was making it hard for her!)
Pete Watson for being there and helping out and driving my crew around and also ferrying another runner to the train station.
Marek Kowalak for giving up so much of his long weekend and spending it away from his family to spend it with a moany goat instead driving to Birmingham then all the way back at the end. Super star. And crewing for most of Saturday with Susie and being there to drive me home.
And Susan Bradburn of course. Just perfect. Putting up with me whining and whinging. I still can't believe it took me 10 minutes to eat half a McDonald's mcmuffin.
Thanks also to Mimi Anderson for coaching – and helping me relax about the race when I had a month or so of frustrating injuries and getting me to a good position for the start of the Canalslam series.
Thanks also to Rockstar https://www.rockstar-sport.com/ for their support and for having me as a member of their running team.
Thanks also to Dick Kearn Keith Godden and Wayne Simpson for the most amazing race. And to all the volunteers and helpers and all the wellwishers along the canal and to get a little piece of paper with a message on from Marcel Brandon McKinley near Watford was great plus all the messages that friends were sending on and which Paul was reading to me. It really is a special atmosphere and I will definitely be volunteering in the future. I just loved how people were so amazingly 100% pleased for me to finish – even completely random people I didn't even know. Just beautiful.
Written by Grant Fulton - https://grantfulton.wordpress.com
55km, 4100m D+
Sunday 30th September, 2018
Waiting in the start pen outside the town hall, the runners shuffle nervously as dramatic classical music blares from the speakers and the countdown begins. 3…..2…….1…ALLEZ! Watches beep into life and the pack sprint off the line and race through the streets of Chamonix, jostling for good positions before the narrow trails begin. It's a classic spectacle of the trail running world that we're all familiar with, we've seen the videos, read the magazine articles and wished we could be there. The spectators lining the street go wild, who knew 10 people could make so much noise…wait…what?! UTMB? No, the circus left town a month ago. It's 4am on the last Sunday in September and 650 runners are just setting off on the Trail des Aiguilles Rouges (TAR) with me lucky enough to be amongst them.
The TAR and UTMB share a start line but the similarities end there. The TAR is run over one day, hence the early start, on a 54km course through the Aiguilles Rouges, the range on the opposite side of Chamonix to Mont Blanc. The course may be short in comparison but crams in 4100m of elevation gain and some knee crunchingly technical trails. The route changes annually, cycling through 3 slightly different loops of the Aiguilles Rouges, this year starting in Chamonix and finishing down the valley in Les Houches. But to start we head in the opposite direction, left, up Chamonix high street before leaving the roads and joining the trails for the first climb towards the mid-station of La Flegere lift.
After a fast few minutes I pick a nice spot in the pack as the climb starts, aiming to get in behind somebody who looks like they know what they're doing. With 1680m of steep climbing to come it's straight to power hiking, letting a few excited runners spring by and hoovering them up when they run out of steam. At the Buvette Floria the trail narrows to single track with some good runnable sections if you can squeeze by others. An exciting section before you are spat out onto the wide pistes climbing to La Flegere. Here it is easy to overtake and easy underfoot but definitely the least inspiring part of the day. I dim my light to save some battery and get on with the grind.
My mind switches off and I suddenly realise how sleepy I am. A 2.30am alarm coupled with a busy day yesterday has tired me out. A full day of work, finishing and 10pm, and having to dash out on my break for bib collection and kit check. The bib collection was a low key affair and the kit check non-existent. Just a quick show of the ID and collect your number and a goody bag. A lovely La Sportiva T-shirt and a few energy products that look a bit too scary for me to try. No mega-sponsor-product-village full of shiny shoes and compression equipment for things you didn't know could be compressed here so to distract me, so thankfully I get back to work on time.
Once we pass Flegere my tiredness is forgotten, the trail has become more technical and I'm absorbed in the climb. I'm glad of my choice not to bring poles as I scrabble up rocks and occasionally pull along a section of fixed metal work on the climb up to the Col de la Gliere. Finally the top of the long climb after 2hours of hard work. I'm rewarded with a brilliant spectacle as I look back and see an unbroken chain of headlights marking the route from the tree line all the way up to me. On the exposed col the wind is cold, I pull on my gloves and continue on.
A undulating traverse leads back to the Chamonix side of the mountains via the Col du Lac Cornu. The trail is technical, hopping between boulders; some glazed in a thin layer of ice, and sliding down steep srcee once over the col. This is the most difficult part of the course, not helped by the fact that it's still completely dark. After more loose, blocky trails gradually descending from the col I find more runnable ground. A wide piste gradually descending toward light and the sound of cowbells, the first aid station at Planpraz (16km). The friendly staff fill my bottles for me so I can browse the buffet for some food. I start the day right with a nutritious breakfast; a chunk of cake, an almond bar and half a litre of coke. There's a short climb straight out of the check point, I'll take it easy while my food settles and be ready to run the long descent that follows.
I reach the Col du Brevent feeling ready for the long descent, I've run the trail a few times before and know I can go fast on this technical descent. I immediately fall over. The runner in front shouts up to check I'm okay- "Ca va?" I hop to my feet, everything seems to work fine. The runner in front then takes a huge spill too. The rock slabs underfoot are coated in a layer of semi frozen mist making each step insecure. I start moving again with a little more caution until the trail leaves the rocky upper section, once back on dirt I speed up and over take a few people. I'm enjoying myself, apart from a a weirdly wet feeling arm…. Looking down I realize my hand is pouring blood from a nasty hole under my little finger. I pop a glove on hoping it will stop the bleeding and stop my bloody hand scaring people.
Despite the hand I feel good, the sun is starting to come up which cheers me up and gives me a little boost of energy. The long descent finishes at the Pont d'Arleve, a beautiful spot in the bottom of a secluded valley. It feels a world away from the bustle of Chamonix just on the other side of the hills, just the sound of cowbells and the odd bleat of a sheep punctuate the silence here.
A few kilometres later and it's a different story as I approach the second checkpoint at Les Ayeres to cheers and shouts of some keen spectators. I'm usually one to browse the buffet and take my time at an aid station but I see the runners before me pass through in seconds. Not wanting to lose places I follow suit, washing down some salty crackers with half a litre of coke and racing after them as quickly as possible. I think we'll be in Servoz soon, I'll try to eat more there. The route profile just looks like a short climb and a long descent and I'll be there. The short climb turns out to be the steepest of the day, I'm glad I don't have poles as I need both hands to haul up a series of ladders and chains. It's a draining full body work for 300m to gain the flatter balcony trail on the Pormenaz. The running here is magnificent, the morning is starting to warm up from the sun finally fully emerging from behind Mont Blanc. I take in the views and enjoy the easier ground before the descent becomes steep and drops into the woods.
After a thigh battering 1000+m of descent I emerge into the streets of Servoz and into the next checkpoint. I fill my bottles from the barrels of energy drink, down some more coke and grab a handful of cake. My legs are really feeling battered now and I have to gently break them into running as I leave the checkpoint. One more climb, one more climb.
It's truly a monster of a climb, 1200m apparently but for all I know it could have been twice that. It goes on forever. I wish I had my poles now as I push my hands into my knees, trying to power my legs up the hill. The legs are truly abandoning me now. I sit on a rock sulking at the side of the trail for a few seconds. I swig some of the energy drink I picked up in Servoz and immediately spit it back out. Oh god, what the hell is that?! I'm sure it's washing up soap, its frothy, even worse it's the only drink I have! The climb grind on and on, the sun gets hotter and my mouth gets drier…I feel horrible and lose a couple of places just before the summit. Thankfully it's all down hill now, I can hear the announcer at the finish line 1000m below. The descent isn't pleasant, loose gravel 4×4 tracks, but the legs always get a new lease of life when the end is in sight. I pass a couple of people and start to feel pleased with myself, a little prematurely. Around 1km from the end and suddenly a wave of people start passing me at great speed. Where are they coming from? How do they have so much energy left?! I'm shocked and demoralized as they bound past me, I've lost so many places!
I emerge onto the street in Les Houches and my girlfriend Charlie appears running at my side to cheer me on to the finish. I stagger across the line and am delighted and a little confused that I've come in 22nd place. Turns out the hoards passing me were the first finishers of the 15km P'tit TAR!
Now I can reap the rewards of such an early start, almost 8 hours of racing done and it's not even midday. This gives me plenty of time to enjoy brunch at the free finishers buffet before heading home to squeeze in lunch and a pint. For those wanting to stick around the finishing area has a bar and a food stall serving up lots of cheese heavy savoyarde cuisine.
I'll definitely be coming back to race the TAR again, hopefully in the next couple of years to enjoy a different variant of the course. From this years experience I can recommend it to anybody who wants to experience the world class trails around Chamonix, in a shorter and more low key affair than the main events of the Summer.
Written by Tom Atkinson
Pre-race
I've been focused on this race since my last ultra in February (St Peter's Way, 42 miles and the previous furthest I've ever run). Training went pretty well, the only low point being when I attempted my longest training run (40 miles) on a 30°C day. I lasted 17 miles and a lot of that was walking. I always knew the heat was my nemesis and this confirmed it. Part of my preparation now came about frantically checking the forecast from about 2 weeks out, willing the temperature to be as low as possible.
Needless to say I spent a troubled night the night before the race – a mix of nervous energy and anticipation rendering my 9:30pm early night pointless as I lay there counting down the number of hours sleep I still had left knowing my alarm was set for 4am. I think I dropped off before midnight.
The travel to the race all went well, thanks to the incredible support of my wife Laura (which would only get stronger during the day) driving me to Newmarket at 5am in the morning. We parked up and went to the Memorial hall where registration was taking place. Here my usual pre-race nerves kicked in as I appraised the other runners, who I always consider 'proper runners' exposing me as the novice I still feel at ultras (this was my third). They're wearing gaiters, do I need gaiters? I think I'm carrying too much food? Do I need to carry a waterproof? Have I got the wrong type of shoes on? Should I be in a vest or a t-shirt? Poles? Do I need poles?
Having passed the kit check, picked up my number and negotiated the pre-race poo queue (far longer for the men than the women much to everyone's amusement) – it was time for the race briefing. During this we were advised to take down the race director's number which we were to text if we had to drop out. I prayed I wouldn't need it. A last minute decision to empty my third water 500ml bottle and to stow it empty in the back of my vest proved to be a good one – I didn't need it during the first two legs but boy did I later on in the race as heat and de-hydration got the better of me.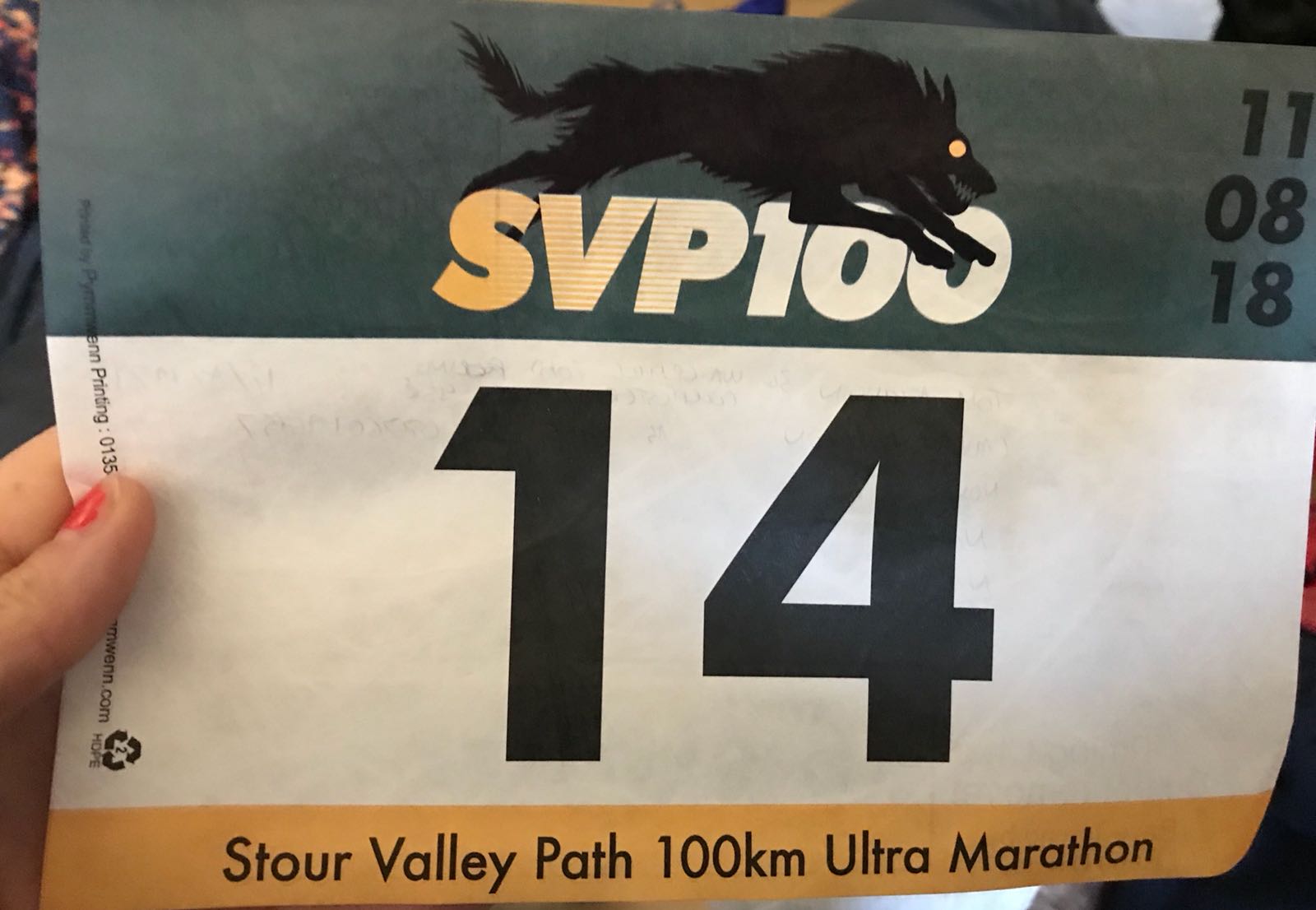 Then it was a short walk to the start, 150+ people filing out of the two doors in a hall obviously took a while and because of my trip to the toilets to empty the water bottle we were near the back. No bother, there was a long stream of people to follow down the road and we were far from the last people. While walking to the start I was chatting to Laura, confirming the plan for the day and where she'd try to meet me. Wait, was that an air-horn? Turns out the race had started and I (as well as a few other runners) were still a couple of hundred yards from the start. Pissing hell, I was behind schedule and hadn't even crossed the line yet!
Leg 1 – 12 miles
After a somewhat hurried goodbye to my wife I crossed the start line and about 50 yards later remembered to start my watch. I tried to calm myself after the non-ideal start – "it's not a bad thing to be at the back, don't go chasing people at this stage of the race". This actually proved to be a real blessing in disguise. After the first mile or so running out of Newmarket the race hung a left onto a trail that was narrow with steep banks either side, very much single file with over-taking tricky. This meant my pace was dictated by others and I found myself pleased I wasn't further up the field as I'd have probably gone at the same pace as whoever was in front but the mile splits (about 10:45 per mile) confirmed that I was in the right place, that was as fast as I wanted to start. This was articulated by the guy in front who observed after about 2 miles "well if we keep this pace up we'll finish in the top 10". I certainly didn't keep the pace up but at that stage of the race it felt about right, got some faster miles in while I was fresh and hopefully started to eat into the cut-off – something I was most concerned about for the early legs.
The leg passed pretty well, this early in the race navigation wasn't too much of a problem as there was always people to follow and I came into the first checkpoint 10 minutes ahead of cut-off and feeling like everything was going to plan. The checkpoint established a trend about just how brilliant the volunteers were for the day, my water bottles were re-filled, words of encouragement were shared and within a few minutes I was walking off with a handful of hoola-hoops and a couple of mini scotch eggs.
Leg 2 – 11 miles
Onto leg two and I continued to feel ok, managing to smile at the photographer as he made a couple of appearances and intrigued by the drone that was flying overhead. It was during this leg that I made my only navigation mistake – the comfort that following others in leg 1 gave me proved to be my downfall as a group of us took a turn across a narrow bridge, past a horse field and then to a fork in the path. Something didn't feel right and a few of us paused - one lady checked the GPS route on her phone and it confirmed we shouldn't have turned at the bridge. Quick backtrack and no more than a few minutes lost, no harm done. Apologies to the three guys that had gone ahead, they were out of earshot before we realised the mistake. Hopefully there was karma for this as I corrected three other runners on separate occasions later in the race.
My pacing proved pretty consistent, slowing a little but still managing to run except for the hills, the day was starting to warm up but I came into CP2 feeling like things were still going very much to plan. Quick re-fill of the bottles, including the spare third one given that dehydration was starting to creep in, some melon and a handful of snacks and it was onto leg 3.
Leg 3 – 10 miles
A couple of miles into Leg 3 and I wasn't in such a good place. It was now the middle of the day and whilst the thermometer didn't hit the 30+°C I'd been worried about a few weeks before the mid-20°s temperature was still enough to throw me off kilter, I'm really not great in the heat. I started cramping somewhere around 27 miles and couldn't shake it off, having to slow to a walk. Try to run? Cramp. Climb over a stile? Cramp. Hang on, I was climbing over a stile and that triggered cramp? "You're cramping my style" I said out loud, knowing there was no-one in earshot and gave a little chuckle. It's an indication of my mental fragility (and sense of humour) that that little pun kept me amused for the next 9.5 hours every time I came to a stile, i.e. about 20 times, even long after the cramps had passed.
Despite the pun this proved to be the first of two lows of the race. I was aware I was losing the time against the cut-offs that' I'd steadily built up in the first two legs and just couldn't get myself going at an even pace. This was compounded by the fact that in my (not so) carefully-prepared spreadsheet I'd put together I'd written the cut-off time wrong – meaning I thought I only arrived with 10 mins to spare whereas it was a much more comfortable 30. Still, the demons had set in and I started to convince myself that if I was only halfway, suffering from cramp, struggling to run and losing time then a finish started to feel very doubtful.
I cracked on regardless; encouraged by the fact Laura was due to meet me at the next checkpoint. Finding the checkpoint seemed to take forever, I'd never been to Long Melford before but now know why it's not called 'Melford'. It went on forever and I was kindly guided in by a runner behind who kept telling me to keep going and where the turn-off to the cricket club was as she must have seen my desperate glances for red tape to indicate it was time to get to the checkpoint.
Bonus, on entering the checkpoint I saw my Dad there clapping me in and Laura just a bit further on. Seeing family and having people support you makes such a difference to me and this was exactly the boost I needed at a time where I needed it most. I put them to work, having a 'crew' for the first time ever – filling water bottles, putting bodyglide on my shoulders, things I easily could have done myself but relished the opportunity not to have to. I asked them to walk out of the checkpoint with me as I had a handful of crisps and jelly beans to eat but quickly realised I was essentially just trying to prolong the feeling of having support with me and if I was going to make the finish I had to do it on my own. I asked them to head back and found my voice faltering during my good-byes as I was hit by a wave of emotion. Despite the boost the check-point had given me, I didn't think I was going to finish. I thought they were thinking I wasn't going to finish. Was this game over?
Leg 4 – 9 miles
Nope! Turns out some salty snacks and flat coke were all I needed to get into a much better physical place and a text from Laura confirming my cut-off timing error meant that mental strength soon followed. Back in the game!
If you look at my splits there may not be that much variation in what had gone before but mentally and physically I was feeling much better. This was enhanced once I hit Sudbury – due to the great support outside the pub there but also the fact that I'd recced the route from here so things were a bit more familiar and navigation became slightly one less thing to worry about.
Another error in my (not so) carefully prepared spreadsheet saw me turn a corner to unexpectedly see a volunteer in a yellow t-shirt and hear him say "the checkpoint's just around the corner". Really? I had it down as another 2 miles away and whilst I still had to run those miles it was a nice surprise to feel I'd reached a milestone 'early'. And what a checkpoint it was! All the volunteers were exceptional throughout the day and the provisions offering every type of fuel you could hope for but this checkpoint stood out on both counts. The plethora of snacks in front of me was dazzling in its array; boiled eggs and boiled potatoes dipped in salt which at that time tasted better than anything I've ever had in any restaurant, melon, watermelon, pineapple, crisps, I had to practically drag myself away. Also, sensing the dehydration I'd been suffering I opted to fill my third bottle with electrolyte rather than the plain water I'd had on the last couple of legs (I was filling my other two bottles with water and hydration tabs I'd brought with me). There was a great volunteer here too who told me he'd run the race twice and mapped out what was to come in terms of getting to the remaining checkpoints, cut off times and where the hills were. I saw him again at the finish and thanked him for this – his advice really helped and gave me back the belief that I really could finish this thing.
Leg 5 – 8 miles
I set off with a spring in my step (metaphorically), eggs in my belly and a positive outlook in my mind. 2 miles later and low point number 2 struck. My stomach didn't feel right and I felt severely lacking in energy, it's points like this where I feel my lack of experience shows in ultrarunning. I know something is wrong but without knowing what's causing it I don't know how to fix it? Did I need to vomit? Have a poo? Had I eaten too much or not eaten enough? Drunk too much or not enough? Paying for breaking the 'nothing new on race day' mantra by drinking the electrolyte? Dodgy egg? I settled on what seemed the most appropriate solution: walking with the occasional dry retch. I ground this out for about a mile and a half which probably took me over 25 minutes, my slowest moving pace of the whole day by far but, thankfully, it seemed to work, my stomach settled and I felt my strength returning.
I was probably about 45 miles in by this stage – into unchartered territory as the furthest I've ever run and I realised I needed a better strategy than 'walk when you feel like you can't run (shuffle), run (shuffle) when you feel like you don't need to walk' which I'd been following up to that point. I decided to walk the first ¼ of each mile then run (shuffle) the remaining ¾, deviating from this only if there was a hill, resolving to walk up them and run (shuffle) down them. This strategy worked a treat and I may have stretched the walking ¼ mile on occasion and become very flexible in my definition of 'uphill' but I loosely stuck with this right through to the final checkpoint.
Coming into Nayland I spotted a runner going off track, making exactly the same mistake I did when I recced the route; paying no attention to social regard I bellowed at him as loud as I could and waved my arms to bring him back on track and it seemed to work. I then enjoyed the run along the river to the checkpoint, the signs put out by the volunteers building the excitement of getting there.
Laura had texted me to say that she'd changed her plans for the day and would meet me at the checkpoint, I think she was worried by how she'd left me previously. A sign of how well I was moving though was the fact I got there about 5 minutes before her, beating my predicted time. This was real bonus time, Laura, my parents and my two kids came to meet me at this checkpoint, something I really wasn't expecting because of the logistics of getting them all there. The lift to my spirits was immeasurable. I changed t-shirt and socks, ditched some of the extra gear I'd been carrying for so long and re-fueled. I probably stayed at the checkpoint a bit too long but I could feel my positivity and determination growing as I was surrounded by my family. I had 4.5 hours to do a half marathon and I set off, confident that if absolutely necessary I could probably walk it in from there.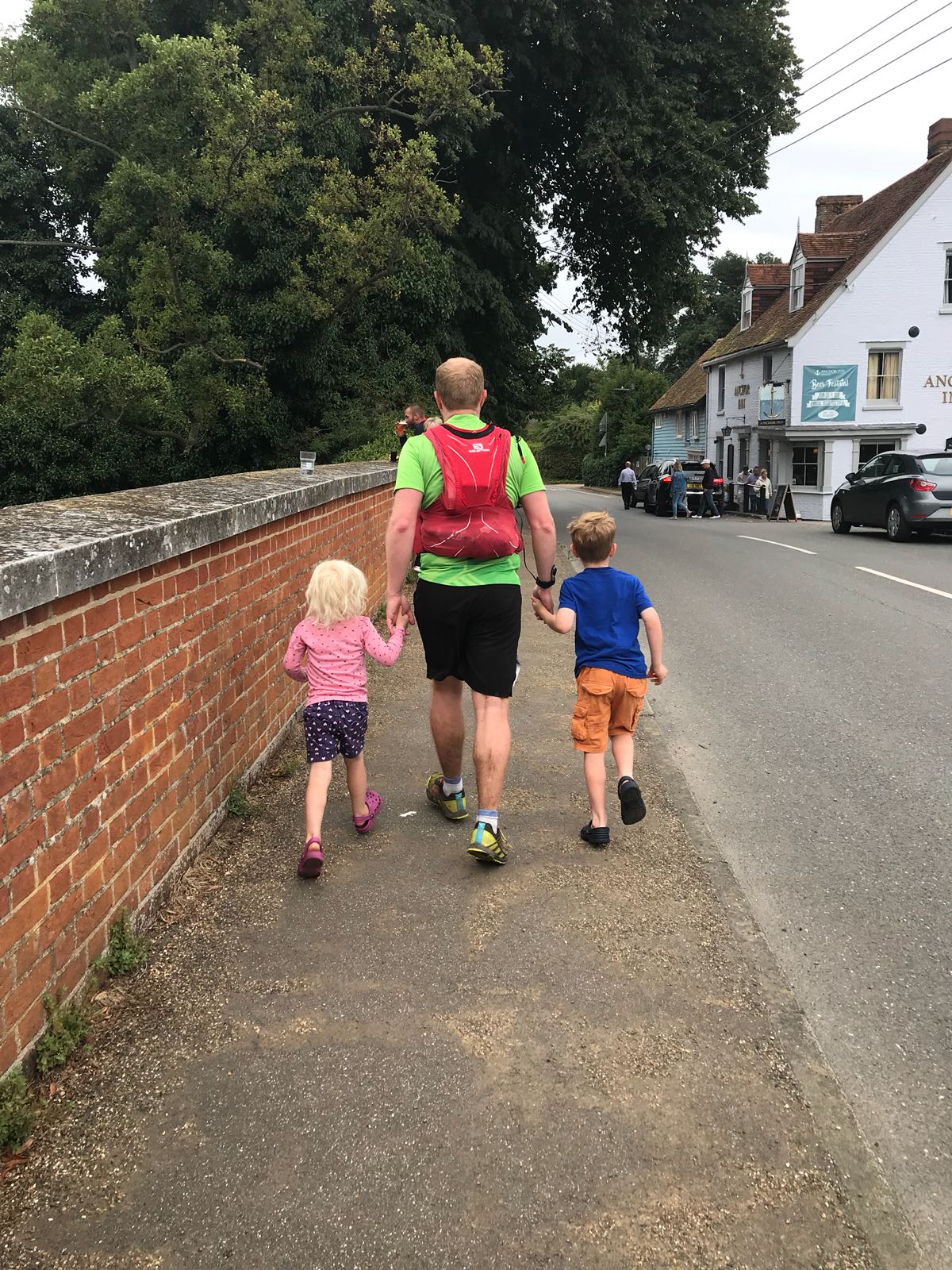 Leg 6 – 8.5 miles
I climbed up the steps with my family and at my son's insistence ran (shuffled) with him and my daughter across the bridge before leaving them, promising to meet them at the next check point as soon as I could. The thought of seeing them again at the last checkpoint and the finish really spurred me on.
Coming out of Nayland there's a big climb, as with all the climbs in this leg it seemed to have tripled in length and gradient since my recce run but I was remembering the advice of the guy from CP4 – get these hills behind me and it was flat / downhill all the way in. Considering it was 8 miles the leg passed well, indicated by the fact that there's not really much I can recall of incident during this leg, the walk-run (shuffle) strategy was working well for me and it may not have been a rapid pace but it was steady and effective.
I hit the road, spotted CP6 and then more importantly spotted my family who seemed oblivious to the fact I was coming in – maybe I'd covered this stage quicker than I and they were expecting. They spotted me in my final approach and as their cheers mixed with those of the still-enthusiastic volunteers I realised that barring disaster or accident I really was going to make this. I felt strong and didn't really need to linger here – headtorch out, glass of coke, few snacks (can't remember what), refill of the bottles, hugs and kisses from all the family and I was off.
Leg 7 – 4.5 miles
I headed out of the checkpoint with about 5 other runners, a group of women from the 50 and a guy from the 100. I was thinking it would be good to have some company on this last leg but as I'd found all day I preferred to be on my own. It's not that I don't want to run with others, in fact I like the company but I always want to go at my pace – when I'd fallen in with people earlier in the race it was too tempting to slow to a walk just because they were.
So, in the descending gloom I ran (shuffled) off, having to turn the head torch on about 4 miles from the finish. Past Dedham and Flatford, I knew this part well and despite correcting two other runners whose lights seemed to be heading in the wrong direction I still managed to make one minor error; coming off a bridge I should have headed diagonally across a field but instead followed the river – meaning I ended up covering two sides of a triangle instead of the hypotenuse but there was really no harm done.
It was now fully dark and had started to rain, I was walking as the ground was pretty rough and visibility was poor plus I wanted to save a final run (shuffle) into the finish once I hit the road – something that seemed an age to come given I could see the lights of Brantham from some way off. Eventually it did come, I hit the road, broke into a faltering run (this really was a shuffle) and headed for home. Coming up to the main road I spotted a guy in a yellow volunteer t-shirt and asked him a question that he'd probably already been asked 100 times that day "how much longer to go"? "700m" came the reply. 700m, less than half a mile, COME ON!
I headed off, past the pub, round the corner. I'd not gone right to the finish on my recce, heading to the station instead (and choosing to save that bit for race day) but I'd looked at this part of the course studiously as part of my race prep. There should be an alleyway on my left…where was it….have I gone too far…hasn't that been half a mile already…this is it…nope that's a driveway….should I double back…..I can see the finish, where's the turning….boom! There it was. Left into the alley, there's the field…how do I get onto the field, it was all fenced in! I asked two lads on a bench (who clearly had been bothered with this question several times before) and they nonchalantly pointed to a gap in the fence.
This was it, the run for the line, the run for glory, the run to a medal and finisher t-shirt that I'd coveted so much, the run to achievement, the run to pride, the run to prove I could, the run to my kids, wife and parents. I could see them at the finish and beckoned the kids to come and join me, but I'm not sure they could see in the darkness and instead broke into a full on run. This was no shuffle and whilst it might not be deemed a sprint finish it was the best I had, even contriving to manage a jump in the air (I think both feet left the ground at the same time) as I approached the line.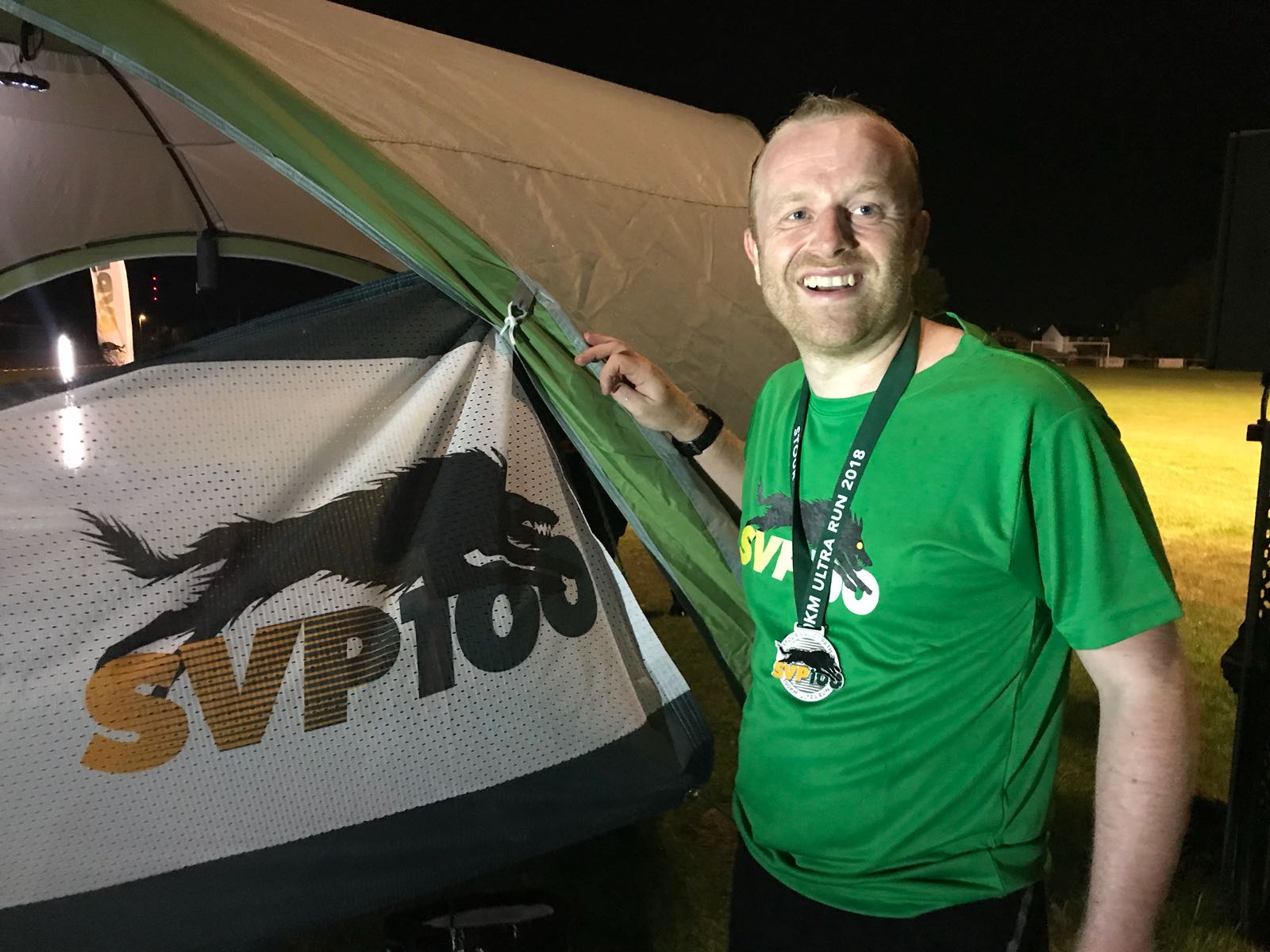 102km / 63.5 miles. 14 hours 29 minutes 41 seconds. Not bad considering when people had been asking me in the run up how long it would take my stock response had been "well I'd be happy with anything under the cut-off of 15 and a half hours but I'd estimate 14 and a half". I was far from the fastest on the day and marvel at the achievements of those ahead of me, there were others that probably suffered more than me and had to dig deeper but I'll be surprised if there were many more proud than me at crossing that line.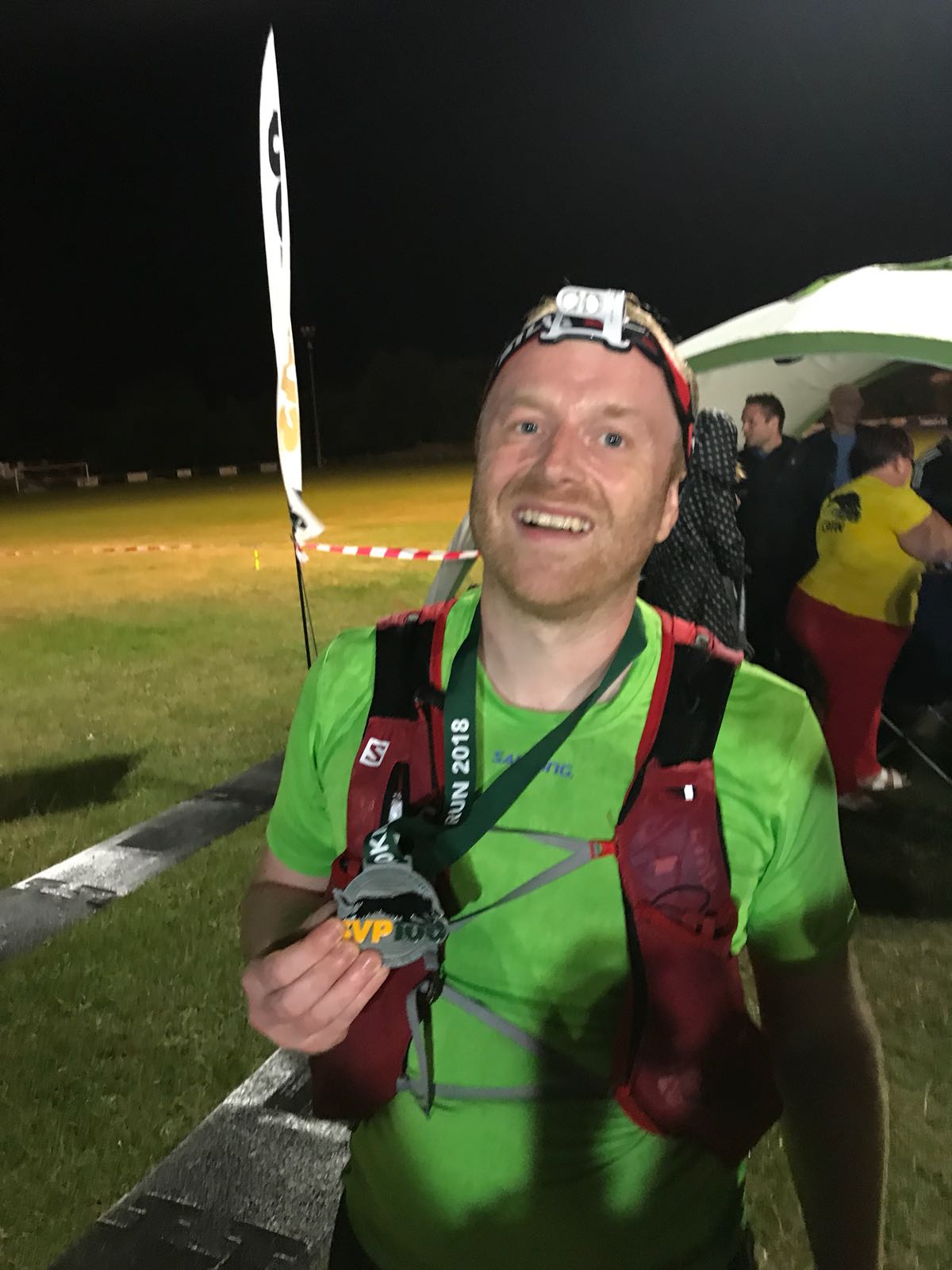 This is a great race, comfortably the best organised, and well-spirited I've run. The organisers, volunteers and other runners were inspirational throughout and I simply don't think I'd have made it without the ongoing support of my family. I hope to run 100km again and do entertain ideas of going further one day but this, my first 100km, will always remain very special to me.
Written by George Callahan - https://wickedtrailrunning.com
Burning River 100 Race Report
My Wicked Trail
My 2018 Burning River 100 Race Report may not look like some of the other race reports you've read. I'm not actually sure how those who provide detailed race reports do so; my memory is fogged, it went by so fast, and it still doesn't seem real.
So, while my terrain reporting may be slightly off and some details of my experience left out, this is what the 2018 Burning River 100 was for me:
My first 100 mile ultramarathon took place in Willoughby Hills, Ohio, where I grew up, at a faux medieval castle known as Squires Castle. I checked the weather every 30 minutes leading up to race day to see if the rains would hold off or if it would be a typical "Cleveland-weather" kind of weekend.
Leading up to the race I had a calm confidence that, after only doing one other ultra (the Umstead 50 miler), I could traverse 100 miles easily at the necessary walking pace if I ran out of gas and could no longer run. While my training had been subpar for a running and non-running related reason, I had committed myself to "practice" stretching and a heavy dose of leg strengthening. While I knew the training had not been optimal, I understood that showing up healthy and gutting it out would provide the opportunity for success.
How dangerous a thought this turned out to be.
The rains never came over the long weekend. Some thunder shook the skies around us during the night, but no rain.
The first 11.7 miles to Polo Fields Aid Station was uneventful; I arrived in 2 hours 8 minutes and 56 seconds, an 11:01/mile pace. This first section was all road and all runners were tightly packed through Polo Fields. I felt great here and only changed from a long sleeve shirt to a short sleeve; I left my socks and shoes as they were. Trail Toes combined with Injinji sockswas paying off so far…
While the terrain changed from all roads to mostly single-track and bridle trail, the next leg was also flat and non-technical. A few stream crossings left my socks and shoes soaked and when I reached my crew at mile 20.7, the Shadow Lake Aid Station, I opted for a sock and shoe change.
The next time I would see my crew was at mile 37.4, the Meadows Aid Station. Up to this point, the run felt uneventful, very "smooth-sailing," and I was feeling great. The terrain became more technical as the morning went on, but it was still flat enough to feel "easy." It felt like a midwestern state. An easy 2.1 mile section from Meadows to a non-crew access aid station, Oak Grove, put me at 8 hours and 43 minutes; my pace thus far had been 13:20/mile.
With my legs feeling healthy, my feet in great (thanks again, Trail Toes), and with no real expectations coming into the race, I was pleased with my time.
Let's talk about expectations for a minute.
Expectations in training are bars we construct for ourselves, bars that we place over the windows of opportunity. We build these obstacles, these bars, out of our past experiences; you know what you've been able to do in previous training sessions, so 'expect' something similar. 'Expect' distance or speed or strength or endurance to be somewhat like yesterday, the day before, or last week.
Expectations are self-limiting thoughts; they give us a way out, a time to quit. "I expected to do this much, and I've done it."
Imagine if we always went beyond our own expectations, or completely abandoned them.
Rather than 'expecting' and even planning to see a certain result, I offer two options.
Option number one is to acknowledge the expectation when it comes up and plan an ambush for it. You may not realize it, but at some point you will say "I could probably do…" or "Today let's see if I can…"
When you hear these thoughts, speak these words, or write your plan down in your training journal, the ambush is set. You are prepared to kill. You are prepared to destroy. Now, think ahead to the time in your workout when the 'expectation' will be fulfilled. Is it after the eighth interval? The fifth set? The hundredth squat?
FIND THE MOMENT. Find the moment of expectation.
The ambush is set and you know when it will take place. When that moment comes, when you've met your initial expectation, attack it. Keep going. Go Farther. Push your mind beyond your perceived limits and crush the expectation. This attitude, this ambush on 'expectation,' instills a drive to Go Farther in other areas of your life; it is a revolution of thought.
Option number two is to let go of expectations for unfamiliar terrain and experience. Writing your first book? Starting a new business? Getting married? Participating in your first ultra-endurance event?
Abandon expectations.
Why? Why not evaluate possibilities and examine traits that may lead to a specific result?
Any task of great importance, in vast and unfamiliar territory, will provide much challenge and adventure and change. The opportunity to be present in your moment, whether its 100 pages into your new book, two years into a struggling new business, five years into a marriage, or at mile 90 of your first 100 mile race, will provide a plethora of information that can be taken and used elsewhere in life, information that can be used on your next book, your second business, a friend's struggling marriage, or your next ultramarathon.
These could be your thoughts at mile 90: "Why didn't I reach mile 80 as fast as expected?" or "Why are my feet in such bad shape?" or "I didn't expect it to rain!"
Take a step back. You've never been here before. Why did you expect anything? Why are you not focused on the end, the actual goal, rather than reminiscing about expectations for something completely unknown and mysterious? Be present and focused on the goal, not the thoughts, hopes, and fears that plagued you before starting.
Mental fatigue is real; if you cannot plan to ambush and crush expectations, abandon them and learn. Experience and grow.
Around mile 45 there was some hilly single-track. I sent some family who could not attend a smiling selfie expressing a healthy mind and body as I neared the back half of the race.
I came into mile 50.1, the Boston Mills Aid Station of the Burning River 100, after running for 11 hours 33 minutes and 20 seconds. This time put my pace at 13:57/mile.
When I had run my first 50 miler 16 weeks prior, I finished at an average pace of 12:49/mile. I was again pleased with my time when I reached Boston Mills.
Coming out of Boston Mills, I had my first low point of real frustration. All because of the Ohio and Erie Canal Towpath Trail.
I found out over the course of this race that I wasn't the only one who disliked towpath so much, and I still can't nail down exactly what is so dreadful about it. Perhaps the monotony of the terrain, or the sun exposure, or the visual distortion (am I the only one that can never tell if towpath is going uphill or is staying flat?). Either way, I walked a bit more than necessary on this stretch of towpath that apparently only lasted for a mile and a half or so.
I wouldn't see my crew from Boston Mills until Ledges Aid Station at mile 66. My pace gradually decreased over this time period from 13:57/mile to 15:21/mile. I think I remember the terrain being a bit more monotonous during this time and I felt slowed by mental fatigue; I was ready to see my crew.
Up to this point the thought of a DNF (did not finish) had not crossed my mind. I was still calmly confident; the terrain had been Ohio-like with a few minor climbs, but nothing to deter my will and mindset. I was rooted in the mission, even with the slow pace.
I texted my Crew Chief (thanks, mom) at 7:19 PM while I stopped for water at mile 61.2, over 15 hours into the race, and told her it would be "slow rolling" and that it would likely take me two hours to reach them at mile 66.
Just over an hour and a half later I saw my crew again at Ledges Aid Station at mile 66. My pace when I reached this point was 15:21/mile.
Ledges Aid Station of the Burning River 100 was the last time I felt confident in finishing. It was when the course changed for me; I would race the clock for nearly 30 miles, fighting frustration and pain the entire way.
My 'expectations' for the state of Ohio were shattered after mile 66. Funny how expectations about yourself and the environment need to be considered when ridding them from your mind, or when planning an ambush.
Perhaps I could have ambushed this final 30 miles had I expected and trained for it, but I digress. I shed expectation as my training was subpar and here I was, with 30 miles and many hours to go over rough terrain.
I'm not going to sit here and claim these were mountains or some advanced tough terrain; this was my first 100 mile ultramarathon and I have no idea if this course is suited for beginner ultrarunners. I do know this: these hills destroyed me. They knew I was coming; they knew my downhill technical skills were weak. The hills, the steep climbs and wicked descents, saw their opportunity when darkness fell.
My girlfriend paced me from miles 66 to 71.8 and I lost about 53 seconds on my pace. Add one minute on your pace every 6 miles with 30 miles to finish and you might be in trouble.
In trouble I was.
My friend (and cofounder of Wicked Trail) Alex paced me for a 'quick' 3.8 mile loop and we added only four seconds to my pace; he kept me moving over some dark and technical terrain. I felt strong during this loop but when he and I arrived back at Pine Hollow Aid Station, the beginning and end of this first loop, I started to do math.
"Don't do the math," my mom said.
I couldn't help it. The terrain was becoming rougher. I took inventory of my body and knew my right ankle was getting bludgeoned by the downhills and my hamstring strained by the uphills; it was all technical terrain. Stopping for even a moment sent my teeth chattering in the cool night and muscle stiffness set in quickly.
I'll take some towpath now, please.
This was one of the lowest points. Mile 75.6: 20 hours and 49 minutes. Estimated time of finishing (if pace was maintained): 28 hours.
If I maintained the pace Alex and I had just 'crushed' on that short loop, I would finish two hours ahead of cutoff. My mom later told me that the crew was getting a bit nervous about the time at this point.
The people I dragged into this didn't think I was going to make it.
Neither did I.
I wouldn't see my crew again for 16.1 miles. My girlfriend, who has never run more than 8 or so miles in her life, walked with me during this period. It took us a dark, painful, and hilly 6 hours and 25 minutes of power hiking the uphills and limping the downhills, exhaling through gritted teeth, to see my crew again. She found two sticks that I picked up and used as supports on the downs; my ankle was in bad shape.
I remember the Covered Bridge Loop well; it was exhausting and technical. The hills of that loop behind me, I asked an Aid Station volunteer the distance to the next station. He must have seen me looking at my watch because he said "You've come this far; you'll get there."
Another lady chimed in: "The hardest part is behind you; except for a few sections, the terrain ahead is smooth and mostly flat."
We left the pirate-themed aid station of Covered Bridge, abandoned my primal hiking poles, and immediately were on roads, heading away from mile 85. My girlfriend encouraged me to run, but the distance ahead seemed too insurmountable against the odds; the pain was too real in the early morning darkness. Frustrated tears in my eyes, I continued shuffling along, wondering where all the other 100-mile runners were.
Low points are worth mentioning.
A long run, an ultramarathon, parallels life. The toils of an ultramarathon are indistinguishable from the toils of life.
The physical pain and mental torment experienced when one runs fifty miles or one hundred miles or more is, while most do not realize it, familiar to many people because life prescribes these things on its own. They are a part of life! Tears, sweat, blood, frowns, arguments, anger, regret, frustration, pain; this is life.
Life's pain can be summarized in an ultra, this long run.
The difference is running an ultramarathon beats life to the punch. Life didn't prescribe the pain, THE RUNNER did. And life doesn't pull the pain away and deliver the pleasure of success; THE RUNNER does!
The runner prescribed the pain. Why?
When one lives with an understanding of life's mischief –the rollercoaster of its pains and joys– you become mentally prepared for the lows; the pain, tears, blood, sweat, and falls are expected. They are even a part of the strategy. To understand and strategize the mischief of life, one must experience it with an open mind.
Many people are rightfully taught to anticipate adversity and treat it as equal to victory (remain emotionally neutral to each); a failure to do so results in low depression during the worst of times and peaks of joy, ready to crash down, during the best of times. Emotional stability is a byproduct of understanding life's mischief.
Beat life to the punch. Do not be a victim to life. Do not wait to be pulled off the precarious cliff. Jump off. Do not fear the dark forest. Run into it. Do not sit idly as life robs you of comfort. REJECT COMFORT.
When you run an ultramarathon, you feel the nature of life in all its mischief, packed into a trail. This experience, the physical exhaustion and mental torment alongside the elation and laughs, gives one a clear understanding of life's mischief. It necessitates one strategizing around broken blisters, twisted ankles, sickness, severe weather, loneliness. The bad carries you forward to the good, and the good gets you back on the trail until you reach the goal.
Life is an ultramarathon.
My lowest point, the epitome of life's mischief, came when I was told it was only about another mile and a half to the next aid station where I would see my crew. This aid station would be past mile 91; the end would be in sight.
45 minutes later, Daniela and I were still shuffling down dark trails and dodging roots and rocks. Every twist and turn teased my imagination and played with my emotions until finally, at mile 91.7 and with 2 hours 45 minutes and 38 seconds until the final cutoff, I reached Botzum Parking Aid Station.
I remember stopping multiple times during this 45 minutes and putting my hands on my knees, breathing in the frustration and the pain; I was in disbelief of my time and how far I had come, but still had to go.
I changed into a short sleeve shirt as the sun was now beaming bright on a warm Ohio morning and looked at Alex who would be pacing for me from this point to the finish line.
"Let's go. We are moving at a 16-something per mile pace. That is what we have to do. You will finish."
We had about 10 miles to go; I had reached this aid station 5 minutes before its official closure and a kind volunteer told me to blow by the next one and just keep moving. "Don't stop."
I was in bad shape, a pale shadow of the runner who started over 27 hours ago.
We set off down a smooth, asphalt, Wicked Trail.
Alex, I'd like to point out, is not a runner. He's strong and in great shape, but something about him moving me for the next 10 miles made me a bit nervous. In reality, I had nothing to be nervous about. He should have been, and probably was, nervous for me.
My projected finish time when I reached Botzum Parking at mile 91.7 was 30 hours 7 minutes 37 seconds.
Seven minutes after the 100-mile cutoff time. Seven minutes. How many aid station visits could I have cut shorter? How many times should I have ran instead of walking, like on the towpath at mile 50? How many short pauses to rest, or stretch, or let someone pass me could I have skipped?
We kept moving. I did not want this day to end in the realm of "What if?" or "What could I have done?"
The next ten miles defined the weekend for me. We ran, yes "ran," sections of it at near a 9:00/mile pace. Something switched in my mind. It may have been the sun coming up, those fig bars some lady gave me at Botzum Parking, or the way I was talking to myself.
I knew it wouldn't be easy, but I decided anything less than everything was not enough.
"Mind over matter; if you don't mind, it don't matter. George, do you mind?"
"No."
"Do you mind the pain? Will it get worse? Will it last forever? Can you do anything about it?"
"No."
"Can you finish this race?"
"Yes."
"Keep running. Run now. Faster. Good. Keep going."
This self-talk, this real conversation I repeated in my head, made me run when I didn't know if I could, when I didn't even think I would make the cutoff.
Our average pace from Botzum Parking at mile 91.7 to Memorial Parkway at mile 97.1 was 14:22/mile with a maximum mile split of 12:15/mile according to an app Alex turned on.
Those short distances of actual running, something I never thought possible, followed by power walking behind him paid off big. 2 hours and 35 minutes to cover the last ~10 miles put our needed pace at just over a 16-minute mile.
I hadn't come anywhere close to this number for 30 miles.
Daniela encouraged me to move faster, but I couldn't; my thoughts were controlling my actions then, just as they were now. "My ankle hurts too bad. There's still so far to go. I may not make it."
But I decided I did not mind, and it did not matter.
Pain, fatigue, fear; these all vanish with decisions.
"Do you mind the pain? Will it get worse? Will it last forever? Can you do anything about it?"
No.
I was the last finisher across the line in 29 hours 50 minutes and 43 seconds.
I finished with 9 minutes and 17 seconds to spare.
Discipline and decisions in small moments can make or break a goal. I didn't think, over the course of one hundred miles, that a minute here or two minutes there would mean much; they meant the world. They meant completion.
They could have just as easily meant a DNF. It is always your decision; if you do not decide promptly, however, you may not get to decide at all.
At Wicked Trail Running, we have 5 Core Tenets. They, along with their impact on my 2018 Burning River 100 ultra, are as follows:
George at the finish line of the Burning River 100 Endurance Run.
Written by Stacey Holloway - https://wayrunning.wordpress.com
I have given a full blow-by-blow race report on John Kynaston's final podcast; you can find ithere.
I completed the 96mile race in 33hrs and 5mins. I am under no assumptions, my finishing was part of a team effort. Without my crew, Neil Scott, Kristin and Jason Main, Susan Barley and my husband Max Holloway I could still be out there somewhere! I cannot thank each of them enough for helping me accomplish this goal, all were absolute heroes. Thank you also to everyone who supported me in the lead up including my family, but also a huge thank you to Liz Bennett. Liz sponsored me, keeping me injury free through my training and had my legs feeling their absolute best come race day. Thank you to the race organisers, volunteers, medics, marshels and supporters. You put on an immense race in every sense. I entered the race to understand myself better, to know how I would react come second sunset, and when the nausea and sleep deprivation hit. Here are some of my insights (the take away parts are in bold) as a first time West Highland Way Race runner and first time running an ultra distance past 53miles.
STARTING
It was the first time I did not have any nerves before a race. It was too big to comprehend, so I did not try. As we ran out under the arch with the high street lined with supporters I welled up and almost started crying right then!
Getting to the start line in a state to run the race was a greater challenge than the race itself. For 8 months I had to will myself to train consistently, to get the big days in and know when to hold back to prevent injury. Fear of injury and illness is huge. The week before the race I had a final massage with Liz and my legs felt amazing, but then I came down with 2 colds and stomach flu. It was hit and miss if I would start. Thankfully a lot of Vicks Vapor Rub and bed rest saw me to the start line, but not without a cost, I was wiped out.
Max, Neil and I all very excited at the start. Counting down to 1am!
Now on the other side of the race, I can confidently say that anyone who can run a challenging 50miler can, if they wanted to, run 100miles. And if you can run a 5 hour road marathon, you can run a challenging 50miler. My training averaged 30miles per week, 80% of which was done as walk commutes. My largest week was 60miles. I did manage one marathon, one 34miler and one 53miler in the build up.
DARKNESS PART 1
It turns out that I do not cope well running in the dark. The sky still had light in it and the moon was bright. The combined light of everyone's head torches lit the way so running was not treacherous. It was beautiful. But as the field thinned out I felt isolated and the darkness got me down. It was so early in the race and I was feeling very low.
Before embarking on a race that requires you to run straight through 2 consecutive nights, I advise that you run through a night in training. I put this aspect of my training off, happily listening to anyone who told me that I did not need to do a night run. In reality I was scared. As a woman who has grown up in cities, I have been socialized to fear night and fear darkness, especially alone.
NOT MY PHOTO! Credit to Andrew Condron
SLEEP DEPRIVATION
The mental and emotional toll of running through a night was not lost on me. I felt acutely the sleep deprivation and ache in my legs and actively pushed the panic out of my mind. A big surprise was the clouded mind and nausea from lack of sleep passed by the time I was on the low road (how much fun is running on the low road! Love it!!) and I was fine through the next day. I am sure sleep deprivation was a contributing factor to my physical and mental exhaustion, however, it never felt again like it did after the first night. Even after the race, sleep deprivation did not appear to be an issue, maybe adrenaline and happiness at finishing kept me buzzing!
Pre-race shut eye in our van after registration
If possible do bank sleep in the 2 weeks prior to racing and reduce your stress levels. I tapered physically, but not in any other way until the week prior and so when I stopped, I got sick. If possible try keep stress minimal at work in the lead up.
NOT A BIGGER FLING
A lot of people told me, it is just a Fling with a 42 mile walk at the end. This is not true! The first 53miles may be the Fling course, but it is not a Fling. Mentally it is an entirely different fish.
The first obvious difference is the atmosphere at the start. It is charged tense and focused, and this carried on through the 1st night and into the next day. There is no dancing and singing on the start line. Everyone stood silent, first in honor of Don Ritchie, and then stealing themselves for the race to begin. We ran in near silence through the night and by dawn I was alone. I ran a lot by myself in the first half of the race. The second and biggest difference is, obviously, the finish. The finish is not in Tyndrum! In the Fling when you reach Beinglas Farm you are nearly there and can realx in the knowledge you will make it. However, in this race Beinglas is just the beginning, a warm up, easing you into the race itself, as really, it has barely begun. And finally, to add, you have not slept for an entire night.
I did not let myself think beyond the next checkpoint. This is the single best advice I was given and the best advice I can give in return. Focus only on the next checkpoint, never more.
Me with my bestie on route to Bridge of Orchy. Past the point of my longest run to date. Approx 55 miles.
THE FEAR OF TIME
I loved the challenge, the unrelenting hours of onward focus, but the stress of cutoffs is hard. There was no time to let up or rest until I reached Kinlochelven, having to chase the cut offs at nearly every checkpoint. As I passed the 1st marathon mark I was still feeling low and wondering why I was running this thing. Then I realised I was 30mins down on time. If I carried on at this rate I would be timed out at 42miles. This knowledge hit me square in the chest and the weight of how much finishing this race meant to me propelled me on. I could not let Max and Neil down; they had been awake all night too! I banished feeling sorry for myself, put my iPod on and ran! Luckily, on the low road I met Karen, another runner and she pushed me on when I slowed and together we scrambled and weaved our way along the loch side well inside the cutoff.
The race is not measured in distance. Do not dwell on how far you have come, or how far is left to go. Just focus on how long to the next checkpoint before it is too late. The race is measured in hours… you calculate distance in time. Another thing to note, I began to dillydally once I was well within the cutoffs as the pressure was off. Prepare for this in advance and keep pushing on.
4.5 hours to Balmaha…. 2 hours to Rowedennen…. 2 hours to Inversanid… 3 hours to Beinlglas… 3 hours to Auchetyre… 1 hour to Tyndrum…. 2.5 hours to Bridge of Orchy… 3.5 hours to Glencoe… 4 hours to Kinlochleven…. Rest here til sunrise – 1.5 hours…. 6 hours to the Fort William.
Crew got it spot on at Balamha
COUNTING AND THE RANNOCH MOOR
I was afraid I would leave this race with a dislike of the Rannoch Moor, which would have made me regret the race. My favorite day in my life so far, was crossing Rannoch Moor the first time. Max and I walked the West Highland Way in 2016, a belated honeymoon/escape from recent horrors of writing our PhDs. The weather clear over the moor with a storm on the snow capped mountains surrounding us. You could see only moor for miles. It was the first time either of us had been this secluded from humans. I had never seen a landscape like it. On Baa Bridge, Max and I made a promise.
Once the sense of perplexion of Jelly Baby Hill had subsided, a feeling of nausea and general awfulness crashed through me. Thankfully, I had a WHWrace finisher crewing me. I asked Sue if I would feel like this for the rest of the race and she reassured me it would pass, it would just come in waves from now on. I was also with my best friend's husband who was in awe of the Moor, it was great to listen to his exclamations of how beautiful it was. My crew came up with a run-walk strategy of 30seconds on / 30seconds off and we would walk the up hills, picking off runners in front.
An excellent piece of advice gleamed from John's podcast was; if in a negative place, aim for a neutral place, not a positive one, as the jump is too great. John suggested counting as a strategy. At the time I thought this was ridiculous. I was caught in a negative mind loop and my mind needed a new loop, a neutral one that cost me nothing emotionally. I began counting my footsteps. Counting to 20 was too difficult as the teens are two syllabled so do not fit in time with my cadence. So I would count to ten on one foot and then on the other. On the Moor I did this non-stop for hours.
In this way we made it over the moor in my predicted time and arrived at Glencoe at 10.30pm. Getting over the moor took everything mentally; having Max at the checkpoints and not with me gave me the extra incentive to push on. I wanted to see him desperately. On my arrival, straight into his arms I was overcome with emotion and had to sit and sob for a few minutes to the distress of my crew. I reassured them I was fine, I just needed to get it out. I could not hold myself together if I held this in.
Just before the waves of awfulness hit. Jase, Sue and me with the hardest tree in Scotland.
DARKNESS PART 2
Somewhere on the ascent of the Devil's staircase my mind snapped. My last rational thought was reflecting on the myths of drunken miners falling to their deaths as they made the treacherous journey from the nearest bar at the Kings house on Rannoch Moor, back to their homes in Kinlochleven. Having made this climb three times before with relative ease, it was not until now, in darkness, that I appreciated its name.
A sobbing mess by 80miles. 26hours running and 48 hours without sleep. Not coping with the darkness.
Unlike the first night, there was no light in the sky. The only light was from our own head torches and those few bobbing around somewhere ahead of us. As the staircase ascended deeper into the cloud, visibility even with torches dropped. On the summit I text Max to let him know we are at the top and found I had no signal. For the first time in the race, I could not contact Max and, looking back, this may have been the trigger to my mental breakdown. As the race progressed, physical pain melted away and I now had little feeling or awareness of my body and struggled to read its needs. The most dire of which was that I could not tell if I was thirsty and an extreme paranoia gripped me that I was over drinking. My mouth completely dry, I tried to refuse myself water. When I did drink I instantly needed to go to the toilet and the panic deepened.
Neil and I skirted the mountainside towards Kinlochleven. I could not feel my body, did not know where I was and could not see anything not in the direct beam of Neil's amazing torch. I could not ground myself in reality and my mind snapped, with my body somewhere to my left walking onwards purposely, as it had been ordered to. I must find light again. At some point I realized I could use my voice as an anchor to reality, but I was unsure of what I was saying and very aware of that. I asked Neil to tell me stories as I could not cope anymore. He talked about his family and mutual friends and races and it helped take my mind somewhere other than where it was drifting. Eventually, we made it to the medical centre. Runners were lying on mattresses with ice strapped to them and in a terrible state. I sat on a mattress crying, trying to explain that the reason I was upset was because I was scared of the dark and I could not tell if I was thirsty, to the bemused look of the medical team. Max surrounded my mattress with food options – cereal, milk, porridge, pasta… I had stopped eating at Tyndrum and managed only the milk. I refused to leave until the sun was up. The darkness, an absolute terror, no one could make me face again.
Leaving Kinlochleven at sunrise.
WHEN YOU HAVE NOTHING LEFT, BUT MUST FIND MORE
The Lairig Mhor and fire road were a relentless torture and I look back on this section as my only regret as I did not handle this well. I had given up and was simply carrying on as there was really nowhere else to go. Max tried to comfort me by telling me it was just 10km left. I sobbed while my body continued to hike. I could not do 10km, but I must. Even now, I feel a distrust of stones, I was sick of staring at the rocky paths.
Still managing a smile, at around 89 miles with Max on the last leg (and last legs!).
I finished relatively unemotional; I was a bit confused if honest. My entire crew plus some friends ran the last few hundred metres with me. I could not work out where the finish was and had to be guided by them. I was convinced I had to touch a door, but could not see one. I was done. That was all I was aware of.
Everyone came out to see me in. I still feel emotional when I think about this time in the race.
Have a plan agreed with your crew about what to do upon finishing. We had not discussed this and I was in no state to know what I wanted or needed. Though I did know I desperately needed a shower.
RECOVERY
This has been the greatest surprise. So far, other than pressure pain in my feet and some nerve pain in my toes, I am fine. The worst thing right now is my midge bites. I think I have finished weeks working in London in a worse state than finishing this race (though work is slightly less traumatizing).
Listen to your body, the fatigue is like a deep bruise and rises gradually to the surface. The soft tissue on my feet is still tender and, in the first couple days, I could not tolerate standing for longer than 10 minutes at a time. I am very glad for the week off work as I doubt I would have managed the commute.
SUMMARY
At the prize giving, a friend asked me how my race was and I answered in all honesty, it was a horrendous nightmare. However, I am still as much in love with the West Highland Way as I was before, probably more, and I will be back walking it again next year, or maybe even sooner… a little voice is suggesting midwinter?
Getting my goblet! Wohoo! I did it! Along with 197 other finishers we each got presented one at a time with our goblets.
LETTERS OF INSPIRATION.
I want to write a separate section to thank those who wrote letters to me. Max and Neil were reading them to me during dark points in the race. At these times I was often unreachable and sentences no longer connected to each other, but the words came through. I read them all again once I had finished and was overwhelmed with what was written. Thank you. Thank you for your love and support. Until I read these letters and saw the encouragement in texts and on my social media platforms I had no idea how this race would reach so many people. I cannot describe how motivating and lifting this was in my lowest and darkest moments in the second night. I cannot thank you all enough. I love you all.
The Fire Road and the Ben. Thank you for supporting me to get here.
Written by Paul Baldwin - https://pbracereports.blogspot.com/ The result UTMB Finish Line in Chamonix Let's get the big question out of the way first. I finished the UTMB in an official time of 42 hours…

Written by Tina Reed Race Start Photo by Valerie O'Sullivan I started running when I was 40, thirteen years ago. I remember I used to go to a playgroup in Park Road…

Written by Neil Bryant for the URC Along with the Race Ultra Pro 2in1 vest, I received the brand new Trailroc G 280 shoes from inov-8 as free samples to run into the ground…
Written by Neil Bryant for the URC Vest with 10 litre pocket clipped in place on the rear As mentioned previously in other reviews, I have been a Salomon vest user, and…

Written by Tremayne Dill-Cowdry - https://dill-runs.blogspot.com After Western States 2017 I still felt incomplete. Yes I'd finished, yes I got a buckle but it wasn't the race I had wanted. I had…

Written by Neil Bryant for the URC I feel very lucky to have got my hands on a Gecko race vest courtesy of Montane. My only previous experience with Montane vests…
Written by Gene Beveridge - https://genebeveridge.nz Woohoo! My first ultramarathon victory! And in no other event than the Tarawera Ultramarathon! This stunning 50km has been my target since the start of October with a…

Written by Michael Miracolo - https://liveslowrunfar.com Ultravasan 90August 18th, 201890 km, 868m gainSälen to Mora, Sweden For those unfamiliar with the stats of UV90, here's a little summary (those of you who know…

Written by James Parsons - https://medium.com/@jampars88_56611 Distance: 81.9km (50.9 miles) Elevation: 4,001 metres Participants: 485 sign-ups, 378 starters, 240 finishers Wind: up to 70mph (on summits) Rain: shitloads Official result: 13:03:05 (19th overall, 18th male). Race prep You know…