Written by Jules Roberts - virginmoneygiving.com/homelessrun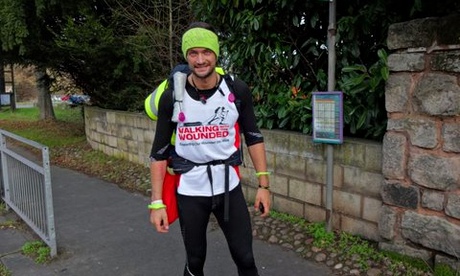 It was 11pm on 22 December. Dinner had consisted of two scotch eggs, a packet of pork scratchings, a lump of cheddar and a couple of oatcake biscuits. Hardly the best fuel to help my legs recover, having run 120 miles in the previous 40 hours and still with a significant distance to go. I was crawling into my bivi bag, lying on the cold floor of a pub car park on the outskirts of Tamworth. The smell of urine was overwhelming. It was my second night sleeping rough and I was beginning to wonder what I was doing.
A couple of months previously, I'd seen an announcement on Facebook from my favourite charity, Walking with the Wounded. They were launching this year's Walking Home for Christmas campaign, which encourages people to walk home from their office in the runup to Christmas. This year the money raised was going to help homeless former servicemen and women. One in 10 homeless people in the UK used to serve in our forces. This statistic really hit me and I decided that I was going to get involved. As I'm an experienced ultramarathon runner, running the three miles home from my office wouldn't grab anyone's attention. I was, however, going to my parents' home in Alsager near Crewe for Christmas – 160 miles away. Plan made: I would run back to their house over three days and, in keeping with the homeless theme, would carry all my kit, and sleep rough en route. Before I could back out, I put a statement of intent on social media, and that was it. No way out …
At 8am on 21 December, I was outside my office in central London. I was going to be joined for the first 20 miles by ultrarunning legend Pete Chandler, five-time finisher of the 145-mile Grand Union Canal Race. This was a man I needed to listen to for tips. We set off, central London eerily quiet early on a Sunday morning. My bag, which weighed 10 kilos, immediately started digging into my shoulders and rubbing my lower back. This was going to be a long three days. Mercifully, the weather was compliant: cold, yet dry. We cruised up Edgware Road, heading out of London; we crossed a motorway and whooped with excitement having crossed the M25 and therefore "left" London. Only 15 minutes later did I realise it was the M1 and we had some way to go until the M25. Never mind. In almost no time we had hit St Albans, Pete's stopping point. A quick embrace, obligatory selfie and he was gone.
Then the slog started. Once I hit the other side of St Albans, it was on to the busy A5 and head on into traffic. I simply had to plug away. I hit Dunstable and a car pulled over; a couple thrust £20 into my hand, which really cheered me on. The boost was huge, my pack felt featherweight, and I sprung off again. Time to resupply on liquids again, and a McDonalds appeared. I knew I was short on calories and needed some caffeine so I created what at the time I thought was the world's best sports drink. A large chocolate milkshake, supplemented with two double espressos and two packets of salt. Mix, stir and drink. I felt great for 30 minutes, then the effects of four shots of espresso kicked in. Wow. Maybe not the world's best sports drink after all.
Darkness fell and I still had a long way to go to hit my target of 60 miles for the day. Perhaps starting my run on the shortest day of the year wasn't the smartest idea. I hit the double marathon mark in just under nine hours. Pleased with this, I updated Twitter accordingly. Seconds later, there was a message from Pete: "Slow down mate, you've got a long way yet." I was not going to ignore his advice, so made the decision to walk for the rest of the day. Plodding along the A5 dodging traffic was not much fun.
60 miles came up, and time to find a spot to sleep. I jumped a hedge into a field and settled down for my dinner of cheese, pork scratchings and whisky miniatures. I was cold, so cold. I struggled to get to sleep with the noise of the A5 ringing in my ears and nagging thoughts of foxes. I had seen a lot dead on the roadside. Was I in a fox-heavy area? Would they come for my food, or my face? In the early hours of the morning, something cold and wet touched my nose. A fox? Jumping up ready to do battle, I quickly realised it was the toggle from my bivi bag. It was not a good night's sleep.
At 6.30am, I heard a "Helllloooooooooo" cutting through the inky black of the night. My friend, Christine, had come to join me for the morning. She brought coffee and sausages with her. Fortified by these and a quick radio interview, we set off. Slowly.
Day two was always going to be the worst. My legs felt like lead. The pavement on the A5 went, and we were running towards traffic on busy roads. We did not make many friends with the drivers. Christine's energy kept my spirits high and I was desperate to absorb some through osmosis but alas, it did not happen. After about 20 miles and a lot of moaning from me, she had to go home, so we said our farewells and away I went, playing chicken with the entire Eddie Stobart fleet. I eventually conceded defeat. Google maps might think it is OK to run head on into traffic on a pathless dual carriageway, but I certainly didn't find it OK and I am not sure what the police would have said. I pulled out the maps. The original route was the shortest way possible so this would add on distance, but safety first. At least I'd get on to some slightly more scenic roads.
Several hours of trudging through the darkness later, and another 60 miles down, I found myself in Tamworth. Only 45 miles to the finish. But my primary concern was where to sleep. Should I push on up the road to get further out of town? At this point, my legs gave me the answer. I couldn't move. It had to be as close as possible. Pub car park it was, then …
As I was questioning why I was doing this, I remembered: "I am running home for those who served our country and don't have a home to run to." That sobering thought put an end to my moaning and I drifted off. At 3am, the pub landlord woke me up. "Uh oh, he doesn't look happy" was my first thought. Then he picked up my bag and walked off with it. "You're NOT sleeping out here before Christmas mate, you are sleeping on my floor." Three hours of blissful warmth were shattered by my alarm. Today was the last day, a big day. Time to get moving. I got the head torch on and set off in the dark.
Finally off the A5, I was running along the A51, the adrenaline of the final day had kicked in and I was moving well. Then, I saw a vision of beauty. Karl Hinett, a good friend, running legend and Walking with the Wounded veteran had come to join me for a few miles. Karl was badly injured in 2005 in Iraq by a petrol bomb and his recovery and outlook on life are truly inspirational. The word "hero" has lost its meaning these days, being applied to goal-scoring footballers, but Karl is the true definition of a hero. Having him join me lifted my spirits and we ran along catching up about some of our running plans for next year, his immortalisation in a Grayson Perry work of art, and his lovely new wife. The miles flew by, then time for him to go. Another embrace and selfie, and Karl took off the way we came. Moving a lot faster this time!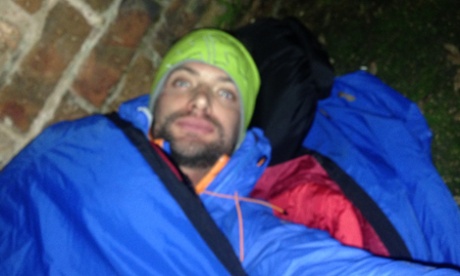 My pace dropped, the novelty of running with a 10-kilo bag had really started to wear thin. My back was raw and bruised. My knees were stiff. I was still really struggling to eat, managing one energy gel an hour. My body was screaming at me, everything hurt, I was depleted, broken down, but I was still moving and I only had 35 miles to go. Easy. I rounded a corner and a cyclist veered off the road. "Hi, Dad, nice of you to join me." My dad had rode down to keep me going. "Eh, lad, this is meant to be a run, not a walk, get moving." It was a great few hours, father and son, talking about why I was doing this, and he updating me on how well fundraising had gone.
When it was time for him to leave, I had 15 miles to go and I was seriously motivated to get it done, but the pain in my knee was horrendous. I was reduced to a walk. Jogging was too painful. I resigned myself to the fact it was going to be four hours until I finished, so plugged along. Darkness fell again, it started to rain. At this point, I didn't care. Alsager approached, one mile to go. I got to the top of my road, almost home … and the railway crossing barriers came down to let the London-Crewe train go past. The train I usually get.
I got to my parents' house and they were waiting outside. A hug, a laugh and a quick reflection on the epic 165-mile journey, but this wasn't the finish – the pub was 200m away. It was probably the slowest 200m I have ever covered.
I managed three pints before I started to drift off, but that was long enough to briefly reflect. What an experience. I am a veteran of many ultramarathons, but this was the hardest I have ever done. The monotony and danger of running on the roads, the heavy bag, not being able to eat. Normally in a race, the lows are offset by highs, but the second day was such a constant low, it was a battle to get through. But the corresponding high at the end cancelled out all of the suffering. I have been blown away by the generosity of the public. People I have never met going online, stopping me in the street and donating. My friends and family have been incredible, too. This is what Christmas is really about: not the consumption, but doing something for others and feeling good about it. This is the best Christmas present I have ever given myself.
If you wish to donate go to virginmoneygiving.com/homelessrun