Written by Neil Bryant for the URC
I've been running for a few years now, and I have tried lots of different bits of kit. A huge amount of stuff has either been no good for me, or just doesn't seem to get used even though I like it.
I thought it would be good to make a list of all the gear I have really liked and had a great amount of use out of. This list will occasionally be altered to reflect any new favourites I discover. This list is totally genuine and personal.
All the purchase links are through to Amazon and the URC will take a small commission from each sale.
I will start with my favourite and certainly my most worn item...
The North Face windproof gilet (finishers gift from the Trans Grancanaria many years ago)
I never owned a gilet till I got this one. I didn't see the point of them to be honest. But it was a gift for finishing TGC so I took it. It is very thin, so is miniscule and can pretty much be carried without even being aware of it. This is one of the great points about it. But why would I want a windproof without arms or a hood? I buried it in my pack and forgot about it.
Then one day out on a run, I got quite cold and so tried it on. My core warmed up immediately as it kept the cutting wind from chilling me. It also meant that as I continued to work at a high level, the lack of arms meant I wasn't really overheating. It was exactly what I needed at that point, and since then it has been worn on every single winter run and when I go ski touring. It is perfect! I tried to find a similar gilet from The North Face but couldn't find one as I got mine about a decade ago now. I now have a new windproof gilet from Cimalp.
Coros Apex Pro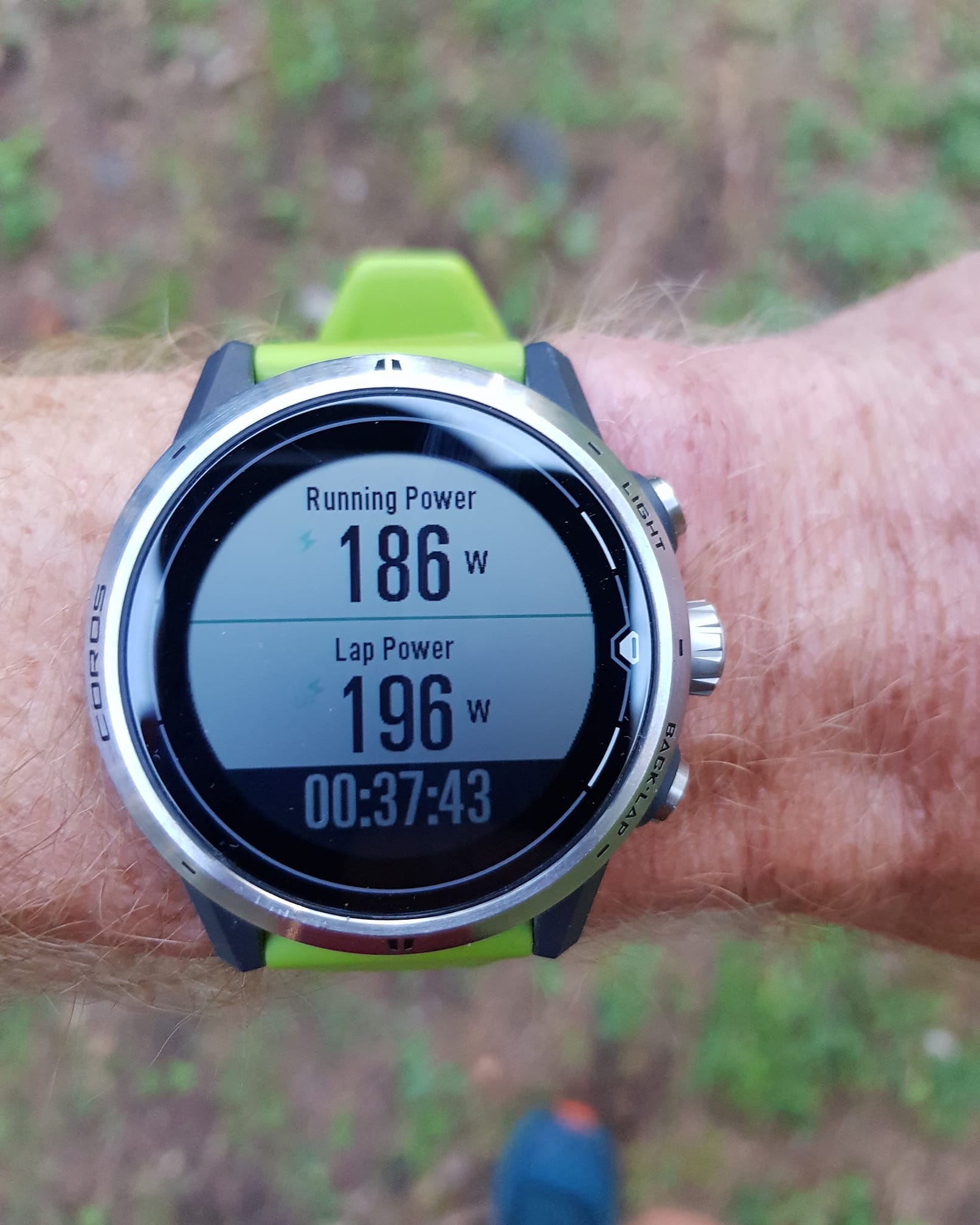 I have had a number of GPS watches over the years, and as much as I hate to admit it, I feel a bit lost if I have to run without one due to lack of charge or something. My Coros Apex Pro only ever comes off to be charged, (and seeing as the Coros watches have such an incredible battery life this is very occasional!) so it needs to look good, be comfortable and needs to work really smoothly. Along with the battery life, the speed that it syncs with the app and also the speed it finds satellites are strong features that help make this a favourite for me.
I wrote a review a while back. Read that here.
An incredibly simple design that is loved the world over. I don't think I ever train without one as they are so adaptable. During the winter for warmth and the summer for sun protection and holding ice cubes or soaking in cold water when it's really hot. I generally have more than one as they are so useful!
Salomon Pulse Belt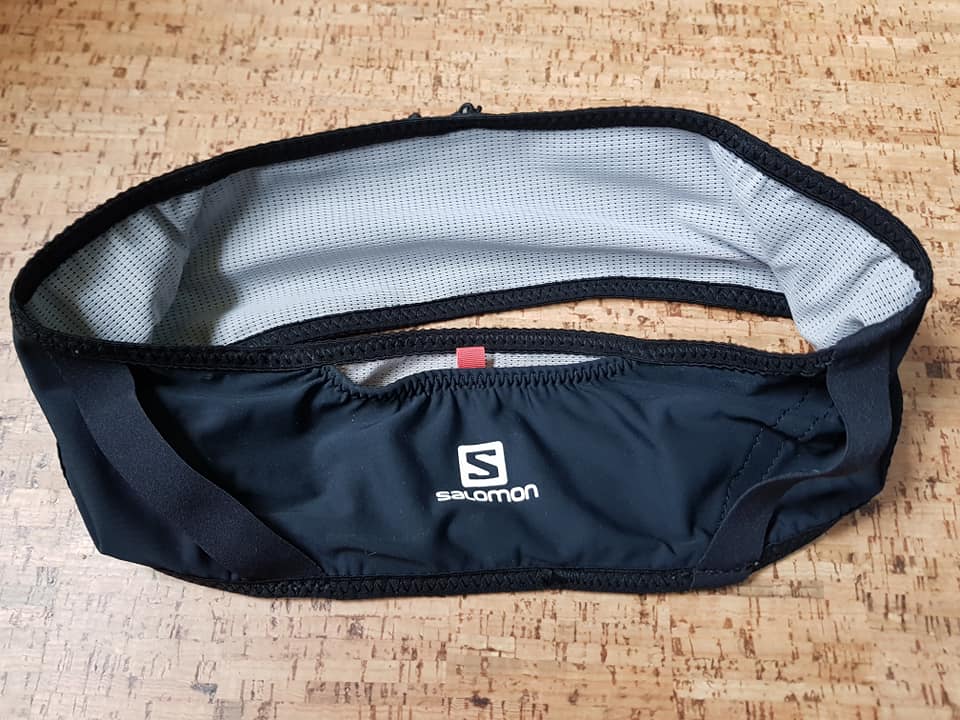 I don't need to carry a race vest on pretty much all my training runs, but often do need to carry just a few small items plus my phone. For me, the best solution for this is the Pulse Belt by Salomon. A stretchy belt you have to step into, it holds all I generally need for my runs and doesn't bounce or give me a sweaty back. Perfect!
Kahtoola Micro Spikes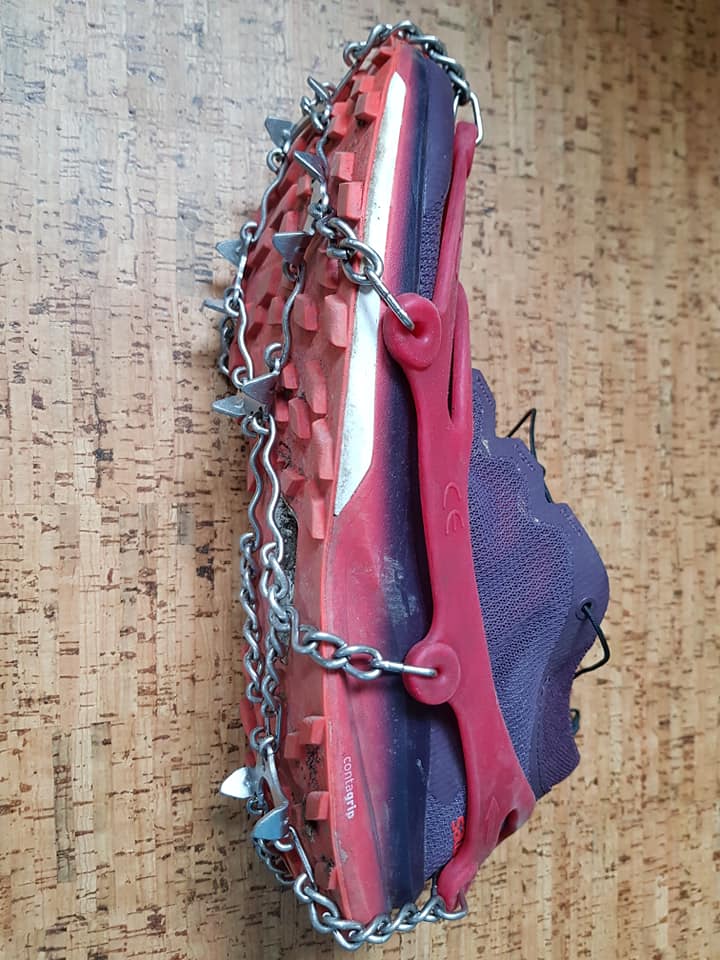 So, this item will get hardly any use from most people, but when it is needed it is an incredibly effective piece of kit! I have had my micro spikes for around a decade and they have been amazing. Bomb proof, Surprisingly grippy on the toughest icy footing. The only issue is that they can get uncomfortable if worn on hard surfaces for long periods, so ideally need to be removed when not needed. Kahtoola do make a slightly mellower set called the EXOSpikes which will still provide plenty of bite, yet be more comfortable as they are a little less aggressive. Read my review of the EXOspikes here
Inov8 Race Ultra Pro 2 in 1 Vest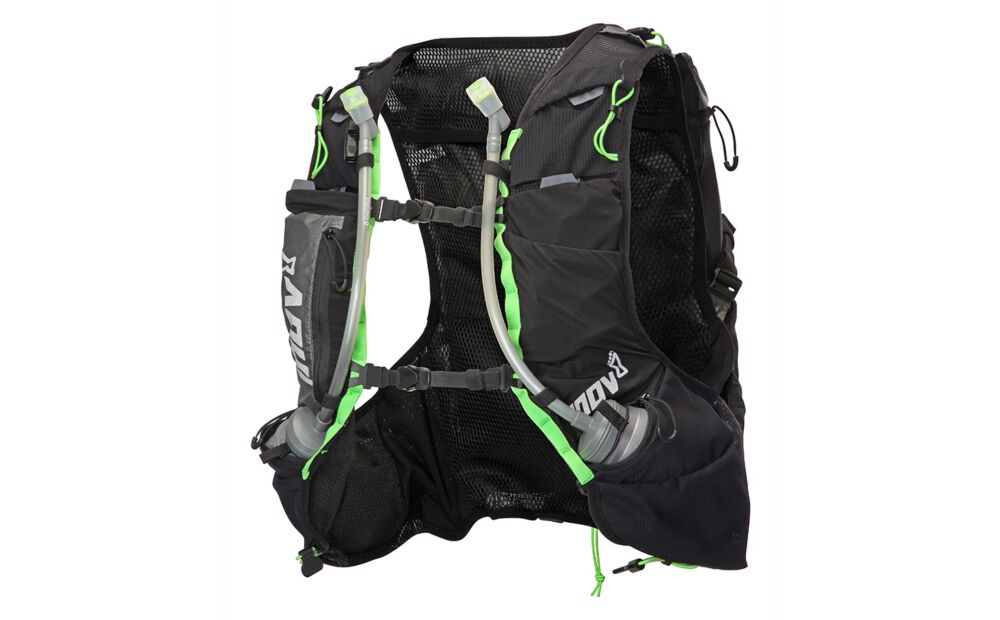 Since Salomon came out with the vest design, I have mostly been wearing theirs as they make excellent packs. That was until I got my hands on this incredibly adaptable and comfortable vest from Inov8.
It has multiple options to carry bottles, carry poles and has an extra pouch that you can attach for those days where you need more gear. The pack that does it all!
I wrote a review a while back. Read it here
Purchase here.
La SportivaKaptiva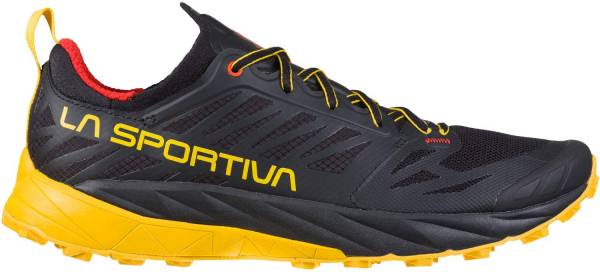 I try many different shoes, and they are more often than not, good these days. Occasionally there are durability issues as the weight drops too far, but can I pick any shoe in particular that has suited me and my running best?
For me the most flawless shoe I have used over the last few years has been the La Sportiva Kaptiva. Remember, this is very personal so people will certainly disagree! It was (Mine died after around 900km) incredibly comfortable, with an agreeable drop, a great grippy tread and excellent durability!
Written by Jens Jakob Andersen - http://runrepeat.com/
Ultra-runners might be the group of runners that spend the most money on running shoes due to the many miles we log, but are some running shoes better for us than others?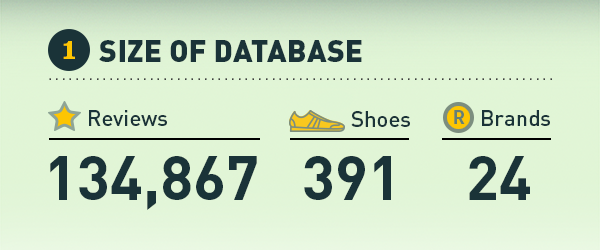 According to a new study expensive running shoes do not get better reviews – in fact a trend line suggests that expensive running shoes get worse reviews than more affordable ones. RunRepeat.com looked at nearly 135,000 running shoe reviews across 391 running shoes from 24 brands, and have some interesting results to share with us.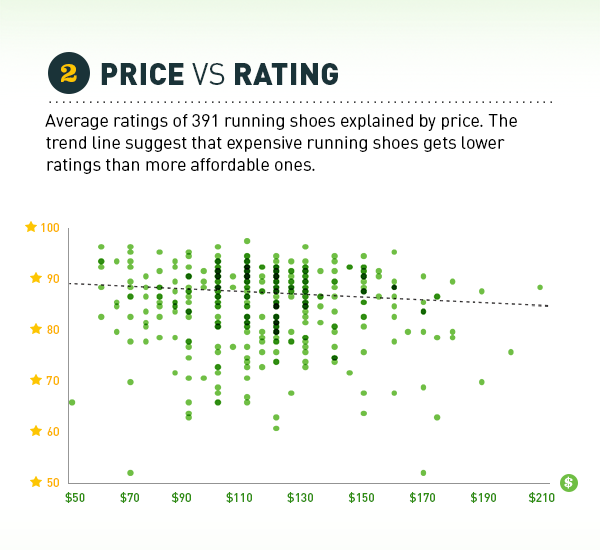 RunRepeat.com found that the 10 most affordable running shoes got 8.1% better ratings than the 10 most expensive ones. In addition, they were sold at an average of 1/3 of the price. Though one should keep in mind that higher prices will result in higher expectations which definitely hold some part of the explanation for this correlation.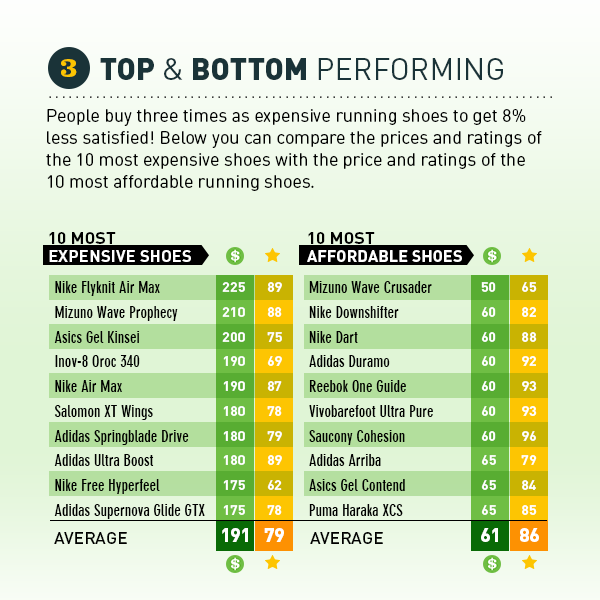 Looking at the top and bottom performing running shoe brands some ultra-runners might be surprised to see how Hoka One One is among the worst rated brands. The worst brands overall were New Balance, Adidas and Reebok, followed by Hoka One One. At the top is Skechers to most runners surprise.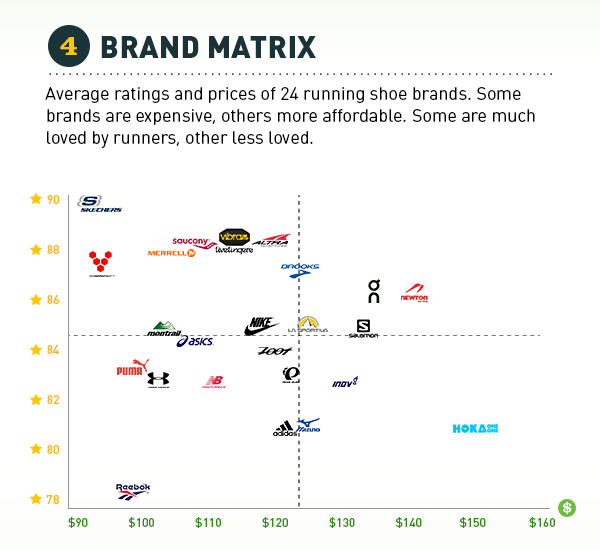 Does this suggest we buy the cheapest running shoes on the market? Definitely no. The point is that expensive running shoes are not always better liked.
For analysis results, click here
Written by Kevin O'Rourke - http://ultrakev.blogspot.co.uk
I read a lot of books. A huge amount of books. and when i'm not reading them i'm listening to them through audio books and podcasts. I see a huge amount of threads where people ask what are the best books for Ultra runners, Ironman Triathletes and what the hell are podcasts anyway. I'll cover podcasts in another blog.
So here is my definative list in no particular order and with a little summary from me. You could even buy them if you click one of the links and I will earn about 5p if i'm lucky
Books
Born to Run: The Hidden Tribe, the Ultra-Runners, and the Greatest Race the World Has Never Seen
by Chris Macdougall.
If you haven't read it you must have been in a Mexican Cave for many years. Yes the story moves around the place and yes there has been massive discussions about barefoot running but this is still in my top 10 of all time best books. I love the stories and the science. This shows the true capabilities of the human body and what we are actually capable of doing.
Natural Born Heroes: The lost secrets of strength and endurance
also by Chris MacDougall
An amazing book not only about running but about the true life heroes of the second world war as well as mixing in parkour, strength and conditioning, nutrition, a variety of heroic stories and a detailed explanation of fascia. This was a medical term I was unfamiliar with but have now learnt is of massive importance to everyone.
Ready to Run
by Kelly Starrett
The go to book for ALL athletes in my opinion. Kelly breaks the body down and shows you how to rebuild it in a stronger, more effective way. There are no stories about endurance or achievement but if you want to be the best runner you can be then get this book.
The Endurance Handbook: How to Achieve Athletic Potential, Stay Healthy, and Get the Most Out of Your Body
by Dr Phillip Maffetone
I LOVE the Maffetone Method. Running at your optimal heart rate and allowing your body to naturally get faster, healthier and stronger. What's not to like in this latest book for Dr Phil. I have personally trained dozens of athletes in this method and all have seen amazing results and many who used to hate running now run at least 5 times a week and ADORE IT.
Never Wipe Your Ass with a Squirrel: A trail running, ultramarathon, and wilderness survival guide for weird folks
by Jason Robillard
I bought this book originally because I thought the title was fantastic and hilarious. What is contained within the book however is pure gold if you like running ultra marathons or are looking to do your first ultra.
Running and Stuff
by James Adams
James is a lunatic, he looks like one, acts like one and runs like one. Actually he is a bloody nice bloke and yet he still manages to knock out amazing ultra marathons in the UK and abroad. His funny and irreverent stories of races and the way he speaks to you through this book is brilliant.
Out There: A Story of Ultra Recovery

by Dave Clark
Dave is my current coach, I sought him out after reading his superb book as I felt a connection with him and his achievements. This is no ordinary ultra runner who has lost a few stone and done some amazing races. NO!!!! Dave is an ULTRA GOD and a thoroughly nice guy. His book will shock you, upset you, warm you and amaze you as you read about his triumphs, massive failures and the person he was and has become.

Relentless Forward Progress: A Guide to Running Ultramarathons

by Bryon Powell
This was one of the first books I read on Ultra Marathons and it's still one I refer to one a regular basis. Get this for the plans alone as they are tried and tested by many athletes in the same way that Be Iron Fit is used for Ironman triathlons. Bryon runs IRunFar and covers all major ultra marathons through his website, twitter feed and facebook and is one of the most knowledgeable people on the American scene.

Running with the Kenyans: Discovering the secrets of the fastest people on earth

and
The Way of the Runner: A journey into the fabled world of Japanese running

both by Adharanand Finn
I have chosen both of these books as they are both superb reads. To get an insight into the Kenyans from someone who has lived with them and trained with them is superb. The tale of the Japanese dedication and how highly they value ultra runners made me want to move there instantly.

The Marathon Monks of Mount Hiei

by John Stevens
The definitive account of the truly mind blowing Marathon Monks from Japan. These guys take Ultra running to another level in the aim to achieve enlightenment and become living gods. Forget DNF's these guys have to commit suicide if they stop at any point in the long 7 year journey which sees them start with 100 days of consecutive 40k runs up and down mountains and progresses to the 7th year where they have to run100 consecutive days of 84k folowed by 100m days of 40k just to finish them off. They also have to do a shit load of other crazy stuff to achieve complete control of their mind and body but if I told you it would spoil it. Needless to say this is one of the best books I have read on controlling human suffering with the mind.

Athletes Guide to Recovery: Rest, Relax, and Restore for Peak Performance

by Sage Rountree
We all like to exercise and run and there are never ending threads about recovery and how long it takes between races. Yes there are lots of super human athletes like Dave Mackey who seem to be able to knock out ultra marathons on a daily basis and the Marathon Monks mentioned above but they all have got there through listening to their bodies and understanding what it takes to recover. This book will help you to understand your own body more and you will be amazed at how long it actually takes to recover properly.

If you have any books you think deserve to be included in this thread then please comment. If I haven't read them I will buy them and report back
Written by Neil Bryant
Questions frequently asked by runners are to do with purchasing a waterproof jacket. As seems to be the case with most
equipment now, the choice is endless, and what seems to be simple at first, after researching a little, turns into a bit of a head scratching exercise. How light?, how small?, hood or no hood?, jacket or smock?, how waterproof?, how breathable?, Maybe reflective patches are very important for you? Price? The list is endless. This article doesn't discuss particular jackets, but does consider some of the features that that you may need to think about when purchasing that potentially life-saving piece of equipment. I do hope it helps some of you make that all important choice of choosing the right waterproof jacket for running.
Hood

One of the most important factors for me and the thing I first look for, is a quality hood. By this I mean one with plenty of
adjustment so that it can be well secured during high winds. I have owned jackets in the past that had loose cords that would whip you in the face when it was windy which is something else to look out for. Also a huge thing if you want the jacket for terrible squally weather is a peak, possibly a wired peak which is stiffer and can be shaped. Believe me, if you haven't used one before in anger, then you will be very glad to have it if caught out on the moors or mountains. Of course some of the more minimalist jackets will just have a hood with elastic around the rim which will be stable in winds but won't protect your face at all. There is a market for hoodless waterproof jackets but I personally see no reason to buy a hoodless before a hooded and there is no need to have both as the hoods always tuck away neatly.

Fit

Fit is also a very important factor too. This is something that can truly only be tested by trying the jacket on. We come in many different shapes and sizes and for the jacket to work at it's potential then it must fit well. Arms need to be long enough so that when you are running they don't ride up, exposing your wrists. Mens jackets have longer arms than womens, so, ladies, if you can't find any womens jackets that fit, it could be worth trying a gents. The tail of the jacket needs to cover the waist area even when reaching up Overall, space needs to be minimal so that it isn't like wearing a bin liner blowing around in the wind, and has enough room to take those all important extra layers you will need when things cool down.
Wrists

The wrist closure is important too. I don't like elasticated only wrists as there is no room for adjustment if you are wearing extra layers/gloves, and they can be fidly. Velcro, in my opinion is the best method we have for the wrists. It is strong, simple, weatherproof and lightweight. Sounds perfect doesn't it. The wrists need to be covered when cold as a main artery passes close to the skin meaning it is a quick way of cooling the blood. Also it doesn't want to be too tight (possibly with elastic) as this can disrupt the blood flow giving you cold hands.
Waterproofness and Breathability

The perfect jacket would be totally waterproof and completely breathable. This is of course impossible with current fabric technology, so we have to work out what would be the best compromise for our needs. Thankfully there is a system for measuring the waterproofness of a material using a hydrostatic head test. This is where a section of the material is pulled taught under a 1 inch diameter sealed tube of water. Over 24hrs the level at which water starts to come through the fabric is the hydrostatic head measured in mm. Anything below 1500mm is pretty low and will probably start leaking quite quickly. 1500mm to 5000mm will be quite effective for longer periods of time, and from 5000mm to 10000mm you are into the seriously waterproof gear. The breathability of a fabric is measurable but hasn't been standardised with most companies carrying out their own measurments. It can be worth checking out the web for some independent comparison tests. For a basic guide, the higher the figure, the higher the breathability. Breathability also comes down to ventilation, most obviously at the front zip, but also with the addition of 'pit zips' which are highly effective, venting panels and simply taking the hood down. There are many factors that come into play here, such as how hot you run, how much you sweat, Whether the jacket will be an emergency back up or worn all the time, etc. etc. As usual there is no perfect solution here for everyone.
Weight and packable size

Weight and size is an ever important factor in the runners demands. Many runners will buy their first decent sealed, hooded waterproof jacket because it's on the race obligatory kit list. The major concern then is whether it will fit in their miniscule bag. Fortunately fabric technology has taken such bounds that truly quality waterproof and breathable jackets really are super light and tiny with some models coming in at under 200g! There are of course compromises here. The lightest generally are the priciest. I find that if you are out in the rain for extended periods of time (and/or sweat a lot) and they eventually leak, then the thinner and less rigid the fabric (lighter), the more 'clingy' it gets. This is horrible and you feel less protected from the elements as there is no space between the jacket and you. A heavier more rigid jacket, hold it's shape better and even if it wets out, it won't cling to you which protects you much more effectively. So, again we hit the word compromise. I think that the majority of runners will opt for the lighter, smaller jacket, but some of us will want that little extra effectivness that an extra 100g could give.
Durability

Durability is something that certainly comes to odds with the demand for lightness and size. Most jackets are very thin and you would assume, very easy to tear. I have a Jacket made from Pertex Shield+ which is incredibly thin and feels very fragile though I have seriously abused this jacket over the past few years in all sorts of awful conditions and scraping it in many clumsy falls but it still shows not one rip! I am amazed. It is of course possible to tear and wear them and with that in mind, some jackets have some tougher fabric in key areas to help prevent this. Overall you need to really decide what is important for you with the type of running you do, where you do it and your expectations. I know that some people expect to stay totally dry and will be annoyed when they get damp. I expect to get wet if there is much rain and the key factor for comfort and self preservation is that it is windproof which protects you from the dangerous winds. You can spend a lot on jackets today and they are generally worth it if you can afford them, but that is not to say that the 'cheaper' jackets are no good. Try stuff on and think about what factors are important to you. Do a little research and finally, enjoy the rainy days by running in comfort and not hibernating.
Please feel free to comment below with any tips you have or if you disagree with me on any points. This would be a great reference point if there were many peoples opinions.