Written by Neil Bryant
I have been running ultras for over 12 years now, and up until around two years ago, got a real kick from races. My races had over time become longer and harder and therefore slower. I love to run fast, well as fast as I can, but the lure of the adventure of a race that lasts for a number of days and which I am not even sure that I'll finish, is overwhelming.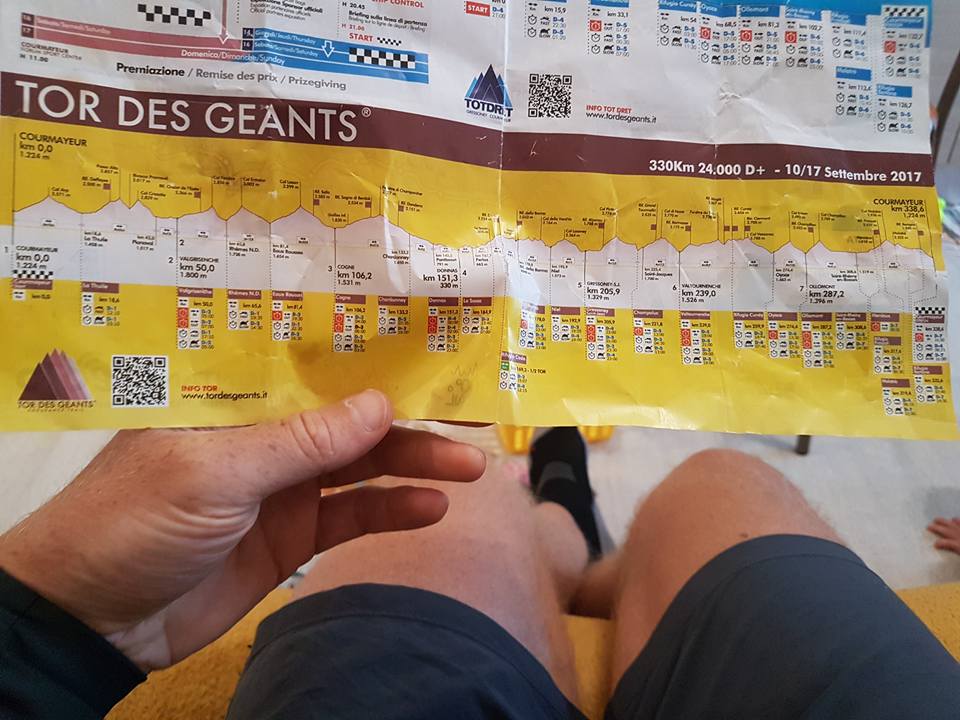 So, of course the Tor des Geants was a natural for my to-do-list. Originally I wanted to do it but it felt too much, but as I did bigger and bigger races my confidence grew and eventually I knew that I could do it. I tried to enter and either didn't get through the ballot or something in life would prevent me starting. Last year, I chose not to start as my girlfriend was expecting our little boy to arrive close to race week and I didn't want to risk missing that!
Then at the start of this year I needed to decide if I wanted to do it. Competition was not really on my radar now. I just am really loving get out for decent long runs here in the mountains. I have no training schedule. I am fit, but nowhere near what I could be. I thought it over for a few days and eventually realised that I had to. I knew I would regret it if I didn't at least try. I would never be able to put in the training to be really strong, but I was sure that as long as things didn't go pear shaped that I could at least finish. I was in!
The year of training averaged three runs a week , once ski season was over in around April in which I wouldn't run at all. Life seemed hectic in the run up and it wasn't till about three weeks out from race day that I finally started to get excited about it. I started reading a few race reports, watching videos and generally getting psyched about the fact that I was finally going to start this race that had started to become a bit of a monkey on my back. I couldn't wait. I live in Chamonix which is really close to the Aosta valley, but had never really seen much of it, so what better way to have a look around than on foot!
Our little boy, Ludo, was nearly one year old by the time the race arrived, and Lou had decided to come with me to Courmayeur the night before so that she and Ludo could watch me off in the morning. Our dog Claude of course had to come as well so we had a busy hotel room that evening!
In between watching Ludo, walking and playing with Claude, I faffed endlessly with my bag and the yellow drop bag you get issued. I usually don't bother with drop bags, but really wanted to do this right and finish. Once I had finalised everything that was going in, I wrestled the zip closed, then drove down to the sports centre to drop it off. I wouldn't see that again for about 24hrs!
I didn't quite get the good nights sleep I was after due to Claude being ill and needing to go outside about 5 times through the night. I wasn't too bothered though as I knew that one decent night wouldn't really make much difference over the whole week ahead.
My biggest mistake during the Spine, was that I didn't sleep enough, and generally left it too late before I gave in to the sleep demons. This meant there was much death marching purely due to lack of sleep. I was determined to tackle the sleep timing better this time as I knew I lost absolutely heaps of time at the Spine.
To tackle this my plan was simple. Instead of pushing on to the next cp when tired I would stop sooner. When I would stop, I would aim for around 1-2 hours of sleep time. I have tried 30 mins and it just didn't really work for me.
The race was to start at a leisurely 10am, which meant a relaxed breakfast and then wander through the town and absorb the atmosphere before the start. I arrived with just a few minutes spare as usual but it mattered not as they were behind on chip control. Once through and onto the start area, we had the usual Euro energetic build-up to the start.
Finally, after what felt like about a four year wait for me, I was off. I was about midway in the field and was soon jogging through the town. There were huge crowds cheering us off and then I saw in a quieter spot, Lou holding Ludo and with a very excited Claude. I felt a wave of emotion as I made a beeline for them. A quick kiss to Lou and Ludo and a quick stroke of Claude who desperately wanted to come with me as I ran off and began what I hoped would be a magical journey.
I didn't have much as far as a plan went. This was on purpose as I like to have some surprises during the journey. The night before I had looked over the route profile and decided on a few rules. No running any uphill, unless barely an uphill and feeling great. No racing other runners in the first half and to take it uber easy for the first few climbs.
As far as strategy went, I just wanted to push past the first lifebase on the first day, before sleep. I wanted things to be fluid and reactive to my state, conditions etc.
After 20 minutes or so, we left the road, and immediately we were heading up. It was a warm day and I had rolled my arm warmers down. I was sweating plenty but felt like I was in control. My pace was easy and there was plenty of walking. I had poles so was finding a good steady rhythm as they tap tapped along.
The first col felt important to me as it felt like the first real sign of progress. After around three hours, the long line of runners had snaked their way up to col Arp and I briefly stood there. I took a few pictures looking back at the hundreds of runners behind still climbing, then turned and began the first descent, a long way down to La Thuile. I focused heavily on small strides and staying as relaxed as possible. This was a big game of self preservation. A few runners bolted past like they were in a short course fell race, and I resisted the temptation to follow.
I felt like I was finding my pace and was happy with my discipline in not chasing people. In La Thuile there were loads of people cheering again and cow bells donging away for every runner that passed. There is so much energy to be gained from these situations. It was amazing!
I stopped at the first cp and tried to focus on an efficient process. I wanted to be quick, but not too quick so as to forget to do everything. I filled my bottles and grazed on the cheese, meat and whatever else felt right at the time. I looked over the cp map which showed the next section to see what was coming, then walked out with my hands full of dried fruit. I ate this slowly as I walked up the road, breaking into a gentle jog once finished.
All was well. Nice weather, good pacing and my stomach was still good. I always seem to get a nauseous feeling in races these days, so I was expecting it to rear its head at some point. When it did, I would just have to manage it as best as I could.
From here to the next high point was another big climb of around 1400m. It started gently and then we entered woodland and headed up dusty trails, thankfully sheltered partially from the sun. Here, I bumped into Paul Tierney. We ran together for a while and chatted about running and mountains and coaching and things. He had lost his cap and was concerned about the sun giving him a beating. I happened to be carrying two caps with me, so lent him one.
We were moving comfortably and generally were overtaking a few people here and there. Paul seemed strong, so I was conscious that I needed to make sure that if I noted he was going over my cruising speed, I needed to let him go.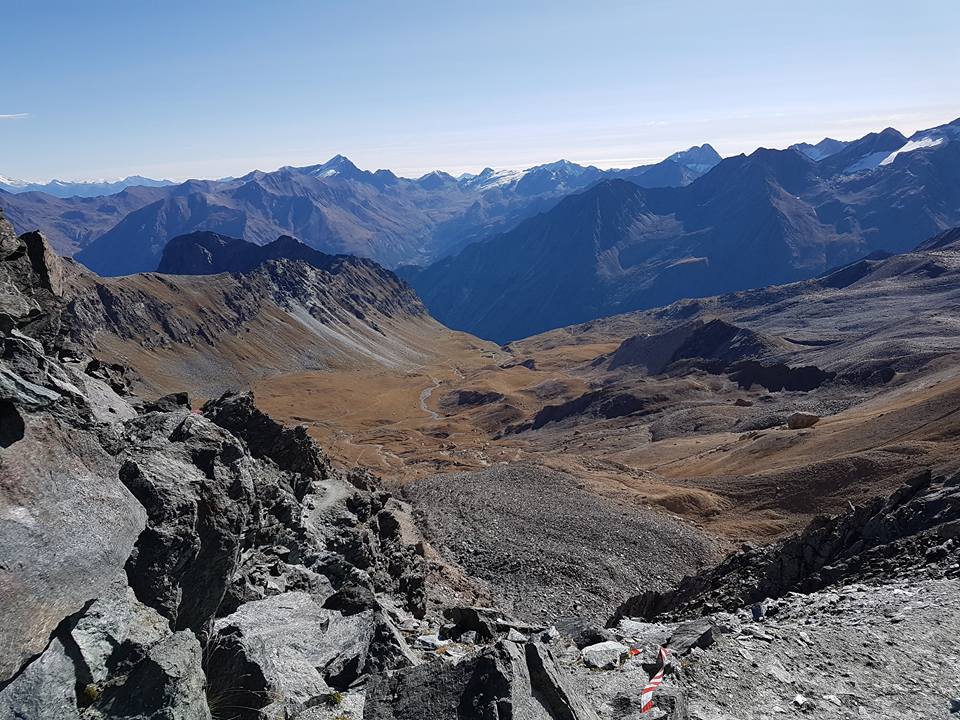 Next up we crested a steeper section which was now above the treeline and could see the other side of a small alpine lake, a refuge. Paul pushed on ahead, so I let the elastic snap.
As I approached the cp, I mentally went through all that needed to be done, and if there was anything I wanted. Did I need to have a little sit down? This is how I always do cp's now. Simple yet, for me very effective. I had slight sensations of nausea, but I could still eat, so still ok. I'll just ease off a bit to hopefully hold it off or if I'm lucky, prevent it.
I had two bowls of pasta here, simply because I could and was conscious that eating may become a little more difficult later.
After a short while, I was on the move again. The next section was the rest of the ascent to Passo Alto at 2857m before a 800m descent followed by an 800m ascent to col Crosatie. This was the last serious climb before the first lifebase. I was starting to run through mad mathematics in my head as I tried to calculate whether I would make the Lifebase at Valgrisenche before dark. It would be close!
I kept the pace even, as I made my way over the next two high points. As I descended Down to Planoval the nausea worsened. Again, it was fairly manageable, but at Planoval, there was food, and I couldn't manage to eat anything. I walked off and didn't start running for a while. I wasn't really too bothered about this as I was expecting it, and the race was so long that I was expecting it to disappear eventually. The next section to the lifebase was relatively flat. I ran some and walked some, overtaking some and a couple overtaking me. The sun had gone now and the night looked to be closing in.
Just as I needed to put my headtorch on I was literally about a km away from the lifebase. The music was incredibly loud. Sounded good too! A bit of Pink Floyd running through the woods in the dark!
A short climb and I was there. Now for the slick machine that is the Tor to go into effect for me. My yellow bag was handed to me as I crossed the chip mat. I entered a very full and steamy dining area. There was a great selection of food. I ambitiously took a large portion of food and a fruit juice and found a seat and started to very slowly eat something. After about half an hour, I had eaten about a quarter of it. The juice had gone down a treat though so I got some more. I grabbed some more snacks from my drop bag and handed it back to the amazing staff. They pointed me on my way and I was off. I was grateful that the temperature had dropped. I work so much better in the cold.
So the next cp I could sleep at was Rhemes which was just over the one hill. The hill was a cracking climb up to the rifugio chalet de l'Epele where I again was unable to eat, but was offered a coffee by a chap behind the bar. They had a full size espresso machine in there and the guy knew how to use it. He gave me a cracking Latte which went down a treat and would surely help me through the night.
Then it was the final climb to the mighty col Fenetre. The descent started immediately very steeply and was quite technical. It didn't really let up for a long time. Some people were being very cautious due to the steepness.
I worked my way down it trying to keep relaxed and constantly moving. On the way down I met a French chap called Rood. He had fantastic English and we chatted lots about our lives and running.
I was starting to feel tired now so when we arrived at Rhemes together, it felt like the logical place to rest for me. I quickly attempted another few mouthfuls of food then found the sleeping area. They had someone who would register you being in there and they would ask how long you wanted to sleep for so they could come wake you. Perfect! Much better than alarms going off every 5 minutes.
As I tried to settle in my allotted camp bed, I heard the unmistakeable roar of someone near me vomiting closely followed by the noise of it splashing on the hard floor. Not the ideal start to my first sleep! I didn't sleep at all in the 1.5hrs that I was horizontal here. I tried not to get too frustrated about it and tried to focus on just how much benefit being off your feet and warm would give. I'm not a great sleeper so this was always going to happen during my race.
Once I had been alerted that my 1.5hrs of rest was over, I stiffly threw my legs over the edge of the camp bed.
I laced my trainers up and put my vest and jacket on. It was still dark out, but should be daybreak soon, which seemed to be perfect timing to start up again. Just as I was leaving, Rood came over and we left together. He was going to sleep for less time here but changed his mind at the last minute. We headed out into the dark and almost immediately started heading up again. The climb up to the next col, was 1300m, so another biggie! I really like starting after a break on an uphill as you walk, so can ease into your rhythm instead of breaking immediately into a descent if it was a downhill.
It was soon light again, and we were now into our second day. I couldn't eat much due to my stomach but everything else was ok really. I was content. I had had a warm spot on one of my toes but had changed my socks and things were ok now.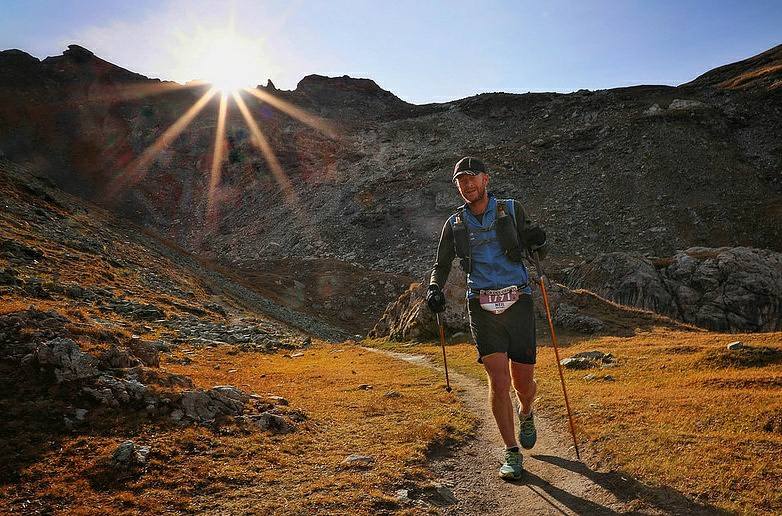 Rood and I chatted lots and this was great as time and distance just flew by. We were running a very similar speed at the moment so it worked well.
I felt great after the last stop but was very aware that I had not slept yet, so would have to stop at some point for a proper sleep. We cruised over Col Entrelor and eased our way down to Eaux Rousses. The descent down there was long and the temperature was rising again as the day progressed. A quick stop at the bottom for a handfull of food and some tea and coke and I was off again.
I was wanting to get stuck into the next section to Cogne, via the highest point of the race at col Lason at a whopping 3,299m. Cogne was the next life station and I had decided to try to sleep there. I didn't feel overly tired, but that is exactly what I needed to do. Not wait till I could barely keep my eyes open and was zombie marching.
I think it was around here that my achilles started to feel sore. I tried to run smoother with smaller strides to not put so much stress on them. Also my toes seemed to be taking a hammering on the descents which was making them very sore. A bit frustrating as I had never really had this before. Well, it was just the body trying to cope with what was being thrown at it.
On the descent to Cogne there was a cp at Rifugio Sella. I stopped there for around 20 mins and sat in the sun drinking ice cold water straight from the fountain. It was the most refreshing thing especially as they had lemon slices there too which are amazing when it's hot. From here it is about another 700m descent down to Cogne. Should be there in no time.
I began the remainder of the descent and soon could see a town far below and nothing else. Cogne surely. Well, I followed the markers and they took me right through that town, and onto a trail beside the road. I soon saw a roadsign for Cogne that was in around 5km! Bummer. Never mind, just keep the pace up and I will be there soon and a sleep was coming.
After what felt like an eternity, running as much as possible in the heat of the day, I entered the beautiful looking town of Cogne. There were many people around cheering and finally I entered the second lifebase of the race, and more importantly my first sleep spot.
Again, I was as efficient as possible, starting firstly at the food and drink and a sit down in the tent. I decided to take advantage of the showers and washed myself down which felt amazing to remove all the dust and sweat that had accumulated over the past few days. Then it was off to hunt out a bed. I either went for 1.5hrs or 2hrs. It took me a while to go, but eventually I did, and before I knew it, I was getting gently shaken as my time was up.
I felt stiff as I pushed myself up. I sat dazed for a minute, before forcing myself to not waste time and prepare for the off. Fresh socks and a top and I was ready to go back out into the heat of the day.
The next lifebase at Donnas, 45 km away consisted of a huge climb (another) up to fenetre di Champorcher then an incredibly long descent all the way down to the race low point at 330m. With my toes as sore as they were this was not looking like a fun section for me, so I was happy to just get started on it.
After passing through the lower flat section on road for a couple km's, finally I left the road and was heading up again. It was a hot day, but not too bad. I was working at a relatively low level so not really sweating much. The trail was dusty, and gradually the trees began to thin out, till eventually I was back into the high alpine. It felt good to be back up high again for some reason. I didn't like being low down in the valley. It was so beautiful and open up here. I was starting to pass snow covered peaks that really seemed quite close. Not far from the col, there was a refuge stop. It had the standard food which I was quite used to, but then I noticed a small sign saying that if you wanted to try the local cogne dessert, just ask. I asked and they bought out a really tasty creamy yogurt dessert which they clearly had much pride in. It was really stunning and my stomach happily accepted it all no bother. I had been living off mostly soup and coke for a while, but the nausea was starting to subside, so the odd bit of solid food was going down. Things were on the way up, thankfully!
I left and hiked off up the steeper section over the col, and then began the dreaded descent. It started as open mountain, and then became wooded, and finally I started passing more and more houses and it became more and more built up. At first, this seemed like a pleasant change, but I soon started to not really enjoy the more urban setting. The going was good and was very runnable, which made it feel like you really should run it all. Not ideal as I was feeling pretty exhausted now and the constant running was killing me, but I pushed on.
I think in every race I have done there is always a section that seemingly goes on forever and this was it. It was dark and I didn't see another runner the whole time, so it was a real head game. I found the challenge of trying to remain positive quite engaging and really kept my mind busy for long periods here. Of course there is always an end, and thankfully this one was a lifebase.
10 hours after leaving Cogne, I arrived at Donnas. It was just passed 1am and I had decided to take another two hours rest here. My mind and toes needed it!
I left before 4am in the quiet of the night. I followed the flags along a road for a while running the whole way. I felt really refreshed and wanted to use that while it was there.
I left the road and wound my way up through peoples gardens on the steep mountainside. A short dip back down then to a cp at small village of Perloz where it was still the tranquil early morning. This was shattered by the cacophony of cowbells as I approached. I grinned as I entered the tent. I was received with the same amazing enthusiasm and care from the staff who tended to me with food and drink. I stayed for a couple minutes and then left.
A new day began to dawn, and the headtorch was packed away again. I was heading up and the sun was shining. I was happy and things felt relatively good here. There were a few complaints, but not too much for the amount of time I had been on my feet.
I soon gained a ridgeline that gave me the most incredible view. On my left was the incredibly rugged mountains of the Alps, and on the right, the complete contrast of the flatlands as far as I could see, which was a long way today. I was on the edge of the mountains and it was stunning!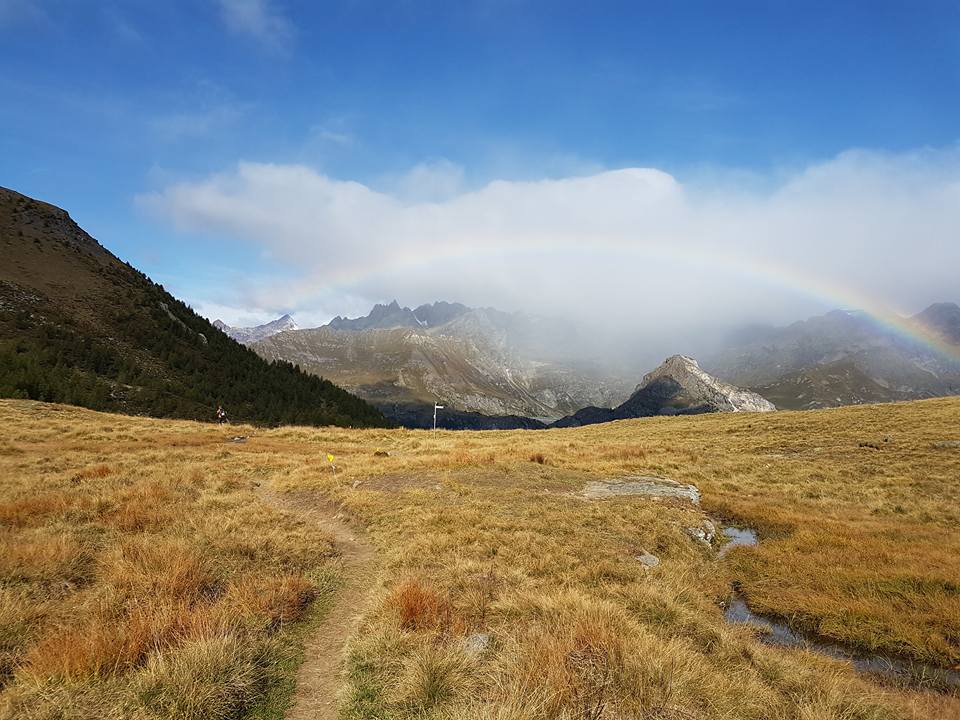 It was also incredibly windy and cold with it. I could see refuge Coda ahead on the ridge and thought I would just push on. Thankfully I was right as the wind was powerful and cutting right through my tired weary body. The perfect way to stay awake!
The calm sanctuary of the warm cosy refuge was very welcome indeed. Infact, you would not know it was so windy out if the door didn't keep getting opened and people throwing themselves in looking like they'd been through hell.
I stayed here for 20 odd minutes as I forced some food and soup down. Whilst I was there a runner decided to drop out. He had banged his knee and it was too far left to go. This was a reminder that this was pretty much the half way point of the race. This is where it would all begin, where it would really start. I was glad to be there and was feeling ok having run 169km.
Five mins after leaving the refuge, the trail passed over a very windy col and then immediately the wind almost disappeared. I was now in the glorious sun and it was warm. The trail was a little technical for a while which was fun, and then it opened out a little and it was more grassy. I then came to a cp. It was well stocked, and theyhad cold drinks which were great as I was really warming up again. I spoke to the chap there and he told me that he was not part of the race and was just there because he loved the race and wanted to help. Wow, I was really touched and he was just so helpful and kind. I was feeling emotional. I sure sign that I was tired!
I thanked him and went on my way. There were a few smallish bumps to get over before Niel. Then from there it would be a decent up and down that would leave me at Gressoney, the next Lifebase. This would me my next sleep, so I was excited to get there.
I knew I was approaching Niel as there were suddenly more and more people on the trail cheering. I was feeling a bit of an energy low, when suddenly I spotted ahead a Weimaraner dog bounding around on a lead. Is that Claude? YES, sure enough, on the other end was Lou holding Ludo! I really wasn't expecting that. We hadn't planned anything, other than, if lou could make it, then she would. We hadn't decided any cp though. What a sight for sore eyes, and well timed with my energy low. We walked the last few hundred metres into the checkpoint, and we chatted and held Ludo and I tried to sort my stuff too. It was lovely, but of course I had to move on eventually.
As I left the sun was fast dipping. My favourite time as I seemed to operate well just as the temperature dropped. By the top, my Petzl was on, and the descent began.
It predictably became a trudge, and my poor toes were so sore now, but finally at 2151, I left the dark of the lonely night and entered the bright and amazing atmosphere of the Gressoneylifebase.
Right, I wanted to eat well here, so that was my initial stop. My stomach was completely fine now so I stuffed myself stupid. I then had a shower which was just amazing, and then Crawled into a cotbed for two hours. I think I slept for around an hour here.
I ate again when getting up, looked at my toes which looked red (what a surprise) then left at 0117 back into the dark cold night.
I really felt like I was managing my sleep well so far. I had not yet got drunk with tiredness, and didn't feel like I was wasting time. Tiredness wasn't really an issue so far as in previous races. I felt in control, and it felt good.
There were only two climbs next between Gressoney and the next lifebase at Valtournenche.Short, but hopefully sweet! Well The first climb went great. I felt really revitalised from the last stop. I knew it wouldn't last but was happy to just be feeling so good at this stage. Then the descent came, and predictably, this was rather painful. I was reduced to walking a lot which was frustrating but I had no option.
It was warm and sunny again here as I arrived. It was a lifebase, but I had already decided to stop for a bit, but not for a sleep. I would sleep later. I also wanted to get stuck into the next stage, which was the longest at nearly 50km. Thankfully there was what looked like only two big descents, so my toes may get a slight break.
I was again blessed on arrival to see my beautiful family here at the checkpoint. They were allowed in with me to the food tent so we sat and I ate and picked up some more food supplies from the drop bag. It was hot in the tent, but it was just nice to be with Lou and Ludo to have a little break from the relentlessness of this race. I stayed just over an hour before saying my goodbyes and running off. It's funny how I would run away feeling as light as a feather, then once the high of the break and the unknown family meetup had passed, The tiredness and aches and pains would all come crashing back into you.
I climbed higher and higher in the now growing heat of the day. I'm not too keen on running in the heat but this wasn't so bad as I was working at such a low level. I stopped briefly at a refuge near a damn before pushing on with the longest stage. How cruel to have the longest stage near the end!
As I pushed on, determined to make decent headway into the long section before stopping, the heat was sapping my energy reserves. I had decided to push on to Rifugio Magia which apparently had a few cot beds. It didn't sound ideal, but it's distance felt right.
I just needed to make it over the fenetre du Tsan before I could sleep. I was tired now and my feet were very sore, As I hiked my way up the long climb. Once at the top there was a steep first part of the descent, before it shallowed out a little. My toes moaned as they knew what was coming. I soon was shouting profanities around the Aosta valley as the pain level cranked back up. After much mental pushing, and much frustration at losing so much time over my toes which I have never really had a problem with, I arrived at the rifugio Magia. Thank god!
I ate what I could and saw behind the small food table, four empty cotbeds. Bugger, is that the sleeping area? I quickly claimed one before they got taken up, then crawled in. It was very noisy, and light. I couldn't see that I would be getting a wink here! Oh well, I knew that the power of being horizontal, was enough to make things so much better, especially my poor feet.
Sure enough, 1.5hrs later, I crawled out after zero sleep and put my stinking shoes back on before getting back on the trail. No-one else here had rested as long as me. It was straight into a steep climb through a forest. Once out the forest, I was back out into the open mountains. I climbed up through a high mountain farm and just about reached RifugioCuney before needing my headtorch again.
It had cooled down a lot, partly due to being quite high up and windy and because the sun had gone. It was now 14km to Oyace. Oyace is the stop before the lifebase where I was going to sleep, but for some reason, possibly being a bit of a tired wreck with a jellified brain, I started to think that was the lifebase.
Around 5km after Cuney, I topped out at the col, then the long descent began. Now this started to get a bit torturous and the enjoyment was draining away. I was willing this to finish so that I could get horizontal and hopefully this time get some actual sleep. I didn't see any other runners for this whole section. But I kept on moving and was finally after much drifting in the night, rewarded with the stop at Oyace.
I walked in and sat down. It was 2355 and I was exhausted. When you enter a lifebase, generally your bag arrives before you have entered the room. I had no bag. My foggy brain thought nothing of it. Then I saw a chap near me rooting through his bag which made me want mine. I asked one of the staff and he looked at me with much sympathy as he realised my mistake, before telling me that this was not the lifebase. The lifebase was just over the next mountain. A mere 13km with 1000m of ascent and the dreaded descent left!
SHIT! I tried to hold it together and stay calm. Should I sleep here or push on to the lifebase which would be much better equipped. I sat and ate what I could as I tried to work out what would be the most sensible option here. I was really drained, and tired so it felt like the wise thing to do was to stay and sleep. This would mean though that I had much further left to do before the end. I really wanted the lifebase too. Hmmmm....
Well, screw sensible said my tired brain, it's just one little hill. And I packed up and left. Half an hour later as I slowly hiked my way up through the jet black night, I regretted my choice. I had to sit down a number of times and close my eyes as I was struggling to keep them open. I couldn't turn back now though. I was committed. I stopped very briefly at a small cp in an old barn with no walls. It was very windy here and the wind was howling in. Maybe this was a good thing as it made me leave sharpish.
The trail became steeper now and after what felt like an eternity I topped out at col Brison. It was quiet exposed here so they had a checkpoint. It was a small perspex box that a helicopter drops off. I squeezed through the door that had been opened by the staff within and perched on the little bench. There were two staff and me. You could probably get one or two at a squeeze in there. It was amazing! They closed the door and instantly the ferocious wind completely disappeared. It was heavenly. They handed me a flask lid with some hot tea in. They made sure I was ok to continue. I of course was. I stayed maybe 5 mins before thanking them and leaving back into the cold night. I knew that as soon as I dropped down the other side, the wind would ease. This and the life base being far below was my motivation. I couldn't wait to sleep!
I stubbed my toe numerous times which bought a tear or two to my eyes on the way down here, and as is always the way, it seemed to take sooooo much longer than expected. But yes finally it came, and I stepped into the lifebase at Ollomont.
I was feeling mentally and physically quite beaten here. My toes were agony and The final section actually was starting to feel like it would be too much. I sat down to eat in a bit of a daze and tried my best to just think about the now, not the future. I just needed to do my sleep stop routine and then get horizontal. All would be better when I got up...
Once in bed, my body was screaming. It wasn't happy with the abuse I was hurling at it. I tried not to panic, and focused on all the times in my running life, when I have felt finished, then somehow the body recovers a little and you continue for another day!
I think I dozed here for around 45 mins. Getting up and preparing to run again, was painful and laborious. I think I spent 10 mins spaced out with my drop bag trying to work out what I needed. Thankfully I had heard that there was rain forecast, so somehow had the sense to dig out my super heavy duty Arcteryx waterproof and swapped it round with my super lightweight running jacket. I also packed my big gloves. I needed all the protection I could get from now on.
I actually only spent 2hrs 40 mins at Ollomont, setting back of again at 0728. It was now Thursday and I was on the final stage. Next stop Courmayeur!
I was grateful for the trail to just straightaway go steeply up again as it gave me a chance to walk and try to get everything loose again after being static for a while. I didn't feel great, but somehow I was starting to believe that I was going to finish. Within an hour it started to rain, and I put on my jacket. I focused on hitting a rhythm that I could sustain, then holding it and trying not to stop unnecessarily. Progress seemed ok and I was starting to feel a little better. I could smell the end now and was getting excited.
Once over the next mountain via col Champillon and the painful descent down. The map showed a flat section to Saint-Rhemy-en-Bosses and here, along with Tegyn, a chap I had run with earlier, I resolved to try to run as much of it as possible. It wasn't easy, but I managed to keep some sort of pace along here. Tegz had to drop back and walk a bit. It started raining heavily before reaching the cp and I was pretty wet on arrival. But, thankfully I had the super surprise of my family again greeting me. I ate a load of pasta here and then put on everything I had, as the rain looked persistent, and we were now heading all the way up to the final high point of col Malatra. It could be snowing up there.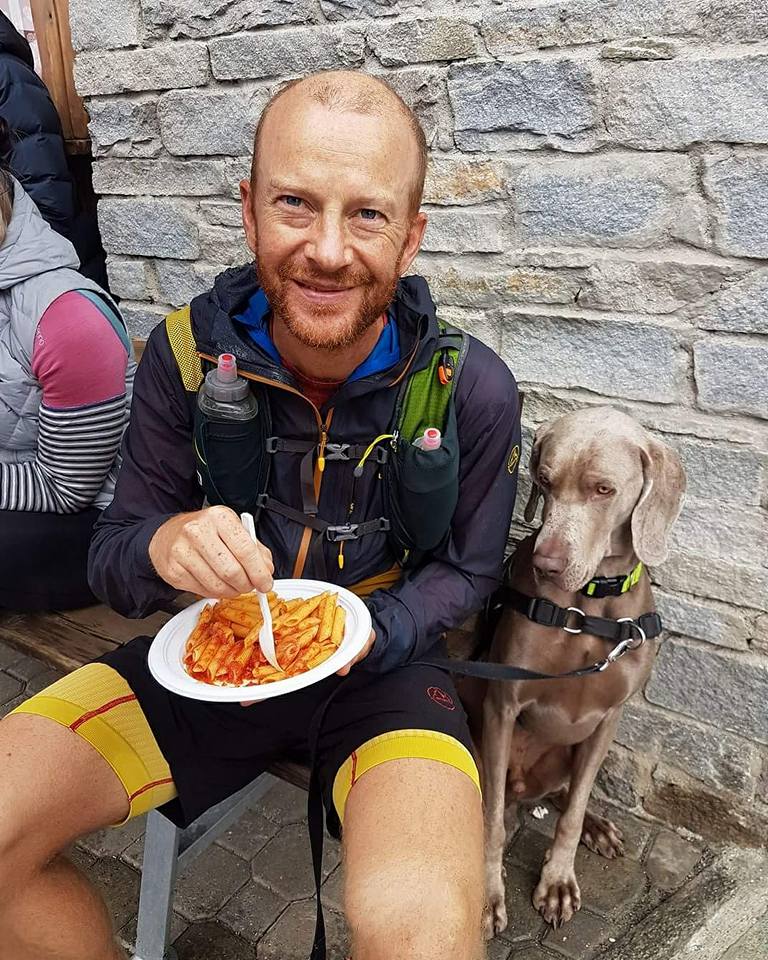 I trudged on surprisingly strongly now through the heavy rain. Thank god for the jacket and gloves! Sure enough, the rain finally turned to sleet then snow as I headed up. It got colder and was windy. Well that's one way of staying awake! It was blissful to walk into the next large refuge which was warm. Shortly after, Tegz also entered. Near the heater in the centre, was Stephanie Case wrapped in blankets holding a hot drink and not looking on great form. Her face seemed puffy which didn't seem great. Tegz came over and said that a group of them were going to leave together for safety in the storm. I joined in. Stephanie was with us along with two other chaps.
As soon as we left, the snow stopped and the sun broke through. There was literally around 5cm on the ground and I realised that there was no real danger as the sky had almost completely cleared. We moved slow for a while and whilst on the final steeper section to the col, I decided to leave them behind. I needed to move faster to warm up. There were still three of them so was still safe. Plus I was now in a rush to get back as early as possible as then I would have more chance of seeing my family and that suddenly seemed very important to me.
Once over the final big col of the race, I dashed of down the other side, in sunshine. I quickly overheated and had to then strip down before continuing. At malatra, a little further down, a rescue helicopter was taking a runner who had fallen. I headed left up over a small hill and then dropped down into a valley and followed this down, running the whole way. Next stop Rifugio Bertone. At the end of the valley I then joined the familiar Tour du Mont Blanc and turned left. It really got cold along here and I struggled to keep running even though it was relatively flat. I stopped and put on my big gloves again. It had just got dark as I arrived at the final refuge. I didn't stop as I was now on the final descent and I could see lights below me.
I hit the refuge at 2001 and I finally, after 106hrs crossed the finish line in Courmayeur at 2050. This got me 47th place and first Brit!
Thankfully Lou and the boys were there and that was that. Race finished. I sat for a while and took it all in, then realised that my body was in close down state and I felt just how freezing it was. My feet were killing and my eyes wanted to close. I slept well that night!
I lost a few toe nails in the following weeks which has never happened to me. My achilles was worse than I thought and took ages to get better. General fatigue was high but eventually it all eased off and I became just your normal tired parent.
Overall this was a truly magnificent experience. The organisation was incredibly slick in everything I saw. The helpers were unbelievably helpful, smiley and positive. The course is stunning and tough in equal measure. I loved it! The mind boggles at how the winner went almost twice as fast as me and didn't even try to sleep. If you want a big Alpine adventure then maybe this is it! It's tough, but it is more about being persistent and constantly moving than being a super athlete.
Thanks for reading. I once thought that I should try and shorten my race reports, but realised that I get much enjoyment from making my brain work through the race again and remember things that would otherwise have been lost in the dark recess' of my brain.