Written by John Kynaston - https://johnkynaston.com
After the Hardmoors 160 at the end of April I have entered 3 more ultra-races for 2016 and all of them will be new races to me. The first was the 71 mile Great Glen Ultra. When Mike and Bill started this race a few years ago it was definitely on my radar and it fitted in really well with my plans for this year.
There were 9 weeks between the Hardmoors 160 and the Great Glen which I thought would be plenty of time to recover and build up again. In reality it took me longer to recover from the 160 that I hoped. No surprise really but it meant I went into the race knowing that I wasn't fully recovered.
My longest run since the 160 had been a 31 mile recce run on the Great Glen route with good friend Ryan Mackenzie. We ran from Invermoriston to Inverness so I knew what was to come and I'm glad I had. Since that run which went very well I basically had a 3 week taper running every other day.
On the week of the race we left Paisley on Tuesday morning as we were having a few days with Hollie in Thurso with Emma, Yonas & Noah plus stopping off to see Jo, Jono & Seth in Inverness on the way! This meant I had to have all my race gear sorted out before we left.
We had a great time in Thurso. The highlight was a day trip to Orkney which was so interesting. Our guide was excellent and we came away with lots of interesting facts and stories of the islands. It was also good to be able to help Hollie pack up her classroom as she is moving to teach at Tain from August.
The rest of the family were staying longer so I had booked a train from Thurso to Inverness. I left just after 1pm and spent the 4 hour journey reading Bear Grylls autobiography (which is excellent) listening to a podcast about the recent Western States 100 (no mention of Paul Giblin though!) and dozing a bit.
Jo picked me up from the station and I spent the next few hours eating, reading to Seth, sorting out my drop bags and watching the first half of the Wales v Belgium game. At 9pm Jo took me to the leisure centre to catch the race bus back to Fort William and the start.
I was very pleased with myself as I had all my drop bags sorted and kit ready in plenty of time. As we crossed over the river I suddenly realised I had forgotten my water bottle! I had left it in the kitchen to fill as late as possible as the energy powder only has a 3-4 hr life.
It was 9.11pm and I worked out we had enough time to go back and get it! Thanks to Jo's expert driving we made it back to the leisure centre right on 9.30pm! Bill Heirs was on the coach doing a final check so I must have been the final runner to arrive!
Ryan had saved me a seat (or no-one wanted to sit next to him!) so we spent the next couple of hours chatting about the race and our plans. Ryan was focused on the win and had a clear plan of what he needed to do. He was working on 6hrs to Invermoriston and 5hrs to Inverness.
My plan was 7hrs 30mins to Invermoriston and 6hrs 30mins to Inverness which would be my gold goal of 14hrs. More importantly though was I was going to work on a heart rate of 134 especially over the first 30miles before the hills started. My plan was to be able to finish strong and do that I've learnt I need to start very comfortably.
We arrived at the Neptune Hotel at 11.20pm, placed our drop bags in the right places and headed to registration. Even with 60 plus runners arriving together the process was very slick and it didn't take long at all to check in and receive my number.
Ada did tell Ryan off for not reading the briefing email as he hadn't printed off his medical form!! You probably won't be surprised to read I did read the email and had mine ready! Though I had forgotten to bring a photo ID to prove I was over 18 but my days of having to prove that are long gone!!
Ryan & I found a comfy couch to sit and relax before the start of the race. The Great Glen starts at 1am just like the whw race. I assume it is done to help people prepare for the whw and I would certainly encourage people who want to run the whw to consider running the Great Glen as well as something like the Fling or Devils as it is that extra 20/30 miles and has the early morning start time which is hard to prepare for.
Before the 12.45am race briefing I dropped off my bag with kit for the finish and did a quick video clip. I had decided I wanted to do a video diary of the race which will be out in the next few days.
Bill gave a very quick and concise briefing which included tips on what to do if you fall in the canal. There were no last minute changes to the route so that was good. Having run from Invermoriston I knew the route was well marked but like all routes you do have to concentrate as if you miss one then it could be a while before you realise. I also had the route downloaded to my Suunto as a backup.
Leg 1: Fort William to Clunes – 10.53 miles
I set off about half way down the 97 starters as I was keen to start nice and steady. I knew the first 6 miles or so along the canal was very flat and so if I wasn't careful and disciplined I could easily go off too quickly and pay for it later. I set my watch to heart rate so I could keep checking regularly.
At the start line at 1am
There were quite a few people cheering us on which was great. Very quickly everyone settled into their own pace and the field spread out. After a mile or so I could the head torches of the leading group, then a gap to another big bunch of runners and then groups of 2-3 before me.
There was not much talking going on as it is hard to chat when you can't really see who you are running with. After about 3 miles or so I was on my own with a few not too far ahead. In some ways I found it quite strange to be running the 4 miles without walking at all!
In most ultras I've done there has been a hill within the first few miles which I've needed to walk to keep my heart rate down! I glanced at my heart rate a few times and each time it was around 132 so I kept running! My first mini-split at 4.01 when we came on the road showed I averaged 9mins per mile so the nice and steady start I wanted.
I was wearing my green long sleeved top and it felt just right. In fact I didn't change all day. Even though it did rain I didn't put on my rain jacket as I didn't feel cold.
I continued to run at my own pace. A few runners went past me and I caught up with a few others including Colin Knox. I had a quick chat or at least a greeting with each person as they passed me or I passed them. I was looking forward to the light becoming good enough to switch off the head torch but that was another hour or so away.
As I hadn't reccied the first 40 miles I decided to work them out as I went along. For this section leg I was working on 4, 3 & 3.5 miles. I think for my second mini-split I saw a bridge at 2.92 miles so used that one. My pace was still under 10mins per mile which felt about right for this section. My heart rate was still around 132 so I wasn't pushing too hard.
There was a lovely mile or so through a twisty path in the woods along Loch Lochy. I was running on my own at about 2am and it felt great! Most people in the UK would be tucked up in bed but somehow running through the night has become fairly normal!
The route goes back onto the road for a bit before arriving at the first checkpoint at Clunes. I had drunk my bottle of Prolong energy drink so I put the powder into the empty bottle to have it filled up when I arrived. I had also eaten a yoghurt covered energy bar. I was keen to eat small amounts regularly throughout the race.
I arrived at the first checkpoint in 1:42:49 which was 10mins quicker than my plan. According to the splits I was 40th but I didn't know that at the time. The very efficient marshals refilled my water bottle and I took my mashed sweet potato to eat as I walked up the hill from the checkpoint.
Leg 1: 10.53 miles – 1:42:49 (9:46 pace) HR 131
Leg 2: Clunes to Laggan – 9.15 miles (overall 19.68 miles)
I was in and out in under 2 mins but took a few minutes to enjoy my sweet potato before getting running again. I felt I was well into the race by now but still keeping an eye on my heart rate to make sure I didn't push too hard. I did a quick check and was happy that nothing was sore. I knew there was a long way to go so I needed to keep things ticking over for as long and easily as possible.
The route now followed Loch Lochy for the next 6-7 miles with some undulations but mainly runnable. I settled into a good rhythm running all the downs and flats and walking any hill. I took the walking breaks to drink and eat.
My average pace for the first mini-split of 3.67 miles was 11:35 and then the next one of 3.08 at 11:16. It was getting lighter by the minute so I took off my head torch at some point along this section. I could see people ahead with their head torches on but even though it was not quite fully light it was nice not having the head torch on.
In fact from the start it never really felt pitch dark. There was always some natural light though you definitely needed a head torch. I had decided to take my smallest Petzl head torch rather than the larger one as I thought it would be fine and meant that it would be lighter to carry for the rest of the race.
At the top of a small hill I caught up with Kirsty Burnett and her friend. Kirsty remarked that she thought I was way ahead but I explained I was happy to start slowly! Kirsty also said her calves were really sore and she was thinking of packing it in. As I ran on I said to hang in there and I was pleased to see that she did keep going and finished.
It was raining fairly hard for the next hour or so but it didn't bother me too much. I didn't even consider getting my jacket out partly because I knew it was at the bottom of my pack and didn't fancy having to get things out to find it!
I was exchanging places with a few people over the next mile or so. The guy in a red football kit went past just as I was doing a short video clip. He was running with another guy who asked if I was John Kynaston. It was Adam Jackson who is a good friend of Dave Troman and teaches in the same school in Keswick.
We ran together for a while before Adam pushed on. We were to pass and repass each other a number of times over the next 10 hrs. Adam had mentioned that he ran the Lakeland 100 in under 28hrs so I didn't feel the need to stick with him.
I came into the checkpoint at Laggan in 3:28:23. I had taken 1:43:44 for that section which was a few minutes slower than my plan but overall I was about 5mins up. Once again the marshals refilled my water bottle in super quick time and I was off again after 2mins 32secs!
Leg 2: 9.15 miles – 1:43:44 (11:20 pace) HR 130
Overall: 19.68 miles – 3:28:23 (10:35 pace)
Leg 3: Laggan to Fort Augustus – 11.25 miles (overall 30.93 miles)
I walked up the hill eating my cold baked beans. I decided to take my time eating them as I walked rather than stuff them down in the checkpoint. The only disadvantage was I would have to carry the small plastic tub until I found a bin or reached the next checkpoint but that was worth it.
As I climbed up the hill I passed Sean McMimm who had stopped to put on his gloves as he said he was feeling really cold. I assumed he would catch up at some point but he never did. At the prizegiving he was given a spot prize for eating a fish supper and deep fried mars bar at Drumnadrochit so maybe that had something to do with it!!
Once I over the top I started running again and was really pleased that I felt strong on the downhills. Normally I lose a few places and time compared to the field but I was catching people! Suddenly I saw Adam ahead and before we reached Invergarry I had caught him.
There was another climb out of Invergarry and I caught a female runner but Adam caught me again before the top. But once again on the way down I caught him again. We had a bit of a chat each time but it was clear that we had different strengths so we needed to maximise those.
I was really enjoying the route. It is varied but all of it is on good solid paths. The marker posts are very clear and the additional signs that Bill & Mike had put up helped with navigation. There was never a time when I wondered which way to go. Having said that there were a number of people who did go wrong which just goes to show that you do have keep concentrating even on well-marked paths.
I remember Ryan had said there was a 5 mile section before Fort Augustus along the canal that is very runnable so I was trying to make sure I didn't hammer too hard on the way down.
When I reached the road then the start of the canal I took a split so I could see how well I did down the canal. I was feeling good but decided that if I tried to run 5 miles without walking I would manage maybe 2-3 miles but then have to walk.
So instead I decided on a run/walk strategy. I ran for a 100 breathes then walked for 10 breathes taking a drink. I managed this for 3 miles then dropped down to 50 breathes running with 10 breathes walking. I could see lots of runners ahead and I was pleased to see that this strategy meant I went past at least 10 runners.
The penultimate one I caught before Fort Augustus was Roger Greenaway. I know Roger fairly well from other races and we often finish near to each other. Roger was struggling a bit and mentioned that he wasn't sure if he was going to be able to finish. Again like Kirsty I was so pleased to see him at the finish.
I mentioned to Roger that I was running to heart rate and had started comfortably. He said whatever you are doing keep going as it's obviously working for you! Thanks Roger.
Fiona Rennie was out early taking photos …..
Photo thanks to Fiona Rennie
I caught up with one more runner who was Brian Davis so I came into the checkpoint in 30th position. The leg had taken me 2:06:53 which was 53 secs slower than my plan!! I was in and out again in just under 2mins with my water bottle refilled and my beans ready to be eaten on the way.
I received a message after the race from Wilson Dornan who I had met on the bus. Sadly Wilson had to drop out at Laggan. He wrote, 'Saw you at Fort Augustus from the car and mist say that's how to get in and out a checkpoint!'
Leg 3: 11.25 miles – 2:06:53 (11:17 pace) HR 134
Overall: 30.93 miles – 5:37:48 (10:55 pace)
Leg 4: Fort Augustus to Invermoriston – 7.66 miles (overall 38.59 miles)
After this checkpoint the route takes the high path rather than the low path that was used for the first few years of this race. Ryan had warned me that this hill was tougher than the one out of Invermoriston so I knew what to expect.
I tried to settle into a steady rhythm counting to 4 over and over to help me keep an even pace. I took a mini-split at the top after 3.10miles. The climb had taken me 51mins and I was pleased to reach the top and tick off the first big climb.
I knew my Suunto watch wouldn't last the whole race so I put a power pack in my drop bag to recharge on the go. It was down to 30% so I set up the power pack to recharge. For some reason it took a bit of fiddling to get it right but eventually I did and I kept it on to the next checkpoint. It was over 70% by then which I hoped would be enough to get me to the finish.
Adam once again caught me just as we reached the top and looked comfortable as he set off down the hill. I was doing a video clip as he went past so I filmed him heading off down the hill. The views were amazing from this point so the climb was definitely worth it!
Photo thanks to Colin Knox
A small stone had got into my shoe an hour or so earlier and I could feel it working its way under my foot. I decided that it had got to the point that I really needed to stop and take off my show to get rid of it. I don't like to stop between checkpoints but I knew that with a long downhill section to come this could cause problems. It didn't take long to sort it out and once I got running again I was so glad I did as the irritation was gone.
Once again I had a great downhill run. My quads felt really good and I was able to run without braking and soon enough I could Adam ahead so I reeled him in! We both knew that we would be seeing each other again …. On the next uphill.
I caught up with a couple of other runners as well who I hadn't seen at all so that encouraged me that I was moving well. Ryan had also warned me that the descent to Invermoriston was very steep and once again he wasn't wrong! But I was able to run fairly smoothly and as we reached the road I caught up with Lorna Maclean.
We ran into the checkpoint together. Lorna had also done a big race fairly recently so we were both in the same situation of not being fully recovered but happy with how we were running. As we came into the checkpoint we could see the marshals had midgie nets on.
It took me a moment to recognise Helen Munro behind her net. Helen refilled my water bottle with my Prolong powder. I ate a Greek style yoghurt and took some nuts to eat on the way. I noted that I had reached Invermoriston in 7:25:38 so bang on my 7:30 target. I suspected though that being able to run from her to the finish in 6:30 would be a bigger challenge but at least I'd given myself a chance.
Leg 4: 7.66 miles – 1:45:55 (13:50 pace) HR 135
Overall: 38.59 miles – 7:25:38 (11:33 pace)
Leg 5: Invermoriston to Drumnadrochit – 13.81 miles (overall 52.40 miles)
Lorna set off just before me as we headed out of the checkpoint, over the road and up the hill. There was a runner outside the shop on the corner sorting out his feet. I asked him if he was okay and he said he was dealing with a blister so I left him to it.
I could see Lorna not too far ahead but she looked like she was moving faster than I was but wondered whether I might caught her again on the long downhill but that was a good hour or more away.
On my recce with Ryan we had started at Invermoriston so the climb hadn't felt too tough but now with almost 40miles in my legs it was going to be a different challenge. I tried to concentrate on ticking off some landmarks I could remember and I knew I would get there!
The first decision to make was when I reached the path which cuts through to the point where the high and low route divide. I decided that if there was a sign to use the cut through I would obviously use it but if not I'd stay on the wide road.
I could see that Lorna had gone straight on. There wasn't a sign so I carried on the path which heads up then turns right. Even though you could see for a couple of hundred yards Lorna was away so I was on my own for the rest of the climb.
I was at that point in the race where it is easy to start thinking about the end and it seems a long way off. So I tried to keep focused on my mini-splits and not think too far ahead. I knew that this next leg to Drumnadrochit was the longest and toughest of the whole race but once past it the end was in sight and I would have broken the back of the race.
I had given myself an hour to climb the 4 miles or so to the top but I knew that this was a bit unrealistic. Instead I tried to get into a rhythm again and just keep moving. I remembered two landmarks from our recce. The first one was the round circle viewpoint. After that there was a downhill section. Then there was the troll bridge which marked the start of the final climb.
Just before I reached the circle viewpoint Stephen Magee caught me moving really well. I had caught Stephen on the way down to Invermoriston. He had said his hip was troubling him especially on the downhills. As he passed me I asked him how it was. A lot better he said and he looked very comfortable as he ran up the hill away from me!
I power walked as hard as I could after him and once on the downhill I ran as much as I could but my legs felt a bit wobbly. It seemed to take an age for the troll bridge to appear. In fact at one point I wondered whether I had got it wrong and the bridge was after the top.
Eventually the bridge appeared and I set off up the final climb. I wasn't surprised when Adam caught me again but I was surprised that I caught Stephen. I paused to enjoy the view and take a video clip before setting off after Stephen and Adam down the hill.
Photo thanks to Colin Knox
I knew it was 4 miles to the road and the water stop at Gortaig. I also that it was almost 1,000ft of descent and once I started running I was pleased to feel my legs were still strong on the downhill and I would be able to run the majority of it.
I soon caught Adam and Stephen and pushed on. Parts of the path reminded me of a section of the Gleniffer Braes where I run regularly so I imagined I was running there. I reached the point where the low route re-joins the high route. On our recce we met a couple who were walking the Great Glen. Ryan also pointed out how a few runners last year carried on up the high route rather than heading down.
There were a few slight uphill sections so I used those to drink. I also had a couple of cubes of fudge which I was able to eat okay. I had a bottle of coke at Drumnadrochit and Loch Laide which I was looking forward to. The taste of the Prolong was getting a bit monotonous so I was looking forward to the different taste of the coke.
As I headed down I wondered whether I might see Lorna again. I suspected she was too far ahead so was pleasantly surprised when I caught a glimpse of her ahead. I tried to resist the temptation to push harder to catch her knowing that I must be going faster than her as I'd not seen her since the start of the climb out of the checkpoint.
It my mind I thought there was a downhill bit before hitting the road and the checkpoint but I was completely wrong as there is a climb to the gate and the water checkpoint. As I arrived Lorna was just leaving. The marshal had some coke which she very kindly gave me. There wasn't much left in her large bottle so I took some and topped it up with water. I was very grateful for it as I had run out of my energy drink.
I only stopped for a minute but by the time I set off Lorna seemed a long way away and I knew she was gone as she was moving well on the climbs.
As I walked up the road I realised I needed to have a regroup. I had worked hard, maybe too hard, on the descent and I might well be paying for it now. According to my splits I had just over 5miles to Drumnadrochit and I had given myself 58mins to do it.
On the recce with Ryan we had been chatting the whole way and even though I remembered it was a long section on the road and on the path to the side of the road it seemed to go fairly quickly. Now on my own with 47miles in my legs it was a different story.
It felt a long slog up the hill and there was no way I was able to run any of the uphills. Instead I used lots of my mantras to keep going. I also did a lot of counting steps and marching to left, left, left, right, left! Anything to keep me going.
Once more Adam caught me which really helped as it got me running again. I thought if Adam is running some of these sections then so should I. I remembered that there was a steep downhill section on the road before we turned left leaving the road and running through the woods.
Adam was not too far ahead and once we were on the softer ground I soon made up the distance and by the time we reached the main A82 road into Drumnadrochit I was ahead again! I knew the checkpoint was about a half a mile along the road so I worked on my 100 breathes running 10 breathes walking so soon enough it appeared.
I could see Bill sitting in his chair watching runners coming in so I made sure I ran all the way from when he could see me!! Julie was at this checkpoint and she very efficiently filled my water bottle with my coke while I ate my Yoghurt. I decided to sit on the wall but was pleased that I only stopped for 2:35.
The 13.81mile section had taken me 3:07:31 which was almost 20mins slower than planned but not unexpected! One runner who had arrived before me said he was surprised to see me as he thought I would be 'beasting' the course and be a lot further up! I told him I was doing my best and this was me beasting the course!!
Leg 5: 13.81 miles – 3:07:31 (13:35 pace) HR 131
Overall: 52.40 miles – 10:35:48 (12:08 pace)
Leg 6: Drumnadrochit to Loch Laide – 6.75 miles (overall 59.15 miles)
As I set off I could see a runner not too far ahead walking. With my run/walk strategy I soon caught him and we chatted for a bit before I pushed on. I knew I needed to make the most of this road bit as once the route left the road it was a long climb.
I consoled myself that this long climb out of Drumnadrochit would be the final big climb. I knew there were lots of smaller climbs but this was the last big one. I had a mini-split at 3.26miles and then according to my plan I had another 5.16miles to Loch Laide but that made 8.42miles. I thought it was only 6miles.
As the leg went on I remembered that I had forgotten to take a split at Loch Laide on my recce so I had guessed. I hoped that I had guessed wrong and it was in fact nearer to 6 than 8! But I still had to get up the hill.
Just before we reached the gate that was locked during our recce run a couple of runners came back towards me. They weren't sure of the route. Thankfully I was able to explain about this short bit being locked during the lambing season and we were on the correct route.
There were four of us climbing up and to my surprise they didn't go past me even though I knew I was moving pretty slowly. The one thing I had in my favour is that I never stopped no matter how slow it felt at times. Just before my mini-split the familiar figure of Adam caught me. Once more he said I expect I'll see you again on the downhill.
As he ran off I suspected that this might be the last time I saw him until the end and I was right. Adam finished 8mins ahead of me. On our recce Bekki had run out from the checkpoint with Orrin in his buggy so I was trying to remember where we met them. I knew it was about a mile or so from there so when I recognised it I knew that my split of 5miles was wrong. It turned out to be 3.53miles so the 1:08 I had planned became 51:05 so I gained some time!!
I was looking forward to seeing Fiona Rennie at this checkpoint and I also remembered reading that she was looking forward to seeing everyone running down the hill with her binoculars so I made sure I ran all the way down to the checkpoint!
Photo thanks to Fiona Rennie
Michelle was also there and another marshal. As I was only one I had their undivided attention. I asked whether they could put 3 quarters of my coke into my water bottle and top up with water and then top up the other quarter with water. It took a couple of attempts but got there in the end. I hope it wasn't a diva moment!!
There was a reason behind the request …. The coke from the previous checkpoint was leaking out of the straw in my bottle because it was so fizzy. My shorts were wet from the drip! So I thought if I dilute with water then it wouldn't leak out.
As I ate my yoghurt I asked Fiona what place I was. When she said 23rd I thought I'm more than happy with that so I was keen to see if I could hold on to that. I looked at my watch and realised I had 2hrs to cover the final 10 and a bit miles to get under 14:30 which was my silver goal.
As I left I thought that was definitely possible.
Leg 6: 6.75 miles – 1:47:53 (15:59 pace) HR 123
Overall: 59.15 miles – 12:26:16 (12:37 pace)
Leg 7: Loch Laide to Inverness – 10.87 miles (overall 70.02 miles)
As I set off from the checkpoint I looked at my mini-splits for this final leg. I had written down 3.49miles to Blackford, then 2.86miles and 2.90miles which gave me a total of 9.25miles but I thought it was over 10miles. At some point in the next hour I remembered that I had miscalculated where the final checkpoint was.
That meant that the previous split was shorter than I thought which was good news but this one was longer than I thought which was not good news! I had given myself 44 mins to cover the 3.49miles whereas it was actually 5.11miles to Blackford which meant I was going to be a lot longer than my plan.
I tried to stay positive though as I knew the final 6miles is mainly downhill and runnable so if I could get to Blackford with say an hour to go I could still make it under 14:30. I ran/walked through the narrow path past the open air café but once I reached the road I lost a bit of momentum.
I was still trying to run/walk but I remembered how far it was along this road until you took the path off to the left and headed to Blackford. The further I went along the road the further I realised I had to go to my mini-split and the more unlikely it was I was going to get under 14:30.
I know in the big scheme of things that it doesn't really matter but I do find it helps me to have a goal to aim for especially over the final miles. I couldn't see anyone ahead and I didn't want to look behind so I was very much on my own trying to keep going.
I was counting my steps and marching as best I could. I was able to run all of the downhills and most of the flats but anything looking like a hill I was walking. Eventually I reached the junction and followed the path.
There were a couple of walkers stopped at the junction and the girl offered me a fruit pastel which I gladly accepted. Just as important was their encouragement as some positive words can make all the difference. The time was ticking away and I realised I was going to be over an hour to Blackford so I started to accept the fact that I wasn't going to make 14:30.
Not long before I reached the trees a runner caught me. He was moving well running up the hill and soon put a fair distance between us. I was very impressed that he was going so well especially as he seemed to be carrying quite a big rucksack.
Thankfully the mini-split checkpoint arrived. It had taken me 1:04:08 to cover the 5.11 miles from the final checkpoint. This meant I now had 57mins to run the final 5.76miles. It should be possible but to be honest I never really thought I would do it so didn't push as hard as I could.
Ryan had said that when he finished 3rd he ran the whole way without walking once. I knew I wasn't going to be able to do that but I did run all the downhills and most of the flats. I glanced at my watch to get an idea of how far to my next mini-split and realised that it had gone to real time only as there was only 3% battery left.
I had looked at it at an hour or so before and it had read 23% so I thought that would be enough but I was wrong. This didn't help me either but to be honest I don't think I wanted the sub 14:30 enough to really push through the fatigue. I was content to get there as best I could and it wouldn't bother me if I was over my silver goal.
I reached the gate which was my last mini-split and it was 3.03pm which meant I was 14:03 into the race. I had 27mins to cover the final 2.90miles. Again I knew that this should be well within my ability but I was struggling in my mind to really go for it.
So I ran/walked and made my way down to Inverness. I got caught by Stephen again who was running well. He went past and I didn't even try and stay with him. I glanced at my watch and realised that I didn't have that far to go and I still had time to make 14:30 but again I didn't have the desire to push yet. I decided I would get to a point where I knew how far to go and then to give it my final effort.
Suddenly I saw Stephen again. I'm not quite sure whether he went off line or whether I did but we worked out the way down between us. I ran behind him for a while but then he pushed on again. We went through the field by the swings and I knew we weren't far away now.
Under the road and then onto the path past the golf course. I knew we were very close now as this is where Ryan told me he almost caught the guy in 2nd place two years ago. Through the trees and then up the steps onto the final canal path.
I could see Stephen going past another runner so I wondered whether I might catch him as well because he was walking. He must have looked behind him because he started running again. Far enough I thought. I would do the same!
I was hoping that the road over the canal was open. I heard a signal and hoped it was to open rather than close the road. Thankfully I saw cars driving over the bridge so realised I was okay. When I reached the bridge I immediately crossed over the road as the cars were just starting to get going and weren't moving too fast.
It was a good decision as the runner ahead, who I see from the results was Stewart Ward, was stuck on the near side at the far end of the bridge trying to cross but the constant stream of cars meant he was stuck. I did feel a bit bad as I ran down to the stadium but when I glanced at my watch it read 3.29pm which meant I might still sneak under 14:30.
I ran as hard as I could around the bend of the track and put my arms in the air as I crossed the finish line as I saw there was a photographer waiting to take our photo!
Photo thanks to BAM racing
I received my goody bag and greeted Lorna, Adam and Stephen who were all at the finish. I wandered over to Mike to ask him my time. He said I'd finished 24th in 14:30:33!! I was actually 23rd but I only found that out the following day.
Leg 7: 10.87 miles – 2:01:55 (11:13 pace) HR 125
Overall: 70.02 miles – 14:30:33 (12:26 pace)
Total ascent: 6,762ft
Total descent: 6,726
I smiled at my time as I really could have made it if I wanted it enough but I knew deep down that I didn't really deserve to make it as I hadn't worked hard enough over the final 10miles! Overall though I was very happy indeed. I felt that was as good as I could have done only 9 weeks after finishing a race that took me almost 50hrs!
I sat down on the grass for a few minutes and send a message to my family and posted on Twitter my time! I then needed help to stand up and go and get a shower. It never ceases to amaze me how one minute you can be running at 8/9min miles then a few minutes later you can't stand up and walk without hobbling!
Photo thanks to BAM racing
It was good to chat to various folks after the race, then Jo came and picked me up. I enjoyed the evening back at their house as they fed and looked after me! I slept pretty well and enjoyed the prizegiving before being driven home by Hollie in the afternoon.
Photo thanks to BAM racing
I would like to thank Bill, Mike and all the marshals and volunteers for all their work to make this race happen. Nothing was too much trouble for each and every one of them and it is a very special race. If you haven't done it then I would thoroughly recommend it as even though it is a tough route the rewards far outweigh the pain!
Photo thanks to Colin Knox
Written by Stephen Cousins - http://filmmyrun.com
There was a time when I was an ultra virgin, and it really wasn't all that long ago. Back in April 2014 I had just completed my third marathon, having done one each year since 2012. But I was disappointed with my time and decided to book another one soon after. So in May I ran the Milton Keynes Marathon and clocked an even slower time! But doing that, made me realise that I didn't need to stick to one marathon a year. I could run two, three, maybe even four in a year if I wanted to.
First Ultra
Then, my new running buddy Richard, suggested we do a race called the Longman Ultra in September 2014. A 33 mile event along the South Downs Way. I told him to go away but I used slightly more colourful language to get my point across. He, and a few of my other club mates, had already booked up to run a 46 mile race in Wales called the Brecon Beacons Ultra in November. A few weeks passed and my attitude softened. I eventually agreed to run the Longman Ultra.
The race was a bit of a baptism of fire. It was a hot day. I had nothing left in the final 10 miles, I had gastric issues and threw up at the end! But I loved it and when a place became available on the trip to Wales for the Beacons Ultra, I decided to go for it. After all, I was no longer an ultra virgin. I had run 33 miles and survived. Another half marathon after that should be fine, surely! I mean how big are the hills in Wales anyway?
Wales in November
November arrived and I had what I would describe as a very acceptable run at the Brecon Beacons Ultra 2014. I felt strong most of the way round, apart from painful feet caused by my rubbish Fellraiser trail shoes. I finished in 9 hours and 25 minutes in 49th place. The weather had been superb and we'd had a real blast of a lads weekend away. We vowed to do it again. The high coming off that run fuelled my love of ultra running for months, but it took 3 years for me to organise another trip to Wales for the revamped Force 12 Beacons Ultra.
Richard and I had initially planned to camp but given the cold and the wind and the rain, we were handed the last minute lifeline of a B&B about 12 miles from Tal-y-Bont on Usk and race HQ. Hilariously, when we arrived, the heating wasn't on in our room and it was almost as cold as if we'd been in a tent. Still, we managed to turn the radiator on, then went to the restaurant, stuffed our faces with chips and got our heads down by 10pm.
Beacons Ultra 2017
Race start was 7:30am, at Henderson Hall, as it had been 3 years earlier. Since then Martin and Sue Like, who run the Likeys shop in Brecon, have handed over the running of the event to Jonny Davies and the crew from Force 12 Events. Essentially the race remains the same. Two laps of 23 miles each. The course is identical to 2014 save for the bits that occur around HQ, namely the start, middle and finish. But it's basically the same. The forecast had been for quite heavy rain early on, but as it was we lined up on a cool, overcast day with just a hint of rain in the air.
There were one or two people we knew on the start line. Clare Prosser, who actually won the event overall in 2014. Helen Etherington who we see everywhere these days and who can finish running 100 miles and still manage to look like she's about to go out on the town on a Friday night. Also, Richard Hurdle who has run everything under the sun, including Arc of Attrition, UTMB and the Transvulcania Ultra in La Palma.
The Start
We began on the sports field next to the canal, ran around the field and up on to the canal bank. The first 6km is flat along the Monmouthshire and Brecon Canal. It's tempting, as always, to go off too fast, either accidentally or deliberately, in order to get some miles in the bank. This is almost always a mistake. Obviously, it's all relative. It depends what you are capable of. But, whatever your pace, I am a fan of even splits as far as is possible. In a hilly ultra it's simply not going to be possible to hit every mile or kilometre the same. But it might be possible to do each quarter at the same pace or both halves.
Richard disappeared along the canal and was out of sight after 2 or 3 kilometres. I was careful to keep my pace steady. Quite a few runners came past and I was very happy to let them go. I secretly whispered to myself, 'I'll see you in a couple of hours'. Six kilometres into the Beacons Ultra the route leaves the canal at Llangynidr Locks and we began the long steep climb up to the 551m summit of Tor y Foel. It is a 400m climb with about four false summits! It is by far the toughest climb of the race, and beware, you have to do it twice!
The Dreaded Coal Road
The weather was holding and although it was a little windy on the top, it wasn't cold and it wasn't raining! A steep descent off the hill leads to a dirt road and a short run to checkpoint one. I didn't stop. There's a gentle but technical descent down to the old coal road and then it's a long slog to the next mental break in the race. The old coal road is about 4 kilometres of slightly uphill running. It's pretty relentless. It's flat enough that you feel you really should run, but the incline is such that you can definitely feel it in your legs and I know it's a dreaded part of the course for many, especially on the second loop.
I skipped along it quite gaily first time round and made it to the tarmac near Blaen y Glyn Uchaf car park. There's a nice little downhill recovery on the road towards Torpantau Station, where the railway line ends. You don't quite reach the station though because there's a right turn at 19km (56km on lap 2) which is the start of the climb up to The Gap. The highest point on the Beacons Ultra is The Gap. It does what it says on the tin. It's a gap in the ridgeline on the climb up Pen-y-Fan at about 600m elevation. The view is fabulous, although it was a little shrouded in mist on the first ascent.
Up To The Gap
I managed to run the whole climb and was very pleased with myself upon reaching the top. The descent is very technical and you definitely have to watch your footing. You're either going to stumble on rocks or slip on wet grass. When you reach the second checkpoint at the foot of the drop you have 10km to go. There are no more tough climbs left on the loop. There's a little more technical descent, a road section, then some fields and styles to negotiate, another drag of a road and the final 3km canal towpath back to the start/finish. I got to the halfway point and was just starting to feel a little fatigued. But I could see Richard up ahead and that spurred me on. I grabbed a coffee and got going again.
The second lap is harder. Same course, same distance but now you have 23 miles of running and 900 metres of climbing in your legs. It's time to dig in and flush out any mental negativity. It was good that I had the goal of chasing Richard down, because that certainly helped the canal path section to disappear relatively quickly. Having now run over a marathon it was time to start climbing Tor-y-Foel again. I power-hiked, with the odd stop for breath. I caught Richard about half way up. He was having gut problems and looked a bit rough. We are friends but we don't do sympathy. Well, not that often anyway! So I left him behind. It was beginning to rain and the wind was also getting up.
Starting to Tire
I pushed on, feeling tired but confident. I stopped at checkpoint one to get my water filled up and then made my way down to start the long coal road section. This is a very easy place to get demoralised during the Beacons Ultra. It seems such a long way from home and such an unforgiving section of road. But once again I was lucky. Up ahead I could see another runner and I set my sights on catching him. He was walking and so it didn't take too long. As I passed I asked if he was ok and he said he was feeling nauseous. Another one with gut issues. After injury, gastric problems are the number one reason for DNFs in ultra running. Anyway, once past him I thought I needed to keep running to make sure I got some distance between him and me. So, as much as I would have liked to walk, I forced myself to run on.
I did eventually give myself a little walk break at the tarmac and then jogged slowly down the hill towards the railway station in the rain. But I was suffering now. For the next four kilometres I had to adopt a run/walk strategy. I had run all the way up the hill to The Gap on the first lap, but I just couldn't do it this time. Half way up, the chap whom I had passed on the coal road came steaming past me. "Stomach's ok now. Back on form" he said as he bounded up the hill. I daren't look back because I knew Richard wouldn't be too far behind. The wind and rain were at their worst now blowing horizontally from the left. This was definitely, physically and mentally, my low point of the run. I finally reached the ridgeline and started to make my way down to Checkpoint Two.
Richard Catches Up
I managed to run but I certainly wasn't as fast as I had been on lap one. I needed my bottles filling again, which I did when I got to the checkpoint and as I was there, sure enough, who comes bounding down the hill but Richard. It is usually at this point that he disappears off into the distance again, but I think he had used a lot of his energy trying to catch me up. By the time we reached the road section he was falling behind again. There's a turn off the road at 66km (30km on lap 1) on to the fields. Back in 2014 I missed this completely on the first loop and added another 400 metres to my journey going the wrong way. This time, I had stopped to stretch out my cramping legs, when Richard almost ran straight past the turn. He said if I hadn't been there, he would have missed it. The rain had stopped now. It had only been really bad when we were up high.
We stayed together running across the fields. The cramp in my legs was getting so bad I couldn't climb over the styles and had to open the gates instead. But I was still running and once we reached the road at Llanfrynach, I could see we were catching the same chap again. He'd either run out of juice or he was suffering a recurrence of his stomach issues. I told Richard I wanted to see if we could catch him, but I don't think Richard was in the mood! So with one last big effort, I upped the pace over the tarmac and left Richard to his walking break. That's not a phrase I get to say very often, where he and I are concerned!
Passing a Legend
After a couple of kilometres on the road, you can see the canal running parallel on the left, so you know it won't be long before the final section. Sure enough, at 71km the route reaches Pencelli and joins the canal where Pencelli Castle once stood. I was feeling good now, knowing that I was nearly home, knowing I was going to catch the guy ahead and that I was going to beat my target time of 8 hours. Once I'd caught up, I briefly walked alongside the runner with whom I'd been playing leapfrog, and he told me he had indeed had a recurrence of his tummy troubles. I knew I recognised his face but couldn't put a name to it.
It was still light and I was still running well when I approached the DayGlo arrow telling me to turn off the towpath and on to the sports field by Henderson Hall for the final 100 metres. I crossed the line in 12th place in a time of 7 hours 47 minutes. My goal had always been under 8 hours and ideally a top 10 finish. However, looking back at previous years results it does seem like, apart from in 2016, 7:47 has always been around 12th place finish time. So I am very pleased. Having won the women's race in 7:20, Clare Prosser was there cheering people home and the men's winner was Sam Humphrey, who won the Beachy Head Marathon in 2016. He finished in 6 hours 15 minutes. I'll just say that again. 6 hrs, 15 minutes. Yea, I know.
Target Time Finish
It wasn't until much later that I discovered the identity of the guy with the gastric issues. I wish I'd known because I'm bit embarrassed that I didn't acknowledge him en route. It was Steve Wyatt who is twice winner of the Arc of Attrition 100 mile race and who I knew was running. Remember that film I made where I finished in 29 hours 50 minutes? Steve ran it in 21 hours. He's a phenomenal runner and it's a total fluke that I came in ahead of him at Brecon. He was just having one of those days that we all have from time to time. So kudos to Steve. Richard followed both me a Steve a couple of minutes later to finish in 14th place in 7:50.
I totally loved the Beacons Ultra when I ran it with the boys in 2014. I love it even more now that we have returned and have to some extent, tamed the beast. It's a great run and a super challenge. It's a mix of fast, flat runnable, super technical runnable, runnable climbing and non-runnable climbing. I think it would make a good first ultra if you're after a bit more of a challenge than a standard 50km trail race across the South Downs. It also makes for a very good race, for experienced and faster runners. Well done and thanks to Force 12 and all the volunteers. If you've not done it before, definitely go and have a look at the website and consider adding the Beacons Ultra to your list for next year.
Written by Michelle Jane - https://dreamweaverconsulting.com
(This is from memory, and given the length of challenge and sleep deprivation, is as I remember it… the crew may likely have a slightly different perspective, especially about my sleepy grumpiness hahaha… it's also a long read, so grab a coffee beforehand if you want to continue reading… )
… we started towards Badwater Basin…
this was it…
Photo copyright: AdventureCORPS Inc.
I got my tracker attached… we had our team photo taken… crew chief Cheryl was going over a final check through with the vehicle and gear… Pamela and I took the opportunity to joke around doing a yoga crow balance before Cheryl came back and told us off… not to risk an injury just before the race! Naughty oops We gathered together to get ready for the start… it's Badwater baby…
Photo copyright: Pamela Hogue
then…. OMG WE ARE AT BADWATER….
Photo copyright: Pamela Hogue
The race director Chris Kostman called the runners… 8pm wave photo, social media scan and talk… and then we were off… no major fanfare, no crowds… just the runners, staff and crew… a few bystanders… more a case of "oh ok then, just off for a bit of a trot…"
It was hot… and when they say it's hot in Death Valley, they're not joking: even the toilets flush with hot water (yes, I checked)… 8pm and it was like running into a huge fan which was blasting furnace-like temperature heat at you with nowhere to escape. Stupidly I didn't put a hat on as there was no sun. Bit of a mistake right there. It was apparently surprisingly humid… usually 0% but come race day that had risen to around 25%… I figured that shouldn't be a problem coming from the UK where I live with much higher humidity. I saw lightning in the distance to my right… good, not going that way. Lightning to the left… uh oh… I'd heard there had been flash flood warnings and some rain for part of the course, but hoped that would have dissipated before I reached any such areas. Having never been anywhere near a flash flood, Cheryl and team had been drilling it into me that if I saw running water, to stop and not push through… even only a couple of inches could hide debris and be dangerous.
It's just a run, a race… it will start and finish… just like every other one… you can do this… don't go out too fast… pull back… pace feels ok… hmmm that's a bit warm… 10 minutes later… damn, head's a bit hot, could have done with an ice pack in my baseball cap… hmmm this feels rather uphill… how many miles to the turn? The thoughts kept turning over in my head… the crew leapfrogged past… I'd originally thought of every 10 miles but in this heat was glad Cheryl had insisted on every 3…
By mile 13 the stomach felt decidedly slosh… I didn't want any food and started having trouble drinking the very warm water in the bottles. I generally run with water and don't do energy drinks or powders, and had struggled with finding any type of drink that I liked except for orange and lemonade which was flat in the States, no carbonation! Yummmmm… I'd also planned for a recovery protein drink to be available to sip at stops between certain sections. We brought this forward… anything to get calories and liquid in… the section to Furnace Creek passed relatively easily and I stopped there briefly to use the facilities… then on to Stovepipe Wells… running that first night felt good… no star gazing due to cloud cover and runners spreading out… but that meant I had time on my own… in the utter stillness and peace of the night… a small downhill section, the crew ahead… music playing… I was actually doing this… at a race that many dreamed of, a dream achieved… I put my arms out wide, threw my head back and just let my legs fly briefly… a feeling of pure happiness and joy washed over me… a car drove past… so I stopped until they'd disappeared from view, and then did it again. Dawn appeared, as did Stovepipe Wells… I wanted my ice-cream… they do amazing ice cream there… but the machine at the gas station shop wasn't working can we say disappointed bunny? … checked in to the Time Station, got stocked up from the crew… Jenny waiting, pacer number attached, ready to join for the first climb up to Towne Pass. I already knew this would be a walk-run strategy as although it had seemed very flat when we checked it out pre-race, looking backwards would show how deceptive that incline was. Plus my legs hurt. And it was hot. (Excuses for walking were never far away!) I'd also had my baseball cap on for some time by this point, and had been ecstatically embracing the ice bag babies that would keep on being replenished to the finish line! The only problem was they melted so quickly. We went through a lot of ice… ice bags under the baseball cap… yes I know I looked like I had a double head, but by then I really didn't care… ice bags in the short pockets, ice down the SPF arm sleeves… the water bags then dispersed down the neck, down the top, down the back, down the legs… not such a good idea bursting them to run down the inside of your shorts though…
Slow progress, the crew kept swapping pacing duties… when I say paced, I mean accompany because they were behind and stayed at the speed I set… no rushing this one, the main aim was just to finish… Jenny swapped over to Becky… swapped to Cheryl… on we went… then a fantastic long winding downhill section towards Panamint… Pamela with me on this one for a little while until I jammed the music back on… picked up the pace… now I know you get advised not to steam down this bit but had assumed (mistake number 3) that that was because a long steepish downhill would trash your quads and I actually quite like (non-mountainous steep that you're not going to kill yourself on) downhill running because I can actually run (versus the awful kill me now I'm dying uphill sections I trudge)… so I just couldn't resist and let go… it felt utterly amazing… I felt like I was a "really fast" runner for once, you know like those who can run a sub 3 marathon, or an 18 minute park run… I wasn't just running… I was really running, faster than I felt I'd ever run before… my garmin had died so I had Jenny's watch on… it felt like I hit speeds momentarily that I don't even do on my 200m repeats training… dial it back Michelle, the cadence ramping up due to the incline (it was steeper than I had expected)… 4.25… whoa what??? Is that minute per kilometre or mile… must check with Jenny… am I seeing things…. I remember going past a few runners that I expected to finish many hours ahead of me (and they did)… but it felt so good even with a feeling of "brakes on" due to the degree of incline, so I kept trying to dial it back… I didn't slow down enough…
Big mistake… you're running down to a valley which will then slowly rise up again… midway down to that valley I swear lies a blanket… above the blanket (the first half of the run) the heat was bearable… you then go through this blanket layer and the heat just hits you… but you don't properly realise because it takes a while for your dazed sleep-deprived brain to stop focusing on the good happy endorphin rush and understand that your core temperature is heating up… now Furnace Creek may have been so named because it's like being in a furnace, but I swear at midday, Panamint Springs is hotter!
I reached the crew car… and blew up… it was like standing in some sort of mini heatwave which emanated outwards from inside my body… then sitting perched on the back of the car with a body that felt like it was being cooked from the inside out, feet throbbing from suspected blisters (and once I'd stopped running, boy were they stinging), feeling sick, dizzy and unable to eat, I thought my race was over.

Thankfully, the crew were experienced so dealt with the situation rather than making any hasty decisions about ending my race… ziplock bags went over trainers and into an ice bowl to cool my feet, neck wraps soaked in icy water were draped around my neck, ice-filled ziplock bags were placed inside my baseball cap and into my shorts pockets and arms sleeves, and a water-soaked scarf was draped over my head… Becky (who is a sports massage therapist) worked on getting my legs to stop seizing up. Just a couple of miles to get to Panamint… there would be no running there… slow painful steps, the scarf soaked again, wrapped around my head to block out everything… my crew got me up, got me walking and I eventually staggered into Panamint time station.
How on earth was I going to run that distance again… I could barely walk. We got checked in, the crew got my stuff and helped me over to the campground showers… I was so grateful they allowed us to use them… that melted ice water that went everywhere, including down the inside of the shorts?… Chafing! Bad bad chafing… it was soooo sore, it was almost tear-inducing… I could hardly lift my arms up… had to be helped… the shower was so good, but oh so bad… and for those who have experienced any kind of chafing, you know how it can sting when the water hits… it brought tears… and negative thoughts… I went to brush my teeth… holy hell… that orange and lemonade I'd been drinking… pure acid… now as I'd expected some sensitivity had brought along mouthwash at the suggestion of my dental hygienist, but OMG that was pure pain… is any race worth this? And while my legs weren't running, the mental negativity was off at a fast pace… is any race worth possible scarring, worth the pain, the money, the abuse you put your body through… how much worse is it going to get… what if I can't finish… who am I to think I can do this… how the hell did I even get here… chatted to the crew, got a verbal kick up the backside… with more to follow throughout the rest of the race… I'd expected this and had forewarned them… also of what and who I wanted to reminded of… friends who had pushed through challenges, other racers I've met who are enduring life threatening illnesses… the charity I was fundraising for and the help they gave to others… miles dedicated to certain people… as the saying goes, when you change the way you look at things, the things you look at change!
Nothing different really to certain points I've reached in most of the challenges I've done… and isn't this part of why we do it… because of the journey that such challenges take us on… they can take you to the deepest, darkest parts of who you think you are… challenge your beliefs, your strengths, your weaknesses, your hopes and your fears… and they change you… because once you've experienced these things, like everything else in life… they change you. You will never "not have done this"…
New kit on… new tape… hobbling back over the road (for those following that wondered why my tracker said I was slightly away from everyone else… this would probably be why to get some food… but I couldn't eat… everything felt dry… my crew kept telling me to eat, I kept replying I wasn't hungry, sounding a bit of a spoiled brat! There was a medic centre with someone dealing with footcare, so I hobbled over to the Cottage… sat down and waited my turn… and ended up having a chat with Jon vonHof as he sorted my feet out, none other than the author of Fixing my Feet. I was rather whingey by this time, calloused areas had somehow appeared with liquid beneath many layers of skin, so it was sore to flex the feet, let alone touch them. Jon pointed out he couldn't get any of the red stuff out that had formed beneath those callouses and that they were actually in really good condition compared to some others, so he did what he could and then expertly taped them up. I have to say they weren't white and they certainly hadn't appeared to be callouses before the race! It was so cool and comfortable in there, and the sofa would have been perfect for a snooze, however my crew dragged me out. Time to get moving. We'd spent more time than we should have there.
Father Crowley beckoned. The sun was out, showcasing such stunning views that no photograph can do justice to the area. It's like someone had painted a canvas background which didn't look real. We took turns in seeing what images the clouds and rocks formed… and there were many… walk, shuffle, walk…
Up to Darwin and into the second night… memory fades badly and looking back at the timing splits, I don't think I've ever plodded any sections of a race so slowly… shows what the cumulative effects can be… and whilst I can't say for sure that the pre-race sleep deprivation had an effect, I know I've never felt so bad on a night section before: I remember struggling to keep the eyes open, blurry red lights in the distance occasionally, mostly walking as my feet hurt so much, every step stinging, being so tired, struggling to get even a crisp or two eaten, demanding sleep. I ended up taking two naps in the front car seat, one 15 minutes long… no idea when or where that was. The second was at Darwin time station… I do however remember there was very loud music from another car… I eventually dropped off only to be woken a few minutes later by the crew… they'd let me have around 20 minutes, maybe even 30 in total.
We started off again… Brad passing us… I was surprised to see him, thinking he'd be way ahead… he'd had a bad turn and had had to lie down for an hour or so I think. I remember what looked like sand washed trail… and I think this was where some flash floods had happened the day before…
We kept going. And then I had my first ever experience of throwing up on a race. I've felt nausea before, had the stomach sloshing… but I've never been in the position where I physically couldn't stop myself from throwing up… first time for everything I guess… not that I had anything in my stomach. The crew were amazing, keeping me going, trying to get me to eat and drink, even making hot tea to carry with me (what can I say? I'm British. By then I'd also got the hang of the biffy bags…
Hari, this section included since you specifically asked… for those that wonder just what a biffy bag is, I suggest you google
… the National Parks have certain requirements that must be obeyed… and one is that you can't just go to the toilet anywhere you please! Plus it's pretty open with nothing much to hide behind… at least in MdS you have mini dunes some of the time… now these bags are like a plastic black bin bag but also have some stuff in there to help with biodegrading (I didn't look too closely), and some plastic gloves to obviously dispose of said bag. They took a bit of getting used to, but that first time… and let's not forget that with all that running your legs get stiff… I struggled… and there seemed to be a bit of wind blowing that bag around… Pamela offered to help lower me into position… and came up to stand in front of me to preserve a lingering sense of modesty if any runners were approaching the area (always remember to turn your headtorch off people), she was chatting merrily away as I tried to work out how to hold and place the damn bag and get into a safe position!… and then stood there chatting… facing me… totally unconcerned and unaware… I'm like… Pamela!!! What? Ohhhhh right…. she turns around and carries on chatting…. noooo, move away….. this far? No further… she turns around to face me, this ok?… I could barely reply for laughing… now there's crewing and then there's above and beyond… some people just automatically go the extra mile (I think my whole crew deserve that accolade)… on a serious note, I've since recommended these to runners who have Crohns and other IBDs, people who have struggled to train long runs because of what they experience with their diseases, so if you are reading this and wonder if there are any products that could help you run where there may not be appropriate facilities… check them out. I believe they're available on Amazon UK otherwise check out http://www.biffybag.com. But Pamela, remember where you asked about my favourite memories… this has become one of them hahaha!
Photo copyright: Michelle Payne (taken by crew)
Jenny had encouraged me through the night to look up at the sky (don't wanna), enjoy where you are (don't care)… keep your eyes open (can't)… eat some food (not hungry)… to the point where I most certainly wasn't a joy to be around… especially when she started laughing at me (I really wasn't a happy bunny at that point)… trying to force me to eat (I'm a bit stubborn myself)… and shoving rice cakes at me, asking every 30 seconds are you eating, until I waved a rice cake angrily under her nose and swore (literally) that I was eating the damn rice cake… (guess what I bought when I got home)… anyway, daylight dawned as we were on the way to Lone Pine… a long flat stretch that I had hoped, pre-race, to run. Unfortunately come race day I wasn't feeling quite so energetic, and Jenny with me again during this point, getting similar responses to the nighttime when she kept asking if I could shuffle (I had cheered up at other points though, wasn't being a totally moody cow the whole way… I don't think)… and on either side of this road we were walking was sand… with flies… and the flies buzzed a lot… and there seemed to be a couple that were determined to stay with us the whole way. Now I know with the heat and sweat over those 50 miles since Panamint you're not going to be the freshest person out there… but those flies seemed completely enamoured of me: such affection not reciprocated, especially when they kept going in front of my face as if to sting. I kept trying to wave them away. They reappeared… I got more grumpy as they wouldn't get lost… the air started turning a bit blue… and I have no idea how Jenny didn't get annoyed with them when they buzzed her but they were seriously aggravating me… I guess you had to be there, but to anyone who didn't know what we were doing, we must have looked a pair of crazy people… shuffling along, sweating clothes, stinking… flies buzzing around us, hands waving… and in the end I couldn't bear it any longer and muttered Jenny just … just….. "just what" she said… "Kill them" I replied… "just kill them… kill them all"… she cracked up. Lone Pine appeared like a mirage in the distance, one that took hours to materialise and eventually I reached the outskirts with Pamela alongside… and as we approached the town we saw another runner ahead. It gave me the impetus to shuffle into a trot… the drive to compete (yes, even as a back of the pack runner) was still there… we got nearer and then realised she (Coleen) had flip flops on… if I thought my feet were painful as I'd whinged to my crew, well hers were worse and here she was pushing on… it was an incredibly inspiring moment. She wasn't sure she would finish… well anyone who can push on like that, we told her we'd expect to see them at the finish line because she'd come so far and pushed through so much. We picked up the pace and were back to a walk run pacing… until we got to the time station. I had a crazy few minutes here thinking I was actually going to get a couple of hours sleep. Most people were ahead, there was absolutely no pressure to have to leave immediately and finish in X hours… it was just about a finish. The crew were unloading part of our vehicle into our rooms… they asked what I wanted to do…
Photo copyright: Michelle Payne (taken by crew)
We decided to get it done rather than sleep. Unfortunately it was the hottest part of the day and going up seemed to not only be completely exposed but also take forever… about 13 miles… and each of the crew wanted a part of that final stage so we worked out who would be driving, crewing, pacing… and off we set… a section with each, almost an individual summary of the journey… the last few miles with Cheryl, my crew chief… up miles that felt so steep and climbing elevation that made my heart pound like crazy (I'm not great with elevation nor altitude)… we leapfrogged with Adam from Oz a few times, sharing a mutual love of turning the air blue as we wondered why we were crazy enough to do this, how much it hurt and what we thought of it all… and as we went up, cars were beeping on their way down, runners and teams who had finished, shouting encouragement as they went past… I had to keep stopping for a few moments to get my breath… and Cheryl kept singing away (probably to drown out my constant "are we there yet" comments)… until we recognised where the final turn and the finish line would be. I took a moment there just for me… that bittersweet moment where you can't wait to finish, but you also don't want it to finish… where you realise that yes you have achieved that dream… Cheryl hugged me, what a journey we had all been on… we turned the corner, got out the flag the crew had passed to me and beckoned to them to join us…
The finish line loomed: an emotional moment words cannot describe.
Photo copyright: AdventureCORPS Inc.
To see it, to approach it, to be joined by your team who have supported and encouraged every step of the way, to step foot over it, hand in hand with your friends, achieving a goal that at one point you'd never dreamed you'd be capable of starting, let alone accomplishing: it's priceless. It's a moment that will stay with me for life. I would say to anyone who dreams of doing this: dream it, plan it, train for it and go for it. If I can do it, so can you.
And of course there many other happy moments that will stay with me… joking at crew points, run dancing as another crew (I think Brazilian team) drove past us singing… where your friends literally have your back and make sure you don't veer into the road (especially when traffic is around) because you're pretty much sleepwalking… where you're with a group of friends who support and empower each other, everyone works and pulls together, too many wonderful memories to add to what is already a very long report.
Photo copyright: Michelle Payne
People ask "what is Badwater"… well yes it's a race, but it's also more than that. It's a journey. Like most endurance challenges, you don't finish it the same person that you started as. This particular race encompasses what is usually a very long journey towards it, the planning, the time, the sacrifices you make, the money you spend, the training you do. It's also about the people that share that journey with you… both leading up to the race and, for myself and my crew, the week that we spent together… it's intense, and at the time, all-consuming. You learn things about yourself, and about others. It brings friendship and camaraderie, a sense of belonging, of support that you give and receive, it brings travel to distant lands that you might otherwise not have visited and scenery to take your breath away. It challenges you in a way that is hard to describe… in what you physically can achieve and how you push yourself, to the internal drive and headspace that works with that physicality. It gives you pain: mental and physical, but also such wonderful experiences. As Becky says… "it's never just a run"…
It's so good and so hard, and so brutal… but so good… that I want to go back and do it again. If they'll have me (and us), of course Thanks for reading.
Michelle
Now what shall I do next…
Written by Nick Grahame
Dorset Ultra was the third Ultra race I've entered, having got bitten by the bug earlier in the year. The biggest draw for shoe-horning this in at the end of the year had been the opportunity of points in time to enter an application in December for the 2018 OCC, but it was also a good chance to familiarise myself with some of the challenges of the Jurassic Coast, having signed up for The Oner in April 2018.
I traveled down the night before, and arrived with just enough time to register in the evening before retiring back to the Castle Inn to get my kit ready for the morning, and set three alarms!
The weather forecast had been mixed in the run-up, but by race day it had settled to a prospect of cloudy, but dry, with a slight chance of a shower. I packed as light as I could, packing only one extra item of clothing - a waterproof jacket. I'd been advised that the checkpoints were a little more sparse than some events, so included an emergency malt loaf, along with my carefully planned selection of gels, jelly babies, and energy bars.
Parking by the start was good, and as the route went through the car park twice, as well as at start and finish, meant that I could run my own support from the boot, rather than relying on the bag drop.
One thing I hadn't trained for was standing around waiting for the event to start - psychologically, this kind of threw me, as I'm so used to stepping out of the front door and just heading off. When we did start, I was colder than I would have like to have been, but the route immediately started with a slog up the coast over to Durdle Door which warmed things up. Garmin was acting up, and wouldn't load the route, so it was nearly two miles before I started logging distance and pace - another psychological niggle, as I like my data en-route to gauge my progress.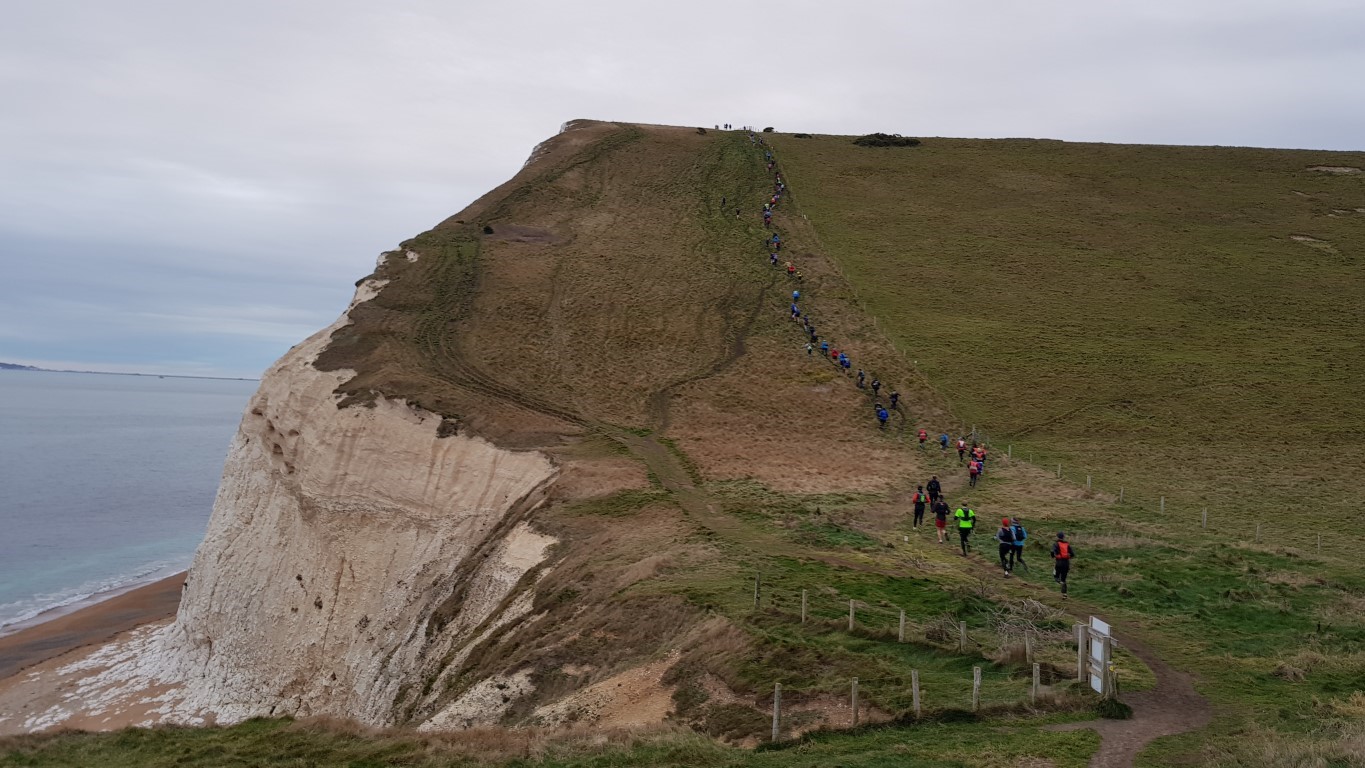 The next few miles continued west along the coast, with some brutal inclines. In terms of running, I'm pleased with my current fitness levels, and can knock out a consistent 9 or 10 minute mile for what almost feels like forever. What I was not physically prepared for was walking up steep inclines. Different muscle groups (particularly calves!) were screaming all the way up, to the point that early on I was wondering if I was going to manage all this - another mental blow. However, as the route turned inland to head back east, things levelled a little, and I was flying, and soon my confidence of carrying an average pace of 11 to 12 mins per mile returned. By the time we came through the car park again, everything was bang on track, and I felt good.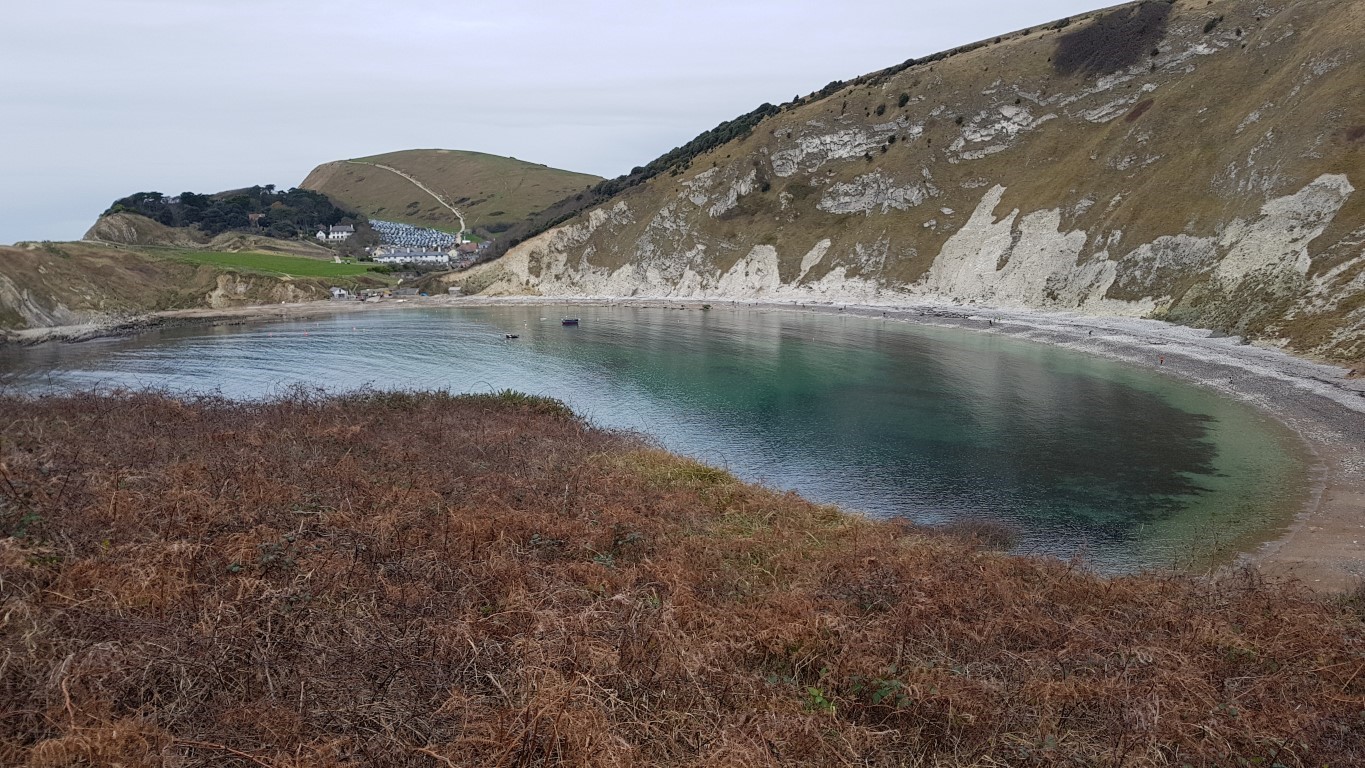 The run round Lulworth Cove though was a bit gnarly, but I found firmer footing closer to the water. The route then headed up again, towards the military testing area. At this point I realised that the hills on the western stretch were just a warning. The rest of the run out east was breathtaking, both visually and and literally in that it knocked the wind out of you. I'd used poles on my first Ultra in July, but on balance I've not bothered with them since as they haven't offered much help, and the rest of the time are a faff. Man, I wish I'd brought them here! Calves burning again, I was less demoralised, and saw the humorous side of it with my fellow runners. I knew that, like before, the hills were about damage limitation, and that I could claw back the pace on the return west. Right...?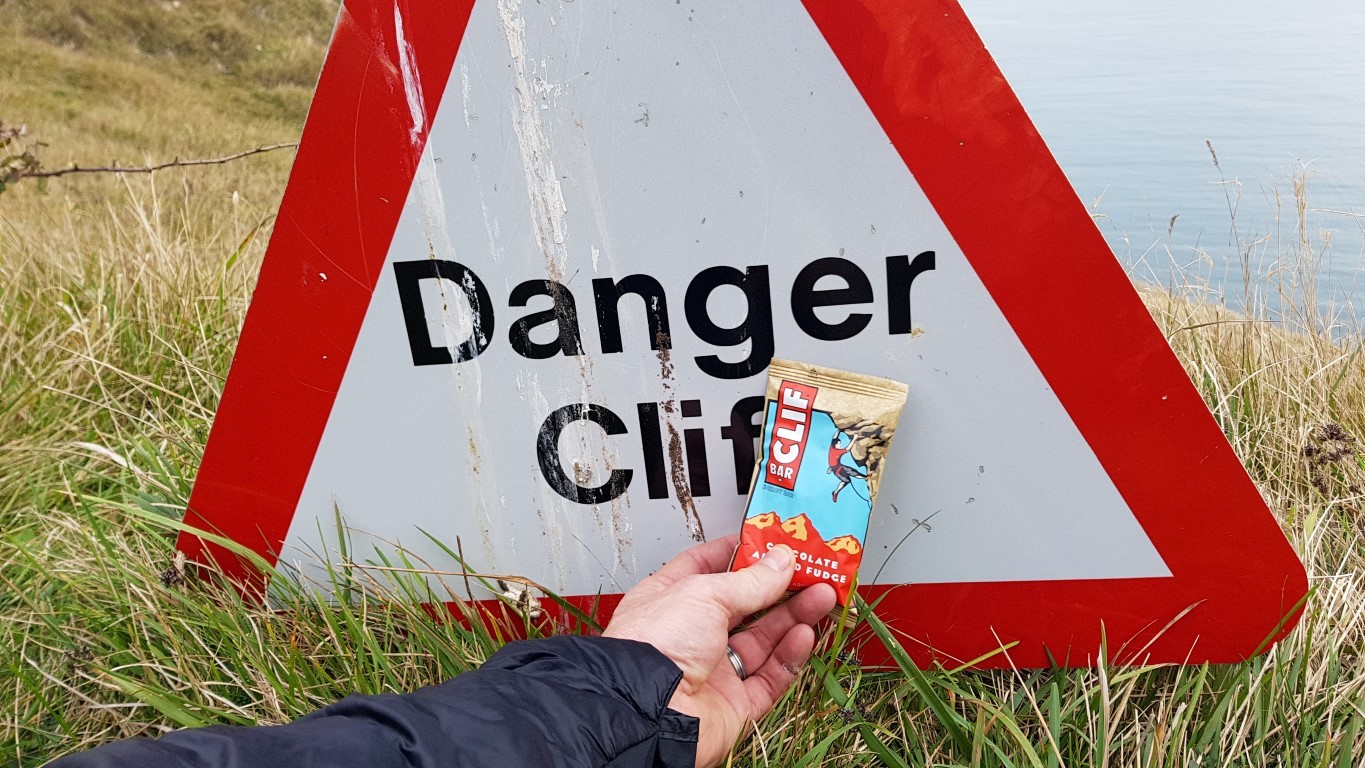 The turn back west was where it all started to go south. The western return from the east loop is not forgiving. It's another combination of muscle burning ups and knee smashing downs. It was about 2 miles in when my old friend, ITBS, popped in to say hello. By the time we were pounding down the steps back to Lulworth Cove, I was having my "I'm never doing this again" moment. But the prospect of the looming car park, and the paracetamol I knew was in the glove box, was all I needed to get to the marathon check point. I've never medicated on a run before, but I had serious doubts about finishing, so I had a couple of paracetamol and, against the generally accepted wisdom, two ibuprofen, as I only had six miles to go.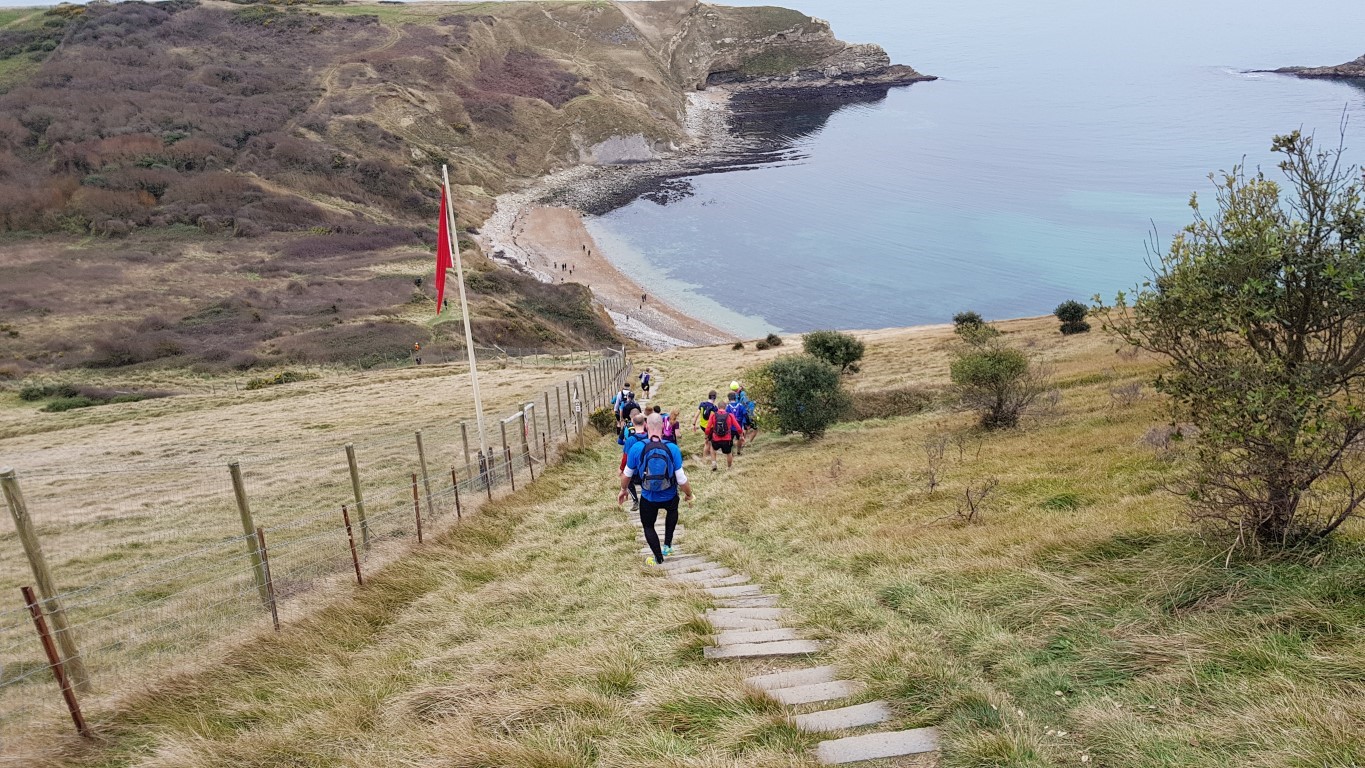 Mentally I was in a strange place. I knew that I had those three hills west to do again, but at least they were a known quantity, and the last stretch home would be pretty steady. I took the opportunity to enjoy the view, something I had missed first time round as a result of fiddling with my Garmin, and dug deep into the "every step is a step closer" mantra. By this time, I was just focused on finishing, and any targets had gone out of the window. My leg was in a great deal of pain, and I joked to some passing competitors as I hobbled that it on hurt on the uphills and the down hills - but there was some truth in that fact.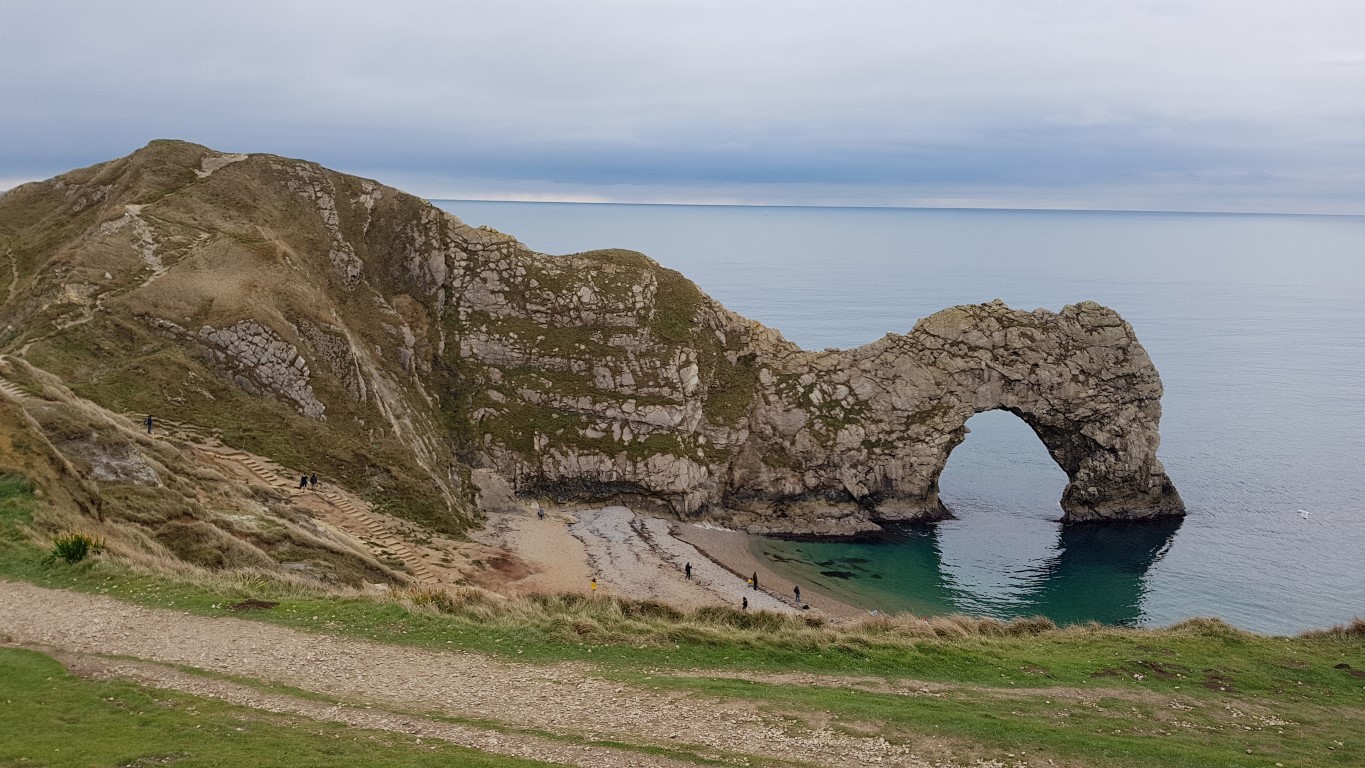 As the route turned back east (at a different point to the first western loop), the course eased up, and I got into my stride again, and I hammered the last 3 miles, flying past other runners. Having struggled with some circa 20 min miles only a couple of miles ago, I was now knocking out 8 and 9 min miles. Mentally I was focused on at least getting that average pace back down into 12 mins "something", rather than the over-13 that was currently decorating my Garmin.
As I pounded down to the finish line, all the memory of "I'm never doing this again" was gone, and I received my medal with a smile. All things considered, I was pleased to complete in 7hrs and 5mins, although of course, the 5 mins is an annoyance!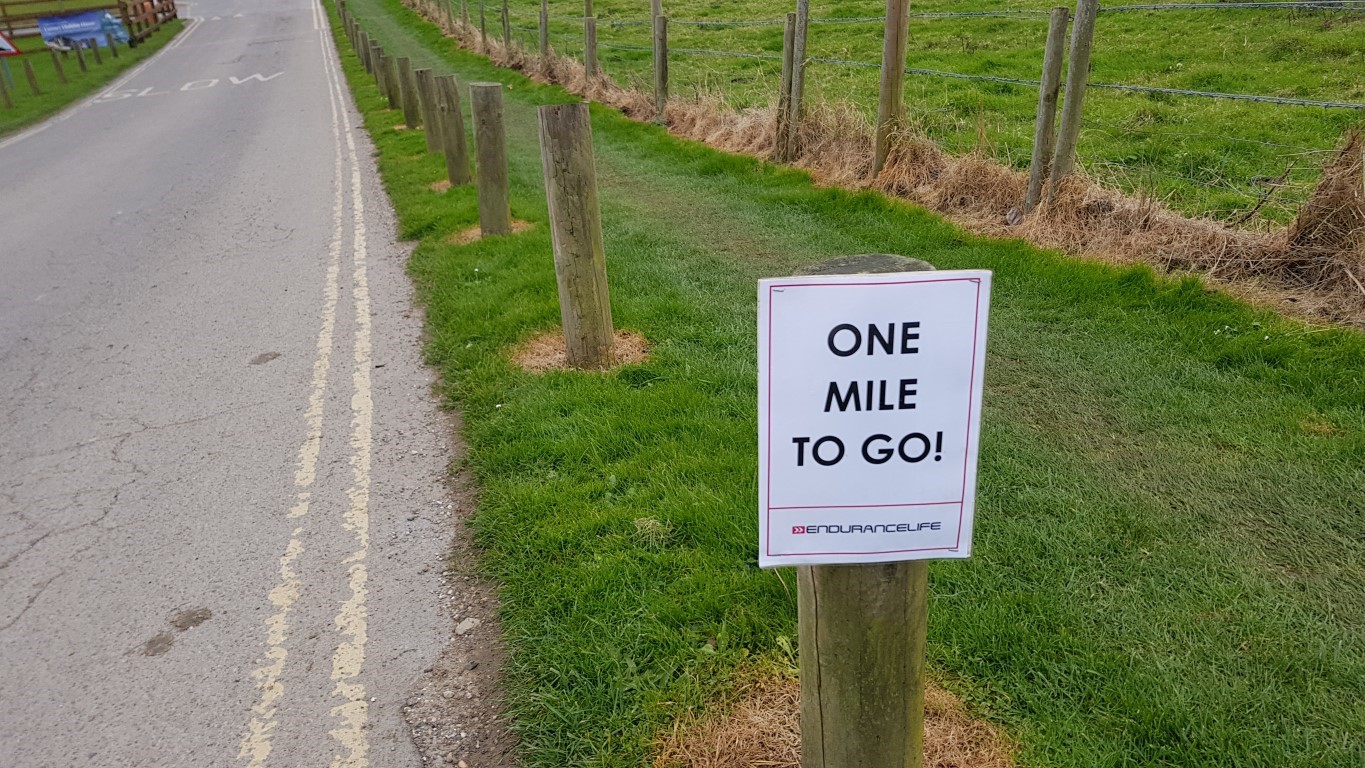 The big take away for me is that I need to do more strength training if I'm going to be prepared for The Oner!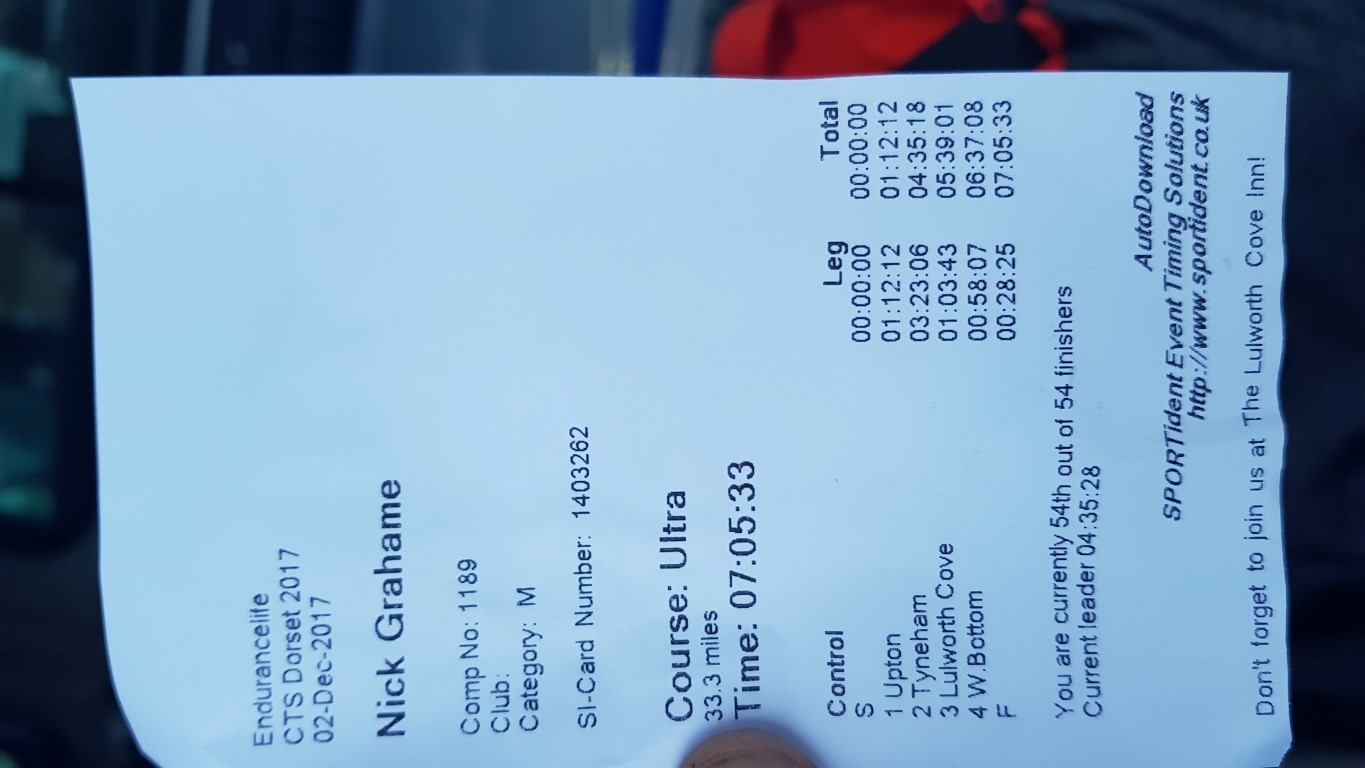 Written by Paul Ali - https://ultraavon.com
After a dream race at the Liverpool Leeds Canal race (link here) there was only one way race results could go and this is a brief report on my DNF at the Lon Las Ultra.
This was a new event on the Ultra running calendar put on by Cockbain events. The event involved a 253 mile run/walk/crawl across Wales starting from Holyhead in Anglesey and all the way 'down' to Cardiff following the Sustran Route 8. The event had limited support with competitors having access to water supplies every 25 miles and access to their drop bags every 50 miles. Between these points runners should be self-sufficient although purchasing supplies en-route was allowed.
I had about six weeks from the LLCR to this event and after having a full weeks rest put in 4 training weeks of around 75 miles each week although I backed off the training in weeks 3 and 4 as my legs weren't feeling totally fresh. This gave me about 10 days taper where I brought the mileage right down. I had made a particular effort to include some hill reps each week with the course profile for Lon Las described as 'undulating' with a few peaks. The course profile for Lon Las showed around 18,000 foot of elevation. Although over 253 miles you could argue that this was pretty flat.
Race Start. Photo by Karen Webber.
We set out under the cover of darkness at 7am and headed away from Holyhead Port/Station along the streets and roads before joining the coastal path. As the darkness receded, the sun came out and the weather was looking really good for a mid-October day as we followed the quiet roads. I spent the early part of the race running with Martin and Riccardo.
The only interest of note was when I took a 'slight detour' around the 20 mile point. I had been following the route instructions and signs and turned right onto a main road. I had been looking for the next turn off but simply missed a sign on the opposite side of the road and continued on ahead. It was a really simple mistake but cost me a few miles as this main road continued for quite a while without a turn off before I realised my mistake. Unfortunately, Riccardo had been following me and also went the wrong way. As we checked maps, we worked out that we missed a turn and back-tracked by which time the full force of the GPS tracking came into play as I received a couple of texts from friends with the "Where the hell are you going?" type message. There is no hiding place on a GPS tracked race!
It was a simple mistake but over the course of 253 miles not a massive issue and I tried to just get on with the running. However, it was fair to say that the detour played over in my mind like a persistent annoyance for the next couple of hours although the mood was lightened by the light joshing from other competitors and support team.
I had been carrying a handheld GPS unit but for some reason my course file hadn't loaded up at the start of the race and wasn't displaying the route correctly. I was going to look at it at the first Checkpoint but after the earlier mix up I took a minute or two a little while later to power it off and on and reload it which seemed to sort the problem and it was fine from that point onwards.
The first Checkpoint (Water Only) was at the 30 mile point at Menai Bridge and I continued on the next 10 miles to this point and caught up with a few people. To be honest I was moving slower than I would normally for a race of this distance and taking the odd short walk break very early on and wasn't quite feeling 100% fresh, perhaps I was still a little jaded from lots of long races over the summer. I had a brief stop of a Garage a mile or two before the Checkpoint to buy a can of coke and jogged the last couple of miles over the bridge to the first Checkpoint.
CP1 – Photo by Karen Webber
I think the usual approach when you make a navigational error is to exaggerate the distance to indicate that you could have finished much quicker. I thought I had run an extra couple of extra miles and was playing it down in my mind (simple mistake, no big deal etc.) but it turned out to be nearly 5 miles. The first Checkpoint at 30 miles showed 35 miles on my GPS watch, oops. I topped up my water supplies as Lindley, Maxine, Karen & Peter asked if I enjoyed my extra detour before I set out again. Cheers guys, I had just about got it out of my system. The only saving grace was that another competitor (no names mentioned) seem to be taking the heat off me by making a number of navigational errors.
The next section was a bit mixed. I recall this section being fairly flat and there were times when I felt ok and ran steadily for miles and then I hit sections when I just felt I needed a walk break and I wasn't even 50 miles into the race. I leapfrogged a few competitors here and eventually buddied up with Duncan for the remainder of this section as we saw out the rest of this leg and arrived at Checkpoint 2 at 60 miles.
This was our first Drop Bag stop, and I had purchased a few 'Self-Heating' meals (just add water) which takes 10 mins to cook so I put this on straightaway as I had a drink, attended to a toe blister (thanks Maxine) and took the opportunity to top up the charge on my phone and Garmin. After perhaps 25 mins, I set out again towards Checkpoint 3 feeling good after a nice meat-ball dinner (Duncan was jealous as he mentioned what a good idea it was a least three times!). This was a nice 'reset' point for me as I had planned to stop and re-start my Garmin each 50 mile or so section between Checkpoints.. mainly because the Garmin 920XT does not charge and record at the same time (seriously Garmin, my old 310XT does it).
CP2 – First Drop Bag stop
It was getting dark by the time we left so it had been a very steady 60 (65!) mile section and time to get the LED lights on to accompany the Hi-Vis everyone was expected to wear all the time as the route follows roads.
I picked up the running and ended up running most of this section by myself, this section felt a bit more undulating and as we got further into the night the expected rain started to fall. It even got to the point where I actually put my waterproof trousers on which was a rare occurrence.
There was a nasty little 4-5 mile section just before the next Checkpoint where you seemed to be going up and up hills with the wind and rain lashing down directly in your face. It was nice to get that section over with as the rain eased off as I arrived into the next pop-up Checkpoint (Water only) at 80 miles which was being supported by Lindley and Maxine. I paused here for a few minutes to eat some food. It wasn't quite morning but I had packed some cereal and powdered milk which I made up with water and had a bowl of cereal. This was something that I liked and was quite easy to eat and after a little while I set off at a walk before picking up a bit of a jog.
The next section was only 20 miles or so but took me ages as I started to suffer with blistering around the toes mainly which meant I was walking more than I was running. Surprisingly, I didn't suffer my usual sleep deprivation too badly but the constant drizzle in the face was good enough to keep me awake. I trudged through the next section to arrive at the 100 mile Checkpoint about 6am. I hadn't expected to run a fast 100 mile time for the this event of this nature but arriving here at 23 ish hours compared to a 100 mile PB time of 17 hours was perhaps 3 hours slower than I expected to be.
Arriving at CP4 – Photo by Karen Webber
I had some food and removed the existing taping on my feet. I didn't manage to sleep but dozed in my sleeping bag for 20 minutes as I wanted to allow some time to dry my feet completely before applying some new taping over the blisters and hotspots. I spent about an hour here in total and I was putting on some fresh clothes I took a look at the weather outside to see that the weather was worsening and the rain was lashing down in full force. I decided to go with my heavier waterproof jacket, trousers, gloves, the works as I had been planning to hike out the next few hours.
I set out in the rain around 7.30am. The next 3 miles went up and up over a hill and into a valley. The rain and wind here was even stronger with sheets of rain hammering it down, flooded paths and strong winds in this exposed area. My thicker Waterproof jacket (a Montane jacket) thankfully stood up to the weather, my Salomon Bonatti did an ok job but my Inov-8 mitts were useless as they couldn't handle the volume of rain but thankfully this was a minor piece of equipment/clothing failure. I've had a few incidents with rain in events but this felt like one of the heaviest rainfalls I had experienced. Unfortunately, all of the effort to dry out and patch up my feet were wasted as my feet got soaked within a couple of miles of the last CP.
I spent the next 5 hours hiking this section through this incessant rain. I knew conditions would ease later in the day but unfortunately this didn't help the condition of my feet which felt more uncomfortable.
Progress was really slow (about 15 miles in 5 hours) and I started working out the maths. Even based on this pace it was going to be a long walk. However, with my feet in the condition they were in I didn't think this was going to be achievable and I didn't really fancy a 135 mile death-march from this point and so when I arrived in a place called Machynlleth I made a rational decision to drop. I was definitely disappointed not to progress any further but it wasn't really looking like my day from the start and it wasn't a difficult decision to make. No excuses, I wasn't good enough to complete the event on the day.
The 'DNF' selfie.
I stopped at a petrol station and made the call to Mark and Peter Foxall kindly delivered my drop bag to me where I could change into some dry clothes and get the train home. There was a train station at Machynlleth and a I caught a train home via connections through Chester and Birmingham although the section to Reading wasn't very much fun at first as there were no seats and I just sat on the floor slumped next to my drop bag.
Massive congratulations to the six guys who made it to the finish (Bryan, Ronnie, Mike, Karl, Colin & Chris), a fantastic effort through some very tough conditions (especially on the Friday). You all showed some true grit to complete this event. I experienced mixed emotions watching the trackers over the next couple of days ranging from the satisfaction of seeing the other competitors complete the event with small doses of regret and envy from not having finished myself.
In addition, I would also like to thank the handful of crew members who supported the event including Mark, Karen, Peter, Lindley, Maxine and others. Each of them also pulled a long shift over the weekend to support a small number of competitors over a long distance and without their efforts we could not have organised the race.
What were my learning points from this race? This was probably one race too many this year and I probably need to approach this type of race fresh from other races as a minor point. Completing this race was always going to involve long periods of hiking as well as running which is something you need to be prepared for and I need to revisit foot care in order to be able to maintain some level of comfort to have a better chance of completing this type of race.
Written by Phil Bradburn - https://untrainingultrarunner.com The training went well in the run up to North Downs 100 (aside from a terrible week or so which I put down to training while…

Written by Phil Bradburn - https://untrainingultrarunner.com It has taken me a long time to write this blog post. About a week! It is hard to know the reason for that, but in…

Written by Phil Bradburn - https://untrainingultrarunner.com It is fair to say that I wasn't sure what would happen at Thames Path 100. Apologies in advance for a lengthy post! I had a spreadsheet…
Written by Richard Stillion - https://richyla.wordpress.com Chiltern Wonderland 50 Centurion Running 16/09/2017 1st Male: Jon Ellis 6:36:58 1st Female: Rachel Fawcett 8:41:42 http://www.centurionrunning.com/races/chiltern-wonderland-50-2017 Wonder: to be filled with admiration, amazement, or awe; marvel (often followed by at) Land: something the government…

Written by Rachel Fawcett - https://fawcettfitnessrunning.blog The school holidays dawned, I had recently completed SDW100 and was therefore completely indestructible, I put myself onto the waiting list for the CW50 to give…

Written by Samuel Bolton - https://samuelsultrarunning.wordpress.com I suppose this is more of a breakdown of my thoughts on the race and a way of helping me remember some of the more eventful…
Written by Jasmine Sandalli - https://medalmagpie.blog Standard It's been a while since we last caught up. Happily, this time, I've actually managed to finish a few races – unlike during my radio silence…

Written by Debs Martin-Consani - http://debsonrunning.blogspot.fr/ A slow scan of the marquee, assessing the carnage of 250kms in the Italian Alps. There is a man openly sobbing as he takes off his…

Written by Paul Tierney - https://www.inov-8.com Tor des Geants (TDG) is a 338km footrace around the Aosta Valley in the Italian Alps and is held in September each year. It has an…