Written by Christian Maleedy - https://runningchristian.wordpress.com
It's the final leg of this journey. We have climbed out of Horton in Ribblesdale and are now on Cam fell. It is late evening and the June sun hangs low in the sky peering over the distant hills. Despite the blinding light in my eyes, I'm desperate for the sun to stay up a little longer. I know that as soon as the sun dips behind the Pennines, it will signal the start of a second consecutive night without sleep. I'd struggled with the sleep deprivation earlier in the day and knew that with darkness, it would return again. There's still around 10 miles to the finish in Hardraw; it may as well be 10,000 miles at this stage.
Part 1 – Edale and the Dark Peak
The race started 37 hours earlier in the picturesque village of Edale. This is the official start of the Pennine Way (PW) and we're now minutes away from the start of the first ever Spine Flare and Fusion races. These are the inaugural summer equivalent races of the more famous January races, the Challenger and the Spine. Like the winter races, the Flare is around 110 miles from Edale to Hardraw, whilst the Fusion consists of the entire Pennine Way, 268 miles from Edale to Kirk Yetholm.
As I wait for the race to begin, I think back to my attempt at the Challenger this January just past. My overall memories of that race were of snow, mud, bog, ice and the crushing disappointment of not making it to the finish. Whilst the conditions were bad, it is my own mistakes before and during that race that disappoint me the most and I'm determined not to repeat them again.
The race begins. These summer races are much smaller in terms of competitors than the traditional winter ones and it doesn't take long for the field to fragment. I haven't run since Monday and I get caught up in the euphoria of the start. A small lead group of three runners immediately breaks away and for the first couple of miles over Upper Booth on the way to Kinder Scout, I stay close behind them. I quickly realise that there is no way I should be anywhere near the lead group and so ease my pace off. This is fairly easily achieved as I'm now at the foot of Jacob's ladder, one of the most significant climbs in the race. The ascent seems easier than it was in January; certainly the lack of snow underfoot helps as does the specific hill training that I've done in preparation.
It's misty on Kinder Plateau as I pick may way amongst the rocks. The path of the Pennine Way isn't always clear here, a fact compounded by a complete lack of National Trail signs on the Plateau. However, I find my way with no problems, remembering to hug the edge of the Plateau. Past Kinder downfall, I descend the other side of Kinder taking care on the slippery rocks.
The next few miles are relatively flat and fast along moorland flagstones (the first of many along the PW). Before too long, I'm able to enjoy the ethereal sight of cars in the distance seemingly floating across the distant moors. This is not (yet!) sleep-deprivation induced hallucinations – it is just the Snake Pass road which famously cuts across the moors.
I cross the Snake Pass in good time, ahead of my schedule and feeling positive. As I traverse the next section towards Bleaklow, the path begins to trend upwards. A drone buzzs overhead filming the race. It follows me and another runner for a few hundred meters before turning around and heading back towards Snake Pass. For a moment, a thought enters my head, completely uninvited – there's still over 100 miles to go. I quickly banish that thought. My absolute golden rule is not to think about the distance remaining until I am close to the end; instead I try and focus on breaking the race into small sections and reaching the next landmark. Somewhere along this section, I chat to Charl, a gregarious South African doing the full Fusion race. Over the course of the next two days, our paths would cross many times and we would run several miles together. Charl pushes on and I'm by myself again. At this point, I become aware of another runner behind me. This I would soon discover is Helen. Only later would I realise that our races were to be inextricably linked. For the time being, Helen, Charl and I spend the next few miles at times running along and at times in twos and threes. After Bleaklow, the PW becomes a narrow single track alongside a steep sided valley, before finally dropping down to Torside reservoir. Here we're able to refill our water bottles from a support vehicle before beginning the climb up to Black Hill. Despite being a remote scenic section, this always feels like a slog. Somewhere along here, I feel the first hunger pangs. My plan is to keep the calories coming in as consistently as possible. I know that there is often a snack van located at the next road crossing, so I decide to push on for that rather than dipping into my food stash that I'm carrying. From Black Hill there is a perfect downhill section. I do enjoy a good runnable downhill and so attempt my best Kilian Jornet impression by hammering this part.
I reach the snack van just as the lady is beginning to pack away. I can honestly say that collapsed in a plastic chair by the side of the road, I would not have exchanged my bacon bap and coke for the finest Michelin started cuisine in Paris; it was just perfect in every way. Charl soon joins me and is quickly expounding the virtues of the pork scratchings that he is enjoying. We leave together and begin the next section.
Part 2 – Into the South Pennines
We start the descent from the road down to Wessenden Head Reservoir. This was the section in January's race when the bad chaffing began (due to some bad clothing choices) and I got the first inkling that it really wasn't going to be my day. Today, however, the going is good. The Pennine Way drops into a narrow valley crossing a stream before rising immediately again on the other side. I stop to fix the chest straps on my backpack(the first of a few kit malfunctions) and Charl, Helen and Raj (another Fusion runner) push on ahead. I recall running this section in the darkness completely alone in January with no sign of any other runners. Today a combination of being so close to the summer solstice and also being significantly up on my January time mean that I still have many hours of daylight left. I decide to make the most of them and push on. As I cross the new stone slabs stretching across the otherwise desolate moorland, I recall seeing these same slabs being brought in by helicopter during a run over these moors the previous October.
A light but steady rain begins to fall. I catch up with Raj and Charl who have stopped to put on their waterproofs and I join them. The three of us pass a few enjoyable moors across the moors. The wet weather makes the race feel a bit more "Spine-y". We stop at another moorland car park where a support vehicle has left water for us. As we fill our bottles, I feel invigorated by the rain. I look across at Raj and see the look of euphoria on his face. This is living and we both realise it in that moment.
As we continue along Stanedge, I experience a vivid flash back to January. This point was one of the (precious few) highlights from that race – a huge full moon rising into the inky black night sky. It is, of course, still daylight today and there is to be no full moon when darkness does finally set in. I push on the pace along as I feel Check Point 1 (CP1), beckoning me onwards. The next few miles pass by quickly. The top of Blackstone Edge is rocky and adds some rugged beauty to the otherwise grassy moorland.
I pass the White House pub, once a regular haunt of Spine racers past. Unsure if we are still persona non grata, I continue past towards Warland reservoir. Here the PW has been rerouted to go anticlockwise around the reservoir rather than the usual clockwise direction. The alternative route feels more remote and I'm a little surprised to see a small tent that has been erected in the middle of the trail. I squeeze past trying to avoid disturbing whoever is inside.
The sight of Stoodley Pike in the distance lifts my spirits as I know it's around 5 miles from there to the checkpoint, a hot meal and a sit down. Once again in January, this section was a low point. I'd lost the path (such as it is) beneath the snowdrifts and was forced to find my own route through thigh deep snow hiding rocks, bogs and grass. Stoodley Pike is famous for appearing in the distance, teasing PW hikers in the distance but seemingly never getting any closer no matter how much progress is made. That was my January experience (or it would have been had I been able to see the tower in the dark and the mist). But today is different; the path is dry and clear and the Pike grows steadily in size as I approach.
I eventually catch up to Helen who is resting by the side of the trail. We agree to traverse this section to CP1 together. We stop for a few minutes at the Pike and empty our shoes of bits of trail that have found its way in. From Stoodley Pike, the PW turns downhill first across fields, then past farm buildings and eventually down an access road before coming out on a bridge across the River Calder. No sooner do you reach the bottom before you have to climb back up the other side of the valley, initially along a narrow stone path between houses. With CP1 now close, I suggest to Helen that we try and leave the Check Point together. It will be dusk by the time we leave and some company during the night crossing of the moors seems appealing to us both. I also discover that Helen is an A&E doctor. She could possibly could be a good person to have around, though I hope not to have to call on her expertise!
My feet are starting to suffer and I can feel blisters developing. I look forward to having these taped up at the Check Point. before too long, the PW comes out in the village of Colden. Sadly CP1 is a non-trivial diversion off the PW, so we leave the trail for the time being to follow the road past quaintly pennine stone terraced houses. The path down to CP1 from the road is steep and narrow passing through woods. Eventually CP1 (Hebden Hey scout hut) appears as if from nowhere out of the trees. Outside, we are swarmed by midges so hurry inside. I make a beeline to the dining area and enjoy a steaming hot bowl of chicken stew. I'd planned on a complete change of clothes here and feel like a new man after a quick shower. There are bunk beds available here and many racers are planning on a short sleep. My pre-race plan was to push through and complete the race with no sleep as preparation for UTMB later in the summer. In any case, I can still feel the adrenaline coursing through me and had I tried to lie down, sleep would certainly have alluded me. Up in the medical room, the medics do a fantastic job on my feet. Helen has previously volunteered as a medic on previous winter Spine races and is treated (quite rightly) as a returning hero by the other medics. Fed, rested and patched up, we head for the door. At this point, I realise that one of my hiking poles has broken. It looks fixable but not without tools. This is a setback as the poles have been useful but I put this quickly out of mind. A positive mental attitude is my greatest asset. Setbacks like this have to be expected and I can't let it affect me unduly. I stick the broken pole in my pack and continue out the door with the single pole.
Part 3 – Bronte country
We step out into the cool dusk as the light begins to fail. We thank the volunteers and they wish us well as we begin the ascent back the way we came towards Colden village. The tree cover on the way up blocks out what little daylight remains and we turn on our head torches.
Helen switches on her GPS which happily beeps away marking each mile we cover from the Check Point. After a little rest, the miles pass quickly and before I know it, we have traversed Heptonstall Moor. We pick up our pace along a short road section as we head towards the Walshaw reservoirs. Darkness has fully taken hold now and there is little sign of any other racers. We begin the ascent up to Withins Height. This is Bronte country and the inspiration for literature's most famous of sisters. We reach the ruins of Top Withins, so famously linked with Wuthering Heights and take shelter from the cool night for a few minutes in an old bothy next door. I take out my phone and show Helen where we are on the race trackers; as suspected there are no other racers anywhere near us.
I start to shiver as we get going again – even stopping for a few minutes has caused my body temperature to drop. We make our way down to the village of Ponden which is completely deserted. As we cross the road past the reservoir, I point out the spot to Helen where my January challenger race came to its ignominious end. Completely disheartened by miles of chaffing, blisters, mud, ice and snowmelt, the race had got inside my head and I'd called my wife Caroline (who had been crewing for me) to pick me up and put the race out of its misery. There are no such thoughts in my head today and I'm completely focussed on getting to the end. In any case, even if I did want to drop out, short of mountain rescue in an emergency, there is no-one for me to call and no one would be coming to rescue me!
After a steep uphill section, we reach the start of Ickornshaw Moor. My preference would have been to tackle this section in daylight but that always seemed unlikely. My only prior experience here was also in the dark the previous November when I had attempted it in the snow. Even with GPS, I had lost the path and ended up far off course waist deep in snow and unable to get back onto the PW due to the bogs hidden under the snow. Tonight the path is easier to follow though we check our maps and GPS a couple of times. At this point, we see the first runner for several hours – eventual joint winner of the longer Fusion race, Olivier passes by us. This section of moorland is rough going and takes a long time and I feel my spirits falling. After what seems like an eternity, we come out at the road crossing in Cowling where a very committed race official is waiting at a bus shelter to take our numbers. This section of the race is my least favourite of the race. Lacking the desolate beauty of the Peak District or the stunning Limestone scenery of the Yorkshire Dales, it feels very uninspiring consisting of slogging between muddy fields and small villages. Perhaps I'm being unfair in my assessment, but this is how I feel.
It's the early hours of the morning now and I look forward to sunrise to lift our spirits. Just as the first signs of light appear in the sky, the rain clouds roll in and we have a few hours of soaking rain to dampen our spirits further. At this point, I feel the first signs of extreme fatigue and begin to fantasise about climbing into my sleeping bag (which is lovely and warm as it was bought with the Winter Spine in mind), passing out and forgetting all about the race for a few hours. I quickly realise this line of thought will quickly spiral out of control if I allow it to. Instead I turn to Helen and we have a good conversation about our favourite foods/drinks/TV/places to visit – anything to take our minds off the wet muddy trail that seems to stretch inexorably onwards before us. The conversation gives me a boost and I start to feel a bit more awake. We discuss breakfast plans – we talk about finding a pub open at 6am on a Sunday with a roaring fire, full English and hot coffees just waiting for us. Unsuprising this proves to be optimistic and ultimately we have to make do with breakfast from the Co-op in Gargrave. As we sit outside the Co-op, we are joined by a Fusion racer. We try to encourage him to come with us to the CP1.5 in Malham, but I can see from his eyes that his race is over. We wish him the best and continue towards Malham.
Part 4 – The Yorkshire Dales
Gargrave marks the start of the Yorkshire Dales. The section between Gargrave and Malham is fairly flat and gentle, running beside gentle streams and through quaint villages. At Malham, there is a dramatic step change in the scenery – gone is the gentle rolling green countryside. In its place is dramatic limestone cliffs, tarns and waterfalls.
We allow ourselves to believe that Malham represents "the beginning of the end", though in reality it is still at least 30 miles from the finish. Having missed out on our full English, we decide to stop for coffee and cake in Malham and enjoy a good hypothetical discussion about what kind of cake we would have if we could have any. By now the weather has cleared up and it is warm and sunny. As we enter the tearooms, there is another race sitting outside at a table gently dozing in the warm June sunshine. Coffee and cake is nice but without the adrenaline of the race, I feel the fatigue returning.
My wife has promised to give me text updates on that other great event in the Ultrarunning calendar happening this weekend, Western States 100. I'm shocked to read that Jim Walmsley has imploaded for the second year in a row when all the talk was of him crushing the course record. However, I'm very happy for the eventual winner, the South African, Ryan Sandes. Ryan is one of my favourite elite runners to follow and he's had some bad luck at Western States in the past with injuries and illnesses, so I know this will mean a lot.
It's now a warm sunny Sunday morning and there are quite a few "normal people" completely oblivious to our race out and about enjoying Malham Cove (which is only half a mile or so from the village). We climb to the top of the cove past the hoards, over the spectacular limestone pavement and follow a narrow valley towards Malham tarn. Helen points out a couple of caves in the side of the valley that she had previously scouted out as possible spots to bivvy out. Our plan is still to push onto the finish without sleep. We are bullish about being able to survive the day without sleep. We know Sunday night will be tough but are hopeful that by that stage we will be close enough to the finish that the adrenaline will get us through.
We reach Malham Tarn, there is a lovely breeze across the water and the spray on my skin makes me feel like I'm beside the sea.
Around the Tarn and before too long we reach Checkpoint1.5 at the old manor house. This is not a full checkpoint (meaning there's no hot food available or access to drop bags), but there is water and medics. We sit down at a wooden table outside and chat a little with the medics and a couple of other competitors. I find some hot water for my pot noodle which I've been carrying in my backpack since CP1.5.
Whenever I set race goals for myself, these are usually around finishing the race or finishing the race in a particular time. I never set goals like "finish in the top x%" on the basis that I can control (to some degree) my own performance but I can't control anyone else's. However, Helen and I had realised quite early on that we currently in around 8th place in the Flare race. In fact Helen was the second placed lady. Although we both just wanted to finish, the thought of a top 10 finish was tantalising. We knew from the trackers that there was no other Flare runners anywhere near us. However, whenever we see another racer, this doesn't stop us peering round at their race number to check that they were a Fusion rather than a Flare runner! I'm not sure where this competitive side has come from, but I really don't want to give up my top 10 spot!
From CP1.5, we begin the very hilly section of the course. Fountains Fell and Pen-y-Ghent are both significant climbs and stand between us and the town of Horton-in-Ribblesdale. Fountains Fell is a long steady (if not particularly steep) climb. At some point on this climb, I fall asleep on my feet and start dreaming about work. Helen asks if I'm ok and I wake with a fright to realise that I'm halfway up a mountain and not at work at all! As we reach the top of Fountains Fell, the wind really picks up and is threatening to blow us off the mountain.
I pick up the pace on the descent down off Fountains Fell. Down at the bottom, we stop for a few minutes out of the wind to have some more food before tackling Pen-y-Ghent. This is the highest point on the course and although it's a steep climb, it is over relatively quickly. I enjoy using my hands on the scrabble to reach the top.
From the top, it's a long descent down into the town of Horton-in-Ribblesdale. The traditional start point of the Yorkshire Three Peaks, signs of the famous route are everywhere and I promise myself that I'll be back to do the three peaks sometime soon. Horton-in-Ribblesdale is the final bit of civilisation that we'll see before the finish so we make the most of the stop by filling up bottles and having some more food. We toy with the idea of a pub dinner here but instead opted to push on for the finish. However, as we leave Horton we bump into Charl coming out of a pub. He enthusiastically tells us all about his steak pie, chips and gravy that he has been enjoying and I wonder enviously whether we made the right choice in foregoing the pub grub!
Part 5 – Cam fell and the finish
The final 15 miles between Horton-in-Ribblesdale and Hardraw is the only section of the course that I am not familiar with. I'm grateful to Helen who has recced this very recently. It's a long steady climb up out of Horton and the miles pass slowly.
Helen is suffering with her knees and I'm struggling with my feet. Despite that, we are still working well together.
The sun eventually dips behind the distant hills and we immediately feel colder. We stop and add several layers. The combination of hunger and extreme fatigue has contributed to me feeling the cold much more. As day turns to dusk turns to night, we eventually give in and turn on our head torches. This is a very remote section of the course and there really is no sign of anyone around.
The sleep deprivation has us both in its firm grip and the hallucinations begin. Having largely avoided them in the first night, it seems the second night will more than make up for it. My head torch catches various objects in its partial light and my sleep-deprived mind interprets them in any way it sees fit. Sheep in fields become people, trees become tents and at one point I see a Star Wars storm trooper sitting beside the side of the road! Of course I don't believe it's a real storm trooper (that would indeed be strange), I merely assume that an eager race volunteer has hiked the 10+ miles up from the finish to sit on a remote piece of trail in the cold and the dark dressed in fancy dress as a storm trooper! Of course this makes no sense either. As I get closer, I realise that my head torch has reflected off a small pool of water and my mind has done the rest.
We continue, past Cam End and eventually onto the old Roman road, Cam High Road. We turn onto the West Cam Road (nb this is not a "road" in any way that I understand the word, more a rocky track) and I know ether is another turning off this track coming up. This turning takes an absolute age to come and I'm convinced we must have missed it. However, the GPS confirms that we are on the right track and we still have further to go.
Around this point, Helen turns to me and says "I just a shooting star. It looked like a child was playing with it in the sky." I frown to myself, this doesn't sound good. I've been worrying about my own rationality deserting me and now I worry about Helen's too. I look up in the sky and sure enough there are lights dancing around the night sky. We begin an enthusiastic discussion about whether these are indeed shooting stars on some crazy trajectory in defiance of all known laws of physics or perhaps some kind of UFO phenomenon. Perhaps the little green men in flying saucers have come to beam up the crazy ultrarunners! Helen eventually points out that all the stars in the sky are behaving in this way and so we conclude that sleep deprivation is causing our vision to blur the lights. We agree to put socialising to one side and to both listen to our ipods in an effort to stay awake.
Eventually the turning appears and the track starts to trend downhill towards Hawes. National trail signs have all but disappeared and the path beneath our feet is non-existent. We are stopping at regular intervals to take bearings and check against the map. Eventually lights appear in the distance – this is the Wensleydale creamery and will guide us down off the moors into Hawes. Far behind us we see headtorches but they appear to be going off on erratic impossible angles. We've no idea where those runners are heading but there isn't much we can do about it. Rocky path turns to moorland, which turns to field and eventually to country lane as we approach Hawes. It still seems an impossibly long time before we hit Hawes itself. It's now around 2am and the town is absolutely deserted. We stare longingly at the building used for the finish of the Winter Challenger race in the knowledge that we still have another or mile or two to go to our finish. I look at my phone and have texts from Caroline and also my running buddy, Amy, urging me onto the finish.
More fields and lanes appear and disappear before we eventually see race signage indicating the way to the finish. An arrow points left next to a church yard. We enter the church yard – there is no sign of any volunteers or tents. Just a lot of graves – what on earth are the race organisers trying to tell us? Realising our mistake, we leave the graveyard and instead run down the access road towards the camp site. Two volunteers wait for us by the entrance. The race is over. 110 miles. 42 hours and 47 minutes, good enough for joint 8th place. A normal 100 miler would normally take me 25 hours+, but words like "normal" don't really have much meaning anymore.
I'm enormously grateful to Helen for the miles (specifically around 75 of them) that we shared over the last couple of days. Undoubtedly there were moments when one of us was feeling stronger than the other and could have forged on ahead alone. However, had we done that I feel certain that we would not have reached the finish as quickly as we did. We'd achieved more together than we would have done individually and that of course is practically the definition of a team.
I hobble to the communal tent where we are given some hot food and our medals. Helen's boyfriend Jon has kindly left her a finisher's bag consisting of beers and a hipflask. I'd meet Jon too over the course of the weekend. He'd been enormously supportive of Helen doing this and I could see from his eyes that he'd been inspired to do this event too. Helen kindly shares the hipflask with me – the smoky peaty whisky immediately warms me up from the inside. I grab my tent from the drop bag, manage somehow to set it up before crawling into my sleeping bag. Before surrendering to oblivion completely, I reflect back on the last couple of days. This race has been everything I'd hoped for and more. Wild, rugged and beautiful. Awe-inspiring and life-affirming. But for now, it's time to sleep.
Written by Jasmine Sandalli - https://medalmagpie.blog
For someone who values the sociable nature of ultrarunning and never fails to make friends on the trails, there's something very appealing about staying on my own the night before a race. I often stay in a random little pub or B&B if I can, find the nearest Italian restaurant/supplier of obscene quantities of carbs and red wine, tuck myself away in a corner with a book and just be. I love it. It's worth being apart from my fish and my budgies and my Andy and our castle, much as I hate to leave them, for the meditative solitude of the pointless traveller. Bonus points if there's no signal or wi-fi.
Having started three ultras from beautiful Farnham I'm well-acquainted with its charms, and so apparently were many of the other North Downs Way 50 competitors. So when I finally got my arse into gear to book my pre-race accommodation, obviously all the nearby hotels were full or obscenely expensive. Fair enough. Good opportunity to get even further away for some peace and quiet and grumpy time, where the options were plentiful and much cheaper, even including the cab to Farnham. I ended up with a B&B in nearby Ash, The Lion Brewery, which turned out to be a pub and music venue as well, and almost literally the only thing in Ash Parish apart from cottages. Doom Bar on tap, copper pans on the walls, fried egg sandwich waiting for me at 6:15 the next morning. Yep, this'll do.
The route for the Centurion North Downs 50 is the first half of the 100 mile version, starting at the head of the trail in Farnham and following it as far as Knockholt; having attempted that twice before I was pretty confident about my knowledge of the route. Probably a little too confident – let's be honest, any amount of confidence before an ultra is too much confidence. As with the 100, we started at St Polycarps School for the race briefing and registration, in a hall that smelled of floor varnish and sugar paper; I felt like I was nine years old again. Just like nine year olds we walked in a crocodile formation down to the start, comparing packed lunches and buzzing with excitement.
As usual, I had pretty good company for the run. A lot of familiar faces from previous Centurion races, almost half the field prospective grand slammers. And a little bit of glamour thrown in – the perennially sunny Susie Chan was running with broadcaster and keen long distance runner Sophie Raworth, taking on the distance for the first time. Sydnee Watlow (half Chaser and half Fulham Runner) and her clubmate Henri were also running in what would be their first 50 mile race, as well as Lovely Sam (stalwart of XNRG races) aiming for an improvement on last year's eight and a half hours. Sam started at the business end of the pack, obviously, but I ran with Sydnee and Henri at a steady ten minute mile pace for as long as I could hang on – at least while we had the runnable and friendly North West Surrey terrain.
I hadn't seen much of Sydnee since last August when she volunteered to pace me in the later stages of the 100, but since I quit at mile 66 we never got the chance for a good old gossip. We more than made up for it over the first three hours, enjoying a sociable pace and the perfect running conditions: dry but not hot, overcast but not muggy, bright but not blistering. Henri stayed just a few paces ahead of us all the way like a bodyguard. The first checkpoint at Puttenham around mile 7 passed in the blink of an eye, and shortly afterwards Sydnee's dad popped up at the bottom of St Martha's for a check in and a bit of gratuitous photo taking. What else are parents for, eh?
Before long we reached the River Wye at Guildford and the legendary bacon butty barge, manned (obviously) by two chaps in inflatable sumo suits. Never mind not being able to eat on the run – these cold bacon butties saved my life last August and there was no way we could pass without grabbing some, even if it meant walking briefly while we digested them. Sydnee even suggested that we take photos of ourselves with the butties… just as I was retrieving the plastic wrap from halfway down my throat, having inhaled mine. Ahem. I mean as food tourism opportunities go this is up there with wagyu beef and caviar, but I've either got time to eat or Instagram, not both. I did manage to get a snap of the barge as we marched away with our swag though. Maybe I could just go back for one more…
Newlands Corner was the next station; by this point Sydnee had had a couple of impromptu comfort breaks where I'd preferred to hold off for the relative luxury of the café facilities so I took a few minutes to refresh before taking off again. It turned out there was another Chaser, Alice, who was also tackling her first 50 miler that day and we bumped into each other (almost literally) in the ladies, happy to see even more friendly faces. Perhaps it was to do with the fact that I was running with three people new to the distance but there was an air of caution, or perhaps patience, and so instead of my usual MO of smash and grab I took my time filling up water bottles, getting fruit and cookies (now I know that's the only thing I can keep down during a race). Actually I might have been dawdling a little too much; when I was done Sydnee and Henri were raring to go to avoid seizing up so off we took.
Almost immediately, a leaden feeling settled into my legs. It didn't feel like cramp or muscles getting cold – this was a very definite "are we done yet" feeling. Ah. I mean, I wasn't expecting to break any records since once again (load up the broken record) I was in between two insanely busy periods of work and running on fumes to begin with, but 16 miles isn't quite where I'd expected to flag. Alice had stayed back at the aid station for a few moments and Sydnee and Henri were on a roll so I let them go and trotted on for a bit on my own; a blessing in disguise as it also gave my stomach time to settle. The pointless traveller was on another pilgrimage to nowhere.
I was being super conscious of salts and hydration after the fiasco that was the South Downs 50 five weeks before – not that I needed to be so vigilant since it wasn't anywhere near as hot or exposed, but it paid off. Besides the bacon butty I'd also crammed the Lion Brewery's fried egg sandwich down about half an hour before the race start which in turn was chasing half a packet of peanut cookies, so I was slightly uncomfortable but in no immediate danger of bonking. Look at that, a lesson learned. It also meant that I could more confidently rely on the aid station food and carry as little as possible, another huge improvement on the last two attempts at this course when every extra gram seems to have double gravity on the hill climbs.
Alice caught up with me somewhere around Ranmore Common and we ran together for a little while – perfect timing really, I was starting to feel sociable again and missed the company that had made those first few miles fly. She was a fascinating person to talk to and not as new to the club as I had originally assumed, just to trail running; I was reminded of just how many Chasers there are marauding around the south west of London that I haven't got to know yet. A couple of years ago we had a solid little group of social trail runners but that generation – myself very much included – either seemed to have moved away or moved on. I can't tell you how important those people were in shaping my athletic career, such as it is, but more crucially in helping me build my confidence. These last few months I'd cut myself off from the club, pleading a busy work schedule for not being at training but also avoiding contact on Facebook because I felt like I just couldn't keep up; the idea of logging in just to see how much fun everyone was having depressed me, and knowing what a shitty attitude that was made me feel even worse. I love sharing my friends' achievements; it's not competition that made me feel inadequate, more my lack of involvement. Enough selfish moping; it was time for me to pay it forward and start being more involved in the club again. The more that newcomers like Alice are given the support to take on a challenge of this magnitude with such grace as she did, the stronger our sport becomes and the further away those unbreakable boundaries are pushed. Before long she was also too fast for my lumpy legs and took off into the distance, on the way to smashing her first 50 miler with a sub-11 hour finish.
Everyone tackling the North Downs for the first time speaks of Box Hill with fear; I had actually been looking forward to it all day. Familiarity helps, knowing that once you've got past it there aren't all that many lungbusters to go helps, warming up to it by freewheeling down past the Denbies vineyards definitely helps, and the hug from Lorraine – into whom I nearly crashed at the bottom of the Denbies estate, as I launched myself into her arms with a war cry – was like having rockets strapped to my arse. The Stepping Stones aid station is positioned at the foot of Box Hill so that runners can grab a boost of energy before the climb; it's also a good opportunity to use a new set of muscles and refresh the calves and ankles that have been taking a pounding on the road leading downhill from the vineyard. My stomach was surprisingly fine, I'd been getting through a good amount of water and a sip or two of Tailwind, and I was letting my mind wander free as I ran alone, giving the grey matter a bit of exercise too. But my legs were far from happy. They weren't particularly stiff, nor in pain apart from a slight niggle in my right IT band exacerbated by the relentless camber. They were just dog tired. I wasn't worried about the hill since all I had to do was grind it out, but I was worried about what would come after it. Namely, another marathon over undulating terrain with little opportunity to get into a rhythm. This was going to be a slog.
A couple of young families out for a hike – by which I mean two three-year-olds and a granddad with a babe in arms – overtook me on the climb up the Box Hill steps, but even if I'd had the motivation to speed up there was nothing in the tank. I took my time and enjoyed the perfect weather conditions – by now there was gorgeous late spring sunshine making the leaves above us glow. At the second incline after the peak I realised I would need some help, especially with Reigate Hill on the way as well, and kept an eye out for a good sturdy stick. There were lots of fallen trees and hundreds of willowy switches or stumpy branches, but nothing that would quite do the job. It would need to be long enough to be able to lean on, strong enough to take my weight and light enough not to be a burden. As I scanned the side of the track looking for this perfect stick two runners passed me wielding proper collapsible walking poles, as if to taunt me. I've resisted trying walking poles partly because simplicity is important to me when I'm running – after all, I like this sport specifically because it needs minimal kit – and partly because I've nearly lost an eye to them before, and I don't want to cause a nuisance. But the more I run, or rather the older I get, the more I see the advantages to using them. I watched the two runners pass me with ease, advancing up the hill as if it had an escalator.
Just as I dropped my gaze back to the floor in despair I spotted something that looked like it might be perfect, if only it wasn't part of a tree. I nudged it with my foot, then began to unearth it. My perfect stick was stuck in a bit of mulch but otherwise totally loose, and exactly what I was looking for. It even had a little notch from an old branch at exactly the right height for holding it, as if designed to take the crook of my thumb. If I'd hand carved the thing I could hardly have improved it. Stick in my right hand, I dug into the ground on every fourth step and immediately felt the benefit in my quads. This was much easier. By the time I was at the top my stick had my eternal gratitude and a name. Meet Woody.
As I always do, I reached the top of the incline bracing myself for Bastard Reigate Hill directly afterwards, and finding more single track winding for miles through the glade. I don't know why but every time I somehow forget that there's a three mile stretch between Box and Reigate and so what is meant to be a lovely runnable little section is spent worrying about the hands and knees crawl coming up, conserving energy for it instead of making up time. When we're out on a social run or training it's one of my favourite bits. When I'm racing through it – this would be the fifth time I'd covered it in a race – it is my Achilles heel. The irony is that bracing yourself for three miles is slightly more exhausting than just running. As I grumbled my way through the wood a couple of ladies drew level with me, admired Woody, my white sleeves and my wild hair, and told me I looked like Gandalf. In retrospect I missed a damn good opportunity to shout YOU SHALL NOT PASS but that might have been taking it a bit too far.
Part of my obsession with Bastard Reigate Hill is that no-one ever talks about it but is a proper bona fide bastard of a hill. I mean, it's cruel and relentless and twisty and really fucking steep, and it has a convex profile so you can't see the top until you're actually on it. I'm not exaggerating here. As soon as we started the race I just wanted that bit to be over and done with, so naturally, it took a lifetime and a half to get there. But once we were there, the climb itself seemed to pass in only a minute or two. Was this what I'd been bitching about for miles? Either my memory was trolling me again or Woody was making a massive difference – Jesus, I really need to give walking poles more of a chance. I even had time and energy to appreciate the carpet of bluebells that seemed to personify the North Downs in spring. Once at the top it's a short trot to the next aid station, and I knew this one would offer another toilet stop and a cracking view as well as the usual treats. Just like that, my legs started to come back to me.
Meanwhile though my watch was having another tantrum – usually so reliable, for some reason the signal between Denbies and Merstham seems to be just a bit too sketchy to sustain accurate measurement and it read at least a mile and a half behind where I knew we were. Oh well, back to the good old fashioned mental arithmetic method. After making sure my number had been registered at the checkpoint I took my time to have a good old stretch and cool down on the grass, as well as stock up on watermelon and cookies and go to the loo; needing the loo twice in one race is definitely unprecedented for me, so despite my lethargy my hydration was obviously still on track. When I finally got going though I knew that there wasn't anything left in the tank and consigned myself to a nineteen mile death march to the finish. My crap maths told me that even a walking pace would get me to the finish within the cutoffs as long as I didn't dawdle and the occasional trot would afford the me luxury of pausing at checkpoints, so that would be my tactic from now on. Andy got his usual whinging phonecall while I hobbled off down the track and I gritted my teeth for the finish.
We weren't finished yet though, not by a long way. The familiar scoreboard of the Merstham Cricket Club popped up shortly afterwards to mark 33 miles in followed by a beautiful little church and a good mile of flat runnable tarmac on the way. Not for me though – every few paces I tried to run became agonising shuffles that eventually devolved to a walk again. I couldn't run up hills, I couldn't run on the flat, I couldn't go fast downhill because my thighs were shredded. I just had to accept the suffering and trust the maths, and hope to quell the panic that was rising. The Caterham aid station at mile 38 (or mile 36 according to my Suunto) was a welcome opportunity to sit and stretch again, admiring yet more stunning views over the valley and get my nerves under control. The next stop would be mile 43, the other side of a long exposed stretch across Oxted Downs and a bitch of a climb up Botley Hill both of which have knocked me for six in the past. I was struggling just to keep moving forward by this point – if I could only get past the aid station the only cutoff I'd be chasing would be the finish time and I could pretty much hike the rest after then.
If I've learned anything running ultras it's that suffering is temporary but failure is permanent. And this had become a suffer-fest like I've never experienced. Woody and I had gritted our teeth through the last agonisingly slow five miles, and finding a smiley face at the top of Botley Hill tipped me over the edge – for the first time in a long time I burst into tears. The lovely volunteer who was registering runners' numbers was kind enough to ask me if I needed sympathy or just a minute to get over it, and even this little gesture, the last opportunity for me to regain my dignity, sent me into floods of tears again. I looked back down the hill I'd just climbed, to remind myself that I'd done it now – another milestone passed. The amazing food offerings – including homemade rocky road – tantalised my mind but turned my stomach. There wouldn't be enough in the tank for me to run the last 7 miles but I could walk it in two hours and be within the cutoffs, and the calories I had on board would just about last that far. All I had to do was keep moving.
Once we passed across the border from Surrey to Kent the landscape changed from woodland to jungle, and the terrain from hills to ruts and vicious cambers. The well tilled farmland creates ankle threatening channels wide enough for half a foot, like running through a half pipe, and the other foot is forced to land on the raised ground beside it. I persisted with a lopsided little hobble as long as I could but my left hip started to scream and I was forced back to a hike. This meant the farmlands seemed to go on forever – even more foreverer than they do when I run them. The race had become an exercise in extreme patience. I would get to the end in time now even if I crawled, but the key would be continuing to move – any amount of moving would be faster than stopping. Every now and again I forgot that I wasn't aiming for 11 hours any more, did my mental calculations, had a bit of a panic, then remembered I was aiming for 13 now. Oddly enough the same thing happened to me at the South Downs Way 50, except then I had the excuse of a bonk. Now I was just knucking fackered.
Another lady caught up with me as I trudged through the first of many cowfields; she didn't have a GPS watch, just a normal timepiece, and asked how much further I thought we had to go. I gave up following the mileage on my watch but was pretty sure that we'd only have three or four farms to get through and then we'd be done. She kept me company for those three or four farms, but when we got to the end of the fourth one and saw only miles and miles of farmland in front of us she realised I was not a reliable source of course information and ran on ahead. The next couple of miles, and that's all it could have been, felt like Groundhog Day. The fields just kept coming. Did I misremember? I'm sure the last time I ran this the turnoff for Knockholt was after this gate. Problem was, they all looked the fucking same. Every new field inspired a new stream of expletives and a fresh temper tantrum, another feeble attempt to trot and another defeat.
Woody really came into his own here. He turned out to be the perfect weight for carrying while I ran as well as the perfect support pole for my death march. I started to worry about what would happen to him at the end – I would HAVE to take him home, I'd get him onto the train somehow and walk from the station instead of getting a lift in the car. He was too important to leave behind, more important than a comfortable journey home. I know it sounds silly to become attached to a bit of stick, but he'd stuck with me through more of the race than anyone else. As I worked feverishly through the logistics of getting my stick home, I realised that I had finally found the last gate out of the last field and directions to the finish line. Woody, you bloody genius.
Gripping him in my right hand I freewheeled down the road which would eventually double back to the village hall – only then did I realise the reason the last couple of miles seemed so unfamiliar is because they were. In the 100 you turn off the NDW about a mile and a half from Knockholt Pound and divert through a number of roads to enter from the west, and leave the aid station moving in the same direction. We had continued to run along the trail north of the road and gone past it before turning off to reach the finish, which presumably accounts for the extra mileage needed to make it a proper 50. It also means, however, that having run DOWNHILL to the road you then have to run back up again to get to the arch in the land behind the hall – probably a few feet of uphill, but a cruel final twist in a slog of a race. As I turned onto the road I saw Sydnee, who despite having finished over an hour earlier had waited for me to show me the way to the finish. The very last drop of effort in me spent climbing the hill to the finish arch, I managed as much of a leap over the finish line as my leaden legs would manage and fell to the floor, cuddling Woody and sobbing.
I'd spent almost an hour planning my logistics so as to make sure Woody would come home with me; then, when Sydnee and her dad offered me a lift almost all the way I realised it would be both rude and unspeakably stupid to refuse just so I could keep my stick. I did spend a long time thinking it over though – Knockholt station is just over a mile away to walk, three trains to get me home then another mile from Mitcham, not impossible… Eventually though I had to concede that Woody was not coming home with me so I gave him a kiss and left him by the side of the finish area, hoping that he would be able to help another runner one day. Of all the emotional struggled I went through that day, parting with Woody was absolutely the worst. But, I thought on the drive home, I had a real live human being who had put her own comfort and recovery in jeopardy (again) to see me home safe. Once more Sydnee had come to my rescue, thinking nothing of it after smashing her first ever 50 miler in under 11 hours, and I couldn't even think of the words to tell her how grateful I was. This is the spirit of trail runners and this is the thing I miss most of all when I can't run.
It's taken a while to recover from this race, in comparison with the South Downs – nearly a month on I still have a niggle in my right leg that probably needs medical attention, and a constant need for sleep. I'll take that though, trade in a niggle free life just to get to the end. I still think of that day – mostly lonely, painful, and frustrating – with fondness because I finished it; if anything it means more to have gone through hell to get to the end than it would have if I'd had a textbook race and come out clean as a whistle. I've found a new depth that I can go to and still come back from. What a dangerous thing to know.
On reflection, and after browsing the comments on the Centurion Facebook page, I realise that I massively underestimated the race. Being familiar with it gave me confidence, but I neglected to confront just how tough a course it is; whichever way you look at it, it chewed me up and spit me out. Once again I have to admit I wasn't fit enough for it, nor rested enough, and that's something that needs to change before the next two in autumn. I know now what the consequences of ill preparation feel like, and that simply trading in preparation for lower expectations is not a long term strategy. I think I'd quite like to get a bit better at this running lark and not just scramble to the finish every time.
Baby steps.
Cover photo (C) Dan Milton – thank you for allowing me to use it and for not making me look like a mess…
Written by Sharon Wells - https://shazruns.wordpress.com
Well it all is a blur now. Last night I completed the 100k Jurassic Coast Ultra (61 miles according to Garmin), never at any point did I think 'I'm a knackered runner get me out of here' and I didn't fall over so I think I can count this as a success.
Friday night hubby took me to Exmouth to catch the coach to the start. We sat in the car waiting for it to arrive. There was a gaggle of Hi Vis bodies loitering nearby, eating Pizza and watering a tree! I scanned the group. Not too many beards, that's good (FYI serious ultrarunners all have beards-fact) but hang on a minute I can only see a couple of females, oh dear and not a white hair in sight on anyone. At this point I could have run for the hills. Shaz what have you done? Whatever were you thinking? You are out of your league with this one? ****!
I slithered reluctantly from the car and boarded the bus, shut my eyes and got some kip.
On I arrival, I peed, registered, listened to the pre run briefing and peed again. 2:07 we were off.
Obviously it was dark and the trouble with that is you can't see anything and I find this means I listen to my body's complaints. Oh my did it complain. The right Achilles spent most of the first 10 miles moaning. It kept ouching and I persistently told it to shut up and then it would behave and the knee would start. I settled in to a nice rhythm behind a gentleman who was running a consistent pace. I am sure this was really annoying for him, but it was working for me and the group behind me. This lasted for about 4 miles until he needed a comfort break, slightly embarrassing when I almost followed him!
I was very glad when the sun started to make an appearance
Not sure what the sunrise was like after this, which is the trouble with running West in the morning!
The first part was pretty much flat, but some of the terrain was tough, slippery wooden bridges, narrow paths, tufted grass and then we came to the shingle beach………..
1 mile of this, tough but actually gave my legs a break as only walking was possible. Please note, not a soul out there, spent most of the 100k unable to see any other participator! This was at a quarter the way through, then the hills started to come, with the hills comes the scenery
The way Forward
Looking back
Down to West Bay (Broadchurch)
Then it got tougher
Yep up and over this one!
Finally at Golden Cap the highest point on the South West Coast, but surprisingly not the hardest hill! Still can't work out why this is! Fantastic view, but unfortunately, I thought it was drop down from here in to Charmouth then Lyme Regis just beyond. It seems not some blaggard had moved Charmouth 5 miles away! Nooooooooooo.
Finally I was at Charmouth, from here a mile on the beach on these
not sure how I got to the end of this section with my ankles still in one piece. Madam joined me on this stretch for a bit which was such a boost. Half way mark on schedule ish at 6.45 hours. Here I changed my shoes and more importantly my socks. Grabbed some food, a coke and then headed off towards Seaton.
The next 7 miles were on the undercliff, I did not enjoy this part at all, mud, tree roots, hills, steps, humid and airless among the mini tropical rain forest! In a minute I will be at the golf club I kept saying to myself! Finally after what seemed like hours and yes probably was I got to the Golf Club and as I crossed the course I prayed I would not get taken out by a rogue Golf ball! That would be my luck, survive the undercliff get killed by some one in check trousers!
As I dropped down in to Seaton hubby drove by, he had been loitering in a lay by. (I'm sure there is a law against that) More fuel taken, and off I trotted to meet my hero and new best friend who had foolishly volunteered to run the rest of the course with me! Such a lift to see him oh and to use the loo and pop some painkillers.
Then off we plodded, my new running buddy and I. The trouble about the last part is we knew what was to come, the positive part was we knew what was to come! So passed the next few hours, up and down to Beer, up, along and down to Branscombe, up and down to Weston beach and then up and down to Salcombe Regis, before dropping in to Sidmouth where I was thrilled to see my Metafit instructor, friend, fitness guru and sports massager! With her lovely black lab Indy. 75K done.
On we plodded my companions and I, chatting. I'm not 100% certain I was making any sense! The hard part was over now, just a mere matter of getting to the end, and trying to fuel. I was incapable of eating anything so relied on gels and masses of water and coke to get them down, far from ideal.
Next stop Budleigh Salterton, my poor family had spent hours in this car park, poor hubby he was with Madam who had no 3G signal! I am surprised he didn't throw her in the sea with some rocks for company!
Now I knew I could get to the end, 10k to go, but not going to lie, everything hurt, especially my knees when on stony terrain, much walking done, every hill sapped my energy. I willed the Geoneedle to appear and finally it did. We dropped down on to the Seafront, Madam joined us for the last 1 mile. The wind picked up, blowing against us, I wanted to walk, but refused to be seen struggling, where is the finish?
Finally I was there. 61 miles done. I was greeted and congratulated by the organiser, I apologised for my sweaty snotty hand shake and hoped he had some hand sanitizer nearby! I sat letting it sink in. I felt rough. I wanted to cry but absolutely no energy left even to do this. I gave my hero a big sweaty hug, thanked his wife for the loan of him and sat some more.
So I got the Tshirt-very nice it is too
It is starting to sink in that this was an accomplishment, especially when I have just read that out of 200 entries 157 turned up (walkers started 10 pm Friday night) 7 of them were part of a relay team. 95 got to the end! I was one of those. Wow
A well run, organised event by Climb South West, it must be a logistical nightmare but all ran smoothly. Checkpoints full of friendly marshals who filled my pack and tried to feed me. Well done to the organisers.
Written by Chris Ellyatt
Course: 110 km, 6,500m vert
Time: 20h15m
Position: 31st / 332
Having missed out in the Western States lottery for 2017, my thoughts turned to re-qualifying and getting my name back in the ballot for 2018. Time had ticked away and with concern I flicked through the list of UK qualifiers…full, full, full. In something of a mild panic, I started browsing the European qualifiers until I found one which, fortuitously, had just opened for entries. The Grossglockner Ultra Trail (GGUT), at 110km in length and in easily accessible Austria, seemed to tick the boxes and I went about signing up without much thought.
It was only after paying my entry fee that I decided that a quick look at the actual course itself might be useful. I brought up the course profile on my aging laptop and stared at the screen with horror…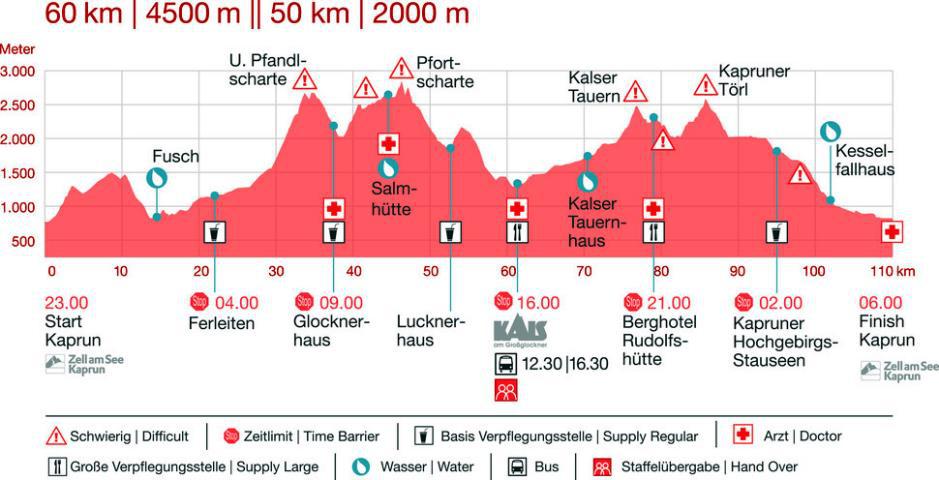 My ultrarunning life could be quite easily summarised at the point I had signed up for the GGUT. I had three ultra finishes under my belt: a rolling 50k around Salisbury, Wiltshire, a 100k night race along the River Thames and the North Downs Way 100 2016. Although happy with the results I had achieved in this embarrassingly short list, my lack of mountain racing experience suddenly felt very obvious. I told myself that my mountaineering experience would see me through and that I would simply have to incorporate more hill training.
The 2017 season was not my most consistent as a runner. During the Spring months, I had placed 2nd at a local 10k race, and followed this up with a half marathon PR at a very hilly and windy Hastings course with 1:27:58. Despite this, I suffered chronic tendonitis following a 55k training run along the North Downs with my buddy Andrew Hughes. Compounding this issue, I had to undergo a tonsillectomy in early April which left me unable to eat and physically exhausted. Returning to training had been a struggle as summer arrived, and I began to feel nervous about the upcoming GGUT and my lack of preparation for it.
Through June I managed to get the weekly mileage back to around 50 km, which although nowhere near where I should have been at, at least made me feel like I was able to at least toe the line for the GGUT. I had tried to supplement my specific training with lots of miles on the road bike to reduce the risk of injury and hypoxic exposure training at the Altitude Centre in London.
And so it was that on 19 July 2017, I found myself driving into the small alpine town of Kaprun in Austria for the upcoming GGUT. I spent the couple of free days that we had preparing for the upcoming race in the most professional way possible…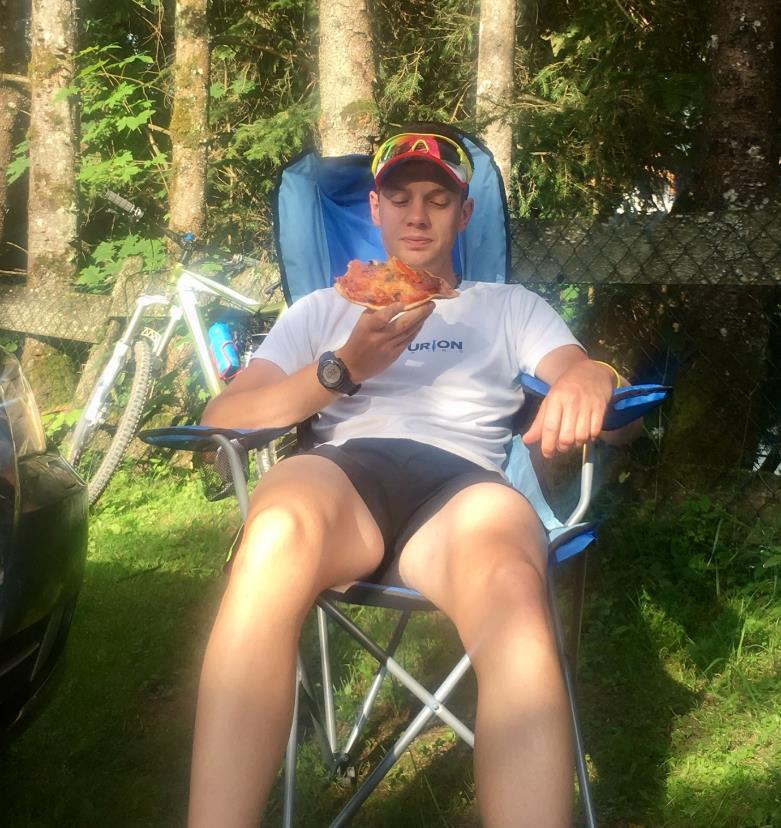 I was joined in Kaprun by my step-dad Mark, who started running around the same time as I did and is always super-supportive with my racing. Two friends from university, Lucy and Hayley, also joined us in the Alps. Hayley was running the 50k event from Kals to Kaprun, while Lucy was unfortunately out with injury but selflessly offering her support regardless.
Having had a tough time preparing for the race, I decided that my strategy would be to stay in the front half of the race from the start, but always to walk the uphill sections. Although I clearly wasn't in my best shape for a long race, my natural competitiveness made me feel that I would become depressed at the back of the race and I was therefore better off going out relatively swiftly. In terms of nutrition, I would be using Tailwind sachets to keep the calories and electrolytes topped-up, then eat well at the aid stations and have some bars/gels in between.
The pre-race atmosphere was fantastic. Runners milled around the tents full of the latest gear and went about their various individual rituals. Locals of all ages gathered to hear the race briefing and laughed at the envy of the competitors as they sipped their cold beers in the slightly humid alpine evening. I felt adrenaline pumping unnecessarily around my body as the digital clock counted down the minutes until all else would be forgotten.
At 2300 hours, the gun went and 350 or so runners set out into the night with the characteristically fast pace that is so obviously unsustainable. Listening to the cheers from random balconies around the town as we wound up the initial mountain roads, I felt a deep happiness return to the surface of my mind which only comes from the feeling of being part of something larger than yourself.
The first climb started up steep singletrack and a quick march started around me. Looking up and down the long line of headtorches in the darkness, I let the sense of belonging wash over me as we silently followed the feet in front of us. As the climb eased off, the field spread out and I let my pace fall into a comfortable rhythm. I estimated that I was in the front third of the field, though it was very difficult to judge in the darkness.
Descending from the first climb towards Fusch, the pace was relentless. I wasn't used to such long descents and I was surprised how quickly everyone else seemed to be taking it. My quads burned and something at the back of my mind warned me that this could be a mistake. In the commotion of the race, however, I ignored the warnings.
Finally, the trail flattened out as we passed farmhouses and taverns. I stopped at the village tap to refill my water bottles. Looking around at the other runners, I noted that I was the only person I could see who was not using poles. Having not practiced with them in the relatively flat topography of Kent and Surrey, I had opted to ignore the race website's advice and go pole-less. This is not a mistake I will make again when racing in the Alps.
As the race headed up the gentle slopes towards Ferleiten, the small groups around me found a more natural pace and started to settle down. We headed up the valley and the first proper aid station was reached without any significant events on my part. At Ferleiten I ensured that one bottle was filled with Tailwind and the other with isotonic drink from Hammer Nutrition that the race was providing. I ate fruit, pretzels, cake, and flapjack bars, before stuffing my vest with a few extra gels and proceeding along the candlelit trail to the race's biggest climb up to Untere Pfandlsharte.
The climb up to the col of Untere Pfandlsharte at 2,665m was probably the toughest section of running I have ever done. Approaching the climb was a terrifying experience, for although the darkness hid the scale of the challenge to come, the pinpoints of light coming from the headtorches ahead as they snaked up the precipitous switchbacks provided a horribly incomplete teaser of the pain to come. I decided to put some music on and get my head down, utilising all my skills of self-deception to avoid confronting the scale of the task at hand.
The climb was absolutely brutal. It reared steeper and steeper as the race marched on. The runner in front of me suddenly stopped as he vomited into the banks of the trail. I asked if he was okay, and he looked at me with confusion as he said simply "yes" and continued up the mountain. The final 300 metres or so of the climb were up steep, hard névé snow and was extremely dangerous without the support of poles. I tried to step into the little divots which had been melted by previous footsteps to avoid slipping and falling down the sheer snowfield. Finally, sometime around 0400, I reach the col and jumped on the back of a small group descending to the Glocknerhaus aid station.
Again the descent was steep and fast, and my quads burned as we skipped over technical singletrack. The Glocknerhaus aid station was reached at 0508, where hot soup and tea was waiting for us. I mumbled half-remembered German to the aid station staff, who responded enthusiastically and thrust food and drinks into my hands. Looking around, people were smiling and chatting, and I wondered how they could feel so positive after the harrowing night through which we had just run.
I left the aid station without much thought, knowing that the only way to stand a chance of finishing was simply to keep moving. We crossed over two large dams and narrowly avoided being pitched over the side by some rogue alpine sheep who clearly did not appreciate the invasion of brightly coloured ultrarunners so early in the morning.
Straight away it was back into steep climbing as the trail climbed back over 2,500m above sea level. For me, this was psychologically the lowest point of the race. We were only 40 km in and yet I felt like I could not recover from the intense exhaustion of the climbs. I saw a laminated sign declaring "70 km to go" and nearly burst into tears. I allowed my mind to wander and thought about what excuses I could use for DNF'ing that would be less embarrassing than simply "I gave up". I scanned the trail in front of me as I hiked up the climb and wondered if I had the balls to deliberately trip and break my ankle.
The trail flattened out a little, and a sudden wind blew storm clouds up the mountainside. A crack of thunder exploded over the screes as cold rain flooded down over us. I put on my jacket but left my legs exposed to the cold water. Bizarrely, I felt like the icy rain had snapped me out of my negativity, and I laughed to myself at the ludicrousness of what we were doing. I decided to start using some mantras to get myself through the rest of the race. The most important of these was to tell myself that I could recover from the climbs, and that although they would be hard, they would soon come to an end. The second thing I told myself was that everyone else was out there suffering with me. For some reason, I found this incredibly comforting and I started to look at the other runners as allies rather than competition.
My final mantra was a Lance Armstrong quote which I repeated inside my head: "Pain is temporary. It may last a minute, or an hour, or a day, or a year, but eventually it will subside and something else will take its place. If I quit, however, it lasts forever." Despite the general opinions on Lance, that is one hell of a powerful quote.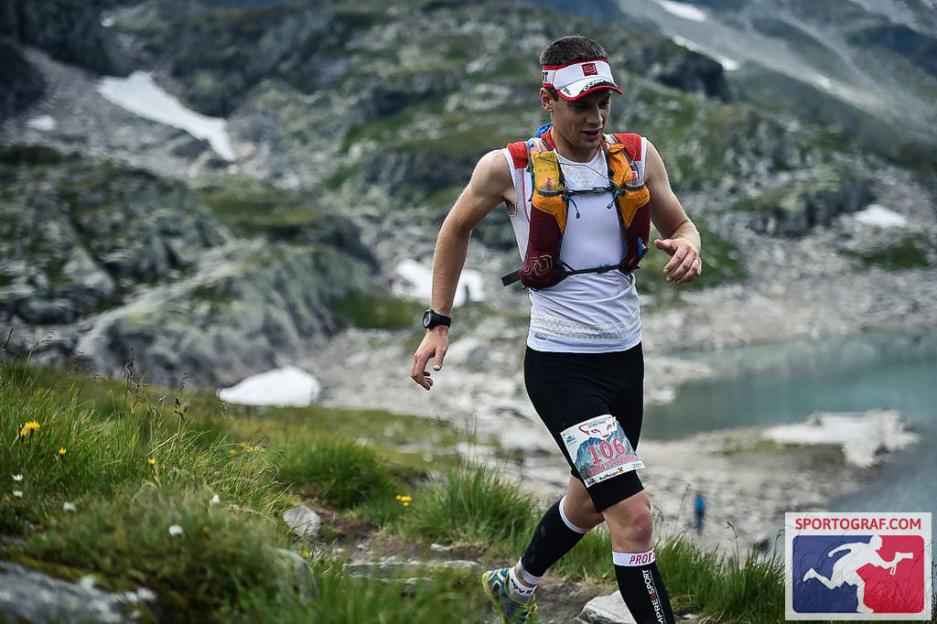 I was back in the ultra mindset, and now I cruised along the trails towards Kals feeling relaxed and happy. I joked with the mountain rescue teams stationed on the mountain tops about how good the weather was, and realised that I was actually enjoying the race. It is so important to remember that these times often follow the lowest points of a race when it can be so tempting to quit. Never, ever quit.
Running into the route's major aid station at Kals (60 km), local people shouted "bravo!" from their balconies and rang cowbells. I smiled the entire way in and felt great when I entered the aid station building to a large round of applause. The support from spectators is just another aspect of this sport that makes it such a unique and beautiful thing and makes such a difference in your day.
I sat down at 0939 local time and decided pretty quickly that I would leave the aid station by 1000. I ate a hot plate of pasta and drank tea. For dessert, I had fruit and flapjack bars. I picked up my drop bag and changed my socks and shoes. I also got an extra base layer just in case I started to become cold in the final part of the race.
I left Kals on time and walked out the first couple of kilometres to get the body moving again. Seeing that there was good phone service, I took the opportunity to phone Mark and Lucy for a little pick-me-up conversation and to let them know how I was getting on. Mark told me that I was around 35th place, which shocked me. I put the phone down feeling positive and energised. I knew I was going to finish the race.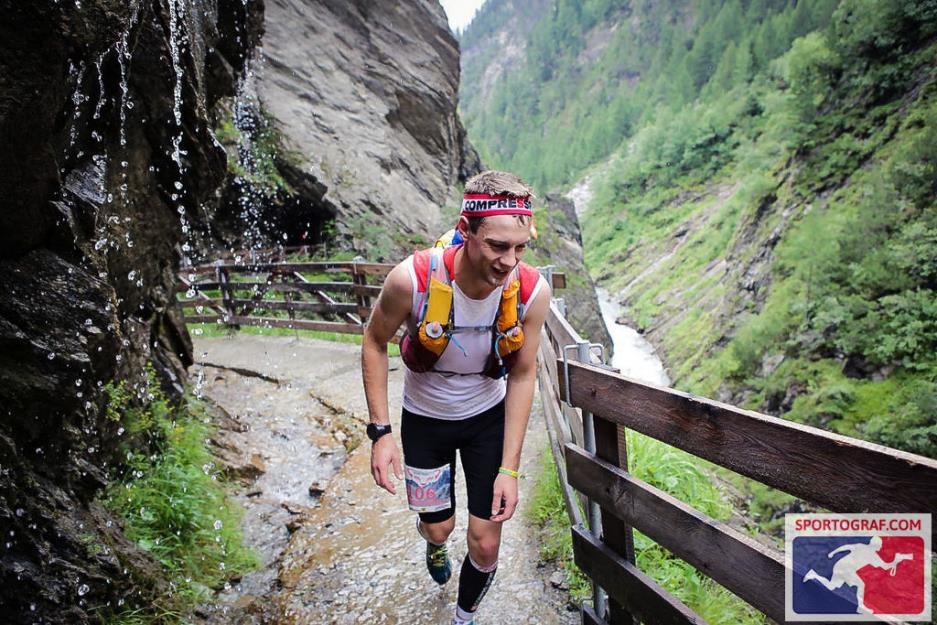 The next part of the course was another long climb, this time up to Kalser Tauem (2,512m). I found it interesting that, although the climb was long and hard, I felt fine about it because I knew it was the last major climb of the entire route. The power of psychology…
During the long ascent, I met the local runner Gregor Hain. After a cagey introduction, we ended up chatting away for over 10 kilometres of steady climbing and I really enjoyed the company. We discussed the race, the beauty of the mountains and looked around at our surroundings. Mountainsides were perfectly reflected in the mirror surface of the Dorfersee lake and colourful flowers swayed around the limestone boulders. Looking ahead, the snow-capped peaks encircled the upper part of the valley in silence. It was a truly stunning area of the world and I felt very lucky to be able to experience it in such a way.
At the top of the valley, I said goodbye to Gregor as I started to climb well on the final headwall. Reaching the col, I exchanged a few words with the lone mountain rescue guide and plunged down towards Rudolfshutte (which has a fantastic name). I reached the aid station at 1325 local time and sat down for some more pasta and tea. I was pretty relieved at this stage that my relatively vague nutrition strategy seemed to be working, and I stuffed in as much as I was comfortable with.
After leaving Rudolfshutte, the first short downhill section let me know that my legs were now starting to enjoy the race a little less than they were half an hour previously. My quads ached as they slowly dropped down a steep boulder field, and a group of runners quickly caught me. Seeing that it was a relatively large group of maybe ten or so people, I decided to stick with those at the front. Having recovered from the near-disaster early in the race, my competitive juices were now clearly flowing and I did not want to lose places if I could avoid it.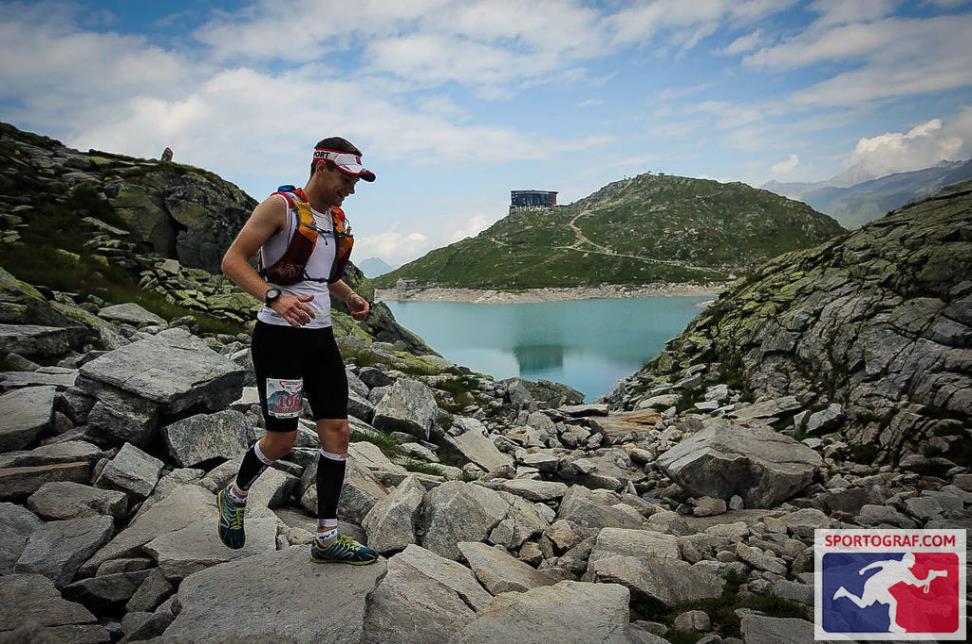 The final climb of around 600 metres seemed endless. By now the group had strung out again and I was running with a guy called Dietmar. I watched him climb ahead of me, setting the pace, and I envied his poles. We reached the final pass together and scanned the enormous glacial valley below as we dropped down through boulders and snowfields. Dietmar and I descended together for around five kilometres, before I naturally pulled away around the upper lakes of Mooserboden and ran into the final aid station.
From this aid station, there were 16 kilometres left, and I decided it was time to stuff as much sugar down my throat as possible. I drank 500ml of flat coke, ate chocolate bars, cake and fruit. It took me around ten minutes to get myself ready, then I plunged down the steep trail into the final valley which would lead us back to Kaprun.
Almost immediately, I knew there was a problem. Anything steeper than a few degrees was putting immense strain on my quads, and to some extent my calves, and they simply wouldn't extend out properly and let me run freely. Within a few kilometres, Dietmar went flying past me, expertly using his poles. With around 12k left, a small group of five runners, including local bloke Gregor, caught up with me. Gregor yelled "come on Chris, you can smell the beer at the finish line!", and I tried to jump on to the back of the group as they flew down the trails at around 4:30 /km pace. It must have lasted around 1-2 km before I was forced by my legs to let them go. I was a little disappointed about dropping the places, but now I just needed to focus on maintaining progress and avoid a last-minute disaster to my race.
I stumbled down into the forest of the lower valley, randomly falling into a horrible half-run and then relapsing into a painful walk. Eventually the valley floor arrived as my quads screamed for mercy and threatened to simply collapse under my weight.
With around one kilometre to the finish, I saw Mark at the side of the road on his mountain bike. He rode alongside me as I re-entered Kaprun and told me how awesome my effort had been. I started to feel emotional and realised with embarrassment that it would be another teary finish. Looking over my shoulder, I had noticed another runner behind me in the distance, which was all I needed to maintain the steady run to the finish line.
After 20 hours and 15 minutes of running, my legs carried me over the finish line ramp. As I passed over it, I saw Gregor cheering me in and I felt an intense warmth towards him. Medal placed around my neck, I collapsed into Mark's arms and promptly cried. I stumbled over to a seat and quickly tried to pull myself together as Hayley and Lucy arrived to congratulate me. Hayley had just finished her first ever ultra, over 50km of high alpine trails, and looked as fresh as though nothing had happened!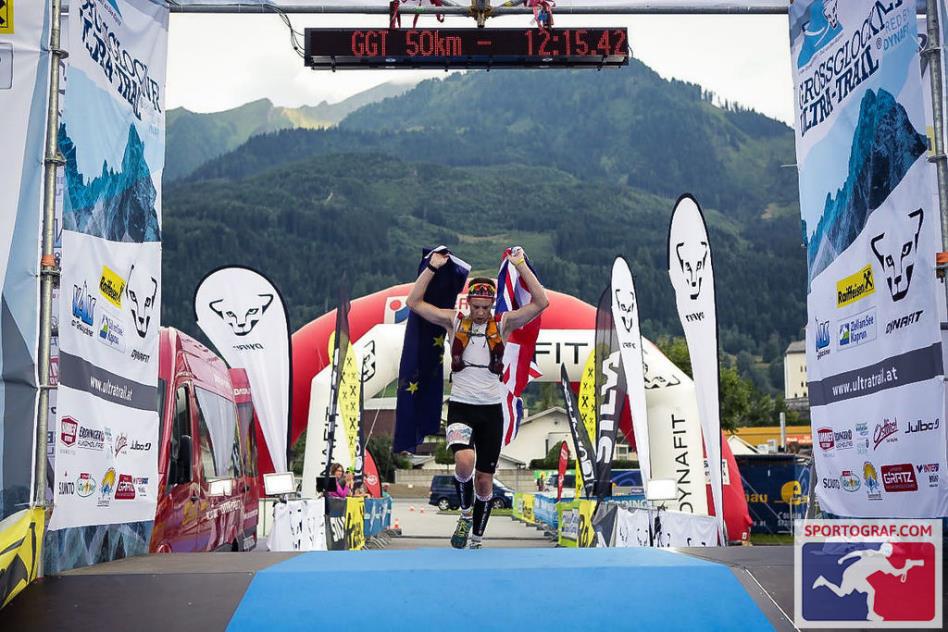 I finished in 31st place in a strong European field – what a result for a pretender from London! I was delighted with the result and relieved to be off the mountains. Walking quickly became impossible and I was helped back to the campsite by some very understand family and friends – thanks so much for your support! I would also like to thank all my friends and family who followed my progress online and sent me messages of support, which was invaluable in the darkest times of the race. My girlfriend Caroline has always been a rock of strength throughout training, and believes in me more than I could. She is an amazing source of strength for me and it is something I thought deeply about during the GGUT.
My overall impressions of the GGUT were of an amazing race, its beauty only matched by its sheer scale and difficulty. The competition is run very professionally and has the potential to challenge as one of the major global races in ultrarunning. The course itself was very well marked and I had no problems with route-finding. The presence of mountain rescue at all the highest points around the course was very reassuring and allows your focus to be where it needs to be.
Overall, I would rate the challenge of this race as greater than the North Downs Way 100 which I completed last year. The mountains can be utterly demoralising, but I am grateful for the opportunity to overcome my own inner struggle. I am hopeful that the mental strength I gained from overcoming adversity early in the race will serve me well in future races. The take-home message from this race is that you are capable of so much more than you think you are, and the most important thing in life is to never, ever give up.
Only those who will risk going too far can possibly find out how far one can go – T.S. Eliot
Written by James Campbell - https://jamescampbell78.wordpress.com
This was to be my third and final attempt at completing Hardmoors 60. The only race that has beaten me and done so twice was getting ticked off this year or not at all.
In addition to all I had learned in previous years races, I'd gathered thoughts on what had worked, what didn't work and where I was strong or weak from my previous three ultra efforts this year (a night run from Staithes to Clay Bank in January, the Cleveland Hills Challenge in April and the Lyke Wake Challenge in July).
With the exception of the newly added section of the course just after Staithes and the section between Robin Hood's Bay and Ravenscar, I'd run the entire course this year, some of it multiple times and the Robin Hood's Bay to Ravenscar bit I've done a number of times before anyway.
Planning and Preparation
I started pulling my race plan together in July, almost immediately after the Lyke Wake Challenge and I had decided on breaking the course up into chunks in the same way I did last year, but this time, I'd used an idea that is popular in the triathlon/cycling world that you only have a finite number of matches to burn during a race, each match being a hard effort.
Looking at my strengths/weaknesses I'd decided that I probably had four matches available to me over the course of the day if I paced them right and spaced them with enough rest in between. This was something I'd played around with on the Cleveland Hills Challenge when looking at which order to run the hills in and how much effort to put into travelling between them all.
After I'd completed all my recce runs in August, I finalised my decision on where the hard efforts would be focused.
Highcliff Nab to Saltburn – Mainly downhill on good quality trails with only a couple of climbs to contend with.
Deepgrove Wyke to Whitby – After the steps down from the clifftop, there is a gently downward sloping section of disused railway to Sandsend, followed by a tarmac section of road and path (albeit uphill road and path) that a faster pace could be maintained on.
Ravenscar to Hayburn Wyke – Again, mainly downhill, but late in the race. If I was to make the most of this, I'd need to conserve some energy. To that end, I planned to fast walk most of Whitby to Ravenscar, only running if it was possible to do so at an easy effort. Walking Whitby to Robin Hood's Bay wouldn't lose me a great deal of time as it's very technical and contains a lot of steep ascending and descending where my running pace wouldn't be significantly faster than my fast walking.
Scarborough Sea Front – This was chosen mainly because when I recce'd this section with Dave Cook on the hottest day of the year, it was grim going avoiding tourists, running on tarmac after trails and generally boring. The sort of section that you need done quickly after a long day. Again, if hard efforts were needed at 80km in, I'd need to buffer it with a rest, so I chose to fast walk the section between Hayburn and Scalby Mills, which was also savage in terms of the number of steep steps in such a short section.
The recce of Hayburn to Scalby also changed my mind on the use of poles. I'd trained all year without using poles, but the sheer amount of steps that late in the race made me reconsider. I'd trained all summer during 2015 with them and was quite happy that I'd stayed proficient in their use and still had enough upper body and back strength to make them work for me, so I decided to take them.
With all the above considered, my plan was more or less formed. Run hard to Saltburn, rest on the climb between Skinningrove and Hummersea then pick up to a steady pace on the descent to Staithes and maintain this through Runswick Bay and on to Deepgrove Wyke where I'd start the next hard effort to Whitby. After the rest to Ravenscar, I'd push on again to Hayburn Wyke, rest to Scalby and work hard through Scarborough and anything left after then would be poured into the finish.
Based on previous race times, recce runs etc, I'd worked out that I could finish in 17 hours, allowing me an hour buffer on cut off for things going wrong if I paced it well and reached my defined marker points by the target times below:
Saltburn CP: 2h:05m
Skinningrove: 2h:55m (00h:50m split)
Staithes: 4h:15m (1h:20m split)
Runswick Bay CP: 5h:05m (00h:50m split spending no more than 10 mins at the CP)
Saltwick Bay CP: 7h:30m (2h:25m split)
Robin Hood's Bay CP: 9h:00m (1h:30m split)
Ravenscar CP: 10h:25m (1h:30m split spending no more than 15 mins at the CP including changing clothes)
Hayburn Wyke: 11h:35m (1h:10m split)
Scalby Mills: 13h:25m (1h:50m split)
Scarborough Spa CP: 14h:15m (00h:50m split)
Finish: 17h:00m (2h:45m split)
Pre-Race
I travelled down to Filey on Friday afternoon with Natalie and we hit the local chippy for food before heading to the caravan where I prepared my food for the race and added the last minute items to my drop bags.
I planned to start carrying 500ml Lucozade Sport in a hard bottle, 500ml Lucozade Sport in a soft flask and 500ml water in a hard bottle. The bottles were to be carried in my pack, the soft flask in my back pocket.
My starting food would be a bag of wine gums, a bag of salted peanuts and 6 mini Snickers bars. As usual, wine gums to be consumed at quarter past and quarter to the hour on the race clock, peanuts at half past the hour and Snickers on the hour.
In my Runswick Bay drop bag, I had a fresh bottle of Lucozade Sport to top up my bottle with, a can of Red Bull to be drank at the CP, a protein gel to be taken at the CP, a bag of Hula Hoops to go in my back pocket in case I needed a change of flavour/texture, some Jaffa cakes for the same reason and more wine gums, nuts and Snickers.
My Ravenscar drop bag had Red Bull, protein gel, Pom Bear crisps, Fig Rolls, wine gums, nuts, a Chia Charge flapjack and Snickers for pretty much the same reasons.
I laid my kit out ready for the next day and went to bed at 8pm, aiming to be awake for 3am so that I had time to eat breakfast, stretch, tape my feet and get my clothes on in good time to get to Filey early to ensure no car parking mishaps as per last year and to be ready for the bus when it arrived at 5:45am. I got to sleep fairly quickly but woke up naturally around 2am. After trying to doze back off for nearly an hour my alarm clock went off and I got up, eat breakfast and began the process of getting ready. The weather forecast all week had been favourable in my eyes, temperatures around 15 degrees, overcast and strong northerly winds. The caravan had been battered by wind all night so I was optimistic that the forecast would be correct, however I'd fallen foul of bad forecasting in this race before, so had prepared for cold weather but given myself provision to strip layers off if the need arose.
I got into the car with the wind still howling and drove to Filey. Normally when I arrive around 5:15am, I'm one of the first there, this year there were lots of people there ahead of me, showing just how much this race has grown in the three years I've participated. I was glad of anticipating some messing about at the car park. Last year, the parking meter would not accept debit card payments, so this year I arrived with a bag of coins, which the machines would not accept. Eventually one of the runners in front of me worked out that it was only accepting debit card payments so I duly returned to the car to fetch my card and paid for a ticket. Ticket paid for, I then caught up with a few runners I knew in the car park having brief chats with Ady Benn, Dave Cook and Dee Bouderba before boarding the bus. On the bus, I bumped into Paul Roach, who had generously provided me with some of his excess flapjack to compliment my breakfast of bananas and porridge. I was also now onto my second bottle of Lucozade Sport that morning, on top of a cup of coffee and several days of pre-hydrating, so the bus ride was spent mainly back and forth to the toilet much to the amusement of Kelly Brearley.
Once at the start line at Guisborough Sea Cadets, I passed quickly through kit check, picked up my race number and joined the huge queue for the gents alongside Gary Thwaites and Aaron Gourley which killed the 20 minute wait before the race brief nicely.
With the race brief done, we all headed outside and got ready to start. I managed to get myself lined up alongside two (or is it three if you count a certain "inner" persona?) of the most talkative guys in the race John Freel and Dave Cook and without a whole lot of ceremony the race was off.
Start to Saltburn
As the race started and the huge mass of bodies headed up the road towards the woods, the first thing I noticed was that the wind had dropped, a lot and it was warmer than I'd initially thought it was going to be. I'd started the race with my armwarmers on but rolled down and decided that if it stayed warm, I'd take them off and back pocket them once on the coast, where it's always cooler. As we arrived at the edge of the woods, the race slowed to walking pace as the increase in grade, combined with the bottleneck at the first stile took effect and it allowed a couple of minutes to make last minute adjustments to kit to make sure it was comfortable. I had brought my MP3 player and headphones in case I ended up running alone for long periods and the wire was annoying me so I spent the time waiting to get to the stile tucking them away, where they stayed for the entirety of the race.
Once over the stile, I fell in behind Dave and John listening to their banter, trying but failing to think of a way to wind John up as we passed over a field and into the woods proper and onto the forest trails. I was in a small group with Dave and John but thought the pace was a little fast for me and decided to drop back, conveniently this was just before the 900m climb to Highcliff Nab which rises around 160m from the bottom of the climb so I removed my poles from the pack as I slowed and had them ready as we hit the climb. Normally, this climb is ankle deep in cloying, thick mud, but the recent dry weather had left it nice and firm which made for a fast ascent and started to string the field out nicely.
I finished the last half of the climb with Aaron Gourley who lives just up the road from me and chatted about the various challenges of work/ultra balance. Once up on top of the Nab, I found myself running alongside Brenda Wilkin, who I've run with a few times. Brenda is often faster than me so was an ideal pacer to get me to Saltburn. We talked all the way to the Fox and Hounds at Slapewath and the first hour flew by really quickly. Sadly, climbing away from Slapewath, Brenda mentioned that she wasn't feeling great and dropped off as I climbed up the steps and onto Airey Hill (I later learned that she'd pulled out at Boulby with a nasty aggravation of an old ankle injury).
Once up on Airey Hill I found myself intermittently running alongside a group containing April Corbett and Wendy Colling of the Quakers Running Club and being passed by several of the faster runners who'd started slowly and were gathering pace. As we descended from the farmers field, a couple of mountain bikers went past and asked how far we were going, upon hearing the reply of 60 miles, one of them nearly fell off his bike and we had a chuckle at the "first one of the day", one of those little things that amuses me (and hopefully others) are the reactions of people who find out rather unexpectedly what you are up to and this was a classic.
Coming down through Skelton I noticed that some of the runners passing me were sweating heavily and I noticed that my clothes were already damp, I made a mental note to keep on top of my drinking (I'd made a good dent in the soft flask of Lucozade and some of my water already), take a salt tablet every hour and also gave myself a good slosh across the arms, head and neck with water to cool off. At this point, I felt that my cap was keeping my head too warm, so that went into my back pocket.
I arrived at the Saltburn checkpoint feeling good and strong, grabbed a quick refill of my water bottle courtesy of Ray Wheatley and was away from the checkpoint at 2h:01m.
Saltburn to Skinningrove
Passing through the Saltburn checkpoint quickly, I headed out
out into the Valley Gardens running alongside Gareth Barnett and told him I was looking to slow down a little as I was running ahead of pace and he concurred that he thought I was going faster than normal as he'd had to work hard to catch up coming through Saltburn Woods. Gareth peeled off at the Cat Nab car park to get a change of shoes from his crew, while I got my poles out ready for the climb above the Ship Inn onto the clifftop. I made my way up the steps slowly and walked up the cliff slope noting that there wasn't much wind here and the sun was quite warm. I yanked the armwarmers off, shoved them in my back pocket and continued to drink heavily from the soft flask.
I was overtaken by large groups of faster runners who'd spent longer than me at the checkpoint along this stretch, including Ady Benn who wished me well as he passed.
The path soon levelled out and I was running again, finding that I was close behind the group containing April Corbett and Wendy Colling and it wasn't long before I'd arrived at the charm bracelet sculpture to note that most people were opting to take the low path round this little monument on the Cleveland Way. I took the opportunity to climb up to it and touch the star charm for luck and clang the hammer against the side before running on.
Soon I could see Skinningrove in the distance and it wasn't long before I was descending the steps to the beach and found myself back behind Ady Benn. I took the chance to ask the stupid question of how his sandals dealt with the sand, and found out they simply shed the sand off once back on terra firma.
As we approached the jetty, Aaron Gourley and Jennifer O'Neil fell in behind us and did me the kind service of putting a children's TV theme in my head (cheers guys).
I arrived at Skinningrove at 2h:50m tracking 5 minutes ahead of plan still, as I passed through the village, I got my poles out for the climb onto Hummersea cliff ahead and passed Dave and John again who had taken advantage of "local contacts" to have a mini checkpoint at a "local house". As the road tilted up towards the cliff steps, I took a swig out of my bottle and looped my poles onto my wrists for the climb.
Rob Hartley's photo of me arriving in Skinningrove
Skinningrove to Staithes
As I climbed the steps onto the cliff, I was once again overtaken by the Wendy and April group and again jokingly warned of consequences should I misuse my poles near them. They soon pulled ahead as I set a more leisurely pace uphill, saving my legs for more serious work later.
Further up the hill I spotted SportSunday photographer David Bradshaw and managed a smile as I passed trotting along with my poles, forewarned, I kept an eye out for SportSunday gaffer Laura Bradshaw who I'd promised a pose for a few days earlier. As I was running uphill, the best I could manage was something basic, none of this jumping around that Mr Freel prefers.
Photos by SportSunday Photography
Soon the path turned past the farm on the hillside and tilted seriously uphill, I was suddenly aware that it was very warm and that the promised wind had not materialised. I was sweating heavily and made conscious efforts to drink regularly. As I reached the top of the climb, I noted that both water and Lucozade levels were low. I'd been taking salt tablets on the hour, every hour and as I cruised along the top of the cliff, I decided to pop an extra tablet to make sure I was on top of my electrolytes.
At this point, I noticed that my shoes were a bit loose and decided to tighten the laces before the descent into Staithes to avoid a stupid injury from a twisted ankle. As I got going again, I was passed by Jeremy Sylvester and had a brief chat as I moved on.
Dropping down the front of the cliff quickly and efficiently I found myself running comfortably, so skipped a planned walk break across the field before Cowbar and kept going until I was onto Cowbar Lane. It was great to be feeling really strong at this point, especially as this was where I began to feel really dire last year. A female runner (Meltem Akarsu?) fell in line with me and we walked and talked together for a minute, before she was off and running again.
As I got running again, I went into my pocket to fish out some money, as I'd decided to nip into a pub to top up on fluids. I arrived in Staithes at 4h:04m, now 9 minutes ahead of plan, depite trying to slow down.
Staithes to Runswick Bay
As I passed the Royal George, I glanced through the window, saw that there was no queue at the bar and dived in through the door, ordering a bottle of Coke to go into the now empty Lucozade bottle and asked the barmaid to top up my water. That done, I jogged out into the street with the coke bottle fizzing and popping into my face. I got my poles out for the steep climb back out of the village, conscious that I needed to have my wits about me because at the top of the climb, the route of the Cleveland Way had changed in the last week or so and we would be routed onto the new section.
The surface of the new section was a very nice mown grass path that gently undulated and I made decent time moving along it but I could see the sting in the tail ahead. The original route out of Staithes has a very steep climb, coming at it from the new section, the path goes up the side of that climb and is slightly steeper and longer, the poles came out again and I did a very slow march up to the top being passed by groups of charity walkers coming down the opposite way, exchanging words of encouragement to each other as we passed.
Up on the top, the poles went away and I got into running mode, taking a swig of Coke and feeling the benefit of the ice cold sugar and caffeine hit almost immediately I took off aiming to run the whole section, barring the odd set of steps in the middle. I passed through Port Mulgrave quickly, this section seemed to be popular with walkers and it was good to have people to constantly speak to along the way, the time flew by quickly and before I knew it, I was turning the sharp right that led into Runswick Bay. I looked at my watch and saw that I was still ahead of plan and had a real chance of hitting the checkpoint in under 5 hours. I pushed harder along the path and turned onto the steep road down toward the checkpoint, which was in the bottom car park by the beach.
As I pushed on down the hill, I felt a twinge of pain in my right knee, "bugger!" I thought knowing I was being silly running fast downhill. I slowed up and hoped the drop in pace would ease it off. I walked into the checkpoint at 4h:59m, a full 6 minutes ahead of plan.
As Paul Hamer topped up my water and Coke bottles, filled my soft flask back up with Lucozade and I emptied my pockets into the bin, Sadie Pattison told me that there was a message from Race Director, Jon Steele in my drop bag. Immediately all kinds of things ran through my mind, had I done something wrong? Left something behind? Had Natalie been trying to get in touch? Then I read the words….."Quit and you die!" I laughed out loud and told myself again, there would be no quitting from me today.
I was out of the checkpoint quickly, leaving at 5h:03m, overtaking a large number of runners who'd taken the opportunity to sit down, eat and drink while I'd simply downed my can of Red Bull, chased it with a cup of water, then taken a protein gel on board, chased it with a cup of Coke and loaded my pockets with more, wine gums, nuts, Snickers and some Hula Hoops then scarpered.
Runswick Bay to Saltwick Bay
I jogged onto the beach joining a group that included Jason Highland and Joe Williams before walking along the beach with them, getting my poles out for the steps that had pretty much done me in last year.
Runswick Bay
As we left the beach, I soaked my buff through in the stream coming down from the cliffs, and put it on my head so that I would have cool water dripping down my body for the whole climb. Joe did the same with his cap and we headed on up the steps. It seemed to take no time at all to climb the steps (10m:10s actually) as I was chatting with the group as I climbed, pointing out the spots where I passed out last year. As we reached the top of the climb, Ady joined the back of the group and he noted my poles and asked me to keep them away from him, relating his experience in the Alps earlier in the year when he'd had to grab a fellow competitors pole just inches from his face.
The group strung out again and I was soon on my own until I heard a familiar Scottish accent shouting "Jamesey boy!" in the distance behind me. Dave and John must have also been enjoying a nice long break at Runswick Bay. They caught up with me just before Kettleness, as did Paul Roach and Jo Barrett and we chatted briefly before they jogged on ahead. Just after Kettleness, about 5h:45m in, my knee was still making noises at me and I decided to take some precautionary paracetamol. I had just got moving again when I heard a Bob Marley tune playing behind me, I turned to see Gareth Barnett jogging towards me and he had a bit of Bob playing from a loudspeaker.
We ran on together for a bit, passing the charming little sign that points out the current distance between the two trailheads, before Gareth pushed on ahead.
Sign showing distances to the trailheads
I reached the marathon point of Deepgrove Wyke at 6h:10m and as I slowly descended the steps I chatted with a guy, whose name I didn't catch, who had been reading my blog from last year and as we reached the disused railway line I intended to use for one of my efforts, he wished me well. That thought in my mind, I pushed hard, the knee still reminding me of my mistake at Runswick, so much that I decided to adopt my now, usual positive thinking tactic, repeating aloud "I am running well, I am running pain free." over and over.
The old railway line into Sandsend
After 15 minutes or so, the pain started to subside and I was descending the steps to the car park in Sandsend where I spotted Paul Roach taking a breather talking to Jon O'Connell (who stopped me from taking a wrong turn at last year's Goathland marathon), I was disappointed to find out he had pulled out at Runswick Bay. There were quite a few runners who'd met with crew at Sandsend and had stopped, I pushed on moving quickly onto the main road as planned. I was soon overtaken by Dave, John and Jo who'd had another long stop and were off and running again. Jeremy, was close behind me and we kept overtaking each other back and forth as I ran intervals between groups of traffic cones and road signs, Dave, John and Jo stayed roughly the same distance ahead of me so i was confident I was holding a good pace.
I reached the turn for Whitby Golf Club at 6h:45m and headed down towards the sea front, joined again by Gareth. We made our way back up to the cliff top together before he pulled away. I continued to trade places back and forth with Jeremy all the way to the Whale's Jawbone, where I stopped at the Trillos ice cream van to buy, simply the best tasting orange ice lolly that I've ever had. I walked down the steps, through Khyber Pass and along the crowded quayside sucking the lolly, bringing my body temperature down very nicely and distracting myself from the crowds that prevented me from running. Once across the swing bridge, I spotted another runner ahead, drinking a cup of tea or coffee. I tried to keep sight of him through the crowded street while carefully getting my poles out without impaling a passer by. I caught him at the bottom of the 199 steps and used the poles all the way up to the Abbey having a chat along the way before he pulled ahead on the Cleveland Way track that leads to Saltwick Bay. I kept the poles out, as I planned to use them all the way to Ravenscar from this point and jog/trotted along to the checkpoint, arriving at the checkpoint at 7h:33m now 3 minutes behind time but not bothered in the slightest. I was feeling strong. I disappeared into the bushes to answer a call of nature while Shaun Burgess did the honours with refilling my bottles, again with water and Coke. I also got my soft flask topped up with water, just in case I needed a bit extra.
199 Steps, Whitby
I headed off again fast walking as planned. As I passed the Whitby Foghorn, I heard Ady (who I'd again passed in the checkpoint) calling out to me as he'd found a piece of trekking pole on the trail and asked if it was mine. A quick check revealed mine to be intact, so I thanked him and chatted, giving him a quick time and distance check before he climbed the next steep hill ahead of me. I was content to take this section nice and easy and strolled along at an average of 11m:49s/km. I heard the familar voice of Dee Bouderba somewhere behind me, when I looked, she was in a group some 500m behind, but was caught by a bloke I often meet at this point in race (I think he's called Gerard?) and he was telling me about how he now can't pass Penshaw Monument without thinking about me doing hill reps up and down it after I told him about doing so the last time we met. We hopped over a couple of stiles together and he was off.
The path evened out for awhile so I decided to jog on slowly, passing a woman carrying a pair of trainers back along the trail , then I fell in with a group of hikers as the next climb started and I chatted with them about the race and how their day had gone, then as the path flattened out, I wished them an enjoyable rest of their walk before jogging on.
Ravenscar in view across from Robin Hood's Bay
I was caught by the group, containing Dee just before the Rocket Post field just outside of Robin Hood's Bay and followed them into the checkpoint arriving at 9h:13m, now 13 minutes behind time, but at this point I didn't even check time. The checkpoint had music and Dire Straits were playing, so I sang to myself while I grabbed some food and topped up my water bottles. They didn't have Coke so I topped that bottle up with water and added some "Squirty Squash" I'd been keeping in my pack, just in case. I also added a sachet of salt and two sachet of sugar to the mix. before jogging on singing Tunnel of Love, I stopped singing to nip to the gents on the way down the hill then got myself going on the way to Ravenscar.
Robin Hood's Bay to Ravenscar
As I climbed the steps out of Robin Hood's Bay, back onto the trail, I was caught by two ladies who'd been part of the group Dee was in, Elaine Wilde and Ingrid Hainey.
We chatted all the way to Boggle Hole, before they pulled away on the descent as I took it nice and easy down the steps. I passed through Boggle Hole, pretty much at full high tide, on a full moon day and the power of the water in such an enclosed space was impressive and noisy. I poled my way up the steps, back out of Boggle Hole efficiently and got jogging again once on the level path. I was being tortured by flies at this point and it was still very warm so I soaked my buff with water and put it over my head in the hope that it would both keep the flies away and keep me cool.
Soon, the path dropped into the shade of the woods again, down the steps to Stoupe Beck, the change in temperature in the shade was noticeable. When I was about halfway up the steps out of Stoupe Beck, I heard the familiar clack of tungsten on concrete behind me and looked around to see another runner closing behind. We drew level at the top of the steps and we got chatting, I'd now met Paul Riddell, who it turned out lives just up the road from me in Hetton and knows a couple of my Coalfields clubmates.
As I continued to walk, Paul jogged on (having received fresh shoes recently from the lady I'd seen running back along the trail) and I tracked a couple of hundred metres behind him along the path that leads to Ravenscar. You can see Ravenscar looming on the hill for miles and it's easy to dwell on the fact that it never appears to get close until you are actually there. I focused on the path a few metres ahead rather than looking at Ravenscar, I was starting to go through my checkpoint drill in my head. I wanted a cup of tea, with lots of sugar in, I planned to drink it while I changed out of my now sweaty and soaking wet cycle jersey. I didn't think I needed my base layer as it was quite warm, although the forecast was for it to get quite cold. I'd decided to keep the base layer handy in my pack and just be prepared to stop and put it on if needed.
The rest of it was all about switching the drop bag food in and the old food out. The "Squirty Squash" was tasting vile to me, so I decided that would be the first to get binned, I wasn't enjoying the taste of Snickers anymore, so I planned on taking only four of the six bars in my drop bag and to eat Pom Bears every half hour and on the hour instead.
I checked time as I climbed the long ascent into Ravenscar and I was on 10h:25m and was actually feeling quite strong. I was still a bit behind time, but I was going to arrive a long time before my equivalent time from 2014 and had a hard running section planned ahead.
As I walked up through the village, I dumped the contents of my pockets into the bins by the side of the road and emptied out my bottles, planning to have them filled fresh at the checkpoint, an idea popped into my head about taking tea in my soft flask, I decided to give it a go with half tea and half cold water.
I arrived at the checkpoint on 10h:43m. Tony McGonnell did the honours of filling my bottles up with water, Coke and tea (black, four sugars) respectively and made me a matching cuppa in a china cup.
I quickly stripped off, dried my top half and packed away my wet jersey and buff, swapping them for a clean, dry buff and my Coalfields cycling jacket. My cap went on and the head torch went on my head ready for when it was dark. I took my protein gel, downed the can of Red Bull from my drop bag in one, packed my food into my pockets, dumping the excess Snickers onto the table for someone else to have and eating three or four pieces of melon at the same time. Dave Toth made me some cold rice pudding, then mopped up the mess I made when I knocked my cup of tea over. Having caused chaos at the checkpoint, I followed Paul out of the door 14 minutes after I'd arrived, under my target time for being in and out of the checkpoint.
Ravenscar to Hayburn Wyke
A few metres down the road, Paul stopped to put his jacket on as he'd immediately felt the cold. I felt chilly too, but decided to give running a go first. I text an update to Natalie as I jogged and as a result was overtaken by Elaine and Ingrid.
Although the sun was setting, it was still light and I pushed the pace, giving myself the mental aim of getting to Hayburn Wyke before it got fully dark. I overtook the ladies as the route re-joined the Cleveland Way as they were doing running repairs to feet. I put my head torch on early and ran on as much as the path allowed, which was quite a lot as it was mostly downhill.
The ladies overtook me again and pulled steadily away, before stopping at a junction, I shouted for them to carry straight on and battered on myself. As the sun dipped below the western horizon, the tip of the moon rose over the sea in the east and for the next 20 minutes or so, I was treated to the glorious view of a full harvest moon rising.
I could still see the trees of Hayburn Wyke growing closer even after sunset and pushed harder, resolving to myself that from now, every step forward would make me stronger, ever climb I met would make me harder and repeated it in my brain. Just before Hayburn Wyke, I pulled out my poles ready to take on the next section of the course that was riddled with climbs, steep steps and stone steps of a random nature.
I arrived at the top of Hayburn Wyke at 11h:52m, now tracking 17 minutes behind plan, which I decided I could live with.
Hayburn Wyke to Scalby Mills
I followed the ladies down the steps into the Wyke, catching glimpses of the rising moon on my left and enjoying the weird light it cast on the woods. As we climbed out of the Wyke, I noticed a campfire and lamps hung from the trees on the right and thought whoever it was had picked an amazing place for a wild camp tonight.
Up and over the top of the Wyke, it was now full dark and I'd planned to take this section slowly, but decided that I now needed to make up some of the lost time. I knew, on fresh(ish) legs, I could do this section in around 1h:10m, I reckoned that I could maybe do it now in 1h:40m instead of 1h:50m and get to Scalby at about 14h:30 then make a really decent fist of the sea front to get back on track.
As the ladies pulled ahead, I tried to keep their head torches roughly a constant distance ahead, given that I knew they'd been moving faster than me. A couple of times they stopped to check directions and we had a chat before they pulled away again. I kept swigging at the tea in my back pocket which was still both beautifully warm and tasted amazing, with the added benefit of being in my back pocket and keeping my body warm too.
I was munching on my mixed bag of wine gums and fig rolls, often ending up with wine gums and fig rolls in my mouth at the same time. This combo sounds vile, but works really well, the taste and texture was very different to the now sickly sweet stuff I'd been having and was quite nice. I was now running using my poles and feeling quite fast, however I was very aware that at night, you always feel faster than you actually are and with using the poles, it was difficult to keep checking pace on my watch. Each time I reached a descent, I checked time and was happy I was eating into the deficit.
Each time I reached to the bottom of a set of steps or a climb, I was mentally saying "Bring it on!" I was now wholly bought into my mental game of getting stronger and stronger for each step forward and each metre climbed.
Just before Crookness, I overtook another runner, who told me he was thinking of giving up. I told him that I'd given up not far from here a couple of years ago and it felt shit, told him to get to Scalby but not to make up his mind there, then get to Scarborough Spa but not to make his mind up there either. I'm not sure what he did in the end.
When I reached the steps where I'd binned it in 2014, I found the ladies again trying to decide on the right path, I pointed them up the next steps and told them these were the last steps till Scarborough.
Having done the same thing as with Ravenscar and avoided looking at Scarborough for about 10km I could now see the lights of Scalby closer than Scarborough and hauled myself along towards them. I could now fully understand why purists think that using poles is cheating and some race organisers ban them. I felt very fresh on my feet with no pain in the knees or thighs and only minimal pain in my ankles and feet. The distribution of weight was spread more evenly and the additional weight in my shoulders and back, was now useful weight, providing the power to the poles rather than just being extra to carry.
As I approached the steps down to the Old Scalby Mills pub, I gave Natalie one final text update before I heard the dead battery warning sound on my phone. I'd got their at my new target time of 13h:30m and now needed to hammer the sea front. The poles went away and it was time for some interval running.
Scalby Mills to Scarborough Spa
As I'd approached Scalby Mills, I'd noted that the entire sea front had street lights so my plan became, to run for 10 lit street lights and walk for 5 lit street lights, dead bulbs did not count.
During my first set of 10 I overtook one runner and could see another pair in front. I slowly reeled them in to find that it contained Jason Highland. I said hi before running off again. I then caught up with another as I passed the castle headland, and another shortly after that. I was mostly trying to run on the road, as the surface was more forgiving than the concrete paths, but there were a lot of boy racers charging up and down the sea front too.
The paths weren't crowded, with just the odd small group of set of couples walking around and only one person acted like a twat. It seemed like no time at all before I was past Valley Road and on the final run in to the Spa checkpoint. I ran the entire length of the road, disregarding any street lamps and arrived on 14h:12m. I was now back ahead of my original plan by 3 minutes!
Scarborough Spa to Finish
My bottles were topped up quickly by Wayne Armstrong and I was off again running along the last bit of promenade towards Holbeck Hill. It was obvious that the high tide had been higher than usual as the path was covered in pebbles and sand. I was caught by Elaine and Ingrid halfway up Holbeck Hill, where I had the poles out again. We were met by Phil Owen and another marshall, who'd kindly glo-sticked the route away from Scarborough and I tried to keep pace with the ladies, but by the time we passed Cornelian Bay I dropped back off. Poles or no poles I was slowing up, despite feeling good.
I fast walked up the hill into Osgodby and got a jog back on down to the next turn down the steep steps into Cayton Bay. I briefly rejoined the ladies before they pulled away again, as I reached a gate in the middle of Cayton Bay, I was overtaken by a group containing Paul Munster, who'd passed me back and forth several times all day, but I only recognised now because of the red light on the back of his pack, everything else being in total darkness.
I let the group through the gate ahead of me then followed on, taking the climb out of the bay slowly before letting the steep descent through the next field to the beach path pull me along in terms of speed. I took the next steps quickly again mentally gaining strength from them and feeling that Filey was growing ever closer. I looked behind me and saw a couple of lights. To keep me moving, I vowed that I wouldn't let those lights catch me and pushed harder up the hill, chasing the lights in front of me. I was now on very familiar ground, having run this section several times over the summer, often, I'd see the group in front falter, perhaps checking maps or doubting directions while I simply piled on. I knew where all the runnable flats and descents where and poled my way along them, I new where the tricky bits to take care were and slowed down.
I followed the group up the hill to the Flower of May caravan park, I saw the group stop ahead of me then move on again, at Blue Dolphin, I pushed harder knowing that Filey was about to come into sight on the right but even in the daytime, this section feels like a long drag, even though it's only 3km from Filey Brigg. For about an hour there'd been patches of low lying fog and Filey was shrouded in it, giving the weird impression that there was sea to the right as well as the left until a patch cleared and you'd see an island of lights amongst the fog.
I slowed to a fast walk on the final uphill, knowing from my vaiours training runs in the area over the last 10 summers, that at the top of this final climb, there was a bush that signifies that it's all downhill to Filey Brigg. As I reached the bush, I noted time at 16h:30m with about 3km to go. In my head I wasn't sure if 17 hours was still achievable but if someone had offered me 17h:10m or even 17h:59m at the start line I'd have taken it.
I drove on with the poles feeling like I was hurtling through the darkness, I passed the rocket post on my right knowing that I was almost at the Cleveland Way sign noting that Helmsley is only 109 miles away. I saw the group up ahead and figured they'd stopped to take photos at the sign then saw they'd stopped again, presumably to do the same at the Filey trailhead marker.
I slung the poles away for the last time and ran off the Brigg, down the gentle grassed slope towards the last set of steps, seeing the set of head torches disappear down them in front of me. As I reached the steps, I heard voices further down and took the steps two at a time.
I dropped onto the yacht club slipway an noted that the marshalls had glo-sticked the router back up the next set of steps that, according to the route description were optional. I knew that if I went up this last set of steep steps, I'd have to descend another set of awkward, uneven steps at the other end. I also knew that the tide was out and after many, many tests over the summer, knew the beach, followed by Coble Landing was the faster route.
I jogged along the beach, careful to dodge any rocks, headed up the Coble Landing slipway and hit tarmac, passed the amusement arcade and the lifeboat house. I spotted and acknowledged the marshall on the corner then saw the blinking backpack light of Paul Munster running up the road, I followed suit, hearing the voices from the group just behind me as they exited the steps.
Adrenaline now had hold of me and I ran along the sea front and turned right, slowed for the ridiculously steep Cargate Hill before picking up pace again at the police station, gaining speed past all the closed shops, Filey Methodist Church firmly in sight. I stumbled through the door to applause and a finishing time of 16h:59m:58s. Almost exactly on target.
I was met by Jon Steele and presented with my T-shirt and medal. The next few minutes were a bit of a blur as my mind caught up with my body. I was given pizza and a cup of tea.
Race Director, Jon Steele showing how photogenic he can get at the finish
I took my shoes off and sat next to Dave Cook as I gathered my thoughts. I'd finally cracked it. Three years it had taken me to finish this race and the way I'd run it this year, I'd have not changed a bit. Nothing worthwhile is gained without effort and this journey has taught me so much about myself, as well as allowing me to meet a whole host of wonderful people along the way. I've yet to meet an ultra runner who isn't a nice person and everyone is always willing to help one another.
Jon and Shirley Steele have a very, very special race series here, being ultra runners themselves, they know what makes a good event and their ability to relate to people and look after them means that they always have a hardcore of volunteers, helpers and marshalls at events who are experienced runners. There is a real family atmosphere here and it's addictive. It's quite normal for a back of the pack runner like me to finish a marathon or an ultra and the race winners will still be around applauding runners home.
At this point, I'd like to thank, everyone who has wished me well for this race, there are loads of you and I have taken all of your kind words and wishes on board as part of this race. I used them to fuel my energy.
I'd also like to thank those of you who've given me time and advice freely when I've asked and especially those who've come out with me on training runs, we've had some mental, crazy and funny times along the way. Things that forge lifelong friendships, like being stuck in a dead car at 3am after spending 9 hours running through deep snow or sleeping in the back of a car in the middle of nowhere so your runner has a warm drink and something nice to eat when they arrive.
Most of all, I must thank my wife Natalie. She has stuck by me through this obsession with completing this race. Three years of me being out running instead of doing the various DIY jobs that need doing on the house or spending time with her and the kids. At times, I've been quite selfish in trying to prepare for this race and she's understood and let me get on with it, even when she's found things difficult herself. Now she'll be getting some well deserved payback. She's an absolute gem and I love her to bits.
Written by Jonathan Strong - https://strongrunning.co.uk My 3rd running of the SDW50. The South Downs Way 50 (miles) is a point to point course from Worthing to Eastbourne (finishing with a lap of…

Written by Andy Brooks - https://www.peakrunning.co.uk When I originally placed my entry for the Last One Standing Ultra I was thinking 'yeah, that sounds like a quirky fun way to spend a February…

Written by Guillaume Arthus - http://www.runnexplorer.com/ 5 years ago, I found out that there was a race out there that shredded its runners, unapologeticly. I was intriged. I started to learn about it but…
Written by Marcin Krzysztofik - http://wolnybiegacz.pl/ Finally, after quite a long quiet spell on the blog, I am ready with the race report from a recent race I took part in. It took…

Written by Chase Parnell - https://chaseparnell.com "Courage is resistance to fear, mastery of fear, not absence of fear." -Mark Twain Fear is in all of us. But it's what we do with that fear that…

Written by Karen Nash - http://karen-ultras.blogspot.fr It was a full race this year with no entry on the day; a first? This was partly due to the race being used as the…
Written by Darren Hunt - http://www.mountainsinmind.com Saturday 9th March 2103, witnessed me ( Darren) and Clare out in the wilds again. This time it would be different!! We would be trail running the 'Howarth Hobble'…. Friday…

Written by Clare Holdcroft - http://www.mountainsinmind.com Pure, bracing ventilation they must have up there at all times, indeed; one may guess the power of the north wind blowing over the edge, by…

Written by Jeroen Wigard - http://jeroenwigard.blogspot.fr The week before the start of Trangrancanaria the thought set in that maybe this would be my last long ultra trail race. I was simply not…