Written by Chris Ellyatt
Course: 110 km, 6,500m vert
Time: 20h15m
Position: 31st / 332
Having missed out in the Western States lottery for 2017, my thoughts turned to re-qualifying and getting my name back in the ballot for 2018. Time had ticked away and with concern I flicked through the list of UK qualifiers…full, full, full. In something of a mild panic, I started browsing the European qualifiers until I found one which, fortuitously, had just opened for entries. The Grossglockner Ultra Trail (GGUT), at 110km in length and in easily accessible Austria, seemed to tick the boxes and I went about signing up without much thought.
It was only after paying my entry fee that I decided that a quick look at the actual course itself might be useful. I brought up the course profile on my aging laptop and stared at the screen with horror…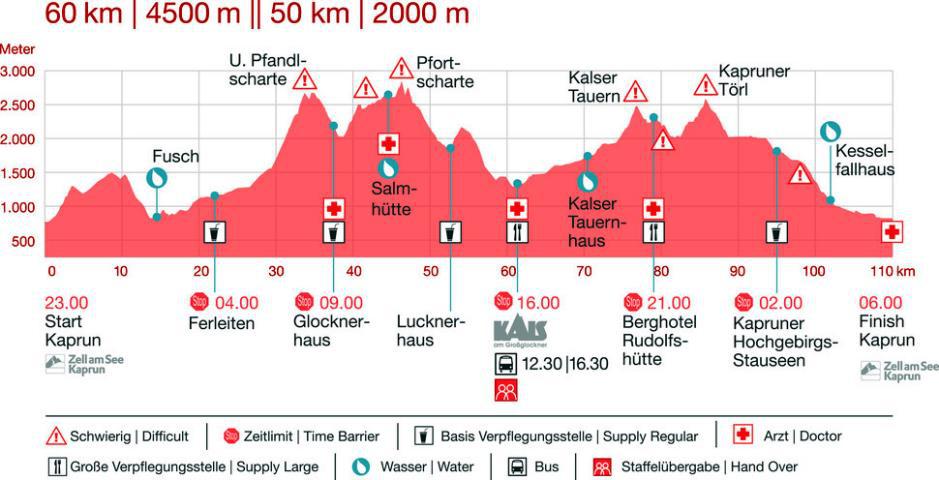 My ultrarunning life could be quite easily summarised at the point I had signed up for the GGUT. I had three ultra finishes under my belt: a rolling 50k around Salisbury, Wiltshire, a 100k night race along the River Thames and the North Downs Way 100 2016. Although happy with the results I had achieved in this embarrassingly short list, my lack of mountain racing experience suddenly felt very obvious. I told myself that my mountaineering experience would see me through and that I would simply have to incorporate more hill training.
The 2017 season was not my most consistent as a runner. During the Spring months, I had placed 2nd at a local 10k race, and followed this up with a half marathon PR at a very hilly and windy Hastings course with 1:27:58. Despite this, I suffered chronic tendonitis following a 55k training run along the North Downs with my buddy Andrew Hughes. Compounding this issue, I had to undergo a tonsillectomy in early April which left me unable to eat and physically exhausted. Returning to training had been a struggle as summer arrived, and I began to feel nervous about the upcoming GGUT and my lack of preparation for it.
Through June I managed to get the weekly mileage back to around 50 km, which although nowhere near where I should have been at, at least made me feel like I was able to at least toe the line for the GGUT. I had tried to supplement my specific training with lots of miles on the road bike to reduce the risk of injury and hypoxic exposure training at the Altitude Centre in London.
And so it was that on 19 July 2017, I found myself driving into the small alpine town of Kaprun in Austria for the upcoming GGUT. I spent the couple of free days that we had preparing for the upcoming race in the most professional way possible…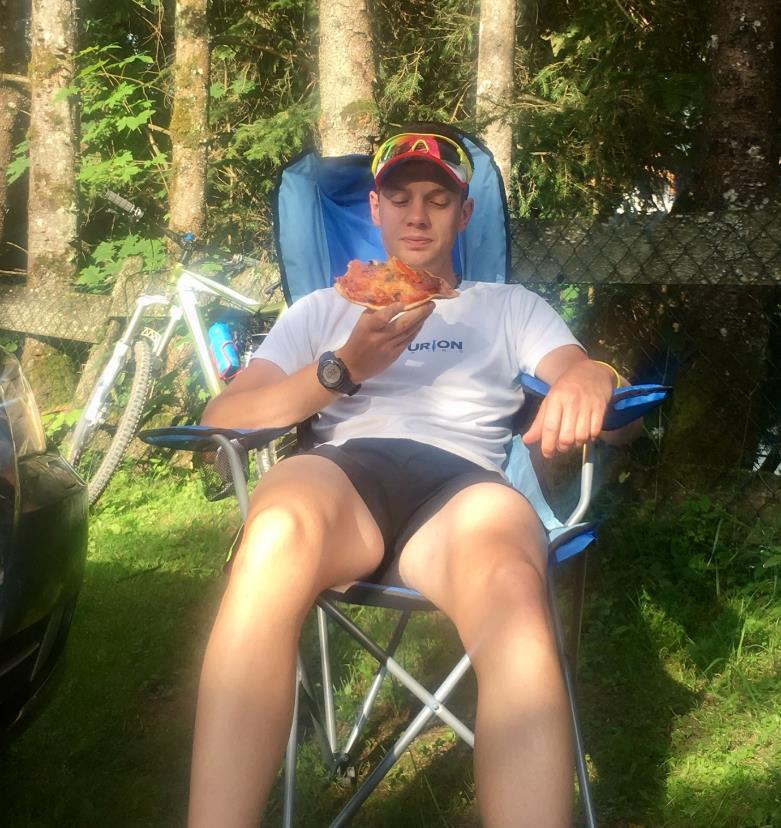 I was joined in Kaprun by my step-dad Mark, who started running around the same time as I did and is always super-supportive with my racing. Two friends from university, Lucy and Hayley, also joined us in the Alps. Hayley was running the 50k event from Kals to Kaprun, while Lucy was unfortunately out with injury but selflessly offering her support regardless.
Having had a tough time preparing for the race, I decided that my strategy would be to stay in the front half of the race from the start, but always to walk the uphill sections. Although I clearly wasn't in my best shape for a long race, my natural competitiveness made me feel that I would become depressed at the back of the race and I was therefore better off going out relatively swiftly. In terms of nutrition, I would be using Tailwind sachets to keep the calories and electrolytes topped-up, then eat well at the aid stations and have some bars/gels in between.
The pre-race atmosphere was fantastic. Runners milled around the tents full of the latest gear and went about their various individual rituals. Locals of all ages gathered to hear the race briefing and laughed at the envy of the competitors as they sipped their cold beers in the slightly humid alpine evening. I felt adrenaline pumping unnecessarily around my body as the digital clock counted down the minutes until all else would be forgotten.
At 2300 hours, the gun went and 350 or so runners set out into the night with the characteristically fast pace that is so obviously unsustainable. Listening to the cheers from random balconies around the town as we wound up the initial mountain roads, I felt a deep happiness return to the surface of my mind which only comes from the feeling of being part of something larger than yourself.
The first climb started up steep singletrack and a quick march started around me. Looking up and down the long line of headtorches in the darkness, I let the sense of belonging wash over me as we silently followed the feet in front of us. As the climb eased off, the field spread out and I let my pace fall into a comfortable rhythm. I estimated that I was in the front third of the field, though it was very difficult to judge in the darkness.
Descending from the first climb towards Fusch, the pace was relentless. I wasn't used to such long descents and I was surprised how quickly everyone else seemed to be taking it. My quads burned and something at the back of my mind warned me that this could be a mistake. In the commotion of the race, however, I ignored the warnings.
Finally, the trail flattened out as we passed farmhouses and taverns. I stopped at the village tap to refill my water bottles. Looking around at the other runners, I noted that I was the only person I could see who was not using poles. Having not practiced with them in the relatively flat topography of Kent and Surrey, I had opted to ignore the race website's advice and go pole-less. This is not a mistake I will make again when racing in the Alps.
As the race headed up the gentle slopes towards Ferleiten, the small groups around me found a more natural pace and started to settle down. We headed up the valley and the first proper aid station was reached without any significant events on my part. At Ferleiten I ensured that one bottle was filled with Tailwind and the other with isotonic drink from Hammer Nutrition that the race was providing. I ate fruit, pretzels, cake, and flapjack bars, before stuffing my vest with a few extra gels and proceeding along the candlelit trail to the race's biggest climb up to Untere Pfandlsharte.
The climb up to the col of Untere Pfandlsharte at 2,665m was probably the toughest section of running I have ever done. Approaching the climb was a terrifying experience, for although the darkness hid the scale of the challenge to come, the pinpoints of light coming from the headtorches ahead as they snaked up the precipitous switchbacks provided a horribly incomplete teaser of the pain to come. I decided to put some music on and get my head down, utilising all my skills of self-deception to avoid confronting the scale of the task at hand.
The climb was absolutely brutal. It reared steeper and steeper as the race marched on. The runner in front of me suddenly stopped as he vomited into the banks of the trail. I asked if he was okay, and he looked at me with confusion as he said simply "yes" and continued up the mountain. The final 300 metres or so of the climb were up steep, hard névé snow and was extremely dangerous without the support of poles. I tried to step into the little divots which had been melted by previous footsteps to avoid slipping and falling down the sheer snowfield. Finally, sometime around 0400, I reach the col and jumped on the back of a small group descending to the Glocknerhaus aid station.
Again the descent was steep and fast, and my quads burned as we skipped over technical singletrack. The Glocknerhaus aid station was reached at 0508, where hot soup and tea was waiting for us. I mumbled half-remembered German to the aid station staff, who responded enthusiastically and thrust food and drinks into my hands. Looking around, people were smiling and chatting, and I wondered how they could feel so positive after the harrowing night through which we had just run.
I left the aid station without much thought, knowing that the only way to stand a chance of finishing was simply to keep moving. We crossed over two large dams and narrowly avoided being pitched over the side by some rogue alpine sheep who clearly did not appreciate the invasion of brightly coloured ultrarunners so early in the morning.
Straight away it was back into steep climbing as the trail climbed back over 2,500m above sea level. For me, this was psychologically the lowest point of the race. We were only 40 km in and yet I felt like I could not recover from the intense exhaustion of the climbs. I saw a laminated sign declaring "70 km to go" and nearly burst into tears. I allowed my mind to wander and thought about what excuses I could use for DNF'ing that would be less embarrassing than simply "I gave up". I scanned the trail in front of me as I hiked up the climb and wondered if I had the balls to deliberately trip and break my ankle.
The trail flattened out a little, and a sudden wind blew storm clouds up the mountainside. A crack of thunder exploded over the screes as cold rain flooded down over us. I put on my jacket but left my legs exposed to the cold water. Bizarrely, I felt like the icy rain had snapped me out of my negativity, and I laughed to myself at the ludicrousness of what we were doing. I decided to start using some mantras to get myself through the rest of the race. The most important of these was to tell myself that I could recover from the climbs, and that although they would be hard, they would soon come to an end. The second thing I told myself was that everyone else was out there suffering with me. For some reason, I found this incredibly comforting and I started to look at the other runners as allies rather than competition.
My final mantra was a Lance Armstrong quote which I repeated inside my head: "Pain is temporary. It may last a minute, or an hour, or a day, or a year, but eventually it will subside and something else will take its place. If I quit, however, it lasts forever." Despite the general opinions on Lance, that is one hell of a powerful quote.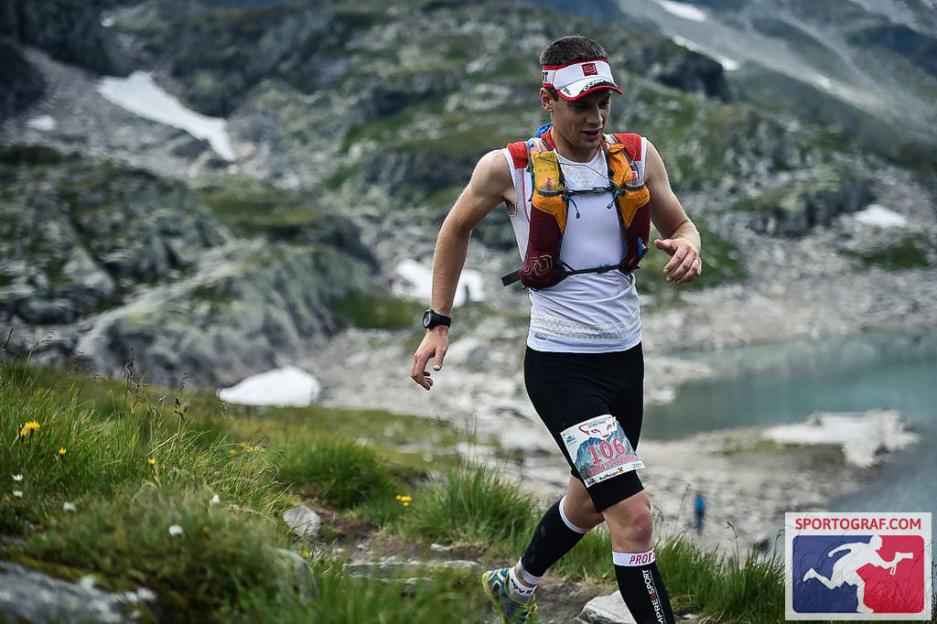 I was back in the ultra mindset, and now I cruised along the trails towards Kals feeling relaxed and happy. I joked with the mountain rescue teams stationed on the mountain tops about how good the weather was, and realised that I was actually enjoying the race. It is so important to remember that these times often follow the lowest points of a race when it can be so tempting to quit. Never, ever quit.
Running into the route's major aid station at Kals (60 km), local people shouted "bravo!" from their balconies and rang cowbells. I smiled the entire way in and felt great when I entered the aid station building to a large round of applause. The support from spectators is just another aspect of this sport that makes it such a unique and beautiful thing and makes such a difference in your day.
I sat down at 0939 local time and decided pretty quickly that I would leave the aid station by 1000. I ate a hot plate of pasta and drank tea. For dessert, I had fruit and flapjack bars. I picked up my drop bag and changed my socks and shoes. I also got an extra base layer just in case I started to become cold in the final part of the race.
I left Kals on time and walked out the first couple of kilometres to get the body moving again. Seeing that there was good phone service, I took the opportunity to phone Mark and Lucy for a little pick-me-up conversation and to let them know how I was getting on. Mark told me that I was around 35th place, which shocked me. I put the phone down feeling positive and energised. I knew I was going to finish the race.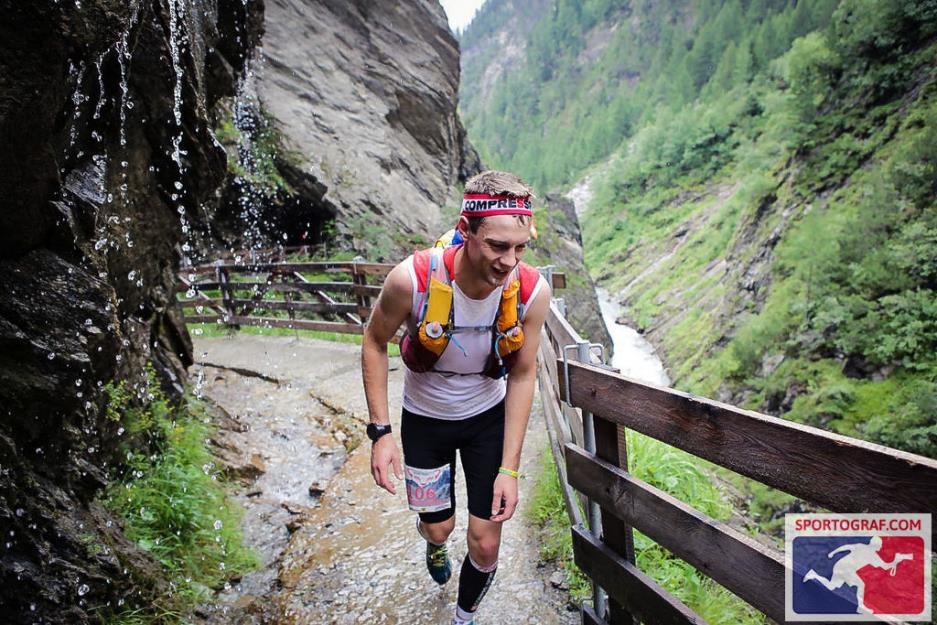 The next part of the course was another long climb, this time up to Kalser Tauem (2,512m). I found it interesting that, although the climb was long and hard, I felt fine about it because I knew it was the last major climb of the entire route. The power of psychology…
During the long ascent, I met the local runner Gregor Hain. After a cagey introduction, we ended up chatting away for over 10 kilometres of steady climbing and I really enjoyed the company. We discussed the race, the beauty of the mountains and looked around at our surroundings. Mountainsides were perfectly reflected in the mirror surface of the Dorfersee lake and colourful flowers swayed around the limestone boulders. Looking ahead, the snow-capped peaks encircled the upper part of the valley in silence. It was a truly stunning area of the world and I felt very lucky to be able to experience it in such a way.
At the top of the valley, I said goodbye to Gregor as I started to climb well on the final headwall. Reaching the col, I exchanged a few words with the lone mountain rescue guide and plunged down towards Rudolfshutte (which has a fantastic name). I reached the aid station at 1325 local time and sat down for some more pasta and tea. I was pretty relieved at this stage that my relatively vague nutrition strategy seemed to be working, and I stuffed in as much as I was comfortable with.
After leaving Rudolfshutte, the first short downhill section let me know that my legs were now starting to enjoy the race a little less than they were half an hour previously. My quads ached as they slowly dropped down a steep boulder field, and a group of runners quickly caught me. Seeing that it was a relatively large group of maybe ten or so people, I decided to stick with those at the front. Having recovered from the near-disaster early in the race, my competitive juices were now clearly flowing and I did not want to lose places if I could avoid it.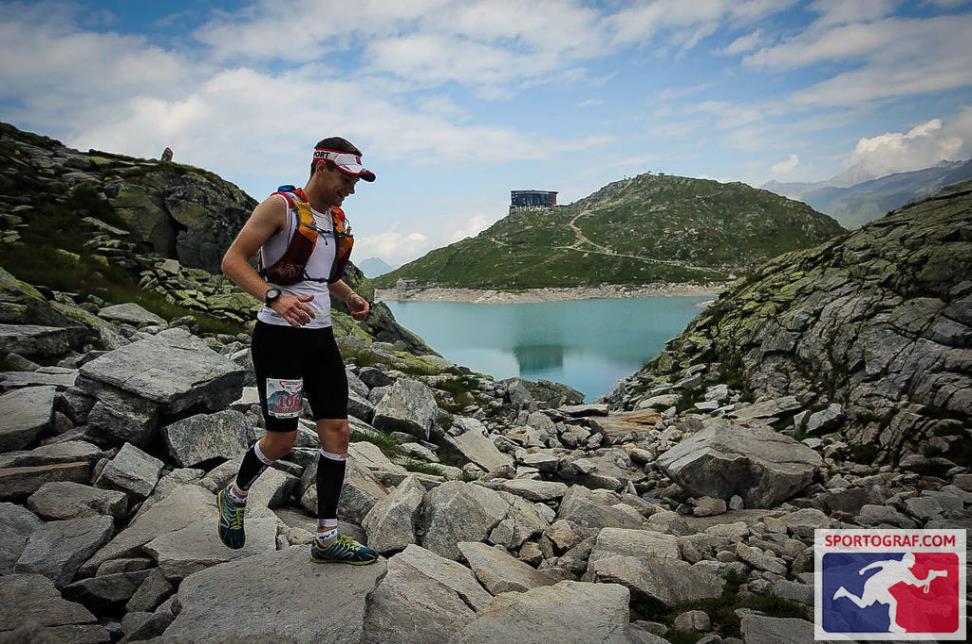 The final climb of around 600 metres seemed endless. By now the group had strung out again and I was running with a guy called Dietmar. I watched him climb ahead of me, setting the pace, and I envied his poles. We reached the final pass together and scanned the enormous glacial valley below as we dropped down through boulders and snowfields. Dietmar and I descended together for around five kilometres, before I naturally pulled away around the upper lakes of Mooserboden and ran into the final aid station.
From this aid station, there were 16 kilometres left, and I decided it was time to stuff as much sugar down my throat as possible. I drank 500ml of flat coke, ate chocolate bars, cake and fruit. It took me around ten minutes to get myself ready, then I plunged down the steep trail into the final valley which would lead us back to Kaprun.
Almost immediately, I knew there was a problem. Anything steeper than a few degrees was putting immense strain on my quads, and to some extent my calves, and they simply wouldn't extend out properly and let me run freely. Within a few kilometres, Dietmar went flying past me, expertly using his poles. With around 12k left, a small group of five runners, including local bloke Gregor, caught up with me. Gregor yelled "come on Chris, you can smell the beer at the finish line!", and I tried to jump on to the back of the group as they flew down the trails at around 4:30 /km pace. It must have lasted around 1-2 km before I was forced by my legs to let them go. I was a little disappointed about dropping the places, but now I just needed to focus on maintaining progress and avoid a last-minute disaster to my race.
I stumbled down into the forest of the lower valley, randomly falling into a horrible half-run and then relapsing into a painful walk. Eventually the valley floor arrived as my quads screamed for mercy and threatened to simply collapse under my weight.
With around one kilometre to the finish, I saw Mark at the side of the road on his mountain bike. He rode alongside me as I re-entered Kaprun and told me how awesome my effort had been. I started to feel emotional and realised with embarrassment that it would be another teary finish. Looking over my shoulder, I had noticed another runner behind me in the distance, which was all I needed to maintain the steady run to the finish line.
After 20 hours and 15 minutes of running, my legs carried me over the finish line ramp. As I passed over it, I saw Gregor cheering me in and I felt an intense warmth towards him. Medal placed around my neck, I collapsed into Mark's arms and promptly cried. I stumbled over to a seat and quickly tried to pull myself together as Hayley and Lucy arrived to congratulate me. Hayley had just finished her first ever ultra, over 50km of high alpine trails, and looked as fresh as though nothing had happened!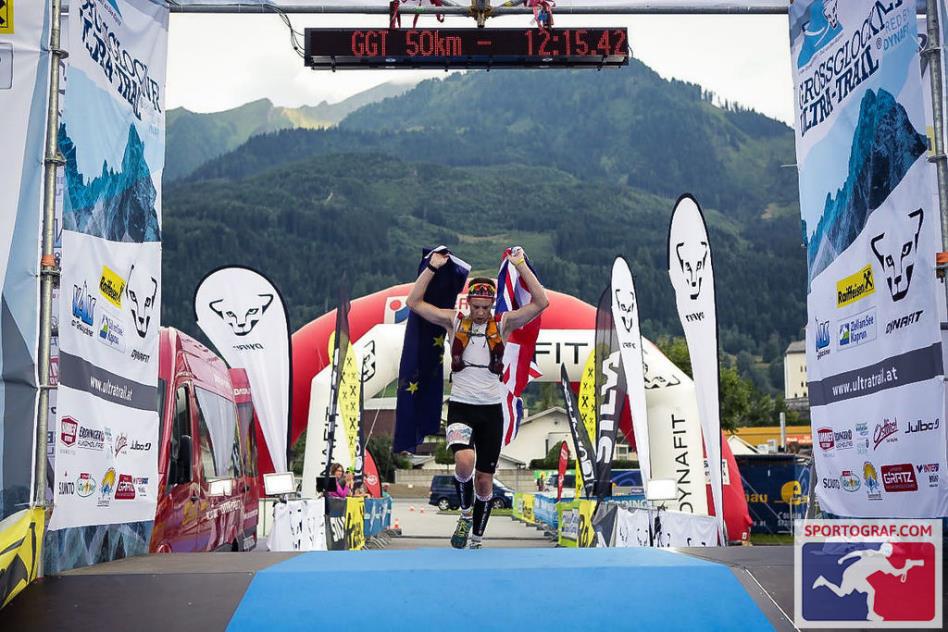 I finished in 31st place in a strong European field – what a result for a pretender from London! I was delighted with the result and relieved to be off the mountains. Walking quickly became impossible and I was helped back to the campsite by some very understand family and friends – thanks so much for your support! I would also like to thank all my friends and family who followed my progress online and sent me messages of support, which was invaluable in the darkest times of the race. My girlfriend Caroline has always been a rock of strength throughout training, and believes in me more than I could. She is an amazing source of strength for me and it is something I thought deeply about during the GGUT.
My overall impressions of the GGUT were of an amazing race, its beauty only matched by its sheer scale and difficulty. The competition is run very professionally and has the potential to challenge as one of the major global races in ultrarunning. The course itself was very well marked and I had no problems with route-finding. The presence of mountain rescue at all the highest points around the course was very reassuring and allows your focus to be where it needs to be.
Overall, I would rate the challenge of this race as greater than the North Downs Way 100 which I completed last year. The mountains can be utterly demoralising, but I am grateful for the opportunity to overcome my own inner struggle. I am hopeful that the mental strength I gained from overcoming adversity early in the race will serve me well in future races. The take-home message from this race is that you are capable of so much more than you think you are, and the most important thing in life is to never, ever give up.
Only those who will risk going too far can possibly find out how far one can go – T.S. Eliot