Written by George Callahan - https://wickedtrailrunning.com
Burning River 100 Race Report
My Wicked Trail
My 2018 Burning River 100 Race Report may not look like some of the other race reports you've read. I'm not actually sure how those who provide detailed race reports do so; my memory is fogged, it went by so fast, and it still doesn't seem real.
So, while my terrain reporting may be slightly off and some details of my experience left out, this is what the 2018 Burning River 100 was for me:
My first 100 mile ultramarathon took place in Willoughby Hills, Ohio, where I grew up, at a faux medieval castle known as Squires Castle. I checked the weather every 30 minutes leading up to race day to see if the rains would hold off or if it would be a typical "Cleveland-weather" kind of weekend.
Leading up to the race I had a calm confidence that, after only doing one other ultra (the Umstead 50 miler), I could traverse 100 miles easily at the necessary walking pace if I ran out of gas and could no longer run. While my training had been subpar for a running and non-running related reason, I had committed myself to "practice" stretching and a heavy dose of leg strengthening. While I knew the training had not been optimal, I understood that showing up healthy and gutting it out would provide the opportunity for success.
How dangerous a thought this turned out to be.
The rains never came over the long weekend. Some thunder shook the skies around us during the night, but no rain.
The first 11.7 miles to Polo Fields Aid Station was uneventful; I arrived in 2 hours 8 minutes and 56 seconds, an 11:01/mile pace. This first section was all road and all runners were tightly packed through Polo Fields. I felt great here and only changed from a long sleeve shirt to a short sleeve; I left my socks and shoes as they were. Trail Toes combined with Injinji sockswas paying off so far…
While the terrain changed from all roads to mostly single-track and bridle trail, the next leg was also flat and non-technical. A few stream crossings left my socks and shoes soaked and when I reached my crew at mile 20.7, the Shadow Lake Aid Station, I opted for a sock and shoe change.
The next time I would see my crew was at mile 37.4, the Meadows Aid Station. Up to this point, the run felt uneventful, very "smooth-sailing," and I was feeling great. The terrain became more technical as the morning went on, but it was still flat enough to feel "easy." It felt like a midwestern state. An easy 2.1 mile section from Meadows to a non-crew access aid station, Oak Grove, put me at 8 hours and 43 minutes; my pace thus far had been 13:20/mile.
With my legs feeling healthy, my feet in great (thanks again, Trail Toes), and with no real expectations coming into the race, I was pleased with my time.
Let's talk about expectations for a minute.
Expectations in training are bars we construct for ourselves, bars that we place over the windows of opportunity. We build these obstacles, these bars, out of our past experiences; you know what you've been able to do in previous training sessions, so 'expect' something similar. 'Expect' distance or speed or strength or endurance to be somewhat like yesterday, the day before, or last week.
Expectations are self-limiting thoughts; they give us a way out, a time to quit. "I expected to do this much, and I've done it."
Imagine if we always went beyond our own expectations, or completely abandoned them.
Rather than 'expecting' and even planning to see a certain result, I offer two options.
Option number one is to acknowledge the expectation when it comes up and plan an ambush for it. You may not realize it, but at some point you will say "I could probably do…" or "Today let's see if I can…"
When you hear these thoughts, speak these words, or write your plan down in your training journal, the ambush is set. You are prepared to kill. You are prepared to destroy. Now, think ahead to the time in your workout when the 'expectation' will be fulfilled. Is it after the eighth interval? The fifth set? The hundredth squat?
FIND THE MOMENT. Find the moment of expectation.
The ambush is set and you know when it will take place. When that moment comes, when you've met your initial expectation, attack it. Keep going. Go Farther. Push your mind beyond your perceived limits and crush the expectation. This attitude, this ambush on 'expectation,' instills a drive to Go Farther in other areas of your life; it is a revolution of thought.
Option number two is to let go of expectations for unfamiliar terrain and experience. Writing your first book? Starting a new business? Getting married? Participating in your first ultra-endurance event?
Abandon expectations.
Why? Why not evaluate possibilities and examine traits that may lead to a specific result?
Any task of great importance, in vast and unfamiliar territory, will provide much challenge and adventure and change. The opportunity to be present in your moment, whether its 100 pages into your new book, two years into a struggling new business, five years into a marriage, or at mile 90 of your first 100 mile race, will provide a plethora of information that can be taken and used elsewhere in life, information that can be used on your next book, your second business, a friend's struggling marriage, or your next ultramarathon.
These could be your thoughts at mile 90: "Why didn't I reach mile 80 as fast as expected?" or "Why are my feet in such bad shape?" or "I didn't expect it to rain!"
Take a step back. You've never been here before. Why did you expect anything? Why are you not focused on the end, the actual goal, rather than reminiscing about expectations for something completely unknown and mysterious? Be present and focused on the goal, not the thoughts, hopes, and fears that plagued you before starting.
Mental fatigue is real; if you cannot plan to ambush and crush expectations, abandon them and learn. Experience and grow.
Around mile 45 there was some hilly single-track. I sent some family who could not attend a smiling selfie expressing a healthy mind and body as I neared the back half of the race.
I came into mile 50.1, the Boston Mills Aid Station of the Burning River 100, after running for 11 hours 33 minutes and 20 seconds. This time put my pace at 13:57/mile.
When I had run my first 50 miler 16 weeks prior, I finished at an average pace of 12:49/mile. I was again pleased with my time when I reached Boston Mills.
Coming out of Boston Mills, I had my first low point of real frustration. All because of the Ohio and Erie Canal Towpath Trail.
I found out over the course of this race that I wasn't the only one who disliked towpath so much, and I still can't nail down exactly what is so dreadful about it. Perhaps the monotony of the terrain, or the sun exposure, or the visual distortion (am I the only one that can never tell if towpath is going uphill or is staying flat?). Either way, I walked a bit more than necessary on this stretch of towpath that apparently only lasted for a mile and a half or so.
I wouldn't see my crew from Boston Mills until Ledges Aid Station at mile 66. My pace gradually decreased over this time period from 13:57/mile to 15:21/mile. I think I remember the terrain being a bit more monotonous during this time and I felt slowed by mental fatigue; I was ready to see my crew.
Up to this point the thought of a DNF (did not finish) had not crossed my mind. I was still calmly confident; the terrain had been Ohio-like with a few minor climbs, but nothing to deter my will and mindset. I was rooted in the mission, even with the slow pace.
I texted my Crew Chief (thanks, mom) at 7:19 PM while I stopped for water at mile 61.2, over 15 hours into the race, and told her it would be "slow rolling" and that it would likely take me two hours to reach them at mile 66.
Just over an hour and a half later I saw my crew again at Ledges Aid Station at mile 66. My pace when I reached this point was 15:21/mile.
Ledges Aid Station of the Burning River 100 was the last time I felt confident in finishing. It was when the course changed for me; I would race the clock for nearly 30 miles, fighting frustration and pain the entire way.
My 'expectations' for the state of Ohio were shattered after mile 66. Funny how expectations about yourself and the environment need to be considered when ridding them from your mind, or when planning an ambush.
Perhaps I could have ambushed this final 30 miles had I expected and trained for it, but I digress. I shed expectation as my training was subpar and here I was, with 30 miles and many hours to go over rough terrain.
I'm not going to sit here and claim these were mountains or some advanced tough terrain; this was my first 100 mile ultramarathon and I have no idea if this course is suited for beginner ultrarunners. I do know this: these hills destroyed me. They knew I was coming; they knew my downhill technical skills were weak. The hills, the steep climbs and wicked descents, saw their opportunity when darkness fell.
My girlfriend paced me from miles 66 to 71.8 and I lost about 53 seconds on my pace. Add one minute on your pace every 6 miles with 30 miles to finish and you might be in trouble.
In trouble I was.
My friend (and cofounder of Wicked Trail) Alex paced me for a 'quick' 3.8 mile loop and we added only four seconds to my pace; he kept me moving over some dark and technical terrain. I felt strong during this loop but when he and I arrived back at Pine Hollow Aid Station, the beginning and end of this first loop, I started to do math.
"Don't do the math," my mom said.
I couldn't help it. The terrain was becoming rougher. I took inventory of my body and knew my right ankle was getting bludgeoned by the downhills and my hamstring strained by the uphills; it was all technical terrain. Stopping for even a moment sent my teeth chattering in the cool night and muscle stiffness set in quickly.
I'll take some towpath now, please.
This was one of the lowest points. Mile 75.6: 20 hours and 49 minutes. Estimated time of finishing (if pace was maintained): 28 hours.
If I maintained the pace Alex and I had just 'crushed' on that short loop, I would finish two hours ahead of cutoff. My mom later told me that the crew was getting a bit nervous about the time at this point.
The people I dragged into this didn't think I was going to make it.
Neither did I.
I wouldn't see my crew again for 16.1 miles. My girlfriend, who has never run more than 8 or so miles in her life, walked with me during this period. It took us a dark, painful, and hilly 6 hours and 25 minutes of power hiking the uphills and limping the downhills, exhaling through gritted teeth, to see my crew again. She found two sticks that I picked up and used as supports on the downs; my ankle was in bad shape.
I remember the Covered Bridge Loop well; it was exhausting and technical. The hills of that loop behind me, I asked an Aid Station volunteer the distance to the next station. He must have seen me looking at my watch because he said "You've come this far; you'll get there."
Another lady chimed in: "The hardest part is behind you; except for a few sections, the terrain ahead is smooth and mostly flat."
We left the pirate-themed aid station of Covered Bridge, abandoned my primal hiking poles, and immediately were on roads, heading away from mile 85. My girlfriend encouraged me to run, but the distance ahead seemed too insurmountable against the odds; the pain was too real in the early morning darkness. Frustrated tears in my eyes, I continued shuffling along, wondering where all the other 100-mile runners were.
Low points are worth mentioning.
A long run, an ultramarathon, parallels life. The toils of an ultramarathon are indistinguishable from the toils of life.
The physical pain and mental torment experienced when one runs fifty miles or one hundred miles or more is, while most do not realize it, familiar to many people because life prescribes these things on its own. They are a part of life! Tears, sweat, blood, frowns, arguments, anger, regret, frustration, pain; this is life.
Life's pain can be summarized in an ultra, this long run.
The difference is running an ultramarathon beats life to the punch. Life didn't prescribe the pain, THE RUNNER did. And life doesn't pull the pain away and deliver the pleasure of success; THE RUNNER does!
The runner prescribed the pain. Why?
When one lives with an understanding of life's mischief –the rollercoaster of its pains and joys– you become mentally prepared for the lows; the pain, tears, blood, sweat, and falls are expected. They are even a part of the strategy. To understand and strategize the mischief of life, one must experience it with an open mind.
Many people are rightfully taught to anticipate adversity and treat it as equal to victory (remain emotionally neutral to each); a failure to do so results in low depression during the worst of times and peaks of joy, ready to crash down, during the best of times. Emotional stability is a byproduct of understanding life's mischief.
Beat life to the punch. Do not be a victim to life. Do not wait to be pulled off the precarious cliff. Jump off. Do not fear the dark forest. Run into it. Do not sit idly as life robs you of comfort. REJECT COMFORT.
When you run an ultramarathon, you feel the nature of life in all its mischief, packed into a trail. This experience, the physical exhaustion and mental torment alongside the elation and laughs, gives one a clear understanding of life's mischief. It necessitates one strategizing around broken blisters, twisted ankles, sickness, severe weather, loneliness. The bad carries you forward to the good, and the good gets you back on the trail until you reach the goal.
Life is an ultramarathon.
My lowest point, the epitome of life's mischief, came when I was told it was only about another mile and a half to the next aid station where I would see my crew. This aid station would be past mile 91; the end would be in sight.
45 minutes later, Daniela and I were still shuffling down dark trails and dodging roots and rocks. Every twist and turn teased my imagination and played with my emotions until finally, at mile 91.7 and with 2 hours 45 minutes and 38 seconds until the final cutoff, I reached Botzum Parking Aid Station.
I remember stopping multiple times during this 45 minutes and putting my hands on my knees, breathing in the frustration and the pain; I was in disbelief of my time and how far I had come, but still had to go.
I changed into a short sleeve shirt as the sun was now beaming bright on a warm Ohio morning and looked at Alex who would be pacing for me from this point to the finish line.
"Let's go. We are moving at a 16-something per mile pace. That is what we have to do. You will finish."
We had about 10 miles to go; I had reached this aid station 5 minutes before its official closure and a kind volunteer told me to blow by the next one and just keep moving. "Don't stop."
I was in bad shape, a pale shadow of the runner who started over 27 hours ago.
We set off down a smooth, asphalt, Wicked Trail.
Alex, I'd like to point out, is not a runner. He's strong and in great shape, but something about him moving me for the next 10 miles made me a bit nervous. In reality, I had nothing to be nervous about. He should have been, and probably was, nervous for me.
My projected finish time when I reached Botzum Parking at mile 91.7 was 30 hours 7 minutes 37 seconds.
Seven minutes after the 100-mile cutoff time. Seven minutes. How many aid station visits could I have cut shorter? How many times should I have ran instead of walking, like on the towpath at mile 50? How many short pauses to rest, or stretch, or let someone pass me could I have skipped?
We kept moving. I did not want this day to end in the realm of "What if?" or "What could I have done?"
The next ten miles defined the weekend for me. We ran, yes "ran," sections of it at near a 9:00/mile pace. Something switched in my mind. It may have been the sun coming up, those fig bars some lady gave me at Botzum Parking, or the way I was talking to myself.
I knew it wouldn't be easy, but I decided anything less than everything was not enough.
"Mind over matter; if you don't mind, it don't matter. George, do you mind?"
"No."
"Do you mind the pain? Will it get worse? Will it last forever? Can you do anything about it?"
"No."
"Can you finish this race?"
"Yes."
"Keep running. Run now. Faster. Good. Keep going."
This self-talk, this real conversation I repeated in my head, made me run when I didn't know if I could, when I didn't even think I would make the cutoff.
Our average pace from Botzum Parking at mile 91.7 to Memorial Parkway at mile 97.1 was 14:22/mile with a maximum mile split of 12:15/mile according to an app Alex turned on.
Those short distances of actual running, something I never thought possible, followed by power walking behind him paid off big. 2 hours and 35 minutes to cover the last ~10 miles put our needed pace at just over a 16-minute mile.
I hadn't come anywhere close to this number for 30 miles.
Daniela encouraged me to move faster, but I couldn't; my thoughts were controlling my actions then, just as they were now. "My ankle hurts too bad. There's still so far to go. I may not make it."
But I decided I did not mind, and it did not matter.
Pain, fatigue, fear; these all vanish with decisions.
"Do you mind the pain? Will it get worse? Will it last forever? Can you do anything about it?"
No.
I was the last finisher across the line in 29 hours 50 minutes and 43 seconds.
I finished with 9 minutes and 17 seconds to spare.
Discipline and decisions in small moments can make or break a goal. I didn't think, over the course of one hundred miles, that a minute here or two minutes there would mean much; they meant the world. They meant completion.
They could have just as easily meant a DNF. It is always your decision; if you do not decide promptly, however, you may not get to decide at all.
At Wicked Trail Running, we have 5 Core Tenets. They, along with their impact on my 2018 Burning River 100 ultra, are as follows:
George at the finish line of the Burning River 100 Endurance Run.
Written by Tom Atkinson
Pre-race
I've been focused on this race since my last ultra in February (St Peter's Way, 42 miles and the previous furthest I've ever run). Training went pretty well, the only low point being when I attempted my longest training run (40 miles) on a 30°C day. I lasted 17 miles and a lot of that was walking. I always knew the heat was my nemesis and this confirmed it. Part of my preparation now came about frantically checking the forecast from about 2 weeks out, willing the temperature to be as low as possible.
Needless to say I spent a troubled night the night before the race – a mix of nervous energy and anticipation rendering my 9:30pm early night pointless as I lay there counting down the number of hours sleep I still had left knowing my alarm was set for 4am. I think I dropped off before midnight.
The travel to the race all went well, thanks to the incredible support of my wife Laura (which would only get stronger during the day) driving me to Newmarket at 5am in the morning. We parked up and went to the Memorial hall where registration was taking place. Here my usual pre-race nerves kicked in as I appraised the other runners, who I always consider 'proper runners' exposing me as the novice I still feel at ultras (this was my third). They're wearing gaiters, do I need gaiters? I think I'm carrying too much food? Do I need to carry a waterproof? Have I got the wrong type of shoes on? Should I be in a vest or a t-shirt? Poles? Do I need poles?
Having passed the kit check, picked up my number and negotiated the pre-race poo queue (far longer for the men than the women much to everyone's amusement) – it was time for the race briefing. During this we were advised to take down the race director's number which we were to text if we had to drop out. I prayed I wouldn't need it. A last minute decision to empty my third water 500ml bottle and to stow it empty in the back of my vest proved to be a good one – I didn't need it during the first two legs but boy did I later on in the race as heat and de-hydration got the better of me.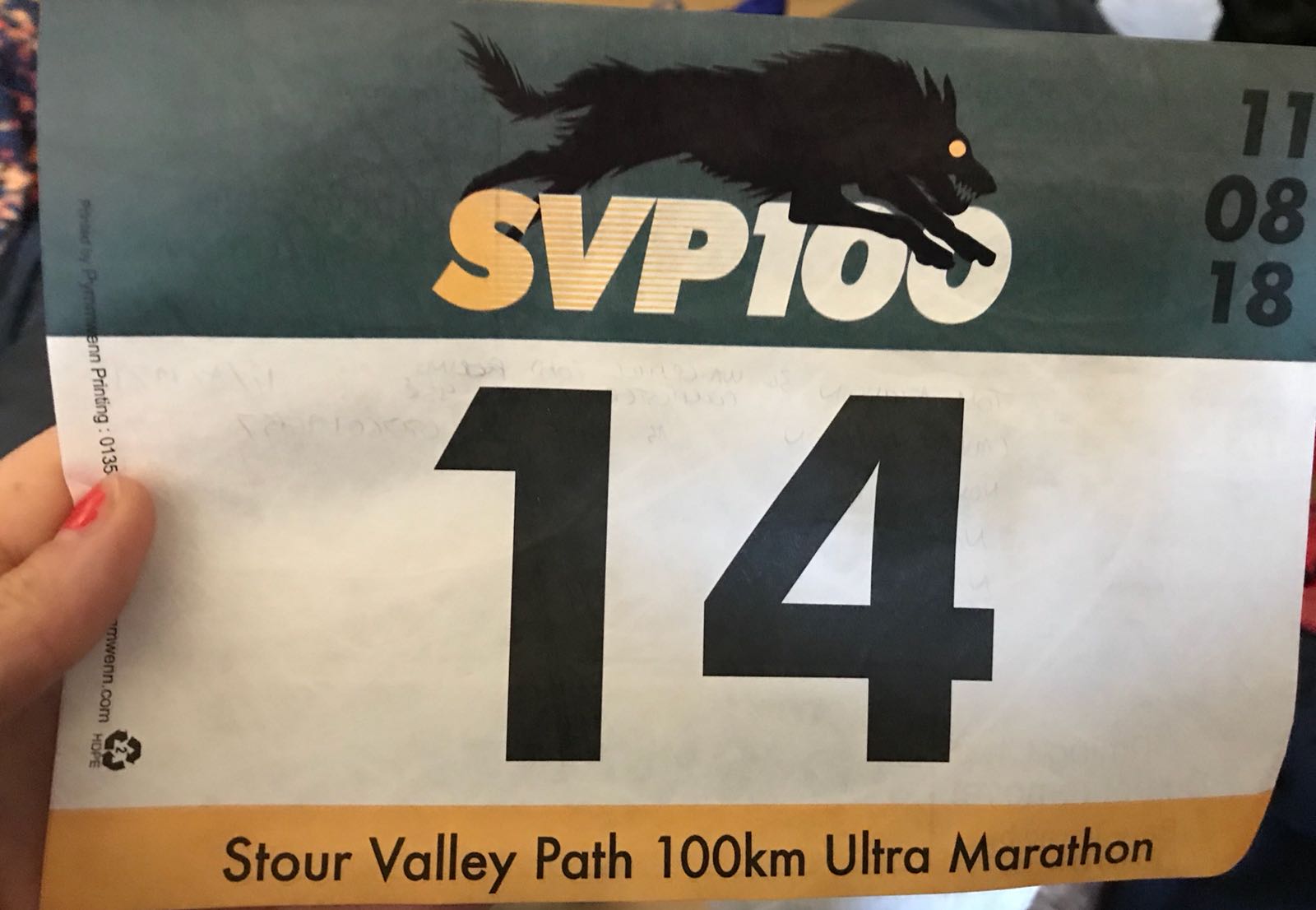 Then it was a short walk to the start, 150+ people filing out of the two doors in a hall obviously took a while and because of my trip to the toilets to empty the water bottle we were near the back. No bother, there was a long stream of people to follow down the road and we were far from the last people. While walking to the start I was chatting to Laura, confirming the plan for the day and where she'd try to meet me. Wait, was that an air-horn? Turns out the race had started and I (as well as a few other runners) were still a couple of hundred yards from the start. Pissing hell, I was behind schedule and hadn't even crossed the line yet!
Leg 1 – 12 miles
After a somewhat hurried goodbye to my wife I crossed the start line and about 50 yards later remembered to start my watch. I tried to calm myself after the non-ideal start – "it's not a bad thing to be at the back, don't go chasing people at this stage of the race". This actually proved to be a real blessing in disguise. After the first mile or so running out of Newmarket the race hung a left onto a trail that was narrow with steep banks either side, very much single file with over-taking tricky. This meant my pace was dictated by others and I found myself pleased I wasn't further up the field as I'd have probably gone at the same pace as whoever was in front but the mile splits (about 10:45 per mile) confirmed that I was in the right place, that was as fast as I wanted to start. This was articulated by the guy in front who observed after about 2 miles "well if we keep this pace up we'll finish in the top 10". I certainly didn't keep the pace up but at that stage of the race it felt about right, got some faster miles in while I was fresh and hopefully started to eat into the cut-off – something I was most concerned about for the early legs.
The leg passed pretty well, this early in the race navigation wasn't too much of a problem as there was always people to follow and I came into the first checkpoint 10 minutes ahead of cut-off and feeling like everything was going to plan. The checkpoint established a trend about just how brilliant the volunteers were for the day, my water bottles were re-filled, words of encouragement were shared and within a few minutes I was walking off with a handful of hoola-hoops and a couple of mini scotch eggs.
Leg 2 – 11 miles
Onto leg two and I continued to feel ok, managing to smile at the photographer as he made a couple of appearances and intrigued by the drone that was flying overhead. It was during this leg that I made my only navigation mistake – the comfort that following others in leg 1 gave me proved to be my downfall as a group of us took a turn across a narrow bridge, past a horse field and then to a fork in the path. Something didn't feel right and a few of us paused - one lady checked the GPS route on her phone and it confirmed we shouldn't have turned at the bridge. Quick backtrack and no more than a few minutes lost, no harm done. Apologies to the three guys that had gone ahead, they were out of earshot before we realised the mistake. Hopefully there was karma for this as I corrected three other runners on separate occasions later in the race.
My pacing proved pretty consistent, slowing a little but still managing to run except for the hills, the day was starting to warm up but I came into CP2 feeling like things were still going very much to plan. Quick re-fill of the bottles, including the spare third one given that dehydration was starting to creep in, some melon and a handful of snacks and it was onto leg 3.
Leg 3 – 10 miles
A couple of miles into Leg 3 and I wasn't in such a good place. It was now the middle of the day and whilst the thermometer didn't hit the 30+°C I'd been worried about a few weeks before the mid-20°s temperature was still enough to throw me off kilter, I'm really not great in the heat. I started cramping somewhere around 27 miles and couldn't shake it off, having to slow to a walk. Try to run? Cramp. Climb over a stile? Cramp. Hang on, I was climbing over a stile and that triggered cramp? "You're cramping my style" I said out loud, knowing there was no-one in earshot and gave a little chuckle. It's an indication of my mental fragility (and sense of humour) that that little pun kept me amused for the next 9.5 hours every time I came to a stile, i.e. about 20 times, even long after the cramps had passed.
Despite the pun this proved to be the first of two lows of the race. I was aware I was losing the time against the cut-offs that' I'd steadily built up in the first two legs and just couldn't get myself going at an even pace. This was compounded by the fact that in my (not so) carefully-prepared spreadsheet I'd put together I'd written the cut-off time wrong – meaning I thought I only arrived with 10 mins to spare whereas it was a much more comfortable 30. Still, the demons had set in and I started to convince myself that if I was only halfway, suffering from cramp, struggling to run and losing time then a finish started to feel very doubtful.
I cracked on regardless; encouraged by the fact Laura was due to meet me at the next checkpoint. Finding the checkpoint seemed to take forever, I'd never been to Long Melford before but now know why it's not called 'Melford'. It went on forever and I was kindly guided in by a runner behind who kept telling me to keep going and where the turn-off to the cricket club was as she must have seen my desperate glances for red tape to indicate it was time to get to the checkpoint.
Bonus, on entering the checkpoint I saw my Dad there clapping me in and Laura just a bit further on. Seeing family and having people support you makes such a difference to me and this was exactly the boost I needed at a time where I needed it most. I put them to work, having a 'crew' for the first time ever – filling water bottles, putting bodyglide on my shoulders, things I easily could have done myself but relished the opportunity not to have to. I asked them to walk out of the checkpoint with me as I had a handful of crisps and jelly beans to eat but quickly realised I was essentially just trying to prolong the feeling of having support with me and if I was going to make the finish I had to do it on my own. I asked them to head back and found my voice faltering during my good-byes as I was hit by a wave of emotion. Despite the boost the check-point had given me, I didn't think I was going to finish. I thought they were thinking I wasn't going to finish. Was this game over?
Leg 4 – 9 miles
Nope! Turns out some salty snacks and flat coke were all I needed to get into a much better physical place and a text from Laura confirming my cut-off timing error meant that mental strength soon followed. Back in the game!
If you look at my splits there may not be that much variation in what had gone before but mentally and physically I was feeling much better. This was enhanced once I hit Sudbury – due to the great support outside the pub there but also the fact that I'd recced the route from here so things were a bit more familiar and navigation became slightly one less thing to worry about.
Another error in my (not so) carefully prepared spreadsheet saw me turn a corner to unexpectedly see a volunteer in a yellow t-shirt and hear him say "the checkpoint's just around the corner". Really? I had it down as another 2 miles away and whilst I still had to run those miles it was a nice surprise to feel I'd reached a milestone 'early'. And what a checkpoint it was! All the volunteers were exceptional throughout the day and the provisions offering every type of fuel you could hope for but this checkpoint stood out on both counts. The plethora of snacks in front of me was dazzling in its array; boiled eggs and boiled potatoes dipped in salt which at that time tasted better than anything I've ever had in any restaurant, melon, watermelon, pineapple, crisps, I had to practically drag myself away. Also, sensing the dehydration I'd been suffering I opted to fill my third bottle with electrolyte rather than the plain water I'd had on the last couple of legs (I was filling my other two bottles with water and hydration tabs I'd brought with me). There was a great volunteer here too who told me he'd run the race twice and mapped out what was to come in terms of getting to the remaining checkpoints, cut off times and where the hills were. I saw him again at the finish and thanked him for this – his advice really helped and gave me back the belief that I really could finish this thing.
Leg 5 – 8 miles
I set off with a spring in my step (metaphorically), eggs in my belly and a positive outlook in my mind. 2 miles later and low point number 2 struck. My stomach didn't feel right and I felt severely lacking in energy, it's points like this where I feel my lack of experience shows in ultrarunning. I know something is wrong but without knowing what's causing it I don't know how to fix it? Did I need to vomit? Have a poo? Had I eaten too much or not eaten enough? Drunk too much or not enough? Paying for breaking the 'nothing new on race day' mantra by drinking the electrolyte? Dodgy egg? I settled on what seemed the most appropriate solution: walking with the occasional dry retch. I ground this out for about a mile and a half which probably took me over 25 minutes, my slowest moving pace of the whole day by far but, thankfully, it seemed to work, my stomach settled and I felt my strength returning.
I was probably about 45 miles in by this stage – into unchartered territory as the furthest I've ever run and I realised I needed a better strategy than 'walk when you feel like you can't run (shuffle), run (shuffle) when you feel like you don't need to walk' which I'd been following up to that point. I decided to walk the first ¼ of each mile then run (shuffle) the remaining ¾, deviating from this only if there was a hill, resolving to walk up them and run (shuffle) down them. This strategy worked a treat and I may have stretched the walking ¼ mile on occasion and become very flexible in my definition of 'uphill' but I loosely stuck with this right through to the final checkpoint.
Coming into Nayland I spotted a runner going off track, making exactly the same mistake I did when I recced the route; paying no attention to social regard I bellowed at him as loud as I could and waved my arms to bring him back on track and it seemed to work. I then enjoyed the run along the river to the checkpoint, the signs put out by the volunteers building the excitement of getting there.
Laura had texted me to say that she'd changed her plans for the day and would meet me at the checkpoint, I think she was worried by how she'd left me previously. A sign of how well I was moving though was the fact I got there about 5 minutes before her, beating my predicted time. This was real bonus time, Laura, my parents and my two kids came to meet me at this checkpoint, something I really wasn't expecting because of the logistics of getting them all there. The lift to my spirits was immeasurable. I changed t-shirt and socks, ditched some of the extra gear I'd been carrying for so long and re-fueled. I probably stayed at the checkpoint a bit too long but I could feel my positivity and determination growing as I was surrounded by my family. I had 4.5 hours to do a half marathon and I set off, confident that if absolutely necessary I could probably walk it in from there.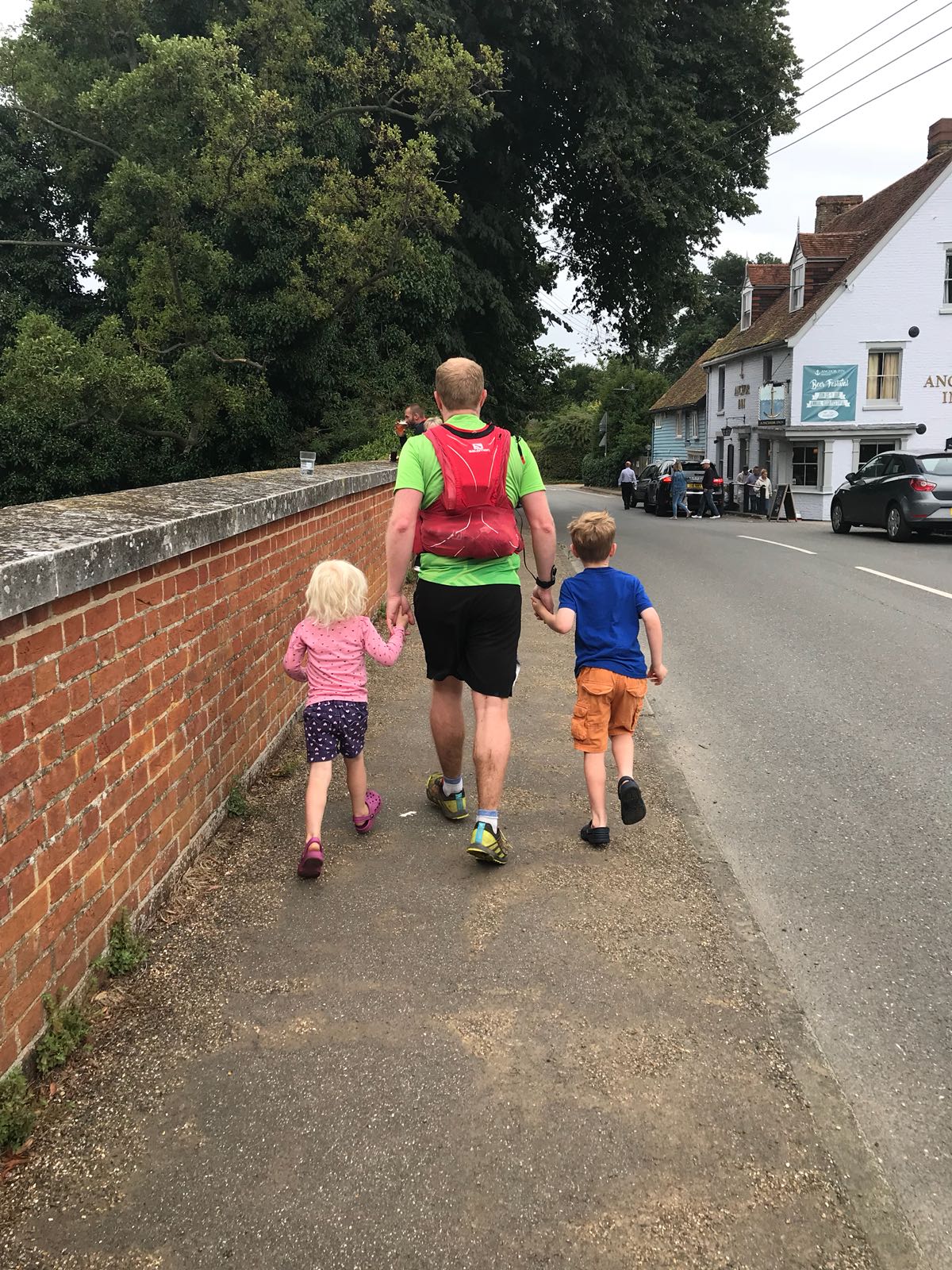 Leg 6 – 8.5 miles
I climbed up the steps with my family and at my son's insistence ran (shuffled) with him and my daughter across the bridge before leaving them, promising to meet them at the next check point as soon as I could. The thought of seeing them again at the last checkpoint and the finish really spurred me on.
Coming out of Nayland there's a big climb, as with all the climbs in this leg it seemed to have tripled in length and gradient since my recce run but I was remembering the advice of the guy from CP4 – get these hills behind me and it was flat / downhill all the way in. Considering it was 8 miles the leg passed well, indicated by the fact that there's not really much I can recall of incident during this leg, the walk-run (shuffle) strategy was working well for me and it may not have been a rapid pace but it was steady and effective.
I hit the road, spotted CP6 and then more importantly spotted my family who seemed oblivious to the fact I was coming in – maybe I'd covered this stage quicker than I and they were expecting. They spotted me in my final approach and as their cheers mixed with those of the still-enthusiastic volunteers I realised that barring disaster or accident I really was going to make this. I felt strong and didn't really need to linger here – headtorch out, glass of coke, few snacks (can't remember what), refill of the bottles, hugs and kisses from all the family and I was off.
Leg 7 – 4.5 miles
I headed out of the checkpoint with about 5 other runners, a group of women from the 50 and a guy from the 100. I was thinking it would be good to have some company on this last leg but as I'd found all day I preferred to be on my own. It's not that I don't want to run with others, in fact I like the company but I always want to go at my pace – when I'd fallen in with people earlier in the race it was too tempting to slow to a walk just because they were.
So, in the descending gloom I ran (shuffled) off, having to turn the head torch on about 4 miles from the finish. Past Dedham and Flatford, I knew this part well and despite correcting two other runners whose lights seemed to be heading in the wrong direction I still managed to make one minor error; coming off a bridge I should have headed diagonally across a field but instead followed the river – meaning I ended up covering two sides of a triangle instead of the hypotenuse but there was really no harm done.
It was now fully dark and had started to rain, I was walking as the ground was pretty rough and visibility was poor plus I wanted to save a final run (shuffle) into the finish once I hit the road – something that seemed an age to come given I could see the lights of Brantham from some way off. Eventually it did come, I hit the road, broke into a faltering run (this really was a shuffle) and headed for home. Coming up to the main road I spotted a guy in a yellow volunteer t-shirt and asked him a question that he'd probably already been asked 100 times that day "how much longer to go"? "700m" came the reply. 700m, less than half a mile, COME ON!
I headed off, past the pub, round the corner. I'd not gone right to the finish on my recce, heading to the station instead (and choosing to save that bit for race day) but I'd looked at this part of the course studiously as part of my race prep. There should be an alleyway on my left…where was it….have I gone too far…hasn't that been half a mile already…this is it…nope that's a driveway….should I double back…..I can see the finish, where's the turning….boom! There it was. Left into the alley, there's the field…how do I get onto the field, it was all fenced in! I asked two lads on a bench (who clearly had been bothered with this question several times before) and they nonchalantly pointed to a gap in the fence.
This was it, the run for the line, the run for glory, the run to a medal and finisher t-shirt that I'd coveted so much, the run to achievement, the run to pride, the run to prove I could, the run to my kids, wife and parents. I could see them at the finish and beckoned the kids to come and join me, but I'm not sure they could see in the darkness and instead broke into a full on run. This was no shuffle and whilst it might not be deemed a sprint finish it was the best I had, even contriving to manage a jump in the air (I think both feet left the ground at the same time) as I approached the line.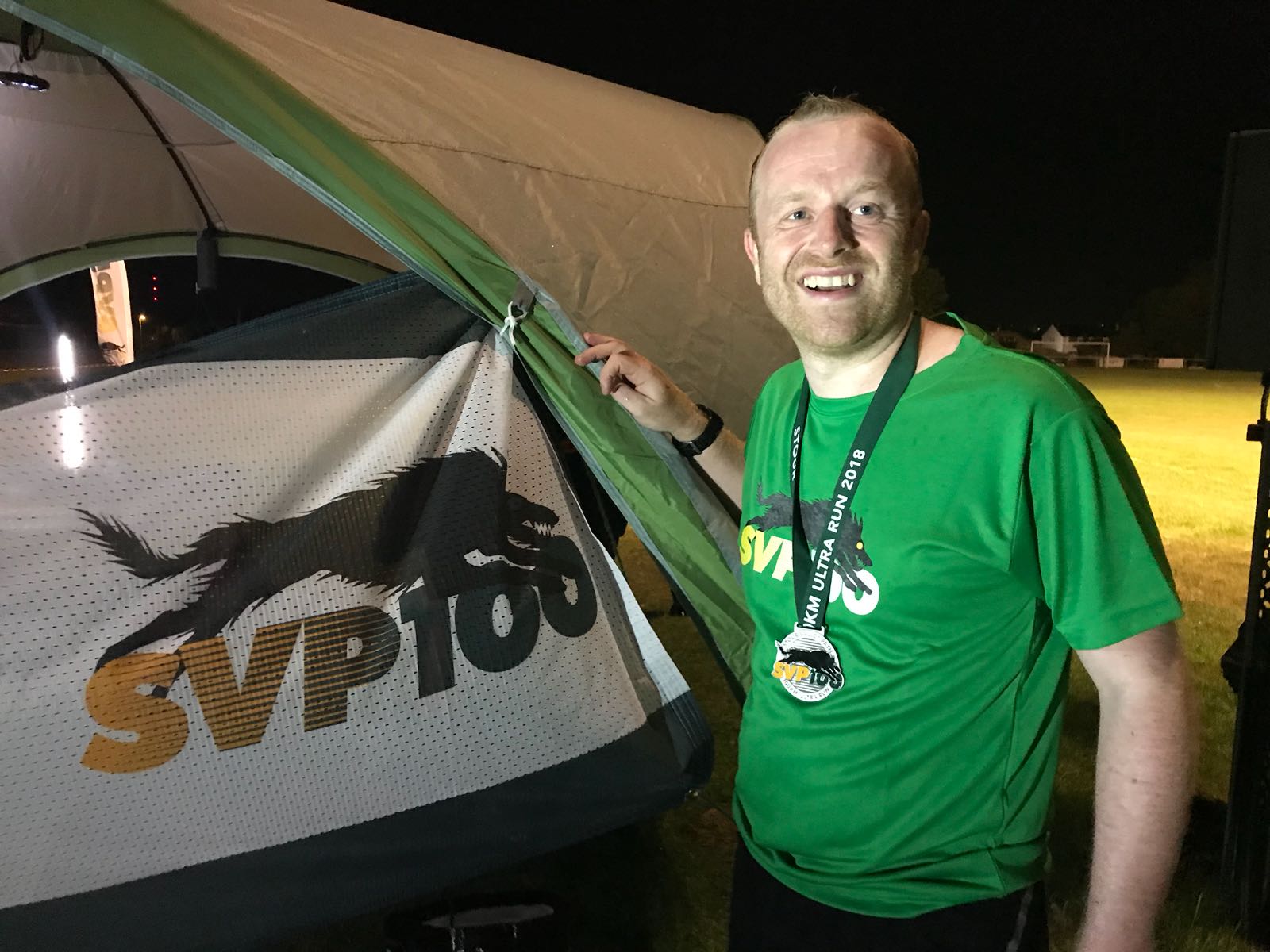 102km / 63.5 miles. 14 hours 29 minutes 41 seconds. Not bad considering when people had been asking me in the run up how long it would take my stock response had been "well I'd be happy with anything under the cut-off of 15 and a half hours but I'd estimate 14 and a half". I was far from the fastest on the day and marvel at the achievements of those ahead of me, there were others that probably suffered more than me and had to dig deeper but I'll be surprised if there were many more proud than me at crossing that line.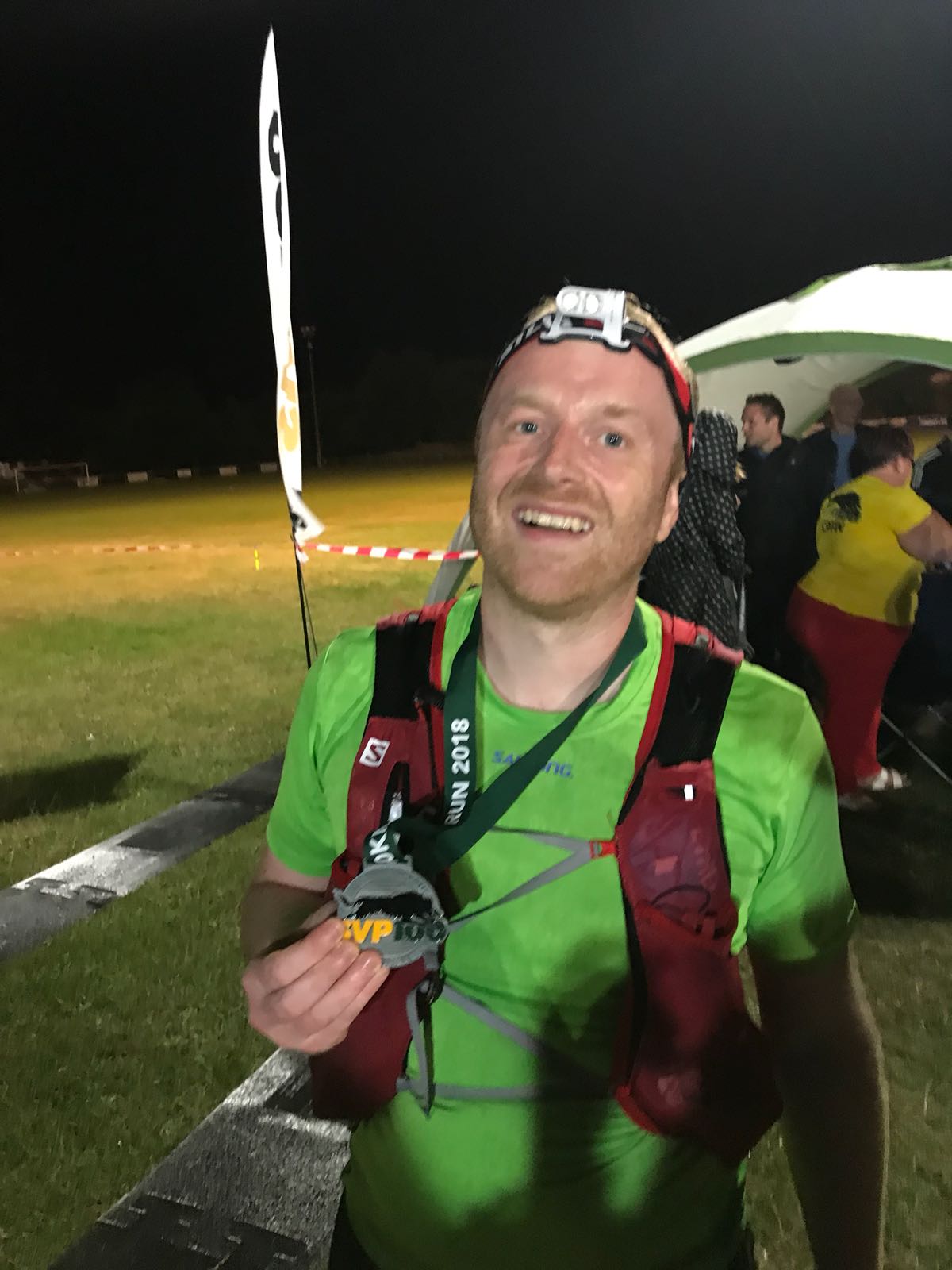 This is a great race, comfortably the best organised, and well-spirited I've run. The organisers, volunteers and other runners were inspirational throughout and I simply don't think I'd have made it without the ongoing support of my family. I hope to run 100km again and do entertain ideas of going further one day but this, my first 100km, will always remain very special to me.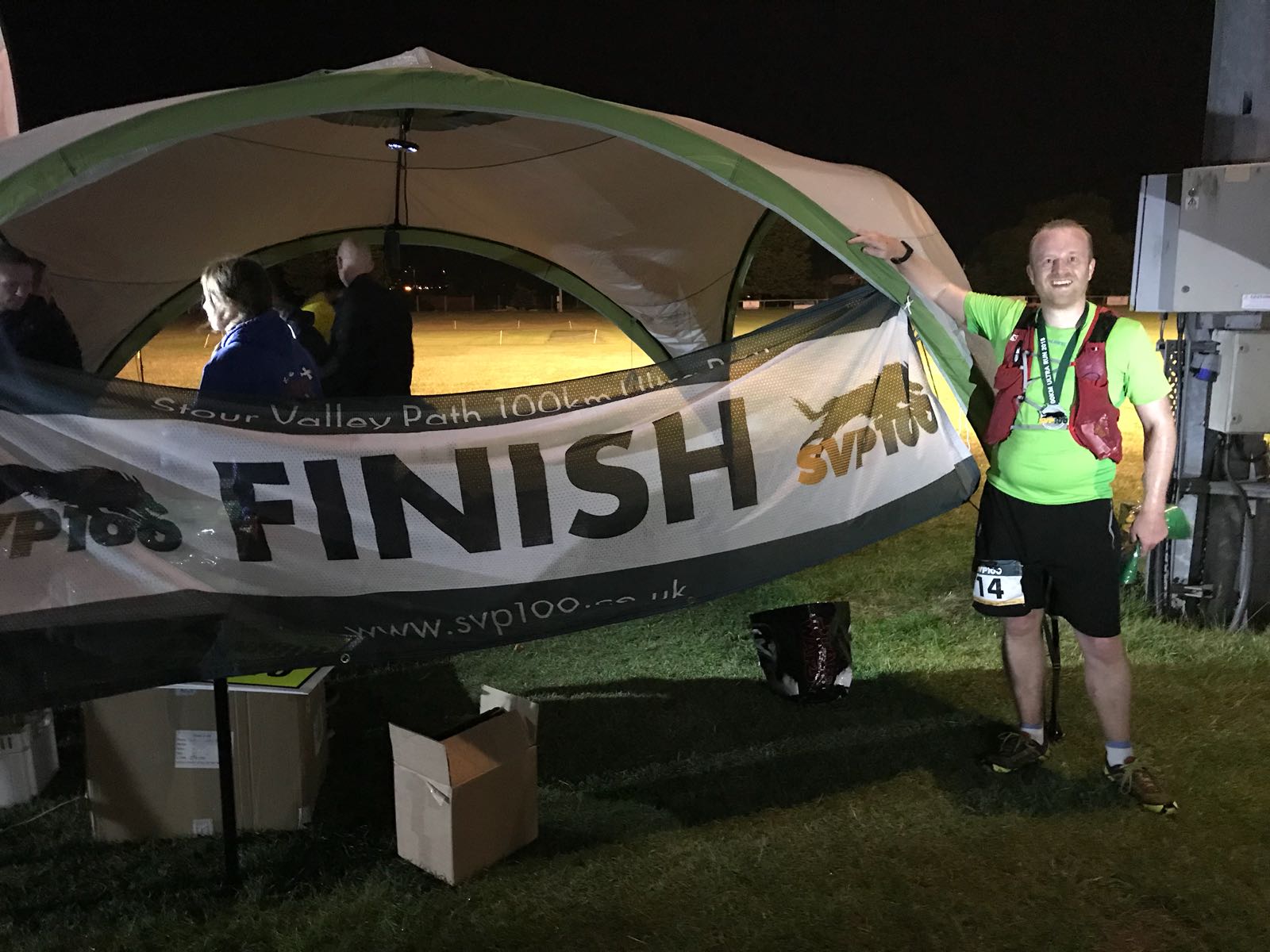 Written by Mick Farrar - https://runningoffthemadness.blogspot.fr
Race date: 7th April 2018
Run Walk Crawl
Location: Wales Coastal Path starting at Penarth and finishing at Ogmore-by-sea
Weather/Conditions: rain, waterlogged, overcast, muddy, local flooding, getting the picture?

2018 had started damp and by the end of March, the ground was extremely waterlogged. The final email from Run Walk Crawl and their Facebook update all recommended trail shoes with lots of grip, even though there are a good few miles on path and road. I had planned to run Manchester marathon over this weekend as I initially wanted to beat my PB and run with a very good friend, but then remembered I hate road racing. Having run the race last year I knew this was not an easy route and as the final race prior to TP100 I wanted to push myself a little, but also enjoy it.

Friday night arrived and the forecast changed to show yet more rain, yay! I spent a night in an Airbnb on Bridgend, preparing my kit and my mind for the race. Time to send the Black Dog off and relax.


The murky view from the start

I arrived at the car park in Ogmore-by-sea where the race finishes and the coaches pick you up and take you to the start in Penarth. I sat on the bus and zoned out, using meditation techniques to help me relax. After arrival, we had a quick kit check, down to the pier for a brief and then out to the race start. The rain continued to fall as the horn sounded and we were off!
We turned left off the pier and climbed along the coastal road and then picked up the path, already muddy and waterlogged, the hundreds of feet churned the ground even more. At 2 miles the path turns west, the thin row of bushes and trees barely hiding the cliff edge and giving no protection from the weather. As the route headed through Swanbridge the path winds its way around caravan and holiday home parks, much to the amusement of the Easter holidaymakers.
As we approached the outskirts of Barry, at about five and a half miles, we hit one more muddy section and then out onto the road, my trail shoes finding it hard to get much traction on the hard surface. The course loops around the docks and then further on into Barry, where the path became tiled and extremely slippery at times, I crossed the road and found the cycle path a lot easier to run on. Looping right out around the outskirts of Barry Island we passed through the finish of the local Parkrun to cheers and clapping, I knew full well that some of those runners had fought their own battles this morning and thanked them back.
At 20 miles we had passed the Aberthaw B power station and I stopped at the checkpoint for the first of my flat coke for the day. With only around a half marathon to go, now the hard part of the course. The route drops down into many coves and most of them you have to cross a few hundred meters of pebbles, the smallest being fist-sized. The whole process of crossing these sections was made harder by the fact the stones were wet and slippery. But hey, it was fun.
Written by Stacey Holloway - https://wayrunning.wordpress.com
I have given a full blow-by-blow race report on John Kynaston's final podcast; you can find ithere.
I completed the 96mile race in 33hrs and 5mins. I am under no assumptions, my finishing was part of a team effort. Without my crew, Neil Scott, Kristin and Jason Main, Susan Barley and my husband Max Holloway I could still be out there somewhere! I cannot thank each of them enough for helping me accomplish this goal, all were absolute heroes. Thank you also to everyone who supported me in the lead up including my family, but also a huge thank you to Liz Bennett. Liz sponsored me, keeping me injury free through my training and had my legs feeling their absolute best come race day. Thank you to the race organisers, volunteers, medics, marshels and supporters. You put on an immense race in every sense. I entered the race to understand myself better, to know how I would react come second sunset, and when the nausea and sleep deprivation hit. Here are some of my insights (the take away parts are in bold) as a first time West Highland Way Race runner and first time running an ultra distance past 53miles.
STARTING
It was the first time I did not have any nerves before a race. It was too big to comprehend, so I did not try. As we ran out under the arch with the high street lined with supporters I welled up and almost started crying right then!
Getting to the start line in a state to run the race was a greater challenge than the race itself. For 8 months I had to will myself to train consistently, to get the big days in and know when to hold back to prevent injury. Fear of injury and illness is huge. The week before the race I had a final massage with Liz and my legs felt amazing, but then I came down with 2 colds and stomach flu. It was hit and miss if I would start. Thankfully a lot of Vicks Vapor Rub and bed rest saw me to the start line, but not without a cost, I was wiped out.
Max, Neil and I all very excited at the start. Counting down to 1am!
Now on the other side of the race, I can confidently say that anyone who can run a challenging 50miler can, if they wanted to, run 100miles. And if you can run a 5 hour road marathon, you can run a challenging 50miler. My training averaged 30miles per week, 80% of which was done as walk commutes. My largest week was 60miles. I did manage one marathon, one 34miler and one 53miler in the build up.
DARKNESS PART 1
It turns out that I do not cope well running in the dark. The sky still had light in it and the moon was bright. The combined light of everyone's head torches lit the way so running was not treacherous. It was beautiful. But as the field thinned out I felt isolated and the darkness got me down. It was so early in the race and I was feeling very low.
Before embarking on a race that requires you to run straight through 2 consecutive nights, I advise that you run through a night in training. I put this aspect of my training off, happily listening to anyone who told me that I did not need to do a night run. In reality I was scared. As a woman who has grown up in cities, I have been socialized to fear night and fear darkness, especially alone.
NOT MY PHOTO! Credit to Andrew Condron
SLEEP DEPRIVATION
The mental and emotional toll of running through a night was not lost on me. I felt acutely the sleep deprivation and ache in my legs and actively pushed the panic out of my mind. A big surprise was the clouded mind and nausea from lack of sleep passed by the time I was on the low road (how much fun is running on the low road! Love it!!) and I was fine through the next day. I am sure sleep deprivation was a contributing factor to my physical and mental exhaustion, however, it never felt again like it did after the first night. Even after the race, sleep deprivation did not appear to be an issue, maybe adrenaline and happiness at finishing kept me buzzing!
Pre-race shut eye in our van after registration
If possible do bank sleep in the 2 weeks prior to racing and reduce your stress levels. I tapered physically, but not in any other way until the week prior and so when I stopped, I got sick. If possible try keep stress minimal at work in the lead up.
NOT A BIGGER FLING
A lot of people told me, it is just a Fling with a 42 mile walk at the end. This is not true! The first 53miles may be the Fling course, but it is not a Fling. Mentally it is an entirely different fish.
The first obvious difference is the atmosphere at the start. It is charged tense and focused, and this carried on through the 1st night and into the next day. There is no dancing and singing on the start line. Everyone stood silent, first in honor of Don Ritchie, and then stealing themselves for the race to begin. We ran in near silence through the night and by dawn I was alone. I ran a lot by myself in the first half of the race. The second and biggest difference is, obviously, the finish. The finish is not in Tyndrum! In the Fling when you reach Beinglas Farm you are nearly there and can realx in the knowledge you will make it. However, in this race Beinglas is just the beginning, a warm up, easing you into the race itself, as really, it has barely begun. And finally, to add, you have not slept for an entire night.
I did not let myself think beyond the next checkpoint. This is the single best advice I was given and the best advice I can give in return. Focus only on the next checkpoint, never more.
Me with my bestie on route to Bridge of Orchy. Past the point of my longest run to date. Approx 55 miles.
THE FEAR OF TIME
I loved the challenge, the unrelenting hours of onward focus, but the stress of cutoffs is hard. There was no time to let up or rest until I reached Kinlochelven, having to chase the cut offs at nearly every checkpoint. As I passed the 1st marathon mark I was still feeling low and wondering why I was running this thing. Then I realised I was 30mins down on time. If I carried on at this rate I would be timed out at 42miles. This knowledge hit me square in the chest and the weight of how much finishing this race meant to me propelled me on. I could not let Max and Neil down; they had been awake all night too! I banished feeling sorry for myself, put my iPod on and ran! Luckily, on the low road I met Karen, another runner and she pushed me on when I slowed and together we scrambled and weaved our way along the loch side well inside the cutoff.
The race is not measured in distance. Do not dwell on how far you have come, or how far is left to go. Just focus on how long to the next checkpoint before it is too late. The race is measured in hours… you calculate distance in time. Another thing to note, I began to dillydally once I was well within the cutoffs as the pressure was off. Prepare for this in advance and keep pushing on.
4.5 hours to Balmaha…. 2 hours to Rowedennen…. 2 hours to Inversanid… 3 hours to Beinlglas… 3 hours to Auchetyre… 1 hour to Tyndrum…. 2.5 hours to Bridge of Orchy… 3.5 hours to Glencoe… 4 hours to Kinlochleven…. Rest here til sunrise – 1.5 hours…. 6 hours to the Fort William.
Crew got it spot on at Balamha
COUNTING AND THE RANNOCH MOOR
I was afraid I would leave this race with a dislike of the Rannoch Moor, which would have made me regret the race. My favorite day in my life so far, was crossing Rannoch Moor the first time. Max and I walked the West Highland Way in 2016, a belated honeymoon/escape from recent horrors of writing our PhDs. The weather clear over the moor with a storm on the snow capped mountains surrounding us. You could see only moor for miles. It was the first time either of us had been this secluded from humans. I had never seen a landscape like it. On Baa Bridge, Max and I made a promise.
Once the sense of perplexion of Jelly Baby Hill had subsided, a feeling of nausea and general awfulness crashed through me. Thankfully, I had a WHWrace finisher crewing me. I asked Sue if I would feel like this for the rest of the race and she reassured me it would pass, it would just come in waves from now on. I was also with my best friend's husband who was in awe of the Moor, it was great to listen to his exclamations of how beautiful it was. My crew came up with a run-walk strategy of 30seconds on / 30seconds off and we would walk the up hills, picking off runners in front.
An excellent piece of advice gleamed from John's podcast was; if in a negative place, aim for a neutral place, not a positive one, as the jump is too great. John suggested counting as a strategy. At the time I thought this was ridiculous. I was caught in a negative mind loop and my mind needed a new loop, a neutral one that cost me nothing emotionally. I began counting my footsteps. Counting to 20 was too difficult as the teens are two syllabled so do not fit in time with my cadence. So I would count to ten on one foot and then on the other. On the Moor I did this non-stop for hours.
In this way we made it over the moor in my predicted time and arrived at Glencoe at 10.30pm. Getting over the moor took everything mentally; having Max at the checkpoints and not with me gave me the extra incentive to push on. I wanted to see him desperately. On my arrival, straight into his arms I was overcome with emotion and had to sit and sob for a few minutes to the distress of my crew. I reassured them I was fine, I just needed to get it out. I could not hold myself together if I held this in.
Just before the waves of awfulness hit. Jase, Sue and me with the hardest tree in Scotland.
DARKNESS PART 2
Somewhere on the ascent of the Devil's staircase my mind snapped. My last rational thought was reflecting on the myths of drunken miners falling to their deaths as they made the treacherous journey from the nearest bar at the Kings house on Rannoch Moor, back to their homes in Kinlochleven. Having made this climb three times before with relative ease, it was not until now, in darkness, that I appreciated its name.
A sobbing mess by 80miles. 26hours running and 48 hours without sleep. Not coping with the darkness.
Unlike the first night, there was no light in the sky. The only light was from our own head torches and those few bobbing around somewhere ahead of us. As the staircase ascended deeper into the cloud, visibility even with torches dropped. On the summit I text Max to let him know we are at the top and found I had no signal. For the first time in the race, I could not contact Max and, looking back, this may have been the trigger to my mental breakdown. As the race progressed, physical pain melted away and I now had little feeling or awareness of my body and struggled to read its needs. The most dire of which was that I could not tell if I was thirsty and an extreme paranoia gripped me that I was over drinking. My mouth completely dry, I tried to refuse myself water. When I did drink I instantly needed to go to the toilet and the panic deepened.
Neil and I skirted the mountainside towards Kinlochleven. I could not feel my body, did not know where I was and could not see anything not in the direct beam of Neil's amazing torch. I could not ground myself in reality and my mind snapped, with my body somewhere to my left walking onwards purposely, as it had been ordered to. I must find light again. At some point I realized I could use my voice as an anchor to reality, but I was unsure of what I was saying and very aware of that. I asked Neil to tell me stories as I could not cope anymore. He talked about his family and mutual friends and races and it helped take my mind somewhere other than where it was drifting. Eventually, we made it to the medical centre. Runners were lying on mattresses with ice strapped to them and in a terrible state. I sat on a mattress crying, trying to explain that the reason I was upset was because I was scared of the dark and I could not tell if I was thirsty, to the bemused look of the medical team. Max surrounded my mattress with food options – cereal, milk, porridge, pasta… I had stopped eating at Tyndrum and managed only the milk. I refused to leave until the sun was up. The darkness, an absolute terror, no one could make me face again.
Leaving Kinlochleven at sunrise.
WHEN YOU HAVE NOTHING LEFT, BUT MUST FIND MORE
The Lairig Mhor and fire road were a relentless torture and I look back on this section as my only regret as I did not handle this well. I had given up and was simply carrying on as there was really nowhere else to go. Max tried to comfort me by telling me it was just 10km left. I sobbed while my body continued to hike. I could not do 10km, but I must. Even now, I feel a distrust of stones, I was sick of staring at the rocky paths.
Still managing a smile, at around 89 miles with Max on the last leg (and last legs!).
I finished relatively unemotional; I was a bit confused if honest. My entire crew plus some friends ran the last few hundred metres with me. I could not work out where the finish was and had to be guided by them. I was convinced I had to touch a door, but could not see one. I was done. That was all I was aware of.
Everyone came out to see me in. I still feel emotional when I think about this time in the race.
Have a plan agreed with your crew about what to do upon finishing. We had not discussed this and I was in no state to know what I wanted or needed. Though I did know I desperately needed a shower.
RECOVERY
This has been the greatest surprise. So far, other than pressure pain in my feet and some nerve pain in my toes, I am fine. The worst thing right now is my midge bites. I think I have finished weeks working in London in a worse state than finishing this race (though work is slightly less traumatizing).
Listen to your body, the fatigue is like a deep bruise and rises gradually to the surface. The soft tissue on my feet is still tender and, in the first couple days, I could not tolerate standing for longer than 10 minutes at a time. I am very glad for the week off work as I doubt I would have managed the commute.
SUMMARY
At the prize giving, a friend asked me how my race was and I answered in all honesty, it was a horrendous nightmare. However, I am still as much in love with the West Highland Way as I was before, probably more, and I will be back walking it again next year, or maybe even sooner… a little voice is suggesting midwinter?
Getting my goblet! Wohoo! I did it! Along with 197 other finishers we each got presented one at a time with our goblets.
LETTERS OF INSPIRATION.
I want to write a separate section to thank those who wrote letters to me. Max and Neil were reading them to me during dark points in the race. At these times I was often unreachable and sentences no longer connected to each other, but the words came through. I read them all again once I had finished and was overwhelmed with what was written. Thank you. Thank you for your love and support. Until I read these letters and saw the encouragement in texts and on my social media platforms I had no idea how this race would reach so many people. I cannot describe how motivating and lifting this was in my lowest and darkest moments in the second night. I cannot thank you all enough. I love you all.
The Fire Road and the Ben. Thank you for supporting me to get here.
Written by Christian Maleedy - https://runningchristian.wordpress.com
I have been blessed enough to have run and raced in many hilly and scenic areas of the UK – the Lake District, the Peak District, Cornwall, the Yorkshire Dales, Snowdonia, the Brecon Beacons, the South Downs. However, I'd never done anything significant north of the border.
The Highland Fling follows the first 53 miles of the West Highland Way, from the official start in Milngavie (a small town just a few miles north of central Glasgow) up past Loch Lomond finishing in the mountain village of Tyndrum.
I've had my eye on this race for some time, but now finally have the chance to run it. It's almost 6 o'clock on a cold Saturday morning. We are standing in the car park of Milngavie train station, waiting for the race to start. My flight up from London the previous night had been delayed and pre-race excitement meant that I hadn't got very much sleep. Drop bags have been deposited in the relevant vehicles, a pre-race bacon roll and coffee consumed; now's it just a case of waiting the last few minutes for the race start.
This race began in 2006 with less than 20 runners as a training run for the 96 mile West Highland Way race. Today there are 800 runners nervously awaiting the start (making it certainly one of the largest ultras in the UK). Due to the number of runners, the race begins in three waves. I pick the middle pen and wait for our turn to start.
The mournful sound of bagpipes drifts out from the speakers. "Do you want something louder?" asks the guy controlling the music. Having got a positive response, the crowd is soon swaying to Avicii's "levels". As tributes to the late Swedish DJ go, several hundred lycra clad ultra runners bopping up and down in a Glaswegian car park must be fairly unique!
Having watched the first wave of elites and faster runners dash off, it's now our turn to pass under the bridge, through the pedestrianized centre of Milngavie and turn onto the official trailhead of the West Highland Way. The trailhead is narrow and it's evidently why the organisers don't want all 800 runners descending on it at once.
These first few miles trend gently uphill initially through woodland, before later passing holiday cottages and opening out onto a wide track alongside Craigallian Loch.
The early morning mist gently rises off the water creating an ethereal atmosphere. Here we are only a few miles north of Glasgow, yet this already feels so remote; the occasional electricity line the only real sign of civilisation.
The first checkpoint of the day is at Drymen after around 12 miles, which I hope to get to in around 2 hours. This first section is a mix of gently undulating trails and country lanes. It reminds me a little of the start of the North Downs Way back home; nothing too technical or challenging so far! It's not long before the first mountains come into view in the distance, still capped in snow thanks to the long late finishing winter.
On the way into the village of Drymen, we're sent through a field up a hill to a mid-race kit check. Unlike most of the races I run that have very comprehensive mandatory kit lists, this race only has two mandatory items; an emergency blanket and a mobile phone. Whilst these items could easily fit into a runner's back pocket, all the runners have opted to carry significantly more items than this in their race vests and backpacks. As well as water and food, I'm carrying various items of clothing; enough to deal with whatever the Scottish climate decides to throw at us today!
Kit check is quickly negotiated and we descend into the first checkpoint of the day. There are five checkpoints along the way, at four of which we can access our own drop bags, which contain the food and drink (aside from water which is provided) that we might want during the race. There are no drop bags at this early check point; just water. As I get my bottles filled, one of the volunteers spots my UTMB t-shirt and we chat a little about that race.
"There isnay bag here, get oooooooout" declares the next volunteer. [Translation: "This is not a drop bag location, therefore please feel free to continue along the trail at your earliest convenience, my good sir"]. He has a point and I'm soon on my way.
This first section has been straight forward but much sterner tests lie ahead. First and foremost of which is the biggest climb of the race; Conic hill which comes in this next segment. The trail begins to trend uphill again as we approach the climb.
These ascents are difficult to judge; they don't feel steep up enough to justify walking but an attempt at running them leaves my legs objecting strongly. I settle on a run/walk strategy until Conic hill looms immediately ahead. The climb itself is a slog and reminds me of the many climbs on UTMB last summer. Thankfully the difference here is that this climb only takes a few minutes to reach the top (compared to the 2ish hours that many of the UTMB climbs were taking me). Race photographers are snapping away at the top and the views over Loch Lomond are simply breath taking.
Having been overtaken by a few runners on the way up, I throw caution to the wind and pick up some speed for the descent, gaining a good few places. I can still feel the adrenaline coursing through my body as the descent starts to flatten out leading us directly into the next checkpoint at Balmaha.
This is the first drop bag location and as I enter the checkpoint I can see it operates like a finely tuned machine. A volunteer checks my number and shouts it along to the crew waiting by the drop bags. By the time I have progressed through, my bag is ready and waiting for me. I've packed the same items in each of my four bags, a can of coke plus a mix of savoury and sweet snacks. I gratefully drink the coke and although I'm not really hungry, eat a little and stash the rest in my race vest for later.
We are now on the south eastern corner of Loch Lomond, Scotland's biggest loch. The race will follow the shore of the loch for the next 20+ miles, before heading off deep into the highlands. This next section through Rowardennan Forest is undulating again but relatively runnable. However, I'm unable to take full advantage of this as I hit a low patch. My body if feeling the effects of the South Downs Way 50 followed by a week of running in Snowdonia just two weeks before and my hips and legs object every time I try and get any kind of decent pace going. I know I'm struggling as I'm glancing at my Garmin every few moments, grumbling angrily to myself when I see only another 0.1 of a mile has passed. Again, I'm back to run/walk here and by the time I reach the next Rowardennan, I'm behind my schedule and feeling dispirited.
Retrieving my drop bag, I spend a few minutes sitting and lying on the grass by the loch as I refuel and try to refocus mentally. I'm approximately half-way through the race, with the significantly harder half still to come. I try not to think too much about that and just focus on the moment.
After a fairly disappointing last section, the next few miles are a big improvement and pass by quickly. The trail alternates between hugging the shoreline closely at times and deviating some way inland at others. I'm struck by how much this lochside running reminds me of the South West Coast Path down in Cornwall; no large climbs, but many many short sharp ascents and descents with stunning views over the water.
Above us to the right looms Ben Lomond, the most southerly of Scotland's famous Monros (Scottish mountains over 3,000 feet). In front of me a runner gets caught by a tree root and goes sprawling, but not before executing a near perfect stuntman roll. I help him to his feet and make a mental note to myself to watch my footing too.
Another forest section brings us to CP4 at Inversnaid. Here volunteers radio ahead runners' numbers resulting in a massively slick and professional checkpoint process. I open my drop bag and immediately turn my nose up at the savoury items I've packed. The only issue with this drop bag format is that it relies on you being able to work out in advance what kind of food you are likely to want at various points in the race. Savoury snacks are normally a good bet for me from past experience but today my body is craving only sweet stuff. I take the chocolate from my drop bag and also visit the table at the checkpoint. Here the leftover contents of the drop bags of faster runners are put out for the others. Half the table consists of various gels. I remark to another runner that these always seem like a great choice at the start of the race but trying to force them down your throat when you're 30+ miles into a race is another matter entirely. I help myself to a chocolate miniroll which really hits the spot and continue onwards, feeling upbeat again.
As the saying goes "if you're feeling good during an ultra, just wait a minute". This next section comes as a massive shock and not an entirely pleasant one. My research of the course was limited to looking at maps and course profiles. Accordingly, I had a good idea of the climbing involved and where the big hills come during the race. What maps and course profiles can't tell you is about the underfoot conditions. This section is massively more technical than I was expecting. A plethora of rocky scrambles, deadly tree roots, boulder hopping, stream crossings, ascents, descents and mud ensues. Any pre-race ambition I may have held with regard to a finishing time now dies a death on this brutal lochside terrain. Any attempt to get into a rhythm is hopeless as I'm invariably forced to walk. This is single track trail and I've now joined the back of a long procession of runners. It's impossible to overtake anyone and, as it happens, I have no real desire to anyway. I accept that my time goals aren't going to happen – but that's ok. I'm nowhere near the cut offs and even a slow walk would get me to the finish within the 15 hours allowed. Having recently committed to adopting a more "mindful" approach to life, I put thoughts of finish line celebrations out of my mind and focus on the moment and the job in hand. Yes, the terrain is tough, but it's also absolutely stunning and I do my best to take it all in.
Soon, we leave behind the loch for the last time and start heading uphill again. "Two easy miles to Beinglas Farm" declares a volunteer that we pass. I frown to myself, I'd counted on it being more like one mile….hopefully he has got it wrong as I'm now really ready for a cheeky sit down at the check point.
Turns out the volunteer was right about the two miles, but wrong about the easy part! Beinglas is the final full checkpoint with drop bag access. Red and white tape funnels us through the farm and towards the check point. For a moment I'm taken back to UTMB, and the mountainside checkpoints there. I'm really thankful that today is "only" 53 miles and not the 104 miles of UTMB.
Having retrieved my bag, I collapse into a camping chair with a groan of delight resulting in ripples of laughter from the other runners and volunteers. A volunteer confirms what I'd suspected – a slow walk would could comfortably get us into Tyndrum in time. From past experience, sitting for more than few short minutes will result in my legs stiffening up and making getting going again very difficult. I sit as long as I dare before slowly making my way down the farm track.
After a really technical few miles of single track, we are now on runnable double track again. The overall trend, however, is most certainly upwards as we head into more classic highland terrain. I run the flattish sections and walk the steeper ascents.
Soon we hit the notorious "cowpat alley"; a quagmire of mud and the afore mentioned cowpat. Here runners are frequently known to disappear to their knees in the stuff. Fortunately footprints in front of me mark a safe route taken by other runners through the danger.
Uphill slogs are met with lovely runnable downhill sections. Ordinarily I'd be pounding these downhills with joy, but today my body says otherwise. The sound of live music gently drifts from some trees; violins, bagpipes and accordions have been just some of the instruments that have encouraged us along the way during this race. It's so lovely that people have taken the time to come out. As the afternoon has worn on, we've past many curious (if slightly bemused) WHW walkers who have all been encouraging and happy to stand aside as we passed by.
I pass the last minor check point at a road crossing and am immediately met by stunning views of the mountains ahead. I stop for a moment to take a picture and another runner notices my t-shirt declaring "this must be easy compared to UTMB".
"In theory", I reply, "though it doesn't really feel like that at the moment".
Jess and I get chatting and run/walk the last 3 miles of the course together. Having not run with anyone else for a more than a few minutes all race, it's nice to have some company. Incredibly these last 3 miles of the course pass by the quickest as we chat about running in Cornwall, races we've done and races on our bucket lists; UTMB, Western States, the Arc of Attrition, the Goat, the Spine. I even manage to gleam a few clues for how to enter the infamous Barkley marathons though I don't really have any ambitions in that department.
Before long, we're met by the sound of bagpipes and, as we turn a corner, we see the finish and the famous red carpet ahead. Another runner, who I've been leap frogging all day, is keen to entertain the crowd with a 3 person sprint for the finish line. Jess and I both decline as he sprints off and we jog over the line.
12 hours 35 minutes definitely wasn't the time I was envisaging at the start of the day, but I'm happy enough given this wasn't an "A" race and it's come hot on the heels of a PB at the SDW50. My next race in May is the North Downs Way 50 (which I'm treating largely as a training run) followed by the South Down Way 100 in June (which is an A race and I'm hoping for a good time on).
As I sit by the road in Tyndrum waiting for the bus back to Glasgow, I look up at the snow capped mountains. The West Highland way has captured my imagination and I can't help thinking about returning. Past Tyndrum, the WHW goes through Glen Coe before finishing at the foot of Ben Nevis in Fort William. I can definitely see either the "Devil o' the Highlands" (a race starting here at Tyndrum and finishing at Fort William, ie the second half of the trail) or the West Highland Way race (the whole 96 miles) at some point in my future. But for now, the Fling has fully lived up to all expectations and left me enchanted.
Written by Luke Latimer - https://jurarunner.com I was expecting to find you hunched over your poles, headphones in, grinding through the dark miles with gritted teeth. Are you sure you've just run 85…

Written by Will Rivera - https://willrivera-ultra.tumblr.com "Pushing your body past what you thought it was capable of is easy; the hard part is pushing yourself even further … past what your mind…

Written by Jean Baptiste Rouvelin - http://jbrouvelin.blogspot.com Kit checked and got my number Well, where to start. The Arc of Attrition is a point to point race which forms an arc following the South…
Written by Tom Wright - http://life.tomwright.me.uk No medal, no finishers photo but I did complete the Lavaredo Ultra Trail. No really I did… I have my coveted bin bag to prove it! (Note Lavaredo has a…

Written by Paul Baldwin - http://pbracereports.blogspot.com Let's start with the finish I finished the 90km du Mont Blanc in 22 hours and 29 minutes, ranking 564th out of 1,142 entrants (49th percentile), and…

Written by Phil Bradburn - https://untrainingultrarunner.com "There is nooooo way that I am going to run this race – I have seen what it does to people! And those swans…. And those…
Written by George Callahan - https://wickedtrailrunning.com Burning River 100 Race Report My Wicked Trail My 2018 Burning River 100 Race Report may not look like some of the other race reports you've read. I'm…

Written by Tom Atkinson Pre-race I've been focused on this race since my last ultra in February (St Peter's Way, 42 miles and the previous furthest I've ever run). Training went pretty…

Written by Steve Birkinshaw - http://stevebirkinshaw-wainwright2014.blogspot.com/ If it wasn't exciting enough to have one record-breaking runner to blog about, try having two. That's right, Wainwright round record-holder Steve Birkinshaw tells us about…