Race Report by Dion Leonard, winner of KAEM 2017
Photography by Hermien Burger Webb
A few thoughts from my last race...
In 2012 I bought my wife Lucja a book titled 'World's Toughest Endurance Challenges' and jokingly said to her whatever page she opens up to we'll do the challenge. The page opened to a race in South Africa called Kalahari Augrabies Extreme Marathon.
The 'Kalahari Augrabies Extreme Marathon' (KAEM) is a self-sufficiency, 250 kilometre (155 Mile) race held over 6 stages during 7 days in the Kalahari Desert. I had never run a real marathon or an ultra marathon before I began this race in 2013, and little did I know back then how much buying that book would have an impact on our lives.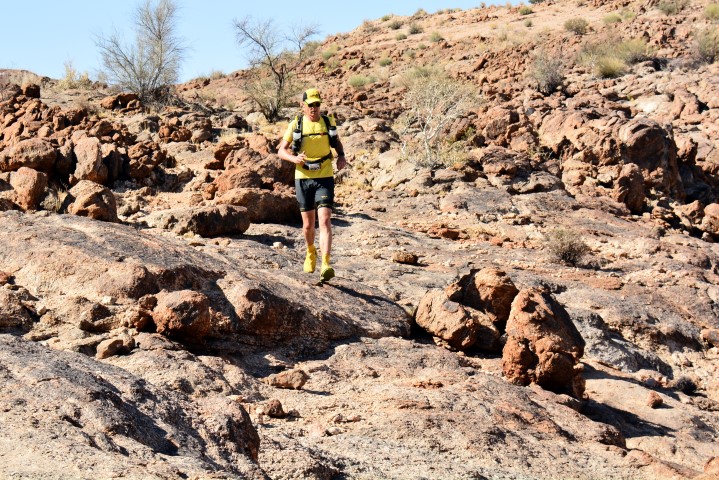 In November 2017 exactly 4 years since my first KAEM I was on the start line of my 3rd KAEM. It had been 15 months however since my last desert race, one where a little dog (aka Finding Gobi) would join me during the race and would change both of our lives forever. I was pretty nervous at the start and worried that my rushed last minute training for the race wasn't going to see me through the full distance. However, the chance to run in a stunning and secluded location in South Africa's Kalahari Desert and Augrabies National Park which grants special entry permission to race entrants was too good an opportunity to say no to. I went with the thought that if nothing else I would enjoy the adventure and sunshine on offer.
After having run stage 1 enduring plenty of sand, rocks and a long hill climb to the finish I came across the line in a comfortable 2nd position, and was pleased with how I felt after being long away from running competitively. At the beginning of stage 2, and what was going to be a much easier and quicker stage, I was keen to put a marker down for the day and really see what the main competitors' pace was. From the word go it was a hectic pace, neck and neck until the first checkpoint but then I went for it and pushed hard as the temperature also started to rise. I was thrilled to go on and win the stage, my first ever stage-win at this race in 3 years of entering it. This meant I now had a small 7 minute overall lead. I wanted to increase this lead going into stage 4's 70km long stretch, so on Day 3 I kept the pressure on and pushed hard again. The terrain was stunning, with a technical gorge descent, desert sand beds and a climb at the end of the day that made for hard work all round, but it was the temperature that really pushed everyone to their limits and the dropouts rose during the day. I ended up increasing my lead to 1hr 20 minutes. Our campsite was beside the Orange River separating South Africa from Namibia and I enjoyed the afternoon swimming and washing my clothes for the long stage the following day. On day 4, the front runners of the race, myself and main competitor Tomas Sundman had the unfortunate pleasure of starting the day last in the middle of the scorching lunch time heat. This is our penalty for being quicker and to make sure that we also end up running in the heat and dark of the night. I wasn't clear on how to attack the day. I had a solid lead and didn't need to push myself too hard but as I started the stage I felt strong and lead through the early checkpoints. Unfortunately Tomas had to withdraw at checkpoint 3 due to heat exhaustion and dizziness and upon hearing the news I realised I could take my foot off the gas and enjoy the 70km stage a little more. The early evening thunderstorms were extraordinary to watch as I ran through the runners ahead of me and I spent some time talking to them on my way to the finish. The race was effectively over as my lead increased to 3 hours so the remaining stages involved me chatting to the other runners and checkpoint staff. To run the final short stage back a couple of days later into the Augrabies National Park as the race winner was something 4 years earlier I would never have dreamt of, let alone achieved.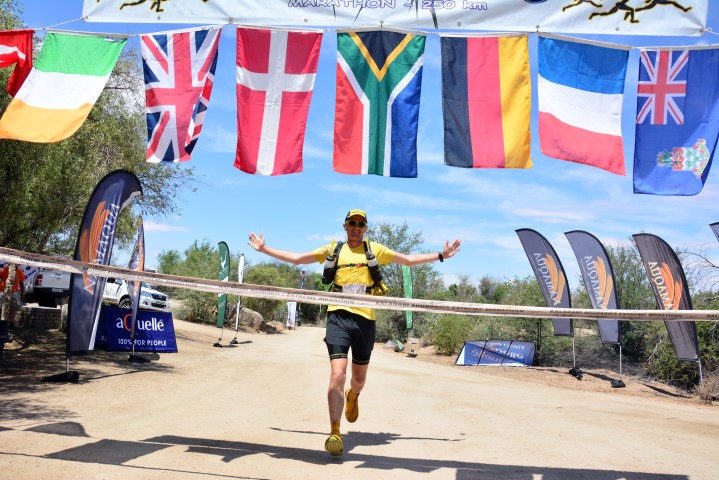 The Kalahari Desert has the most amazing and beautiful scenery. It's the perfect location to run in, and this race should be on everyone's bucket list. Running with Giraffe, Zebra and Springbok in the top end of South Africa is simply breathtaking and life changing.
I met some truly inspiring and incredible people during the week, from all walks of life doing this extreme event for their own reasons. I'm so grateful to have been involved with KAEM. The organisers and volunteers do a world class job organising the event, and it's a tribute to the race having been held 18 times, the second oldest multi-stage race behind Marathon Des Sables.
Thank you to everyone who emailed me during the race, supported and has followed my up and down running journey. Big thanks to WAA Ultra who not only make awesome running clothing and gear but continue to support me.
Written by Eliot Weatherill
Photography - Zoe Salt
The first thing that I should get out of the way here is that I am not a hugely experienced ultra runner in the grand scheme of things. I think the Arc was to be my 8tt …… but and there is a big but…. the last one was in 2014. In the 4 years since, I have had a long and frustrating return from injury. I'd gone from running 50 miles p/w just in my daily commute to work (without long weekend runs on top of that), to almost no running for a couple of years and then a very gradual easing back into regularish running. For my previous 100 the NDW, my longest training runs had been a 40, 50 and a 60 miler. Here is my monthly mileage for the 12 months leading up to the Arc-
Feb – 60.3
Mar – 30
Apr – 22.4
May – 13.8
Jun – 56
Jul – 44
Aug – 40.9
Sep – 61
Oct – 107.1
Nov – 108.1
Jan – 107.5
The biggest week in my Arc training was just 42 miles and the average was much less than that. In the first half of 2017 I had covered little more than 200 miles so what in the hell was I thinking? 
Well to answer that, I badly needed a challenge and I was genuinely interested to know how much I could compensate for a lack of running with a solid (and trust me… I mean solid) cross training and conditioning regime. Most people would probably agree that it wasn't even enough mileage for marathon training let alone a very tough 100 miler.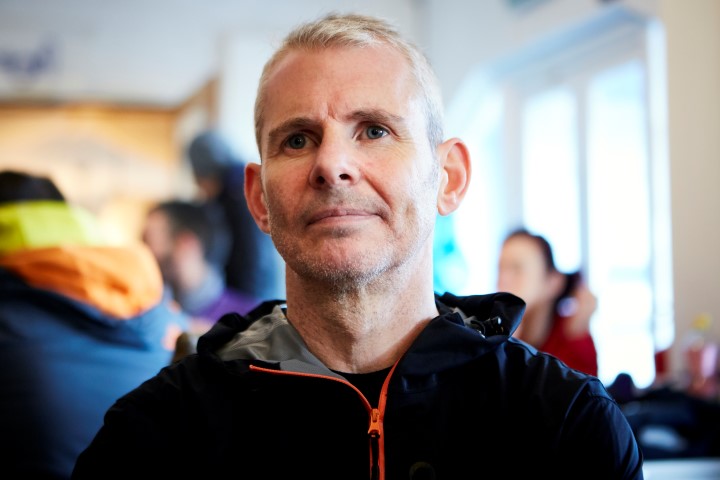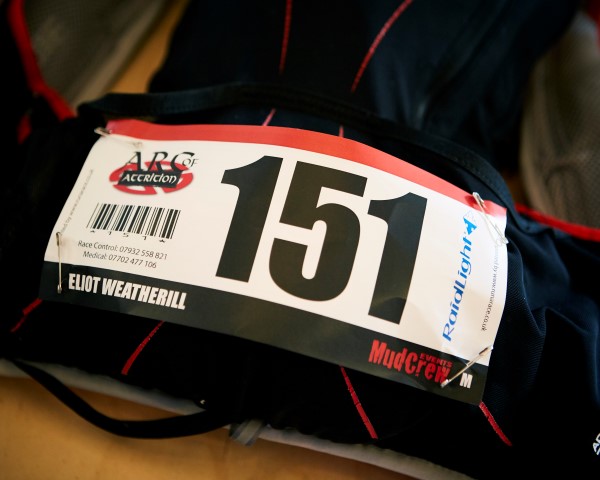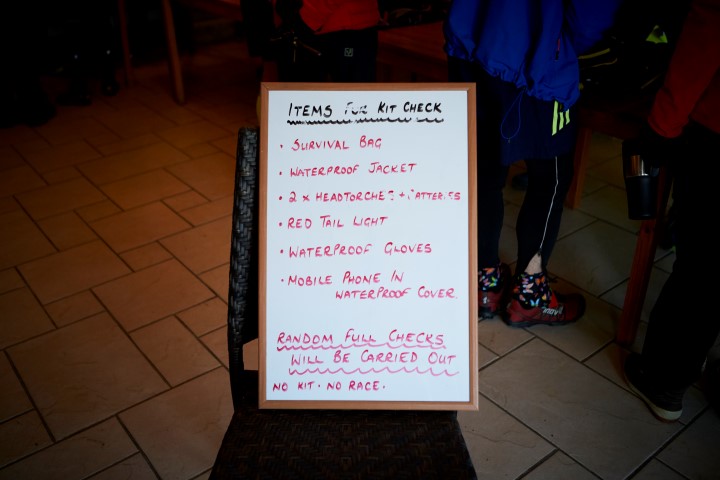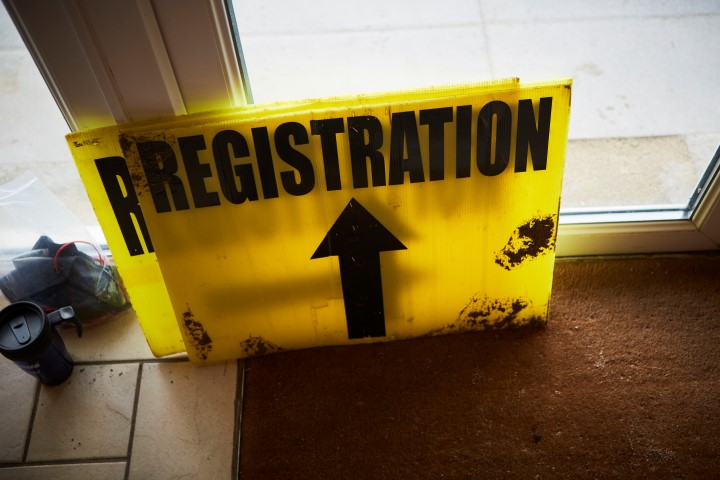 Turning up at the Blue Bar for registration was a nervy affair. Registration is always a bit nervy but off the back of such little mileage and in full knowledge that my furthest run in the last 4 years was just 27 miles and that this was a serious race… it was even more so. It didn't help when we boarded the coaches to take us to the start in Coverack. I was surrounded by discussions about past races and achievement, talk of the spine, talk of the Arc in previous years and just generally anything to make my race preparation seem ridiculous. I don't think I said a word for the whole journey and just had a focus on the task ahead. I just wanted to get going. I knew deep down that I was physically very strong despite little actual running and that my pure determination would see me through most things.
There wasn't much waiting around at the start and the sun was out. A minute silence for Matthew McSevney who tragically lost his life before he was able to return and wrestle the Arc once more and then we were off. I settled in to the middle of the pack and just switched off and ran. A lot had been made of the conditions and it was very obvious that mud was going to play a big part in the race. With extra distance for course diversions and the strength sapping nature of the mud, anyone completing the Arc this year was going to be very deserving of that buckle.
After a while I had a surprise to be running with a group of runners from my hometown (or just next to it), which is always nice and had a good old chinwag about the differences between Sussex mud and Cornwall mud! Stephen Cousins and Richard Shlovogt went on to earn gold buckles and I will hopefully catch up with them and Jay McCardle on the Downs some time.
Nearing the first CP at Porthleven meant negotiating the last of the official detours and it was a beast. A couple of miles through thick mud to avoid just a few hundred meters of coast path is the sort of thing that really plays with your head. It was a relief to finally arrive in Porthleven.
I was lucky enough to have crew and don't generally like wasting time at CP's so my rules are straight in, straight out and definitely no sitting! I had told my crew that I didn't want to see them before Marazion as that was just the warm up as far as I was concerned, so I filled my water bottles, put my headtorch on, grabbed a banana and was back out again.
The next couple of miles were fairly uneventful until Praa sands when there was a classic random ultra experience. I was running through Praa Sands along a dark empty lane with another runner a little way in front. We came across a dog with a flashing dog collar on that looked very lost and there was nobody else around and no houses close by. The other runner (I think it was Benjamin Jenks) managed to grab the dog and I was able to see a contact number on the dog collar so I got my phone out and switched it on. We tried a couple of times to call the number, the first time didn't connect and the second time went straight to voicemail. We weren't really sure what we could do but the most sensible plan seemed to be to find the closest house and see if they would take the dog as we needed to be somewhere else! Then the dog got restless and managed to wrestle free so we gave chase again down the road. After a couple of hundred yards we came to a parked car with an old man staring at his phone and it was at this moment we realised that the dog wasn't actually lost but just had a really irresponsible owner who parks the car up in the middle of nowhere at night and just lets the dog out!! Anyway, mini drama over we continued.
Heading into Marazion I had wanted to avoid the beach that everyone always ends up on. When I reccied this stretch, I had done exactly that before retracing my steps and finding the correct path around. Well now in the race, I just blindly followed the runners in front on to the beach but at least I wasn't far away from seeing my crew for the first time.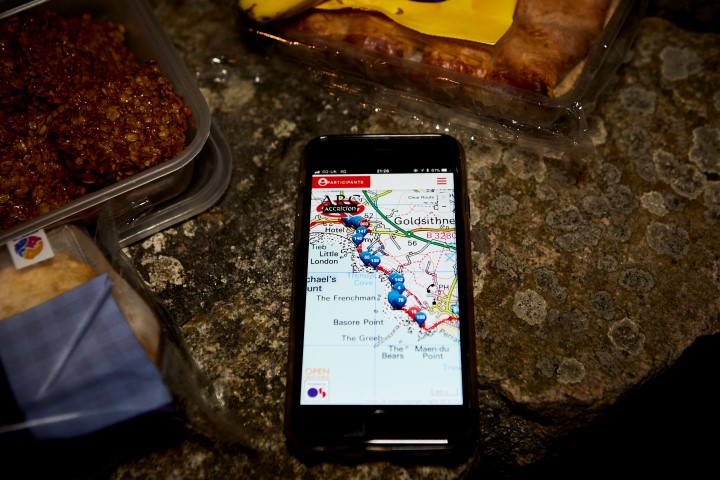 When I got to them they had everything I needed laid out on a wall for me. My brother and sister-in-law are both very experienced runners and my wife is always right behind me on my crazy ventures so between them they are an awesome team to have. I quickly changed my shoes and socks and said that I would see them in Mousehole to change back. It felt great to have fresh shoes and socks on and I was moving well. Straight in and out at the Penzance CP and on to Mousehole.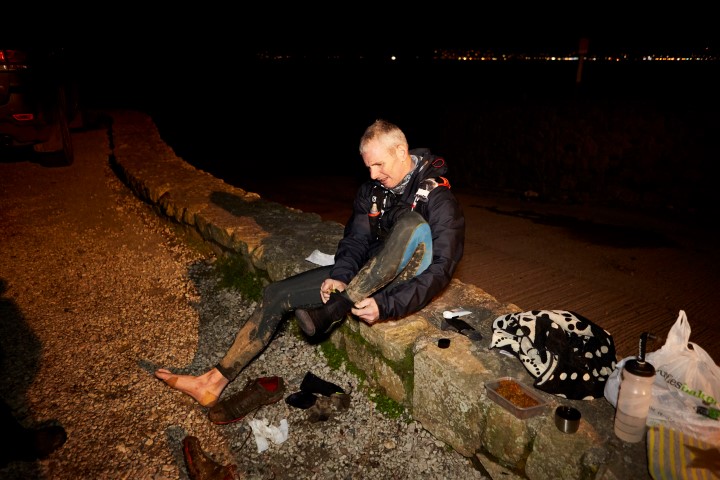 Another quick shoe change at Mousehole and then it was off into the mud again. I'd been running for quite a while without seeing anyone else and although I was aware of a couple of lights behind me, they weren't getting any closer so it was really frustrating when I took a wrong turn just short of Penberth. After climbing up a hill for a while I found myself in the middle of an assault course before realising my mistake. I couldn't hear the sea anymore and started back tracking. By the time I reached the path again and found the correct route, I was faced with another climb and a couple of runners had slipped in front of me and I could see them making the next climb. This was probably my lowest point of the race so far but compared to what was still to come, nothing major.
I kept plugging away and was still moving pretty well. I was looking forward to getting to Lands End so that I could change my contact lenses as I had become aware that the ones I was wearing had started to get a bit foggy. As I got closer, my headtorch went into battery saving mode which made things a little trickier and gave me something else to sort out at the CP.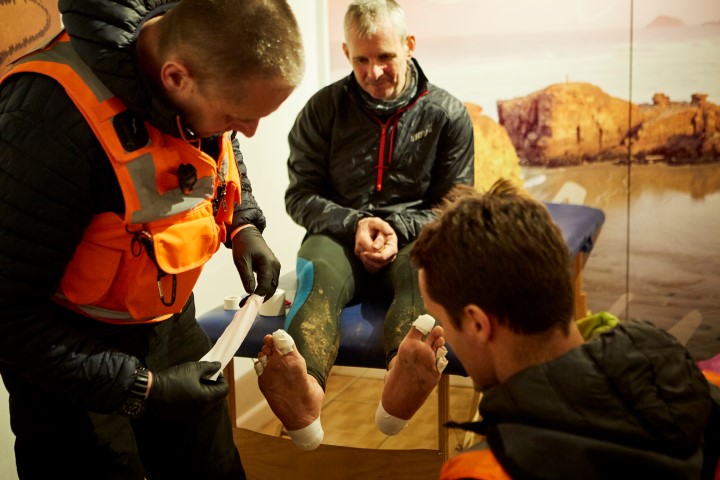 Not having stopped at any of the CP's to this point, I had decided to get some hot food inside me for a lift so waited eagerly for my sausage and bacon roll. I had also asked if someone could re-tape my feet. My feet looked great and I'd made it over halfway without a single foot issue so a new tape job would hopefully see me to the end. I had taken my contact lenses out as planned and had some spares in my bag but was a little surprised to find that it made no difference and my eyes were still foggy without the lenses in. The medic gave me some water to try and clear my eyes but it didn't really make much difference. By now I had spent much longer in the CP than I normally would so rounded my thoughts ready for the next push. Heading back outside, the cold was immediately much more noticeable after the long stop so it was important to get running and warm up again.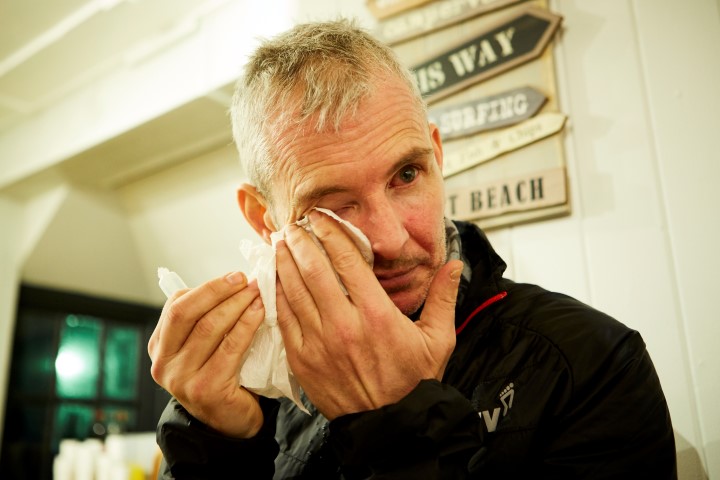 Pushing on through the early hours towards daylight I next saw my crew at Cape Cornwall for a quick bottle fill and straight back on it. My vision had been slowly getting more foggy and had started slowing me down but as I left Cape Cornwall I knew it was only going to be about half an hour before the headtorch would be switched off and hopefully that would make it easier to see.
How wrong could I be! I knew that it was going to be a grey day and daylight would therefore be slower to appear with a grim forecast of rain settling in for the day but what I wasn't prepared for was that the light would render my vision almost useless. A little way before Pendeen I had met up with Allan Rumbles and it was helpful to have someone to follow as Nav was getting harder and harder.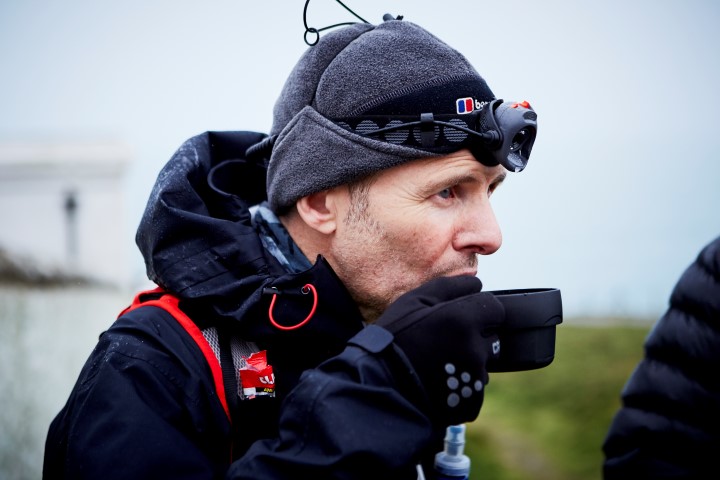 I had a quick coffee with my crew at Pendeen and told them that I was really starting to struggle with my eyes but pushed on. The hot coffee gave me a nice boost but after about another hour or so I could no longer make out any headlands and in order to see any of the trail in front of me I was having to constantly hold my arm up to block out the light from the sea and the sky. At this point the weather really started to come in as well and what would have been pretty bad visibility anyway was for me now becoming a serious danger. It was now Mr Magoo goes ultra running. At no point in the race had I ever considered stopping but now the last words of my wife before I set off were ringing in my head 'just stay safe……'. I was now anything but safe and was continually stumbling and falling but pushed on because I didn't know what else to do. Every now and then I would hold my hand in front of my face to try and gauge how much of my sight was left….. very little.
I must have looked mad running along with my arm in the air to shield the light and occasionally when I stumbled across a route marker, I needed to kneel right down and put my face a few inches from the sign to check I was still on course.
Having reccied the section from Sennen to St Ives, I was well aware what was still to come. It can give you great confidence when you have already covered the trail ahead but now it was having the opposite effect and my mind started to play out various rescue scenarios. Had this been a survival situation, I would have found a way. I would have slid along on my bum or on all fours or done whatever was required to keep moving without hurting myself. This wasn't a survival situation and I could hear my wife again and the rest of the sentence 'just stay safe…. Don't be a hero'. Carrying on now was not heroic, it was bordering on stupidity and I didn't want that to be the last thing my wife ever said to me before I fell of a cliff.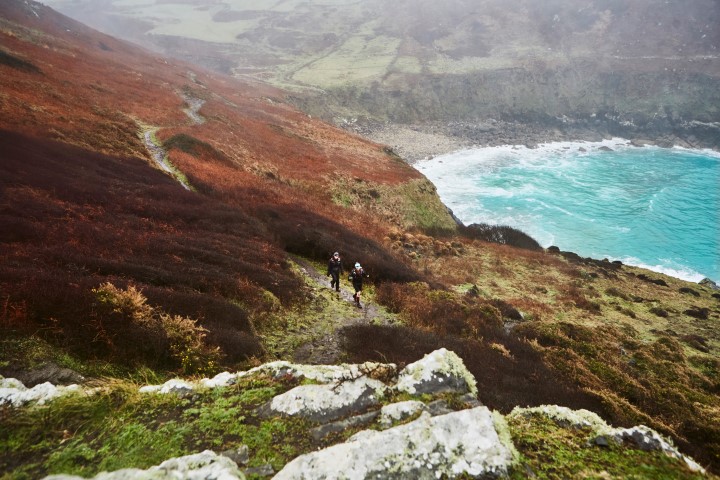 I was surprised when I caught another runner and explained that I was almost blind so would he mind if I followed his feet. It was a relief as the mental fatigue of trying to stay on the right course and keep my footing with each footstrike was now eating away at me. We pushed on together for a while. As we climbed some rocks towards Gurnard's head he told me that the race photographers were at the top. It was at this point that I knew my race was over. At the top of the climb I could just about make out two figures in front of me. I asked them that if they were there taking pictures that must mean that there is a road and their car nearby somewhere and perhaps they could get me back to the HQ…. it was only when they started speaking that I realised it was my own brother and sister-in-law standing in front of me!!! I told them that I needed them to get me to safety and they didn't argue. Between them, they paced me the last 50 of the NDW 100 and they know that I wouldn't stop if I had a choice. My brother looked at my eyes and said that they didn't look right and were all white which would certainly explain why all I could see was a thick white fog.
I felt miserable to be ending my race and it was a really bitter way to DNF. I couldn't stop thinking that if I had just made it to St Ives, I wouldn't have needed to see as much after that. My body was willing but my eyes had let me down.
After a trip back to race HQ to drop off my GPS tracker and a chat with the medic, it was off to Truro hospital to get my eyes checked out. The drive there was terrifying, my wife asked if I could read the number plate of the car in front and I told her that I couldn't see the car. It took about 3 hours before my sight started to return and after a good going over by the ophthalmologist it was clear that I had suffered with corneal edema in both eyes and had significant abrasions to both corneas.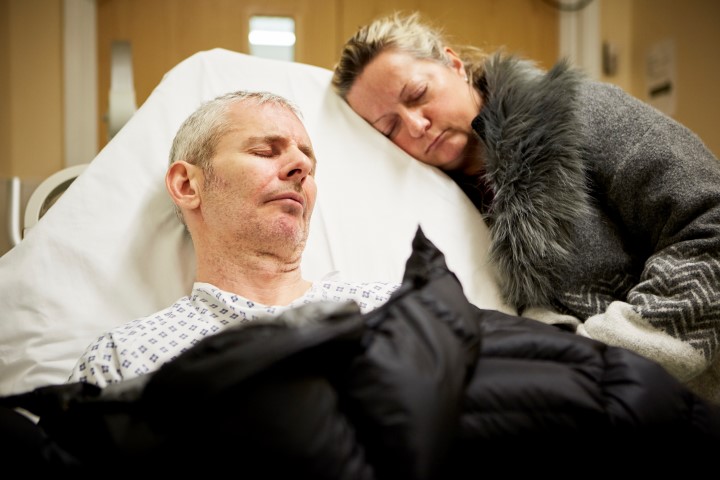 The Arc is a tough race for sure and you may be surprised by what the elements are capable of doing to your body if you take it on but it is also an amazing race. The event organisation is right up there with the best that I have experienced. The fact that there are as many helpers as runners is incredible in itself but each and every one of them did a fantastic job. The scenery and ruggedness of this coastline is breathtaking and even when I could no longer see it, the power of the Atlantic is with you every step of the way.
I've never been beaten by a race before and feel a bit cheated as it beat my eyes and not my body but it does give me an excuse to come back and do it again.
Written by John Kynaston - https://johnkynaston.com
After the Hardmoors 160 at the end of April I have entered 3 more ultra-races for 2016 and all of them will be new races to me. The first was the 71 mile Great Glen Ultra. When Mike and Bill started this race a few years ago it was definitely on my radar and it fitted in really well with my plans for this year.
There were 9 weeks between the Hardmoors 160 and the Great Glen which I thought would be plenty of time to recover and build up again. In reality it took me longer to recover from the 160 that I hoped. No surprise really but it meant I went into the race knowing that I wasn't fully recovered.
My longest run since the 160 had been a 31 mile recce run on the Great Glen route with good friend Ryan Mackenzie. We ran from Invermoriston to Inverness so I knew what was to come and I'm glad I had. Since that run which went very well I basically had a 3 week taper running every other day.
On the week of the race we left Paisley on Tuesday morning as we were having a few days with Hollie in Thurso with Emma, Yonas & Noah plus stopping off to see Jo, Jono & Seth in Inverness on the way! This meant I had to have all my race gear sorted out before we left.
We had a great time in Thurso. The highlight was a day trip to Orkney which was so interesting. Our guide was excellent and we came away with lots of interesting facts and stories of the islands. It was also good to be able to help Hollie pack up her classroom as she is moving to teach at Tain from August.
The rest of the family were staying longer so I had booked a train from Thurso to Inverness. I left just after 1pm and spent the 4 hour journey reading Bear Grylls autobiography (which is excellent) listening to a podcast about the recent Western States 100 (no mention of Paul Giblin though!) and dozing a bit.
Jo picked me up from the station and I spent the next few hours eating, reading to Seth, sorting out my drop bags and watching the first half of the Wales v Belgium game. At 9pm Jo took me to the leisure centre to catch the race bus back to Fort William and the start.
I was very pleased with myself as I had all my drop bags sorted and kit ready in plenty of time. As we crossed over the river I suddenly realised I had forgotten my water bottle! I had left it in the kitchen to fill as late as possible as the energy powder only has a 3-4 hr life.
It was 9.11pm and I worked out we had enough time to go back and get it! Thanks to Jo's expert driving we made it back to the leisure centre right on 9.30pm! Bill Heirs was on the coach doing a final check so I must have been the final runner to arrive!
Ryan had saved me a seat (or no-one wanted to sit next to him!) so we spent the next couple of hours chatting about the race and our plans. Ryan was focused on the win and had a clear plan of what he needed to do. He was working on 6hrs to Invermoriston and 5hrs to Inverness.
My plan was 7hrs 30mins to Invermoriston and 6hrs 30mins to Inverness which would be my gold goal of 14hrs. More importantly though was I was going to work on a heart rate of 134 especially over the first 30miles before the hills started. My plan was to be able to finish strong and do that I've learnt I need to start very comfortably.
We arrived at the Neptune Hotel at 11.20pm, placed our drop bags in the right places and headed to registration. Even with 60 plus runners arriving together the process was very slick and it didn't take long at all to check in and receive my number.
Ada did tell Ryan off for not reading the briefing email as he hadn't printed off his medical form!! You probably won't be surprised to read I did read the email and had mine ready! Though I had forgotten to bring a photo ID to prove I was over 18 but my days of having to prove that are long gone!!
Ryan & I found a comfy couch to sit and relax before the start of the race. The Great Glen starts at 1am just like the whw race. I assume it is done to help people prepare for the whw and I would certainly encourage people who want to run the whw to consider running the Great Glen as well as something like the Fling or Devils as it is that extra 20/30 miles and has the early morning start time which is hard to prepare for.
Before the 12.45am race briefing I dropped off my bag with kit for the finish and did a quick video clip. I had decided I wanted to do a video diary of the race which will be out in the next few days.
Bill gave a very quick and concise briefing which included tips on what to do if you fall in the canal. There were no last minute changes to the route so that was good. Having run from Invermoriston I knew the route was well marked but like all routes you do have to concentrate as if you miss one then it could be a while before you realise. I also had the route downloaded to my Suunto as a backup.
Leg 1: Fort William to Clunes – 10.53 miles
I set off about half way down the 97 starters as I was keen to start nice and steady. I knew the first 6 miles or so along the canal was very flat and so if I wasn't careful and disciplined I could easily go off too quickly and pay for it later. I set my watch to heart rate so I could keep checking regularly.
At the start line at 1am
There were quite a few people cheering us on which was great. Very quickly everyone settled into their own pace and the field spread out. After a mile or so I could the head torches of the leading group, then a gap to another big bunch of runners and then groups of 2-3 before me.
There was not much talking going on as it is hard to chat when you can't really see who you are running with. After about 3 miles or so I was on my own with a few not too far ahead. In some ways I found it quite strange to be running the 4 miles without walking at all!
In most ultras I've done there has been a hill within the first few miles which I've needed to walk to keep my heart rate down! I glanced at my heart rate a few times and each time it was around 132 so I kept running! My first mini-split at 4.01 when we came on the road showed I averaged 9mins per mile so the nice and steady start I wanted.
I was wearing my green long sleeved top and it felt just right. In fact I didn't change all day. Even though it did rain I didn't put on my rain jacket as I didn't feel cold.
I continued to run at my own pace. A few runners went past me and I caught up with a few others including Colin Knox. I had a quick chat or at least a greeting with each person as they passed me or I passed them. I was looking forward to the light becoming good enough to switch off the head torch but that was another hour or so away.
As I hadn't reccied the first 40 miles I decided to work them out as I went along. For this section leg I was working on 4, 3 & 3.5 miles. I think for my second mini-split I saw a bridge at 2.92 miles so used that one. My pace was still under 10mins per mile which felt about right for this section. My heart rate was still around 132 so I wasn't pushing too hard.
There was a lovely mile or so through a twisty path in the woods along Loch Lochy. I was running on my own at about 2am and it felt great! Most people in the UK would be tucked up in bed but somehow running through the night has become fairly normal!
The route goes back onto the road for a bit before arriving at the first checkpoint at Clunes. I had drunk my bottle of Prolong energy drink so I put the powder into the empty bottle to have it filled up when I arrived. I had also eaten a yoghurt covered energy bar. I was keen to eat small amounts regularly throughout the race.
I arrived at the first checkpoint in 1:42:49 which was 10mins quicker than my plan. According to the splits I was 40th but I didn't know that at the time. The very efficient marshals refilled my water bottle and I took my mashed sweet potato to eat as I walked up the hill from the checkpoint.
Leg 1: 10.53 miles – 1:42:49 (9:46 pace) HR 131
Leg 2: Clunes to Laggan – 9.15 miles (overall 19.68 miles)
I was in and out in under 2 mins but took a few minutes to enjoy my sweet potato before getting running again. I felt I was well into the race by now but still keeping an eye on my heart rate to make sure I didn't push too hard. I did a quick check and was happy that nothing was sore. I knew there was a long way to go so I needed to keep things ticking over for as long and easily as possible.
The route now followed Loch Lochy for the next 6-7 miles with some undulations but mainly runnable. I settled into a good rhythm running all the downs and flats and walking any hill. I took the walking breaks to drink and eat.
My average pace for the first mini-split of 3.67 miles was 11:35 and then the next one of 3.08 at 11:16. It was getting lighter by the minute so I took off my head torch at some point along this section. I could see people ahead with their head torches on but even though it was not quite fully light it was nice not having the head torch on.
In fact from the start it never really felt pitch dark. There was always some natural light though you definitely needed a head torch. I had decided to take my smallest Petzl head torch rather than the larger one as I thought it would be fine and meant that it would be lighter to carry for the rest of the race.
At the top of a small hill I caught up with Kirsty Burnett and her friend. Kirsty remarked that she thought I was way ahead but I explained I was happy to start slowly! Kirsty also said her calves were really sore and she was thinking of packing it in. As I ran on I said to hang in there and I was pleased to see that she did keep going and finished.
It was raining fairly hard for the next hour or so but it didn't bother me too much. I didn't even consider getting my jacket out partly because I knew it was at the bottom of my pack and didn't fancy having to get things out to find it!
I was exchanging places with a few people over the next mile or so. The guy in a red football kit went past just as I was doing a short video clip. He was running with another guy who asked if I was John Kynaston. It was Adam Jackson who is a good friend of Dave Troman and teaches in the same school in Keswick.
We ran together for a while before Adam pushed on. We were to pass and repass each other a number of times over the next 10 hrs. Adam had mentioned that he ran the Lakeland 100 in under 28hrs so I didn't feel the need to stick with him.
I came into the checkpoint at Laggan in 3:28:23. I had taken 1:43:44 for that section which was a few minutes slower than my plan but overall I was about 5mins up. Once again the marshals refilled my water bottle in super quick time and I was off again after 2mins 32secs!
Leg 2: 9.15 miles – 1:43:44 (11:20 pace) HR 130
Overall: 19.68 miles – 3:28:23 (10:35 pace)
Leg 3: Laggan to Fort Augustus – 11.25 miles (overall 30.93 miles)
I walked up the hill eating my cold baked beans. I decided to take my time eating them as I walked rather than stuff them down in the checkpoint. The only disadvantage was I would have to carry the small plastic tub until I found a bin or reached the next checkpoint but that was worth it.
As I climbed up the hill I passed Sean McMimm who had stopped to put on his gloves as he said he was feeling really cold. I assumed he would catch up at some point but he never did. At the prizegiving he was given a spot prize for eating a fish supper and deep fried mars bar at Drumnadrochit so maybe that had something to do with it!!
Once I over the top I started running again and was really pleased that I felt strong on the downhills. Normally I lose a few places and time compared to the field but I was catching people! Suddenly I saw Adam ahead and before we reached Invergarry I had caught him.
There was another climb out of Invergarry and I caught a female runner but Adam caught me again before the top. But once again on the way down I caught him again. We had a bit of a chat each time but it was clear that we had different strengths so we needed to maximise those.
I was really enjoying the route. It is varied but all of it is on good solid paths. The marker posts are very clear and the additional signs that Bill & Mike had put up helped with navigation. There was never a time when I wondered which way to go. Having said that there were a number of people who did go wrong which just goes to show that you do have keep concentrating even on well-marked paths.
I remember Ryan had said there was a 5 mile section before Fort Augustus along the canal that is very runnable so I was trying to make sure I didn't hammer too hard on the way down.
When I reached the road then the start of the canal I took a split so I could see how well I did down the canal. I was feeling good but decided that if I tried to run 5 miles without walking I would manage maybe 2-3 miles but then have to walk.
So instead I decided on a run/walk strategy. I ran for a 100 breathes then walked for 10 breathes taking a drink. I managed this for 3 miles then dropped down to 50 breathes running with 10 breathes walking. I could see lots of runners ahead and I was pleased to see that this strategy meant I went past at least 10 runners.
The penultimate one I caught before Fort Augustus was Roger Greenaway. I know Roger fairly well from other races and we often finish near to each other. Roger was struggling a bit and mentioned that he wasn't sure if he was going to be able to finish. Again like Kirsty I was so pleased to see him at the finish.
I mentioned to Roger that I was running to heart rate and had started comfortably. He said whatever you are doing keep going as it's obviously working for you! Thanks Roger.
Fiona Rennie was out early taking photos …..
Photo thanks to Fiona Rennie
I caught up with one more runner who was Brian Davis so I came into the checkpoint in 30th position. The leg had taken me 2:06:53 which was 53 secs slower than my plan!! I was in and out again in just under 2mins with my water bottle refilled and my beans ready to be eaten on the way.
I received a message after the race from Wilson Dornan who I had met on the bus. Sadly Wilson had to drop out at Laggan. He wrote, 'Saw you at Fort Augustus from the car and mist say that's how to get in and out a checkpoint!'
Leg 3: 11.25 miles – 2:06:53 (11:17 pace) HR 134
Overall: 30.93 miles – 5:37:48 (10:55 pace)
Leg 4: Fort Augustus to Invermoriston – 7.66 miles (overall 38.59 miles)
After this checkpoint the route takes the high path rather than the low path that was used for the first few years of this race. Ryan had warned me that this hill was tougher than the one out of Invermoriston so I knew what to expect.
I tried to settle into a steady rhythm counting to 4 over and over to help me keep an even pace. I took a mini-split at the top after 3.10miles. The climb had taken me 51mins and I was pleased to reach the top and tick off the first big climb.
I knew my Suunto watch wouldn't last the whole race so I put a power pack in my drop bag to recharge on the go. It was down to 30% so I set up the power pack to recharge. For some reason it took a bit of fiddling to get it right but eventually I did and I kept it on to the next checkpoint. It was over 70% by then which I hoped would be enough to get me to the finish.
Adam once again caught me just as we reached the top and looked comfortable as he set off down the hill. I was doing a video clip as he went past so I filmed him heading off down the hill. The views were amazing from this point so the climb was definitely worth it!
Photo thanks to Colin Knox
A small stone had got into my shoe an hour or so earlier and I could feel it working its way under my foot. I decided that it had got to the point that I really needed to stop and take off my show to get rid of it. I don't like to stop between checkpoints but I knew that with a long downhill section to come this could cause problems. It didn't take long to sort it out and once I got running again I was so glad I did as the irritation was gone.
Once again I had a great downhill run. My quads felt really good and I was able to run without braking and soon enough I could Adam ahead so I reeled him in! We both knew that we would be seeing each other again …. On the next uphill.
I caught up with a couple of other runners as well who I hadn't seen at all so that encouraged me that I was moving well. Ryan had also warned me that the descent to Invermoriston was very steep and once again he wasn't wrong! But I was able to run fairly smoothly and as we reached the road I caught up with Lorna Maclean.
We ran into the checkpoint together. Lorna had also done a big race fairly recently so we were both in the same situation of not being fully recovered but happy with how we were running. As we came into the checkpoint we could see the marshals had midgie nets on.
It took me a moment to recognise Helen Munro behind her net. Helen refilled my water bottle with my Prolong powder. I ate a Greek style yoghurt and took some nuts to eat on the way. I noted that I had reached Invermoriston in 7:25:38 so bang on my 7:30 target. I suspected though that being able to run from her to the finish in 6:30 would be a bigger challenge but at least I'd given myself a chance.
Leg 4: 7.66 miles – 1:45:55 (13:50 pace) HR 135
Overall: 38.59 miles – 7:25:38 (11:33 pace)
Leg 5: Invermoriston to Drumnadrochit – 13.81 miles (overall 52.40 miles)
Lorna set off just before me as we headed out of the checkpoint, over the road and up the hill. There was a runner outside the shop on the corner sorting out his feet. I asked him if he was okay and he said he was dealing with a blister so I left him to it.
I could see Lorna not too far ahead but she looked like she was moving faster than I was but wondered whether I might caught her again on the long downhill but that was a good hour or more away.
On my recce with Ryan we had started at Invermoriston so the climb hadn't felt too tough but now with almost 40miles in my legs it was going to be a different challenge. I tried to concentrate on ticking off some landmarks I could remember and I knew I would get there!
The first decision to make was when I reached the path which cuts through to the point where the high and low route divide. I decided that if there was a sign to use the cut through I would obviously use it but if not I'd stay on the wide road.
I could see that Lorna had gone straight on. There wasn't a sign so I carried on the path which heads up then turns right. Even though you could see for a couple of hundred yards Lorna was away so I was on my own for the rest of the climb.
I was at that point in the race where it is easy to start thinking about the end and it seems a long way off. So I tried to keep focused on my mini-splits and not think too far ahead. I knew that this next leg to Drumnadrochit was the longest and toughest of the whole race but once past it the end was in sight and I would have broken the back of the race.
I had given myself an hour to climb the 4 miles or so to the top but I knew that this was a bit unrealistic. Instead I tried to get into a rhythm again and just keep moving. I remembered two landmarks from our recce. The first one was the round circle viewpoint. After that there was a downhill section. Then there was the troll bridge which marked the start of the final climb.
Just before I reached the circle viewpoint Stephen Magee caught me moving really well. I had caught Stephen on the way down to Invermoriston. He had said his hip was troubling him especially on the downhills. As he passed me I asked him how it was. A lot better he said and he looked very comfortable as he ran up the hill away from me!
I power walked as hard as I could after him and once on the downhill I ran as much as I could but my legs felt a bit wobbly. It seemed to take an age for the troll bridge to appear. In fact at one point I wondered whether I had got it wrong and the bridge was after the top.
Eventually the bridge appeared and I set off up the final climb. I wasn't surprised when Adam caught me again but I was surprised that I caught Stephen. I paused to enjoy the view and take a video clip before setting off after Stephen and Adam down the hill.
Photo thanks to Colin Knox
I knew it was 4 miles to the road and the water stop at Gortaig. I also that it was almost 1,000ft of descent and once I started running I was pleased to feel my legs were still strong on the downhill and I would be able to run the majority of it.
I soon caught Adam and Stephen and pushed on. Parts of the path reminded me of a section of the Gleniffer Braes where I run regularly so I imagined I was running there. I reached the point where the low route re-joins the high route. On our recce we met a couple who were walking the Great Glen. Ryan also pointed out how a few runners last year carried on up the high route rather than heading down.
There were a few slight uphill sections so I used those to drink. I also had a couple of cubes of fudge which I was able to eat okay. I had a bottle of coke at Drumnadrochit and Loch Laide which I was looking forward to. The taste of the Prolong was getting a bit monotonous so I was looking forward to the different taste of the coke.
As I headed down I wondered whether I might see Lorna again. I suspected she was too far ahead so was pleasantly surprised when I caught a glimpse of her ahead. I tried to resist the temptation to push harder to catch her knowing that I must be going faster than her as I'd not seen her since the start of the climb out of the checkpoint.
It my mind I thought there was a downhill bit before hitting the road and the checkpoint but I was completely wrong as there is a climb to the gate and the water checkpoint. As I arrived Lorna was just leaving. The marshal had some coke which she very kindly gave me. There wasn't much left in her large bottle so I took some and topped it up with water. I was very grateful for it as I had run out of my energy drink.
I only stopped for a minute but by the time I set off Lorna seemed a long way away and I knew she was gone as she was moving well on the climbs.
As I walked up the road I realised I needed to have a regroup. I had worked hard, maybe too hard, on the descent and I might well be paying for it now. According to my splits I had just over 5miles to Drumnadrochit and I had given myself 58mins to do it.
On the recce with Ryan we had been chatting the whole way and even though I remembered it was a long section on the road and on the path to the side of the road it seemed to go fairly quickly. Now on my own with 47miles in my legs it was a different story.
It felt a long slog up the hill and there was no way I was able to run any of the uphills. Instead I used lots of my mantras to keep going. I also did a lot of counting steps and marching to left, left, left, right, left! Anything to keep me going.
Once more Adam caught me which really helped as it got me running again. I thought if Adam is running some of these sections then so should I. I remembered that there was a steep downhill section on the road before we turned left leaving the road and running through the woods.
Adam was not too far ahead and once we were on the softer ground I soon made up the distance and by the time we reached the main A82 road into Drumnadrochit I was ahead again! I knew the checkpoint was about a half a mile along the road so I worked on my 100 breathes running 10 breathes walking so soon enough it appeared.
I could see Bill sitting in his chair watching runners coming in so I made sure I ran all the way from when he could see me!! Julie was at this checkpoint and she very efficiently filled my water bottle with my coke while I ate my Yoghurt. I decided to sit on the wall but was pleased that I only stopped for 2:35.
The 13.81mile section had taken me 3:07:31 which was almost 20mins slower than planned but not unexpected! One runner who had arrived before me said he was surprised to see me as he thought I would be 'beasting' the course and be a lot further up! I told him I was doing my best and this was me beasting the course!!
Leg 5: 13.81 miles – 3:07:31 (13:35 pace) HR 131
Overall: 52.40 miles – 10:35:48 (12:08 pace)
Leg 6: Drumnadrochit to Loch Laide – 6.75 miles (overall 59.15 miles)
As I set off I could see a runner not too far ahead walking. With my run/walk strategy I soon caught him and we chatted for a bit before I pushed on. I knew I needed to make the most of this road bit as once the route left the road it was a long climb.
I consoled myself that this long climb out of Drumnadrochit would be the final big climb. I knew there were lots of smaller climbs but this was the last big one. I had a mini-split at 3.26miles and then according to my plan I had another 5.16miles to Loch Laide but that made 8.42miles. I thought it was only 6miles.
As the leg went on I remembered that I had forgotten to take a split at Loch Laide on my recce so I had guessed. I hoped that I had guessed wrong and it was in fact nearer to 6 than 8! But I still had to get up the hill.
Just before we reached the gate that was locked during our recce run a couple of runners came back towards me. They weren't sure of the route. Thankfully I was able to explain about this short bit being locked during the lambing season and we were on the correct route.
There were four of us climbing up and to my surprise they didn't go past me even though I knew I was moving pretty slowly. The one thing I had in my favour is that I never stopped no matter how slow it felt at times. Just before my mini-split the familiar figure of Adam caught me. Once more he said I expect I'll see you again on the downhill.
As he ran off I suspected that this might be the last time I saw him until the end and I was right. Adam finished 8mins ahead of me. On our recce Bekki had run out from the checkpoint with Orrin in his buggy so I was trying to remember where we met them. I knew it was about a mile or so from there so when I recognised it I knew that my split of 5miles was wrong. It turned out to be 3.53miles so the 1:08 I had planned became 51:05 so I gained some time!!
I was looking forward to seeing Fiona Rennie at this checkpoint and I also remembered reading that she was looking forward to seeing everyone running down the hill with her binoculars so I made sure I ran all the way down to the checkpoint!
Photo thanks to Fiona Rennie
Michelle was also there and another marshal. As I was only one I had their undivided attention. I asked whether they could put 3 quarters of my coke into my water bottle and top up with water and then top up the other quarter with water. It took a couple of attempts but got there in the end. I hope it wasn't a diva moment!!
There was a reason behind the request …. The coke from the previous checkpoint was leaking out of the straw in my bottle because it was so fizzy. My shorts were wet from the drip! So I thought if I dilute with water then it wouldn't leak out.
As I ate my yoghurt I asked Fiona what place I was. When she said 23rd I thought I'm more than happy with that so I was keen to see if I could hold on to that. I looked at my watch and realised I had 2hrs to cover the final 10 and a bit miles to get under 14:30 which was my silver goal.
As I left I thought that was definitely possible.
Leg 6: 6.75 miles – 1:47:53 (15:59 pace) HR 123
Overall: 59.15 miles – 12:26:16 (12:37 pace)
Leg 7: Loch Laide to Inverness – 10.87 miles (overall 70.02 miles)
As I set off from the checkpoint I looked at my mini-splits for this final leg. I had written down 3.49miles to Blackford, then 2.86miles and 2.90miles which gave me a total of 9.25miles but I thought it was over 10miles. At some point in the next hour I remembered that I had miscalculated where the final checkpoint was.
That meant that the previous split was shorter than I thought which was good news but this one was longer than I thought which was not good news! I had given myself 44 mins to cover the 3.49miles whereas it was actually 5.11miles to Blackford which meant I was going to be a lot longer than my plan.
I tried to stay positive though as I knew the final 6miles is mainly downhill and runnable so if I could get to Blackford with say an hour to go I could still make it under 14:30. I ran/walked through the narrow path past the open air café but once I reached the road I lost a bit of momentum.
I was still trying to run/walk but I remembered how far it was along this road until you took the path off to the left and headed to Blackford. The further I went along the road the further I realised I had to go to my mini-split and the more unlikely it was I was going to get under 14:30.
I know in the big scheme of things that it doesn't really matter but I do find it helps me to have a goal to aim for especially over the final miles. I couldn't see anyone ahead and I didn't want to look behind so I was very much on my own trying to keep going.
I was counting my steps and marching as best I could. I was able to run all of the downhills and most of the flats but anything looking like a hill I was walking. Eventually I reached the junction and followed the path.
There were a couple of walkers stopped at the junction and the girl offered me a fruit pastel which I gladly accepted. Just as important was their encouragement as some positive words can make all the difference. The time was ticking away and I realised I was going to be over an hour to Blackford so I started to accept the fact that I wasn't going to make 14:30.
Not long before I reached the trees a runner caught me. He was moving well running up the hill and soon put a fair distance between us. I was very impressed that he was going so well especially as he seemed to be carrying quite a big rucksack.
Thankfully the mini-split checkpoint arrived. It had taken me 1:04:08 to cover the 5.11 miles from the final checkpoint. This meant I now had 57mins to run the final 5.76miles. It should be possible but to be honest I never really thought I would do it so didn't push as hard as I could.
Ryan had said that when he finished 3rd he ran the whole way without walking once. I knew I wasn't going to be able to do that but I did run all the downhills and most of the flats. I glanced at my watch to get an idea of how far to my next mini-split and realised that it had gone to real time only as there was only 3% battery left.
I had looked at it at an hour or so before and it had read 23% so I thought that would be enough but I was wrong. This didn't help me either but to be honest I don't think I wanted the sub 14:30 enough to really push through the fatigue. I was content to get there as best I could and it wouldn't bother me if I was over my silver goal.
I reached the gate which was my last mini-split and it was 3.03pm which meant I was 14:03 into the race. I had 27mins to cover the final 2.90miles. Again I knew that this should be well within my ability but I was struggling in my mind to really go for it.
So I ran/walked and made my way down to Inverness. I got caught by Stephen again who was running well. He went past and I didn't even try and stay with him. I glanced at my watch and realised that I didn't have that far to go and I still had time to make 14:30 but again I didn't have the desire to push yet. I decided I would get to a point where I knew how far to go and then to give it my final effort.
Suddenly I saw Stephen again. I'm not quite sure whether he went off line or whether I did but we worked out the way down between us. I ran behind him for a while but then he pushed on again. We went through the field by the swings and I knew we weren't far away now.
Under the road and then onto the path past the golf course. I knew we were very close now as this is where Ryan told me he almost caught the guy in 2nd place two years ago. Through the trees and then up the steps onto the final canal path.
I could see Stephen going past another runner so I wondered whether I might catch him as well because he was walking. He must have looked behind him because he started running again. Far enough I thought. I would do the same!
I was hoping that the road over the canal was open. I heard a signal and hoped it was to open rather than close the road. Thankfully I saw cars driving over the bridge so realised I was okay. When I reached the bridge I immediately crossed over the road as the cars were just starting to get going and weren't moving too fast.
It was a good decision as the runner ahead, who I see from the results was Stewart Ward, was stuck on the near side at the far end of the bridge trying to cross but the constant stream of cars meant he was stuck. I did feel a bit bad as I ran down to the stadium but when I glanced at my watch it read 3.29pm which meant I might still sneak under 14:30.
I ran as hard as I could around the bend of the track and put my arms in the air as I crossed the finish line as I saw there was a photographer waiting to take our photo!
Photo thanks to BAM racing
I received my goody bag and greeted Lorna, Adam and Stephen who were all at the finish. I wandered over to Mike to ask him my time. He said I'd finished 24th in 14:30:33!! I was actually 23rd but I only found that out the following day.
Leg 7: 10.87 miles – 2:01:55 (11:13 pace) HR 125
Overall: 70.02 miles – 14:30:33 (12:26 pace)
Total ascent: 6,762ft
Total descent: 6,726
I smiled at my time as I really could have made it if I wanted it enough but I knew deep down that I didn't really deserve to make it as I hadn't worked hard enough over the final 10miles! Overall though I was very happy indeed. I felt that was as good as I could have done only 9 weeks after finishing a race that took me almost 50hrs!
I sat down on the grass for a few minutes and send a message to my family and posted on Twitter my time! I then needed help to stand up and go and get a shower. It never ceases to amaze me how one minute you can be running at 8/9min miles then a few minutes later you can't stand up and walk without hobbling!
Photo thanks to BAM racing
It was good to chat to various folks after the race, then Jo came and picked me up. I enjoyed the evening back at their house as they fed and looked after me! I slept pretty well and enjoyed the prizegiving before being driven home by Hollie in the afternoon.
Photo thanks to BAM racing
I would like to thank Bill, Mike and all the marshals and volunteers for all their work to make this race happen. Nothing was too much trouble for each and every one of them and it is a very special race. If you haven't done it then I would thoroughly recommend it as even though it is a tough route the rewards far outweigh the pain!
Photo thanks to Colin Knox
Written by Bob Wild - https://ultra-average.com
A quick warning before you start reading this:
This is going to be unpleasantly long, fairly rambling and very boring. It is not the latest blockbuster read from WHSmith, but it may keep you occupied for an hour or so. Don't say you haven't been warned. If you are ever thinking about running the Thames Ring 250, then this may have some useful bits of information. If you like to read about another person's pain and misery then this will definitely appeal to you.
Second warning: I dnf'd this race (did not finish) in 2015, it's only run every 2 years so if you want to get the full story, you need to read this post here so that you know what I went through that year. If you can't be bothered to read it, the short version is that I started violently vomiting at about mile 50 (for the first time ever in an ultra, but identical to what has happened in every long race I've run since). I managed to struggle on from mile 50 to the checkpoint at mile 156, with various parts of my body slowly deteriorating – legs first, then my back went meaning I was hunched over as I travelled on, and then finally my mind went on the second night…and I knew I couldn't cope with a third night awake. I made it into and out of the 156 mile checkpoint, but dropped about 14 miles later as the third night awake started to loom in front of me. I was on crutches for a week, as a doctor diagnosed a 'spectacular' strain on my right leg, and I didn't run for about 3 months. I was properly battered.
Third warning: There is a danger when doing these race reports (I find) that it is quite easy to make things sound a bit tougher, a bit grittier, a bit more challenging than they really were. It is easy to make yourself into a hero, battling the insurmountable odds and coming out the other side a changed and improved person. I'd like to state here that I'm sure the 250 miles wasn't as difficult as I'm going to make out below, but it really felt like it.
And finally: let me be honest and say that I'm a very average runner. I'm not fast, nor particularly agile. I'm rubbish at climbing hills, and scared of descending them quickly. In fact the only thing I've got going for me is that I'm really stubborn, I like to finish what I start, and can put up with quite a lot of punishment in the process.
Anyway, enough of the 'acknowledgments'….on with the show!!!!!!
————————————————————————————————————————————
"Helloooooooo! Anyone here???" I shouted. No answer. "Helloooooooo! I'm here at the aid station, where is everyone?" I shouted louder. Nothing. No answer, no people…hence no aid station.
It was about 7pm Friday evening, and I'd been on the move since Wednesday morning with minimal sleep or food. I'd dragged myself about 183 miles, to arrive at the aid station I desperately needed – but there was no aid station here.
I knew I couldn't risk wandering around looking for the checkpoint as I was so exhausted I was adamant I didn't want to go even 100 metres in the wrong direction. I would just sit down under this bridge and wait for the aid station to find me. In my sleep deprived state I was not thinking particularly clearly, and had spent the last 2 or 3 hours convinced there was a cloud of flies around me as I worked my way along the canal path. Black shapes flickering in front of my eyes and twitching at imaginary flies landing on my face probably didn't help this. The overgrown bushes grabbed at me with their prickly arms and the rough ground threatened to trip me into the water. I was in a thoroughly pissed off state of mind, exhausted mentally as well as physically and I knew that I needed to sit and see a friendly face very soon, before I chucked the whole thing in.
And what made it worse was that I had started vomiting at mile 55, so had not eaten anything solid since a banana about 2 hours after starting on Wednesday. That meant 55 hours without any solid food, and just 8 or 9 cup-a-soups to keep me going. This has happened to me before, and unfortunately there is no way to re-educate a stomach once it has started rejecting everything. However, after this amount of time I was getting some serious stomach cramps (I assume because my empty stomach was starting to object to the whole idea of running 250 miles) and these were beginning to make me question what on earth I was doing.
And then of course, as I sat there under the bridge, waiting to be rescued by the check point volunteers that I knew was out there somewhere, I had another look at the map I was following, and realised I was at least 3 miles away from where I thought I was, and I had what felt like a huge distance to go before I could stop. To say I could have cried was an understatement. I was distraught.
But I stood up and plodded on. Life was shit.
———————————————————————————————————————————–
I don't think I'm a particularly obsessive person, but the idea of running non-stop for 4 days and 250 miles got stuck into my head in 2014, and never really seemed to go away. As a challenge, it encompasses so much more than just running for a long time (which is bloody hard anyway) but it brings up thorny issues of sleep-deprivation, how to eat enough while keeping moving, and most of all how to keep your brain in one piece while telling your exhausted self that you've only got 100 miles left to go. Mentally, I suspect it is the biggest challenge I've ever attempted.
I was once told, by a very wise person, that it's important to do something every year that you genuinely don't know whether you are capable of. In 2008 I spent a couple of years teaching myself enough to take an A-level in Economics (which went quite well) and then in 2010 I started to get more into my running.
I was lucky enough to complete the Grand Union Canal Race in 2014 (145 miles), with a great crew and a lot of luck, in a time that was well beyond my expectations. I had a great time, and came away from the event feeling pretty invincible. On that basis, I entered the Thames Ring 250 in 2015, only to come unstuck pretty drastically. As well as being hugely overloaded with kit, I started being sick by mile 50 (just before my traditional pizza) and everything went downhill from there. I barely escaped intact, and look back on the event as being the most pain I've ever felt. Rough.
I eased back in 2016 to lick my wounds, and entered an easy 50 miles in the summer, called the Lakeland 50. In the course of a couple of recces I fell in love with the Lake District, and got into wild camping and hiking which was (and still is) a passion. That summer reignited my love of ultra-running, and I started looking for something to challenge me.
Fast forward a few months, and I entered a winter race with a friend (John, more about him later) called the Arc of Attrition. This 100 mile race had a dnf rate of 75% in 2016 (i.e. ¾ of those starting did not finish) so it seemed a logical choice for us to 'stretch' us a little. Well, it did that. While we both finished, John basically skipped comfortably to the finish and I dug as deep as I could just to keep going. The race report is here, but it is not a pretty read. It made me realise that the challenge (for me) in these events is the endurance aspect, the act of keeping going when you don't want to (or can't)….and the reward at the end is proportional to the amount of adversity it took to get to the end. Quick note of advice to anyone contemplating the Arc – don't. It's hard.
And then John and I started talking about the Thames Ring. First, let me explain about John. He has appeared in quite a few of my race reports, but has now firmly surpassed me in his abilities. He started a few years ago as the equivalent of a Labrador puppy to ultra-running, having massive enthusiasm for everything to do with running long distances – the eating, the dedication to training, the shoes, the opportunity for new rucksacks….everything. He is a good marathon runner (think about 3 hour 18 minute PB, which is good in my book!), and turned this into some great ultra-running skills. We did Thames Trot together in 2016, and then his first 100 miler was Thames Path 100, during which he got to 30 miles doubled up with nausea, but overcame that and finished the 100 miles in a very respectable 21 hours 21 minutes.
When we did the Arc of Attrition together he very kindly stayed with me for the first 60 miles or so, going at a much slower pace than he was capable of, and then he spent an hour at the final checkpoint waiting for me to get there so we could leave together (which I massively needed, I was in bits, and I possibly wouldn't have got out of the checkpoint without his nagging).
So we had a bit of history together, and had got into the habit of meeting at the earliest time possible on a Sunday (usually 4am) so that we could get a good 30 miles in before getting home by 10am to our families. It became a habit, and the core of our training week. John would then still run 4 or 5 times, often doing a longish run on Saturday so that the Sunday run was a 'back-to-back'. I was rather more realistic, simply not having the time or the legs to complete this type of volume, but still managed to average 50-60 miles per week over the few months before Thames Ring. We did a couple of night runs, the first being a very memorable experience on the night of Easter Saturday. We both started feeling horrible and really not wanting to be there at all…and sure enough we binned the run at 4am. Fast forward about 4 weeks and we had a brilliant night run, covering 50 miles in about 10 hours and generally enjoying the whole thing. Running is very odd.
Both of us knew that the Thames Ring was most likely beyond our capabilities. John has a much stronger running ability than me, but his longest ultra so far was 100 miles which means he had a massive jump in terms of distance and time on his feet. I had run further, but was a much slower, 10 years older and had already failed once at this distance. I was not hopeful, and as we walked down to the race start from breakfast, I summed up our chances for John finishing at about 50%, and for me finishing at about 30%. I would stand by those figures now actually, as they sum up the difficulty of the event and the likelihood of something going wrong perfectly.
The Thames Ring 250 is a simply race. Start at Goring, follow the Thames Path into London, then switch to the Grand Union Canal to head north to Northampton, then change to the Oxford Canal and come south until at Abingdon, then follow the Thames Path back to Goring. A lovely circle. Very flat & featureless, no mountains or beautiful panoramas to look at, but if you like following a river or canal then it is perfect for you.
Calm, tranquil and flat!
Those tranquil scenes of water, grassy path, overhanging trees with maybe the odd narrow boat or two will stay with me for a long time.
The route. We started in the 7 o'clock position (near Wallingford) and went anti-clockwise.
There would be an aid station every 25 miles or so, with two drop bags waiting for you which would then be transported on to the next checkpoint. In between you could visit as many shops and cafes as you want, but there could be no outside help from crews between checkpoints. Actually, apart from occasional newsagents there were very few shops to visit without leaving the route and I had no intention of clocking up too much extra mileage, so pretty much all of my nutrition came at the checkpoints. We all carried a litre of water, which was possibly going to be an issue as travelling 25 miles would take 7-8 hours in later stages, but that just made it more fun! In addition there was a small amount of mandatory kit: waterproofs & phones etc.
John and I had a friend, Pam, who was coming out to crew for us from Friday morning, which would hopefully see us getting to somewhere about 150 miles. Having done the 2015 race without a crew, I knew how much I would rely on that friendly face at the later checkpoints, and I was certain that I would know what my chances of finishing were by 150 miles in. If I saw Pam while feeling relatively positive, without too much pain, and (most importantly) still eating well, then my chances looked good. Pam is no stranger to running, having done a few longer races (including 100 miles) and culminating in the Marathon des Sables in April this year. She is a diminutive 5 foot lady, with these amazing reserves that only show themselves when she is doing something amazing. An awesome lady and willing to wait around for John and I to travel between checkpoints slowly, and then leap into action to get what we need in the hour or so we are at the checkpoints.
I had not spent as long this year (compared to 2015) agonising over how much to bring in my drop bags. In 2015 I had everything (including the kitchen sink) packed into separate bags for every checkpoint, and gigantic amounts of food. This year I had discovered the wonderful thing called tinned mackeral, which I was counting on getting me through…
Also, this year I was being much more strategic, and although probably still packing too much I had not pre-planned every checkpoint to much. Two changes of shoes, lots of socks and running tops, and a bit of cold weather kit just in case. I was lucky in that Pam was bringing some 'emergency' kit with her in case the weather got really bad (or I got really hungry) so I was fairly well prepared.
John and I were kindly given a lift up to Goring on the Tuesday before the race by a friend of his, Glen, which I'd like to say was great, but as we had to listen to the Beastie Boys for most of the way it was fairly painful (for me). The youth hostel we were staying in was great, clean and bright, and you can't complain for £39 per night (for your own room). A lot of us met at the pub in the evening, and it was great putting some faces to the Facebook names I'd seen over the previous few weeks. Also, catching up with a few people I'd met on the previous Thames Ring and hadn't spoken to since (outside of Facebook) was a pleasure, and the food wasn't bad too.
There was a bit of banter with Dave Falkner (and Chris Edmonds), who was trying to work out whether, if he timed it right, he could hit Abingdon (which is about 230 miles in) at 9am Saturday morning in time for the park run. Javed Bhatti blew my mind by talking about how he starts to meditate in his mind before he gets to an aid station, preparing him to fall asleep as soon as he lies down. Rich Cranswick was telling some awesome stories of bear encounters (amongst other things) while on the Appellation Trail. Lindley Chambers (the larger-than-life race director and facial-hair-aficionado) scared all the newbies with tales of how many runners had fallen in the canal on previous years. Dick Kearn was around, effortlessly winning the battle of the beards (sorry Lindley). Louise (who I'd seen on social media) turned up, one of surprisingly few women running, and reeled off an amazing number of races she'd done this year (including the Mozart 100k that she had done about 10 days previously – wow). Ernie was there with his wife. I even saw Paul Ali in the background somewhere.
In addition to these 'stars', there was lots of 'normal' runners like me & John, who just worried the night away. Peter, Rupert, Andy, Ian (a cracking Geordie, who let slip that his longest race to date was 60 miles) and lots of others. It was a great night and a highlight for me.
But soon it was time for bed, which for me meant some rather comfy bunk beds in the YHA. Despite thinking I may not sleep a wink, true to my nature I got in a solid 8 hours, waking at 6am before my alarm went off. John and I walked to registration, which was
The condemned men ate a hearty breakfast…
quick and efficient, before returning to the hostel for a slightly weedy cooked breakfast with plenty of coffee. The general consensus of the hikers at breakfast is that we were mad, but perhaps I detected a hint of envy in their banter. Or maybe not.
As John and I walked back to the start for the race briefing, I made my predictions about our relatively slim chances of finishing. There were to be 52 starters, which would mean about 25 finishers going by previous years…and there were some very experienced runners starting, which made the odds for John and I even tighter.
A swift race briefing from Lindley, and then we just had the nervous 10 minutes to wait before the start. Always the most nerve racking time, but also the time you can feel the previous few months of stresses and strains dropping away. There's nothing more to do, nothing else to arrange, no more chance to train, in fact all you've got to do now is run for a bit…and that's usually what I do for fun.
And then we were off.
Just before the start….look how youthful and happy we look!
————————————————————————————————————————————
OK, congratulations. You've made it to the running part of the race report. If you want to know how it all ends you can skip down about 10 pages, or if you need to stop for a quick break and a cup of tea then go ahead…it's pretty boring for the first few miles. Come back when it starts to get dark though, that's when it gets interesting.
————————————————————————————————————————————
Start to CP1 Hurley (27.25 miles, 4hrs 40 minutes)
John and I ran together for this leg, and as usual went too quickly. However, the pace felt good and it was great to be on the move. We chatted throughout, and it felt rather like our usual training runs. It felt very humid, rather than hot, and it did not take long for my T-shirt to be very sweaty. The Thames Path we were following felt like an old friend, as it had been the scene of numerous ultras before, so there was no need to refer to the map we had been given. I had a banana at about mile 12, and was purposely trying not to drink too much while on the move as this caused me so many problems in 2015. I was running quite comfortably, and was not really thinking about the next few days of running but just as far as the next CP.
I was getting a bit of a blister on my right foot, which was really strange, and resolved to change shoes at the first checkpoint, rather than waiting until the second as had been my plan. And my usual stomach problems seemed to be rearing its ugly head as usual, as I wasn't feeling like eating anything after that first banana. Having done numerous training run, up to 50 miles, and eaten my way happily through all of them, finally my event arrived and I couldn't eat a thing! I had some Tailwind (a sort of food replacement that you mix with water) in one of my flasks, which tasted grim, but I sipped slowly to try to get some calories into my system.
John and I teamed up with Rich Cranswick and Javed just in time to run through Henley regatta. Imagine a few thousand very well dressed people drinking champagne and enjoying the sunshine, while 4 sweaty runners threaded their way through the masses and tried not to knock anyone into the river. There was even a hat stall!
Every good ultra should have a hat stall….
And as if that wasn't bad enough we survived a small cow stampede, when approaching an open gate I realised the herd of cows in the field that the path ran through were also wanting to go through the gate at the same time. I was naturally behind John (and I could see Ellen Cotton in the near distance) as I heard a rumbling behind me and realised that 20 cows were heading in my direction at surprising speed given their size. We were all converging on the same 6 foot gate, and it is surprising how much energy you can find from nowhere when threatened with being eaten by hungry herbivores. I'm happy to say that we all lived to fulfil happy lives.
This may look boring to you, but it was lovely really!
That first checkpoint seemed to appear out of nowhere, or perhaps I was just not paying attention, but it was a pleasant surprise to have a sit down. I changed my top (which I realised was completely soaked with sweat) and shoes, and tried to have a bite of a ham roll, but struggled to swallow a single bite. John was ready quite quickly, and headed out of the checkpoint saying he'd go slowly until I caught him up. I think we both knew that I wouldn't be catching him up at all, and it was odd thinking I probably wouldn't see him again until this was all over. After about 15 minutes at the aid station, I headed on out.
CP1 Hurley to CP2 Chertsey (27.8 miles, 6 hours 10 minutes)
It was time to take everything a little more slowly, especially as I was on my own, and I had always looked at the distance up to the second checkpoint as just a warm up and a 'scene-setter' for what was to come. In my ideal world, I had been hoping to get to 55 miles, CP2, and eat a massive pizza giving my digestive system something to work on overnight. In 2015, I'd been copiously sick at the second checkpoint which had pretty much decided the outcome of my run. I was hoping desperately that I could avoid the same thing happening this time, even though I was already struggling to eat properly, so things weren't looking good.
I chatted to Paul Mason for a while, who was having a tough time. He'd recently finished GUCR (145 miles along the Grand Union Canal in May) and was feeling quite low after only 30 miles and the vision of what was ahead. I gave the only advice I could – "Just get your head down and knock off the mileage…things will look better soon", and plodded on.
While I was with Paul, we came across Allan Rumbles and his narrow boat moored alongside the Thames. Allan is one of those names you read on social media, and it was cool to finally meet the man behind it. I grabbed a jelly baby or two, snapped a picture for posterity and carried on!
The back of Paul Mason, and the front of Allan Rumbles & his boat.
As I got to about 40 miles I was happy that I'd built up a decent buffer on the cut-off times at the checkpoints, and I slowed to a run/walk to protect my legs. Checkpoint 2 closed at 1.30am, and I was going to get there at about 9.30pm, which meant even if I spent an hour having something to eat and generally sorting myself out I would have 3 hours in hand to use for future sleep. The cut-off times were quite realistic, but did require constant paced movement at 16 or 17 minutes per mile, for the first half of the race. The second half of the race the cut-offs extended quite generously as everyone would slow down and require more rest. I knew that if I could get to the checkpoint at Nether Hayford, mile 156, I would be able to keep ahead of the cut-offs, but I would need to watch my timings up to this point.
My run/walk strategy was quite simply…run a bit, until tired, and then walk until not feeling tired any more. The only requirement was to walk at a quick pace, and run at a slow pace. Simples! In my 2015 version of the race I had picked up a stick after 100 miles or so to ease some back pain, and I found myself looking for a stick again, although this time it was more for nostalgia.
I was caught up by a group of 4 runners, and stuck with them for a bit. I was recognised as the bloke that wrote a race report for the 2015 Thames Ring "with a stick", and here I was again, with a bloody stick. I suppose it's OK to be famous for something.
As I picked up the pace a little and ran with them, I remember one had absolutely massive calf muscles , and short white socks that were narrow at his ankles but ballooned to huge proportions at his calves (isn't it funny the things you notice when running behind someone), and another was wearing a Centurion Grand Slam running top.
Steve, Mr Grand Slam, was telling me about some of the amazing races he'd done, and how he was doing a monstrosity called King Offa's Dyke later in the year. I expressed the opinion that he was insane – the TR250, finish or not, would be the end of my running for the year, and wished him luck. That was before he told me about his entry for Dead Sheep 100 next year (if you don't know what it is, just believe me when I say it is shortly to become legendary). Awesome. Although the group soon left me far behind, I'm chuffed to say that Chris (Mr Massive Calves) & Steve, both went on to finish.
On my own again, I popped into a garage to get a can of coke and a Mars Bar ice cream. I had been reading up prior to the race about how ice cream was a great source of calories in hot weather and obviously very digestible too. Unfortunately, I didn't realise that the chocolate and caramel in a mars ice cream would be unbearably sweet, and in future I stuck to plain ice cream. I also, rather optimistically, bought two small pork pies, and then proceeded to carry them with me uneaten for the next 100 miles. Dammit.
With about 5 miles to go before the second checkpoint I had a decision to make. I was organised to order a Domino's pizza to be delivered to the CP at about the same time I arrived, but at that point I was not sure I'd be able to eat it. I went ahead and ordered anyway (large pepperoni, if you're interested) but more in the hope that my appetite would return than any real confidence. I enjoyed a bit of chat with the lady from Domino's, who was able to tell me that I last ordered from them about 2 years previously, and was I wanting the same drop-off point? Clever things these computers!
Having sorted that, I slogged on in the fading light, looking forward to the checkpoint and a sit-down. I knew I was making decent time, and was feeling reasonably good, apart from not eating. I was hoping that an hour at the checkpoint, and a good rest, would set me up for a bit of eating and a good start for the night.
As I walked up a longish road, I thought I could see lights on the grass verge up ahead, and sure enough, with a number of head torches visible, the Kingfisher pub on the left of the road, I was about 100 yards from the checkpoint.
Which was when something went wrong.
I've absolutely no idea what caused it, but I was hit by the strongest nausea I can ever remember, and basically absolutely voided my stomach all over the grass verge. 100 yards before I'd got to the aid station, before I'd eaten anything, or even sat down. I wasn't just sick once…I was on my hands and knees doing a fair impression of a cat bring up fur-balls, and retching over and over. Obviously, it was mainly coke I was bringing up, which in the gloom looked like I was vomiting blood (but I digress).
There was an ambulance parked up at the checkpoint, and I remember thinking 'oh dear' someone is in trouble.
If there is anything I have learned from being sick during my last few ultras, it is that after the sickness is over, I've got to get up and carry on as if nothing has happened. Which is exactly what I did. Leaving my mess behind me, I trotted into to the checkpoint, to be faced with a lovely volunteer called Jenny, who would become my saviour at this and successive aid stations by hitting just the right mark of 'helping but not over-powering'.
Pizza delivery on ultra races is the future! Pic by Dan Connors
I saw my pizza sitting in the corner, but knew that it wouldn't be me eating it tonight. I was able to offer it to the other runners though, so it didn't go to waste.
I had a wriggle on the grass (I find it allows me to stretch all those hunched up muscles), and then sat in a chair drinking sweet tea and trying to get myself sorted for the night leg. I was looking forward to listening to some music overnight, and I put on a long sleeved top over my T-shirt as it was getting a bit chilly. I didn't change my shoes and socks, as planned, as they still felt comfortable and loose.
Out of the corner of my eve I could see someone being looked after by the ambulance crew, but I didn't realise until later that it was Paul Mason who I'd been speaking to 20 miles previously. He spent the night in hospital, but recovered quickly and popped up at various checkpoints for the rest of the weekend.
CP2 Chertsey to CP3 Yiewsley (27.2 miles, 8 hours 40 minutes)
I headed out of the checkpoint at about 10.20 pm, feeling good considering I hadn't eaten anything since a banana at midday. I felt pleased that the first 50 miles were done, and the first 12 hours had passed with minimal problems. Even though I'd been sick, I counselled myself with the comforting thought that I sort-of expected it, and although I would feel exhausted in 24 hours, right now I was still moving well. My music was on loud and I had pre-programmed a playlist of hours of good upbeat familiar music. My phone had rung a few times during the evening, and it continued to do so as the night drew in, but I chose to ignore it as I was keen to focus on the task in hand (i.e. getting some mileage done) before talking to family and friends. With hindsight, I'm not quite sure where this focus came from, but it made the first 150 miles of the race pass quickly and (relatively) easily.
I have done a considerable number of night runs, both in races and in training, and whilst they are never very pleasant, they allow a certain mindset to develop in the small pool of light that your head torch throws out. There is very little to look at, so understandably you turn inwards and push most of your consciousness towards your life, your memories, and family. Your mind seems to flatten out to a very quiet way of thinking and hence the time passes slowly, without you being much aware of the distance passing under your shoes. In this way, by about 2am, you are at a fairly low ebb, waiting for the birds to start singing and telling you that daylight is on the way.
For some reason, I started to feel terribly tired after about an hour or so. Hang on, it was still (relatively) early in the night, I'd gone only about 8 miles or so, but I was feeling like I could lie down and sleep. It was rather cold, and I'm not sure whether the cold after a warm day was taking its toll, but I can't remember feeling quite so tired whilst on my feet. Against my better judgement, I decided to try to take a nap on the next park bench I saw, with the aim of shifting this head-drooping tiredness quickly and carrying on through the night.
Sitting on the next bench I came across, I had the bright idea of getting a couple of Rennie inside me to try to settle my stomach before my sleep….only to start retching again as I crunched them up in my mouth – oh dear. That brought up all the tea I'd drunk from the last checkpoint. Great.
So I set my timer for 20 minutes, and slept. I think I work up a number of times as every runner that passed me asked if I was alright, but I may have dreamt that. In the end I slept for 40 minutes, and woke up feeling freezing cold and stiff. But awake. And raring to go. I had not planned on sleeping on a park bench during the first night, and had never done it before, but it seemed to serve me well. Once I loosened up, I was back to moving quite smoothly again and making good time.
I actually did the same again an hour later, although only sleeping for about 20 minutes this time. I still don't know what made me so tired during what should have been a fairly standard night run, but these little micro-sleeps seemed to give me enough rest to carry on with a clear head.
I caught up to Dave Falkner, who was having a tough night, and we stuck together for a while discussing life in general. Eventually, I suggested finding a bench for him to have a quick sleep on as I had to try to give him the same rest I had had. What then followed was at least a couple of miles of absolutely no benches at all, or a bench that he didn't like the look of. Finally we found one that met his standards, and he disappeared for a sleep. A few hours later he caught me up, by which time it was daylight, and he said how much better he was feeling, but it had been a rough night hadn't it? I don't know why but throughout the next morning, everyone I spoke to said they had had a particularly tough night – no idea why.
With daylight, came a fiddly bit on the map as we joined the Grand Union Canal. I had been quite lucky throughout the night as I had not needed the map too much but I had also had my GPS to refer to if I had got lost. I find that I like the certainty of a GPS device to refer to if necessary, to reassure me that my map reading is not as rubbish as think it is. I find that the mental tiredness that comes from not knowing whether you are on the right route or not can be a lot more exhausting than the extra mileage it causes. Anyway, switching on my GPS whenever I was in doubt was a godsend.
As the morning came, I was feeling tired but happy, and I knew that I would be able to have a short nap at the next aid station for 30 minutes. I had allowed myself an hour stop at all the future checkpoints, and if I was quick that would mean 30 minutes sleep with 30 minutes faffing to get sorted out.
The checkpoint arrived on schedule, with the lovely Jenny waiting for me. I took off my running tops and slip into the TR250 bright orange hoodie, which felt warm, soft & lovely and quickly became a routine of wearing it at every checkpoint…a real treat. As I still couldn't eat anything Jenny had the bright idea of a couple of cup-a-soups, which I'm pleased to say went down really well. I've never had soup at a checkpoint before, but they will be part of my race kit in future, and at 100 calories per cup, they gave me some much needed energy. I lay down and was immediately asleep for 30 minutes, and awoke feeling refreshed and ready to go after less than an hour…amazing!
CP3 Yiewsley to CP4 Berkemstead. (23.6 miles, 7 hours)
Yes! I was in front of Javed for a short time!! Proof!!
As ran out of the checkpoint accompanied by Javed, and after he took off ahead I had a quick look at Facebook to make sure John was still ok. He had had a great run over night, and had teamed up with another runner, Gary, who he was working well with. Apparently he was in 9th place, which was brilliant (although I did worry about him going too quickly, naturally!). There was a bit of concern that I had not answered any phone calls overnight, so I put a quick message out to say I was fine but was not taking any calls in these early stages.
Ah, the lovely facebook.
I hit a strong pace for the first 8 miles or so, and then my mood and pace dropped, and in fact I found that the first 2 hours after every checkpoint I seemed to be particularly strong and then slowed…perhaps it was the power of cup-a-soup only lasting for 2 hours! I was still listening to music, and as this was a short leg I didn't really notice anything until I got to the next checkpoint!
I always knew this leg, like in 2015, would go quickly. I was through the mental hurdle of the first night, and more importantly the psychological hurdle of the first 75 miles. Getting from 75 miles to 100 miles was always going to feel like running downhill. In addition, I had the best checkpoint experience at CP4 in 2015, lying on the grass in the sunshine, outside a pub with people walking past "ooohhhing" & "aaahhhing" at the feat of running 250 miles. I remember it as being the best time of my 2015 race and I was already looking forward to it.
Although I spent most of this leg on my own, I don't recall getting bored or lonely. I generally find the canal quite peaceful, in comparison to my busy life, and quite enjoy the solitude. I was definitely planning on teaming up with someone from about mile 150 to have someone to talk to and get through the tough stages with, but right now I was content and enjoying myself. My pace was slow but consistent, averaging just 17m/m for this leg, but that included a couple of stops for an ice cream (Solero exotic was absolutely magical to my taste buds). Although I wasn't eating anything solid, I wasn't yet feeling that massive lack of energy that I've experienced previously, when every step feels like a mountain, and I have to stop and sit down for a rest regularly.
The aid station duly appeared, and I took the opportunity to lie on the grass and air my feet for the hour. My feet were in a surprisingly good state, with just a sore patch caused by the first set of shoes I wore. The second pair had covered 75 miles with no trouble at all. My socks were doing their job well: I always wear Injinji toe socks as a base layer, and then a thin 'normal' pair of socks on top to provide a twin-layer effect and it seems to work. Having said that, an hour in the fresh air did my feet the world of good and dried them out nicely. Over the course of the race I saw lots of gunk being put on feet (from talcum powder to Vaseline and other slimy liquids) and although I'm sure they work for everyone else I've never needed anything.
I was starting to hear of people dropping out, the ever-present Rich Cranswick was having problems and even Javed was hurting. It seems that the 100 miles point had taken its toll on a lot of people. It looked like John had gone through the checkpoint about 4 hours before me, and was keeping a good pace up.
Jenny, my aid-station-angel, duly supplied me with 4 cup-a-soups in quick succession, which all went down amazingly well. After 30 minutes dreamless sleep on the grass, I was up out at about 3pm, ready to head off in such a hurry that I had to return for the map of the next leg. D'oh!
CP4 Berkemstead to CP5 Milton Keynes (24.23 miles, 7 ½ hours)
OK. Quick situation check here. I'd covered 105 miles in about 28 hours, so quite slowly, but well within the timescales I'd set myself (in fact I was just about 45 minutes ahead of my schedule, which was a fantastic position to be at that stage). I hadn't eaten anything solid for 24 hours which was a concern, but plenty of cup-a-soups seemed to be keeping my calories topped up, however I wouldn't carry on like this forever. The most positive thing is that I wasn't letting my lack of nutrition worry me, as I had in 2015, but was accepting it as a fact and just trying to maintain my pace and positive mindset. My feet, legs and body were in good shape. I was tired and sore but not to the point of stopping (yet), and I was still enjoying the scenery. I was still working the race as a challenge to get to the next checkpoint, rather than the weight of another 150 miles weighing on my mind. Overall, things felt under control.
Although the next CP was only 24 miles away, I knew my real target was the checkpoint at mile 156, Nether Hayford. Firstly, that CP was where I would see Pam, and I really wanted to see a friendly face. Secondly, that CP would tell me I was over halfway – psychologically, everything was downhill after that (sort of). Thirdly, and perhaps most importantly, my state and mood at that checkpoint would dictate how the rest of the run was going to go. In 2015, I got there in pieces, having had the toughest night of my life and basically knowing my race was over – I wanted (needed) 2017 to feel different. And finally, if I needed to, I could have a proper sleep at Nether Hayford for a few hours if required, as the cut-off times after that became quite generous. Basically, Nether Hayford was really quite a big deal to me!
Still, I had 50 miles to travel before that, and they stretched away into the dead of night. I could feel my generally positive mood after the first 2 hours out of the last checkpoint begin to slip away, and as the evening wore on I began to see the oncoming night as a fearsome beast. In 2015, the second night had been a dreadful experience, with my body deteriorating quickly and energy reserves very low. I had been moving far too slowly as well, which made the whole experience last far longer than I wanted it to. I'd been tired enough to lie down on the grass verge a couple of times and sleep, but I'd only allowed myself about 10 minutes, which meant I'd not felt refreshed when I awoke. In 2017 I'd already learned that 20 minutes was much more effective the during previous night.
At 7pm, I changed from listening to music to an audio book. I had a 15 hour Dick Francis ready, that I planned should bring me into Nether Hayford just as it finished (in fact I was about 5 minutes to early!), and the change of sound in my ears felt good.
The checkpoint at Milton Keynes is…an experience. I remembered it well from 2015, as a concrete wasteland set under a motorway bridge, and a dark vision of hell in comparison to the bright grassy aid station I'd been at earlier in the day. I arrived there at 11.30pm, and was well looked after by the volunteers there, who I did not envy at all. I was given my multiple cup-a-soups, rather cleverly, in a massive plastic jug, which saved on the washing up! I was given a spoon, but chose instead to drink it straight from the jug, and once again they went down easily and really gave me a boost. Snuggled up in my bright orange fleece, I did manage to sleep for 15 minutes in a chair, but I was keen to get on and get to the magic Nether Hayford.
CP5 Milton Keynes to CP6 Nether Hayford (26 miles, 8 and a bit hours)
I had taken a couple of calls from friends and my wife during the evening which were great, but after midnight I took a call from Tanya, a friend with a particularly weird sense of humour, who proceeded to regale me with some facts from her list of 101 Interesting Facts about Milton Keynes. I have absolutely no recollection what the facts were, but it was a brilliant way of having my mind taken off my pain.
John phoned at about 1am, to see how I was doing. He sounded in decent shape although he worried me when he said he hadn't managed to sleep yet. Comparatively, I was like Rip Van Winkle, sleeping at every aid station and often in between too! His feet were causing him some issues too, which wasn't good news this early on in the race.
I took a few naps on benches throughout the night, when I judged my weaving due to tiredness was taking me too close to the water's edge. Although it would have instantly woke me up, I had no wish to become another of Lindley's 'swimming' statistics. I think I took three sleeps, all about an hour apart, for perhaps 15 minutes each. For some reason I knew I didn't need to set an alarm, but that I would wake up naturally, either from cold (and it was very cold when you weren't moving) or from having had enough sleep. It was quite a bizarre and spaced-out experience.
At 3.30am, I found myself waking up on a bench (again) and the voice of a friend, Sharon, coming through my headphones. A very odd way to wake up! My phone was rigged to auto-answer so I didn't have to get it out of my pocket, and she was talking into my ears before I was properly awake. As she explained that she'd got up for a wee, and thought she would phone to see how I was at the same time, I was up and moving and trying to relieve the cold and soreness before I knew what was happening. But these little sleeps were keeping my head together, and rather than fighting the need to rest it was great to give in to it, even for a few minutes.
A coach from my running club, Derek, phoned a few times through the night too, and it was wonderful to hear his voice. Derek basically got me through the second dreadful night in 2015, and it was great to hear him this year without such concern in his voice.
And then daylight came. I'd like to say the night passed quickly, but it was a long hard slog, nevertheless it did pass. As always, the gremlins of the night slink away to hide until darkness returns, and my mood lifted (slightly) in the knowledge that soon I would be at the checkpoint. In fact, it was still hours away, but it was enough to know I'd made it through the night.
I vividly remember the last few miles of this leg in 2015, when I was battered and bruised and basically done in. Perhaps it's enough to say that this year I don't remember those last few miles at all, but heading down a road to the checkpoint, I was mentally saying thanks to higher powers that saw me into Nether Hayford in one piece, 156 miles done.
Pam was a wonderful sight, and I got a great hug off her. As we walked into the checkpoint I asked her what the time was, as I'd been intent on getting to the CP at 9.30ish. It was 9.50am. Fantastic. Although I'd planned enough time for a 3 hour sleep here, I felt good enough to say I wanted to be out and on the road in an hour, which must show that I was in a good place mentally.
Catching up with Pam as quickly as possible, I got my shoes and socks off to let my feet enjoy the fresh air, and decided to quickly deal with a blister I had forming. Apart from that my feet were in great shape still, which was good news. I gulped down multiple cup-a-soups (again), and managed 30 minutes sleep behind a massive curtain. The room was quite noisy, and as I lay down on the hard wooden floor, with nothing but my hard bones for padding, I remember thinking I wasn't sure I was going to sleep. 30 minutes later Pam is shaking me awake and I am raring to go!
Leaving the aid station, Pam walked me back to the canal, and took my picture in the same spot as a picture in 2015. The difference in how I felt was remarkable, and I had absolutely no wish to spend any longer in the CP than necessary, but just get rested and then get back on the road. It was a lovely feeling. Below is 2017 on the left, and 2015 on the right…
CP6 Nether Hayford to CP7 Fenny Compton Mile 183 – (26.99 miles, 8 hours 50 minutes)
I had, as usual, a strong 2 hours after the aid station feeling great. The sleep had mended my brain temporarily, as I was finding my mind wandering more and more, and the soup had boosted my system. It was 11.15am when I left and I was absolutely adamant that I was going to get in and out of Fenny Compton in daylight, which gave me 10 hours maximum to leave the next aid station.
As I set off, I listened to the last few minutes of the Dick Francis audio book I had left, and then just put on every bit of music I had in one long (very long!) playlist – I think it was over 24 hours long.
I was purposely still drinking very little water, probably less than 500 ml per 25 miles, which did not seem to be doing me any harm other than a very dry mouth. I was still weeing regularly, and my urine was a lovely colour, so I assume the soup was hydrating me adequately. In previous ultras I'd drunk coke or other carbonated sugary drinks, but I did not feel the need this time so just stuck to water.
This was probably the hardest leg for me, despite being able to have a couple of ice creams on the way, as it seemed to last an interminably long time. The route took me off the Grand Union Canal and onto the Oxford Canal, which meant that I could officially think I was past the top of the circle on the route and beginning the long southerly slog back to the start.
Unfortunately the Oxford canal was nowhere near as well kept as the Grand Union, so the path was little more than a rutted track, with bushes overgrowing on both sides. Especially annoying when the prickly bush was poking into the space your head was about to pass through, so you had to keep quite alert about what was in front of you. The terrain was bashing the soles of my feet to pieces too, and I was getting a bit cross about the whole exercise. I was seeing a cloud of flies constantly around my face too, which may or may not have been imaginary, but kept making me have to wave my hand in front of my face to get rid of them. This is probably the part I remember where my brain started to play tricks on me, and although I was still making progress and moving forward I was not happy.
I was starting to get some serious stomach cramps, which I didn't recognise at the time, but it was my stomach starting to object to having had only a banana and numerous cup-a-soups in the last 55 hours. Surprisingly, with everything hurting as much as it was I didn't crave pain killers or even really feel the pain was too much, it was just there. A few stomach cramps on top of the rest of the pain was apparently quite insignificant.
Having slogged my way to bridge 132, where I expected the checkpoint to be, I checked my Garmin and yes, indeed I had travelled the correct mileage. I had arrived. No matter that there was no-one there, I would simply sit and shout until they heard me and came and got me.
And this is where I started this long long long report. Remember that? Feels like a lifetime ago eh? Just think what you could have done with the last hour (or more) if you hadn't sat reading this…you could have gone for a (long) run. Maybe you should get some fresh air and take the kids out for an ice cream? If you haven't got kids, then pretend you do, and then take them out for an ice cream, frequently. That's important.
Right where was I? Ah yes, in the well of despair, realising that the checkpoint I had arrived at (at bridge 132) was in fact a number of bridges further on, and I'd read the map wrong. Despite my Garmin telling me I'd travelled the right number of miles, I had probably got another hour to go. Shit.
Shit shit shit.
In fact, this 26.99 miles leg took 29.44 miles according to my Garmin. That's a full 2.45 miles of feeling like I wanted to kill myself and everyone else. I took a call from my wife, who had the common sense not to argue when I told her to go away and call me later, and to put a message out to stop anyone else phoning me too.
I did get a call from Derek, which briefly lifted me, but then my phone cut out and the world was shit again.
I walked into that checkpoint at Fenny Compton with the blackest cloud imaginable over my head. It was about 9pm, I was tired, pissed off, hugely grumpy, sore, and about to head into my third night awake. So far I think I'd had about 5 hours sleep in total since Wednesday morning, and it was Friday evening. I was not a happy rabbit.
And then something magical happened. Pam bounded over, bless her, and leapt into action getting me my customary cup-a-soups, which all went down lovely. I was lying on the grass, wriggling to try to ease my locked up muscles, and she said "Do you want to try some solid food?" And I stopped what I was doing with this entirely alien thought of solid food going round my head…it would never have occurred to me if she hadn't been there. And do you know what? I had a big bowl of beans & sausages, two rashers of bacon, 2 paracetamol (oh god, the thought of some of the pain going away for a while, wonderful paracetamol), and two cups of coffee. All wolfed down in about 3 minutes.
Do you remember the Popeye cartoon, where he has his spinach and immediately all his muscles come out and he's like a new man? Well, it wasn't quite as quick as that, but the feeling of having something in my stomach was fantastic. I haven't drunk coffee during an ultra since 2015, but this time it stayed down perfectly. My mindset went from the pit of despair to feeling slightly better than average in the space of just a few minutes.
Chris, the runner (with massive calves, from earlier on) who was lying on the grass getting his legs massaged by his girlfriend, was quite complimentary at what a decent pace I was keeping up (with my stick) and I have to say I was surprised to see Ellen Cotton at the checkpoint too…I expected her to be miles ahead. I think there were a few other runners at the checkpoint, and I'm sure I remember a couple of kids running around, but to be truthful I was so spaced out I really don't remember much.
As soon as I finished eating the heavens opened, and what felt at first like a nice gentle shower to cool off in quickly turned into a raging torrent that saw Pam and I trying to get all my stuff under one of the gazebo's to prevent all my kit getting wet. After a couple of minutes of watching this torrential rain, and being told the forecast was rain overnight, I made the decision to get my heavy waterproof coat on and risk being too hot but reasonable dry. Ellen Cotton, who was under the gazebo with me (trying not to look disapprovingly at me as I encroached on her space, I think) started to put on her waterproof trousers, which influenced me to put mine on too. I was kitted up and ready for nuclear war! I even put on some long tights (under my waterproof trousers) to keep warm….in the middle of summer!
Now, logic says that I should have taken 30 minutes for sleep here, rested my legs and generally sorted my head out before getting back on the road…but that would be far too sensible. So I set off after probably only 30 minutes (albeit with some great food inside me) and with the rain still going. I had to be chased after by one of the volunteers as I went the wrong way on the canal – going back the way I had arrived! Idiot!
CP 7 Fenny Compton to CP8 Lower Hayford 206 miles (22.8 miles, 7 ½ hours)
Ellen and Chris were running quite smoothly, and soon overtook me despite having set off behind me. They were having quite frequent walk breaks which meant I then overtook them, only for them to reappear soon afterwards.
I began to heat up in the waterproofs, as I expected, but in fact the extra layers were really useful as I could just push through all the overgrown bushes on the path. I didn't have to keep my eyes peeled for nettles to avoid – my waterproof trousers just brushed straight through them, and my thick jacket simply took no notice of any brambles poking into the path. By the time it was dark I was hot enough to broil a lobster, so I took my jacket off and started to whack the overhead branches with my stick to knock the raindrops onto me. I must have looked like a maniac!
I got a succession of phone calls from friends and family, and it was great to be able to them all that I'd eaten, that I was feeling great, and actually to be confident and positive for a change.
I sat down after 2 hours to try to eat again, and to prevent the loss of energy and pace I always seemed to feel after the first couple of hours after a checkpoint. I was still feeling great, and having brought about 10 tins of mackerel with me in my drop bags (but having not eaten a single one yet) I took great pleasure in eating one, illuminated by my head torch, surrounded my snails in the grass, and feeling it go down and stay down.
yummmmmm………mackeralllllllllll
It was about midnight and I felt good. I even sent a photo to my wife while I did it…what a thoughtful husband!
With that inside me, I was off. I was moving quickly, somewhere between a fast walk and a slow run, and I was absolutely boiling hot. It was as if my body, with finally something in my stomach to digest, was in overdrive. It started raining again, thank goodness, and I actually took of my heavy jacket to allow the rain to keep me cool. I could see my breath steaming in front of me, and had the bright idea of panting (like a dog) with my tongue out to cool down (well, I was tired, slightly insane and very hot…it made sense at the time!). The cool rain on me was keeping me just about cool enough to maintain a strong pace but I don't know what I'd have done if it had not rained to keep me cool. I vividly remember eyeing up the canal as a possible alternative if the rain stopped, but thankfully it didn't.
I got sleepy at one stage, and decided to lie down under a bridge, in the dirt path, to sleep for 15 minutes. The rain was blowing in from one end as the wind had picked up, and I was still getting wet but I felt I could watch the steam rising off me as I lay there. I'm not sure whether I slept, or just rested, but the time passed very quickly and I was soon up and moving again.
John called to find out how I was doing. He was not sounding too great, saying that he still wasn't sleeping and that his feet were in bits. Oh dear. He was still quite a way ahead of me, but warned me of a bridge that we were supposed to cross was in the 'up' position and that you needed to cross at the next bridge further on. Bless him.
I want you to imagine, as I tell you about the next few hours and through the night, that there is a soundtrack of triumphant music in the background. The sort of music where you know, despite whatever have may happened previously, the film is going to have a happy ending because there is no way anything bad can happen while this music is playing. It is the music playing when the death star blows up, or when the shark finally dies in Jaws, or even when Bruce Willis / Vin Diesel / the Rock do pretty much anything in the final 20 minutes of the film. I knew at that stage that I would finish, unless something truly unexpected happened…I was feeling good enough and I had enough time to take it slowly if required. It was a lovely feeling.
As the night wore on I came to the uncrossable bridge that John had warned me about, and got over the next bridge easily. That possibly meant I was a bit closer to John than I'd realised, and might even get the chance to see him the following day, which would be great. I'd been on my own for pretty much the whole race, and although that wasn't a problem, it would be good to have someone to talk to.
For some reason I began to hear noises behind me, and kept turning round to see who or what it was. This carried on all the way to the end, but it was particularly bad at night, when my imagination seemed to be running out of control. I was seeing dogs everywhere, in leaves, trees, and every shape that my brain couldn't immediately identify was turned into a dog. I vividly remember seeing some trees in the distance, and every tree canopy was the shape of a different dog. I actually reached for my phone to take a picture, as then no one could say I was hallucinating when I could show a picture of the dog-shaped trees….but I didn't.
At about 2am, whilst going through what felt like a little village, a bloke in a high-viz jacket showed up, apparently out of nowhere, to say hello and how were things going. I was a little shell-shocked to see him to be honest, and couldn't really string a sentence together. As I left him he said there were a couple of runners ahead, and that I'd properly catch them soon. I wasn't entirely sure if he was being serious (or if I was imagining him) but it was nice to hear and I set off with a purpose to my plodding.
Sure enough, after half an hour, I started to see some glimpses of head torches up ahead, and I was catching them up quickly. We were going through thick grass on the canal path, and because of the rain it was absolutely soaking our feet. I remember feeling the water bubble up between my toes for what felt like hours, but luckily I don't think my feet seemed to suffer with it.
As I got to the two runners I could see that one was John. He was wearing a plastic poncho and had bare legs underneath it, compared to my nuclear warfare kit of heavy rain coat and waterproof trousers. He looked really rough, with bags under his eyes that made him look more than tired, and his cheeks seemed to be gaunt under his ultra-beard. Having run with him for more hours than I care to think about, I was quite shocked at how he looked, especially as I was feeling better (at that stage) than I had any right to. Gary, the guy that John had spent much of the race with was also looking tired and rough. They were both going slowly over the rough terrain, and didn't look like they were having much fun (who was?). We walked slowly and chatted for a while, but with just 4 miles to the next checkpoint I needed to push on while I felt so good. I also had the quite selfish thought that if we arrived at the next checkpoint together Pam would have to sort out John's feet (which I really didn't want to see), so it would be better if I got in and out of the checkpoint before John arrived.
And on I went! The heroic music was still playing in the background and I was still motoring at a pace I had no right to expect. To put it into perspective, I did this night leg almost a full minute per mile faster than the first night leg, and three minutes per mile faster than the second night. Obviously this was because I didn't stop to sleep as much, but I was moving really steadily and consistently too.
I got to the next checkpoint (mile 206) with only a slight mishap (phoning Pam at bridge 205 saying I couldn't find the checkpoint, when it was really at bridge 206), and I could see the sun just coming up as I arrived. Pam did her usual star turn of sorting me out with cup-a-soup until they ran out (oh dear!) and then tried me on pasta which I struggled with. I also tried a mouthful of Ginsters slice but the grease was coating the top of my mouth and tasting awful.
I changed my shoes and socks for what I hoped would be the last time, and I considered briefly about putting on waterproof socks for the final 50 miles as the ground and grass was so wet. However, my feet had spent all night soaking wet and were like wrinkled prunes, so the thought of putting them through another soggy 12 hours in waterproof socks (which keep the rain out, but also keep the sweat in) didn't feel like the right choice. As the weather was looking better for the day, I removed my waterproof trousers and jacket, and felt my whole body take a deep breath of fresh air!
I saw John briefly as I was just about to leave (without my usual sleep again, very odd!), as he hobbled into the checkpoint. Gary and he were both going to have a rest, and I was strongly encouraging John to try hard to get some sleep. He kept insisting he wouldn't be able to, but at that stage I'm not sure he was right…he looked shattered.
CP 8 Lower Hayford to CP9 Abingdon Mile 229.5 (23.55 miles, 7 ½ hours)
As I set off, I could feel I'd lost the momentum of the previous night. It was about 5am and I would normally be feeling quite pleased the night was over, but as I felt my body return to 'normal' I was slightly sad to lose my super-powers. The heroic background music faded away and I was just normal Bob again. Shame.
I passed a couple of runners in the first couple of hours, both walking quite painfully. I chatted to Rodrigo, a Brazilian who was chafing badly (he told me) but was going to finish. There was another guy (Jon I think), in a red top, that had hurt his ankle and was taking it slowly, but again was determined to finish. I began to realise how lucky I was to still be in (relatively) one piece and moving well, and just how deep these other runners were having to dig.
I took a few phone calls from friends and family, who were excited to wake up and see me motoring so well on the tracker. It was great to be able to say that I was within 45 miles of the finish and that I was aiming to finish in daylight. That would mean covering these last miles in something like 14 hours, but I really wanted to finish while it was still light.
This leg seemed to last for ages, and as the sun rose it seemed to get hotter and hotter. I was still not drinking very much at all and resorted to tipping water over myself every 2 miles to cool myself down. The tiredness began to really kick in, and I found myself almost sleep-walking along the path. For some reason it didn't occur to me to stop for a sleep, but I was so focused on getting to the next aid station and hence get closer to the finish line I was not really thinking straight. My last proper sleep had been at CP 6, Nether Hayford, when I'd first met Pam and that was about 24 hours ago. I was surviving on 5 hours sleep in the last 3 days (from Wednesday morning to Saturday morning) so I was pretty shattered.
I was just about holding it together, until one memorable point when I suddenly woke up (on my feet) and realised I had absolutely no idea where I was. My Garmin said I had travelled about a mile beyond the checkpoint, and I could not see the river that the map said I should be directly adjacent to. This was a disaster, and I was seriously wondering how I'd cope if I had to backtrack by a mile to return to the checkpoint. Maybe they'd let me carry on, and miss out the checkpoint? But if I did that I'd not have the map for the next leg. It had all gone to shit so quickly.
I tried to find out where I was using Google maps, but it was all just squiggles on the screen to my tired brain. So I then gave up and phoned Pam for help, saying that I was completely lost; I thought I was still on the right route but I'd somehow missed the checkpoint. Pam passed me to Lindley (which snapped me awake pretty damn quickly) and he confirmed my tracker was still on the route, and I was about half a mile before the checkpoint. He asked if I could see the river on my left? No, no, no, I said, hang on, yes, I can, it was hidden behind a particularly tall range of bushes, what an idiot. I trotted the last half mile, thinking that I might as well try to make up for sounding like an idiot when I got to the checkpoint, by having a decent pace when I got there. I passed Paul Ali walking with a couple of other volunteers as I entered the CP, and it felt very odd being the only runner there. Pam was awesome as usual, helping me with everything and getting me (you guessed it) multiple cup-a-soups and two coffees. I knew I needed to sleep for a bit, just to try to sort my brain out, but I warned Pam that I was convinced there were some other runners close behind me and to wake me before 30 minutes if any other runner came into the checkpoint. As I climbed into one of the provided tents, I remember thinking how big my feet were in my shoes (a tired brain thinks the oddest things), but I had no trouble in drifting off to sleep and came awake pretty much instantly when Pam woke me.
I climbed out of the tent, feeling much more together, and was pleased to see I was still the only runner at the checkpoint. It was great to see Jason Sherwood and a few others at the checkpoint, but I'd started to become a bit paranoid about other runners catching me up. What I didn't realise is the other runners were a fair distance behind, and going slower than me too, but in my state I wasn't really too sure what was going on around me.
After my sleep at Abingdon….there's no way my legs should be able to bend like that after 230 miles!
Pam sorted me out for setting off, and thrust a bottle of coke into my pack as a leaving present! I left the checkpoint at about 12.30pm, so I still had a lot of time to finish the last leg and get in before daylight (which had become a bit of an obsession by this stage.)
CP9 Abingdon to CP10 Goring Mile 248 (18 miles, 6 hours)
This last leg took absolutely ages, and I found my brain wandering all over the place at the start. I had decided as I set off that I was actually in a treasure hunt, and hence the race was to get to the end (the treasure) first. This seemed quite logical to me, and I remember spending quite some time pondering the treasure hunt I was on. Then I started to get rather emotional about my family and how when I wrote this race report I was going to put a big piece in about remembering to take your kids out for ice cream. I had eaten more ice creams in the last three days than in the last year, despite living by the seaside, and I made a resolution to myself to make sure my kids got lots of trips out as a family. It's not that they are neglected (much) but both my wife and I work quite hard, so I resolved to make sure I prioritise family time as much as I can.
That's when I realised I'd lost my wedding ring.
This may take a little explaining, so I'll try to be brief. I'd removed my wedding ring on the first evening (a lifetime ago!) as my fingers had started swelling as they sometimes do when I'm running an ultra. I'd cleverly attached it to a little clip, normally used for car keys, on my rucksack tucked away in a pocket, and I had checked it was still in place a few times each day. Imagine Gollum fiddling with his 'precious' several times each day…that was me. Only now, when I reached for it, it had gone – the clip, ring and everything. Shit. I stopped and took everything out of the little pocket, but no, I'd clearly ripped it free during the previous night and it was gone. Shit. It was easily replaceable but after 17 years of marriage, irreplaceable. Shit.
I spend the next hour of so planning the meal I was going to take my wife out for, when I would tell her how I had accidentally lost my wedding ring, and how we could go (after the meal) and choose one together. It made perfect sense to me.
Then I tried to do some simple maths (in my head) to work out what my likely finish time was (in hours). I knew that the final cut off time was 2pm Sunday, which was 100 hours. That must mean 2am Sunday morning was 12 hours less than 100 hours…which was…..ummmm 90 hours? Then 7 hours less than 2 a.m. Sunday was about 6pm Saturday, which must be about 85 hours finish time, was it? I must have done that maths a dozen times in my head and still couldn't get an answer. I gave up in the end.
Paul Ali turned up at one point taking pictures of me (who, me?) which was pretty cool. I'd like to say I was smashing out the miles at that stage, but I think you can see from the pictures that I was pretty whacked.
Pic by Paul Ali
It seemed to take days, but by the evening I was alongside the Thames, on the very familiar stretch of three long fields (perhaps half a mile each?) before Goring. I knew I was close, but I was absolutely shattered and these damn fields just carried on forever. I think, in my fuzzy brain, that I just wanted it to be over at that stage. If someone had offered me a ride on a bicycle I would have grabbed it with both hands.
But eventually I got to the end of the Thames Path, and reached Goring. Without any real thought, I phoned Pam as I didn't have a clue which way to go on the Goring main road, and I really just wanted her to materialise and carry me into the finish. She (again!) passed me over to Lindley, who told me which was to go. And then, when I was about halfway over the bridge, I saw Pam running towards me…that's when I knew I had reached the finish line. She looked fabulous, beaming all over her face. We jogged in together (with me still carrying my damn stick), and I remember being slightly surprised at the small crowd of people that had come out of HQ to clap. Lindley put a huge, heavy medal around my neck, and I knew I had finally put the demons of 2015 to rest.
Lindley looking like he's about to give me a big kiss.
I had finished the Thames Ring 250.
In 7th position, 80 hours and 35 minutes. In daylight.
Done it! With medal and hoodie…but actually I was just happy to sit down.
To put that in perspective, I had absolutely no right to be 7th in a race like this, when so many better runners didn't even finish. A time of 80 hours is in the top 25 finish times of the race in the 5 times it has been run (I think). It was unthinkable that I could produce a time like that, as I was not even confident of a finish at the start. To say that I sat in the finish HQ and was slightly shell-shocked to finish was an understatement, but it was lovely to get off my feet! I drank litres of milk (as I always seem to do after a long run) and ate sausage rolls, Cornish pasties, anything I could get my hands on. I changed into my TR250 orange fleece (that I was officially allowed to wear, having completed it this year!) and a pair of jeans and flip-flops and allowed the sensation to settle in. John was a couple of hours behind, and so I had a bit of time to enjoy the sensation before he arrived.
Me & my name, on the laser-display finishers board.
I think I sat at a table and had a conversation with a few people. I confessed to Pam and everyone about losing my wedding ring, which was promptly found exactly where it should have been. Thank you Louise! Phew! I ate a bowl of lovely chilli, but I was starting to get a bit woozy from the lack of sleep, so I took the little bit of time before John finished for a sleep on the floor, as did Pam!
https://ultraaveragedotcom.files.wordpress.com/2017/07/20170701_204714.jpg?w=1240 1240w,
https://ultraaveragedotcom.files.wordpress.com/2017/07/20170701_204714.jpg?w=150
150w,
https://ultraaveragedotcom.files.wordpress.com/2017/07/20170701_204714.jpg?w=300
300w,
https://ultraaveragedotcom.files.wordpress.com/2017/07/20170701_204714.jpg?w=768
768w,
https://ultraaveragedotcom.files.wordpress.com/2017/07/20170701_204714.jpg?w=1024
1024w" sizes="(max-width: 620px) 100vw, 620px" style="box-sizing: border-box; margin: 0.5rem 0px;">
It's tough work, looking after runners!
I woke up to John finishing with Chris, who he'd spent the last 30 miles with. John was absolutely out of it when he finished, almost as if he didn't realise what was going on around him.
Chris and John at the finish.
He said to me half an hour later that he didn't realise finishing was such a big deal, with Lindley giving him a medal and everything. I didn't pay much attention at the time, but talking to John later he said how disorientated he'd been at the finish, not realising properly what he'd been doing, and what the medal was for.
It was great to see John finally get a sit down, and Chris and his girlfriend were bringing the room to life with their excitement at Chris finishing. John just needed to eat and lay down somewhere, but there was the unlovely task of getting his shoes off and getting him warm. Both Johns and Chris's feet were pretty bashed up, leading me to take this lovely picture:
John's feet at the top, Chris's at the bottom, and my princess-like feet in the middle, a rose between two thorns!
A few more finishers came in, Gary (that had run most of the race with John), the two walking guys I'd passed just as I'd left Lower Hayford, and quite a few others. There were some amazing performances at the race this year, including a new course record by John Stocker in 58 hours 53 minutes (how could you run 250 miles that quickly?) Gary, that John had spent much of the race with came in about an hour after him, and Ian, the Geordie that hadn't run a race further than 60 miles finished too….awesome. Ellen Cotton came in as first lady in about 84 hours.
Both John and I were fading quite fast by this point, so Pam tactfully got our bags out to the car and we said our goodbyes.
I have very little recollection of the journey back, apart from waking up in the back seat a couple of times and trying to make conversation with Pam, asking about her kids and that sort of thing, before sliding back to sleep while she was in mid answer.
And then I was home. Claire, my lovely wife had stayed up, and I was awake enough to help get my stuff out of the car, get Pam a strong coffee for the last half hour car journey, and open my first (of many) cans of lager. After a shower, I fell into bed and slept for about 5 hours, before waking up at 7am and getting beer and Doritos for breakfast.
Breakfast of champions!!
Looking through all the Facebook comments over the last few days was great, and then spending Sunday on the sofa watching the last few finishers come in was equally amazing. Massive well done to all the finishers, but especially to those that spent another night out on the route…that must have been really tough.
So it has taken a while to sink in, but after a week or so I've got my head around finishing, and finishing in only 80 hours. I think I got the pacing (for me) spot on, and in fact it helped that I was on my own for all but the first of the ten legs. This meant I took everything at my own pace, stopped, started and slept when I wanted. My paces were all quite consistently about 17-18 minutes per mile, apart from the first and second night when I slowed dramatically due to sleep breaks. These sleep breaks, however, were what kept me going through the nights (and at the checkpoints) and without them I'm convinced I would have slowed down much more. My nutrition plan went down the toilet, as usual, and it was cup-a-soups (and the ever-helpful Jenny) that got me through. Pam was a complete star, and I suspect I would not have eaten that crucial bowl of beans and sausages without her prompting…and that changed everything. The final night was bizarre, a combination of my metabolism going into overdrive and a positive mindset (and 2 paracetamol) overcoming some aches and pains. The last day was just rubbish.
And so a few thanks are called for:
Firstly, to Lindley and his excellent crew for putting on a great race, with smooth organisation and flawless execution. I've no idea how to arrange for 50 people to travel round a 250 mile route, with various people dropping out at different stages, but Lindley clearly does and he does it very well indeed. No complaints on the organisation at all. First class.
Secondly, to my friends from the very excellent Thanet Roadrunners (in Kent) for their supportive phone calls, especially, Mark & Sharon, Tanya & Derek…thanks guys, it meant a lot.
Thirdly, to Pam, for simply getting me round. I couldn't and wouldn't have done it without you. I'm looking forward to crewing you through the Autumn 100 in October, and will get you to the finish no matter what!
Then, to John, for making the training and race so much fun. I'm hugely proud of how much adversity you got through to finish, and even more proud that we both finished, which was definitely against the odds. As we have now both ticked this off the list, I can only suggest the Yukon 6633 as our next challenge (as you refuse to do the Spine with me). If you want to read John's report (in which he spends 250 miles complaining about his feet, it is here)
And lastly, to my long suffering wife, Claire, and kids Michael and Abigail. I think we all deserve the next few months off running of any sort, and I look forward to as many ice creams as we can all eat. Thanks guys.
And finally finally, a quick thank you to my body, brain and legs. You all took a bit of a beating this time, especially you, brain, but I'm happy to say you've bounced back quite quickly, and I promise nothing else for this year at least.
And that's it! You've made it to the end of possible the longest race report ever written. It had its ups and downs, but you made it! Congratulations, and if I had a medal I'd happily give it to you. Now, go bugger off and do something useful with yourself.
———————————————————————————————————————————-
John looking completely buggered somewhere….pic by Pam Philpott
Me, looking very fuzzy at 156 miles. Pic by Pam.
I've no idea what I was smiling about here.
Looking serious and ready to leave Abingdon. Pic by Pam.
No idea what this was about….except I seem to be looking a bit gaunt. Maybe i wanted to eat my phone.
Written by Stephen Cousins - http://filmmyrun.com
There was a time when I was an ultra virgin, and it really wasn't all that long ago. Back in April 2014 I had just completed my third marathon, having done one each year since 2012. But I was disappointed with my time and decided to book another one soon after. So in May I ran the Milton Keynes Marathon and clocked an even slower time! But doing that, made me realise that I didn't need to stick to one marathon a year. I could run two, three, maybe even four in a year if I wanted to.
First Ultra
Then, my new running buddy Richard, suggested we do a race called the Longman Ultra in September 2014. A 33 mile event along the South Downs Way. I told him to go away but I used slightly more colourful language to get my point across. He, and a few of my other club mates, had already booked up to run a 46 mile race in Wales called the Brecon Beacons Ultra in November. A few weeks passed and my attitude softened. I eventually agreed to run the Longman Ultra.
The race was a bit of a baptism of fire. It was a hot day. I had nothing left in the final 10 miles, I had gastric issues and threw up at the end! But I loved it and when a place became available on the trip to Wales for the Beacons Ultra, I decided to go for it. After all, I was no longer an ultra virgin. I had run 33 miles and survived. Another half marathon after that should be fine, surely! I mean how big are the hills in Wales anyway?
Wales in November
November arrived and I had what I would describe as a very acceptable run at the Brecon Beacons Ultra 2014. I felt strong most of the way round, apart from painful feet caused by my rubbish Fellraiser trail shoes. I finished in 9 hours and 25 minutes in 49th place. The weather had been superb and we'd had a real blast of a lads weekend away. We vowed to do it again. The high coming off that run fuelled my love of ultra running for months, but it took 3 years for me to organise another trip to Wales for the revamped Force 12 Beacons Ultra.
Richard and I had initially planned to camp but given the cold and the wind and the rain, we were handed the last minute lifeline of a B&B about 12 miles from Tal-y-Bont on Usk and race HQ. Hilariously, when we arrived, the heating wasn't on in our room and it was almost as cold as if we'd been in a tent. Still, we managed to turn the radiator on, then went to the restaurant, stuffed our faces with chips and got our heads down by 10pm.
Beacons Ultra 2017
Race start was 7:30am, at Henderson Hall, as it had been 3 years earlier. Since then Martin and Sue Like, who run the Likeys shop in Brecon, have handed over the running of the event to Jonny Davies and the crew from Force 12 Events. Essentially the race remains the same. Two laps of 23 miles each. The course is identical to 2014 save for the bits that occur around HQ, namely the start, middle and finish. But it's basically the same. The forecast had been for quite heavy rain early on, but as it was we lined up on a cool, overcast day with just a hint of rain in the air.
There were one or two people we knew on the start line. Clare Prosser, who actually won the event overall in 2014. Helen Etherington who we see everywhere these days and who can finish running 100 miles and still manage to look like she's about to go out on the town on a Friday night. Also, Richard Hurdle who has run everything under the sun, including Arc of Attrition, UTMB and the Transvulcania Ultra in La Palma.
The Start
We began on the sports field next to the canal, ran around the field and up on to the canal bank. The first 6km is flat along the Monmouthshire and Brecon Canal. It's tempting, as always, to go off too fast, either accidentally or deliberately, in order to get some miles in the bank. This is almost always a mistake. Obviously, it's all relative. It depends what you are capable of. But, whatever your pace, I am a fan of even splits as far as is possible. In a hilly ultra it's simply not going to be possible to hit every mile or kilometre the same. But it might be possible to do each quarter at the same pace or both halves.
Richard disappeared along the canal and was out of sight after 2 or 3 kilometres. I was careful to keep my pace steady. Quite a few runners came past and I was very happy to let them go. I secretly whispered to myself, 'I'll see you in a couple of hours'. Six kilometres into the Beacons Ultra the route leaves the canal at Llangynidr Locks and we began the long steep climb up to the 551m summit of Tor y Foel. It is a 400m climb with about four false summits! It is by far the toughest climb of the race, and beware, you have to do it twice!
The Dreaded Coal Road
The weather was holding and although it was a little windy on the top, it wasn't cold and it wasn't raining! A steep descent off the hill leads to a dirt road and a short run to checkpoint one. I didn't stop. There's a gentle but technical descent down to the old coal road and then it's a long slog to the next mental break in the race. The old coal road is about 4 kilometres of slightly uphill running. It's pretty relentless. It's flat enough that you feel you really should run, but the incline is such that you can definitely feel it in your legs and I know it's a dreaded part of the course for many, especially on the second loop.
I skipped along it quite gaily first time round and made it to the tarmac near Blaen y Glyn Uchaf car park. There's a nice little downhill recovery on the road towards Torpantau Station, where the railway line ends. You don't quite reach the station though because there's a right turn at 19km (56km on lap 2) which is the start of the climb up to The Gap. The highest point on the Beacons Ultra is The Gap. It does what it says on the tin. It's a gap in the ridgeline on the climb up Pen-y-Fan at about 600m elevation. The view is fabulous, although it was a little shrouded in mist on the first ascent.
Up To The Gap
I managed to run the whole climb and was very pleased with myself upon reaching the top. The descent is very technical and you definitely have to watch your footing. You're either going to stumble on rocks or slip on wet grass. When you reach the second checkpoint at the foot of the drop you have 10km to go. There are no more tough climbs left on the loop. There's a little more technical descent, a road section, then some fields and styles to negotiate, another drag of a road and the final 3km canal towpath back to the start/finish. I got to the halfway point and was just starting to feel a little fatigued. But I could see Richard up ahead and that spurred me on. I grabbed a coffee and got going again.
The second lap is harder. Same course, same distance but now you have 23 miles of running and 900 metres of climbing in your legs. It's time to dig in and flush out any mental negativity. It was good that I had the goal of chasing Richard down, because that certainly helped the canal path section to disappear relatively quickly. Having now run over a marathon it was time to start climbing Tor-y-Foel again. I power-hiked, with the odd stop for breath. I caught Richard about half way up. He was having gut problems and looked a bit rough. We are friends but we don't do sympathy. Well, not that often anyway! So I left him behind. It was beginning to rain and the wind was also getting up.
Starting to Tire
I pushed on, feeling tired but confident. I stopped at checkpoint one to get my water filled up and then made my way down to start the long coal road section. This is a very easy place to get demoralised during the Beacons Ultra. It seems such a long way from home and such an unforgiving section of road. But once again I was lucky. Up ahead I could see another runner and I set my sights on catching him. He was walking and so it didn't take too long. As I passed I asked if he was ok and he said he was feeling nauseous. Another one with gut issues. After injury, gastric problems are the number one reason for DNFs in ultra running. Anyway, once past him I thought I needed to keep running to make sure I got some distance between him and me. So, as much as I would have liked to walk, I forced myself to run on.
I did eventually give myself a little walk break at the tarmac and then jogged slowly down the hill towards the railway station in the rain. But I was suffering now. For the next four kilometres I had to adopt a run/walk strategy. I had run all the way up the hill to The Gap on the first lap, but I just couldn't do it this time. Half way up, the chap whom I had passed on the coal road came steaming past me. "Stomach's ok now. Back on form" he said as he bounded up the hill. I daren't look back because I knew Richard wouldn't be too far behind. The wind and rain were at their worst now blowing horizontally from the left. This was definitely, physically and mentally, my low point of the run. I finally reached the ridgeline and started to make my way down to Checkpoint Two.
Richard Catches Up
I managed to run but I certainly wasn't as fast as I had been on lap one. I needed my bottles filling again, which I did when I got to the checkpoint and as I was there, sure enough, who comes bounding down the hill but Richard. It is usually at this point that he disappears off into the distance again, but I think he had used a lot of his energy trying to catch me up. By the time we reached the road section he was falling behind again. There's a turn off the road at 66km (30km on lap 1) on to the fields. Back in 2014 I missed this completely on the first loop and added another 400 metres to my journey going the wrong way. This time, I had stopped to stretch out my cramping legs, when Richard almost ran straight past the turn. He said if I hadn't been there, he would have missed it. The rain had stopped now. It had only been really bad when we were up high.
We stayed together running across the fields. The cramp in my legs was getting so bad I couldn't climb over the styles and had to open the gates instead. But I was still running and once we reached the road at Llanfrynach, I could see we were catching the same chap again. He'd either run out of juice or he was suffering a recurrence of his stomach issues. I told Richard I wanted to see if we could catch him, but I don't think Richard was in the mood! So with one last big effort, I upped the pace over the tarmac and left Richard to his walking break. That's not a phrase I get to say very often, where he and I are concerned!
Passing a Legend
After a couple of kilometres on the road, you can see the canal running parallel on the left, so you know it won't be long before the final section. Sure enough, at 71km the route reaches Pencelli and joins the canal where Pencelli Castle once stood. I was feeling good now, knowing that I was nearly home, knowing I was going to catch the guy ahead and that I was going to beat my target time of 8 hours. Once I'd caught up, I briefly walked alongside the runner with whom I'd been playing leapfrog, and he told me he had indeed had a recurrence of his tummy troubles. I knew I recognised his face but couldn't put a name to it.
It was still light and I was still running well when I approached the DayGlo arrow telling me to turn off the towpath and on to the sports field by Henderson Hall for the final 100 metres. I crossed the line in 12th place in a time of 7 hours 47 minutes. My goal had always been under 8 hours and ideally a top 10 finish. However, looking back at previous years results it does seem like, apart from in 2016, 7:47 has always been around 12th place finish time. So I am very pleased. Having won the women's race in 7:20, Clare Prosser was there cheering people home and the men's winner was Sam Humphrey, who won the Beachy Head Marathon in 2016. He finished in 6 hours 15 minutes. I'll just say that again. 6 hrs, 15 minutes. Yea, I know.
Target Time Finish
It wasn't until much later that I discovered the identity of the guy with the gastric issues. I wish I'd known because I'm bit embarrassed that I didn't acknowledge him en route. It was Steve Wyatt who is twice winner of the Arc of Attrition 100 mile race and who I knew was running. Remember that film I made where I finished in 29 hours 50 minutes? Steve ran it in 21 hours. He's a phenomenal runner and it's a total fluke that I came in ahead of him at Brecon. He was just having one of those days that we all have from time to time. So kudos to Steve. Richard followed both me a Steve a couple of minutes later to finish in 14th place in 7:50.
I totally loved the Beacons Ultra when I ran it with the boys in 2014. I love it even more now that we have returned and have to some extent, tamed the beast. It's a great run and a super challenge. It's a mix of fast, flat runnable, super technical runnable, runnable climbing and non-runnable climbing. I think it would make a good first ultra if you're after a bit more of a challenge than a standard 50km trail race across the South Downs. It also makes for a very good race, for experienced and faster runners. Well done and thanks to Force 12 and all the volunteers. If you've not done it before, definitely go and have a look at the website and consider adding the Beacons Ultra to your list for next year.
Written by Luke Latimer - https://jurarunner.com I was expecting to find you hunched over your poles, headphones in, grinding through the dark miles with gritted teeth. Are you sure you've just run 85…

Written by Will Rivera - https://willrivera-ultra.tumblr.com "Pushing your body past what you thought it was capable of is easy; the hard part is pushing yourself even further … past what your mind…

Written by Jean Baptiste Rouvelin - http://jbrouvelin.blogspot.com Kit checked and got my number Well, where to start. The Arc of Attrition is a point to point race which forms an arc following the South…
Written by Tom Wright - http://life.tomwright.me.uk No medal, no finishers photo but I did complete the Lavaredo Ultra Trail. No really I did… I have my coveted bin bag to prove it! (Note Lavaredo has a…

Written by Paul Baldwin - http://pbracereports.blogspot.com Let's start with the finish I finished the 90km du Mont Blanc in 22 hours and 29 minutes, ranking 564th out of 1,142 entrants (49th percentile), and…

Written by Phil Bradburn - https://untrainingultrarunner.com "There is nooooo way that I am going to run this race – I have seen what it does to people! And those swans…. And those…
Written by George Callahan - https://wickedtrailrunning.com Burning River 100 Race Report My Wicked Trail My 2018 Burning River 100 Race Report may not look like some of the other race reports you've read. I'm…

Written by Tom Atkinson Pre-race I've been focused on this race since my last ultra in February (St Peter's Way, 42 miles and the previous furthest I've ever run). Training went pretty…

Written by Steve Birkinshaw - http://stevebirkinshaw-wainwright2014.blogspot.com/ If it wasn't exciting enough to have one record-breaking runner to blog about, try having two. That's right, Wainwright round record-holder Steve Birkinshaw tells us about…