Written by Nick Grahame
Dorset Ultra was the third Ultra race I've entered, having got bitten by the bug earlier in the year. The biggest draw for shoe-horning this in at the end of the year had been the opportunity of points in time to enter an application in December for the 2018 OCC, but it was also a good chance to familiarise myself with some of the challenges of the Jurassic Coast, having signed up for The Oner in April 2018.
I traveled down the night before, and arrived with just enough time to register in the evening before retiring back to the Castle Inn to get my kit ready for the morning, and set three alarms!
The weather forecast had been mixed in the run-up, but by race day it had settled to a prospect of cloudy, but dry, with a slight chance of a shower. I packed as light as I could, packing only one extra item of clothing - a waterproof jacket. I'd been advised that the checkpoints were a little more sparse than some events, so included an emergency malt loaf, along with my carefully planned selection of gels, jelly babies, and energy bars.
Parking by the start was good, and as the route went through the car park twice, as well as at start and finish, meant that I could run my own support from the boot, rather than relying on the bag drop.
One thing I hadn't trained for was standing around waiting for the event to start - psychologically, this kind of threw me, as I'm so used to stepping out of the front door and just heading off. When we did start, I was colder than I would have like to have been, but the route immediately started with a slog up the coast over to Durdle Door which warmed things up. Garmin was acting up, and wouldn't load the route, so it was nearly two miles before I started logging distance and pace - another psychological niggle, as I like my data en-route to gauge my progress.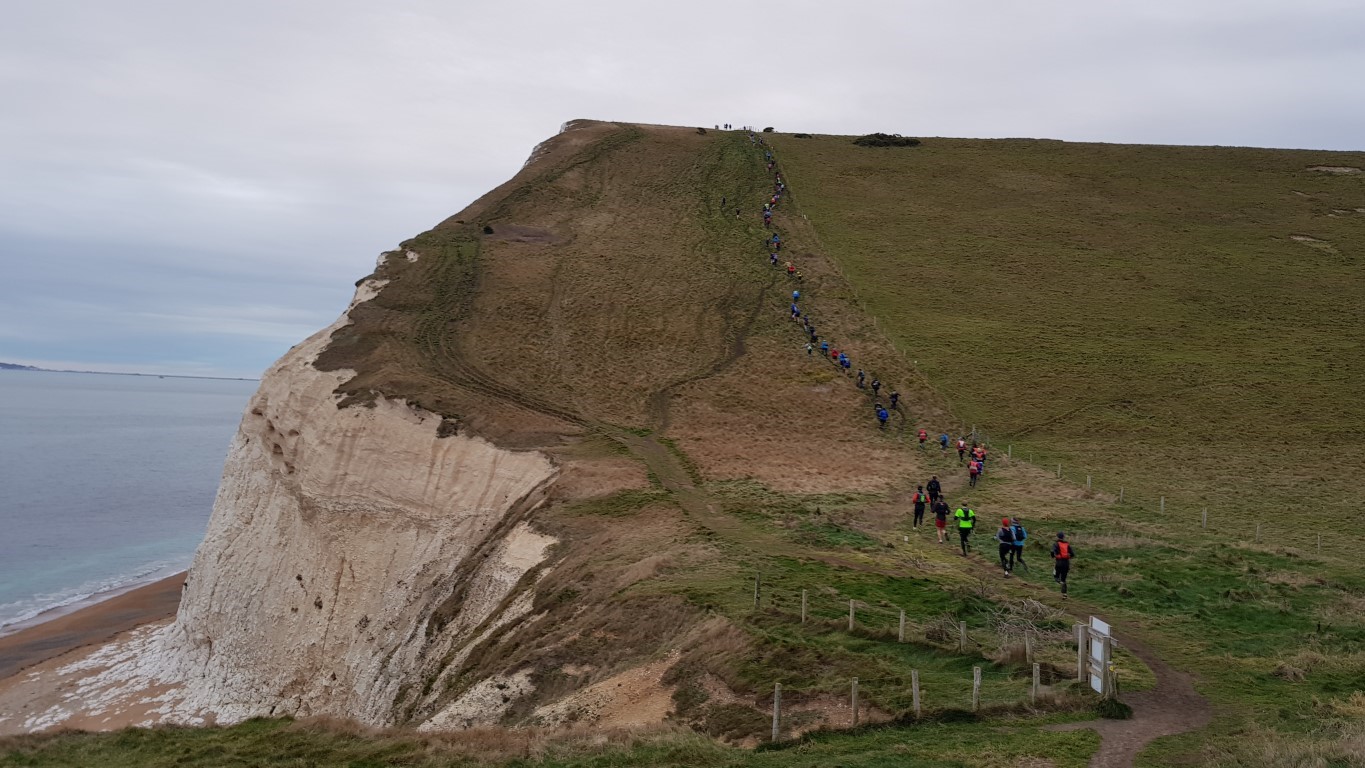 The next few miles continued west along the coast, with some brutal inclines. In terms of running, I'm pleased with my current fitness levels, and can knock out a consistent 9 or 10 minute mile for what almost feels like forever. What I was not physically prepared for was walking up steep inclines. Different muscle groups (particularly calves!) were screaming all the way up, to the point that early on I was wondering if I was going to manage all this - another mental blow. However, as the route turned inland to head back east, things levelled a little, and I was flying, and soon my confidence of carrying an average pace of 11 to 12 mins per mile returned. By the time we came through the car park again, everything was bang on track, and I felt good.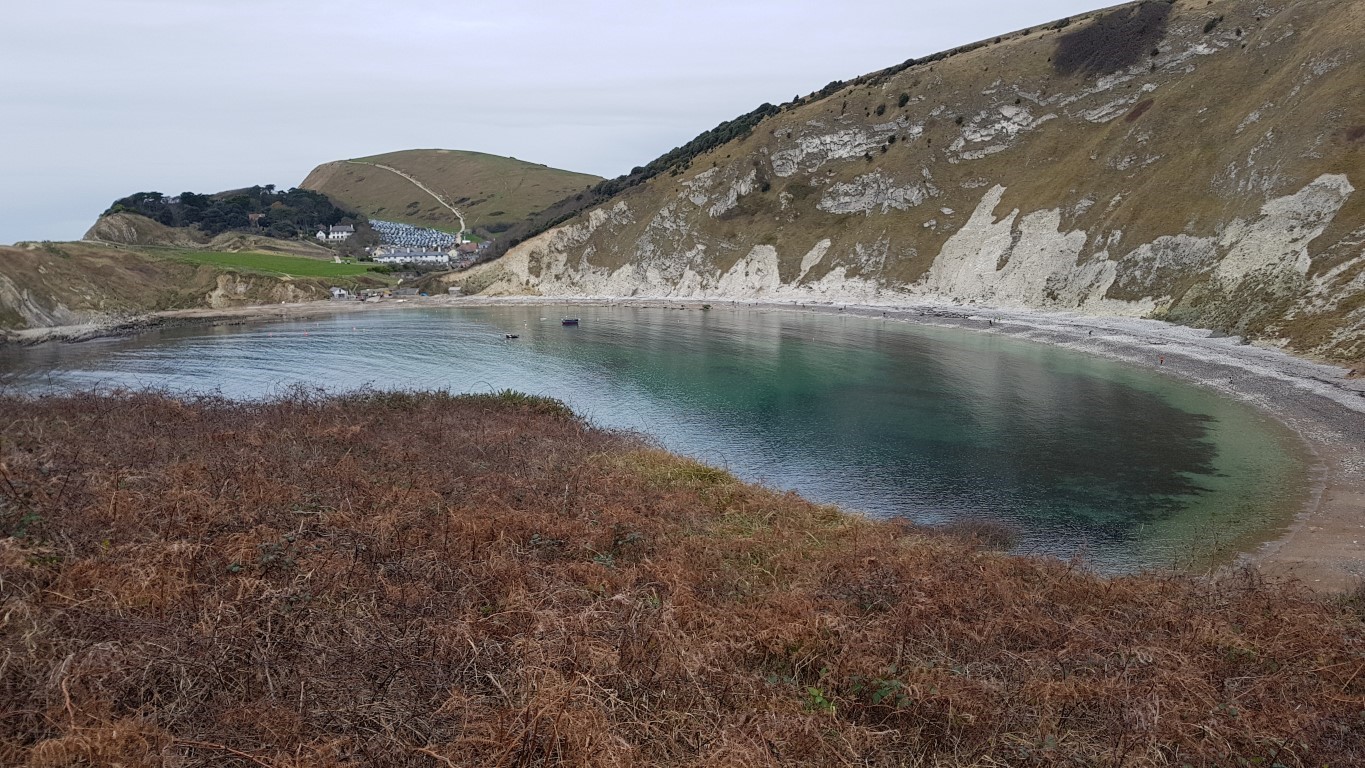 The run round Lulworth Cove though was a bit gnarly, but I found firmer footing closer to the water. The route then headed up again, towards the military testing area. At this point I realised that the hills on the western stretch were just a warning. The rest of the run out east was breathtaking, both visually and and literally in that it knocked the wind out of you. I'd used poles on my first Ultra in July, but on balance I've not bothered with them since as they haven't offered much help, and the rest of the time are a faff. Man, I wish I'd brought them here! Calves burning again, I was less demoralised, and saw the humorous side of it with my fellow runners. I knew that, like before, the hills were about damage limitation, and that I could claw back the pace on the return west. Right...?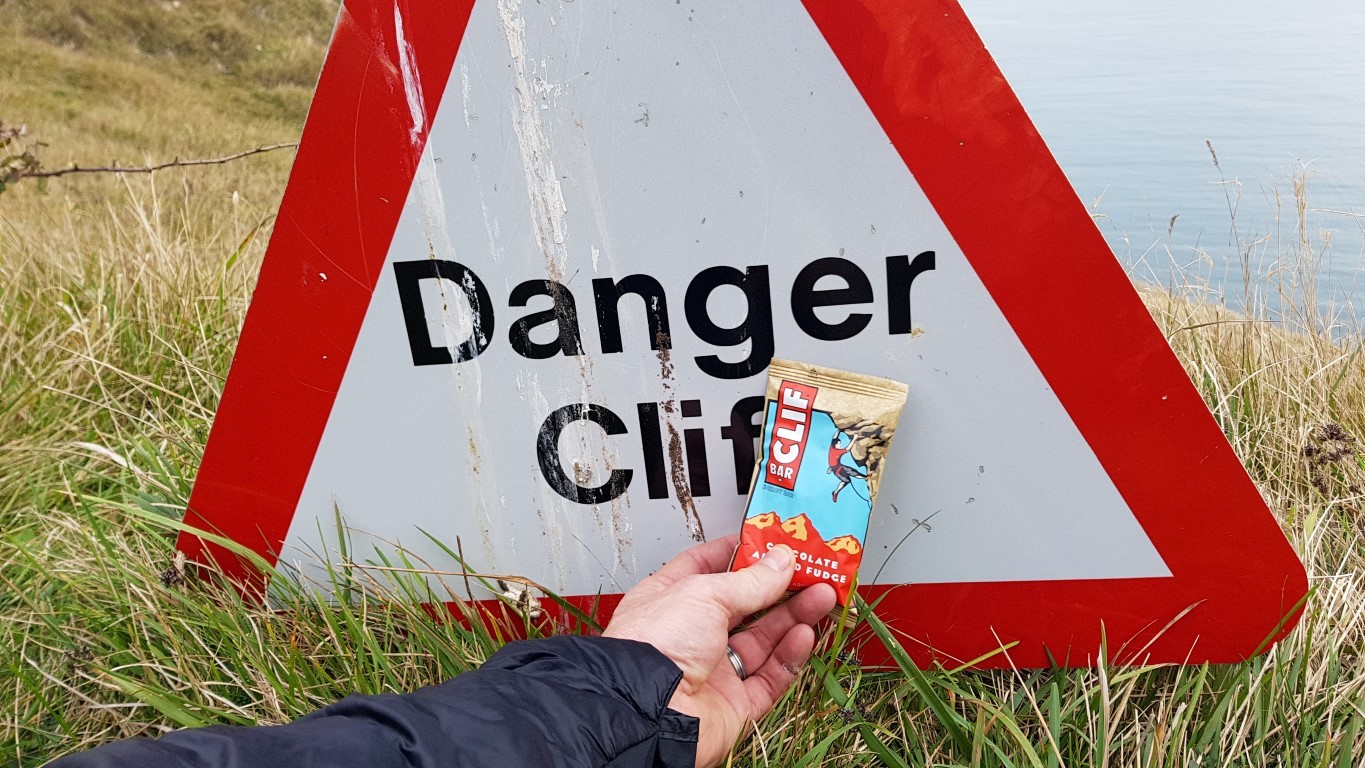 The turn back west was where it all started to go south. The western return from the east loop is not forgiving. It's another combination of muscle burning ups and knee smashing downs. It was about 2 miles in when my old friend, ITBS, popped in to say hello. By the time we were pounding down the steps back to Lulworth Cove, I was having my "I'm never doing this again" moment. But the prospect of the looming car park, and the paracetamol I knew was in the glove box, was all I needed to get to the marathon check point. I've never medicated on a run before, but I had serious doubts about finishing, so I had a couple of paracetamol and, against the generally accepted wisdom, two ibuprofen, as I only had six miles to go.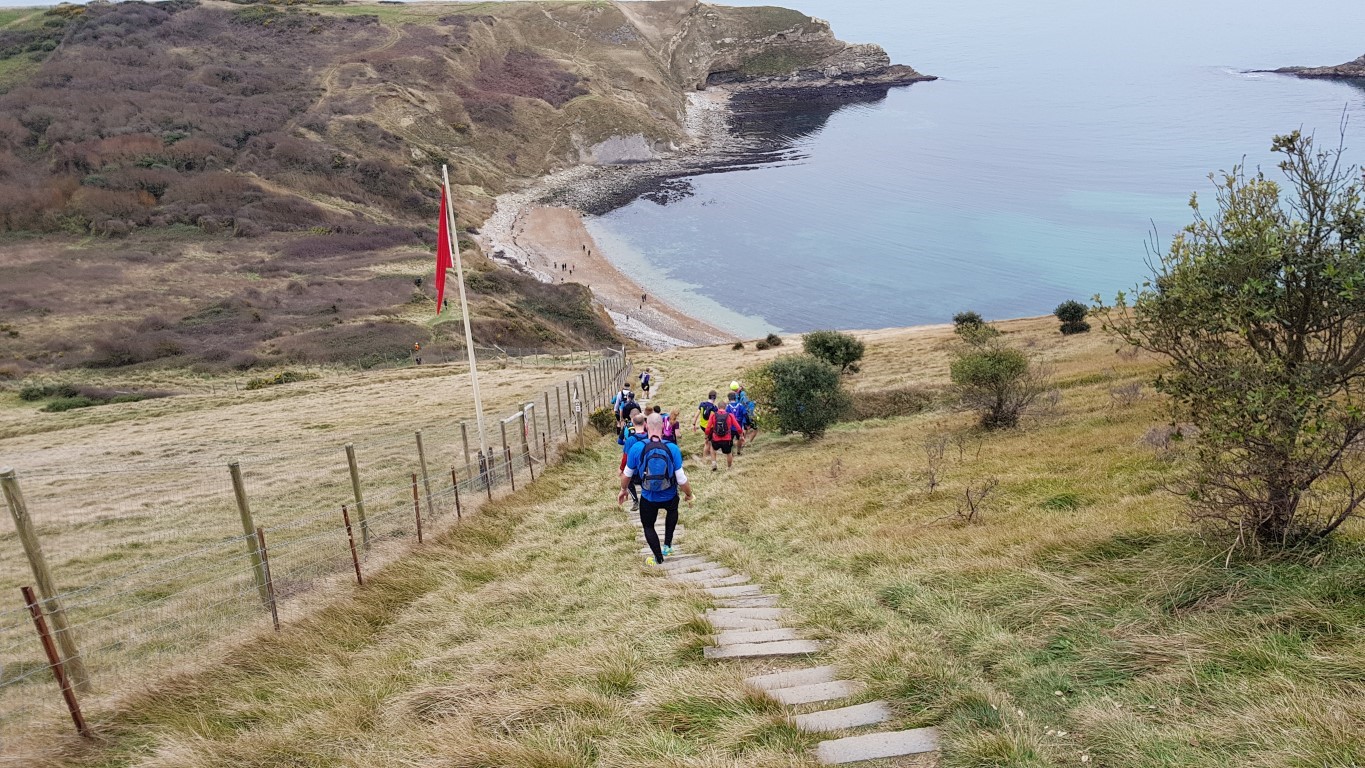 Mentally I was in a strange place. I knew that I had those three hills west to do again, but at least they were a known quantity, and the last stretch home would be pretty steady. I took the opportunity to enjoy the view, something I had missed first time round as a result of fiddling with my Garmin, and dug deep into the "every step is a step closer" mantra. By this time, I was just focused on finishing, and any targets had gone out of the window. My leg was in a great deal of pain, and I joked to some passing competitors as I hobbled that it on hurt on the uphills and the down hills - but there was some truth in that fact.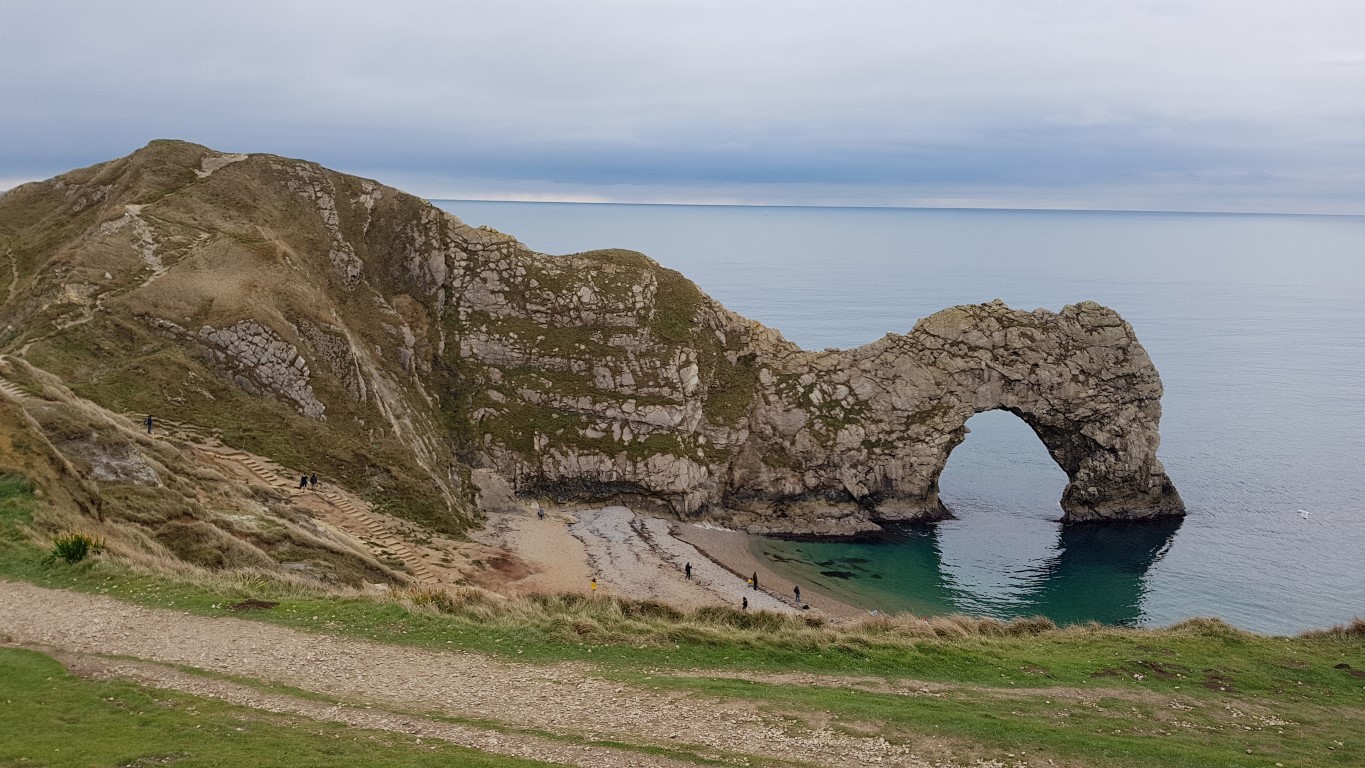 As the route turned back east (at a different point to the first western loop), the course eased up, and I got into my stride again, and I hammered the last 3 miles, flying past other runners. Having struggled with some circa 20 min miles only a couple of miles ago, I was now knocking out 8 and 9 min miles. Mentally I was focused on at least getting that average pace back down into 12 mins "something", rather than the over-13 that was currently decorating my Garmin.
As I pounded down to the finish line, all the memory of "I'm never doing this again" was gone, and I received my medal with a smile. All things considered, I was pleased to complete in 7hrs and 5mins, although of course, the 5 mins is an annoyance!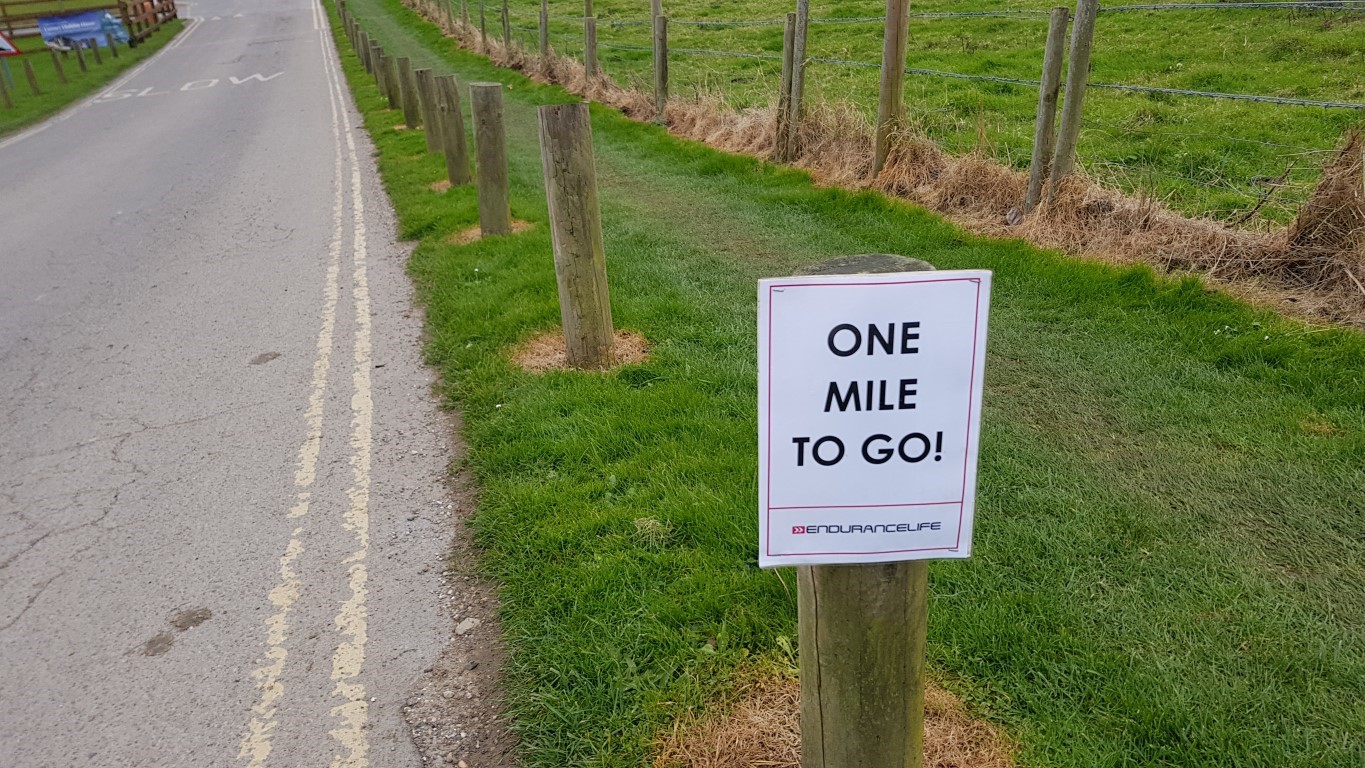 The big take away for me is that I need to do more strength training if I'm going to be prepared for The Oner!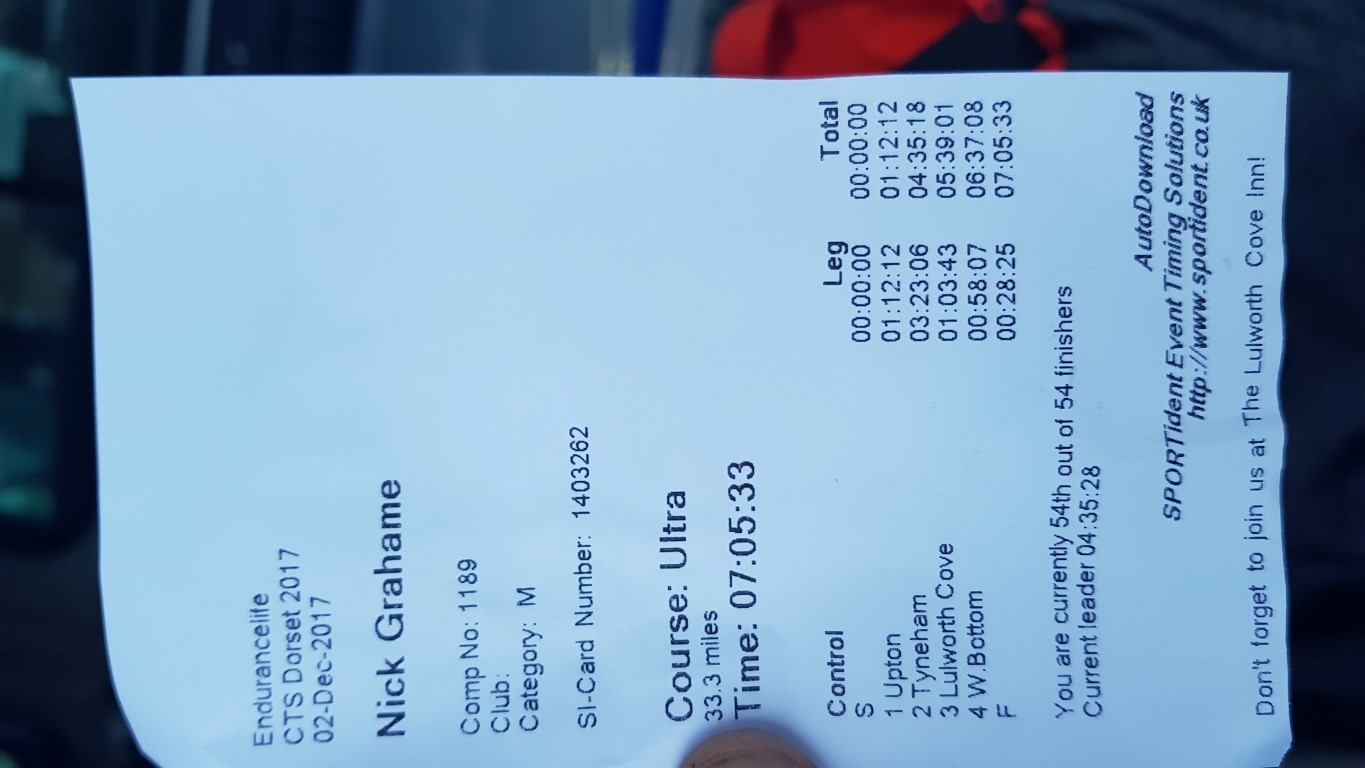 Written by Michelle Jane - https://dreamweaverconsulting.com
(This is from memory, and given the length of challenge and sleep deprivation, is as I remember it… the crew may likely have a slightly different perspective, especially about my sleepy grumpiness hahaha… it's also a long read, so grab a coffee beforehand if you want to continue reading… )
… we started towards Badwater Basin…
this was it…
Photo copyright: AdventureCORPS Inc.
I got my tracker attached… we had our team photo taken… crew chief Cheryl was going over a final check through with the vehicle and gear… Pamela and I took the opportunity to joke around doing a yoga crow balance before Cheryl came back and told us off… not to risk an injury just before the race! Naughty oops We gathered together to get ready for the start… it's Badwater baby…
Photo copyright: Pamela Hogue
then…. OMG WE ARE AT BADWATER….
Photo copyright: Pamela Hogue
The race director Chris Kostman called the runners… 8pm wave photo, social media scan and talk… and then we were off… no major fanfare, no crowds… just the runners, staff and crew… a few bystanders… more a case of "oh ok then, just off for a bit of a trot…"
It was hot… and when they say it's hot in Death Valley, they're not joking: even the toilets flush with hot water (yes, I checked)… 8pm and it was like running into a huge fan which was blasting furnace-like temperature heat at you with nowhere to escape. Stupidly I didn't put a hat on as there was no sun. Bit of a mistake right there. It was apparently surprisingly humid… usually 0% but come race day that had risen to around 25%… I figured that shouldn't be a problem coming from the UK where I live with much higher humidity. I saw lightning in the distance to my right… good, not going that way. Lightning to the left… uh oh… I'd heard there had been flash flood warnings and some rain for part of the course, but hoped that would have dissipated before I reached any such areas. Having never been anywhere near a flash flood, Cheryl and team had been drilling it into me that if I saw running water, to stop and not push through… even only a couple of inches could hide debris and be dangerous.
It's just a run, a race… it will start and finish… just like every other one… you can do this… don't go out too fast… pull back… pace feels ok… hmmm that's a bit warm… 10 minutes later… damn, head's a bit hot, could have done with an ice pack in my baseball cap… hmmm this feels rather uphill… how many miles to the turn? The thoughts kept turning over in my head… the crew leapfrogged past… I'd originally thought of every 10 miles but in this heat was glad Cheryl had insisted on every 3…
By mile 13 the stomach felt decidedly slosh… I didn't want any food and started having trouble drinking the very warm water in the bottles. I generally run with water and don't do energy drinks or powders, and had struggled with finding any type of drink that I liked except for orange and lemonade which was flat in the States, no carbonation! Yummmmm… I'd also planned for a recovery protein drink to be available to sip at stops between certain sections. We brought this forward… anything to get calories and liquid in… the section to Furnace Creek passed relatively easily and I stopped there briefly to use the facilities… then on to Stovepipe Wells… running that first night felt good… no star gazing due to cloud cover and runners spreading out… but that meant I had time on my own… in the utter stillness and peace of the night… a small downhill section, the crew ahead… music playing… I was actually doing this… at a race that many dreamed of, a dream achieved… I put my arms out wide, threw my head back and just let my legs fly briefly… a feeling of pure happiness and joy washed over me… a car drove past… so I stopped until they'd disappeared from view, and then did it again. Dawn appeared, as did Stovepipe Wells… I wanted my ice-cream… they do amazing ice cream there… but the machine at the gas station shop wasn't working can we say disappointed bunny? … checked in to the Time Station, got stocked up from the crew… Jenny waiting, pacer number attached, ready to join for the first climb up to Towne Pass. I already knew this would be a walk-run strategy as although it had seemed very flat when we checked it out pre-race, looking backwards would show how deceptive that incline was. Plus my legs hurt. And it was hot. (Excuses for walking were never far away!) I'd also had my baseball cap on for some time by this point, and had been ecstatically embracing the ice bag babies that would keep on being replenished to the finish line! The only problem was they melted so quickly. We went through a lot of ice… ice bags under the baseball cap… yes I know I looked like I had a double head, but by then I really didn't care… ice bags in the short pockets, ice down the SPF arm sleeves… the water bags then dispersed down the neck, down the top, down the back, down the legs… not such a good idea bursting them to run down the inside of your shorts though…
Slow progress, the crew kept swapping pacing duties… when I say paced, I mean accompany because they were behind and stayed at the speed I set… no rushing this one, the main aim was just to finish… Jenny swapped over to Becky… swapped to Cheryl… on we went… then a fantastic long winding downhill section towards Panamint… Pamela with me on this one for a little while until I jammed the music back on… picked up the pace… now I know you get advised not to steam down this bit but had assumed (mistake number 3) that that was because a long steepish downhill would trash your quads and I actually quite like (non-mountainous steep that you're not going to kill yourself on) downhill running because I can actually run (versus the awful kill me now I'm dying uphill sections I trudge)… so I just couldn't resist and let go… it felt utterly amazing… I felt like I was a "really fast" runner for once, you know like those who can run a sub 3 marathon, or an 18 minute park run… I wasn't just running… I was really running, faster than I felt I'd ever run before… my garmin had died so I had Jenny's watch on… it felt like I hit speeds momentarily that I don't even do on my 200m repeats training… dial it back Michelle, the cadence ramping up due to the incline (it was steeper than I had expected)… 4.25… whoa what??? Is that minute per kilometre or mile… must check with Jenny… am I seeing things…. I remember going past a few runners that I expected to finish many hours ahead of me (and they did)… but it felt so good even with a feeling of "brakes on" due to the degree of incline, so I kept trying to dial it back… I didn't slow down enough…
Big mistake… you're running down to a valley which will then slowly rise up again… midway down to that valley I swear lies a blanket… above the blanket (the first half of the run) the heat was bearable… you then go through this blanket layer and the heat just hits you… but you don't properly realise because it takes a while for your dazed sleep-deprived brain to stop focusing on the good happy endorphin rush and understand that your core temperature is heating up… now Furnace Creek may have been so named because it's like being in a furnace, but I swear at midday, Panamint Springs is hotter!
I reached the crew car… and blew up… it was like standing in some sort of mini heatwave which emanated outwards from inside my body… then sitting perched on the back of the car with a body that felt like it was being cooked from the inside out, feet throbbing from suspected blisters (and once I'd stopped running, boy were they stinging), feeling sick, dizzy and unable to eat, I thought my race was over.

Thankfully, the crew were experienced so dealt with the situation rather than making any hasty decisions about ending my race… ziplock bags went over trainers and into an ice bowl to cool my feet, neck wraps soaked in icy water were draped around my neck, ice-filled ziplock bags were placed inside my baseball cap and into my shorts pockets and arms sleeves, and a water-soaked scarf was draped over my head… Becky (who is a sports massage therapist) worked on getting my legs to stop seizing up. Just a couple of miles to get to Panamint… there would be no running there… slow painful steps, the scarf soaked again, wrapped around my head to block out everything… my crew got me up, got me walking and I eventually staggered into Panamint time station.
How on earth was I going to run that distance again… I could barely walk. We got checked in, the crew got my stuff and helped me over to the campground showers… I was so grateful they allowed us to use them… that melted ice water that went everywhere, including down the inside of the shorts?… Chafing! Bad bad chafing… it was soooo sore, it was almost tear-inducing… I could hardly lift my arms up… had to be helped… the shower was so good, but oh so bad… and for those who have experienced any kind of chafing, you know how it can sting when the water hits… it brought tears… and negative thoughts… I went to brush my teeth… holy hell… that orange and lemonade I'd been drinking… pure acid… now as I'd expected some sensitivity had brought along mouthwash at the suggestion of my dental hygienist, but OMG that was pure pain… is any race worth this? And while my legs weren't running, the mental negativity was off at a fast pace… is any race worth possible scarring, worth the pain, the money, the abuse you put your body through… how much worse is it going to get… what if I can't finish… who am I to think I can do this… how the hell did I even get here… chatted to the crew, got a verbal kick up the backside… with more to follow throughout the rest of the race… I'd expected this and had forewarned them… also of what and who I wanted to reminded of… friends who had pushed through challenges, other racers I've met who are enduring life threatening illnesses… the charity I was fundraising for and the help they gave to others… miles dedicated to certain people… as the saying goes, when you change the way you look at things, the things you look at change!
Nothing different really to certain points I've reached in most of the challenges I've done… and isn't this part of why we do it… because of the journey that such challenges take us on… they can take you to the deepest, darkest parts of who you think you are… challenge your beliefs, your strengths, your weaknesses, your hopes and your fears… and they change you… because once you've experienced these things, like everything else in life… they change you. You will never "not have done this"…
New kit on… new tape… hobbling back over the road (for those following that wondered why my tracker said I was slightly away from everyone else… this would probably be why to get some food… but I couldn't eat… everything felt dry… my crew kept telling me to eat, I kept replying I wasn't hungry, sounding a bit of a spoiled brat! There was a medic centre with someone dealing with footcare, so I hobbled over to the Cottage… sat down and waited my turn… and ended up having a chat with Jon vonHof as he sorted my feet out, none other than the author of Fixing my Feet. I was rather whingey by this time, calloused areas had somehow appeared with liquid beneath many layers of skin, so it was sore to flex the feet, let alone touch them. Jon pointed out he couldn't get any of the red stuff out that had formed beneath those callouses and that they were actually in really good condition compared to some others, so he did what he could and then expertly taped them up. I have to say they weren't white and they certainly hadn't appeared to be callouses before the race! It was so cool and comfortable in there, and the sofa would have been perfect for a snooze, however my crew dragged me out. Time to get moving. We'd spent more time than we should have there.
Father Crowley beckoned. The sun was out, showcasing such stunning views that no photograph can do justice to the area. It's like someone had painted a canvas background which didn't look real. We took turns in seeing what images the clouds and rocks formed… and there were many… walk, shuffle, walk…
Up to Darwin and into the second night… memory fades badly and looking back at the timing splits, I don't think I've ever plodded any sections of a race so slowly… shows what the cumulative effects can be… and whilst I can't say for sure that the pre-race sleep deprivation had an effect, I know I've never felt so bad on a night section before: I remember struggling to keep the eyes open, blurry red lights in the distance occasionally, mostly walking as my feet hurt so much, every step stinging, being so tired, struggling to get even a crisp or two eaten, demanding sleep. I ended up taking two naps in the front car seat, one 15 minutes long… no idea when or where that was. The second was at Darwin time station… I do however remember there was very loud music from another car… I eventually dropped off only to be woken a few minutes later by the crew… they'd let me have around 20 minutes, maybe even 30 in total.
We started off again… Brad passing us… I was surprised to see him, thinking he'd be way ahead… he'd had a bad turn and had had to lie down for an hour or so I think. I remember what looked like sand washed trail… and I think this was where some flash floods had happened the day before…
We kept going. And then I had my first ever experience of throwing up on a race. I've felt nausea before, had the stomach sloshing… but I've never been in the position where I physically couldn't stop myself from throwing up… first time for everything I guess… not that I had anything in my stomach. The crew were amazing, keeping me going, trying to get me to eat and drink, even making hot tea to carry with me (what can I say? I'm British. By then I'd also got the hang of the biffy bags…
Hari, this section included since you specifically asked… for those that wonder just what a biffy bag is, I suggest you google
… the National Parks have certain requirements that must be obeyed… and one is that you can't just go to the toilet anywhere you please! Plus it's pretty open with nothing much to hide behind… at least in MdS you have mini dunes some of the time… now these bags are like a plastic black bin bag but also have some stuff in there to help with biodegrading (I didn't look too closely), and some plastic gloves to obviously dispose of said bag. They took a bit of getting used to, but that first time… and let's not forget that with all that running your legs get stiff… I struggled… and there seemed to be a bit of wind blowing that bag around… Pamela offered to help lower me into position… and came up to stand in front of me to preserve a lingering sense of modesty if any runners were approaching the area (always remember to turn your headtorch off people), she was chatting merrily away as I tried to work out how to hold and place the damn bag and get into a safe position!… and then stood there chatting… facing me… totally unconcerned and unaware… I'm like… Pamela!!! What? Ohhhhh right…. she turns around and carries on chatting…. noooo, move away….. this far? No further… she turns around to face me, this ok?… I could barely reply for laughing… now there's crewing and then there's above and beyond… some people just automatically go the extra mile (I think my whole crew deserve that accolade)… on a serious note, I've since recommended these to runners who have Crohns and other IBDs, people who have struggled to train long runs because of what they experience with their diseases, so if you are reading this and wonder if there are any products that could help you run where there may not be appropriate facilities… check them out. I believe they're available on Amazon UK otherwise check out http://www.biffybag.com. But Pamela, remember where you asked about my favourite memories… this has become one of them hahaha!
Photo copyright: Michelle Payne (taken by crew)
Jenny had encouraged me through the night to look up at the sky (don't wanna), enjoy where you are (don't care)… keep your eyes open (can't)… eat some food (not hungry)… to the point where I most certainly wasn't a joy to be around… especially when she started laughing at me (I really wasn't a happy bunny at that point)… trying to force me to eat (I'm a bit stubborn myself)… and shoving rice cakes at me, asking every 30 seconds are you eating, until I waved a rice cake angrily under her nose and swore (literally) that I was eating the damn rice cake… (guess what I bought when I got home)… anyway, daylight dawned as we were on the way to Lone Pine… a long flat stretch that I had hoped, pre-race, to run. Unfortunately come race day I wasn't feeling quite so energetic, and Jenny with me again during this point, getting similar responses to the nighttime when she kept asking if I could shuffle (I had cheered up at other points though, wasn't being a totally moody cow the whole way… I don't think)… and on either side of this road we were walking was sand… with flies… and the flies buzzed a lot… and there seemed to be a couple that were determined to stay with us the whole way. Now I know with the heat and sweat over those 50 miles since Panamint you're not going to be the freshest person out there… but those flies seemed completely enamoured of me: such affection not reciprocated, especially when they kept going in front of my face as if to sting. I kept trying to wave them away. They reappeared… I got more grumpy as they wouldn't get lost… the air started turning a bit blue… and I have no idea how Jenny didn't get annoyed with them when they buzzed her but they were seriously aggravating me… I guess you had to be there, but to anyone who didn't know what we were doing, we must have looked a pair of crazy people… shuffling along, sweating clothes, stinking… flies buzzing around us, hands waving… and in the end I couldn't bear it any longer and muttered Jenny just … just….. "just what" she said… "Kill them" I replied… "just kill them… kill them all"… she cracked up. Lone Pine appeared like a mirage in the distance, one that took hours to materialise and eventually I reached the outskirts with Pamela alongside… and as we approached the town we saw another runner ahead. It gave me the impetus to shuffle into a trot… the drive to compete (yes, even as a back of the pack runner) was still there… we got nearer and then realised she (Coleen) had flip flops on… if I thought my feet were painful as I'd whinged to my crew, well hers were worse and here she was pushing on… it was an incredibly inspiring moment. She wasn't sure she would finish… well anyone who can push on like that, we told her we'd expect to see them at the finish line because she'd come so far and pushed through so much. We picked up the pace and were back to a walk run pacing… until we got to the time station. I had a crazy few minutes here thinking I was actually going to get a couple of hours sleep. Most people were ahead, there was absolutely no pressure to have to leave immediately and finish in X hours… it was just about a finish. The crew were unloading part of our vehicle into our rooms… they asked what I wanted to do…
Photo copyright: Michelle Payne (taken by crew)
We decided to get it done rather than sleep. Unfortunately it was the hottest part of the day and going up seemed to not only be completely exposed but also take forever… about 13 miles… and each of the crew wanted a part of that final stage so we worked out who would be driving, crewing, pacing… and off we set… a section with each, almost an individual summary of the journey… the last few miles with Cheryl, my crew chief… up miles that felt so steep and climbing elevation that made my heart pound like crazy (I'm not great with elevation nor altitude)… we leapfrogged with Adam from Oz a few times, sharing a mutual love of turning the air blue as we wondered why we were crazy enough to do this, how much it hurt and what we thought of it all… and as we went up, cars were beeping on their way down, runners and teams who had finished, shouting encouragement as they went past… I had to keep stopping for a few moments to get my breath… and Cheryl kept singing away (probably to drown out my constant "are we there yet" comments)… until we recognised where the final turn and the finish line would be. I took a moment there just for me… that bittersweet moment where you can't wait to finish, but you also don't want it to finish… where you realise that yes you have achieved that dream… Cheryl hugged me, what a journey we had all been on… we turned the corner, got out the flag the crew had passed to me and beckoned to them to join us…
The finish line loomed: an emotional moment words cannot describe.
Photo copyright: AdventureCORPS Inc.
To see it, to approach it, to be joined by your team who have supported and encouraged every step of the way, to step foot over it, hand in hand with your friends, achieving a goal that at one point you'd never dreamed you'd be capable of starting, let alone accomplishing: it's priceless. It's a moment that will stay with me for life. I would say to anyone who dreams of doing this: dream it, plan it, train for it and go for it. If I can do it, so can you.
And of course there many other happy moments that will stay with me… joking at crew points, run dancing as another crew (I think Brazilian team) drove past us singing… where your friends literally have your back and make sure you don't veer into the road (especially when traffic is around) because you're pretty much sleepwalking… where you're with a group of friends who support and empower each other, everyone works and pulls together, too many wonderful memories to add to what is already a very long report.
Photo copyright: Michelle Payne
People ask "what is Badwater"… well yes it's a race, but it's also more than that. It's a journey. Like most endurance challenges, you don't finish it the same person that you started as. This particular race encompasses what is usually a very long journey towards it, the planning, the time, the sacrifices you make, the money you spend, the training you do. It's also about the people that share that journey with you… both leading up to the race and, for myself and my crew, the week that we spent together… it's intense, and at the time, all-consuming. You learn things about yourself, and about others. It brings friendship and camaraderie, a sense of belonging, of support that you give and receive, it brings travel to distant lands that you might otherwise not have visited and scenery to take your breath away. It challenges you in a way that is hard to describe… in what you physically can achieve and how you push yourself, to the internal drive and headspace that works with that physicality. It gives you pain: mental and physical, but also such wonderful experiences. As Becky says… "it's never just a run"…
It's so good and so hard, and so brutal… but so good… that I want to go back and do it again. If they'll have me (and us), of course Thanks for reading.
Michelle
Now what shall I do next…
Written by Doug Fernandez
Earlier this year, I'd finally won my age group (AG) in Boston. Even though I'd run it 4 times, even setting my PR there, the AG win had proven elusive. The Boston AG win was the cap of a project to win as many of the AG in the major marathons in the world (Boston, NYC, Berlin….). I decided I was finished with competing in road marathons, and that It was time for me to hang up my gloves and retire.
I was burned out with the same routine, season after season. Running 9-10 times a week; the track; the tempo runs, strength training, plyometrics and all that good stuff. I either needed to take a break or find something new and different. Maybe hit the trails, run in the mountains, breathe some fresh air and/or simply run for beers and food, stress-free and forget about the competition.
But what I had yet to do plagued me. No matter how much anyone can feel that they have seen and done it all, there is always so much left to do. Some other running projects that have kept my interest include completing the 7-continent marathon club (Antarctica left), Big Sur, The Great Wall of China, Mount Kilimanjaro and Le Marathon du Medoc in France.
Ultramarathoning also sparked my interest. I had run a 50K 4 years ago, but I hadn't run anything longer than 31 miles. Well, what a perfect opportunity to correct that! But which one? I had always heard local ultrarunners talk about the JKF 50 miler. OK, That's it!! JFK50 mile here I come!
Ask NOT what your legs can do for you, but what you can do to your legs!!
Why did I decide to run it? 'Cause it is the oldest and largest 50 miler in the country. Because its location, is not too far from where I live in Richmond, VA (a 3 ½ hour drive), and certainly 'cause it's a highly competitive race, 'cause of its unique combination of different terrain, and 'cause I am an Army Veteran, and if there was one ultra that I would do, I'd run one that honors our military and our country. The race website tells the races origin story and history:
"The JFK 50 Mile was first held in the spring of 1963. It was one of numerous such 50 mile events held around the country as part of President John F. Kennedy's push to bring the country back to physical fitness.
When Kennedy was assassinated in November of 1963, most of these events were never held again. The one here in Washington County, MD changed its name from the JFK 50 Mile Challenge to the JFK 50 Mile Memorial in 1964. The JFK 50 Mile in Washington County, MD is the only original JFK 50 Mile Challenge event to be held every year.
Although open to the public, the JFK 50 Mile is in spirit a military race. It always has been and always will be. In 1963, the initial inspiration behind the event came from then President John F. Kennedy challenging his military officers to meet the requirements that Teddy Roosevelt had set for his own military officers at the dawn of the 20th Century. That Roosevelt requirement was for all military officers to be able to cover 50 miles on foot in 20 hours to maintain their commissions. When word got out about the "Kennedy Challenge", non-commissioned military personnel also wanted to take the test themselves as did certain robust members of the civilian population"
So, after a 2 month break from running and 20 lbs. heavier, my preparation for this race began in earnest the 3rd of June 2017.
Training: My training plan was based on input I gathered from talking to and reading about what other ultrarunners had done for their 50 mile races and from a basic, generic plan that I found on the Runner's World website. It was a low mileage plan of not more than 80 miles a week at its peak, with some long, back-to-back runs on Saturdays and Sundays.
I ran a total of 5 runs of 30 miles or longer during the summer, mostly on trails. I didn't feel that I ever got myself in the kind of shape I usually would have before my major road marathons, because I didn't think that kind of speed was required to run a decent 50 miler. I did minimum speedwork, and ran a few races at the distance of the half marathon or shorter. I also neglected going to the gym or doing strength or core work because I thought that was unnecessary as well, since the race only had a few climbs. Well, I was wrong about all that, and I wish I would have done it.
As I found out, to run the JFK 50 well, you need strong quads, ankles, and glutes for those first 15.5 miles on the AT, and you would need good speed as well once you hit the tow path, all the way to the finish.
One month before the race I drove up to the area (Brunswick, MD), to familiarize myself with the AT section of the course and the C&O canal towpath. There was a free shuttle service offered by Structural Elements. They dropped us in Boonsboro, from where we ran the first 15.5 miles of the route to Weverton Cliffs Parking Lot. That day I found out that the AT portion of this race was not as difficult as I had heard some people describe it in race reports that I read online. Although it was rocky and technical in some areas where you definitely must pay attention and watch your footing, it was otherwise very runnable for the most part.
The following day, Sage, a friend of mine who lives in the area and who has successfully run this race in the past, rode her bike and gave me company as I ran 30 miles on the towpath. She gave me lots of useful information about the race as well.
The Race Course: The JFK 50 mile course is a point-to-point "horse-shoe" configuration starting in a small town in Maryland called Boonsboro and finishing at Springfield Middle School in Williamsport, Maryland. The first 5.5 miles of the race is a good climb that gains 1,172 feet in elevation. It starts on a road surface and joins the Appalachian Trail at 2.5 miles. The course from 2.5 to 15.5 miles is on the Appalachian Trail, except for two miles of paved road between 3.5 and 5.5 miles, where it reaches its highest point, 1732 ft. The AT is very rocky in some sections as it rolls along the mountain ridge. Towards the end of this trail the course drops over 1,000 feet in 1 mile. The AT is followed by 26.3 flat miles of dirt/gravel on the C&O Canal towpath along the Potomac river. The route leaves the C&O Canal towpath at Dam #4 and follows a gently rolling paved country road for 8.4 miles to the finish in Williamsport.
My Objective: I had a difficult decision at first about what my goals for this race should be. I had run over 30 road marathons in the last 10 years. My PR is 2:34:43 from Boston 2014 and I had won the AG in Berlin, Chicago, New York, and Boston. To run the JFK 50 simply to finish and get the medal wouldn't be honest and true to myself.
Mark Guzzi, a fellow Richmond runner who has run JFK50 15 times once told me that I "would crush it "and that I was quite capable and should aim at setting the 50-59 AG course record. But I am already in my late 50's, and quickly approaching the next AG decade, and that's on top of being in the midst of a mediocre, down year. I had no experience running any distance over 50K, nor any idea how to properly train and execute a 50 miler. Breaking that record seemed way too ambitious! But, if you want to do your best, you've gotta aim high. Go big or go home, right?
Judging my current fitness level, my goals for the JFK 50 were to finish unhurt, run sub-6 hours and 30 minutes and finish in the top 10 overall. If the race unfolded any better than that, I hoped for a sub 6:20 hours (which would break the current 50-59 age group record of 6:21).
There was also the possibility, that in the process I could roll an ankle, trip and kiss the rocky trail, but I would surely finish the race in under 12 hours, with bleeding knees, carrying my teeth in my pocket, with people laughing behind my back saying "Doug, what a rookie, he thought the JFK50 was going to be a piece of cake!"
My Strategy: I wasn't sure what my per mile pace should be for the AT section. I thought it wise to be cautious, play it safe and save energy on those 15.5 miles that had 1100 ft. of elevation gain, but at the same time not so slow that I could get trapped behind hundreds of people walking the trail. If I tripped on one of those rocky sections of the AT, or twisted an ankle (which I am prone to do) it would mean game over. The goal was to get off the AT at Weverton Cliffs and onto the towpath at around 2:10 hours.
The plan then was to run a solid 7:00 min/mile pace on the flat 26.3 miles C&O canal towpath section and average the last 8 rolling miles of country roads, when fatigue would start to set in, at about 8 min/mile pace. That would give me a finish well under 6:30 hours, and probably within the top 10. And hopefully, the course record for men over 50.
My Fueling/Hydration Plan: The JFK 50 course has a at least 14 fully stocked aid stations on the course. There was no shortage of food and hydration support. Among other items, there were sports drinks, water, chicken noodle soup, broth, soft drinks, PB&J sandwiches, pretzels, cookies, cakes, sweet items, energy gels, energy bars, and more. I even saw pizza! If you want to finish a 50 miler, you better take advantage of all these provisions offered in all these stations, or else you will pay dearly later on during the race.
Unfortunately, if you are running for fast times and to be one of the first to make it to Williamsport, you need to take in very easy to ingest and digest stuff only, such as water or Gatorade and energy gels. So that was my fueling plan, to carry VFuel gels which I would take approximately every 30 minutes. Tressa, who volunteered to crew for me, would meet me at Weverton Cliffs, Antietam and Taylors Landing, where she would resupply me with 2 or 3 gels tucked in my arm warmers and give me some Mountain Dew. I could supplement with water and Gatorade from the aid stations along the route.
Race day: I made the 3 ½ hour drive to Williamsport, MD on Thursday afternoon, checked into my hotel and had a long night's sleep. You know what they say, the night prior to the last night before your race is the most important one, as far as sleep is concerned.
The following Friday, I picked up my package at the Homewood Suites in Hagerstown and then stopped by an Italian restaurant close to my hotel and had spaghetti to go. I ate, made my final preparations and I went to bed early to try and get some sleep. Despite the melatonin, tryptophan and Advil PM pills that I took, I didn't have much success. I was too tense. I finally fell asleep, but woke up around 1 AM. I tried counting sheep and counting from 100 to 1, but without any luck. Apparently, that was all the sleep I was going to get.
I had a very early breakfast, took a warm shower, read the news and then looked up the weather. It was chilly (37 F) and gusty outside. According to the weather forecast, rain would start coming down around 9:00 AM. Not the kind of weather that you want to have if you are going to be outside, running for hours. But oh well, there was nothing we could do about the weather but be tough.
I left the hotel and drove to Boonsboro around 5:00 AM. Some friends got an Airbnb a couple of blocks from the start, and I went there to stay warm, drink some coffee and have my 2nd breakfast. Tressa was staying there. She would drive my car to the points on the course where race organizers designated that personal handlers and crew were allowed. After someone sang the National Anthem and without further ado, the gun was fired and off we went up Main Street Boonsboro.
The weather was cold and windy. There was a group of about 15 runners who quickly pulled ahead. I stayed with the 2nd pack, a few seconds behind. It is a pretty hard 2 ½ mile climb to where we would get on the Appalachian Trail. After 3 ½ miles we ran on a paved road that got very steep towards the end and that is where I started power walking. That's right, to save energy, I power hiked this hill to the highest point of the course. I did not train my butt and quads in the gym like I should had. I better do that next year!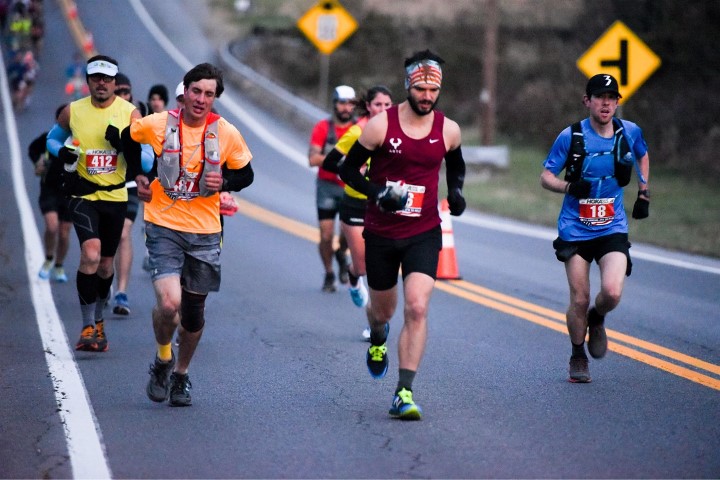 Our first 2.5 miles on our way to the AT
We were on the trail for good after having reached the highest point of the course, 1732 ft. It was all net downhill from there to Weverton Cliffs Parking Lot. I consider myself a decent trail runner, and I knew that even though I had about 30 runners ahead of me, pretty soon I
could start reeling some of them back in. I just had to be patient and play it safe.
I had a few issues on the trail. I forgot my handheld amphipod bottles at the hotel, so I had to carry this huge water bottle that became very cumbersome to carry. Also, the fanny pack, where I stored my energy gels was moving too much around my waist. I knew I would drop those two items once I was done with the trail. The prescription glasses that I wore so that I could see the trail better got too foggy on me and I had to put them away.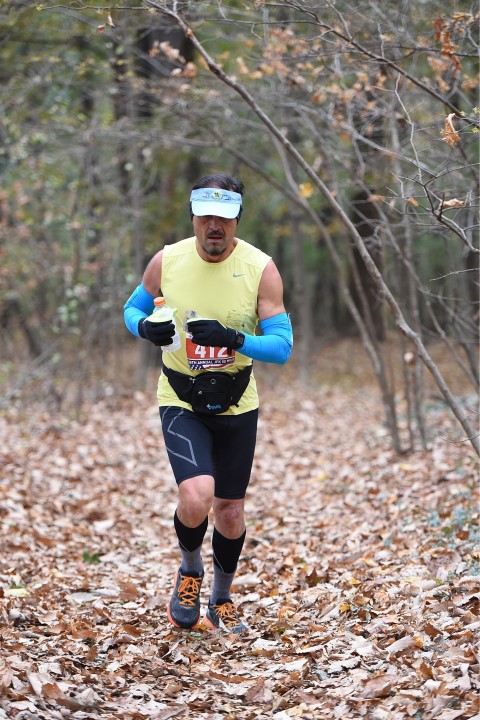 Except for some rocky areas, where you must watch your footing, the AT on this course is very runnable.
But my Hoka Challenger ATR shoes were performing excellently on the trail and I did not feel any of the sharp rocks under my feet as my Garmin 35 kept on hitting every mile in 7:30sh. It didn't take long before we hit the 2nd aid station in Gathland Gap, mile 9.3. I refilled my bottle of water and kept on going.
After 2 hours of running, I finally reached the Weverton Cliffs switchbacks. This is where the course drops 1,000 ft. in 1 mile. I made it to the bottom in under 2:08, 2 minutes ahead of schedule. I met Tressa there, took some mountain dew, grabbed a couple of gels, dropped my waist pack, headband and bottle, and kept on trucking. The flat towpath was next, and that is where I knew I was gonna catch a lot of the runners ahead of me.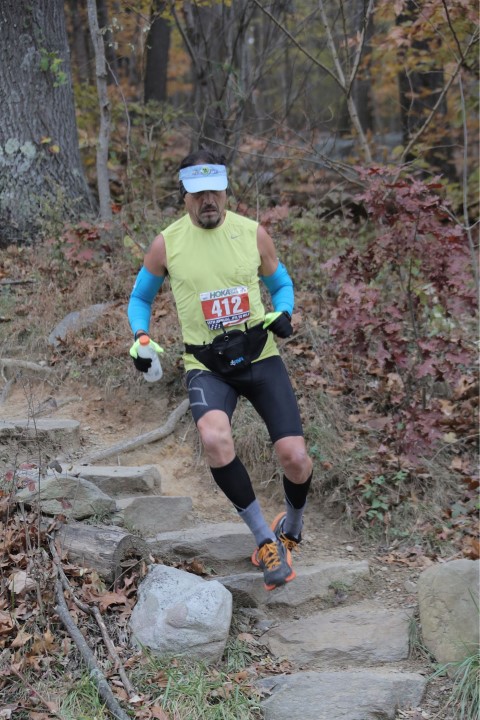 The picture right before the fall. I managed to stay upright on the roughest parts of the AT, only to fall down at the bottom of the switchbacks in front of a thousand people, that was a little embarrassing :-)
Some people feel that the towpath is too boring. Not me. I thrive in this type of terrain. I put my mind into cruise control and let the miles click away.
As I grabbed some Gatorade at the aid station at mile 16, I asked a fellow there, "how many runners do I have ahead of me?", "At least 20," he said. As soon as I went over the railroad track, I shifted gears, picked up a 7 min/mile pace and went on Wolf mode, like chasing a herd of elk.
It didn't take long before it started drizzling, a rain that continued until the end of the race. Once I passed Harpers Ferry, I could feel the strong gusts of wind on my left side coming from the river.
I heard "Go Doug!" a couple of times and wondered how these strangers knew my name? Then I realized my friend Sage, who knows some of the people volunteering at the aid stations, gave them the heads up about my bib #412.
One by one I caught at least 10 runners before I made it to Antietam Aqueduct (mile 27.1). There, I met Tressa for the 2nd time, and she re-supplied me with VFuel gels. I continued my nutrition plan of ingesting a VFuel gel right before every aid station, where I could gulp it down my throat with some water.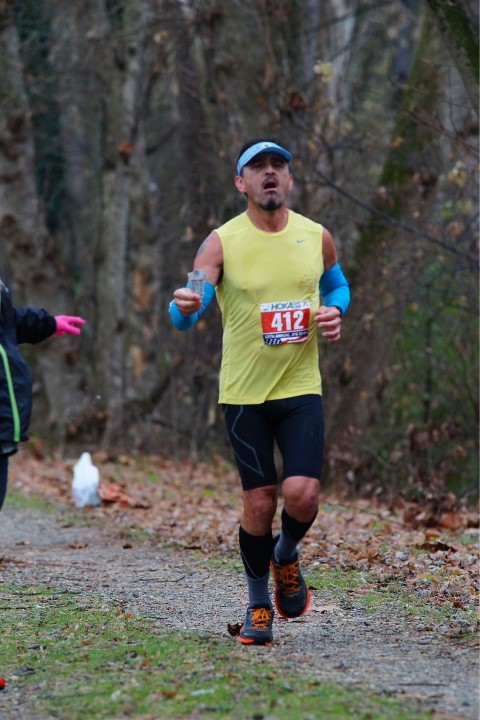 The face that I make every time I ingest an energy gel. It shows how much I like them. My plan was to take 12 throughout the race. I only managed to force 7 down my throat.
At Antietam, someone said "Number 12, looking good!" All right, I thought, I need to pass a couple more, and that would put me within the top 10. I could see 3 runners way ahead in the distance. I edged closer and closer until I caught all 3 of them once. One of them was Michael Wardian. "Wow!" I thought to myself, he must be taking it easy today, and probably running another race tomorrow, or I am probably going too fast (he was running a half marathon the next day!).
Though the towpath was getting muddy and heavy, but I was in my zone. I reeled in a couple more runners right before I made it to Taylors Landing (mile 38). Tressa and Sage were waiting for me. I took my last gel, two cups of water, and a coke and kept on going. I told Tressa that I didn't need any more gels, that I was good to go without them. I had 4 miles to go before I would get on the rolling country roads to the finish, in Williamsport.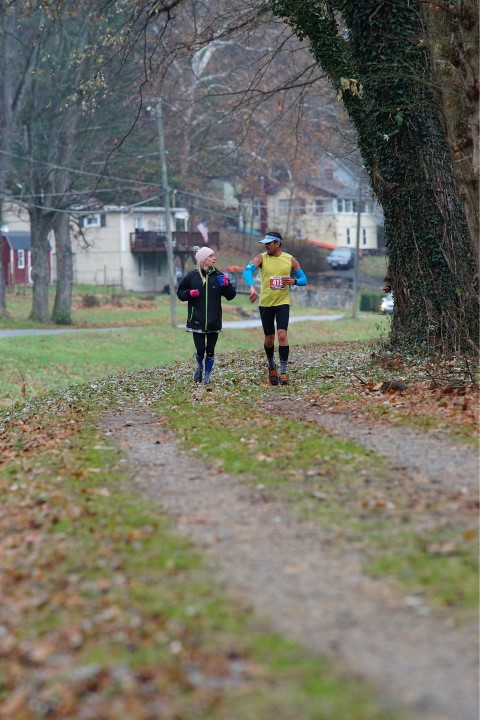 Tressa tucking some gels in my sleeve warmers. But they were so wet that they became sleeve chillers.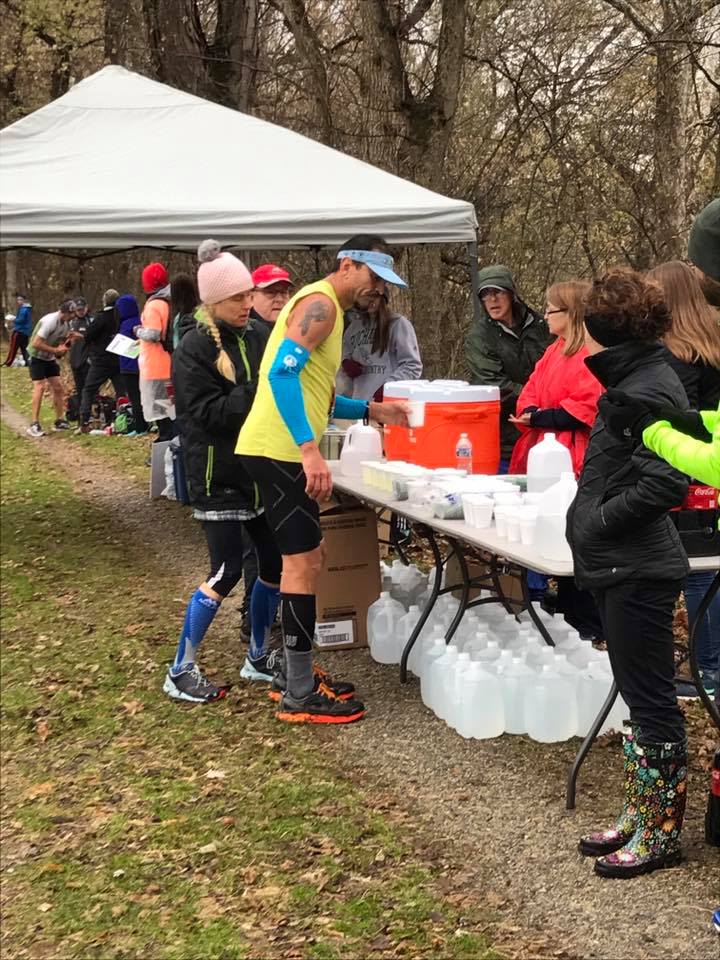 Aid station at Taylors Landing- they were fully stocked, but the most appetizing thing I could find there was coke.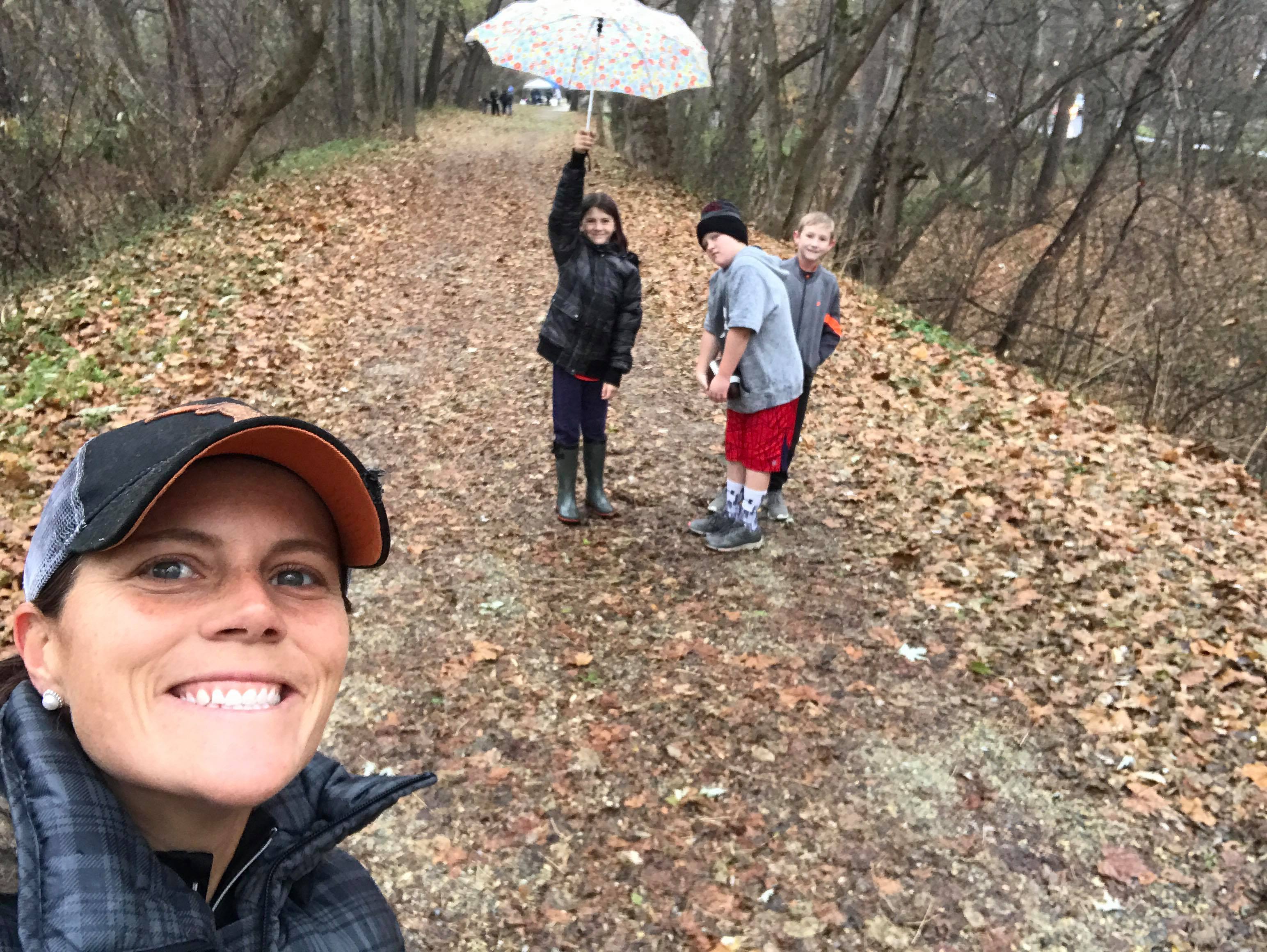 Some of my cheerleading support on the course. Sage and her kids.
At Dam # 4, I finally left the towpath. I looked at my Garmin, and I had been 5:17 hours into the race so far. My pace was right on target.
I had 1 hour to run a little over 8 rolling, paved road miles to finish the race in under 6 hours, 20 minutes for the new AG course record. I thought that was a pace that I could sustain on that road. But before we got on the road, there was a very steep hill to climb first. A runner caught me there and introduced himself. "I'm David," he said. "I am Doug" I replied back. I tried to stay with him. He was David Lantz, who later on finished 7th overall.
At that point, it started raining pretty hard. The rain was icy cold, and the wind started whipping. So, there I was, out in the open, with my glycogen reserves totally depleted, fatigued, freezing and trying to dig deep to sustain some kind of a jog. It felt like all of a sudden I was bonking. I tried not to panic. I had done some math in my head, and calculated that all I needed was 8 min/miles for the next 8 miles, and I would finish under 6:20 hours, but I couldn't even do that. The best I could do was about 9-minute miles, no matter how hard I tried. I also spent too much time at the aid stations, trying to consume some calories, but it was too late. The damage was done.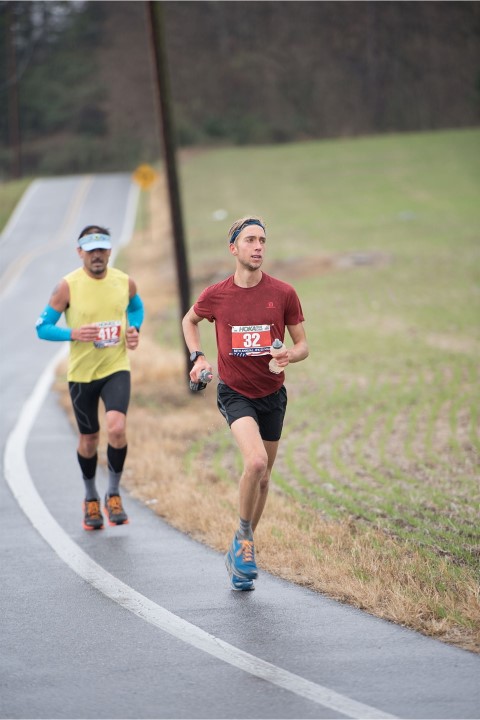 After being in 6th place overall, I started losing ground on my last 8 miles. Here, # 32 David Hedges passing me at around mile 44. He eventually got 6th overall.
I saw Sage and Tressa drive by and they shouted some words of encouragement. Tressa yelled, "I believe in you". At that point I was starting to have doubts about myself. The wolf was in trouble.
I was passed by another fellow somewhere around mile 44. He was David Hedges. Now that I was in 8th place, I tried as hard as I could to protect and hang to that position. But it didn't take long before I was caught by Michael Wardian too. I said to myself, well, so much for bragging later on that I beat Michael Wardian at the JFK 50!
It was a long and miserable death march to the finish. With about 1 mile to go, I got chicked. Emily Harrison, the women's winner, caught me as well. I had nothing left in me to respond. I looked behind just to see if there was anyone else sneaking up behind me to knock me out of the 10 overall, and I didn't see anybody. Thank you god!
I looked at my watch and noticed that I just needed that last mile in about 8 minutes to be under a 6:30 finish. That was one of the longest miles that I have ever run. At last I could see the finish line, and said to myself thank you "sweet baby Jesus" as I heard my name on the loudspeaker, "Doug Fernandez from Richmond, Virginia!" I was so cold and shivering that one of the medics there asked my name and I couldn't even get it out of my mouth. My jaw was frozen.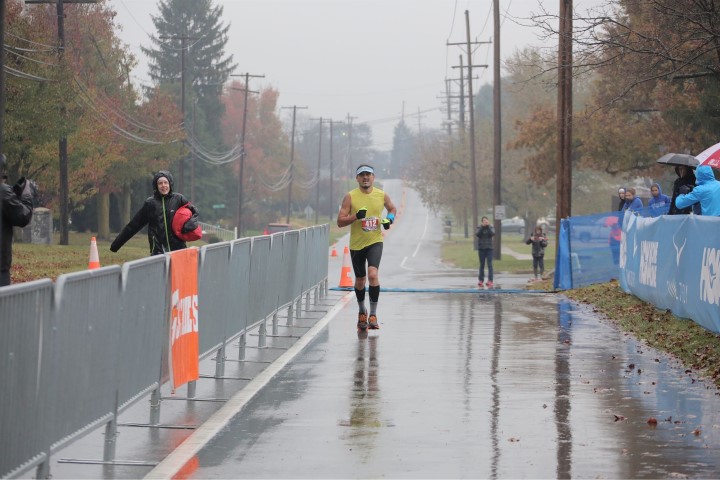 Approaching the finish, this 50 mile race was finally over- What a relief !! and what a miserable weather.
They had to rush me out of the finish area in a hurry, straight to the warm showers in the school gym just to raise my core temperature. I stayed under that shower for about 10 minutes. It took a couple hours, some cups of chicken noodle soup, some warm food and warm beverages before my shivering went away.
It took a while for the whole thing to sink in. I had run 50 miles. I was 9th overall man and finished in 6:28:45. I also got the men over 50 AG win. But I didn't get the men's 50-59 course record. Overall, I was very happy and pleased with my race result, despite the struggles at the end. I learned a few lessons and that will help me prepare better next time.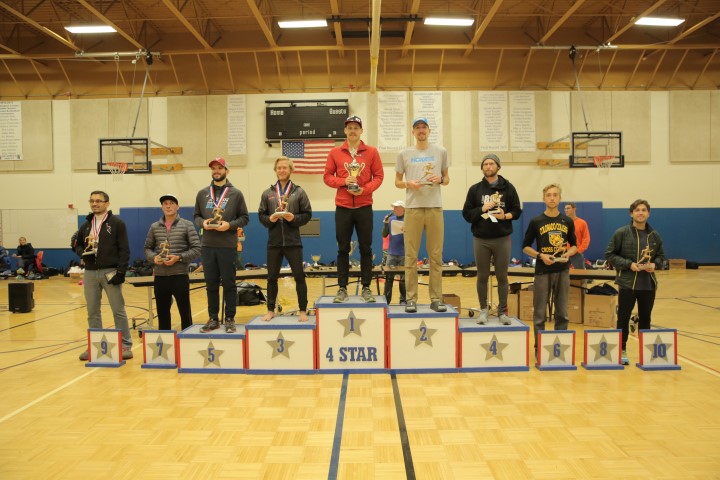 Top 10 men. I may be a whole generation (or two) older than these fellows, But I am not old, I've just been young for a very long time !.
I want to thank the organization of this race and all the volunteers that made this great running event possible, they were superb. I also would like to congratulate everyone who completed this race. Running 50 miles, no matter how fast or slow, is nothing to sneeze at. Last, I want to thank everyone who supported me before and during this race, who tracked me online and who wished me well. Hopefully I will come back next year, I still feel that I have to take care of unfinished business. Now, that I have been accepted to the Tokyo marathon (one of 2 marathon majors I have yet to run), in February 2018, I have to un-retire from road marathons, and continue my training throughout the winter, yikes !!
Written by Paul Ali - https://ultraavon.com
After a dream race at the Liverpool Leeds Canal race (link here) there was only one way race results could go and this is a brief report on my DNF at the Lon Las Ultra.
This was a new event on the Ultra running calendar put on by Cockbain events. The event involved a 253 mile run/walk/crawl across Wales starting from Holyhead in Anglesey and all the way 'down' to Cardiff following the Sustran Route 8. The event had limited support with competitors having access to water supplies every 25 miles and access to their drop bags every 50 miles. Between these points runners should be self-sufficient although purchasing supplies en-route was allowed.
I had about six weeks from the LLCR to this event and after having a full weeks rest put in 4 training weeks of around 75 miles each week although I backed off the training in weeks 3 and 4 as my legs weren't feeling totally fresh. This gave me about 10 days taper where I brought the mileage right down. I had made a particular effort to include some hill reps each week with the course profile for Lon Las described as 'undulating' with a few peaks. The course profile for Lon Las showed around 18,000 foot of elevation. Although over 253 miles you could argue that this was pretty flat.
Race Start. Photo by Karen Webber.
We set out under the cover of darkness at 7am and headed away from Holyhead Port/Station along the streets and roads before joining the coastal path. As the darkness receded, the sun came out and the weather was looking really good for a mid-October day as we followed the quiet roads. I spent the early part of the race running with Martin and Riccardo.
The only interest of note was when I took a 'slight detour' around the 20 mile point. I had been following the route instructions and signs and turned right onto a main road. I had been looking for the next turn off but simply missed a sign on the opposite side of the road and continued on ahead. It was a really simple mistake but cost me a few miles as this main road continued for quite a while without a turn off before I realised my mistake. Unfortunately, Riccardo had been following me and also went the wrong way. As we checked maps, we worked out that we missed a turn and back-tracked by which time the full force of the GPS tracking came into play as I received a couple of texts from friends with the "Where the hell are you going?" type message. There is no hiding place on a GPS tracked race!
It was a simple mistake but over the course of 253 miles not a massive issue and I tried to just get on with the running. However, it was fair to say that the detour played over in my mind like a persistent annoyance for the next couple of hours although the mood was lightened by the light joshing from other competitors and support team.
I had been carrying a handheld GPS unit but for some reason my course file hadn't loaded up at the start of the race and wasn't displaying the route correctly. I was going to look at it at the first Checkpoint but after the earlier mix up I took a minute or two a little while later to power it off and on and reload it which seemed to sort the problem and it was fine from that point onwards.
The first Checkpoint (Water Only) was at the 30 mile point at Menai Bridge and I continued on the next 10 miles to this point and caught up with a few people. To be honest I was moving slower than I would normally for a race of this distance and taking the odd short walk break very early on and wasn't quite feeling 100% fresh, perhaps I was still a little jaded from lots of long races over the summer. I had a brief stop of a Garage a mile or two before the Checkpoint to buy a can of coke and jogged the last couple of miles over the bridge to the first Checkpoint.
CP1 – Photo by Karen Webber
I think the usual approach when you make a navigational error is to exaggerate the distance to indicate that you could have finished much quicker. I thought I had run an extra couple of extra miles and was playing it down in my mind (simple mistake, no big deal etc.) but it turned out to be nearly 5 miles. The first Checkpoint at 30 miles showed 35 miles on my GPS watch, oops. I topped up my water supplies as Lindley, Maxine, Karen & Peter asked if I enjoyed my extra detour before I set out again. Cheers guys, I had just about got it out of my system. The only saving grace was that another competitor (no names mentioned) seem to be taking the heat off me by making a number of navigational errors.
The next section was a bit mixed. I recall this section being fairly flat and there were times when I felt ok and ran steadily for miles and then I hit sections when I just felt I needed a walk break and I wasn't even 50 miles into the race. I leapfrogged a few competitors here and eventually buddied up with Duncan for the remainder of this section as we saw out the rest of this leg and arrived at Checkpoint 2 at 60 miles.
This was our first Drop Bag stop, and I had purchased a few 'Self-Heating' meals (just add water) which takes 10 mins to cook so I put this on straightaway as I had a drink, attended to a toe blister (thanks Maxine) and took the opportunity to top up the charge on my phone and Garmin. After perhaps 25 mins, I set out again towards Checkpoint 3 feeling good after a nice meat-ball dinner (Duncan was jealous as he mentioned what a good idea it was a least three times!). This was a nice 'reset' point for me as I had planned to stop and re-start my Garmin each 50 mile or so section between Checkpoints.. mainly because the Garmin 920XT does not charge and record at the same time (seriously Garmin, my old 310XT does it).
CP2 – First Drop Bag stop
It was getting dark by the time we left so it had been a very steady 60 (65!) mile section and time to get the LED lights on to accompany the Hi-Vis everyone was expected to wear all the time as the route follows roads.
I picked up the running and ended up running most of this section by myself, this section felt a bit more undulating and as we got further into the night the expected rain started to fall. It even got to the point where I actually put my waterproof trousers on which was a rare occurrence.
There was a nasty little 4-5 mile section just before the next Checkpoint where you seemed to be going up and up hills with the wind and rain lashing down directly in your face. It was nice to get that section over with as the rain eased off as I arrived into the next pop-up Checkpoint (Water only) at 80 miles which was being supported by Lindley and Maxine. I paused here for a few minutes to eat some food. It wasn't quite morning but I had packed some cereal and powdered milk which I made up with water and had a bowl of cereal. This was something that I liked and was quite easy to eat and after a little while I set off at a walk before picking up a bit of a jog.
The next section was only 20 miles or so but took me ages as I started to suffer with blistering around the toes mainly which meant I was walking more than I was running. Surprisingly, I didn't suffer my usual sleep deprivation too badly but the constant drizzle in the face was good enough to keep me awake. I trudged through the next section to arrive at the 100 mile Checkpoint about 6am. I hadn't expected to run a fast 100 mile time for the this event of this nature but arriving here at 23 ish hours compared to a 100 mile PB time of 17 hours was perhaps 3 hours slower than I expected to be.
Arriving at CP4 – Photo by Karen Webber
I had some food and removed the existing taping on my feet. I didn't manage to sleep but dozed in my sleeping bag for 20 minutes as I wanted to allow some time to dry my feet completely before applying some new taping over the blisters and hotspots. I spent about an hour here in total and I was putting on some fresh clothes I took a look at the weather outside to see that the weather was worsening and the rain was lashing down in full force. I decided to go with my heavier waterproof jacket, trousers, gloves, the works as I had been planning to hike out the next few hours.
I set out in the rain around 7.30am. The next 3 miles went up and up over a hill and into a valley. The rain and wind here was even stronger with sheets of rain hammering it down, flooded paths and strong winds in this exposed area. My thicker Waterproof jacket (a Montane jacket) thankfully stood up to the weather, my Salomon Bonatti did an ok job but my Inov-8 mitts were useless as they couldn't handle the volume of rain but thankfully this was a minor piece of equipment/clothing failure. I've had a few incidents with rain in events but this felt like one of the heaviest rainfalls I had experienced. Unfortunately, all of the effort to dry out and patch up my feet were wasted as my feet got soaked within a couple of miles of the last CP.
I spent the next 5 hours hiking this section through this incessant rain. I knew conditions would ease later in the day but unfortunately this didn't help the condition of my feet which felt more uncomfortable.
Progress was really slow (about 15 miles in 5 hours) and I started working out the maths. Even based on this pace it was going to be a long walk. However, with my feet in the condition they were in I didn't think this was going to be achievable and I didn't really fancy a 135 mile death-march from this point and so when I arrived in a place called Machynlleth I made a rational decision to drop. I was definitely disappointed not to progress any further but it wasn't really looking like my day from the start and it wasn't a difficult decision to make. No excuses, I wasn't good enough to complete the event on the day.
The 'DNF' selfie.
I stopped at a petrol station and made the call to Mark and Peter Foxall kindly delivered my drop bag to me where I could change into some dry clothes and get the train home. There was a train station at Machynlleth and a I caught a train home via connections through Chester and Birmingham although the section to Reading wasn't very much fun at first as there were no seats and I just sat on the floor slumped next to my drop bag.
Massive congratulations to the six guys who made it to the finish (Bryan, Ronnie, Mike, Karl, Colin & Chris), a fantastic effort through some very tough conditions (especially on the Friday). You all showed some true grit to complete this event. I experienced mixed emotions watching the trackers over the next couple of days ranging from the satisfaction of seeing the other competitors complete the event with small doses of regret and envy from not having finished myself.
In addition, I would also like to thank the handful of crew members who supported the event including Mark, Karen, Peter, Lindley, Maxine and others. Each of them also pulled a long shift over the weekend to support a small number of competitors over a long distance and without their efforts we could not have organised the race.
What were my learning points from this race? This was probably one race too many this year and I probably need to approach this type of race fresh from other races as a minor point. Completing this race was always going to involve long periods of hiking as well as running which is something you need to be prepared for and I need to revisit foot care in order to be able to maintain some level of comfort to have a better chance of completing this type of race.
Written by John Kynaston - https://johnkynaston.com
Saturday 10th September 2016
Ever since I came across this race last year I've been looking forward to taking part and it didn't disappoint!
Katrina and I were able to leave work early for the long drive to South Wales. We left at 1.10pm had a couple of stops for a drink and then some food and arrived at the Danywenalt YHA at 9.45pm.
The driving conditions on the way down went from very wet to sunny and back to very wet when we arrived at the race HQ. We missed the 9.30pm briefing but had time to register, get my number (174), be issued with my sportident dibber and leave my drop bag for checkpoint 3.
We headed back to the car and settled in for a comfortable sleep. I woke before my 4am alarm and quite quickly had changed, ate some cereal for breakfast and headed over to the HQ marquee for the race briefing at 4.30am.
Katrina wished me a good race as she continued to sleep. The last thing she said was I hope I can drive the car off the fields as it had rained quite heavily all night. One of the reasons I decided to do this race was that it would give Katrina a chance to visit her family who live very close to the western end of the course.
The race briefing was short but thorough. We were told that as the weather forecast was good we didn't need to carry waterproof trousers but I couldn't be bothered to dig them out from the bottom of my rucksack so left them there.
Just before the 5am start it started raining again and I did consider getting my jacket out but I knew there was a climb right from the start and I prefer to start cold as I will soon warm up.
The race has a start which I've never done before. Instead of a mass start on a shout or a whistle everyone lines up in single line and your time starts when you dib in the first control.
Those who wanted to run faster were encouraged to go to the front and those who knew they were slower to wait at the back! Someone shouted 'there will be a lot in the middle then!' and that's how it turned out.
I prefer to start about half way down which means I'm not tempted to go off too hard but it was a little trickier to judge. I thought if I wait too long it may take a while to get going. As I was deciding I saw the only person I knew who was running, Karen Nash.
I had a quick chat with Karen and before I realised it I was lined up behind her for the start. I was off at 5.02am in the pitch dark. It was raining very lightly but felt warm enough so I was glad I didn't put my jacket on. In fact I didn't wear it at all for the whole race.
The route with checkpoints (CP) and Peaks (P)
CP 1 to CP 2 – 11.35miles
I had a rough plan to try and get round in sub 17hrs which was my silver goal. Because I didn't know the course I was guessing a bit but felt that it was a realistic goal. If I had a great day then maybe my gold goal of sub 16hrs might be possible.
Due to the staggered start it was very relaxed early on. Over the first half mile or so I caught a couple of people and a couple of people went past me. Once we came out of the woods things settled a bit as we made our way up to the first dibber at Carna Pica.
There are two races the long course and the short course. The short course follows the same route until CP2 when they cut up and join the route after peak 6. So that they also go over 10 peaks there are a couple of extra ones for us which we have to dib as well.
I didn't work with my heart rate as usual for this run as there is so much climbing I knew it would be hard to control it but I was keen to try and take it as easily as I could so tried to control my breathing.
Half way up I could see a group moving ahead and there seemed to be a bit of a gap behind me but it didn't take long for a number of them to catch and go past me. I was quite happy as I knew there was a long way to go!
One of those who went past me was a lady who was breathing very hard. I did think that she was maybe pushing it a little too much as there is a long, long way to go and a lot of climbing to do.
My rough plan had 58mins to cover the 3.10 miles so I was quite happy to see that I had reached the marshall at the dibber in 1:01:48. I also noted that it was 3.26 miles so my distances estimates were going to be a little off. I see from the splits I was 35th out of the 113 starters.
Once we were over the top and onto the open ground runners in front were taking various lines. In this race you are allowed to choose your own route as long as you visit all the checkpoints and peaks in the right order.
I had downloaded the gps trace from Evan Davies from Strava. Evan finished 4th in 13:24:41 so I assumed he got most things right! Evans was running again this year and finished in 9th place in 15:13:28 which was almost two hours slower this year. He commented on his strava 'Not my day.'
Evan's trace was more to the left so I followed that line whereas most of those in front of me were further to the right. There was a guy in an army type jacket on who was also on my line and he looked as though he was confident in his route choice!
Soon enough though we all came back together and headed towards the second extra dibber called trig 642. The group ahead were moving a lot faster than I was so they were away.
I caught up with the army jacket guy and we chatted for a bit. He told me that he lived locally and ran last year but at about the point we were at he went over on his ankle badly. He carried on even though it swelled up and finished the race but when he visited hospital the next day discovered he had broken his ankle!
He too headed down the hill. Another guy in a yellow jacket went past and I did start to wonder when I would settle into my position. I was happy with my pace and hoped that I would be seeing some of these runners again!
I switched off my head torch about 75mins into the race and it's always nice to be able to do that so you can see a bit more of what's around rather than just following a small patch of light in front.
Upper Neuadd Reservoir
We reached a road and I could see the guy in yellow went right. I checked my watch and it said left so I trusted the trace and followed it left. I could see a couple of guys behind me so I wasn't the only one going that way.
We ran around the head of the dam and then headed up the hill. As I arrived at the gate another runner came towards me who had presumably also got right. I'd not seen him before so figured I'd gained a few places!
I moved up the hill quite comfortably passing a few people on the way. At the top of the hill I could see runners heading off in the distance right but my trace said to go left then right and I soon realised it was to visit the second dibber.
It had taken me 1:08:50 to cover the 4.27 miles against the 1.02:00 I had planned so I was a 10mins down on my plan but as I wasn't sure of the distances on my plan it didn't bother me.
The next mile for so was along the ridge with a steep drop to the right. The mist was lifting now and the visibility was getting better all the time. I caught up with a guy and after a quick greeting pushed on as I could see a group of three not too far ahead.
Ridge from trig 642 (photo thanks to Karen Nash)
I was caught by two runners wearing just vests and moving very fast. I had been running for two and half hours by now and was surprised they were running so quickly. As I thought about it I realised they must be the short course runners as they start an hour behind. Either that or they started our race late and were catching up!
The path joined a wide main path to Pen y Fan which we would visit a later. We were heading down to the first checkpoint. I was overtaken by guy wearing the same North Face rucksack as I use. He was moving a lot faster so I watched him disappear down the hill.
Heading towards CP 1
I could see the cars at the CP and soon enough it appeared. I had drank my bottle of Tailwind and had eaten a Chia bar and a yoghurt covered muesli bar. As I approached the CP I emptied the Tailwind powder into my bottle to be refilled.
I had covered the 11.35 miles in 3:02:12. My plan had been 2:50 so I was a bit behind but I felt good and happy with how things were going so far. From the sportident timing I can see now that I was 37th.
CP 2 to CP 2 – 5.84 miles (overall 17.19 miles)
I was in and out the CP in under a minute. The route crosses the road and heads steeply up peak 1 – Fan Fawr. I could see a line of runners ahead to the left but my trace was further to the right so I duly followed that.
It seemed to be a better line as I moved ahead of a few people as I gained 8 places from the checkpoint! From peak 1 to peak 2 there was a boggy section downhill and then another climb up the hill.
There were several sections over wet boggy ground but I didn't find them too bad. To be honest I was expecting a lot worse and there was a lot more good paths to run on that I expected.
I felt strong on the way up and I certainly felt that my Arrochar Alps run three weeks ago and my double Ben Lomond prepared me for the race.
Fairly near the top I went past two runners who asked me whether I was a short course ninja! When I said no I was doing the long course they looked a little surprised.
As I reached the top of peak 2 Fan Fila I was catching a female runner but then suddenly there was four other runners coming from a slightly different angle.
As I headed down to CP2 I realised that one of the runners was Karen Nash. She explained that she had made a couple of errors which had cost her a few minutes. Again I was thankful for my gps trace that was keeping me right on line!
We headed down to the CP on slightly different lines but arrived together. When Karen gave in her number they said, 'HQ are trying to get in touch with you as your van is blocking the road!!'
My plan to arrive at CP 2 was 4:32 and I arrived in 4:31:38!! Not bad eh??
CP 2 to CP3 – 5.50 miles (overall 23.09 miles)
I refilled my water bottle, took some jaffa cakes and jelly babies and was off to CP 3. Karen and I left together and chatted as we climbed away from the CP.
I've met Karen a few times on the Hardmoors races but I don't think we've run that much together so it was great to chat as we moved along. There are no peaks to dib between CP 2 and CP 3 but there is some climbing to do but it didn't feel too tough.
Chris Davies soon caught up with us. Chris is over 60 but obviously a very good runner as he was moving very well! Karen and Chris know each other well so I listened on as they caught up with various races they have done recently.
Chris and Karen just ahead
Chris pushed on while Karen and I ran together. After a while Karen, who only got back from a month in the Alps on Tuesday was was till recovering from her biggest race of the year just 3 weeks ago, said not to wait for her as her legs are a bit trashed. I'm sure I've heard that before but pushed on.
I wasn't too far behind Chris and when I arrived at the CP I realised that Karen was just behind me!
This CP had hot food so I decided to have a few minutes here to enjoy some soup as well as my chocolate milkshake which I'd put in my drop bag. I had a space pair of Drymax socks but my feet were feeling fine despite the several soakings so I decided to push on with the pair I was wearing.
CP 3 to CP 4 – 10.69 miles (overall 33.78 miles)
I left the CP just ahead of Karen and Chris. I tried to ring Katrina as in a few minutes the route would cross the road just 400 yards from her Dad's house. The plan was for Katrina to cheer me on as I went past.
The call went straight through to voice mail and I did wonder whether Katrina had been able to get out of the field. I really hoped so but there was nothing I could do.
Running with Chris (photo thanks to Karen Nash)
Chris and Karen caught up with me and I asked them which way where they going up to peak 3 Fan Brycheiniog? I don't think they realised there was a choice!
The route on the map we were given was to go straight up onto the ridge to the top but I had seen on strava from previous years that lots of runners had gone right after crossing the river and following the lower ridge before heading to the top. That is the way I had gone last year when I met the race so I had decided to go that way.
When we reached the road there was no sign of Katrina so I did fear the worse. It turns out that yes she couldn't get the car off the field until 1pm. By then she had rung her dad and he went over to see her but couldn't find the YHA!
So Katrina spent the whole day at the race HQ which was a shame but at least there was food and somewhere comfy to sit and read! When one of the mountain rescue teams came back to the race HQ they helped Katrina get our car off the field so thanks so much to them for their help.
When we reached the point of decision the guy with the North Face rucksack went straight on. I turned right and I thought Chris followed me but after a while I realised that he wasn't following me.
I thought it would be interesting to see who reached the top first. Obviously I was expecting it to be me and I was feeling quite smug as I climbed up!
For the first time in a race I had brought poles to use on the climbs so I took them off my pack and set them up to use. I had borrowed Jonny's poles and after my Ben Lomond run I had ordered a pair but they hadn't arrived so Jonny very kindly let me borrow his again.
I really did feel they made a big difference on all the climbs from this one onwards.
Climbing Fan Brycheiniog with the higher path to my left
As I reached the tarn there was a big group of walkers heading up but they very kindly let me power past!
When I reached the ridge I couldn't see Chris or Karen and hoped they we're still making their way up but I did suspect that they might be ahead!
There were two marshals at the top waiting for all the runners. The climb from the CP 3 had taken me 1:36:08.
From this peak there was an out and back to peak 4 Bannau Sir Gael. It was only 0.89 miles so I knew that either I would see Karen and Chris coming back down towards me or I would see them as I climbed.
Sadly for me it was the latter!! Firstly I saw the guy with the North Face rucksack who must be William Sweeney. He arrived at the peak 16mins ahead of me. David Morris, Chris and Karen were 8-9 mins ahead so they all took some time of me.
It is hard to know whether they would have been quicker anyway even if I went the same way. Maybe they were just stronger up the hill! As Chris went past he said 'I'm not impressed with your route choice!!' Thanks Chris!!
I tried to make sure it didn't affect me as I was moving well and ahead of my sub 17hr schedule. As I descended I passed a couple of guys heading up and then passed another 5-6 as I made my way back to the marshals on peak 3.
View from Peak 3 (photo thanks to Karen Nash)
It was pretty warm by now and I had ran out of water so found a stream with fast flowing water to refill. When I reached the marshals I stopped for a couple of minutes to add my Tailwind to the water and put away my poles for the long descent to CP 4.
I also got out my power pack as my Suunto watch only had 10% battery left. I was relying on my watch for navigation so knew I needed to take time to recharge the battery.
As I left the marshal told me the Man Utd v City game. City were leading 2-1 at half time. The marshal was a United fan so was hoping for a better 2nd half!
As I made my way down one of the runners (in a red top) I saw a few minutes earlier went past me. I felt I needed to regroup a bit as I set off on the descent to CP 4.
From the profile and Andy Cole's race report I knew that this was another potentially boggy section with a grassy hill to climb half way along.
I was following my gps trace which kept me close to the river. I could ahead that the guy in red had gone further left. I made my way down to the first road, crossed over and headed up the grassy hill.
I could see another runner in black not too far behind me who seemed to be on the same line as me. I couldn't see the guy in red at all.
The climb up the grassy hill was hard going and I was grateful for the poles as they definitely helped me up the climb. It wasn't too long until I could see the CP on the road.
I arrived ahead of the guy in black. The descent from peak 4 had taken me 1:31:34 against the planned 1:40. Overall I was now almost 30mins up on my sub 17hr plan and feeling good!
I had a quick stop to refill my water bottle and a chat with the marshals. One of them gave me a helpful tips on the line up Fan Gyhirych. After the first couple of rises aim for the black line in the gully which will lead you directly to the summit. Thanks!
CP 4 to CP 5 – 10.87 miles (overall 44.65 miles)
I left the CP with the guy in black. Once more I got out my poles to help me up this steep climb. The guy commented I wish I had brought some poles!
As I climbed I remembered a chat I'd had with Andy Cole the day before the race. Amongst other helpful tips Andy said that once you had climbed up this peak you had broken the back of the race so that kept me going.
Once again I was grateful for the Munros I had done recently as even though this was a steep slog up it was nothing as hard as Ben Lomond or any of the other mountains I'd climbed in Scotland recently.
The line on my watch was bang on the same tip the marshal had given me so I knew I was spot on. My watch battery was now up over 70% but I decided to keep charing until it reached over 80% as I reckoned that would do me to the end.
Sure enough following the black line which was actually a path I came out right at the cairn at the top. It was always reassuring to see the dibber box waiting for me!
Cairn on Fan Gyhirych (photo thanks to Karen Nash)
From here to peak 6 Fan Nedd I knew it was about 3 miles and with the visibility so good I could see the route quite clearly. I couldn't see anyone ahead or behind which was fine.
I made good progress on the descent and then across a grassy path to the start of the climb to the top of peak 6. I was heading up a path to the left when I realised my gps trace was a bit further over to the right so I headed that way.
It didn't seem to take too long until I reached the cairn on Fan Nedd. According to my watch it was 2.61 miles and it had taken me 43:59. I had planned 48 mins so again I was a few minutes up!
Sportident dibber on Fan Nedd
A few minutes away from the summit I passed the guy in red and the guy black heading up to the top. I see from the splits that they were Dean and Philip and I was about 7 mins ahead of them.
I knew that the next section to peak 7 Fan Frynych could be tricky as I had seen on strava from last year that one guy continued north and added on another few miles so I was making sure I kept a keen eye on my gps trace and stuck to the line!
I had ran out of water again and as I descended I hoped that I would find a stream to refill. Otherwise the trek up to peak 7 was going to be even tougher!
As I made my way down I could see a car which looked like the mountain rescue waiting at the road. Sure enough it was the mountain rescue with water, coke and some food. I was very grateful to be able to refill my water and have a drink of coke.
I took a few pieces of Soreen and headed off over the grassy moor. This was the point that the short course rejoined the long course.
The next mile or so was on a wide track and I ran as much as I could. I was very pleased with how well I was moving. I had been moving for almost 12hrs so obviously starting to fatigue but really encouraged that nothing was really hurting and I felt I had plenty of energy.
When I had studied the course I saw from the various routes I'd seen on strava that there were a couple of options to the top of Fan Frynych. The route on the map followed the road around like the shape of a goose's head. But the trace I had cut off the head and so shortened the route.
I was a little uncertain whether to follow the trace I had or just stay on the road further. When I arrived at the point of decision I decided to stay with the gps trace I had as it had served me well so far!
It was a tough little climb over grassy mounds but soon enough I was on the main path and heading up to the peak so I think it was a good move!
As I approached the top I could see 3 people ahead. For a moment I thought that maybe I was catching Karen and Chris but as I got closer I realised that they were on the short course.
I hadn't really thought about whether I would see any of them but I realised that it did make sense. If they started an hour after us but were going to take over 18hrs I would be catch them.
It was good to dib in to peak 7. The 4.71 miles from peak 6 had taken me 1:31:42. My plan called for 1:15 but I had thought it was 3.80 miles so pace wise I was probably about right! Time wise though I had now been going 12:09:33 against the plan of 12:30 so I was still had 20 mins in the bank!
I thought it was 1.90 miles to CP 5 but it was actually 2.84 miles and I must admit that this section did drag a bit. Once I was over the first rise I could see the Storey Arms building in the distance but the path was taking me a lot further right to avoid dropping down and having to climb back up but it seemed to take for ages to arrive!
The thing that kept me going was another part of Andy's race report. He wrote that at this checkpoint there is a burger van and as part of your race fee you get to choose any burger and drink.
Now I don't normally eat a burger during a run but if it's part of the fee it would rude not to! Anyway it spurred me on to reach the checkpoint!
The 10.87 miles from CP4 had taken me 3:33:07 against the planned 3:13 but I had thought it was 9.30 miles so I felt I was just about right. Overall I was still 11 mins up on my sub 17hrs.
Sure enough I was given a ticket for any meal and drink from the burger van. I did ask whether they had any soup but sadly not! So I asked for an egg, bacon and sausage bap. As I waited for it to arrive I refilled my bottle with pepsi and water and chatted to the marshal.
She explained that some people were going down the road to where CP 1 had been and then going up the path we had come down earlier to the top of Pen y Fan. The way the map showed was straight up from the CP and after the first climb had a short descent before the climb to the top.
I decided to go stick with my trace and race route and go straight up.
CP 5 to finish – 10.02 miles (overall 54.67 miles)
When my bap arrived I couldn't believe how big it was! It almost took two hands to hold it! I decided to eat it on the way up. I realised that there was no way I could eat it all so decided to eat the egg, bacon and sausage and let the birds enjoy the bread!
It was really tasty and I did it justice except for the bread! Once that was eaten I got out my poles and set off up the hill on the very wide and manufactured path. I could see a number of short course runners ahead and I slowly but surely reeled them in.
Some of then looked as though they were struggling a bit and I thought they were going to be out for a good while yet. I started to think about my finishing time. I had 10 miles to go and 4hrs to do it in if I wanted to get under the 17hrs. I thought that was doable as long as I kept going.
It was just after 6pm and I thought it would be dark by 8.30pm or so. I decided it would be good to try and reach peak 10 or even the extra spot height before it got dark.
I reached the first climb okay then the short descent before tackling the climb up to the ridge. It was all on good paths so I could get a good grip with the poles. It was a case of head down and get this done.
I decided to count up to a hundred clicks of the poles before I was allowed to look up and see where I was! It took me quite a few of them to reach the top but reach it I did!
As I came over the ridge a group of short course runners were coming up the other path. One guy had music blasting out as he walked! He said I'd done well to come up the steps path.
There was a pile of stones at what I thought was the top with a dibber so I checked in and set off for peak 9 Cribyn. I thought it was about a mile away so was quite surprised when I saw another cairn quite soon with another dibber on.
I was just about to congratulate myself on gaining quite a bit of time when I read the plaque Pen y Fan! The earlier one was Corn Du which was one of the short course peaks!
I had climbed the 2.22 miles in 59:12 which was 10mins faster than my plan so things were looking good for my sub 17hr finish.
It was such a lovely evening now with the sun starting to set and clear views all round. The route down then up to peak 9 Cribyn was straight forward and again I could see a few short course runners ahead.
It didn't take too long to reach the top of Cribyn. A quick stop to dib in and off for the final peak number 10 Fan y Big. Again a clear view of the route around to the peak.
I hadn't done a video clip for a while so I paused to do that and when I looked back the sun set was amazing.
There was another steep descent before the next climb up to Fan y Big. I was still moving well and the top arrived quite quickly. I dibbed the final peak but there was still one more to go before the final descent to the finish.
There wasn't much descent and ascent so I could run the majority of the way. It was getting dark by now and I really should have stopped to put on my head torch but decided I should just be able to make the spot height dibber. I passed a few more short course runners who did have their head torches on.
I came to 90 degree turn and I assumed the dibber would be there but it wasn't. It was a bit further down the track. I stumbled a couple of times in the dark as I ran but I was feeling stubborn by now and wanted to get to the dibber before getting out the head torch.
Thankfully it arrived and I was able to fish out my head torch and set off for the final leg with confidence I could see the ground! It did make a difference.
According to my plan I had 4.60 miles to go and I thought it would take me 1:20. It was now 15:27:52 so I had 1:32 to cover the final section and most of it was downhill so I felt confident of making it. I had thought earlier that I might be able to get nearer 16hrs than 17hrs but sub 16:30 looked a little ambitious.
The race organisers had put out some glow sticks to guide us across the open ground and it helped though my faithful gps line was guiding me home as it had been all day.
I caught another group of short course runners who looked as though they just wanted to get it done now. I was ready to finish but still feel I was going well. Normally in an ultra I'll have a section where I'm struggling and I have to battle through it but I can honestly say that I never once had that in this race.
Yes I was tiring but nothing was really hurting. I was running strongly downhill which is always a good sign that I have paced it right.
I could see a head torch ahead that kept looking towards me. I thought either he is not sure of the way or expecting someone to come. Once I caught up with him I discovered it was neither! We started chatting and he said do you mind if I try and keep up with you as your torch is so much better than mine. He said he could see me coming for ages!
His name was Arun and is a doctor from Southampton though his family is from India. We had a great chat as we headed down the hill. Arun explained that he had been part of a two man team but his partner was finding it hard and they had been near the end of the field to the first two peaks for the short course. He dropped out after 6hrs so since then he had been working his way through the field.
It was quite slippy coming down the hill and I was glad I kept the poles out on this descent as they did help me stop falling. We reached the woods and I kept a good look out for the gate on the right so I could take the right path to the finish.
Once I reached it I knew I was going to be well inside 17hrs so we pushed on down the hill and over the dam. I was running as hard as I could and wanted to keep going right to the end. Arun suddenly stopped to walk and wished me all the best.
I arrived at the entrance to the YHA and walked the slight rise before running to the finish. Just before I got there I saw our car in parked before the YHA and Katrina looking out for me. I arrived at the marquee finish to dib in for the final time.
I finished 15th in 16:36:14. I was also the first M50 finisher but Chris was ahead who is M60!
Photo with Arun at the finish
Katrina came down and I found out all about her day! Not quite what we had planned. I was able to get a shower and have a cup of tea before heading to bed. We were able to visit her Dad and 93 yr old grandmother the next day before heading home.
I really enjoyed the event and would like to thank the race organisers and all the marshals for all their hard work throughout the preparation and the weekend itself. Also a special mention again to the mountain rescue team who helped Katrina get our car out of the field!!
I would definitely recommend the race but be warned there is a lot of climbing on rough terrain so prepare well!
Written by Luke Latimer - https://jurarunner.com I was expecting to find you hunched over your poles, headphones in, grinding through the dark miles with gritted teeth. Are you sure you've just run 85…

Written by Will Rivera - https://willrivera-ultra.tumblr.com "Pushing your body past what you thought it was capable of is easy; the hard part is pushing yourself even further … past what your mind…

Written by Jean Baptiste Rouvelin - http://jbrouvelin.blogspot.com Kit checked and got my number Well, where to start. The Arc of Attrition is a point to point race which forms an arc following the South…
Written by Tom Wright - http://life.tomwright.me.uk No medal, no finishers photo but I did complete the Lavaredo Ultra Trail. No really I did… I have my coveted bin bag to prove it! (Note Lavaredo has a…

Written by Paul Baldwin - http://pbracereports.blogspot.com Let's start with the finish I finished the 90km du Mont Blanc in 22 hours and 29 minutes, ranking 564th out of 1,142 entrants (49th percentile), and…

Written by Phil Bradburn - https://untrainingultrarunner.com "There is nooooo way that I am going to run this race – I have seen what it does to people! And those swans…. And those…
Written by George Callahan - https://wickedtrailrunning.com Burning River 100 Race Report My Wicked Trail My 2018 Burning River 100 Race Report may not look like some of the other race reports you've read. I'm…

Written by Tom Atkinson Pre-race I've been focused on this race since my last ultra in February (St Peter's Way, 42 miles and the previous furthest I've ever run). Training went pretty…

Written by Steve Birkinshaw - http://stevebirkinshaw-wainwright2014.blogspot.com/ If it wasn't exciting enough to have one record-breaking runner to blog about, try having two. That's right, Wainwright round record-holder Steve Birkinshaw tells us about…