Written by Stacey Holloway
I had not intended to enter the 2018 Fling, with the West Highland Way race in the same year. Back in 2016 it took me 6 weeks to recover enough to even want to run again. I was scared I could not recover in time for the WHWrace, just 8 weeks later. Neil my Chief Crewman, however, advised I run the Fling as my longest training run for the WHWrace. Against my better judgment, I entered and got a ballot place. So the race was not a race, but a dress rehearsal for June 23rd. I am so glad I listened to Neil.
This year my training had been perfect for the Fling and I felt so ready for it. Then, 4 weeks out from the race, things got a bit hectic and I was travelling a lot. I lost sleep, training was not my highest priority and fell apart, as did eating well. I got pretty run down. I was back in Cambridge for a week and despite sleeping 8-9hours for a few nights I could not shake a deep fatigue that had settled in. Those who know my past will understand why this feeling scares me, a lot. Max helped to dispel my paranoia and we headed to Scotland. The day before the Fling it became apparent I was unwell; I could not keep warm and was extremely tired. I spent Friday on the sofa under blankets with Kirsty's hot water bottle. Despite this, I could not help getting carried away in all the excitement for the next day as competitors and volunteers began to arrive. I met some WHWrace runners who had plenty of advice. I hung on their every word.
I was asleep by 9pm but woke at 11pm and I could not sleep again. At 2.30am Max made us breakfast and we caught the bus to Milngavie for the 6am race start. My tummy was in a terrible way! However, it was all great training for the WHWrace! No sleep and 53 miles of running on the course – perfect!
Max was in the first start wave so we kissed goodbye with the barrier between us as Johnny Fling and Jez Bragg counted down from 10. The horn went and I watched Max run off under the Milngavie rail-bridge. I joined the front of the final wave, observing the contrast between the runners in Max's wave and those in mine. The front-runners were all in dark, serious colours of red, black and grey, and mostly lean men, quiet in anticipation. In my wave it was mostly women, of all ages and sizes, kitted out in bright colours with kilts and tutus dancing and singing as the count down begun. Someone behind me tells their friend 'these are the real tough runners' and I feel proud of where I belong in this race, firmly a back of the pack runner. By the time we are under the arches and on the Way, we are introducing ourselves and making friends.
Just before the race briefing
I dropped right back to be one of the last runners as I was struggling with pace and brutally aware that I needed to finish as if to go on. I met another WHWrace hopeful and everyone was in a bonnie mood. The morning was perfect, cool, windless and sunny. The first views after Carbeth were breathtaking. You could see the route laid out in front of us crystal clear, Conic hill in the distance and the summit of Ben Lomond beyond. I wondered if the snow topped peaks behind that were Ben Vorlich or Ben Lui.
View out after Carbeth, perfect morning
Heading into Drymen I caught up with a group and one of the women says to me 'you are from Cambridge, you told me that.' A statement that must be true, but I cannot remember telling her! From then on throughout the race I would hear a holler 'Cambridge!' and turn round to a group of smiles. I ran with Jen, Fiona, John and Jan all the way to Inversnaid and their banter kept us all laughing and indifferent to time. I saw familiar faces at every checkpoint, Michelle and Carla at Drymen, Donna at Balmaha and Neil was waiting to see me in at Rowerdennen. He tells me I had arrived within 30seconds of my predicted time! By Inversnaid I was feeling a lot better, my unwellness from the day before had lifted and I pushed on.
When you can see three peaks you know you are finally near Inversnaid. Only two means you are not there yet!
The Inversnaid checkpoint was good fun! Firstly, I finally met John Kynatson in person, which I had been looking forward to (John has been interviewing me for the WHWrace podcasts). John introduced me to his wife as 'this is Stacey, you may sometimes hear her voice coming from my basement.' I have a double take, but John is oblivious to anything odd in that statement. I also saw Martyn, which was wonderful as I have not seen him since near the end of the Fling 2016. It was talking to Martyn after his WHWrace that inspired me to enter myself. While talking to the two of them another runner I had met the day before came bounding over full of excitement to loudly proclaim that he was quitting. We all stare at him startled, for this is a huge decision to make and not one that normally comes with enthusiasm. Without thinking I tell him not to mention the 'Q' word and get moving to Beinglas. I am not sure if he finished, but I hope that he did. Upon opening my drop bag I was disappointed to find a peanut butter and jam sandwich, and not the cheese and pickle I was craving. Martyn came to the rescue and asks if I want mature or mild cheddar. I just stare at him. He tells me he is utterly serious. Loaded up with cheese and bottles filled with Active Root (OMG this stuff is AMAZING!!!) I headed off towards Beinglas.
On the training run a month earlier, I had finally made peace with the technical lochside portion of the course and thoroughly enjoyed it this time round. It is a beautiful and wild section that takes a lot of focus to move over. It was brilliant fun and I stopped now and again to watch water falling from rocks above my head or to look out through tree roots at the still Loch surface. Coming off the lochside, Ben Lui stood ahead in the distance with rain falling on its top. The sun shone all day on us.
Rain on Ben Lui, Sun on me
I mentally struggle with the last section into Beinglas and the road out up to the river crossing so I promised myself some iPod time once I made the checkpoint. I was quite close to the cutoff at Beinglas and Neil was there waiting. He may have been a bit anxious, as he was pretty insistent I could not use the loo until after I had crossed the timing mat. I am so grateful to Neil for being out there checking on me, I felt very looked after and I am so comforted to know he will be there in June.
Along the river and out towards cow poo alley I had my music on loud and let my mind switch off. I entered a point where my brain began to fail to distinguish feelings of euphoria and suffering, it was only the pain in my legs that kept me grounded. I had slowed a lot to stare blissfully at the mountains so turned off the music and got moving. I met a lady from St Albans (near my birth town, Watford, but posher) and it was quite comforting to hear a southern accent, even if it was more upper class than mine. I enjoyed listening to her perfect home county accent as she waded undeterred shin deep through cow shit.
Starting to get a bit euphoric…
Out into the Roller-coaster forest I met Chris, who was a WHWrace finisher and another hopeful for this year. He was moving slower than me, but I wanted to hear his stories. We walked together up to the red carpet where I told him to run ahead so he could have his own photo finish. Walking with Chris was probably one of the best things I could have done that day. Taking the last 6 miles slow meant I did not trash my already trashed ankles and legs more than I needed to so I could recover well and get training again. Also, Chris told the WHWrace for what it was. He told me about the realities of sleep deprivation, and its impact on your crew. About midges and food and what had made people DNF. About the importance of stories when you can no longer talk. It was what I didn't want to hear, but what I needed to hear and exactly when I needed to hear it, after 52miles and over 14hours on my feet.
The finish was not like 2016 for me. This fling had been amazing, I had so much fun and I really mean that. I was so happy to be out there, talking to everyone and hearing their stories (more people than I have mentioned here and I am grateful to have met all of them). I took it slow and easy and never stressed. I waited at checkpoints to make sure my friends had made the cutoffs (so pleased when I found out Kirsten had made all of them!), enjoyed the scenery and catching up with people I had not seen in years. The community is outstanding. But it was not hard, I had not endured or struggled, I felt tired, cold and a bit sore, but I was fine. I felt underserving of the calls of encouragement from onlookers as we neared the finish. I was fine. This was a huge win for me. However, Chris's words rung in my ears and I felt overwhelmed at the prospect of 44 more miles. I went to bed thinking I should quit and drop out. By morning I felt fine with very little pain and in a better mental state, excited again at the prospect of the entire West Highland Way.
A huge thank you and congratulations to John Duncan and Noanie Sam Heffron, and every volunteer and sponsor for pulling off such an incredible event and its devoted following in the Scottish Ultra running community.
Finally, a special thank you to Liz Bennett in Cambridge for sponsoring me in the lead up to the WHWrace. She has gone above and beyond to keep me injury free.
The end is nigh
Written by Stuart Mann - http://runningmann.co.za
[MARATHON #180 / UNIQUE MARATHON #97 / 10 MARCH 2018]
The Kosmos Marathon in Secunda is an easy 90-minute drive from Johannesburg – this is below the "stayover for the night vs. drive on the morning" threshold so I was up just after 3am to get to the 6am start. After eight consecutive Friday nights away from home to run different marathons around the country, I enjoyed the novelty and comfort of sleeping in my own bed before a race – although my daughters were not impressed that their weekly camp out with mom was cancelled!
The race starts at the Lake Umuzi Lodge and Resort – despite this being a big race, traffic and parking were not an issue as there is plenty of space and there are multiple access routes into the resort. The resort benefits wonderfully from the event – there are several accommodation options but all sell out with runners and their families making the most of a marathon weekend.
Lake Umuzi looks like a great place to spend a weekend. While mom and/or dad are running there are plenty of activites for the kids like a water park, adventure golf and play areas at the resort. I had parked in front of the Lake Umuzi Box Office, noting that the resort also doubles as the town's cultural hub and that an artist delightfully named "Snotkop" (Snothead) would be playing later that week. If you want to see what you missed out on you can watch the video for his hit song "Cool soos Koos Kombuis" here. Not my taste in music but he does have about 129,000 more Facebook followers than The Running Mann– so who am I to judge!
I follow a Just in Time approach for races and joined the back of the field as the gun fired. It was a slow start as over 2,000 runners headed out into the mean streets of Secunda. I was in no rush and slowly moved through the field, enjoying the singing and chanting from the many pacing busses that were helping runners get to their Comradesseeding goal times.
The marathon route is very flat – a total change in elevation of just 237m over 42km (to put this in perspective my standard 15km route around Bryanston is 232m) – and is a single lap (which I prefer) around the suburbs.
To fit one full marathon lap into Secunda you run just about every residential street which means there is constant twisting and turning – it felt like you never ran more than 500m in one direction before making a turn. The race is organised by the Secunda Marathon Club and I think that they designed the route to make sure you run past every one of their club members' front door!
What the race lacks in natural beauty it more than makes up for with its spectacular support tables. The 21 tables are coordinated by the local schools, businesses and churches – a lot of effort had gone into decorating and branding each one. Every table had a buffet of snacks to choose from – I tucked in and think that this was the first race where I finished significantly heavier than when I started!
There was a large contingent from the Fat Cats athletics club – they are one of the more festive clubs in Gauteng and always seem to be having a good time whenever you see them. As the name would suggest, they are naturally attracted by the large amount of food on offer at Kosmos. In fact, I understand that before they started making their annual binge-eating trip to Secunda, the club was just known as the "Cats".
I managed to have a bit of fun at (the expense of the) KPMG table. There were a number of smart young gentleman manning the table and I asked them quizzically what the acronym KPMG stood for. One of them screwed up his eyes in concentration and proudly produced what sounded like a plausible answer. His proud look turned to one of disgust when I retorted, "Oh, I thought it was 'Keep Paying More to the Guptas'!" and trotted off.
Speaking of auditing firms, it's nice to see that the title sponsors of the race are the very reputable firm of PwC. It's great that one of the big consulting firms sponsors a (fairly) small town race – well done and thanks PwC!
Along the way I got chatting to Anton from Randburg Harriers. Anton is an Eastern Cape migrant who tries to return home for a run as often possible. I met him earlier in the year at the Bay Ultra in Port Elizabeth (Randburg runners have sophisticated sense of humour and Anton is no different – he highlighted the fart jokes as his favourite part of the race report). I was informed of a great small field ultra in April that I "had to do" – the Bruinjieshoogte 50km in Somerset East. I was pleased to reply that a family holiday has already been planned around this race (along with Oteniqua Marathon the following weekend).
However, our conversation was somewhat stilted – Anton seemed distracted and kept looking over his shoulder. He told me he was looking for his wife and every now would stop to wait for her – after a few minutes he would come charging past me again so I can only assume he was actually just making sure that his wife didn't finish ahead of him. Note: I saw Anton at the finish but have yet to meet his wife. Well played Anton!
The official name of the race is the Kosmos 3-in-1 as it has a 42, 21 and 10km. For most races it is an either/or choice but Kosmos caters to the craziness of the common South African runner. After the morning's marathon, you can run the half marathon at lunchtime and then the 10km at 5pm. So just how many people go for the full 73.3km? Amazingly, out of 2245 marathon entrants, 1945 went on to do all 3 distances.
Kosmos is a popular choice as a Comrades long training run – most Comrades long runs are 60km long but I guess it you are having rest breaks in-between you need to do an extra 13km. The good news is that if you've done the full 73km 15 times you get free entry in future years (and you also get a jacket when you complete your 10th, 15th and 20th races).
I normally enter the longest distance on offer and did feel like I'd taken the soft option by wimping out with "just the marathon"! I did have a valid excuse though – it was "Dads & Daughters Day" at my eldest daughter's dancing school so I had an unbreakable afternoon date. I was not born with any rhythm in my DNA so dancing is a real challenge (much harder than running a marathon in my opinion). If you had to walk a mile in my shoes you would probably start running after the first few metres but wouldn't be tempted to pull out any dance moves.
Maroon 5 sang about "
Moves Like Jagger
" but someone still needs to write (a satirical) song about "Moves Like Jogger". I survived the dancing and was rated as "Better than expected" by my daughter. The added bonus was that my first foray into freestyle and rock & roll dancing was great cross-training – and worked off much of the food I had consumed during the marathon.
Although hardcore South African runners will tell me that I haven't "really done" Kosmos until I've completed the full 73.3km, I am still claiming Kosmos as my 97th unique marathon. However, this does obviously mean that I will be returning to Secunda in future to do the full 3-in-1 and remove this blemish from my running CV!
Written by James Campbell - https://jamescampbell78.wordpress.com
Since Hardmoors 30, I've changed my approach to training fairly radically in order to first recover from injury and then rehabilitate and strengthen myself while still preparing sufficiently for the 55 and the 110 milers that follow in quick succession.
In doing so, I've incorporated a lot of technique work on the treadmill, which built up into speedwork culminating in me recording my best 10k time in over 6 years just a couple of weeks before the race.
I also got myself out for two key recce runs, one from Helmsley to White Horse and back with Dave Cook which we ran at the effort I wanted to maintain during the race and carrying all of the kit I intended to carry in the race. The temperatures that day were sub zero and snowing.
The following week I did a similar out and back in icy conditions for the last section of the route, Guisborough to Kildale and back, starting at 9:30pm and finishing around 3am in order to do the final section on tired body and mind.
I then had a very long taper and planned my race around splits that I thought would be achievable on the day (but also understanding that something would blow that plan out of the water somewhere) and was aiming to finish in 14 hours.
I planned to camp at Guisborough Sea Cadets before the race and the night after, so in aid of making sure everything went right on that front, I camped out in the snow during my taper period, however as race week approached, the weather forecast made the prospect of camping look increasingly scary. My mind was taken off the race for much of the final week due to the eventual decision to part with my car, which had served me well since 2011 both as a family car and a race camper, but was pretty much falling apart at a rate of knots and buy a new car. Sadly, as much as I love the new car, a Corsa is not as easy to camp in as a Zafira, but at least the process of sorting the car kept my mind away from the usual mental stresses of tapering.
I travelled to Guisborough on Friday afternoon, arriving about 5pm to breezy weather 3 degrees with snow already in the air. Being the first vehicle on site, I headed into town for some food and returned to find another car had arrived containing Duncan Bruce. Shortly after, a gentleman from Guisborough Sea Cadets arrived and upon hearing our plans to camp in the field told us not to even consider it and sleep in the hall, an act of kindness that made sure that I not only got onto the start line without a difficult night of camping, but in hindsight, probably saved me from hypothermia on Saturday night.
After unpacking kit and getting myself set up near a radiator in the hall, I made a couple of adjustments to my kit choices in view of the howling gale that was driving snow against the window above my head and replaced my usual compression shorts with fleece lined thermal compression shorts (which I'd intended to use for camping) and added my waterproof socks to the pile of clothes to go on in the morning.
After a couple of mugs of hot chocolate, which I drank as the hall filled up with a couple more campers, I then tried to get my head down to sleep. I think I woke up pretty much every hour on the hour and at 4:20am, gave up the ghost and made myself a coffee to go with my porridge. I had only eaten half of my porridge and a banana when my stomach started churning and feeling awful. I made a dash to the gents and only just got there on time. This was not a good start to the day, but following my dash, I was able to hold food in, although I continued to feel queasy as I got dressed for the day ahead and stashed my kit in the Sea Cadets office we were kindly allowed to use to keep our kit in so we didn't have to pack and then unpack after the race.
After getting dressed, I walked down to the bus pick up point and wandered around in search of Mark Dalton as I'd agreed to help with the bus marshalling. I couldn't immediately see or hear Mark but spent some time chatting with a few familiar faces until he arrived. It wasn't long before the coaches arrived and everyone was swiftly boarded. I spent the first few minutes of the journey checking names off against the register, which took my mind off my increasingly rebellious stomach for a short while then barricaded myself into a seat and sipped on Lucozade Sport all the way to Helmsley.
Upon arrival at Helmsley, I managed to pass through kit check and having my GPS tag fitted inside of 8 minutes, which was unbelievably slick, but also left me with almost two hours to kill so I found a side room with a few others, too off my warm jacket, hats and gloves and tried to chill out.
Helmsley to White Horse
Eventually it was time to go outside for the race brief and without too much ceremony the race was started under bright sunshine, but cold crisp air and a bit of a breeze, which as we turned west towards the Cleveland Way, became a nice tailwind. The first section leaving Helmsley is across two usually muddy fields, but today the ground was frozen solid and it was possible to keep a decent pace up to the gate that leads to the trail proper, as expected there was a bottleneck here before we could pass through and get running again. In a short space of time, I found myself running alongside a series of familiar faces, Paul Burgum, Dennis Potton, Tom Stewart and Angela Moore through Ingdale Howl and out onto the road through Rievaulx where a number of people were shedding the warm layers they'd put on before the start of the race due to the bright sun and becoming warm through exertion.
Having run this section in similar weather, I knew this warmth was only temporary (and partially false due to the wind being behind us) so took off my top buff and wrapped it around my poles with the two I intended to use later when it got really cold and unzipped my jacket a little. We soon hit the bottom of the first climb of the day, which starts as a rocky, muddy incline that leads onto a steadily climbing farm track towards Cold Kirby. As soon as we were out of the treeline, the wind made things feel a lot colder and snow began to fall, a lot of people then had to stop to put layers back on, while I simply zipped back up and added buffs as required. I passed John and Katrina Kynaston and said hi then cracked on further up the road until I reached what I affectionately call Dead Body Farm for no other reason that on a night recce of this section in 2015 Aaron Gourlay, Dave Cook, Dee Bouderba and I had climbed out from Cold Kirby to find two men manhandling a cylindrical shaped black bag out of a van here.
Once past the farm we dropped down into a gully that was ankle deep in water and for the first time I became glad of my choice to use the waterproof socks, on the way up into Cold Kirby the trail was slippy enough for a few people to take falls but I managed to get up and at the top decided to have a Chia Charge bar as the Wine Gums and salted nuts I'd been eating so far weren't easing my iffy stomach.
Once through Cold Kirby the trail cut left and for the first time runner experienced the strengthening wind as a crosswind biting into the left side of our faces and driving icy snow at us. Thankfully the path soon turned right and we had a tailwind again.
Before long, we were approaching the horse racing stables at Hambleton where Wayne Armstrong was marshalling to divert us through Hambleton Plantation, a section of the route designed to keep runners safely away from the Cleveland Way path on the verge of the A170 near Sutton bank. Although less well travelled and a little overgrown, covered in snow, with heavy snow falling it reminded me of movies and documentaries set in places like the Ardennes Forest in winter. As I climbed out of the plantation, a team of marshalls saw us safely across the road and I took the opportunity of tree cover to answer a call of nature before picking up the pace for the steady downhill path that runs along the side of the glider station towards the White Horse at the same time, doubling up the buffs on the left hnd side of my face to protect my bare skin from the wind driven snow. The route diverted right on this path down a rocky, scrabbly and usually muddy steep path down the side of the escarpment and round to the back of the White Horse car park. On my recce run, this descent was frozen and it was possible to descend quickly, so I had it in my mind to push hard on this bit, however I was no more than two steps onto the descent when a pair of runners in front started slipping on ice and I decided caution was the order of the day.
As I reached the bottom of the slope, I was overtaken by Chris Lyons, who I ran and chatted with for the final stretch into White Horse, as we approached the car park, I thought I could hear drumming and assumed somebody had the car stereo turned up to 11. Upon cresting the final rise, we were met by a man in Druidic costume beating a drum for all he was worth and it brought a smile to my face as I hit the checkpoint bang on my target time of 1h:55m.
White Horse to High Paradise
At the checkpoint, I got my water bottle topped up as planned and headed up the steep steps that run by the side of the Kilburn White Horse with encouragement from Race Director Jon Steele ringing in my ears. I was now in a group that contained 1,000 mile club member Harriet Shields who kindly helped me get my headtorch out of my pack during my torrid day at Hardmoors 30. As we hit the top of the steps, I pulled a Snickers bar out of my pack to find that it had frozen solid and let it slowly defrost in my mouth while I fast walked/jogged back uphill towards the road and re-arranged my buffs to cover the right side of my face to provide protection against the prevailing wind.
Once across the road, I stayed close to the group containing Harriet through the first km of undulating and snow covered paths, content with my pace but not wanting to push much harder due to the continued unsettled state of my stomach. The group thinned out as the path turned into single track and gradually rose to the ridge line, once on the ridgeline, we were shotblasted with snow blown across the fields on the stiff breeze from the east. The view on this section is spectacular, on a clear day you can see right across to the Pennines, however my view of the world was now reduced to a small gap between my cap and my buffs. There were a couple of sections of the path which usually dipped and rose, but it was clear that walkers and runners had avoided these for a couple of weeks due to the pockets of snow that had drifted and remained in them since the 'Beast from the East' storm a couple of weeks ago.
I was now trundling along back and forth overtaking a couple running together but unable to really chat with them due to the strength of the wind carrying words away and not really wanting to lift my face to expose flesh to the bitter cold. I estimated that the windchill was already a couple of degrees below zero, but my clothing was keeping me comfortable and only exposed skin felt cold.
I passed through the Sneck Yate checkpoint on the three hour mark without stopping and was enjoying the cover provided by the trees in Paradise Wood, up to the point where I hit the Paradise Road, where the wind was catching the lying snow on the ground and in the trees and blowing it into me at great strength. I fast walked up the hill to High Paradise Farm and hit the Hambleton Road junction at 3h:17m, a good 3 and a bit minutes ahead of my target.
High Paradise to Osmotherley
I rewarded myself for being ahead of time with a short walk break and had just started running again when I spotted a familiar dog headed towards me and realised that Jayson Cavill was out running on the course with his dog Indie. I shouted a quick hello that I hoped wasn't lost in the wind and cracked on, popping a couple of Wine Gums into my mouth in the hope that pushing food down my neck regularly would deal with the stomach issues. As I got toward the end of Boltby Woods, I fell in with Andy Nesbit and Emma Giles who were running together and aiming for 14 hours too. I saw it as a good omen to be running with Andy on Hardmoors 55 on this particular section of the Cleveland Way, as it was on Black Hambleton we joined up and ran all the way to the finish together in the 2015 edition of the race. We went through phases of fast walks and running as the terrain and weather allowed, passing through a series of squally snow showers and enduring some turns into the strengthening wind. We hit the section where the terrain began to rise towards Black Hambleton around the 4 hour mark and I squeezed a protein gel down my neck which seemed to be more palatable to my stomach than the Wine Gums and Snickers. At this point I decided to stick to Chia Charge and protein gels on the hour for food rather than the more sugary treats I was trying to eat every 15/20 minutes. We had now hit a section with a wind in our backs and although uphill, we were running to make use of the tailwind.
As we reached the top of Black Hambleton, a really heavy squally came down and reduced visibility to almost zero and I was glad to be started to lose altitude as there seemed to be a definite worsening of conditions above a certain height. As the snow abated slightly, I pushed hard down the hill, picking up a nice fast pace of 5m:30s/km to 6m:00s/km and reached Square Corner at 4h:25m with my head down and missed Ann Brown taking this amazing shot of me.
Photo courtesy Ann Brown
As we descended down the hill towards Oakdale reservoirs, the snow on the ground bcame patchy and less frequent and it was possible to move quickly along the flagstones. Once over the Burnthouse Bank road I found myself running with Harriet Shields again on the greasy, slippery and muddy descent towards Cod Beck, however Harriet pulled away from me with ease on the steep steps after the beck on the way into Osmotherley, where runners were being greeted enthusiastically by marshalls and spectators. Once inside the checkpoint, I picked up my drop bag, binned the Wine Gums and nuts from my pocket and debated leaving the new bag of Wine Gums on the table for someone else, but decided to take them just in case. I downed my can of Red Bull and re-stocked my pack with Chia Charge bars from my drop bag but left my bottle of Luczade Sport on the table, opting instead to top my bottle up with checkpoint cola to see if that had a more positive effect on my stomach. I spotted Dave Cook who was marshalling and said hi before heading back out up the road bang on the 5 hour mark, about 10 minutes behind plan, but not too worried by this.
Osmotherley to Scugdale
I had originally planned to get my poles out in the Osmotherley checkpoint, but decided on the hoof that my legs felt pretty decent and that I could run at a decent pace on the downhill section between the TV transmitter and Scarth Nick if I didn't have the poles in my hands being blown around by the wind. To that end, I kept them stowed in my pack and fast walked up the muddy climb towards the TV transmitting station. Once up on the top and in the shelter of the drystone wall that runs by the path, I got a steady jog on until I hit the top of the descent then I started running at a steady pace down the side of Scarth Wood Moor, as I did so, I bumped into Marc Short and we ran together across Scarth Nick chatting as we went. The wind had seemed to calm and the sun was shining as we ran together through the woods heading towards Scugdale, dropping through the field before the Scugdale Road, we pulled apart again and after the beck I got my poles out ready for the climbing that lay before us in the next section. As we arrived at the Scugdale checkpoint (6h:10m) I realised I'd run my fastest Hardmoors marathon (I passed 42.2km at 5h:54m) but even better I spotted that the checkpoint had both cola and dandelion and burdock where I'd been expecting only water. While the marshalls topped up my water and cola bottles, I managed to gulp down a cup of D&B and noted that my stomach was feeling OK now. Once the bottles were topped up, Marc and I moved off to start the really big climbs of the day.
Scugdale to Lordstones
As we climbed up through Live Moor Plantation Marc, and I chatted about various things and caught up on bits and pieces from each other's lives, since the last time we met a couple of years ago but once on the top, conversation became impossible in the face of a block headwind that must have been blowing 30-40mph. Again, the peak of the cap came down and the buffs went up as we pushed hard against the wind for little return. Marc pulled away while I plugged on behind just trying to maintain a steady pace, using the poles to keep myself steady in the buffeting wind but my work rate had increased a lot for very little return and as we climbed higher, the wind seemed to get stronger, with some odd swirling effects as the wind deflected of various escarpments and cliff faces. Once back above 350m, the snow returned and driven into the small gap between my cap and buff, it was stinging. As I passed the weather station by the old glider runway, I noted the wind gauge was turning at a ridiculous speed and I wondered how the weather station stayed anchored into the ground in the weather that hits up here.
Soon I had passed he trig point and was descending towards Raisdale road with another runner. I remember saying to him 'At least the flagstones are dry and free from ice', which of course was a total curse as about 30 seconds later we rounded a bend and hit a patch of ice that sent me flying down a couple of steps. I turned to pick myself up and retrieve my poles, (which I had instinctively thrown away from my body as I fell) then had another comical slip on the same patch. Having got up and dusted myself off, we were able to warn a couple of following runners of the ice before moving on more cautiously. I eventually crossed the Raisdale Road on 7h:10m tracking around 20 minutes behind my goal time, but knowing that I was certain to lose a lot more time in the next few hours.
Lordstones to Clay Bank
The next section of the route contains the most climbing per km than any other part of the route and even on the best of days, is hard, slow going. Today, in snow, high wind and with icy surfaces, it was going to be a big tester. Running through Lordstones Country Park I rejoined Marc and we made our way up the side of Cringle Moor together, Marc being faster and lighter pulled away from me again, but once on the top we found ourselves running together into the savage wind and snow. At some point we were caught by John and Katrina Kynaston and a loose group formed just before the descent which, on the flagstones, was ridiculously icy and almost impossible to descend without slipping. We took the decision to use the grass and heather at the side of the path, which had a covering of snow and offered more traction and a softer landing in a fall and made our way down into the lee of Cold Moor and out of the worst of the wind. We jogged between the hills, making use of the reduced wind until we reached the base of the next climb, which for me is the hardest of the climbs on this stretch.
I looked up and noticed the clouds scudding over the ridgeline ahead at great speed and realised that the weather was now far worse than the forecasts I'd seen in the days before the race. Again, Marc gapped me as we climbed the hill, but the group came back together at the top and on the descent, which was far more icy and treacherous than the Cringle Moors descent (all snow that was hitting the flagstones was now freezing on contact and I noticed it was doing the same to my leggings and jacket). At this point, we had merged with the group that contained Harriet Shields and we all descending very slowly and carefully. About halfway down, I decided to take a sip of my water and was frustrated to find that the water had frozen in the nozzle of my bottle and I couldn't get any water out. I tried the coke and thankfully, that was still flowing, albeit with ice crystals in.
As we reached the bottom of the hill, we were again in a weird calm spot sheltered by The Wainstones/White Hill and due to the slow pace, the group had gained a few more runners. I looked up towards the ancient rocks as I was climbing, hoping to get a sight of the Eagle Owl that has been seen nesting here, but even the owl had enough sense to hunker down and ride this storm out.
Going through the rocks on the Wainstones, I encouraged everyone to maintain three points of contact with the rocks to reduce the risk of slipping, which made things slower, but at least I was hopefully going to avoid a repeat of the arsebruise I picked up here while spectating last year's 55. At the top of the Wainstones, a runner whose name I didn't catch helped me up out of the rocks and did the same for a few others in the group. We got moving again and along the plateau at the top of White Hill, I noted a real change in the feel of the temperature. I checked my watch and saw that it read 3 degrees. Given that it was on my wrist and usually read a few degrees above the real temperature due to my body heat, I judged the air temperature to be several degrees below zero and the wind chill much more than that. All this considered, I still was not cold anywhere apart from my nose. I pulled my buff up over my nose and noticed the front of the buff had frozen solid so I spun it back to front and the unfrozen part that had been on my neck was now at the front. As we descended off the side of White Hill, several runners, including myself resorted to sitting down and bumping down steps to avoid slipping on the ice. About halfway down, it was possible to run with caution and Marc and I did so, eventually reaching the checkpoint at 8h:46m. My original checkpoint plan was to spend a couple of minutes getting my bottles filled up and my headtorch out ready for the next section.
I handed the marshalls my bottles and noticed they struggled to open the water bottle as the top couple of inches of water was entirely frozen in the bottle. The coke was in better state, but still had chunks of ice in. While the marshalls sorted my bottles, I asked Marc to help get my headtorch and a spare pair of gloves out for me, as I expected it to get colder after dark. I stripped off my outer gloves and put the new gloves in between my skin layer and put the outer layer back on over them. Marc was also putting extra gloves on, but was really struggling with them. While we were at the checkpoint, a heavy snowfall blew over and dumped about an inch of snow on the road in the 10 mins or so we were there. I stuffed another Chia Charge bar down my neck and checked all my buffs to make sure the absolute minimum skin was exposed and we eventually moved off.
Clay Bank to Bloworth Crossing
We were only about 400m out of the checkpoint when my fingertips started going numb and I realised that using my poles was leaving my hands exposed to the bitter winds. I needed Marc to help me stow them, such was the speed at which my fingers became useless.
Once my poles were stowed, I grabbed a handwarmer from my back pocket and activated it and also used the plastic bags I'd carried my spare gloves and headtorch in and used them to cover my hands to create a bivvy bag effect and alternated that hand warmer between hands as we marched further up the hill toward the highest point of the moors (Round Hill 454m), it slowly got dark and much, much colder. The wind was now howling and even running did not feel much more than walking. Conversation between Marc and I was reduced to:
'Fancy trying to run?'
'Yeah, let's go'
'I'm knackered, let's walk'
'How far do you reckon Bloworth is?'
'I dunno, I can normally see it, but this snow man…'
'Fancy trying to run?'
This continued for a few kms and when we turned our headtorches on, visibility didn't improve much and all we really got was the same view as the cockpit of the Millenium Falcon as it enters hyperspace. Despite all this, I wasn't feeling bad or weak. I'd done very little running since Scugdale and the legs felt willing, I was just hoping that at Bloworth, turning side on to the wind would allow some running. The plastic bags and handwarmer had done their jobs and my fingers had feeling again and were warm through. We hit the slight downhill into the dip that crosses a beck about 400m from Bloworth and the combination of the downhill and the positive landmark in relation to Bloworth got me running, for all of 10m before I hit some ice and ended up on my backside just short of the beck. I was busy scrabbling around making sure I didn't lose my handwarmer and Marc came up behind to see if I was OK and went flying himself. Satisfied we were both OK, we got up giggling and cracked on to Bloworth, turning the corner at 9h:57m.
Bloworth Crossing to Kildale
Once round the corner at Bloworth, the wind was at our back and side and we got through more prolonged stretches of running, although I did at one stage try to point something out to Marc and realised that I could not straighten my arm because the right sleeve of my jacket had frozen solid. Taking water was pointless as the bottle had frozen and I was only getting coke out by holding the nozzle between my lips to de-ice it before sucking the slushy coke through. I was feeling strong and each walk break was done at a decent pace, each time we ran, we overtook groups of runners. At some point we passed Andy and Emma, I only really noticed due to Andy's distinctive reflective jacket and Marc and I turned our attention to cut off times. We knew cut off was 12 hours and that we'd been moving a lot slower than usual. I estimated that we were about 7km from Kildale and I made the time at 10h:15m so we would likely land comfortably ahead of cutoff. Marc told me he'd just talked himself out of quitting at Kildale and wanted to have a decent stop there to have a pork pie and phone his wife. I told him that ideally I wanted to move through the checkpoint quickly, but I'd wait for him and take the chance to have a hot drink.
We pushed on with the increasingly shorter walk breaks and increasingly longer, faster and more downhill running stints and it seemed like no time at all before we hit the unusually welcome tarmac at the top of Battersby Bank. At this point, another heavy squall blew in and at some point I'd fast walked away from the group we were in and before I'd realised it, I'd done at least two stints of running and walking on my own. I looked over my shoulder and there were headtorches about 300m behind me so I made the assumption that Marc would catch me if I took it easy. At the start of the descent into Kildale, I started to run again but halfway down, my bladder (which I had been holding since Clay Bank, not wanting to expose myself to the wind) forced me to attend to attend to the matter or have an accident. I stopped by the roadside and created some worryingly yellow snow and as I sorted myself out, Andy and Emma passed, but no sign of Marc. Still thinking he was just behind me, I pushed on.
On the final stretch down toward Kildale, I noticed two sets of blue flashing lights heading slowly up the road towards Kildale from the direction of Easby. A fire engine passed by as I hit the main road and I commented to the runner beside me that I was glad it wasn't an ambulance as I was worried that an ambulance would be for a runner. As I arrived at the checkpoint, I noticed the fire engine stopping further on in the village, but an ambulance car was outside the checkpoint. This was not unexpected since we knew the race did have ambulance cover. What I did not expect were the scenes in the checkpoint. I checked in with Andy Norman who was marshalling and immediately bumped into Paul Burgum, whose first question was 'Are you going back out?' My answer was 'Of course I am. I'm feeling great, why wouldn't I?' and Paul told me to look around the room and at the huge pile of GPS trackers on the table handed in by retirees. The room was full of people in foil blankets taking on warm drinks, some shivering, many having discarded kit and clearly not intending to continue. I got a bit of a negative vibe from this and decided I wanted to be out of the checkpoint quickly. I quickly got my dropbag, ditched the untouched Wine Gums, downs my Red Bull, loaded back up on Chia Charge and put my dropbag fig rolls into my pocket before battling off the frozen top of my coke bottle and topping it up. I moved to get a coffee, but there was none in the coffee flask on the table so I left it be. I looked up and saw a frozen looking Angela Moore being looked after in a side room and was a little shocked, Angela is a tough cookie with a lot of seriously hard race completions under her belt.
There was a group of runners preparing to leave, including Tom Stewart who invited me to run with them, I agreed, and said I'd wait by the door for them, I wanted to keep moving so as not to cool down. On the way to the door, I saw Marc arrive and I told him I needed to move on fast to avoid cooling off, we wished each other well and I moved to the door. The other group seemed to take forever to get organised so I shouted to Tom that I was going to move on and that they'd probably catch me on the climb and at that I headed out of the door. As I did so, I saw a Mountain Rescue Team member heading into the Village Hall, which should have triggered alarm bells (and perhaps did subconsciously).
Kildale to Finish
I jogged out of the checkpoint and down the road, noting that the clock time was now 8:32pm, I saw the fire engine further down in the village, I thought it was dealing with an RTA, but I was more focused on the firefighters, I had a vague feeling that they would try and stop me running off into the night. I ran hard down the road towards the railway bridge and got out of sight of the village. I decided to have a fig roll, sip of coke and some paracetamol. I also took a salt tablet, which I'd been taking about every 90 minutes during the day to keep my electrolytes in check. I made up my mind to run to the bottom of the hill, then keep setting myself targets all the way to the race finish.
As I approached the start of the climb, I noticed a sole runner ahead, I caught him quickly and on the snow covered road, I thought he was taking a wrong turn (he wasn't) an led him on a detour through the driveway of a farm house by the road. Once back on the road, I noticed another group about 400m ahead and decided to bridge across to them with a fast walk/jog up the hill. I decided this would be my mental game to get me through to the finish. I'd found during the Lyke Wake Challenge in 2016, that playing mental game gave me a bit of extra motivation to keep moving quickly in the later stages of a race. The premise being that unless I had a mechanical injury, I was fairly capable of moving at a decent pace and that the only blockers are those from the brain telling me that I'm tired or my legs hurt. This game was simple, bridge to the group in front, overtake them, bridge to the next group and continue this until the finish. As I turned left into Pale End Plantation, the group in front was only 100m ahead. I jogged on and caught Paul Burgum among the back markers with another runner (Andy Cole?). I had a really positive conversation with Paul and I wished him well before running off chasing half of the group who'd broken away. I pushed hard following them up towards Captain Cook's Monument, just before the final steep bit I was only 50m or so behind, so I walked and stuck my hand into my pocket and realised that my fig rolls had gone. Even that didn't bother me, I just hoped somebody behind me would find them and make use of them.
I pushed on harder and as I hit the top of Easby Moor I used the howling tailwind I picked up once out of the treeline to get closer and noticed that all took the short angle cutting inside of the Monument. I never do this, not because it's wrong or anything, it's just I have some sort of superstition about always going around the Monument, the same as I have about NEVER skipping the out and back to Roseberry Topping (after an infamous run of bad luck on a night when Brenda Wilkin, Dave Cook, Dee Bouderba and I did exactly that). Rounding the Monument, there was a ferocious roar of wind through the railings on the Monument and the wind was clearly still as strong as it was earlier.
Now round the Monument, I bounded down the descent towards Gribdale Gate. The group in front had split into a pair and two single runners. I overhauled the single runners quickly and went after the pair. Close to the bottom, the pair were stopped by a man walking up the hill. As I got closer, he asked if I'd heard. 'Heard what?' I asked and he told me that Roseberry Topping was closed and to just turn right at the gate and head to the finish.
I wasn't sure if this was a wind up and wasn't sure what to make of it. I pushed harder and overtook the pair just before Gribdale Gate and pushed hard up the steps onto the path towards Roseberry, opening up a gap quickly. I noticed a pair of headtorches about a km ahead and decided that they were the next target to bridge to and that I'd see what they did at Roseberry and follow suit. I pushed hard along the path and took about 20-25 minutes to get to Roseberry Gate. The pair of headtorches were nowhere to be seen, but if they'd done Roseberry, by rights, they should be coming back down or be on the way back to the gate. They weren't so I pushed on over towards Hutton Moor Gate. There were no targets in front, so I decided to give myself a new target of creating an unassailable gap on the headtorches behind me.
As I arrived at Hutton Moor Gate, I noticed a pair of headtorches way off course over towards the Hanging Stone, I flashed my torch at them a few times in the hope of bringing them back on course, then forged on towards the Black Nab path. Halfway along the path, I met a male runner heading back along the course, presumably to meet someone and as he passed, I looked over my shoulder to see the pair of wayward headtorches back on course and about 500m behind me. I clattered along the slushy path towards Highcliff, walking only where the surface or grade forced me to, again having to shield my eyes from the snow before eventually turning off the path and into the treeline before Highcliff Nab. I climbed the steps up the Nab following the tape laid the night before by Lorna Simpkin and the reflective stickers Jon Steele had used to provide direction and made the top at 13h:02m.
I looked down and saw two headtorches emerging from the treeline below Highcliff and took off like a scalded cat into Guisborough Woods, but found it hard to see due to the Millenium Falcon effect of headtorch and snow. After about a minute, I realised that the ambient light from Guisborough and the lying snow meant, that I could get better visibility by turning my headtorch off (a couple of years ago the woods were so dense that this wouldn't have worked), so I decided to do this and gained an immediate increase in pace. I was pushing hard through the woods, finding it hard to gauge what progress I was making against the lights behind me due to the twisting nature of the trails. Occasionally, I could see a group of 4 or 5 torches, other times just a pair, so I forced the pace as hard as possible. About halfway through the woods, the trail forks left and right. Both routes come out at the same place, but one, the official Cleveland Way, takes a pointless down and up. I was hoping and praying that the tape would stay on the fire road, but Lorna had been taking instructions to the letter and the more cruel route was taped. I endured this section then pushed hard through the darkness on the steep downhill that followed. The trick to running without a headtorch in the dark, is to not look directly at what you want to look at. The parts of the eye that interpret colours are toward the centre of the eye, the parts that interpret black and white towards the edge. These are the bits that are used in the dark and therefore, if you look slightly above, below or to the side of your target, you see it clearer. Your peripheral vision is your friend and the longer you run in the dark, the more your night vision adapts.
Because of this, I now avoided looking behind me or towards the town or roads to try and preserve my growing night vision and was only focused on the trail ahead and not missing the sharp right turn up into the bush and onto the next fire road up. I found it easily and crossed over to the next trail before cruising all the way downhill to the concrete farm road which leads toward the final stretch.
On the concrete road, I was back out of the wind, so I put my headtorch back on and chanced a look back along the trail. I could see several groups in the woods, but not the pair I thought were behind me. I bashed my way down the hill to the disused railway line.
I now knew I was only 2km from the finish so I walked for 60 seconds, then run for 60 seconds. I did this twice then upped the intervals to 120 seconds. At some point I saw the lights of the farm on Belmangate and just kept running, over the railway bridge, down the steps, down Belmangate and into the Sea Cadets Hall stopping the clock at 14h:03m.
As my tracker was taken off me and my time taken, the sudden stop from running hard, the heat in the hall and probably a bit of emotion all hit me at once and I had a bit of a wobble. A paramedic came over and I insisted I was OK. The next few minutes were a bit confusing because Harriet Shields and the group I'd last seen her in at Kildale were all there helping me to a chair and someone said 'Well done for escaping Kildale'. Marc appeared and explained that after I'd left, all runners had been held at Kildale, the details of that I will go into shortly. I sat and had a hot drink and just sitting in that group of people in that hall gave me a great feeling of contentment, friendship and satisfaction. One of the race finishes, I will remember for the rest of my life.
After awhile, I got showered and changed and sat and had a beer with Paul Burgum, who finished shortly after me, Mark Dalton and Duncan Bruce while we waited for the hall to empty so that Duncan and I could sort our sleeping arrangements out. In that time, I observed the interactions between the race team and Mountain Rescue that allowed me to piece events together, further information became available over the next few days and tonight I had a further chat with race director Jon Steele to clarify exactly what happened.
Press Coverage
Most people reading this will have seen the negative press coverage of the race. In my opinion, almost all of those reports were exaggerated and were very selective with the facts.
What actually happened was that all runners got off the moors by themselves, but at the Kildale checkpoint, after stopping, a number of people cooled down rapidly and suffered minor hypothermia symptoms. Between 8pm and 9pm there had been significant snowfall onto already icy roads in the Kildale area and many were only reliably passable using 4×4 vehicles. Mountain Rescue were in the area to assist a driver whose vehicle had been stuck in the snow and being aware of the race, they stopped by the checkpoint to check up on things.
A joint decision was taken at around 8:30pm to stop all runners at Kildale due to the risks imposed by the weather conditions.
Race Control suddenly had a situation where they needed to transport anyone who'd stopped to the race finish 5 miles away in Guisborough. This would normally be done by the volunteer marshalls and race control support vehicles (I've actually used this support twice myself and it works well), however due to the state of the roads, the support of Mountain Rescue was needed to help transport people to the finish safely and provide additional minor medical assistance to some runners.
All runners in this race had GPS trackers and Race Control knew to within 10 metres where we all were so were able to quickly close the race down in a controlled manner.
By the time I'd run from Kildale to Guisborough (2h:40m according to the tracker), all runners who'd been stopped had been transported to the end, which to me is an awesome logistical feat.
At no point did I feel that my safety or that of others had been compromised and nobody needed any hospital treatment.
I slept at Guisborough Sea Cadets following the race and the Race Director, Jon Steele sat in the same room and personally made numerous telephone calls up to around 1:30am to satisfy himself that not only were all runners OK when they left Guisborough, but that all had got home or to their accommodation for the night and were fine.
To top all that, Cleveland Mountain Rescue praised runners for their equipment and preparedness and the race organisers for their contingency planning. To me, the Mountain Rescue praise, speaks volumes.
Performance Summary
My race did not go exactly to plan, however, I'd have been very, very surprised if it did in those conditions, I did however improve my 50 mile Personal Best by just over 6 minutes to 13h:15m:42s. More pleasing was being able to overcoming stomach trouble that dogged me for over 30km, something which would have stopped my race a couple of years ago and that all of the recce work I did to test kit in foul weather paid off. That means the awful 6 hour slog in knee deep snow over Bloworth in December, the icy night runs over Highcliff x2, Roseberry x2 and Captain Cooks x2 in Feb and all of the other grim, awful training runs were worth every second because I learned a lot about mental toughness and self management.
I also give credit to the speedwork and speed endurance sessions on the treadmill. Whilst I have been a huge detractor of the treadmill in the past, the consistency it has offered has clearly improved my overall ability to move at a faster pace for longer.
Kit Choices
For those who are interested, the kit worn on the day was :
Thermal Skullcap
Cycling Cap
Base Layer
Thermal Cycling Vest
Windproof Fleece Lined Cycling Jacket
Fleece Lined Compression Shorts
More Mile Lycra Leggings
Compression Socks
Calf Guards
Waterproof Socks
Gaiters
Adidas Kanadia TR8.1 Shoes
Buff used as gaiter between base layer and neck
Buff used as gaiter between jacket and neck
Buff wrapped around face
Buff wrapped over cap and head
Skin Layer Gloves: Wilkinsons Full Finger Cycling Gloves
Outer Layer Gloves: Karrimor Running Gloves
Mid Layer Gloves added at Clay Bank were Karrimor Running Gloves too
All other kit, including compulsory items were carried but not used.
Thanks and Acknowledgements
I owe a continuous debt of thanks to my wife Natalie and our family for their continued forbearance with the long hours of training and weekends away.
I'd like to thank Guisborough Sea Cadets, without whose hospitality in allowing me to sleep indoors, I probably wouldn't have started the race, I certainly wouldn't have finished and if I'd stayed outside on Saturday night, I'd have probably been in a bad way by Sunday morning.
As always, Jon, Shirley and their huge family of helpers have put on a great race and dealt with adversity on the day with so much strength and organisation and afterwards with grace. I keep saying that this race series is special, it's special beyond words. The friendships made and the experiences had at these events are beyond value. The way the Hardmoors family has pulled together this week should be a message to all involved about how highly regarded and valued Hardmoors is by a lot of people.
Thanks also to Cleveland Mountain Rescue and Yorkshire Ambulance for their help in ensuring that the race ended as safely as possible.
Thanks to everyone I ran with or spoke to out on the course, you guys helped make this event what it is. In particular, Marc Short, one of the nicest guys you will ever meet, thank you for your company and I'm certain that you saved my race by helping sort myself out when my fingers went numb. I'm gutted that you were stopped while I managed to continue, you had the finish in you and I wish we could have finished together. Also thanks to everyone, even though my memory is hazy, who helped me at the finish when I went all wobbly.
I look forward to seeing you all at Hardmoors 110!
Written by Tom Wright - http://life.tomwright.me.uk
For ten years I have ritually travelled the AP7 from Altet airport to Denia and marvelled in awe at the strato-volcanic semblance of Puig Campana - Costa Blanca's second highest mountain. Rising to 1400m from sea level this giant monolith takes on a more congenial form as the toll road bisects Benidorm's suburbs, but the vast gully draining into vertical scree appears just as uninviting. A most intimidating proposition and that is where the fascination ended. Besides my true love was Montgó, a little further up the coast.
Then one evening in 2016 I watched the Vuelta tackle the long steep climb to Aitana which, at 1558m, is Costa Blanca's highest summit. Being only a giant's stone throw away from Puig (pronounced Putch), the seed of an idea was planted. I googled for a race that might take in both these great summits of the Marina Baixa. There were the relics of a mountain race last run in 2016 and footage of the ISF Vertical Kilometre up aforementioned gully. Finally in early May, as I was feeling the withdrawals from completing Madeira, I stumbled upon Costa Blanca Trails. A new brand and a new race based on what was already well established. No sooner had entries opened I was enrolled. No companions on this trip. A solo adventure into new territory as I would discover how majestic the Costa Blanca truly is for mountain running.
The flight into Alicante offered a bird's eye view of the three summits I would target over three days - Puig Campana, Bérnia Ridge and in the background Montgó.
Finestrat would be my initial base, and, courtesy of booking.com, Ian and Olwen Reid my adopted parents for the first two nights of a long weekend. I don't use that word in jest either as they cared for me beyond the call of duty. Ian got up at 5:15am race morning to make me a "breakfast of champions"; they both greeted me at the finish and revitalised me with beer and food at La Barra; drove me back to their wonderful villa nestled in the shadow of Puig itself; and prepared an evening meal - which was foiled with Rioja and highlights of the afternoon's rugby internationals. The kindest couple and I cannot recommend enough Casa Puig as a base for anyone wanting to explore the mountains around Finestrat.
Casa Puig - (from top left) View of Puig Campana from the bedroom window; the swimming pool; the breakfast balcony; Serra Aitana from the balcony.
Anyway to the Costa Blanca Trails. There are four distances to chose from: Trail 18km; Marathon (2850m+); 65km Ultra (4200m+); and 102km Ultra (6500m+).
I chose the entry level ultra at 65km which took in both Puig Campana and Serra Aitana but excluded the Serrella range beyond the Guadalest valley. Reasons being: I was keen to have functioning legs the three days following for further exploration; I had already proved my 100km mettle in Madeira; and ultimately I wanted to see the sun rise from the summit of Puig Campana. Since the 102km started at 11pm it was not an option.
Registration was Friday evening in a small office tucked a short way down one of Finestrat's narrow alleyways. This allowed me time to share a welcome cerveza in the November sun on Ian's patio then familiarise myself with the one kilometre track into town, which happened to be the route off the mountain for all races and was already well marked with Scarpa branded orange tape.
Familiarising myself with the final downhill sprint. Although, with the short autumn days, there was considerable likelihood it would be dark when I came to finish (unless I managed to break twelve hours).
Close to 900 runners had registered for the four races, nearly all Spanish. I was the only Brit in the 65km and only one of a handful of non domestic runners in the entire series of races. I am sure that will change as word the spreads.
The organisers are evidently keen to make this the de-facto event for the area and worthy of holding its own on the grand stage of global ultra running. The goodie bag had all the makings of a major European race. Tee-shirt and socks, both in my preferred tango orange, along with a light beer from subsidiary sponsor, Amstel, and the usual selection of bag tags, number and timing chips were just reward for my 60 euro entry fee. I saw little need to use the bag drop at 45km but decided a bag at the finish would be essential since Spain is "a cold country with a hot sun" (not my words) and sundown was 6pm.
Yes Tango Tom is one happy customer!
Ian is actually a former runner himself having lived and raced in Benidorm and the surrounding area since the 70's. He clearly understood the need to carb up before a race as he served up yoghurt, raspberries, honey, toast, tea, fruit and sponge cakes for breakfast at 5:30am. I had intended on munching a banana and Gu waffle so this was a most unexpected treat.
I jogged down to the start line just after 6am by the light of my Petzl Nao wrapped in my Montane Prism coat to take away the slight chill in the air. One by one we were marshalled into a caged area via a kit inspection. A happy Spaniard expressed some happy Spanish which I did not understand but suspect was along the lines of -
"you have a very big bag, a lot of water and nothing else"!
Which would be true. Kit list as follows: cup; head torch with spare battery; wind jacket with hood; foil blanket; bag min 3 litre capacity; at least 1 litre of water; emergency food; buff or hat. So not needing the full waterproofs, gloves and spare layers typical of a British race in November I had plenty of space in my 10 litre s-lab pack to add additional water vessels. Two soft flasks up front and a hand held in my kangaroo pouch. Along with quite a selection of Spanish gels, which I had picked up in Consum on our previous visit two weeks earlier, and the aforementioned Gu waffle that was now surplus to breakfast requirements. Learning from my previous experience at MIUT, I had packed away my wind jacket and donned just a mesh vest and arm warmers. This race was only going up so, despite the low air temperature, I expected to break sweat in no time. I also abandoned a tradition of my long distance running… 2XU compresssion and trail shorts. After all this is Spain and the quads deserved a bit of vitamin D!
Pre-race lacing - a nervous disposition!
Profile of the Costa Blanca Trails 65km. Two major climbs, the first being a VK; a couple of deceiving climbs in the middle; one very steep descent to Sella; and a 5km downhill finish.
Finally ahead of 6:30am we were marshalled out of the cage and under the starting inflatable. This time I did understand the Spanish as the announcer asked us to move forward as all but the elites hung a comfortable distance back. I had no intention of getting stuck in the usual melée of a European sprint start and nestled near the back casually making my way over the start line following the hooter. As soon as we were away from the crowd of villagers that had awoken early to support us I took to walking the tarmac road out of town.
Is there any point running when you imminently face an ISF VK? Beyond Font del Moli there was even a sign, adorned with ISF logo, heralding the expectant change in gradient. I probably should have taken a photo but feared stopping even for a second may have a drastic knock-on effect on the single file line of traffic that had now formed behind, and ahead of, me. So we would climb 1000m in 3.5km - yes this VK really meant business!
What a way to start a morning's mountain running on the Costa Blanca!
I had no expectations or plans for the day other than to enjoy myself and discover some new hiking trails that I could return to and expand on in the future. The VK, scree and all, was just a taster of the climbing that lay in store as our route meandered through the Marina Baixa interconnecting a number of cols that allowed as to bisect ridge lines of sharp uninviting pinnacles and tall buttresses of white rock. The tracks a mix of fire road, Mozarabic trail, indiscernible mountain trods and tarmac, led us through olive groves, mountain pastures, rocky boulder fields and several mountain villages. Water and aid stations were well placed along the route although I quickly found myself turning to the gels in my pack for energy as the heat of the sun made dry food unappealing.
Cresting Puig in the orange glow of a Mediterranean sunrise and the realisation that Benidorm's skyline is eclipsed by the majestic mountains concealed behind. A just reward for anyone venturing to Puig Campana's summit. At 1408m, and only ninety minutes into the race I had already climbed higher than The Ben.
Ponotx's kinder side, Bérnia and Montgó omnipresent in the background.
A marshal had been camped out on Puig's summit since the 100km race had passed through in the early hours.
Puig Campana made excellent work of dispersing the field however I rarely found myself without company and as fate would have it saw the female race unfurl around me as I shared the Penya de Sella ridge with the second lady, who would eventually go on to win, and the long climb back to Puig along the PR-CV 12 with the, then, leading lady. Conversation was sparse as my Spenglish did little but confuse!
Heading for Col del Llamp below Ponotx's western ridge.
Penyo de Cabal and Bernia
The tall white buttresses …
… and jagged pinnacles make up El Carrascal
The view from Port de l'Arc. One of the lesser but none the easier climbs in the middle of the course.
Of course the pinnacle of the day was Aitana. The climb was long and tiresome. Fortunately the aid station, just 2.5km out of Benifato, was complemented further up by fuente's (water fountain) that offered a refreshing dunk under ice cold runoff. There was always an impressive vista to distract from the exertion with the Bérnia ridge and Montgó omnipresent on the northern horizon. Approaching the false summit of Aitana (the true summit a closed military installation) we passed under the shadow of pine trees. At 5000 feet and with an absence of heat as the winter sun passed too low through the sky the trail was littered with frost. A first for me in Spain!
One of the tall pinnacles comprising the Partagat
As the climb briefly levelled off the track gave way to boulder fields.
Imposing buttresses on the Partagat looking across to the Serella
Looking back across the Guadelest valley to Serella and Bernia
The "golf ball" on Aitana's summit
The scree and scramble to Aitana's summit in the company of one of the two Brits on the 100km course.
From the summit the view was impressive! Far away across the water we could make out Ibiza (not in the photo though!) while to the north-east Montgó was omnipresent.
The terrain on top was similar to Montgó's own plateau with a barely discernible path over sharp and jagged limestone rock. I was in my element and once again picking off runners.
The back half of the course was dominated by fire road and long gradual descents/ascents. Which probably explains how I managed for the first time in a race to negative split as my average pace fell from 20 to 15 minute miles. Fortunately the ever changing landscape was a distracting lure from the monotony of the road. It was also broken up by a couple of very exciting descents.
The start of the descent to Sella. Puig in the background.
Of which the barely perceptible track from Coll de Travessa to Sella was the most technical of the entire route with plenty of insecure rock and scree to lose footing on. Ahead of me a runner fell hard on his back. "Estas bien?" I enquired. He did not respond. "Vale?" I tried. Still no response. Third time lucky: "You OK?" "Yeah but this is no fun with 80km in my legs!" It was another Brit, in fact I believe the other Brit of the two that were in the longer race! I had no time to stop and talk. I was putting into practice the techniques and skills I had perfected mastering Montgó's eastern descent, and again passing numerous runners, as I skied the scree and tip-toed over the jagged limestone. The legs felt good and in no time I had covered the 2000 foot drop into the hot feed station at Sella. My confidence in my descending only grows and as a little race within the race I was stoked to find my way into another Strava top 10 (despite a long overdue toilet stop half way down!)
The jagged towers of the Castellets
The dream finish wasn't to be as, no sooner did I hit the long downhill to Finestrat, I cramped up. The fire roads and the steep switchback ascent onto Puig's north-western wall had taken its toll and the legs were exhausted. I refused to give up though and following some painful stretching I was able to run the cramp off and maintain enough pace to cross the finish line in under ten hours. A race with no expectations other than to enjoy myself and finish before sundown and I just finished in the top 10 veterans!
First time my name has made the first sheet at a European mountain race
It was the usual electric atmosphere at the finish with music pumping and Spanish voices filling the air. A vast dish of paella was under constant supervision. I was starving, it was free, so I did not object picking around the large chunks of meat that dominated my plate! Sometimes it helps to be British as the barman saw my needs and kindly gave me a second beer on the house.
Tired, dehydrated and a little deranged how lucky I was to be whisked up by Ian and Olwen for food, more beer and ultimately a long night of sleep ahead of three more days of hiking in the Costa Blanca. Having been in my peripheral vision for much of the day, the Bernia Ridge and Montgó were calling.
I hope the photos and my words have done this event justice as the Costa Blanca Trails is a truly excellent race with challenging climbs and ultimately stunning views. Well worth checking out!
Written by Neil Bryant
I have been running ultras for over 12 years now, and up until around two years ago, got a real kick from races. My races had over time become longer and harder and therefore slower. I love to run fast, well as fast as I can, but the lure of the adventure of a race that lasts for a number of days and which I am not even sure that I'll finish, is overwhelming.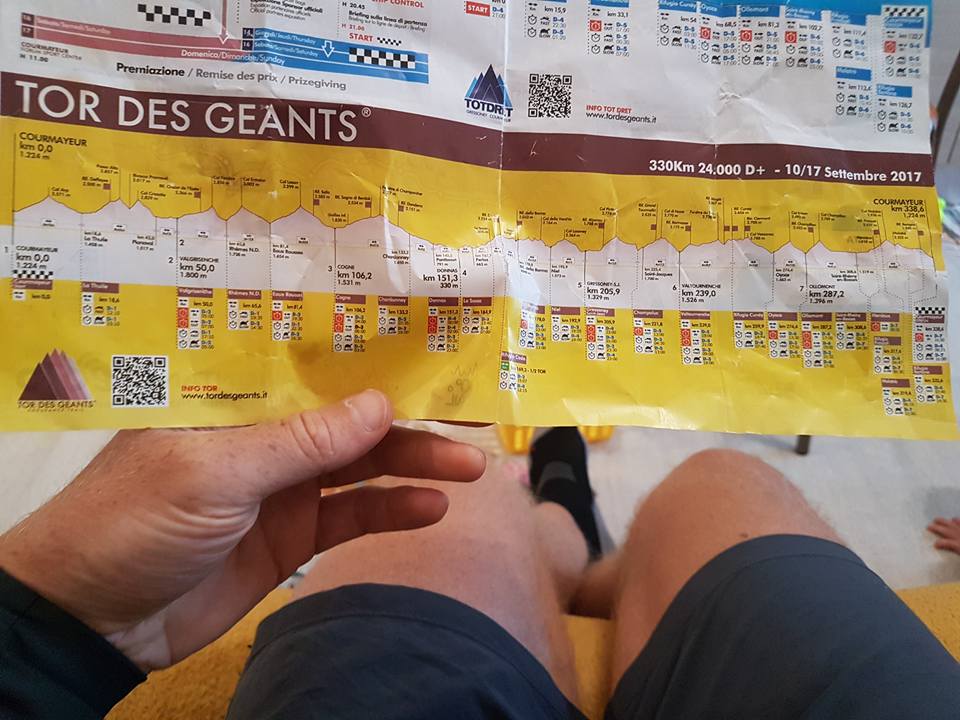 So, of course the Tor des Geants was a natural for my to-do-list. Originally I wanted to do it but it felt too much, but as I did bigger and bigger races my confidence grew and eventually I knew that I could do it. I tried to enter and either didn't get through the ballot or something in life would prevent me starting. Last year, I chose not to start as my girlfriend was expecting our little boy to arrive close to race week and I didn't want to risk missing that!
Then at the start of this year I needed to decide if I wanted to do it. Competition was not really on my radar now. I just am really loving get out for decent long runs here in the mountains. I have no training schedule. I am fit, but nowhere near what I could be. I thought it over for a few days and eventually realised that I had to. I knew I would regret it if I didn't at least try. I would never be able to put in the training to be really strong, but I was sure that as long as things didn't go pear shaped that I could at least finish. I was in!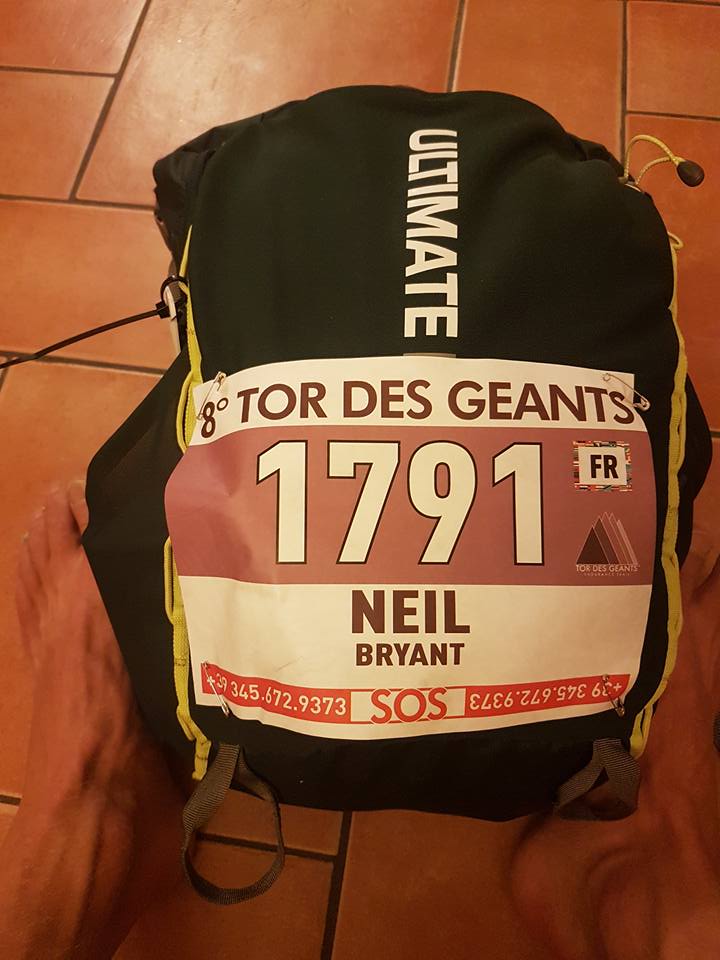 The year of training averaged three runs a week , once ski season was over in around April in which I wouldn't run at all. Life seemed hectic in the run up and it wasn't till about three weeks out from race day that I finally started to get excited about it. I started reading a few race reports, watching videos and generally getting psyched about the fact that I was finally going to start this race that had started to become a bit of a monkey on my back. I couldn't wait. I live in Chamonix which is really close to the Aosta valley, but had never really seen much of it, so what better way to have a look around than on foot!
Our little boy, Ludo, was nearly one year old by the time the race arrived, and Lou had decided to come with me to Courmayeur the night before so that she and Ludo could watch me off in the morning. Our dog Claude of course had to come as well so we had a busy hotel room that evening!
In between watching Ludo, walking and playing with Claude, I faffed endlessly with my bag and the yellow drop bag you get issued. I usually don't bother with drop bags, but really wanted to do this right and finish. Once I had finalised everything that was going in, I wrestled the zip closed, then drove down to the sports centre to drop it off. I wouldn't see that again for about 24hrs!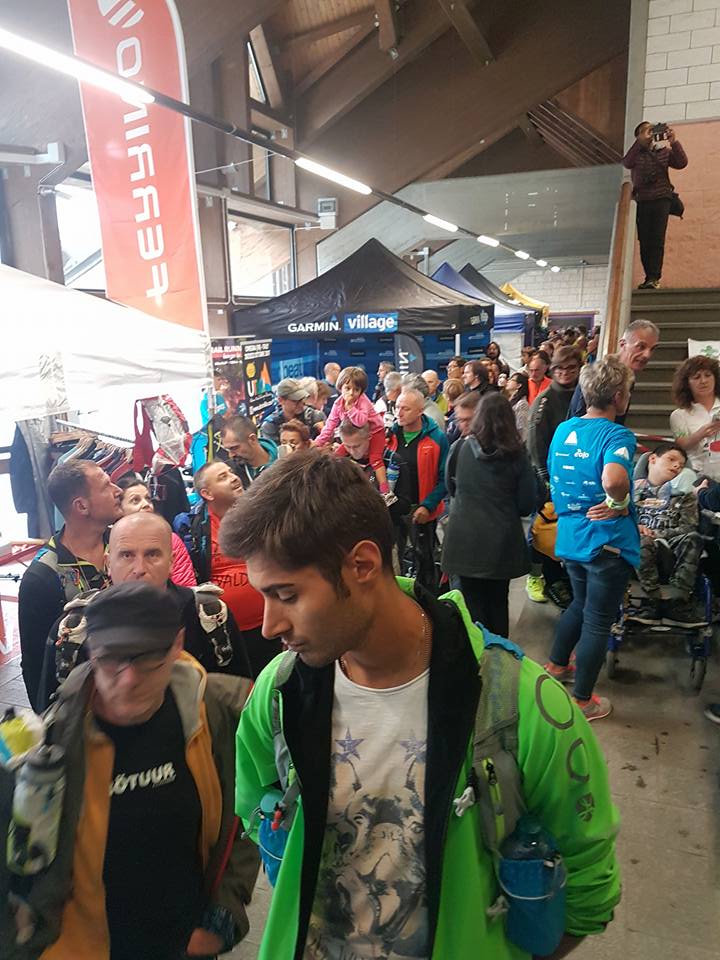 I didn't quite get the good nights sleep I was after due to Claude being ill and needing to go outside about 5 times through the night. I wasn't too bothered though as I knew that one decent night wouldn't really make much difference over the whole week ahead.
My biggest mistake during the Spine, was that I didn't sleep enough, and generally left it too late before I gave in to the sleep demons. This meant there was much death marching purely due to lack of sleep. I was determined to tackle the sleep timing better this time as I knew I lost absolutely heaps of time at the Spine.
To tackle this my plan was simple. Instead of pushing on to the next cp when tired I would stop sooner. When I would stop, I would aim for around 1-2 hours of sleep time. I have tried 30 mins and it just didn't really work for me.
The race was to start at a leisurely 10am, which meant a relaxed breakfast and then wander through the town and absorb the atmosphere before the start. I arrived with just a few minutes spare as usual but it mattered not as they were behind on chip control. Once through and onto the start area, we had the usual Euro energetic build-up to the start.
Finally, after what felt like about a four year wait for me, I was off. I was about midway in the field and was soon jogging through the town. There were huge crowds cheering us off and then I saw in a quieter spot, Lou holding Ludo and with a very excited Claude. I felt a wave of emotion as I made a beeline for them. A quick kiss to Lou and Ludo and a quick stroke of Claude who desperately wanted to come with me as I ran off and began what I hoped would be a magical journey.
I didn't have much as far as a plan went. This was on purpose as I like to have some surprises during the journey. The night before I had looked over the route profile and decided on a few rules. No running any uphill, unless barely an uphill and feeling great. No racing other runners in the first half and to take it uber easy for the first few climbs.
As far as strategy went, I just wanted to push past the first lifebase on the first day, before sleep. I wanted things to be fluid and reactive to my state, conditions etc.
After 20 minutes or so, we left the road, and immediately we were heading up. It was a warm day and I had rolled my arm warmers down. I was sweating plenty but felt like I was in control. My pace was easy and there was plenty of walking. I had poles so was finding a good steady rhythm as they tap tapped along.
The first col felt important to me as it felt like the first real sign of progress. After around three hours, the long line of runners had snaked their way up to col Arp and I briefly stood there. I took a few pictures looking back at the hundreds of runners behind still climbing, then turned and began the first descent, a long way down to La Thuile. I focused heavily on small strides and staying as relaxed as possible. This was a big game of self preservation. A few runners bolted past like they were in a short course fell race, and I resisted the temptation to follow.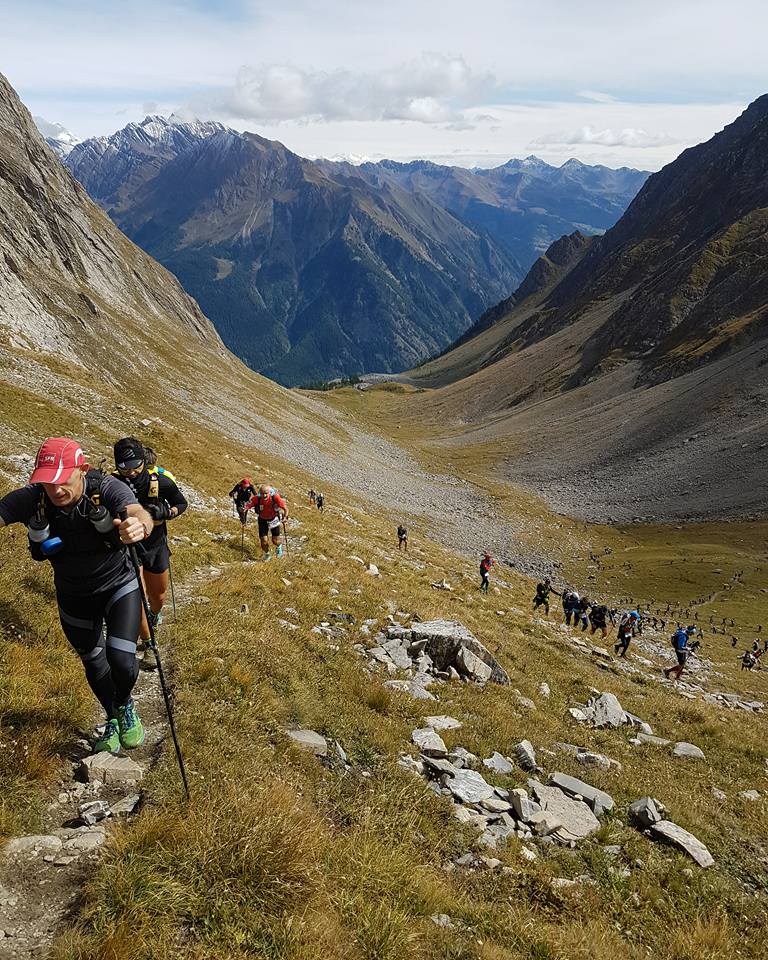 I felt like I was finding my pace and was happy with my discipline in not chasing people. In La Thuile there were loads of people cheering again and cow bells donging away for every runner that passed. There is so much energy to be gained from these situations. It was amazing!
I stopped at the first cp and tried to focus on an efficient process. I wanted to be quick, but not too quick so as to forget to do everything. I filled my bottles and grazed on the cheese, meat and whatever else felt right at the time. I looked over the cp map which showed the next section to see what was coming, then walked out with my hands full of dried fruit. I ate this slowly as I walked up the road, breaking into a gentle jog once finished.
All was well. Nice weather, good pacing and my stomach was still good. I always seem to get a nauseous feeling in races these days, so I was expecting it to rear its head at some point. When it did, I would just have to manage it as best as I could.
From here to the next high point was another big climb of around 1400m. It started gently and then we entered woodland and headed up dusty trails, thankfully sheltered partially from the sun. Here, I bumped into Paul Tierney. We ran together for a while and chatted about running and mountains and coaching and things. He had lost his cap and was concerned about the sun giving him a beating. I happened to be carrying two caps with me, so lent him one.
We were moving comfortably and generally were overtaking a few people here and there. Paul seemed strong, so I was conscious that I needed to make sure that if I noted he was going over my cruising speed, I needed to let him go.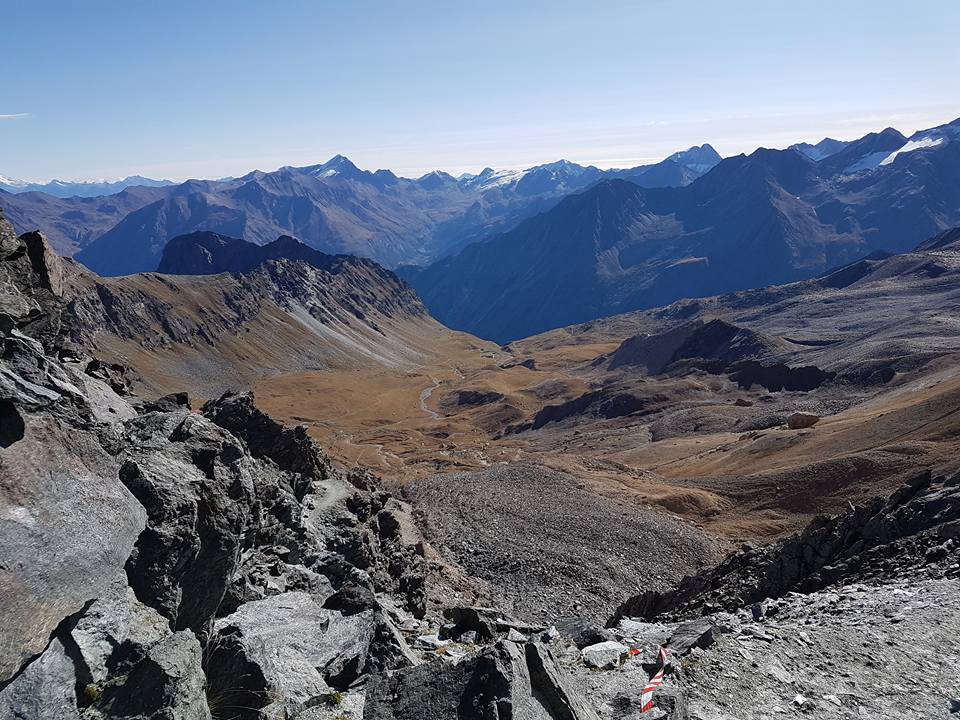 Next up we crested a steeper section which was now above the treeline and could see the other side of a small alpine lake, a refuge. Paul pushed on ahead, so I let the elastic snap.
As I approached the cp, I mentally went through all that needed to be done, and if there was anything I wanted. Did I need to have a little sit down? This is how I always do cp's now. Simple yet, for me very effective. I had slight sensations of nausea, but I could still eat, so still ok. I'll just ease off a bit to hopefully hold it off or if I'm lucky, prevent it.
I had two bowls of pasta here, simply because I could and was conscious that eating may become a little more difficult later.
After a short while, I was on the move again. The next section was the rest of the ascent to Passo Alto at 2857m before a 800m descent followed by an 800m ascent to col Crosatie. This was the last serious climb before the first lifebase. I was starting to run through mad mathematics in my head as I tried to calculate whether I would make the Lifebase at Valgrisenche before dark. It would be close!
I kept the pace even, as I made my way over the next two high points. As I descended Down to Planoval the nausea worsened. Again, it was fairly manageable, but at Planoval, there was food, and I couldn't manage to eat anything. I walked off and didn't start running for a while. I wasn't really too bothered about this as I was expecting it, and the race was so long that I was expecting it to disappear eventually. The next section to the lifebase was relatively flat. I ran some and walked some, overtaking some and a couple overtaking me. The sun had gone now and the night looked to be closing in.
Just as I needed to put my headtorch on I was literally about a km away from the lifebase. The music was incredibly loud. Sounded good too! A bit of Pink Floyd running through the woods in the dark!
A short climb and I was there. Now for the slick machine that is the Tor to go into effect for me. My yellow bag was handed to me as I crossed the chip mat. I entered a very full and steamy dining area. There was a great selection of food. I ambitiously took a large portion of food and a fruit juice and found a seat and started to very slowly eat something. After about half an hour, I had eaten about a quarter of it. The juice had gone down a treat though so I got some more. I grabbed some more snacks from my drop bag and handed it back to the amazing staff. They pointed me on my way and I was off. I was grateful that the temperature had dropped. I work so much better in the cold.
So the next cp I could sleep at was Rhemes which was just over the one hill. The hill was a cracking climb up to the rifugio chalet de l'Epele where I again was unable to eat, but was offered a coffee by a chap behind the bar. They had a full size espresso machine in there and the guy knew how to use it. He gave me a cracking Latte which went down a treat and would surely help me through the night.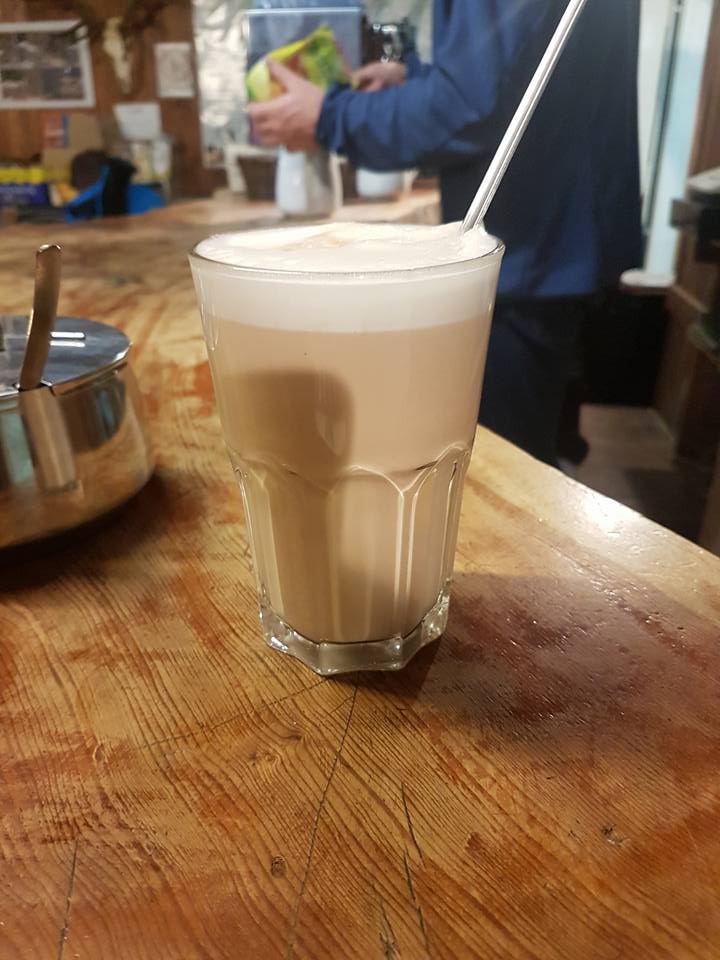 Then it was the final climb to the mighty col Fenetre. The descent started immediately very steeply and was quite technical. It didn't really let up for a long time. Some people were being very cautious due to the steepness.
I worked my way down it trying to keep relaxed and constantly moving. On the way down I met a French chap called Rood. He had fantastic English and we chatted lots about our lives and running.
I was starting to feel tired now so when we arrived at Rhemes together, it felt like the logical place to rest for me. I quickly attempted another few mouthfuls of food then found the sleeping area. They had someone who would register you being in there and they would ask how long you wanted to sleep for so they could come wake you. Perfect! Much better than alarms going off every 5 minutes.
As I tried to settle in my allotted camp bed, I heard the unmistakeable roar of someone near me vomiting closely followed by the noise of it splashing on the hard floor. Not the ideal start to my first sleep! I didn't sleep at all in the 1.5hrs that I was horizontal here. I tried not to get too frustrated about it and tried to focus on just how much benefit being off your feet and warm would give. I'm not a great sleeper so this was always going to happen during my race.
Once I had been alerted that my 1.5hrs of rest was over, I stiffly threw my legs over the edge of the camp bed.
I laced my trainers up and put my vest and jacket on. It was still dark out, but should be daybreak soon, which seemed to be perfect timing to start up again. Just as I was leaving, Rood came over and we left together. He was going to sleep for less time here but changed his mind at the last minute. We headed out into the dark and almost immediately started heading up again. The climb up to the next col, was 1300m, so another biggie! I really like starting after a break on an uphill as you walk, so can ease into your rhythm instead of breaking immediately into a descent if it was a downhill.
It was soon light again, and we were now into our second day. I couldn't eat much due to my stomach but everything else was ok really. I was content. I had had a warm spot on one of my toes but had changed my socks and things were ok now.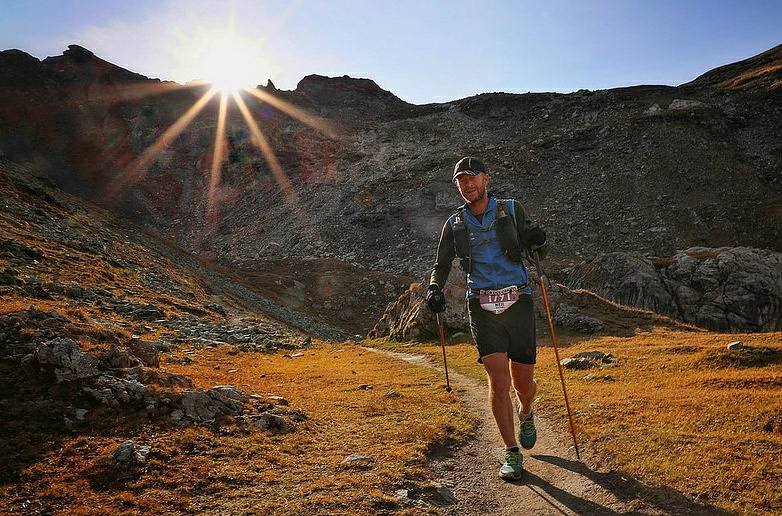 Rood and I chatted lots and this was great as time and distance just flew by. We were running a very similar speed at the moment so it worked well.
I felt great after the last stop but was very aware that I had not slept yet, so would have to stop at some point for a proper sleep. We cruised over Col Entrelor and eased our way down to Eaux Rousses. The descent down there was long and the temperature was rising again as the day progressed. A quick stop at the bottom for a handfull of food and some tea and coke and I was off again.
I was wanting to get stuck into the next section to Cogne, via the highest point of the race at col Lason at a whopping 3,299m. Cogne was the next life station and I had decided to try to sleep there. I didn't feel overly tired, but that is exactly what I needed to do. Not wait till I could barely keep my eyes open and was zombie marching.
I think it was around here that my achilles started to feel sore. I tried to run smoother with smaller strides to not put so much stress on them. Also my toes seemed to be taking a hammering on the descents which was making them very sore. A bit frustrating as I had never really had this before. Well, it was just the body trying to cope with what was being thrown at it.
On the descent to Cogne there was a cp at Rifugio Sella. I stopped there for around 20 mins and sat in the sun drinking ice cold water straight from the fountain. It was the most refreshing thing especially as they had lemon slices there too which are amazing when it's hot. From here it is about another 700m descent down to Cogne. Should be there in no time.
I began the remainder of the descent and soon could see a town far below and nothing else. Cogne surely. Well, I followed the markers and they took me right through that town, and onto a trail beside the road. I soon saw a roadsign for Cogne that was in around 5km! Bummer. Never mind, just keep the pace up and I will be there soon and a sleep was coming.
After what felt like an eternity, running as much as possible in the heat of the day, I entered the beautiful looking town of Cogne. There were many people around cheering and finally I entered the second lifebase of the race, and more importantly my first sleep spot.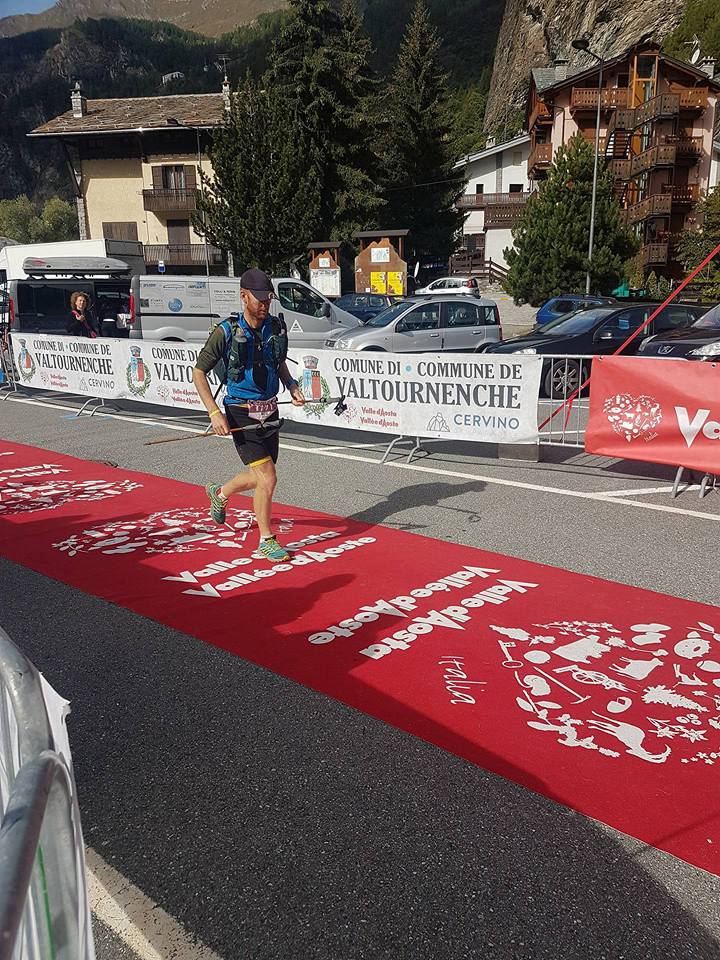 Again, I was as efficient as possible, starting firstly at the food and drink and a sit down in the tent. I decided to take advantage of the showers and washed myself down which felt amazing to remove all the dust and sweat that had accumulated over the past few days. Then it was off to hunt out a bed. I either went for 1.5hrs or 2hrs. It took me a while to go, but eventually I did, and before I knew it, I was getting gently shaken as my time was up.
I felt stiff as I pushed myself up. I sat dazed for a minute, before forcing myself to not waste time and prepare for the off. Fresh socks and a top and I was ready to go back out into the heat of the day.
The next lifebase at Donnas, 45 km away consisted of a huge climb (another) up to fenetre di Champorcher then an incredibly long descent all the way down to the race low point at 330m. With my toes as sore as they were this was not looking like a fun section for me, so I was happy to just get started on it.
After passing through the lower flat section on road for a couple km's, finally I left the road and was heading up again. It was a hot day, but not too bad. I was working at a relatively low level so not really sweating much. The trail was dusty, and gradually the trees began to thin out, till eventually I was back into the high alpine. It felt good to be back up high again for some reason. I didn't like being low down in the valley. It was so beautiful and open up here. I was starting to pass snow covered peaks that really seemed quite close. Not far from the col, there was a refuge stop. It had the standard food which I was quite used to, but then I noticed a small sign saying that if you wanted to try the local cogne dessert, just ask. I asked and they bought out a really tasty creamy yogurt dessert which they clearly had much pride in. It was really stunning and my stomach happily accepted it all no bother. I had been living off mostly soup and coke for a while, but the nausea was starting to subside, so the odd bit of solid food was going down. Things were on the way up, thankfully!
I left and hiked off up the steeper section over the col, and then began the dreaded descent. It started as open mountain, and then became wooded, and finally I started passing more and more houses and it became more and more built up. At first, this seemed like a pleasant change, but I soon started to not really enjoy the more urban setting. The going was good and was very runnable, which made it feel like you really should run it all. Not ideal as I was feeling pretty exhausted now and the constant running was killing me, but I pushed on.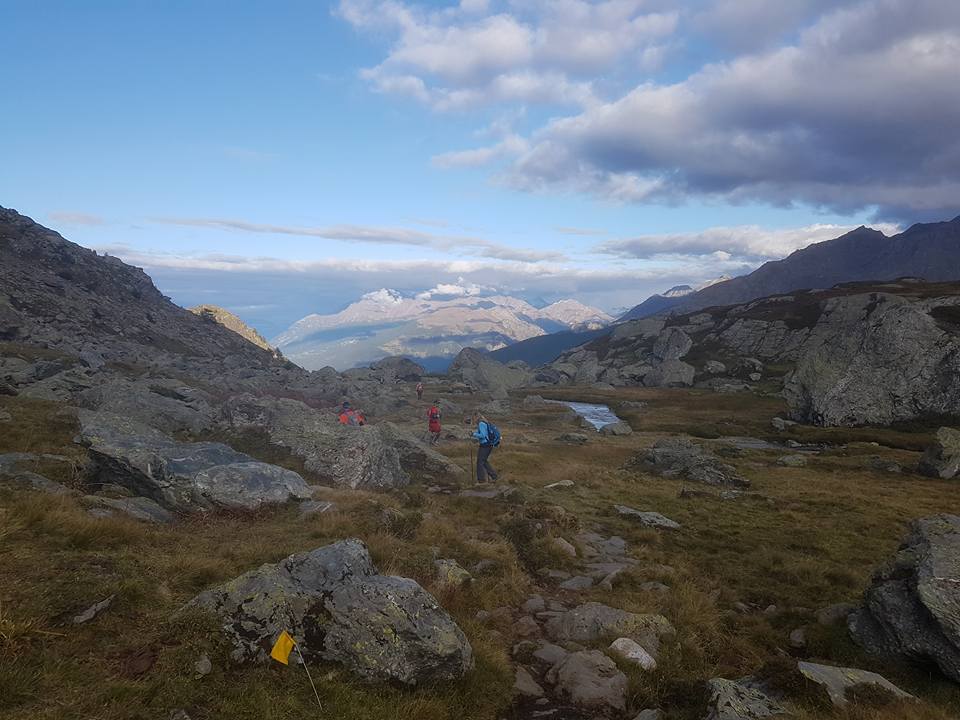 I think in every race I have done there is always a section that seemingly goes on forever and this was it. It was dark and I didn't see another runner the whole time, so it was a real head game. I found the challenge of trying to remain positive quite engaging and really kept my mind busy for long periods here. Of course there is always an end, and thankfully this one was a lifebase.
10 hours after leaving Cogne, I arrived at Donnas. It was just passed 1am and I had decided to take another two hours rest here. My mind and toes needed it!
I left before 4am in the quiet of the night. I followed the flags along a road for a while running the whole way. I felt really refreshed and wanted to use that while it was there.
I left the road and wound my way up through peoples gardens on the steep mountainside. A short dip back down then to a cp at small village of Perloz where it was still the tranquil early morning. This was shattered by the cacophony of cowbells as I approached. I grinned as I entered the tent. I was received with the same amazing enthusiasm and care from the staff who tended to me with food and drink. I stayed for a couple minutes and then left.
A new day began to dawn, and the headtorch was packed away again. I was heading up and the sun was shining. I was happy and things felt relatively good here. There were a few complaints, but not too much for the amount of time I had been on my feet.
I soon gained a ridgeline that gave me the most incredible view. On my left was the incredibly rugged mountains of the Alps, and on the right, the complete contrast of the flatlands as far as I could see, which was a long way today. I was on the edge of the mountains and it was stunning!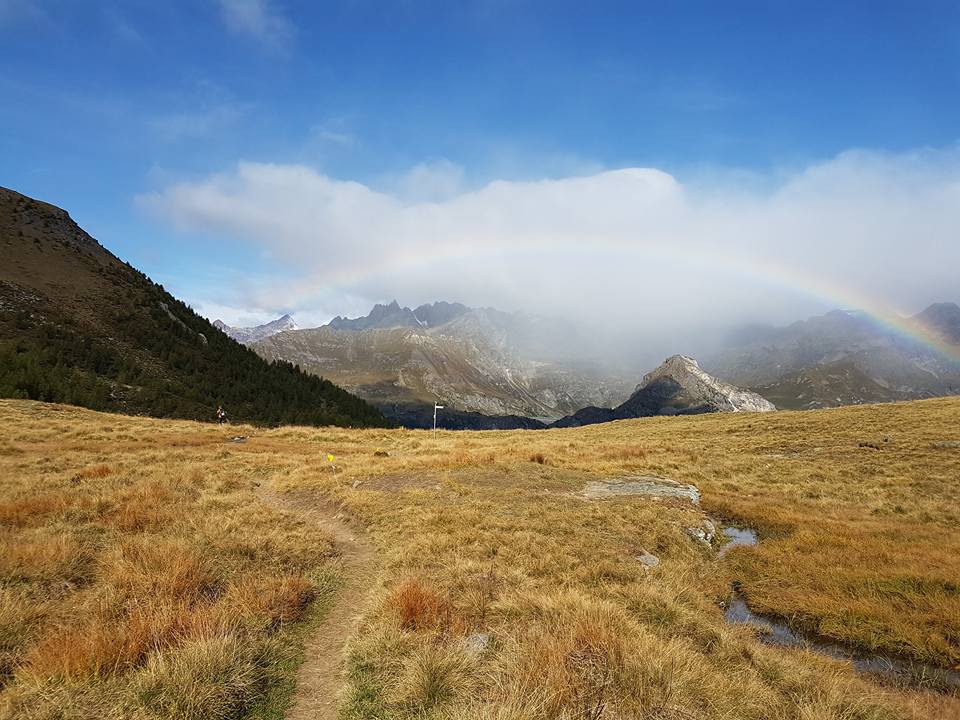 It was also incredibly windy and cold with it. I could see refuge Coda ahead on the ridge and thought I would just push on. Thankfully I was right as the wind was powerful and cutting right through my tired weary body. The perfect way to stay awake!
The calm sanctuary of the warm cosy refuge was very welcome indeed. Infact, you would not know it was so windy out if the door didn't keep getting opened and people throwing themselves in looking like they'd been through hell.
I stayed here for 20 odd minutes as I forced some food and soup down. Whilst I was there a runner decided to drop out. He had banged his knee and it was too far left to go. This was a reminder that this was pretty much the half way point of the race. This is where it would all begin, where it would really start. I was glad to be there and was feeling ok having run 169km.
Five mins after leaving the refuge, the trail passed over a very windy col and then immediately the wind almost disappeared. I was now in the glorious sun and it was warm. The trail was a little technical for a while which was fun, and then it opened out a little and it was more grassy. I then came to a cp. It was well stocked, and theyhad cold drinks which were great as I was really warming up again. I spoke to the chap there and he told me that he was not part of the race and was just there because he loved the race and wanted to help. Wow, I was really touched and he was just so helpful and kind. I was feeling emotional. I sure sign that I was tired!
I thanked him and went on my way. There were a few smallish bumps to get over before Niel. Then from there it would be a decent up and down that would leave me at Gressoney, the next Lifebase. This would me my next sleep, so I was excited to get there.
I knew I was approaching Niel as there were suddenly more and more people on the trail cheering. I was feeling a bit of an energy low, when suddenly I spotted ahead a Weimaraner dog bounding around on a lead. Is that Claude? YES, sure enough, on the other end was Lou holding Ludo! I really wasn't expecting that. We hadn't planned anything, other than, if lou could make it, then she would. We hadn't decided any cp though. What a sight for sore eyes, and well timed with my energy low. We walked the last few hundred metres into the checkpoint, and we chatted and held Ludo and I tried to sort my stuff too. It was lovely, but of course I had to move on eventually.
As I left the sun was fast dipping. My favourite time as I seemed to operate well just as the temperature dropped. By the top, my Petzl was on, and the descent began.
It predictably became a trudge, and my poor toes were so sore now, but finally at 2151, I left the dark of the lonely night and entered the bright and amazing atmosphere of the Gressoneylifebase.
Right, I wanted to eat well here, so that was my initial stop. My stomach was completely fine now so I stuffed myself stupid. I then had a shower which was just amazing, and then Crawled into a cotbed for two hours. I think I slept for around an hour here.
I ate again when getting up, looked at my toes which looked red (what a surprise) then left at 0117 back into the dark cold night.
I really felt like I was managing my sleep well so far. I had not yet got drunk with tiredness, and didn't feel like I was wasting time. Tiredness wasn't really an issue so far as in previous races. I felt in control, and it felt good.
There were only two climbs next between Gressoney and the next lifebase at Valtournenche.Short, but hopefully sweet! Well The first climb went great. I felt really revitalised from the last stop. I knew it wouldn't last but was happy to just be feeling so good at this stage. Then the descent came, and predictably, this was rather painful. I was reduced to walking a lot which was frustrating but I had no option.
It was warm and sunny again here as I arrived. It was a lifebase, but I had already decided to stop for a bit, but not for a sleep. I would sleep later. I also wanted to get stuck into the next stage, which was the longest at nearly 50km. Thankfully there was what looked like only two big descents, so my toes may get a slight break.
I was again blessed on arrival to see my beautiful family here at the checkpoint. They were allowed in with me to the food tent so we sat and I ate and picked up some more food supplies from the drop bag. It was hot in the tent, but it was just nice to be with Lou and Ludo to have a little break from the relentlessness of this race. I stayed just over an hour before saying my goodbyes and running off. It's funny how I would run away feeling as light as a feather, then once the high of the break and the unknown family meetup had passed, The tiredness and aches and pains would all come crashing back into you.
I climbed higher and higher in the now growing heat of the day. I'm not too keen on running in the heat but this wasn't so bad as I was working at such a low level. I stopped briefly at a refuge near a damn before pushing on with the longest stage. How cruel to have the longest stage near the end!
As I pushed on, determined to make decent headway into the long section before stopping, the heat was sapping my energy reserves. I had decided to push on to Rifugio Magia which apparently had a few cot beds. It didn't sound ideal, but it's distance felt right.
I just needed to make it over the fenetre du Tsan before I could sleep. I was tired now and my feet were very sore, As I hiked my way up the long climb. Once at the top there was a steep first part of the descent, before it shallowed out a little. My toes moaned as they knew what was coming. I soon was shouting profanities around the Aosta valley as the pain level cranked back up. After much mental pushing, and much frustration at losing so much time over my toes which I have never really had a problem with, I arrived at the rifugio Magia. Thank god!
I ate what I could and saw behind the small food table, four empty cotbeds. Bugger, is that the sleeping area? I quickly claimed one before they got taken up, then crawled in. It was very noisy, and light. I couldn't see that I would be getting a wink here! Oh well, I knew that the power of being horizontal, was enough to make things so much better, especially my poor feet.
Sure enough, 1.5hrs later, I crawled out after zero sleep and put my stinking shoes back on before getting back on the trail. No-one else here had rested as long as me. It was straight into a steep climb through a forest. Once out the forest, I was back out into the open mountains. I climbed up through a high mountain farm and just about reached RifugioCuney before needing my headtorch again.
It had cooled down a lot, partly due to being quite high up and windy and because the sun had gone. It was now 14km to Oyace. Oyace is the stop before the lifebase where I was going to sleep, but for some reason, possibly being a bit of a tired wreck with a jellified brain, I started to think that was the lifebase.
Around 5km after Cuney, I topped out at the col, then the long descent began. Now this started to get a bit torturous and the enjoyment was draining away. I was willing this to finish so that I could get horizontal and hopefully this time get some actual sleep. I didn't see any other runners for this whole section. But I kept on moving and was finally after much drifting in the night, rewarded with the stop at Oyace.
I walked in and sat down. It was 2355 and I was exhausted. When you enter a lifebase, generally your bag arrives before you have entered the room. I had no bag. My foggy brain thought nothing of it. Then I saw a chap near me rooting through his bag which made me want mine. I asked one of the staff and he looked at me with much sympathy as he realised my mistake, before telling me that this was not the lifebase. The lifebase was just over the next mountain. A mere 13km with 1000m of ascent and the dreaded descent left!
SHIT! I tried to hold it together and stay calm. Should I sleep here or push on to the lifebase which would be much better equipped. I sat and ate what I could as I tried to work out what would be the most sensible option here. I was really drained, and tired so it felt like the wise thing to do was to stay and sleep. This would mean though that I had much further left to do before the end. I really wanted the lifebase too. Hmmmm....
Well, screw sensible said my tired brain, it's just one little hill. And I packed up and left. Half an hour later as I slowly hiked my way up through the jet black night, I regretted my choice. I had to sit down a number of times and close my eyes as I was struggling to keep them open. I couldn't turn back now though. I was committed. I stopped very briefly at a small cp in an old barn with no walls. It was very windy here and the wind was howling in. Maybe this was a good thing as it made me leave sharpish.
The trail became steeper now and after what felt like an eternity I topped out at col Brison. It was quiet exposed here so they had a checkpoint. It was a small perspex box that a helicopter drops off. I squeezed through the door that had been opened by the staff within and perched on the little bench. There were two staff and me. You could probably get one or two at a squeeze in there. It was amazing! They closed the door and instantly the ferocious wind completely disappeared. It was heavenly. They handed me a flask lid with some hot tea in. They made sure I was ok to continue. I of course was. I stayed maybe 5 mins before thanking them and leaving back into the cold night. I knew that as soon as I dropped down the other side, the wind would ease. This and the life base being far below was my motivation. I couldn't wait to sleep!
I stubbed my toe numerous times which bought a tear or two to my eyes on the way down here, and as is always the way, it seemed to take sooooo much longer than expected. But yes finally it came, and I stepped into the lifebase at Ollomont.
I was feeling mentally and physically quite beaten here. My toes were agony and The final section actually was starting to feel like it would be too much. I sat down to eat in a bit of a daze and tried my best to just think about the now, not the future. I just needed to do my sleep stop routine and then get horizontal. All would be better when I got up...
Once in bed, my body was screaming. It wasn't happy with the abuse I was hurling at it. I tried not to panic, and focused on all the times in my running life, when I have felt finished, then somehow the body recovers a little and you continue for another day!
I think I dozed here for around 45 mins. Getting up and preparing to run again, was painful and laborious. I think I spent 10 mins spaced out with my drop bag trying to work out what I needed. Thankfully I had heard that there was rain forecast, so somehow had the sense to dig out my super heavy duty Arcteryx waterproof and swapped it round with my super lightweight running jacket. I also packed my big gloves. I needed all the protection I could get from now on.
I actually only spent 2hrs 40 mins at Ollomont, setting back of again at 0728. It was now Thursday and I was on the final stage. Next stop Courmayeur!
I was grateful for the trail to just straightaway go steeply up again as it gave me a chance to walk and try to get everything loose again after being static for a while. I didn't feel great, but somehow I was starting to believe that I was going to finish. Within an hour it started to rain, and I put on my jacket. I focused on hitting a rhythm that I could sustain, then holding it and trying not to stop unnecessarily. Progress seemed ok and I was starting to feel a little better. I could smell the end now and was getting excited.
Once over the next mountain via col Champillon and the painful descent down. The map showed a flat section to Saint-Rhemy-en-Bosses and here, along with Tegyn, a chap I had run with earlier, I resolved to try to run as much of it as possible. It wasn't easy, but I managed to keep some sort of pace along here. Tegz had to drop back and walk a bit. It started raining heavily before reaching the cp and I was pretty wet on arrival. But, thankfully I had the super surprise of my family again greeting me. I ate a load of pasta here and then put on everything I had, as the rain looked persistent, and we were now heading all the way up to the final high point of col Malatra. It could be snowing up there.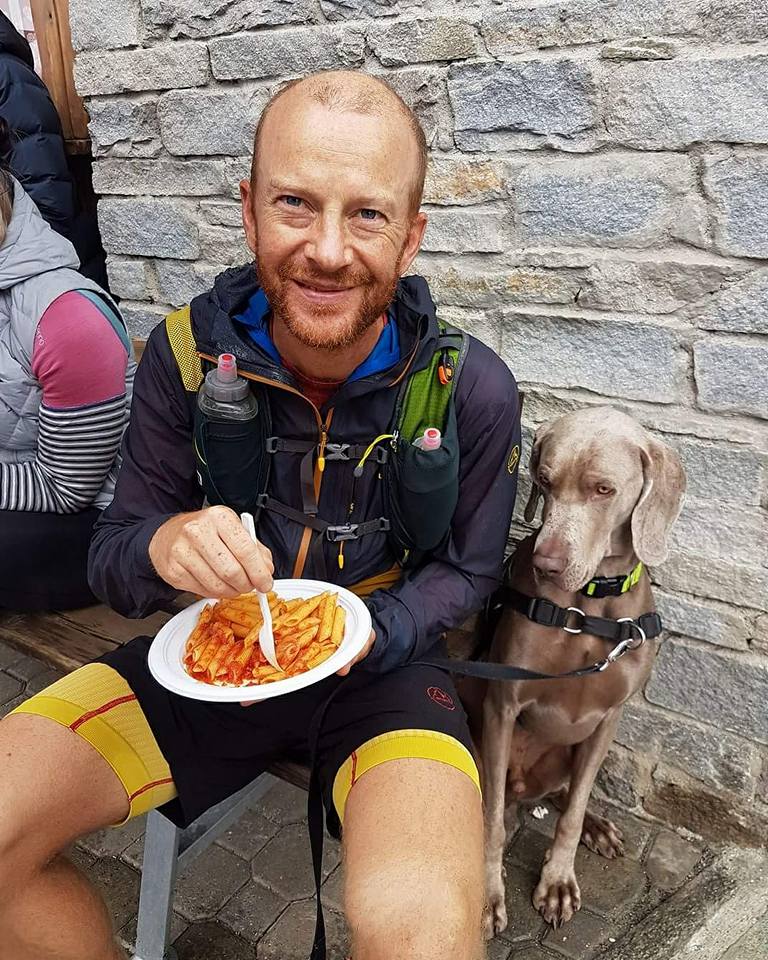 I trudged on surprisingly strongly now through the heavy rain. Thank god for the jacket and gloves! Sure enough, the rain finally turned to sleet then snow as I headed up. It got colder and was windy. Well that's one way of staying awake! It was blissful to walk into the next large refuge which was warm. Shortly after, Tegz also entered. Near the heater in the centre, was Stephanie Case wrapped in blankets holding a hot drink and not looking on great form. Her face seemed puffy which didn't seem great. Tegz came over and said that a group of them were going to leave together for safety in the storm. I joined in. Stephanie was with us along with two other chaps.
As soon as we left, the snow stopped and the sun broke through. There was literally around 5cm on the ground and I realised that there was no real danger as the sky had almost completely cleared. We moved slow for a while and whilst on the final steeper section to the col, I decided to leave them behind. I needed to move faster to warm up. There were still three of them so was still safe. Plus I was now in a rush to get back as early as possible as then I would have more chance of seeing my family and that suddenly seemed very important to me.
Once over the final big col of the race, I dashed of down the other side, in sunshine. I quickly overheated and had to then strip down before continuing. At malatra, a little further down, a rescue helicopter was taking a runner who had fallen. I headed left up over a small hill and then dropped down into a valley and followed this down, running the whole way. Next stop Rifugio Bertone. At the end of the valley I then joined the familiar Tour du Mont Blanc and turned left. It really got cold along here and I struggled to keep running even though it was relatively flat. I stopped and put on my big gloves again. It had just got dark as I arrived at the final refuge. I didn't stop as I was now on the final descent and I could see lights below me.
I hit the refuge at 2001 and I finally, after 106hrs crossed the finish line in Courmayeur at 2050. This got me 47th place and first Brit!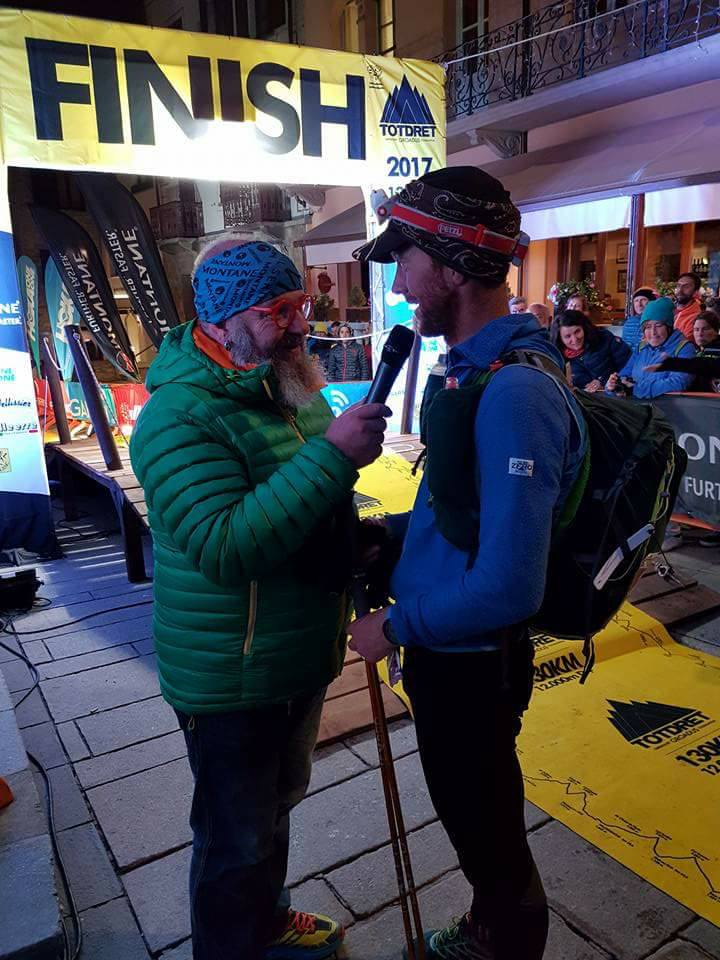 Thankfully Lou and the boys were there and that was that. Race finished. I sat for a while and took it all in, then realised that my body was in close down state and I felt just how freezing it was. My feet were killing and my eyes wanted to close. I slept well that night!
I lost a few toe nails in the following weeks which has never happened to me. My achilles was worse than I thought and took ages to get better. General fatigue was high but eventually it all eased off and I became just your normal tired parent.
Overall this was a truly magnificent experience. The organisation was incredibly slick in everything I saw. The helpers were unbelievably helpful, smiley and positive. The course is stunning and tough in equal measure. I loved it! The mind boggles at how the winner went almost twice as fast as me and didn't even try to sleep. If you want a big Alpine adventure then maybe this is it! It's tough, but it is more about being persistent and constantly moving than being a super athlete.
Thanks for reading. I once thought that I should try and shorten my race reports, but realised that I get much enjoyment from making my brain work through the race again and remember things that would otherwise have been lost in the dark recess' of my brain.
Written by Luke Latimer - https://jurarunner.com I was expecting to find you hunched over your poles, headphones in, grinding through the dark miles with gritted teeth. Are you sure you've just run 85…

Written by Will Rivera - https://willrivera-ultra.tumblr.com "Pushing your body past what you thought it was capable of is easy; the hard part is pushing yourself even further … past what your mind…

Written by Jean Baptiste Rouvelin - http://jbrouvelin.blogspot.com Kit checked and got my number Well, where to start. The Arc of Attrition is a point to point race which forms an arc following the South…
Written by Tom Wright - http://life.tomwright.me.uk No medal, no finishers photo but I did complete the Lavaredo Ultra Trail. No really I did… I have my coveted bin bag to prove it! (Note Lavaredo has a…

Written by Paul Baldwin - http://pbracereports.blogspot.com Let's start with the finish I finished the 90km du Mont Blanc in 22 hours and 29 minutes, ranking 564th out of 1,142 entrants (49th percentile), and…

Written by Phil Bradburn - https://untrainingultrarunner.com "There is nooooo way that I am going to run this race – I have seen what it does to people! And those swans…. And those…
Written by George Callahan - https://wickedtrailrunning.com Burning River 100 Race Report My Wicked Trail My 2018 Burning River 100 Race Report may not look like some of the other race reports you've read. I'm…

Written by Tom Atkinson Pre-race I've been focused on this race since my last ultra in February (St Peter's Way, 42 miles and the previous furthest I've ever run). Training went pretty…

Written by Steve Birkinshaw - http://stevebirkinshaw-wainwright2014.blogspot.com/ If it wasn't exciting enough to have one record-breaking runner to blog about, try having two. That's right, Wainwright round record-holder Steve Birkinshaw tells us about…