Written by James Young - http://runjames.co.uk
24 hours running around a track doesn't sound much fun but I honestly can't recall many races I've enjoyed more even though I was literally miles off my targets.
The Sri Chinmoy 24 hour Self Transcendence Race is one of the UK's longest established and popular 24 hour track races at Tooting Bec in London and I was fortunate enough to have secured one of the 45 places at the start line despite my relatively meager ultra running experience.
I was thrilled because after a few recent race disappointments – a poor mental effort at the Kirklees Way Ultra saw me retire after only 17 miles because my head wasn't in the game and a wrong turn at the Toss 'O' Coin race that cost me the win – I'd long been seeking a "pure" running challenge. No nav, no carrying a pack – nothing to focus on but moving forward. This was my other A race for the year after London Marathon (another disappointing race).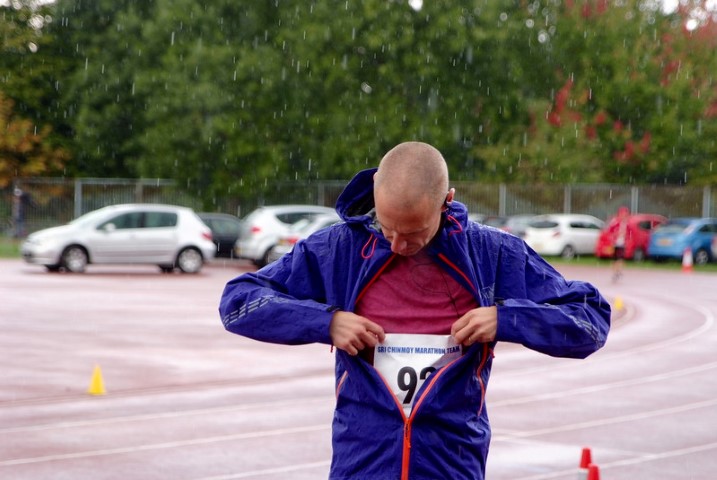 Training
My training for this event has been sporadic and in reality, non-specific so while I've been able to keep to somewhere between 45-65mpw it's been largely made up of short run mileage and apart from a track marathon session my prep generally lacked time on feet that I'd need but I was confident from having done the White Rose 100 in the past I would at least be able to keep going for 24 hours.
Generally I feel I've reached a plateau training wise because I'm in that zone where I'm not focused 100% on speed or distance so while things like parkrun times are reasonably fast still, I'm not pushing through that sub 17 time regularly and without spending 3+ hours on long runs at the moment the distance stamina is not quite there either once I go beyond a marathon.
My goals for the race ranged from laughable (130 miles) to possible (100 miles in 18h) to specific (180km in 24h which would qualify for Spartathlon).
Race format
Pretty much anyone you speak to beyond the people who enjoy this sort of event look at you like you're an alien when you tell them you're looking forward to running around a track for 24 hours.
The benefits of a track race to me are obvious – easy access to food and drink at any time, lap counters who cheer you on through each lap as the hours pass and one of the best parts is that you're sharing the track with 44 other competitors who are never more than a couple of hundred meters away.
The race starts at noon Saturday and you simply clock up as many laps as possible before the race ends at noon on Sunday. You're free to stop and start as you see fit and your pace is up to you.
Without too much hassle, I'd registered on the morning, the pre-race brief took place and before I knew it we were all on the start line ready to go at 12 noon.
Race breakdown
It's hard to mentally break down a race of this size. When you're running a point to point race you know the faster you run, the sooner you reach the finish. In a timed race your pace obviously counts but the clock doesn't tick any faster and it's all about zoning out for hours at a time and just keeping moving.
First 12 hours
I didn't really have any specific pacing plan other than go slowly and keep it sustainable for as long as possible – ideally getting somewhere near halfway at midnight before really taking any significant break – at which point I'd hoped to be way past 100km/62 miles.
I felt comfortable running for the first few hours, somewhere around 9:30-10min/mile pace, no significant effort heart rate wise and legs felt alright but it's a bit of a shuffle compared to normal shorter distance easy pace which is a couple of minutes faster but this was fine.
Laps were ticking off at about two and a half minutes and with all the other runners on the track it's good having the distraction of all the other runners nearby to chat with or tuck in with and run alongside. Seeing the lead runners going out at somewhere around 7 min/mile pace and just maintain it for hours was mind blowing. The first man and lady ran more than 300 miles combined.
The forecast showers arrived not long after the start but only really lasted a couple of hours on an off so weren't a massive issue and the temperature was perfect for running during daylight although as darkness came it did get pretty chilly and slowing down a bit meant about 11pm I changed into a merino base layer and kept my jacket on but stayed in shorts.
I'd had some stomach issues in the first couple of hours but it was just gas, but the old "never trust a fart" mantra rang strong and a couple of trips to the trackside toilets were needed but eventually it settled down and apart from that, I was able to eat and drink with absolutely no issues for the duration of my race.
I took 24 Gu gels which I'd planned to use for most of the race but ultimately with a refreshment table on the track with drinks and various bits of food I took 1 gel and just ate from the table every couple of laps.
From running to walking
I went through the 100km mark a little after midnight, not the fastest but steady enough and after having already figured my 130 mile goal was so far beyond my capability at the moment I'd focused on the 180km Spartathlon time as my only significant aim. With 100km on the clock in 12 hours I'd still need to move strongly for the second half but ultimately should have been able to do it in the time limit as I felt good at midnight with no issues beyond a bit of general fatigue.
Things went south pretty quickly in the hour that followed though.
My legs, feet and stomach felt fine, my head was in the game and I was having a truly excellent time but my hip flexors suddenly began to tighten and I went from moving comfortably to a power walk.
This in itself wasn't an issue, I'd planned on walking spells but in between running laps rather than an hour or two at a time. Still – in-race management of issues is part of the challenge I guess and I switched mindset to thinking that even if I had to power walk at 3.5mph I'd just about make 100 miles in 24 hours but I assumed that at some point after a spell of walking I'd manage another hour or two of running which would bring the 180km goal back into focus.
I'd accepted this and spent the next couple of hours walking around the track listening to 6Music on the little DAB radio I'd bought with me although to be honest, Jethro Tull for 2 hours in the middle of the night wasn't my bag.
The pain
Eventually my hips settled and I felt good enough to start running again and was clocking off about 30-40 minutes an hour of running mixed with walking for the remainder. Felt good enough but somewhere around 16 hours a deep fatigue started setting in and I was struggling to stay awake, yawning constantly while following the white line around the track.
I'd not planned to really stop for anything other than toilet breaks and clothes changes during the race (the clock never stops right!) but I figured a 15 minute power-nap would be more beneficial than falling asleep on my feet and I could reset and get back out there.
A quick lie down in the room next to the track was welcome but when I woke up, I simply couldn't move my left leg!
Somewhere in and around my hip abductors the pain was immense. I had to pull my leg up with my hands just to get to my feet. As I rejoined the track at a hobble, the pain made it clear something had gone wrong while I'd laid down and my plans of power walking or running weren't going to happen. I couldn't make it round another lap.
Another benefit of the track format is there's a physio on site so I went to see her and she recommended another hour of rest to see if it settled. Back to the room for a lie down and actually sleep.
Retirement
When I woke, the pain was still as intense as before and sitting down on the chair in the physio room for a checkup I literally couldn't lift my foot off the floor. My race was done with about 7 hours remaining on the clock.
Ultimately I managed to walk one more lap a couple of hours later as my hip settled down a bit and there will probably be a fraction of doubt as to whether I should have just waited a couple of hours instead and decided then or whether an hour was enough to know but ultimately that single lap ticked me through 130km and I figured that's alright for now.
Frustrating in many respects because my legs and feet still actually felt fine and mentally I'd had no significant lows or doubts at any point.
Self Transcendence
"Running offers us the message of transcendence. In our running, every day we are aiming at a new goal….. … every day we are running towards a goal, but when we reach that goal, we want to go still farther. Either we want to improve our timing or increase our distance. There is no end. Running means continual transcendence, and that is also the message of our inner life."
I have to say that for me the biggest success of this race after missing all my goals was that I feel I've embraced a little of the spirit of self transcendence. Not just in that I've come away feeling I have so much more I can put on the line in races and so much more I can do in my training.
My Suunto died only a few hours into the race and I have to say it was refreshing to make the choice to run without it. I had planned on it needing charging on the go and had a power pack but I couldn't be bothered – it was a decision I'll probably stick to in long track races because there's a beautiful simplicity in just running until you break or someone says to stop.
Issues and improvements
To be honest, despite finishing early I still covered 80 miles/130km in about 17 hours. Not the fastest but was comfortably on target to hit 100+ miles on what was my track ultra debut so although my initial big goal was comically out of whack, I think the 180km would be well within reach.
Training wise – I think despite reasonable mileage I lacked time on my feet in the form of some decent long runs and hadn't done any core and hip strengthening which ultimately was my downfall so easy enough to rectify in training for next time.
Food and drink wise, with a table of refreshments on the track I only used one of my Gu gels and didn't really have any issues on that front. It was easy to take really small amounts of food and drink regularly.
I also only ended up changing top once from a tech tee to a long sleeve merino when it got dark and colder and had my waterproof jacket on for the showers and I found the swapping race numbers a bit of a faff – I'd get a race belt next time because on another day, if it were warmer or more changeable weather I could see going through a few tops or changes of shorts so a belt just helps minimise hassle.
Track ultras
Would I do another track race? Absolutely!
I can honestly say that despite everything not going right goal wise, this was one of the most interesting and fun race experiences I've ever had.
It's a very social race, with the counters, other runners crews and race staff combining with the fact you're in close proximity with everyone for the duration means the time ticks by a lot quicker than you'd think and you really do get into a rhythm as the hours pass.
A massive thank you to Shankara, race team and of course all the lap counters for making a truly memorable race experience. I'll be signing up as soon as the ballot opens next year!
Last, but no means least, a massive congratulations to my club mate Sam who covered 100 miles with a half hour to spare!
Written by John Hunt - https://johntrac.wordpress.com
I suppose I better start with my reasoning for entering such a stupid event, 250 miles? Running (and crawling) along rivers and canals That is really stupid right? After completing the arc of attrition in February I fell into a bit of a post race depression,I had no other races lined up and was just not really enjoying my running even though I'd recovered and was running rather well so I had a meet up with Bob (the guy I done arc of attrition with) in a local pub to discuss what our next big race should be, after a while we both agreed that there really was only one logical race for us to do that would provide a big enough challenge to us both with Bobs dnf in 2015 and my need to challenge myself further than I have before it was to be the Thames ring 250 mile race!
My reasoning for entering something so extreme is that I think it's pointless entering something that you know you'll finish what's the point? Where's the challenge? I love the feeling of not knowing if you'll finish and this race the numbers are stacked against you from the start over the years less than half of all competitors have finished so the odds of two guys from the same club finishing were very very slim so with just over 4 months til race day on the 28th of June I signed up.
Just to explain a bit what the race is all about its a 250 mile looped route that follows the Thames path and various canals starting and finishing in goring, there are 9 checkpoints along the course spaced about 26 miles apart which supply food and drink but between checkpoints you have to be self sufficient ie: no help from crew,pacers etc but you are allowed to make the most of shops,pubs ice cream vans etc.
We are also provided with laminated maps with route description on at the start and at each checkpoint after that, there is a 100 hour overall cut off for the race and progressive cut offs at each checkpoint we're also allowed 2 drop bags that would be ferried to each checkpoint so we'd have access to them
https://johntrac.files.wordpress.com/2017/07/4614092220_280x288-1.jpg?w=146 146w" sizes="(max-width: 280px) 100vw, 280px">Hmmm that's quite a long way isn't it
So with the race entered it was time to get training I still had a lot of good miles in my legs from the arc and although this is a completely different type of race it's all training in the bank right? And because of where I live being flat as a pancake it would be ideal training for the dead flat canal paths that I'd be spending 4 days on in a few months time. I didn't have any 'b' races lined up in preparation for this as I wanted all time/money spent concentrating on this as it would be the biggest race of my life so I done the usual training I do for any 100 miler really with lots and lots of early Sunday morning runs with Bob at 4am we also had a couple of all night runs pencilled in just to remind us of how bloody awful things get at night.
Now on our first attempt at an all nighter it just went to shit! We both felt like crap and binned it about halfway through,what a disaster but a few weeks later we attempted it again and it went really well and ended up doing 50 odd miles in a fairly decent time great stuff!
Looking back I probably had more bad training runs in this training cycle than I've ever had before I'm not sure why though… possibly the enormity of the task ahead just constantly in the back of my mind or the fact I'm just a bit rubbish (I think it's somewhere in between the two)
Ah a training run that went well! If it ain't on the garmin….
So with training almost completed I did manage to get in a couple of big back to back weekends of 20 miles Saturday and 30 miles Sunday, a lot of people are a bit indifferent on the back to back runs but I find they work for me.
I'll just add that we were doing this without a crew for the first couple of days but on Friday (the 3rd day of the race) our fellow club member and local ultra running legend pam philpot fresh off of a mds finish was coming to help us hopefully get to the finish even though she would only be able to help us at the checkpoints it'd be nice to see a friendly face every 8 hours or so.
The race started on Wednesday 28th so we'd booked a couple of rooms in the YHA in Streatley just down the road from the start at goring, there was also a planned meet up at the bull in Streatley for carb loading and some pre race hydration
We travelled up on Tuesday courtesy of a good friend of mine volunteering to drive us up cheers Glenn, we checked in to our rooms (with bunk beds)
Luxury! They even provided a box for me to sit on
After chilling in our rooms for an hour we decided to walk to the pub because I was feeling quite peckish at this point, we noticed a few other runners sat in the corner with the obligatory GUCR the shirts on so took a seat on the next table it was great to see so many runners that I'd only previously seen on social media among them was a very interesting character by the name of Javed who's a bit of a legend in regards to this race and spoke of some very interesting philosophies about running and nutrition.it was great to be surrounded by so many experienced ultra runners and to be honest I felt a little intimidated and out of my depth, what the hell gave me the right to be here with these people with my vast inexperience why the he'll did I enter this race,what chance did I have against these guys with bucketloads of experience nerves were definitely getting the better of me now
As the night wore on I felt more relaxed and we were all sharing stories about previous adventures and was a really good night.
After leaving the pub for an early night I was laying in bed trying not to think about the race and the next 4 days but inevitably you start running various scenarios through your mind and none of them are good.
I woke up at 6:30 after a pretty decent 8 hours sleep (which was to be the last sleep I'd have in quite a while) I gave my long suffering wife mandy a final call and she wished me well and see me in 4 days and
Race hq
me and Bob headed to race hq to register and hand off our drop bags of which mine were a fairly sensible size and bobs could fit everybody else's drop bags inside his they were massive! Had a quick chat with paul Mason who was running this just weeks after completing the gucr!!with kit check done,numbers collected and less the weight of our drop bags we headed back to the YHA for a full English breakfast,I think it's always better to start the race with as many calories inside you as possible and it went down a treat! There were a couple of walkers at breakfast who were walking the Ridgeway over 3 or 4 days and we're suitably impressed when we told them what we were about to embark on, but not so impressed when I mentioned the Ridgeway is a bit 'lumpy'
We all said our good lucks and headed off to the start we were stood around with lots of nervous excitement flowing it was time to walk to the village green over the road for a short race briefing by race director and facial hair aficionado Lindley chambers after that it was time to head to the start line, oh shit this is real this is really about to happen I along with 54 other stupid people are about to attempt to run 250 miles within the 100 hours allowed shit shit shit!!!!
5,4,3,2,1 and we were off
Now I'll just say my memory will be very hazy over a lot of this race especially early on as it seems a lifetime ago I will try to remember what I can but some locations,distances, events etc will be a bit muddled
Goring to hurley cp1 27.25 miles
Even though me and Bob both agreed it would be better to run our own race I had a feeling that some of the earlier miles would be spent together and we were happily plodding along at about 10:30 minute miles feeling fine and leapfrogging other runners only for them to take over again 20 minutes later it was good to chat to other runners and in the early stages got talking to a guy called rich Cranswick who had just got back from a 1000 mile hike along the appalachian trail what a fantastic taper for this event I thought, a really interesting guy that seems to be living the dream at the moment globetrotting and running great stuff.
I remember me and Bob moaning a bit about our legs hurting and feeling a bit tired (what a great sign early on) this section follows the thames path which is always quite pleasant,the weather was cooler than it had been recently and all was well and running well within myself.
Henley regatta was on at the same time as this race which is a massive gathering of rich people wearing stupid clothes,drinking champagne and watching boats (well that's what it looked like to me) it was a bit frustrating trying to weave in and out of the masses of people and it was very stop/start but luckily me and Bob hooked up with Javed and rich and Javed leading,cutting a route through the middle like a knife through butter!
I remember stopping at a shop at about 18 miles for a nice cold can of lemonade that went down a treat,I had it in my head to make use of shops whenever you go past them because later on especially at night they'd be few and far between, so with me and Bob fuelled on fizzy pop we cracked on.
After the Henley regatta section me and Bob got separated from the other guys and we reached cp1 in 5 hours which was pretty much bang on target it suprised me to see so many people sat down at this cp as I wanted to be in and out (maybe my inexperience showing) Bob had to change his shoes and have a sort out, I grabbed some food and coke and made my way out of the cp saying to Bob I'd be walking a bit and to catch me up, that was the last I'd see of him for a few days but more on that later.
Cp1 if you look closely you can see a semi naked Bob looking not dissimilar to gollum
Hurley to Chertsey 27.8miles (55.05)
Leaving cp1 I bumped into Paul Mason who was having some foot trouble and looked in a bit of discomfort I hoped it wasn't serious(I found out later he dropped due to illness)and after a brief hospital visit he returned to help out and cheer the remaining runners, I wished him well and pushed on I can't remember much about this section other than bumping into rich again as he was stood chatting to Alan rumbles who was in his canal boat and had an impromptu aid station with hob nobs and jelly babies so I grabbed a hob nob and a glass of water,Alan is another guy I've never met but know his name through social media and was great to finally meet him,i then thanked Alan and continued with rich who had plans for a fast finish time and was utilising a 25min run 5min walk strategy so stuck with him for quite a while sticking to his pace until he started having problems with his knee so had to drop back I learned later on he had to drop because of the problem. When we were on the 5 minute walk sections I was pulling ahead of him and he did comment on how fast I was walking which was a good confidence boost at the time
A lot of this section is a blank to me but remember I was feeling pretty good and about on my planned arrival time to cp2 but was aware I was getting some hot spots on my feet which is very annoying as don't tend to get blisters I arrived at cp2 after 10 hours 49 minutes which was 8:50 pm so made sure I had my head torch and put a long sleeve Base layer in my bag,switched my peaked cap for a buff and if I remember rightly my bag was chaffing my back and sides so one of the awesome cp staff taped it to stop the rubbing, I also had some sweet and sour noodles and a cup of tea to get me through the night leg. I remember looking around seeing other runners getting stuff sorted and was thinking these guys look like real runners one guy had a viking way tattoo on his leg and the others just looked like they belonged here I still didn't feel I did, self doubt is a horrible thing when it creeps in especially when there is no reason you should be doubting yourself as I was doing just as well as any of the guys I was sitting with.I think the longer a race goes on for ability, speed, experience etc means very little and mental toughness eclipses all these things but we were still very early on in the race and moving well,So with everything sorted onwards to cp3
Cp3 Chertsey to Yiewsley 27.2 miles (82.25)
I think it was just after cp2 I hooked up with Gary Warmington and decided to stick together for the night section it's always good to buddy up at night and the company helps the time go quicker and chatting to him about previous races he'd done lakeland 100 8 times and utmb 3 times as well as cockbains The hill and various other mental races (was I the least experienced runner at this race?) But we worked well together running when we could, hiking when we couldn't. We were playing leapfrog with a couple of other runners at this point and one of them had run out of water so was looking for a tap to fill his bottles with,when we eventually found one we all made use of it but rather hilariously he was trying to fill a bottle up that had a massive hole in the bottom of it, we carried on to syon park where we were told earlier the gate may be locked so may have to go round it but when we got there it was open but decided to go around anyway just in case the other end was locked it would be very frustrating having to double back and add another half a mile onto the already stupidly long race I'm not sure if that was the correct decision or not…
We arrived at the checkpoint at 4:26am so I'd been on the go for 18 hours and it was now light again,there was a chance to sleep here but I was planning to wait until Milton Keynes to grab an hour and Gary was thinking the same so I had some hot ravioli and mopped the sauce up with a cheese sandwich(breakfast of champions) and another cuppa. I was suprised i hadn't suffered any kind of nausea or stomach issues so far as it's usually a given in any long race but I wasn't complaining,as i was getting ready to leave i noticed just above the horizon some iridescent clouds which is quite a rare meteorological occurance so pointed it out to the checkpoint staff and think they were quite impressed,me and gary both headed out of the checkpoint for the next leg which would see us through the 100 miles which is a big milestone to tick off, speaking to some other runners they found the first night really tough and cold as well but I had no such problems and spent the night in shorts and t shirt,my Garmin had stopped working after 75 miles and my portable charger wasn't working either so would be without a watch for the rest of the race although I did have an old watch just so i could see the time of day.
My blisters were also starting to give me quite a bit of discomfort and probably should have stopped to deal with them before they got any worse but thought I'd be OK until the next checkpoint which was 25 miles away(idiot)
Cp4 Yiewsley to Berkhampstead 23.6miles (105.85)
If I remember correctly me and Gary were together for a good few miles on this leg and moving really well but I pulled ahead of him with a really solid hiking pace and managed to catch up to another runner a George guy by the name of Ian?? Who I'd spoken to in the pub the night before the race and was staggered to learn the furthest he'd ever ran was 60 miles!! So just another 190 to find then! (For the record he finished in 90 hours dead and looked very comfortable every time I saw him) I chatted to him for a minute then pushed on. My feet were really starting to hurt by this point and was having quite a low moment as I wasn't even half way and my feethoughts were killing me,my feet felt blistered and the soles felt bruised how the hell could I deal with this for the next 60 hours? But I was gritting my teeth and still moving forward but I was conscious I had slowed down now, I wanted some company bit didn't want to wait for Gary as that would mean sitting down for 10-15 minutes wasting valuable time even though I could have done with the rest, there were a lot of cyclists and other people on the canal path now so thought I'd ask one of them if there was another runner up ahead for a bit of company luckily a cyclist told me there was another runner sat on a wall up ahead, brilliant! So finally caught up to him and it was the Brazilian superstar rodrigo! He told me him and two other runners had popped to Tesco (he seemed to have an encyclopedic knowledge of shops on the route,which turned out to be really handy later on in the race) but they'd managed to lose them so was waiting on the wall for them, I told him I hadn't seen another runner in hours so in all likelihood they'd raced on ahead Rodrigo said he'd wait a few more minutes and push on we wished each other well and then I cracked on and my feet were now becoming a big problem and it's all I was thinking about I was just moving forward trying to get to the next checkpoint to get my feet sorted.
It was when I was feeling particularly shitty I saw a couple of people that were out for a run heading towards me so I stepped to the side to let them pass but they had been watching the tracker and decided to come out and see some of the runners he introduced himself as Ryan and but i can't remember the young ladies name but they had some really kind words for me and was a much needed boost when I was at a low point so if you read this thanks guys it meant a lot, they wished me luck and they headed back to find Rodrigo.
Just after they left Gary caught up to me and it was bloody good to see him I told him my race was wrecked and I'd slowed right down and my feet were smashed to bits woe is me woe is me… to which he replied "we're on for a sub 24hour 100 miles" I couldn't quite believe it and that cheered me up considerably so we decided we'd run on until we get to 100 miles then reward ourselves with a rest so we steamed on and finally got to the bridge at 100 miles and we'd done the first 100 miles in 23hours 15minutes which in the grand scheme of things was very quick and a 100 mile pb for Gary!I was feeling quite tired which was suprising as I thought I had about 30-32 hours before I'd feel tired so was debating a 10 minute power nap at cp4,We had a sit down on a bench for a couple of minutes I had a pepperami and a drink then we pushed on to the next checkpoint which was outside a pub so naturally I arrived at the wrong pub walking in expecting to find loads of food and sweaty runners bit nope just a couple of people having a quiet pint so me and Gary doube checked the map and it was another few hundred yards up the canal, it's amazing how easy it is to make your surroundings fit the map and vice versa.
We arrived at cp4 at 11:15 am and decided to try and get my head down for 15 minutes but I layed down for 5 minutes and there was no way I was sleeping on a grass verge outside a pub so got up and walked back to the checkpoint where I was offered a bacon sandwich and a cuppa lovely! Lindley also had a look at my feet and drained the blisters he could but the deeper ones on my soles by the toes he just taped up as there wasn't much else he could do with them he also sprayed them with some very expensive iodine spray and then proceeded to show me his defibrillator……
I noticed a guy had dropped here and it was the guy from an earlier checkpoint who had the viking way tattoo it's never nice to see someone drop but gave me a boost if some really high calibre runners were dropping and I was still trying to tough it out and dropping out has never once entered my mind in a race and even though I was struggling with my feet I wanted to continue
I changed my socks and shoes,ate my bacon,had my bottles filled by the ever amazing checkpoint volunteers made use of the pubs toilets to slap a fistfull of vaseline on some really sore butt crack chafing(sorry) and we'd be on our way
Cp5 Berkhampstead to Milton Keynes 24.35miles (130.2)
After each stop it took 5 or 10 minutes for the legs to start loosening up so was a bit of a hobble leaving each checkpoint but I was in a fairly good place after achieving a distance pb of 105 miles at the Berkhampstead checkpoint and looking forward to a sleep at milton Keynes me and Gary were working well together any time I moved ahead he'd trot up behind me and this was a routine we were getting into we were chatting a little and time was going OK, the thing I remember about this section was the on the map and route instructions there were massive stretches with no instructions ie:something like 'cross bridge 37 continue on right hand side until bridge 56′ we were using a tactic of counting down bridges to give us small targets to look forward to which was fine when there were 6 or 7 but when there were 20 or more it was getting a bit tedious, especially when you think you're nearly there and up pop's your bridge number with a letter after the number 56c,56b,56a!!! I was suffering a massive sense of humour failure at this, I was also finding this section of the canal very boring it didn't seem as busy as the other parts we'd been on but my feet felt a bit better so all was ok I was tiring a few miles from the checkpoint so stopped to get an 'emergency' can of coke out of my bag and I downed it in one and it worked like rocket fuel,my pace picked up and i was running and feeling pretty good I pulled away from Gary again but knew we'd catch up again at the Milton Keynes checkpoint I also got also phone call from Eddie Forster who I met on the Ridgeway challenge last year and he was going to meet me at the checkpoint with a massive pizza it would be great to see a familiar face and stuff my face with pizza,almost 130 miles in and things were brilliant moving well,pizza soon,feet behaving themselves and a little sleep soon.
Then after about 10 minutes of running my left foot hit the ground and I felt a tremendous pain in the sole of my foot it was absolute agony it wasn't a bone/muscle/tendon type pain but a skin pain if that makes sense? What happened is the thick skin on the bottom of my foot had torn away from the foot and I could feel it bleeding I had to stop running and walk with my foot at a ridiculous angle as I couldn't put any pressure on it was too painful, I was trying to pick my pace up but I was in a lot of pain I thought my race was over how could I run another 120 miles with a mangled foot? I was feeling very low and was trying to convince myself it was OK to drop at Milton Keynes, 130 miles is pretty decent isn't it? People would understand wouldn't they? This is the first time I've ever wanted to quit a race I wanted to stop I wanted the pain to end,I just wanted to go home I was sick of running I was sick of being in pain I was sick of fucking canals and fucking bridges
I was almost in tears when I arrived at Milton Keynes I was very emotional doing things like this can strip your emotions down to the core,I slumped in a chair and had another bacon sarnie and a cuppa my stomach was still fine so that was one little plus I could take,I needed to get some sleep so hobbled over to a tent and layed down but my legs and feet were screaming at me I was in quite a bit of pain was this normal after running 130 miles? Now I feared I wouldn't be able to sleep and I was 100% right I layer there for 20 minutes but sleep wouldn't come it was very frustrating so pulled myself out of the tent to see Eddie stood there with a giant pepperoni pizza in his hands what a sight for sore eyes! I devoured 2 slices of pizza and checked my feet over which were a bit of a mess but not quite as bad as I thought they'd be,
Eddie with the race saving pizza,notice how my external appearance in no way compared to the internal agony I was feeling

Gary was now at the checkpoint and offered me some paracetamol which I accepted I don't usually take pain killers in a race but then again I don't normally run 250 miles!I chatted to Eddie about his recent ultra in the Welsh mountains and it was taking myin off of the pain.it really was again none massive boost to see you so thanks Eddie, I asked if anyone could sort my feet out but there wasn't anybody really qualified to patch me up here so changed my socks again and said our thankyous and hobbled out of the checkpoint
Cp6 milton Keynes to Nether Heyford 27.7 miles (156.2)
After leaving milton Keynes it took a while for the legs and feet to stop hurting it was a painful hobble for about 30 minutes and we were heading into the second night now which is uncharted for me and not sleeping at Milton Keynes was probably going to come back to haunt me later on, I knew this was going to be a slow leg because of the accumulated time and mileage in the legs,the tiredness and the inevitable night time slow down that comes with 100+ milers.
It was starting to get dark but it was a really nice part of the canal and the paracetamol had kicked in and we'd slowed but it wasn't to bad, a few hours had passed and I was beginning to feel very tired my eyes were feeling really heavy and couldn't concentrate and was weaving all over the 4 foot wide canal path really not good Gary seemed ok but I think he managed 30 minutes sleep at Milton Keynes, I dropped behind him and let him take charge of navigation as I was very tired and judgement was probably not at its best.
I arranged to have people sporadically ring me through the night to break up the monotony of the night sections and must say a massive thank you to anybody who took the time to ring me it really helped and was helping keep me awake on that second night, but even with the phone calls I was struggling to stay awake I tried getting Gary involved in some conversation but he was having his own problems. It's fair to say neither of us were in the best of moods but slowly we kept plugging on I think somebody overtook us on this section which really didn't bother me at all this section was a massive battle just to get through I was literally slapping myself in the face to stop myself falling asleep it was a tough tough night. We got to a part of the map at Blisworth tunnel that required us to follow the road for 1.5 miles but in our sleep deprived state we were finding things hard to judge and were second guessing everything making things seem more complicated than they actually were,instead of following the road for 1.5 miles we followed it for about a mile and thought we'd missed though the turn off so we ended up scrambling across a disused grand union canal trail and ended up in a farmers field in the arse end of nowhere this was definitely not right! I was getting incredibly frustrated and we must've spent 2 hours trying to work out what to do add with this the tiredness and some groovy hallucinations including seeing bunches of cooked chickens hanging from trees I was not in a good place
Where we went wrong!
While I was stood halfway up the long road a police car pulled over and asked if I was OK he replied he thought I'd been hit by a car! Shit how bad did I look? I explained I was in a 250 mile race and was looking for a turn off but he didn't have a clue and they drove off. Eventually another runner caught up to us and said he knew the way so we stuck with him for a bit and if we'd just carried on up the road we would have reached the turn off I was extremely pissed off! But these things happen and we eventually found our way back to the canal path and continued ahead with the other runner just ahead I was keeping him in view just so we didn't go wrong again I then heard Gary call me so ran back to him and he was convinced we were going wrong again thinking we should be heading the opposite direction on the canal path,I wasn't so sure though as the othe guy seemed to know the way and I checked the map and everything seemed to be OK but Gary wasn't convinced, tiredness was now really effecting both of our judgements I finally persuaded him to continue the way we were going and we carried on and i was glad to see the back of that section as it turned out to be a complete clusterfuck!
I knew the next checkpoint was indoors and I HAD to get some sleep if not my race was effectively over,by this point it was now getting light again and a couple of miles away from the checkpoint my feet were really painful again so decided to get a move on so picked up the pace and pulled ahead of Gary again who was probably glad as we were both very tired and pretty miserable, I finally arrived at the checkpoint after an 11.5 hour's to run 28 miles which is just ridiculously slow it I went inside and sat down in a chair and asked if anybody could sort my feet out but maxine was asleep so I had to wait so I decided to grab 30 minutes sleep if I could so took my shoes and socks off and was greeted with some terrible looking things that could have been described as feet but could also be described as a mummified necrotic mess!
Ouch!
There was a designated sleeping area behind a curtain on a wooden stage and was completely dark back there so I layed down on the cold wooden floor for a few minutes and I wasn't going to sleep this was a nightmare if I couldn't sleep here I'm going to be good for nothing luckily I managed to drift off and got about half hour before one of the ever helpful guy's at the checkpoint woke me up at an agreed time, during my slumber one of my blisters had popped and noticed the 'aftermath' sprayed up the curtain when I left the sleeping area…gross!
I noticed another guy had dropped here, they were now dropping like flies and it's no wonder it's a ridiculously tough event even in the unlikely event everything is going your way it's still not likely you'll finish. It was like watching entropy in all its destructive glory.
I sat down and Maxine had a look at my feet and insisted they were not that bad but the pain I was feeling told my mind that no feet have ever been as bad as my feet were at that moment in time (such a drama queen) in all honesty they weren't that bad compared to others but doesn't mean they were hurting any lessential, Maxine done a fantastic job draining the blisters and strapping my feet up again only this time I smothered both feet in a huge amount of vaseline before putting new socks and shoes on, I also took this opportunity to brush my teeth and have a wet wipe wash (yes that's a thing) I put a new t shirt on snd felt quite refreshed which after 156 miles was pretty damn good it was almost like pushing the reset button and starting again…almost
I had my now obligatory bacon sarnie and cup of tea and also had 2 mini Mars bars I really wasn't eating much between checkpoints now so was relying on checkpoint food and just having food in my pack 'just in case' I also had pam meeting me at the next checkpoint and was really looking forward to seeing her.
Me and looted Gary got all our gear together and as we were leaving the hehe checkpoint Pam pulled up In her car and it was an amazing moment she ran over to me and gave me a big hug,had a quick chat I asked how bob was doing (remember him) and it turns out after a big wobble early on he was now doing really well all was good in the world and more paracetamol was keeping my foot pain down to a dull ache I said goodbye to pam then me and Gary pushed on
Me and my partner in crime Gary outside cp6
Cp7 nether heyford to fenny Compton 26.99miles (183.14)
After leaving fenny Compton we had our usual 30 minute shuffle until the legs started working again and was suprised to find us both in very high spirits we were laughing and joking,the mood had certainly lifted since the rest at cp6 it was like a brand new race now a complete 180°turn from what the previous leg was like we even managed to laugh about the previous nights shenanigans getting lost on that bloomin road we were even talking about our celebration meal when we finish and both agreed double egg and chips would be the order of the day.
I can't remember much about the early part of this leg other than we were moving fairly well albeit slowly,even putting in some stretches of half decent running I remember it warming up a bit and having to take the extra layers off that I had put on at the previous checkpoint, I remember getting to 172 miles and thinking of Bob as this was roughly where he dnf'd 2 year's ago through injury (or as I like to call it being a massive wimp) I also remember passing the 2015 winner Karen hathaway who was really struggling with an achillis injury it's really bad to see something like this happen because like every other competitor she must have put so much into preparing for this race for it all to go wrong due to an injury must be incredibly heartbreaking, we asked if she had enough food and drink which she did and we pressed on as there was no help we could have given her anyway.
There's not much else I remember from this section but went by without incident and we arrived at the fenny Compton checkpoint at 6pm Friday so would be soon heading into the 3rd night within the neXT few hours but I was feeling good and confident we'd make the next checkpoint by 2am then grab an hours sleep,have some breakfast which by then it'd be getting light again so we'd have the rest of the race in daylight,it was an awesome plan that was only to be outdone by the the even more awesome nature of my race collapsing around me through the next section….
But anyway before we get there… I hadn't been eating between checkpoints so was pretty hungry by now and this was the first proper chance pam had to see me so I placed my order by phone 20 minutes before we arrived for a ginsters steak slice,a blueberry muffin and a can of lemonade. I devoured the lot plus 3 reeces peanut butter cups and a slice of chocolate Swiss roll I was on a mission! I couldn't believe my stomach was still fin so I was making the most of it
Me at Fenny Compton
Pam was an absolute star feeding me and looking after me she even smothered my sore knees in some kind of pain killing wonder gel! My left knee was really sore I think mainly because I was changing my gait because of the blisters on my feet, I also stole 2 more paracetamol off of Gary which really hit the spot. This was also the first time I met Louise tildbury who was waiting for her partner Chris to arrive but more on him later.
So with a belly full of food,a plan of attack for the next leg,feeling relatively good considering already covering 74,000 miles (well that's what it felt like) we exited the checkpoint full of hope…
Cp8 fenny Compton to lower heyford 22.84miles (205.98)
So with a 2am target to aim for for the next 23 miles we strode out of fenny Compton like bloody heroes! Not long aimer it started raining so we took cover under a tree and waited for it to subside,I had my waterproof coat on but we all know these coats are good for a while but eventually soak through but I had a backup! I had a fold down plastic poncho in my pack so I took it out and put it on it covered my entire top half and was brilliant I stayed bone dry (well my top half did anyway) I remember everything going really well and we were counting bridges like we'd been doing since the start, it was now dark again but I was still feeling good I think we were at Banbury and I really liked this section as it was more built up and busier than the other canal paths and made a really nice change,the bridges were also coming thick and fast we were ticking them off,getting to the next section of the map I felt almost invincible then the rain got heavier then my feet got wet then I started to feel tired..
We reached a bridge that we had to cross but it was one of them drawbridge type bridges and it was lifted up so we couldn't cross and I didn't have a clue what to do, the obvious solution would have been to follow the canal and cross the next bridge but this was the 3rd night of next to no sleep and I wasn't thinking straight so I decided to phone Lindley and maxine answered I explained my problem and she suggested continuing to the next bridge duh! So that's what we done and found the correct way, we decided to take shelter under the bridge and put on some warmer layers, my feet were agony again due to them getting wet,I was struggling and was exhausted physically and mentally so we had a rest under the bridge to get ourselves a bit more composed. We continued on into the darkness and I was on another planet I can't explain it but I was so sleep deprived that it was like nothing seemed real I was floating through a surreal alternate reality where it was just me another nd the canal path inside a little orb of light and just blackness in all directions at this stage I was trying not to completely lose my shit! There were massive lilly type plants either side of me and they were morphing into skulls and tortured faces mocking me,reaching out trying to grab me nothing existed apart from me and these tortured skull faces either side of me (it turns out I don't do very well on no sleep) I was trying to find any traces of anything man made to try and bring me back to reality but there was nothing, just skulls and blackness and the pain now pulsating through my feet I was truly having a torrid time until we came across a race Marshall who was out on course making sure the runners were OK or that's what I assume he was doing, me and gary were both assumed bit wasted by now and we saw assumed headtorch rapidly approaching from behind and it turned out to be my club mate Bob and he was motoring he looked so good (the absolute bastard! !!) I tried to stay with him for a while but I was a bit concerned about Gary as he was really tiring and his head torch was almost out of power so I had to let Bob go but I was more than happy for him to push on (the absolute bastard) and I was equally as happy to make sure Gary got t the checkpoint safely as he was hunched over almost falling asleep and trying to use a headtorch that was virtually useless so I was running 10 meters ahead then turning around and shining the headtorch to light the trail for him it was very slow progress but knew if the roles were reversed he'd do the same for me.
It started to get light and we were at least 2 hours behind what we originally wanted to do this section in and my feet were throbbing and Gary was doing his best to chuck himself in the canal so I stayed right next to him so it was me between the canal and him even though my feet were getting even more soaked from the long wet grass it was a close call at times but we both got to the next checkpoint in time to see Bob leave and that was the last I saw of him.
Gary collapsed into a tent for a much needed sleep and pam was on hand to sort my feet out,for the third time in this race I was having blisters drained and my feet strapped up which probably added another couple of hours onto my time,I managed to eat something while pam was sorting my feet out and I found myself nodding off as she was doing it so when she finished I decided to climb into a tent for a bit of a sleep I was completely exhausted and it wasn't long before I fell asleep I think I got a much needed 30 minutes here but when I woke up I was shivering so put some extra layers on with hat and gloves I also put on a pair of sealskinz waterproof socks as I really didn't want my feet to get wet again as it made by feet a million times worse
Just as we were leaving the checkpoint we saw Chris kay leaving,he said hello to us and sped into the distance,so me and Gary hobbled out of the checkpoint and begun the penultimate leg to abingdon very tired and a bit banged up.
Cp9 lower heyford to abingdon 23.55miles (229.53)
After a while me and Gary decided to try a run/walk strategy and something very strange happened, when I tried to run it didn't hurt and not only did it not hurt it felt amazing but every time I started the run section I was pulling further and further ahead of Gary so took this opportunity to pop into a bush for a toilet break (there are not as many places to go to the toilet on 250 miles of canal as you would think!) Gary had pulled ahead of me but it didn't take long to catch him up with my new found running legs. I think what happened is I spent so long power hiking which uses different muscles to running that all of my running muscles were well rested and it felt amazing to run but I was pulling further and further ahead of Gary and I really wanted us to finish together it just made sense after spending so much time together during the race and we helped each other so much over the last few days I felt a kind of loyalty to him and that we'd see it through together,I think Gary could tell how well I was moving and told me to go ahead and that he'd catch me up like we'd been doing all race so I pushed on and fully expected Gary to come trotting up behind me but he never came, I looked back and couldn't see him anywhere so made a choice to run on I felt really bad leaving him but I had to make the most of feeling good and also knew Gary was a tough cookie and would be fine.
I just want to say it was great to meet you mate and a pleasure to run with you and hope to see you out on the trails again some day.
So I started running and felt amazing so started running faster, I must have covered the next 5k in less than half an hour which at that point was very fast. I then remembered Chris from the checkpoint and wondered if I could catch him while I was running well, I asked a passe by if they'd seen another runner ahead and they said yes about 10 minutes ago so I turned on the afterburners and finally caught up to him whill he was layed on the grass resting,I possibly could have snuck past like a ninja and gained another place but positioning was the last thing on my mind I just wanted to finish!
I promptly told him to get up and stop sunbathing cos we had some running to do! He duly obliged and off we ran and again we were both running so well which after over 200 miles just made no sense we were chatting away talking after boutique past races we'd done and how we got into running and the miles were ticking away nicely and we'd be at abingdon before too long,I remember crossing a road then going under a low metal bridge that I smashed my head on and nearly knocked myself out cold I was seeing stars! To be fair to chris he didn't laugh (much) and it woke me up its hard to feel sleepy when you've just tried to uproot a 25 ton bridge with your head!!
We were now following the Thames path again (I think) and a lot of it seemed really familiar from when I done the tp100 last year and it was turning out to be a really warm day so stopped to take my top layers off and was back in shorts and t shirt, I also took of the waterproof socks as it felt like my feet were slowly being bakedeveloped and it was making the hem very sore again so after a bit of faffage we continued on and abingdon never seemed to come we had a few times where we thought we were nearly there but nope nowhere near,
We came to some woods and while running through them I kicked a tree root with the bottom of my left foot where I had a really sore blister and I took a big fall,my foot was now really hurting and I was laying on the floor just gritting my teeth.
Chris helped me up and we exited the woods and we're met by a few of the guys from the checkpoint including pam and Louise, it was great to see them as it was another very tough section but we were now at abingdon the final checkpoint!! If I remember rightly I ran into the checkpoint with a black labrador that belonged to one of the cp crew? Or may well have been hallucinating again? We sat down placed an order of another bacon sarnie and a cup of tea thank you very much,pam was rushing about being awesome as usual sorting everything out that I needed there were a few people at this checkpoint including Paul mason and his partner Caroline? Sorry if that's wrong and at few older guys who seemed to be veterans of this race and knew what they were talking about one of them checked my feet and declared "they're in really good shape" I wish they felt in good shape! All of the checkpoints were an absolute joy to be at and the people were the absolute best!
I was told to dump all non essential kit out of my bag to lighten the he load for the last 18 miles and attlso decided theorem put road shoes on for a bit of extra comfort I also remember scoffing also load of chocolate shortbread stuff that Louise had got for Chris thanks for that! I was still eating really well at checkpoints but eating nothing in between so again I was making the most of checkpoint food.
We were now ready to leave the checkpoint for the final 18 miles, the shortest leg of the race we would be finished (hopefully) in daylight so we said our goodbyes and started the final part of this epic journey a nice easy 18 mile plod
That would infact turn into a 7 hour death march into the mouth of hell…
Finish abingdon to goring 18.83 miles (250)
Me and Chris headed out of the checkpoint to cheers from all of our 4 fans,we were really upbeat at the prospect we'd soon be finished it was almost like starting a lap of honour I remember those earmy miles well, we were having such a laugh,talking about the last 3 days I can't remember ever laughing so much during a race I was really happy to be running with someone as upbeat as chris and he didn't seem to mind me babbling on in my sleep deprived state. I recall at one point telling him about my idea for a new running shoe which was essentially a Hoka with the cushioning from another Hoka shoe glued to the bottom!double the cushioning! (At no point in these conversations did I think 'John what the fucking are you talking about) I was spouting an incredible amount of nonsense all good fun!
It was also getting really hot now it must've been in the mid 20"s and from what I remember it was mostly fields next to the river that we were going through and we stumbled across a family havin a riverside picnic and asked us what we were doing, when they found out they were offering us food and drink and tried to get us to have a paddle in the river which would have felt very nice dipping my ravaged feet in the cool river. We declined the dip but accepted some fresh cherries and a capri sun what a lovely family we were both very grateful for their generosity.
We continued on and I was feeling very tired again,Chris phoned Louise to say we were now in single figure mileage, 9 miles to go so near but yet so so far I was really flagging but chris' positivity was keeping me going.
With 10k to go we found a pub and popped in for a coke and discovered the landlords brother was an ultra runner (we get everywhere don't we)
I was stood at the bar and had the vague surreal feeling coming over me again which meant my mind was about to go off to la la land again,we pushed on and we're crossing never ending fields, I kept asking Chris how far? When will we finish? I was struggling with tiredness and exhaustion again but we were having good periods of running just simply to get finished quicker we were on a field heading into a woods right outside goring Chris warned me it would be quite dark in there and was full of tree roots so be careful but I was so out of it it was taking every ounce of energy I had to keep moving forward and I promptly tripped over a tree root and nearly lost my shit again! I took it as a personal attack on me from this tree root! (Did I mention I was really very tired?)
Chris was talking to me keeping me going he really dragged me round the final few miles, he mentioned about getting the medal when we finished And I was trying to work out why we were getting a medal, my brain was in such a state I couldn't figure out what was going on, in my mind it was just me and Chris (who was a complete stranger until today) doing this epic run I couldn't figure out why we were doing it or why we were getting a medal for it.
It's very hard to explain my mental state at the time everything just seemed very strange. We turned a corner and heard cheering and in the distance there were a group of people jumping up and down shouting I turned to chris and said 'are they for us?' He said yes and I was just wondering how they knew we were here (I was really tired)
We were crossing a bridge and all these people ran over to us and joined us for the final few hundred yards, a couple of people were recording videos on their phones asking us how we were feeling I had no clue what the hell was going on, was this a TV crew filming us? Like I said my body was here but my mind was orbiting fucking Pluto! !
I noticed pam running with us oh my god what was she doing here? I can't believe she came all the way out here to see me finish! Even though I had no clue where I was or what I was finishing!!
Looking back now I find this absolutely hilarious!
We were now nearing the finish with our little entourage (including a random eastern European guy who was out for a walk but stumbled upon this sideshow)
The finish came into view,there was cheering and clapping and shouting and we were there at the finish line, it was over I could stop running I was in a bit of a daze I was trying to process everything but I just couldn't, I saw chris get a medal hung round his neck then Lindley came and congratulated me and hung the biggest slab of metal you've ever seen over my neck and hugged me,I thanked him then noticed bob stood there we shook hands and congratulated each other, Bob had a storming run and finished 7th in just over 80 hours fantastic! Me and Chris finished joint 10th in 83 odd hours out of 54 runners that started the race I had to be happy with that.
I couldn't believe how fresh chris looked in comparison to me,he looked like he'd just run a slow 10k and I looked like I'd run 250 miles on next to no sleep!
After some photos and handshakes etc pam and Bob took me inside for a sit down and to try and sort myself out I noticed Rodrigo the Brazilian sat down and congratulated him on his finish I sat down on a chair a bit broken but not beaten, I had taken on this absolute beast of a race and even though it kept beating me down over and over and over again I kept getting up,I took everything the tr250 threw at me and managed to beat it with no small help from the guys i ran with mainly Gary(who finished about an hour after me) and Chris,the one and only pam philpot who really looked after me and probably saved my race and also all of the checkpoint staff they were superb,What an amazing experience this has been and challenged me in ways I'm not sure I will (or want to) experience again. The toughness of this race cannot be exaggerated it almost took me to my very limits physically and mentally. I didn't feel the elation or relief at finishing that I thought I would because I think over the course of the 4 days I was just mentally drained.
There is a lot I have learned from this race about myself and my capabilities especially when things are going wrong, I need to work on foot care and try to sort out my sleeping tactics on long events as the sleep deprivation really got to me but my nutrition it seems was spot on, I had zero stomach issues so that's a massive plus.
I'd like to thank everybody for the support they have given me (when I switched my phone on after the race I had so many Facebook notifications that it drained my battery) it was very humbling to know so many people cared about me doing a little run.
I'd also like to thank race director Lindley chambers for putting on a truly special race,all of the cp staff for just being excellent even though you were probably more tired than the runners. Also thankyou Bob wild for planting the seed in my brain 2 years ago when you first attempted this race
Pam philpot for being an absolute lifesaver and just an awesome person to have as crew
And as always my lovely wife mandy I always say I could never do these things without you in my corner and I really mean it.
I still don't think it's sunk in yet what an achievement this is I'm sure it will at some point but for now I have some amazing memories of an incredible adventure and meeting some amazing people that I'll never forget.
What's next for me? I'm not sure but I'm thinking something with mountains….
Thanks for reading
See you out on the trails
John
Thames ring 250 finisher 2017
Written by Tom Wright - http://life.tomwright.me.uk
So this is it. A winter's worth of dawnies would all come down to the next 24 hours. I had pumped my legs full of Beacon hill reps, but despite the bravado of my running compatriots I was far from confident in my ability to reach the finish line. I knew I would have to overcome the mental frailties that regularly beset me on long climbs. Of which Madeira had plenty! Several climbs in excess of a thousand metres and an inconceivable number of steps.
It was both the beauty of this magical Portuguese island and the kindness and enthusiasm of its inhabitants that had lured me to run a distance I had promised myself I would never do again.
Curral das Freiras (the valley of the nuns) - A lost world deep in the heart of Madeira's mountainous centre.
---
Thirteen months earlier Nadia and I hugged the tall volcanic cliffs of the Vereda do Larano as we stood perilously close to a 350 metre (NOT feet!) drop to the crashing waves below. By chance our mountain walk over Pico Areeiro and Pico Ruivo was cancelled due to low cloud and freezing temperatures and instead we found ourselves walking the last 10km of M.I.U.T. Our tourist guide casually regaled us with tales of the mighty runners that had traversed this precarious and precipitous trail.
Walking the Vereda do Larano in March 2016. Our guide assured us the cable would be fitted for the MIUT!
Nadia clearly sensed a hunger in my eye and without hesitation exclaimed - "Do IT!" The seed was planted and there was no looking back…
---
Located in the Atlantic ocean some 500km north of the Canaries, Madeira island is just the tip of a vast shield volcano that rises up some 4km from the ocean floor. A popular holiday destination of Winston Churchill, it is famous for exotic gardens, lavish afternoon teas, delectable desert wine, the monstrous black scabbard fish and tarmac tobogganing. Oh, and some bloke called Ronaldo - inspiration for Benoît Sinthon's multi-layered Golden Ball at Funchal's Michelin starred restaurant, Il Gallo D'Oro (well worth a visit!)
It also has a vast network of waterways, called levadas, which make for excellent hiking. Many of these are cut across steep ravines that form the Ribeiras (river valleys) dissecting the island. and with just a wire cable (if lucky) serving protection a good head for heights is imperative! The centre of the island is composed of two contrasting massifs - in the west the vast plateau of the Paúl de Serra swathed in ancient laurel trees and ferns; in the east jagged mountainous peaks of volcanic rock weathered by the Atlantic wind and rain to form some truly unique and memorable scenery. We would traverse both on our journey from Porto Moniz in the north-west of the island to Machico in the south-east.
115km and 7100m of ascent. MIUT (pronounced Mee-oot) would be my biggest challenge to date. The RAT Plague in 2014 was my only 100km, while the Brecon 10 Peaks and TGC (Advanced) had dished out fair lashings of elevation but no more than 15,000 feet in a single sitting. A bruising encounter with Catalonian mountains six weeks earlier had crushed my confidence and had there been an option to drop down to the Ultra course I would have taken it willingly.
The view to Machico from the hillside of Pico Facho. The finishers tunnel and forum visible in front of the one high rise hotel.
Nadia and I found a cosy apartment in Machico only minutes from the Forum and an even shorter walk from Madeira's one and only sandy beach. Not only were we greeted by Floripes, the landlady, but she kindly returned with an umbrella later in the day when rain set in - for fear I might catch a cold before the race!
I bided my time in Mare Alta bar on the water front until the registration queues dissipated on Thursday evening. A chance to savour a sizeable and ludicrously cheap tuna steak perfectly foiled by a voluptuous Duoro blend. The Madeira tradition of cake and wine would have to wait though as I took my place in the registration line. Twelve litre s-lab pack over one arm, my now trusty rainbow golfing umbrella under the other. Processing was efficient and I avoided a trip back to the flat to collect my forgotten passport as driving license was acceptable identification. Were one to believe race number to be indicative of ITRA ranking, mine was 285. So, as I wandered back to our accommodation, proud owner of a nice collection of MIUT memorabilia in the goody bag, I contemplated the prospect of finishing in the top quarter of the 800 strong field.
Friday was restless. I tried to relax on the beach under a brief spell of sunshine. I consumed a large tuna pizza at the Baia Beach Club in the tiny marina and then attempted a couple of hours sleep despite the constant clicks resonating from stone tables below my window where elderly villagers were playing afternoon dominoes. The usual pre-race disorganisation ensued over kit and a last minute rush to meet Truro compatriot Becky on the front to catch the 9:30pm buses to Porto Moniz.
All the gear… no idea! The only items of note being 2 x headtorches and 2 x spare batteries; and a recently acquired collapsible Sea to Summit mug that would serve me well in the feed stations.
Porto Moniz was buzzing with anticipation. Young locals performed traditional dance in native red and white attire as crowds of runners flocked to the waterfront café. I panicked as my drop bag's seam crumbled in my hands. A well prepared attendant had sellotape at hand. Resolved but I wondered how on earth I would get into it the following morning at Curral das Freiras now it was sealed with an arms length of sticky tape.
We were among the last runners to be crammed in to the brimming start pen. Behind us a Japanese runner attired in a giant inflatable sumo outfit. Bizarre as this sounds I have since come to discover he is a regular feature on the Ultra Trail World Tour! Someone started singing happy birthday. No-one really cared. Becky and I had chatted with nervous excitement on the 90 minute bus journey (no recollection what about). Now we stood silent, contemplative. Five minutes passed. The long wait was finally over. Midnight chimed.
MIUT 2017 was underway.
The official course profile and those two monstrous climbs to be tackled on the first night. Take heed of what appears to be only a 450m climb to Poiso late on. With 6500m of climbing already in the legs it was probably the most excruciating climb of the race.
Keeping with the way I approached the race, let us break this sizeable beast down into manageable chunks. Starting with…
The Night Shift
Porto Moniz to Rosario 37.5km 2935m+
It took a minute to cross the start line but the patience was well rewarded as we rounded the first bend to see an awe-inspiring spectacle of light. Hundreds of villagers lined the streets clapping and cheering the parade of red flashing lights weaving it's way up the countless switchbacks to Pico do Caldeirao. Becky, sporting injury that had sidelined her for the last six weeks, was taking it easy so I said farewell and left her to battle it out with El Sumo! I was under no illusion the first, relatively short, climb would be easy. Madeira's coastline rises dramatically from the sea and Porto Moniz's suburbs were no exception. Despite being tarmac all the way, the switchbacks demanded hands on quads, as the gradient maxed out at 40% - a taster of what was to follow through the night.
The air temperature dropped gradually as we climbed. Still balmy by English standards. My merino tee-shirt came off and was packed away. All the nights of indecision over kit choices were proved wasted as I spent the rest of the race in a mesh vest complemented by some comfortable, MIUT branded, arm-warmers I acquired at the expo for 15 euros. With the summit came our first trail and realisation of how narrow the single-tracks in Madeira are. There were few opportunities to overtake and still being near the back of the field all I could do was stand my turn and wait patiently for everyone in front to cautiously edge their way down the steep path. This would become a recurring theme of the overnight downhills as the field remained bunched. No doubt Cudby would have waxed lyrical about the merits of conserving the quads but in his absence I got to chat briefly to Dai from Cardiff. One of a handful of British runners taking part in MIUT.
There was plenty of cheer as we crossed the river. All the inhabitants of Ribeira de Janelamust have come out to party. Cow bells, hooters, applause, shouts of animo and obligatory high fives from children arched over the fences. But in Madeira, what goes down pretty quickly goes up again and we soon left the party behind on the first big climb of the race - the eastern wall of the vast ravine and 1100m of ascent to the checkpoint at Fanal forest house.
Beyond the suburbs and its numerous tarmac steps we joined the first true trail of the course along Vereda do Ribeira da Janela. A mix of narrow forest track, shallow steps, and occasional road crossings. The festive sounds from the valley quickly faded and we faced the silence of night. Heavy breathing and occasional footfall the only disturbance. We were entering the largest surviving Laurisilva in the world and a UNESCO world heritage site. I did feel I was missing out on some of the unique flora of the island under the canopy of night as we wound our way through the dense vegetation. However, focus was on climbing, and avoiding the flailing poles of the person in front! A pole skidded on a boulder in front of me and swiped across my cheek narrowly missing my eye socket. Prudence followed and I hung back from any pole bearer that preceded me. A brief stint on Levada dos Cedros, one of the oldest man made watercourses on the island, delivered us to the flat north-western arm of the Paúl da Serra. Ferns gave way to gorse in terrain of remarkable familiarity. Even the drop in temperature had me riffling through my kangaroo pouch for gloves. However I had forgotten to bag them and they were sodden with sweat from my back. All similarities ended though as the Petzl illuminated a contorted laurel tree. It's thick branches twisted around each other casting spider like shadows across the plain. The kind of tree that can be found nowhere else but Madeira.
I had two empty sandwich bags in my pack ready to stuff with goodies at Fanal feed station. Dale (Winton) would have been impressed with the celerity of my hoarding. Crisps, olives, TUCs and rice cakes were crammed into the bags and I was through the forest house like a Formula 1 pit stop. Not without the occasional bemused expression from the crowds of runners stood around slowly gorging. The continental way! Inspiration for grab and go had come from Becky and I hope, in turn, I may have passed on the knowledge to fellow athletes. However, there were only a few minutes of climbing to force down my salty repast before tackling the first long technical descent. Ever tried to consume a handful of olives while hurtling down a steep slope? Not recommended!
I was keen to run. Two weeks of tapering and it felt like I had spent much of the last three hours hiking. Verada da Cavaca took a direct route down a spur, zigzagging its way through the forest. Overhanging branches covered in lichen would either need to be ducked or utilised to break the speed on another tight switchback. Queues would come and go as I negotiated another collective of pole bearers. There was a certain joy in watching them choose a safe foothold for their pole before levering themselves down the next high step. I on the other hand just jumped. Occasionally the path levelled and contoured a valley which called for caution as there was invariably a very long drop into the dark abyss to one side… and plenty of roots to catch an unsuspecting, or sleep-deprived, toe.
I had just about worked through my bag of savoury treats by the time I reached Chão da Ribeira in the valley floor. As well as scooping up another bag's worth I quickly spread a Nutella sandwich to munch on as I tackled the ascent to the central Paúl da Serra. Three miles with an average gradient of 24% - a climb worthy of the moniker vertical kilometre (1135m in 4.6km - Hors Catégorie on the Strava scale). A downhill MTB track, it started steep on dusty switchbacks and I was more than happy to have my hands free to heave myself up over large, liverwort infected, boulders that littered the path. At the time it baffled me how any one could descend this track on a bike but recently I have stumbled across Grogley Woods back home which is of very similar appearance albeit a tenth of the vertical gain.
My target was to reach Rosario by 7am when the sun would be rising. I had a dramatised recording of Homer's Odyssey to tie me through (more than enough blood and guts to keep the heart racing!). I also had the company of Dai once again. We chatted very little but by chance we kept finding ourselves along side each other. He was an efficient climber and putting poles to good use unlike a number of our counterparts. I tucked in behind him following every footstep. Pace may have felt slow but we were continually overtaking.
A "pee-t stop" on the high plateau above 1500m allowed a chance to stop staring at the ground in front and actually take stock of the most magical night sky. I temporarily switched off my head-torch to admire constellations I had never seen in such clarity accompanied by a glowing crescent moon. Dai and I parted ways at the Estanquinhos feed station as I continued to perfect my grab and go. The next descent was much like the last. Steep and very stop / start. The breaking as I approached another group of runners was doing my quads no favours and I wished I could just run freely down the dirt switchbacks. I took my one and only dive of the night as my toe caught an unsuspecting rock. Nothing serious but for a few grazes along the knee.
Rosario arrived. It was 7am. At Fanal I had been 600th, by Rosario I was up to 304th. It had been a successful night and with just shy of three thousand metres of vertical gain behind me I felt I had finally discovered my climbing legs. Light was starting to fill the sky and with it opportunity to appreciate the incredible scenery of Madeira's heartland as we entered Encumeada.
---
The Royal Road
Rosario to Curral des Freiras 22.2km 1570m+
With dawn came a new game. Counting steps. We had joined the Camino do Norte and a stiff climb to the Encumeada pass that would allow us to bridge the western and eastern massifs. Hundreds, and I mean hundreds, of wooden risers have been set into the path to make steps. I got distracted around six hundred and lost count. I found there was just enough lip on the inside of each riser to push off and maintain a consistent momentum uphill. Sorry no photos - I feared that were I to stop I may never get going again! We teasingly reached numerous false summits before yet more steps led us on up through the dense forests.
A short descent on road and I arrived at the Encumeada Hotel, which like so much of Madeira, is perched precariously on a small terrace overlooking the valley. This served as the next aid station and the first dishing up hot food. The room was bustling and a lot of athletes were sat biding their time over a leisurely breakfast. I vied for a bowl of rice and broth only to discover the broth had chicken chunks floating in it so my eventual breakfast of championswas dry rice and diced cheese with a cup of coffee. Keen to maintain a swift turnaround I practically drank the rice, concocted another sandwich bag of salty delights and departed on a steep descent through woodland and what appeared to be a local villager's garden. I couldn't help but feel we were sent down into the valley simply so the organisers could then send us up more steps. This time alongside a huge water conduit. The steps were battered and at times footing was a struggle.
Photos never do justice. 200m climb averaging 40% grade. Good example of the wooden risers though. What a way to digest breakfast!
I had just about had my fill of wooden steps for the day and it was only 9am! Fortunately any thought of the growing pain in my weary legs was superseded by jaw dropping views across the valleys to steep mountains awash with green flora. Supposedly constructed under the edict of a Portuguese monarch we were traversing the royal road to Boca da Corrida. A chance for me to briefly hang out with some ultra-running royalty as the lead runners in the Ultra race, which started a little south of Rosario at 7am, came hurtling past. The recognisable face of Antoine Guillon and the beaming smile of Christophe Le Saux amongst them. It was the first time runners overtook since we set off at midnight and I couldn't help but glance at race bibs to make sure they were the red of the Ultra and not the blue of MIUT.
I ushered one more runner through and a voice responded in a northern accent: "No thanks. You are British. I think I will follow you for a bit!" Despite kindly trying to convince me he had heard my name on the running scene (which he had mis-read as Tom Knight), Brian was a true veteran of the off-road ultra-running circuit. 4xUTMB; UTMF; Laverado were just some of the races that filled his CV. A fell runner of 30 years Brian would be my motivator for the rest of the race as a new friendship forged. Although for the next few miles I couldn't help but will him to go past me so I could excuse myself a little bit of walking.
The path cut through a forest of tall eucalyptus, their roots sprawled across the path. We bridged the fast flowing waters of the Ribeira do Poço before climbing onto the open face of Pico Grande. The path hugged a series of cirques with vertiginous cliffs where dense vegetation was the only barrier to a tragic accident!
Looking south to the Ribeira Brava valley. Must have been a clear break in the vegetation as this photo crops up in quite a few guidebooks!
The south-west wall of Pico Grande. The path hugs the cliff.
Looking back. The path can just be made out a third of the way down the spur on the right. The vast plateau of Paúl de Serra, where we had spent the early hours, littered with wind turbines in the background.
A well cobbled path gradually climbed to the fittingly named "Donkey Pass" (Boca do Cerro). Brian and I got chatting. It turned out he was much higher up the field early in the race, but having only arrived in Madeira Friday afternoon, decided to have a lie down at Estanquinhos, which soon became a sleep! He was also suffering with his hip and had been unsure as to whether to start the race. Despite this he was full of enthusiasm and made for excellent company as we continued to gaze in wonder at our surrounds.
"Did you know there are no poisonous snakes on Madeira?" I exclaimed.
A begrudging retort in pigeon English came from behind. I had imparted my knowledge of Madeira's fauna on an unsuspecting Ultra competitor. I stepped aside to let him pass. I felt like urging him to slow down and savour our surroundings. The uneven weathering of volcanic rock had produced some of the most incredible vertical structures I had ever seen. Gran Canaria had been impressive. This was truly a Lost World!
"Wow, wow, wow!" Ah that was more like it. Brian was back at my heels, once again in awe of everything we surveyed.
Hee haw… it's the Boca do Cerro. The large white dome of the radar installation on Pico Arieiro just visible on the ridge but still a very long way off.
The long downhill to the valley was fast. A hard packed track strewn with loose stone. Aggie coast path on steroids! For once I got into a rhythm and thought I may well loose Brian. But another toilet stop and some distracting flora meant he was back on my tail soon enough. Below us in the shadow of the high mountains lay the Valley of the Nuns. A secluded village nestled in a vast caldera like bowl which served as a retreat in the sixteenth century for nuns fleeing from repeated pirate invasions on the south coast.
The Pride of Madeira. This sudden explosion of purple halted me in my tracks despite hurtling downhill. Pico Ruivo on the far right.
As we approached the checkpoint at Curral das Frieras we finally agreed to stick together for the duration of the race. I was enjoying Brian's company. I set a 20 minute turnaround for the station. Brian was happy with that and really seemed in no hurry. Once I had finally overcome the sellotape that was keeping my drop bag together, socks came off, vaseline applied and clean socks donned. Then a clean vest. Thirst was quenched with two cups of sparkling water followed by a coffee and a bowl of rice and cheese. Twenty minutes had flown by and it was time to once again set off!
---
The Mountain Pass
Curral des Freiras to Pico Areeiro 16.3km 1830m+
I have struggled for weeks to put into words the next ten miles. Ten miles that took over four hours! Time spent with jaw gapping in wonder of the most incredible mountain landscape I have experienced. Vertical cliffs, jagged pillars, spewing clouds, long dark tunnels and of course steps. Metal steps, concrete steps, paved steps and even a few naturally formed basalt steps. Seriously if you are considering MIUT… practice on steps!
First we had to climb a thousand metres back out of the valley and join the Vereda da Encumeada. I set off at point and as I tired, without a word, Brian stepped past and took his turn to pull us up the mountain. We were becoming a well oiled machine! Countless switchbacks on narrow forest tracks bought us to the col. A signpost announced another 5km to Pico Ruivo. Not good when water supplies have dwindled and the late morning sun is getting very hot. I can understand the solitary kit check before we left the sports hall where we had to show our phone and water supply. I cannot understand how so many people were disqualified from the race at this point for failing to have one or other of these two items?
The smoking crater of Pico do Serradinho looking across to the Boca do Cerro. Midday clouds start to gather over the mountain tops.
Looking south to the Atlantic Ocean
Brian takes point
As we contoured the high peak of Pico Coelho a chubby looking bird waddled across the path in front of me. I couldn't help but laugh at the absurdity of such a creature on these precipitous cliffs. Was my brain deceiving me or had I just been witness to the endemic Trocaz pigeon? As I tried to convince Brian that I wasn't hallucinating the bird was long gone into the thick vegetation that clung to the vertical rocks.
My recollection of the remainder of the climb is hazy. Dehydration kicked in as our pace ground to a slow shuffle. What I do remember is crashing in to the dark entrails of Pico Ruivo mountain hut and slamming my cup on the table to request not one, but two hastily consumed cups of sparkling water. Refreshed Brian and I turned to each other and high-fived. You would think we had finished the relief was so overwhelming. Another 1400m of climbing was behind us and we now faced one of Madeira island's highlights. The high level traverse from Pico Ruivo to Pico Areerio.
I was both excited and nervous about this section of the course. Expectations for narrow pathways with severe exposure to vertical drops. Only a wire cable as safety net. The traverse was everything I was expecting and so much more. But at no point did I feel unsafe or uneasy in the legs. It was just too damn incredible to be nervous! Let the photos do the talking…
A head for heights is a must but generally a metal cable serves as barrier between the path and a long drop. I actually took to supporting myself on the cable and hauling myself up the climbs. This was not always prudent as the cable was at times hanging loose and an unexpected frayed end sliced through my hand.
Geology lesson. Much of the eastern massif is a composite of lava and pyroclast (google it!). While the hard wearing lava has withstood the elements the softer pyroclast (e.g. pumice) has eroded away leaving jagged rock structures and outlying pinnacles. Then man has come along and decided to carve a path through the mountains - the dark line.
Several tunnels have been cut into the volcanic tuff. A shelter for travelling herdsmen perhaps?
Oh yes… just a few more steps!
Head torch at the ready for the tunnels the longest of which was a couple hundred metres.
We really weren't in any hurry at this stage so plenty of posing for the camera!
With so much vegetation it was likely that clouds would start to gather on the high peaks as midday drew closer. I had been keen to make the pass before the cloud arrived to really appreciate the exposure and magnitude of the vast cliffs. As it transpired, the clouds added an ethereal atmosphere as the breathing mountains came to life.
The Stairway to Heaven! Or into the jaws of the monster?
Some bloke takes a photograph of a bloke taking a photograph of me!
Cough… steps!
Think you know what these are by now!
Tunnels, stairways and precipitous paths behind us the large white golf ball of Pico Areeiro's radar installation finally came into view. A large number of tourists and supporters were gathered around the path that climbs to the 1818m summit. I had slight resentment that we had skirted the tip of Madeira's highest peak so at least we would bag the third highest. Of course, there would be at least a hundred steps before we got there!
Just a few more steps to go!
---
The Downhill
Pico Areeiro to Larano 27.1km 675m+
We rested our feet in the feed station, ate warm food and drank coffee. Emotions almost got the better of me as I contemplated the past few hours. It was sad that we would now leave the mountains behind and head down into the valleys. And, despite another marathon in distance, I also felt we were on the home leg. The easy bit! Ha. The legs soon shattered the illusion as we scrambled, nay hobbled, down on to the path after some jocular banter with a couple of taxi drivers. The quads were burning and we had a vertical kilometre to descend.
The landscape was an immediate contrast as we crossed a barren plain. The clag came down and once again I felt very much at home. We passed within metres of the one remaining Poço da Neve (snow well) on the island. If only I had known!
The face says it all. Get the job done!
The rocky moorland and ferns soon gave way to trees as we descended into the Ribeiro Frio valley. A fast woodland descent allowed the legs a chance to stretch out and I briefly left Brian behind. He soon caught me up again on the level track while I struck up conversation with a marathon runner who was feeling the pinch and a little unsure of his whereabouts. There were still plenty of supporters cheering us "middle of the pack" runners into the checkpoint. Feed stations had been impeccably stocked through the course, as I have come to expect from European races, and there was an abundant supply of bottled water, coke, isotonic and sparkling water. The latter had become my go to and once again I left the checkpoint with a bellowing belch reverberating through the foothills!
It might be the shortest climb of the day but as expected the 450m climb to Poiso was none the easier for it. It just went on and on… and on! First we had an extremely steep scramble on a dusty trail that had been well churned up by Ultra, and now Marathon, runners that preceded us. Hands were called upon to scramble up the path as I lurched out to grab branches and stop myself sliding back down the track. Ever the gentleman, Bri stopped briefly to aid a female athlete who was suffering sickness. I was time watching. If we made Poiso by 6pm we might still be able to break 21 hours. However the hut up ahead which I took to be the checkpoint was just a hunting lodge and it was another twenty minutes of shallow, but painful gradient, before we finally rolled into Poiso checkpoint. The shortest leg but the longest 5km of the whole course!
I don't think Brian was sharing my urgency to finish as he casually patrolled the feed station looking for coke, food and someone to smile at. I hovered outside contemplating what a formidable force we might be if Brian's endurance and my efficiency were combined! Anyway, this wasn't about time now. It was about finishing this shared experience with a smile on our faces. As we walked off the leg stiffness that set in pretty quickly when we stopped, a few red (Ultra) and blue (MIUT) runners overtook. I didn't feel I had the strength to chase them anymore and was content surveying the tree lined hilltops.
With sleep deprived eyes I had seen a fair number of oddities through the day but the strangest, and most unexpected was Brian's sudden turn of pace as he declared "let's go Orc hunting" and sprinted off down the hill at sub seven minute pace. While I didn't say it, this is exactly how I like to finish a race. Dig out those last bit's of energy and call on gravity to assist in one last all out effort. However, we still had 20km to go! "Can you feel the adrenaline flowing?" Brian cried as we picked off aforementioned runners from both MIUT and the Ultra. Wow… This was a Point Break moment and Brian my Boddhisatva! After several kilometers of hunting I finally conceded that I couldn't go on. We eased the pace as we approached the next checkpoint at Portela.
I finally turned to coke. Just a small cup. Craving some sugar I had tried cake on the mountain top but it was too dry, as were the flapjack bars I had carried all night and day. Again I hovered anxiously outside staring at the watch as Brian roamed the feed station. We followed a levada that, for once, didn't have a precipitous drop off one side. The next two miles of track were flat and uninspiring. I did not speak. Brian sensed my discomfort and eased the pace to a steady jog. I was convinced we were going up hill. Only slightly but the legs really wanted to walk. But we were travelling with the flow so surely my mind was playing tricks on me. As we hit forest single track the sugar finally kicked in. It didn't last!
The near vertical descent into Larano should have been an exhilarating affair but my legs were just too tired and the quads were burning. Exposed rocks were damp and slippery as were the occasional earthen steps cut into the hillside. A long, long way below we could hear the crashing waves.
Eventually we broke free from the trees and were rewarded with the setting sun radiating orange hues as it bled into the Atlantic ocean, still far below us. Penha d'Aigua (Eagle Rock) a tall dark shadow in the foreground loomed menacingly over Portela. It was time to revisit the vertiginous coastal path that had sparked my interest a year ago.
The Last Leg
Larano to Machico 11.8km 85m+
A few spectators still mingled around the track that fed onto the coast path and we received cheers of encouragement and applause before once again entering the silence of the trail. I really dragged my feet around Larano. I had good recollection of the path, now with attached cables providing a safe barrier between us and the crashing ocean, but that did little to inspire me to run. Why had these last few sections of the course felt so long? The sun had set and the light was fading fast. Brian was keen to push on.
Hopefully that wooden post isn't perched like that because someone leaned on the old fence! A quick photo by Bri.
Brian set the pace… I tried to follow
I rummaged around in my pack for my buried head torch and floundered with the Nao's twisted cables trying to house it comfortably on my head. This was new territory. The first time I had entered the second night of a race. Darkness fell quickly. Brian kept calling after me to keep up as numerous runners overtook us. I forced down a bar of some sort in the hope it would give me fuel enough for the last push to the finish.
Boca do Risco led us onto a downhill stoney path. Challenging enough by day but more so under torch light. Three Portuguese runners passed. "Stick with them" I whispered to Bri hoping for some of that Tolkien inspired energy I had witnessed earlier. Not sure if it was his hip playing up or just the lethargy of countless hours without sleep but the runners lights soon faded into the distance.
And so with 5km to go I faced a dilemma. A narrow levada hugged the hillside and numerous fashlights still pierced the darkness up ahead. I was excited at the prospect of finishing and keen to reel in those runners. A orc-hunting we go! But Bri was nowhere to be seen. Keen to get value out of his entry fee he had stopped at the last feed station to top up on coke one last time while I ran straight through. What do I do? We had shared company the last twelve hours and dragged each other through numerous troughs. My competitive streak goes into overdrive in the last stages of a race. Whether it is hitting a time target or reeling in a few shufflers I always seem to bounce back with energy. For once the heart prevailed. Perhaps it is the ultra runners code? I sat down on the warm concrete of the levada and waited for my running companion.
The first headlamp to round the bend was female. "Are you Tom?" she enquired in a European accent followed by the announcement of my bodhi's imminent arrival. Soon enough we were back on our way at a far more ebullient pace than my heel dragging around Larano. Is it surprising though how the smallest climb can feel like a mountain with 7000m of ascent in the legs? Certainly as we meandered away from the urban lights into the dark shadows of one last re-entrant the final few metres of climb were laborious. Chance, or pure determination, would have it that, before the final descent, we picked off all those runners that overtook us along the coast. A steep descent across a dew-laden field would be the last of the day and conversation turned to our finish line celebration. Brian came up with some crazy plan - I have no recollection what but it wasn't to be. I thought we sprinted the last few hundred metres along the waterfront - the finisher's camera suggests otherwise (about 3 minutes in)! We did unknowingly overtake Kristian Morgan, the leading British male, on the promenade making us top of the UK men's leaderboard.
(Note I say male, since Beth Pascall had finished a good five hours ahead of us in the elite end of the field!)
The next few hours passed in a sleep deprived blur. Following a brief interview with the finish line MC, I was offered a sponsored protein drink which I initially shunned in favour of a beer. But on learning the beer was not free I promptly downed four glasses of surprisingly refreshing mango drink; then a shower in the quaintly decked out (literally) finish-side showers; food followed below ground in a hall full of beaten up runners. Here it turned out the beer was free! And Brian, Nadia and I made sure we got our money's worth. Then I opted for a massage from a very large, sweaty and aggressive man which quite possibly meant I was walking and not hobbling the next day and finished up with a finisher's photo in the token Monte wicker toboggan.
So our finishing time was a nice round 22:11:33. Being the elder, wiser male Brian was awarded 172nd place and 173rd for me (perhaps I should change my name to Aardvark!) Getting down to the nitty-gritty I was 41 / 181 in the M40s. Brian was actually 6th of 78 and had he not turned up tired and partially injured maybe he could have hit his 18 hour target and made the podium in the M50s?
And what about Becky? Well here she is on a sprint finish. This is exactly what I was seeing after those beers sunk in!
Her knee collapsed early in the race and she impressively walked nearly the entire course to finish a short while after 2am Sunday morning!
Unfortunately we were not blessed with sun on the Sunday recovery. Instead, grey skies, a car rally on the front and a chance to hero worship Francois D'Haene who had smashed Zach Miller's record in an incomprehensible 13 hours and 5 minutes! After a bit of window shopping Nadia and I settled for dinner, and another tuna steak, in the hills at Restaurant Lily's. A short taxi ride but highly recommended for both the view and the food.
MIUT is a beautiful event delivered by a team passionate about their island. The supporters and volunteers were encouraging and friendly throughout the course; feed stations were inundated; the route was clearly marked; the challenge was everything I expected and more besides; we even had sunshine when it mattered! Maybe he was humouring me, but Brian described MIUT as the toughest race he had finished with longer, harder climbs than the likes of UTMB. But I am sure that will all change as he tackles UTMR170 this Summer! MIUT certainly taught me that I am capable of so much more than I ever realised and has reignited my thirst for adventure and the challenge of the mountain ultra.
Thank you to everyone involved!
Obrigado!
Written by Paul Baldwin - http://pbracereports.blogspot.fr
Background
I have been a little in awe of the Ultra Trail de Mont Blanc (UTMB) races ever since we just happened to be in Chamonix during the third edition in 2005. It was a considerably smaller affair then, but I recall quite clearly my incomprehension that anyone could run for that long, or that far, and climb all those mountains, without stopping or sleeping. These people represented a different species from me. Of course that was long before I had any interest in endurance events, and if you told me then that one day I would be part of that same set of races, I would asked for one of what you were taking.
The UTMB week also holds special appeal for me because in many ways it is my "home town event". Having spent considerable time in Chamonix over the past 15 years, I know well many of the trails and mountains, and once I started doing ultra marathons, it was only natural that UTMB would nag away at my consciousness. So having accumulated sufficient qualification points, I put in a speculative entry last December not expecting to be successful in the ballot — I understand that it is a one in five chance for someone like me. But then I heard that I had been allocated a place, and this became my focus and target for season.
Of course I had not entered the UTMB itself — that is just for the superhuman or insane (or both, yes I am talking about you Andy) — but it's little sister, the CCC: Courmayeur-Champex-Chamonix. At 100km and with 6,150m of vertical climb, it represents approximately the last two thirds of the full UTMB route, starting in Courmayeur in Italy, progressing though Switzerland and finishing back in France at Chamonix. However, don't be misled by the "little sister" tag, the CCC is still a daunting prospect, and easily the hardest race I have ever entered.
The atmosphere in Chamonix for UTMB week is just extraordinary. With 5 different races taking place during the week there were over 8,000 competitors from more than 70 countries, plus their families, supporters, crew, and the associated circus of kit manufacturers, retailers and assorted corporate sponsors. It must surely be the largest global gathering of those with an interest in ultra trail running, and you could just taste the excitement as you walked down the Rue Paccard. Mere mortals like me get a bit of a buzz from passing a familiar face, and then recognising it as belonging to one of the gods of trail running: Kilian Jornet signing autographs, Nicky Spinks doing an interview, etc...
My training and preparation had gone well, with the exception of the Centurion South Downs Way 100 mile race in June (
see here
) which represented my longest "training run" for the CCC. I had had major problems, and although I did finish and struggle over the line, my performance was a disappointment and this had knocked my confidence. I had just had one of those bad days, and was fearful it could happen again.
I try to have an objective for each race: for this one the primary goal was to finish within the cut-off time (26 hours 30 minutes), with a secondary target of finishing within 24 hours (just because that time has a natural symmetry), and I had prepared a schedule for a sub-24 hour finish.
After a week of warm sunny weather, the long-range forecasts showed horrible thunder storms and heavy rain for the race days. Fortunately the storms came early on the Thursday, and whilst this soaked all the trails, at least the forecast had improved to a reasonably dry day, albeit followed by heavy rain at night. We had received notification that because of the poor weather forecast the organisers might be considering switching to an alternative, lower and safer route. Thankfully this was not necessary, although there was one last minute adjustment to the normal route for safety reasons, but more of that later.
The Race
At the start line in Courmayeur
On race morning Sarah drove me from Chamonix through the tunnel to Courmayeur, and we got there nice and early which meant I was near the front of my starting pen. Where you start is dictated by your bib number, which in turn is based on your previous race history and times. I was in the last pen which meant I would be starting in the third and final wave at 9.30am (the first wave of elite runners goes at 9am). I tried some gentle stretches on a tight left hamstring that was concerning me — it was the same injury that contributed to my problems at SDW100. I decided it was too late to do anything about it now: I hoped it was just one of those phantom injuries you get before a race, but I was a little worried.
Just before the off
As we waited, we were warned by the organisers that although it was sunny and mild in Courmayeur we should be prepared for very cold weather and strong winds on the peaks — how right they were. The feeling at the start is just amazing: we had the national anthems of the three countries through which we would travel, and the UTMB theme tune (Vangelis' Conquest of Paradise) — it all got quite emotional.
Happy to be running at last
The snake climbs slowly up
I had wanted to be at the front of my wave in order to avoid the worst of the queues going up to Tete de la Tronche, the first and longest climb of the race to the highest point. As it worked out, the front of my wave soon caught the rear of the second wave and I was stuck in a queue the whole way up. Occasionally it was possible to pass, but it was risky and tiring to do so. This enforced slow pace meant that this was the only leg of the race on which I did not outperform my target times, arriving at the peak in 2 hours 38 minutes, within one minute of the schedule.
Getting closer to the top of the Tete de la Tronche
Refuge Bonatti
Once at the top, the run down to Refuge Bertone was wonderful. An excellent trail for running, liberated to be free from the queues, I progressed quickly along a ridge with amazing views of the Mont Blanc massif to the right and the Courmayeur ski area directly ahead. It was simply the best feeling. I had no need to stop at Bertone — I just filled up with water, took a couple of photos and grabbed some chocolate to munch on the climb out of the refuge. The balcony run up along Val Ferret, past Refuge Bonatti and then down into Arnouvaz was equally delightful. Gently undulating with nothing too steep, the sun still warming my back without being unduly hot. Just perfect.
Views of Courmayeur ski area as we climb up the Val Ferret
Feeling good coming into Arnouvaz
Reaching Arnouvaz in just over 5 hours, I was feeling pretty strong. I could still feel the tight left hamstring, but it was getting no worse. I had also had some quad cramps at the top of the first big climb but with the help of some salt tablets I had now run that off.More importantly, I realised that it was around this time on the SDW100 that it had all gone wrong, but in contrast, this time I felt good, strong and happy.
Starting the climb up to the Grand Col Ferret
Very cold and foggy at the top of the Col Grand Ferret
The climb from Arnouvaz takes you up to the Grand Col Ferret, the second highest point on the route, the border with Switzerland, and probably the most exposed col we would encounter. Shortly after leaving Arnouvaz the clouds came in and it started raining. Half way up we ascended into the fog, and as we reached the col the cold wind was cutting. I had ice crystals forming on my gloves, but fortunately it was better for us than the UTMB'ers who suffered horizontal driving snow at this point 24 hours later.
The fog stayed with us most of the way down to the next aid station at La Fouly, but apart from that it was it was an enjoyable run — good conditions under foot and great to get the legs moving again.
I had read about the famed noodle soup, so I decided to try some at La Fouly. It was so good — warm and salty — that I had three bowls. This was probably a mistake as the next section was 10km of gentle downhill on roads and tracks that were eminently runnable (I clocked 5 minute km pace here without really pushing it), but the noodle soup was sloshing around uncomfortably inside me. There followed a sharp and rather nasty 400m climb up to Champex-Lac. Compared to the other climbs on the route, this is just a tiddler, but for some reason it felt to me one of the toughest. Maybe it was the cumulative impact of 9 hours with only one short stop, or the psychological effect of really wanting to get to the half-way aid station at Champex where Sarah was waiting for me. Either way it was my lowest point of the race.
Starting to get dark and rain falling as I leave Champex-Lac
By this stage I was about 90 minutes ahead of my schedule which meant that Sarah had had to leave Chamonix early to drive around to meet me (and therefore miss Andy at the UTMB start), but as my ever-efficient crew she was there waiting and ready. She really is brilliant at crewing — quick to ask what I want to eat and drink, in no time my order appears in front of me, with my drop bag ready and waiting, and water bottles filled before I could ask. She asks the right questions to check I am doing OK, but does not go over the top with either praise or encouragement. After 22 minutes I was off and running again — well walking actually so I could let the food settle, and she and Blue accompanied me along the lake shore. It was now getting dark and very cold — I had to put on my warm mid-layer as well as my outer waterproof, and kept both on for the whole of the remainder, including the uphills. As I said farewell to Sarah and Blue, and headed off into the forest, it started to rain again, quite heavily this time.
The climb up to La Giète had by now become very wet, muddy and slippery, but fortunately being mostly in the woods we were sheltered from the worst of the rain. The aid station at La Giète is in a wonderfully cosy barn and many runners seemed to be lingering there — I decided not to stop as I would find it hard to get going again if I got too comfortable. I was now in familiar territory as I had previously recce'd the route from La Giète to Chamonix, but I was not prepared for the next section of very slippery path with continual trip hazards. Being cautious on the descent I was passed by many of those that I had overtaken by not stopping, but knowing that a finish was now within my capabilities, I did not want to risk a race-ending injury.
The crowds of supporters at Trient were just amazing and made a massive noise for every runner that approached, an encouraging sound that you could hear from several kilometres away. It was now around 11pm, there was a public bar at Trient, and I think some supporters had been making full use of the bar for some hours. The wet conditions were now taking their toll on my feet, and I could feel the dreaded "trenchfoot" blisters starting to burn hot on my soles. I grabbed a cup of coke and sat down to change into dry socks and apply lashings of Gurney Goo all over my white wrinkled feet.
The ascent out of Trient to Les Tseppes (where there was the usual warming bonfire) and onto the pass at Catogne was one that I now knew quite well, and although it was 90 minutes of hard climbing, it passed quickly and I still felt good. The run from Catogne down to Vallorcine is usually really enjoyable — just the right gradient and not too technical — but even the excellent studded tread on my Inov-8 X-Talons could not grip in the runny, slimy mud that the path had become. It really was unspeakably horrible. It was a blessed relief to reach the bottom station of the Tete de Balme chairlift and join the much more runnable red piste. Turning off the piste for one more slippery forest trail, eventually the Vallorcine train station appeared, and I had the unexpected boost of Sarah waving at me as I walked into the aid station.
Noodle soup at Vallorcine
I had told Sarah not to bother meeting me at Vallorcine. I was scheduled to arrive there at 4.30am — I actually got there 3 hours early at just after 1.30am — but either way it was the middle of the night so I didn't expect her to be there. However, seeing how hard the rain had been overnight, she was worried that I might be soaked and in need of dry kit, so she had decided to ignore my instructions and meet me there anyway. Simply outstanding! She sorted me out as usual, and then started crewing for other Brits who were in need of assistance.
In training runs I had run the 200m climb from Vallorcine up to Col de Montets — no chance of that this morning — but it was from here that the route alteration kicked in. I knew that the originally planned climb from Col de Montets up to Tete aux Vents included some very steep sections with steps and scrambles over smooth rocks and vertical stream beds, and probably wisely the organisers had considered it too dangerous in these wet conditions. Instead we had been instructed to take the route "straight from Col de Montets to Flégère" thus avoiding Tete aux Vents. Naively I had assumed that this would be less climbing and much easier. I counted down the metres on my watch altimeter and as we approached the altitude of Flégère I celebrated that the last climb was nearly over. Nope. The organisers had a nasty surprise for us, and we then decended all the way back down again. I am not sure what was worse: the psychological damage that I knew I would now have to climb those 500m all over again, or the fact that this was the nastiest, most technical, root covered, rocky and slippery descent of the whole race, all undertaken in a foggy darkness. After that soul destroying descent, the simpler pain of climbing again was a welcome relief. I decided it was time for a gel and an energy boost, and whilst it was a slog, I was soon at Flégère. I didn't stop at the aid station, but just checked my timings and ran straight through, by now anxious to just get to the finish.
The first section of the descent from Flégère is a steep technical zig-zag path through the trees with lots of roots and rocks, and I took it slowly and carefully, being passed by quite a few more courageous or stronger runners. From Chalet Floria the path widens and becomes shallower, and from here I was able to run the whole way to the finish line. Time to plan the celebration. Sarah was of course there to welcome me, and I was astounded to see that our friend Ali had got up early to see me finish as well: 5:53am, 3.5 hours ahead of schedule.
The finish line!
Reflecting on it all I am left with a strong appreciation of how lucky I am: lucky to have to won a place in the ballot; lucky to be able to run (ok, mostly walk) in such beautiful mountains; lucky to have such a supportive and understanding wife; lucky to have so many friends and family following me at home via the website; and lucky to have the health and fitness that enables me to have been one small part of such an amazing event.
Lessons and observations
Registration: efficient and friendly
I had read beforehand that the UTMB races were too large, too corporate and frankly not very "friendly". It is of course a massive event, and if you want to run in the mountains in peaceful isolation, this is not the race for you. However it was all superbly organised, the logistics were all spot-on, the volunteer marshals and helpers were all excellent, and the aid stations extremely well stocked. If you want to see friendliness just look at how the locals from every village we passed came out to support, even during the night, and how many supporters trekked up to remote places to cheer us on. Whilst it is true that there was not as much chatting between competitors as I am used to at races in the U.K., that might be because you were often unsure as to which language to use to start the conversation. I did meet a number of Brits on the way round and we did have a good old natter. Particularly Richard and Tim Antrobus (bizarrely no relation) with whom I shared the first climb, and Jamie Chaffney with whom I ran from La Fouly to Champex. Thanks Jamie for dragging me up that hill into the aid station, and for finding my watch when the strap broke on that same climb.
Making good use of those poles on a slippery rocky section
Cheat Sticks: this was my first race using poles. To be clear I do not consider the use of poles cheating – if the rules allow them that's fine by me – but I know some do not use them out of principle. My rough estimate based on those I saw around me on the CCC suggests that the vast majority (probably 95% or more) used poles. I found they made a massive difference both on the uphill and the downhill, and couldn't imagine doing the race without them. I did not suffer at all from sore quads or glutes, which means that either I trained superbly, or that I had the poles to thanks. Ok, I guess it was the poles. The only sore muscles I had were actually in my arms which suggests I probably should have trained more with them before the race.
The Statistics
Of the 2,155 starters 1,742 finished with 413 DNFs (19%)
73 different countries were represented on the start line, with the largest number of competitors coming from France (36%), Spain (12%), Italy (8%) and U.K. (6%)
The winner (Hayden Hawks of the US) finished in an extraordinary 10 hours 24 minutes
I finished in 20 hours 22 minutes and 22 seconds, in 611th overall (28th percentile of starters)
I was ranked 35th in the V2H (men between 50 and 60) category (13th percentile of 288 starters) and 38th in all over 50s (10th percentile of 382 starters)
Of the 700 starters in the 3rd wave only 16 finished ahead of me
I spent 65 minutes in aid stations. I consumed 5 gels but none of Shot Blocs or Bounce Balls that I carried. Why do I always carry too much food? From the aid stations, apart from water, I took the following: chocolate (Bertone), crackers (Bonatti and Arnouvaz), noodle soup (La Fouly, three bowls!), pasta and tea (Champex-Lac), coke (Trient), and tea and crackers (Vallorcine)
Written by Tegyn Angel - https://vfuelaustralia.com
The following is what happens when your Trail Run Mag editor says "You've got a week to write 3000 polished words for publication" and your response is "well shit, I'd better write 7000 crappy words first just so I can get my thoughts in order. AKA my shitty, unpolished, blow-by-blow, too-much-detail-to-bother-reading Tor des Geants Race Report. Suffer in your jocks!
—
Sunday 10 September, 0900. Rock up at the start after a conservative breakfast of toast, fruit and decaf. Espresso, toilet. Drop bag. Get GPS turned on. To enter the start area, we stood in line for 30-40 mins, finally passing through the timing gantry where our chips were registered. This was it; there was no DNS for me. I slowly made my way toward the front of the lineup and found some folks I knew: Grant Maughan, Roger Hanney, Jean-Luc, Sandy Suckling.
Starting in approximately the first quarter, I knew the trail would take us through town for a few km and then quickly bog down into the single track climb toward the first col. I jostled for a decent spot and got into a rhythm, not wanting to get to held back but not overly concerned about the pace; focused more on conservation and efficiency of effort. Getting halfway up the first climb a group of Brits commented that, aside from the leader, I was the most relaxed person they'd seen thus far. Winning.
The climb transitioned from steep forested switchbacks to open alpine meadow, tracing a small creek-line up toward the head of a small valley. We crossed Col Arp (8.1km 2572m) and hit some long sweeping switchbacks that lead us down opposing valley. I got my first taste of Euro cheating, with about a dozen people rocketing straight off the course, ignoring the flags and straight-lining a significant section. I yelled out to the small group closest to me and they, at least, responded thankfully. I'd be tempted many times to cut directly between the marking flags used every 20 or so metres on course, but this was a blatant and obvious attempt to shortcut the course and ignore the ever-present markings. Disappointing.
The trail turned into road as we passed through a little checkpoint (Youlaz) and the switchbacks continued, though this time they were paved. At 13:14 I ran into La Thuille, the first major Checkpoint and the first place I'd see my crew. Crono time was 2:54, about 16 mins off my splits and only 18km into the race. I was moving well but the reality of having to do that climb another 20+ times had begun to sink in, and I'm pretty sure I was impatient with the girls. Sorry!
The trail continued to follow the road up the La Thuille valley, a relatively major thoroughfare and recreation area, before reaching La Joux where it returned to single track. I'd explored this area early with Dave Lipman and was excited to see the cascading waterfalls and high valleys again. I met a few folks on this climb and would end up crossing paths with them throughout the race: American's Kevin Hadfield and Stephanie Case, and Aussie-Yank Gabriel Szerda (the latter two having been introduced to me indirectly via Michael Ormiston)
Climbing up past Refugio Deffeyes (27.2km 2500m) I refilled a water bottle and did some foot maintenance. Somehow I ended up with one thin (e.g. Steigen) sock on the left and double-sock or thicker sock combo on the right. I've never run like this before but kept this arrangement up for the remainder of the race. I'd allowed 1:50 from La Thuille to Deffeyes and arrived after 1:57, still bleeding time but not overly anxious about it.
From Deffeyes the trail winds up a boulder-strewn glacial side-valley before topping out at the 2857m Paso Alto, one of the highest points on the course. From here it boulder hops its way down to Promoud, losing 840m of hard-earn vert in under 4km. Dropping a further 50-60m, we crossed a small tributary and did an abrupt up-turn, crossing what, on paper at least, is the steepest climb of the entire route. From Promoud to Col Crosaties is 812m in 2.4km but given the initial descent, the reality is probably 870m in 2km. I'd memorised this climb from Nickademus' race report and was excited both to see what all the fuss was about and also to put it well and truly behind me.
It didn't disappoint! It started as a series of grassy switchbacks, passing through a meadow where I stopped with a Romanian guy to pick some wild Myrtille (Blue Berries). So good! I climbed for a while with Gabriel and then Kevin, both of them dropping me long before the top. As the gradient kicked up we left the grass and hit the slab, eventually finding rope hand lines and cables fixed to the precarious trail. The cheeky Cowbellier at the top sounded so close but was a hundred vertical metres still above, and an age seemed to pass before his enthusiastic bell thrusting finally deafened me.
Just off the summit, we encountered the first DropBox on the course; a glass and aluminium bivi box airlifted to the site as a backup, auxiliary aid station. They had some water and hot tea and were in for a long, cold night. Col Crosatie (35.8km 2829m) marked the third climb, and I was pretty chuffed to have ticked it off in daylight.
The descent from Crosatie passes through Lac du Fond and the memorial to the Chinese runner, Yang Yuan, who died here in the 2013 edition of the Tor. It's a spooky place, but a very real reminder of how exposed the course can get. Kevin and I took a moment and continued.
Having now spent 107hrs on the course (and countless hours off course) looking at the Elevation Profile, I've come to appreciate its nuances. What may have seemed like a relatively flat or innocuous section from Planaval up to the first Life Base, Valgrisenche, was not flat. Running up the valley away from Planaval we skirted through village outposts that hugged a small creek. It seemed like almost an hour between when we first heard the PA system and when, just on dusk, we finally arrived at the Life Base.
I have to make a special mention to my crew here for being both patient and tolerant. The Life Bases take some understanding and the staff that manage them, particularly the earlier Bases, are very stubborn about how they want things to work. I wanted what I thought was straightforward; to grab some food then meet my crew and eat it while we sorted me out for the next leg. Unfortunately, the Life Base staff had different ideas.
Runners were allowed to enter the incredibly crowded, tiny meal space; but the crew weren't. I grabbed some food and exited, heading toward the crew space. There was no water (hot or cold) available there, so I had to go back and grab some from the Meal Space. My crew couldn't help me carry my drop bag so with food, hot water and drop bag in hand hobbled over to the crew space and was told I wasn't allowed to eat my meal there. Gah. I spent some time with Kel (the only one allowed in the crew space) and fixed up my kit for the next leg, continuously explaining to the staff "yes, I will eat my food outside, in the cold, just let me fix my kit up please". Finally, just as I was about to head off and eat my plate of now-cold pasta outside they relented and let me chuck it down. Makes sense…?
Outside it was already freezing. The following soon developed into a frustrating pattern that would stick with me for the rest of the race: I'd come into a checkpoint and spend some time there. In that time I would cool down. Leaving the CP, I would be so cold I'd have to rug up. Within 10 minutes I'd be stripping layers, having warmed up again. Normally I'd just ignore the cold for those few minutes, but it was so biting (or my thermoregulation was so compromised) that I simply couldn't.
The climb out of Valgrisenche toward Col Fenetre (61.3km 2840m) started gradually, and I caught a few people who'd left the CP before me. Two-thirds of the way up I was surprised by a Refugio where I smashed some hot tea and jam biscuits. I met a few other people on this climb including a Malaysian guy and a couple of Swedes. I also gave some poor bloke some of my Caffeine; if he needed it this early, he was in trouble. The climb kicked pretty hard toward the end and descended in what I'd argue is the steepest descent of the race, dropping 1100m in about 3.5km. Fortunately, it was dry and switch-backed, so it was fairly easy going; had it been wet it would have been extremely hazardous, and rock fall from above was a constant concern.
The small town of Rhemes Notre Dame (65.6km) was a well-stocked CP, and I took the time to use the bathroom and do a little more foot and chafe maintenance, the latter beginning to show a few nasty signs. Col Entrelor was up next, and it was a beast, gaining 1250m over 5.7km and topping out at 3002m, the second highest point of the race. Looking back the way we'd come from atop the Col we could see a snake of headtorches dropping near-vertically down Col Fenetre; a spread-out, extreme version of the vision I'd have during UTMB a few years ago. It was comforting, both to know how many other people I was sharing the night with and also how far in front of them I was
In spite of all the measures I'd taken to maximise the battery life, my Suunto Spartan Ultra died at 16hrs 50. My Petzl Nao+ dimmed soon after that, and I reverted to my Ultraspire Lumen 600 for the rest of the descent into Eaux Rousse (81.4km) where I met my crew again. It was the middle of the night, and I was grateful to see them.
I tried a change of compression shorts to combat the ever-worsening chafe, topped up on Red Bull and VFuel and smashed some aid station savouries. I replaced my Petzl battery and grabbed a small battery pack to charge my watch on the run before diving back into the night and starting the nasty climb of Col Loson. Loson is the highest point of the Tor course at 3299m, and I found it to be the hardest climb bar none. Ascending a massive 1645m over 12.1km, it is also by far the longest climb, and I found it the most difficult.
Straight out of Eaux Rousse we started by ascending a series of switchbacks that hugged one side of a valley wall. It soon wrapped around the head of a large tributary which opened up into a high, alpine valley surrounded by vertical faces. In the pre-dawn light, we could see an imposing headwall, a maze of trails and a scattering of fading head torches. Pushing up toward the head of the valley we started to crack puddle ice, and the angle of the climb continued to turn upwards until we had to really work our hiking poles and high-knee each step. I called a few jerks out for cutting the course and the desire to stay in front of them buoyed me on. The sun was rising on the opposite side of Loson and it was bitterly cold, even as the Sun's first rays lit up the eastern side of Col Entrelor, way across the valley. Just off the Col, there was a small Bivy where I stopped to de-layer in the now-blinding sun.
Chafe and saw about a dozen people pass me on the descent from Loson to Rifugio Sella and I started to fear the worst. If I was in this sort of state at 98km, there was no way I was going to make it back to Courmayeur. I stopped for a particularly thick coating of TriSlide at Sella and a trip to the loo and continued at a slow lope. The descent from Sella to the 2nd Life Base, Cogne, was gorgeous, crisscrossing a series of waterfalls and entering beautiful pine forest that shaded our descent into town. Somewhere here the chafe "Stars Aligned" and I was able to run again, catching up to Kevin and entering the town at a fair clip, about 45mins ahead of my splits and before my crew.
I called the girls and confirmed they were about 30mins off, so I grabbed a plate of pasta and half a glass of beer and headed for the showers. I didn't have a change of clothes or any soap so did the best I could, redressing in the cleanest things I had and dropped to a cot for a quick nap. My mind was racing and, though I may have dozed, I wasn't able to get to sleep. Noisy people chatting in the sleeping quarters didn't help, and so 20 minutes later I got up, drowsy and frustrated rather than well-rested.
The girls had arrived while I dozed, and we got to prepping me for the next leg, a 45km section without crew assistance. I did a full clothing change, including my compression shorts in the hope this would keep the Chafe at bay. I smashed some Exogenous Ketones to blunt the blood sugar impact of the pasta and my recently-sculled Red Bull and hit the road feeling surprisingly good.
The next leg, from Cogne to Donnas via Rifugio Sogno, Fenetre di Champorcher and Chardonney was supposed to be fairly straight forward. A nice gradual climb toward the leg's high point and then a relatively cruisy descent. I think these false expectations got the better of me and, despite feeling fantastic all the way through to Sogno (14.2km), this section probably set me up for a slower overall finish.
I met Bruno Brunod on my way through Goilles and he was sitting down, talking about withdrawing. While we had a quick chat, and I handed in a set of Crampons I'd found on the trail, someone handed me a Beer Nog, literally Beer and frothed egg. Apparently, it was for strength on the trail! I had a few sips and continued. It must have worked as I caught half a dozen people between there and Sogno. Then it must have faded; my climb up Champorcher was snail-paced, and for most of the descent from there to Chardonney I was in a bit of daze. I had my first properly wandering mind throughout this section and the hot, shadeless afternoon sun got the better of me. The Chafe was still distressing me, though I was somehow able to pick up the pace between Dondena and Chardonney.
At Chardonney I swapped my Compression Shorts for a pair of thin Nike tights (with virtually NO compression; this helped the Chafe all the way into Donnas and a little beyond before the friction just relocated thanks to a different seam pattern). Just after Chardonney I met up with Yen-Po, a Taiwanese runner with whom I'd spend a lot of the next 70 hours. We ran into Donnas together, navigating the random "mandatory" 300m ascent just before hitting Pont Boset. Once we hit the pavement, it was an infuriating 30-40mins of hiking through the streets of Pont Boset and then Bard before we finally hit the Life Base.
Yen-Po decided he would sleep here to prepare himself for the next climb, but I elected to eat, prep and run. I'd planned to sleep up at Refugio Coda, where I expected it would be quieter than Donnas. I was also nervous about the section from Coda through to Niel and wanted to hit it as fresh as possible, hence the nap immediately before.
The climb started well, catching up to and hiking with a few other runners, including Christof who'd completed UTMB a couple of weeks earlier (mad man). However, partway through the first half of the climb I got drowsy and was soon sleepwalking (not quite literally, but nearly). Yen-Po, rested and awake, soon caught me and we hiked together for a while before I woke up and realised my Chafe was back with all the aggression of a thwarted lover.
Desperate times called for desperate measures, so I lost the tights and went commando for the next few KMs. That worked for a while (it was the seams that were rubbing) but wasn't enough. Something my crew said popped back into my head ("why don't you just shove a THIR up your arse") and I knew what I had to do! I folded two THIRs in half and pulled them up my legs to create a pair of Wonderland Run Crutchless Undies. This setup separated the bits from the inner thigh and VICTORY! By the time I got to Sassa and my crew I'd been chafeless for over an hour and knew with a bit of sports tape to hold the THIRs in place, I'd even be able to run. Kellie helped me with this bit of art, and I grabbed a few extra THIRs for more traditional uses before setting off on the second half of the climb to Coda.
While at Sassa I'd apologised to Kel for taking so long to get there and explained I'd been sleepwalking for an age. She asked if I wanted to sleep there and, stubbornly, I said no, explaining that I wanted to sleep at Coda instead. This was the second of two stupid mistakes surrounding sleep in the space of only a few hours, and I spent the second half of the climb sleepwalking yet again. It was only the frighteningly cold gale that was ripping across the final ridge up to Refugio Coda that woke me up.
Refugio Coda (169.3) marks the approximate halfway point of the race, but I was only interested in having a bite to eat and getting some sleep. I asked for 25mins and slept for 35 before I woke myself up, the Sleep Marshall having forgotten to do so. I bought a sludgy hot chocolate and ate a bit more food, further improving the setup of my THIR jocks by sliding some compression shorts over the top to keep them in place. Through careful placement and folding I may have also created a THIR posterior friction barrier, though if I did, I refuse to comment on which Trail Running group got the honour of protecting my butt for the next 200km It was still blowing a gale and freezing outside, so I rugged up and hit the pre-dawn light. My Ultrarunning Man Crush and go-to for all things Tor advice, Nickademus Hollon, had written in his 2014 race report that this "Hell Section" section was the nastiest of all and I was psyched to get it ticked off. The elevation profile made it look pretty straightforward, but that deceptiveness was part of what made it so demonic.
As it turns out, it wasn't THAT bad. The worst part was how slow it was; for about 20 of the 23.6km between Coda and Niel the trail involved rock hopping and navigating your way through boulder fields. The occasional burst of icy-AF winds didn't help the going, slow as it was, and even though I hit Refugio Balma (178km) ahead of my leg splits, 23.6km took me over 10hrs, a pace of 2.36km/hr or 25:40 min/km. The highlights of this section were: the new Refugio at La Balma (how I wanted to stop and spend some time here!), the World's Best Cheesy Polenta porridge at Col Della Vecchia and the magic descent from there to Niel (192.0km; magic because of its ability to fit a few hundred metres of climbing into a 600m descent).
I met my crew at Niel, ate some Not the World's Best Polenta, restocked for the relatively short leg through to Gressoney Life Base and hit the climb feeling reasonable. The relatively short 800m ascent to Col Lasoney was going well, and I passed or stuck with a handful of people until I started to drift off again. For the 3rd time, Kel had asked at the last CP if I wanted a nap and I'd declined (instead of sleeping at Gressoney), finding myself sleepwalking soon after. I probably lost 30mins on the descent, discovering I also had a weird cramp developing in the upper right quadrant of my abdomen. I ran as I could, passing through the world's loudest checkpoint at Loo before a few people on my tail got the competitive juices flowing and brought me back to reality. I got to Gressoney (205.9km) pretty much smack on my splits in spite of my sleepwalking and was out of there 14mins later.
I met Yen Po here (I'd lost him at Coda) and as it turns out, he was being crewed by a friend of ours, Ruth Croft. He'd tried to sleep at the Life Base but hadn't been able, and I encouraged him to come with me for to the next Refugio, Alpenzu, which was only 5km up the road. At 1/3 of the way up the next climb, I figured we could make the most of the remaining light and freshen ourselves up before hitting Col Pintor. He agreed, and we set off at a fast hike, paralleling the river along the bottom of the valley for a few km before hitting the switchbacks that led to the Refugio.
Yen Po was drowsy by the time we hit the Refugio and quickly laid down for a short nap. I spent more time eating and then followed suit, catching 30mins of restless sleep which I chased with a Hot Chocolate. The staff here were incredibly kind and made sure I was ready to go before heading back into the cold. I popped a No-Doz for good measure and thought I could take on the world. As it turned out, I think I had an adverse reaction to the Caffeine (it's happened to me before), and despite starting strong, I was sleepwalking well before I hit the top of what seemed like a never-ending series of false summits and disappointment. Coming down the other side, a technical, exposed descent, while sleepwalking, was probably the most dangerous section of my Tor. I was too cold to stop and sleep on the trail (that and the fact that it's expressly forbidden in the Race Rules) and so drifted on, stumbling and shuffling. I even dreamt that Roger Hanney and I were eating a Hamburger; maybe the first time I'd had a legit dream while "Sleep Walking". I've no idea how much time I lost here, or in other periods of sleepwalking, but in hindsight it's safe to say that by sleeping more and doing it pre-emptively, I could have avoided most of these situations. I believe my overall time would have been just as good, if not better, at much less risk to my safety.
I finally came-to just before Cuneaz, where I made the greatest mistake of my Tor. The food here was INCREDIBLE, yet I only picked at a few little bits thinking I'd eat more at Champoluc (where, it turns out, the food was complete rubbish). Croissants, Apple and Custard Tart, attentively-made espresso and all sorts of other delicacies awaited. I even commented to the host that it was the best restaurant I had ever seen, not just on the Tor, but on Earth, yet I still just grazed. What an idiot, obviously intellectually compromised.
I did, however, find Yen Po here and we continued to Champoluc together. He was now complaining of pain on descending, and I kept my pace down so we could stay together. We both slept at Champoluc where Ruth and the rest of his crew awaited (Kel and the girls skipped this one). I was feeling pretty glum at my nighttime wanderings, and it was bitingly cold, so I was pretty keen to face this next section with someone else. I waited for Yen Po who slept a little longer than I did and we left for Refugio Grand Tourmalin together.
The Sun rose allowed us to kill our head torches about an hour later, though it didn't hit us until well after that. We slept for another ten minutes at Tourmalin and ordered coffee. Yen Po was stuffing around, and so I left at a hike, waiting for him to catch up while I moved on. He caught me as I passed through Col di Nana and headed for Col des Fontaines and I didn't see him again for some time. The descent from Col des Fontaines to Valtournenche (239km) seemed interminable, but crossing below 100km to go was an exciting moment. Less than two marathons haha.
At 35km the leg from Valtournenche to Oyace was one of the longest without crew support and took 12hrs 45, or about an hour longer than predicted. That said, this section also marked a turning point in my approach to the race thanks to another runner, Neil Bryant, who explained that he'd not had a single episode of Sleep Walking. He was sleeping aggressively and bursting out of checkpoints rested, and speedy relative to those of us who were taking the "Sleep is Weak" approach.
I took his advice and slept 30mins at the beautiful Refugio de la Magia, before continuing the climb on to Refugio Cuney, Bivacco Clermont and Col Vessona. I finally caught up with Yen Po again at Vessona and he, along with Neil and I, climbed up Vessona and bombed down the other side. Neil smashed this section, and I didn't see him again for hours while Yen Po was struggling with foot or knee pain and so took it fairly easy. Part of the way down from the Col I caught up with a runner who was being illegally paced and ran with them for a while before letting them run into Oyace ahead of me.
In spite of my new-found appreciation for sleep, Oyace was one of the lowest points in my race. After a change of clothes and socks and a good feed, I asked Kel for 40mins of sleep. I tried to get her to leave, knowing how long she and the girls had been awake, but to no avail. She waited for me and then gave me another 10minutes when I begged; the only time I overslept throughout the Tor. When I finally left Oyace I was in good spirits and committed to nailing the next section; 1150m ascent and 1100m descent over 12.8km.
The wind at Bruson l'arp was intense, tearing the aid station apart, and I moved on toward Col Bruson as quickly as possible. The descent was extremely technical with lots of high steps and loose rocks next to a significant drop. I hated to think how things would deteriorate when the forecast rain arrived and continued. Once I finally hit fire trail, I found it littered with loose fist-sized rocks and this, together with my gut cramp, made it very difficult to run. In spite of this, I still beat my leg splits and came into Ollomont (287.2km) ready to eat, sleep and repeat.
Kel and the crew were there waiting for me, and I asked for a bowl of veggie soup to which I added Tamari Almonds and powdered Bone Broth; doubtless one of the best meals of the race. I slept for 30mins (Yen Po was also recently arrived and did the same) and then took advantage of the massage service. The masseuse' name was Paolo, without question one of the coolest cats I've ever met and indubitably a Witch Doctor of high esteem.
I explained to Paolo I had some pain at the very head of my VMO and he proceeded to work on my calf and get me to flex or resist in all sorts of ways. He noted the external rotation of my feet was asymmetrical and got to work on that. "If I'm pressing too hard you must say Paolo; please stop." At one point I grunted in pain, and he reprimanded me, reminding me that "Urrrgh is not my name. My name is Paolo and only Paolo". Funny dude!
As I was getting off the table, we asked him to translate the dosage on the packet of Charcoal tabs Deb had found for me. He asked why and we described my cramp. He invited me to lay back down on the table and did another handful of witch doctor tricks. Within minutes I raced to the bathroom and conducted my very own symphony de gas, relieving about 90% of the cramp for the remainder of the race. Paolo, whoever you were, you Sir, are a legend.
The climb out of Ollomont was steep but constant, 1000m vert in 4.8km, and inspired my Chart Topping hit, "A Vertical Km for Breakfast". With my iPod back at Ollomont I used my phone to play some music for a while, bopping out to AB Original and Dr Dre's the Chronic before I got nervous about my battery life and decided to lay down my own beats. I came into Refugio Champillon in good spirits, knocked back a Macchiato and some food, pack-exploded out of fear that I'd left my Mandatory over-mitts back with Kel in Ollomont, and then proceeded into the sleet with Neil.
We topped Col Champillon and dropped down to Ponteille Desot together. The elevation profile for this section drops sharply as far as Desot and the descends very gradually all the way to Bosses on what is perhaps the most gentle gradient of the entire race. Neil had heard it was 16km of road and so we set about preparing ourselves for some actual "running". As it turned out, the single-track descent to Desot was frustratingly technical and the following "runnable descent" turned into many kms of slightly uphill Douche Grade followed by sections of descent and thickening rain. I came into the Bosses checkpoint well behind Neil, slightly in front of Yen Po, and thoroughly pissed off. In spite of having put my poles away and got some decent running in, the cramped, claustrophobic aid station, cigarette-smoking marshalls, freezing rain, high winds and the knowledge I still had 30km to go caused me to have a bit of a tantrum. I eventually got changed, ate some food, prepared myself for the next leg and hit the road, well behind Neil and Yen Po.
I was cold, but I expected I'd warm up soon enough. The Rain turned horizontal, the Merdeux checkpoint I expected failed to exist, and I got nervous about my temperature. I saw a few runners in front of me which I thought may have been Neil or Yen Po and so I legged it. The rain turned to snow as we climbed and I got nervous, both about my borderline body temperature and the possibility they might restrict our crossing of the final Col, the 2936m Malatra.
Coming into Refugio Frassati (317.4km, 2537m) I was wide-eyed and running on adrenaline. Neil and Yen Po were here, and so was Stephanie, the latter wrapped in a space blanket and looking like she'd been here a while. I suggested to our little band that it'd be a good idea to cross the Col together and that we should do it ASAP lest the marshals stop us from going any further. Everyone agreed and so after a few coffees and food we put on our crampons and set out. Yen Po decided to go it alone and left about 5 minutes before us.
Stephanie soon explained she'd been in 3rd when she'd taken a fall. She'd been held at Refugio Frassati for what must have seemed like ages, the Doctors worried that the fluid in her leg might move to her lungs (or brain?). She'd been allowed to go with a group and so joined our little family. Or at least I thought it was a family. We stayed together as far as the incredibly-awesome, snow-covered Col Malatra, where I stopped to take some photos. Popping over the other side, I saw everyone had hit the sprints the moment we cleared the snow and moved into the sun; some family!
I trotted down behind them, stopping a few times to remove layers and crampons before hitting a small bivvy further down the valley. There was an evacuation going on here, some poor dude having broken his leg 320km in! I caught up with Yen Po and we climbed the into the final small Col together. I'd waited for him while he filmed the Helicopter picking up the casualty and so was surprised when he was reluctant to wait 30 seconds while I removed my overpants. He explained that he wanted to spend some final moments "alone" and so I let it be, assuming he'd cruise down the other side and that I'd catch him shortly and we'd finish together. I took it easy, cruising with Stephanie for a little while before I realised Yen Po had done a runner.
I put my poles away, smashed a gel and a Revvies strip and started to run. I'd wanted to enjoy the last 15km or so, getting it done but not belittling the experience by "racing" for the sake of a few minutes. I'd waited for this bloke probably half a dozen times and every chance he'd got he'd bailed on me. This was the last straw, and the combination of sugar, caffeine, delirium and self-righteous anger got the better of me. Now I was pissed off. It was time to RUN. I didn't want the bastard to beat me with this sneaky shit. I'd seen him move, particularly down hills, and I thought I could nail him.
Things were going very well. I was moving better than I had all race, no sign whatsoever of 320km of fatigue. At one point I went a few minutes without seeing a trail marker and got so nervous, I turned around, retracing my steps before I ran back into Stephanie who confirmed I was on the right path. I pushed on, back to running, passed a few people and let myself descend into breathe-stride-breathe-stride-swear-breathe. I passed a couple of people, and somewhere around Refugio Bertone, my Beast Mode started to fade. I hadn't caught him and was still being told I had 90minutes to Courmayeur.
I dialled it back, a bit concerned at my mental state; that I'd pushed so hard and let my brain run away with its delirious thoughts so close to the finish. I ran through Bertone, stopping only to get my race number recorded, and hit the switchbacks that descend to Courmayeur. I passed another person but otherwise kept the reins on it until I hit the pavement. There were two more poorly marked decision points here that caused me to stop and retrace my steps and then I finally hit the outer streets of Courmayeur and started to bolt again. I caught up to the guy that I'd endured the earlier snow storm with, and we jogged together for a while. I still had a bit of fire in my belly, and after it became apparent he was happy to jog it in I started running again. I crossed the finish line at 21:07 on Thursday the 14th of September, 2017, 106 hours and 47 minutes after I started and 1:40 behind Yen Po.
My furthest run before Tor des Geants was UTMB at 170km. My longest run was about 33hrs 30minutes, at my first 100 miler, the Northburn 100. Yet I pulled up remarkably well. I had one matchstick sized blister on the top of one big toe; I retained all my toenails and, at least physically, I'm ready to get back into training. I think the relatively modest pace of a 200miler means you pull up less sore than after a hard 100km or 100miler.
Emotionally I'm very content and, perhaps the biggest win, have realised that there are no races on Earth (maybe except something like Iditarod or Barkley) that "scare" me. That's not to say that I don't respect them, but that's different from fearing them.
Of course, I couldn't have gotten where I did without the support of some critically important people.
Firstly, my fiancé and head crew member, Kellie Emmerson. So soon after UTMB you stepped up and carried the baton. You did so damn well, navigating the mountainous roads and my biblical spreadsheet, caring for me, depriving yourself on all levels. Without you, I'd have been lost.
Secondly, Deb Sharp and Sky Meredith, in supporting Kel you went so far above and beyond the call of duty that I can't begin to acknowledge or thank you enough.
Thirdly, my Endurance coach, Katee Gray of Holistic Endurance. I chose to work with you because we're on the same page. You were a Tri coach first and foremost, yet your philosophy and approach were so similar to mine that I knew we could make it work. Without an athlete that believes in the coach, you have nothing, and this we had in abundance. You brought a high degree of professionalism to the table but without any hint of arrogance; you took my trail experience and integrated beautifully with your areas of expertise, going well beyond the usual expectations of a "trail running" coach.
Fourthly, my Strength Coach, David Lipman. I chose to work with you – and you said yes – because we share so much in common. Coffee nerds, body hacking geeks, nerds in general. You analysed my needs and wrote an excellent program yet did so in such a way as to support, not undermine, Katee. You recognised that I was training for a running race and so my focus should be on the programming of my running and endurance coach; that a strength program should support that. Cheers mate.
Finally, to Nickademus Hollon and everyone else who so selflessly offered me support and advice along the way. Thank you! Mike and the team at Nunawading Soft Tissue Therapies, Inov-8 and Barefoot Inc. Australia, Stephanie Case, Michael Ormiston, Chris Ord & Trail Run Mag, Matt Bell, Simon Ferraro, Matt Meckenstock, THIR Australia, VFuel Australia, Sean and Melanie Greenhill and the Buffalo Stampede, Derek Prentice and Peaks & Trails, Jo Brischetto and Ultra-Trail Australia, Anthony Thompson and the Kokoda Ultra Marathon, Keith Hong and RunNation Film Festival, Matt Murphy, Rohan Armstrong, Mark, Ash, Karen, Ian and Caroline.
Suggestions for next time (in no particular order):
1. Decrease crew dependency by removing all crew visits to Life Bases = decrease time spent in checkpoints, decrease faffing around, decrease concern for crew wellbeing, increase dependency on Aid Station food and resources. Simplify spreadsheet for crew.
2. Improve suitability of Pack e.g. UD Fastpack vs. Salomon 12 Set. A more "open", slightly larger pack would have saved me a lot of "stuffing around" time and made packing and repacking at aid stations significantly easier. While the 12 "just" had enough capacity, a few extra litres of space would have made the process more efficient.
3. Less dependence on own savoury food. In future just take gels, vfuel drink, caffeine, FASTCHEWS, Exo Ketones, SOS, bone broth and almonds and maybe Vespa. Rely on aid stations for everything else (cheese, meat, beer, pasta, tea, coffee, polenta). No bars, no meat bars, no MCTs etc and probably less of everything.
4. Sunscreen was fine
5. Better waterproof gloves. The heavy mittens I had were great, but fiddly and excessive. The Montane Windproof gloves were crap.
6. Take better care of your neck in terms of sun protection
7. Take a better med kit (e.g. GasEze, Charcoal)
8. Chafe prevention measures. You know what I mean.
9. You put your poles away for 15km out of 338. Don't worry about planning for this. The time to take your pack off and stow them was nothing.
10. At the pace of the Tor, the Petzl Nao+ was brilliant. Take a lighter, smaller auxiliary light.
11. Take more photos.
12. Compose more songs.
13. Recce more of the course.
14. Don't use a Suunto watch.
15. Inov-8 TrailTalon 250s were fantastic. You used a size 44 until Cogne and then a 44.5 thereafter. This worked well but something slightly more aggressive would may have been appreciated.
16. Gaiters were great
17. Calf Sleeves created funny pinch points around your ankles and below your knees. Consider Compression Socks in future.
18. A jacket large enough to go over your pack was handy
19. Your modified sleeveless wind jacket was awesome with your OR Echo-Duo Longsleeve T-shirt. These over your T-Shirt is all you wore on the first night, along with 2XU gloves and Raidlight over-gloves
20. Taking money to buy espresso along the way was a good idea.
21. Sleep aggressively. Avoid ALL "walking dead" moments. If you're starting to feel sleepy, sleep at the next possible location
22. Caffeine sensitisation, for the purpose of staying away during the race, was a complete waste of time. In a race of this length, where the fatigue is this strong, caffeine barely touches the sides. Sleep is the only means of staying awake. It may have been beneficial as a way of ensuring improved sleep in the lead up, but this could probably be achieved by reducing caffeine to one coffee early in the day rather than completely eliminating it.
23. Training was very effective and event selection (particularly Kokoda and Double Buffalo), but definitely introducing more long, constant-tempo hikes would have helped. E.g. Donna Buang, 8 mile spur, Klingsporn etc. Weight training was very suitable.
24. Pedicure (i.e. callous grinding) a few weeks pre-race helpful. Better toe nail prep may have been beneficial.
25. Gear selection was great. However, the extra few grams that a thicker micro-fleece would have contributed, in light of being very cold on the 2nd night, would have been justified. Likewise gloves as per above notes.
26. THIRs were a lifesaver. You brought 6, next time bring 12. Chafe prevention, sun protection, warmth around the neck, as a face mask to pre-warm your breath etc.
27. Don't ever drop your TP at an aid station "because I haven't needed them yet"
28. Where possible tag along with other runners. If you share your low moments with runners who are presently moving better than you, your overall average time will be much slower. Extrinsic motivation to move at a marginally faster pace cannot be underestimated in a race of this length.
29. Don't underestimate the value of anger and frustration to get you moving.
30. Music highly valuable, even though you only listened to it briefly.
31. Always carry a few extra essentials (salt tabs, caffeine). The ability to give these to other runners has an emotional benefit that is very valuable.
Written by Doug Fernandez Earlier this year, I'd finally won my age group (AG) in Boston. Even though I'd run it 4 times, even setting my PR there, the AG win…

Written by John Kynaston - https://johnkynaston.com Saturday 10th September 2016 Ever since I came across this race last year I've been looking forward to taking part and it didn't disappoint! Katrina and I were…

Written by Marcin Krzysztofik - http://wolnybiegacz.pl/en Welcome to my blog after quite a while! Almost 2 months have passed since my last entry (http://wolnybiegacz.pl/en/kacr-2017-race-report/). In a nutshell, in August I was recovering from…
Written by John Kynaston - https://johnkynaston.com Saturday 8th October 2016 The 'Lakes in a Day' ultra was my fifth and final ultra of 2016 and I was really looking forward to it. When I…

Written by Katrin Silva - http://runkat.com Cast of characters Our Fearless Heroine:Katrin, ultra runner in pursuit of another belt buckle at the end of the rainbow, otherwise known as the 100-mile Leadville trail…

Written by Eric Grant - http://www.lhtrailrunning.com The Ultra Tour of Léman holds a special place in my heart. First of all, there's the fact of going around a lake that I've called…
Written by Marcin Krzysztofik - http://wolnybiegacz.pl V3K (Vegan 3000 Ultra) is a mountain ultramarathon that I heard of for the first time about 2 years ago. Of course I got really keen to…

Written by Katrin Silva - http://runkat.com I registered for the 2017 Javelina 100 in late September, after two difficult 100-mile finishes earlier in the summer. Bryce and Leadville had gone well until…

Written by Avery Frantz - https://averyfunadventure.wordpress.com Spirits are up early in the race. This is a very long report that combines the months leading up to the race and the race itself, if…