Written by Harry Adair
This is just a short(ish) report for those who were perhaps tracking or following my progress and wondering why I was so slow and why I gave up with only 32 miles left to go.
Some background info. I was running this race with Ben Hall, one of my running chums from the Marathon des Sables in 2015. We had both tried to do this race in 2016 along with Gavin Fletcher, another MDS chum, but Ben pulled out half way between Shap and Kirkby Stephens and I gave up at Kirkby Stephens, Gavin made it to the end.
Ben is an unlikely running companion for me as he is half my age and a mad keen Derby County supporter but he is supportive, quite funny and we get on. We both entered the race in 2018 but I didn't start and he pulled out at Richmond with a twisted ankle.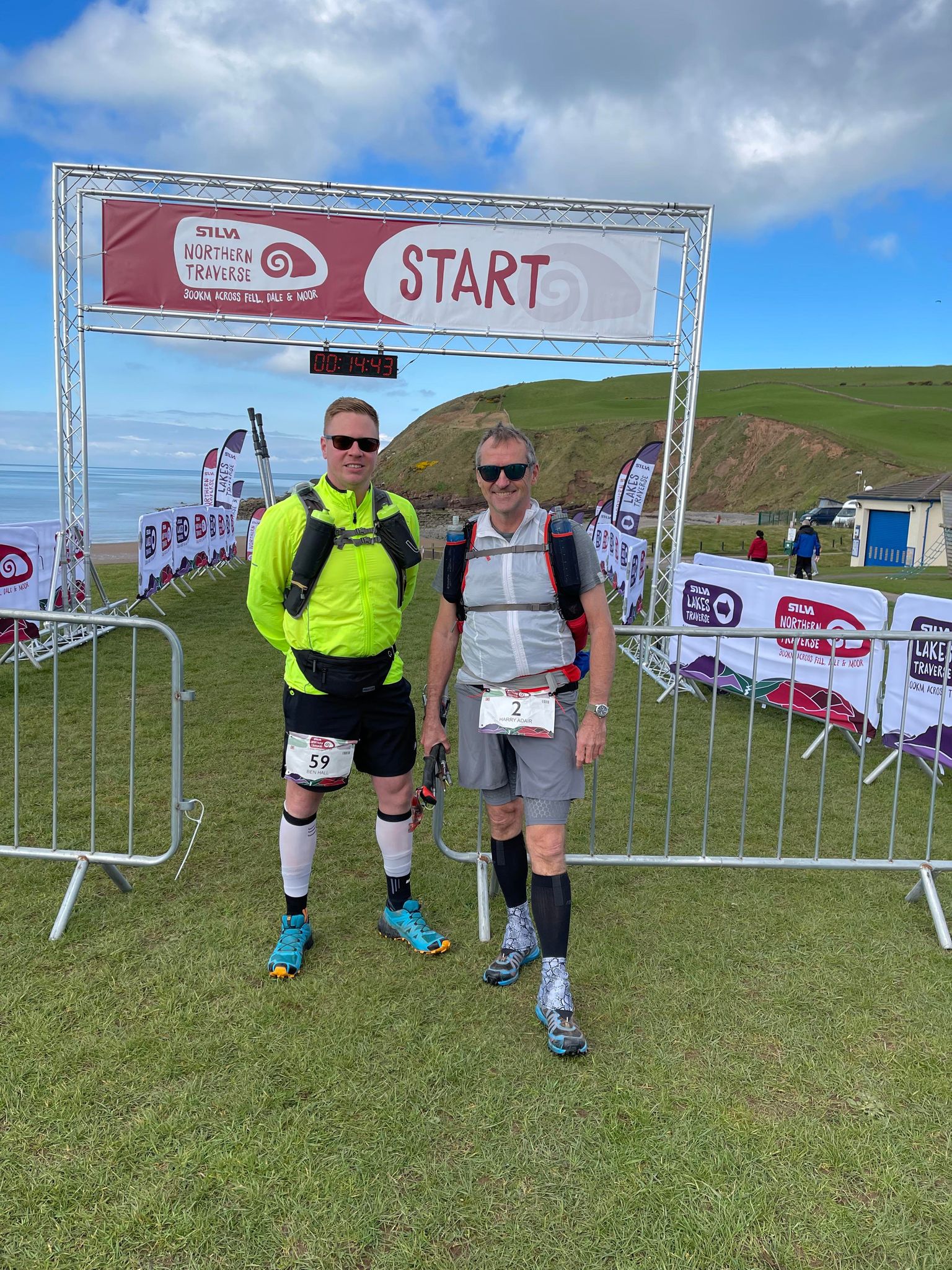 Leading up to the race neither of us had the best preparation, Ben twisted his ankle in January and had done very little running and I had Covid and only tested negative on the morning of the race.
The Race
The race is nearly 190 miles over the Lake District, Yorkshire Dales and North York Moors with four main feed stations where you could also sleep in tents if required. In 2016 we had decided to run through the first night and then carry sleeping and bivvy bags so we could sleep on the course. Our plan this year was to sleep at every feed station for at least a few hours to give ourselves the best chance of completing the course. Our main aim was to complete within the time limits and we didn't mind if we were dead last.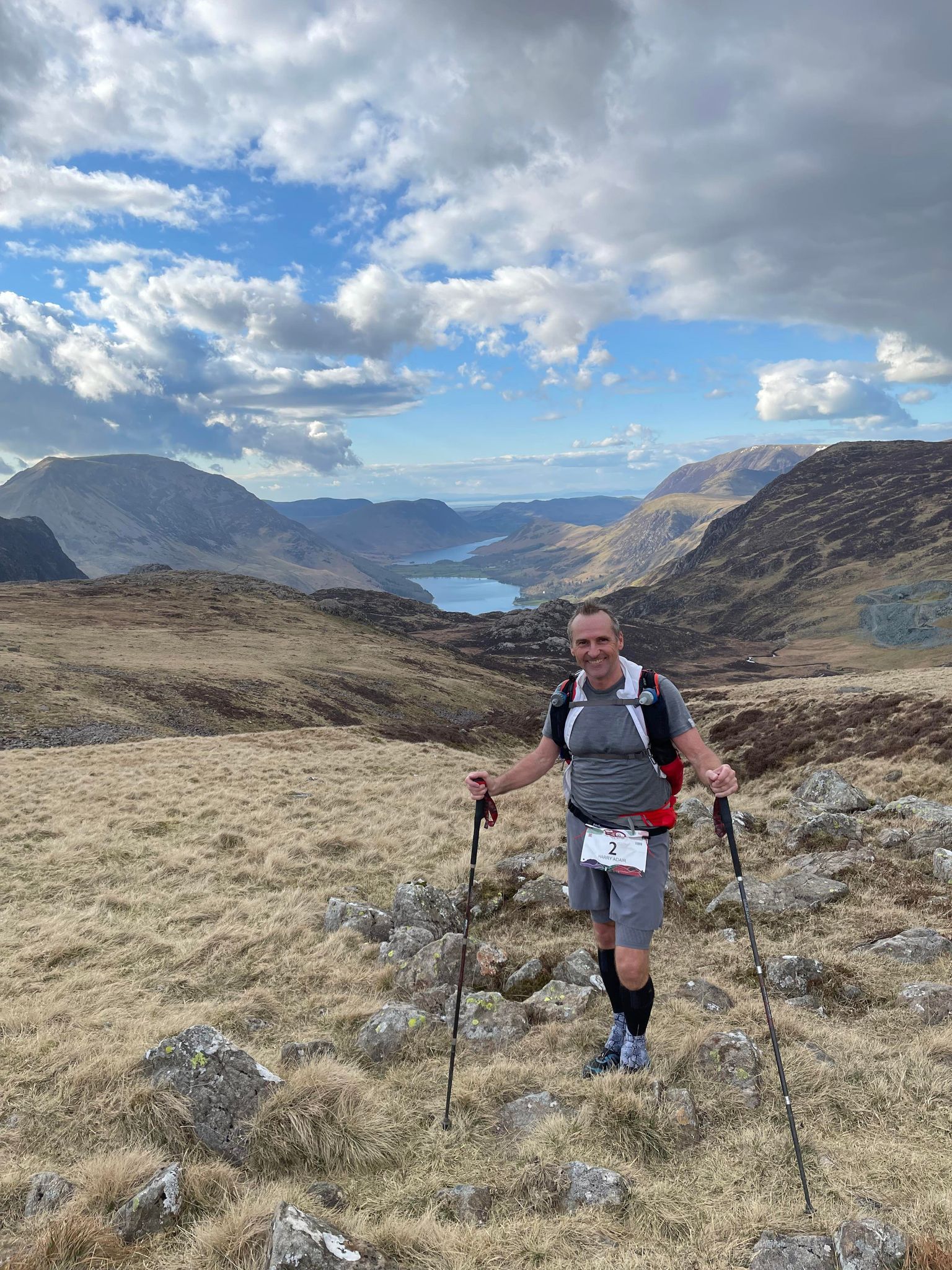 Stage One
The first stage is the longest at 44 miles and has the most elevation change with four main climbs. We started last over the start line on purpose so that we didn't get carried away and go too fast and also so that we were hopefully catching and overtaking people which is good for your ego. This worked quite well and we did overtake people but it was a long stage and we were a bit slower than we expected. In 2016 the race was in May and started an hour earlier, so we were only in the dark towards the end of the last descent into Patterdale. This time the head torches came out at the start of the second last descent and we had five hours in dark before reaching Patterdale. I had a fall on this first dark descent, hurt my knee and broke one of my walking poles. I was lucky, if it had been a few steps earlier or later I would have landed on rocks and it could have been much worse. We had meant to get in by 11 or 12pm, eat, get some sleep and start about 5am. We didn't get there until after 1am and decided just to sleep until first light and leave about 7. The sleeping arrangements were 8 man Berghaus tents with 4 'rooms' for two people and a central area to leave your drop bag and running stuff. There was no organisation of this and the event team had completely underestimated the number of people wanting to stay. You had to go into the tents with your torch to find out if there was any space shining your torch about and no doubt waking people up. We were lucky and Ben found a spare room in the third tent we tried but by the end of the night most tents had one or two people sleeping in the central areas amongst the bags. I took my socks off to sleep as they were wet but left my compression calf guards on. My feet had got very cold and as I lay there hoping to
warm up I also discovered that I had jarred my shoulder when I fell and I couldn't find any comfortable position to lie in. As I lay there I then started to worry that the calf guards were cutting off the blood to my feet and they would never warm up. Anyway, an uncomfortable night and I don't think I got much sleep.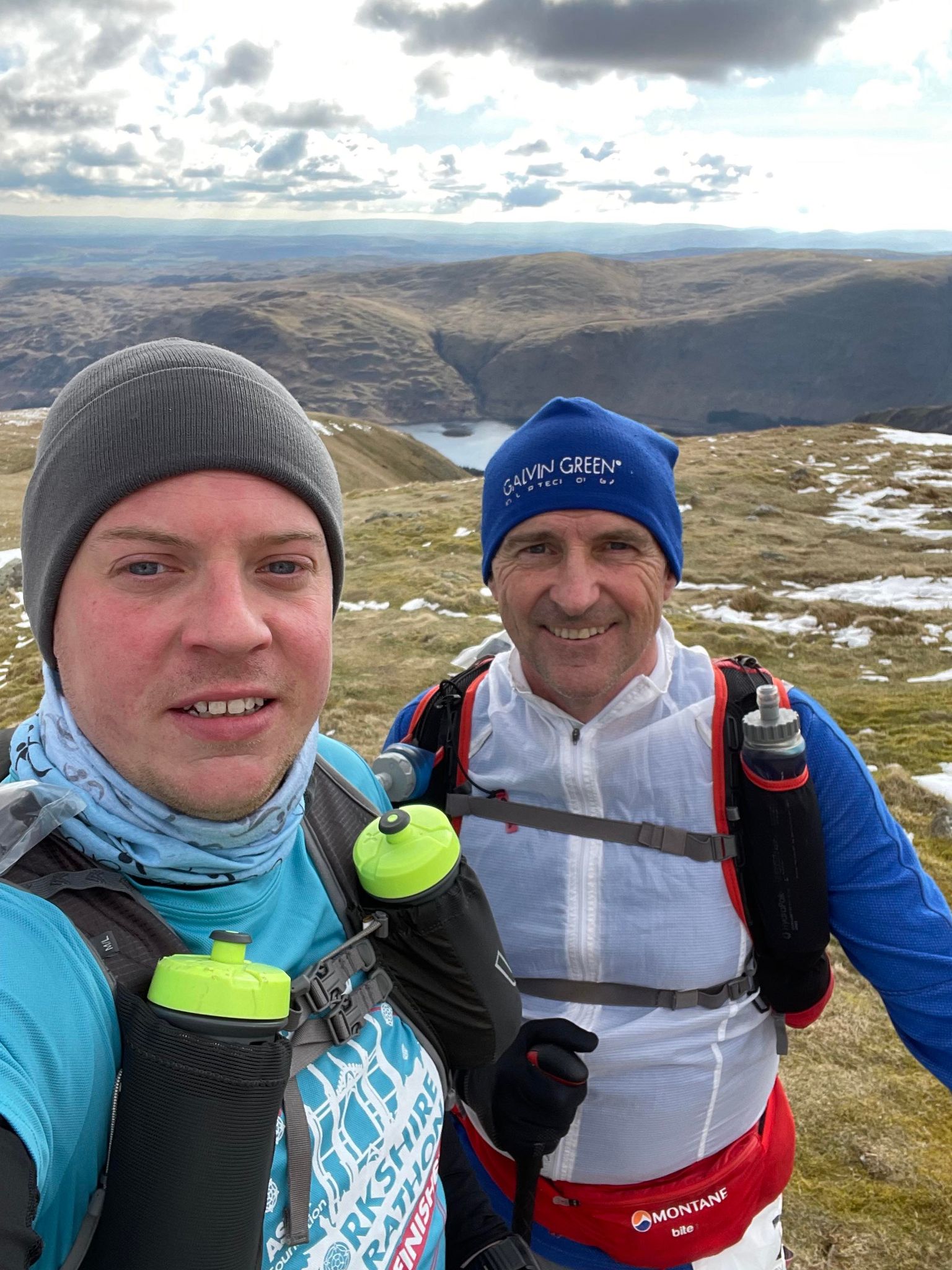 Stage Two
The second stage is 36 miles and starts with the biggest climb of the race with a long downhill to Haweswater and then farmland to Shap. After Shap it is undulating moorland and farmland to Kirkby Stephens. We started in the light at about 7am and had a nice climb out of Patterdale in the sunshine. In 2016 we had done this in the dark and got quite lost at the top of the climb but this time it was great to see the route ahead and the views were fantastic. It is a long climb and it was a bit alarming when Ben said we had done five miles and we had been going for two and half hours. There was plenty of snow at the top and again it was amazing looking round at the views over the mountains. On these events you have to stop and look at the views because when you are moving you have to be looking at
the ground the whole time. You are either stepping from rock to rock or avoiding tripping on rocks. The descent to Haweswater was very long and steep, in places you have to use your hands to climb down the rocks for safety. Ben found this hard going and his quads were trashed at the bottom. You then run along the side of Haweswater which sounds easy but it is actually up and down and the trail is so rocky you can't really run. The rest of this stage was fairly uneventful, we met Ben's parents before Shap and they were also there at the feed station at Shap. They were supporting him the whole way and we saw them once or twice each day. A big and I would think unrewarding effort as they stand around waiting and when we see them its a quick hello and off again as we need to keep going or get cold,
but it was nice to have the support.
It took forever to reach Kirkby Stephens, this is common with every stage as you start thinking about intermediate targets but once you start thinking about the end it just never comes. My feet were very sore by now and I couldn't wait to finish as there were showers at Kirkby Stephens and hopefully I could get a decent sleep. When we arrived I was extremely disappointed to be told that the boiler was broken and there was no showers and all the tents were full. This was one of my low points. Luckily one of the event staff had a booking system going for the one ladies electric shower and also the tents so we actually both got showered, fed and into a tent before too long. When we arrived at Kirkby Stephens it had just gone dark and was starting to spit with rain but by the time we went to bed it was very windy and lashing down. I woke several times during the night and the weather was the same and I thought if it's still like this tomorrow I'm not going on.
Stage Three
In the morning it transpired that a couple of the tents had blown down and people had to sleep in the feed station which is normally not allowed. Stage three to Richmond is 35 miles and starts with a long climb to 9 Standard Riggs and then there is endless marshy bogland and finally rolling moorland and farmland. We got up at 4am but faffed around in the feed station and didn't leave until six. I had one raw area on my left foot and an unburst blister on my right. It took a couple of hours to reach the Riggs and it was very windy but thankfully no rain. You try to keep your feet dry as long as you can by jumping from rock to rock or tussock to tussock but in the end it is pointless. You also come across dips in the path where it is all water and sphagnum moss, sometimes you can go left or right and find
somewhere you can jump across but other times you can't. Ben is a good bit taller than me and has longer legs and can therefore jump further, he did find this endlessly amusing! I undoubtedly went in more water than him but at one un-jumpable crossing we picked different routes and we both went in up to our knees, which cheered me up. After the endless bogs there was some nice farmland, ups and downs, old mine workings and great scenery. Ben was complaining about sore shins on the downhills but was much stronger than me going into the last few miles into Richmond. My feet were again really sore and I was very concerned as the next day was the second longest at 43 miles and they was no way I was going to put up with the pain in my feet for that long.
When we arrived in Richmond we discovered there were no tents. They had to be taken down as one of them had blown away and been caught in a power line and the fire brigade had to rescue it. Richmond feed station, like Kirkby Stephens, is the rugby club and the sleeping area was the changing rooms, unheated, bare concrete floor and full up. There was even one chap sleeping in the fully lit shower room concrete floor with people walking past to shower. We ended up sleeping in the feed station which was much nicer as there was a carpet. The lights were on all night and people going in and out and getting fed. This was another low point for me, my feet hurt, there was no comfortable position to sleep in and I thought I wouldn't get any sleep. After about an hour or so of shifting and groaning Ben lent me his sleep mask and I went to sleep almost immediately. 3 or 4 hours of minimally interrupted sleep, bliss.
Stage Four
We wanted an early start as it was another long stage so got up at 3am and left just after 4. Stage four is in two halves the first half up to the A19 is mainly roads and farmland and you can get press on. The second half is quite hilly with 3 or 4 steep descents and then moorland and the last seven miles are on an old railway line to the checkpoint. I had a different blister approach in the morning and had drained the ones I could and had borrowed better tape from another competitor. There was also a medical student volunteer who applied the tape for me and she did an excellent job, much better than I.
It's quite nice leaving early in the morning, if you can get in 6 to 8 miles before it gets light you feel you are ahead of the game but Ben was struggling from the start, he was fine on the flat and uphill but downhill very painful. After about an hour Ben told me to just go on myself and try and catch the two people in front. I didn't mention before but Ben was our navigator, he had a Garmin Fenix watch with maps and I only had a map (I do have a fancy watch as well but it went tits up the day before the race). He didn't want to give up but was concerned he was holding me back too much and thought I'd get lost if I didn't catch the pair in front. I set off like a rocket and ran until I caught them up which was astonishing as we hardly ran at all on stage 3. I honestly felt like I could run the whole stage (which I couldn't) so clearly I was concerned about getting lost as well. I stayed with them until it got light and pressed on when they stopped for a break. Sometime after this I felt a pain in my forefoot and I was thinking I had got shin splints the same as Ben. I had a swelling above my ankle bone and it was quite red. I reached the A19 at about 12 which is a big milestone.
You can get food and water at the Shell service station which is fantastic and it is also the most dangerous part of the route, crossing a four lane dual carriage way on foot. I was now feeling quite sleepy and very much on my own but luckily the weather was fair and I could read the map with my glasses. I was going through a forest section when I passed a new wooden route sign, pointing back the way I had come it said St Bees 132 miles and the way I was going Robin Hoods Bay 48 miles, I was elated, it was about 1pm and I knew the last stage was 30 miles so I only had 18 miles to walk that day, how mad is that! Shortly after I passed another runner, Luke Craig, who was having a wee lie down at the side of the path in a forest, we chatted for a bit and off I went. Shortly after I was convinced I'd made a
mistake and had to back track when I met up with Luke again. He had an extremely fancy satellite phone/navigator so I thought I'd better stick with him! I had phoned Ben before I reached the A19 and he had decided to stop which was a sensible decision as there was another reasonable four climbs but with difficult descents which would have been agony and impossible for him. On the last seven miles I was thinking about the finish which never comes, my feet were sore again but my forefoot was getting quite uncomfortable. I was desperate for end to come but with two miles to go I heard/felt a snap in my foot and my race was over.
I hobbled on for a few more yards but then went and lay down at the side of the track in some heather to get out of the wind. Luke was a bit behind as he had stopped to put on another layer as it was getting dark and it was cold but when he caught up he was great support. I had tried phoning race support but was getting no signal and he said I should press my emergency button on my satellite tracker. He managed to contact race control with his fancy sat phone and tell them what was happening. I could overhear race control asking if I could hobble and I thought that I should, I thought Ben would hobble on with only a couple of miles to go but actually I had only hobbled twenty yards since the snap and I doubt I could have done another 20. Equally, going that slowly you are going to get very cold. Luke was very good in the situation, he told me to put my spare layer on, get in my emergency bivvy bag which was the correct advice. I was now more concerned about Luke getting cold and told him to get on and leave me which he wouldn't. I also had an emergency blanket in my rucksack which I gave to him while he waited. One point, Ourea events insist on you having an extra warm top and an emergency bag rather than blanket, it's good advice. The bag was so much better than the blanket Luke was trying to wrap round himself in the wind. Again, I was lucky, I was on a drivable track and only two miles from the end.
The rescue van arrived fairly quickly, Dr Nat, driver Dave and search dog Fern. The first two were great but Fern growled at me, I suspect she was pissed off I was just sitting at the side of the road and there was no searching involved. I was driven to the Lion Inn check point where I was given my drop bag so that I could change into dry clothes. Luke turned up at the van to see how I was having completed the stage in the cold and dark, They obviously didn't want me staying in their van as they asked if I wanted to go into the feed station (the back of a transit van as there were no tents standing anymore) or wait for my taxi in the Lion Inn, umm, a difficult choice. I was driven the hundred yards to the pub and then tried to hop in but actually fell in the door. Why I thought I could hop up some steps on one leg after being unable to run for two days is beyond me. A taxi arrived (paid for by Ourea events) to take me to Middlesborough Hospital and into the hands of the NHS, and that is another story!
Throughout the event Ben and I both agreed the event was too long, too hard and too expensive and if we failed this time that was it, we wouldn't try again. However, strange as our minds are, we both think we should have another go. But when?