Salomon Speedcross 6
Category: Shoe Review
My sample pair of Speedcross 6 arrived and the first thing to be said is the colour! Aesthetics are usually fairly low on my list of priorities, but the firey colours really jump out and of course the white is bonkers for a shoe that is made with a deep gnarly tread which matches it up with deep sloppy mud! I knew the white wouldn't last long! The colourway I have is thankfully not the only one, with this one being the brightest, with some more conservative styles for those who are not keen on the fire look!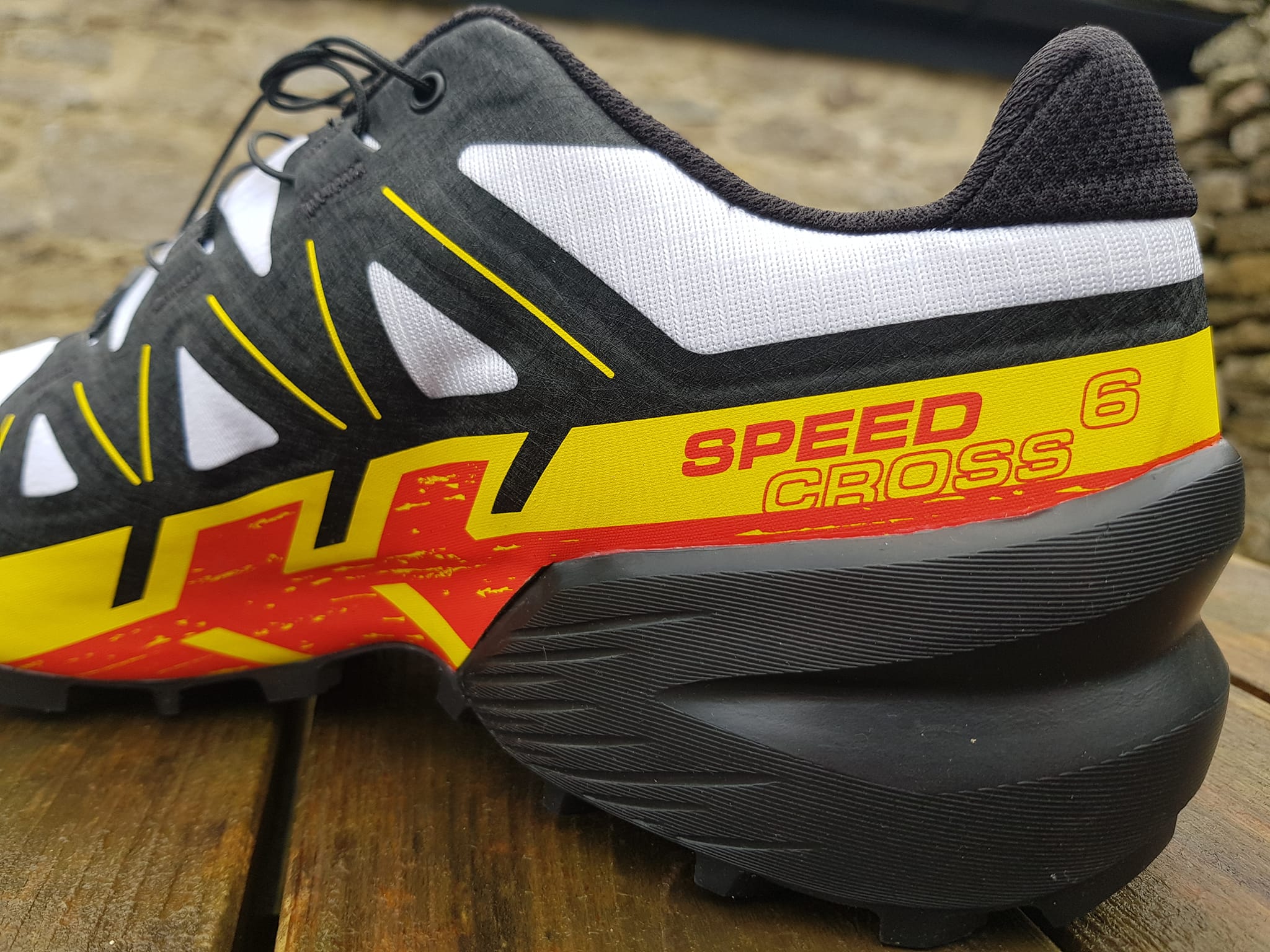 Looks aside, in my hands, the shoe felt just as I remembered it from all those years ago. I was pleased to find that the concerns that it would be too narrow again, were unfounded. I generally like to have plenty of space in front of my toes, and I am not sure that I wanted so much space when I started out so maybe I have a larger shoe now? Either way, they fit fairly well. Not the best I have had, but no obvious issues. 
They are well protected shoes with plenty of padding and that is reflected in the weight (298g), which is outside of what we call lightweight these days, but not overly heavy either. You are simply paying for that extra protection, in weight. The heel has plenty of support, the toes are well protected and there is a heel to toe drop of 10mm which is not low and therefore not going to be working those achilles too much.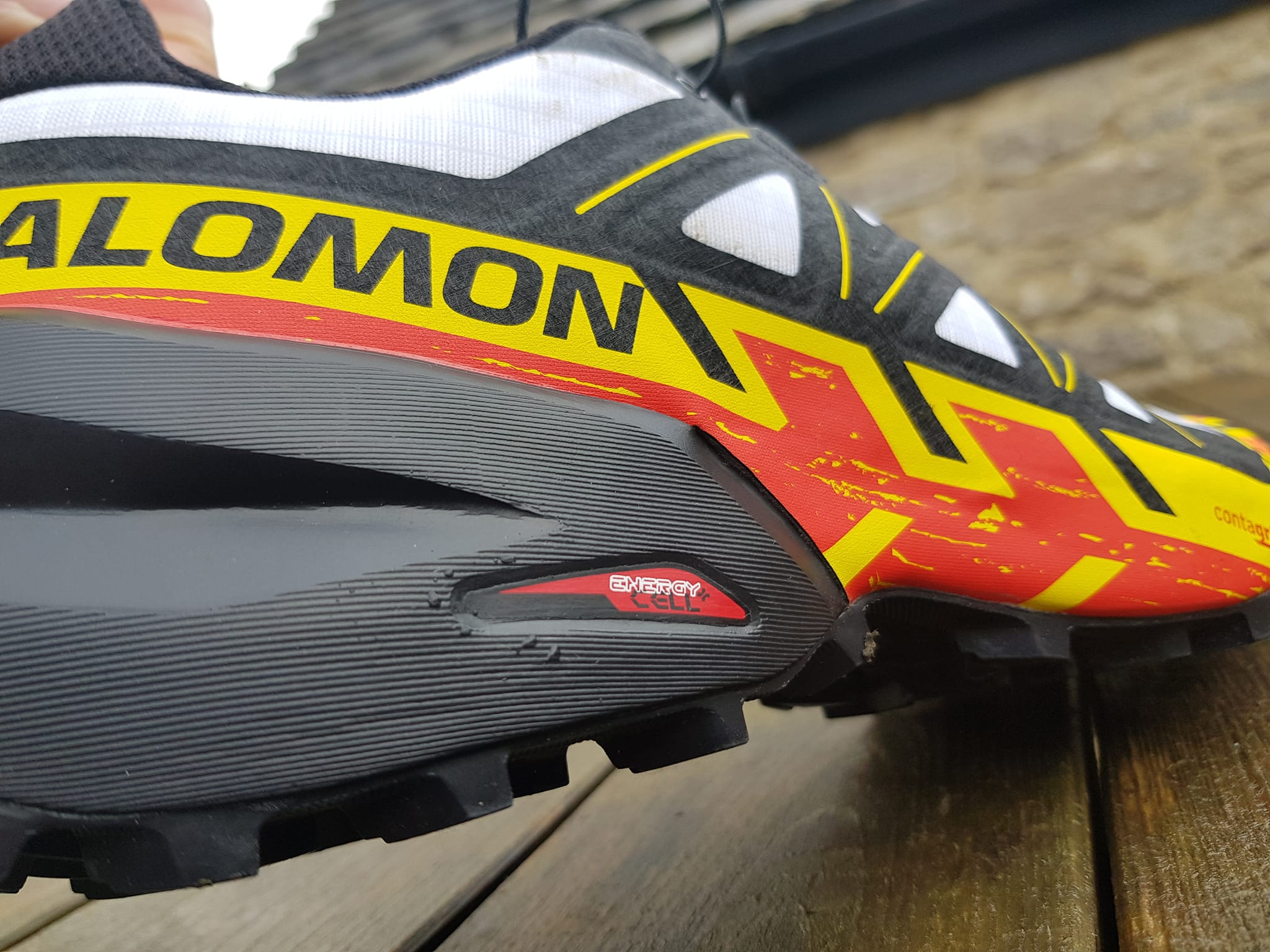 The rear of the midsole is a chunky, beast of foam whose shape hasn't changed in all these years. And this is something which the designers (different designer for each shoe!) of each iteration of the Speedcross have paid attention to. They have tried to both retain the same, well-known look, while making further, under-the-bonnet improvements. No easy task, I'm sure! 
One place where there is some obvious change, is the tread pattern. The tread is around the same depth at 5mm, but the shapes are not just chevrons, but down the middle there are shapes that are chevrons but with an extra line coming from the middle. The old Speedcross had a bit of a reputation as being poor at gripping wet rock, but this has apparently been fixed with a new rubber compound. 
The lacing system is the same as it always was, and what Salomon use with most of their other running shoes, the Quicklace system. Not everyone gets on with it, but it doesn't seem to have much of a negative effect on sales! Personally, I am ok with it, but I don't love it.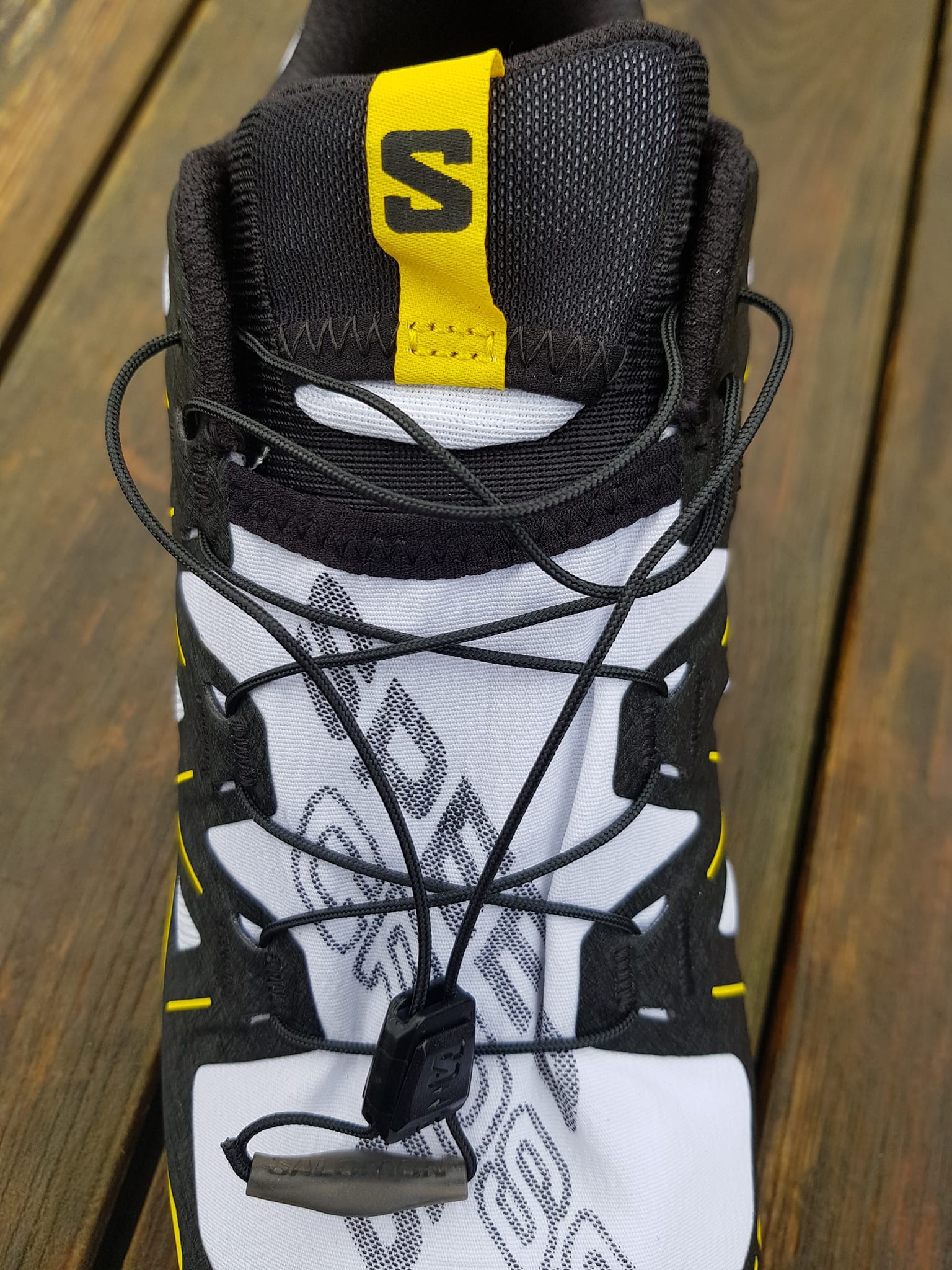 The upper is a tightly woven material and feels as though it is constructed using two layers. No trail debris is getting in this way! It does concern me a little that it won't provide much ventilation though. 
The heel is, as is the rest of the shoe, solid and well supported. The tongue is a fairly chunky affair, which I like with the quicklace system, as I find sometimes the laces can dig in a bit, and the tongue adds a layer of protection from that.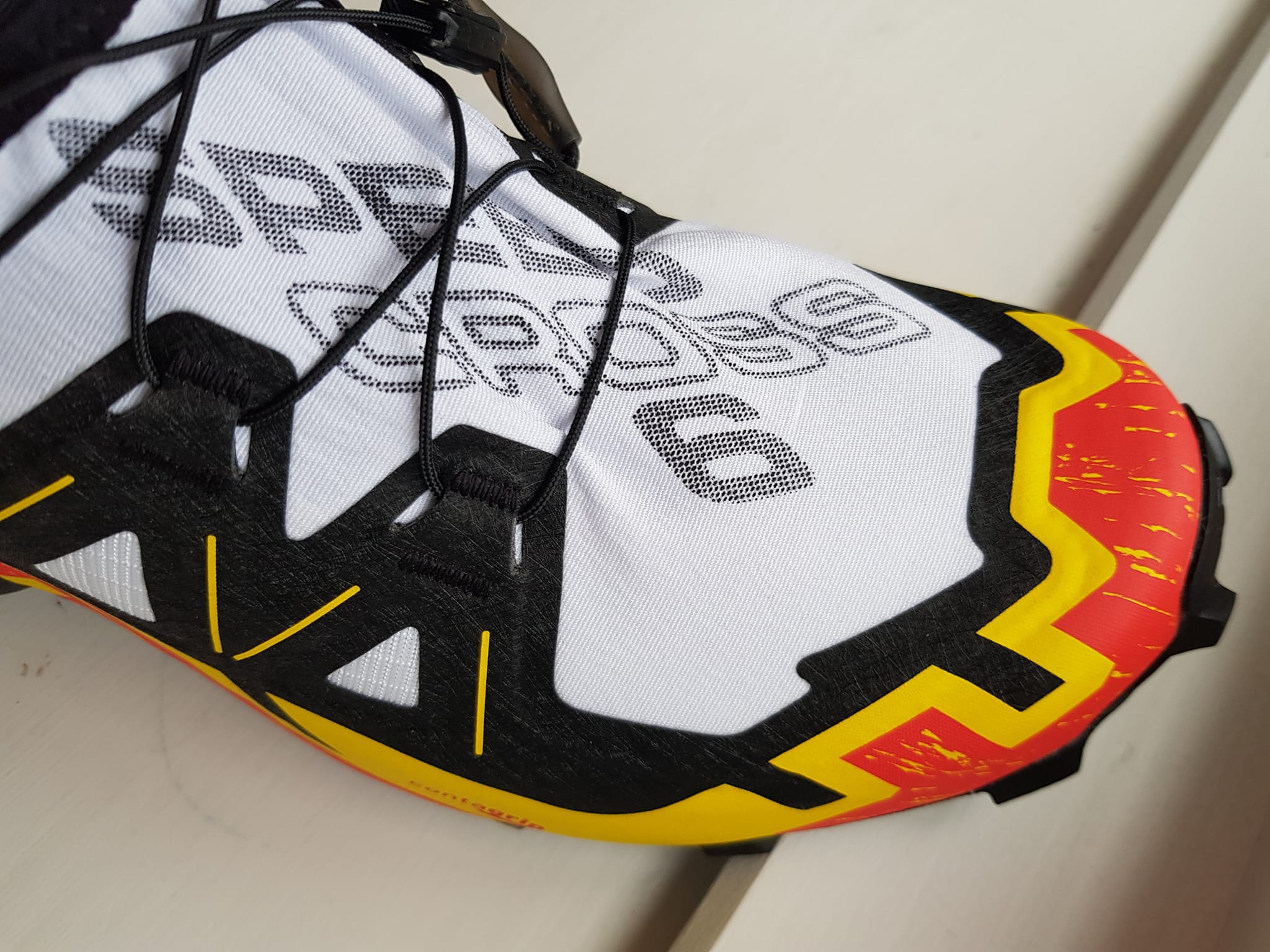 With the weight not being particularly light, and all the padding and protection, I was expecting quite a 'chunky' run with no decent trail feel. I was fully expecting the improved, deep tread to be very handy on the wet and muddy trails here on the coast. I have to say that although it doesn't feel like a lightweight racing shoe, it felt better than I was expecting! Running through wet grass and my feet stayed dry for quite a while which was nice! My concern of my feet overheating wearing them was valid unfortunately. My feet do run rather warm though, so maybe others don't have this issue? Either way, this shoe is more a cold weather shoe than a Summer shoe for me. Trail feel was average which was just fine considering what a protected shoe it is, though if you want plenty of feedback from the trail, then maybe look elsewhere.  
The tread was fantastic, and with some testing performed in some highly challenging mud, it was only when there was just too much sticky stuff that they got overwhelmed and started sliding a lot. I am not sure that any shoe would have coped any better to be honest! I also found that they tended to grip well on the slippery wet rocks also. Running on the road or hard packed flat trail was not too bad, but the deep tread means they are happiest in softer, muddier condition. I certainly wouldn't choose them for dry, well groomed trail! 
I think the Speedcross 6 is a great shoe, that carries on the Speedcross legacy. It certainly won't be a great shoe for everyone, but if you are after a shoe with plenty of protection and that will keep you upright when the going gets slippery, then it would be worth giving them a shot. I also think that this is a shoe that will have a high durability so should last quite a while. I think that it would be a good shoe for someone who is just getting into off-road running with all the protection, and the 10mm drop.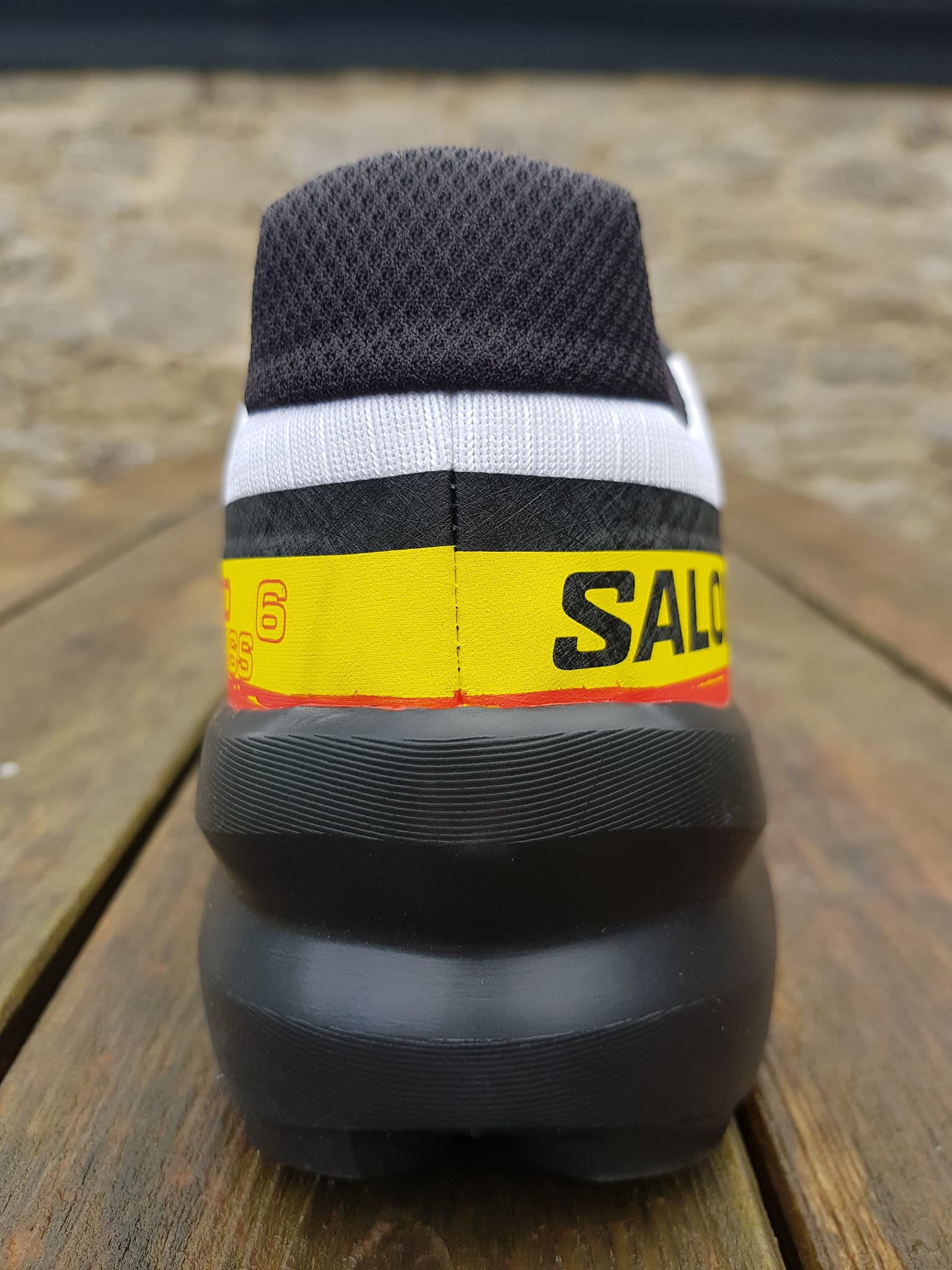 RRP is £140 which is fairly high, though a quick Google finds shops selling it for around £100 bringing it down to a decent price. Coupled with the durability, I'd say the Salomon Speedcross 6 is a well-priced, competitive shoe that will continue to be a popular choice amongst trail and fell runners.