Written by Neil Bryant
I have run a few races that I class as really long. These being single stage races, over 200 miles such as the Tor des Geants or the Spine. The main difference between these races and say a 100 miler, is that most people won't need to sleep during a 100, whereas the opposite is true for the 200+ miler. Other than the sleep, it is simply more time on your feet and generally higher fatigue rates. Oh, and let's not forget that isincredibly intimidating to stand on the start line of a 250-mile race. A 250-mile drive on a motorway is bad enough!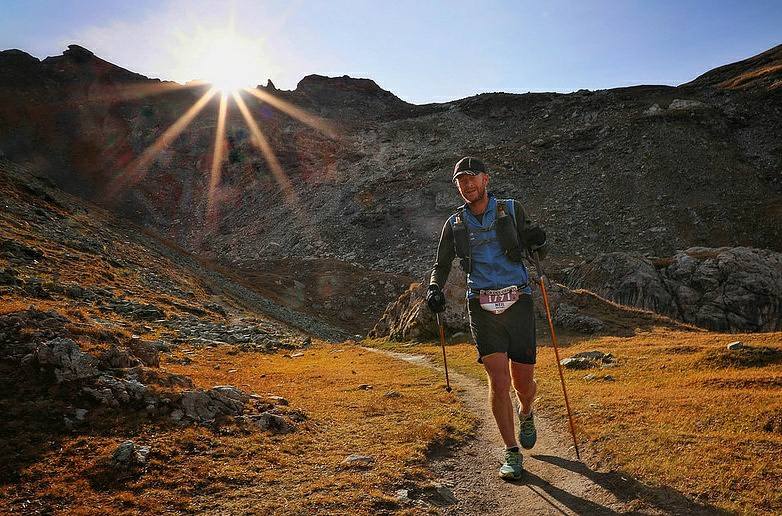 So, how do you get through such a huge race? How do you train? What are the main difficulties you will face?
Mental strength and Self-belief
This,for me is the biggest strength you need for the longer races. The longer the race, the more of a mental strength is needed to tackle it. Don't get me wrong, I'm not dismissing the physical side of things, just trying to highlight the importance of a strong mental approach to these races.
How can this sort of strength be encouraged to grow? Well, you could work your way through races, getting slightly longer and/or harder over time. It works. The more you do, the more your comfort level grows. When you started running you may have been intimidated by a marathon, but now you are not as you have run a few 50 milers.
You could also do some challenges of your own, such as catching a train 50 miles away and running home or doing a two day run and bivvying overnight or running all through the night and anything else that your imagination can dream up. These sorts of personal challenges are great for confidence but are also incredibly fulfilling. They also teach you how you operate when heavily fatigued.
We are all different though. Some people can jump into a big challenge, whereas others prefer a longer, methodical build up. Experience is the key that will help everyone better understand the task ahead. For example, it wasn't till my third very long race where I felt that I had really optimised my sleep pattern.
I won't go into any specifics about exactly what you should be doing each day, more about what is actually needed to comfortably finish.
If you do, or have ever done some serious marathon training, then that would be adequate for a 100 miler, and if you are 100 mile fit, then you are 250 mile fit. It also is dependent on your mental outlook. Many people feel that you need to do mega mileage to prepare for a super long race, but I disagree. Yes, if you wanted to get a top 20 result, then some heavier mileage could well help, but heavy mileage is risky for injuries, and many of us just don't have the time in our lives to be out for a few hours a day.
This is where a few big days, or even back to back days can really help build the self-belief that you and your body can actually pull it off. See if you can book a training camp (or holiday to your partner) so you can get some bigger days in. Just a long weekend somewhere is all that's needed, but it can really help your mental and physical preparation.
Remember to train for what you are realistically going to be doing in the race. Running slowly, and plenty of walking! Practising a fast and efficient walk can help your overall speed a great deal, and many people will neglect this area in their preparation.
If it is a mountain race then practice walking uphill, and in equal measure, running downhill. Practice descending as smoothly as possible.The downhills are where a great deal of micro damage will occur in your muscles and if this can be minimised then it should be.
Finally, I would strongly advise poles, no matter how much you are against them. They can really be very useful, the more tired you get. Crossing rivers, stability in slippery conditions, uphill rhythm, and ideal if you get a minor injury that you can still run with but need the extra 'legs'. You must practice with them before the event as poorly used poles can be fairly useless.
Do you plan to the nth degree for every race, or are you super chilled and not even look at the route before race day? I would suggest that whichever camp you fall in, to have some planning. Due to the length of these races and the confusing, drunken levels of fatigue that you may well experience, some simple rules can really help out and save time.
Clothing – Think about all the weather you could experience over the week (which can be the full range!) Is that super light waterproof jacket going to be any use if it snows and you are struggling to keep warm? Maybe have spare shoes in your drop bag? If it gets really cold which is massively heightened when really tired, do you have enough layers? Do you have protection from the sun (hat, arms and neck)?

Pace - Decide how you would like to pace it. You will be walking a lot, but when and how much? I walked almost all the uphills in the Tor, Onlyrunning the gentlest of slopes. You have to always consider the whole race. Try not to get caught out in racing others in the first 100 miles or even more!
Drop bags – If you get the opportunity to use one, then use it! it can be a lifesaver during a longer event. A few changes of clothes, A few pairs of shoes, some food treats, and any other little luxury that you couldn't carry but may give a big boost.

Check point discipline - I like to have discipline with being as slick as possible at the check points, as it is so easy to sit, staring vacantly at the wall, in the warmth while the time just flies by. Before I arrive, I will mentally go through everything and work out the order to do it all in. Eating, drinking, picking up food supplies, changing clothes, filling up water bottles etc. It is all so simple, but so important too. It is so easy to forget one thing.

Route knowledge – it is an advantage to at least have a basic understanding of the course. Many runners will have been studying it for months and will know exactly what is around every corner. This all comes down to your personality. Do you like to know exactly what is happening or do you like things a little more casual. I fall a little more on the side of casual and would spend a minute studying the next section at each checkpoint before leaving. Knowing there is a climb that could take 3 hrs beforehand is much better than climbing for 3 hrs and not having a clue when the torture will end!

Knowledge database - There is a reason that when many hard races are born, they have a higher DNF rate than now, and that is because over time, the experience and knowledge that is gained over the years, trickles down to the new runners, and confidence grows, and the success rates grow.Many of us (all?) have a love hate relationship with the internet and in particular social media, but it does have its advantages. Joining the right groups and connecting with previous runners is one great way of picking up some valuable information. Also, just visit this site, and read others race reports which are a goldmine for nuggets of information that could help you finish, plus they can really get you very excited and motivated about the challenge ahead.
Now this is where it can all go so badly wrong if you don't get it right. Believe me, I know! If you hallucinate then you should have slept earlier!
My simple rule is to sleep if youfeel tired and not push on to the next checkpoint. You see, when you get into such a poor, tired state, there is nothing positive about it. You move a lot slower, you feel colder and most dangerously, your judgement is clouded at the best. It suddenly becomes very difficult to look after yourself, especially when you are in the mountains in hostile conditions. Keeping yourself warm, dry, fed and watered suddenly become huge tasks and simple decision making goes to pot. Basically, if you get just a little more sleep, you will move faster, and be able to look after yourself much better. Don't wait till you are about to drop. Don't get caught up running with others as we all have different sleep demands at different times. Some people just power nap for 20 mins, but this is not enough for me I have learnt. 1.5hrs or 2hrs a day works well for me. But remember that you need to experiment to find your own optimum amount.
If the preparation is all a bit too overwhelming, then maybe consider coaching. A good coach with relevant experience, will be able to help you structure your training, choose equipment and will be able to answer all your questions that will make things seem more manageable. Drop me a line at This email address is being protected from spambots. You need JavaScript enabled to view it. if you are interested.
These are just my simple observations about what works and what doesn't over the longer single stage ultras where sleep becomes essential. But you must remember that you need to get out there and try things out. I just want to take some of the fear away from these 200 plus mile events so that more of you try them. They are hard, mentally and physically, but the reward from finishing one of these monsters is huge. With the right mindset, and as long as the body still works, most people could finish one, so why not enter one? What could possibly go wrong!