Written by Chris Ellyatt
Course length: ~ 72km / 1,964m vert
Finish time: 08:04:34
Position: 1st / 95
Flicking through the pages of the Ultra Tour du Mont Blanc (UTMB) website with the intention of reading up on the competition before it took place a month or so later, I came across the Regulations page. I read the qualifying criteria with sudden interest… "UTMB®: 15 points acquired between 2016/01/01 and 2017/12/31 (in 3 races maximum)".
I had never realised that you could obtain qualifying points over two years! Having finished the North Downs Way 100 in August 2016 and the Grossglockner Ultra Trail in July 2017, I quickly calculated that I only required 4 more points to qualify for the UTMB 2018. I would just need to find a qualifying race before December! Scrolling through the (now somewhat limited) race options at the start of August, the La Sportiva Grand Tour of Skiddaw quickly caught my eye. At 70km in length with around 2,300m vertical gain, a professional looking setup (including post-race party) and 4 UTMB points on offer, I had clearly found the race I was looking for. I signed up to the race with familiar excitement and noted the very reasonable price of £45.
So, a week after completely the gruelling 110km of the Grossglockner Ultra Trail (GGUT) in Austria, I was now signed up to another ultra in a month's time. I am a huge believer in the importance of recovery, but I felt surprisingly good following the GGUT and decided to keep the ball rolling. I quickly built my mileage back up during the four weeks of training I had available and cross-trained using my road bike. As the race approached, I performed a short taper with a final long run the weekend before the race and a couple of easy efforts midweek.
I took the train up from London Euston to Carlisle at 1330 on Friday 1 September. Having done some absolute last-minute packing that morning, I decided I should read the competitor notes from the race website, and realised with building annoyance and disbelief that I had left just over half of the mandatory equipment at home! The train finally pulled in to the station at around 5pm, and I sprinted down the high street as fast as my backpack would allow and darted into Cotswold Outdoor. I owe a debt of gratitude to the team at Cotswold Carlisle who helped me get all my bits together before the store closed!
Having been relieved of a cool hundred pounds within 20 minutes of arriving in the Lake District, I decided I might as well go all-in and luxuriously treated myself to a taxi to the campsite/race HQ. We pulled into the beautiful grounds of Lime House School near Dalston and I got out of the car with all my stuff.
The setting was gorgeous, with an open field just behind the old school buildings where other runners were already popping their tents up and parking campervans. I was surprised at how warm it was, and the sun slowly dipped towards the forested horizon as I set up my coffin of a tent and prepared equipment for the race.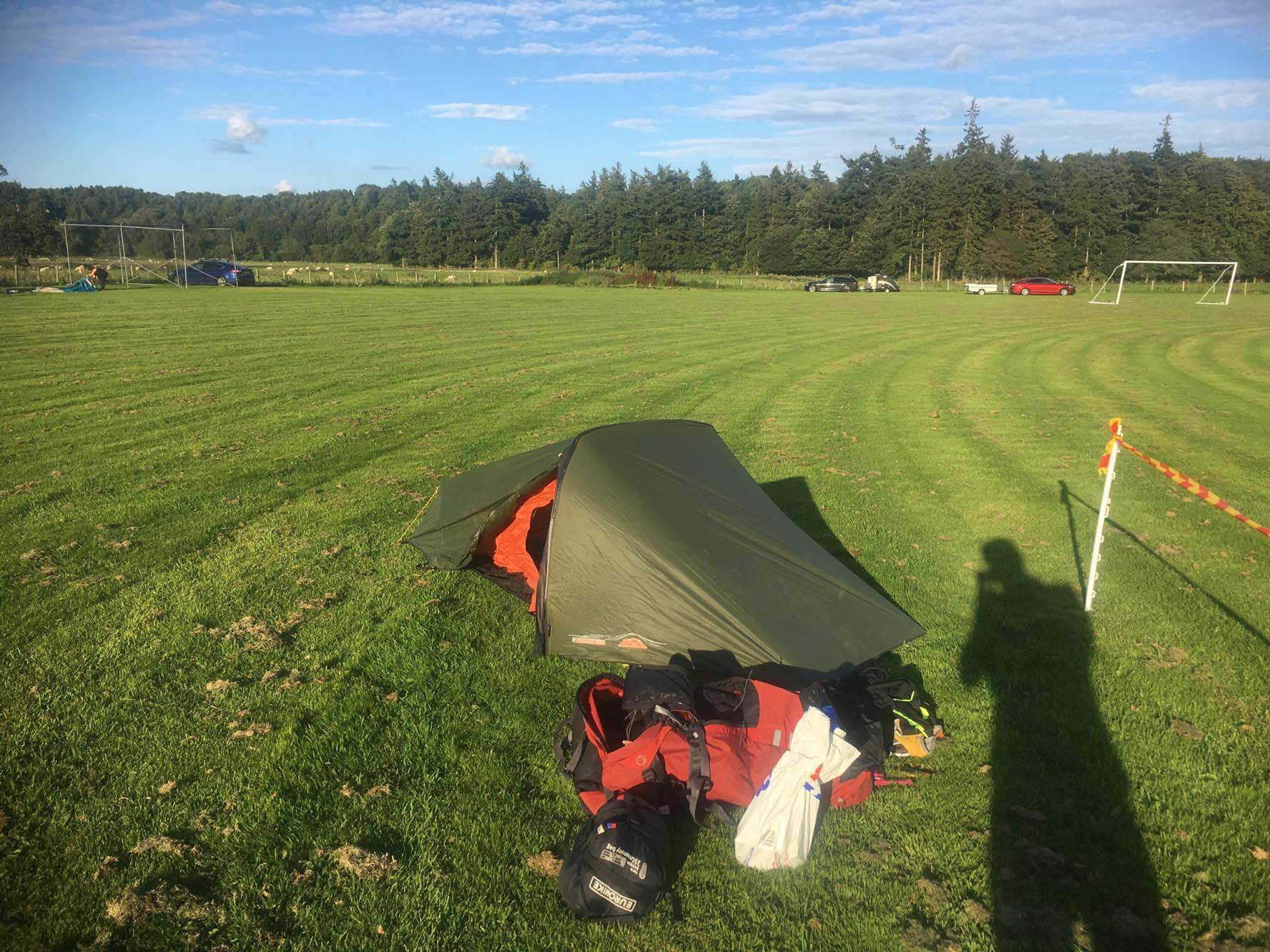 Basecamp
Having registered, done equipment checks (yes, I had everything!) and collected my bib-number, it was time for some final carb-loading. Part of the awesome race organisation is the wood-fired pizza place which is available on site for the entire weekend. I duly obliged and tucked into a full pizza and garlic bread, which were both delicious! Pizza has become something of a pre-ultra ritual and I'm convinced it's a type of superfood.
I spent the evening chatting with some of the other runners under the unusually clear Lake District night sky, which quickly turned bitterly cold. Discussions over, I retreated to my sleeping bag and fell asleep surprisingly quickly considering the upcoming race.
Despite selecting the softest jingle possible, my alarm went off at 6am as piercingly as ever. Resisting the urge to hit 'snooze', I obligingly got up in the damp setting of my one-man tent. It had been a truly freezing night and condensation clung to every surface of the nylon fabric around me. I had tossed and turned in the cold of the night and curled into the foetal position despite my supposedly 4-season sleeping bag, but felt surprisingly fresh and excited for the day ahead.
I try to stick to a personal rule of pragmatism on raceday. Last night, under the stars, had been the time for thinking about how well I could do. I had accepted to myself that I would aim for a top-10 finish, since the Alpine race of last month should have been good training. Going into this race I was truly confident. Exiting the tent and slowly preparing myself, however, I no longer thought of such things, and became almost mechanical as I warmed up for the event.
About an hour before the start, I had a decent bowl of porridge (golden syrup flavour, of course) and stirred in some chia seeds that I had picked up at Tesco. Hydration came in the form of 500ml "High 5" isotonic carb drink and a strong black coffee. I felt that this breakfast took care of the two most crucial factors for racing: available carbohydrate (petrol in the tank) and hydration (oil for the engine).
Runners milled around in their ridiculously neon bright clothing as the organisers did the briefing and described the course. It was a very cold start to the day, but the cloudless sky suggested that it would warm up considerably. Stupidly, I decided to start in a long-sleeve baselayer which became entirely unnecessary within around 15 minutes of starting.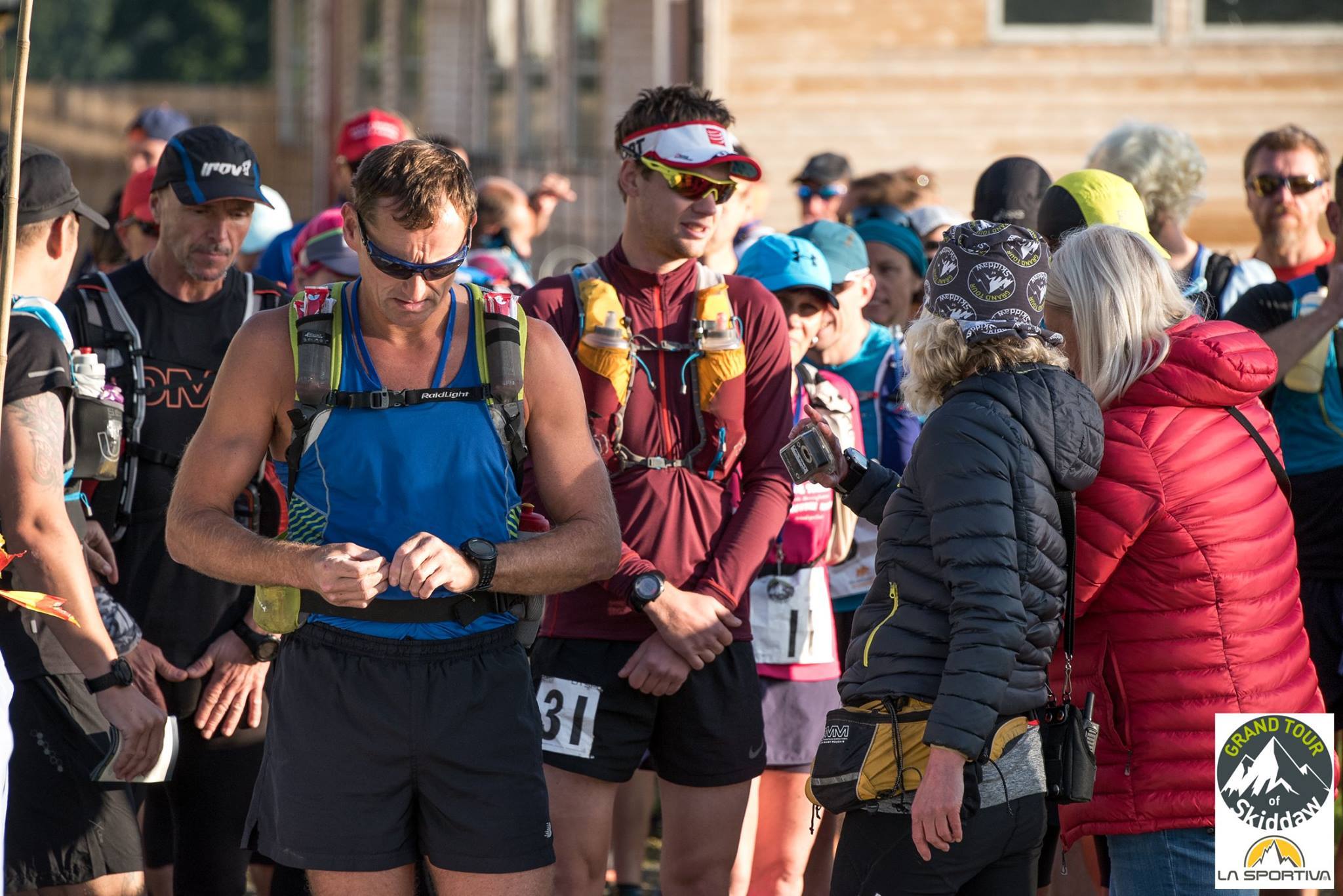 Toeing the line and feeling ready. Jamie Hancock is just in front of me on my right (blue top) with a much better choice of clothing. We ended up running together for around 20km.
The gun went off and the race started. The night before, another runner called Jamie Hancock had told me that there was an immediate bottleneck where the course went through the first gate. With this in mind, I had started at the front of the bunch and went out at the front with around five or six other runners. The course started along flat, albeit very beautiful fields which followed a river. I decided that I wanted to 'stay in touch' with the very front of the pack, but the pace was absolutely relentless. The front three runners slowly pulled away, and I watched them disappear into the forest with some annoyance.
The second group which I had become part of consisted of around four or five runners. The pace ebbed and flowed as people tried to find their rhythm and avoid being pulled along. It ended up so I was running with Jamie as we arrived at the first checkpoint of Caldbeck, with the other runners some way behind. Jamie was quick to leave the checkpoint, and as I knew that he had run the course before, I immediately followed.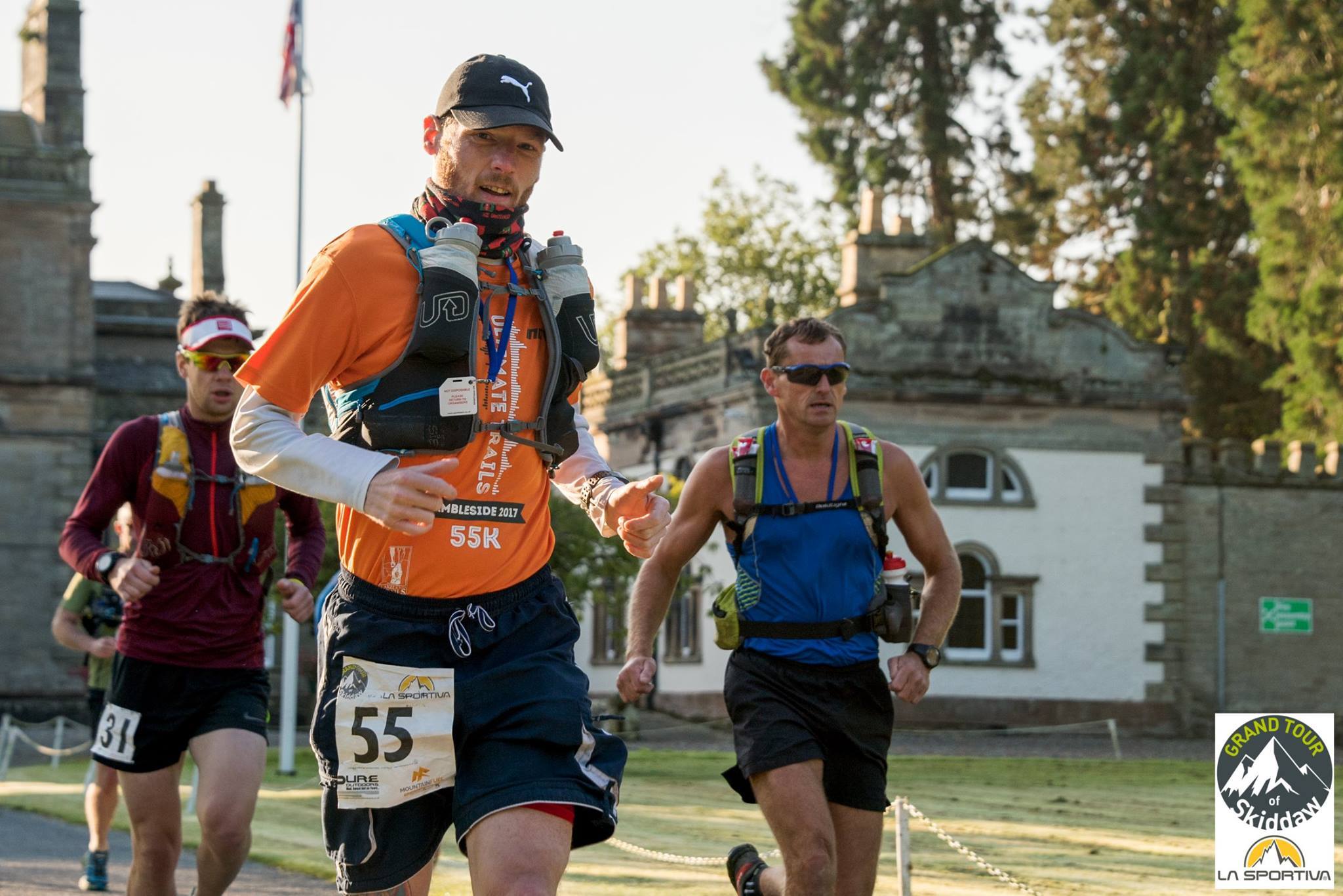 GO! I am going out hard with the leaders and seeing how things develop. Jamie is on the right of the photo looking relaxed. In the centre is local legend Michael Irving. I caught him just before Skiddaw summit and we ran around 25km together, Michael being the expert navigator. Definitely two of the nicest guys I've ever had the pleasure of running with.
After leaving the village, there was a steady climb up a single-lane road which led to a gate at the start of the High Pike climb proper. Jamie and I chatted a bit on the way up, and I expressed to him that I was feeling good and hoping for a top-10 finish. He wisely reminded me that there was a very long way to go (about 60km!) and I cursed myself at how naïve I must have sounded.
As we marched up the steep incline, Jamie insisted that I should press on and leave him if I was feeling good. I always prefer running with other people during longer races and so initially I stayed near to him. However, as the climb continued, I naturally felt myself pulling away and ended up dropping him. Clearly the race in Austria had prepared my body well for the uphill sections, and climbing actually felt pretty easy despite the warming temperatures.
I reached the summit of Hike Pike alone and let my stride lengthen as I cruised down the other side. Looking behind me, I could just make out Jamie's figure around one or two minutes back. I had decided upon a similar nutrition plan as I had gone for on my winning run of the T60 Night Race the previous year. This meant eating an oat/fruit bar every 45 minutes or so during the first half of the race, washed down with a mix of water (left bottle) and iso/carb drink (right bottle, for this race Tailwind). I would supplement this regimen with extra bites at the aid stations and salt tablets as I felt necessary. During the back half of the race, I would break out the gels for hits of simpler sugars.
The descent from High Pike was extremely technical, consisting of a mix between bog, saturated grass and legitimate stream. In the bogs, the mud would come up to my calves, while on the wet grass my shoes would suddenly aquaplane and send me over on my arse. Jamie, clearly more technically competent on such terrain, quickly caught back up to me. I saw that others were close behind him, which was all I needed to get my act together.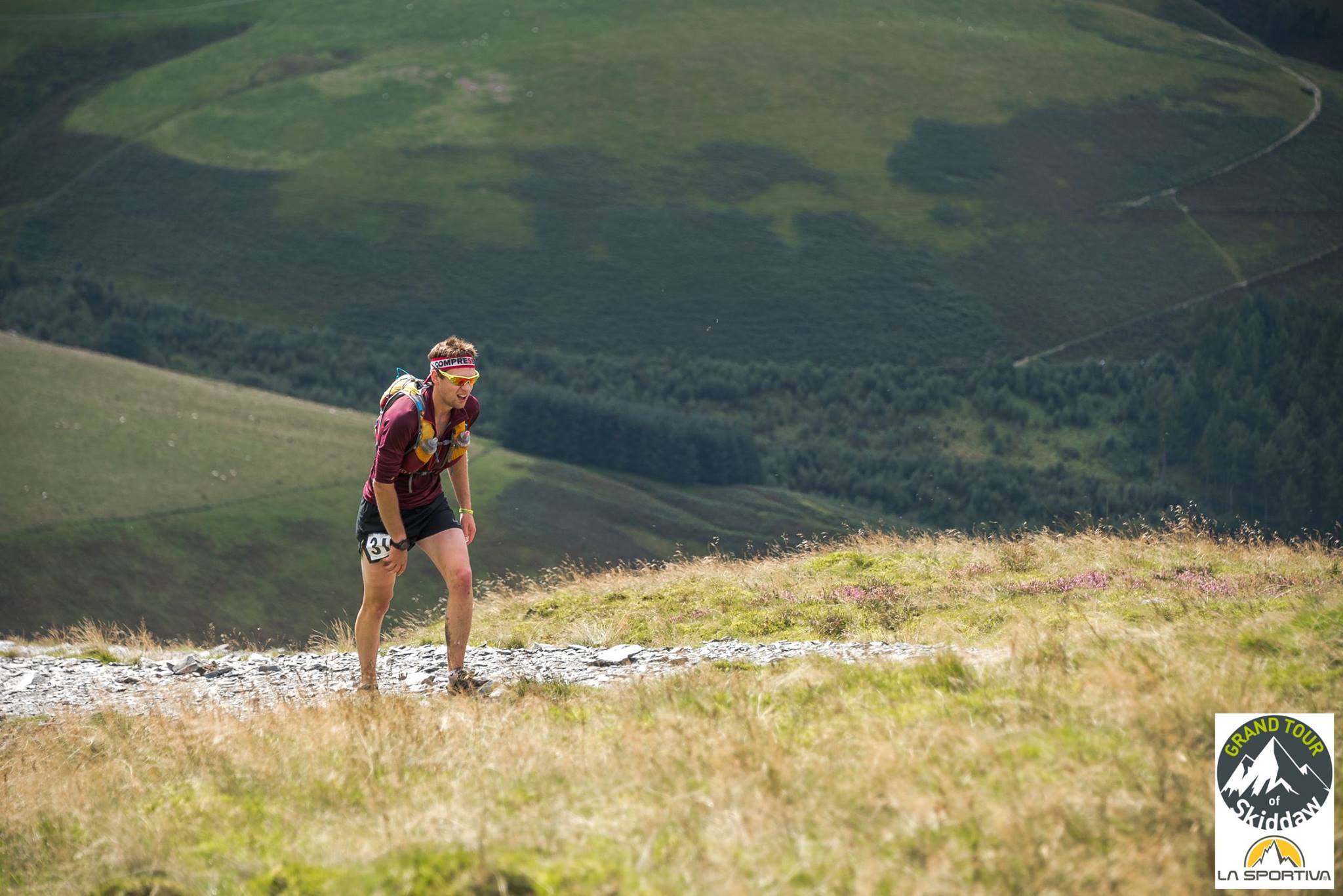 Climbing hard. It is obvious that I am too hot here, since I have turned my visor backwards and rolled up my sleeves.
As Jamie and I approached the valley floor, we found one of the front three walking along the trail and looking pretty dejected. We both asked him how he was doing and he assured Jamie and I that he was fine. I eyed him sceptically as we passed, and having checked that he was not in need of immediate attention, continued along the course. I was not in such great shape myself at this point, as for some reason my calves were both occasionally cramping for apparently no reason whatsoever. I took more salt and stretched them out whenever I could.
At this point, another great bloke called Lewis Green came flying past, and I was fairly shocked to see that he must have been doing about 4:30 min/km. Although it was still relatively early in the race, I decided that I was not going to let anyone go past me without putting up a fight, and so I responded to the 'attack' by dropping Jamie and sticking on Lewis' heels. For around five minutes I said nothing to him, and I moved in front of him both to show that I had plenty of energy and to try and slow the suicidal pace down.
Eventually we settled into the new arrangement and made our greetings. We worked well together to find the route and cruised along at a very good pace on the somewhat flatter section of course. At one point, we ran past a couple of guys stood beside the trail, and I had to double-take as I saw that they were carrying shotguns slung over their arms. It didn't seem as though as trail race would stop some people going hunting!
Lewis and I ran into checkpoint 2 at Latrigg, right before the main climb up to Skiddaw. We refuelled and filled our bottles, but both agreed to leave as soon as possible so that no-one behind us would see how close we were. Again, I was out of the aid station in less than two minutes and we started climbing.
Straight away I dropped Lewis, and he quickly indicated to me to go on ahead. For some reason, the climbs were going really well for me on this particular day, and I decided the best thing was simply to take advantage and not question it. Random members of the public congratulated and encourage me as I climbed, while other hikers from further afield asked what was going on. It never gets old to casually tell them you're running a couple of marathons today.
It was seriously hot for running as I ascended, but I was being staunchly lazy and refused to take off my race pack and put away my long-sleeve top. Instead, I had something of a Shakira moment and rolled the waist up over my race pack to form a weird sort of sweaty maroon tube top. I couldn't have cared less.
Before the final part of the climb, which I felt had gone quite quickly, I came across second place Michael Irving (Curly). After the customary intros, I asked him about first place. It seemed as though he had gone off miles ahead, so I accepted that we wouldn't see him again and settled in for a stint with Michael. We reached the summit of Skiddaw and rang the brass bell on the trig point. I thought this was a really nice touch by the race organisers and they had also stuck someone on the summit to take photos.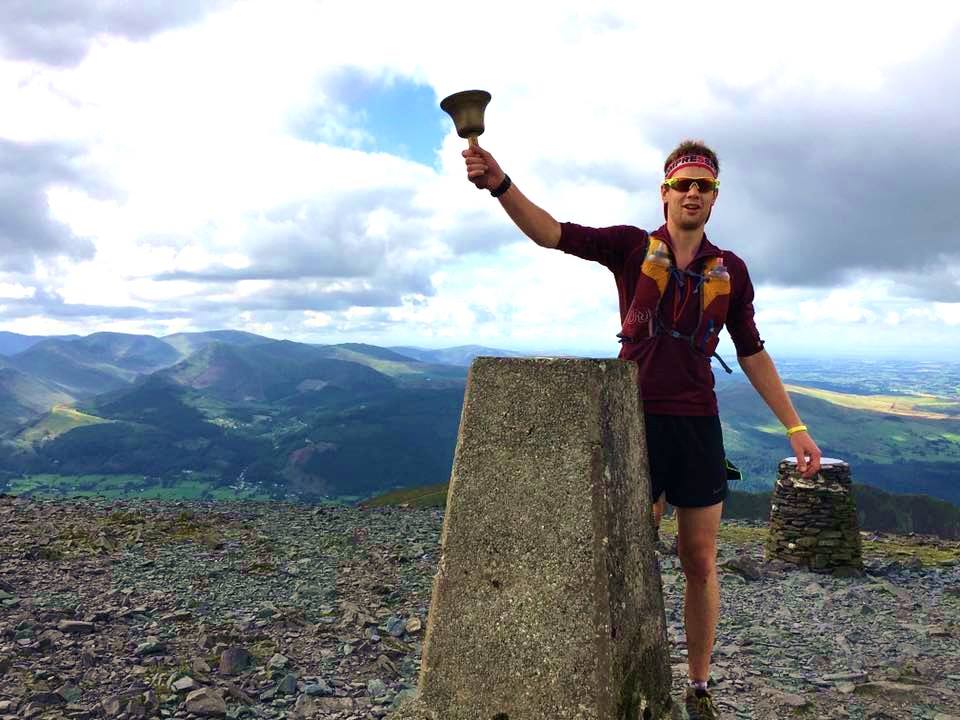 Summit of Skiddaw, approximately halfway through the race. The views from here are stunning and definitely worth the suffering.
The descent from Skiddaw was extremely technical and visually stunning, as the trail wound along the crest of a steep ridge. I had not realised there was anything of this technicality on Skiddaw and I was glad for my scrambling experience. That said, it only took about 15 minutes before the toe of my shoe caught the lip of a rock and I was sent flying forwards down the stony trail. Embarrassingly, the trip not only sliced my knee open but finally sent both my calves into the cramp which they had been threatening. As I stretched out my muscles and regained my composure, I told Michael I would catch him up as he had stopped to check on me.
Running with Michael was awesome, as it turned out he was from Cumbria and knew the trails like the back of his hand. He also had the course file on his GPS device (something I had stupidly not bothered doing), and so we chatted and held gates open for one another as we ran on. I got the impression that Michael didn't 'need' to place well, and he did not seem that concerned by my talk of racing tactically. He was simply there for a really great day out in the fells. This came across as a far more self-assured attitude to take than my constant chatter, and I took note to be more like Michael in future races.
We pulled up at checkpoint 3 (Peter House Farm), having covered around 46 km or so. I figured that while we had broken the back of the course, it was way too early to start thinking about the finish line in any context. I stuffed flapjacks, bananas and watermelon down my throat, hydrated and refilled my bottles. One of the organisers mentioned that first place had come through the station around fifteen minutes ahead of us. I quickly told them "he can have it". I still felt really strong, but I thought it would be a mistake to go chasing someone with over half a marathon to run.
The section between CP3 and Caldbeck was complex in terms of navigation. While it might seem intuitively easier to find your way once down from the high fells, there were actually far more footpaths, bridleways and farm entrances to get lost down. If I could recommend only one section of the course to recce, this would be it. We were now walking almost anything which wasn't flat or downhill, and I still wondered aloud to Michael if our pace was fast enough as I checked over my shoulder.
We cruised into the final checkpoint at Caldbeck (also the aid station for CP1) with no-one visible behind us and in high spirits. The volunteers at the aid station offered us soup, which I politely refused. I felt that the best option, with around 12 km left to run, was to smash in the simple sugars. The crash could come afterwards. With this in mind, I necked two cups of flat cola, some banana segments and some sort of delicious teacake.
We were out of the checkpoint super fast, and we paced through Caldbeck village to regain the Cumbria Way trail. No sooner had we got back on the trail than I saw a runner disappear between the trees ahead of us. I recall saying something to Michael and declaring that "it can't be first place?!". We put the hammer down and came straight up on top of him as we realised that it was indeed the race leader. Michael asked how he was, and the short and honest answer came back: "fucked". The runner, Richard Pattinson, had apparently gotten lost a bunch of times after Skiddaw, and was clearly struggling a little as we crossed the 60 km mark.
I felt slightly sorry for his situation and empathised at how shit it would feel to lead the race almost the entire day and then suffer right in the final section. So as first, second and third, we ran as a group of three for around one or two kilometres as I decided how to approach the situation. Aware that Richard had clearly had some misfortune, I moved to the front of the group but ran steadily with the others, making a point to hold open the numerous gates we encountered as the trail found its way back to the river. Richard had fallen slightly behind Michael (around 100 yards), and as I held open a gate I asked Michael if he thought Richard was coming with us.
After a few more minutes, I decided that the increasing time I was spending at the gates meant that I should just press on at my own pace. This was, after all, a race, and now I intended to win it. With around 7 – 8 km of running left, I put the afterburners on as we moved into a section of forest. I knew that by 'attacking' between the trees, the others would not be able to see how far ahead I was, and it would demoralise them. It is interesting how fine the line is in ultrarunning between competition and comradeship.
Back to looking over my shoulder, I only saw Michael again once as we left the forest. The sight of his orange T-shirt around 400 yards behind me drove me onwards, and I made sure to keep running for at least the next couple of kilometres. I thought I would remember the course easily from here, but I got confused on more than one occasion as I desperately scrolled through the race notes to find the description I needed. One really useful addition that the organisers could make would be to put some approximate distances into the course notes. I understand this might become useless once you have been lost, but it would definitely help to judge about where you should be.
I drank the last of my Tailwind and water with a few kilometres left to run, and choked down a final strawberry and banana flavour Gu gel. I had now consumed all the energy I would need to run in to the finish. Frustratingly, I became very lost in one of the fields near the end, and it was only as I crossed a wooden bridge and the plank made a familiar "thunk" that I remembered from the way out, that I started to know that I would win. It was the second time I had led an ultramarathon in the final kilometres, and I found it a strangely isolating yet exciting place to be.
I had refrained from checking the distance on my watch as I had not wanted to be disappointed and find out that I had a long way to go. So it was quite a shock when the old grandiose school buildings emerged from behind a line of trees. I ran happily into the school drive, and almost considered stopping and walking down to the finish line to absorb the moment. It seemed a bit stupid, so I jogged down the final slope into the view of the finish and smiled as I heard cheering and ringing cow bells. I crossed the line in 8 hours, 4 minutes and 34 seconds.
Medal placed over my neck and pint of beer in hand, I sat down contented and waited for the others to arrive. People around the finish commented to me that they were amazed how fresh I looked – but this must always be the case when you have had a good day out! I accepted compliments with sincere embarrassment, but I was deeply happy with the result and felt hugely stoked about finishing my season on such a high.
With longer races it can be oddly lonely waiting around for the other finishers to come in, but Richard and Michael were not far behind. Richard came in second about 5 minutes after my finish, and Michael was right behind him in a time of 8:11:12. Lewis Green, who I had run with before the Skiddaw climb, finished an excellent 4th place in 8:39:29.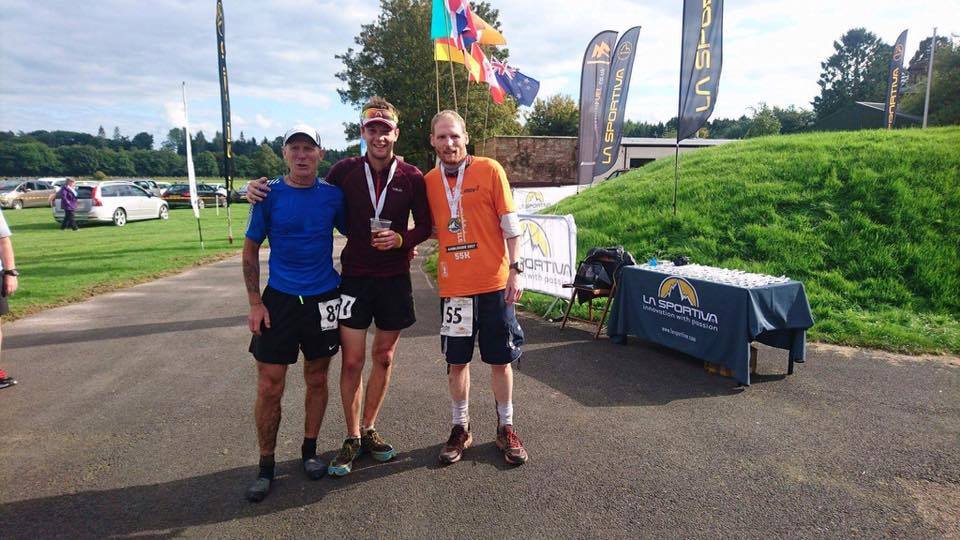 Finish line photo of the 2017 Grand Tour of Skiddaw podium. Richard (left, blue top) led the race for much of the course.
I tried to stand up as much as possible in the following hours, having learnt the hard way in previous races that sitting/lying down only stiffens your muscles up to the point where walking is almost impossible. The post-race party was brilliant, and a reason to do this race in itself. Fresh pints of ale were available on tap all evening and wood-fired pizzas were no more than a few moments away. Runners, supporters and race organisers gathered around the firepit and cooked s'mores, swapping stories from the day and other adventures. There was a standing ovation as the final runners came in, headtorches on, and I was reminded again of how awesome the ultrarunning community is.
Bacon sandwiches, omelettes and fresh coffee were all available the following morning to cure the indulgences of the night before. I had spent all my money on beer, so Alf kindly offered me a bacon roll on the house! Spot on. At midday, global fellrunning legend Billy Bland himself turned up to present the prizes and give a Q&A session. I was somewhat star-struck and very honoured to receive my trophy from such an inspiring man, and he quietly provided some words of encouragement. The trophies were really cool, made from local Keswick slate, and have certainly found their pride of place at home.
Hugely honoured to be presented with trophies by Billy Bland. To say that the man is an inspiration and a legend is an understatement. The greatest fellrunner of all-time was down-to-earth and had a great sense of humour.
It is easy to read too much into both good and bad race results. Either are often simply the result of how you feel on the day, and therefore it's important to keep perspective in each case. If I had to give a reason for having such a good performance, however, I would identify two key factors. The first was the benefit of having run such a difficult race in Austria the previous month. The second was having had a consistent period of training. After early-season surgery and chronic injuries, I had finally managed to consistently train throughout the summer, supplementing easier weeks with lots of miles on the road bike. Staying injury-free and approaching training with a matured attitude after previous naivety had ensured that I was in top condition for the Grand Tour of Skiddaw.
The only thing left is to put my name in the ballot for the 2018 Western States and UTMB and see what happens! Fingers crossed.