Written by Neil Bryant for the URC
Considering inov8's incredible success over a relatively short space of time, I haven't owned many pairs. Seven or eight years ago, one of my first pairs of trail shoes was the solid and dependable Roclite 315. These lasted a long time and were a favourite at the time. When I began to dabble a little with minimalism, I got a pair of f-lite 230's which were incredibly comfortable, and felt better than my slippers! I still own them even though the upper is coming away from the sole and they stink! I then got a pair of x-talon 190's which again were incredibly comfortable and felt amazing to run in with the most incredible tread. I wore them straight out the box for a race (off road marathon, I believe). I never wore them again till the next race (a 33 miler) where the upper started tearing away from the sole at an alarming rate! I never bought anymore inov8's after that.
As time moves on, I seem to be happier with a shoe that may weigh 30 grammes heavier but will not fail on me. I always keep an eye on what comes out though as, well, other than being a bit of a shoe nerd, I am interested to see whether inov8 up the durability level on there shoes. I am of course aware that there are people out there that have run 10,000 miles in their x-talon 190's yet they still show no signs of wear, but why would I buy a shoe that works for someone else?
I work very hard on this website which I really find very satisfying, but sometimes I do wonder what the hell I am doing dedicating so much of my free time to it. Then occasionally I get packages delivered to me with things like new shoes in there which don't cost me a penny, and all I have to do is write what I think about them. This makes it all worthwhile!
So, yes, I didn't pay a penny for these shoes, but I will write exactly how I feel about them.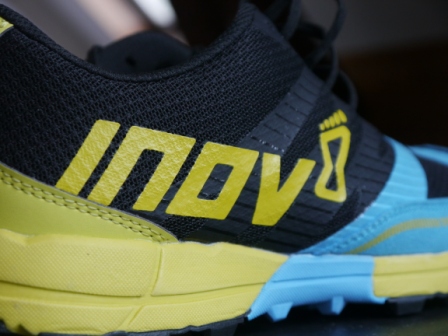 First impression
They felt nice as I pulled them out of the box. They are light at 250g (259g for my sample) and look like a simple yet functional shoe. I love the fact that it has a full rand protecting the toes and hopefully strengthening the sides that so often fail on many shoes. It has a pretty effective looking tread with medium sized, well spaced out studs. The rubber felt soft, promising a stickiness on all surfaces, yet potentially quick wearing. Time will tell.
They seemed quite flexible in the sole. The material on the upper feels soft and though they will possibly have the slipper like feel of my old beat up f-lites. I hope so!
Finally, something I normally don't comment on, as I think it detracts from the practical use of the review, how they look. Well, they have quite a striking look about them which is mainly down to the blue (in the colourway I have) welded overlay that supports the forefoot in the shape of a huge cross. I'll be honest, it kind of looks cool. Whether it does anything else I have no idea, but it certainly gets them more attention.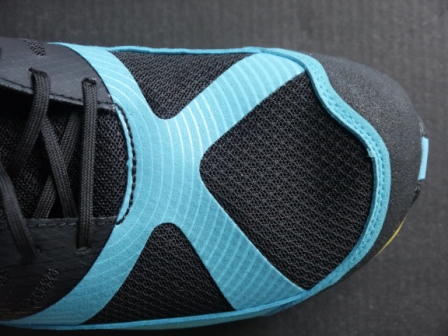 Let's get down to business and work through the construction and materials of these shoes.
Upper
A tight weave mesh encapsulates the whole foot with a variety of overlays. A heel and rand overlay of PVC leather is sewn on. Around the front of the rand is a second layer of PVC to add extra protection to the front of the toes. There is a very thin PVC overlay around the midfoot to add some stability which has been welded on. And of course there is the big blue cross which is a man-made medium thickness material which has been welded on.
The padding around the opening of the shoe and the tongue is fairly minimal which is great for me personally. Too much padding is just unnecessary. I don't believe it will make a good fitting shoe any more comfortable and generally means more sweating.
Which brings me on to the tongue, which is pretty standard really other than the loop on the top surface which you thread the lace through being at a 45 degree angle. The point of these loops is to hold the tongue in the correct position and prevent slipping to the side. I don't find they're too effective.
The laces, again are simple, thin and effective. The length for me seems perfect, though they always need to be double knotted as they are quite smooth in texture so unravel very quickly if not.
The fit of this shoe is classed by inov8 as 'Standard'. This means a close fitting heel and a wider toe box which makes them better suited for longer sessions where the feet can splay out more, or of course for people with wider feet. I haven't got abnormally wide feet, but they are certainly not narrow, so these could potentially be a good shape for my feet.
Midsole
The midsole is graded in inov8's arrow system as a two arrow shoe, meaning "A blend of responsiveness and underfoot protection". This sounds about right to me after running in them for a while now. The stackheight at the front is 8mm and the heel is 16mm giving a drop of 8mm. Fairly low, but relatively safe unless your previous shoe was 12mm or above. The entire midsole is fabricated from compressed EVA.
Within the sole is the DFB, or the Dynamic Fascia Band which seems to be on most/all(?) of their shoes, and I remember my trusty old Roclite 315's had it too. Inov8 obviously think there is something in the DFB, claiming it replicates the action of the plantar fascia utilising the windlass effect. I have never felt anything different and I certainly don't go any faster with inov8 shoes on. I'd be interested to know whether there is any research into the effectiveness of the DFB.
Sole
I think it's fair to say that inov8 has carved out quite a reputation for itself in the tread department. Incredibly popular in fell racing where grip needs to be effective in bog, sticky mud, greasy rocks and just about anything else that would be lethal in a shoe not designed for it, they sure know their stuff. What about the Terraclaw tread then? It is made up of well spaced out triangular shaped studs of around 5mm in height. The rubber is called dual-c or as far as I can work out, dual compound. This is a combination of soft compound for improved grip, and more durable, harder rubber used in the high wear areas.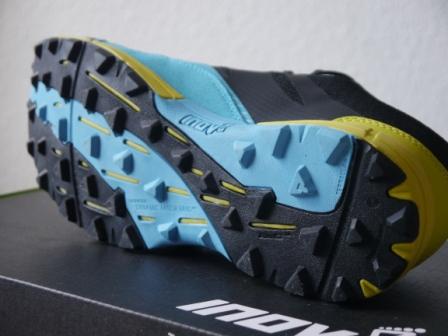 The studs are spaced so far apart that it seems impossible for mud or stones to get stuck meaning that the studs are always going to be effective. I am not expecting this sole to last long, especially on the vicious Alpine testing ground I have here in Chamonix. Maybe it would last long on the boggy hills in the UK, but the terrain here is incredibly unforgiving. A perfect testing ground!
The Ride
As I laced the Terraclaws up for the first time, I instantly knew that they seemed to fit my foot the same as my battered old f-lites. This made me happy, and at the same time I was expecting them to possibly not have enough protection for me and the Alpine trails here in Chamonix. I got these just as summer was turning to Winter so after a few runs in the snow, they got shelved as skiing took centre stage. Those few runs in the snow were fun and they gripped as well as can be expected. I had to use some spikes on them twice as it was icy and all was good there. The reinforced toe is enough to not crumple under the pressure of the spikes elastic straps to stop them from becoming uncomfortable. It's great to test shoes in the snow, but the real test is when there is no snow, and the surfaces are uneven, hard, slippery and challenging.
Fast forward three or four months to now and even though there is a LOT of snow still high up, the lower trails have completely cleared allowing for running to commence.
The Terraclaw feels great underfoot. There is a nice balance of protection and feel. They score a surprisingly high 6.8 on the Flex-Test, which makes sense as there is more protection than I thought there would be, allowing me to run for 2-3 hours at a time with no issue with sore feet afterwards. This is a pleasant surprise, as I'll be honest, I had kind of written them off for anything longer than an hour.
I love the fitting of the shoe on my feet. They won't be good for those with narrow feet, but for me the heel is rock solid while my metatarsals have plenty of room to spread out but not to the point where they're sliding around creating blisters.
Some shoes I find are a little tricky to get the lace tension right with. Either tight and cutting into your foot, or too loose. The Terraclaw is simple. I just pull it on tie the laces without thinking about it, and that is it till I get home two hours later. No adjustments out on the trail.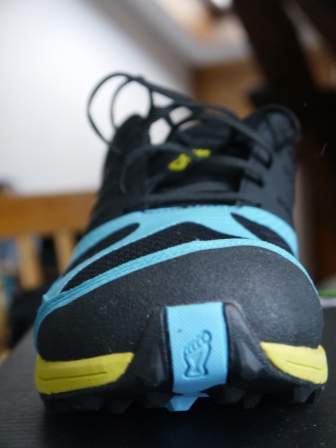 The sole showed lots of promise in my eyes, so I was keen to test it in as many different conditions as possible. It's great! It sheds mud fast and grips well, though I suspect that deeper, sloppier mud would create issues. It sticks like glue in dry, dusty conditions. The true test of a grip is the greasy rock, preferably while descending at speed. Well, we have a lot of greasy rocks here to test it on, though this is not my favourite part of the testing process as it can leave me on the deck with cuts and grazes. Thankfully, the superb Terraclaw pattern tread combined with the Dual-C works an absolute treat, gripping as well as anything I've ever tried before. Over time, as you adapt your running to a new shoe, you learn how much to push it. With the Terraclaw, I feel pretty gutsy (for me). It sticks to most but the greasiest of rocks, and even then it still will find some purchase. Impressive stuff!
I have run around 150 kms now in these shoes. This will almost entirely been on gnarly trail, and the tread is starting to show some wear. There is still plenty of life left in them but the wear is there. Another 150kms and they may be done for. The upper on the other hand has remained in great condition. No holes or splitting yet. For a 250g shoe, I'd actually say these are relatively durable. There is a Terraclaw 220 which is the stripped down version of the 250. It has lost the double layered, well protected toe which I fear would mean the common hole in the side issue occurring earlier in the shoes life. Maybe not though. What are your experiences?
So, to summarise. The Terraclaw 250 is a great, lightweight shoe with a little more protection than the very lightest shoes, which to me, adds a worthy layer of durability. The fit is enough to hold your heel in solidly, while open enough to give your metatarsals a little breathing space. I like this. The heel drop, at 8mm, is kind of in the middle, making it manageable for most, while keeping your gait fairly natural.
The shoes shining beacon in my eyes, is the tread, which is a pretty good all-rounder. I don't run on roads much, but every run, includes some, as there is no trail from my doorstep, and they run surprisingly well, as the studs are not too large. Though I wouldn't buy this shoe for runs where there was much running on the roads. They stick to pretty much every surface and will collect no mud or stones (I'm sure they would in a freshly ploughed field though!).
Overall this is a simple yet well executed trail shoe which is fast, responsive, and fun to run in, and for me, who has pained feet often, the protection from sharp rocks was enough to allow fairly long runs of 2-3 hrs. As my fitness improves I will take them out for longer runs, as I know they will have a limit for me and I'm guessing it'll be around 4hrs.
So, if you want a solid, lightweight trail shoe, with an excellent tread, then maybe you should try on a pair of the Terraclaws. Though if you have narrow feet, then they will probably be too loose.
Comment below, with your experiences with the Terraclaws.