Written by Jen Benson www.wildrunning.net for the URC
Price: £110
Weight: 230g per shoe women's UK 7.
Drop 8mm
Find out more at www.salomon.com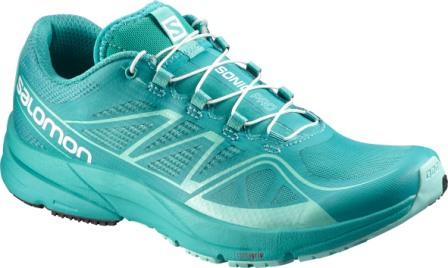 Overview:
The Sonic Pro is one of Salomon's range of lightweight road-suitable shoes. It's a minimalist yet cushioned design with the brand's trademark clean, colourful styling. As someone who attempts to fit full-time parenting, full-time work and full-time training into my day I'm always on the lookout for a really good, all-round shoe. One that'll be up for that hour's road run in between meetings; or chasing the kids around the park; or wearing all day on a photoshoot on Dartmoor. These looked like they might just fit the bill.
The Brand:
Founded in the French alps in 1947, Salomon originally manufactured ski boots and bindings before diversifying into skis and snowboards. Multi-activity footwear production began in 2001 and the innovation and expansion has continued ever since, particularly in recent years into trail and mountain running. With a world-class team that includes some of the biggest names in the sport they're now recognised as a leading brand in running shoes, apparel and equipment.
Salomon have been owned by Amer Sports since 2005, a global company who also own brands including Suunto, Mavic, Wilson and Arc'teryx. Amer have a comprehensive corporate responsibility policy.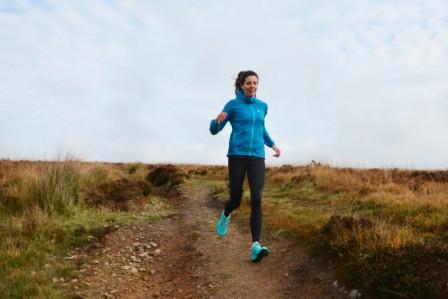 The Shoes:
Salomon say the Sonic Pros are designed to "help you keep the tempo high in the city". They're certainly cushioned enough for road and pavement running, with excellent grip and enough tread for easier trails in wet or dry conditions. They look great, with three bold, simple colourways: purple with yellow detail; turquoise; and a kind of peach with pink detail.
The Fit:
Some reviewers report the fit of the Sonic Pros as being a bit on the narrow side; having narrow feet this wasn't a problem for me but it is worth bearing in mind. The EndoFit internal sleeve is a great feature, hugging the foot and protecting the top of the foot from the lacing. The Ortholite insole is comfortable and well-shaped and the firm heel counter holds the foot well whilst being nicely padded for comfort. Overall a great fit and true-to-size.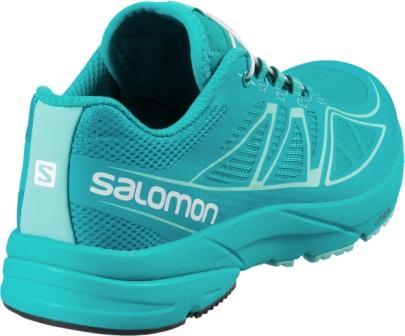 Sole Unit:
The outsole features high abrasion, harder compound Contragrip on the high-wear areas and high traction, slightly softer compound Contragrip on the places you need more grip. The different rubbers are also of different designs: the high-wear areas, most notably the mid/forefoot, are a smooth, flat tread, while the high traction areas – the outer heel and inner forefoot – are a smaller, more highly-patterned tread. There's a band of very high density 3D Profeel Film through the middle of the sole, adding some nice structure and spring to the sole with minimal weight. Surrounding this is a good wedge of cushioning EVA midsole with Energycell+ for extra bounce. Although it gives a smooth and cushioned ride it also feels like quite a big volume of sole for a fairly minimalist shoe. Personally I'd like to take a bit of the forefoot and move it to the heel, adding a little extra drop and responsiveness at the front, but those who prefer less drop may well find it spot on already.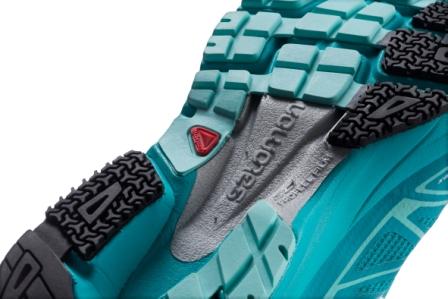 The Upper and lacing:
The upper is made from a breathable mesh with a lightweight reinforcing overlay. The toe and heel counter are reinforced with a lightweight, stiff plastic, adding a lot of structure to the shoe while remaining comfortable from the inside. The tongue – part of the Endofit system – is nicely padded without being bulky. The toebox is fairly low-volume – again, try before you buy if you tend to need more space in the forefoort area.
The laces are Salomon's Quicklace system with a pocket in the tongue for the plastic toggle. These work nicely over the integrated tongue creating a clean, fuss-free finish but are difficult to customise to suit different foot shapes. Being completely non-stretchy they're also inclined to either be too loose or uncomfortable unless you get the tension exactly right.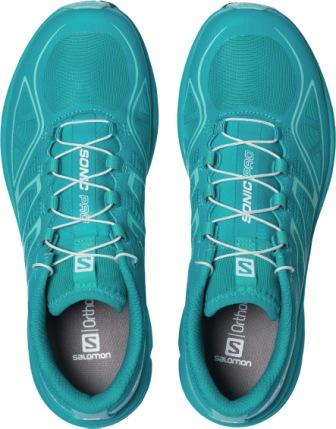 Verdict:
The Salomon Sonic Pro is a fantastic all-round shoe that works well if, like me, you're on your feet all day and need to fit in training sessions when you can. It's ideal for those days when you're running over a mixture of terrains and need just a bit more grip than a road shoe without sacrificing smooth ride and durability. I wouldn't wear them for high road mileage, but for snatching an hour's training on the tow path in between retrieving kids from trees and even looking vaguely presentable, they're perfect.