Written by Neil Bryant for the URC
I really like having a GPS watch and all the data it provides. Now that many watchs also have optical heart rate monitors that read your pulse from your wrist, negating the need to wear chest strap, means that lots more interesting data can be produced, such as sleep data and recovery data due to having a continual feed of HR data instead of just from training sessions. To get meaningful data out, you need to feed good data in though, and as I have discovered, wrist based optical HRM's are anything but consistent. They seem believable overnight, but during training sessions I often get large spikes, drops and times when it will be around 20bpm above or below where it should be for a sizeable chunk of the run, before 'righting' itself.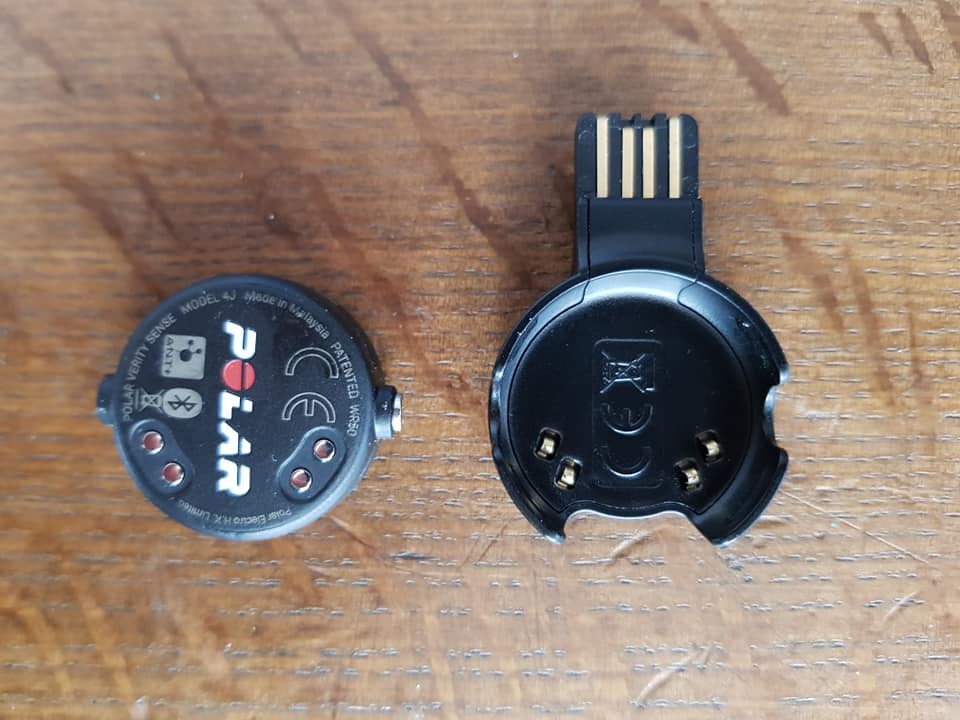 The optical HR unit removed from the strap and the charging tray it sits in when charging.
Now, I wouldn't say I have too higher expectations, but if I am wanting to train seriously using HR (which I am at the moment) and if I want the recovery, stress, fitness data to be meaningful (which we all do right?) then I have to bypass the wrist sensor and get an external unit. I have worn chest straps quite a bit in the past, but usually stop after a few months as, I am just not too keen on wearing them. Are there any other options out there?
Well, there are as it happens, and a new one from Polar really caught my eye, so I had to try it out. The Verity Sense optical Heart monitor (updated version of the OH1 unit) is a small unit, that clips onto a strap that can be worn on the lower arm, or the upper arm. I have been wearing it on the upper arm. It can also be removed from the strap and placed underneath tight clothing anywhere on the body! Basically, as long as it is held firmly against your skin it should work. You can also clip it onto your goggle strap when swimming if you swim. Sounds like an amazing idea, but does it work, and is it an improvement over the wrist sensors?
Before I discuss how it has been in use, I will go over the Verity Sense's other details.
A picture to show tha size better.
There are a number of ways to get the data from your Verity Sense to a viewable state.
Firstly, it has a memory that can record up to 600hrs or activities, so you can run with no watch or phone and then download later. With this method you will not be able to see your HR live as you run.
Secondly, you can pair it up with your watch so that you can view it as you run. This will be the most popular method I am guessing? It is capable of connecting with up to two Bluetooth devices at a time, and can do ANT+. Pretty versatile and should work with pretty much anything that is connectable.
The third method is to pair it with a sports app on your phone such as; Strava, Trainingpeaks, Polars own Flow app and many more. You then just need to carry your phone on the run and can see your HR live. Another cool option as you get a lot of the important data that a watch would give you without having to fork out for a watch if the budget is a bit tight.
So, this is a very versatile piece of kit that should be of use to most people who would like to train with HR.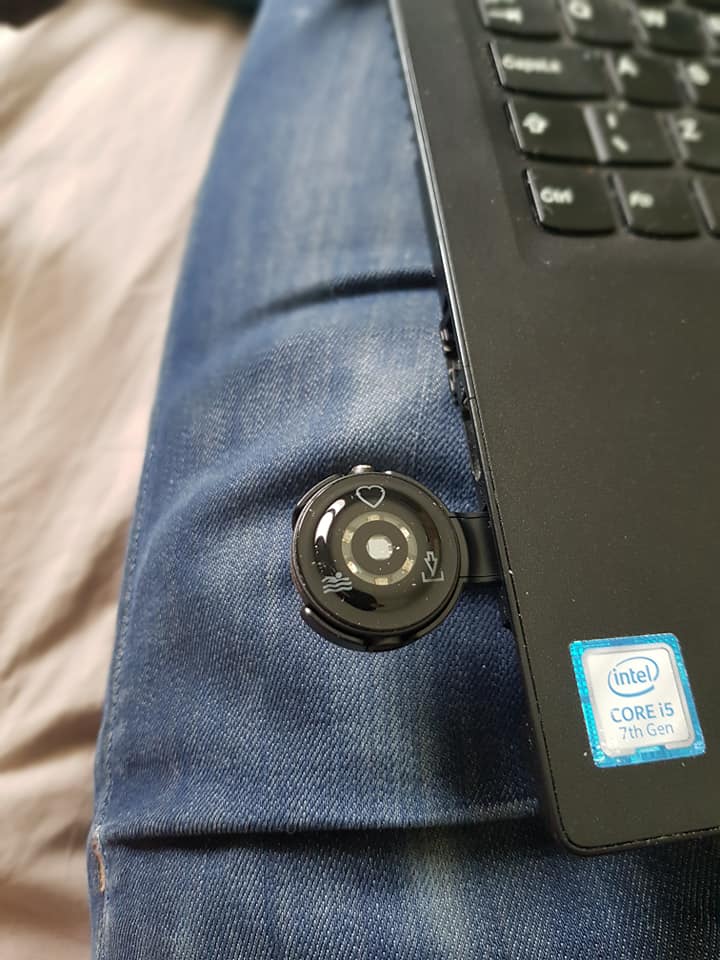 The unit plugged into my laptop charging.
It is powered by a built-in battery that is rechargeable. It lasts 20 hrs so is adequate for most runs, but won't be good for all ultras which will be a no deal for some. To charge, you unclip the sensor from the holder on the strap, then clip into the USB charging tray which is very small. The whole pack is brilliantly small, though easy to lose I should think! Then just plug into a standard USB socket. It has a flashing LED which goes green when fully charged.
It is also possible to update the Verity Sense over-the-air should Polar come up with any improvements or bug fixes. Fantastic!
For the swimmers out there, there is even an accelerometer inside which will give you pace and distance in the pool.
On paper, this, to me, looks like an amazing tool, but only if the reading is good. Over the past two and a half months, I have used the Verity Sense on every run I have been on. My partner has also been using it on her runs. We have paired it with our watches. A Polar, a Coros and a Garmin, and it has had no connectivity issues what-so-ever.
One issue that wrist HRM's have is when it is cold, they give incorrect readings. I skied a few times in pretty cold conditions where wrist-based HR would have failed me, but tucked away up my sleeve, the Verity Sense had no problem!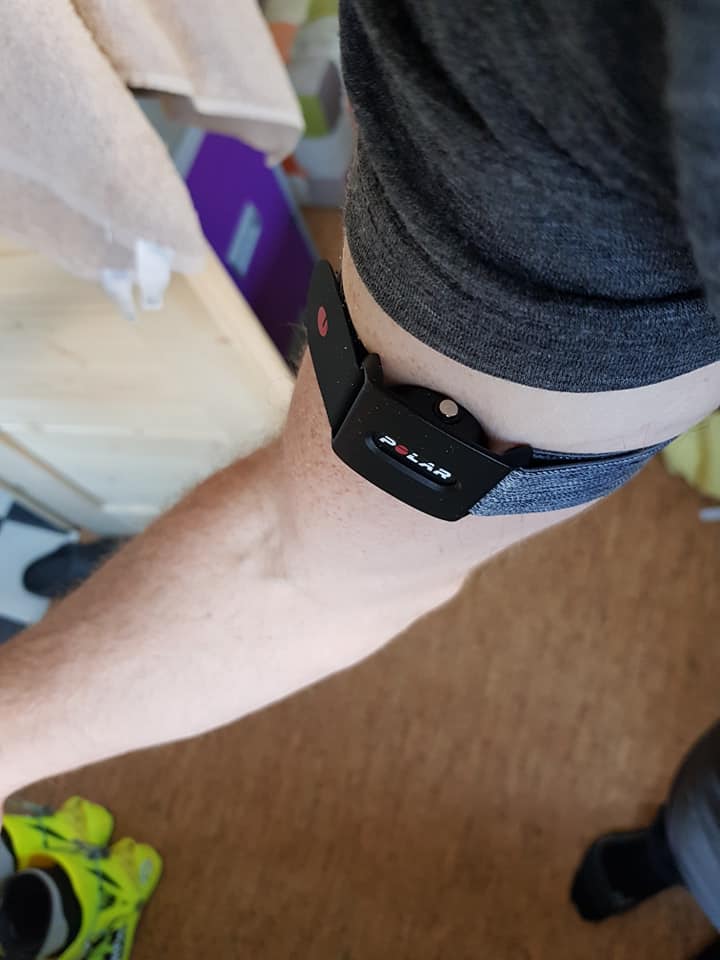 The Polar Verity Sense on my upper arm.
It is difficult to be sure, but we have both been heart rate training lately, and so monitoring our HR was very important. Also, when you train to stay below a particular HR, you tune in to exactly how it feels on the body to work at a particular level of exertion, so, we were both in a pretty good place to fairly confidently tell if something wasn't right. We have both felt that the Verity Sense has been faultless in its readings, with not a single spike or drop that was suspicious. It has been comfortable to wear on the upper arm and always stayed in place, never needing to be pushed back up. I generally forgot I was wearing it!
It is priced at £79 in the UK which is not too much for what it is I think, but on the other hand could be considered too much on top of the potentially rather large outlay you've already made for your watch. As usual, I'll leave it with you to decide whether it is worth the money.
I am trying to think of any negatives, and I think the only one is the battery life. I suppose the fact it is another item to carry/remember when you go running is not great, but for me, the fact that I now have a whole load more confidence in the fitness and recovery analytics of my watch totally makes it worthwhile. All in all, the Verity Sense from Polar is a superb upgrade for anyone who would like to improve the data coming out of their watches. I know that not all people think the HR data from their wrist-based system is bad, but considering most, if not all the big brands actually advise using an external HR strap for anyone who's serious about HR training, then the Verity Sense is worth a look!
To purchase the Polar Verity Sense OHM, click on the button below. You will get a good price and a small commision goes to the URC (at no cost to you). Thanks