Written by Neil Bryant for the URC
I have used Garmin before but it has been a while. In fact, when I paired up the Enduro to Garmin Connect, there was my old account with my old watch being the 310xt which, other than looking like a toy was pretty good back in the day! My last Garmin activity was in March 2012. It is certainly time to try the current offering from the biggest fish in the GPS sea.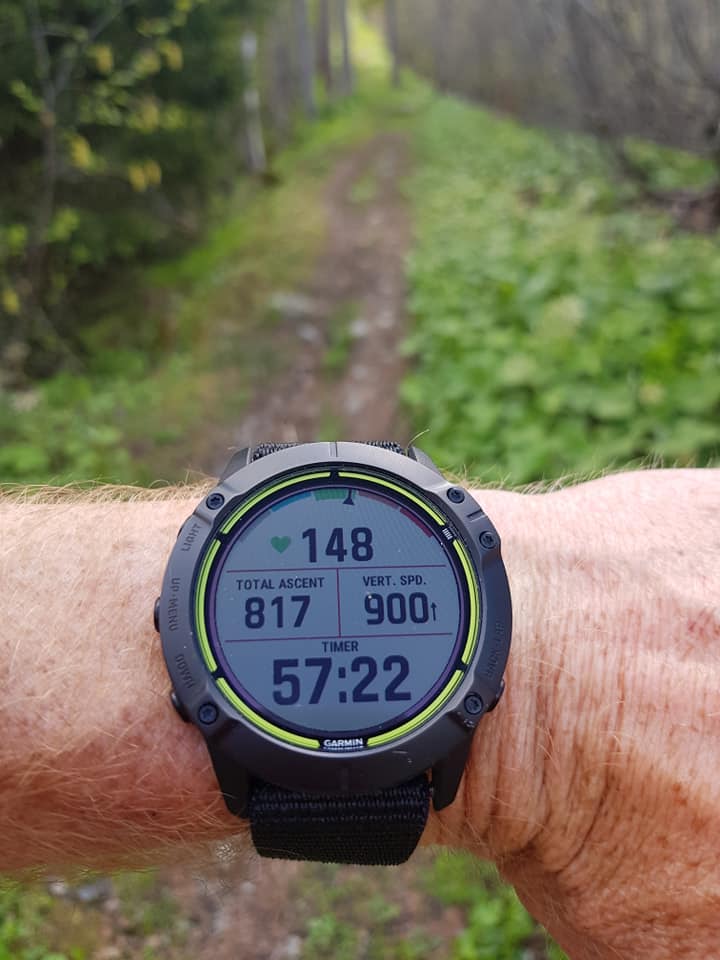 The Enduro is an interesting creation as Garmin made a few sacrifices to gain the biggest battery life of any fully featured GPS sports watch out there (I wrote this before Coros announced the Vertix 2). First and foremost on many peoples wanted features list with a Garmin, is topography maps. This must have been a difficult decision to make, but when the design brief is for the biggest battery life, then a battery killer such as maps had to go.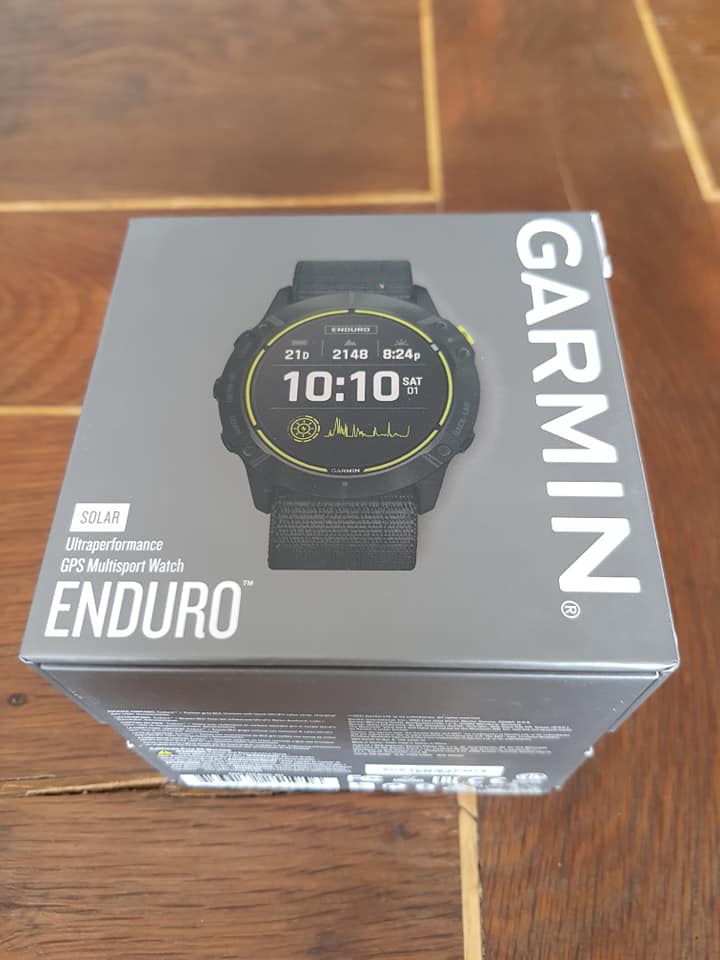 So, let's look at just how good the battery life is on the Enduro, because let's face it, most ultra runners will have battery life either at the top or near the top of their list of priorities
Smartwatch mode: Up to 50 days/65 days with solar*
Battery Saver Watch Mode: Up to 130 days/1 year with solar*
GPS Workout Mode (with optical HR): Up to 70 hours/80 hours with solar**
Max Battery GPS Mode: Up to 200 hours/300 hours with solar**
Expedition GPS Activity: Up to 65 days/95 days with solar*
*Solar charging, assuming all-day wear with 3 hours per day outside in 50,000 lux conditions
**Solar charging, assuming use in 50,000 lux conditions
The important one above, is the GPS workout mode that includes the optical HR, which gives a whopping 70hrs which is the highest out there, but the Enduro has solar charging, so if you get some decent sunshine on the watch face, then 70 hrs could get nudged up to 80hrs which is pretty good for most races. Of course, if you need more life, then there is Max battery GPS mode which gives 200hrs with a possible extension to 300hrs with sunshine! Then if you are away for a few months, there is Expedition GPS activity which gives anything up to 95 days with some sunshine!
They are some serious battery stats!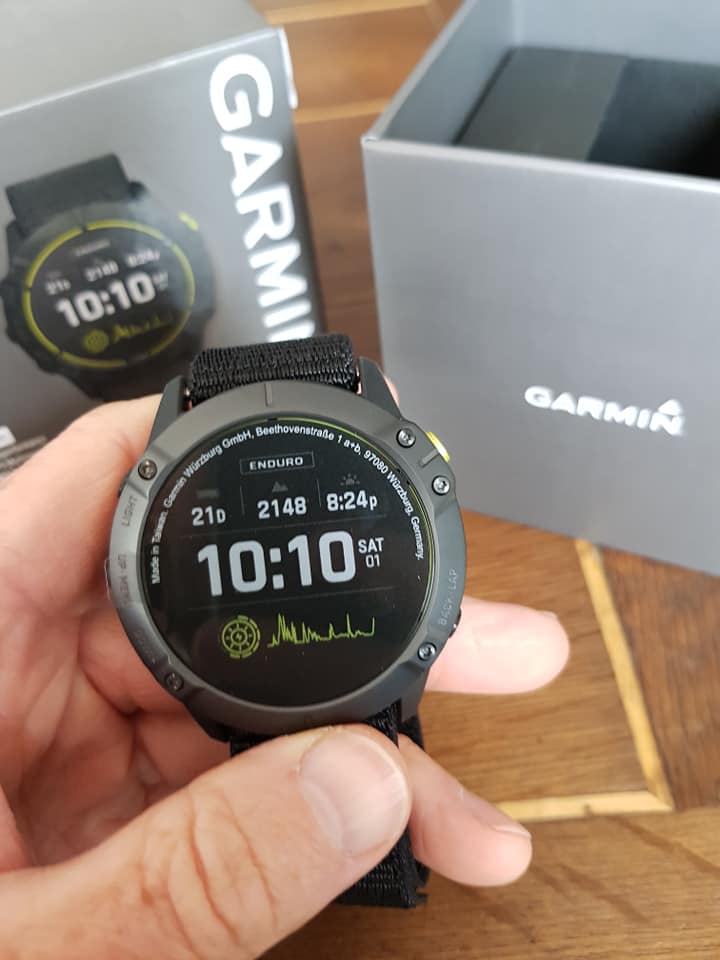 What about the physical look and feel of the Enduro? The watch comes in two versions which are different colours, but more notably the body is steel or titanium in the more expensive version. The strap is an Ultra-light-weight elastic nylon hook and loop type and helps to lower the Enduros overall weight. I really like this strap. It has just a little stretch in it which helps keep it secure and comfortable. It is possibly my favourite strap I've worn.
I just mentioned weight, and this is an area I get a bit frustrated with sometimes. Some people like the feel of a heavy weight watch on their wrist, but me, I want something light. I mean, I basically watch the weight of pretty much every other item I buy for running, so why would I want a heavy watch on my arm? Thankfully the Enduro is making an effort to be light, with the Steel version weighing in at 71g in total, and the titanium version, 61g which is quite decent for a watch of this size, I think. It certainly doesn't feel weighty on the wrist.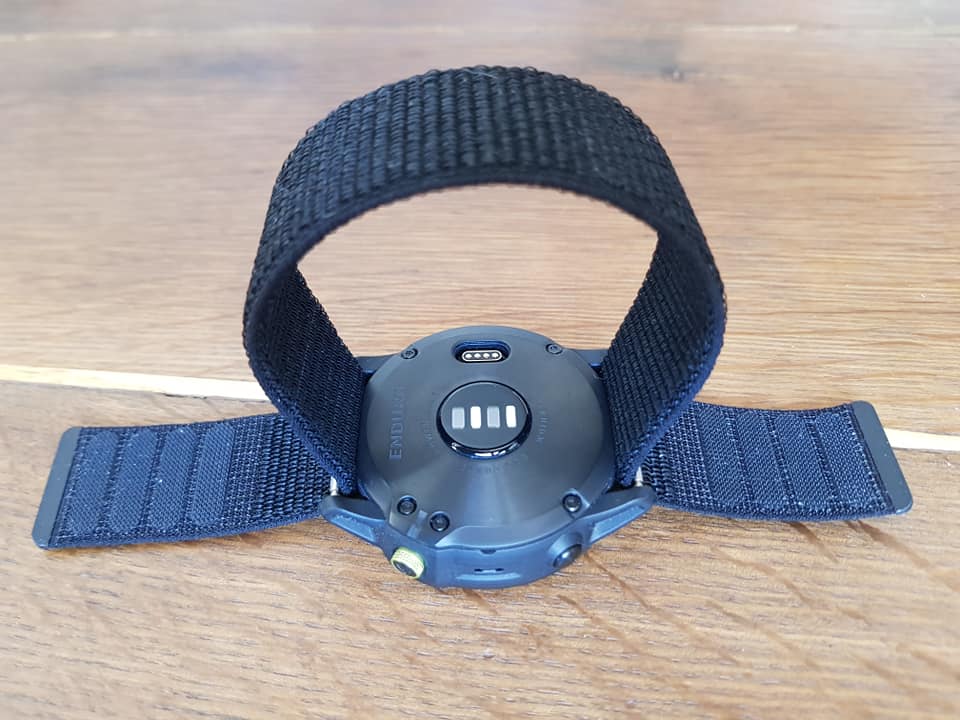 The dimensions of the Enduro, tell you it is a large watch, yet somehow it just doesn't feel so large. Maybe it is the strap compared to a plastic strap, or maybe the relatively low weight? Whatever it is, Garmin have managed to get a large screen and a large watch body with the feel of something smaller. I can pull back long sleeves to look at it easier so maybe it is something about its profile shape?
I have already mentioned that Garmin have made some sacrifices for the battery life, with one being the lack of topo maps which I know is the reason many people choose a Garmin over another companies watches, but what else is missing compared to some of the Fenix models?
Music is not there, which makes no odds for me, but may for some. Touchscreen has also been dropped, which I, again am ok with. I have found touchscreen unnecessary for my use, but is important for some.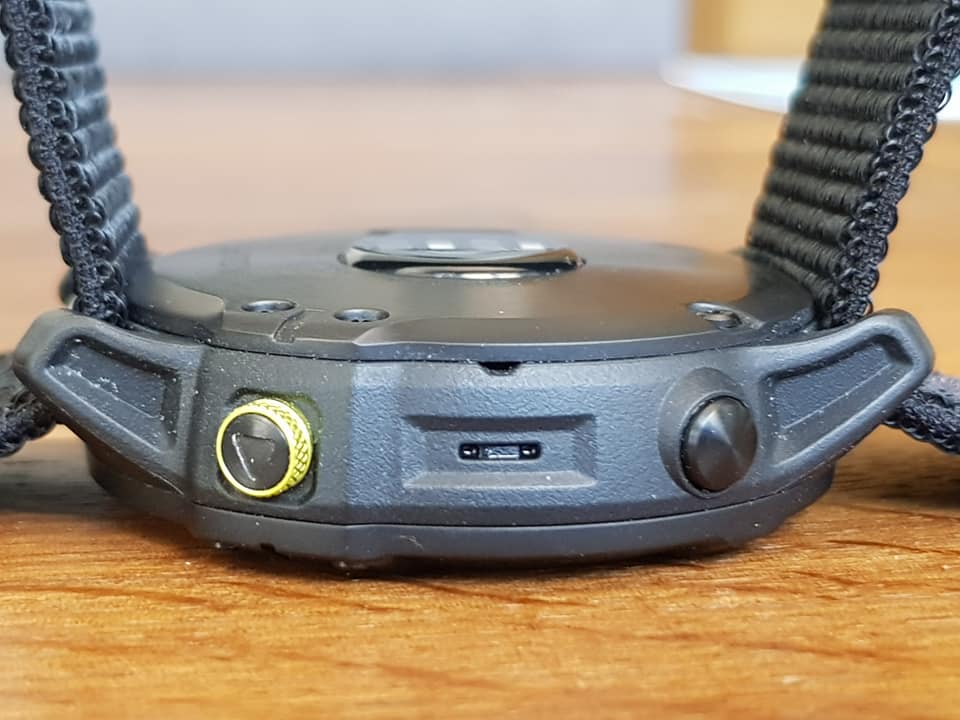 With the release of the Enduro, came a few software updates which are quite cool, but these have since been released for most of the Garmin watches such as the Fenix and FR945.
So, as you can see, the main reason that people will chose the Enduro, is the incredible battery life, and it really is incredible. But let's look at the Enduro in more detail.
The watch body has five buttons, three on the left, and two on the right, with the top right being more prominent. On the rear are the optical sensors, for heart rate and SPo2 readings. There is also the charging port which can only be used when not on your wrist. Generally, this would be a slight gripe, but with the huge battery life there will be less need to charge midway through a race.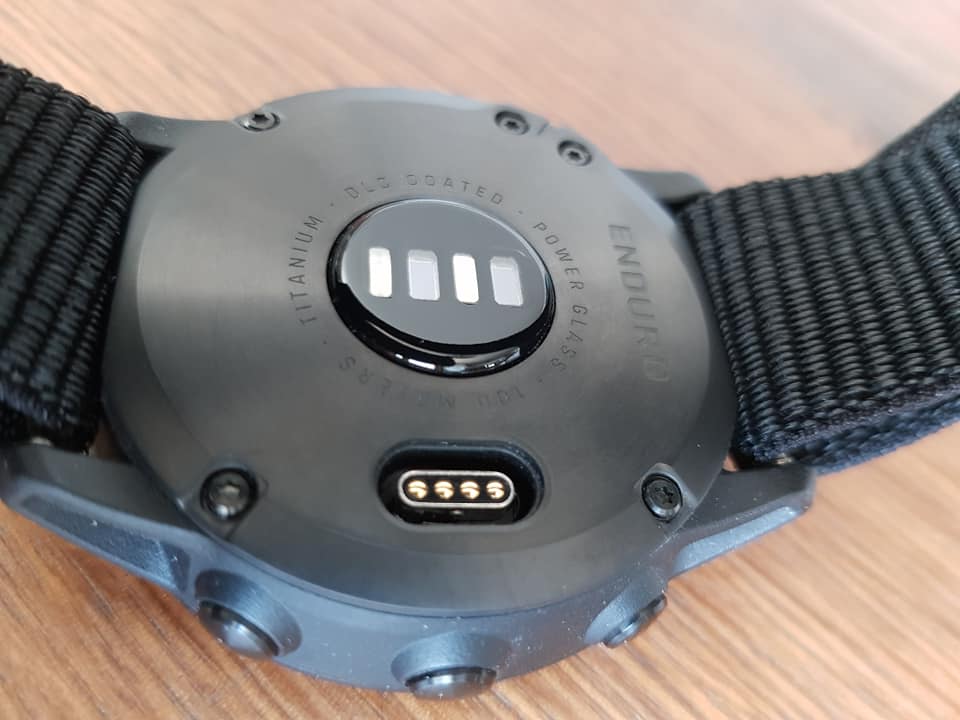 Inscribed on the rear titanium or stainless-steel plate (depending on the version) it states it is waterproof down to 100 metres which is easily enough for most people!
The strap I have already mentioned, is brilliant, but it is a little fiddly to put on. This is ok for me as I rarely remove my watch, but if you remove often for bed, shower etc, then it could be a pain.
The solar charging seems like a good idea for a watch that is primarily aimed at those who want the battery to last for the longest. Is it effective? From what I can see, it certainly seems to detect the sunshine that is hitting the face. The glass panel is the solar panel in case you didn't know, so it is not visible as such, and obviously, Winter could be challenging for it, not just because there may be less sun, but also because you may have long sleeves covering it. I can wear mine over the top of sleeves as I use a separate HRM strap, but if you are using the OHRM on the rear then it can't be worn over any clothing. I can't quantify how beneficial it is, but it does seem to slow down the battery usage further which can only be a good thing right!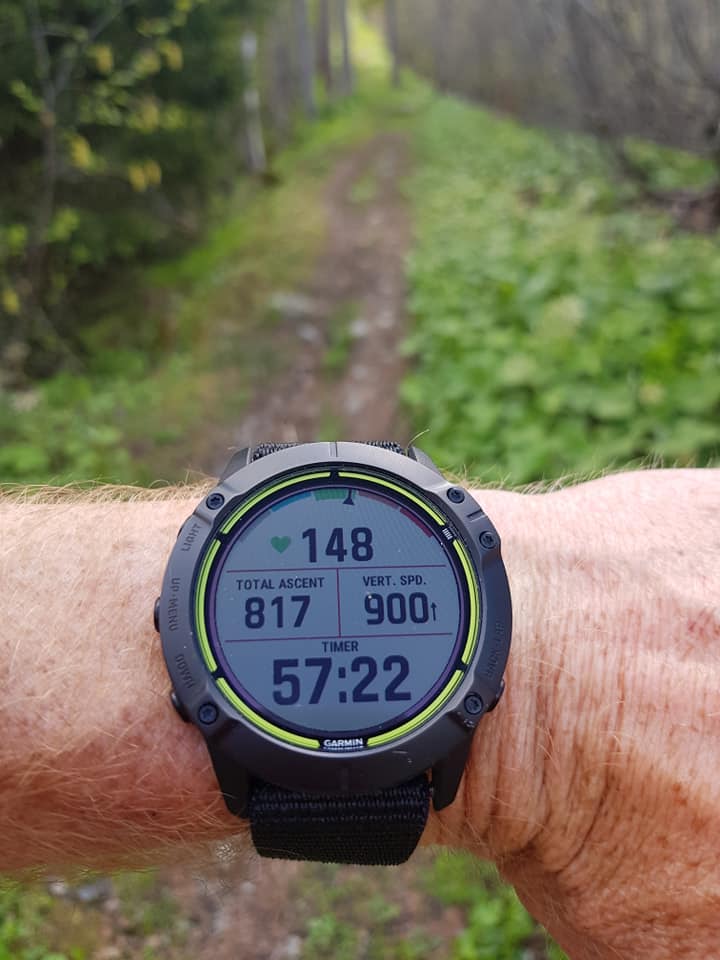 Finishing up on the look and feel of the Enduro, we have the watchface. I think Garmin have the greatest selection of faces to choose from, and they are varied, going from the incredibly detailed ones with tonnes of data on them (too cluttered for me), to the simpler and clearer ones (more my style). The face that comes loaded is simple and clear, and I have kept it on there. I have never found it not bright enough, even on sunny days and the backlight is adequate without being competition for my headtorch, so battery use is again optimised here without affecting performance.
In use I have found the Enduro to be fast and quite accurate, and the optical HRM has not given any freaky readings at all from all the times when I am not training (I use a strap during training). Even night time readings seem good, possibly better than any other device I've used. With both my Coros and Polar watches, I have lost sleep readings which can be frustrating, but so far after more than two months, the Enduro has captured every night's sleep with what looks like sensible data.
To start a training session is simple. Just press the top right button, then select the activity from the menu, and wait for it to find GPS signal. Once it locks on, which has been fairly speedy, Press the top right button again and you are off! Now, once you are in a session, you can enter the menus and adjust things while running, such as starting a pre-loaded course, changing the power mode so you can make the battery last longer when it is low, start/stop the metronome. You can even adjust the data fields mid run; in case you realise you are missing a particular field while running. This is fantastic as not all brands allow this much adjustability on the fly!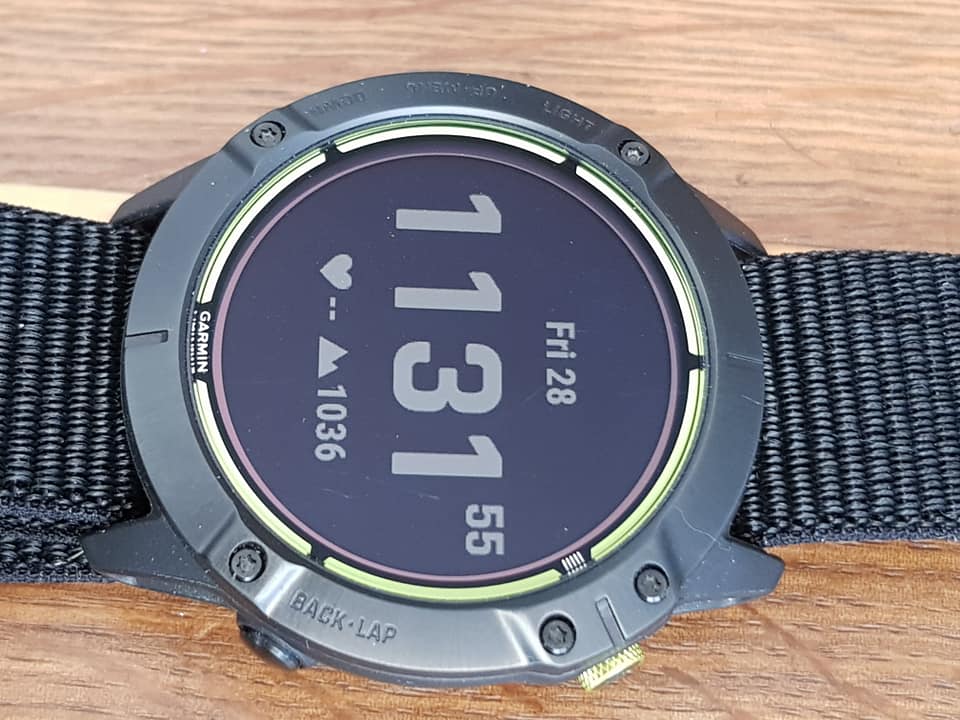 To stop the session, you press the top right and then select save and press again, and that is it. You can connect to Strava, Trainingpeaks etc. As is normal these days. It also has Live Strava segments which is great fun and can be a useful training tool.
Now this is where I have had my only real issue with the Enduro. It is supposed to transfer your data across to your phone via Bluetooth. Mine has been patchy since the start, but I recently cleared the cache from the Bluetooth app on my phone and that seems to have improved things a lot. Now, sometimes it connects by itself, but sometimes I need to turn off and back on the BT on my phone, and then it is all fine. So really, I don't even know if this is an issue with my phone or the Enduro.
I am on quite a few Facebook groups for various watches from all the main brands and possibly the most consistent issue across the board, is Bluetooth not transferring from the unit to the phone. I am guessing that this is due to there being such a huge variety of phones, operating systems, and that is before you even get into the settings! It must be difficult to make something that consistently works well across every possible combination! Still, the fact is, out of my old Suunto Ambits, polar Grit x, Coros Apex pro, the Garmin Enduro has had the most issues. Is it just luck of the draw as I know that there are many out there that never get any issues with their Garmin BT.
Whatever it is, for me it has been a frustrating issue. Let's move on.
There is a tonne of interesting features I shall mention. I won't go through them all, just what I think is worth mentioning.
PacePro pacing strategies. I have used this a few times lately as I have been doing a little more training on the flat to build my speed. This is a simple to set up feature, which can be done on the watch or on Connect. You can select your distance and the time you want to run it in. You can also adjust it to be a gradual negative, or positive split. I set this up for a 5km time trial and a 10km TT. Both were flat. In practice it was great. I really liked that it meant I could just focus on the running rather than trying to perfect my pace for the distance. Personally I see this as a great training aid to help you get a feel of what it feels like to run at certain levels. I would prefer to race without it but see it as a great training tool. Every km (or mile) it will tell you how much you are above or below planned pace and recalculate the pace for the remaining distance. Very smart! You can also use a course and it will take into account hills.
ClimbPro. This is a feature that will inform you, when following an uploaded route, or the current climbs distance, height gain and grade. It will show you a profile and where you are on it. You can also set up an alert at the start or maybe 1km before so you can prepare. This would be great on any mountain/hilly race or even just a training run so you can pace accordingly. In practice I have enjoyed this feature. it just gives you that extra awareness of what is coming or remains, and how best to pace yourself.
Trail run VO2 max. This is a very welcome innovation for anyone who runs a lot on hilly, and not always nice a flat. Without this, your VO2 max calculation would not take into account the gradient and the terrain which will both affect HR and pace, and therefore give you a lower reading than the reality. This feature aims to even this all out a bit. A little like GAP (gradient adjusted pace), this will give you a better reading when you are working hard on challenging terrain, which will in turn give your long term charts a smoother look. I have found that my reading has been very similar for both flat road runs, to technical mountain runs, so I guess it seems to be working well for my style of running at least. It will be interesting to hear how others think this works for them.
UltraRun. This is a cool feature which is specifically for the Ultra crowd. It is basically a split timer, that you press when you enter an aid station, then press again when you leave. You then get a break down of each section of the race and can analyse how much time you spent/wasted at each CP. Simple but brilliant.
Performance Metrics. There are quite a few components here. One I have found interesting is performance condition. After 6-20mins of running, you will be informed in real time at what level you are running at in comparison to your current recorded Vo2. It certainly seems to mirror my feelings. When I feel good it gives a positive score. It was +4 today. When you look back on this data, you can see a general drop in the score over the period of the run as you fatigue. This can be used as guidance to maybe back off a bit on a tough session if you are not getting a good score.
Another performance metric is Training Effect. This breaks your training into aerobic and anaerobic with a score for each. This can be used as a guide to make sure you are not doing too much or not enough of each as both are as important as each other if you want to further improve your fitness.
Recovery time is a countdown timer which is updated after each training session. It is a guide on how long before you train intensely again, not a complete rest. I have found that the timings seem sensible for me. I had a unit (maybe Suunto?) which used to give huge rest periods and so I used to laugh at then ignore. The Enduro certainly seems to be more meaningful.
And if you ever need any motivation or variety for a day's session, you get a daily suggested workout which takes into account your training history, fitness level etc. I have followed one of the sessions and found it good fun. I would like to just blindly follow it every single day to see what happens. Does anyone do that?
There are many more features, but I shall move on to keep this readable!
I should add that all the, now standard features for sport/outdoor watches are present, such as Barometer, Altitude, Compass, a huge array of sports profiles which cover pretty much every base, weather, sunrise/sunset and smart notifications
Also, some cool features such as music controls to control music on your phone, Garmin pay, Find my phone for those who constantly forget where they put their phone down.
It also has a pulse ox sensor which you can set on permanently, on only at night, or off. I found this to be a real battery killer, so after a while of having it on at night, I switched it off. Maybe when I go into the high mountains I will utilise it, but for general day to day use, I see no real benefit in having it on.
The final feature I shall cover is a popular Garmin addition, the Body Battery. A simple graph which shows what state your body is in using HR stress, sleep and other factors. Again, if I feel I am over cooking things and getting poor sleep then this shows that, and vice versa. Another tool to gauge where you're at and what you should or shouldn't do next.
There is so much info that is spewed out from the Enduro, that individually I would not always take it at face value, but combined you can get more of a feel how you are doing. For me this is what makes the system good, having lots of different analysis, driven by lots of different data streams. Of course this all hangs on the data being good, and I think that overall, the data that I am seeing seems ok and fairly consistent.
Then there is the App and the web page. Firstly, with Garmin Connect, there are both, unlike with some other companies (Coros, Suunto) who have made the decision to go with just the app. Secondly, it is social (Coros isn't) so you can follow other athletes and join clubs and challenges etc.
It took a little while to get used to the app, but now I am familiar, I like it. There is a huge amount of data on there to look over. I know some find it a bit clunky and not well laid out, but I don't see that.
The page it opens on is 'My Day' which gives you details of the current day, yesterday and the previous 7 days. You can customise exactly what data you want to show here and if you want to drill down further into the data you just click on it. You will also be shown any workouts here you carried out on those days which you can click on for full details.
When you click through the menu in the top left, you are presented with plenty of data on activities, health and performance. You can also add and create workouts which is pretty straightforward. You can setup runs using pacepro I previously mentioned. You can also setup your connection to Strava so that you can use live segments when you are running. I actually quite like this feature. It can be a good training aid and also a bit of fun!
There is also the social section to manage your friends, groups.
There is a golf section which you may be surprised to hear I didn't have any use for, but I guess if it's your thing it could be quite cool.
One other feature I have just started to look at is Garmin Pay. I had some troubles setting this up but got there eventually. I think this could be a fairly handy feature. The ability to pay with your watch is pretty good if you get caught far from home, with not enough supplies. You don't need to carry cards, so it is just another thing you don't need to have on your list of stuff to carry on bigger days.
I know I haven't covered too much of the App, but the bottom line is, I am happy with it. It does pretty much everything I need it too. It is capable of showing lots of the data and the analysis that Connect does.
So, then we have the web site. As I previously mentioned, not all companies have both a phone app and web site. The app does do so much that the site does, so do we need the app? Personally, I don't need it much, but I have to say that it is always good to have the option to view data and charts on the big screen rather than my phone. Like I say, it is not essential, but I prefer to have both.
There are some features that are available on the site that aren't on the app, or are easier to do to do, such as creating courses. Doing it all on a phone, is never going to be as easy as a full screen.
The site lets you see heatmaps of all Garmin activities which is cool as you can see all users activities which is great for looking at new areas to see where it is good to go.
You can also add gear such as shoes, so that you can monitor each pairs mileage. I love this feature as it helps me when I am writing shoe reviews to know how much use they have actually had.
For me, what shines about Connect is its completeness. Everything is there and it all works well. I know there will be some who will disagree but Connect is mature and likewise I feel the Watch shows Garmins vast experience. I say it is mature, yet there seem to be frequent software updates with both improvements and bug fixes, so it is not like they have finished which is always good to know.
So, now I should mention a point which will be the most important of them all for some people. Price. At £699/799 Euros for the steel and £799/899 Euros for the titanium, the Enduro is expensive. This will be a definite turn-off for some, I am sure. But this watch is all about the killer battery. If you want a huge battery life, and have a big budget, then maybe the Enduro is for you. I really like it's no fuss, full features. It works for me as I don't need music or maps. I love the feel of it with the strap. It has been a bit of a fiddle when syncing over BT (currently working well!) but otherwise it has worked excellently. GPS tracks have been good with no crazy off readings, Wrist HR has been excellent when not training giving no obviously spurious readings, and the Altitude seems to have been solid throughout. All of this is fantastic as I would expect a small amount of bad data over a couple months from any unit from any manufacturer. No watch is perfect! I like how adjustable everything is and I feel that Garmin Connect is a solid tool for viewing and analysing all the lovely data that is collected from the watch.
Personally, in my situation, the price is just too steep for me. I wouldn't buy it, purely on the price. But, if your budget stretches to it, then the Enduro is a classy watch. That is as long as you don't need music or maps. It is a niche watch that will work for a small group of people, and for those, it will be great. Everyone else will be looking at towards the rest of the Garmin range or indeed elsewhere.
Comfortable and relatively light
Large and very clear screen
Amazing battery, especially with the solar charging
Great user interface on web, app and watch
No topo maps
Please consider using the following link to purchase. The URC will collect a small commission for each sale at no cost to the buyer.
To purchase either Garmin Enduro model from Amazon, use this link