Garmin Fenix 7 Solar
Category: gadget review
The Fenix 6 offered much, including the show stopper, maps. Not just basic maps, but ones that were detailed enough to use and navigate by. Of course, the all-new Fenix would have maps, but what else would it have, and what improvements would be made? More importantly, would it be enough, to encourage the current Fenix 6 users to upgrade?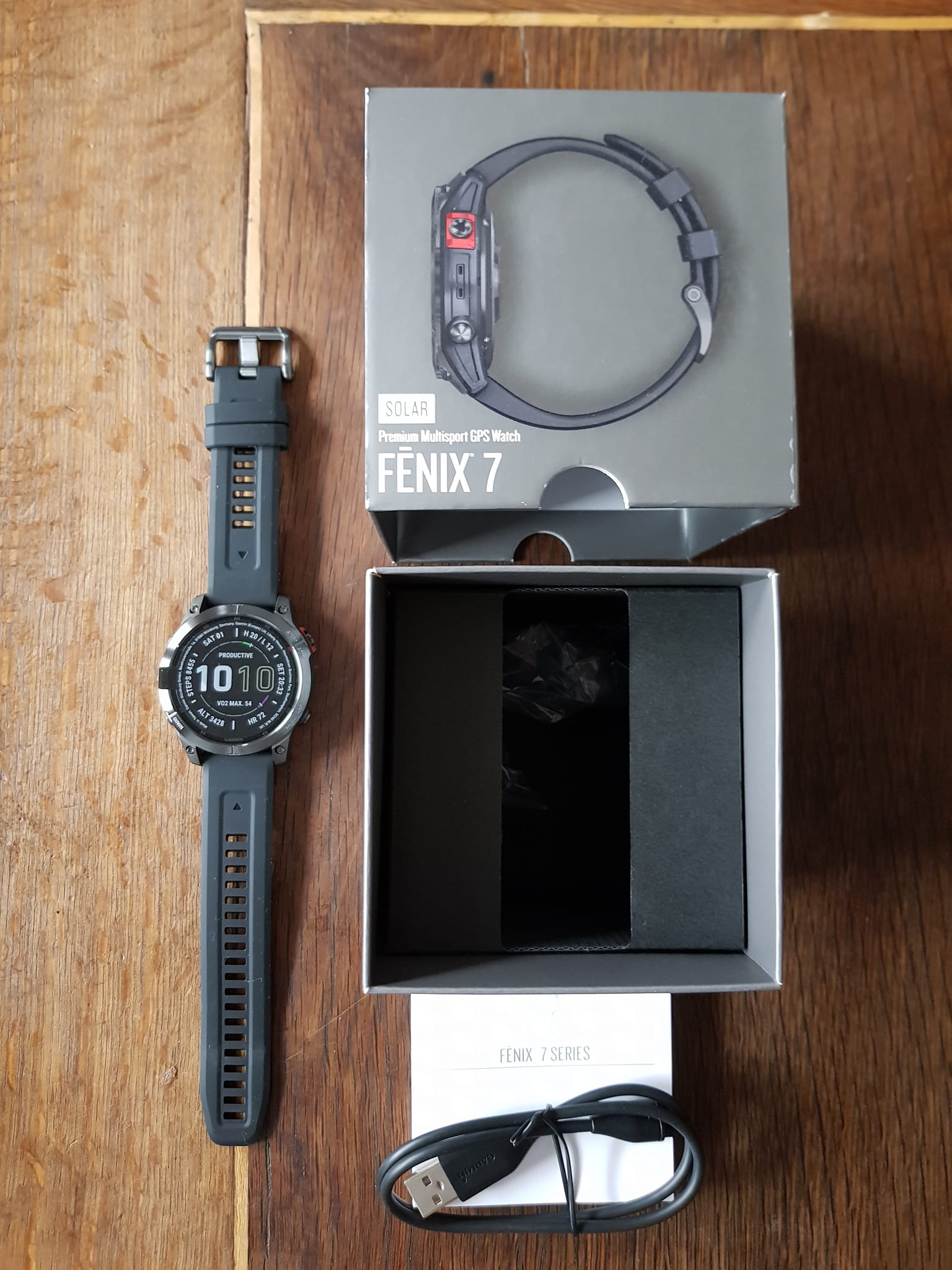 Before I get stuck into features, I want to mention that since getting the Fenix 7 Solar to play with, there have been many updates. Some of these updates have been to fix bugs, but there have also been many new features added, and I am going to review the watch as it is in its current updated state. I feel like Garmin have upped their after-sales game lately and it feels like they are listening more to the feedback and responding more. Maybe this is inspired by Coros who have an excellent after sales service and are frequently dishing out updates with improvements and bug fixes. Either way, I like the way things are moving!
Garmin are known for giving loads of data and analysis for the user to pore over, for many people it is more than they ever need, but I guess the idea is that they will satisfy more of the market, than a watch that has less features.
The first thing to notice is it's look. The body shape is basically the same as the Fenix 6 (Three sizes, the 7S, the 7 and the 7X) though the top right start button has a red surround and they are all a tiny bit thinner than the F6 series which is always a good thing. I like the shape, and was used to it from the Enduro which again is very similar.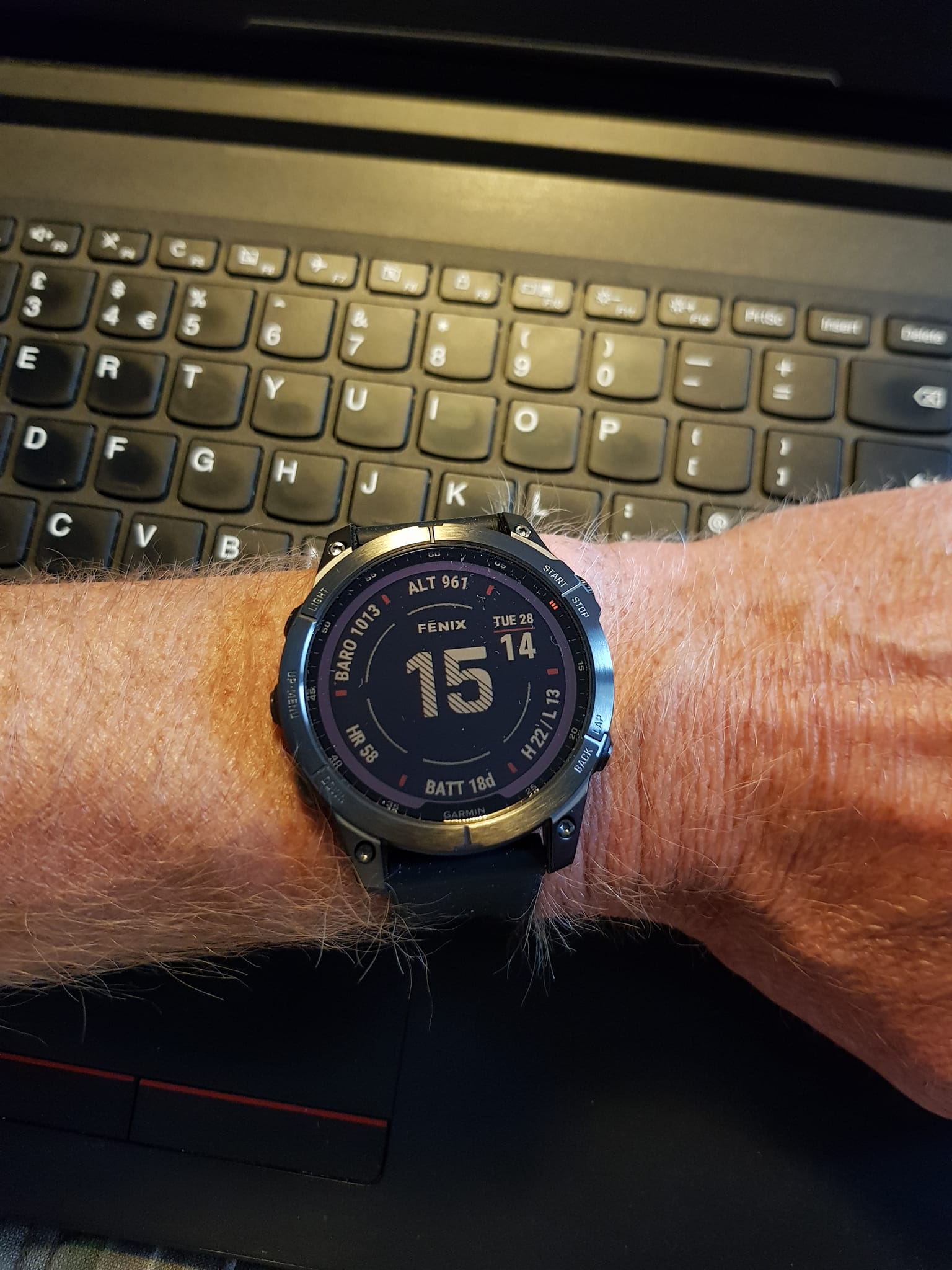 Large, but not uncomfortably so.
My unit has a quick release silicone strap which is great for me. It seems robust and comfortable, though some might have a reaction to the strap due to wearing it tight all the time for accurate HR readings. Garmin supply a huge variety of straps in not just silicone though, so there should be something for everyone.
Again, similar to the Enduro, is the thin border of solar panel noticeable just on the inner edge of the bezel. It takes up a little space from the face, but nothing to complain about. I think it is worth it if the Enduro is anything to go off.
The basics. The face is clear but not that bright, though if you want bright, you need the Epix Gen 2 which has a bright AMOLED screen, like your phone, but of course you pay with it in battery. Garmin have a good variety of faces that will satisfy a lot of people but of course there are many more 3rd party faces if you need something different. I have settled on a stock, clear watch face and love it.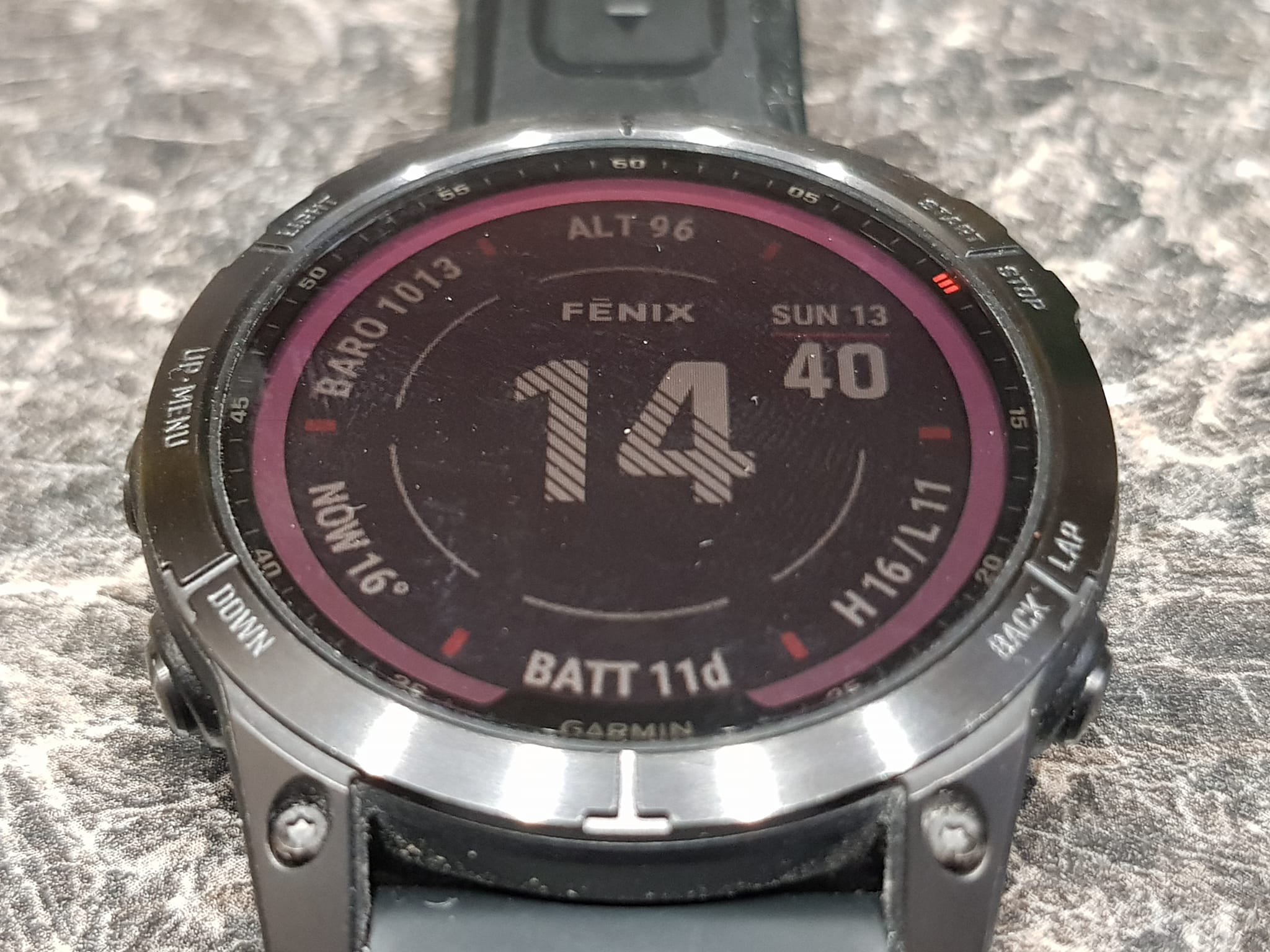 Talking of battery. Here, are the battery stats :
Smartwatch: Up to 18 days/22 days with solar*
Battery Saver Watch Mode: Up to 57 days/173 days with solar*
GPS Only: Up to 57 hours/73 hours with solar**
All Satellite Systems: Up to 40 hours/48 hours with solar*
All Satellite Systems and Music: Up to 10 hours
Max Battery GPS: Up to 136 hours/ 289 hours with solar**
Expedition GPS: Up to 40 days/ 74 days with solar*
*Solar charging, assuming all-day wear with 3 hours per day outside in 50,000 lux conditions
**Solar charging, assuming use in 50,000 lux conditions
On the rear of the unit is the updated Elevate Gen 4 optical HRM which has a glass cover instead of plastic (as in the F6) which is more durable. I like to use HR when training, so prefer to use an external monitor for reliability, but for the rest of the time and especially at night, I rely on the wrist HR. It seems accurate. It reads my pulse through the day and overnight consistently well, with no obvious spurious readings that look out of place. When training, I use Bluetooth to connect my Polar Verity Sense strap and this has worked excellently, not losing connection once as far as I'm aware!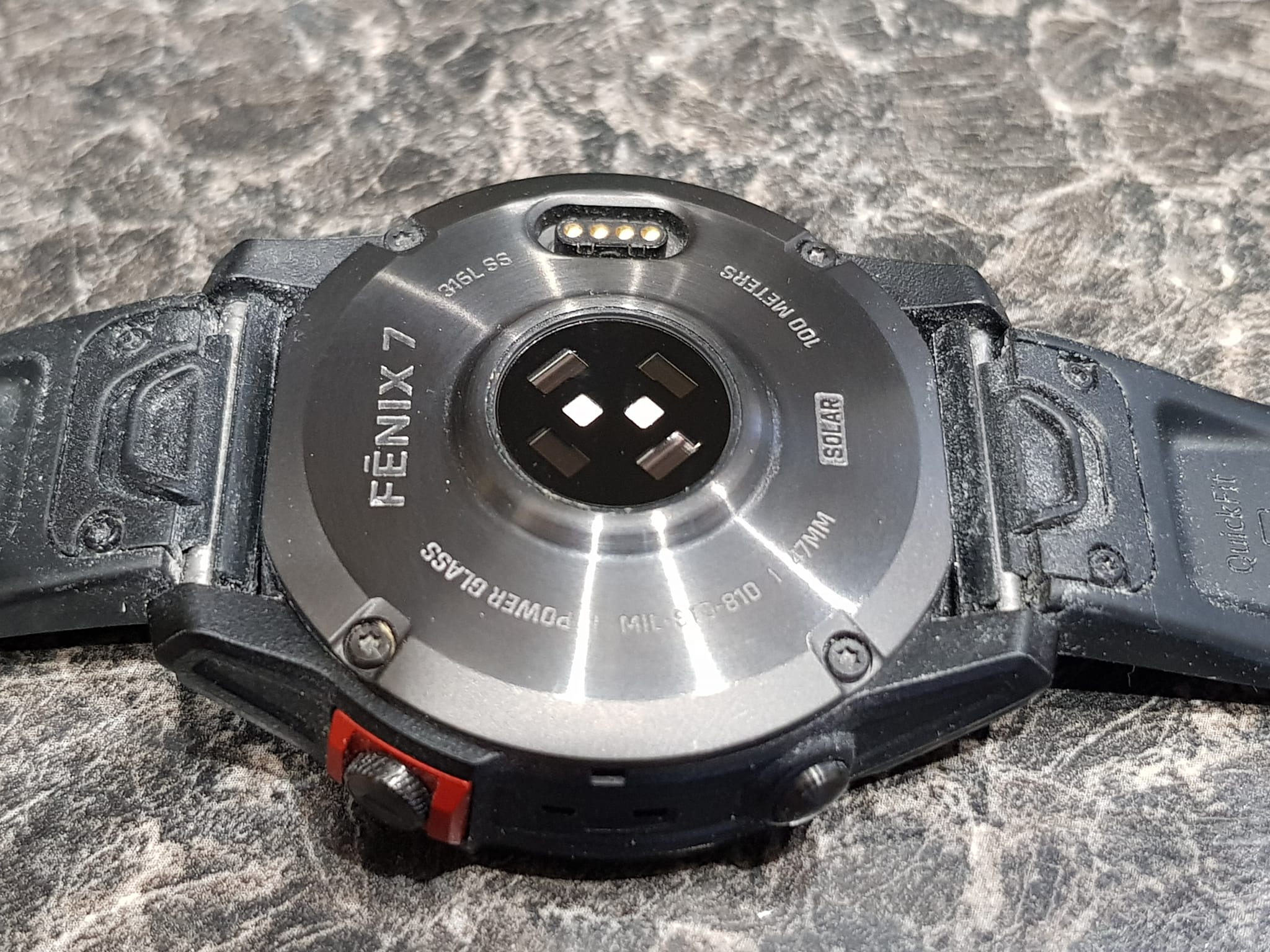 The rear, showing the optical HR monitor and the charging socket.
When I open Garmin Connect on my phone, it starts to sync almost immediately, taking around 5 – 10 seconds to complete. All pretty slick at the moment. I will say though, that for a while syncing was a mess and not working well, and was getting to be quite frustrating, but Garmin bought out an update which fixed it. Fantastic!
I should mention the weight, seeing as we care so much about the weight of most other items we run with. My version is the 7 Solar and has silicone strap which puts it at 79g. It feels light and comfortable on the wrist, though it certainly isn't the lightest out there.
In keeping with Garmin adding all features, there is the capability to play music using a Spotify, Deezer or Amazon Music account through Bluetooth headphones, without the need to have your phone in range. I have no BT headphones so haven't tested this.
There is also Smart notification capability too which works well, and I find really nice, preventing me looking at my phone quite so much!
Another super useful feature which means I no longer feel the need to take a card out when I am training in case I need to spend money, is Garmin Pay. Just brilliant use of technology! I still feel a bit of an idiot using it for some reason, but I love it!
Let's get stuck straight into GPS capability when training. I have done a fair bit of running, though there has been more cycling lately due to an angry knee! Starting an activity is simple and it locks on to satellites fast. I like this! No more standing around at the start of a session with your wrist in the air trying to get a lock! I don't think it has taken longer than 30 seconds once! Out on the trails and roads, accuracy has been good. I noticed it must have lost lock once as there was a short straight line on my trace, but it wasn't much. Occasionally it may swing 5 or so metres off track for a km or so, but then finds its way back. Overall tracking has been excellent, as good as any GPS I have used.
Maps are excellent! This was the first time I have used maps on a watch (except the recent update to the Coros Apex Pro which added maps). I was looking forward to trying it out, and they really are good! The maps have adequate detail to be of real use, are in colour and they have significant things labelled. When moving, the map stays with the direction of movement at the top (if that is how you want it set up) making things highly practical and clear which is exactly what you want when in a race situation. I found that the size is a little small sometimes and had to stop to minimise movement so I could read the text. Overall, I feel that with the screen size being what it is, Garmin have done a pretty good job of making it work, though if you struggle with aging eyes, then it may be too small.
I have followed a few different routes. Some I have just taken from Strava and some I have built myself on both the Strava app and Garmin Connect. Both of which are excellent tools in themselves! Following routes was easy and again surprisingly clear. If I went off route, I would get an alarm within 20 seconds due to the excellent accuracy.
A recent update added Heart Rate Variability, which was a pretty amazing addition. Garmin already measured this on many of their devices, and the data was used for calculating recovery etc. The HRV figure wasn't visible, though. Now, every morning I check my HRV and it is my new favourite piece of data spewed from the Fenix. It is a personal figure which shouldn't be compared with other peoples, but, makes sense when compared with your historical HRV stats. It really does seem to mirror what is going on in my life! Big training session gives me a low overnight score, as to be expected, but what I like is that if life is a bit stressful, or I have slept terribly, then this forces a low score also. If I have a fantastic night's sleep then likely my HRV score will be high. A seemingly great view of what state you are in taking pretty much everything into account.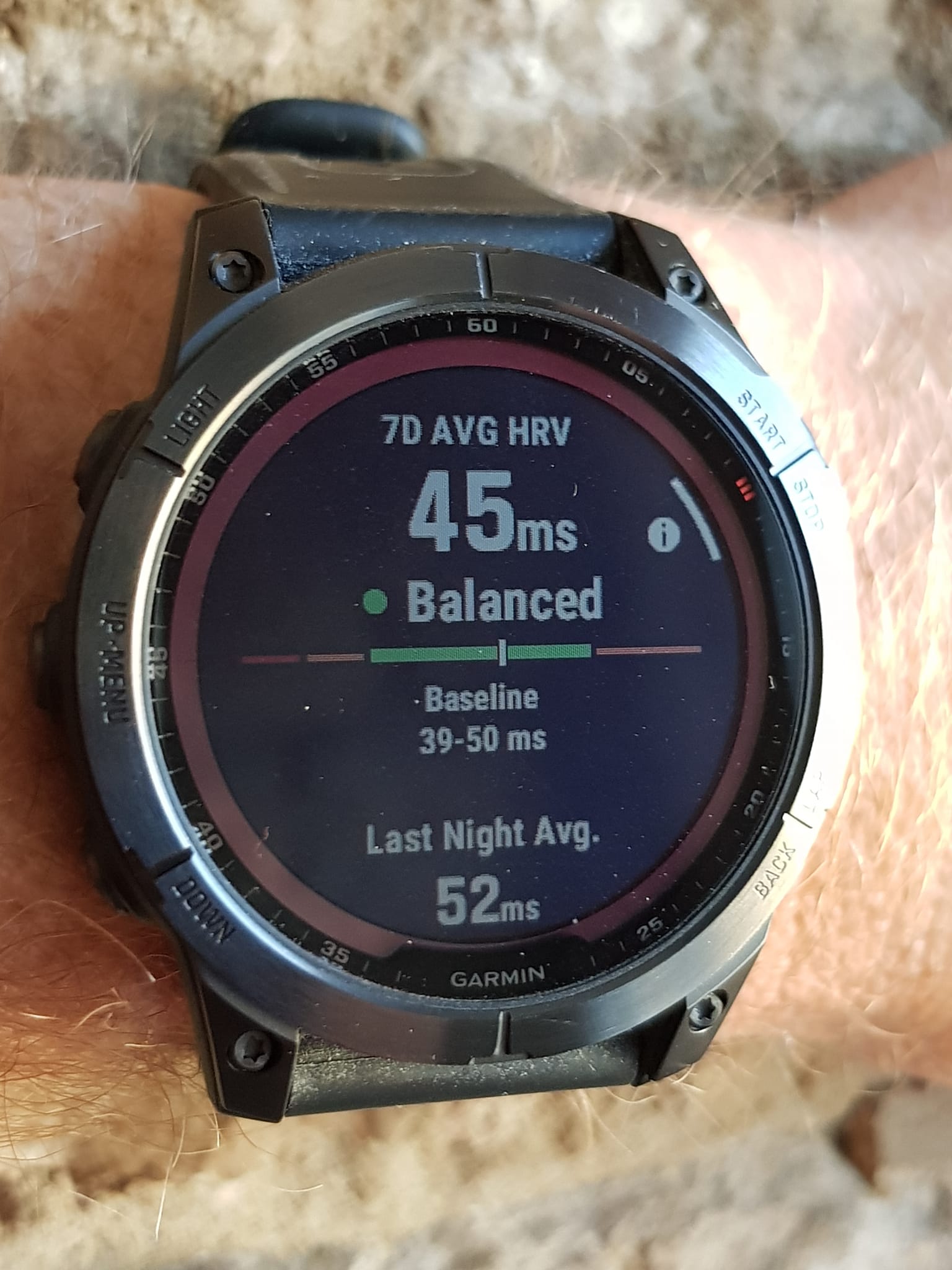 The slightly addictive HRV that is also really useful!
Another interesting training feature which I take note of, is within the training status, there is the Acute load. This is great as it not just gives you a 7-day load as is common, which is problematic as you drop a whole day's load in one day, but instead when you train and add a load, it will gradually drop rather than suddenly drop off in 7 days' time. Creating a smoother and I think a more realistic and therefore useful data flow.
Overall, I think the data capture and analysis carried out by the Fenix 7 is pretty good and because of that, I take it more seriously and is therefore a more effective training tool. Impressive stuff!
One analysis I take note of, but don't actually think is consistently accurate is sleep. I wear my watch's 24/7 so always have it on overnight. It captures my going to sleep point well, and also my point of waking, though the latter is not always right. The sleep breakdown of light, deep, REM and awake time is a little more random. It usually gets my awake times right but I know that I am awake for longer for some of these times. Overall, it is a decent effort, but there is much to be improved upon, and I have to say that this is the same across all brands. Sleep stats are used to drive analysis such as Training readiness, so as this improves, then so will the training readiness output.
Many will be familiar with the body battery data. It is a popular feature that takes data from HRV, stress and activities. It drops during the day when you are active, and rises overnight when asleep. A good night's sleep makes a big difference to your body battery and a big training session has a big effect in the opposite direction. I am a fan of this feature. Take it with a pinch of salt, but it is good to keep an eye on each day, to see if any negative patterns appear.
A recent update gave us the Morning Report. This is a nice little feature which, on waking every morning it gives you a report to scroll through on your night's sleep, HRV, training readiness and weather. It is customisable and I have to say that I wasn't too bothered about it before it arrived, but now a few weeks in, I really like it! A slight irritant, is that once the Morning report has left your watches screen, you can't see it again. I know, all the data it shows can be looked up separately all the time, but why not be able to access the report at any time? As I say, a minor irritant.
Another recent update gave us native running power, meaning we no longer need a pod (such as Stryde) to capture power. I personally haven't yet found a use for power in my training, preferring HR as it is more realistic when it's hilly, but I appreciate that this was a great addition that some will really get some use out of, and one quite frankly, the Fenix series of watches, should have had anyways.
There are so many features on the Fenix 7 but I have just raised the ones of note during my experience with it as I wanted to try to get across my overall feel of the watch. For a full techy detailed review, check out DC Rainmaker's.
If you have had a Garmin before, then you will find it easy finding your way around all the features on the watch. It is relatively intuitive, and once you have learnt your way around properly, it is easy. It also has touchscreen capability as well which you can disable if you don't want it, or conditions are not favourable. The best of both worlds! This makes scrolling through menus and moving the map simple and less fiddly than buttons. I don't use it much, but am appreciative that it is present. I think that is the great thing about the Fenix 7, is that it has pretty much every feature and so much customisation capability, that there is not much chance that it will not have your desires covered! The deciding factors are price, battery and performance and for some, customer service. I would say, performance has been pretty good across the board from my experience.
A feature that my version doesn't have, but if you went for the 7X, you would get the flashlight. Sounded a bit silly at first but it has a few different settings which could be useful. It can just be a torch, it can flash so you can be seen easier for safety, it can work in time with your arm swing, so white light out the front on the forward swing and red light out the back on the backwards swing (I would like to try this out!) and finally it can flash the SOS signal. Overall, it actually sounds like a pretty practical extra capability and less of a novelty, but sadly only available on the 7X units.
A mention must of course go to Garmin Connect, both the App and the Web versions. Again, Garmin, covering all the bases, unlike Suunto who fairly recently binned their web version and now only have the app. I think it makes much more sense to have both options. The App is pretty amazing in that pretty much all the capability of the web version is there, but it of course is much nicer to do stuff on the big screen sometimes. Especially things like route creations and looking over charts. I find the app fairly intuitive but feel it could be a little better laid out. That being said, there is a huge amount of data on the app, so obviously quite a task to make it really simple and intuitive to use. Each time you open the app, if the watch is in range it will sync, taking up to 45 secs if there is a lot to update, but generally quite a lot quicker than this
You can also get workouts automatically uploaded to 3rd party apps, such as Strava which is always fast. I have everything sent to both Strava and Final Surge, and they are both equally fast. Generally, by the time I am in my house, the session is uploaded to Connect, Strava and Final Surge.
Which brings me onto the cost. It certainly couldn't be called cheap! There are 3 sizes, the 7S, 7 and 7X and each of these comes with 3 types of glass, standard, solar and sapphire solar, giving 9 different models. The cheapest is the 7S with standard glass costing £599, with the top model being the 7X with Sapphire Solar glass costing an eye-watering £1049.99! My test watch, the 7 with Solar glass, sits firmly in the middle at £689.99. Are they worth it? Well, the technology is incredible, the design and execution are tried and tested, and the fact that they seem to have a decent after sales now, releasing updates frequently (it just updated this morning) is worth a lot. The excellent maps capability is superb and unmatched on a watch with good battery life such as this. It's accuracy, as any, is not perfect, but it is pretty amazing. The choice of course is yours, but personally I think I would possibly stretch to the 7 standard, but anything more is just too much for me.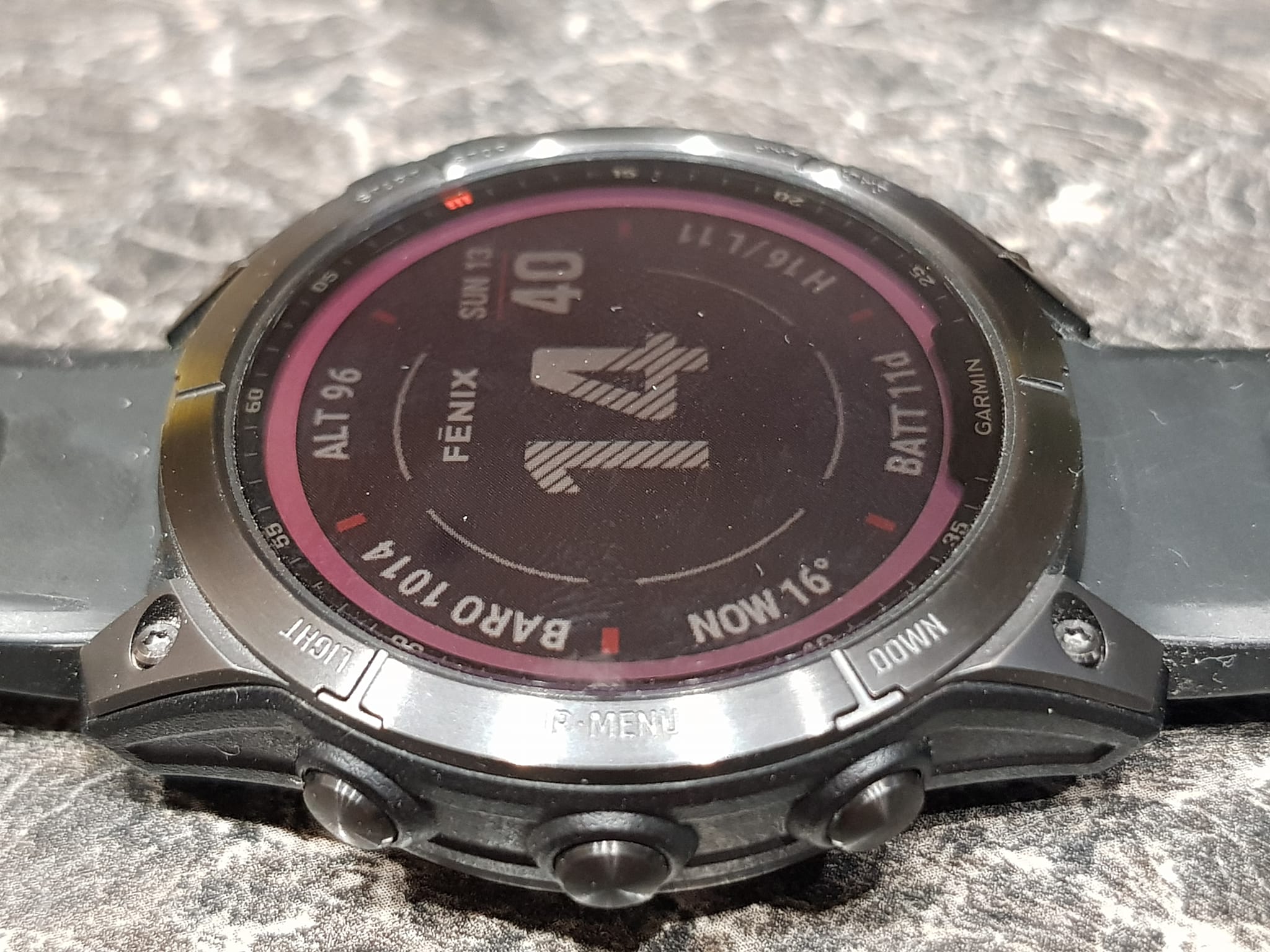 This is of course without taking any other watches into account. As previously mentioned, released at the same time was the Epix 2 which is basically the same but with the lovely bright AMOLED screen which eats up battery, but if you don't particularly need a huge battery life, and would really like a screen that is very clear, whatever the ambient light situation, then this could be a better choice for you. Not long after the release of the Fenix 7, Garmin released the Enduro 2, which still has the huge battery life as the original Enduro, but this time they added in maps! I think the biggest turn off with the original Enduro, was the lack of maps on a high-end outdoors watch. So, it seems to me the obvious choice would be the Enduro 2, but that is before price is considered! Only available in the one option, it costs a hefty £929.99! I think I'll stick with the Fenix 7 for now!
To purchase the Garmin Fenix 7 Solar please consider using this link - Buy Here
All sales will make a small commission that will help to run this site. Thanks