Written by Neil Bryant for the URC
When I first heard about True Mountain a couple of years ago (?), I was really quite excited. Here's a brand new company that is based in Preston, Lancashire. They only use material from the EU and where possible the UK. They are trying to prevent the loss of the production skills from the UK and put the UK back on the map for outdoor clothing producers.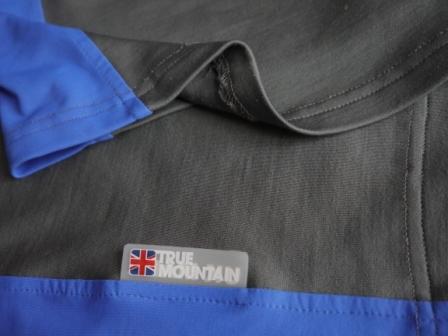 A very noble task which I admire greatly. I really support this and wish them luck with the venture.
Of course it takes more than this to satisfy us runners when our demands for such high performance gear continues to grow. Technology in materials and manufacturing leaps forward at an ever increasing speed. Can True Mountain slip into this highly competitive market with such high values and truly compete, when some of the competition are true behemoths?
This baselayer I have been testing is the first item of True Mountain clothing I have owned. In fact, living in France, it is the first I have seen. When I pulled it out of the package I was surprised how thick it is. This is good for me as pretty much all my baselayers are quite thin. As it is quite cold here at the moment and with the whole of Winter ahead of me, This could come in very useful.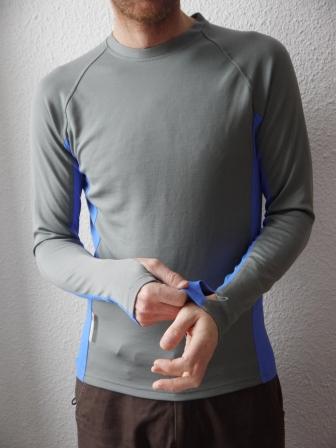 I own a few tops that utilise the magical merino wool. Some are pure merino, and some are blends of merino and polyester. The pure merino are just the most wonderful things to wear, but if you are going to be very active, and sweat, they get wet and heavy before drying. When you add some polyester to the material, from my experience, it really doesn't get heavy and clammy like merino, and dries much quicker. My favourite tops are a blend, or sportswool as it can be called.
You can imagine my joy when I discovered that this tops main panels are Sportwool. The stretchy side panels are Meryl / Elastane. Which combined give a nice cozy fit. I quite like a 'casual' baselayer i.e. close fitting but not tight. But I also appreciate the reasons for a tight baselayer. It means the material can perform at it's optimum, wicking moisture away from the skin. Tight tops are also good for preventing nipple rash!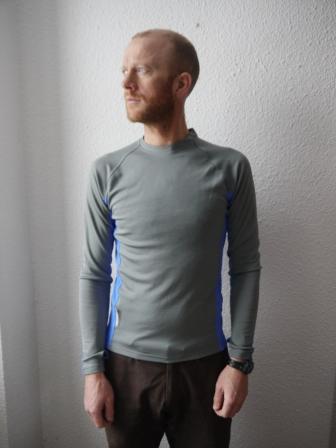 It fit's me nicely, with just about enough length in the body and plenty long enough arms. I personally would have an extra cm for the body, but I do have a relatively long torso. It is close fitting as just mentioned, but not too tight. I do own a baselayer that is so tight it is like pulling on a wetsuit! The long arms are necessary as there are thumb holes which is great for keeping the often exposed wrists warm. A nice touch as if cold wrists are left for too long then eventually your hands will get cold, which is something I suffer from, so extra help is always good.
It is all held together using a twin process flat seam construction for a comfortable, durable garment. The sample I have, which is quickly becoming my favourite Winter top has very tidy stitching and certainly looks as though it'll last for many Winters. This feels and looks like a quality garment.
I have had the top for a couple of months now, and it has been used extensively, from the Isle of Skye, to Chamonix where I live. The first month was purely running, then as the snow fell, it has been almost exclusively used for skimo, and last week I took part in my first skimo race and the True Mountain top was my choice of baselayer for the event. I have worn it when it has been -5 degrees which is pretty cold, but when skinning (uphill skiing) or running uphill I still sweat a fair amount, so this is a real test for a baselayer. The last thing you want is a sopping wet baselayer that takes ages to dry out, if at all when it's cold. Apart from being very uncomfortable, could lead to a dangerous body cool down on top of a wind exposed hill. The sportwool is fantastic at drying out quickly and keeping you warm after sweating a lot. I have had no chafing from the seams and it even doesn't ride up much when wearing a back pack, which drives me mad.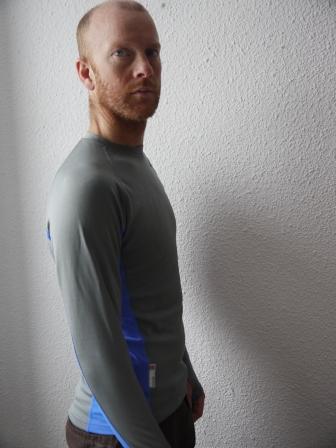 The neckline is fairly small which I also like as if they are too big, then there is a possibility of shoulder straps rubbing on bare skin creating chafing.
As previously mentioned, this is the only top I wear as long as it's clean (ish). It performs well for high activity in cold conditions. On the milder days it hasn't felt too warm either which is all down to the impressive qualities of Merino.
True Mountain have put a lot of thought into this apparently simple baselayer, making something exceptional. It sells for £60, which for a merino tech baselayer is pretty average, though not cheap. I think it is worth it as it should last you for a few years.
I highly recommend the True Mountain Stretch Sportwool Longsleeve top, and I am now really keen to check out the rest of True Mountains products.
To find out more about True Mountain, their other products and to purchase, visit their site here