Written by Matthew Perry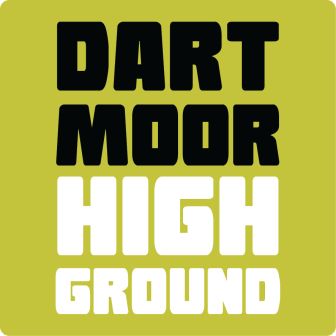 I think I'm doomed…I've never run an Ultra race in good weather – it's always miserable. Don't get me wrong, I love running in challenging conditions but I'm starting to think that if you want to enter an event in good weather…ensure my name is not on the start list. The week before the race the weather looked good, then looked bad, then looked favourable and then looked horrendous. Eventually we had a bit of everything - and Dartmoor can be menacing.
The Dartmoor Highground 50 and Marathon races are a new race throughout the Northern Dartmoor wilderness billed on the website as an Ultra with a wild and mountainous feel with high moorland and open hillside descents …but did it live up to its self-proclamation?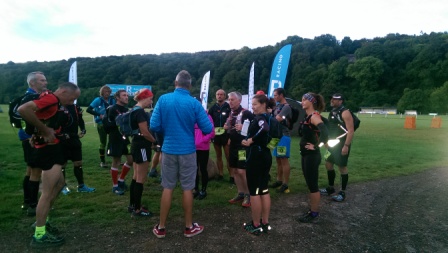 I arrived at registration the evening before – camping was available on flat pitches with toilets and showers and an area for campervans. Registration was within the Okehampton Pavilion in the park providing a central hub, a café and mini bar with ample seating both inside and out – the feel was immediately extremely friendly and there were a number of familiar south west long distance ultra faces milling around. The organisers from 'Freedom Racing' Tom and Nicky looked bothered and on chatting to them it appeared that the undecided weather had played havoc with altering the carefully marked course and they were about to leave the registration area and run some of the 50 mile course again in order to ensure that the markers were still in place – this was at 18.00hrs with only a couple of hours of light left….these race directors were working tirelessly to ensure that the race was as well marked as it could be.
This race was also unique in that you could order a 'food package' to take the stress of cooking away from you – it was pre ordered and at registration you were provided with your food ticket for an two evening meals and two breakfasts all managed by the wonderful Teresa (later named Mother Teresa for her great hospitality) who worked in the pavilion café. I would recommend this – it was social, cheap and the food was great with good portions to deal with any runner hunger. Registration also provided you with the obligatory race number, good quality t shirt, drop bag, and an OS 1:50000 route detail map with a waterproof bag which we would later find out was an essential item.
After a rather social and informal meal the race directors were finally off the moor by 22.00hrs after checking as much of the course as possible. It was RD Toms birthday and he was working hard to ensure the entrants were going to have a fantastic run….bed time was not as early as it should have been and after a number of pre-race beers I finally went to sleep in great anticipation of tomorrows new race….
The calm before the storm….
The alarm yanks me from my slumber at 04.45 and I question my sanity…but I get up, get dressed, wrap my toes in plasters and wander bleary eyed to collect breakfast and prepare the Race vest. Porridge consumed, coffee on board and a last kit check it was time for the briefing from RD Tom. Maps out, course marked, we were all ready…hopefully….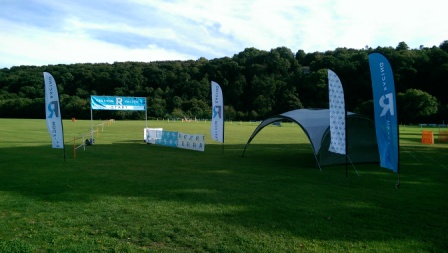 The race started at roughly 06.30 and race favourite and Freedom Racing Athlete Simon Darmody whizzed off….while the rest of us cautiously bumbled along for the first few miles. These initial miles ran through woodland next to a stream and are beautiful but quite technical underfoot with rocks and tree roots. At this stage no problem with fresh legs; this gradual uphill finally opens onto the moor. The sun was rising from behind the tors and it was stunning. The route was well marked with markers, flags and arrows but you had to look for them – which I think is a sensibly marked course. Ascending via a number of Tors we finally summited at 'Yes Tor' at which point we headed out on the first loop. The group gradually started to spread out between 8-20 miles - with Lee Treadgold and Paul Reeve pulling ahead.
Checkpoint 1 at 8 miles was a quick refuel and the running was spectacular for the next 15 miles … amazing views, running along sweeping ridges and fabulous quad burning fell like descents followed by calf killing ascents with a real wilderness feel. I'd been running since the start with Dave, a master downhiller and Mike an experienced ultra-runner. I felt I was in good hands with these two…we kept a good pace and pushed and pulled each other along with some excellent banter. My new game is called 'name that (breed of) cow' which I found great fun - might move onto other livestock such as sheep next.
Checkpoint 1 and 2 at sunrise – a few hours before the storm hit.
At Checkpoint 2 and we were told we were in 3rd position at 23 miles with Simon in the lead and a chap from London running well into 2nd position. As we arrived at CP2 we noticed the event shelter had disappeared – the team had taken it down as the wind had started to roll in; a few specks of rain were falling and the clouds looked dark and ominous.
Through CP2 and back out to the ascent of Yes Tor for the second time and the clouds, rain and wind really came in now – the visibility reduced quickly to about 20-30metres, the wind increased and the rain was horizontal…staying in our group of three we summited 'Yes Tor' and moved onto High Willhays battling against the wind and rain.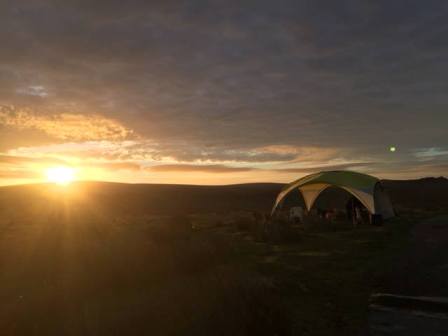 As we got our waterproofs and gloves on we met some of the marathon runners. Their race had only just started but they seemed to be having a good time, despite the weather. We moved on as it was easy to get cold if you were not moving swiftly enough.
It's in conditions like this where you appreciate the mandatory kit, only 2 hours before, the sun was shining and now it felt like a winter storm…I love this difficult running it makes you feel alive and I am sure Dave and Mike felt the same as the rush of adrenaline pushed us on towards the descent after Lints Tor and Dinger Tor. At this point I experienced a feeling I'd never had before - the wind and rain were so forceful I actually had puddles of water gathering in my bottom eyelids; I giggled like a maniac! We were working well as a team of 3, six eyes are better than two for route navigation (even with puddles in them) and we were pushing and pulling each other through any more difficult times. Through the valley, a mini wade through the West Okement River and another ascent towards Kitty Tor….The storm continued battering us as we ran out through the bogs and marshes towards Great links Tor and on to Nodden Gate and CP3.
CP3 was another well marshalled checkpoint with the shelter still standing (there was protection from an old wall) and lots of ultra-food - sweet and savoury. Water refilled we were back out into the storm for a long gradual ascent of Great Nodden and it was here where the wonder carrot of cold beer was first mentioned. This would keep us moving through the marshes, reeds and bogs of doom - these seemed to last forever - we were soaked anyway though now sometimes knee deep in bog and mud. The route still signed we trudged on. It felt hard - we were going nowhere and the wind and rain were relentless.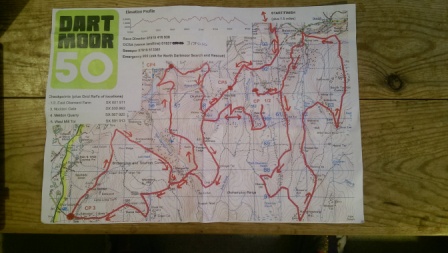 Finally ascending Branscombe Loaf we could run again towards the link of the West Okement river valley. However, we suddenly found another ultra-runner running in the other direction – Caroline, running on her own in the middle of the storm had taken a wrong turn and was heading backwards on the course. We turned her round and took her back with us in the correct direction. Like true gentlemen we left her behind to fend for herself…then realised and stopped and waited. Mike was having trouble keeping warm at this point so gallantly we ensured Caroline she was fine to get to the next CP and we pushed on (sorry Caroline – we are rubbish friends x).
Another three more summits, there were some views through the clouds across Meldon Reservoir but the rain persisted and the descent was long and thigh burning…Dave was in his element making descending at 42 miles look effortless.
Into CP4 and we find that another shelter has been dismantled because of the storm and the CP was heroically being run out of the back of a van with Nicky (RD) and Steve in full waterproofs battling the elements themselves. Mike and I were suffering from the cold and relentless wind chill and decided on some more layers. We met some marathoners here who'd been 'attacked' by a cow and had to hide behind a large rock for safety…which amused me, but having been chased by a herd myself in the past I could fully empathise. Another steep ascent and the rain became a little less persistent with some breaks in the clouds but the wind continued. We all acknowledged that we were keeping good pace and we were working so well as a team that we even managed to coincide the toilet breaks for maximum efficiency! After the third and final ascent of Yes Tor followed by West Mill Tor and we knew we were on our way home.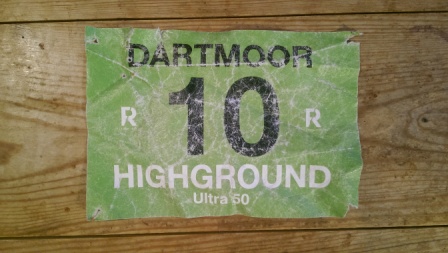 At the final check point at 46 miles we were met by 'At Your Pace' and south west runner extraordinaire Loyd and his girlfriend Liga and we were told we were in 2nd position … which was odd as we hadn't passed the chap from London who'd been ahead of us earlier. We pushed on and as we descended we got warmer and warmer … and the quads hurt more and more. Finally we rounded Scarey Tor and were back into the woods that we'd passed over 11 hours before. The roots and rocks were not so easily negotiated this time and great caution was needed – I had been feeling quite nauseous for the last couple of miles but was gradually rejuvenating the closer we came to the finish. It was still light and we finally exited the woods into fields and ran in as a team of 3 to joint 2nd position. We were greeted with photos, medals and a pretty trophy – I've never won a trophy before so was extra pleased. My great thanks goes to both Dave and Mike who made fantastic running partners – it was a great day. Congratulations to Simon Darmody for running in 1st for the complete route.
Warm showers were available and after washing and warming up the smell of food enticed us into the café for the food package of a buffet dinner of new potatoes, salad, bread, ham, turkey, beef, quiche….nom, nom, nom…you get the picture…and then the cold beer….and another….and another…..
The hours rolled on…. all of the marathoner racers had had a tough day but the last few I saw coming in were absolutely raving about what a great time they'd had. The night had drawn in and there were still ultra-runners out on the moor fighting with the dark, the mist, the rain, the cloud – Lee finally came in having run an extra 25miles (good training he called it!)….1st and 2nd females Sharon Sullivan and Sarah Clemence came in with Alex Hocking – these are two 'hard as nails' girls who are both experienced ultra-runners. Around 23.15 the final male came across the line, supported by the equally heroic sweep runner, to a rapturous applause from all those enjoying their achievements. The band that was laid on to encourage a super party atmosphere really gave a great end to a superb weekend.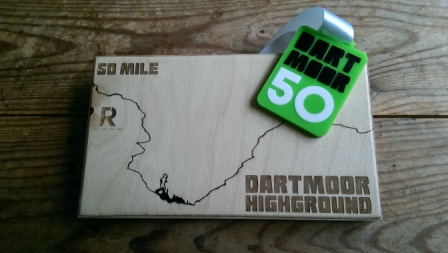 This was a perfectly balanced race….it had a community feel of togetherness, the food package is a great idea allowing you to camp without the worry of cooking – the course is a labour of love – how Freedom Racing managed to mark out 50 miles of Dartmoor I will never know – there were times when the signage was difficult to find but it was there – we didn't go in the wrong direction once although others did manage to get lost in the difficult conditions but that was half the fun. This is a mainly marked course but you have to use your head – the party atmosphere and band afterwards with dancing was a great end to the day.
Full credit to the Freedom Racing team and all of the marshals on what must have been the worst ever day to be a marshal! The Okehampton community pavilion is a great venue made even better by Teresa's hospitality and friendliness.
If you love trail running in wilderness areas with challenging ascent and descent then this race is for you – don't miss it – it'll be a classic – would I go back? – Without doubt – would I recommend it? – Without doubt - but if you want good weather, make sure my name is not on the start list.
Can you tell how wet it was from the race number?