Balancing training with family life and a full time job was always going to be a challenge, but for the last few months in particular I was fortunate enough to be able to spend a few hours on the trails every Sunday morning. Doing this on tired legs and often after a poor night's sleep would be beneficial experience for the race I figured. The 6 weeks leading up to my taper I had weekly mileages of 52, 50, 57, 57, 62 and 60. The last 3 of these involved a few bike rides to and from work as well. I noticed an accumulated fatigue developing and figured I had pushed my body about as much as possible.
Pre race
I was lucky enough to have my 1 year old, Robert, to myself all day Wednesday, and Thursday morning. We had two fantastic days together, which was a wonderful distraction before my first 100 miler attempt. Thursday afternoon's trip to Lancaster however was very stressful, with poor traffic and soon a very fed up Robert. A very hot Premier Inn room resulted in a fairly poor night's sleep for us all. We did however have a lovely breakfast, Robert in particular enjoying a wide selection of exotic items for breakfast, including his first hash brown. Suitably full, Robert slept on the drive to Kendal and again on the next leg to Coniston, with Helen taking over driving duties. After the kit check, I started to get very twitchy, worrying about anything and everything. This eased when my parents and then Helen's family started to arrive in Coniston before the briefing. By now I had packed and re-packed the bag many times and managed to force down some plain pasta. Overall, I
probably ate a bit less than I would have done on a normal day, which I'd attribute to nerves and not the best planning. Post briefing, we had a lovely half an hour in the park across from the start line, with Robert revelling in having 8 adults to impress. As I said my goodbyes to everyone, I started to feel the weight of the challenge ahead. As the customary rendition of Nessun Dorma was performed, I reflected on the hard work that had brought me to the start line, then tried to focus on my pacing and nutrition plan.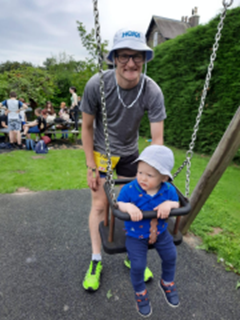 Coniston to Seathwaite
I started further back than I would have liked, as I left it until the last minute to go into the starting area. I subsequently had to get through a lot of people, but didn't really feel like I was stuck behind people for too long. I was feeling strong and confident, and that I was starting at a sensible pace. I did however descend a bit too fast down the track from Walna Scar Pass, and as a result felt heat spots on the soles of my feet beneath the heels. I also had a very minor ankle roll due to a misstep, and made a note to take it more steady. Another early mistake was noted in that I had carried 3 soft flasks with 500 mls waters in each, and only
drank 1 of them. I compounded the error by filling it at the aid station! I also ate some ginger cake and flapjacks in addition to the gel and snickers I'd had before reaching the station. I also took on some salt (straight from the sachet, lovely) as I was already starting to feel paranoid about hyponatremia as it was hot and I expected I'd drink a lot. Overall I was feeling very positive and excited to have got going.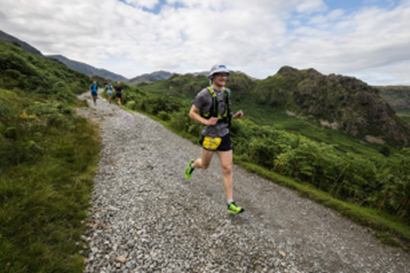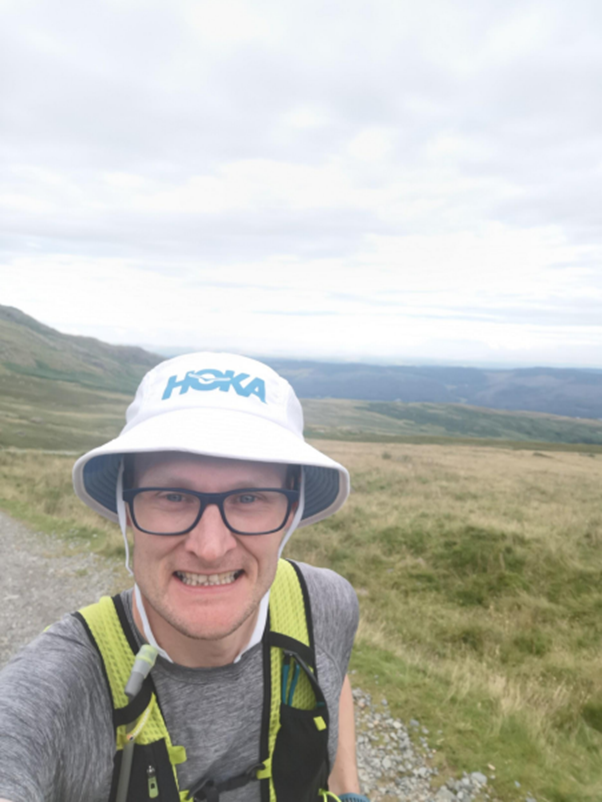 Seathwaite to Boot
For a large part of this section, I had a really good chat with Marco Consani - a name I probably ought to have been familiar with. He was very friendly and had some real insights into the world of ultra running. I stuck with the nutrition plan and had another gel and some KMC, and drank a full litre of water this time. At the aid station, I decided to abandon the straw as it had been irritating to fill and not as handy to drink from as I might have hoped. A definite mistake to still be chopping and changing, but no real harm done. I ate some ginger cake and biscuits, and stopped to tape my foot. Marco kindly advised me that "something else will hurt worse soon" and carried on - I assumed that would be the last I would see of him.
Boot to Wasdale Head
This was a fairly uneventful leg, in which I chatted with a few different people. I was really pleased to be able to get into the checkpoint in the very last of the light before the headtorch had to come out. I had a coffee and a sandwich to supplement the gel and snickers en route, and to steel myself for the climb out of Wasdale Head. This was the first themed checkpoint, manned by the Sunderland Strollers, with the volunteers dressed as dalmatians!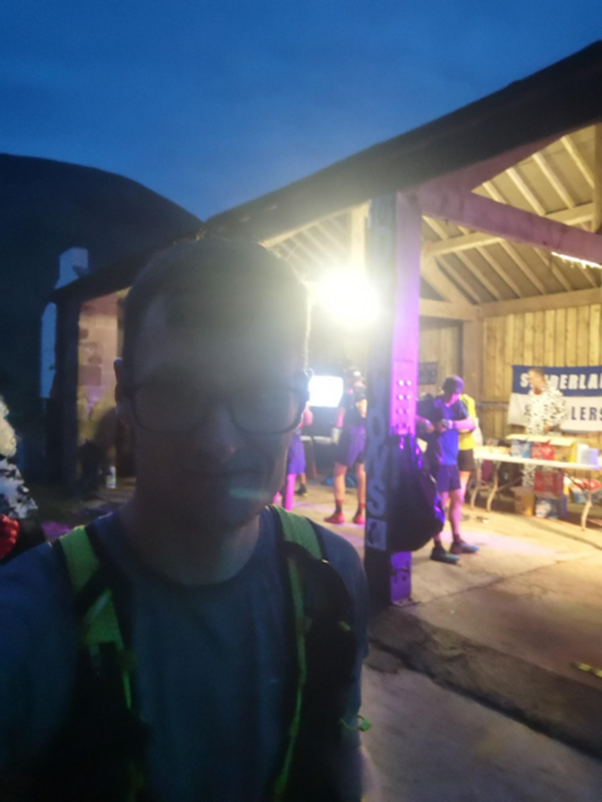 Wasdale Head to Buttermere
I took a long time eating my cheese sandwich on the climb up to Black Sail Pass. Finally, I was now only carrying 1 bottle of water and 1 bottle of squash between stations. I also had my first salt chew on the climb, which my brain clearly welcomed. I forced down another caffeine gel, but I was now both hungry and a little queasy. I decided to ditch the gels and start eating more food at the checkpoints - a vitally important decision. I arrived into Buttermere checkpoint a few minutes before midnight, had a milkshake and took a cheese and pickle sandwich with me. This was delicious, but a bit overpowering. I can still taste it now if I think about it!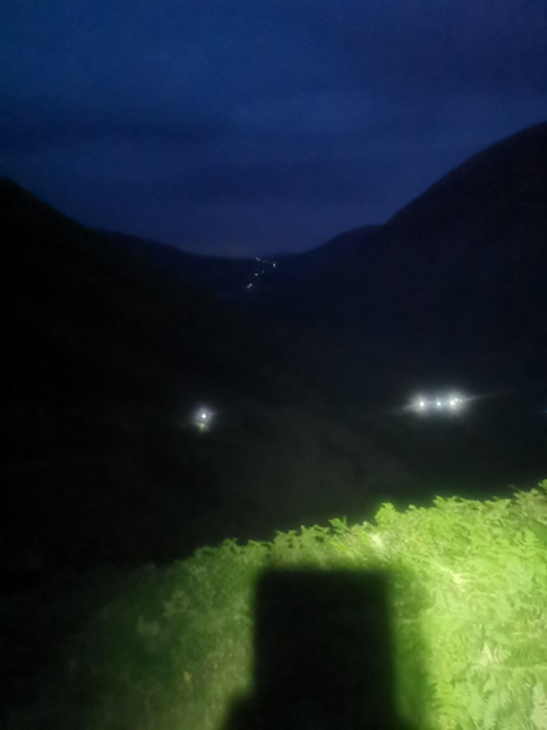 Buttermere to Braithwaite
This was the first section I was genuinely worried about taking the wrong path. At a fork in the path, I followed some runners ahead. Shortly after, I began to doubt myself, and looked back to see a split in the runners behind me. Re-reading the notes, I was sure I'd gone the right way. I dropped in with some runners behind me, and soon recognised the turn as described in the foldie. In an otherwise uneventful leg, I realised I was descending poorly in comparison to those around me. The grassy descent on Barrow ought to be "easy", but I was clearly going backwards versus the field. I got into the checkpoint nonetheless and thoroughly enjoyed some rice pudding and jam. I still regret not having pasta to go with it!
Braithwaite to Blencathra Centre
Having stopped for maybe close to 10 minutes inside the checkpoint, I immediately felt cold for the first time on stepping outside again. A steady jog helped warm me up. I caught a pair of runners ahead, and soon there were 6 of us in a pack. It was nice to cover a couple of miles in 20 minutes or so along the least picturesque part of the whole route. I was pleased to be the person to spot the tricky turn off the main road. I was now feeling hungry and cursing my decision not to eat the pasta! I found myself flagging on some of the climbs for the first and last time, and vowed to eat more at the checkpoints. My head torch lasted in high performance mode until the checkpoint where I gratefully had some toast and took biscuits and cake with me. I felt refreshed and ready to face a new day, already looking
forward to sunrise.
Blencathra centre to Dockray
I fell into a group of 3 on the old railway track and covered the ground at a nice jog for a while, before marching up the boggy hill to the old coach road. It was now gradually becoming a grey and misty morning, and my feet were really hurting on the stones of the old coach Road. My head torch had entered power saving mode for the last hour of darkness and I was now certain that it would need to be charged before finishing, the question being how far I could get before having to use it again. I was passed by 5 or 6 runners, and was feeling a real low. I realise now that I put too much hope into getting a boost from seeing the sunrise - a lesson to learn for next time! With a couple of miles to go to Dockray, I was rocking mentally, and so was delighted to get a couple of photos from Helen and Robert. I battled on to Dockray, sat down and ate some sandwiches and pulled on my base layer. "How's the feet?" I was asked - I hadn't noticed Marco was in the chair beside me. He was having a bad time, let down by his stomach. He was very supportive despite struggling, and so I set off again feeling that I would finish the race no matter how long it took me.
Dockray to Dalemain
I was now confident that I would get to halfway, change shoes and socks and have a good meal before attacking the second half. I was still finishing my coffee as I set off, and I noted that I had been weeing regularly, so was clearly doing well at hydrating. I was having a salt chew on each leg by this point, which seemed to be working well. Annoyingly, my watch ran out of charge close to Aira Force. I appreciated it was unimportant and charged the watch on the move, recording the run in two bits. I was also trying to kick the nasty habit of working out if I was far enough in that I could slowly walk the whole way within the cutoff time. A runner called Tom and I passed each other several times, before Tom put on a sustained run thanks to listening to music. It's not something that particularly works for me. I also
encountered some runners here who had never seen the course before - madness! I ploughed on, getting some decent jogs on the roads to Dalemain estate. About 5 minutes before the checkpoint, I was absolutely delighted to be papped by some family members. I'm even smiling in one of the photos! I got into the checkpoint, took off my shoes and socks and tucked into a delicious meat stew with white bread. I took 20 minutes to eat, wipe my feet, change my shoes, socks and shirt, tape my feet again, and re-pack the bag. I'd had a niggling headache since before the race, nothing major but I decided I should address it. I took 2 paracetamol and some gaviscon and set off again.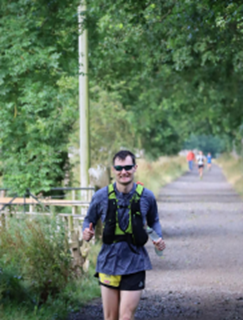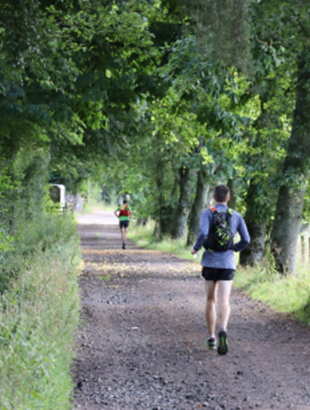 Dalemain to Howtown
I was feeling tremendously upbeat, and overtook a competitor shortly after leaving the Dalemain Estate, before reaching Pooley Bridge. I wanted to cover the ground well but leave something in reserve to climb Fusedale, as I remembered it was a beast from the 50. I saw no more runners for 5 or 6 miles, before passing Tom again. The views of Ullswater were excellent as we got a spot of sun, and this leg went very smoothly. Cooked potatoes with salt at the checkpoint made me even happier, and I took a selection of cakes and biscuits with me for the toughest section of the race.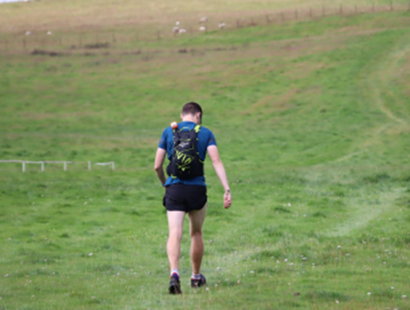 Howtown to Mardale Head
I felt extremely strong on the brutal climb up Fusedale, slowly reeling in and passing a couple of competitors. I found myself alone on the highest point of the course, as I had done in the 50. This year however, it was pretty boggy on top of High Kop, so it was mostly a walk / shuffle. The descent down to Haweswater was even worse than I remembered - a track that was completely overgrown with head high ferns obscuring my vision of slippery rocks. A rolled ankle waiting to happen. Once down close to the lake, it's a surprisingly long distance along the side all the way to the checkpoint, and the terrain remained treacherous. I lost another few places here and was starting to feel low again, before I latched on to a group and started to think about seeing my family at Ambleside. I trudged into the checkpoint and
wolfed down soup and sandwiches.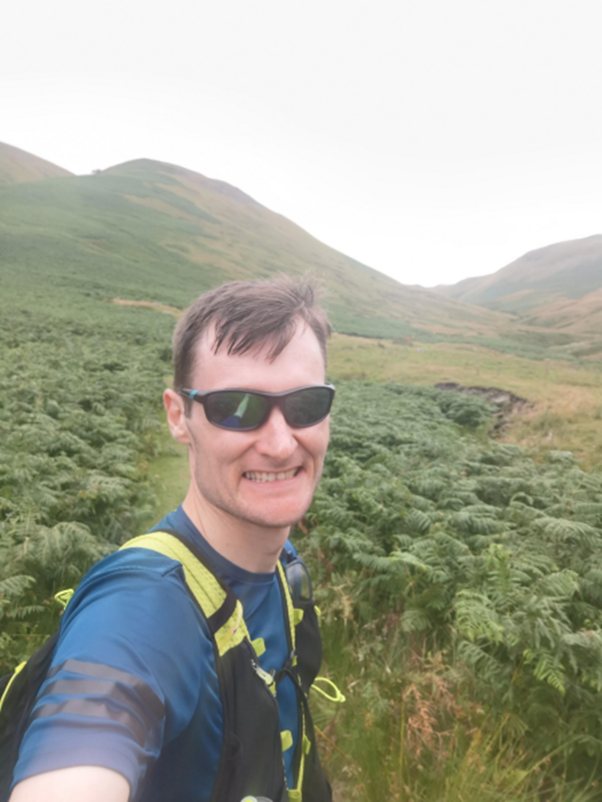 Mardale Head to Kentmere
I marched up the next big climb, overtaking 1 or 2 runners and still pleased with my climbing. I was again poor on the descent and wondered whether the faster runners simply pushed through the pain better. I certainly could have gone faster, I think I was afraid that I might do more damage if I tried to. Either way, I was descending poorly, and had to force myself to jog / shuffle, as any walking downhill was excruciatingly slow. I found part of this section to be very similar to the couple of miles before Tilberthwaite and had to keep reminding myself that I was 20 miles further back on the course! By now I was really looking forward to the support at Ambleside. I wolfed down pasta, with added salt, and a coffee and took some crisps for the next leg.
Kentmere to Ambleside
I took courage from a fellow runner being impressed that I was still eating well, and set off on the next climb towards Troutbeck. The leading 50 runners were now through and also the first lady, who absolutely blasted past me up the hill. Local legend Sabrina Verjee then flew past me on the descent to Troutbeck, along with a poor bloke trying to film her. I was feeling really good that I knew the rest of the route really well from here. I did have to keep reminding myself that Ambleside wasn't the finish line! I jogged along the roads of Ambleside, past the chippy and to the checkpoint, and was absolutely delighted to see the family all there. Robert was in great form and wanted to run with me - a huge boost in the moment and also something that I could think back to over the last few hours. I couldn't be
bothered going back and around to the church so took a coke with me instead of a coffee, and yet another cheese sandwich. I was now maintaining a steady pace and utterly determined to plough on.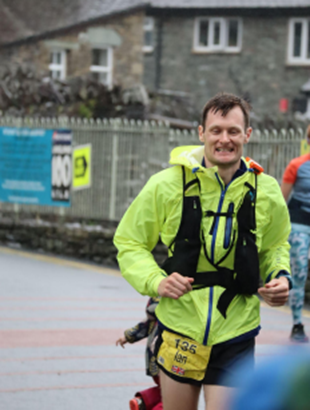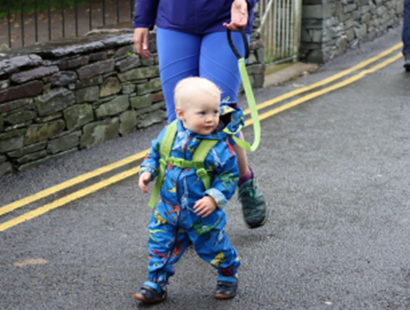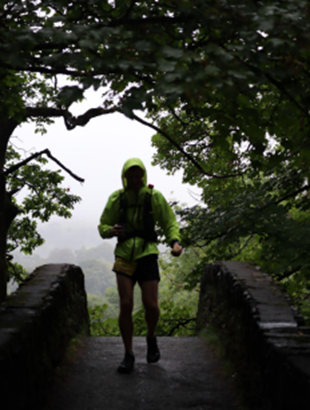 Ambleside to Chapel Stile
A fairly uneventful segment. I had thought I would pick up the pace along the flat path to Elterwater, although my running by this stage would be more accurately described as a shuffle. I chatted to some walkers briefly as they asked what I was doing. Outside one pub I noticed 50 runners being applauded as they were actually running, and I just got blank looks as I trudged along. Fair enough! I got into the checkpoint and wolfed down another delicious bowl of stew, and took some rich tea biscuits with me.
Chapel Stile to Tilberthwaite
Still determinedly trudging on, I had a couple of nice chats with 50 runners as they passed me. I was hoping to keep the head torch away until the next checkpoint, and managed to do so. A volunteer in a car by the unmanned dibber / compulsory checkpoint advised me to sit down and have a coffee before taking on the last climb. I must have looked knackered! I took his advice, having a coffee and 2 jam sandwiches, and taking a cheese toastie with me. I also had a lovely chat with a kindly, motherly checkpoint volunteer, who asked if I had someone waiting for me at the finish line. I said yes, and she replied "Good, because your legs are shot!". With that, I headed up Jacob's Ladder, headtorch now on as night descended and the mist turned into rain.
Tilberthwaite to Coniston
I was still climbing well, keeping up with 50 runners until the climb leveled out. Even then, I managed a decent amount of jogging before the extremely treacherous descent. I felt like I could have spent hours covering the next half mile down slippery rocks, in rainy, misty darkness. I decided I needed to work hard and get myself down as quickly as possible, and ground through a bit more pain before finally reaching the path. At this point, there appeared to be some sort of rave happening, and I could hear people "singing" along to Zombie Nation - utterly bizarre, but I suppose it was Saturday night. Foolishly relieved, I managed one more ankle twist on an innocuous downhill bit of road. The adrenaline and thoughts of family at the finish line took over, and I ran all the way home, coming over the line just after 10.30 in 28 hours 32 minutes. I had spent the second half targeting a pre midnight finish, so was delighted with my performance. I expected a big emotional release at the finish line, but instead found myself absolutely buzzing and chatting incessantly in the car back to Ambleside.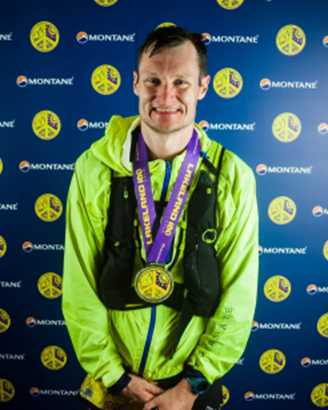 Post Race
After some pizza in the bath, I crashed and had an on-off sleep, partly due to caffeine consumption and partly due to the now achy legs and feet. I didn't venture out until teatime, and regret not getting about earlier to take in some of the atmosphere. I managed to run a mile in the evening, keeping that streak alive. My right foot and left ankle were fairly swollen. The former went down quickly with some icing, the ankle turned out to be a bit of a sprain which took a little longer to fully heal. My feet were much less blistered than I would have thought, with one covering a large part of the sole of my right foot and not much else. The anti chafing gel, socks, and change of shoes and socks had worked well. Time to think about the next challenge(s)!
What went well:
● I readjusted my eating plan, and stomached food very well
● My feet weren't in too bad of a state at the end
● I finished fairly strongly
● I was well hydrated and fuelled, and my brain worked well throughout
● I came through any low points reasonably quickly What could be done better:
● I would take stony descents easier early on - to minimise initial damage to the feet
● Conversely I ought to be able to push harder on descents later
● I would eat all hot food offered
● I wouldn't pin too much hope on a nice sunrise!
● I could have been a bit more efficient in checkpoints
● I would consider training with poles as an experiment Training learning points:
● It would be great to find some exercises to strengthen my toes and feet - perhaps the only way is better training on comparable terrain
● More focus is required on ankle strengthening
● Core workouts are of paramount importance, this held up in the race but only just
● Hill training was lacking - this was manifested in sore feet and poor descending
Final thoughts
I could not recommend this event highly enough. I once read that you should attempt your first 100 miler somewhere you love, which certainly was the case for me here. The course was beautiful, the atmosphere superb and all the volunteers simply fantastic. I will be back in 2023 all being well.