Written by Eliot Weatherill
Photography - Zoe Salt
The first thing that I should get out of the way here is that I am not a hugely experienced ultra runner in the grand scheme of things. I think the Arc was to be my 8tt …… but and there is a big but…. the last one was in 2014. In the 4 years since, I have had a long and frustrating return from injury. I'd gone from running 50 miles p/w just in my daily commute to work (without long weekend runs on top of that), to almost no running for a couple of years and then a very gradual easing back into regularish running. For my previous 100 the NDW, my longest training runs had been a 40, 50 and a 60 miler. Here is my monthly mileage for the 12 months leading up to the Arc-
Feb – 60.3
Mar – 30
Apr – 22.4
May – 13.8
Jun – 56
Jul – 44
Aug – 40.9
Sep – 61
Oct – 107.1
Nov – 108.1
Jan – 107.5
The biggest week in my Arc training was just 42 miles and the average was much less than that. In the first half of 2017 I had covered little more than 200 miles so what in the hell was I thinking? 
Well to answer that, I badly needed a challenge and I was genuinely interested to know how much I could compensate for a lack of running with a solid (and trust me… I mean solid) cross training and conditioning regime. Most people would probably agree that it wasn't even enough mileage for marathon training let alone a very tough 100 miler.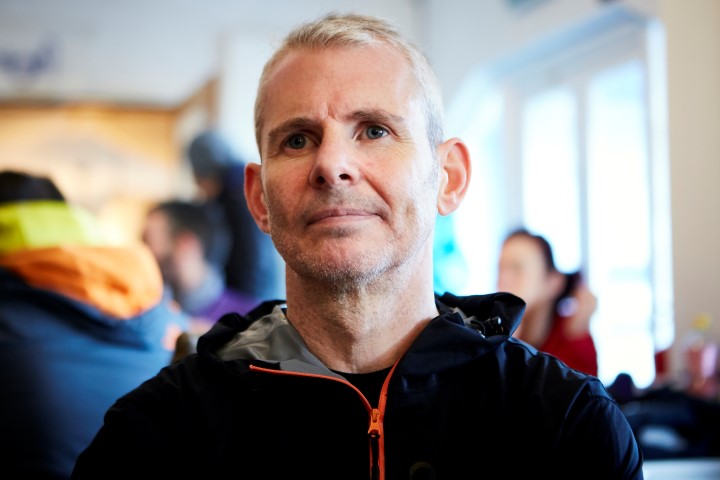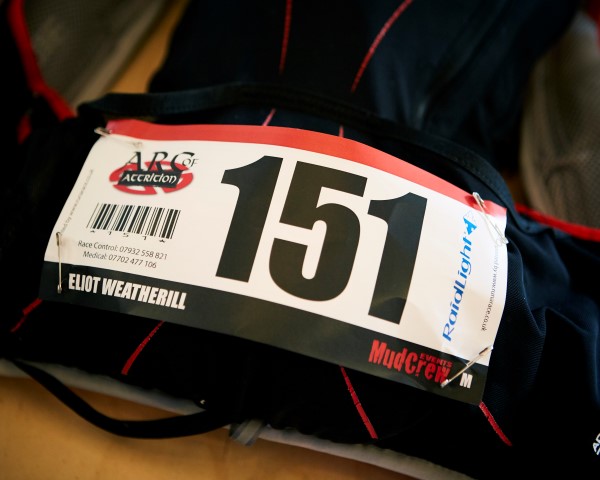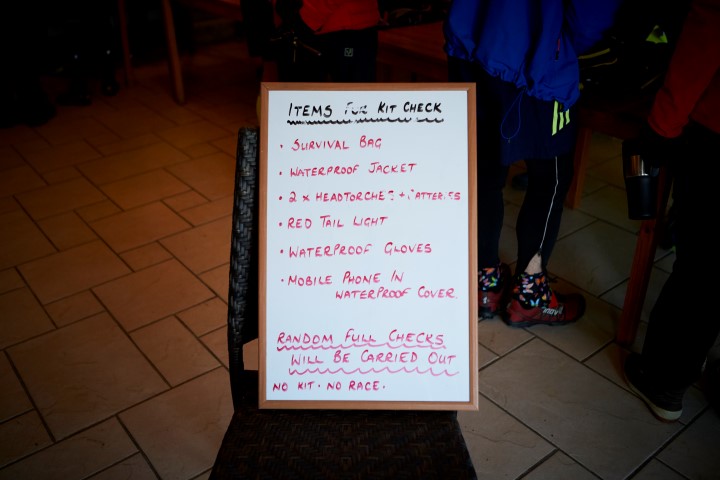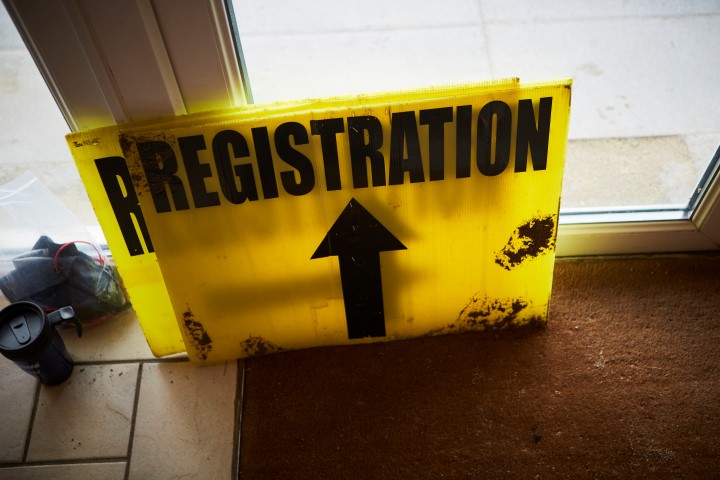 Turning up at the Blue Bar for registration was a nervy affair. Registration is always a bit nervy but off the back of such little mileage and in full knowledge that my furthest run in the last 4 years was just 27 miles and that this was a serious race… it was even more so. It didn't help when we boarded the coaches to take us to the start in Coverack. I was surrounded by discussions about past races and achievement, talk of the spine, talk of the Arc in previous years and just generally anything to make my race preparation seem ridiculous. I don't think I said a word for the whole journey and just had a focus on the task ahead. I just wanted to get going. I knew deep down that I was physically very strong despite little actual running and that my pure determination would see me through most things.
There wasn't much waiting around at the start and the sun was out. A minute silence for Matthew McSevney who tragically lost his life before he was able to return and wrestle the Arc once more and then we were off. I settled in to the middle of the pack and just switched off and ran. A lot had been made of the conditions and it was very obvious that mud was going to play a big part in the race. With extra distance for course diversions and the strength sapping nature of the mud, anyone completing the Arc this year was going to be very deserving of that buckle.
After a while I had a surprise to be running with a group of runners from my hometown (or just next to it), which is always nice and had a good old chinwag about the differences between Sussex mud and Cornwall mud! Stephen Cousins and Richard Shlovogt went on to earn gold buckles and I will hopefully catch up with them and Jay McCardle on the Downs some time.
Nearing the first CP at Porthleven meant negotiating the last of the official detours and it was a beast. A couple of miles through thick mud to avoid just a few hundred meters of coast path is the sort of thing that really plays with your head. It was a relief to finally arrive in Porthleven.
I was lucky enough to have crew and don't generally like wasting time at CP's so my rules are straight in, straight out and definitely no sitting! I had told my crew that I didn't want to see them before Marazion as that was just the warm up as far as I was concerned, so I filled my water bottles, put my headtorch on, grabbed a banana and was back out again.
The next couple of miles were fairly uneventful until Praa sands when there was a classic random ultra experience. I was running through Praa Sands along a dark empty lane with another runner a little way in front. We came across a dog with a flashing dog collar on that looked very lost and there was nobody else around and no houses close by. The other runner (I think it was Benjamin Jenks) managed to grab the dog and I was able to see a contact number on the dog collar so I got my phone out and switched it on. We tried a couple of times to call the number, the first time didn't connect and the second time went straight to voicemail. We weren't really sure what we could do but the most sensible plan seemed to be to find the closest house and see if they would take the dog as we needed to be somewhere else! Then the dog got restless and managed to wrestle free so we gave chase again down the road. After a couple of hundred yards we came to a parked car with an old man staring at his phone and it was at this moment we realised that the dog wasn't actually lost but just had a really irresponsible owner who parks the car up in the middle of nowhere at night and just lets the dog out!! Anyway, mini drama over we continued.
Heading into Marazion I had wanted to avoid the beach that everyone always ends up on. When I reccied this stretch, I had done exactly that before retracing my steps and finding the correct path around. Well now in the race, I just blindly followed the runners in front on to the beach but at least I wasn't far away from seeing my crew for the first time.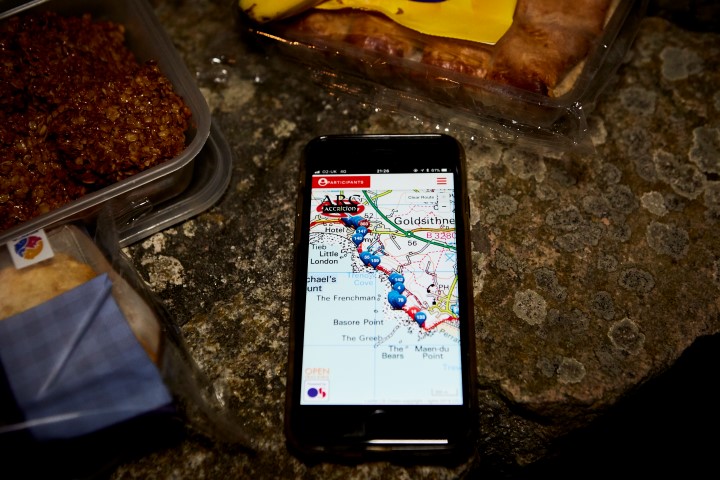 When I got to them they had everything I needed laid out on a wall for me. My brother and sister-in-law are both very experienced runners and my wife is always right behind me on my crazy ventures so between them they are an awesome team to have. I quickly changed my shoes and socks and said that I would see them in Mousehole to change back. It felt great to have fresh shoes and socks on and I was moving well. Straight in and out at the Penzance CP and on to Mousehole.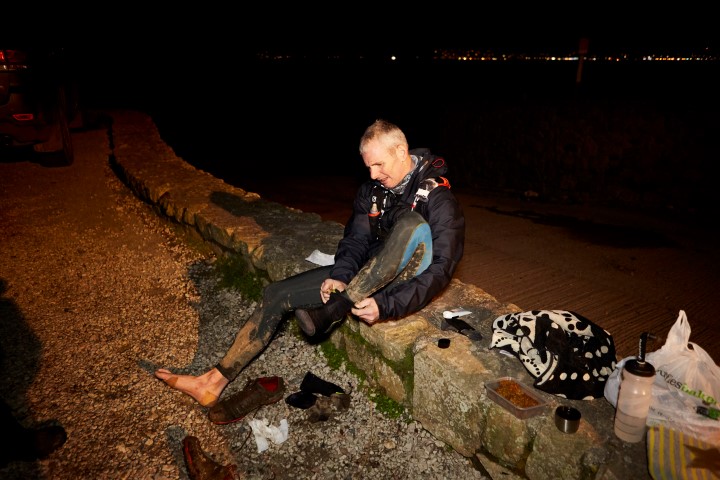 Another quick shoe change at Mousehole and then it was off into the mud again. I'd been running for quite a while without seeing anyone else and although I was aware of a couple of lights behind me, they weren't getting any closer so it was really frustrating when I took a wrong turn just short of Penberth. After climbing up a hill for a while I found myself in the middle of an assault course before realising my mistake. I couldn't hear the sea anymore and started back tracking. By the time I reached the path again and found the correct route, I was faced with another climb and a couple of runners had slipped in front of me and I could see them making the next climb. This was probably my lowest point of the race so far but compared to what was still to come, nothing major.
I kept plugging away and was still moving pretty well. I was looking forward to getting to Lands End so that I could change my contact lenses as I had become aware that the ones I was wearing had started to get a bit foggy. As I got closer, my headtorch went into battery saving mode which made things a little trickier and gave me something else to sort out at the CP.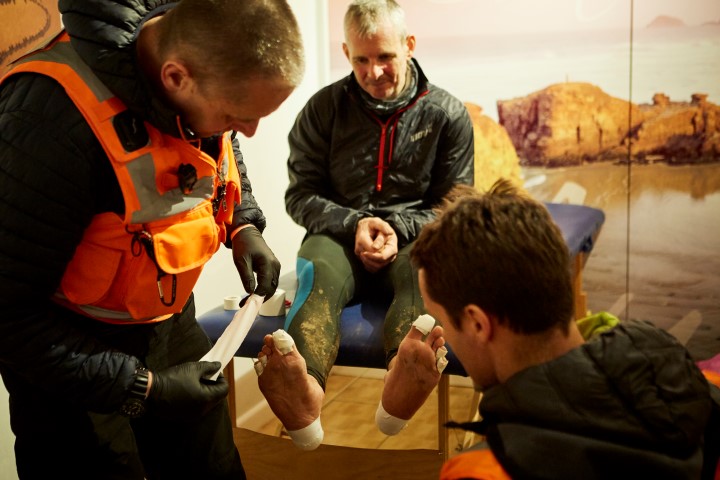 Not having stopped at any of the CP's to this point, I had decided to get some hot food inside me for a lift so waited eagerly for my sausage and bacon roll. I had also asked if someone could re-tape my feet. My feet looked great and I'd made it over halfway without a single foot issue so a new tape job would hopefully see me to the end. I had taken my contact lenses out as planned and had some spares in my bag but was a little surprised to find that it made no difference and my eyes were still foggy without the lenses in. The medic gave me some water to try and clear my eyes but it didn't really make much difference. By now I had spent much longer in the CP than I normally would so rounded my thoughts ready for the next push. Heading back outside, the cold was immediately much more noticeable after the long stop so it was important to get running and warm up again.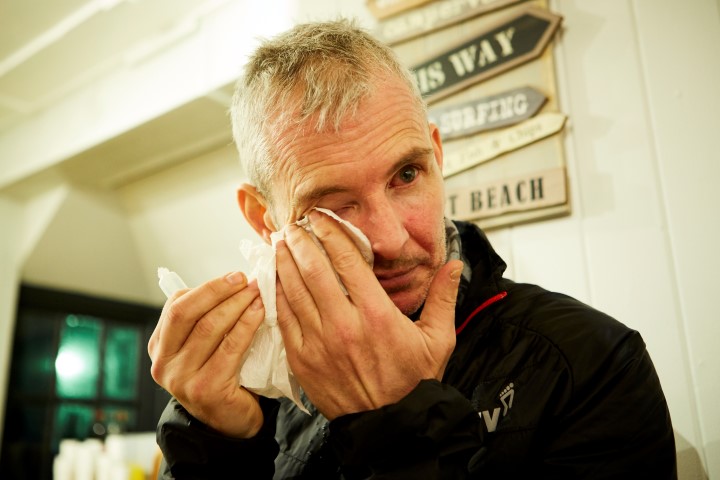 Pushing on through the early hours towards daylight I next saw my crew at Cape Cornwall for a quick bottle fill and straight back on it. My vision had been slowly getting more foggy and had started slowing me down but as I left Cape Cornwall I knew it was only going to be about half an hour before the headtorch would be switched off and hopefully that would make it easier to see.
How wrong could I be! I knew that it was going to be a grey day and daylight would therefore be slower to appear with a grim forecast of rain settling in for the day but what I wasn't prepared for was that the light would render my vision almost useless. A little way before Pendeen I had met up with Allan Rumbles and it was helpful to have someone to follow as Nav was getting harder and harder.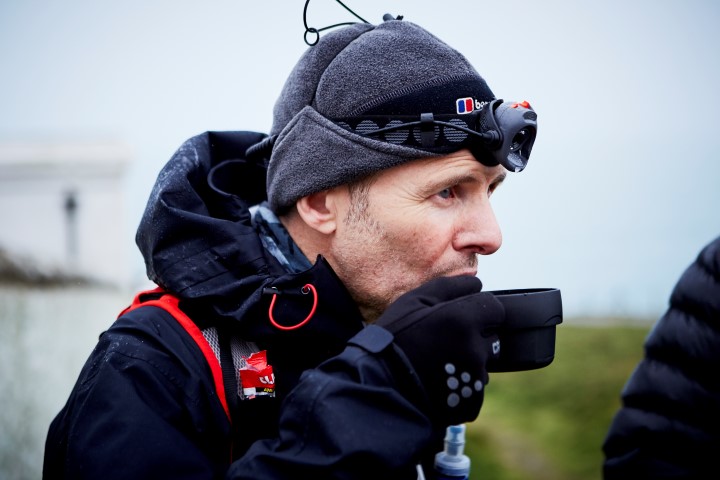 I had a quick coffee with my crew at Pendeen and told them that I was really starting to struggle with my eyes but pushed on. The hot coffee gave me a nice boost but after about another hour or so I could no longer make out any headlands and in order to see any of the trail in front of me I was having to constantly hold my arm up to block out the light from the sea and the sky. At this point the weather really started to come in as well and what would have been pretty bad visibility anyway was for me now becoming a serious danger. It was now Mr Magoo goes ultra running. At no point in the race had I ever considered stopping but now the last words of my wife before I set off were ringing in my head 'just stay safe……'. I was now anything but safe and was continually stumbling and falling but pushed on because I didn't know what else to do. Every now and then I would hold my hand in front of my face to try and gauge how much of my sight was left….. very little.
I must have looked mad running along with my arm in the air to shield the light and occasionally when I stumbled across a route marker, I needed to kneel right down and put my face a few inches from the sign to check I was still on course.
Having reccied the section from Sennen to St Ives, I was well aware what was still to come. It can give you great confidence when you have already covered the trail ahead but now it was having the opposite effect and my mind started to play out various rescue scenarios. Had this been a survival situation, I would have found a way. I would have slid along on my bum or on all fours or done whatever was required to keep moving without hurting myself. This wasn't a survival situation and I could hear my wife again and the rest of the sentence 'just stay safe…. Don't be a hero'. Carrying on now was not heroic, it was bordering on stupidity and I didn't want that to be the last thing my wife ever said to me before I fell of a cliff.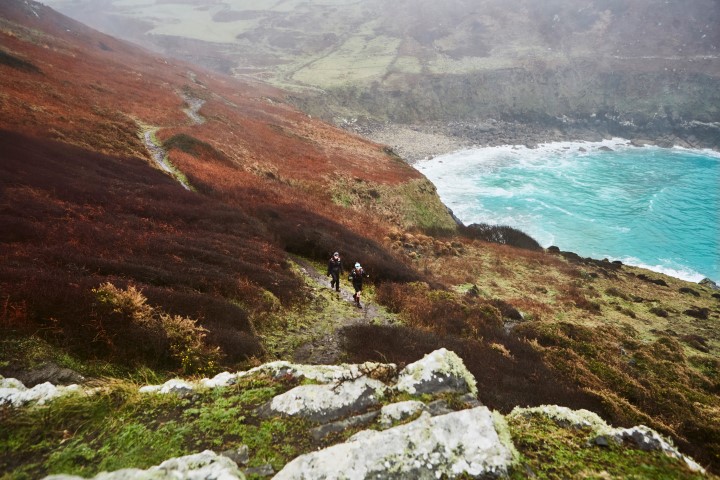 I was surprised when I caught another runner and explained that I was almost blind so would he mind if I followed his feet. It was a relief as the mental fatigue of trying to stay on the right course and keep my footing with each footstrike was now eating away at me. We pushed on together for a while. As we climbed some rocks towards Gurnard's head he told me that the race photographers were at the top. It was at this point that I knew my race was over. At the top of the climb I could just about make out two figures in front of me. I asked them that if they were there taking pictures that must mean that there is a road and their car nearby somewhere and perhaps they could get me back to the HQ…. it was only when they started speaking that I realised it was my own brother and sister-in-law standing in front of me!!! I told them that I needed them to get me to safety and they didn't argue. Between them, they paced me the last 50 of the NDW 100 and they know that I wouldn't stop if I had a choice. My brother looked at my eyes and said that they didn't look right and were all white which would certainly explain why all I could see was a thick white fog.
I felt miserable to be ending my race and it was a really bitter way to DNF. I couldn't stop thinking that if I had just made it to St Ives, I wouldn't have needed to see as much after that. My body was willing but my eyes had let me down.
After a trip back to race HQ to drop off my GPS tracker and a chat with the medic, it was off to Truro hospital to get my eyes checked out. The drive there was terrifying, my wife asked if I could read the number plate of the car in front and I told her that I couldn't see the car. It took about 3 hours before my sight started to return and after a good going over by the ophthalmologist it was clear that I had suffered with corneal edema in both eyes and had significant abrasions to both corneas.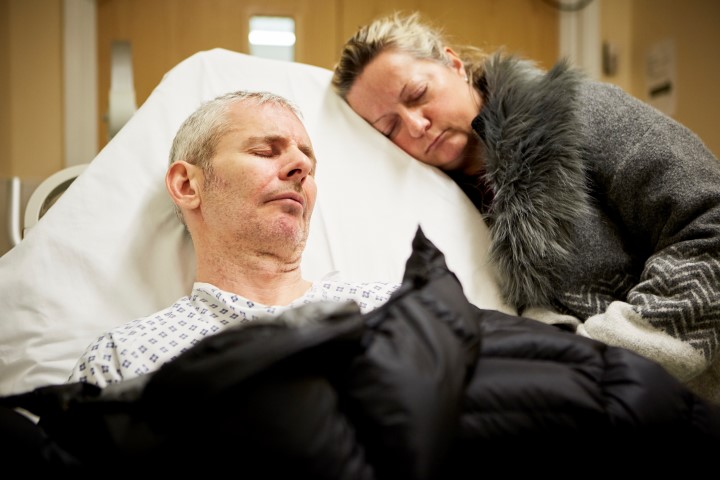 The Arc is a tough race for sure and you may be surprised by what the elements are capable of doing to your body if you take it on but it is also an amazing race. The event organisation is right up there with the best that I have experienced. The fact that there are as many helpers as runners is incredible in itself but each and every one of them did a fantastic job. The scenery and ruggedness of this coastline is breathtaking and even when I could no longer see it, the power of the Atlantic is with you every step of the way.
I've never been beaten by a race before and feel a bit cheated as it beat my eyes and not my body but it does give me an excuse to come back and do it again.