Race Report by Dion Leonard, winner of KAEM 2017
Photography by Hermien Burger Webb
A few thoughts from my last race...
In 2012 I bought my wife Lucja a book titled 'World's Toughest Endurance Challenges' and jokingly said to her whatever page she opens up to we'll do the challenge. The page opened to a race in South Africa called Kalahari Augrabies Extreme Marathon.
The 'Kalahari Augrabies Extreme Marathon' (KAEM) is a self-sufficiency, 250 kilometre (155 Mile) race held over 6 stages during 7 days in the Kalahari Desert. I had never run a real marathon or an ultra marathon before I began this race in 2013, and little did I know back then how much buying that book would have an impact on our lives.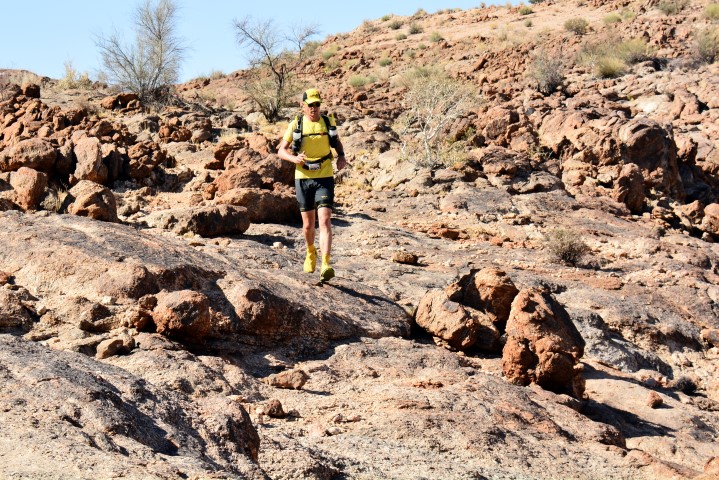 In November 2017 exactly 4 years since my first KAEM I was on the start line of my 3rd KAEM. It had been 15 months however since my last desert race, one where a little dog (aka Finding Gobi) would join me during the race and would change both of our lives forever. I was pretty nervous at the start and worried that my rushed last minute training for the race wasn't going to see me through the full distance. However, the chance to run in a stunning and secluded location in South Africa's Kalahari Desert and Augrabies National Park which grants special entry permission to race entrants was too good an opportunity to say no to. I went with the thought that if nothing else I would enjoy the adventure and sunshine on offer.
After having run stage 1 enduring plenty of sand, rocks and a long hill climb to the finish I came across the line in a comfortable 2nd position, and was pleased with how I felt after being long away from running competitively. At the beginning of stage 2, and what was going to be a much easier and quicker stage, I was keen to put a marker down for the day and really see what the main competitors' pace was. From the word go it was a hectic pace, neck and neck until the first checkpoint but then I went for it and pushed hard as the temperature also started to rise. I was thrilled to go on and win the stage, my first ever stage-win at this race in 3 years of entering it. This meant I now had a small 7 minute overall lead. I wanted to increase this lead going into stage 4's 70km long stretch, so on Day 3 I kept the pressure on and pushed hard again. The terrain was stunning, with a technical gorge descent, desert sand beds and a climb at the end of the day that made for hard work all round, but it was the temperature that really pushed everyone to their limits and the dropouts rose during the day. I ended up increasing my lead to 1hr 20 minutes. Our campsite was beside the Orange River separating South Africa from Namibia and I enjoyed the afternoon swimming and washing my clothes for the long stage the following day. On day 4, the front runners of the race, myself and main competitor Tomas Sundman had the unfortunate pleasure of starting the day last in the middle of the scorching lunch time heat. This is our penalty for being quicker and to make sure that we also end up running in the heat and dark of the night. I wasn't clear on how to attack the day. I had a solid lead and didn't need to push myself too hard but as I started the stage I felt strong and lead through the early checkpoints. Unfortunately Tomas had to withdraw at checkpoint 3 due to heat exhaustion and dizziness and upon hearing the news I realised I could take my foot off the gas and enjoy the 70km stage a little more. The early evening thunderstorms were extraordinary to watch as I ran through the runners ahead of me and I spent some time talking to them on my way to the finish. The race was effectively over as my lead increased to 3 hours so the remaining stages involved me chatting to the other runners and checkpoint staff. To run the final short stage back a couple of days later into the Augrabies National Park as the race winner was something 4 years earlier I would never have dreamt of, let alone achieved.
The Kalahari Desert has the most amazing and beautiful scenery. It's the perfect location to run in, and this race should be on everyone's bucket list. Running with Giraffe, Zebra and Springbok in the top end of South Africa is simply breathtaking and life changing.
I met some truly inspiring and incredible people during the week, from all walks of life doing this extreme event for their own reasons. I'm so grateful to have been involved with KAEM. The organisers and volunteers do a world class job organising the event, and it's a tribute to the race having been held 18 times, the second oldest multi-stage race behind Marathon Des Sables.
Thank you to everyone who emailed me during the race, supported and has followed my up and down running journey. Big thanks to WAA Ultra who not only make awesome running clothing and gear but continue to support me.