Written by Ilsuk Han
It was shaping up to be the worst of times. And we didn't know it yet, but it was to get bleaker still. It was still relatively early into this new decade, and on 5 March Paris Marathon announced its postponement due to Covid-19. Just a few days earlier on 1 March Tokyo Marathon did run but as a very much stripped-down affair for elite athletes only.
But that was Tokyo, half-way across the world and a whole lot closer to Wuhan, where this coronavirus reportedly spread from, and World Health Organisation had yet to declare the disease a pandemic. Surely Paris Marathon had overreacted? Alas – subsequent weeks saw similar announcements from Boston Marathon and London Marathon, both rescheduled to Autumn and, in the case of Boston, subsequently cancelled. Sign of the times, sure, but I had stopped running big city marathons some years ago, so just sympathised with friends who had been affected, shrugged, and carried on.
And then, on 15 March, an email from Centurion Running which impacted me more directly – postponement of the season-opener South Downs Way 50 from April to October, and North Downs Way 50 from May to July (subsequently moved again to November). They weren't the only Centurion races to be affected – the Track 100 got cancelled and Thames Path 100 was moved from May to September, but I wasn't entered in those. I was however entered into both SDW50 and NDW50 and South Downs Way 100, which would also eventually get pushed back from June to November.
Source: Chris Mills/Centurion Running
And just like that, I – and indeed, all other runners – went from looking forward to a decently busy and challenging race schedule to…nothing. Nothing but weeks and months of being laid off, furloughed, or working from home, with a daily allowance of outdoor exercise if lucky and news updates of ICU cases and deaths that punctuated the lockdown, both here in the UK and globally. There remained the faintest glimmer of hope that we might have actual races come the end of Summer and into Autumn, but at this point no one seemed to have any clarity or certainty beyond what was next on Netflix.
And then it got me. I certainly didn't see it coming, at least to me. In the span of two weeks, from secretly hoping that SDW50 might just get postponed since I was less than adequately trained, I went from someone who hadn't been running because of a misplaced "mojo" to someone who struggled to even make it out of the bed, never mind go out for a daily dose of exercise.
You see, in between doing all the things that I did to occupy myself with instead of running, I had caught what was later confirmed to be the virus. In the week prior to that day waking up and thinking that I felt rubbish, I had dined out with friends, gone to the cinema twice, been to a live gig, had a social run with 20 others and beers after (the only kind of running I did in the last year), and been to the pub twice. Promiscuous, I know, but "social distancing" had yet to make it into the popular vernacular.
What followed for most of April was lockdown in every sense of the word. Not only the one that was government mandated, but also one imposed on my body and mind by the coronavirus. While I didn't have the cough or shortness of breath, I did lose smell and taste and was generally void of any energy. Even after more than two weeks of bed rest, an outing to the local store for supplies left me drenched in sweat and exhausted.
My first attempt at a run on 9 April, exactly three weeks since initial onset of malaise, was a pitiful shuffle, one where the 4.7 miles out the door and a lap of Battersea Park which normally takes about 45 minutes took almost one hour as I struggled to sustain a jog for more than a couple of hundred yards at a time. I did go out for two more runs that week, a 6 miler and a "long" one of 7.8 miles, encouraged by the fact that I didn't seem to be relapsing and stubbornly determined to make full use of my allotted time outside.
A life-affirming post-recovery run
I totalled 18.5 miles in that post-Covid Week 1. Now, ironically, that is actually more than I had been averaging since I completed Autumn 100 in October the previous year, such was the lack of mojo in the ensuing "dark" months. But now, with a newfound appreciation for the freedom of movement and simply gratitude for having what little health I had left, I was determined to, well, just get out as often as I could manage and keep moving in a bid for post-Covid recovery.
The following week I accumulated 36 miles over five runs, and the same in the week after that, including a run over 10 miles. I guessed that over that period I went from 60% to maybe about 85% of full fitness. Not quite there yet but most definitely moving in right direction, seemingly with every run. There was no doubt in my mind I was one of the lucky ones.
It was in the following week, 1 May, that after days of teasing us into the lead-up, Centurion announced details of the One Community Virtual Event, which was to take place in the week of 25 to 31 May. Entrants had from midnight to midnight over the week to complete a challenge distance of their choice, from 5km to 100 miles, with a buckle award to 100-mile finishers and wooden medal for the rest. As per Centurion tradition, runners had the option to forgo the swag and plant a tree instead.
He ain't heavy but….
It was just what I – and as it turned out, 1000s of others in the running community needed right there and then. It was an event which brought with it the kind of challenge and focus that was too absent to many of us who had all, in some way or another, lost too much in those uncertain and restless days of forced lockdown. Whether intentionally or accidentally, but crucially unavoidably, Centurion had found not only the right chord, but probably the only chord that could have been struck at that time. And boy did it reverberate. Centurion RD James Elson sums up the event as it impacted on the community as a whole much better than I can in his event report so I'll just stick to what I did, and what it meant to me personally.
The challenge was a timely opportunity to plot my way back to post-Covid recovery. It was also a chance to revel in my newfound joy for running. It was a chance to do some training for once for whatever races may or may not happen later in the year. But a challenge it most definitely was, since I had decided to go for the 100 miles and I had never, in the decade that I had been calling myself a "runner" had a 100-mile training week.
Centurion thoughtfully organised a podcast featuring Robbie Britton alongside James in the lead up to the event week, and that proved valuable in coming up with a strategy. Doing the 100 miles in one hit was implicitly discouraged – not that I'd contemplate it for a second anyway. But incorporating a double session day or two seemed sound advice, as was the one to start the week with a long run to bank the miles and maybe thereby allow the luxury of a rest day later in the week.
My One Community 100-mile Week
Monday 25 May: 26.1 miles on the familiar and local trails of Thames Path, Richmond Park, and Wimbledon Common. Good to bank some decent miles but only 26% done!

Tuesday 26 May: 12.1 miles on North Downs Way from Newlands Corner to Seale. I love the NDW and the route ends at a friend's house for a BBQ, so great way to get to 38%.

Wednesday 27 May: A double session day, with 10.6 miles along the Royal Parks in Westminster in the morning and 6 miles on the local Thames Path loop in the evening. Much to reflect on during my runs today. An NHS letter received in the morning confirmed presence of Covid-19 antibodies in the blood plasma that I had donated two weeks prior. As great as the One Community event is, and as fun as the week is, it was a sobering reminder of why such a virtual event was necessitated in the first place. Stay alert, stay grateful. Over halfway at 54%.

Thursday 28 May: A rest day ahead of a big one the next day but still nervous about having to cover almost 50 miles over 3 days. Still at 54%.

Friday 29 May: 30 miles along the southern half of Capital Ring from Woolrich to Wimbledon. I had always wanted to explore Capital Ring and this was as good an occasion as any. Sunny and a bit too warm, as it had been the whole week. 84% done and beginning to believe that the goal is achievable.

Saturday 30 May: 28 laps of a local block for 8 miles total. There were some in the community who were doing laps (of whatever) to achieve their goals so I decided to throw some into my mix. I admit it was a bit of lap envy which prompted this but shoot me if I ever mention laps again. 92% done.

Sunday 31 May: 9 miles on Thames Path from Richmond to Hammersmith with Philip who is amongst the few who I can spend long time with on the trail, as we discovered during our 2019 Grand Slam attempts. Perhaps it's because he also likes a beer or two after a run and so we celebrated reaching our goals with some beer. 101 miles!
Celebratory beers at the "finish"
All in all, it was a great week and one I'll never forget. It was uplifting from a personal perspective in terms of individual achievement but to do so as a member of a vibrant and supportive community is very special indeed. I rediscovered my love for running and long solo runs in particular. There is always the risk once the world returns to "normal" that finding the time and energy may prove again difficult, but for now thanks to Centurion One Community I can keep moving towards my 100% fitness with the sun on my face.
It sounds cliché, but the one lasting takeaway from this whole experience is to never take anything for granted. Not your freedom, not your health, not your loved ones, or a supportive community. In that sense, I feel we managed to turn what was potentially the worst of times into the best of times, even if only for a fleeting week or so.
Indeed, the entire event was an abject lesson in how to make the most of a bad situation, to look ahead to what can be gained rather than dwelling on what's been lost. As in ultrarunning, so in life.
Written by Sarah Oppermann
Sarah Oppermann, Ireland / Stage wins: 2 / Finishing Position: 5th Female 24th Overall/ Finishing Time: 39 hours 37mins 45
What and where: The Atacama Crossing (by RacingThePlanet) is a 250km, six stage self-supported race. Carrying all you need for the week on your back, the distances are daunting, but it is the terrain that really elevates the difficultly of this race! Cliché as it may be but mental preparation and kit preparation are as important as the physical training required for this race.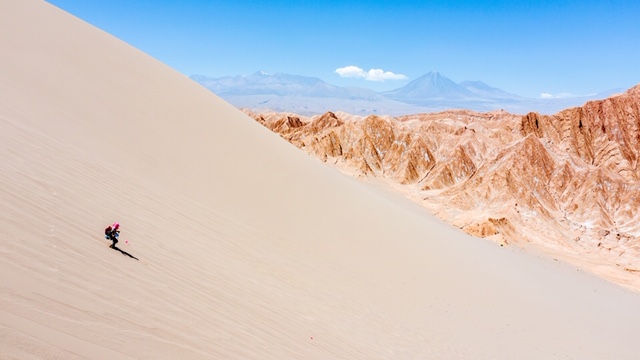 The Atacama Desert is the driest desert in the world (50 times drier than California's Death Valley with some areas having never experienced rainfall). Originally under the sea it now comprises a plateau of 181,300 sq.km of salt basins, sand, lava flows and salt flats (more like dry frozen broccoli). Due to its strange outworldy appearance, the Atacama has been used as a location for space scenes in films and its low levels of artificial light make it a world renowned destination for star gazing.
Nutrition and Training: Competitors must carry everything they need (nutrition, clothes and medication) for the week. We had to carry 35 mandatory items e.g. (toilet tissue, sleeping bag, eating utensils, headlamps etc) along with a minimum of 14,000 calories. I took about 16,000 calories which was not enough! I counted my recovery drinks and gels into my calorie intake which I may not do next time. A pre-race kit inspection and spot checks during the race ensure competitors take the kit requirements seriously. If you run out of kit/nutrition and borrow something from someone you may face a time penalty- so preparation really is key.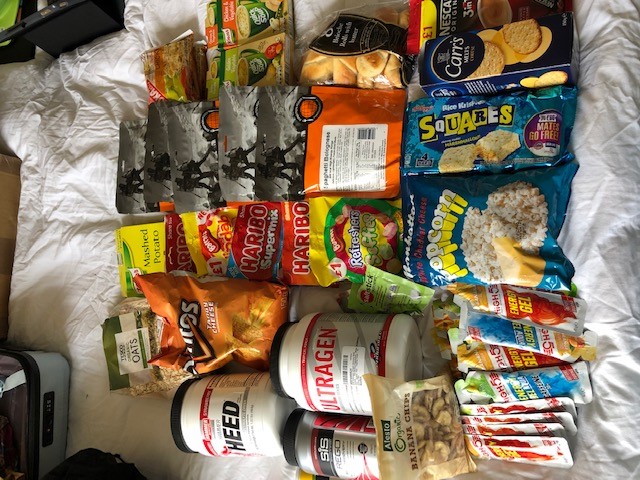 Perfecting the balance between taking enough food for a week with not having an unreasonably heavy bag can only be achieved with practice. I became fixated with what foods contained the highest calories, but weighed the least. I smashed noodles and Doritos into powder and weighed everything I carried (sample below). I cut the end off my toothbrush. I decided against any spare clothes and only carried the mandatory clothing items. I rented a great sleeping bag (Phantom 32) that folded up really small. I rationed my tissue paper for the week. I cut all the pieces of plastic off my contact lens cases/medicine packs. I cut off unnecessary zippers and I repackaged my food into airtight zipfoil. What would usually seem essential for a week in the desert was left behind (no insect repellant, eyedrops, topical disinfectants). I had taste tests during long runs to see how my body reacted to the freeze dried meals (Expedition Foods- will use again!). Some things worked, some things didn't. One good experiment was using a lesser-known product on my feet to harden them (Tuffoot- typically used for horses' hooves) which meant I was comfortable only carrying the minimum blister/bandage requirements. A big mistake was taking the back protector out of my OMM backpack (for a 400gr saving). In the end my backpack was around 9.5kg which was about the average with plenty of improvements identified for next time.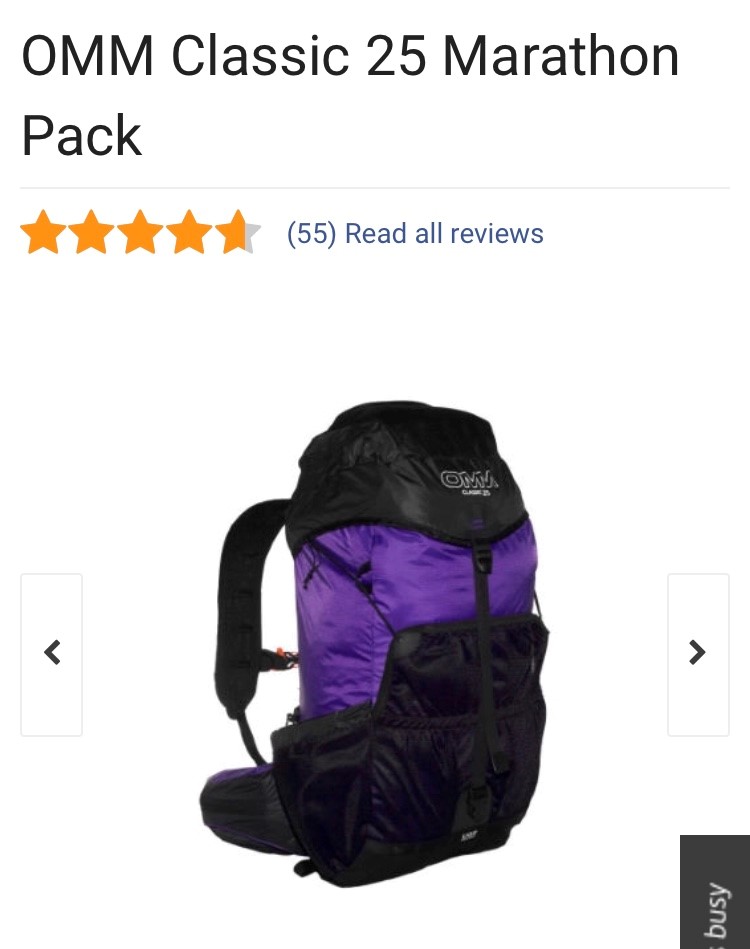 Training ranged from 70km to 120km a week, with a long road run every week and on average one long hill run a week. Every long run was done with my back pack (then about 5-6kg) which helped with slowing the pace down (essential for sustaining this type of training). The longest day of the race (80km) was prepared for by doing two 70km runs during a ten day heavy mileage cycle.
Snips of my spreadsheets below: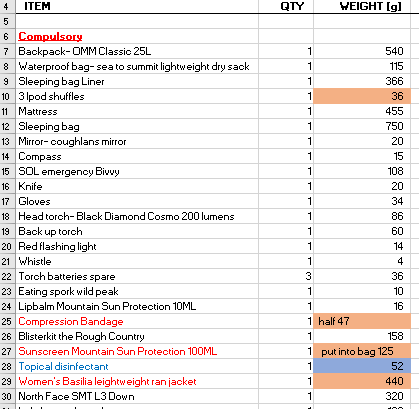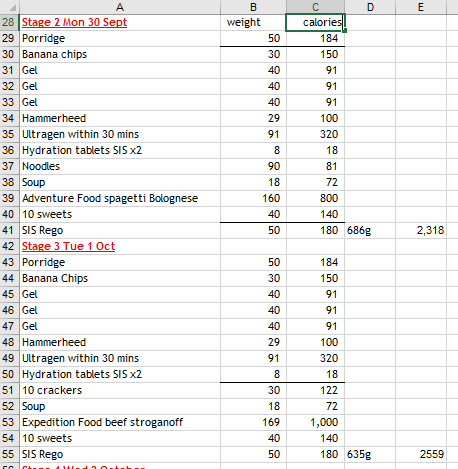 Stage 1: 35km- Navigation by Rock
Description of course: Through rolling hills of Rainbow Valley and along the Ancient Inca Road. Loose and soft red ground with some areas of compact gravel/stoney surfaces.
Altitude: Starts at 10,518ft- finish at 8,625ft
Most difficult stage: Last 6km through a canyon with no shelter from the blistering heat
Stage Place: 5th female
"You cant turn the wind- so turn the sail" (African Proverb)
The day before Stage one all competitors met in a local hotel for a pre-race briefing, kit check and final feed before a string of buses drove us to Camp 1. After a final meal of fresh food brought from town and some introductions we settled into our 6 man tents and I had a surprisingly easy (but freezing) sleep.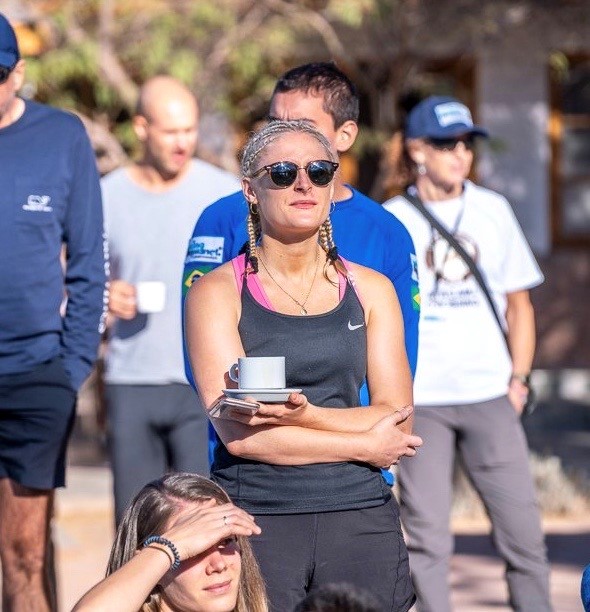 After Samantha (RacingThePlanet) gave us our early morning briefing, the time went so quickly and day one started with a bang- and a lesson in adapting. I knew that something at some stage would go wrong and had been preparing myself mentally for any eventuality. However, I had not prepared for something unexpected to happen so early in the race. The first couple of kilometres were going well – the first stage is enjoyable with some rolling hills and rock plateaus. About 13km in a couple of us at the start of the second pack could not find any pink course markers for about 2km. Ama (Australia), Petra (Slovakia) and I decided to keep running forward and eventually a course steward gave us some directions to follow to the next checkpoint (a shepherd had removed the pink markings). By the time I reached the second checkpoint I was completely rattled- I don't think I even stopped for water. I felt like we had just wasted hours of time and energy trying to find our way and I decided the only thing I could do was boot it through the blistering sun for the last third of the race. I was so disappointed coming into Camp that I didn't even check my finishing time. I let that situation get the better of me. If I had done that I would have seen that those who finished before were a manageable time ahead. A really great lesson in controlling the controllables that day.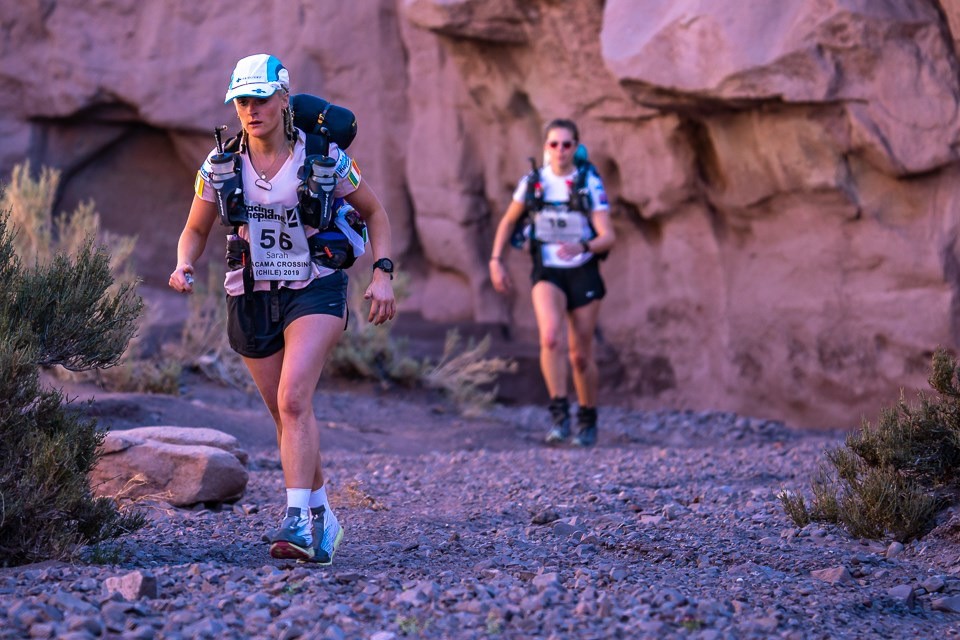 Stage 2: 36.9km The Slot Canyons
Description of course: Through many water crossings through slot canyons of the San Pedro River, onto the mountain ranges and the Valley of Death into the open terrain of the Salar of Atacama.
Altitude: Starts at 8,625ft- finish at 7,661ft
Most difficult stage: over 20 river crossings but the closest thing to a shower all week!
Stage Place: 7th female
Daytime in the Atacama is a dry exposed heat but the night time is really really cold. The only way to get warm in the morning is to be up as quickly as possible and head out to the fire that sparks up at around 5am. Sleepwear consists of: stance socks, hat, gloves, leggings, a lululemon longsleeve and a northface down jacket. My waterproof windbreaker serves as a pillow and my sleeping bag has a hood so I am fully covered. Breakfast each morning is some oats and dried banana in water washed down with instant nescafe. By the end of the week my plastic bowl tasted of chicken soup, oats, coffee and noodles all in one!
Stage two consists of a dirt track down to the San Pedro river which we have to cross (over 20?) times for about 10km. It's a pretty amazing experience, requiring lots of concentration, many climbs and descents. I ran the first half of the day with Nicola (Italy), Tanja, Rafeal (Germany), Andy (UK) and Troy (Canada). I tried to keep a pretty quick pace hoping to make up for lost time from day one. After the river crossing, we run through some flat lands, up a valley and a tunnel onto the ridges of the RIO Salado. Things got very fairly hairy quickly after that- I completely overheated. By the time I ran down the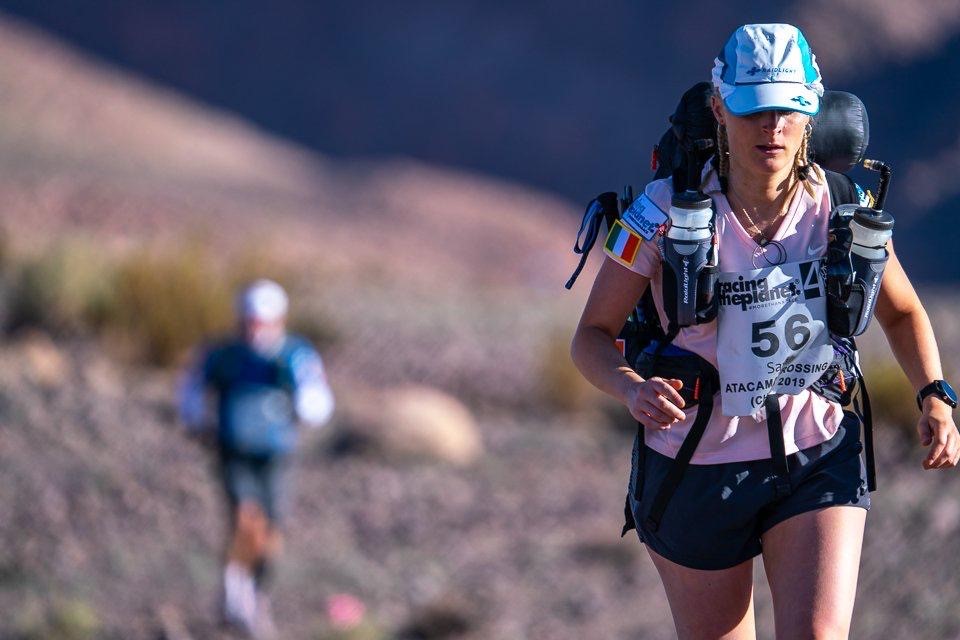 biggest dune ever to the Valley of Death I was pretty delirious. I was taking in as many electrolytes as I could to keep myself from getting heat stroke and could only watch as Corinna (Germany) and my tentmates Ben and Natalie (UK) passed me out in the last seven km. I'm not sure where I finished stage two- 7th perhaps. The last thing I remember was getting water sprayed on my face as I reached the camp.
Stage 3: 38.9km The Atacamenos Trail "the Real Atacama"
Description of course: Cross country across some low vegetation with some sandy and slate terrain with canyons and sand dunes. Some crusty hard packed crusty mud. Final climbs up sand dunes to Camp 4.
Altitude: Starts at 7,661ft- finish at 8,048ft
Most difficult stage: Final climb to camp but really a great day
Stage Place: 1st female
It is strange trying to compete when you don't have access to your family and friends, a phone and any of the ordinary comforts we typically rely on. If you don't eliminate self-doubt quickly your mental state can deteriorate pretty quickly. I was getting quite frustrated with how the first two stages were going and it was Petra (Slovakia) and Natalie (UK) who advised me to pace myself how I normally would for Day 3. That's what I did and things started to turn around from there.
Stage three is basically cross country along the Atacamenos Trail through hard slate, salt flats, some vegetation, and some canyons and sand dunes thrown into the mix. Everyone said this was where we would see the "real Atacama". There was also a road for a couple of km which I was very happy about- I ran this part with Ash (Atacama veteran) and Nicholas (Australia) who was helpfully blaring music for that whole stage!. It felt like mostly a flat terrain besides a steep (vertical) climb at the end. I forced myself to pace, ignore those around me and look to speed up at the end (how I typically run my races back home). It is difficult to do that when you don't know what terrain is lying ahead but it is what I should have been doing all along. In the last 6/7km I made my move and looked to speed up. I remember asking Benji (one of the fantastic stewards) at the second last checkpoint who was ahead and when he said there was only one- (Deb (Australia)- fabulous runner and eventual winner) I knew I had enough in me to push and be the first woman home. It was a great day. The end of this stage is a vertical climb up a sand dune and we watched every person finish the stage as their heads popped into view.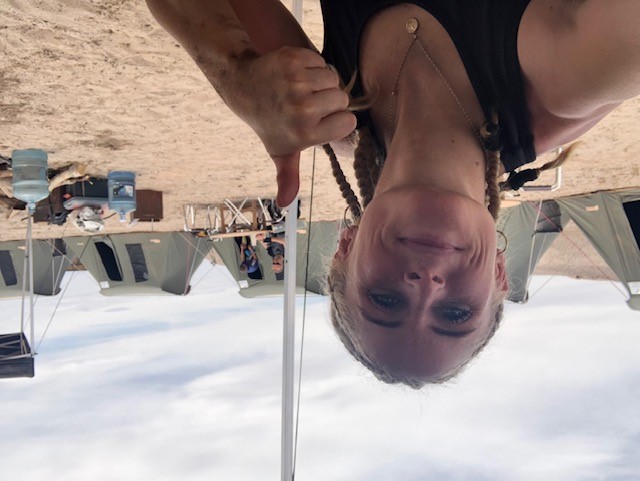 I knew I would have to acknowledge the pain in my lower back at some point and decided now was the time to do it. I went to the medical tent which was filled with a constant stream of people. Blisters on blisters, blisters inbetween toes, blisters under nails, blisters hidden by dirt, blisters stuck to socks, shredded feet, twisted ankles. "have you seen his blister?" became as normal as saying good morning. I have never seen such ripped up feet. I learnt from the doctors that the key to blisters is to pop them both sides straight away, drain it, dress it and cover it. Cover the area well enough that your bandage becomes a second skin. Do not remove the bandage. If you ignore your blisters you start to lose more and more skin on your foot and it is game over. I had worked on my feet the months before the race so my blisters weren't my downfall but my back was in a bad way. 10kg rubbing off my back without any back protector and it was feeling raw. Patrick the medical director strapped it up which was a great relief for the following days.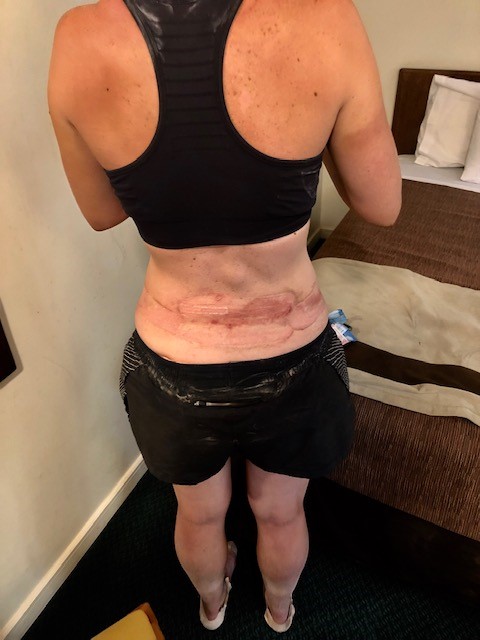 Stage 4: 46.3km The Infamous Salt Flats
Description of course: True variety! Some steep hills, loose rock on sand, through a small village, through a river valley, open salt plains and the infamous salt "flats"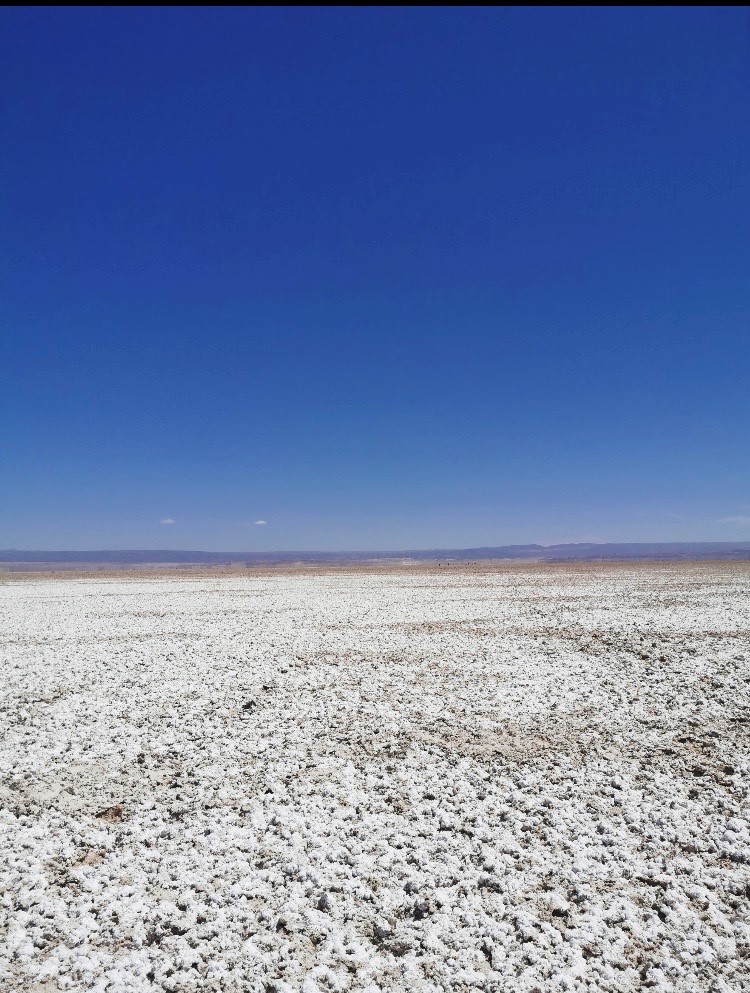 Altitude: Starts at 8,048ft- finish at 7,598ft
Most difficult stage: Second half of the course- 6km of salt flats- impossible to run on, near impossible to walk on and one twisted ankle away from an early ending! Such an experience!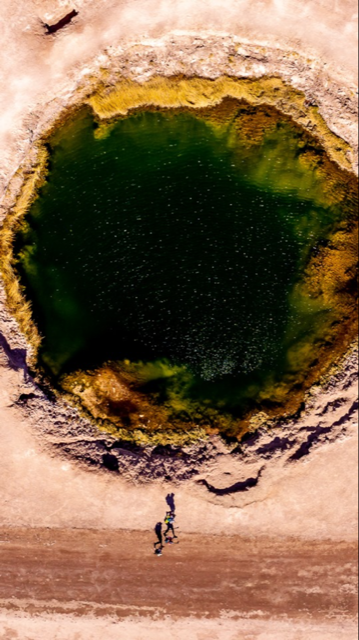 Stage Place: 2nd female
At our morning briefing we were warned that the salt flats are near possible to reach by vehicle so to be very careful about hydration, twisted ankles and sunburn. Salt flats is a really misleading name. There is nothing flat about the salt flats in the Atacama. They are like really sharp shards of freeze dried broccoli that don't crumble when you step. The day started with a couple of river crossings through river Valle Jerez, some dune climbs through Tambillo Forest (following Anim!) a run through a village, some long stretches of sand plane and gravel. Then- the salt flats. I had heard from a couple of the veterans that once the salt flats finished it was flat ground through a donkey path for miles. I got through the flats and picked up the pace (it helped that I was being hunted by Chigon (South Korea), Corinna (Germany) and Marc (France)). The final 6km is a long stretch of road completely exposed in the midday sun- past a huge lagoon. All I could see was Tanja and Rafeal (Germany) ahead of me and I just chased and chased and chased. Tanja took first but it was a great moment!
I had forgotten I had 80km ahead the next day. I had completely redlined it- after about 30 minutes of crossing into camp I couldn't eat anything and had to spend some time in the medical tent. These doctors had seen everything in four days and while they tolerated me in the tent for a while when it was clear I wasn't going to die I knew I had to give someone else a space. The people competing in this race were absolute warriors- people were so determined to finish. Helen (Malaysia) had some form of ankle injury that required regular medical attention- she was the biggest warrior. My race buddy Ama (Australia) had a stress fracture so prominent that the doctors were taking pictures of it to show people back home.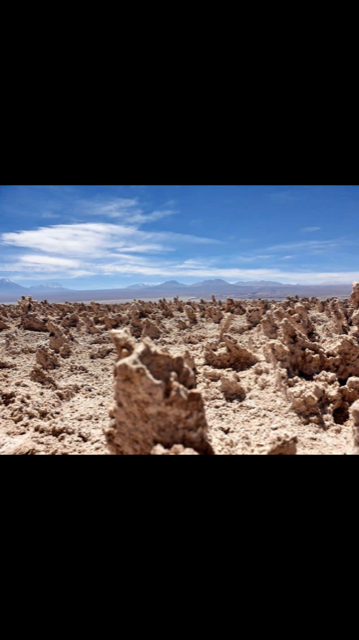 Typical movements after a stage went something like this: Bathroom. Go to tent and try get a "good spot" for sleeping. Hand sanitize. Change out of sweaty clothes. Put slippers on. Drink recovery drinks and find some shade to lie in amongst everyone else. Cheer everyone reaching Camp and help tent mates with their bags. Eat some crackers and noodles. Do some stretching. Look at other people's blisters (best blister of the week-).. Listen to Scottish Steve making everyone laugh. Eat freeze dried evening meal and look at everyone else's food. Jovica (overall winner) had gazpacho in the evening, while Bill (75) (UK) only ate pot noodle for the week. Finish the evening with a treat of some sort (melted haribo or chocolate) by the fire and head to bed by 7.30 for a 5am start.
Stage 5: 80km The Long March
Description of course: Around the lake shore to cross a plateau, some hard packed red sand, up a large dune, across a plateau into the Moon Valley and up some valleys home
Altitude: Starts at 7,593ft- finish at 7,780ft
Most difficult stage: the unexpected Sand storm
Stage Place: 5th female
The positives of starting to run out of food are that backpacks get lighter. I was saving my freeze dried carbonara and Doritos for the end of this day and they did not disappoint!
80km is a long distance to run, and even more so when you are underfed, tired and the terrain is so varied. We had every type of terrain during the Long March- starting on some sort of soggy marsh which I was not expecting! Strange scorched ground that was like upturned tiles, huge (cruel) sand dunes, wide open desert and a dirt road that never seemed to end. There was even a sand storm in the middle of the day which looking back on it was pretty cool (I think I got caught in it with Patrick(USA)…..The highlight of the day was being given a big juicy orange at checkpoint three or four. It was my only piece of fresh food for the week and it was glorious. Heading out of the desert onto the road that leads to Moon Valley we had been told to stay exactly on course as we were running through a patch of landmines- no off course toilet stops allowed!
At the end of every stage, you know you are near camp when you hear the crew beating the drums. By the end of this stage I was a little delusional, paranoid and the darkness started playing tricks on my mind- I kept thinking I had gone off course and was struggling to spot the pink markers. It was the only time I needed to use my poles for extra support. I ran about 34km alone without seeing anyone except the crew at the last three checkpoints and as soon as the sun went down I was completely spooked. A park ranger in a truck drove past me in the Moon Valley and I was convinced it was following me. I kept thinking the stars in the distance were the lights of the camp. So for me, hearing the faint sound of the drums was like seeing an oasis in a desert- after nearly 14 hours I was so glad to make it home (to eat my carbonara half asleep).
People were finishing this stage at all times and well into the morning- some over 24 hours on their feet. It was really emotional seeing people come in having pushed all limits. Our camp spirit Luke (UK) even wore his survival bivvy during the night section which we laughed about for hours. After the long march we had a day to rest. By that stage I had pretty much run out of food. No 1000 calorie freeze dried meals left so I think I had a pack of noodles and some crackers and sweets.
Stage 6: 13km The Final footsteps into San Pedro
Stage Place: 1st female
Really lucky to have my family (6 supporters!) fly in to finish the last stage with me. One of my brothers acted as a pacer for me which will forever remain a treasured moment. Watching everyone cross the line was incredible- so many inspirational people from all over the world from whom I learnt so much. From the crew to the runners, everyone was always genuinely supportive and that is one of the best things about the ultra-community- even if someone is passing you- you will give them kudos. So many lessons learnt- maybe for another post. A special race and one I feel I have unfinished business with……watch this space.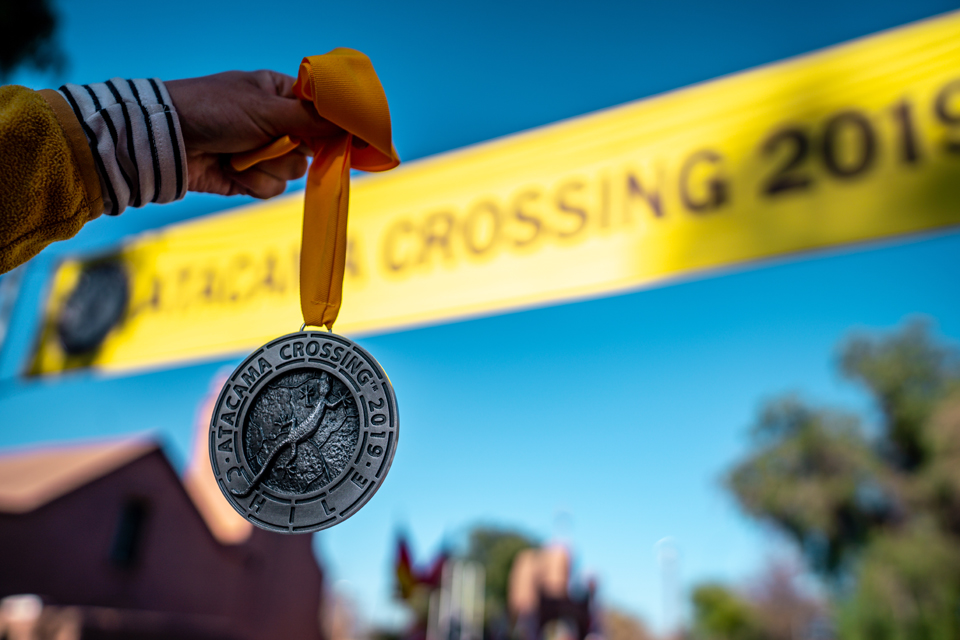 Written by John Kelly - https://randomforestrunner.com/
The Spine Race was one of those rare experiences where I couldn't have possibly imagined beforehand exactly what it would be like, but afterwards I couldn't possibly imagine it any other way. Granted, I get to look at it through the rose-colored glasses of having achieved exactly what I set out to achieve. If I had come away with the win at some of my other recent races it assuredly would have shaped my recollection of the experience.
But as someone who analyzes data for a living, I'm quite practiced at forcing my own bias aside and looking at only the facts. The facts here are that this race is a truly unique adventure, well-organized with only the necessities organized, and with a group of people who care about every runner first to last being able to safely experience that adventure in full. Thank you to everyone who made that possible and who make the race what it is, from the other runners to the staff and safety teams and volunteers to the random people who showed up in the middle of the night to cheer, hand out food, or provide some brief company. Apologies if there was anyone along the route who didn't get a more timely thank you and only saw me in "race-mode" or sleep-deprived zombie mode instead of my normal cheerful, chatty disposition. 😉
The race also did such a great job with coverage over on their Facebook page that I almost don't need to write this report beyond linking to a bunch of their photos and videos. But if you want to hear a bit more about the why and the what of my experience specifically, then my unfiltered ramblings await below.
I don't remember exactly when I first heard about The Spine. It was one of those things I had come across and that I had added to my list of "cool to do one day but not sure when" stuff. I've always had a strange attraction to winter ultras, possibly stemming from years of doing triathlons in the summer and ultras in the winter, possibly due to my aversion to running in the heat, or most likely due to just the overwhelming feeling of calm and peacefulness I get from being in the wilderness on a winter's night. I don't know that many winter nights on the Pennine Way could be described as calm and peaceful, but still I was drawn to the experience, the challenge, and the opportunity to explore a new land so extensively in one go (the race is quite aptly named – it runs right up the middle of the entire upper half of England).
Then, we moved to the UK. Boom! I was signed up within days of registration opening.
Preparation
As I've often mentioned before, the task so many of us face in fitting racing around a family and a demanding job is quite the optimization problem. I'm an engineer, and like to think I'm rather good at such problems, but still sometimes the constraints are too much and training falls well short of where I wish it would be. Fortunately for a race like The Spine, though, the most important training is the consistent years of accumulated miles and experience that I've now built up. The build over the last few weeks and months can for the most part just mold that accumulation into something a bit more customized to the specific demands of the race. It's like changing tires on a race car to something better suited for an upcoming course.
But no matter what, the training I can actually do is infinitely more valuable than the training I wish I could do. So I arrived at the start line in Edale largely the opposite of how I went through college: I was the person who had paid attention and worked hard throughout the class, and hadn't crammed for the final exam. In any case this wasn't a race where just cramming would do. There is no couch to Spine program.
If you would like to see my build to the race, or those previous years of accumulation even, it's all on Strava (yes, Strava upgraded me to a "pro" account after this race… I've put in my notice at work and am just waiting for the 7 figure endorsement deals to come rolling in). Or, if you'd rather just see the Strava activity and skip the whole race report, that's linked below.
Pre-race
I usually try to force myself to run with restraint at the start of these types of races. Usually, that's the best approach. A number of factors had come together to cause me to at the last minute decide to take a markedly different approach here, though.
I knew that after a relatively pleasant start (relative to what I've come to expect from British mountain weather) that conditions would become pretty horrible. I wanted to make the best of the better conditions.
I hadn't been able to do much research on my competition. I was familiar with a few of them, like Eoin Keith (whose pre-race blog post was one of my best bits of intelligence), but for the most part I felt I needed to feel them out and see what kind of pace they were willing / able to go. I did at least know that Eugeni, one of my top competitors, preferred to run with people. If I could push the pace a bit early on then I felt he would either drop back and run with a slower group, or expend too much energy trying to keep up and then burn out.
During registration and before the race there seemed to be a rather prevalent belief that I was favored to win the race. Well, if my competitors also had that belief then it seemed like reinforcing it early on could yield a significant advantage in the all-important mental game. If nothing else, I had to have confidence that my greatest strength would be my ability to endure in the later stages of the race. So rather than have it end with a speedy race over the Cheviots, I would much rather have everyone run out of gas, including myself. I believed I would run out later and not as destructively.
My strategy was 100% geared towards winning the race. I wasn't there to run a time trial. Of course I wanted to win in the best time possible, but going for the best time and going for the win can produce quite different strategies, and I wasn't willing to sacrifice my odds of the latter for the sake of the former. With that in mind, it's also important I note up front that I have nothing but respect and admiration for everyone I competed against at the Spine. They were all wonderful people and I wish them all the best. But a race is a competition, and between the start and the finish my goal is to do whatever I can to beat them.
Section 1 – Edale to Hebden Bridge
With my strategy in hand, I took the lead going up Jacob's Ladder, the first climb. I continued with a brisk pace, looking back occasionally to see that a few people were pursuing me. After a couple of careless missed turns on my part they caught up and we continued on together through what I think I'm supposed to call a "fiddly bit." We slogged our way up through a drainage where the swollen creek had often engulfed the path.
Continuing over the top and through the mud and heather we eventually came across runners from a fell race going in the other direction. It was great to be able to give and receive some encouragement as we passed, and especially to see Jasmin Paris out amongst them. The bad part of it all, though, was that as I stepped around one of them I caught my waterproof pants (or I guess I should say trousers) on a rock. It ripped a nice gash in the shin, leaving them a bit less than waterproof for the remainder of the race.
We descended and went through a small aid station, with me, Andre, and Eugeni continuing out the other side and across the dam. We chatted a bit through the short flat section, but then we turned and started some rolling hills. I took the opportunity to again test my competitors.
At that point I was also quite aware that not everyone had taken the bait. Eoin, for example, had held back. I much expected this, with him being such an experienced veteran, confident in his own pace and knowing the course amazingly well. I had to be careful not to run myself and everyone else out of fuel so much that Eoin could just continue on steadily and effortlessly overtake us as we hobbled helplessly over the Cheviots. I continuously asked myself "is this a pace that I could somehow extract from myself near the end of the race if I absolutely had to, however painful it might be?" If the answer was no, I eased off. If yes, maybe, or I hope so, then I continued on.
Gradually, I started to put a gap on my competitors. I decided to press my advantage, and as we went over Black Hill and crossed the motorway they fell back out of sight. I wasn't foolish enough to think that I could win a 268 mile race this early on, but I knew that staying out of sight would make it mentally more challenging for my pursuers, with Eugeni in particular liable to drift back and join another runner or group.
At the same time that gap provided me a valuable insurance policy that I could trade in for extra sleep, food, footcare, or maybe even a refreshing warm shower later in the race (a move out of Jared Campbell's playbook, who can somehow manage food, a shower, and a change of clothes in under 10 minutes between Barkley loops).
Unfortunately I used that insurance policy much sooner than I planned, and not how I had hoped to use it. Coming down from Stoodley Pike I followed my GPS track in what seemed like the wrong direction, but nonetheless was where it pointed. I soon found myself in a field with the discernible path having disappeared on the opposite side of a hill from where I should be. I went up and over, with the farmer whose field I had mistakenly ended up in kindly pointing me back towards the proper route. At times like this at least my foreign accent could help excuse my mistake.
As I finished the descent and started the final climb before the checkpoint I found that my mistake had allowed Eugeni to overtake me. I was rather upset with myself, knowing that I had wasted all that effort only to have him right back with me. As I suspected, he came with me as I surged past him into Hebden Bridge. As we headed down the short descent to the checkpoint he told me how important it was to get plenty of warm food. I wasn't sure if he was genuinely trying to offer advice, or if he just wanted to me to take my time there.
In any case, I know what I'm doing. 😉
Section 2 – Hebden Bridge to Hawes
At Barkley, there's a term called "scraping." Normally it refers to a veteran leaving a first timer behind to fend for themselves. With the steep terrain and dense forests it doesn't take much to lose sight of someone there, and so much as a few seconds for an ill-timed bathroom stop can result in disaster for the newcomer. Here much more separation was required, but there was still one trick I could use: the interloopal scrape (or for Spine, the checkpoint scrape). I switched out a few pieces of gear, shoved the quickest bit of food they could prepare down my throat, and set back off into the night.
On the climb out of Hebden Bridge I landed a bit awkwardly on my right foot and felt a bit of pain shoot up from my ankle. Like so many other rolled ankles it didn't concern me, and I suspected it would be fine within a few miles. My larger concern for the moment was Eugeni, and I was happy to make it back up the short climb without seeing a headlight in pursuit. We went back through the village and returned to the Pennine Way, giving me the opportunity to see that there was still a good group of runners within striking distance of me.
There was a Japanese film crew at the race creating a documentary and they had enlisted Pavel Paloncy, a Spine champion, to help with the filming. He joined me for this section as we moved through rolling hills and bogs, each top giving me an opportunity to turn and see Eugeni's head torch still frustratingly in sight.
As we reached Oakworth Moor, a boggy section that at least had the benefit of occasional stone slabs, I started to run a bit low on water. Running along across the slabs I kept my eye out for a decent water source. I'm a firm believer in keeping a relatively steady flow of hydration and nutrition, without any periods of feast or famine (unless I'm going down for a significant sleep, then I'll gorge myself a bit).
So eventually I relented, and Pavel looked on with I think part disgust and part curiosity as I dipped a water bottle straight into the top of a bog (hey, this is what they mean when they say that Scotch is "peaty," right?). It was what has become one of my most important pieces of kit for this type of adventure – my Katahdyn BeFree bottle. It has a built-in filter with an impressive flow rate, but it was still a bit stomach-turning to hold up the bottle and see the reddish liquid and sediment inside.
The bog water lasted me until Lothersdale, where an unofficial aid station had been set up. I refilled with some wonderfully clear water, grabbed some handfuls of crisps (American translation = chips) and jelly babies (American translation = I'm sorry, USA might dominate the snack cake genre but we have nothing quite like these magical gummy… thingies). Someone was also kind enough to show me the tracker page so I could see that, yup, Eugeni was still right behind me.
The next section had a good mix of climbs, canal tow path, muddy fields (there was no other kind of field), and a bit of road passing through Malham. After that came the first really rocky, technical section of the course. After a climb, the path traverses rocky, bouldery terrain with deep crevices that would be easy to slip into. With the wet conditions I worked my way gingerly across the rock, until I found I had only a small scramble left before getting back to some runnable path.
As I lunged forward and up the rocks I felt a sudden pop in my vest. I had been warned that I was at or above the load limit for the vest and that it only had prototype materials, but I was so determined to make it with an actual running vest (i.e. not a hiking pack) that I had taken the risk. I had an extra Adventure Vest and a FastPack in my drop bag, but with this being the longest stretch between checkpoints I still had 8-9 hours before I would see my drop bag in Hawes.
I slipped off my vest to inspect. The actual fabric, zippers, and all the pockets were fine. I noticed that I had somehow neglected to properly adjust the comfort cinch that holds the bottom of the shoulder straps to the back of the pack, and one of the cords had snapped. I slipped the pack back on and the strap just dangled there. With some experimentation I found that if I grabbed the bottom of the strap with my hand and locked my elbow down at a right angle as if it were in a sling, then my forearm did a pretty good job restoring the structural integrity previously provided by the comfort cinch. I figured if Killian could win Hardrock with his arm in an actual sling due to a dislocated shoulder, then I could still give this a go with my arm in a fake sling due to a dislocated strap on my vest. Since I wasn't using poles at that point, my hands needed to do some more work anyway.
I continued on, not wanting to lose any more time. It wasn't too far to CP1.5 at Malham Tarn, and I could take a bit of a closer look at it there. I found it a bit easier going than I expected, and at the checkpoint I managed to take the remnants of the cord and tie the strap to the ice axe loop on the back of the pack. As I looked at my work, content but a bit skeptical, someone brought a zip tie over to me and reinforced my connection. I actually had a couple zip ties in my emergency kit in my pack, but for some reason hadn't thought to pull them out. It was solid as a rock. And with all the layers I was wearing I doubted I would even notice the hard plastic rubbing against me.
I headed back out. By this time we had started to overlap a bit with the field from the Spine Challenger, which consists of the first 2 sections of the Spine. It was again good to share some periodic mutual encouragement. I began to sink into a low spot in terms of sleep, though. It wasn't a surprise – everyone's circadian rhythm has natural low points and I've learned that one of mine is from around 3 AM (a time when I all too often find myself going to bed in everyday life) until dawn.
Fortunately we had the somewhat technical climb up Pen-y-Ghent with its brutal wind and generally wretched conditions to keep me awake and on my toes. I kept a solid, consistent pace on the climb, not knowing whether the lights behind me were Challenger runners or my pursuers. Once at the top I wanted nothing more than to escape the wind, and it looked like I had a nice runnable descent on the other side. I let out a Bo Duke yee-haw and flew down the hill towards Horton.
Near the bottom there was a small checkpoint, where they were able to kindly provide some hot food and water. Still fighting a bit of a sleepy daze, I decided to lie down for a quick power nap and see if I could actually capitalize on that feeling before dawn. I may have nabbed a few minutes, but unfortunately sleep did not come as quickly and deeply as I had hoped. The worst thing in these situations is to waste time trying to sleep without sleeping. I sprang back up, thanked them for their hospitality, and set back out for Hawes.
It became a recurring theme for me in the race that as I neared the checkpoint I would think it was closer than it was. It was a fairly runnable section into Hawes, with the Cam High Road making up a large portion of it, but it seemed to drag on endlessly. I could feel myself slowing down as my mind drifted and my eyes looked around every corner hoping to see the village.
By the time it finally did come into sight I was in damage control mode, trying to make it there for a quick recharge without losing too much of my lead. My body was fine, but my mind was slipping. Unfortunately my mental fog continued into the checkpoint, to the point where I found myself wasting time with my drop bag, nearly falling asleep on the toilet, and having the medics probe me with questions and other things to make sure it was safe for me to go right back out.
It had not been in the plan, but I briefly considered a short sleep. It would break one of my cardinal rules in this type of race, though: wasting daylight. I also was able to fully recognize that I was in a low point, similar to so many that I've been in before. If I could just get moving again, especially with the daylight and the hearty checkpoint food in my stomach, then I could pull out of it and at this point in the race still feel fresh as a daisy again. I also wanted to maintain a gap on my competition.
After turning what should have been a 15 minute stop into close to an hour, with no discernible benefit, I headed back out the door.
Section 3 – Hawes to Middleton
After losing my lead heading into checkpoint 1 due to a navigational error, I squandered it coming out of checkpoint 2 due to not 1, or 2, but 3 navigational errors. First I turned to head back the way we had come, my foggy brain thinking that the first checkpoint had been a little out and back from the trail so the second one was too. My trip back through Hawes cost me 20 minutes, but fortunately I recognized the error on my own before the medics caught back up with me and decided my mental status needed a bit more of a check.
Then, I veered off the road onto a well-worn path with a symbol quite similar to the Pennine Way's acorn (speaking of which, I went the whole route expecting to find some oak trees somewhere…). I made it partway up a hill before realizing my error. Another 10 minutes wasted. My frustration was at least starting to battle my sleepiness.
Finally, I made a turn up a lane right next to where the route truly started back into the hills. It only cost me a minute or two, but it was the final straw that turned my frustration into a bit of despair, the lowest my morale would hit for the entire race. At that point I felt that Eoin, with his flawless navigation and incredible course knowledge, had probably slipped by me while I was off-route. I felt like it was the tortoise and the hare, and I was the foolish, doomed hare. We were only through 2 sections and already I had cost myself over an hour through rushed, completely careless navigational mistakes.
The situation was steeped in irony. The last time I had seen Eoin was when he was a participant in the 2018 Barkley Marathons and I was hidden out on the course as a random marshall / checkpoint. I observed as he unfortunately lost his compass and the group he was running with, left standing off trail on the side of a mountain with no way of navigating. I was not allowed to offer assistance of any kind and when he spotted me I responded only with, "I am just a tree."
I believe part of my navigation problem was a complacency and a false sense of security from having a GPS on my wrist with the route. Another problem is that I had my watch set in Ultratrac mode in an ill-advised attempt to conserve battery. In that mode the GPS only updates once per minute, so even if I was closely monitoring my position I could go a minute off route before the GPS would be of any help at all.
Starting the climb up Great Shunner Fell I was surprised and relieved to find that I somehow still had the lead. But mentally, it just stopped the bleeding. I kept turning to check behind me, feeling Eoin's constant, methodical pursuit as if he were The Terminator and I was only prolonging the inevitable.
I made it to the top without catching a glimpse of him, where I stopped behind a windshield to add a layer. The winds were blasting up there, as if to announce Storm Brendan's imminent arrival. As I fumbled with my gear, Eoin dashed by on the other side of the windscreen. I don't know if he actually saw me, but every single part of me saw him: my eyes, my legs, my ankle, my heart rate, my sleep-deprived brain. There were few things that could light a fire under me like getting passed.
I shot back out from behind the wind screen like my dog after a frisbee. He may not have noticed passing me, but I made sure he noticed me passing back. By the time I reached Thwaite at the bottom I had pulled back out of sight from him. My adrenaline still flowing, I pushed up the next climb and along a traverse of the next ridge. I shot by a sign saying a cafe was open just a bit off the path, trying to make the best of my high and of every last second left of the waning daylight.
Then I started the climb up Tan Hill. With a steady crescendo Brendan rolled in. The winds picked up, the sky went dark, the temperature dropped, and the rain began to fall. Before I knew it I hardly knew what was happening. The rain turned to sleet and hail, blown straight inside my hood. With my head turned down to shield myself I followed a little side path downhill. I remembered I shouldn't be going down yet, and turned to rejoin the path. Another 5 minutes lost, but at that point the only thing on my mind was getting over that hill to a less exposed area. A silver lining is that I was definitely no longer sleepy.
Then in the distance I saw the light from the Tan Hill Inn, the highest pub in England. It shone like a lighthouse, a single beacon with nothing but absolute blackness everywhere more than a couple of meters from my face. Without any reference points I wasn't sure how far away it was. It could have been miles still. But I knew it was there. My resolve strengthened and pulled me towards it.
Finally, I reached the road and a few people beckoned me inside. It was like stepping through a portal into a different world. The constant sound of a jet engine and snare drums that the wind and hail had been treating me with stopped. A fireplace glowed as drinks were served and families enjoyed a hearty dinner.
I was ushered into a sideroom which had a separate fireplace and somewhere I could sit. I took a minute to gather myself, and then began stripping off my outer layers and adding more inner layers. 3 pairs of leggings, 2 pairs of socks under my Gore-tex shoes, 3 base layers, 2 mid layers, a rain jacket, an insulated shell, 2 pairs of gloves with over-mittens, a neck gaiter, a buff, a thick toboggan (sorry, hat), and waterproof pants (sigh… ok trousers, but I guess waterproof pants in the British sense could have been useful too, except really that would just be a diaper I suppose, I mean nappy. 🤦‍♂️)
On the way out I crossed paths with Eoin. For a moment, the fact that we were racing seemed completely lost as we shared and recounted our trip through Brendan. Eoin said it was the worst stretch of weather he's seen at the Spine, and he's seen a lot. I wished him well and headed back out the door, expecting him to be right behind me. He had refused to go to the fireplace, worried it might tempt him to stay too long.
I ventured back out, feeling warm, cozy, and protected. But I definitely would not be wasting any time getting off that hill and out of the worst of Brendan's wrath. Fortunately the worst of the weather would soon be gone, unfortunately I was heading into a section that I'm really not sure can be classified as land. There were occasional stakes where the path would have been if there were a path, sticking up out of the standing water that nearly completely covered whatever semisolid ground-like substance lay beneath. Trying to find a good line or an actual path was futile.
Finally, not just a path, but a gravel road! I turned onto it and resumed actually running, stealing a brief glance behind to see that there were still no lights in pursuit. I passed a farmhouse where a man and his son were waiting, in those conditions, to cheer us on and provide some treats. People are amazing. After a brief descent I was then offered frozen pizza at the A66 crossing. I ate it. I ate the whole thing like it was mana from heaven.
My eagerness to demolish an entire pizza, though, was partially based on a once again mistaken belief that I was getting close to the checkpoint (ok who am I kidding I still would've eaten the whole thing). As I moved through the seemingly endless moorland towards a bed in Middleton, my energy and focus once more waned.
Then after the moor I again found myself struggling with navigation. I was in farmland, with countless walled off fields. Any slight error and I would find myself facing a stone wall with barbed wire on top, deperately turning my light in both directions looking for the stile to get over.
Eventually I did what I should have done much, much earlier in the race: I turned Ultratrac off on my watch. My portable battery had been recharging the watch quite quickly, so any battery savings were far from worth it. With my GPS now actually updating every second, I followed the intricate turns and precise lines to make it through the pastoral maze until finally I came to a hilltop and saw it: Middleton. I had started to think it didn't actually exist. I eagerly began my descent, but as my mental state had slipped so had my ability to ignore the ankle. Fortunately it hadn't seriously worsened, but its presence had started to move from annoyance to slight hindrance.
I filled my stomach, stripped down to dry clothes, and crawled into my sleeping bag for a planned 3 hours of sleep. Around 2 hours in I woke myself up coughing. After a few minutes I realized the quality of any additional sleep wouldn't be good, and I went back for more food and to have the medics check my feet and ankle.
At first glance they seemed a bit startled, and I worryingly checked to see what their concern was. I had forgotten to mention that a couple of weeks before the race my daughter had been kind enough to give me a nice case of hand, foot, and mouth disease that had pre-blistered my feet. Fortunately most of those blisters were any spots that never give me problems during the race, so I had to map out for the medics which spots were actual race blisters. None of those were very concerning, but they added a bit of tape for added protection. Unfortunately there wasn't much they could do for my ankle, but as they worked I felt myself becoming drowzy again.
I decided to capitalize on that feeling and went back down for another 30 minute nap. When I awoke, Eoin had left and Eugeni was making preparations. I hurriedly packed and dressed, grabbed a few more handfuls of food, and headed out the door, more in flight from Eugeni than in pursuit of Eoin.
As I left I checked my watch. I had banked about 2.5 hours of sleep, but I had been at the checkpoint for 4 hours and 45 minutes. I had no idea where that time had gone, but it was at least 1.5 hours too long. Between time lost from checkpoints and navigational errors I figured I was at over 4 hours of lost time. There was nothing I could do about that, though, other than to focus and stop being so careless. For the time being I at least seemed to still be in a good spot.
Section 4 – Middleton to Alston
I headed out of the checkpoint, and proceeded about 100 meters directly down the wrong road. "Oh come on… seriously?!" I corrected myself and resolved that that would be the last time. For the first significant amount of time in the race I wasn't in the lead, but I actually felt pretty good about where I was. I had sacrificed my lead to get a bit of extra sleep, and given how I felt at the moment it had been well worth it.
I decided to move methodically, to let my body loosen back up and to avoid any more costly mistakes. It was also a bit of a mental reprieve to be the hunter rather than the hunted for a time. I also didn't want to let myself get over-eager to catch up and go too hard. There was still 120 miles left. We only had a few hours until sunrise, and once it came I would pounce.
I worked my way gradually up Low Force and High Force, a river valley with a fairly good path. I did manage to cost myself 10-15 minutes with a navigational error I made as part of a vain attempt to enjoy my fresh, dry socks and shoes for a bit longer before they got dunked in a creek or a bog, but otherwise I was relaxed and consistent. In fact I was so relaxed that I found a nice stone wall to shield me from the wind and took another 15 minute nap as dawn approached.
Alright, up and at 'em. I was ready to chase Eoin down. Except the next section turned out to be a long series of scrambles over wet boulders along the River Tees. There would be no chasing here. At the end of these scrambles I arrived at Cauldron Snout, a waterfall below a dammed reservoir. An immense amount of water was flowing through the dam's spillway. As I climbed next to Cauldron Snout I took a moment to admire its overwhelming power and beauty, an incredible amount of water crashing and roaring over its cliffs with unimaginable force.
Then at the top, there was a road. The chase was back on. As I crested the first hill I saw a larger one in the distance, and faintly spotted a figure working its way up it. There you are. The sight further restored my energy, exactly what I had been trying to avoid happening for others earlier by staying far enough in front to be out of sight. I glanced behind me, and saw that Eugeni was about the same margin back, probably thinking the same thing.
Each time I saw Eoin I began marking the time, checking how long it would take me to get to the same spot. The gap slowly closed, and by the time I reached High Cup Nick I knew it wouldn't be long. I tried to take in the incredible view as best I could while continuing my steady progress.
When I reached the top of the last climb before the long, runnable descent into Dufton, I decided to make my move. Like the descent from Great Shunner Fell, I flew past. I wanted him to know that I was still capable of running quite well at that point. Re-taking the lead in that manner gave me another giant boost, and I flew into Dufton riding a sizable high.
After a kit check and water refill at Dufton I was back out the door headed for Cross Fell. Eugeni had arrived just as I left and for a moment the top 3 were all together at over 150 miles into the race. I was in a perfect spot to try to change that – still feeling good and with an opportunity to capitalize on my climbing strength going up to the highest point on the route.
As I went up, the snow came down. But climbing felt great, with no pain on my ankle. I reached what I thought was the top and thought, "well that was easy I'm not sure what all the fuss was about." I had reached the peak of Green Fell, with a long traverse to come where I would descend slightly before climbing Great Dun Fell and then descend slightly again before the final push up Cross Fell.
One of the documentary film crew joined me again, and for the first time I was a bit worried about the effect on race outcome rather than just experience. I was finding my own way through the snow and the cameraman was adding more footprints that could be followed, especially if they made a return trip back down to film the next person.
In the moment, I might at times find media in these otherwise solitary places a bit annoying, but I recognize the tremendous value they have and as long as they're not affecting outcomes I'm happy for them to be there. The only other major issue this race was at night where a few times the bright lights from their cameras really messed with my vision, whether from in front or from behind to where I was running in my own shadow. But things like that aside, I'm nearly always thrilled afterwards to see the moments they were able to capture. The opening drone footage from the video below (captured by the official race coverage, separate from the documentary crew), is one of my favorite bits from any of my races.
After conquering Cross Fell I made it back down to Greg's Hut. I quickly had my fill of warm noodles, but perhaps even more beneficial was a bit of time enjoying the company of someone's dog, who reminded me a good bit of our Dixie. I opted to not have the chili in my noodles. I'm a fan of spicy things, but not in a race. I kind of wish I had at least tried them, though, because let's be real… what y'all call "spicy" here in the UK wouldn't pass for hot in the southern US any more than a Bud Light would pass for beer here.
It was a longer than expected trek to reach the top of the descent down The Corpse Road, but once I did I let loose a bit heading down into Garrigill. I wanted to try to open a large enough gap to get in and out of the checkpoint before the next person arrived. I again underestimated the distance to the checkpoint, but I arrived just after nightfall and was happy to find that this one was at least right on the Pennine Way instead of a slight out and back diversion.
I filled up on the famous checkpoint 4 lasagna, as well as a smorgasbord of typical Tesco snacks, while the medics checked to see if anything else could be done for my feet. By this point my ankle had started swelling enough to where getting the shoe off and on was a bit of a delicate process.
Eugeni arrived with foot issues of his own, and I briefly tried to help with a bit of translation (up to that point I had, umm, "neglected" to mention to him that I minored in Spanish). He asked if I was sleeping, and I said no. My energy levels were good and at that point I didn't want to relinquish my lead even for sleep. He seemed intent on quickly getting back out the door as well so I packed up and headed out. For the first time since Hebden Bridge (checkpoint 1) I felt I had been efficient.
Section 5 – Alston to Bellingham
I avoided having yet another checkpoint departure navigational blunder, and started a section of trail that I was told was quite awful. What it was was field after muddy field of gently rolling hills, exactly like Somerset County where I live. I had been training for this section since the day I moved to England.
Physical fatigue was starting to get to me a bit at that point, as well as some nice blisters on the balls of my feet, but I was moving quite well thinking that Eugeni was still close behind. There were a few people who had come out to cheer us on: a man with his daughter giving out chocolate, a few people at a road crossing, and then someone who finally informed me that both Eugeni and Eoin were still at Alston. Jayson was the next one out.
My mind immediately went from determined and focused, to cautious and conservative. I thought that Jayson had been at least a few hours back, and honestly didn't have him on my radar at the time. I thought that if I could avoid disaster it was in the bag. I kind of wish I had remained ignorant of Eugeni's stay at Alston.
Where the mind goes, the body follows. I soon found myself trudging through Blenkinsopp Common, one of the worst bogs on the route. My eyes and legs felt heavy, and I was starting to make a number of small, careless navigational errors again. I decided to get to Greenhead and take a power nap in the bathroom. I dug deep into my bag of tricks to stay awake – singing to myself, mumbling gibberish to myself, then singing gibberish to myself.
A woman was waiting just before the A69 crossing, and she joined me for the short descent to the road. I can't help but wonder what was going through her mind as she ran along late at night next to this guy singing complete non-sense to himself running through the middle of nowhere. If you're reading this, I promise I'm not crazy, at least not entirely. Also, thank you for the brief company and making sure I got across the road safely.
I was nearing delirium. I found a golf ball and decided to pick it up for my son as a souvenir, I took an unintended detour to Thirlwall Castle but then decided I might as well wander around the castle. I made it to the long awaited bathroom (restroom, gents, loo, toilets… I still can't figure out what I'm supposed to call that place here) and laid down for my nap, but the floor was like ice. I quickly started shivering and realized it was futile. In hindsight I wish I would have pulled my sleeping bag out, but instead I stood up and started sticking my wet gloves in and out of the hand dryer. I don't know how long I stood there in a trance moving them up and down. I came to my senses when I smelled the motor starting to overheat.
I set back out, the familiar smell of burning electronics at least reminding me that I had a race to run. I was also on a section that I had been looking forward to since first researching the race: Hadrian's Wall.
I imagine the surrounding landscape would have been absolutely beautiful, if I could have seen any of it. And if I had been fully conscious. I decided that the wall at least made a fine windshield and backrest. I hopped over to the Scottish side and caught a 5-10 minute nap guarded from the southerly winds. I was starting to regret not attempting to sleep in Alston. I felt I would have had trouble falling asleep at the time, but these short naps were becoming quite inefficient and I was worried they might wreck my race the way they had at Tor Des Geants.
Then at a road crossing I finally got the news: Jayson wasn't hours back, he was one. If that. How could that be? Had he been closer than I thought all along? Had he been gaining on me that fast as I stumbled through bogs and along the Scottish border? It gave me the jolt that I needed, but unfortunately I had slipped so far that it wasn't enough to fully bring me back for long.
I made it to Horneystead Farm, where an incredibly kind lady was waiting in the middle of the night to invite me into her barn where she had food and snacks. We briefly chatted about some of her time in America, including hiking the Pacific Crest Trail. The PCT includes the John Muir Trail, which my wife and I did in 2013 and is what really got me back into hiking and then trail running. It was a nice "small world" moment, and a futon she had in there looked incredibly inviting for a nap, but I wasn't sure if sleeping there was within the rules and at that point I thought Jayson might appear around the corner at any moment. I thanked her and set back off.
The remainder of the section felt like a series of determined runs, broken up by quick power naps and frantically looking over my shoulder for Jayson. I felt that if I could make it to Bellingham still in the lead then I would be in good shape. The Cheviots were the one part of the course that I actually knew and I still felt really confident in my climbing.
It wasn't pretty, but I got there.
After some more delicious food and intel on Jayson and the weather, I went down for some much needed sleep. Originally I had planned 1.5 hours in Bellingham, but I estimated that about 45 minutes was the most I could get while still getting back out ahead of Jayson.
It was a good estimate, as he arrived just after I woke up and got my gear packed back up. I wasn't able to figure out if he was going to sleep or not, but I didn't stick around long to find out. We exchanged best wishes and I was back out the door.
Section 6 – Bellingham to Kirk Yetholm
If Eoin passing me at Great Shunner Fell had lit a fire under me, then Jayson catching up to me in Bellingham had lit an inferno. I had raced from the front nearly the entire time for over 3 days straight. I had put tremendous effort and work into maintaining my advantage and fending off challenges. In doing so I knew that I had set myself up as a target, and now Jayson had laid down the strongest challenge yet.
It was exciting, and the thrill of still racing after over 220 miles was an unreal experience that I'll undoubtedly always look back on as one of my best memories. I also sincerely meant the best wishes I gave him while heading out the door, but my goal was to end the excitement as quickly and as assuredly as possible. If he wanted the lead he was going to have to come pry it from my cold dead hands (ok my cold but very much alive hands because the Spine Safety Teams and Mountain Rescue Teams are incredible… and not that I would ever knowingly put myself in a position where I was likely to need them).
The other factor was that I didn't know much about Jayson, and we hadn't run together for much of the race at all. If it had come down to this stretch with Eoin, or Eugeni, I felt confident in my ability to outrun them through the Cheviots. But Jayson, I wasn't sure what he could do. I also recognized that I was now racing the local guy. From my experience at Barkley I knew what powerful motivation that could provide and how many people were cheering him on. I at least felt pretty great about the fact that I had gotten some good sleep and was leaving with the lead, but those guaranteed nothing.
But first, I needed to make it out of Bellingham without any wrong turns. I weaved through town with a vigilant eye on my GPS. After getting chased by two dogs going across a farm I was finally back out in moorland.
I pushed what had felt like an impossible pace only hours earlier. I walked a fine line between convincing myself that I was moving well and reminding myself that Jayson could be right on my heels. At that point in a race a slow pace can easily feel fast. Pavel joined again to film for a bit, and remained quite coy about my progress (as he should have).
Eventually I made it through the moor and came onto a gravel forest road. Knowing the Cheviots were around the corner I recognized this was probably the most runnable portion left, and I let loose with every bit of speed I had in me. The miles ticked by – 14 minutes, 11.5, 10:08. It felt like I had just broken the 4 minute barrier. In my mind it seemed nearly impossible that Jayson could be maintaining that pace after his push on the previous section and then no sleep. But still, there was a chance.
I only stayed in Byrness long enough to refill water and gather what intel I could. I had been opening the gap back up on Jayson, but now was not the time to get complacent. I turned down the offer of hot food and continued on. I only accepted an enormous flapjack that I stuffed in my pack, which really ended up coming in handy later. It seemed to almost be the UK equivalent to the US ultrarunning caloric atomic bomb: the frosted honey bun.
The ascent into the Cheviots was muddy (surprise!), windy, and steep. I loved every minute of it. I was still feeling strong and it was a perfect opportunity to capitalize on that.
Between Franklins 200 and my Grand Round attempt I've experienced some pretty strong winds. When I reached the top it was unlike anything I've ever seen. I didn't know wind like that could exist outside of something like an actual hurricane. It was aptly named windy crag. The wind was blowing over the ridge as I ran along it, leaning to the side at nearly a 30 degree angle to the ground with my poles bracing me in the opposite direction, trying not to get blown towards the signs that said military testing range don't touch any unexploded explosives. Because they might, you know, explode.
I made it nearly to the first mountain rescue hut before night fell. I was still moving well, and I had even managed to avoid the giant boggy hole that Galen Reynolds and I had taken a swim in during the Cheviot Goat Race. Then not 100 meters later, still feeling proud of myself, I stepped on what appeared to be a slab that turned out to be a thin sheet of ice covering a bog. Well, I guess what trip to the Cheviots is complete without pulling myself out of waist deep muck? From that point on my poles mostly served to test the ground before I stepped on it.
I had almost been looking forward to the darkness, as it would more easily allow me to check to see if Jayson was closing the gap. I was glad that the next light I would see was in front of me, as someone was waiting for me at the top of a climb. It was someone who had kindly come out to offer encouragement and food.
But as I made it to the top I checked behind me and suddenly saw a light closing in. What?! How could that be? I hadn't seen a light just moments earlier when I had had a much further view. There's no way he could've closed that fast! The person waiting at the top told me the tracker showed no one even close to me. Phew. But wait, that can't be either! Jayson couldn't be that far behind. His tracker must have stopped working!
My apologies to the person who came all that way to offer me support on that hill in the middle of the Cheviots. I panicked, and I'm not sure if I even got another word out before bolting down the other side of the hill. Suddenly I was all out racing again, and felt like I was flying. Apparently whenever I do one of these non-competitive personal challenges like the Grand Round I just need people to hop out from behind bushes and run off in front of me wearing shirts that say "the other guy."
I kept checking over my shoulder. They were gaining! And quickly! No, no this can't be. I don't care if it's Yiannis Kouros in his prime, no one can move like that nearly 260 miles into a race. Eventually I realized it was inevitable. I couldn't out run that for another 10 miles. I stopped and anxiously waited. The light approached, and then stopped. I collapsed on the ground in part relief and part exhaustion.
It wasn't Jayson. It was someone else who had run up to offer support. This is again something that I'll always look back on as an amazing memory, possibly my favorite story from the race. But at the time, it had absolutely scared me half to death.
I got back to my feet and continued, my new friend joining me for a bit and providing me some much appreciated hot water. But whether from that burst of speed, or from the mental relaxation from no longer feeling challenged, I was finally starting to feel fatigue for the first time since Bellingham. And it was coming fast.
Fortunately I wasn't far from hut 2. I staggered in and sat down, finally sheltered from the wind. I learned from the safety team there that Jayson had dropped out. It was incredibly disheartening to hear. It seemed he had run such a smart race, been moving so well, and been so kind and gracious every time I saw him. I don't know that any competitor has ever immediately earned my respect more. If he decides to come back I have no doubt that he can win it in impressive fashion.
He had also tried to get word to me earlier so that I didn't risk anything over the final stretch, but I was in and out of Byrness before anyone knew. I'm kind of glad I didn't find out earlier, because once I knew I had a 10+ hour lead every bit of motivation and mental willpower I had left evaporated in an instant. Had he been right behind me I probably would have added a layer, refilled my water, and not wasted any time at hut 2.
Instead I sat, drank 2, 3… I don't know how many cups of hot chocolate, tried unsuccessfully once or twice to take a nap, and even momentarily considered that I could just go to sleep and finish it in the morning. But I knew that I couldn't. I had (seven) miles to go before I slept.
With Eugeni's DNF the year before just a few miles from the finish in mind, I took my time making absolutely sure that my core temperature was good. I hung around there for an hour and a half, my longest stop anywhere other than Middleton. I had just come over 260 miles and now the last 7 (mostly downhill) seemed so daunting.
Finally I got up the courage to head back out, but immediately found that my body had again closely followed my mind's lead. Every little pain that I had managed to suppress for so long was suddenly screaming at me. I had bargained with my body for 200 miles and it was calling in its debt. My feet's throbbing was interrupted only by the sharp pain of blisters and freshly blackened toenails on every step. My ankle nearly refused to bear weight on even the slightest downhill. My poles, no longer needed for bog-checking, essentially became crutches.
In other races, no matter how bad it's gotten, I've been able to pull myself together and really savor the homestretch. Honestly, there was no joy for me in that portion of the race at all. It was the longest 7 miles of my life and I just wanted it to be over and to get off my feet. With about 2 miles to go I even tried to pull out my phone and call Jessi, desperately trying to distract myself and at the same time wanting to take the opportunity to talk to her before finishing and immediately turning my attention towards sleep. But the call wouldn't go through. I was on my own, for 2 more agonizing miles.
When I finished Barkley, it was an enormous mental relief when I touched the gate and could finally let my mind relax. When I kissed the wall of The Border Hotel it was much more a physical relief. I didn't have to force another step upon my feet, and I found the nearest seat I could: a big plant pot (it was actually quite nice and cushy, and without it there I probably would have just ended up on the ground).
Suddenly, the joy was back and incredibly magnified. I have my own memories of that moment, but I don't think I could describe them as well as the race photographers did with the photos and video below.
Post-race
This time my mind followed my body's lead, and as I sat in the plant pot I was finally able to let my focus escape and put myself at ease. For nearly 88 hours I had had tunnel vision, my mind confined to a cage of my own creation. I was happy to be able to have a chat with the wonderful people who had come to wait around, probably for hours, to see me touch a wall. The Spine is truly a special race, and clearly there are a lot of people who agree with that sentiment. Thank you to everyone who came out and made that moment mean even more.
Eventually we moved the conversation from the plant pot to inside the warm pub on an actual couch. I stripped off my numerous layers and was left only with my base layer, the same one that I had left Edale in. From there, an actual shower and actual bed, delayed only by a generous midnight ice cream delivery. My tongue had itself become quite blistered, I suspect from the constant cold, wind, and mouth breathing, and ice cream was one of the few things I could comfortably eat and enjoy.
The next morning I had the good fortune of seeing Eoin finish and sharing some conversation. He's a fantastic person and athlete, and his consistency at this race is remarkable. I particularly enjoyed hearing his thoughts on the conditions this year. He said it was the muddiest / wettest he had ever seen it, which was a bit of a relief to me to hear I hadn't naively mistaken a "dry" year for a wet one. He's shared his full race report over on his blog.
I enjoyed the time in the good company of Eoin, Eugeni, and the race staff and volunteers. I was able to stick around just long enough to see Simon and Wouter finish, but I wanted desperately to get back to Jessi and my kids. There were still many more people to finish, though, all with incredible stories. I'd definitely encourage everyone to head over to the Spine Facebook page and check out the rest of their daily recap videos to see some of those stories.
Looking forward
Recovery from this one was a bit unique. My muscles honestly weren't all that sore, but my feet were barely usable. With the activity stopped and the adrenaline gone my ankle (which turned out to be posterior tibial tendonitis) became quite swollen and angry with me. I regularly woke up at night over the following week with it throbbing, or completely soaking in sweat (the post-race night sweats are something I've never had before). It was 12 days before I ventured back out for an easy run, and even now over 2 weeks later I still have some niggles here and there (like a sore calf, which no doubt did overtime compensating for my messed up ankle for 200 miles). It only took a few days before I mentally felt "competent" again, but again the random moments of feeling like I've been hit by a train lasted for weeks.
Beautiful photo by Mark Haywood looking out from High Cup Nick. Warning: the next photo in this slideshow is a disgusting foot photo (all foot photos are disgusting… feet are gross).
Beautiful photo by Mark Haywood looking out from High Cup Nick. Warning: the next photo in this slideshow is a disgusting foot photo (all foot photos are disgusting… feet are gross).
But the recovery will come, as it always does. I'll be stronger from it, at least in terms of mental strength and experience. Perhaps the most important aspect of recovery is the motivation and energy, listening to myself in terms of when I'm really eager to get back out there and get at it. I have some goals this year that I'm pretty excited about and that definitely helps with that aspect. Looking towards those next goals doesn't mean not stopping to enjoy where I'm at, though, and I definitely won't stop enjoying this one and will always cherish it.
As for whether my future goals might include a return to the Spine, it's far too early to know. The Spine requires a huge emotional investment, apart from the obvious time investment, and there are a lot of other things I'd like to do as well. I also don't know if I could return and have an outcome as satisfying as this one. I gave it my all, achieved exactly what I set out to do, I did it in tough conditions with constant challenges, and there's nothing I wish I had done differently. That's a rarity in anything, much less an ultra where so many things can happen to wreck a race. I probably haven't had an outcome this gratifying since finishing Barkley, and last year in particular seemed to be a constant string of coming up just short. All those races where things didn't come together or that were "close, but not quite" – those just make it all the more gratifying. So for now, I'm just going to enjoy this one.
Barkley vs. Spine
Eoin's question to me regarding Barkley has been quite frequent, and the best way I've thought of summarizing it is that Barkley holds you much closer to the fire, while the Spine holds you there for longer. Also a huge part of the challenge of Barkley is its unpredictability, from the unmarked evolving course to the start time to the conditions (sunny and hot, then well below freezing, sleeting, and foggy just 12 hours later). Part of the challenge of the Spine is the predictability of the conditions, in that they're predictably horrible (some years just more than others).
In terms of pure difficulty of finishing, of course Barkley is harder. Just look at its 1% finishing rate. But finishing rate is of course largely a function of cutoff time. If the Spine had a cutoff time of say, 80ish hours, then it would be right up there. Sure, no one has gone sub 80 at Spine, but I believe that someday someone definitely will (plus if the bar were set that high I think that performances like Jasmin's last year could have cleared it with that as the goal and motivation from the outset). I went just under 88, but I know that in Barkley I definitely couldn't have finished if I had lost the time I did in Spine this year due to navigational errors and poor checkpoint execution.
All in all, Barkley and Spine are very different challenges and even with different objectives. The goal of Barkley is to find your true limits, the goal of Spine is to overcome what you thought they were.
About that record
The other question everyone seems to want to ask is whether I want to go back and take a shot at Jasmin's record. To be honest, the record was the furthest thing from my mind while I was out there. I was running a race, my goal was to win, and I was constantly being pressured from behind. Racing and running a time trial have very different strategies, and I was in no way willing to lower my chances of winning by going for a record, especially one that's so highly dependent on race conditions. If I had gotten to a point where the race was completely in hand and I still had a shot at the record, then sure I would have given it a go. But that point never came.
I'm in no way trying to say I could have broken it had I gone for it instead of purely racing. Yes, conditions were tough and I lost a lot of time due to mental errors, but you take the conditions given and good navigation and checkpoint efficiency are as much a part of the race as being able to run fast is. Strength in one doesn't excuse a weakness in another; all are needed. Jasmin demonstrated that perfectly and executed an incredible race from all angles. Breaking a record at a race like this requires the right person with the right strategy with the right conditions. All that can be said with certainty is that right now that equation equals Jasmin in 2019. It would be difficult for me to invest the time into going back just to go for the record with such a high probability that I could be doomed from the start by poor conditions.
As for the men's record, I didn't even know what it was until I finished. On my post race interview you can see me laugh a bit when they told me that my 87:53:57 broke it, partly because I think it's a bit funny that the record exists. It's similar to my issues with tiny age groups in triathlons – I never really cared for getting credit for a win in my 30 – 34 year old age group while getting beat by a 29 or a 35 year old. There is no significant natural physiological difference in those ages and no reason I shouldn't be racing those people directly. Likewise, Jasmin has no natural physiological advantage over me and so I don't really care to be getting credit for a record that disqualifies her performance. Jasmin has *the* record. Period. Plus I had the distinct advantage of a full, magnificent beard to protect me from the elements. 🧔😄 (I asked a Scottish work colleague with an actually impressive beard if I should shave my sorry excuse for facial hair before the race or leave it… he said he reckoned every little bit would help.)
With all that said, what maybe appeals to me a bit more is the FKT on the route, where conditions can be better controlled and racing isn't a consideration. Mike Hartley, a fell running legend, did the Pennine Way (supported, in the summer) in 65 hours and 20 minutes, a record that has stood untouched since 1989. It's, to me, one of those FKTs that has a bit of a magical aura to it. But like the Spine itself, pursuing it requires a big investment of time and emotion, and unfortunately there's never enough time to do it all.
Gear
And so now the 3rd most frequent thing people have asked: what kit did I have and how did I fit it in that tiny pack? I've been quite fortunate to work with a number of great companies over the past few years, and while much of my gear came from them this race also required a bit of shopping to complete the required kit list.
On me
As far as what I was actually wearing, for shoes I had La Sportiva Uragano for the first half and La Sportiva Blizzard for the second half. They're both basically the same shoe, except the Blizzard has built in spikes (more like studs, not track spikes). They're both essentially a modified version of the Mutant, with Gore-Tex and a built in gaiter added.
My base layer for the entire race was a pair of XOSKIN tights and a long sleeve form fit top, sometimes these were doubled up when the temperatures dropped. I also had XOSKIN socks – toe socks with normal ones over top. I did change these a few times into dry pairs. I had zero chafage at the end and only the blisters mentioned on my feet that I think were from the constant pressure rather than from friction.
The other key pieces of kit were the Ultimate Direction Ultra Pant, La Sportiva Run Jacket and Mars Jacket, and then an assortment of rotating La Sportiva mid layers. I felt my temperature was quite well regulated throughout the race, and while of course slightly uncomfortable at times (I don't think it's possible to have gear that is both fully impervious to those conditions and comfortable to run in) I was never legitimately cold.
For navigation I used my Garmin Forerunner 945 with maps and the course GPX file. It worked great once I took it out of Ultratrac mode. I also had a Garmin Edge 530 with me since the watch alone didn't meet the kit requirements. For light (pretty important in a race that's 16 hours of darkness per day) I used a Petzl NAO+. It provided great visibility and I don't recall ever having to swap batteries outside of a checkpoint or aid station of some sort.
In the pack
The timing of this race worked out perfectly to put some of Ultimate Direction's new gear through the wringer. Originally I tried out a prototype FastPack 20, which fit everything comfortably and with ease. But I wasn't planning on "fast packing" and I just didn't feel as fast as I do with a running vest.
So after a good deal of organization and work, I managed to fit everything into the upcoming Adventure Vest 5.0. It still has a 17L volume, but it's very much a running vest. I was absolutely thrilled to get everything in there, and the built-in rain fly would obviously be quite handy for the Spine. I fit my nutrition and other essentials in the front pockets where they were easily accessible on the move, and the larger back pockets were reserved mainly for the bulky emergency kit that I knew I wouldn't be using unless my race was over, if even then.
The pack was absolutely perfect other than the small mishap with the snapped cord. But that all worked out fine and that's why they have people like me test the prototypes… they know I'll properly abuse them and push them to their limits. Next time I'll just try to do a bit more pre-race testing.
The pack didn't really leave any extra room in case I needed to add anything during the race, though, so I added a Race Belt 4.0 for some buffer storage. The other trick I often use is to tie my outer jackets around my waist instead of stuffing them in my pack. Sometimes spectators think I'm a woman as I approach because it looks a bit like a skirt, but, you know, worth it.
The two biggest items on the Spine kit list are the sleeping bag and mat. I splurged a bit for these and got a Therm-a-rest Hyperion 32 bag and a Therm-a-rest NeoAir XLite mat. Both are extremely light and pack up amazingly small. Fortunately I'm also just short enough to be able to go with the small / short models.
The other purchases I had to make were a Sol bivvy, a BRS ultralight stove, and a TOAKS titanium pot / pan. Everything else was fairly standard hiking or ultrarunning gear.
I was actually kind of happy that I was randomly selected for a full kit check at registration so that I was sure everything met the requirements, but I have pretty mixed feelings about this type of kit list. It seems to be a bit of a European thing. The required kit list for Barkley? Not a thing. If you get out there and don't have what you need then it's your own dang fault. And Barkley can have some pretty terrible conditions.
I understand that there are definitely some remote areas where conditions can get bad quickly, and a simple sprained ankle or something can leave someone stranded there. Before a race like the Spine, or any trip into the wilderness, always always be prepared to survive in the worst possible conditions for however long it would take a rescue team to get there (at least one night). But I would sincerely hope that anyone entering a race like the Spine would already know that.
As much as I would hope that, I definitely see the value in ensuring that people don't try to skimp on necessities. The problem is when the list goes beyond necessities. A spork? A stove, matches, and fuel? Diarrhea medicine? Things that someone might find useful for comfort or for performance, I go back to if they don't have those it's their own dang fault. Not a one of those things are going to be necessary or probably even useful in surviving an emergency situation for a night.
The other issue with a kit list like that is people won't do the proper research and preparation themselves and will think, "oh, if I have everything on the kit list then I must be fine." When the conditions got bad I took a number of things with me that weren't on the required kit list because I would or might need them.
No matter what the required kit list is, always pack what you need. Before you pack what you need, always have the knowledge and experience to know what you need.
Nutrition
Ah, nutrition. Probably my favorite topic last. For years now I've relied on Hammer Nutrition to provide the foundation for my fueling. Leaving each checkpoint I take a flask of gel with me (usually a raspberry / peanut butter chocolate mix), a few Hammer bars (coconut chocolate chip), and a bottle of Perpeteum (chocolate). I'll also use Fully Charged, Endurolytes, Endurance BCAA+ (amino acids), and Tissue Rejuvenator as needed. A Fizz tablet (lemon lime) can also do wonders, especially when I'm drinking out of a peat bog.
For races about 10 hours or less, that's all I use. Quality is much more important than quantity. For races that are ~88 hours long, a lot of quantity has to get piled on top of that. I'm glad that I have that quality foundation because most of that stuff on top is junk. I've learned quite well what my body craves, hates, or can tolerate deep into that kind of race, and basically it comes down to pizza, snack cakes, and cookies. Other than the miraculous frozen pizza just before Middleton none of the former was available to me, so snack cakes it was. I did also have some trail mix and beef jerky to fill the protein / savory void left by my lack of pizza.
I found out the hard way at Tor Des Geants that relying on aid station food is a bad idea, even if it saves a bit of pack weight. The Spine checkpoints were great, but I made sure to have enough of my own options with me to get by if I needed to. After visiting family in the US for Christmas and New Year's I actually had a whole suitcase dedicated to bringing race food back Not that there aren't good options in the UK. I just personally haven't yet tested them as extensively.
Written by Daragh Kelly - https://ultrarunningtriathlon.home.blog/
The beginnings:
I first came across The Spine Race in 2015 just before heading off to the Sahara desert for Marathon Des Sables as I dot watched an Irish athlete, Eoin Keith, complete the 430 km course that follows the Pennine Way from Edale village near Manchester to Kirk Yetholm on the Scottish Borders in the middle of January and I thought to myself that it was just pure nuts.
But it somehow had got my attention so the following year was dot watching again and suggested to Sean my friend and training buddy that we should enter the baby/sprint version The Challenger in 2017…. a mere 170km with a 60 hour time limit. Seemed like a doable challenge…. what could possibly go wrong.
2017:
So in March 2016 Sean, Alan (brother in law) & myself sent off our applications with a full list of our previous race history to The Spine Challenger wondering if we would be accepted. A few days later the acceptance mail arrived and entrance fee paid…. no turning back now.
Roll on January 2017 & the three of us headed off to get the ferry to Hollyhead with another friend Brian who was acting as crew for us during the event.
Friday consisted of registration, kit check, race brief, food & few pints. Personally I felt like a duck out of water as everyone else seemed like hardened mountain men & women well capable of doing the event.
Saturday morning we headed off to the start to be fitted with trackers & the gun went off at 8am in light snow. Shortly after Jacobs Ladder the first climb we made our first navigational error in whiteout snow conditions. Following the group in front we all veered off course costing us about 1km and 10/15 minutes. This was to be the first of many. We were now at the tail end of the competitors. During daylight hours we were moving well but the real problems started once it got dark and our inability to use our Garmin sat navs efficiently. We just kept missing small turns by a few meters here and there but left us on the wrong side of walls in various farmer's fields with no way out bar the obvious backtrack.
We stuck together and arrived at the first checkpoint, Hebden Hay, at 6am with just 2 hours to spare over the cutoff. Totally spent after c75km we had no time to sleep so just food, change of clothes and back out just before 8am. Over next few hours we moved well with no major nav errors but stopped with Brian for a bacon roll & an hours sleep in the back of the jeep.
Still at the back end of the field every time we overtook someone they seemed to retire from the race leaving us in last place all over again. Dusk arrived and with it our nav errors reappeared through the low lying fields around Cowling, Lorthersdale and making a complete hash of the section off the canal into Gargrave. Sean decided to pull out here with foot blister issues that had been slowing him down for the previous few hours.
On out into the night along the river into Malham with some interesting detours along the way and being passed by the race leaders of the full Spine Race…..who started a full 24 hours behind us. At about 4am we arrived into Mahlam village totally spent, ready to throw in the towel and get into the jeep with Brian & Sean only to be met by two members of the Spine safety crew who encouraged us to keep going as there was only about 5km to the next checkpoint with 3/4 hours to make it. Fu)k it….. on we continued up the road to Mahlam Cove where after climbing all the steps we couldn't find a route across the top. Hallucinations stared in earnest and we were like a pair of zombies…. we were now a danger to ourselves and decided to make our way back down to Mahlam just as dawn was breaking and phone HQ to retire. Game over but were any lessons learned?
2018
Straight after DNFing whilst having a few sociable Guinness in The Board Inn in Hawes we realised that the Challenger Race was doable for us providing we could sort out our navigation issues. Maps & Garmin sat nav weren't the problem…. it was the fools using them.
In May 3 of us flew into Leeds and between a hire car & a taxi we reccied Gargrave to Hawes with an overnight bivi on Fountains Fell. Staying in YHA Hawes the following night on our way to the airport we reccied Stoodley Pike to the road before Hebden Hey.
Roll on January after a 50 mile race in December on the Wicklow Way we were on the start line again. No issues whatsoever…Navigation was spot on all the way. Into Cp1 with over 7 hours to spare, 10 minutes cat nap in the bothy at Top Withens, 30 minutes in Mahlam Tarn & felt strong finishing in Hardraw in 51 hours…..even with terrible weather from Mahlam to the finish. Job done, box ticked, itch relieved etc…… not really.
The following morning we hobbled into Hawes YHA … Cp2 for the Spine Race (which started 24 hours after The Challenger). As Sean was getting his feet sorted by the medics I surveyed the room of athletes still in race mode with less than half their race done….. I was in awe of them. Seed planted in my head for next year…. now to convince Sean.
2019
Back home and after a week I was back into training for Ironman Austria which kept me focused until July…. 2 weeks family holiday & then it was all about The Spine…..Sean had signed up in August…… Dublin City Marathon in October, plenty of 5/6 hour night runs in crap conditions finishing up with a 100 mile race on the Wicklow Way in December in atrocious weather ….perfect Spine training……5 weeks to The Spine. Took it fairly easy over the Christmas period. Nothing to be gained…. time would tell if the training was right or not.
Kit sorted, flight to Manchester, train to Edale & 2 nights in Ramblers. It was great to catch up with Steph last years MRT female winner now on Spine Safety duty, Caroline & other members of the Spine crews. A few quiet pints to settle the nerves.
Saturday was all about registration, kit check, race brief, food, more food & an early night of fitful sleep listening to the rain and wind hopping off the bedroom window all night…. not a great omen for the week ahead.
Sunday morning up early for breakfast to discover that my left knee had locked and I couldn't bend or straighten it…. it had been niggling me a bit for a few weeks but generally came good with light stretching….not this morning of all mornings though. Not much to do but keep doing gentle stretches and head to the start to get our trackers fitted. Weather outside was wet & wild so our original plan to wear light OMM jackets was quickly revised to our heavy Columbia jackets and waterproof leggings…. which would make moving slower.
Eight am and we are off up the road past Ramblers Inn and onto the Pennine Way proper. The wind and rain kept the pace slow but gave my knee time to free out and after an hour or two it was completely fine and didn't bother me again until a few days after the finish. By the time we got up Jacobs Ladder and onto Kinder we were been blown all over the place. Pace was much slower than this time last year as we ran lots of this section down to Snake Pass and beyond….not a possibility today. Quick stop at Torside where MRT (mountain rescue) had kindly set up offering hot drinks & top up water. The weather calmed a bit for a few hours but the rivers were swollen and Sean managed a dunking into one of them. Head torches out and the wind & rain reappeared battering us. To our disappointment there was no sign of the burger van just before the M62 so on we moved over Blackstone Edge towards the MRT unofficial checkpoint beside the Whitehorse pub.
About 2km from here we noticed a headtorch about 50 meters off to our left & off course. We called out to it and got a confused response so we made our way over to investigate. Another competitor was trying to bivi out in a storm drain (Broad Head)…. less than 2km from hot drinks & some shelter. Turns out the guy had fallen, had a nasty laceration on his cheek, couldn't see properly with wind blindness and was extremely cold. He had tried to hit his SoS button on his tracker but it wasn't working and he couldn't read his phone to call race HQ so he decided to try to bivi unsuccessfully. We gathered his stuff up and got him moving down towards the White Horse pub. I ran on ahead with some of his stuff to alert MR while Sean walked him down to safety…… if he had bivied out nobody would have seen him in the storm drain off course. Drama over and with a soup and some food we headed along Warland reservoir and up towards Stoodley Pike … a brief respite from the weather which was still battering us. Not too far now to Cp1 at Hebden Hey….. just down hill to Charlestown and a long slog up to the road before the turn off to the Cp.
We arrived in Cp1 about 2 hours later than last year but considering the weather & our good deed we weren't too concerned but it had taken a lot more out of us. In & out in about 1.5 hours and back out into the night with plenty of moors ahead. As daylight approached the tiredness really was affecting us so we decided that if the bothy was free at Top Withens we would take an hour there. Fortunately as we arrived there were 2 or 3 competitors were just about to leave so out with the sleeping bags for an hour of sleep. Feeling refreshed we started out towards an unofficial Cp at Lothersdale set up by a local Tri club. Along the way we met up with Emiko a lovely Japanese lady & we all fell into pace for the next 24 hours. Into Gargrave at dusk & the Co Op for last supplies before Horton. Here we met up with James & Tony and the 5 of us made good time to Mahllam, over the cove and into Cp1.5 at Mahlam Tarn where Sean, Emiko & myself decided on an hours sleep before tackling Fountains Fell and Pen Y Gent in worsening conditions. We slept out on the veranda of the old house but sleep didn't happen as someone was shaking the foundations with their snoring.
Just before leaving the checkpoint we were told by the Spine Safety crew that a diversion was in place for Pen Y Gent due to high winds and poor visibility. Two minutes later we were told that it wasn't fully confirmed but by the time we got there a safety crew would be there to advise us one way or the other. I clarified that in the event of no safety crew being there could we then make our own decision re the diversion taking into account the weather conditions….. The answer was absolutely yes but not to worry as a crew would be there. Happy with the clarification we headed out towards Fountains Fell.
As we headed up visibility was a few meters at best with driving rain and strong winds…..goggles made visibility even worse. So it was heads down with our eyes glued to our gps units keeping on the purple line & keeping close together as a group. TBH I really struggled here after not getting any sleep due to our snoring friend. Eventually we were on the road section upto the turn off point to PYG expecting to meet a safety crew at the turn off point. Nobody there so on we went up thinking that they were further up the track or that a diversion sign had been put out further up. The weather was getting worse if that was possible but most concerning was the visibility ……Head torches had to be used as hand torches to get any idea of where we were going. About 1km from the summit we had to make a decision as there was no sign of safety crew ….. decision was to look for a diversion to Horton as there was no way that we were comfortable scrambling over the top in driving wind, rain, fog with 1 hand being used to hold a torch. Maps out, diversion found and we started making our way to the haven that is PYG cafe in Horton for a nice bowl of stew. From there its a long 23k to Hawes on a lonely exposed Cam High Road. Sean and Emiko had said to me to push on as I was moving slightly faster so on I went solo just as dawn was breaking. The last few km into Hawes take an eternity through farmer's fields but eventually I arrived into Cp2…… about 7 hours ahead of the cutoff. The place was jammed with crew and weary competitors so after sorting my feet out I grabbed my spare sleeping bad & got 2 hours sleep. Then it was up, food, sort kit, change batteries and out to tackle Great Shunner Fell. Just as I was putting on my boots and waterproofs I was called aside and informed of a 1 hour time penalty for diverting off PYG. I was fuming & my explanation fell on deaf ears…. to be fair to Andy, who told me, he was only the messenger of the RD's decision & I apologised for my grumpiness but did ask for him to speak with the powers that be to explain my discussion with the Cp crew in Mahlam. Out the door and down the road only to realise that I had forget to put on my waterproof leggings which were sitting on a chair in the Cp…. back I went and set off again.
Sean had gone ahead of me but I made good time going over Shunner Fell and caught up with him going into Thwaite. Here we met up with Chris Whorton and his friend where had a 5 minute break & chat before the tricky section to Keld followed by the never ending slog upto Tan Hill pub. Somewhere along here the wind & rain reappeared with vengeance. Battered again I arrived here around midnight and took an hour or so to dry off and have a freeze dried meal before tackling the bogs of Sleightholme Moor. Sean arrived in just before I headed out and was in good form but was going take his time there.
This night section into Middleton-in-Teesdale was probably the hardest for me mentally…. I saw nobody from Tan hill so it was wet, dark & lonely. I found navigation on some parts quite difficult …. just finding the right track in the dark was frustrating but generally I was heading in the right direction. Tiredness was affecting me again and I had a 5 min nap somewhere around Lunedale but it wasn't enough. The section from here to Cp3 through the churned up farmer's fields was mentally draining especially with the Cp so close but yet so far. Here Leslie Binns passed me but neither of us were capable of conversation …… just wanting warm food & sleep. I pulled out my phone to call my wife Orla to catch up with events at home and take my mind off my pain & suffering. If there any 1 point that I would have DNfed it was here but after the call everything seemed somewhat better….. she told me to look at all the WhatsApp messages of support for Sean & myself.
Eventually into Cp3 with about 7 hours to spare…… At this stage my brain could only handle Cp to Cp and cutoff times…..the old story of how to eat an elephant…..small chunks at a time. Shoes off and feet cleaned, powdered. They were in bits….. half a dozen big blisters & toe nails falling off. The medics were busy so I grabbed a bed to sleep for 3 hours. Just before dozing off I checked my messages to see nearly 600 whatsapps from various groups….I couldn't believe the support, quite emotional tbh, and whilst I just scrolled through before sleep it gave me a huge boost.
Up & refreshed I got food while the medics did a super job patching up my feet. Relaxed and had a good chat with Caroline and some of the safety crew. Sean appeared but gave the bad news that he was pulling out…. his feet were killing him and making him slower than normal. He told me just to focus & get the job done…..he was making arrangements to get to Newcastle & a flight home.
Back out around 5pm along the river towards Cauldron Snout…..I really enjoyed this section and made a few calls to Orla & Brian … our crew from the 3 years ago…no better boy to get you fired up. Just as I arrived at Cauldron Snout wondering how the feck I was going to get up there Leslie appeared. He knew the way up having done the summer Spine & being timed out on the winter one last year. He was on his way to doing the double so I asked if he minded me tagging along……up and over with no problems. We were fairly evenly matched pace wise but he was stronger overall. Good time made to High Cup Nick where I took 5 minutes & he motored on. Along the way we had passed Will & Graham and Graham caught up with me on the descent to Dufton where there was a Spine half Cp….. hot water only. There we grabbed a quick nap and in the meantime Will had arrived ready to pull out. The Safety Crew encouraged him to eat and get back out there which he did…. fair play to them because he moved really well all the way to Alston.
The next section was a steep climb up to Great Dun Fell and Cross Fell. It was bitterly cold, snow, ice & wind with reported wind chill of -17. A group of 5 formed and in single file we made our way over Cross Fell and down to Greggs Hut for some of Paul's & John's now famous chilli noodles whilst having experienced one of most beautiful sunrises ever.
Graham, Will and myself didn't hang around and started the long descent to Garrigill where we met a lovely mother & daughter who invited us into their home for breakfast…. we settled on coffee & homemade flapjacks…. they were offering this to all competitors wanting nothing in return & they do it every year….hats off to them. 6km to Alston along a lovely riverbank on a crisp morning …. the nicest lead into a Cp along the way.
Alston was a somewhat quieter Cp with the field more spread out and reduced numbers. Excellent food & staff. Again with 7/8 hours to spare over the cut off I set my alarm for 2.5 of sleep but slept through it for another 1.5 hours…. panic stations. Will & Graham whom I had arranged to leave with had well gone. Nothing to be done but more food and my feet sorted…. they were in a complete mess now and really hurting. Medics did a great job while I was eating my second dinner & having a good chat with Emiko….. telling her that my youngest son was stalking her all week….he's only 9. In fact she had a huge following in Ireland. She was very tired & didn't have much time to get a long sleep but overall she was as strong as the rest of us.
Out again around 7pm with a probable bivi at Greenhead. These first few hours after a Cp see me in a good place feeling strong. A nice easy to navigate section I soon met up with Leslie and we moved well together with easy conversation. About an hour before Greenhead we caught up with Will & Graham with all of us planning a hour or 2 sleep before tackling Hadrian's Wall.
Arriving at the public toilets there between 4 & 5 am we all started boiling water for a hot meal & got our sleeping bags out for a few hours sleep…. the stench from the men's toilets was too much for a few of us so we slept out in a covered area…. it was -5. Waking up around 8am I made some porridge whilst trying to defrost my shoes which had frozen solid while I slept….the hand dryer in the wc was put to good use.
Beautiful morning on Hadrian's Wall with nobody in sight. I was moving well but did have to stop a few times to drain & tape blisters. The downhills were agony on my feet which were now a problem. Off the wall and the long forest sections to Horneystead Farm for some warm food and coffee. There I met with Peter Hoffmann and continued together to Bellingham feeling better after the food stop.
Arriving in Bellingham around 6pm the Cp was like a war zone….. bodies looking shellshocked, kit everywhere and a big queue for the medics…. nothing to be gained hanging around here as there was no chance of sleep. So food, kit check by safety team and got a great job done on my feet by the medics. Out the door around 9pm with Graham & Will and a vague plan to bivi in the forest section on the way into Byrness
We moved well together but tiredness hit us around 2am near the end of the detour around Padon Hill so as soon as we got into the shelter of the forest we found a spot under trees and got our sleeping bags out for two hours sleep……our last before the finish nearly 24 hours away.
Arriving at Cp5.5 in Byrness around 8am, meeting Will's parents outside, we were given drinks & a hot meal by Colin & Joyce the owners of the B&B where the checkpoint is set up……great supporters of the Race for many years…. many thanks. Max 30 minute stop so back out for the final push of 44km over The Cheviotts….we had about 7 hours of daylight but this was going to take a fair bit longer than that.
Straight into a hard uphill climb for a few kms making our way to Hut 1 & a chance to make up a hot meal. Everything was now taking forever with us frequently having to stop just to sit & close our eyes for a few minutes. My feet were in absolute agony…. just think of walking on lego in your bare feet for hours on end. We met some woman with her dog along the way who was planning on entering next years event…..I think she was shocked by the state of us. Hut 1 arrived so food and a drink and back out relatively quickly……About 5/6 hours to Hut 2.
Weather cleared up with some views and spectacular scenery especially around Windy Gyle …..we were really up in the clouds. The light began to fade along with our energy ….we were running on empty with nothing left. The ground became icy just before Hut 2 so traction aids on and soon we were greeted by a welcome party from Hut 2. Safety crew led by Steph ( mad as a brush in the best possible way) & Laurence came out to meet us & walk us into the Hut. More food and the final 10k or so ……about 3/3.5 hours of agony for my feet.
Finishing was only a matter of time now and the realisation of what was achieved was beginning to dawn on us. It was quite emotional but that was probably more to do with tiredness …. real men etc. Orla had phoned me to say that Sean had got the ferry over & driven up to the finish with his wife and two friends Brian & Brian….. This news was completely chocking me up especially since I had no plan made to get home or anywhere to stay.
An amusing drug dealing exchange with Graham on a Scottish mountain, worthy of a cameo in Trainspotting 2, had us ready for the final sprint to the finish….We managed to run a whole 200m to a great crowd of supporters and spine crew. Wall of The Border Hotel kissed and a pint of Guinness handed to me by one of the Brians…. down in one go….how it stayed down I will never know.
We ended up having a few pints in the bar & Sean had booked a room upstairs. It was so nice just sitting with friends, a few drinks & a stupid grin on my face.
Aftermath
Three weeks later I'm still coming to terms with it all. Physically the tiredness was something else. If I closed my eyes at all during the first week I was gone asleep. Every night I was waking up every 2 hours or so in a panic thinking that I was still out there on the course. This passed after about 2 weeks. Blisters took about a week to dry up and I'm now the proud owner of 1 toenail. No feeling in my big toes yet. I wore a pair of runners 3 sizes bigger for about a week waiting for swelling to come down. The only real injury is my knee which troubled me on day one….it's some tendon damage in the back of my knee which will take time to sort out but in the meantime is quite painful especially at night.
Emotionally its been more of a rollercoaster. On the journey home I read through all the messages of support and it created a nice timeline of events during the week and some realisation of what I had done. In my head I just went out for a long "run" but reading the messages back tells me something else…. how family & friends went about their daily lives…work, school, travelling to various part of the world for an entire week and all the time I was just moving north, eating or sleeping…..but yet they were all glued to my little dot on a map. Haven't got my head around it yet. Honestly I am totally humbled by all the kind words from everyone and especially with so many of them coming from much more talented & accomplished runners than myself.
What went right……Well before heading over to the event I knew that so many things had to go right if I had any chance of finishing. Mentally I think I'm fairly strong & can push through the bad times. Breaking the event down into more manageable sections worked well for my sanity…..ie getting from Cp to Cp with X number of hours to spare & tried to keep that cushion all the way….. being tight on the cutoffs all the way would have affected me mentally & physically through reduced sleep/rest time. The weather was another major factor…. heavy snow in the Cheviotts would have dented my chances seriously but we were lucky IMO that the worst of the weather was upto Middleton and after that it was just very cold but dry. Kit wise everything worked well with the exception of my tinted goggles. The best bit of kit was my paramo jacket. I wore this most of the time with just a marino wool top over a Bjerne long sleeved string top and was warm all the time…. I didn't let it get wet & wore a Columbia outdry jacket during the heavy rain over the first few days. Sleep wise I think I did ok….often I pushed hard just to make it into a Cp a few minutes earlier which resulted in more rest/sleep..fairly obvious but try to tell that to your body when you are trying to push on. I left myself open to the idea of biving out when totally knackered & the two times I did this made a huge difference to my pace afterwards. Feet wise I don't know what else I could have done. They were ok upto Middleton and after that it was managing them as best I could …..& suck up the pain. In all I feel lucky that most things went in my favour and gave me the opportunity to finish.
Finishing up with Graham & Will was great …..Mentally I don't think that I could have done the Cheviotts on my own & I think that the 3 of us worked well together & had good craic along the way. Well done to Leslie on his Summer/Winter Double & the best of luck on his future exploits. Emiko is a fantastic woman and came so close to finishing……. hopefully she will be back again to get that medal.
The Spine crew… safety, checkpoint, medics, transport etc are a special bunch of volunteers. Each and every one of them will just do about anything to get you to the finish line….safely. Scott & Phil should be so proud of them. They really make the race.
Sean my running pal will be back again and is already tempting me by saying a two time finish would be special…..way too soon pal.
Orla and the kids thanks for all the support over the years. At times juggling work, kids & sport can be difficult but we manage well….. I will let you know soon about the next adventure. Would I do it again? … as I finished never but as time passes…….
…..Seven months on & I have entered The Challenger again in 2020. Luckily the full was sold out so wasn't an option. Only back running since May with long recovery from above knee injury. After an MRI scan showed up torn ligaments and cartilage (again) running was not possible but hours of turbo training & gym work have paid off so I'm back in the Dublin/Wicklow mountains with Cody (dog) who had put on a few lbs whilst I was injured.
Roll on January 2020
Written by Dan Milton - https://danmiltonblog.wordpress.com/
The previous months had been spent worrying about gear, fitness and strategy, but now I feel relieved as I am stood in Edale barely noticing the rain falling around me.
I bid farewell to my girlfriend Claire Turton, thank Andy 'Sprog' Milton, my little bro, for his surprise appearance and head off to the start line with the rest of the over excited Spiners.
And then just like that we we are off….
I started calmly at an easy pace aiming at 15hrs for the first 45 miles. The weather is shit which becomes more apparent the higher you climb. Underfoot conditions were horrendous but I was fresh and in the company of fellow southerner, and Spine vet, Andrew 'Basil' Heaney, so the miles ticked by easily enough. The early over-the-knee depth river crossings and slushy hills are still amusing, playful challenges at this stage. Fellow competitors can, for the most part, be seen along the route as well as a few Trigger racers (including Joe Faulkner). Road crossing were often accompanied by MRT support and I even bumped into Dragons Back recce buddy, Laurie Jones, who was out in the driving rain to cheer us on. Thanks mate.
CP1, Hebden Bridge, came along fairly quickly (14hrs20). The descent into the CP was as horrifically steep and muddy as described and sadly no one came out to point me to the mysterious 'secret path'. The plan was to sleep early and keep ahead of any sleep monsters but this turned out to be a poor call. The dorm room was sweaty, hot and full, meaning although I did sleep a little, it wasn't ideal and I should have pushed on, as I believe Basil did.
Post CP1, things started well enough although weather conditions hadn't improve. I pushed on by myself through muddy waterlogged fields following the various diversions in place. Dot watchers popped out at various locations and cheered me by name which is odd but lovely.
At Malham, as darkness fell I picked up some good company in the form of a merry band of PhD-wielding race snakes, one of whom I knew by sight as Nikki, the huggy race medic from Dragons Back. I felt like a right dummy in this crowd but they were a fun group and allowed me to join them, even after I failed my singing audition. It was great to be in good company as the weather took a turn for the awful. The limestone pavements were a menace, being both slick and fully exposed to the strongly gusting wind and driving rain and by Malham Tarn, the weather was cutting through my layers and I was getting pretty cold but spirits are still high.
Unexpectedly, the 30 min time limit had been lifted at the Malham Tarn CP, Pen y Ghent was also declared unsafe due to the winds and a diversion was put in. We stay long enough to add layers and eat a dehydrated meal before leaving in the same group.
Fountains fell was next on the tick list and and is one of the more challenging climbs on the route. I was really starting to suffer with a tendon issue to my left foot/shin. It started as a slight ache, possibly caused by an over-tight shoe or double socks crammed into Roclites, but coming off of Fountain fell every foot lift generated a shot of pain from foot to knee. It was debilitating.
Climbing the PyG on route to the detour, we add a small detour of our own before realizing and correcting to find the official diversion. At this stage, in pain I could no longer hold the back of the Brainy Bunch so I let them go and head to the new Horton CP on my lonesome.
At Horton, I was ready to see a medic but sadly none were present. I had pretty much decided I was done but had enough time in hand that I decide instead to kick my shoes and socks off and try and sleep it off with foot raised on a chair. I slept a decent amount and walked around a bit but it didn't seem to improve things much. In a final ditch effort, I decided the best option would be to walk/hobble the next 14 miles along the fairly tame cam high road to CP2: Hawes where I could see a medic, find my drop bag and if needs be call it a day. There was no way I was going to continue to push an injury for another 180 miles.
On the climb to the cam high road, now in the light, the foot was unsurprisingly sore. I had seriously loosened my laces, changed into a single normal pair of socks (which gave my foot far more space) and also popped a couple of paracetamol. At some stage on the Cam road itself, the drugs kicked in, the pain lessened and I started to jog a little. Moving, and the loosened laces/socks, seemed somehow to flush through the problem a bit. It didn't go away entirely by any stretch, and remained sore for the remainder of the race but the serious shooting pain did for the most part pass. I was strangely proud of my approach to this problem, in previous events I feel I may have been too quick to call it a day but here I managed my way back into the right head space and mitigated the problem.
On arriving at CP2: Hawes, with Peter Gold and Mandy, the crazy sheep lady, I had pretty much decided I was good to push on.
I fed my face, sorted my batteries and then left with Geoff Partridge, who I knew from previous events. My projected timings were now well out and I knew I would be travelling by night and likely sleeping during the day which was unfortunate.
Shunner Fell loomed in the distance. The climb was fairly uneventful as we made the most of the remaining light. Headtorches went on close to the summit as we fought across the paving slabs which were more like an ice slushy river than a path. The bottom of the track leading to Twaite was covered in fist sized ankle breaking, hateful stones with a good foot of water running across the top of it. Geoff and I survived unscathed but not without some cursing.
I had anticipated the next section, from Thwaite to Keld, to be soft valley running and was rather looking forwards to it but how wrong was I! The terrain was really rough, permanently climbing or descending the steep valley sides, littered with foot teasing rocks and slushy mud. By Keld, Geoff was a sleep deprived zombie. We negotiated with ourselves for a cuppa at the specially opened village hall a couple of hundred meters off the PNW.
On entering we found ourselves confronted by heaven! A toasty fire, a selection of goodies to feast upon and some comfy wicker seats. We dried some gear, got a cuppa, ate some soup and an amazing almond slice. Geoff declared he was going to dose for 15 mins, he then decided to get his sleeping bag out and 15 minutes turned to 60, despite us having agreed previously that this definitely wasn't the plan. I let it go and took the hour's sleep here, rather than the planned Tan Hill, and woke to Geoff's alarm. I gave him a nudge but he rolled over uttering some profanity or other and went back to sleep. I got up and left him to count sheep just as another larger group walked in the door.
I arrived at Tan hill in good time having felt pretty strong, and hurried inside as the weather worsened. I ate a little and as I readied myself to leave the warmth of Tan Hill watched jealously as Peter Gold settled himself down for a snooze muttering something about sleep strategy's. At least he was now covered up and not wandering around in his pants and string vest.
I had been dreading the next super boggy section and even with a friendly group of folks (including the crazy sheep lady, Mandy) I struggled. Between us we nailed all the correct lines but the night was still a horror show of boggy ground and sloppy fields that seemed to last an eternity. Sleightholme Moor was bad but I had anticipated the route improving after that, however I think Cotherstone Moor was pretty much just as bad. For the most part I hated it all and swore the Spine was dead to me…. Who the hell chooses the watershed line as the route for a long distance path anyway and why would people run it in the winter when the mess of bogs are at their worst?!?
As dawn broke we found ourselves at a lovely little camping barn, called Clove Lodge, that had been left open specifically for Spine racers. To me, this place felt like a trap I would never have escaped from. The group wanted a cuppa with the exception of Mandy and I who wanted to push on. As luck would have it, we found a new group who had just woken up and were pushing for Middleton full of beans. We hitched our cart to them and spun up the overdrive in an effort to keep up until we reached CP3, Middleton.
The original plan had been to stop for 5'ish hours at each main CP; 3 hours of sleep and 2 hours of eating and admin. The long Horton stop had messed things up and 'the coach' (Nicky Spinks) had informed me by text I was to push out of Middleton ASAP to make the most of the light and keep clear of any cut offs. A big issue here was my 4 rechargeable head torch batteries were now out of sync with the charging plan (long stop at Horton no charger, followed by short stop at Hawes hadn't got them to full). I was exhausted at this stage and felt a little like I was losing control of my race which I found quite upsetting. I think I managed 47mins sleep whilst I charged batteries and then it was time to leave.
Leaving was DIFFICULT but I had a few hours' of light remaining and so did as instructed. I made it out the door and down the road before a car pulled over and out jumped photographer and old fb friend Gary Richardson. I have never actually met Gary in the flesh but have been chatting to him and admiring his photos for the best part of a decade. It was great to see him and, despite my sleepy fuzzy head, it was a real boost.
A little nav confusion and a 'help me' phone call to super girlfriend Claire helped me escape Middleton along the road diversion and even on little sleep, I felt like I was fairly bopping along. Low and High Force were flowing strongly and it was great to see them having seen so many pictures posted by Gary, I was, weirdly enjoying myself again. Along the trail, I caught Toby Simpson and together we enjoyed a cereal bar from a lovely dot watching farmer before we separated again.
Soon the inevitable, and ever present, darkness started creeping in as I was hopping from boulder to boulder along the river towards Cauldron Snout. Full darkness struck as I climbed up besides Cauldron Snout and I can tell you it was a hairy scramble. Now I suspect there is a better line that doesn't follow the side of this immense body of fast moving water but I wasn't on it, I was hugging the edge and moving VERY carefully. Had it been icy I wouldn't have attempted this line as a slip would have put me in the drink and I wouldn't have come back out. Either way I made the top and I was, briefly, WIDE awake!
As I circled the massive water outflow, on a decent vehicle track I looked back and could see Toby, highlighted by his head torch, picking his way up the same line as I had just managed. It looked no less hairy than it had felt.
From Cauldron Snout, I tiredly pushed on, firstly on decent vehicle tracks and then on small trods winding along a river, High Cup Nick took an age to reach. Sadly I arrived in the darkest of night as the map showed what looked to be awesome scenery but Dufton was calling and the legendary Penny Pot Cafe.
The trail down to Dufton was longer than anticipated and I was having some mild hallucinations by the time I arrived, so had did a double take when out popped both my little brother (Sprog Milton) and Lake District buddy Victoria Miller. What a lovely surprise! I checked in with Lindley at the CP, dumped my bag and headed off for a sociable cooked breakfast with the pair of them, plus a variety of other sleep deprived, mildly hysterical and snorting Spine racers (Looking at you Fiona Ward and David Lynch). Wow, that food was amazing and I can't thank the Penny Pot cafe enough for opening for us.
Back at the Dufton CP, the 30 min limit had once again been lifted to enable competitors to tackle the reportedly poor weather on Cross fell. It was advised to tackle it in pairs, if possible. I stripped off my shoes and socks to check on my overworked feet and then waited for the attention of an equally overworked medic. At least it got me another couple of minutes sleep whilst waiting.
Upon waking from my doze, I was surprised by none other than big bully, coach extraordinaire and legendary fell runner Nicky Spinks, come to pass a kiss on from my girlfriend (Claire) as well as a kick up the arse. I must confess I felt pretty lame laying on the floor waiting for a tiny blister to be re-taped whilst Nicky stood there but it was lovely to see her and claim my kiss on the cheek, even if she did essentially kick me out of the CP shortly after with new Cross Fell buddy, Toby. I left feeling pretty empowered by friends, in good company and loaded with 'weird o'clock' breakfast.
The Spine doesn't have any truly big climbs to tackle but Cross Fell is about as close as it comes and is the highest point on the route, at a shade under 900m, but what the Spine lacks in elevation it makes up for in weather. The snow was deep, there was ice, unfortunately there was still also bog and standing water but there was also a ridiculous and exhilarating wind. I was having a ball and new chum Toby was great company being as calm and cool as a cucumber so we made good progress even picking up another two chaps who didn't seem to be having quite so much fun (one has lost his glove which we helped remedy).
My sense of fun did eventually begin to waver but the idea of Greg's hut and its noodles called me ever onward. As with many things on this route though, no sooner do you look forwards to getting somewhere than it seems to get further away like some twisted and evil game of cat and mouse.
We did eventually reach the hut and what an oasis it was! Warm and full of friendly folk dishing out noodles with John Bamber's special chili sauce. Post noodles, I thankfully accepted a cup of tea, only to fall asleep, sat up, with it in my hands. I probably only dozed 10 mins like that but was groggy as hell afterwards, so much so that when I went to pick up my bag the dammed thing tried to pulled me over which earned me a suspicious glare from the resident medic. Following that embarrassing incident, I quietly slipped out whilst the medic was preoccupied and chased after another group of folk down the hill (Toby had left whilst I dozed, the sneaky bugger).
As we descended towards Garigill, the light began to sneak slowly back into the sky, however, the usual wake up kick that gives didn't arrive. Instead, I spent most of the descent having my first ever true bout of strong hallucinations… The trails were bordered by massive barb wire topped prison fences, the rocks underfoot were all alive in various ways, squiggling around and there were strange goings on on the hillside. All of this took place whilst I essentially sleep walked my way down the trail. A very surreal, and slightly hazy, experience which only stopped when I was greeted by Spine Safety Team (SST) member and friend, Tim Laney, who had popped out to inform us of a lovely Garrigill local who had opened her house up to feed us toast and tea. Honestly, the support both from the race and the local community is above and beyond and it really makes this event what it is.
With only a few miles to go to Alston, the promise of sanctuary and my freshly woken mind operating to some degree I pushed on hard and arrived to be greeted by Running Granny, good friend and Spine CP volunteer for the week, Angela White.
A swift feed, watering and some admin, and I crawled into a bed for 2 hours sleep whilst all my gadgets charged but I woke after 90 minutes with absolutely no idea where I was or what I was doing there. I'm not even sure, had you asked me, if I would have known my own name. It was massively disorientating and quite distressing so I messaged Claire.
After stumbling around for a bit eating and stuffing coffee down my face, my mind came back to me and I pushed out of Alston. Listening to music for the first time gave me a proper kick, I was back on it and motoring! Up hill, down hill, along river: I was hot to trot and loving life again.
Just before Slaggyford, I joined a few other Spiners and then bumped into Joe Faulkner for the second time. This time he was dishing out hot squash to all and sundry.,cheers Joe! Not much further on the Angel of Slaggyford charged out of her house in running gear, proffering sausage rolls and banana cake, apparently having seen our dots closing in on her house she had put in a 7 min mile of her own to get back and feed us. What a hero 🙂
From here on, things got worse (although random boxes of food by gates for Spiners was awesome). Our group was making good time through the darkness but the terrain deteriorated back to boggy shite that went on and on! Blenkinsopp Common was horrific… and I thought the post Tan Hill crud was bad!
Eventually, after years and years, we left the bogs and with great relief started traversing slushy, sodden fields on our approach to Greenhead and its SST team situated by the public toilets. A short stop here with some snoozing in the toilets for some, and some food and a hot drink for me, and we were off again to push along Hadrians wall.
To start with, I really enjoyed Hadrian wall; the walls were interesting, the terrain underfoot was a massive improvement and the hills weren't worrying me too much. Our group eventually split as sleep monsters claimed their souls but I pushed on feeling good. I obviously hadn't read my map properly though as this section of wall goes on far longer than I anticipated. The sleep monsters finished devouring my erstwhile companions and then came charging along the PNW in search of me, leaving me desperately eyeing up any likely looking spot of ground for a power nap, but the weather was 'unpleasant' enough that I didn't want to stop. Minus the sleep monsters, and in day light, I suspect this section of route would probably have been a joy to traverse.
Turning north off the wall the underfoot terrain once again deteriorated into bogs and churned up forest tracks. A quick 5 min power nap on the pine needle covered forest floor did little to revive me, but the promise of shelter at Horneystead farm pulled me forwards across the horrific terrain.
Horneystead farm appeared in front of me eventually and I was greeted in the farm yard by its resident angel who escorted me to shelter and made me a brew. Here I found a slumbering heap that turned out to be Steve Jones. I didn't want to sleep here but push on to Bellingham and grab a proper 5hr turn around, so post brew, the angel guided Steve and I across the dawn lit farm yard before heading off for her shift at the local hospital.
Steve suggested running the downs but I had no run left in me so I watched him disappear into the distance before eventually pulling him back as I put some effort in on the climbs. We arrived at Bellingham together where the brilliant volunteer pit stop crews spun into action feeding us and tending to our needs. 3 hours sleep later, I pulled my sorry self out of bed and went for breakfast. Being offered food choices by the brilliant volunteers left me feeling massively overwhelmed and I had a wobbly bottom lip moment, sorted by a hug from the ever lovely Angela White, before I was stuffed with food and tea. What an emotional bubble I am!
Whilst in Bellingham I heard CP staff chatting about Nikki the huggy medic from earlier who had flown to Byrness in 5hrs and was now placed 4th woman. Feeling pretty good now, I thought 5 hours sounded like a great target to aim at, so off I went from the warmth and shelter on a mission. No competitors in front were within catching distance and Steve Jones had only just emerged from a dorm as I was readying myself to leave so I was on my own.
Quick stop at co-op and it was on!
I still had a little light to play with and I was motoring, working my cheat sticks hard on the climbs, running the descents where I could. Some of the ground was shitty, some was paved but I didn't care, I had 5 hours to get to Byrness and the terrain flew by under my feet. Darkness inevitably came but still I was on it! The hard packed forest tracks above Byrness arrived and I found myself running almost all the descent and to hell with the battered feet. I was having a great time and was being thoroughly amused by all the little hallucinations playing out around me, my personal fave was a school of baby African animals swimming across a puddle together but there was plenty to choose from.
Roughly 5 hours after leaving Bellingham, I was approaching Byrness when a shadowy figure stepped out onto the trail and scared the bejesus out of me. It was, once again, my little bro… Nice! He walked with me the 100m or so towards the CP along with the resident SST members who were briefing me on the 30min turnaround and taking food orders (bro stayed outside in the rain).
Byrness CP was a smoothly oiled machine… Arrive – seat – medic chat – tea – kit check – soup – tea – Depart.
My little bro was still waiting for me outside when I emerged and we had a nice little chat as we walked back towards the trail, it was lovely to see a familiar face every time one appeared and it's a real boost but I couldn't hang around as I was still on one and only had ONE section of this slop fest to complete. 'See ya later bro, my poles and I have business to attend to!'
I made short work of the sloppy climb and fairly skipped along the trail to Hut 1, where I found none other than Tim Laney. Tim didn't really want to get out of his warm bag but eventually he took pity on me and made me a brew, I think almost as much to get rid of me as anything.
Sitting in Hut 1, even for that short time however had done me no favours; I left feeling more tired than I did when I entered, I had spilled the wind out of my sails. The temp seemed far colder, the slabs were now icy but the bogs hadn't had time to freeze over properly so every step was a gamble and I was now wearing pretty much all my warm gear. In my head, hut 2 wasn't too far; in reality, I had to really struggle to get there.
At some stage I slumped into a bit of heather to grab a quick 5 min power nap but my befuddled brain conjured a charging naked warrior to scare the hell out of me, so up I got and groggily slipped almost immediately into a deep bog up to my waist… SHIT! Well and truly awake now I thought I could actually be in a bit of trouble but a bit of a push on and I had generated enough body heat to sort me out.
The next problem for my sleep deprived brain was why I couldn't see very far! I could barely see from one side of the current bit of bog to the other, the wind driven rain and clag weren't helping and my sleep deprived brain decided maybe I had gone wind blind. Obviously all the safety talks about goggles had weaseled their way into my head, so I donned goggles which only made things worse… After what seemed far far too long stumbling around half blind, I remembered I had another head torch in my pocket so I pulled that out and the brilliant bright beam that jumped forth was a revelation. (It turns out my new torch has a 15 lumen 2 hour emergency mode when the batt is low, who knew! – Petzl Reactik).
Cometh the light, cometh the man! RAR! Head torch giving out a fair old lick of light I felt reinvigorated and I fairly flew up the long ascent to the corner under The Cheviot proper. Reaching the top, my new found energy deserted me as fast as it had found me… I was again exhausted and very sleepy but I managed to pick out the trail down to Hut 2 where I was greeted by 3 member of the SST all wrapped up in soft warm bags… I wasn't at all jealous, Honest!
One of the SST kindly crawled out of their warmth and made me a brew, as two other folks breezed into the hut, turning out to be race photographer, Jimmy Hyland, and his Spine social media guru side kick (Andy?). It seems the camera wielding pair had come up to see sunrise which they were worried they may have missed. All of which was a bit of a surprise to me having arrived in the dark what seemed only 10 minutes earlier.
Brew finished it was time to finish the Spine off!
Jimmy pleaded with me to allow myself to be photographed which I grudgingly conceded to (I begged him to take my photo really) and with that I threw open the door to Hut 2 and exited to the most astonishing view of the entire event… A stunning sunrise and crisp white feathered hills, dappled with morning light. They didn't at all resembled the boggy, icy, hell hole I had just fought my way out of, what liars!
It didn't matter though as I felt like a computer game character given a power up! The sleep fog receded and I grew to be at least 8 feet tall with legs like train pistons… The first step reminded me I was, in fact, still myself., complete with sore feet and various niggles… but I was going to finish the damned Spine Race!
I set off down the hill at 'top' walking pace, and even managed an occasional jog, spewing the random, and undoubtedly garbled, contents of my mind to Jimmy as he skipped around me with gay abandon, snapping away with his camera. I passed the Schill with barely a second thought where I was interviewed for Facebook. No doubt some wise words were uttered.
At some stage I remember Nicky had amended the plan so I should aim for sub 150 hours, so a little math and I realized I would have to be finished by 10am. On I pushed, harder than ever… I was on a time limit and it was CLOSE! I asked Jimmy if he thought I could make my time but he refused me any assistance, so I upped the pace to full steam ahead… My piston legs were pumping hard, my cheat sticks a whirl of erm… pushyness!
I flew down the trails flying over the, now mostly iced, boggy sections, past farms and on to the tarmac. How much further was this damned finish line anyway?
Photographer Jimmy ran off ahead but, instead of letting the little bugger go, I upped the pace again and tried, vainly, to hold him. I would make this damned, ridiculous, arbitrary time. In my mind, I was now doing 7 maybe 8 minute miles (fat chance). I was even running up hills! Then I saw Jimmy disappear up another hill to my left that I recognized as the 'last hill'. I pushed hard up the hill for a few meters before seeing it kicked for a second time. I looked at my watch it looked back… 09:59hrs, Bugger! No way I was running this if I wasn't going to make my arbitrary time so I slowed to a swift walk until I crested the rise and caught sight of Kirk Yetholm in all its glory. I managed to get back to a trot but my glorious piston legs were back to being wet noodles. Then there it was, 'the green!'. I had seen it in many finisher videos, where dots had become people again.
I stumbled across the green towards a crowd of paparazzi, cheered by the once again present little bro (Andy 'Sprog' Milton, who was popping up everywhere); Spine volunteer, running granny and friend (Angela White) and southern friend / shouty-banshee-queen (Rebecca Brennan, who was up to cheer her brother Matty Brennan to glory). I rudely barged past the lot of them and collapsed in a heap by the wall of the pub. I was presented with my medal and that was it… I was done… I had finished the Montane Spine Race. Wow, what a ride!
After a lovely cuppa tea, provided by Jimmy, in payment for my brief modelling career, I hobbled bravely inside where I was handed my Open Tracking official finish time by ever present cheeky-chappy, James Thurlow. Now I was sure I had missed my arbitrary time but this magic piece of paper stated 146hr 11mins! I queried it with James who did some fag packet math and confirmed the time. Dunce hat for me, I was always crap at math!
My original goal had been sub 145 hours, but after my Horton foot issues that time went right out of the window and I was, at some stages, nearly 9 hours off, but somehow I had pulled some of it back. Feeling quite smug, I ate my weight in soup and crisps, laid on the floor with raised feet and fell asleep. THE END
https://danmiltonblog.files.wordpress.com/2020/02/spine-poses-6.jpg?w=450&h=600 450w,
Written by Neil Bryant for the URC Along with the Race Ultra Pro 2in1 vest, I received the brand new Trailroc G 280 shoes from inov-8 as free samples to run into the ground…

Written by Neil Bryant for the URC Vest with 10 litre pocket clipped in place on the rear As mentioned previously in other reviews, I have been a Salomon vest user, and…

Written by Tremayne Dill-Cowdry - https://dill-runs.blogspot.com After Western States 2017 I still felt incomplete. Yes I'd finished, yes I got a buckle but it wasn't the race I had wanted. I had…
Written by Neil Bryant for the URC I feel very lucky to have got my hands on a Gecko race vest courtesy of Montane. My only previous experience with Montane vests…

Written by Gene Beveridge - https://genebeveridge.nz Woohoo! My first ultramarathon victory! And in no other event than the Tarawera Ultramarathon! This stunning 50km has been my target since the start of October with a…

Written by Michael Miracolo - https://liveslowrunfar.com Ultravasan 90August 18th, 201890 km, 868m gainSälen to Mora, Sweden For those unfamiliar with the stats of UV90, here's a little summary (those of you who know…
Written by James Parsons - https://medium.com/@jampars88_56611 Distance: 81.9km (50.9 miles) Elevation: 4,001 metres Participants: 485 sign-ups, 378 starters, 240 finishers Wind: up to 70mph (on summits) Rain: shitloads Official result: 13:03:05 (19th overall, 18th male). Race prep You know…

Written by Neil Bryant for the URC *scroll to the bottom for update after 785km* Full disclosure. I was given this pair of Kaptiva shoes for free to review. I first saw the Kaptiva when I was…

Written by Stuart Shipley - https://shippo88.blogspot.com The sweetest finish I have learned a new word in the last year or so. Patience. More importantly I have learned what it means. If you are reading…