Written by Olive Toews
Saturday started out beautiful – just the right temperature to start a long day running and hiking in the mountains. My friends from Peace River, Marian, Karen, and Diane were also running. Diane was only doing leg 1, so she positioned herself further ahead in the starting lineup. The rest of us tried to start about halfway through the pack.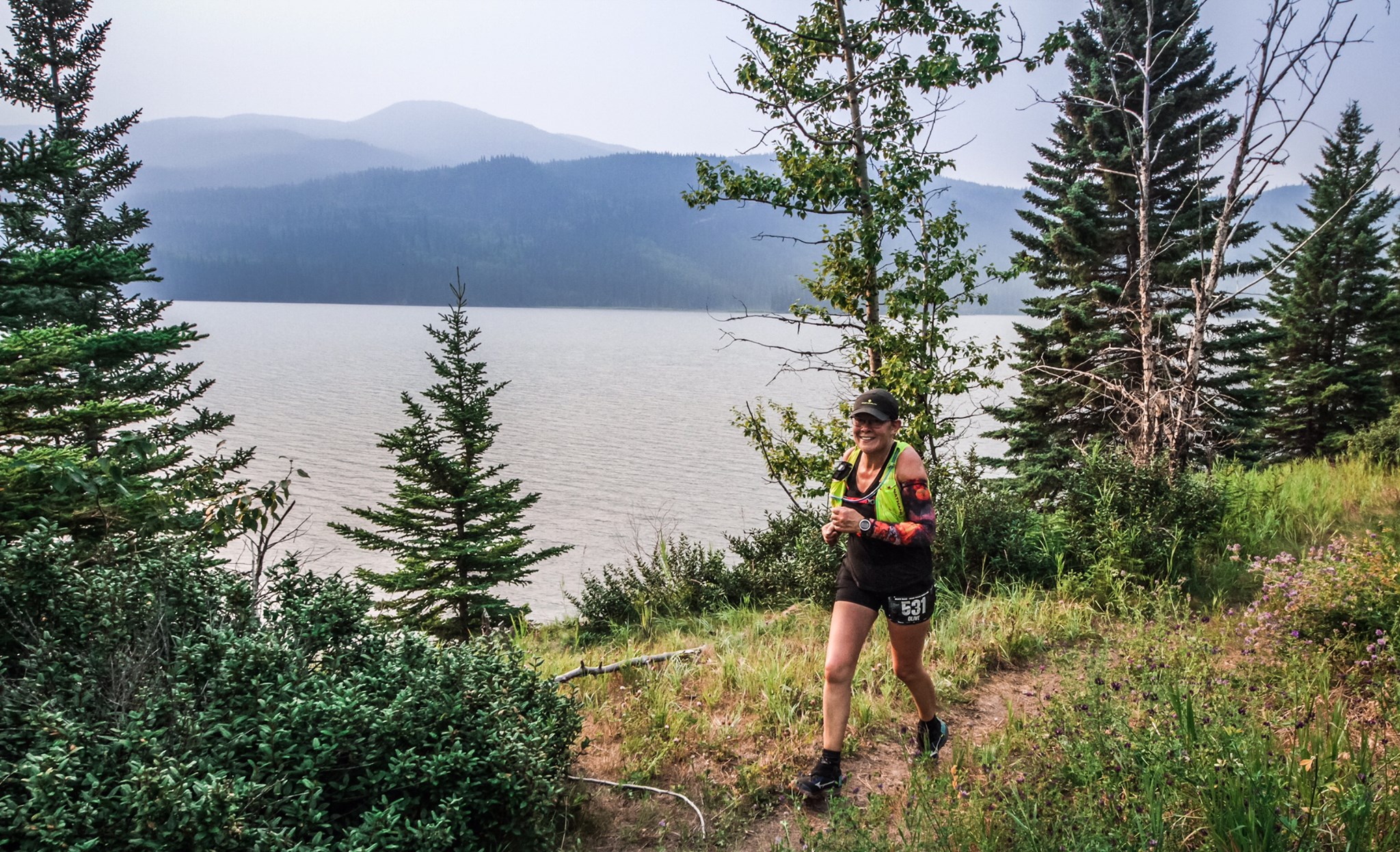 Leg 1 was so much fun…started out trying to keep my heart rate down and take it easy, as I knew there was a lot of running ahead of me yet! But it was a joy to get out there and I loved hitting the trails after we got out of town – pavement is NOT my preferred running surface. When we got to the downhill sections in that first part that were rutty and rooty I was in my element. Felt like I was flying down them (just allow me my illusions!). I was having so much fun and remarked to another runner that I should just be done now, as that was my best part of the race. I didn't realize then how right I was. They weren't too steep either – like what we encountered later on… I feel like I ran the first leg 'smart' and not like an idiot. Apparently, in a race, "don't be an idiot in the first half and don't be a wimp in the second half".
The first aid station came too soon – literally! – as it was at 14k as opposed to 16.5k like we had been told. That messed with my head, as I wasn't expecting it that soon. I had used the washroom just before getting there, so at about 13k. That was the only time I peed until I got back to my hotel room, possibly 9-10 hours later. Oh, and before I got to the first aid station, I had already given away 2 of my salt tablets to a young lady who was starting to cramp. I had started out with 12, thinking that was lots, enough to give away some – not realizing how I would regret that later.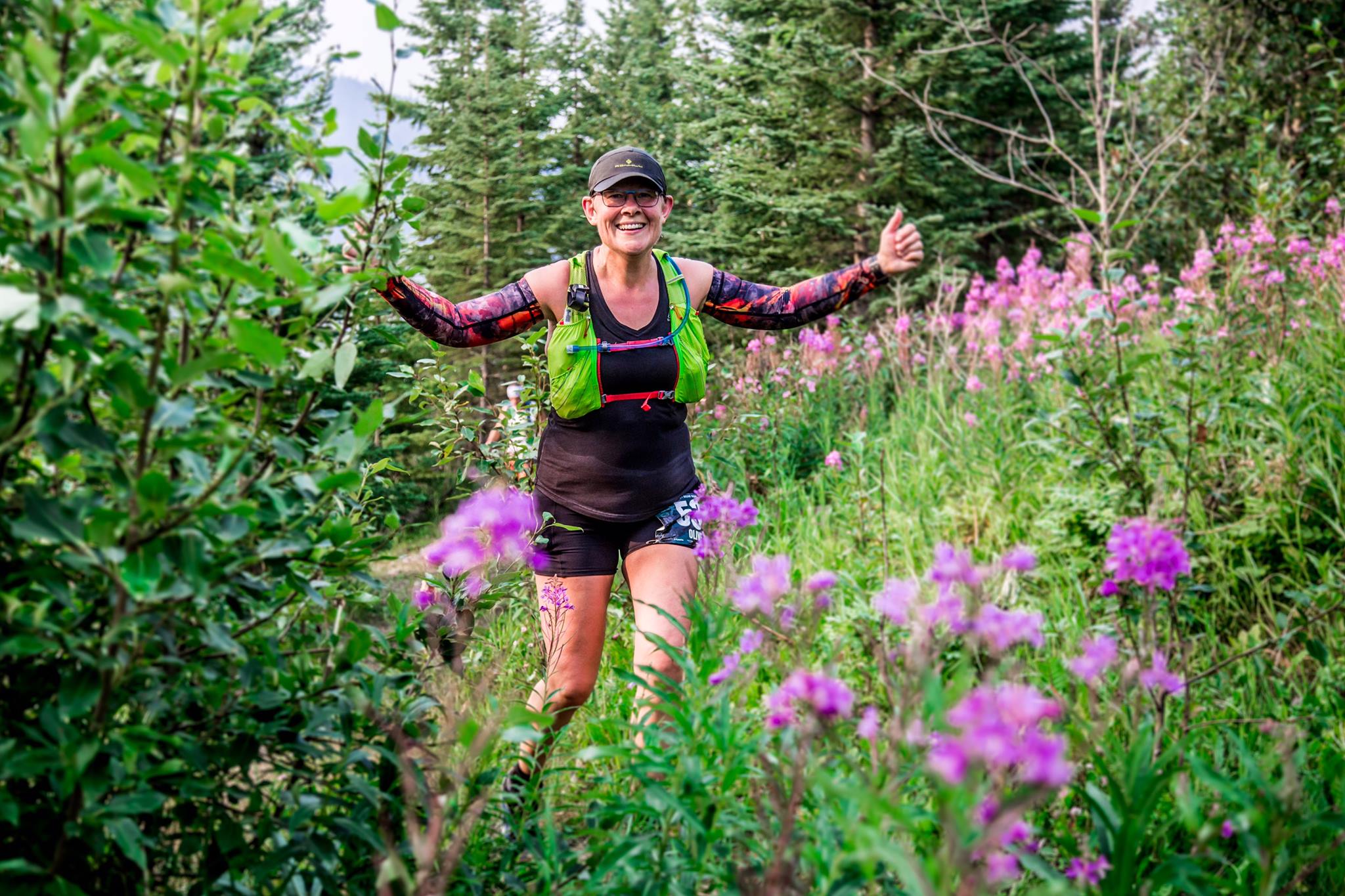 At the aid station it was a mad scramble to fill the water bladder, get the rest of my nutrition, spray suntan lotion, strap on the bear spray, etc. Spent about 10 minutes there, which was still too long. The first part of Leg 2 was fun – the four of us were together again for a bit and we enjoyed the scenery and remarked about how it reminded us of our trails back home behind Walmart! But then we said goodbye to Diane as she had to leave to catch a flight, and we started up Flood Mountain. And we hiked up and up and up Flood – it felt like we would never get to the top of that section where we could then turn to head into Slugfest. At every creek we crossed we stopped to wet our buffs and put them around our neck, and then dipped our hats and put them back on. That felt utterly glorious each time – such cooling relief. I had started taking my salt tablets at 1 hour in and took them every hour after that. I also had Nuun tablets in my water. I sweat so much that I have to be careful to keep up my electrolytes, but somewhere in this section I gave away another 3 of my salt tablets to a guy who needed them worse than I did at that point…
Then we turned into slugfest and started the battle with steep descents that were very dry and slippery. I gave in and slid down a lot of them on my butt, which is what a lot of people were doing. Somewhere along here my left knee started having issues and hurt painfully on the downhills but was fine on the flats and uphill. This was very annoying because usually the downhills are my strength and I can make time there, but not now. We also realized that we needed to start making better time if we wanted to beat the cutoff. We kept pushing and got to the next aid station where we filled everything and then carried on.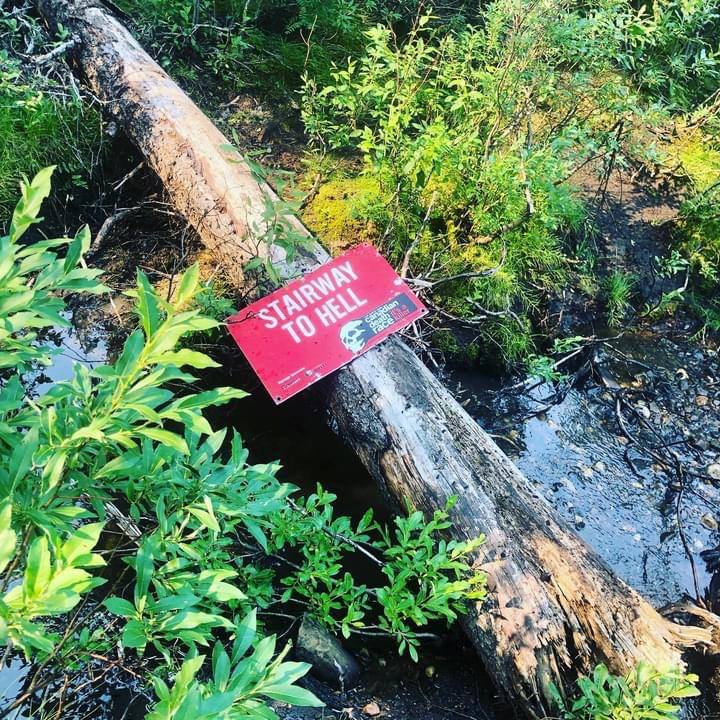 That led us eventually to the climb up Grand Mountain, which was hard…but we persevered and finally got up there. We were almost out of water again, so Marian and I each got a bottle from a support crew that we met there before we headed down the Powerline. Karen caught up to us soon after, we were glad to see she had made it that far too but going down the Powerline we separated. Marian took off as she was feeling good, I was taking a little more time because of my knee, and Karen fell a bit behind. As I was heading downhill, I got a bad charley horse in my left leg above my ankle. I had to stop and let the spasm pass over, and as I carried on, it didn't take too long, and I realized that my knee was better! Somehow that muscle spasm fixed my knee problem – go figure. I have no idea what that was all about. So, then I started running down again. I figured now I could make up time and still get in before cut off. Problem was that my balance wasn't the greatest anymore and the ground was "slippery". Because it was so dry, the rocks and gravel and dirt just shifted underneath our feet. I fell more times than I can count – I have never fallen so much in my life – but I kept running because I just wanted to get down this stupid Powerline!!! I actually managed to catch up to Marian not too far from the bottom, but then I started to "bonk". I had run out of Nuun in my water at the top of Grande, I had run out of salt tablets somewhere in the last couple hours, and I could feel myself deteriorating fast. It got bad enough I sat down to get down the descents because I couldn't trust my balance or feet, then got up and walked the flats. When I made it to the bottom of Powerline, I checked with the support crew there and they had no salt tablets.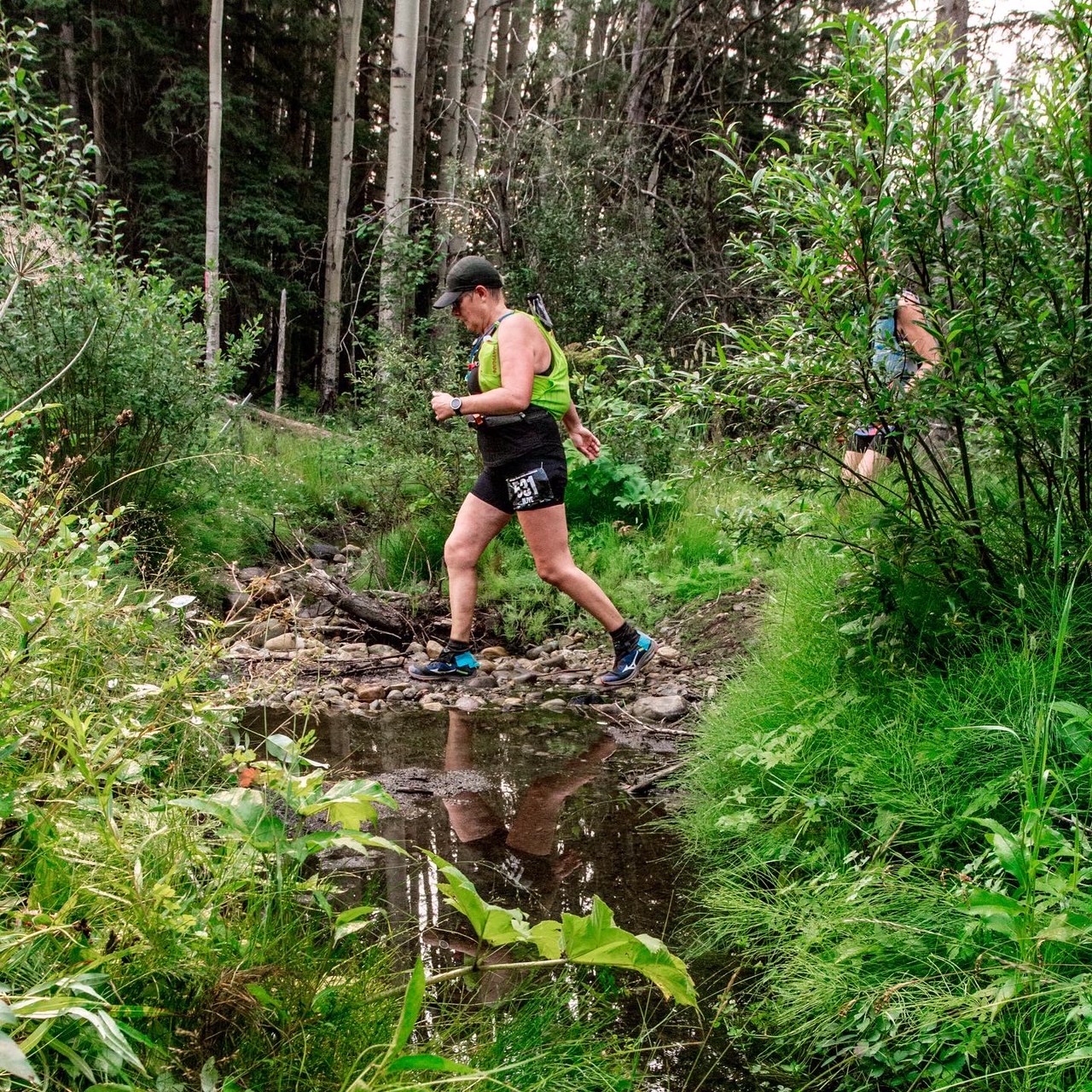 At some point coming down the Powerline I rolled my right ankle – well, I rolled them both quite a few times, but obviously one time I did a good job of it. Never realized until after the race was over how badly I had hurt it. I guess it was the least of my worries. Its healing well, wasn't broken or sprained, very thankful for that. Just swelled up good and got a nice bruise for a couple days. And the portion of my anatomy that I used to slide down the hills and bore the brunt of my falls has lots of bruises and is rubbed raw in a couple places. Nothing that time can't fix!
So, I kept on walking and headed down the trail beside the highway. All this time I was leaning heavily on my poles to keep me upright. I took a wrong turn along the highway, I couldn't tell which way I was supposed to go, and that led me down a steep little hill which was a huge mistake. And I had to get back up it. (We figured out later this was where Karen passed me without knowing it and I'm kind of glad she didn't see me as she would have been so concerned for me and started taking care of me and then might not have finished. When she got to the finish and I wasn't there and she hadn't seen me, she got extremely worried for me. I felt so bad about that…) I sat down there at the bottom of the hill for a while, contemplating my life choices…then figuratively kicked myself back up and got back to the trail. At this point I'm not even walking a straight line anymore…and as I kept going the next thing that happened was my feet going numb. At the point where I couldn't feel my feet anymore, I collapsed on a rock and just sat there. I was done. I had quit. There was nothing left. I couldn't even feel my feet to walk on them and I couldn't stay upright. I shut off my watch at 40k – only 2k left to go to finish. And I could not do it.
I sat there and took my phone out of airplane mode and read the chat between my husband and kids. They were worried sick about me and knew cut off had passed and I hadn't shown up, but they saw my friends had finished. I wished so badly I could finish but I didn't know how to get there. Just after I read those messages two support crew came along on a quad. Previously I had thought when someone came, I would ask for a ride back to the start. But the first words out of my mouth were "do you have salt and water?" and they had both!!! So, I drank down the most awful tasting bottle of water with salt (I'm talking way saltier than ocean water – like gag worthy salty) and they gave me another bottle of water with some electrolytes in it. I tried to stand again but I couldn't stay upright yet, so I collapsed back down.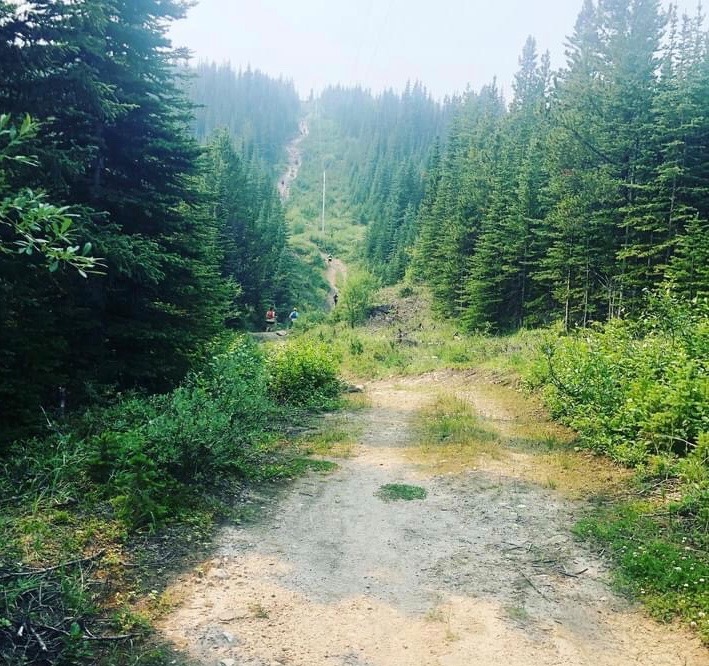 Eventually I got to my feet and started going again. I took my bear spray off and clipped it to my vest because the belt felt too tight. There was another lady who came by right then and I walked with her for a little way. But I felt I was slowing her down, so I told her to go on ahead. She said "no, you're weaving a fair bit, I'll just stay behind you and make sure you are okay". After a bit, I felt I had to sit down again, so I told her to go on ahead. Before she left me, she tucked my bear spray into the back of my vest, so it wasn't bobbing around on my chest. I sat for a while to let the salts and electrolytes help me more, and then I slowly hobbled on my way. I leaned on my poles and slowly made my way into town, through town and back to the finish line. People were cheering me on and that sure helped keep me going. I think its possible I looked like walking death to them!
Those last 2k took forever to finish but finish I did. Luckily, I had remembered to start my watch again, so those 2k are on a different 'run' than the first 40k!
10 hours and 9 minutes after I started, I crossed the timing mat. I even ran the last few metres in – at least I thought I was running – its quite possible that it didn't actually look like running! My friends came out to meet me and watchfully kept close, as apparently they were worried I might die before I made it across. But I showed everyone – I made it across and then I collapsed on the ground!!!
My Garmin showed 2113m of elevation gain and 42.3km. Two mountains. Creeks. Mud bogs. Steep ups and downs. More falls than I can count. One heck of an incredible race that tested me to my limits. Truly a 'near death' marathon…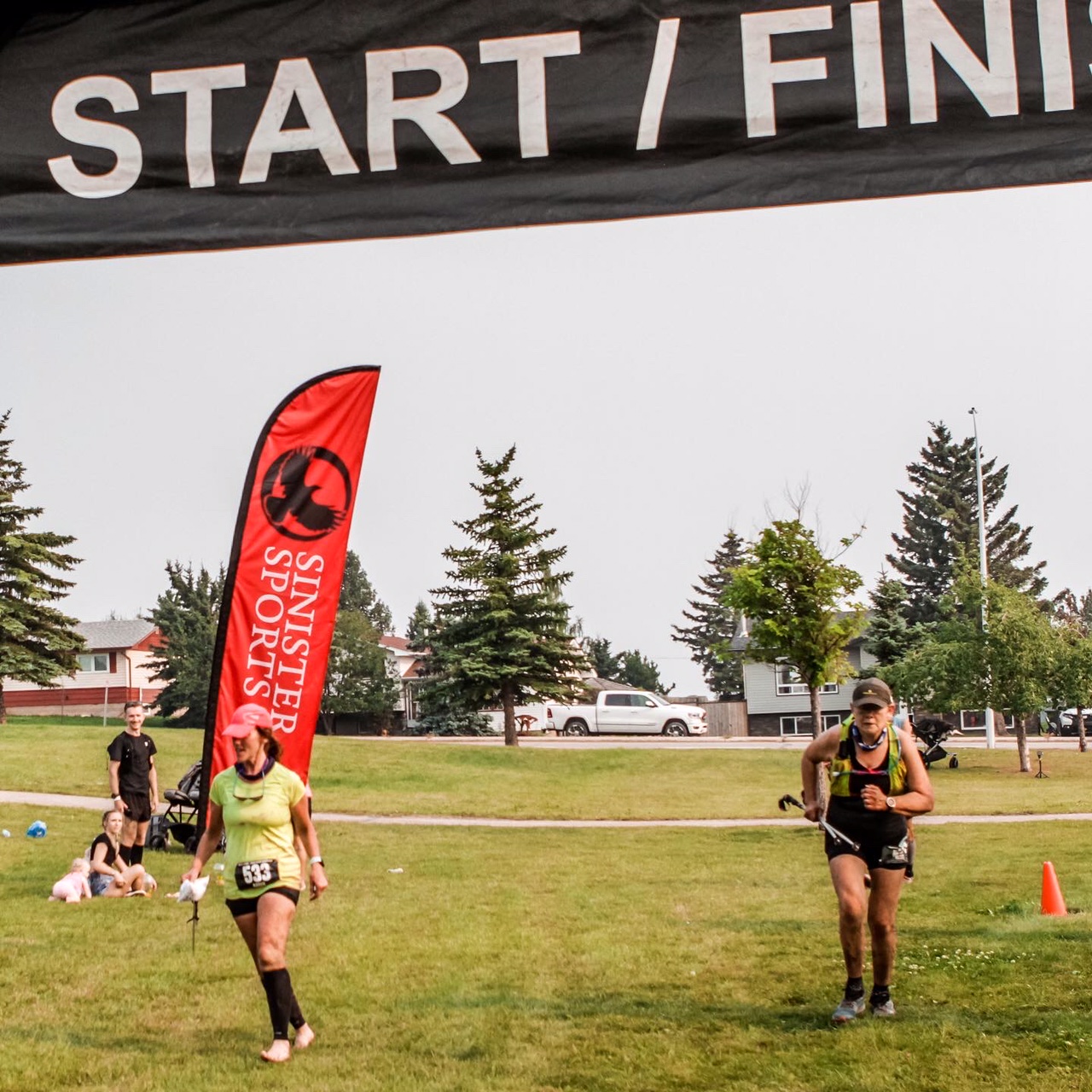 I will end with the words of my son, that he sent me the morning after…
"Giving till you had nothing left
But the fire
And the fight
Kept you going
Though hope was fading fast
And those you love
And people you had never met
Helped you to stand
And walk one more step
When you thought there was nothing left
It was still there within
The strength to keep moving
And reach your goals
That separates the doers from those who only dream
And makes you an inspiration
For your children and all those who know you
For we know that we can do the hard thing
For all our excuses fade to dust in the light of your accomplishments
And we all have more courage to dream
And to dare when you show us the way."
Carson Toews
Written by Hans Mitchell - https://hansaleti.com/
The long awaited November 21 has finally come, my 4:45 am alarm goes off and its time to get going. The weather was comfortable at 58 degrees however its on the warmer side for runners efficiency and the high was forecasted at 79 for the day also a taxing number.
To throw some more dramatic effect on my first 100 mile run, my pacer had to scratch the night before courtesy of 2020. Confident in his connections and the DDR (Dallas Dirt Runners) tribe I wasn't worried.
My wife and I left the campsite area and drove the 10 min to the other side where the race was to start. We got there around 6am and set up in the lot. While waiting for my 8:20 wave to start we prepped and chatted with some familiar faces.
The first loop is a 5 mile correction loop followed by 9-10.5 mile loops for a grand total of 100 miles, 9.1k of elev gain, and 9.1k elev loss. Quite the task at hand.
8:20 arrived and the 2020 Dinosaur Valley 100 Miler is under way! I left with just a 20 oz. bottle of water, the plan was to do that 5 with minimal gear and swap for the vest for the final 95.
The swap went smooth and I was feeling good. I came around to start my 3rd loop and didn't refill my bladder. We are about to see the mistake this brings.
I thought I was drinking regularly but I wasn't, I guess I was distracted but the whole atmosphere. I was starting to cramp and I was confused why. I fished my 3rd loop (26ish miles) and came into my crew area. I sat down and had some of the most intense discomfort and pain ever. I compared it to a kidney stone I had years prior. The diagnosis was severe dehydrated. I wanted to throw up but I couldn't. My quad muscles were spasming and moving all crazy. I was miserable. Jeff came over and rubbed out some of my muscles with some Tiger Balm which was equally excruciating. After all that the goal was to go back out on the next loop for recovery, walk even if I had too. I was not to come back with out finishing my 2 liter bladder in the back, 1 liter in the front and the 20oz in my hand.
I walked a bunch on loop 4 finished all my water and was feeling better but not out of trouble. Loop 4 done (36.5) and went out on loop 5 with the same instructions. I was able to pick up the pace a bit as my body was recovering well from the water.
On loop 5 I was already wearing my head lamp as the sun was on its way down. I just had to get to loop 6 to pick up a pacer. The whole ultra thing has its risks but running in a head lamp drives that number up for sure. I like running in the dark, it passes the time faster in my opinion. It puts your senses on overdrive and your almost bug eye with alertness dreading a trip or fall.
I picked up my pacer Matt at 58 and had him for 2 loops. He kept me together with mini goals of food and water intake before each aide station encounter. We worked the morning hours before the sun started its ascent. The trail has so hot, it never cooled down all night.
AT mile 80 we did a pacer change out and a shoe and sock changed out. Part of my tread was coming apart in the heel and thought it was better to get it off. I felt a spot on the center part of my pad on my foot. Not sure what it was at the moment cause it didn't really show much. I thought maybe my sock got bunched up there. Ditching the head lamps as the sun returned I picked up Stephanie my pacer and continued on the last 2 laps. Its really weird to see the sun rise then set then rise again all in the same activity.
We continued the fueling plan, munching on bacon and potato wedges yummmm. At this point it was just grind it out and don't fall. I felt really good considering all things prior but I knew its wasn't finished until its finished.
This a really tough course, its a home town course for me as I've trained and raced on it in the past. There's some technical sections that can chew you up pretty good.
The spot on my right foot was starting to increase in pain but I was too far now to really do anything about it. Halfway through my last lap I felt the feeling move to my inner toe. It had burst out the side and I was convinced it was some type of deep blister hidden probably under a caulis that burst. I felt a little relief, but still pressed on.
The last couple of miles my calves were starting to really tighten up. I knew I'd finish but I was convinced at 100 miles my body would be ready to call it quits. Which is ok cause all I needed was 100 miles, that's what I came here for. Mission accomplished at 31:30:28. Thanks to Shanna, Jeff, Ryan, Stephanie, Matt, Richard and many others, DDR family, and volunteers. This is a group effort to get the many runners to the finish line. No small task.
Keep on the look for an upcoming post on a in-depth look at the 100 mile distance.
Written by Ash Hogg
Preamble
Having been an active and reasonably sporty kid (soccer, hockey, tennis, squash, even a 10k fun run), like a lot of people I got lazy once into my adult working life. More and more time at the computer desk as the years passed by, and less exercise. You don't really notice at first, still quite fit and slim in your 20s, maybe even 30s, but at the start of 2016 I found myself 43 years old and starting to pay for it. A couple of stone overweight, and definitely unfit.
My running journey didn't even start with running. One week a bunch from work asked me along to 5-a-side football as they'd had someone drop out. I played for my school team as a kid so I used to be half decent, but on the night I was doubled over after about 20 seconds. Same thing a week later. I decided I needed to get a bit fitter first, and then rejoin those guys, or I was probably going to have a heart-attack on the field.
I'd heard parkrun being talked about a lot around that time, and found my local one was quite nearby, so that grey drizzly February Saturday morning I turned up to see what was up. Right from the start it was wet & muddy, although the attendance was a lot higher than I expected so there was a lovely welcoming atmosphere. However, memories of horrible old school cross-country runs started coming back! A short way round though, I realised there was no way I could go home clean, so I just stopped caring about the mud and huffed and puffed my way round. I also got to meet the tail runner that first morning, as I was dead last. It could have been disheartening, but of course it wasn't. I took away a lot from that first parkrun. And after Googling a bit when I got home, I discovered that running on trails/dirt (as our parkrun was) is actually a proper thing that people do - of course, why wouldn't it be? And so, I realised I was being drawn to trail running.
Over the next couple of years I built up fairly quickly, probably faster than many would advise. First 10K a few months later, first half marathon a few months after that. First marathons the following summer, and not easy ones - Trail Marathon Wales and Snowdonia Trail Marathon were my first choices, not some boring road marathon! Needless to say they were tough, but just spurred me on. I learned how much I love epic scenery and just being out there a long time.
And so, until 2020, I continued. Some more trail marathons. Then ultras. Couple of 50K, couple of 40-milers, 100km. And late 2020, my first 100-miler - having previously said there's no way I'd even consider such a thing.
That's how I came to start the Centurion Autumn 100 on 10 October 2020.
Training
At the start of 2020, some weeks after booking the entry, I also did something else I always said I'd never consider. I realised that a 100-miler might need a little more than the slapdash approach to training (or lack of it) that I usually take. And so, I took on a coach - Neil Bryant, through Centurion Running's coaching team. My hope was not to become an Olympian; rather, that Neil could work a bit of magic despite my constraints of not wanting to devote too much more time or mileage to training. In the months leading up to A100, I did my best to follow his plan, which true to his word did not put too much extra burden on my weekly schedule; at the same time, I could definitely see and feel improvements in my running.
Another first was that I even rustled up a spreadsheet with an estimate of my times, which I obviously had to extrapolate based on prior experiences like Race to the Stones. I have always been a relatively slow runner, and early races did involve a lot of worry about beating cutoff times. This is less of an issue for me now, and with a 28-hour cutoff for A100 my spreadsheet allowed what I felt was a fair amount of overhead as I simply wanted to finish - the projection was for 26h50m.
So, how did this all work out on the day?
Race Time!
Leading into race weekend, I had had a couple of weeks of particularly poor quality sleep. Luckily, on the Thursday night, although I awoke very early as usual I also felt like I had slept very solidly. On the Friday night, I was again awake very early with anticipation, but the sleep I did get also seemed to be very solid. So I actually turned up at the start line feeling pretty good; often on race day I feel tired at the start but pick up once the adrenaline gets going. This was a good starting point for me, as I felt generally very good all the way to the end of the race. No problems at all with general tiredness or sleep deprivation during the night sections.
A100 comprises 4 out-and-back sections from Goring & Streatley, along each direction of both the Thames Path and the Ridgeway. Terrain is mixed, a fair amount is relatively flat and easy going (if the weather is reasonable) and there are a few hillier parts here and there too.
With the Covid protocols in place for this race, and the staggered start window, I rolled up to the start line just after 7:30am and got going after a temperature check. I just felt surprisingly calm, as if I simply wanted to enjoy the day and the experience - especially since I felt we were very privileged to even have a race at all, given the events of 2020.
On the first leg, I was trying to be careful to not go out too hot. But I had a rough plan to run the first 12.5 miles to the turnaround point of leg 1, then do the return with a pattern of 9 minutes running and 1 minute walking. This still got me back in 4h30m, very close to my recent marathon PB time recce'ing the spurs. But I felt very comfortable. My plan was then to mostly keep to 8 minutes run, 2 minutes walk for most of leg 2. Again, I was feeling strong here. I love the Grims Ditch section, especially the flowing single-track parts. On the return leg, I found I was easily running it all, ups and downs. They're hardly alpine ascents, but on previous races I've often been unable to run up *any* incline after about 20 miles, so I knew things were good here when I could just go with the flow and enjoy the single-track, without worrying about stop-start on the little up bits.
Although it would be shorter than my original 26h50 projection, I had also roughly planned a 5-6-7-8 (hour) progression through the legs as a guide, and with the time spent on the Goring checkpoint stops that was very close after the first 2 legs - I think I left to go on leg 3 at a minute or 2 past the 11 hour mark. That was my longest CP stop, because I changed more clothes there (shorts to leggings, new base layer & top so that I wasn't starting out in damp sweaty ones which might suffer more in the cold). At every Goring CP I changed socks and cleaned my feet, reapplying Lanacane. A strategy of regularly tending to my feet served me very well on Race to the Stones and I'm sticking to it. I run in Altra shoes and Injinji socks, and combined with Lanacane I rarely get any problems. I didn't get any feet issues until the last 2-3 miles of the race when I could feel a hotspot developing on my left sole, but at that late stage it wasn't going to pose a problem before the race end. Otherwise, I think I kept good CP discipline. I spent only as long as I needed to get the food & fluids refreshed, and never sat down anywhere except Goring when I sorted my feet out.
I was prepared for leg 3 to be the bleakest, but I was still feeling quite strong and mentally very positive and happy - I'd really been enjoying the day so far, helped by the generally good weather & conditions as well as the fact I was feeling strong and apparently doing well. I was eating as I left Goring so ended up walking quite a bit at this point, certainly for a good few miles going up that long rocky incline. In the end, there was a lot more walking than running on leg 3. I got some running in, but the rains had made a lot of it very sticky underfoot. My shoes were doing an adequate job with traction at best, but I realised it was just going to feel more energy-efficient to walk at a decent pace than try to run and be slipping around a lot more. I wasn't the only one doing this out there, it was quite a popular choice! I walked and chatted for a fair few miles with a very amiable lady, Eileen Naughton, who proved how small the world can be - her pacer at the Thames Path 100 earlier in the year would be my very own pacer a few miles later when I got back to Goring at the 75-mile mark! I love this about ultra-running; just meeting random people who turn out to be great company and make the tougher sections entirely bearable.
Again, weather was kind to us - it wasn't actually that cold or windy up there on that higher exposed part of the Ridgeway, so compared to stories of previous years we had it very good. I took about 7.5 hours on this leg, more than my 5-6-7-8 plan but not terrible. And it didn't feel like a slog either. I took my time, kept moving well and safely, and still felt mentally very positive. I did take advantage of the long incline turning into a long slow descent on the return, and made up some good time there. I was also pleased that this section is pretty rocky and uneven and a bit hard on the feet, but my legs felt strong and in control enough that I could descend well and safely.
Leg 4 was quite the experience. Collecting my pacer, Melissa Venables (ladies' winner at the North Downs Way 100 a few months earlier - we couldn't be further apart on the running scale!), we walked for a little while as I was eating after making a quick CP stop for a sock change. I could also feel things really starting to hurt more by this point. But we started getting into some slow running sections, making some decent progress before I felt like my muscles were red hot and I needed a bit more walking. Through this whole leg Mel wasn't too pushy, but she did really try to encourage me to run, jog or trot whenever I could. Mentally, I was still really happy and feeling good - but increasingly I was struggling to get the legs to start turning over. Mel did give me space when I needed it but did keep encouraging. And I did my best to jog whenever I could. Early in this leg, I had looked at my watch and realised that sub-26h might just be possible if I could run enough of it. So that was a goal that we started heading toward.
At Reading aid station, I had my 'fuzzy ultra brain' moment when we left the building and I said I couldn't find my gloves. I remembered taking them off and tucking them under my arms when sanitizing on the way into the CP. Mel told me to start off on the return while she went back in to look. Obviously, 10 seconds later I realised I had them all along (but in a different pocket than I normally put them in) so I tried shouting up to the open windows of the CP. They got the message but Mel was already on the way out and down the slope to meet me. She had told them inside that I probably had them, and of course she was right!
On the final return leg I really wanted to run a bit more than I did, although we did get some good miles in at around 13 min/mile pace which was about all I could manage. Mentally I was still positive, but I was just feeling it on the physical side. Overall though, at the start of this return leg it was looking like I hadn't moved quickly enough to go sub-26h, but I was okay with that - it was always going to be tight, and I knew at this point that I would finish and it would be maybe mid-26h, and I was still going to be very happy with that as my first 100 result. Despite a bit of extended walking for a few miles into and out of Pangbourne, I did manage to get running again a few more times once we'd got past Whitchurch. The morning sun was really nice by this point and it was adding to the positive experience. Approaching Goring, I realised we'd made up some more time and I might be looking at a time more like 26:15 than 26:30 or more. But we were closer to home than I realised, and had been moving well enough as we got closer, and as we hit the town itself we were only a couple of minutes shy of 26h. I knew that I wouldn't get sub-26, but it was only going to be a little over.
Rather than be upset at those extra 2m36s, I'm really happy - my primary goal was just to finish the race, and I still came in a fair bit under my original spreadsheet estimate. My gut 'on the day' aim of 5-6-7-8 (for a total of 26h) was surprisingly close, in the end.
The finish line was an odd experience for me. Obviously I was super happy to have finished, and with what I consider to be a good time for me, but I am also surprised at how calm I felt. I've finished some previous big races feeling very drained and emotional, yet this one was my biggest race by far and I just didn't feel this. Tired, yes, but not drained or on the verge of tears. It actually felt like I had finished it with some degree of being in control, for once.
I had some of the hot food and a cup of tea, but at this point, as well as in the hours after, I didn't feel nearly as ravenous as I have done in previous events. So perhaps my fuelling during the race had been solid.
My first ever 100-mile buckle, and my ace pacer Melissa Venables
Post-Race
As expected, I felt physically very sore for a couple of days right after the race. I absolutely seized up on Sunday afternoon and could also barely move on Monday. But after that, recovery was relatively good, improving significantly each day. The worst effect was a very sore and tender ankle/shin, which flared up during the last few miles of the race but didn't affect me much at the time. In the few days after though, the whole area was swollen and very painful to the touch.
Final Thoughts & Thanks
Looking back, I simply can't believe what a great race I had. Weather & conditions were relatively great, I think I got my pacing fairly good, I ate and drank well (the latter is something I'm usually not great at, so I really consciously focussed on this), and my checkpoint discipline was really good. My foot regime, which has served me very well in other races, continued to work great - no blisters or other problems. I had a sports massage a few days after the race and my therapist (herself a runner/triathlete) couldn't believe the good condition of my feet.
I had zero stomach problems during the race either. I had brought a fair amount of food in my drop bag but ended up leaving quite a lot of it. I did eat my ham sandwiches, and several of the Chia Charge bars, but beyond that I was happy with the aid station food. I usually use my own Tailwind during a race but would ease back on it after 40 miles or so. I started the race with a flask of my own (at a good strength) but ended up refuelling each time with a full flask of the aid station Tailwind (which is weaker than I would mix myself) and half a flask of plain water. Later in the race I just got cravings for Coke so would fill a full flask of plain water and a half flask of Coke. A couple of hot drinks here and there, but otherwise I just kept taking on little amounts frequently, with no problems at all.
There is also no question that I could easily have come in sub-26h, with a tiny bit of extra effort here and there, and had a couple of very minor faff moments been eliminated. But you could always argue this of any race, I think. And it's easy with hindsight to think "if only", but I do think I gave my best at the time. A few days later it's not always easy to remember just how painful everything was at that moment! Mel & I had quite a few discussions on that last leg, and whilst she's an out-and-out racer, I am not - and one of my worries was getting almost to the end of the race but overdoing it just once and pulling a muscle, or something else. Never having gone this far, and put in so much effort on the day, I was definitely a little conservative and wanted to ensure 100% that I finished.
Huge thanks go to Neil Bryant for his coaching in the months before, and still now. He listened to me and gave me good structure that fitted my work, life and wishes, even though that meant not a lot more extra time or mileage. I really appreciate that, and I also value slow and sustainable improvement, and working with Neil has definitely given me this - and continues to do so.
Also big thanks to Mel - I originally did not want a pacer at all, as I had no clue if I'd even make it to the 75-mile mark (or at what time) and didn't want to inconvenience anyone. But accepting her offer to pace was definitely the right choice. Being the calibre of runner that she is, I learned a lot from her, and she undoubtedly got more out of me than I would have done if left to my own devices.
Now that I know I absolutely have it in me, I feel like I can really build on this wonderful experience. I'm now wondering how close to 25h I can get on Centurion's Thames Path 100 in May 2021, and am also booked in for a repeat attempt on A100 in October 2021. It might be a stretch to aim to knock 2 hours off in the space of a year but if I don't aim for one of those sub-24h buckles, I'd regret it, surely?! :)
Written by Aneta Zeppettella
How does one run 200 miles? One mile at a time? One loop at a time? One step at a time? One day at a time?
I had this big dream to conquer the 200 miles for a while. I thought about races out west, but they didn't work with my current life situation, as they required a significant time and financial investment. Then there was a race about a five-hour drive from where I live. Potawatomi 200 in Central Illinois. The race started on Thursday at 4 pm and ended on Sunday at 4 pm. 72 hours seem like a rather tight cutoff for an event like this, but logistics of getting there seemed easy. I also planned on going without a crew or pacer, so running 20 ten-mile loops with one point with drop bags seemed easy to manage.
Sometime in December I registered. Sometime in December I was also going through one of the lowest spots in my life. I have history of trauma and depression, and there are times, when the Band-Aid I carefully place over my wounds gets pulled off revealing all the ugly underneath. I do a lot of work, and many times in my live though I was "over" some things, only to find out that I probably never will be completely over. Throw in the pandemic and perimenopause. A dangerous cocktail. This year I started having extremely painful periods with insane cramping that Midol couldn't even touch. Also, a very heavy cloud of depression has been hanging over my head. I was feeling like I screwed everything up: my life, my marriage, my relationship with my parents, raising my daughter. Yes, I tried to be grateful, to see that I really did have a good life, but it felt forced and it felt like a toxic positivity, like spraying Febreze over dirty laundry. I needed time to grieve, to go over it, to run less. Because running too felt like a chore, it felt meaningless.
Yet, at the same time I clicked that register button and signed up for my first 200-mile race.
My training leading to it was spears of high quality and spears of "I couldn't care less". I didn't do any tune-up races, no exceptionally long runs. The winter came and went and brought heavy snow and cold temperatures. By March I knew I was in trouble. By March also I started to feel better. Less tired, more joyful, and profoundly grateful. I did three weeks of a high-quality training. I ran at Shawnee State Forest in torrential downpour and wrecked my car on the way back getting into flash flood. I also did two loops (78 miles) on this remote trail with my dear friend Carissa. 26 hours of running in the woods completely tired from the get-go (we got up on Friday at 5 am, went through life regular way, and started running at 10 pm that evening, and ran until Sunday at noon).
Was it enough? I truly had no clue what I was getting into. I talked to my friends Dave and Greg who ran Potawatomi 200 several times and tried to get as many tips as possible. I knew course was known for its infamous mud and heavy rains. I knew it had several steep hills. I also knew from my history that I could be awake for 48 hours, and that I could climb 30,000 feet. Everything else was a new territory.
It was also exciting. This is why I love running those long ultras: to see what I am truly made of. If everything is stripped away who really am I? How do I react to adversity? It is like reading a book, but you are also a character in it. You live through it. You don't know how the book will end. You can influence the ending, but you don't have a complete control over it. It is hard to explain, but I love this journey.
Going into Potawatomi I had plans A through J. I knew I was nowhere near my peak shape, and I knew I had a chance of finishing this race if I executed it very well.
I had no control over the weather, the training work was done (or in my case barely done, but too late to fix it), but how I handled the race: that was my opportunity to shine.
Initially my husband and teen daughter were going to go to Illinois with me, but Carla's schedule changed. She had two big swim events that weekend and one outing with her friends. After being practically isolated most of the pandemic with lots of remote learning and limited contact with kids her age, she was going to have an almost normal, social teen weekend. There was no way I would take that away from her.
I drove to Central Illinois on Wednesday night, slept in, and drove to the park on Thursday after noon, hoping to get a parking spot close to the start/finish area. Since I was going without crew or pacer, I figured running my own aid station from my car (versus the tent like others were doing) was the easiest way to go. No set up and no tear down. And did I mention the heated car seats? My friend Ruth was registered for a 30-mile race at the same event and was coming on Saturday afternoon. By Saturday I would be 48 hours into the race. Ruth would bring my friend Carissa, who would help me finish and then drive my car back home on Sunday after the race, so I could be home that night. I didn't anticipate needing Carissa to pace me much. Maybe one 10-mile loop? But I also was never awake for three days straight, so I didn't know how the final day of the race would unfold.
Weather was going to play a factor too. I was aware of it. Initially the race forecast looked lovely, but as the day was coming closer more and more rain icons appeared in the weather app. 30% became 40% became 60%. Sunny Saturday turned into the rainy one.
I packed my gear in several tubs, attached lists, and giant duct tape labels, and organized everything in the trunk of my Subaru Outback with the back seats folded. If I got really tired, I wanted everything to be accessible and easy to drab and put away.
I brought four pairs of shoes, eight pairs of socks (two pairs of waterproof socks), five pairs of gloves, two pairs of waterproof mittens, four waterproof jackets, water proof shoe covers (for creek crossings), three warm long sleeve half zip tops, three pairs of shorts, three sport bras, three pairs of capris, two pairs of tights, waterproof pants, and several tank tops, short sleeve shirts, and long sleeve shirts. If you are reading it thinking I am a product junkie, you are absolutely right. I also had five light sources (three handlamps with spare batteries and two waist lights with spare batteries). I had Trail Toes for chafing and diaper rash cream, tape and various Band Aids for blisters, TUMs, Midol, Excedrin, coconut water, tart cherry juice, cans of coffee and yerba mate, various sweet and salty food, and a few flavors of Tailwind.
Right from the beginning, I decided that keeping my electronics charged would be too much of a hassle. I decided to use my watch until the battery died and put my phone in airplane mode to preserve battery and check it every other loop when I went through main aid station.
My goals were to run the first 100 miles in about 29:30-30 hours and 150 miles in 48 hours. If weather was good, I was hoping to be done in 68 hours. If the weather turned bad the goal was sub 72. I wanted to have 6 hours for the final loop in case things start going really bad. I never wanted to run a loop faster than around 2:30. I put layers of Trail Toes on my feet, put on my regular socks and waterproof socks over. Until the rain moved in on Friday night I stopped before higher creek crossing to put waterproof boot covers to keep my feet dry. I changed my shoes and socks and mile 70 and then at 100. I felt great and just a little tired. I had no blisters or chafing. I was running easy, conversational pace and chatting with new friends. Everything was going according to plan.
Then the rain moved in. The trails were getting flooded. Second night came and I was getting really sleepy. I hallucinated pretty bad. At some point running across a meadow I talked to a person sitting inside a shoe box. I asked her where her pacer was. She told me she didn't have a pacer, but her friend was coming on Saturday. Bizarre! Mine too! Then I realized I was pretty much sleep running and I was the person in the box. A few minutes later I saw racoons playing guitars but no trail marking. This was getting bad. I decided to stop for a short nap. I finished the loop, started my car, reclined my seat and set the alarm for 12 minutes. I was out the moment my head touched the seat. I woke up feeling rejuvenated.
I started my next loop, but before reaching first aid station things started going crazy. I saw the whole different world out there on the trail, Movie theaters, elevators going up, people dancing, animals standing on hind legs. But I had hard time seeing what was there: trail ribbons. And if I saw them, I had to touch them to make sure they were really there, to feel the plastic orange tape under my hands. I just didn't trust my senses anymore. I took a seven-minute nap at Totem Pole Aid Station and that helped a lot. I was moving again, and the sunrise was near. I tried not to think about being on the trail for at least another 24 hours. I refused to look at the board to see where I was in relation to other runners. I just kept going. I closed up more, was unusually quiet, my entire energy consumed by the forward motion. I probably didn't look too friendly. I was cold, my legs covered in mud that was growing exponentially.
At some point I ran into my friend Dave, 1000-mile Potawatomi buckle holder, who was running 100 miles that day. He asked if I wanted to run together. This was wonderful and brought the whole new energy. We talked and ran and tried to stay warm. I reached mile 150 and saw two ladies waving at me at the start/finish shelter. Clearly, they must be confusing me with someone. I don't know many people here.
Those were my friends Carissa and Ruth who drove from Ohio and I didn't recognize them. I forgot that they were coming on Saturday around 2 pm. I think that is when Ruth decided that instead of running her own 30-mile race with other runners she will start later and pace me through the night for 3 loops (30 miles). From that point on, I was never on the trail alone. Racoons playing guitars and deer sitting on he log drinking tea from mugs shaped like miniature human heads be dammed. I can do this.
10 minute power nap in Ruth's van, and a cup of warm veggie soup did some magic as did warm clothes ( I decided not to change my shoes and socks and pants, as they were cakes with mud and I thought it was useless at this point, as they would get dirty and wet within a few minutes. My feet felt good, just a little tired and achy. I did however feel a lot of chafing over different parts of my body and strong menstrual cramps that Midol wasn't solving).
It is what it is. I couldn't change it. I felt I should be able to finish if I stuck to the plan and didn't waste too much time. I knew I didn't have time for sleeping. I knew I had to do something to ease my stomachache and nausea that was overwhelming me again. It was a strong bound of nausea, the one that makes you feel lightheaded and makes your head spin, makes you yawn, and sweat. Some tums, mashed potatoes with potato chips on top, some ginger, and coke, and I started to feel better. I knew that we were entering the survival stage now. Things were going to start falling apart. I will not be able to totally fix them, I will be able to patch them, turn the volume down, buy some time. My mouth was hurting like it head millions of paper cuts inside, my throat felt like it was closing (mucus buildup due to allergies), my legs were sliding from under me. I was just ridiculously uncoordinated. But nothing was screaming. There were no total disasters.
Coming into this race I had issues with my left leg and was scared it would swell and lock on me, but it amazingly was still cooperating. I expected my perimenopausal symptoms to go through the roof and for my body to betray me, but I was managing it too, breathing between cramps, pressing my hands against my stomach. Maybe I can pull it off after all? On my last loop I couldn't run downhills anymore. Every time I turned my head or looked down the whole world was spinning. My legs sliding from under me, gravity pulling my head forward like it weighted 100 pounds. I was afraid I would fall and hit my head or break my legs as they were getting stuck under roots. So, I scooted down, put my hands under my bum, and kind of slid, reverse crawled down the hill. I was already ridiculously dirty. It didn't make any difference.
Carissa was with me on the last loop and took a video of this awkward trail dance. Do what you can?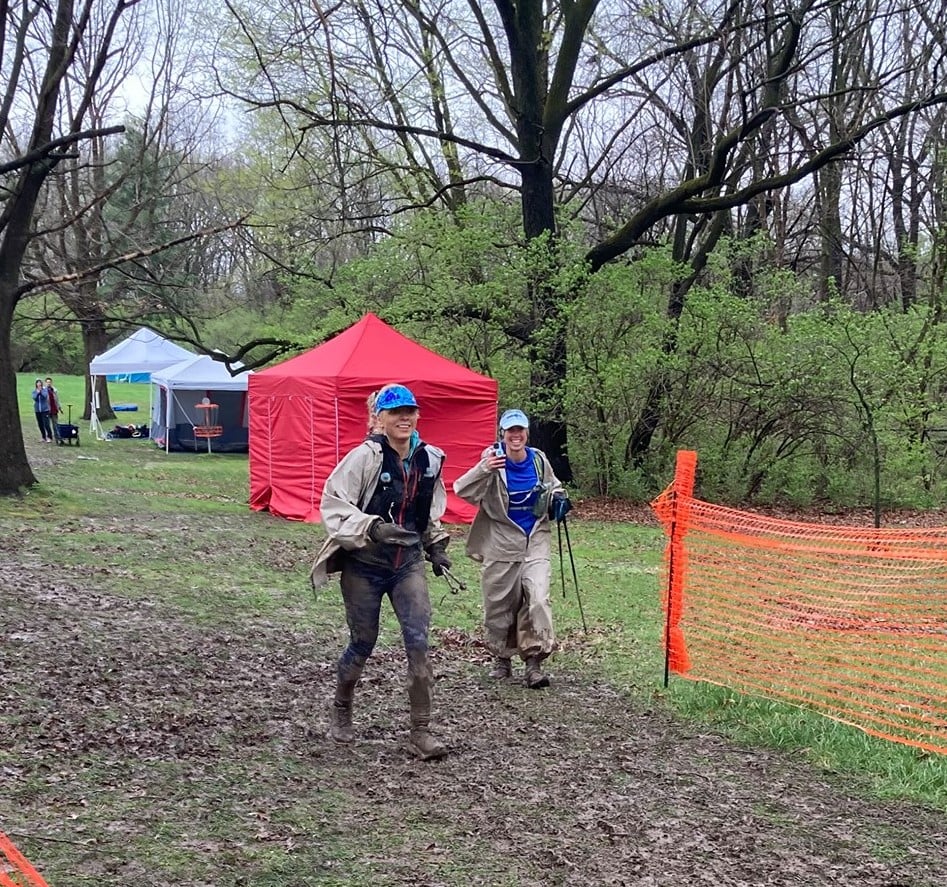 We got to the finish line in 70 hours and 37 minutes. I was absolutely caked with mud from head to toe. I was told that I was first (and only) female finisher that day and only second female to ever finish this race. I was deliriously happy, overwhelmingly tired, embarrassingly dirty. But above all I was grateful. I was grateful for my friends who drove down to help me and sacrificed their weekend to hang out with my mud-covered person. I was grateful for volunteers who spent countless hours helping us, some of them were there for 48 hours straight or more. They knew what I wanted, gave me my cup of coke and coffee, shouted my name. It was just wonderful and made me feel like a Rockstar.
When I got home, I opened my finisher jacket and for the first time realized that it had my name embroidered on it. It made me tear up. Sometime before I finished, when I was plugging through the mud, when I doubted my abilities and negotiated with my body another loop, few more miles, Race Director believed I would actually finish and had my name put on the finisher jacket.
It was 66F in Southwestern Ohio yesterday. You bet I wore that jacket. It will never be too warm to wear. This race was one of the hardest things I have ever done.
Written by Debra Bourne - https://runningape.wordpress.com/
The 2020 edition of Centurion's Autumn 100 was a very special race for me: 23 hours and 8 minutes of special. All my training over the past year paid off with my first sub-24-hour 100 mile race, earning me my first '100 miles – one day' buckle.
In normal years this is the fourth and final race in the Centurion 100-mile Grand Slam (although this year the South Downs Way 100 is still to come). While the other three races – Thames Path 100, SDW 100 and North Downs Way 100 – are point-to-point along their respective National Trails, the A100 is a series of four 25-mile out-and-backs from Goring in Oxfordshire, with the first and fourth legs being on the Thames Path, while legs two and three use the Ridgeway.
[Running trace for the A100]
The format means that runners can access their drop bags at 25, 50 and 75 miles. James Elson (the Race Director) in the briefing video had asked us to keep these as small as possible, and certainly no more than 50 litres, but that had to be balanced against bringing food I knew I would eat, plus some I might want, changes of footwear and adequate clothing options. I knew I probably wouldn't use all the clobber I took (although I did eat most of the food), but it was good to have the choice.
With COVID-19 travel restrictions, I hadn't had a chance to recce for this race. The Ridgeway sections, legs 2 and 3, I had run before during the Ridgeway 86, but only westbound and, particularly west of Goring, in the dark, although I had also run a bit of it during Chiltern Wonderland 50 (CW50), westbound again. Part of leg 4 on the Thames Path I had also run during CW 50, and I must have run legs 1 and 4 in the downstream direction in recces for the Thames Trot 50, but that had been back in 2013, and large sections of the race were diverted off the Path on race day, due to flooding, so I didn't remember much of it.
As with CW50, we drove most of the way on Friday evening, staying overnight at the Travelodge in the M4 (this time without road closure worries). In the morning we were on our way by 6.30, after a bit of a wait for the windscreen to clear after a cold night. We arrived in Goring and I made use of the carpark toilets, avoiding any queue at race HQ or the Streatley start, then my husband Aidan carried my bag most of the way to the village hall before leaving me, with a kiss, as we had been requested not to bring anyone with us. I dropped off the drop bag, said hi to Nici, picked up and attached my tracker, then set off walking down the road to Streatley, setting my Garmin to 'run' and loading Leg 1 in as a course. I was using four courses, one for each leg, after discovering the miserly 50-waypoint limit on the Garmin 935. Many thanks to Chris Mills for chopping the course up for me after James posted the final version of the GPX. After the problems I'd had during NDW100 with the watch stopping recording the run when I hooked it up an external power source, this time I started off with the charger attached.
My coach, Neil Bryant, had suggested I run easy on the first leg and practice my eating and drinking breaks, get into a rhythm. About half a mile in there was a narrow humpbacked bridge, where we had to mask up and cross one at a time, guided by a lovely and very polite volunteer. I felt cold walking to the start at Streatley and for the first 5 or 10 minutes of running, but soon warmed up. From then on I used hat and gloves on and off to regulate temperature. It would have been easy to run faster than was sensible, given the flat route, and decent underfoot conditions. I didn't stop at Wallingford, just said hi and got a great greeting from Anna Troup. Then onwards to the turn-around point at Little Wittenham, where I filled water bottles and took a satsuma and piece of banana. Keep on running, walking to eat and drink, getting practiced at juggling food and the powerbank which I was carrying in my left hand. Back through Wallingford, again without stopping, but Anna was very encouraging at a point where I was feeling quite low – I felt like I'd been pacing sensibly based on perceived effort, despite which my legs felt tired, which I hadn't expected only about 20 miles into the race on flat terrain. Anna reminded me to enjoy the run!
[Along by the Thames]
The best aspect was the out-and-back nature of the course, which meant that I got to see all the other runners, the faster ones returning while I was still heading out, and the slower ones heading out while I was on the return journey. Some nice wildlife moments – watching swans take off from the river, and seeing Red Kites soaring overhead. It was great to see familiar faces such as Gareth Allen, Ollie Dawson and Rob Cowlin, as well as a load of others who are becoming familiar on the Centurion races. I did find the route a little boring, without the variety of a route such as the North Downs, but it was pleasant running and pleasant enough surroundings. After about 20 miles my laces started to press into the tendons on the tops of my feet. I stopped once and loosened them, but they started to hurt again in the last mile or so – it was definitely time to change shoes.
Back at Goring I experienced the fantastic Centurion organisation, with my drop bag pulled out and placed on a chair (those were at 2m distance from one another) while I sanitised my hands and filled my water bottles. I reported a lost glove – one of my really nice Inov8 ones, that had been a present – and hoped someone else would bring it in (although I did have a spare pair in my backpack). I sat down, changed shoes as fast as possible, and swapped my depleted bags of food (mixed vegan sweets, raisin-cranberry mix, salted snack pretzel sticks and boiled salted new potatoes) for full bags. I also took one of my hot cross buns to eat and a satsuma. Nothing else needed so I sanitised my hands – holding the bun and satsuma in a piece of kitchen towel kindly provided by a volunteer – and left, loading the course for leg 2 as I set off.
[Woodland path along the Ridgeway]
Leg 2 heads along the Ridgeway north then eastwards to Swyncombe and back. Initially the path lay alongside the river, on the opposite bank to the Thames Path, so the terrain was, not surprisingly, similar to that of the first leg. Past South Stoke on the little diversion off the Ridgeway that James had warned about, and into North Stoke, not really needing the aid station. Then over a road and into Grim's Ditch. Here a volunteer in orange high-viz jacket warned us that the path was narrow and we should take extra care and give way to others. I rather enjoyed this section, roots and all; it was interesting to run it west to east for a change. I was meeting returning faster runners sooner this time and could only marvel at their speed as I stepped aside to let them pass. Another opportunity to say hi to people I knew as well. Gareth Allen seemed to be doing pretty well and looked much happier than when I'd seen him during NDW100.
[Heading into Grim's Ditch]
Onwards, up and over some rolling hills. A large field, then another, dipping down then climbing up again towards woodland. At the far side I spotted Stuart March and stopped gazing at red kites for a few seconds while my photo was taken and we exchanged greetings, before I disappeared on the path through the trees. Onwards. Up the lane (I recognised this bit from going wrong on my CW50 recce) past St Botolph's Church and into the aid station. Reach into my pocket for my mask… no mask. I realised I must have dropped it, so pulled a buff on instead. Sanitise, fill waters, take a bit of fruit, sanitise, thank the volunteers and head off back down the lane. By now some light showers had started, but they were not enough bother for me to put my coat on. Through the woodland, which anyway gave shelter from the rain. As I emerged and drew breath to say hi to Stuart as I passed, I spotted my face mask, which another runner had carefully placed on a gate post for me, and happily retrieved it.
[Across the fields]
Across the two fields, running the inclines as well as the downhills because it had started raining again and I wanted to get back under sheltering trees. Another orange-coated volunteer as we plunged back down Grim's Ditch, then over the lane and through North Stoke again before following the diversion to South Stoke, then back down the river. I passed Rob Cowlin again somewhere along here and worried as he was in road shoes and struggling on ground that was getting more slippery. The rain started again. Grey clouds stretching to the horizon suggested that this would be more than a shower, so I sheltered under a tree, dug my waterproof coat out of the backpack and donned it. Right decision, as the rain accompanied us all the way back to Goring. I was running mostly by myself, but there were a number of runners that I played 'leapfrog' with for shorter or longer periods throughout the race, depending on our personal running speeds, walking breaks, times spent at checkpoints and so on. Some I had met during other Centurion races, but with the minimal interactions under COVID-19 restrictions I was finding it hard to pin names and faces together.
Back down the alley, mask on and into the hall – where, to my delight, my glove was waiting for me! Fantastic. I had planned to change socks at this point but given the worsening weather I didn't see the point – the ones I was wearing were not rubbing or anything and whatever I was wearing would get wet and muddy in the next hours, so it would be better to keep these on and change for a hopefully dry leg 4. Now stationary as I replenished my food supplies, I was starting to feel cold. It would get dark sometime during leg 3 and the temperature was likely to fall. What to wear? I pulled a long-sleeved running shirt on over the NDW50 shirt with my number pinned to it (I considered swapping the shirt, but then I would have needed to move the number), and pulled my waterproof trousers on as well as the jacket. They would protect me from windchill and from worry of getting soaked and cold if the rain got heavier, while leaving my long running tights dry in case I needed them for leg 4. With 50 miles done, I felt confident that my watch battery would last the rest of the time, so I left the charger and lead.
Out of the hall and off up the road, heading west on the Ridgeway. It felt strange to be running this section in the light, unlike either of my Ridgeway 86 runs. In a little while the rain eased and I was soon overheating, so I stopped for long enough to take the waterproof trousers off. A couple more miles and I was getting too hot again so took the jacket off – but before I could tie it round my waist the rain returned, so I put it back on – this time to stay on. This section was mainly wide chalk and flint paths, not too slippery yet, although I worried that might change with the rain. I was very aware on every down slope that I would meet it again as an incline later, but cheered myself on the uphills by thinking about returning down them. East Isley Downs was a lovely oasis of cheer, with little chemical lights edging the paths in and out, and volunteers making sure that people left in the correct direction outwards or inwards. I should have stopped there long enough to get my head torches out, but didn't, because I wanted to clear the way for incoming runners.
As the light faded, and with the rain having paused, I get a couple of nice sunset pictures.
[Sunset on the Ridgeway]
[Sunset on the Ridgeway]
Onwards, running where I could, walking when the footing seemed too treacherous or I was hunting for the best rut or ridge to run along. The last stretch before the turn-around point I bumped into Ollie Dawson and we ran together for a bit. He reassured me that I was well in time for my sub-24 goal. Finally into the aid station, buff on as I couldn't find my face mask (again), fill water bottles, take a banana and set off again, taking cheer from the thought that the wind would now be behind me rather than into my face, and the muddiest section was first, so I could look forward to better footing later. Ollie had stopped to drink some coffee, which he said would help his upset stomach.
The rain had cleared and at one point I glanced up then stopped, turned out the headtorch and simply stood for a few seconds gazing at the wonderfully bright stars with no city light clutter to dim them. Back through East Isley Down aid station, then continuing back to Goring. I alternated running and walking, depending on the terrain and on how hot I was feeling, slowing when necessary to cool down. I felt I could probably run more and faster if I took a layer off, but I calculated that in the time it would take me to peel something off and stow it I would get too cold, so I just pushed my sleeves up my arms. At about 11pm, feeling a bit sleepy, I took a caffeine tablet and a little while later felt more alert. I didn't spot Rob Cowlin on this section and realised he must have dropped, sadly. I was alone for long stretches, which I don't mind, with other torches periodically approaching and passing, and sometimes seeing other patches of light down the trail and moving in the same direction as me, visible then hidden, depending on curves in the path. There was one very surreal moment when for a few seconds I saw what looked like balloons or something caught up in a tree ahead – then I realised it was a steep section of path and my torch was reflecting from a runner ahead of and above me.
At Goring, final replenishment of food from my drop bag and final hot-cross bun to eat, as well as changing headtorch batteries – the one in the main torch was still fine, but it made more sense to change it than not. I didn't feel any need for hot food, so didn't bother making up the instant noodles I'd brought. It was set to be a clear night and cold, according to the volunteers. I deposited the waterproof trousers into my drop bag and set off again. I was well prepared in case it was much colder by the river: I had a lightweight windproof and my arm warmers, in case I felt the need for another layer on my top half, and light Montane windproof trousers in case the legs got too cold, as well as thicker gloves, a beanie and a buff in the backpack. In the end I used none of these. Leg 4 set on the watch, plus other runners going the same way, supplemented the Centurion markings – not that the Centurion markings were lacking, just that I was tired.
Down to the river, along a little way. I spotted something on the path and stopped. It was a buff, evidently recently dropped, as it hadn't been trampled, and almost certainly from an A100 runner, so I picked it up and stuffed it into the back of one of the vest pockets. Along a bit further then uphill and a section through undulating woodland, which I really hadn't expected. However, that, for me, was the highlight of the section. The remainder was almost dead flat and most of it was rather dull. Despite Ollie telling me I had plenty of time for sub-24 I was worried about not making it. My legs were not really stiff or sore, but keeping them running, rather than walking, was getting more and more difficult. I started setting myself goals: 100 running strides with each leg then I could walk for 50 strides. Repeat. If I didn't reach the 100, then I tried to make the following walking break shorter. As an added complication, my guts started telling me that a visit to the toilet would be a good idea. This 'suggestion' became more insistent and I had to walk, along a road, through a churchyard. I was NOT going to squat in a churchyard. By now I had lost track of whereabouts the intermediate aid stations would be, so when I spotted a lit-up building with people moving about inside it didn't immediately occur to me that this was the checkpoint. I I had already decided to knock on the door and hope someone (a) answered and (b) let me use a toilet when I saw the Centurion arrows directing me there and realised with relief that this was the aid station. I shuffled to the door: 'please tell me there's a toilet!" 'Yes' came the welcome reply. It was up the stairs. That was okay, I could manage that. I fished in my pocket, couldn't find my mask, so took a single-use mask from the pack by the door, sanitised my hands and hurried upstairs. Soon, somewhat relieved (pun intended!), I took a bit of banana from the aid tables, thanked all the volunteers and continued.
Across a couple of fields, past some dark cattle, their eyes brightly reflecting my headtorch, along by the river. Through a bit of woodland then suddenly, it seemed, into a built-up area, up a road, going a little past a junction but slowing and checking and turning back, my watch buzzing at me just as a couple of other runners whistled to alert me that I had missed the turning. A bit further along roads. I was sure I had already gone about eight miles, and Ollie had warned me that the checkpoint was six miles after the 'Welcome to Reading' sign. Where was that sign? After what seemed an age, I spotted it. Another six miles out. My heart sank. Nothing to be done except keep moving. Walk, run, walk, run. I was too warm when I ran, too cold once I dropped to a walk, so I seemed to be constantly taking my gloves off and putting them on again as well as pushing my sleeves up and pulling them down. I thought of removing a layer but was worried that I would get too chilled if I did. One interesting bit where I passed a huge gathering of roosting swans and geese, and a couple of lit-up bridges, but otherwise, being dark, not a lot of interest. About 2.30 or 3 am I took another caffeine tablet.
By this time I had 'ultramarathon brain' sufficiently that I couldn't manage the calculations for how much longer it would be to the turn-around point, nor how much longer I had if I was to finish under 24 hours. A couple of times other runners passed me and I tried to tag on behind them, but always broke into a walk after 100 paces or so. I asked a returning runner how far… 'about another mile or two'. Surely not? It was indeed nearly a further two miles. I spent a good mile expecting to see it round every corner, but finally, finally there it was!
Water, a banana (I think) and off again, definitely happier to be heading back. So much of running ultras is a mental game. I had been depressed by the elusive Reading checkpoint, but now I could tell myself there were only 12 and a half miles to go, and surely I could make that sub-24.
Despite feeling mentally better I still couldn't maintain a run, so I went on run-walking and reminding myself to eat and drink. Back past the roosting waterfowl, back past the bridges. When the leg 4 trace said that I had about 8 miles to go, I dug my phone out and called my wonderful husband. 'I've got somewhere between two and two and a half hours to go. Probably two and a half'. 'Okay, I'll send you a text when I reach the car park.' Onward, back onto the road section, past the cows, Pangbourne Meadow, always giving a 'well done' to runners still on that outward leg. Another brief stop at the part-way checkpoint. Now less than 4 miles to go! My stomach was feeling a bit uncomfortable, but much less so than on NDW100, and I could still run in short but frequent bursts, walking at a good pace in between.
Up the road, striding into the incline, looking forward to the trail through the woods and the descent on the other side. I stepped aside for some runners who were catching me up, but they soon slowed and I caught them again. The front runner was pacing one of the others, aiming to get him finished in sub-24, and the other guy had the same aim. I said I was also trying for that. 'Come on, girl!' the pacer called, so I joined them, and after a few minutes found that I was generally managing to keep up with the pacer better than the other runners were doing, although none of the three of us could keep running for long before dropping back to a walk. Finally we were down back by the river. Nearly there now. A couple more turns, then onto the road. A final effort, running alongside the wall encircling the green, then over the timing mat. Finished! I pressed the button on my Garmin and walked down the alley, pulling my buff over my face, towards the Garden Room.
I knew that I had come in under 24 hours, but not how much under until I looked at my watch (and discovered it still running, so I pressed stop more firmly!) – it said 23:08. No way! What a fantastic result for my 90th ultra! I had to wait a little until this could be verified from the Centurion system, before I was allowed to pick up one of the coveted '100 miles – one day' buckles and pose, grinning, for my finish line photos. I was given my T-shirt and offered tea and chilli. Veggie chili was available, and I felt bad for refusing it, but I didn't think it was wise on an unhappy stomach.
My phone chimed, but when I looked I didn't seem to have a text, so I accepted the offer of a tea and a sit down inside the hall. Various runners were draped over the carefully spaced chairs. I accepted my drop bag for the last time, and placed the shirt and buckle into it so I couldn't lose them. A few minutes of chat with Nici and volunteers, then just as someone presented me with my tea I saw the text from Aidan and replied. A couple more minutes and some sips of tea, then I levered myself out of the chair, hauled my drop bag onto my shoulder, thanked everyone one last time and headed out.
[Finished! Earned my first "100 miles – One Day buckle"]
Afterword & thanks
It has been ten months since I contacted Centurion Coaching and Neil Bryant started setting my running schedule, making my training more focused. Having spent the past three years running lots of marathons and ultras, and qualifying for the 100 Marathon Club, I had wanted to see if I could get faster. My stated goals had been a marathon under 3:40 (maybe even under 3:30), Comrades under 10 hours and a 100-miler at sub-24 hours. The COVID-19 outbreak meant no Comrades, and with most of my other ultras postponed and squeezed into the last 5 months of the year, no way of fitting in an attempt at a fast marathon. That left the sub-24 goal. Massive PBs at 5K and 10K over the summer in virtual challenges (including the England Athletics 5K virtual championships) had shown that my training was improving my speed at those shorter distances, but I wasn't sure how this would translate into ultra-distance performance.
I had coped better than most with the heat during NDW100, as shown by my 4th woman, 1st FV50, 22nd overall placing, which had been fantastic, but I hadn't gone under 24 hours – although I tried to remind myself that only 17 runners HAD gone sub-24 in the race. This time my placing wasn't quite as good – 1st FV50 again, but 6th woman and 77th overall, but I was delighted with my finish time of 23:08:38 – which set a new FV50 record for the course by more than 27 minutes.
Now I have beaten the 24 hours once, I know I can do it again and I'm sure I will. Lots to learn still, as it was mental/neurological fatigue rather than tired muscles that slowed me down in the last 25 miles, and I need to improve my nutrition to keep my stomach happier.
I have lots of people to thank. First, my wonderful husband for his support throughout my training, as well as getting up at 5am two mornings in a row to drop me off and pick me up again, and walking back to the village hall with the tracker when I realised, sitting in the car park, that it was still on my backpack.
Many thanks of course to James, Nici and the whole of the Centurion crew. It takes a huge amount of work behind the scenes plus the efforts of dozens of volunteers for a race like this to go ahead, and the organisation was spot-on. Thank you to Anna Troup, for reminding me to enjoy the race, thank you to the other runners who returned my glove and left my mask on the post, thanks to all the runners and volunteers who gave me encouragement during the race. The sense of community in ultrarunning is wonderful.
Special thanks to Neil Bryant, whose coaching has led me to find an extra gear and reach this goal. I also owe thanks to Chris Morton from my club, Striders of Croydon, whose speed sessions over the last year, and encouragement with the 5K and 10K virtual races, have really helped me to push harder and get more out of my speed work.
Written by Ash Hogg Preamble Having been an active and reasonably sporty kid (soccer, hockey, tennis, squash, even a 10k fun run), like a lot of people I got lazy once into…

Written by Neil Bryant for the URC I, like I imagine most people who read this, often find myself checking out other people's shoes. It's not really a conscious thing. I…

Written by Neil Bryant for the URC I first had a polar unit many years ago, in a previous lifetime before I was a runner. In those days I was a…
Written by Neil Bryant for the URC I recently reviewed the excellent Massage gun from Pulseroll. I really liked its intense power, and how you could really focus on particular areas with…

Salomon athlete steps down from the mountains in Phantasm 24 Project this November Kilian Jornet, the most decorated trail runner in the history of the sport and the man who summited…

Written by Neil Bryant for the URC I have tried pretty much every Petzl headtorch over the past decade or so, and there have been many, so one thing I know…
https://www.youtube.com/watch?v=U--AjbFCZjg The inaugural edition of Thailand by UTMB is going to end on Sunday 1st November 2020. This is the most challenging period in the world. Yet, Thailand By UTMB, hosted by Sports Authority…

Written by Debra Bourne - https://runningape.wordpress.com/ The 2020 edition of Centurion's Autumn 100 was a very special race for me: 23 hours and 8 minutes of special. All my training over the…

Written by Simon Dicks - https://www.focusedrunning.co.uk/ It was the night before an early start to Gallivare, Northern Sweden. This being my third multi-stage race you may think I was calm and ready…