Written by Nick Grahame
Dorset Ultra was the third Ultra race I've entered, having got bitten by the bug earlier in the year. The biggest draw for shoe-horning this in at the end of the year had been the opportunity of points in time to enter an application in December for the 2018 OCC, but it was also a good chance to familiarise myself with some of the challenges of the Jurassic Coast, having signed up for The Oner in April 2018.
I traveled down the night before, and arrived with just enough time to register in the evening before retiring back to the Castle Inn to get my kit ready for the morning, and set three alarms!
The weather forecast had been mixed in the run-up, but by race day it had settled to a prospect of cloudy, but dry, with a slight chance of a shower. I packed as light as I could, packing only one extra item of clothing - a waterproof jacket. I'd been advised that the checkpoints were a little more sparse than some events, so included an emergency malt loaf, along with my carefully planned selection of gels, jelly babies, and energy bars.
Parking by the start was good, and as the route went through the car park twice, as well as at start and finish, meant that I could run my own support from the boot, rather than relying on the bag drop.
One thing I hadn't trained for was standing around waiting for the event to start - psychologically, this kind of threw me, as I'm so used to stepping out of the front door and just heading off. When we did start, I was colder than I would have like to have been, but the route immediately started with a slog up the coast over to Durdle Door which warmed things up. Garmin was acting up, and wouldn't load the route, so it was nearly two miles before I started logging distance and pace - another psychological niggle, as I like my data en-route to gauge my progress.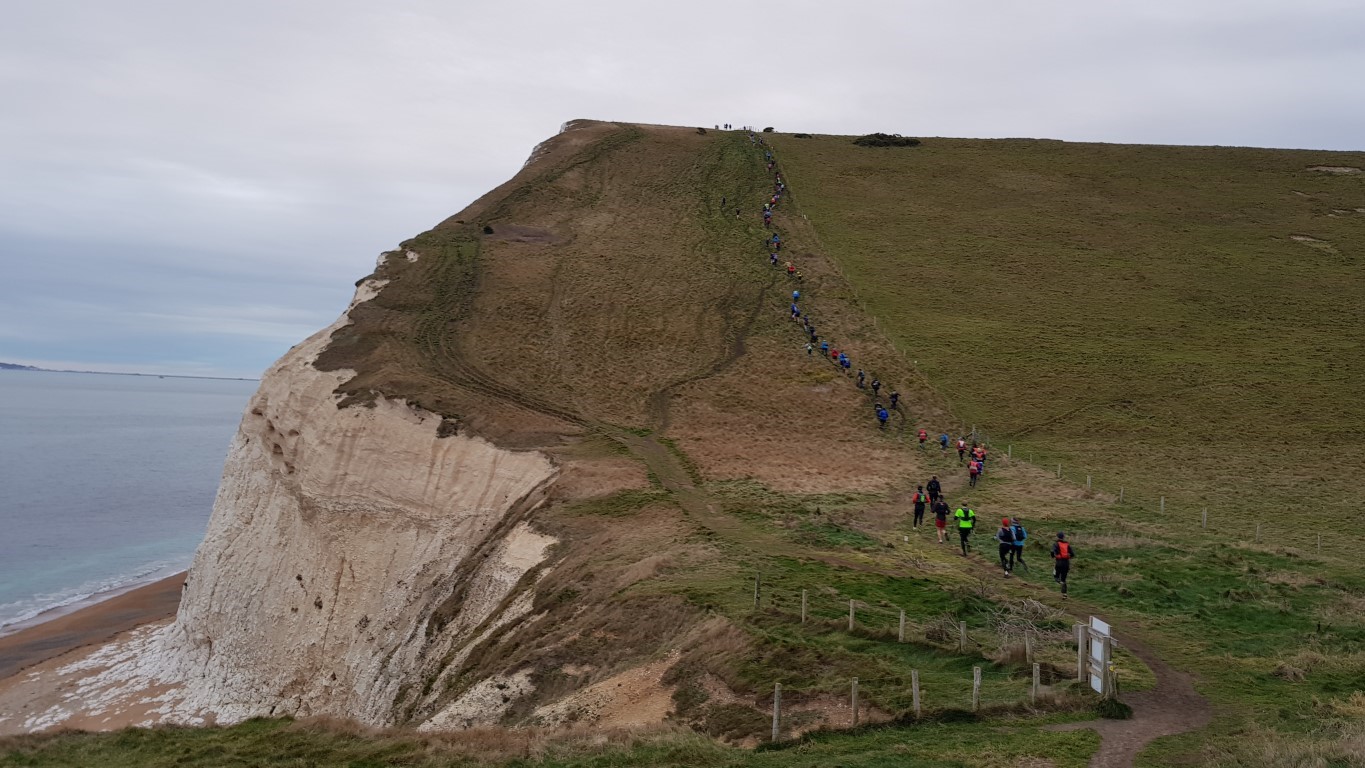 The next few miles continued west along the coast, with some brutal inclines. In terms of running, I'm pleased with my current fitness levels, and can knock out a consistent 9 or 10 minute mile for what almost feels like forever. What I was not physically prepared for was walking up steep inclines. Different muscle groups (particularly calves!) were screaming all the way up, to the point that early on I was wondering if I was going to manage all this - another mental blow. However, as the route turned inland to head back east, things levelled a little, and I was flying, and soon my confidence of carrying an average pace of 11 to 12 mins per mile returned. By the time we came through the car park again, everything was bang on track, and I felt good.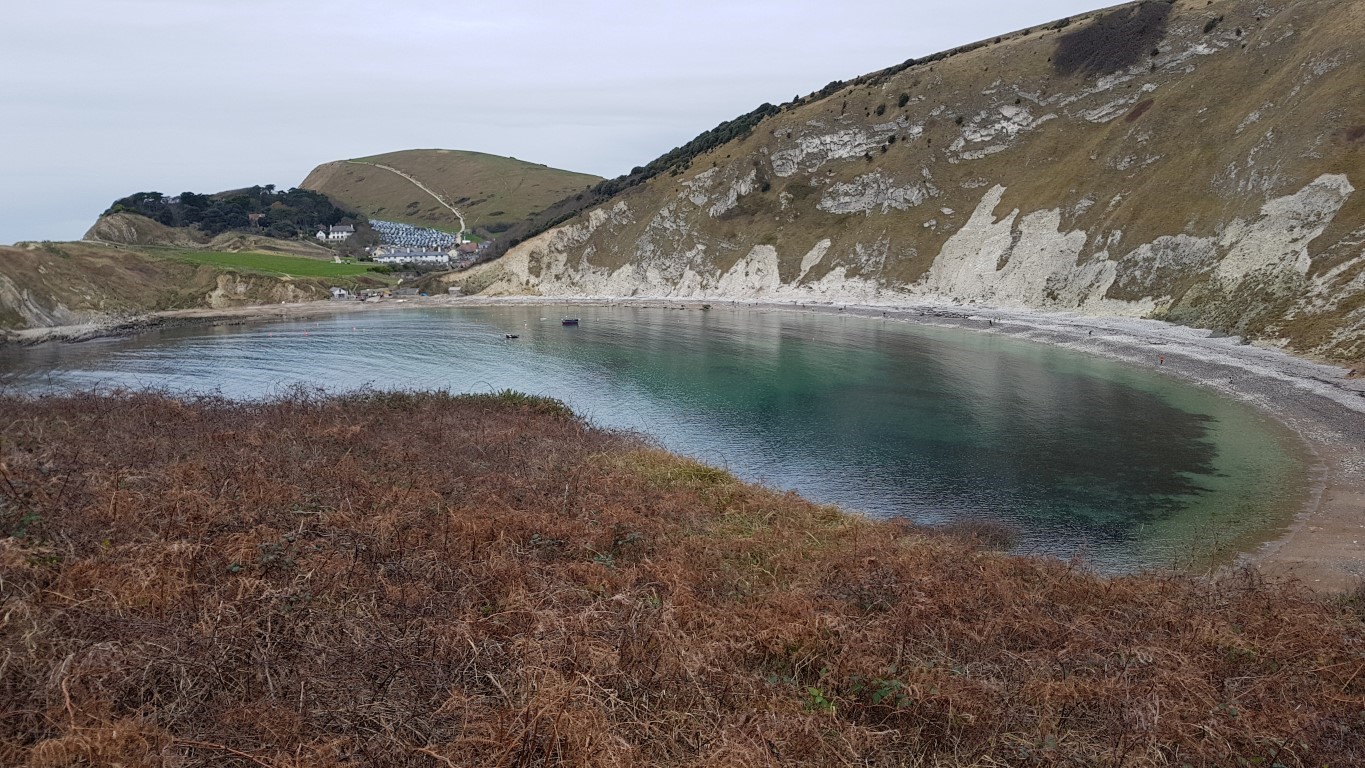 The run round Lulworth Cove though was a bit gnarly, but I found firmer footing closer to the water. The route then headed up again, towards the military testing area. At this point I realised that the hills on the western stretch were just a warning. The rest of the run out east was breathtaking, both visually and and literally in that it knocked the wind out of you. I'd used poles on my first Ultra in July, but on balance I've not bothered with them since as they haven't offered much help, and the rest of the time are a faff. Man, I wish I'd brought them here! Calves burning again, I was less demoralised, and saw the humorous side of it with my fellow runners. I knew that, like before, the hills were about damage limitation, and that I could claw back the pace on the return west. Right...?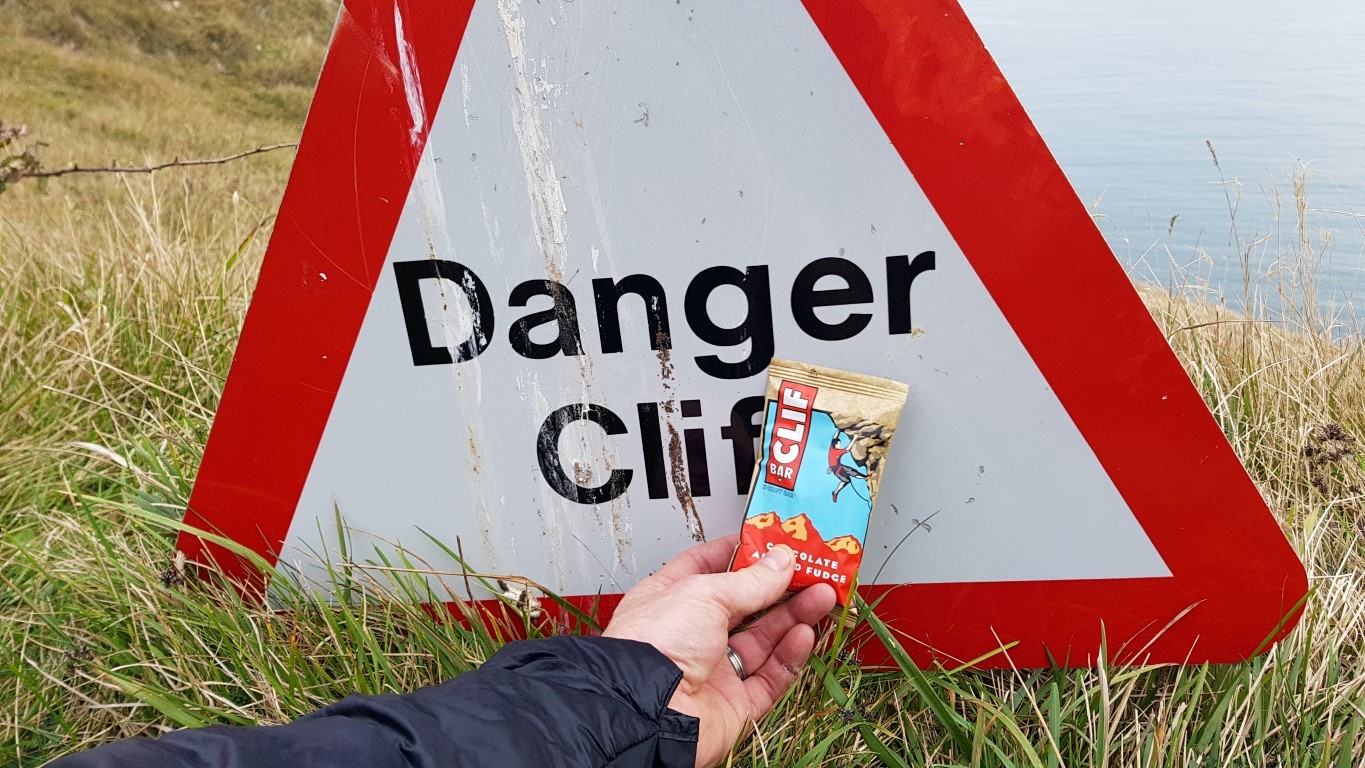 The turn back west was where it all started to go south. The western return from the east loop is not forgiving. It's another combination of muscle burning ups and knee smashing downs. It was about 2 miles in when my old friend, ITBS, popped in to say hello. By the time we were pounding down the steps back to Lulworth Cove, I was having my "I'm never doing this again" moment. But the prospect of the looming car park, and the paracetamol I knew was in the glove box, was all I needed to get to the marathon check point. I've never medicated on a run before, but I had serious doubts about finishing, so I had a couple of paracetamol and, against the generally accepted wisdom, two ibuprofen, as I only had six miles to go.
Mentally I was in a strange place. I knew that I had those three hills west to do again, but at least they were a known quantity, and the last stretch home would be pretty steady. I took the opportunity to enjoy the view, something I had missed first time round as a result of fiddling with my Garmin, and dug deep into the "every step is a step closer" mantra. By this time, I was just focused on finishing, and any targets had gone out of the window. My leg was in a great deal of pain, and I joked to some passing competitors as I hobbled that it on hurt on the uphills and the down hills - but there was some truth in that fact.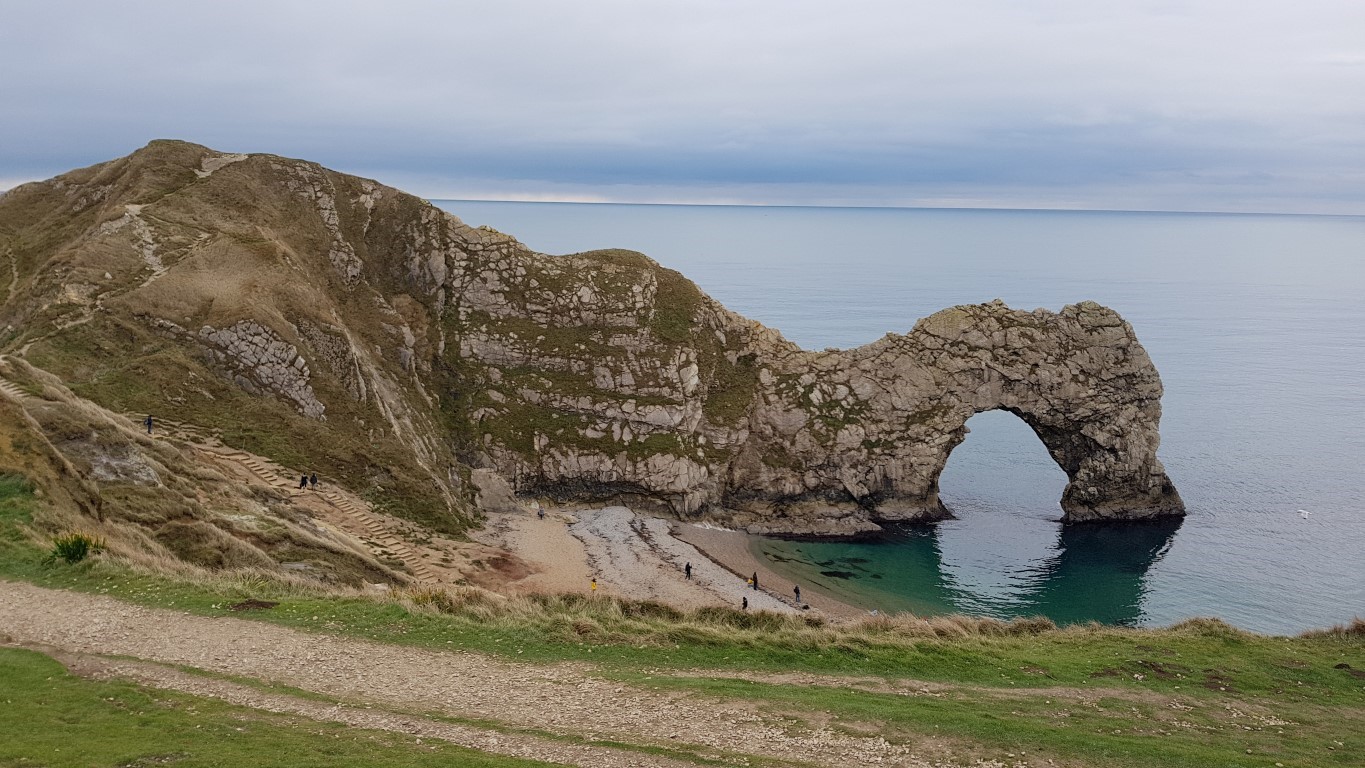 As the route turned back east (at a different point to the first western loop), the course eased up, and I got into my stride again, and I hammered the last 3 miles, flying past other runners. Having struggled with some circa 20 min miles only a couple of miles ago, I was now knocking out 8 and 9 min miles. Mentally I was focused on at least getting that average pace back down into 12 mins "something", rather than the over-13 that was currently decorating my Garmin.
As I pounded down to the finish line, all the memory of "I'm never doing this again" was gone, and I received my medal with a smile. All things considered, I was pleased to complete in 7hrs and 5mins, although of course, the 5 mins is an annoyance!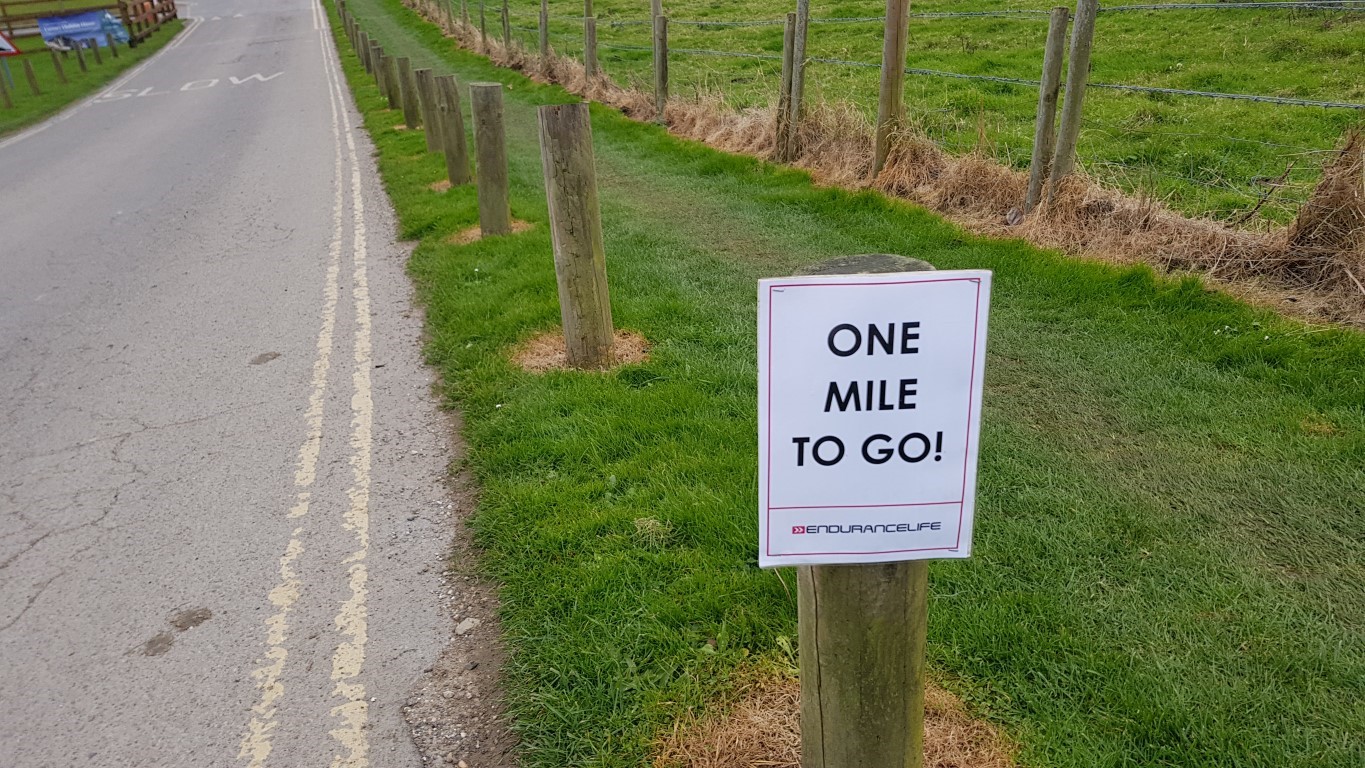 The big take away for me is that I need to do more strength training if I'm going to be prepared for The Oner!