Written by Neil Bryant for the URC
Before moving to the Alps and getting into ski touring, the company Dynafit had barely flickered on my radar. I had heard of their entry into trail running, and had even tried on some of their original shoes, but not really liking the feel of them as they felt clunky and stiff. This was just in a shop of course.
Then as my interest in ski touring grew, and I realised that Dynafit make some really fantastic and innovative equipment, my mind couldn't help but think that maybe I'd missed something.
Their current top end trail running shoe is worlds away from what I tried on originally. It's light, flexible, interesting tread and an even more interesting colour scheme!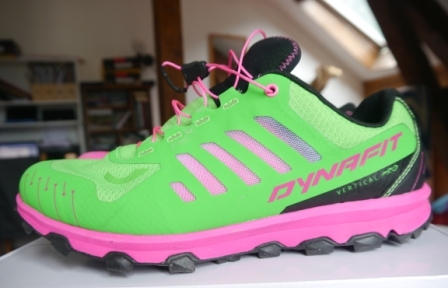 I'll just mention the colours as they are rather bold to say the least. Dynafit first used the concept of different colours for left and right in their ski range. Ski boots, skis and poles can be bought in the slightly mad but brilliant one colour for left and another for right design. The Feline Vertical Pro shoes I have been testing are very bright, with the left being in a bright green with pink trim and the right being in shocking pink with green trim. I'll let the pictures speak for themselves. I can understand that this is a completely love/hate thing for Dynafit to do, and I have to say that I am firmly in the love camp. They look great! Really fun looking! Anyway, let's get back to the actual shoe.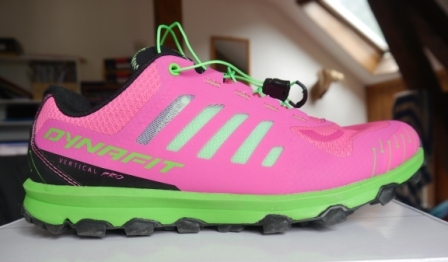 I was quite excited to get this shoe and couldn't wait to try it out. It felt very light out the box at 250g per shoe. Not the lightest out there but still a very good weight. It has a Vibram Megagrip sole which Vibram are saying sticks to everything. Quick lacing similar to Salomon. A scant 4mm heel to toe drop.
Many interesting features which surely must make a good shoe right?
Lets run through the build and materials of the Feline Vertical Pro.
Upper
The base material is an incredibly tight woven mesh which should prevent the ingress of all stones and other trail debris. Over the top of this is a large single piece of PU that wraps from the heel, all around the toe and back to the heel on the other side. This is welded to the base material. At the midfoot there are three stripes that have been cut out on each side of this overlay, which expose a slightly more open mesh which should help with keeping your feet more aerated. I really don't get on with poorly ventilated shoes as my feet seem to sweat a lot, so this was a positive addition. It would also help with drainage if you have to run through deep water. Around the front of this PU inlay you can feel that there is a small extra inlay underneath which adds some rigidity to the toe box to help protect the pinkies from painful rock stubbing.
The heel cup is a medium with regards to stiffness and two thick overlays which have been sewn on.
As previously mentioned, the laces are speed laces, i.e. you just squeeze and slide the buckle to tighten and adjust. Some will like this system and others won't.
The tongue is a continuation of the inner material, which I love, meaning it can't slide around and holds your foot that little more secure. The stretchy, more attached tongues like this really add a more hugging feel to a shoe in my opinion. I'd be happy if all shoes came like it. It is also a rather thin tongue which again is a plus for me. So many shoes come with big, fat, bloated tongues which I find totally unnecessary. The tongue reaches a little higher up on the outside than the inside which I haven't worked out why, and has a thin mesh pocket that is for stowing the laces once tightened.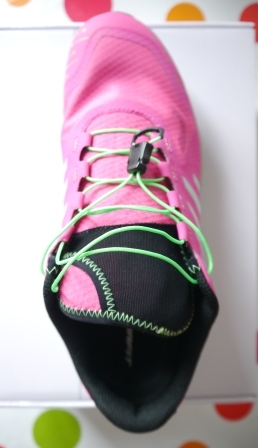 Midsole
The midsole is made from EVA and has a low stack height, though I couldn't find any actual figures. Its heel to toe drop is a low 4mm. You really need to be adapted to low drop shoes to get away with running this shoe straight out the box, otherwise injury is a distinct possibility, so be careful. This shoe is designed to give a low, trail hugging ride.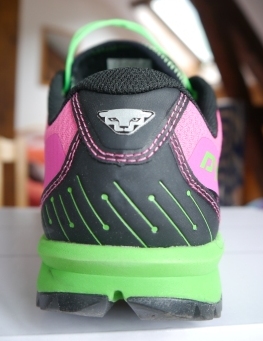 Outsole
Dynafit handed their sole over to Vibram who used their new compound which they tout as 'The new high performance rubber compound featuring unparalleled grip on wet and dry surfaces, rugged longevity and optimal ground adaptability'.
Vibram have a great heritage for soling many of the best shoes out there, so it is never a bad thing to see the distinctive yellow logo on your shoe soles. The tread is not too deep and aggressive so would probably not be good in lots of mud but looks like it would be great for technical, rocky trail and steep terrain.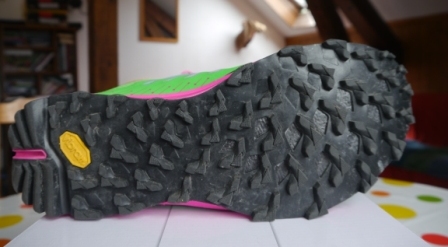 The shape of each stud is unusual but is basically a chevron and they are laid out in a bi-directional pattern, i.e. the forefoot ones are for accelerating and the heel ones are for braking on descents.
There are cutaways at the front which expose the carbon rockplate.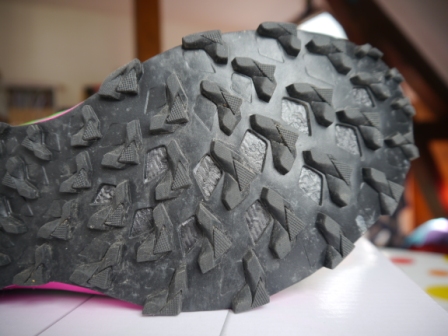 The Ride
I've been running lots of heavier shoes lately so although this isn't the lightest shoe going, it felt very light to me. It looked really well made and as though it would hold together well under some brutal alpine trail abuse. We'll see!
The fit was surprising, as it is sold as a 'minimal fit, one that closely hugs the forefoot', but I found the forefoot relatively spacious compared to a Salomon sense shoe for example. This was really good for me as so often race shoes are very narrow at the toe which I find a bit too much for my very slightly wide feet.
Once on they felt good. The tongue helped create a custom fitted feel due to its elasticity. Just walking around I felt low to the ground and as though there would be good trail feedback. The toe box actually felt great for me letting the toes have plenty of space.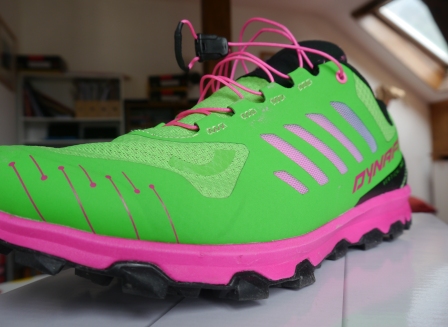 My first run in them was great! They are a really enjoyable shoe to run in as they are so light, flexible and fast! I really just wanted to get on some really steep ascents and then turn around and fly back down.
The tread is amazing. It is exceptional on rock, dry and wet. Possibly the best wet rock performance I've ever experienced! As I got used to how they performed my confidence in my footing grew quickly. The Vibram Megagrip compound is fantastic. Usually really sticky outsoles means soft rubber which equates to poor durability. Well, considering the hammering I have dished out, they are looking remarkably good with plenty more life left in them. I think Vibram are onto something here! I'd be interested to try some of the other shoes that utilise it.
I have run them in some slippery mud and they aren't great, but that's no surprise with their relatively small studs. They are just not designed for the fells!
The 'Carbon Shield' rock plate must be very thin as the shoe is very flexible, and as I guessed, the feedback from the trail is great, letting your feet know exactly what they are travelling over. So with that in mind, it begs the question of whether the rock plate is effective enough. Well, for me, with my sensitive feet, the underfoot protection is adequate for a good few hours on some very rocky trails. In fact, although I haven't taken them past 6 hours, they have never left my feet feeling sore once.
My previous experience with the speed lace style of fastening is with the Salomon sense shoe, and it was good, except that you had to be accurate with the tension as it was easy to slightly over tighten which would make a sore point on the top of your foot. Well, maybe I've just got used to it, but I have not once had to loosen off the laces due to sore points. The laces seem overly long but this doesn't matter as there is plenty of room in the tongue pocket to pack it away.
Final Thoughts…
Dynafit are relative newbies in the trailrunning market, but they have learnt fast. The Feline Vertical Pro is a fantastic shoe that has balanced up weight, protection, comfort and proprioception just brilliantly. It also manages to be durable too! The Vibram outsole is fantastic but it is not an all rounder. If a lot of your running is going to be in slippery and sticky mud then the Feline Vertical Pro is not the best choice.
This shoe is for those who run fast, efficient and want the confidence the grip gives to really kill those big technical descents.
Oh and in case you're wondering, a small amount of my runs are on flat trail and tarmac as I link up different sections of trail, and the Felines are really quite good on the roads too.
It is sold as a fast shoe for short to medium length runs and I agree, though I think that the more efficient runners will be able to go long in them.
A really exciting shoe from Dynafit, and I am really looking forward to seeing how they progress in the future.
They look so good!