Written by Neil Bryant for the URC
Salomon invited me to look at their website to choose a product that I would like to test for the URC, and without thinking I went directly to the Sense products, as they are the first performance shoes that come to mind when I think of Salomon. But before I got around to responding with my choice, I thought I should just have a good look to check that there wasn't something that might have got in under the radar.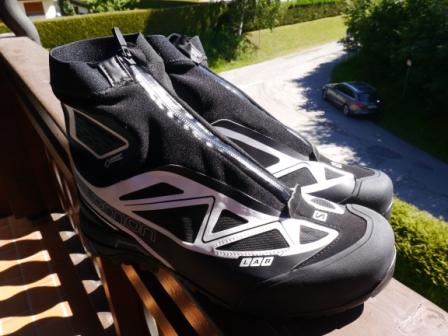 I then saw the X Alp and straight away knew that they could be perfect for me to test while living in Chamonix!
Now this is a shoe that crosses a few boundaries in mountain running and will certainly not be of use to everyone. In fact these shoes are quite niche really. They have been designed for fast mountaineering outings. They will get you to the mountain fast by running, to climb on rock, keep snow out and keep your feet warm, and finally they can take a crampon. This is a bold brief to take on, and surely one shoe could not actually be good at all of these things? Even if it is just ok at everything, then does that make it a good shoe? Well, I was keen to try them out for sure.
Since living in Chamonix, I have slowly been getting into higher altitude activities, where normal running shoes start to get a little sketchy and could get you into some serious trouble, through slipping on rock while scrambling, ice on glaciers, getting cold wet feet, and generally being too flimsy for crampons which are essential in certain conditions. I have been limited by my shoes, with no other real option other than carrying mountain boots on my back on the run up, then changing shoes when necessary.
Then along came the Salomon X Alp line of products which are all aimed at the light and fast end of the market. The X Alp Carbon GTX shoe is a new genre in shoes. It is the 'one shoe does it all' shoe. Let's talk through its construction.
The Upper
On first looks you may be fooled into thinking it is a boot, but in fact it is a low top shoe, with a built in gaiter. The gaiter is a stretchy, fairly tough feeling fabric that has a zip at the front. On each side of the gaiter there is a thin pad designed to protect the ankle from knocks. The gaiter itself is not waterproof as the rest of the shoe is. The reason for this I don't know? Maybe more breathability was needed, or the right stretchy waterproof material wasn't available? Whatever it was I can't help but feel this was a strange design choice. The proof is in the pudding though, so I'll wait until I have tested them.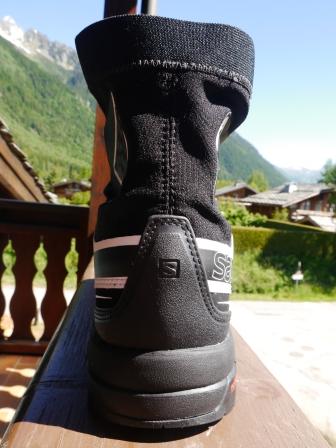 Another thing I noticed as soon as I started looking them over was that the tongue is fully gusseted, which for a shoe to be waterproof is essential, but also it is very long. It is maybe 50mm longer than a standard tongue. I was a bit lost as to the reason for this, till I used them with crampons. I think that it is to prevent the straps which you need to pull really tight, from digging into the top of your foot.
Inside the gaiter, attached to the heel is an oversized heel pull to make getting them on no struggle at all.
The laces are the standard Salomon Quicklaces which seem to be accepted by most people though some people don't seem to get on with them.
Just below the gaiter there is an overlay of fairly thick TPU that stretches from the toes all around the heel and back to the toes. This will add some stability and some essential durability.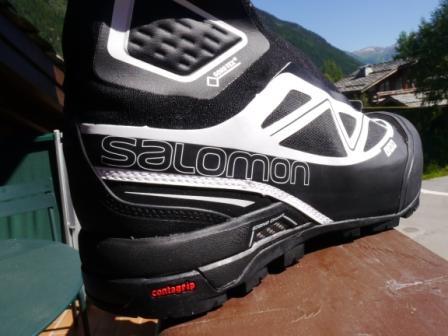 When gear goes lightweight then almost always durability is compromised, and this is one of my concerns about such a lightweight mountain boot. As soon as you bring rough rock and crampons into the mix then the chances of big rips and tears occurring are much more likely, so these additions are a priority for me.
Within this overlay there are seven cutouts (per shoe). Four are around the toe area and three are on the outer side. These cutouts expose a very tight knit mesh that also seems very tough. These will be great for some ventilation and will prevent debris getting in.
To protect the toes, aid climbing and to be solid enough for crampons, there is a 2.5mm protective rubber cap. Likewise on the heel there is a 1.5mm protective rubber heel cap. These are features that will make this into a mountain shoe that can (hopefully) competently move in the high alpine environment.
So, as you can see this is a very different shoe to normal running shoes.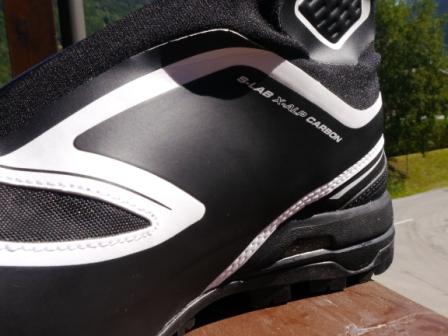 Midsole
The midsole is constructed from two layers of EVA to give plenty of protection to the foot, whether running, scrambling or climbing. And for the magic part of the midsole, there is the 'Carbon Edging Chassis'.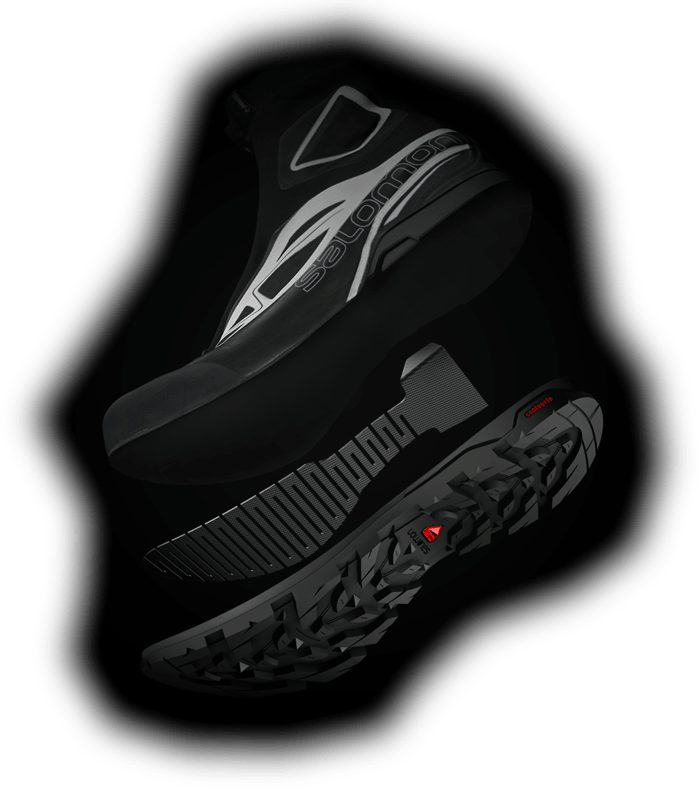 This is basically a layer of carbon that has slits in it from side to side which means that it is very flexible when flexing front to back, for walking and running, but is very stiff from side to side, which is excellent for climbing. Compared to many running shoes they are quite stiff still, but certainly very flexible compared to my mountain boots!
Outsole
Finally we come to the outsole. It is quite deep, but not too much and there is a lot of good edging around the toe for climbing ability. It has an open tread pattern meaning it won't get jammed up easily with mud.
Remember this is supposed to be a jack of all trades shoe and the sole needs to continue that theme. It is not super gnarly so will cope with flatter stuff well. The sole is so well supported that you possibly won't even feel sharp rock through it at all, just like when you wear mountain boots. It is always a shock going from the complete protection of mountain boots to trail shoes as I find it can be a bit painful.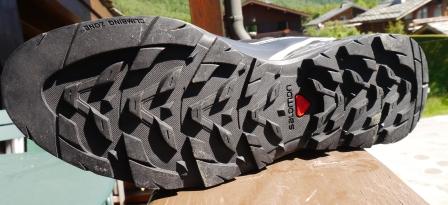 The Ride
This is a shoe that I won't be using every day as I am just running most of the time, and these are certainly not my favourite runners. But they are not designed for just running. When I first tried them on I was very grateful that they weren't a narrow performance fit like many of Salomon's performance shoes. My feet generally feel a little crowded with the performance last, but the X Alps are a little wider, so my feet didn't feel cramped at all.
I will state the obvious here, and say that they felt how you'd expect really, like a very lightweight boot, that of course isn't a boot! So, why actually is it a shoe and not a boot? Well I'm guessing the main reason is extra ankle mobility. Personally I don't feel the need with high tops to support my ankles on tricky ground. In fact, I feel more stable when my ankles are free and not restricted. There also will of course be weight savings due to losing a fair amount of material.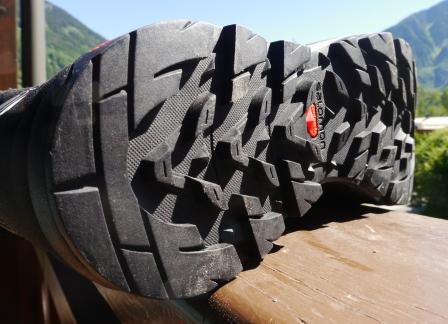 They are flexible but still quite solid. Certainly they will make walking and running a far more natural movement compared to a totally inflexible mountain boot.
The gaiter keeps everything very neat and the elastic around the top was just right for my ankles, making a good seal yet not too tight. This will possibly be too tight for some people I imagine, and there's no way to adjust it.
So, for my first test, the objective for Alex and I was to head from Argentiere straight up to a ridgeline, scramble along as far as a col and then head back. This would entail trail running, scrambling and snow. Alex also has some X Alps and has had them for quite a while. He really rates them.
The initial part of the route is a 1000m ascent on a good trail which we ran and hiked. They felt great, and the weight was superb.
My foot felt secure inside but as we neared the top of the trail, my heels started to feel like they were rubbing, even though they seemed solid within. Some shoes are just not the right shape for my feet. Maybe this was one of those pairs. No fault of the X Alps, just my pesky feet. I'd just have to deal with it for today.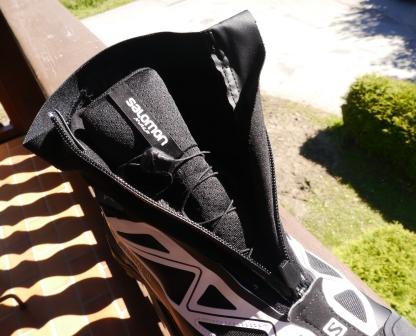 At the top of the trail you just make a beeline directly up towards the ridgeline. It is steep and again, this is running shoe territory, yet I was happy with their performance. The flex on the steep slope makes for a more natural stride, and also gives more grip as more of the sole is in contact with the ground for more of the time.
Once we had gained the ridge, about an hour and a half in, we were then scrambling for the next hour. It is never too challenging, but is certainly a good little test for the shoes.
I found they were performing fantastically. When boulder hopping, the solid grippy sole gave me confidence on the rock. The solid sole, compared to a running shoe, meant I could jam my foot in between rocks without crushing my foot. Always nice!
The feature that is really impressive is the climbing zone around the toe section of the sole. Basically the solid edge that enables you to use small ledges as footholds with confidence. Something that you can do with running shoes, but certainly not with confidence, and in fact it is often sketchy.
Once we reached the snow, neither of us had bought spikes, and so we had a bit of a slippery time. On the descent, the final trail section to the car was great. They actually descend ok. Very well protected, but with just enough feel to sense the trail beneath.
All in all we were both very impressed. My feet were both blistered on the heels but other than that, they were really impressive.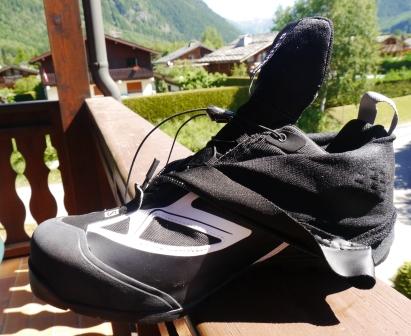 I do get hot feet so, with Gore-Tex shoes on, they sweated a lot and were soaked inside when I took them off. I don't think this is a downfall of the shoe though. They need to be waterproof to go up into the snow.
My next test was a lot more involved.
Alistair and I decided to try the Royal Traverse, a 3 to 4 day route which we intended to do in 2 days. This begins with around a 2000m ascent to the ridgeline. We were then above the snowline so thankfully we both had crampons and put them on. They felt solid on the shoes, and flexed nicely with them. The rest of the day was spent on the ridge and they were coping well. Just before the end of the first day, we had an awkward downclimb on some seriously loose rock. We took a slightly wrong line down here making it even sketchier. By this stage, I had gained confidence in the shoe and crampon fitting and was not even concerned about whether a crampon would come loose at a dangerous moment. They were great to climb in, and even felt good to have the flex in the sole. They also provided a stable platform when I had to jam some of the side points on a precariously small ledge. We made it down, both happy with our X Alps and shortly after arrived at the refuge for the night.
Mine were absolutely soaked through with sweat again, whereas Ali's weren't. Damn my sweaty feet!
By 0500 the next morning we were working our way up the steep snow field towards the greatest test yet for my X Alps. The final section to Aiguille du Bionnassay is a rock climb. It's nothing to difficult, so Ali and I were soloing it. We would be rock climbing with crampons on. They needed to be rock solid on our shoes as if they slip it could be quite messy!
The climb was lots of fun and we moved confidently up to the top, back onto the snow. I didn't even think about my shoes or crampons once, which is testament to their performance.
From here you follow the incredibly narrow Bionnassay snow ridge, which by now, confidence in footing and footwear was good. After this the going was easy and we were on the normal route to Mt Blanc. We summited about three hours later, and three hour after that, we had taken the three monts route back to the Aiguille du Midi, which included some icy/snowy downclimbing.
My feet were again totally soaked and because of this a little cold, but not too bad. Overall though, the X Alp shoes have seriously impressed me. They really are surprisingly good at all the things needed for speedy ascents at high altitudes. They really are for a very small market, but if you want an all mountain, super lightweight boot that can take crampons, then this is probably it.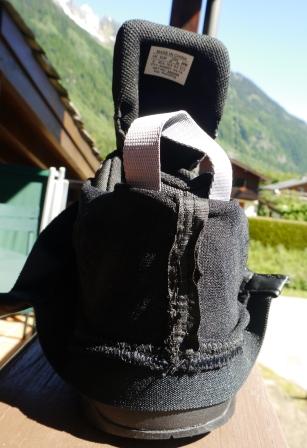 My friend Alex from their first outing took them to Canada hoping to get some good ascents in. They had awful weather so ended up hiking trails instead. He said they were perfect for hiking and they were surprisingly waterproof! So maybe if you feel no need for ankle support (I don't) then maybe these could work for that too.
The weight difference between these and my La Sportiva Nepal mountain boots is a whopping 700g a shoe. That's well over double the weight. The difference felt between a 250g running shoe and a 330g running shoe is huge to me, so you can imagine how much different a shoe feels when you remove 700g of weight! It is really noticeable on the long days when you are really tiring and lifting your feet becomes tough.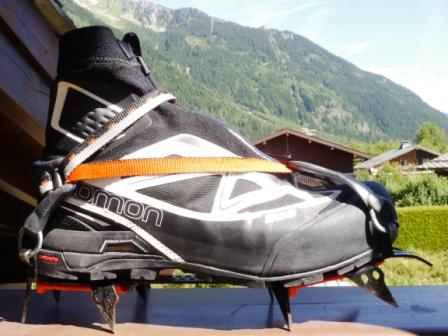 So, although this shoe will be of no use to some of you, I know that there are people who will be reading this who it will be very relevant to. It is not exactly cheap, but it will make your ascents quicker and more nimble, meaning more fun! I can't wait for the next adventure they will take me on! I look forward to seeing how Salomon moves foreword with this concept, and hopefully other companies will also bring out gear for speed ascents.