Written by Jen & Sim Benson www.wildrunning.net for the URC
Price: £110
Weight: 340g per shoe Men's UK 11 or 290g per shoe Women's UK 7.
Find out more at www.inov-8.com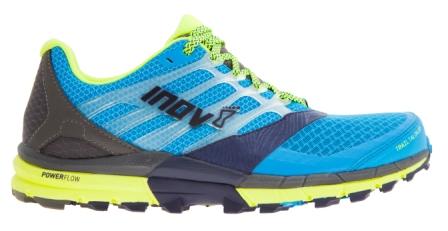 Overview:
Inov-8 designed the Trail Talon 275 for long distance running on hard packed trails, where a great fit and a comfortable ride are key. This sounded like just what we were after for our normal "long" training runs: a combination of short sections of road and miles of gravel towpath. After a month of testing here's our verdict:
The Brand:
Founded in 2003, Inov-8 are firmly established in the off-road shoe market and more recently have been moving into multi-terrain and road shoes.
Formerly a British company, now under the ownership of Descente – a Japanese sportswear maker with an 80-year history of craftsmanship and excellence – founder Wayne Edy is still firmly at the heart of product innovation. We're fans of the brand's ethos ("obsessed is just a word the lazy use to describe the dedicated") and they take corporate responsibility seriously, with clear information on their website on environmental footprint and manufacturing ethics.
The Shoes:
Out of the box our first impressions were good. Striking colourways for both men's and women's and not too much pink J. The design is eye-catching too – a rugged-looking trail shoe with a toughened exoskeleton that attaches to the lacing system.
The Fit:
The Trail Talons are comfortable straight from the box. They hold the heel well, with very little movement but great comfort too – a relief after some previous experiences with tricky Inov-8 heels. A wider forefoot gives plenty of room for the foot, great for longer distances and warmer weather running. Those with particularly low-volume feet might find them a bit on the spacious side. Length-wise we'd say they're true to size.
The Tread:
On first impressions the sole looks quite aggressive for a high mileage shoe designed for hard-packed trails, with 4mm triangular lugs. In use, though, they feel great on harder surfaces, with a smooth, lightly-cushioned ride unhindered by the tread. Off-road and they grip well on grass and shallow mud; obviously not as well as something like the Mudclaw but considerably better than a normal road shoe. They're a little slippery on wet rock and deeper mud, but as a multi-terrain shoe they're very impressive.
It's fairly early days to comment on the durability of the sole but so far, even after a good few road miles, there's very little sign of wear.
The Sole Unit:
The Trail Talon 275 has an 8mm drop from heel to forefoot: not overly-minimal whilst feeling responsive and natural. The shoe has a reasonable amount of cushioning, as you'd expect from a high mileage shoe. Inov-8 use a Dynamic Fascia Band shank which is supposed to help energy return; it's hard to tell if this works but they do feel nice to run in! They're nicely protective and, taking them out for some fast runs on sharp, rocky surfaces, very little comes through.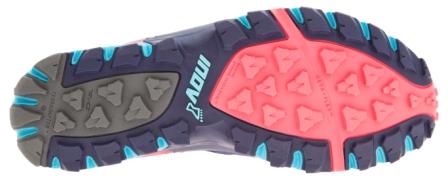 The Upper:
The upper is a light and breathable synthetic material reinforced around the heel and toe. The toe has an additional layer of synthetic leather sewn on as a bumper with a welded rubberised material underneath adding durability and a bit of debris protection. The heel cup is reinforced but still very soft and seam-free; it doesn't appear to have a plastic heel counter like most other shoes. The shoe has built-in attachment points for a micro gaiter which is a clever idea.
The Lacing and the Tongue:
The standard flat laces insert into a plastic exoskeleton that's attached to the sole unit; this gives the uppers structure and holds the foot well. The tongue is padded but not too thick, with just the right amount of comfort and protection. A great feature is the tongue gusset which stops debris getting into the shoe, especially if combined with a gaiter.
Verdict:
Inov-8 have got this one right: the Trail Talon 275 is a great high mileage hard-pack trail shoe. It's good off road as well so would be a great all round trail running shoe and should prove quite durable as well.
The shoe is very comfortable but the forefoot is reasonably high volume so may be a bit big if you have narrow feet – possibly more likely to be a problem in the women's version.
Overall we've both thoroughly enjoyed testing these out and think that they would be best as an all-round training shoe or a safe bet for longer distance trail races.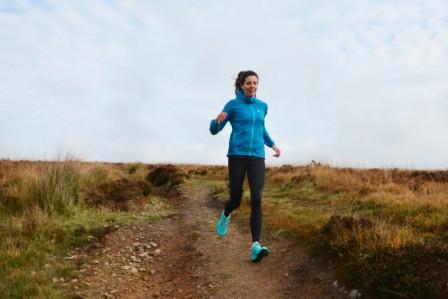 Other Options:
We haven't tried them yet but the Trail Talon 250 may be a great partner to the 275. It's a bit lighter but also has a slightly lower drop so might be a better race shoe leaving the more durable 275 for training.
The 275 is also available with a GoreTex waterproof lining – great for winter training.