Written by Neil Bryant for the URC
Scarpa are an Italian family run company that have a long heritage of producing some of the finest mountaineering boots in the world. They also make some great ski touring boots, and rock climbing shoes. It seemed like a natural extension to start making trail running shoes. After all, it couldn't be that difficult with their knowledge and experience… could it?
The more shoes I run in, the more I realise that it must be quite a fine art designing a good running shoe. And of course, what will be the best shoe ever for one man, will be the most awful for the next, so I am never too expectant that a shoe will work or won't with me and my feet.
I own an old pair of Scarpa mountaineering boots that feel good on my feet, yet that doesn't mean a great deal as they will be made on different lasts.
So, enough second guessing! I was advised to go up a size, but they were too big, so went with my normal size 43, and they felt good out of the box. My feet are not that wide, but are certainly not narrow, so I would say these are pretty much in the middle of the volume range, neither wide nor narrow.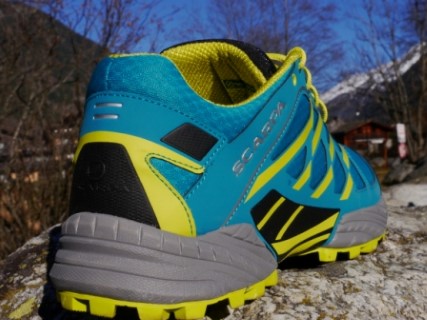 Scarpa describe the Neutron as "a race-inspired, but training-worthy trail shoe" and at first glance this seems a fair assessment. Not super light, but a reasonable 275g they feel like a nimble but sturdy shoe. A fairly beefy Vibram sole and a toenail saving rand all make me think this would be a great everyday shoe. I was surprised to read they have a fairly low 6mm heel to toe drop on them. I say surprised as it just felt more when I put them on.
I'll just go through the shoe in more depth before finishing off with my conclusion.
Upper
The first thing I thought when I looked over this shoe is that it is very 'traditional'. By traditional, I mean that there are no real features that stand out as particularly unusual or innovative. Now, I understand that this may read as not good to some, but what I mean is that it is a solid shoe that is relying on the reliable. It is designed as a solid, dependable yet fast shoe, a shoe that can put in mile after mile with no concerns.
The main material is a polyester mesh which is tight enough to prevent debris ingression yet is relatively breathable.Over the top of this is a synthetic leather structure that wraps around the toe for protection and creates a cage around the midfoot adding more stability in the area of the laces. This has partly been stitched and partly welded onto the main material underneath. Why the mix in bonding techniques I'm not sure, but I would guess that it is a strength thing?
Also around the toe area is an extra layer over the top of the synthetic layer to add a little extra protection. This gives a well protected toe box, but it doesn't feel too built up. Just right to allow the odd kick of a rock or root and to not get a black toenail.
The tongue is fairly chunky, but not too much in my opinion, and joy of joys, Scarpa have made it a gusseted tongue! It is a pet hate for me when shoes are not somehow attached to the upper to prevent sliding to the side. Why would a designer not add this feature? The top section of the tongue also has a small elastic pocket to stow the laces in, to neaten things up.
The laces are perfectly serviceable and, for me the right length. The eyes I am not so keen on as they let the laces run freely through. I prefer it if there is a little grip so it holds the lace a little when they have tension on. I'm obviously getting more decisive with what I like and what I don't (fussy)! This is by no means a deal breaker though.
The heel is quite a solid one with average padding. Occasionally I try a shoe that has fat, squashy padding in the heel area (and the tongue) which I really can't see the point in. It doesn't really add comfort, doesn't breathe well and absorbs moisture. Thankfully that is not the case with the Neutrons.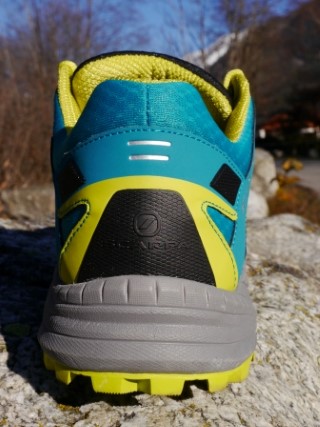 Midsole
At 6 mm, this is a relatively low drop shoe. Nothing extreme, but worth knowing if you are not used to this. Personally, I seem to like the feel of anything with a drop of 4-6mm so these are just great. The midsole itself is produced from compression molded EVA. Also within the sole is a rockplate. If you have read any of my other reviews, then you will know that I like a decent bit of protection, and this rockplate seems really solid. I'm guessing that the protection offered from this setup is going to be quite substantial. This is great, as long as you don't lose too much of the feel of the trail.
Outsole
Now on to the ever important sole. I was delighted to see the familiar little yellow Vibram logo on the sole. For me this is a sure sign of quality. Vibram really do make some amazingly consistent outsoles, and I am always happy to use them. Do they even make a duff sole?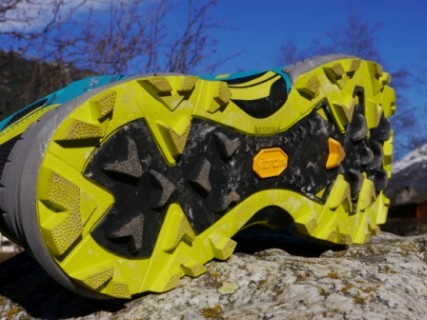 The tread is fairly aggressive, being made up mostly of chevrons pointing in all directions meaning they should hold in all directions. They are nicely spaced to promote mud clearance.
The rubber feels quite tacky so I am expectant of some fantastic grip. Will it be at the cost of durability though. Time to get testing!
The Ride
Well, it's taken me a while to give the Neutrons a good test, for a few reasons (Being a new father and it being Winter here in Chamonix so the ski boots are getting more wear) but with the snow disappearing fast in the 'heat wave' we are currently suffering, the lower trails are drying out and opportunities for running are opening up. I'm hardly run fit, but the ski touring is keeping me in decent enough shape to give the shoes a good hammering.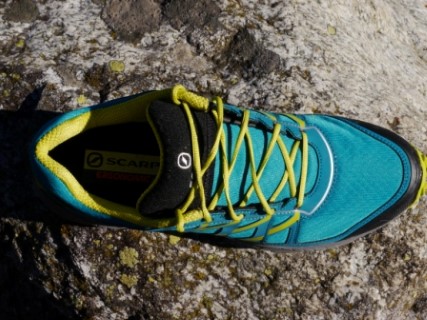 This shoe puzzles me a little. It appears like an old school trail shoe, but it is not heavy and it has a fairly low heel to toe drop at only 6mm. Things are not what they always first seem. I'll be honest, when I first opened the box, I was keen to try them out, but I was not excited. Then I felt the weight and tried them on. They were light and felt really great on my foot. I was getting more interested.
Scarpa say '...this is a race-inspired, but training-worthy trail shoe' so this is not intended to be a super light, super fast shoe reserved for race day. The Neutron is supposed to be a fast shoe that can take the daily abuse of the trails and not fall apart as so many of the race shoes do after a very short amount of use.
In practice, this shoe is growing on me. I like the light feel yet dependable build. It is showing very little sign of wear and it feels like it will just keep going. It performs as it was designed to. Nice work Scarpa! Of course there is no reason why you couldn't race this shoe, and with the decent rock plate, it really looks after your feet, meaning that you could go for hours and hours i.e. an ultra! If you like a lot of feedback from the trail then the rockplate loses some of it, but not overly so.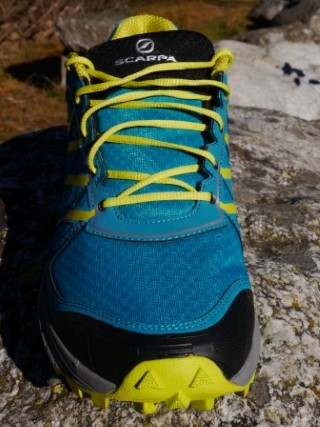 The toe box and fit in general is completely a personal thing, but for me, they feel really good on my foot. No pressure points or rub points anywhere yet. The laces hold firm and have never come undone.
Tick, tick, tick… are there any unticked boxes?
Now down to the maker or breaker with any shoe: the tread. As I already said, it's a Vibram which in my experience tends to be an almost definite winner. Is it this time? Well, in brief, yes it is. It holds an excellent middle ground of a pretty deep tread, but not a pure mud shoe. As it is supposed to be, this is the shoe that can do all. Hard pack trail it is comfortable and grippy. The new 'Megagrip' compound really is magic stuff from Vibram as it grips very well on Wet rocks. The confidence that is borne from this I'm sure is advantageous in numerous ways. I relax more in slippy terrain, meaning I am less likely to fall. I am also less fussy about my footing. With some other shoes that aren't so grippy I have found that I tend to completely dodge rocks with the slightest sign of moisture on as I know it could mean I'll end up falling. I have also been on a little ice and they of course don't stick well to that, but there is some form of traction there.
I can't fault the outsole really. It doesn't seem to wearing too quickly either.
So if you spend a lot of your time on varied trail (rocks, smooth, mud, snow etc.) and you want a shoe that you can just pull on day after day, with no thought for durability then the Neutron is certainly worth a try. Just make sure your achilles are ready for the 6mm drop.
Scarpa also do some other cool looking shoes with most being lighter! Check out the website here to see the range.I need to try them!