Written by Neil Bryant for the URC
I recently got a chance to review the rather amazing Salomon X-Alp Carbon GTX and what an incredible shoe (boot?). It is basically a super light mountaineering shoe that can be taken into the high mountains and with certain features such as being able to take a crampon, decent edges on the toes for easier climbing/scrambling and a gaiter for keeping snow and grit out it is just amazing to wear instead of some very heavy mountain boots. Of course the shoe was designed for moving fast and safe in the mountains so the combination of the low weight and the slight flexibility meant that this shoe could also be run in. Now, of course a shoe that covered so many disciplines could surely not master them all or indeed any, but the weakest point for me was the fact that they were not brilliant for running in. They just didn't feel remotely like a runner. Maybe I am being harsh about such an adaptable shoe?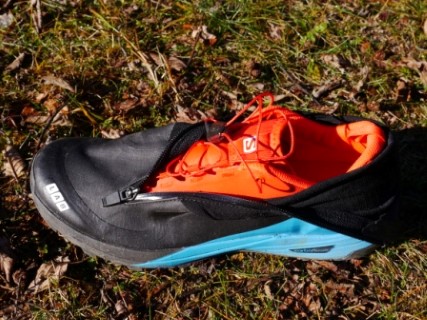 Whatever your thoughts are of Salomon, one I think we could probably all agree on is that they are constantly pushing the boundaries and coming up with some really interesting stuff. Truly Innovative! It's not all a hit, but that is what makes what they are doing all the more exciting. They are willing to take the risk to produce the right product for their athletes.
So, with the Carbon GTX already out, where would they go next? Well, I guess that I wasn't the only one to think the same about the running performance, as they redesigned it completely but this time trying to make a shoe that does all the above but is simply a better runner too.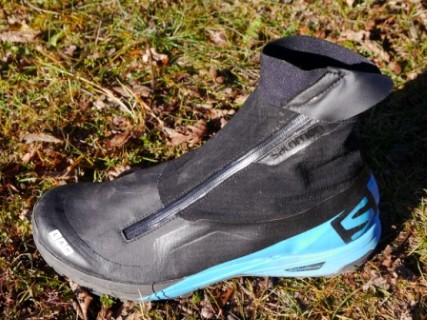 So how would they go about achieving such a design brief? Well, a good place to start would be with the incredibly popular Sense platform. After all the Sense is to many a fantastic mountain running shoe (if you're lucky enough to have the right shaped foot). It is quite cool to fold the gaiter down on the black XA Alpine, only to be greeted with the bright red sense shoe hiding within.
There are key sense features such as Sensifit, Quicklace (love it or hate it), and Endofit which all makes for a super cosy fitting shoe, which will feel very familiar for Sense owners.
Then you need to sprinkle in many of the features from the Carbon GTX such as the protective toe cap which is good for when things get a bit more vertical and less runnable, when your toes tend to get crushed in normal runners. It also adds a little more stability for when you need crampons.
The gaiter comes all the way down to the midsole and is made from a tough fabric which is great for if you are scrambling on rough rock. Granite takes no shoes prisoner! This is a necessary.
There is also a protective ankle pad on the inside of each. This is good for protecting your ankles from crampon scrapes which can be very unpleasant!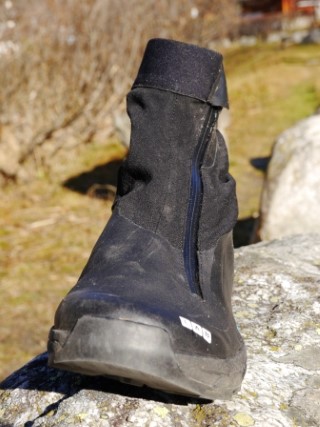 Then there is the superb carbon chassis which I found to be so effective on the carbon GTX. This is a carbon plate which has cuts in it that makes it fairly flexible from toe to heel (good for running) and stiff from side to side (good for climbing). Believe me, this is a great technology. It works well enough to climb in without having a solid sole.
The climbing zone is just a solid rubber outer section on the tread pattern around the toe. This adds much more stability and friction for climbing. If you have climbed in trainers with a fairly luggy tread on them then you'll understand how good this is!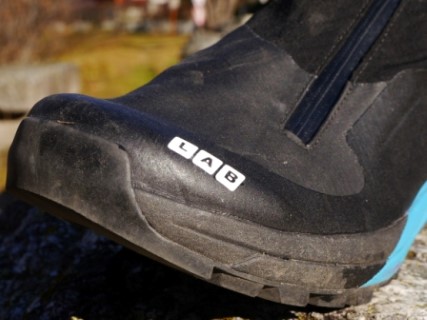 The final feature of course is the gaiter which envelopes the whole shoe and keeps all debris out which I have found to be great when using this out my door up the trails then into deep snow. With no gaiter my feet would be totally soaked and very cold as the snow just gets in, compacted, then I have ice in there! I don't mind snow in my shoes if I am on the snow for short periods, but over prolonged periods, it gets really uncomfortable.
The outsole is very similar to the carbon GTX and nothing like a sense. It is an open pattern of studs and they are fairly robust, making me think more of mountain boots that running shoes.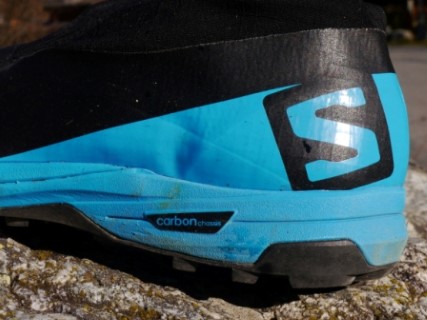 So, I have run a fair bit in these now, and been trying to give them a good testing in the environment they are designed for. I have had a couple pairs of Sense before so knew how the fit would be. Unfortunately for me they are almost a great fit, but not. They are just a little too narrow at the front. This is of course not an issue with the shoe, more my hobbit feet.
I personally find the quicklace a good system once you get used to doing it up evenly and not cutting into the top of your feet. Once I'd squeezed my feet in, pulled the laces tight and then zipped up the gaiter, I really wanted to go out immediately!
They felt great and like a completely different shoe to the Carbon GTX. They are less bulky and so feel more nimble. The sole is quite stiff, but not too much. It certainly felt adequately protected. Enough, I needed to run them!
My first outing was from my house, straight up the trails to the flegere ski area. It wasn't open for the season, but there had been a dump of snow. The snowline was about 500 vertical metres above home which was perfect for testing as it meant they got plenty of dry trail, wet trail and snow to go through.
Above the snow is a small valley with a few cols and little peaks and I was popping up there often and having a little explore. Each time I wore the XA Alpines.
They surprised me with how good they felt on the dry trail. The paths I was using are fairly technical and steep and I always felt as though I was in 'normal' trail shoes. I felt confident and sure with my footing. The tread seemed effective.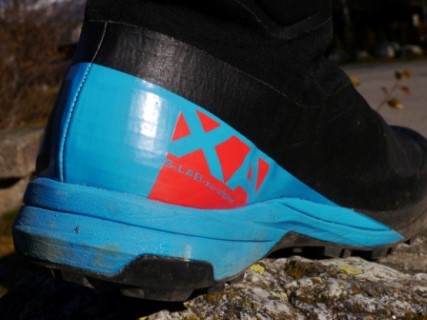 Then the wet and slushy trail for a short while before the decent snow. Again, running through perhaps my least favourite of conditions underfoot and they made light work of it. The gaiter now was working plenty and keeping the snow and slush from getting in. My feet, other than sweat, were dry. Very nice.
Then I reached the snow. Over the test days, I experienced very deep snow, Very thin cover (so the rocks were hidden from view but not your feet), wet and heavy snow, Beautiful cold powder Hard frozen neve and plenty of awful breakable crust. The XA Alpines coped as well as any shoe could, they were protective from hitting rocks, the gaiter was superb, the tread was all you could ask for (while still being good for running) and you could even kick steps into neve.
One day I headed up a couloir and discovered some horrible crust to rip my shins apart. I decided to don the crampons I had. They weren't as comfortable as on a super stiff mountain boot of course, but I wore them for over an hour and they were fine.
I have also taken them around a small scrambling/climbing circuit that you can race around quite quick which I thought would be ideal for testing the climbing abilities on rock. Seeing as I had recently tested the Carbon GTX, I was not surprised to discover that they were brilliant. You could use the edges to great effect and safely on very small holds. Also, jamming them into cracks was not agonising due to their stiffness unlike normal runners which tend to let your foot get crushed.
Could I find any real flaws? Now, I appreciate that this could well be very personal, but my feet got super saturated in sweat which was never pleasant. I think I do suffer from overly sweaty feet anyway so maybe this is just a me thing. Anyone out there have a pair and can comment on this?
Overall though, I am seriously impressed. Salomon are really pushing the boundaries on footwear at the moment and I love this innovation. I am also excited to see where it will go. I don't think anyone else is making shoes similar (maybe I'm wrong). The stiff sole, gaiter, lightweight and being a good runner are an interesting combination that when all thrown into the pot, come out as a very able mountain shoe that can move fast below the treeline, above the treeline, in the snow, and over rock.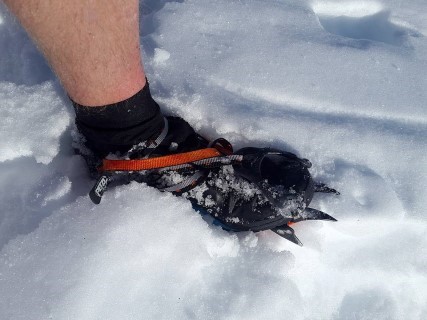 Who is it for? Well I'm guessing that if it's for you, you'll probably already know as the features will just make sense. I have really enjoyed the surprising lack of compromise for each different terrain they cope with.
Finally, a few people have asked what they would be like as a pure trail runner. Well, that's not what they were designed for, but if you are after something a little more solid with a gaiter and the sense shoe fits you well, then I think it would suit some people for bigger events on difficult terrain. I won't be using it for just trail running though.