Written by Neil Bryant for the URC
A few years ago when I was doing some fairly high mileage, mostly on road or hard pack trail, I was suffering from very sore balls of my feet. It felt like the metatarsals had no padding to soften each footfall. I had had them looked at by a few specialists and had tried a few things but nothing seemed to relieve it.
I was willing to try anything that would help with the pain and keep me running. Now was my turn to try Hokas. I'll be honest – I had steered clear of the platform shoes so far. I like to think that image is not important to me, but Hokas proved to me that I did care. I thought they looked insane. Not only that, but they just didn't make sense to me. I liked being fairly close to the ground and was concerned about going over on my ankles being so high up.
Anyway, I got a pair and they were high! I forget the model. They were amazing fun running down hills on the road. But sadly, the reason I got them, to ease the pain in my feet, they had no effect. So after a few weeks, I gave up. From then I didn't take too much of Hoka shoes.
That was until they started doing some non-platform style shoes. Something a little more traditional.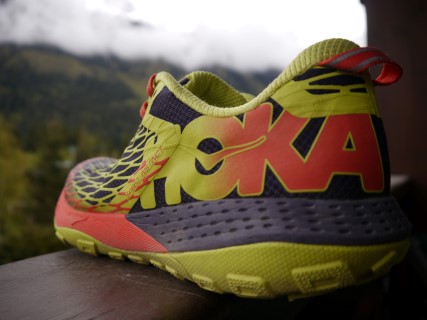 The Hoka Speed Instinct relit my interest in Hoka and I wanted to give them a try!
They are light at 225g, have a very low heel to toe drop of 3mm and look pretty cool in the super bright, Euro colours I had. More conservative colour plans are available for those who are not so keen.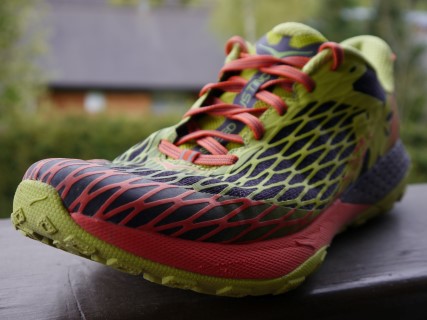 When I pulled them out the box, they felt super light and I noticed the ample padding around the heel and the tongue. I generally don't feel the need for so much padding as it just absorbs more moisture and stays wet. I am open to it though. Time would tell.
The midsole is made with a rather soft and squishy heel section and a firmer forefoot section. Hoka have named this PRO2Lite. It is supposed to add a comfortable heel strike and a responsive toe off. Simple but actually could be a good thing as long as the heel is not too soft.
Hoka also have added their 'Early Stage Meta Rocker', which I believe means that the sole is curved to aid you stride from heel to toe. Many companies have something similar, and generally it feels good though I have generally lost the rolling sensation when on technical ground.
The tread I was less excited about. It didn't look like a great pattern and it certainly didn't just feel sticky like some soles do. Again, this was something only testing would reveal.
I first managed to get out in these back around Christmas time when I was back in the UK. I ran on woodland trails, a little road, canal tow paths and even did some hill efforts on a wet slippery rocky trail. They felt absolutely great on my feet. Just a fantastic fit. Heel was super comfy and the toe box was just perfect for my feet. I have fairly average feet that if anything are a little wide, but not much. I had been advised to go half a size up from normal which seemed good for me.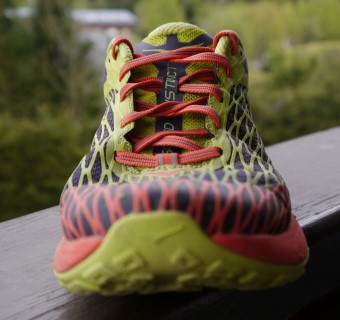 The soft heel was very noticeable and I liked it. It seemed to have enough protection to prevent sharp stones poking through too much. They felt great on the tow paths. Well suited for long days on the hard pack terrain. They were fun and fast on the twisty woodland trails. I had a few slips on wet tree roots. Nothing unusual really. Not a lot sticks to tree roots!
They were really nice for the hill repeats I did. The trail I was on was not at all technical but it had lots of slick rock and I kept slipping and sliding. Again, I thought, this is something that many shoes wouldn't cope with.
We then returned home to Chamonix and the shoes didn't get worn for a couple months as I was skiing. As the snow melted it was time to get back out running again and out came the Hokas. How would they cope with Alpine terrain, snow and lethal slippery rocks. I admit that I was a little nervous.
Over the last couple months my confidence has grown for the tread. I am not going to say it is great, but it works if things don't get too testing for it. It is the weakest part of the shoe in my opinion. But let's get this into perspective here. I would still rate this shoe overall. The comfort is just amazing for me, and I still really like the soft heel. I really find I can let go a little more on the steeper descents. I have run some of the local descents faster than before while wearing these shoes. My longest run in them is around 5 hrs, but I feel quite confident that I could run way longer, in relative comfort in them.
I am not sure they need the extra padded heel or tongue but I guess I'll never really know whether they do make things more comfortable or not. As I write this though they are next to me, soaking wet from todays run up into the snow, and they do seem to be drying very slowly because of the padding.
What would the Speed Instincts be good for? I would say anything dry, hardpack and fast. I wouldn't take these up into the marshy boggy areas or if it has rained a lot and there is a lot of mud or wet rock.
So, after a big period of not really noticing Hokas, the Speed Instincts have bought them back into my sights. Hoka are onto a winner here. The Mafate Speed 2 from Hoka has a Vibram Mega-Grip outsole and I so wish they had used the same for the Speed Instict. It would have been so much more adaptable to different terrains.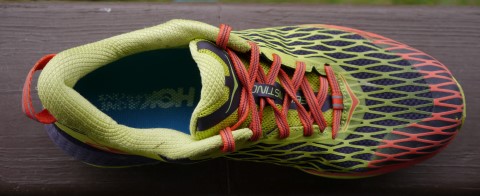 These are certainly worth the try if you can. If you are lucky like me with the fit then you are in for a treat! Fast and nimble and even work well on the road, so would make a great door to trail shoe. Good work Hoka, maybe I'll have to try some of your higher shoes again!