Written by Neil Bryant for the URC
I recently tested the Neutron shoe from Scarpa. It is a good, but very solid shoe. I say, but, purely as I know this won't be to everyones liking. Me personally, I quite like a dependable, rock steady shoe that can be counted on at all times, and has high levels of protection.Like a lot of you reading this though, I like to have a selection of shoes for different runs, in different condition and terrain. I also like to do some running in lighter and more nimble shoes. So next up for testing was a sample pair of the lighter (252g for a size 42) though not lightest (the Atom is a scant 3g lighter) Spin shoes.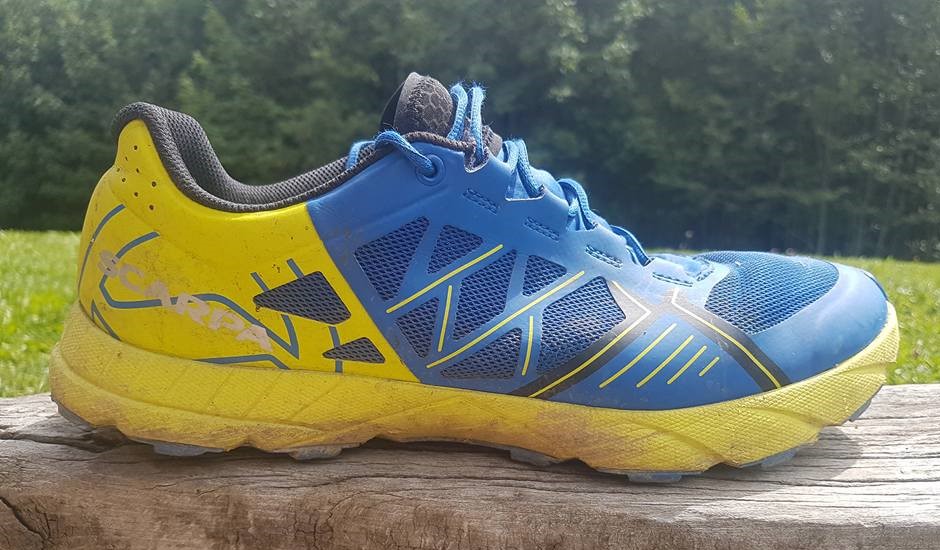 This is like the opposite of the Neutron, being light, very flexible in the sole, very low Heel to toe differential at 4mm, and athin tongue. One similarity is that they both have outsoles manufactured from the amazingly sticky VibramMegagrip. As far as I'm concerned, any shoe has the potential to be great if it has a Megagrip sole.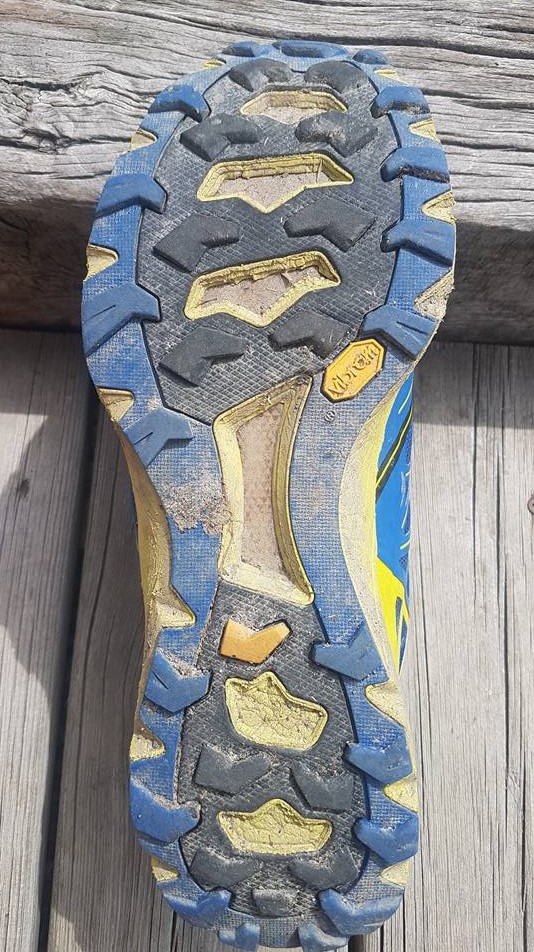 Whereas the Neutron was a very conservative shoe, the Spin, is a fast and exciting shoe. It initially reminded me a little of the Salomon Sense shoes, though with two big differences. Firstly, they are a lot more flexible than the relatively stiff sole of the Sense. Secondly, and this was very important to me, they are wider than the Sense, making them much better suited to my feet. They're not super wide, but if you also have troubles with the narrow Salomon fit (I know a lot of people do), then it could be worth trying a pair of the Spins on.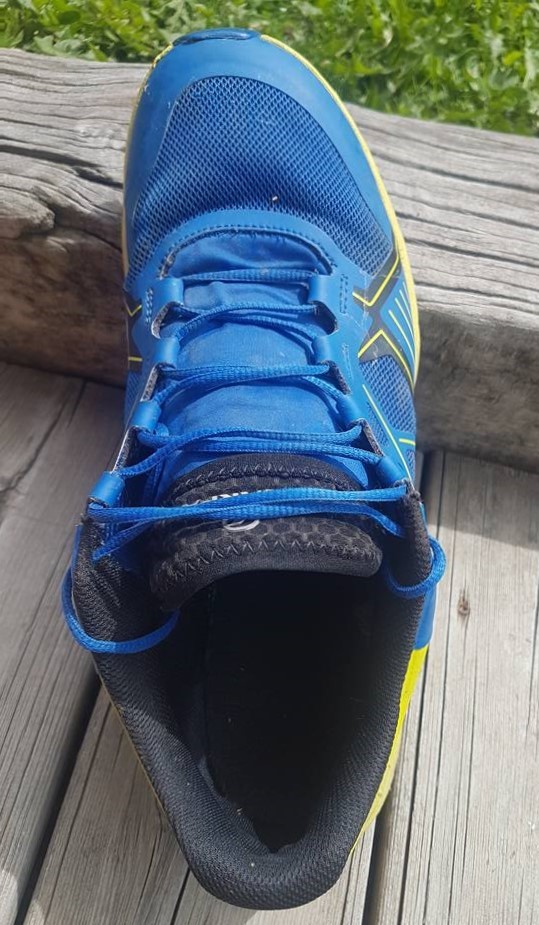 You can tell when I get new test shoes that excite me as I often don't get to take pictures before I've worn them. I tried them on and walked around for a while and knew straight away that they were a good fit for me. My first run was around two hours and by the end of it, my calfs were feeling the 4mm drop of the heel a bit. I guess I haven't really been running in shoes this low for a while now so my body was no longer used to it! I alternated between my Mutants to prevent injury.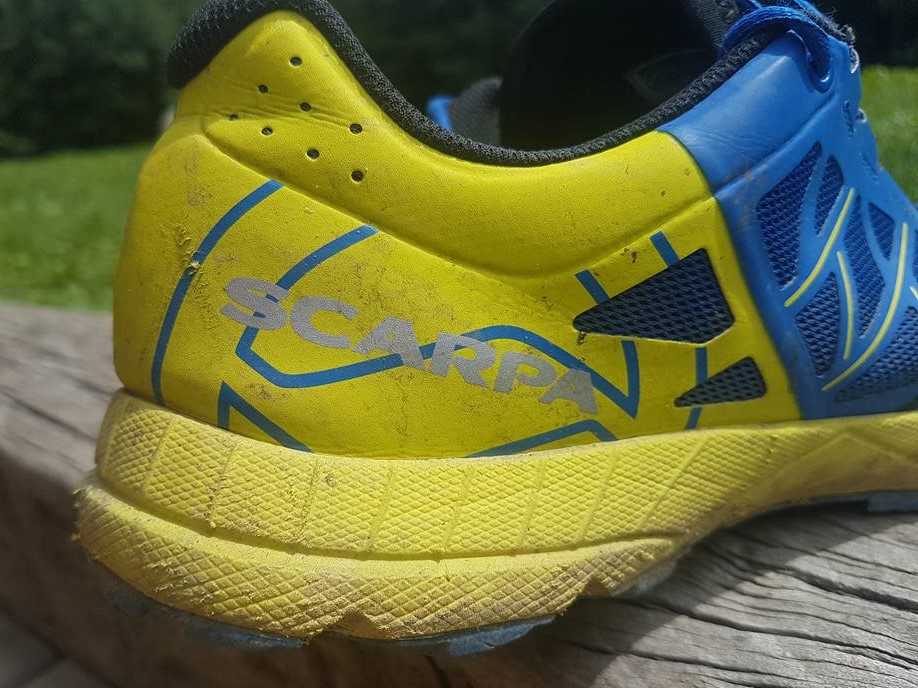 Now, as I have mentioned, the Spin are quite flexible, but within the EVA midsole is a high-density rock plate.This was a great addition as far as I was concerned to a light shoe. It has obviously not added much to the shoes overall weight. In practice though, over the sometimes brutal, technical trails that are littered with horrible sharp, pointy rocks here in Chamonix, the protection was lacking a bit for me. I would love to have just a little bit more to give me more comfort on the descents and therefore allowing me to let go a bit more.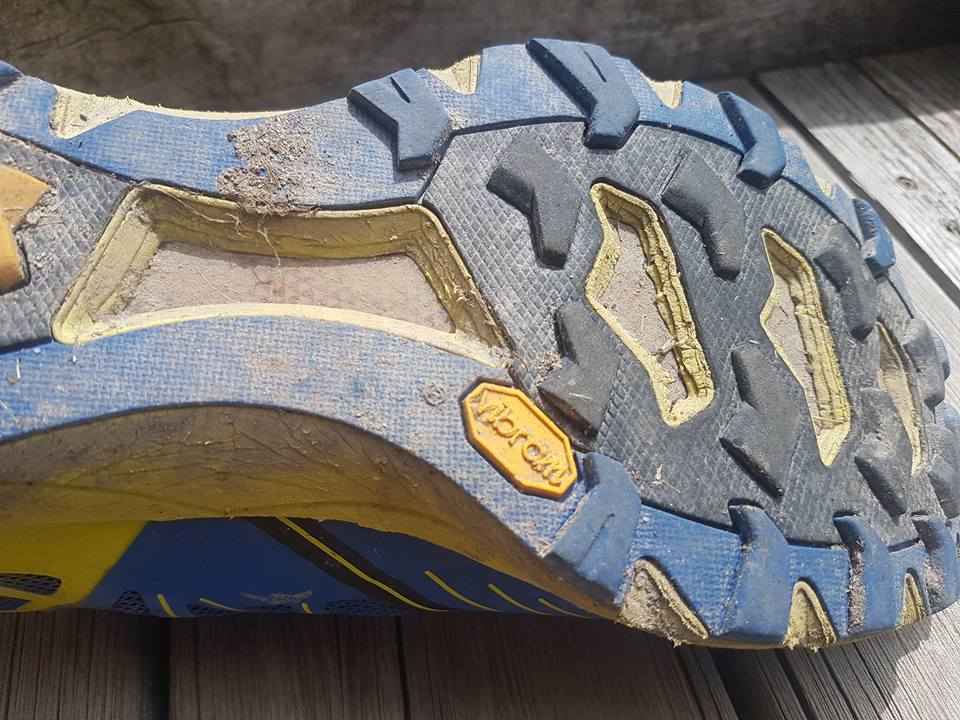 The Megagrip sole, I of course love, but how is the actual tread pattern? I can't really fault it as an all rounder mountain shoe. It sticks to rocks, wet and dry, like a limpet, and there is enough depth to cope with some mud, but it would fail in deep mud. This shoe belongs in the high mountains on technical, rocky trails. There are cut throughs in the tread that expose the rock plate (I think?). This obviously saves weight, but of course you are losing some, for me, valuable protection here from those sharp pointy rocks.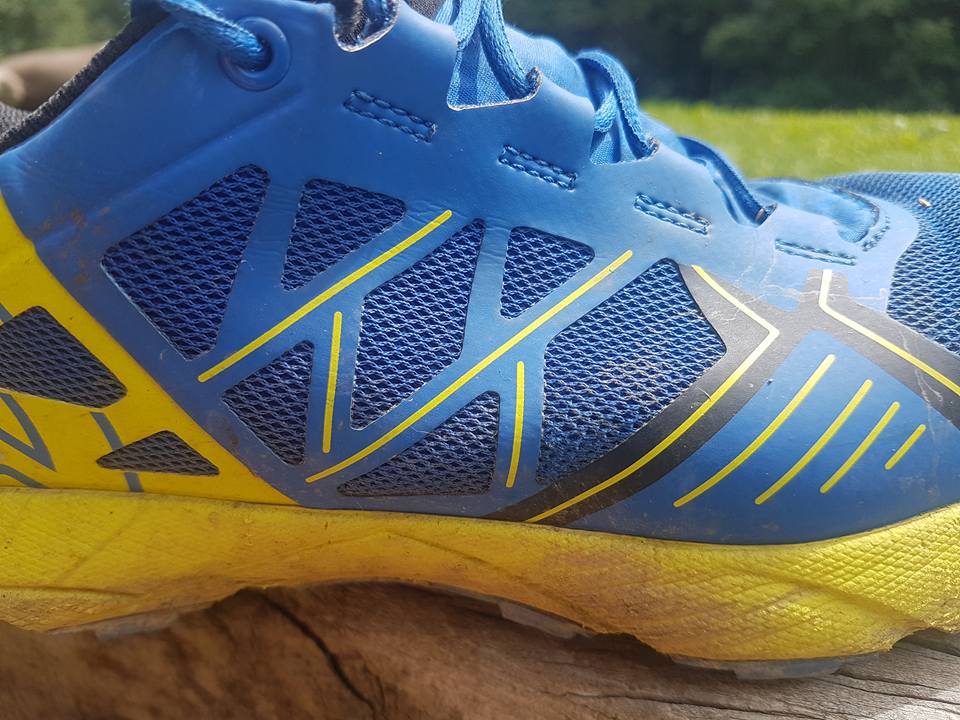 The upper is almost completely held together without stiches, being welded together. It is thin and airy, which is great as your foot gets to breath and water easily drains. The tongue is fairly thin, and gusseted with elastic, which helps prevent the ingression of grit, and gives you a bit more of a custom fitas it hugs your foot before you've even tied the laces.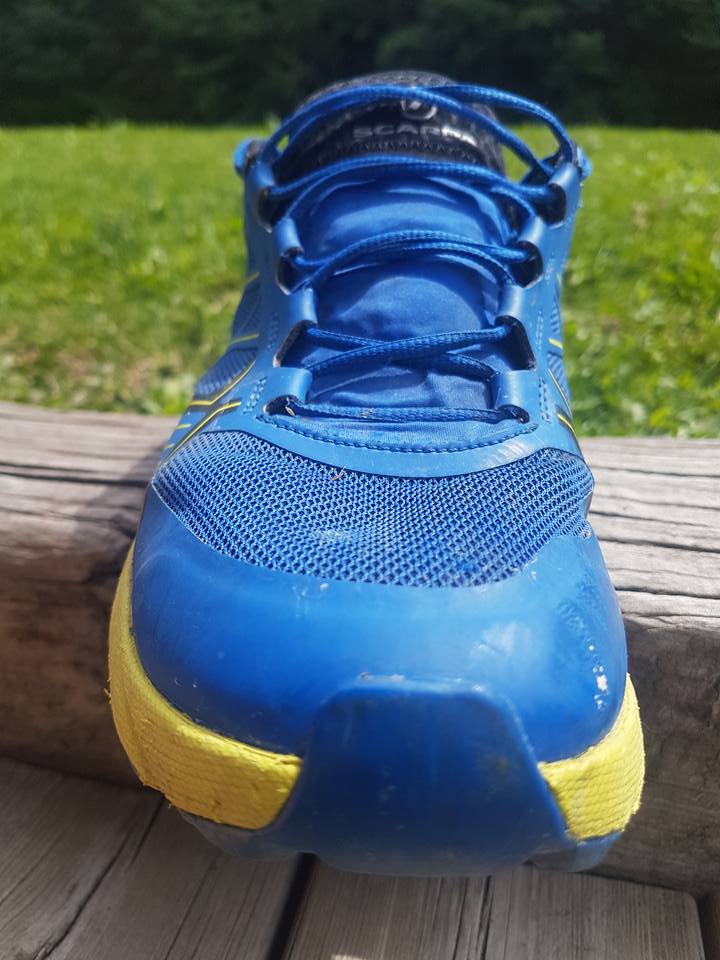 So overall, I think a slightly beafier rock plate and not having the cut throughs in the tread would have made this a faster shoe for me, as I would be able to descend quicker. Other than that, I can't think of anything else that I don't like. I am finally adapting again to the 4mm drop so am really enjoying them. They feel great on uphills due to the fit and weight, but also because of the great grip. The fit is fantastic on my feet. I have done a couple hundred kms on them now and the outsole is showing a little wear, but the upper seems to be bombproof as it's showing no real wear or tear. Pretty good these days for a light shoe.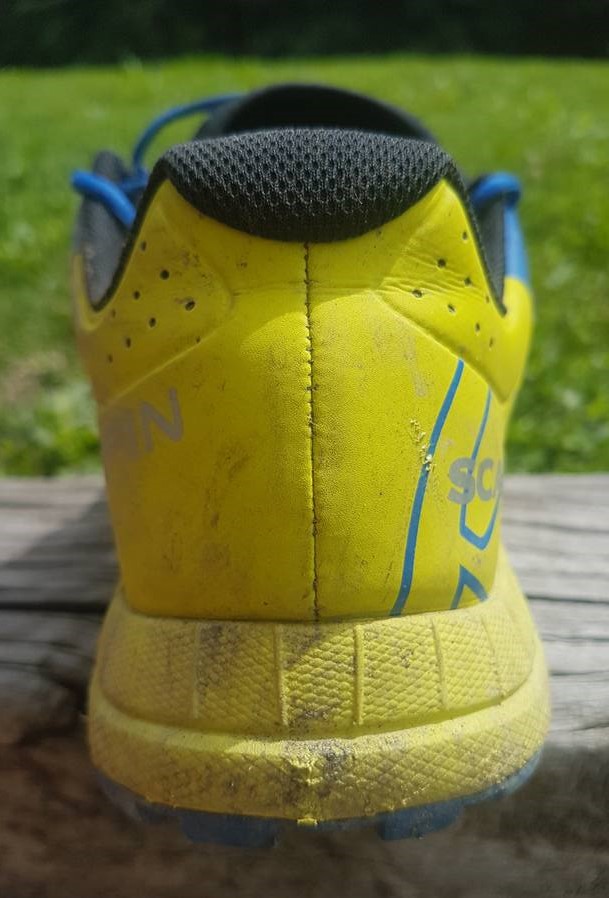 I have a place in the monster 200 miles Tor des Geants in 6 weeks and I am starting to think about gear. Although the comfort is so good on the Spin, the protection is no where near good enough for me. So, I shall be looking elsewhere. To be fair, I would say that the Tor Des Geants is not what they were designed for!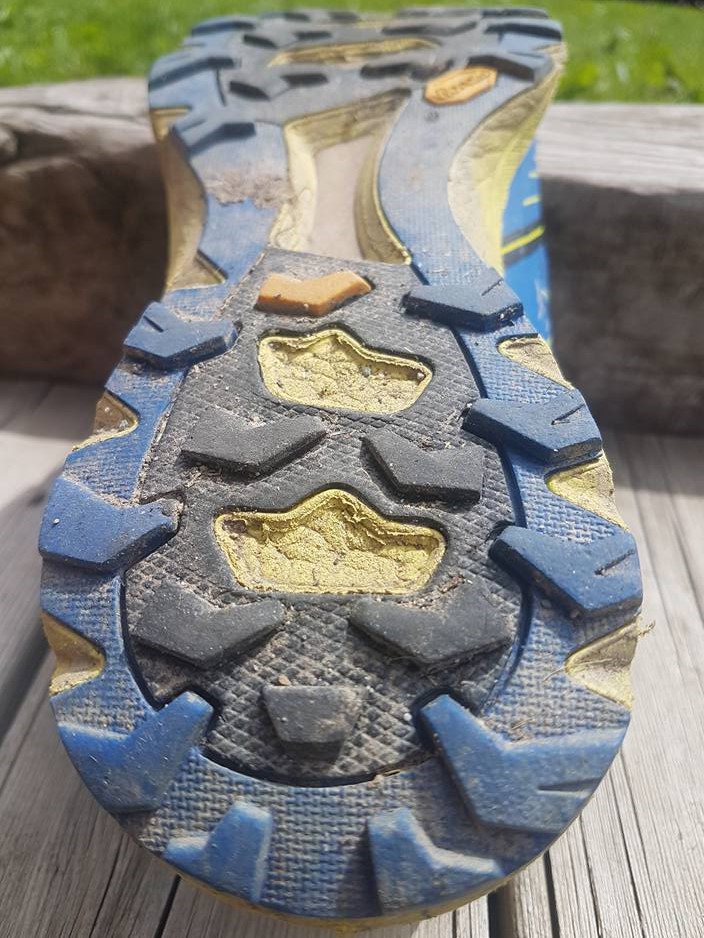 So, if you want a light, flexible and therefore nimble shoe to run around alpine trails, and you are either lighter on your feet than me (not difficult) or just don't feel the pain like I do, then the Scarpa Spins are certainly worth trying out. Scarpa are really proving to be a force to be reckoned with on the mountain running shoes market!