Written by Neil Bryant for the URC
I own a few items of clothing by Arc'teryx and am really happy with them. I recently tested the excellent Norvan SL hoody jacket and was again impressed. But how would they fare when it came to shoes? I find their build quality is excellent, so hopefully this would follow through to their running shoes.
The Norvan LD 2 shoes are a very tidy, slick shoe. Almost entirely welded with just a little sewing that adds to the slick looks. There are three models in the Norvan range (or six as they all come in waterproof versions too), The Norvan VT – vertical terrain, the Norvan SL – superlight and the shoe I am reviewing the LD – long distance. At 260 grammes, this is still pretty light for a distance shoe, though the SL is a svelte 185 grammes! I'll be honest, something reminded me of Salomon when I first got them. The styling or the midsole? I'm not really sure what it was, but I did ask whether there was some crossover (They are both owned by Amer sports) and was told no. All designed in house. I was still nervous before I first tried them as I was worried they would fit the same as Salomon, which is too narrow for me, but I was happy that they were a really nice fit on my foot, being wider with a wider toe box.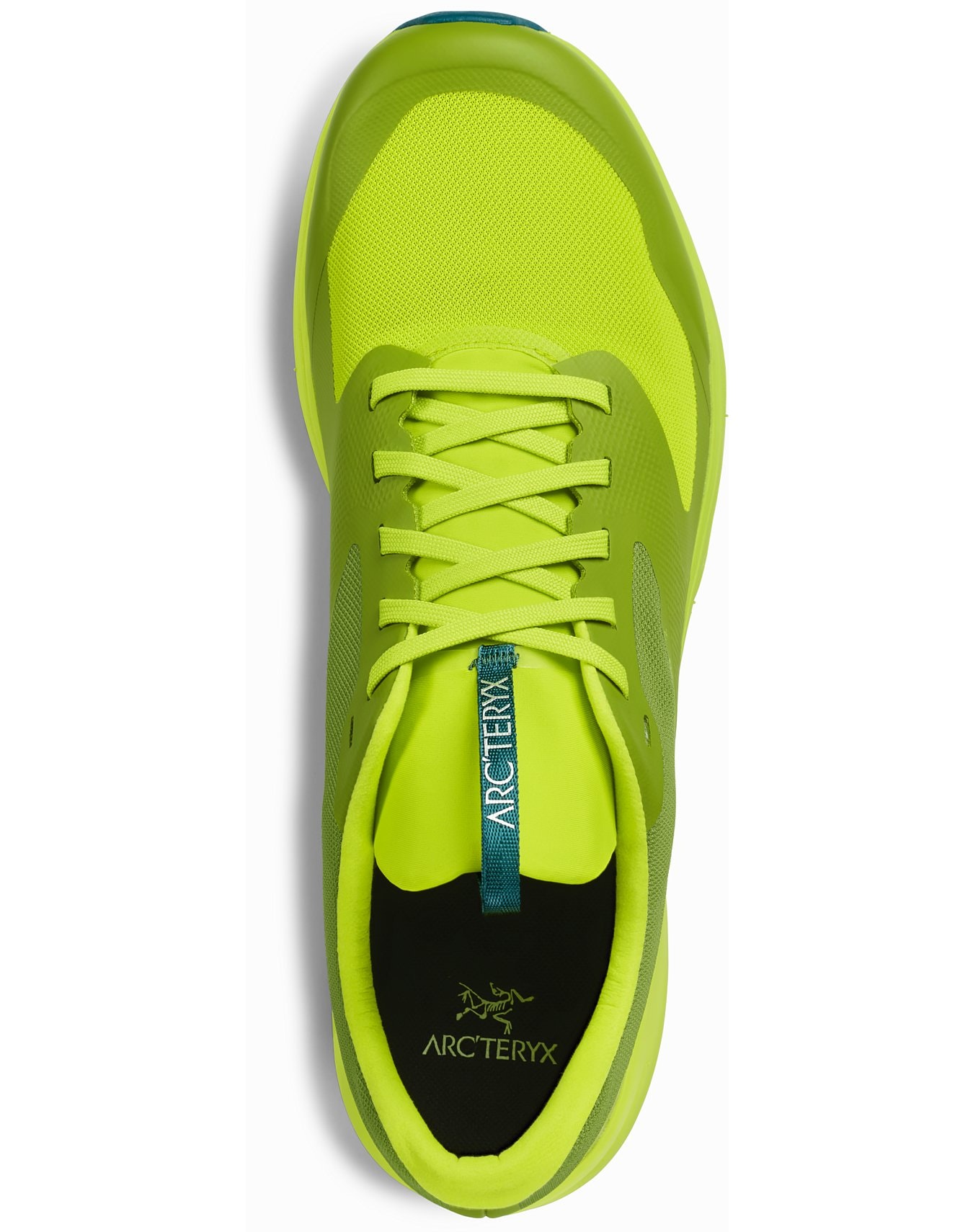 So, a quick run through on the construction before I discuss how they run. The upper is constructed from a single layer mesh, that does all it is supposed to do i.e. breathes, keeps debris out, lightweight and durable. Over the top of that you have a welded on TPU layer around the midfoot to add stability, durability and strength for the laces. The laces are flat and the holes are narrow slits, which stop the laces from getting all twisted which is very tidy! There is a toe bumper which is lightweight but adequate for some form of protection. The tongue is an elasticated gusset style tongue with a pocket to tuck your laces into if you want. The midsole is EVA and the sole is made from Vibram Megagrip and incorporating VibramsLiteBase technology, which is a slimming down of the sole material to make it lighter, but without losing any of the performance. If you have read any of my previous shoe reviews then you will probably be aware that I am very keen on the excellent Megagrip compound. In fact, if I see a shoe has a Megagrip sole, then I assume the shoe is worth a try. The stuff has managed to get an amazing balance of both grip and durability. The tread pattern is of 3.5mm deep square studs. Enough to give you a grip on most trails, but not much use when it gets very muddy.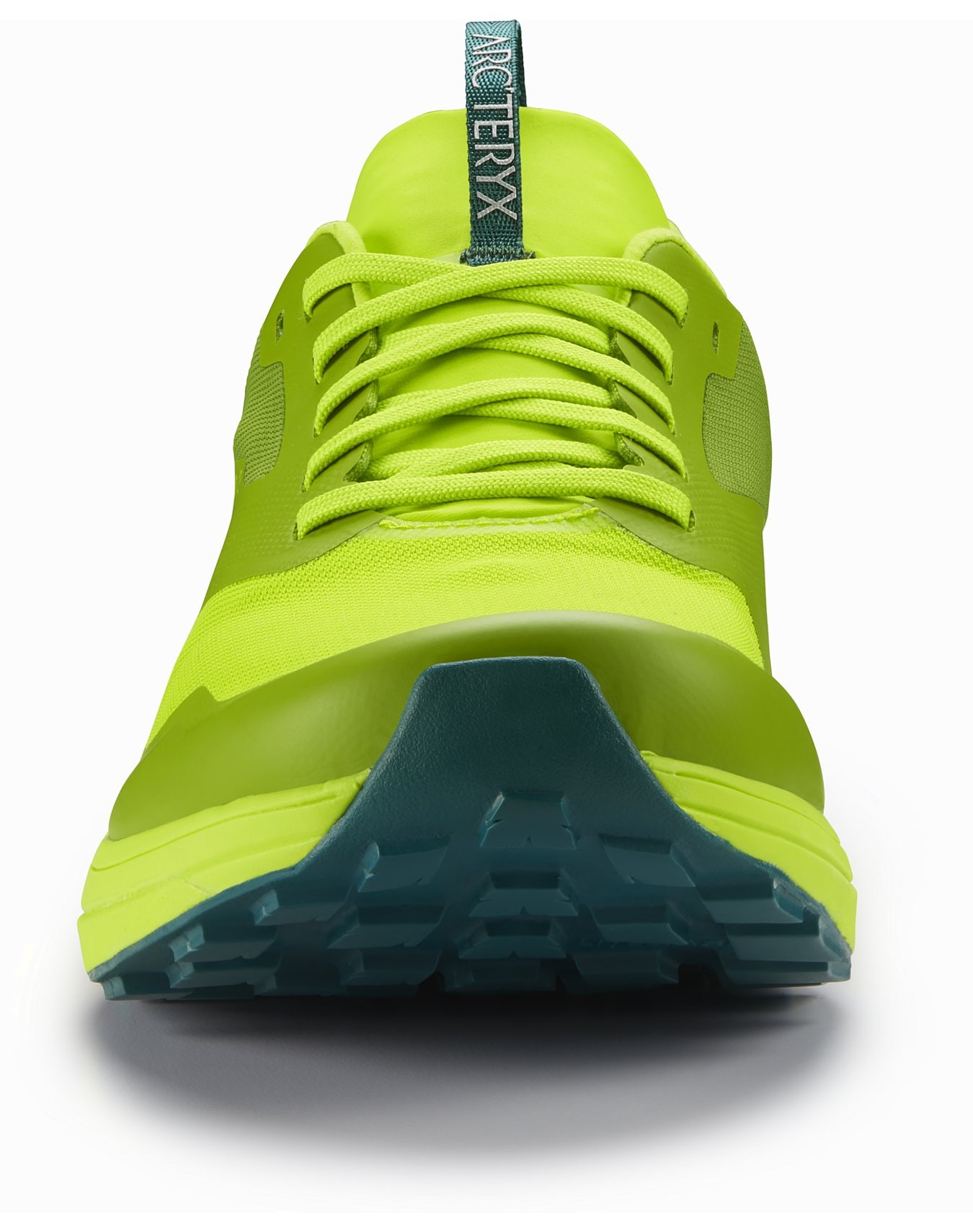 Stack height is 27mm for the heel and 18mm for the forefoot giving you 9mm heel-to-toe drop. Not particularly large, but certainly bigger than many shoes these days. I think 9mm would work for more people than not, especially as the shoe is designed for big days where the achilles will be happy with not being put under so much pressure. A turn off for people who are fully adapted to minimal or zero drop though.
I have now run over 300km in them in a variety of conditions so I feel like I have a good idea of how they run. They feel light on my feet, not quite like a super light sub 200g shoe, but light none-the-less. They fit my feet really well and feel very secure, partly down to the elasticated tongue. Plenty of room in the toe box, without leaving too much space.
The shoe provides adequate stability while descending on very technical terrain, without losing any mobility. Underfoot protection is again good. I still have good feedback from the trail, but my feet never feel tender or in pain when stepping on sharp stones. The toe guard is good for little knocks of the toes to help protect those poor toe nails, but a big toe stub is still going to hurt.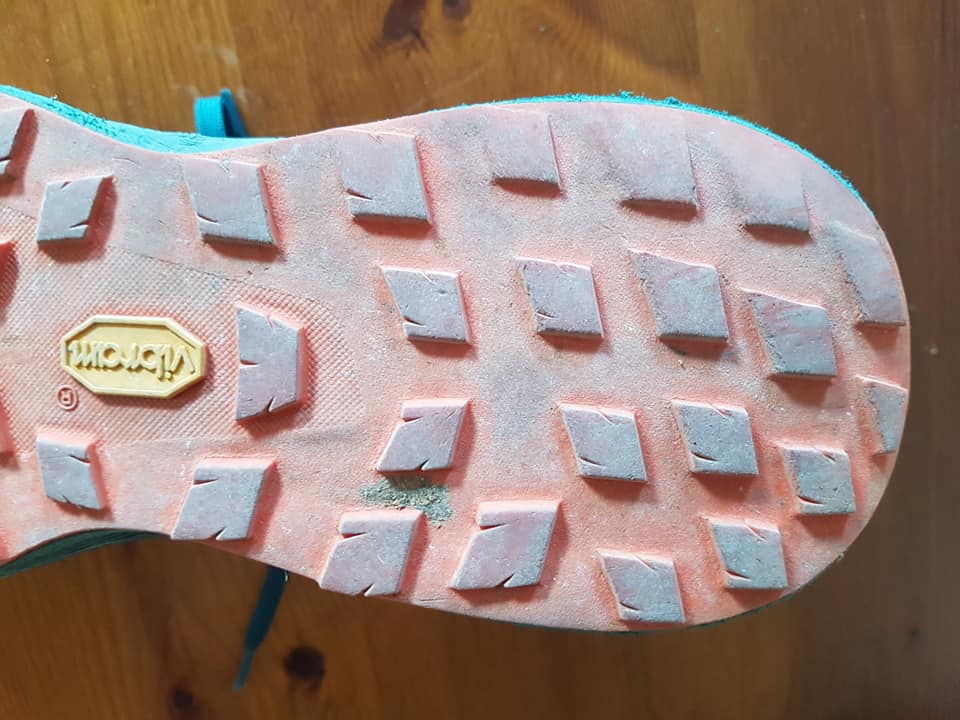 The rest of the pictures are my shoes with over 340km of alpine trails on them.
The tread is very effective for dry trails of any technicality and excellent on wet rocks with even a little grip on wet roots, but as I guessed, they were lacking in the sloppier, deeper mud. The studs simply are not long enough for the boggy stuff. If you are often running in this stuff, then these are not the shoes for you! I hit a steep grassy waterlogged section I needed to traverse the other week and they really struggled (I slid on my bum), but to be fair, all but the deepest of treads would have struggled. Due to the fairly short studs, they do run very nicely on the road though!
The studs on the forefoot are looking in pretty good condition
The Norvan LD 2 is a beautifully fitted shoe with equally beautiful build quality. They are very comfortable, respectably light, the tread is brilliant for almost all surfaces and with over 300km on my shoes, they are showing no signs of wear on the upper with some minor wear in the usual lateral edge of the heel of the tread, so they seem to be durable. I will be wearing these until they are falling off my feet as I really like them, so a full durabillty test is in hand!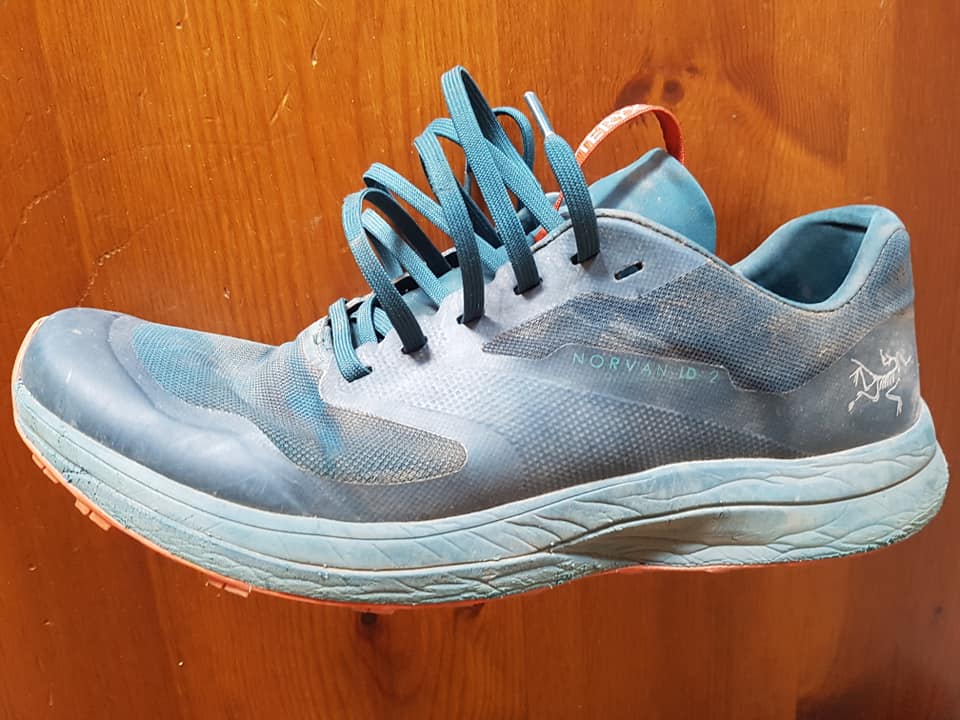 The upper is looking great. The midsole is showing some signs of wear, mostly from stones scraping them.
Should you buy this shoe? Arc'teryx has priced this shoe at £140 which is expensive, but certainly not the highest price shoe. If you want a shoe that is comfortable in all but the muddiest of conditions, then this could be for you. The 9mm drop will be great for some, but not all. For the running I do here in Chamonix on rocky, rooty trails with occasional scrambling, these are perfect. Even more so as I often have short sections of road to get me back home from the trail and they still work well. A really impressive shoe from Arc'teryx and I suspect their other offerings will also be good. Definitely worth trying on a pair if they work for the terrain you run on.
No sign of wear or tear at the point that so many shoes do fail at the creased area.
Update after 612km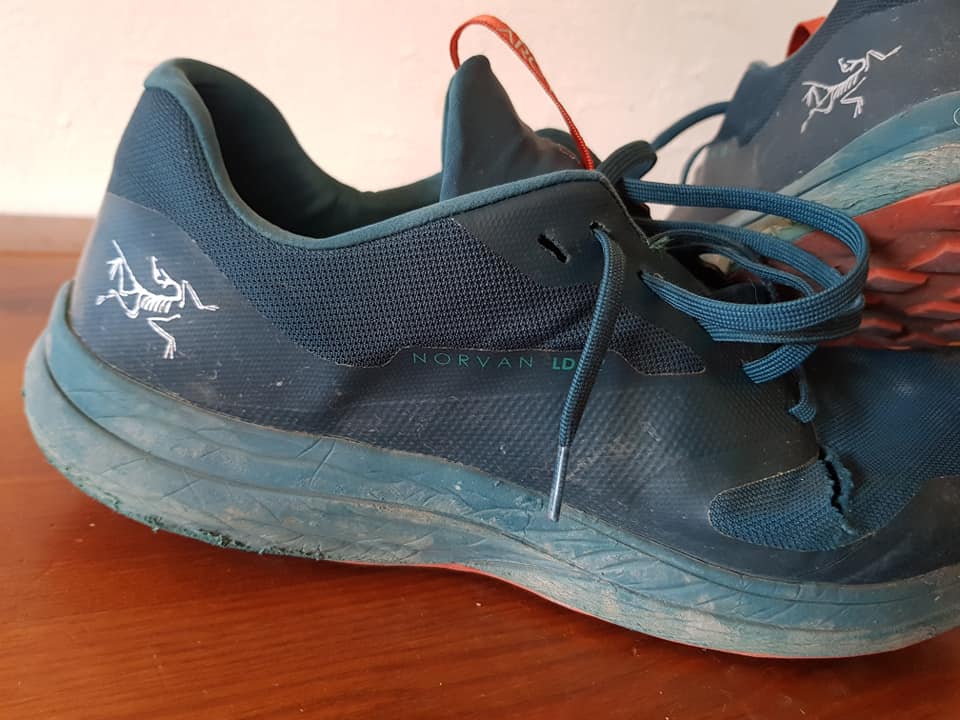 I have now been enjoying wearing the Norvan LD 2's for a while now and ran over 600kms in them, mostly on mountain trails. They have remained very comfortable and the midsole has not broken down noticeably and looks pretty good. The outsole is certainly showing signs of wear, with the outer heel edge showing it most being pretty much flat, but there is still plenty of life.
Which leaves the upper. In the common areas to fail, at the toe crease points, they have torn all the way through. I am still wearing them, but they will have to be retired soon as I don't want to be caught up a mountain with a shoe hanging off my foot (It's happened before!). It's a shame as the rest of the upper is in seriously good condition.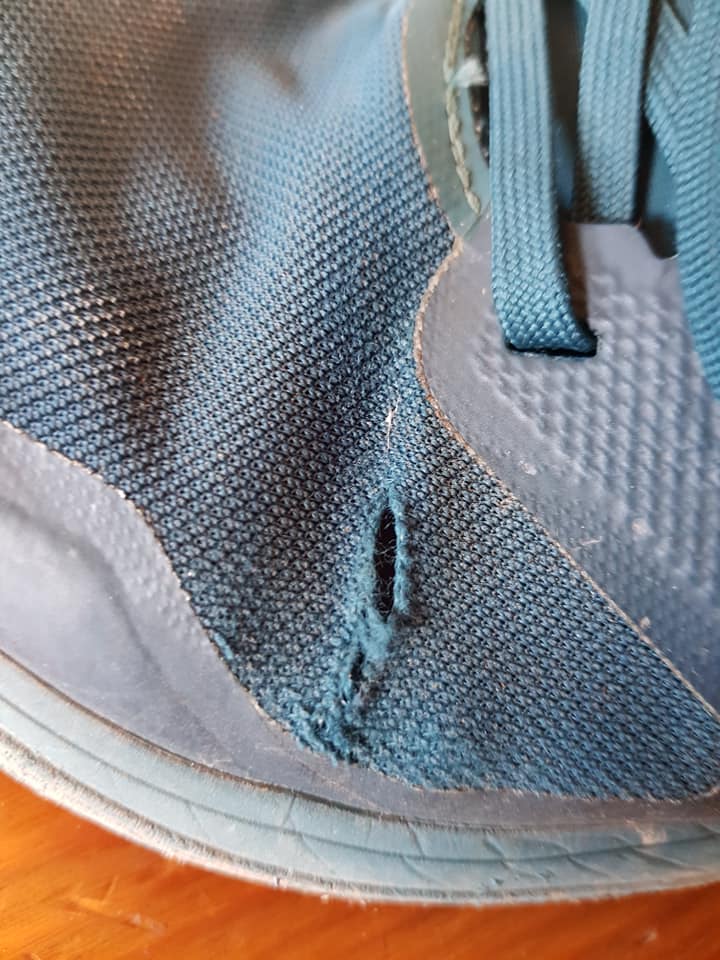 Personally, I find this a fairly average lifespan for a shoe of this weight, but would have really liked them to carry on a bit longer seeing as the rest of the shoe is still good. Maybe they would have lasted longer if I had only ran on easier trail?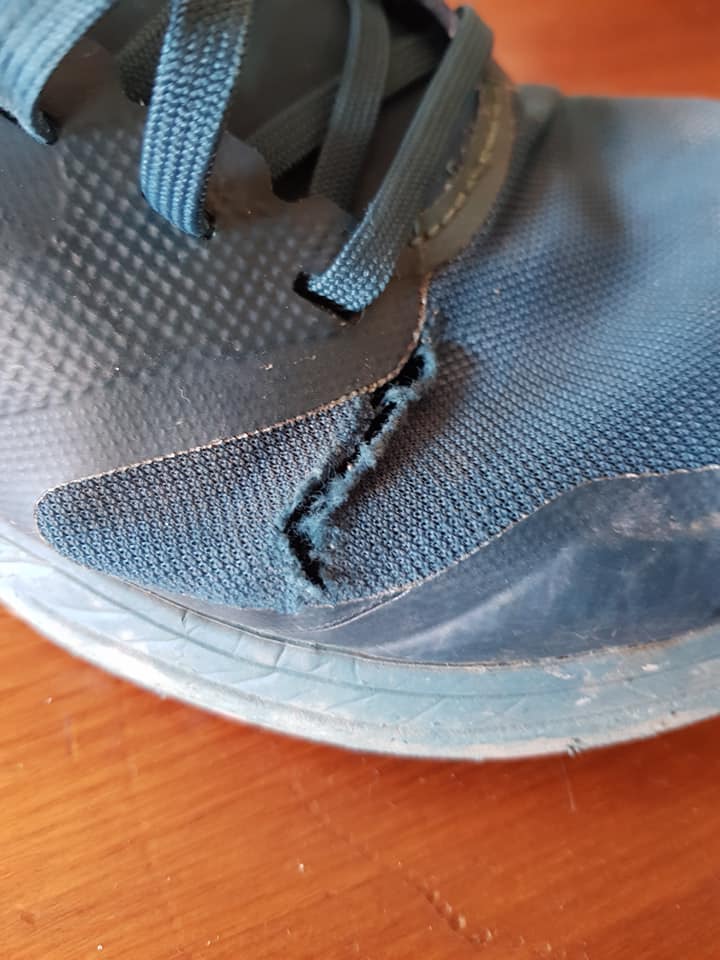 Will this affect whether you would buy the shoe? Well, that is for you to decide. Overall, I am more than happy with the shoe, but will be a little sad to throw them.
To purchase theses shoes, then please use the following link. In doing so, a you will help the URC out with a commission at no extra cost to you.