Written by Neil Bryant for the URC
We are currently getting loads of sunshine here in the Alps, and that combined with the fact we are not allowed out for much exercise each day (Covid 19 lockdown) must mean I have another waterproof jacket to review! This time around I get to try out the interesting new Norvan SL from Arc'teryx utilising Shakedry material from Gore-tex.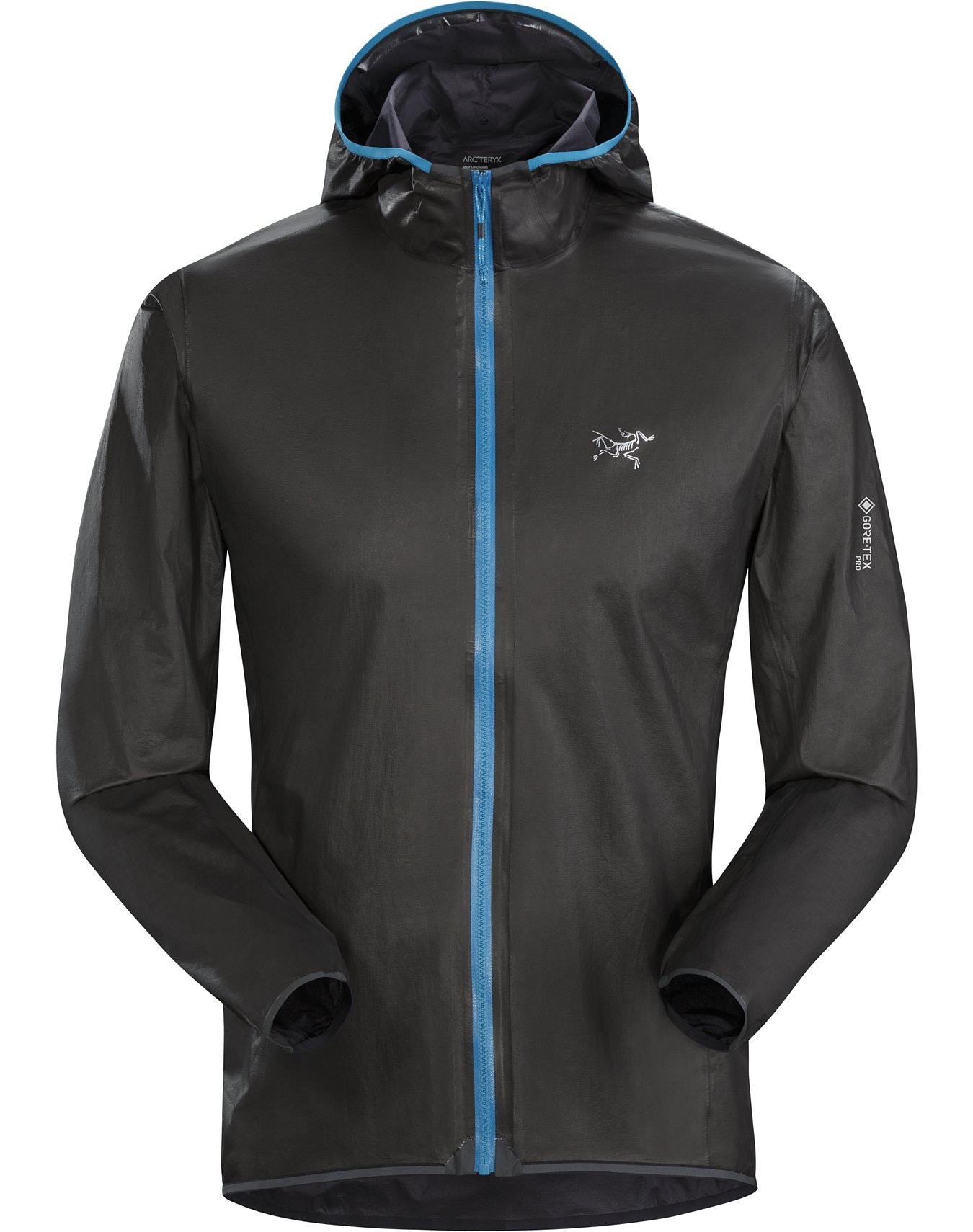 This was a sample offered to me for review.
Before we go into any detail about the Norvan SL jacket and it's fit and design, we must discuss the 'Shakedry' technology that has been developed by Gore-tex. Generally, waterproof and breathable jackets are made using 2, 2.5 or 3 layers (there are other types, but these are the dominant ones). All of these have the waterproof, breathable membrane in the middle. They also all have the outer layer bonded to it which protects the membrane, though negatively affects breathability and needs Regular treatment. The inner layer is where they differ. The 2 layer consists of a loose layer, sometimes a mesh on the inside. The 2.5 layer has a very thin inner layer printed or sprayed to the membrane. This is what a lot of the lightest jackets are made from. 3 layer has a more durable inner layer bonded to the membrane. This makes it a more effective, durable garment, though it will be the stiffest and heaviest of the lot.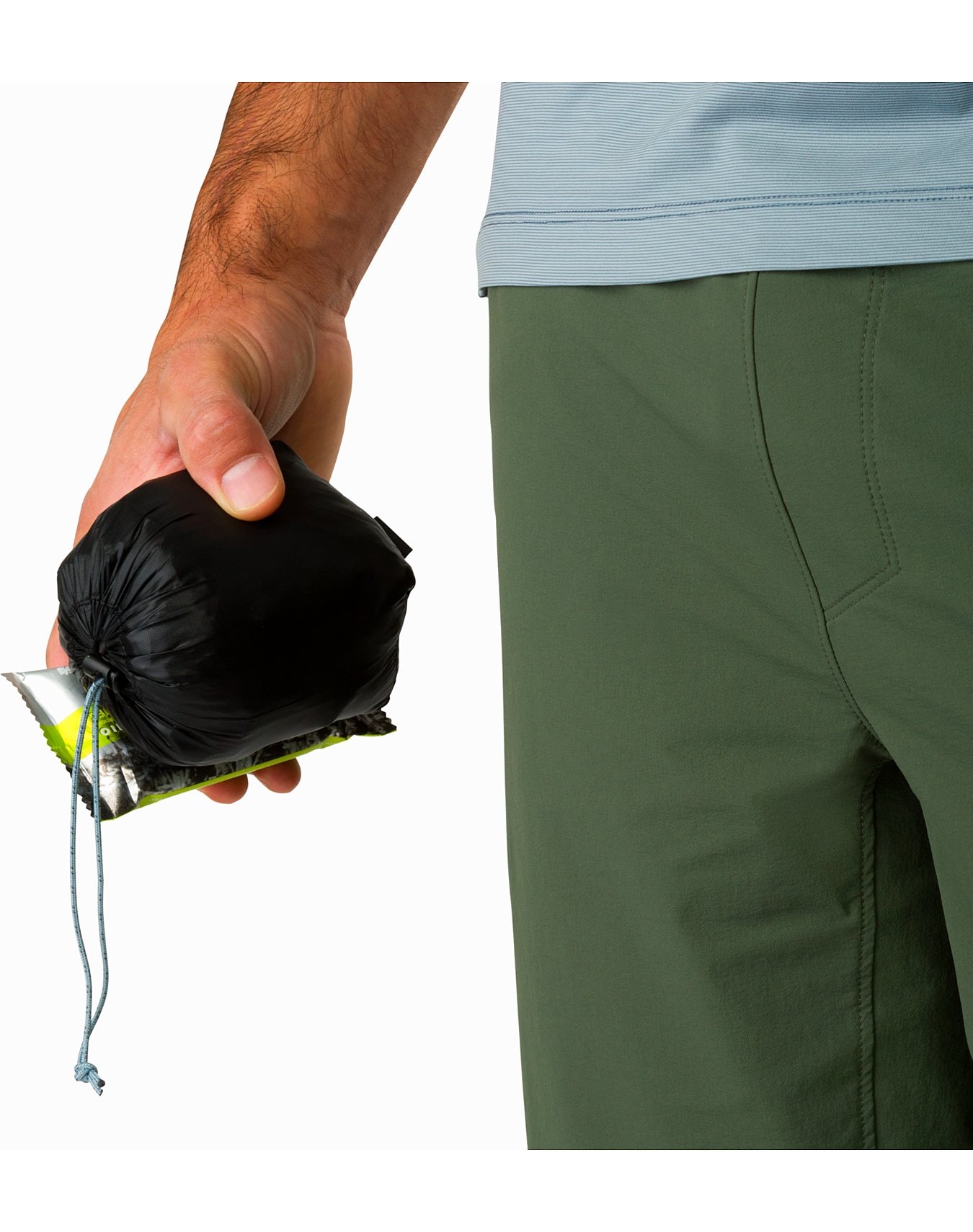 Shakedry is revolutionary as the membrane has been re-engineered to make it more durable, so that the outer layer can be scrapped completely. This means the membrane can breathe better as there is no outer layer to hinder its performance, it will not need treating like the outer layer would and it will obviously be lighter due to losing a layer (120g for the Norvan SL)! All in all, it sounds pretty good right?
There are not too many companies making jackets with Shakedry, and they are all expensive. There is no budget Shakedry out there. The Norvan SL retails in the UK for £255. Can any super light jacket be worth such a price?
First impressions upon opening the package were pretty much like most super small, light, expensive and simple things, 'Wow, is that it!' It is small and the fabric is, in contrast to the cost, a bit like a bin liner. On closer inspection, there is something cool about the fact that it only comes in this shiny black look. It looks smart and not 'Euro in your face' bright which makes a change. The build quality is incredibly neat and looks as though you won't be getting any loose threads on any of the seams. I have a few Arc'teryx garments for mountaineering, so the perfect build quality was no surprise.
This jacket is very light for a completely waterproof jacket at 120g, and therefore it is very simple in design. There is no pocket, Very simple hood adjustment and elasticated wrists with no velcro adjusters.
It packs down very small, and packs away into a separate little bag. Often jackets like this fold away into their own pocket. I am not sure I am keen on having a separate miniscule bag. It is sure to get lost! I could live without the pocket though I think.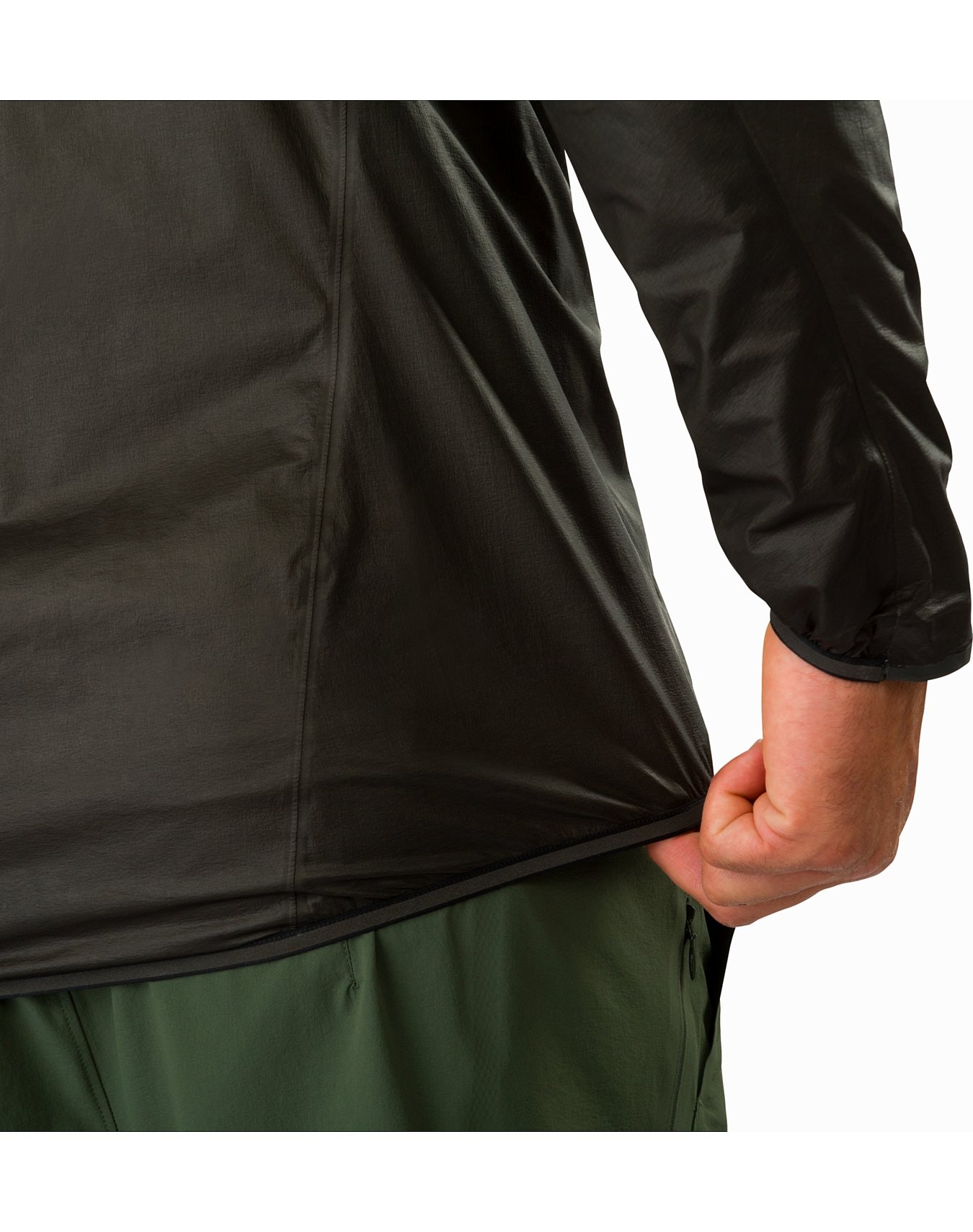 When I tried it on it felt a good close fit for me which is how you want a waterproof to fit ideally as it prevents folds of material providing areas for water to get trapped and not be able to roll off. The sleeves and cuffs felt great being long but not bunching at all and the cuffs being shaped so they are a little longer on the back of the hand for a little more protection which felt like a good thing. The cuffs are elasticated keeping them snug but not awkwardly tight. Easy to pull back over a massive GPS unit to check the time!
I read a few reviews before receiving my sample and everyone said the breathability was incomparable to other waterproof materials. I have to say I was sceptical of this. I sweat quite heavily so felt I would probably wet it out in all but the coldest conditions. My first use was actually out skiing. The weather was crappy, rain at the bottom and snow at the top. It takes me around 50 mins to skin up to the top where I generally sweat heavily. I then of course need some protection from the wind as I ski down and cool rapidly! I wore the jacket from the bottom as a test, and I had just a long sleeve thermal top on underneath. I heated up fast and knew that normally I would need to remove my jacket as I would get too sweaty. I wore the jacket the whole way up and was seriously impressed with how well it was releasing moisture. I was sweating loads but it just wasn't soaking the inside of the jacket as with other jackets. It of course protected me from the wind chill on the descent so my first impression was brilliant! I have since run a few times with it and have again been impressed with its performance. Water just beads up and rolls off it and I don't expect that to change as there is no outer layer with a DWR that needs maintenance like with all other waterproofs.
The hood is ok, but it is probably the weakest point in my opinion. Now this is the usual balance of weight over function. It has a single adjuster at the back which reduces the volume, but there is no adjustment at the front which would adjust the size of the opening which helps keep the hood secure on your head during strong winds. I think pretty much all jackets that fall around this weight (of which there are few!) have sacrificed full hood adjustability, so it feels a little unfair to call this a negative, as with full adjustment, it would be a heavier jacket. Certainly a factor worth considering when purchasing a jacket though.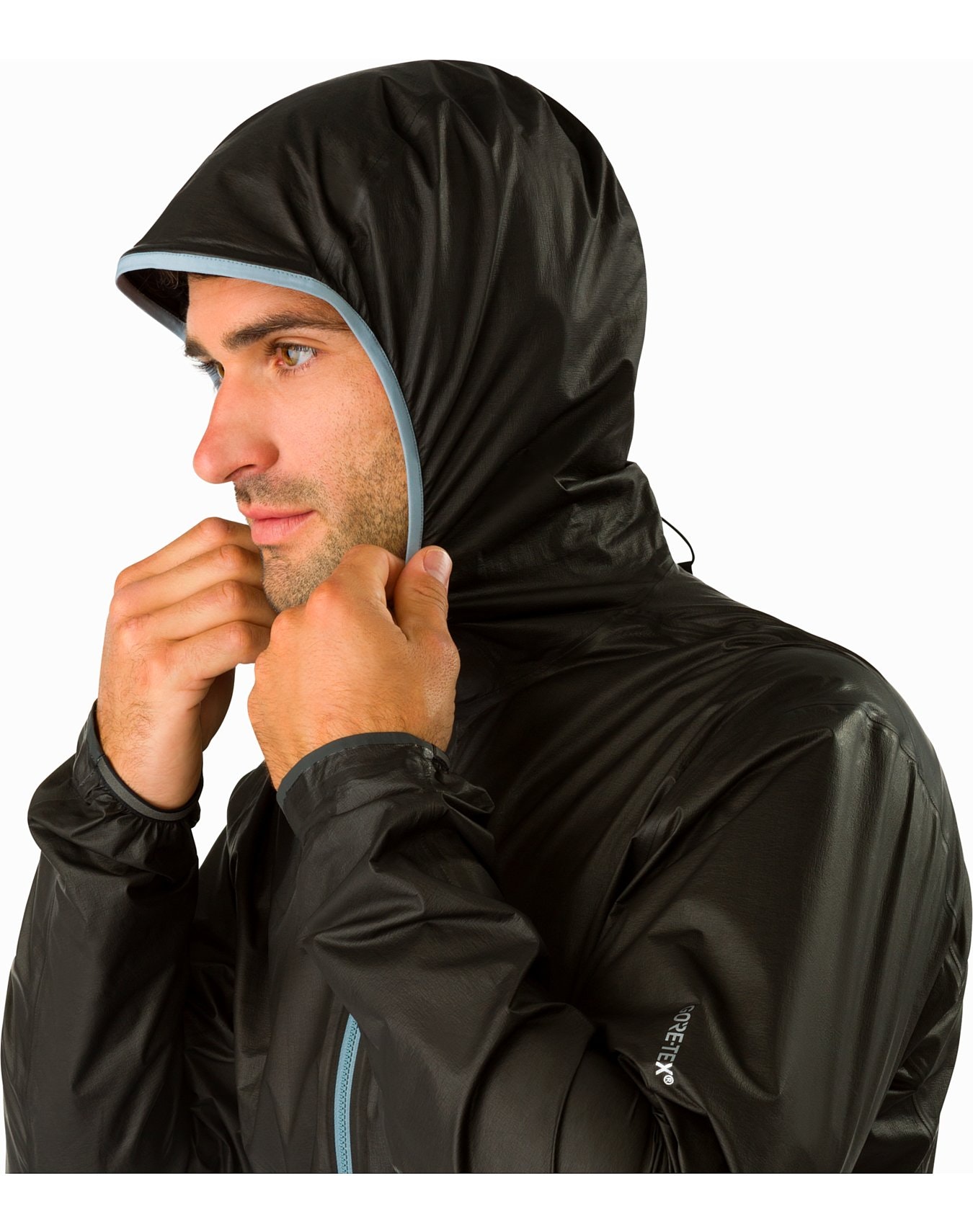 The hood does have a very small popper that holds your rolled-up hood together if you don't need it up and hate it flapping around. It is a little fiddly to do up, so best to remove the jacket to do it up.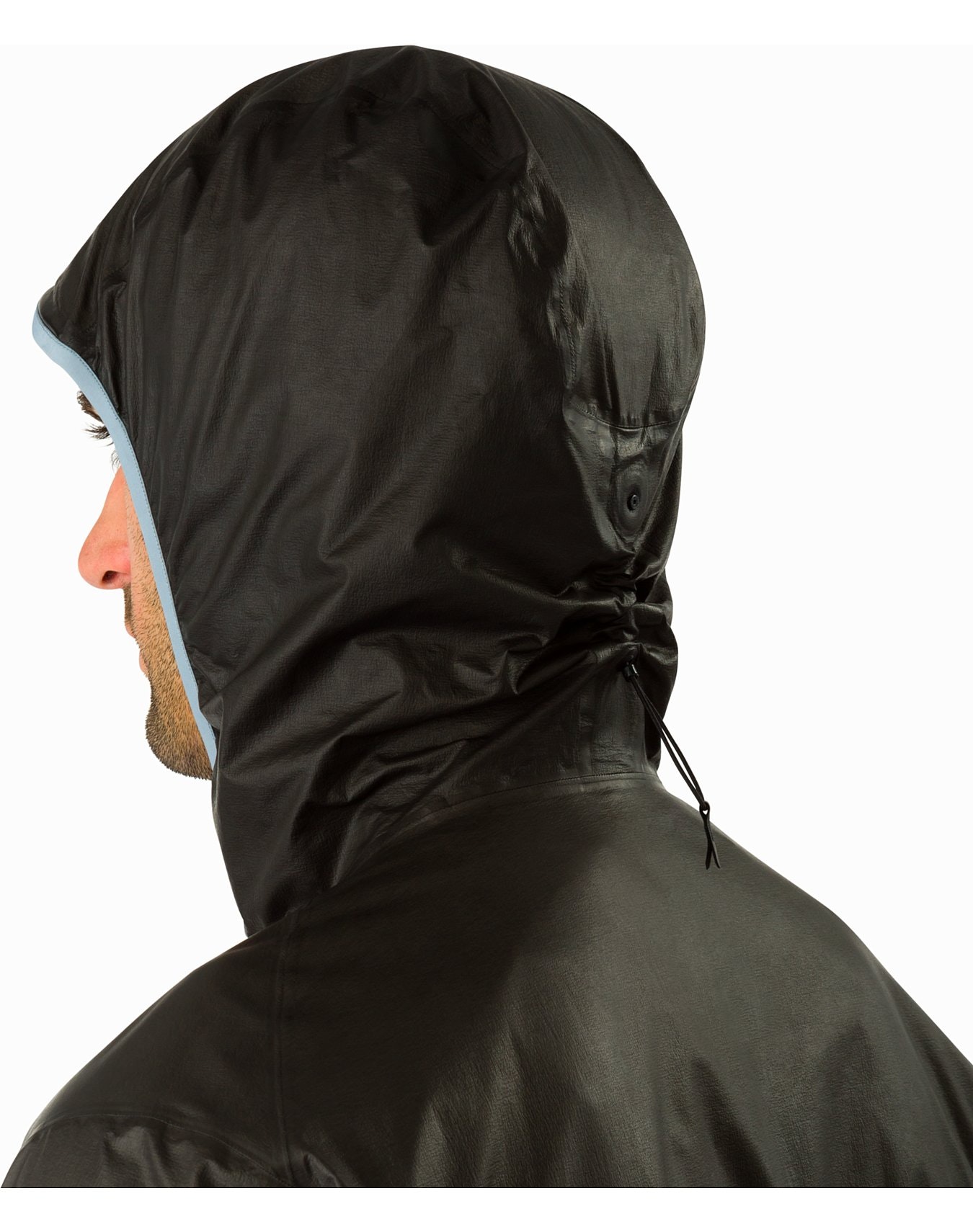 Durability could be an issue, but as before, when the weight drops this low, you can't really expect it to be really tough. It is advised that if you wear a pack over it, then it needs to fit well and not bounce around. In this day of amazing fitting racevests, I don't think you see too much pack bouncing these days, but still, care is advised as I don't think anyone would be too happy if they wore a hole in the shoulder or tore it! Mine is still perfect, though only time will tell.
Overall, I have been really impressed with the performance of the Norvan SL. It is highly waterproof, the most breathable jacket I have ever worn, superb fit and an impressively light weight. The sacrifices to attain that weight are a loss of a pocket and the extra hood adjustment. Does it matter? I think it depends on what sort of use you'll be wanting from it. If you'll be running in hideous weather in mountainous terrain frequently, then maybe not the best choice (maybe something a bit heavier and robust), but if you want a very capable jacket that will mostly be purchased as an obligatory race jacket that will get use on more lowland trails, but could certainly handle some mountain weather, then you certainly won't go wrong purchasing the Norvan SL Hoody. Is it worth the price tag? Well that's for you to decide!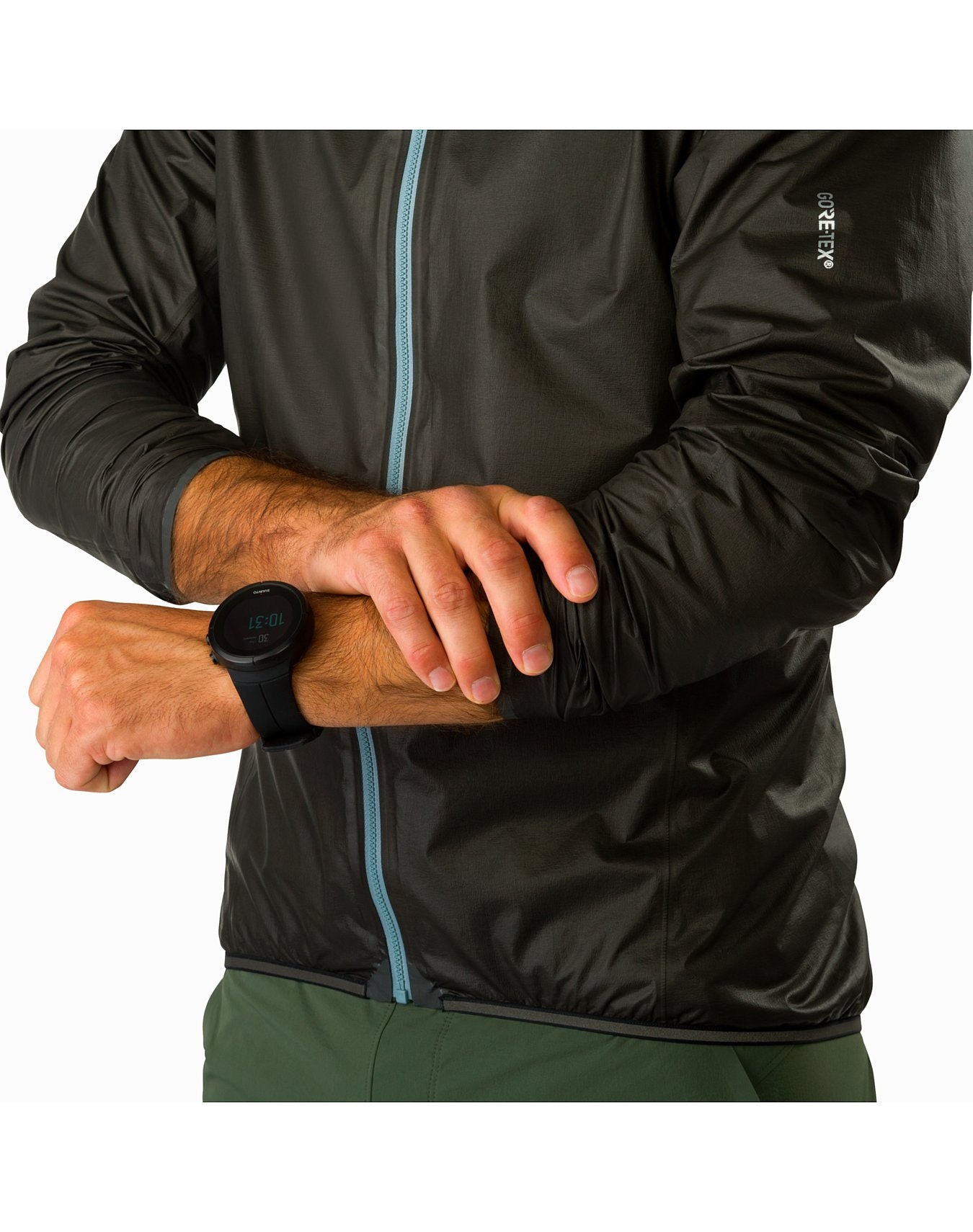 Please use the following link to purchase the Norvan SL Hoody and to support the URC site.