Kailas Fuga Pro 4 shoe
Category: Shoe Review
The Fuga Pro 4 is the top offering from Kailas which has a range of 8 shoes for Men and 6 shoes for women. Fresh out the box, they felt light and well made with a few interesting features (as with the race vest). An instant thumbs up for me is that the outsole is the excellent Megagrip compound from Vibram. In my experience about as grippy as it goes while still being durable. Not only is it Megagrip, but it is using the Litebase technology which basically means using less rubber and therefore being a lot lighter.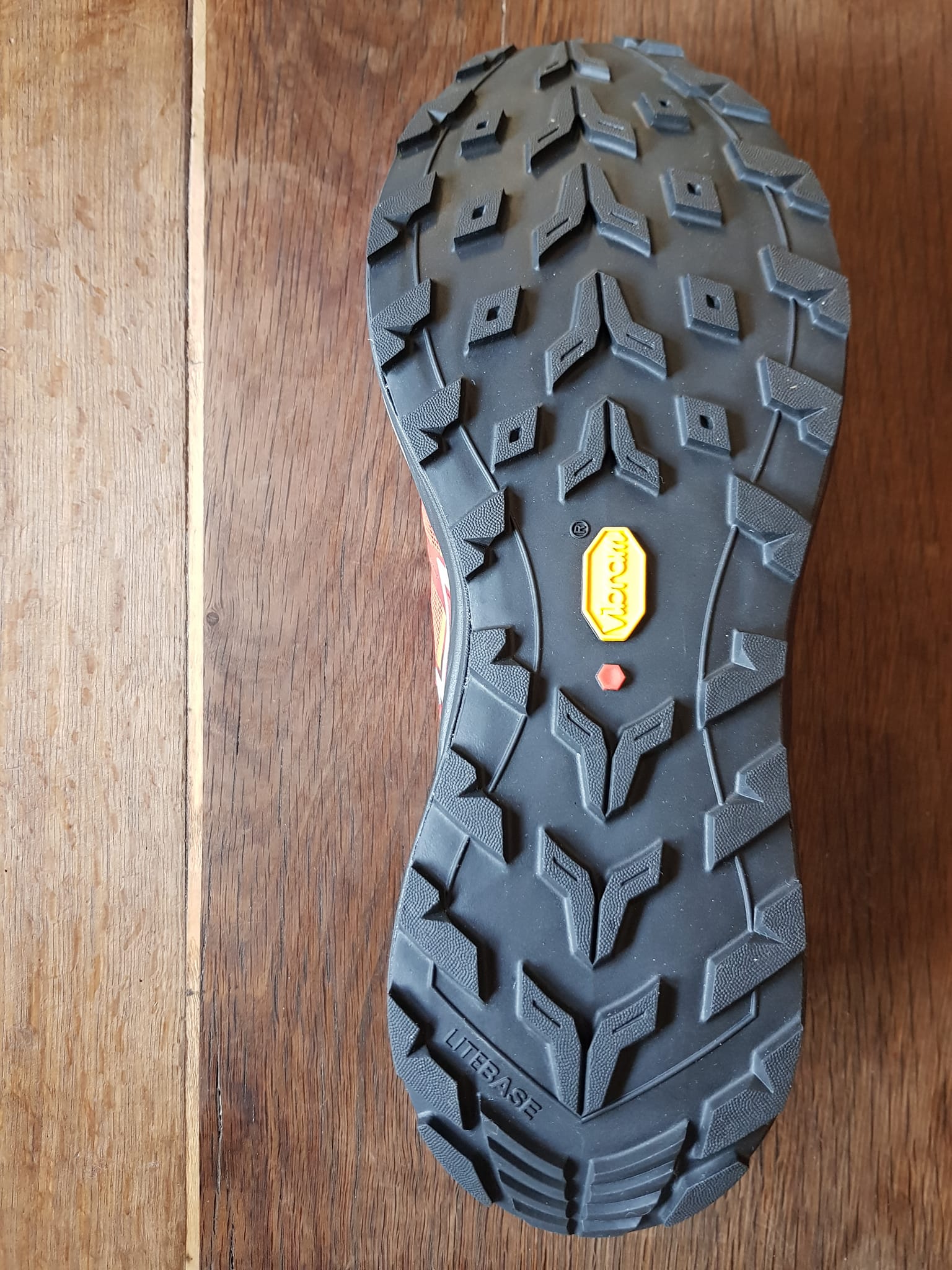 The superb Vibram Megagrip Litebase tread
My shoes, size 44, weighed in at 280g each which feels pretty good. Not a flyweight by any standards, but light for sure. Construction is mostly welded with a little stitching but not much. I have yet to have any welded seams come undone. Do they ever fail?
The upper has the familiar TPU reinforcing overlays, welded on the fine mesh that covers the entire upper foot minus the heel. The fine mesh is apparently fine enough to not let sand through, so desert and beach running should be fine. Following the same theme, there are also inbuilt gaiter hook points to make your shoes even better at deflecting debris. The tongue also has a 'gaiter' over the top to prevent debris getting in.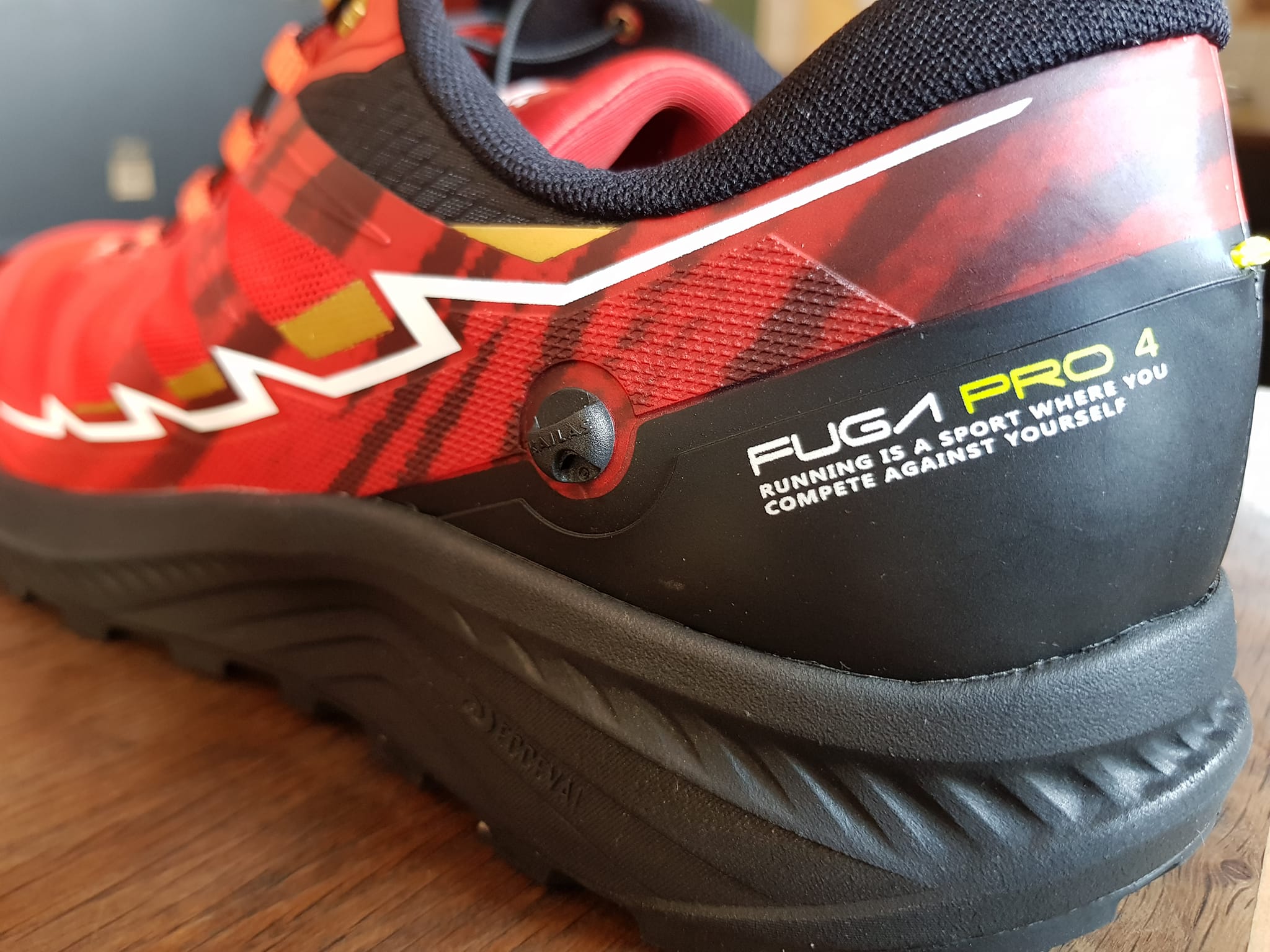 A closeup of the heel section, showing one of the gaiter hooks
As we are in the region of the laces, I should mention the interesting features they have added to the laces. Yes, I don't usually have much to say about laces, but Kailas really have tried some innovative solutions to improve the ease and comfort of the Fuga Pro 4's.
First up is not really ground breaking, being the speed lacing system. Pretty much the same as Salomons, and works as well, though not everyone likes it of course. They have added a lace pocket to tuck the excess lace into once tightened. As always with me, I find the pocket is too far down the tongue and therefore fiddly to push the lace into, so I end up just threading it through the lace further down the foot. It doesn't look great, but works just fine.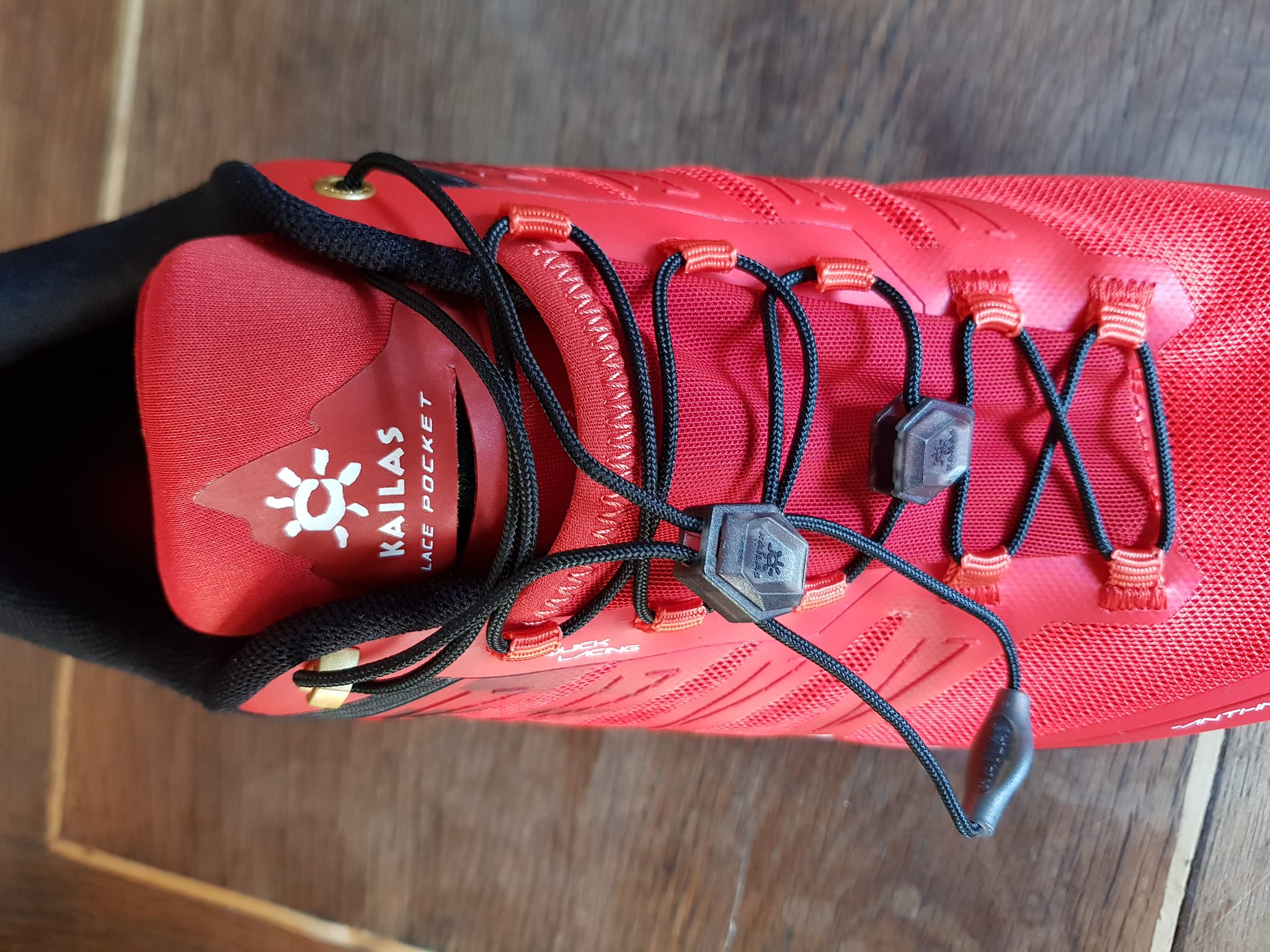 Detailing of the laces, showing the AWS system, quicklacing buckle and just about the hook at the bottom left (gold coloured)
Next up is the AWS (Adjust Whole Sole) which is simply another similar buckle as on the end of the laces, but this one is mid-way down between the second and third eyes. The point being, to have the lower section set to a different tightness than the top half, so that when on steep descents, your toes don't slip too far forward and bash the end of your toes. An interesting idea, which in theory makes logical sense to me. They even patented it! I will be interested to try this out, as I have plenty steep hills here in Chamonix to try them on, and I have suffered with battered toes before.
The final lace innovation, is the lace hook. Simple again, this is just the final upper lace hole on the outside of each shoe, being replaced with a hook. This enables quicker and easier removing of the shoe, and putting on. I thought this would be pure novelty factor, but have quite enjoyed using it.
Here you can see the gold coloured lace hook
The midsole is constructed with two different density foams dubbed, Eccevai. Stack height for the heel is 32mm and for the forefoot, 24mm, giving a drop of 8mm. For me personally, this seems like a sensible drop for a shoe designed for big days out. Not too low, so not too much pressure on your achilles, yet not too high for retaining some feel for the trail below and stability.
The heel cup is also in line with the shoes long distance intentions, being quite a rigid one, providing more support for your feet when your muscles are struggling to provide the support in the latter stages of a race.
I now have over 280km on my Fuga Pro 4's, and they are not showing any wear on the upper. The lateral heel is showing some wear as to be expected, but overall, they are looking great on the durability front.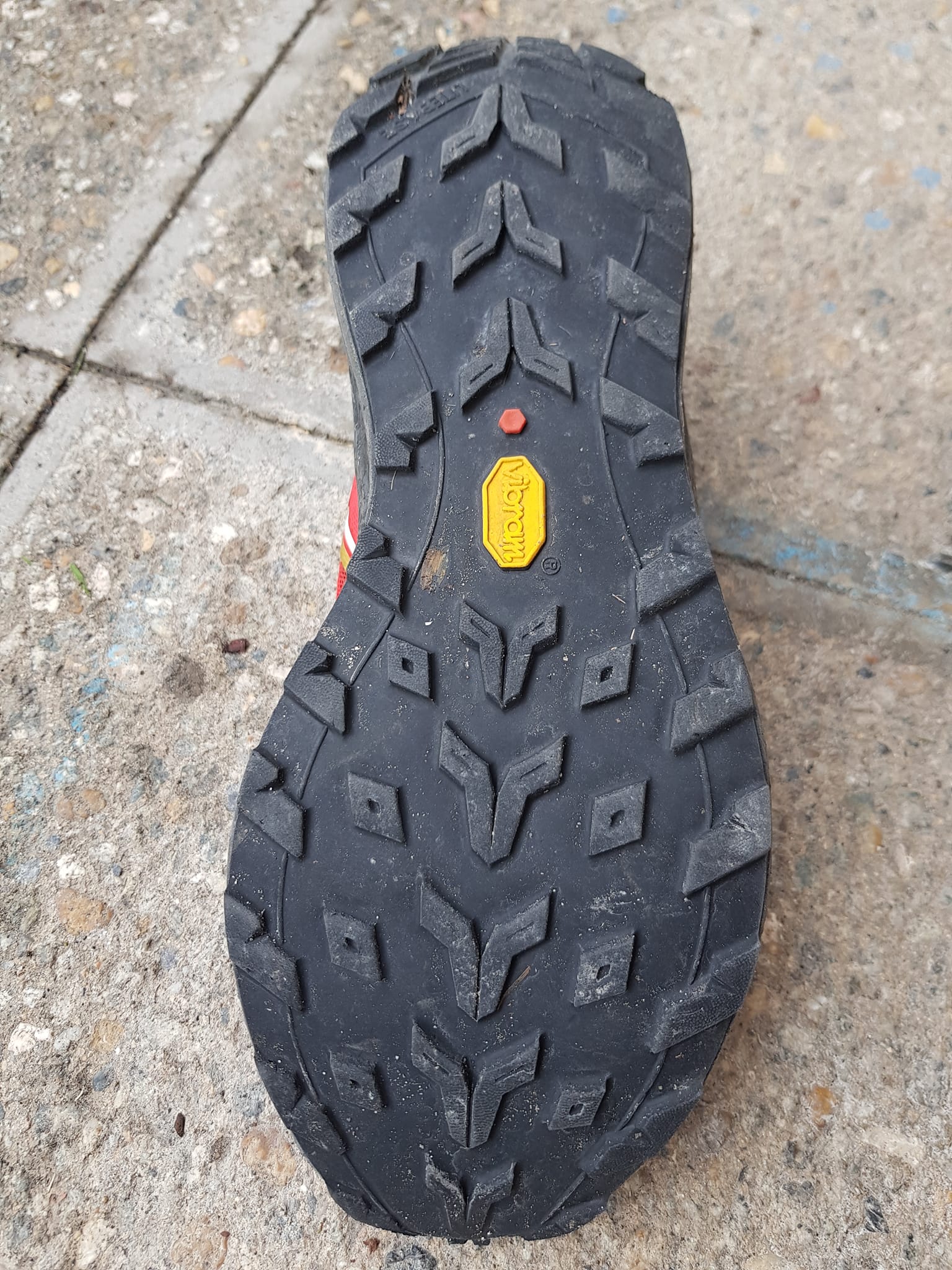 The tread after 290km
I have been wearing these for every run I have been on, since getting them, ranging from snow and ice (with spikes), to muddy, slippery trails, to the now, dusty trails.
They fit my slightly wide feet very nicely being a close fit but not restrictive. They slide on and are secured simply with the speed lacing. The lace hook I love. I can certainly live without it, but happily use it all the time. I suppose given the choice of having it or not, I think I would choose to have it, so for me it has value. I would assume, though can't confirm, that they wouldn't work for you if you have narrow feet.
I was expecting the feel of the midsole, to be fairly soft, but it rates quite average to me, being soft enough to minimise shock, but firm enough to still feel the trail. They don't have a rock guard in them, but the midsole seems to do a good enough job of dulling sharp object on the trail.
Predictably, I love the Vibram Megagrip outsole. The tread pattern is brilliant, offering bags of grip on all but the squishiest of muds. I think, Kailas have done an outstanding job with the tread pattern as it seems to grip exceptionally well. I have even been getting some friction on wet tree roots! As with any tread of this depth (5mm), they will not be the best choice if you run often in very muddy, boggy conditions, but for anything else, they are excellent. I have been running intervals on the pavement, and they have felt pretty quick (even if I don't!) for a trail shoe!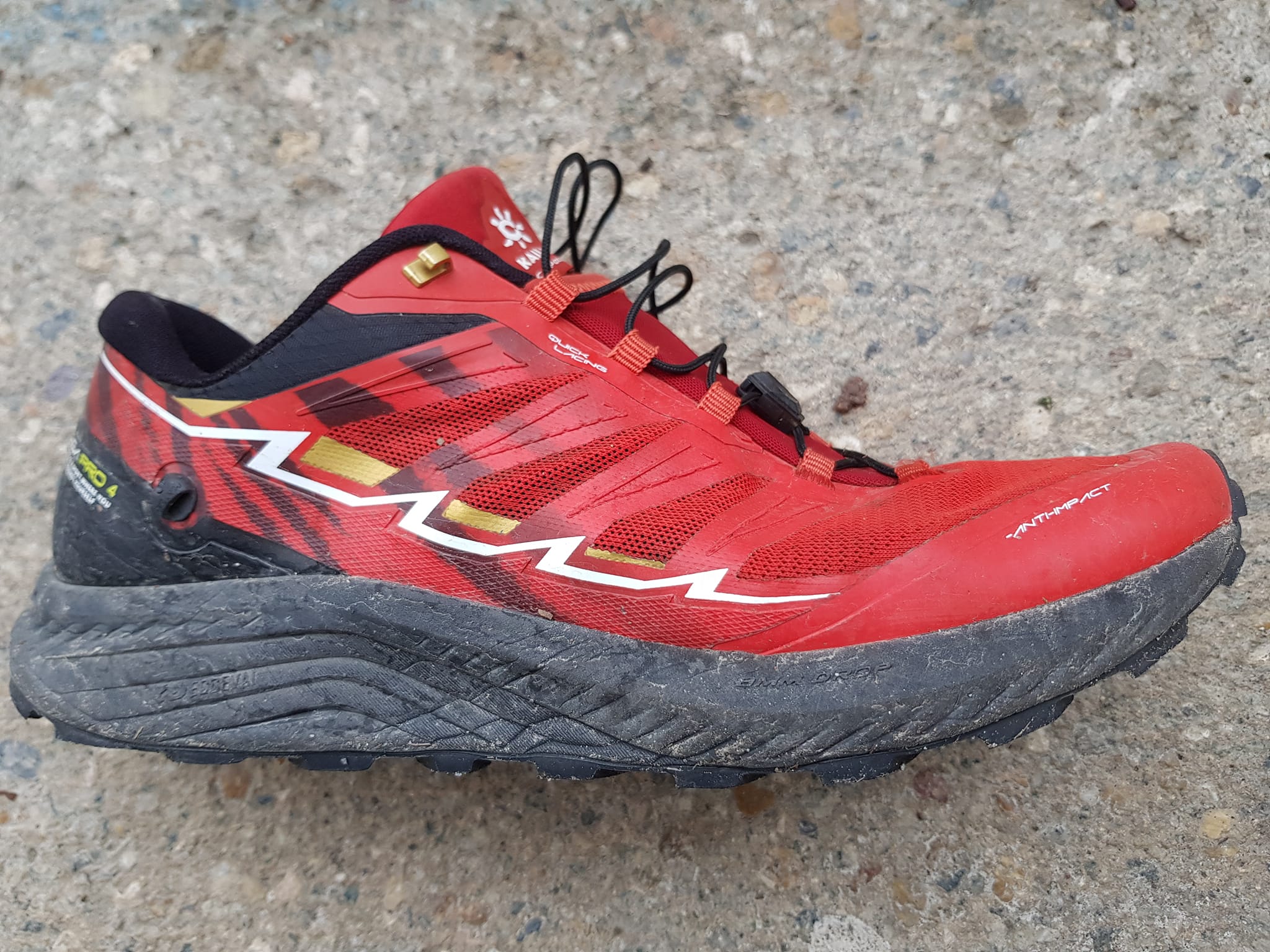 Still in great shape after 290km!
I am undecided with the AWS (Adjust Whole Sole) system. There may have been some improvement with preventing my foot from sliding forward on steep descents, but to be honest, I find it difficult to quantify. It certainly doesn't make things worse, and the fact it basically weighs just 1 or 2 grammes, it is not an issue being there. Maybe I need more time doing some longer descents to better understand its value?
Overall, I really enjoy running in the Fuga Pro 4 from Kailas. At first, I thought there was a hint of Salomon, but with reflection, I think Kailas are forging their own interesting path (They have a carbon plated trail shoe out now). Comfort, durability, innovation, quality and great design make these shoes solid performers for all day wear and even sprint work!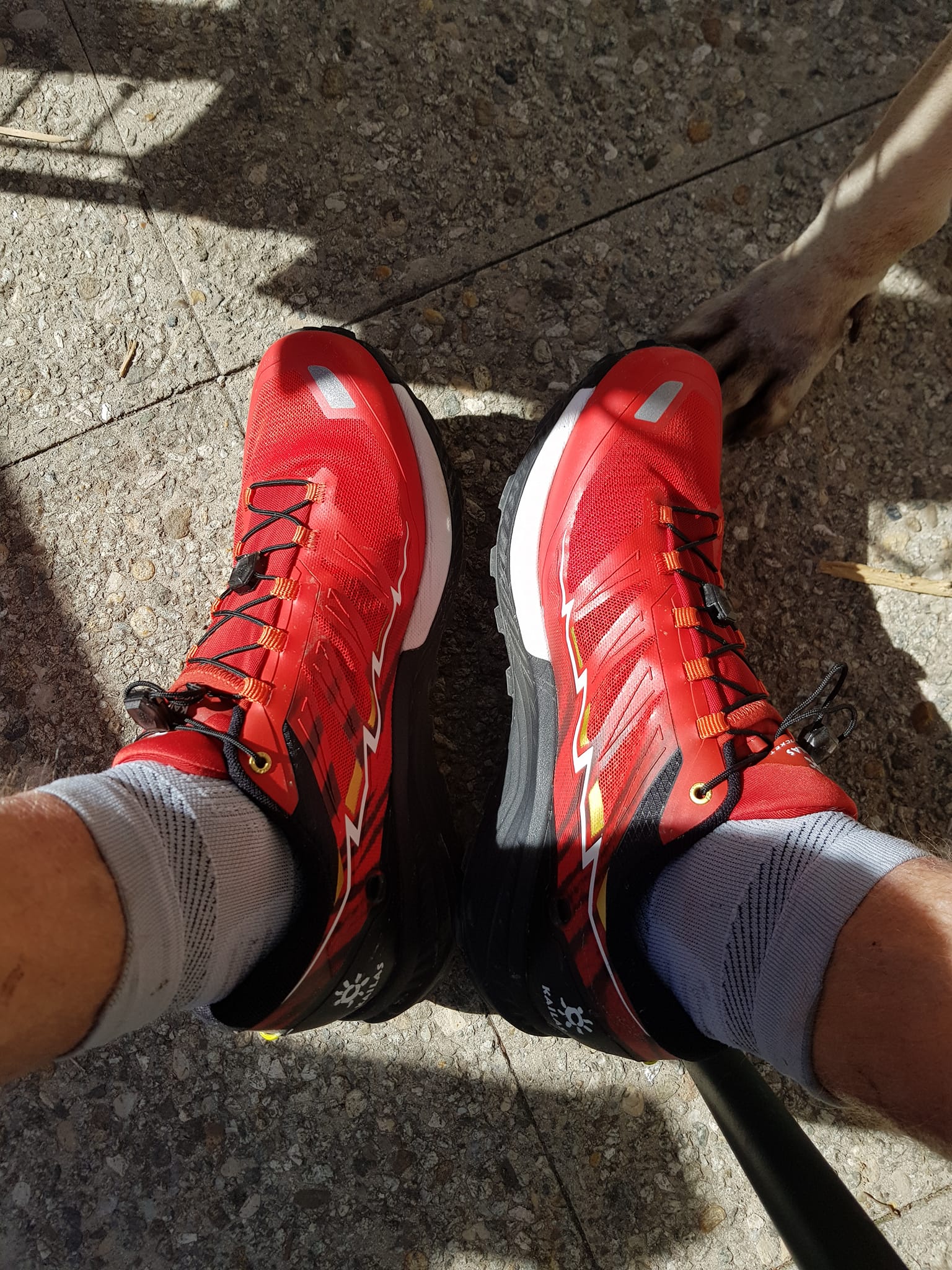 I am not sure about the AWS system, and I don't get on with the lace pocket, but these points wouldn't make or break the deal for me.
Now we come to the cost. As I previously mentioned, these are the top of the line from Kailas (when I got them), and at £213 (250 Euros, $269) they certainly have a premium price. It is certainly a steep cost, and I think dropping it a little would put it in a more competitive position in the market place, but would I pay it now? Unfortunately, I would say no, as it is just too high for me. It does seem to be durable which comes into play here, but I don't think that it is durable enough to justify the price being this high. That being said, we all have different financial situations and values and if you can justify the cost, then you are going to get an excellent shoe.
I have now tested a vest and shoes from Kailas, and am seriously impressed with both. Kailas deserve to get discovered outside of China, as they are making some quality products. I have not seen a single other Kailas product being used by anyone else, but maybe you have some? I would love to hear other people's findings.