Written by Neil Bryant for the URC
On receiving an email from Kailas asking if I could test and review some of their gear, I'll admit that I had to go to their site to see who they are, having never heard of the name. Kailas are a Chinese company, founded in 2003 by Baggio Zhong. Their roots are in mountain climbing and rock climbing but have also entered the trail running arena with a relatively large range or running gear from shoes, to bags to clothing and I have to say, it all looks decent, though the only item I have seen in person, is the Fuga Air II vest which I am reviewing here.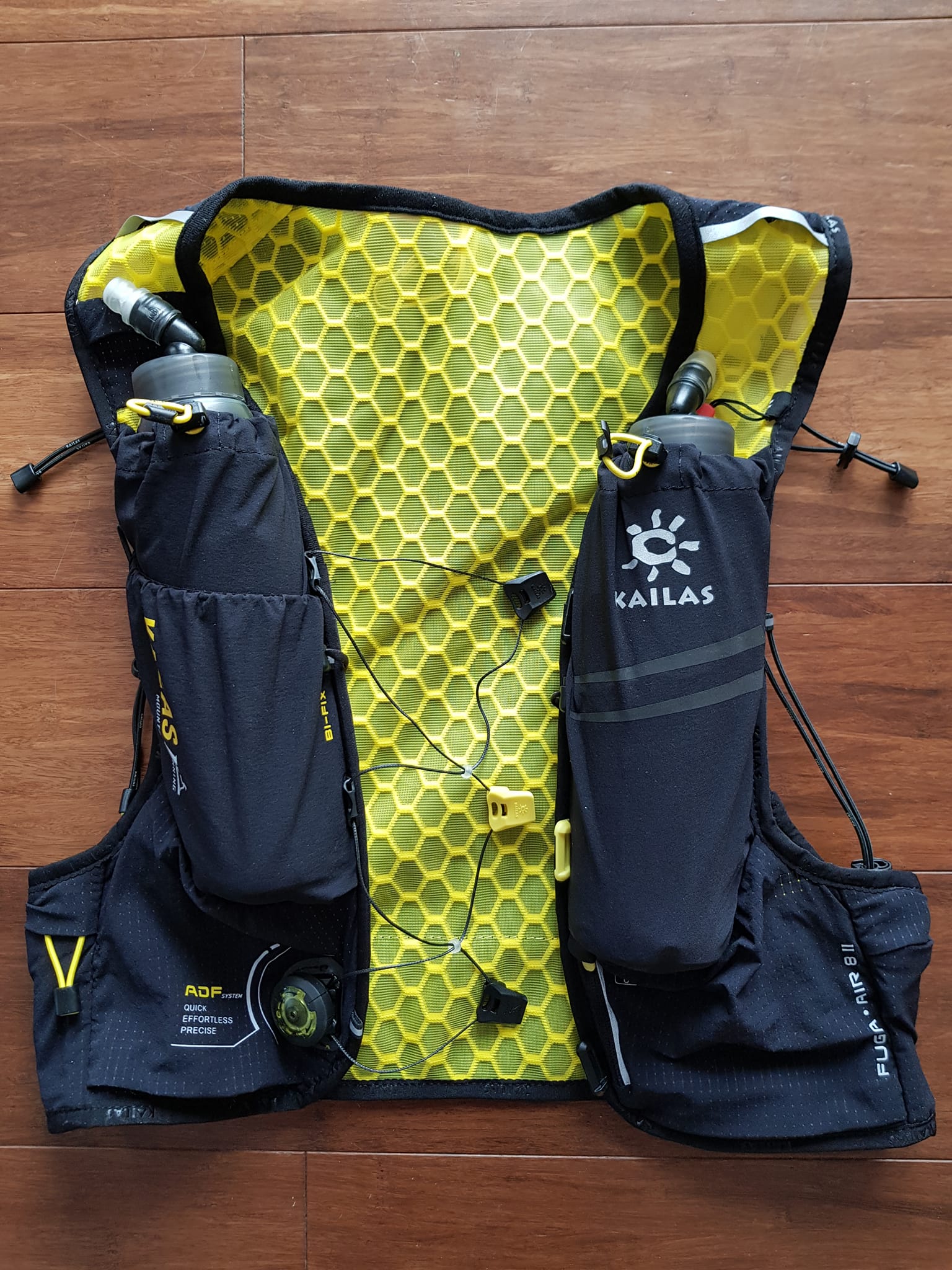 As I pulled it out of its packaging, my initial thoughts were, it seemed light (180g), build quality seemed neat, and the interesting Boa style chest straps, which I was really keen to try out. I realise that Boa dials had been used before on vests, with The North Face possibly being the first to utilise them (I think?), but this will be the first time I have used a vest with boa on myself. For those who aren't sure what Boa is, it is a system that is used to fasten and tighten very progressively and accurately via a round dial you twist. To release you just pull the dial out and it loosens. It has been used on many shoes now. I have boa dials on my ski boots and it is great as it is so easy to adjust with big gloves on.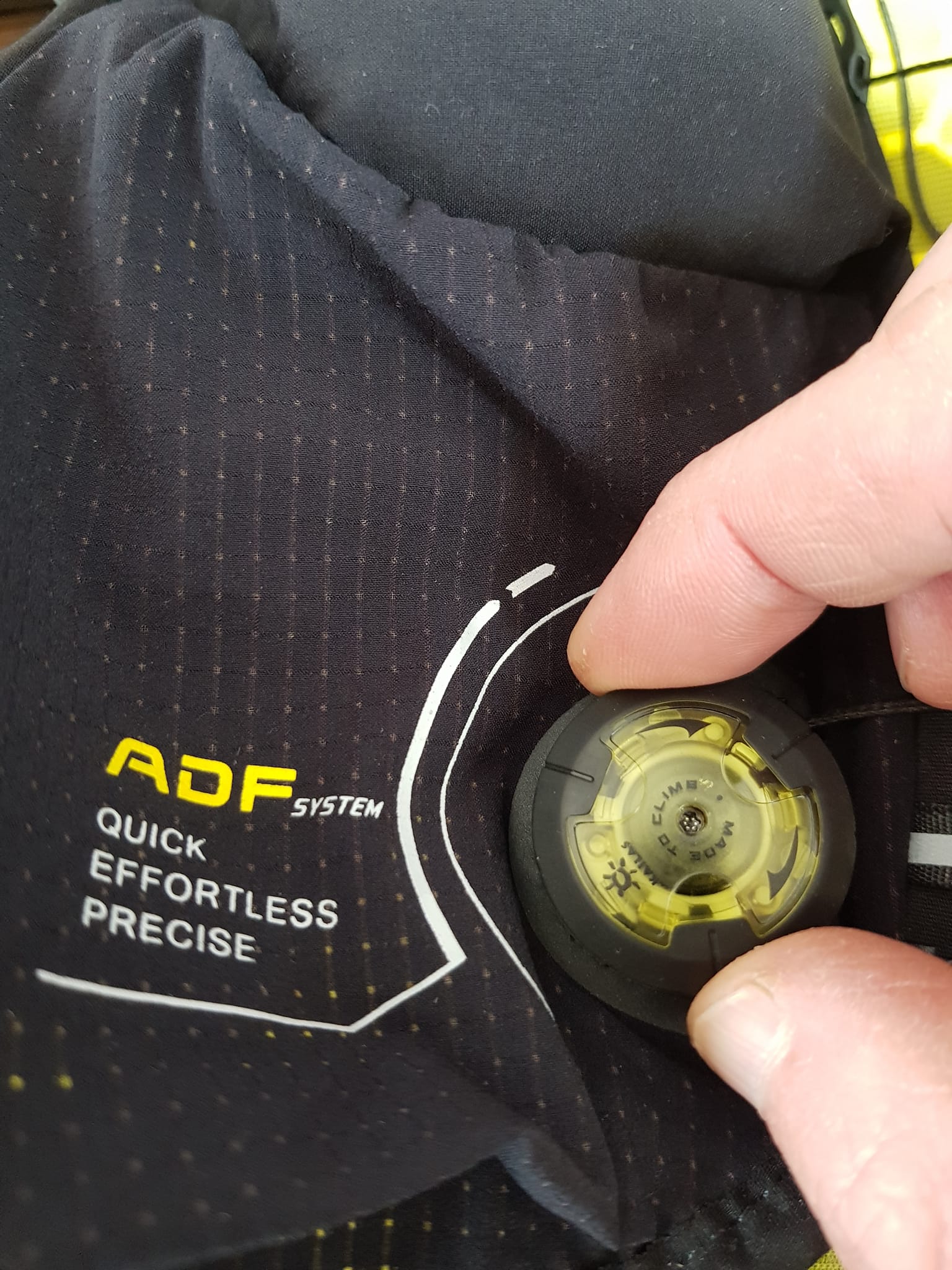 I pulled the vest on and it felt like a good fit, so the size charts are good. The strap system felt like it could get in a bit of a tangle, but on using it numerous times now, I have not had any issue as there are some small rings around the cable to prevent it getting in a mess which seems to work well! There are three colour coded clips which you just push onto the other side. They clip on easily and to release you just bend them and the come apart. Once you have clipped the three clips, you push the dial in and then twist till it feels comfortably secure. It feels really neat and simple. The clips are not difficult to locate and fasten, but they are a little fiddly. The dial is in an easy to reach and logical location so my hand always went straight to it with no fumbling around. I was looking forward to taking it out running and seeing if it was as good as I was hoping! First some more details.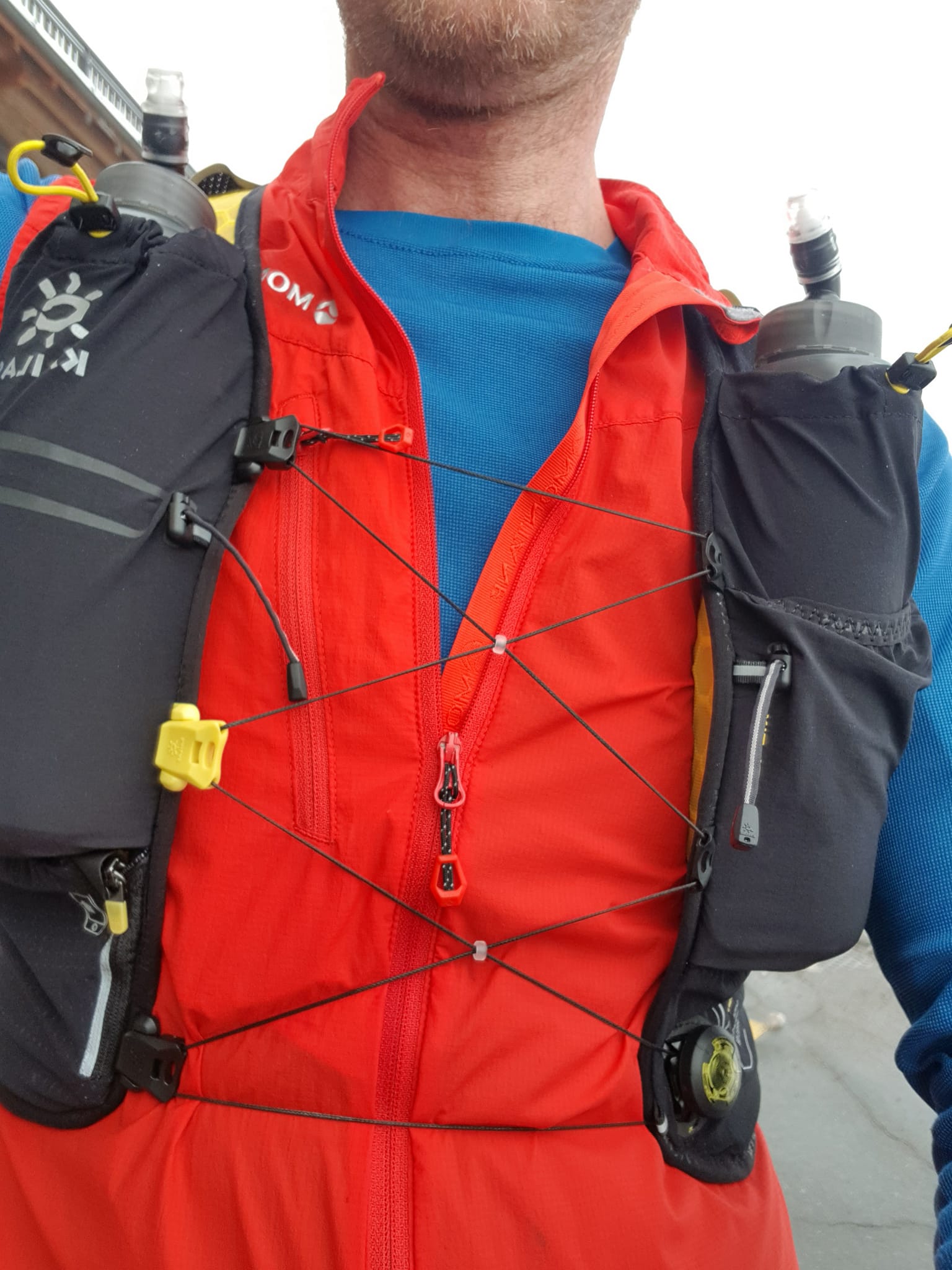 The Fuga Air 2 in use, showing the boa system and the clips clearly
Up at the front there are two soft flask pockets and it comes with two soft flasks manufactured by Kailas and not Hydrapak like so many other brands use. The flask seems good and have a short straw that makes it easier to drink without removing the flasks. Mid way down the flask pockets is a small compression strap you can simply pull to tighten for when the bottle is not full to prevent sloshing around. I generally blow air back in so was intrigued to try this system out. The front right bottle pocket has a stretch pocket on the outside.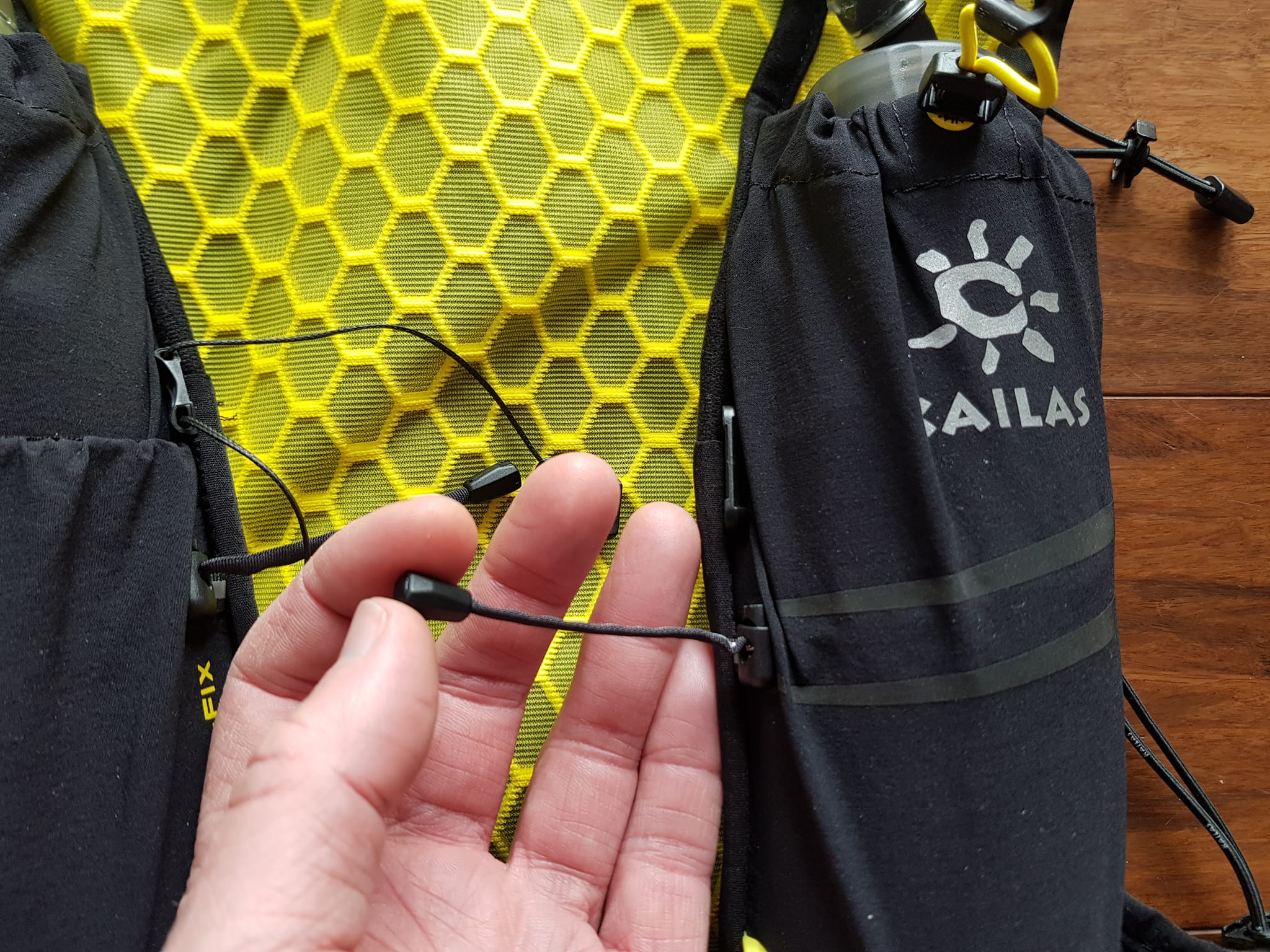 The BI-FIX system which takes up the slack in the bottle pockets when the bottles aren't full.
Below each pocket is a stretch pocket within a stretch pocket which is nice for separating gear making it easier to be organised. On the right-side pocket, there is the boa dial which goes all the way through so you lose a little pocket space. On the left-side pocket there is a side zip and a place to slide your phone in. I found in practice, this pocket didn't work for me as it felt unsecure and like my phone (Samsung Galaxy S9) would pop out.
The side sections have a medium sized stretch pocket with a loop inside to secure valuables to if necessary.
On the rear, there are four large pockets, one being zipped. There is also a large pocket for a bladder if that is your thing, with a bladder hanger strap at the top. At the top there is a stash pocket marked for a wind jacket and is about that size. This is reachable without removing the vest.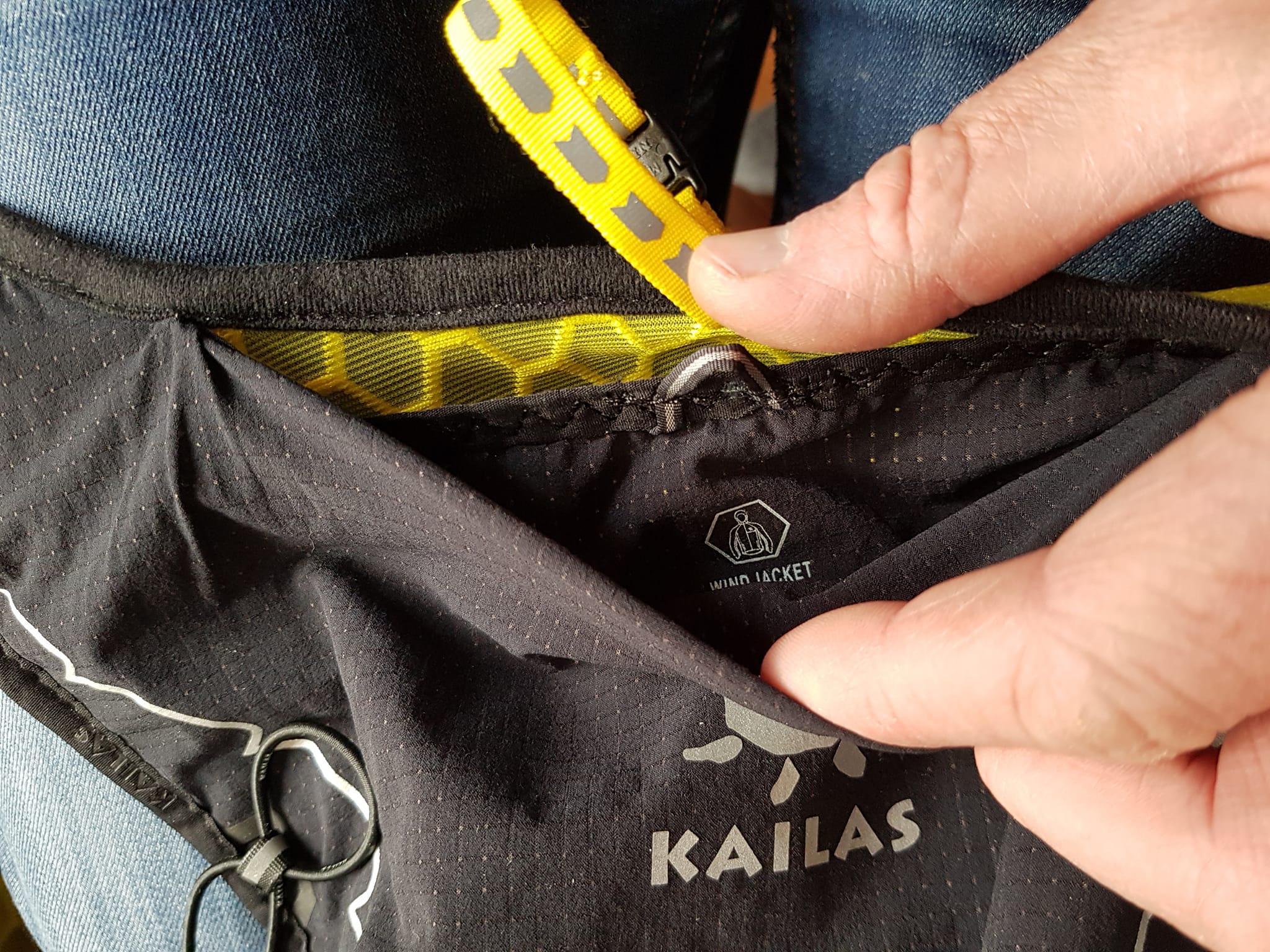 Detail showing the 'wind jacket' stow pocket and the bladder pocket behind it.
Mid way down the back is the next pocket which is another stretch stash pocket. I really struggle to reach this while wearing the vest.
At the bottom are the final two pockets, on the outer there is a large stretch pocket, and within this pocket is a large zipped pocket.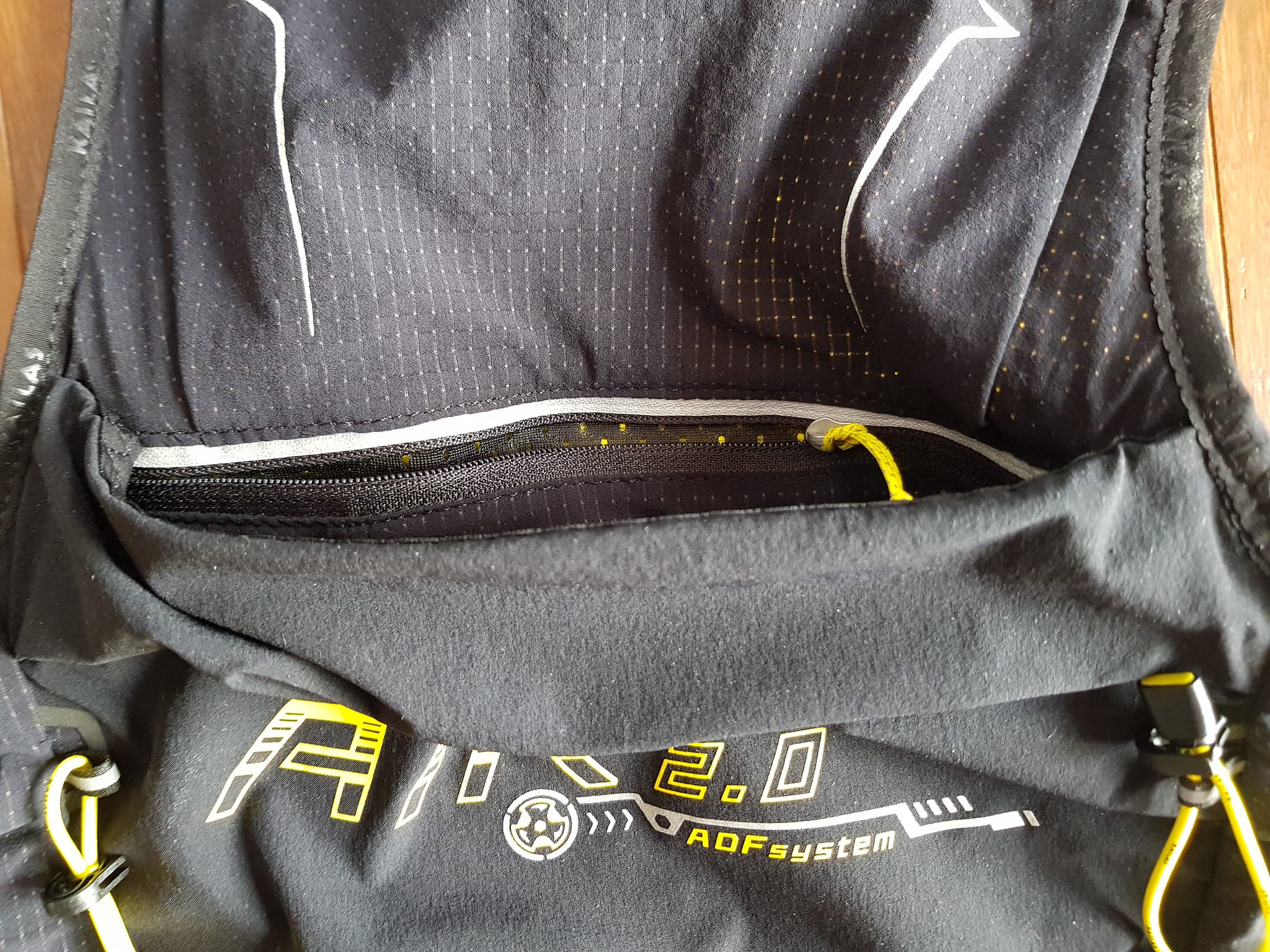 At the lower end on the back you have the zippered pocket within a stretchy stash pocket.
Final features are the mini emergency whistle attached at the front. Last but not least, we have the pole attachments, which give you three different options. You can have folded poles vertically, one each side at the front, the same but at the rear, or folded, both together horizontally along the rear lower edge. Plenty of options for those that use poles.
In use, I have to say that I have been very impressed so far. It fits me very nicely and none of the edges cut in at all. We are all different shapes though. The boa system is brilliant. As already mentioned, it is a little fiddly to clip up initially, and would be more challenging with gloves on in the dark etc, but what isn't! Once it is on and clipped up though, the boa system is fast, gradual and doesn't slowly work loose. When running it is simple to locate the dial and tighten further if needed. I didn't need to look down to find it.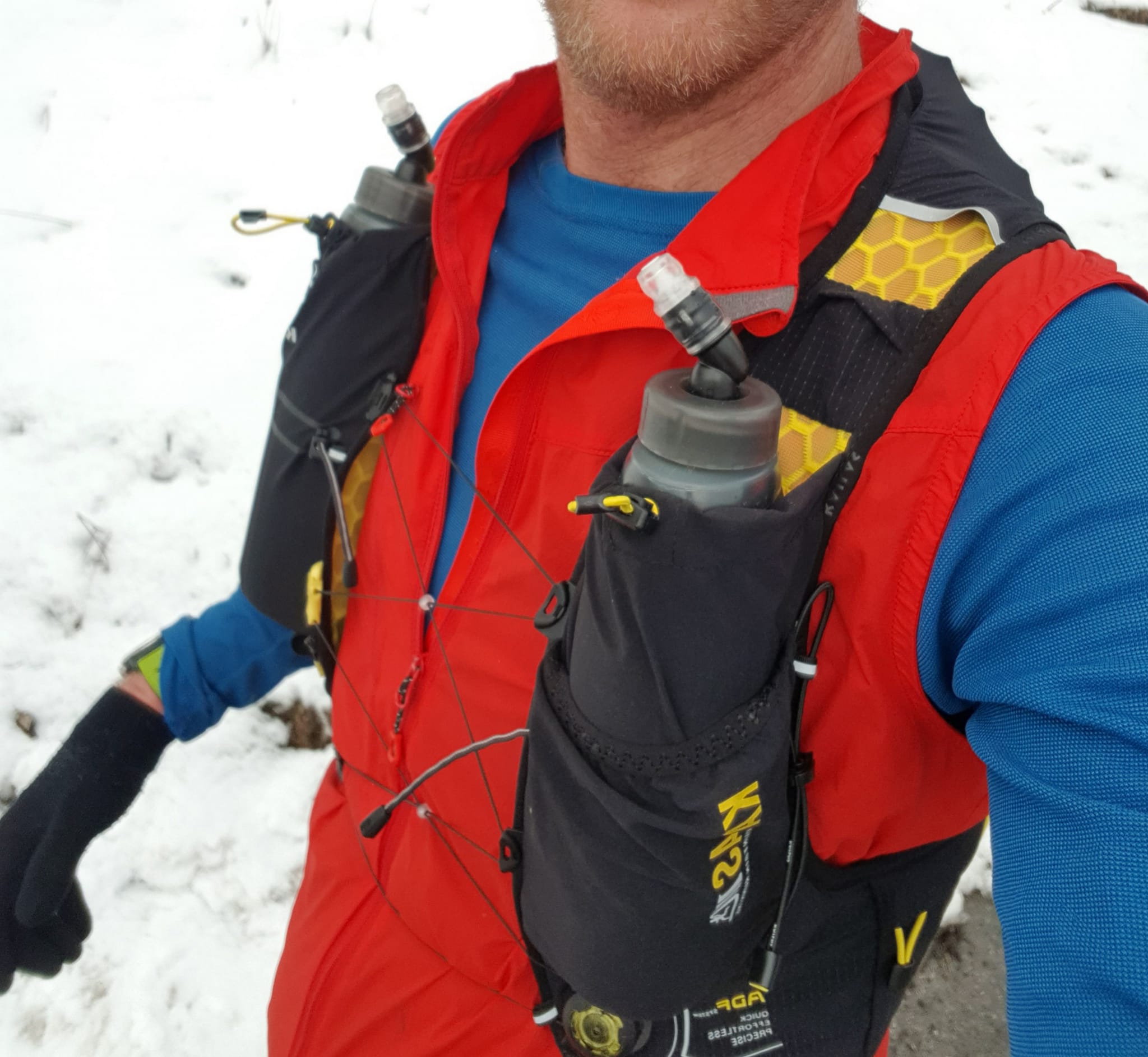 Sometimes I like to loosen my vest on a long ascent and then tighten back up for the descent. The pulling out of the dial, loosens it, but it isn't gradual, it just lets out all the slack, which generally means I release, push the dial back in and tighten back up to where I want it. It is a minor annoyance, but the dial is so simple and quick to use that is about it really, a minor annoyance.
The bottles have held up fine and the short straw really helps make drinking on the move that little bit easier.
The pockets are numerous and practical. As I already said, the phone pocket I am not keen on, but I am guessing it works for others. I would stuff my phone down the elasticated pocket on the outside of the bottle pocket. It was tight and secure. The two side pockets I found were quite a stretch for me to reach, though I know I need to work on my shoulder flexibility! For an 8 litre capacity vest, it feels roomy. The pockets are well laid out and really feel like this was designed by people who run a long way. Good work Kailas!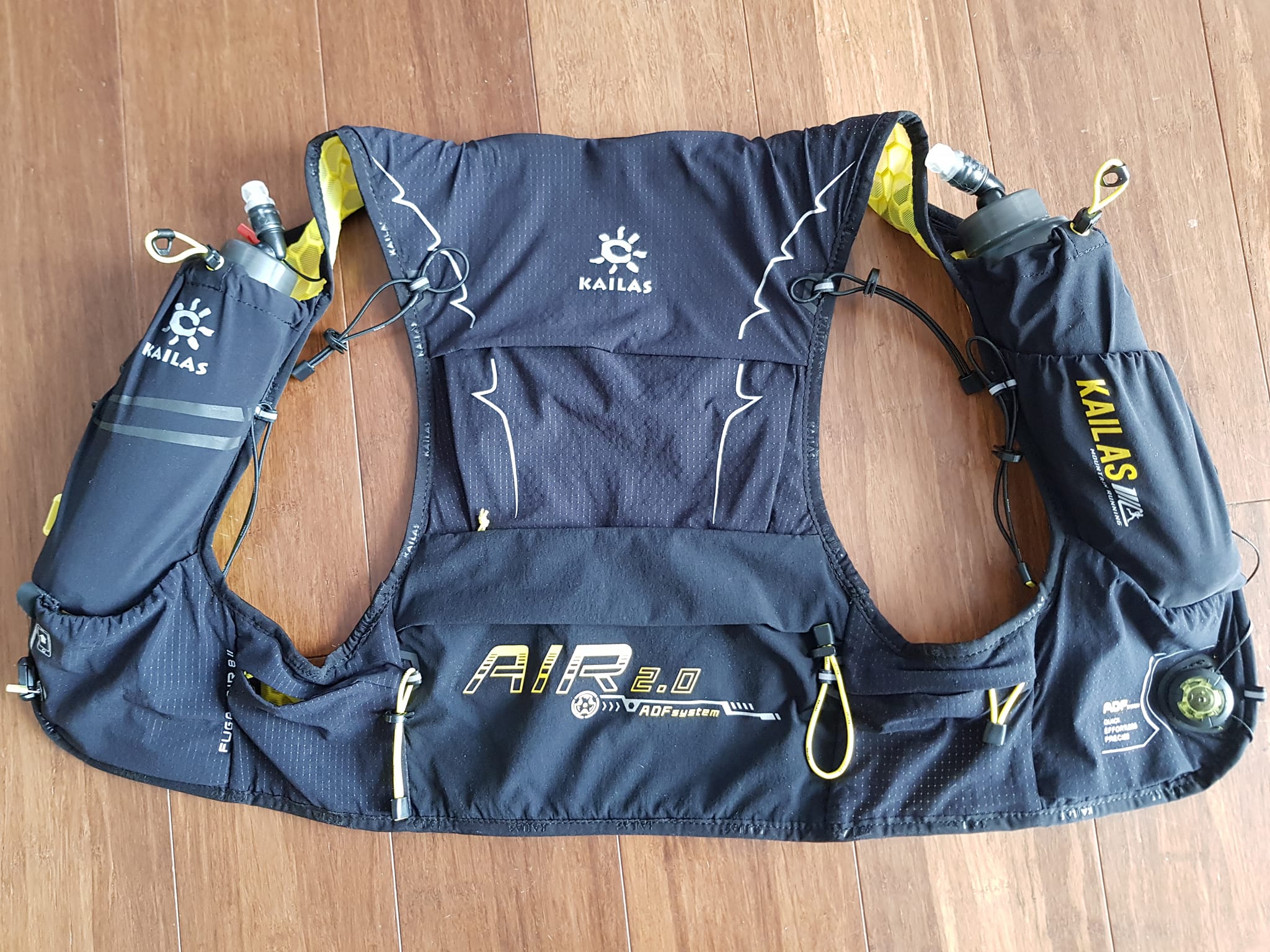 Overall, the Fuga Air 2 from Kailas is a really well thought out and executed race vest. It may well have just taken top spot above my inov8 and Salomon vests which are both excellent! A really adaptable vest with some really nice details. Multiple pole attachment options, bottles or bladder, excellent pocket configuration and not forgetting the excellent boa closure system. Light comfortable and practical. On long descents, when tightened up, it barely moves and really feels a part of you. I highly recommend giving the Fuga Air 2 a go if you are in the market for a new vest.
It is priced at £117/140Euros on their website though they have a 15% off offer for your first Kailas purchase. I think this is a good price for an excellent vest which should give you a good few years of service. To purchase Kailas gear, you have to purchase through their site as it is not sold elsewhere.