Written by Neil Bryant for the URC
I think I am like a lot of other runners, in that I go through phases with recovery aid, such as stretching and foam rolling. When I am good, I am super motivated and get it done for a decent period of time. Then, for whatever reason, it just tails off. I don't really notice it happen, but when I do, I pick it back up. And so the cycle continues...
I like foam rolling but find it is a little too much of a workout sometimes which probably doesn't help consistency.
I was then offered a few samples to try out from Pulseroll, the percusion massage gun and the vibrating foam roller. I had heard and read a few things about massage guns and it was all quite positive, but up until this time I had not had a go with one. When I pulled it out of its case, I was surprised by its weight. I had recently bought a drill to break up floor tiles at home which it does easily. The Pulseroll gun reminded me of that! Solid and well built.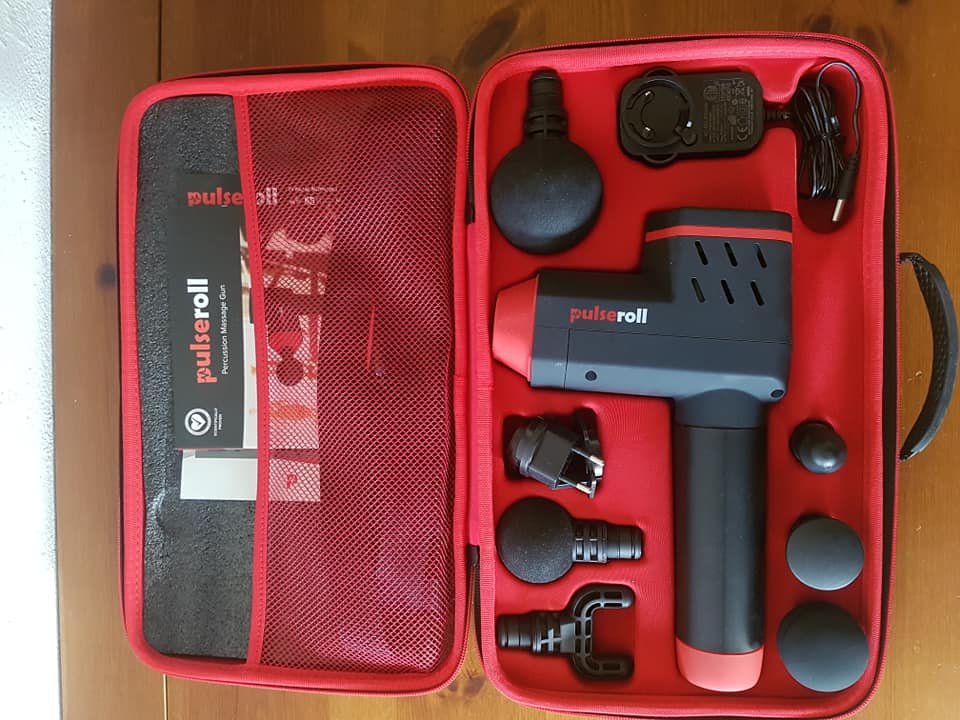 Also, in the case are six different heads which you just push in and pull off. They are all for different uses, body areas and intensities. Lastly but certainly not least is the charger in the case. It is rechargeable and the battery lasts for quite a decent amount of time (around 5hrs) so it is cordless in use which is obviously brilliant to not have a cable get tangled up while in use. It comes with a number of plugs too so you can travel and have the right plug.
I have already mentioned the case a few times and it is worth saying that this is a quality zipped case to carry everything neatly and to keep it well protected in transit, plus it comes with a shoulder strap.
The gun itself has a standby switch that has a red light when it is on, which is handy as a reminder to not leave it on when you've finished. Then there is a button that selects the power, of which there are four. One short press starts vibration on the lowest power, another press takes you up a power again, till after the highest setting it stops. You can also turn it off immediately with a long press. Very simple and intuitive.
The four different powers are 1300RPM, 1800RPM, 2500RPM and 3300RPM. The lowest power is low enough for muscles that are very sore, and the highest power is very powerful! It penetrates deep and if there is a trigger point that needs some work then this will find it!
You also get a little booklet which shows trigger points for the whole body and advises which head to use and for how long which is really great as I think many people would just stick on any head and start drilling away for as long as they can manage, so to have some advice gives a really good start to your new gun.
I have been using the gun fairly regularly and my first impression is it is a good piece of kit. My partner loves it and she is a good massage therapist. I really like how easy it is to use. I can multi task while using it (unusual for me!) as it is so easy to use. Its weight is fine to hold and if used in a pointing downward way, will help you apply pressure. It is capable of being both relaxing and intense and the guide book is superb at helping you maximise its effectiveness.
It is priced at £224.99 which is certainly not cheap (they do have a pay in 3 x £75 monthly instalments options on the site), but when you take into account this could replace visits to a massage therapist, then it could easily pay for itself over a short period. Plus, you can of course use it as much as you want/need with no extra cost.
The gun is a very well built, and after much use I feel like there is a definite aid to my recovery and is good for relaxation. It is simple to use and the case it comes with makes it really portable. A well thought out tool to aid you in the recovery we all need!
To purchase the massage gun, use the following link to the Pulseroll site. The URC will make a small commision from each sale at no cost to you. Thanks
Vibrating Foam Roller
As previously mentioned, I have a foam roller now and use it a bit. Not consistently, but it does get use. I had heard of vibrating rollers before and thought they would either be a good idea or a novelty. Enter the Pulseroll vibrating foam roller.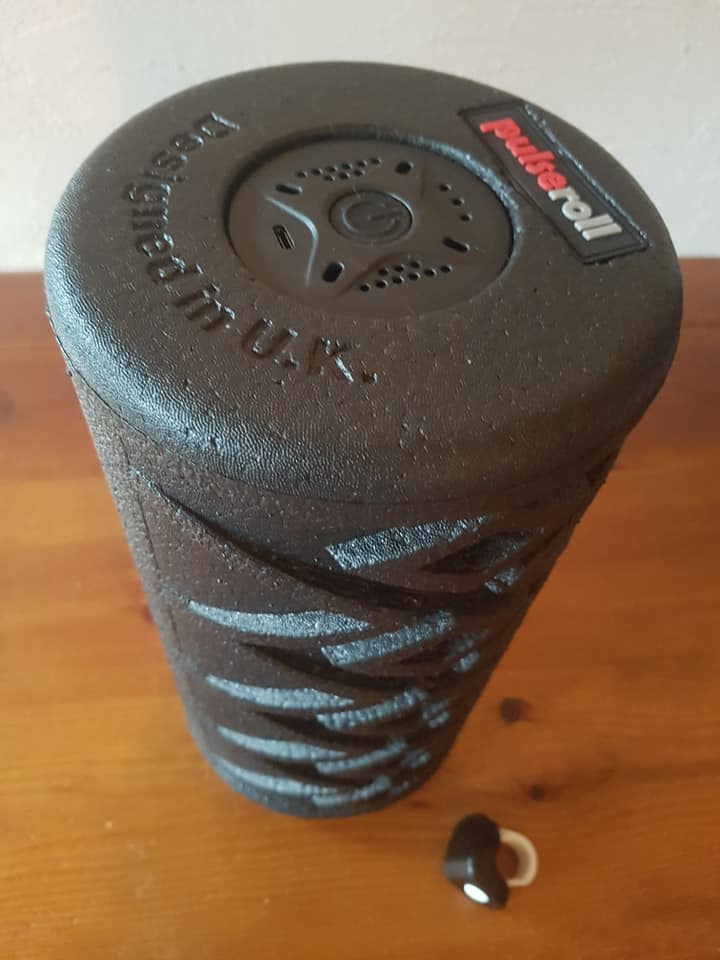 The roller comes with a quality bag with a strap for carrying. There are not the accessories like there are with the gun, and being coated in foam, it doesn't need the protection in the same way, so this bag is adequate and is again a durable item designed to last.
It is rechargeable and takes around 3hrs to charge to give you around 4hrs of use, depending on which speed is used. An interesting and clever accessory that does come with it, is a one button remote which you can wear on a finger. This is to enable you to change speed or turn off while in use, so you don't have to get out of whatever position you may be in to make adjustments. A nice touch indeed.
It is shorter than my 'normal' foam roller at 30cm, but I don't think it matters as you don't need to roll around so much, staying still when over a trigger point. There is another model, the Pro, which is longer, at 38cm.
There are again four different speeds (the Pro has 5 speeds) which you operate with the single button on the unit, or the remote. Speed one is 1500RPM, two is 2200RPM, three is a pulse that changes from 1500RPM to 3000RPM and four is a whopping 3900RPM.
The vibrating foam roller can be used for the same reasons as a traditional roller, but also as a muscle toner and for warm ups and can help with plantar fasciitis.
I am currently living in a first floor flat with neighbours underneath and when I first tried it, the power of it on the floor felt like it would be quite noisy for the downstairs neighbours, so I try to use it during sociable hours which unfortunately means not in the evening. Maybe something to consider depending on your situation.
Again, this is a really solid, well thought out product and the power is fantastic. It is nothing like using a normal roller being much more effective and it certainly feels as though the vibration is helping relax muscles and aid recovery more so than a non-vibrating roller.
It retails for £99.99 (though is currently 30% off at £69.99) which seems very reasonable to me, especially as it feels like it was built to last. A powerful tool to aid in one of the most important parts of training, the recovery.
To buy the vibrating roller, use the following link to the Pulseroll site. The URC will make a small commision from each sale at no cost to you. Thanks.