Written by Neil Bryant for the URC
I recently reviewed the excellent Massage gun from Pulseroll. I really liked its intense power, and how you could really focus on particular areas with ease. It is large and a decent weight giving it a rather industrial feel to it. Then I received the new Mini massage gun from Pulseroll. I was a little sceptical before I tried it about whether it would have the power to feel anywhere near as effective as the bigger massage gun.
A comparison showing the big size differences between both the Mini and the massage gun
After plugging in the Type-C charger (most of us have at least one electronic item which uses this plug) and fully charging it, it was ready to try, and wow, what a surprise! This small unit really packs a punch, and after using the much larger massage gun, the difference is noticeable, but it really is slight. The massage gun has 4 settings which are 1300, 1800, 2500 and 3300 RPM, whereas the mini massage gun has four settings of 1500, 2000, 2500 and 3000 RPM. Not a huge difference as you can see. The bigger one has a larger range, starting at a lower RPM and finishing at a higher RPM so will cover more uses maybe.
Like the massage gun, the mini comes in a rather practical carry case which carries the charger and the four heads (massage gun comes with six). The case is great and should last well, not just glorified packaging, but a durable storage system.
So, after the initial shock of just how powerful this unit was, I realised the tiny size meant I was using it more. I just would take it too the couch in the evening and would often use it while working or watching TV. This was happening moreso than with the larger massage gun. It is just small enough to make it almost pocket sized, yet when you go to use it, the power really does help with self-massage. It penetrates enough to reach the deeper muscles that can be difficult to access normally.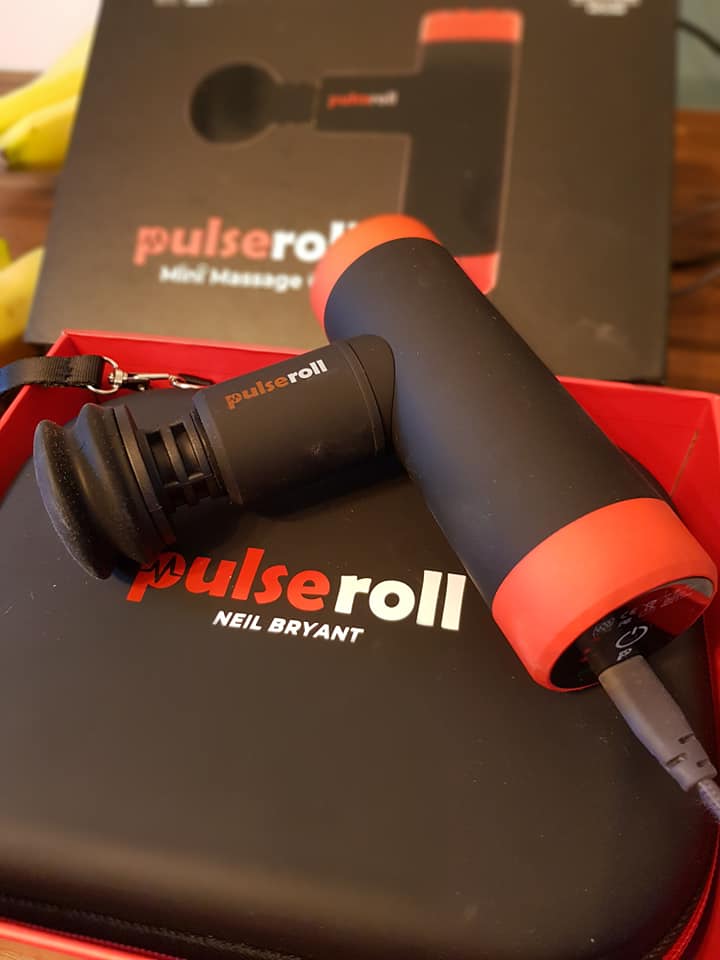 The Mini Gun charging on top of it's carry case.
I have had some minor achilles issues lately and have been using the Mini Massage Gun on my calf and the bottom of my foot before running and it really helped ease the initial soreness when I started running.
Is there any need to buy the bigger, more powerful massage Gun? For me personally, I am happy with the mini gun, though I imagine that professionals would be after the extra power and the extra heads. The compact size is the winner here for me. Even the case is loads smaller making it much more practical to travel with when space is a premium.
Then we must talk about the price. The RRP is £129.99, and Pulseroll often have decent sales on. It is a really great price for such a quality, and powerful tool. As with its larger brother, there is also the fact that if you regularly have a massage with a professional masseuse, then you could possibly cut down a little. I am not saying that the mini gun is a total replacement for seeing a masseur, but it will certainly help with body maintenance and some financial savings could be made here.
Overall, if you haven't worked it out yet, I am really impressed and see the mini gun as an important part of my recovery regime. If you haven't tried a massage gun yet, then I highly recommend it, and the mini gun from Pulseroll would be a great place to start.
To purchase the mini gun from the Pulseroll site, please click below. The URC will make a small commission from each sale at no cost to the buyer. Thanks