Before the race
The start of the year was the start of the training block and it was all a bit stilted, chest infection, tummy bug, Achilles niggle, then a decent couple of weeks training…and then Covid. However, the last 8 weeks had been solid with almost no missed sessions. The weekly long run had been around 26-30 miles for about 6 weeks and the longest run was 35 miles in 6 hours in a 75-mile week. It seemed a big jump from 35 to 100 but I trust my coach, Dave Shaw of Runrhaw, and anyway, I was signed up, sponsored up and doing it! My stretch goal was 22:30 and on the Friday before I told my mate that I would bite his hand off for 23:59 – and I meant it.
I was doing a Lidl Bit Extra. Starting at Lidl Fort William, running to the 'new' end of the WHW, and then to the start line of the West Highland Way Challenge Race. And then after it all, I was running from the Milngavie finish line to Lidl Bearsden, which would round it all up to 100 miles. I was doing it for the STV Appeal and had been blown away by the generosity of friends, family, and colleagues, raising c£4500!
Because of a busy week in London for work, I had been forced to prepare drop bags and kit the weekend before. It was my first time at anywhere near this distance and I took the attitude of I'd rather have it and not need it than vice-versa. The Challenge Race allows for two drop-bags (one at Bridge of Orchy 35miles and one at Rowardennan 68miles) and I was planning on using them properly. Despite this prior organisation, the Friday before the race disappeared and before I knew it Sean was picking me up to drive me to Fort William. The drive up is glorious, though the scale of the run is very apparent as you pretty much drive alongside it from the south of Loch Lomond all the way to Glencoe. I enjoyed the drive very much.
Dinner with Sean and some laughs with Dave, Chris and Bob settled the brain. I headed to bed at a reasonable time but was awake until after midnight. Nonetheless I awoke feeling decent and up for the challenges of the day. Breakfast, drop bag drop off, into my gear, a photo at Lidl Fort William, a quick We Are Lidl post, a loop around the town centre to the Man with Sore Feet with Sean and then a nervous few minutes at the start line. After all this, the next bit was simple. Run to Milngavie, then to Bearsden and try not to get too wrecked by doing so.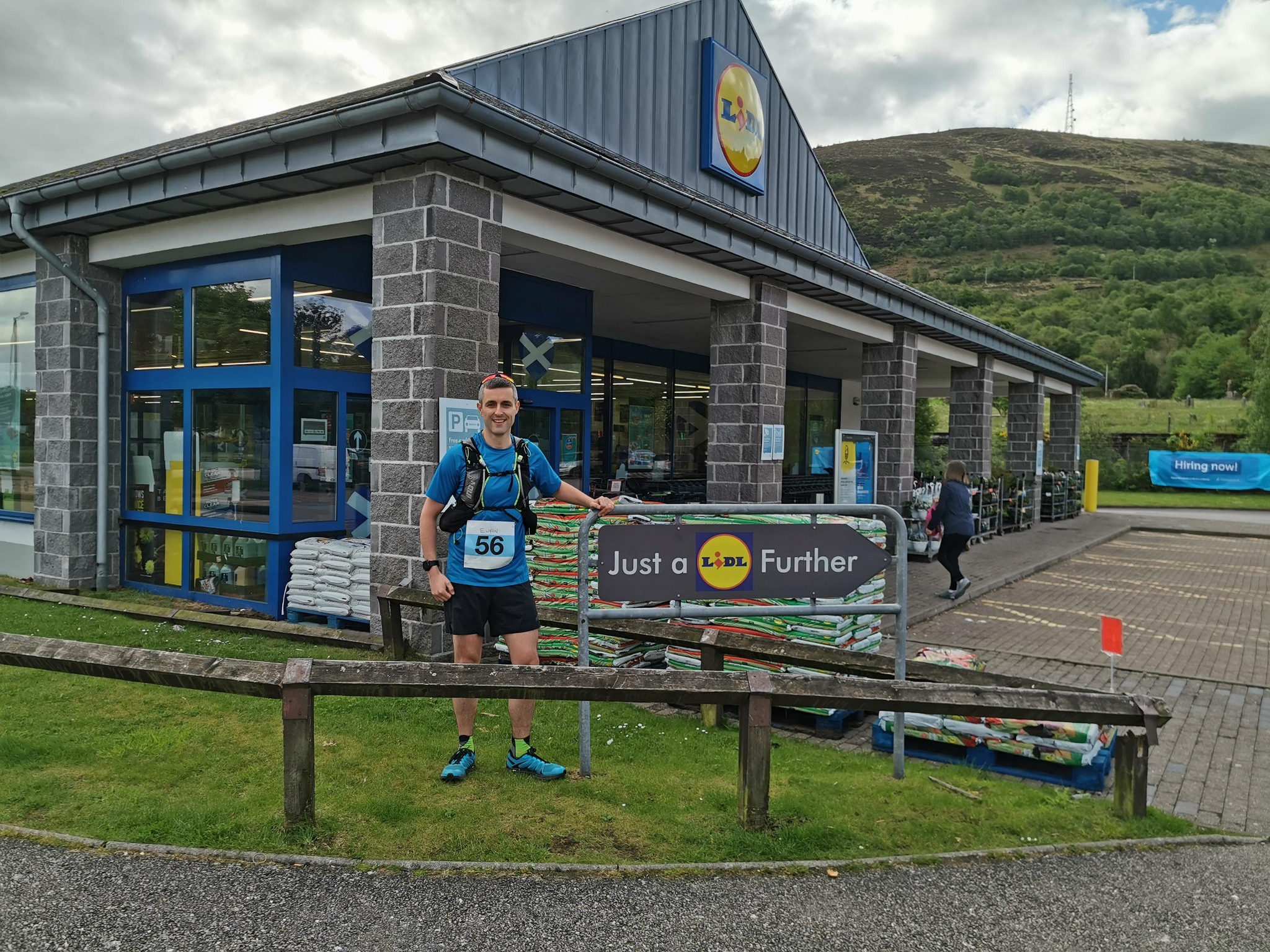 I'd been thinking about this race for some time and in the end my strategy was clear in my head.
Start steady and slow down …as little as possible.
Run within myself and don't chase any time goals.
Look after my future self. Protect the body during the first half, for the second half… and the second half starts at Rowardennan (68miles).
300 calories an hour. Every hour. That is 100 calories every 20 mins starting from 20 mins in! Drink to thirst but ensure that a decent amount is going in. Aim to eat 'real' foods for as long as possible and rely on gels, powders, and potions only in the second half and only if you must.
Don't hang about checkpoints – fill up, fuel up, fuck off. There is no real comfort to be had here.
Talk to anyone who will talk to you. Enjoy it. Treasure the day and remember pain is a privilege of the living.
I set up a small WhatsApp group of concerned loved ones. I would check in at check points. I'd intended on not giving any commentary lest the delirium that I assumed would kick in be a source of worry. I would keep my phone on Airplane mode, turn it off to send the message and back on immediately after. I had my headphones in my first Drop Bag, but I would use them only when really needed – for comfort or motivation or help when doubtful.
Fort William to Kinlochleven
This was the only bit I hadn't recced – because with life as busy as it is, I couldn't justify the 5-hours of travel. It was a beautiful and dramatic start to the day. I ran with Bob for the first 8 miles or so and when I found us separating, I called a farewell. His shouts of "Look after yourself Euan, take care mate!" stayed with me for a while and I think I felt bad about splitting up – or as he put it later "burning me and fucking off for glory." Dave had recommended that we didn't run together as then I would then run his race, or he would run mine, and that wouldn't serve either of us. However, after ten minutes I was running alongside a couple of English lads that I didn't click with. Could still see Bob just a minute or two behind and considered slowing up and running again with him.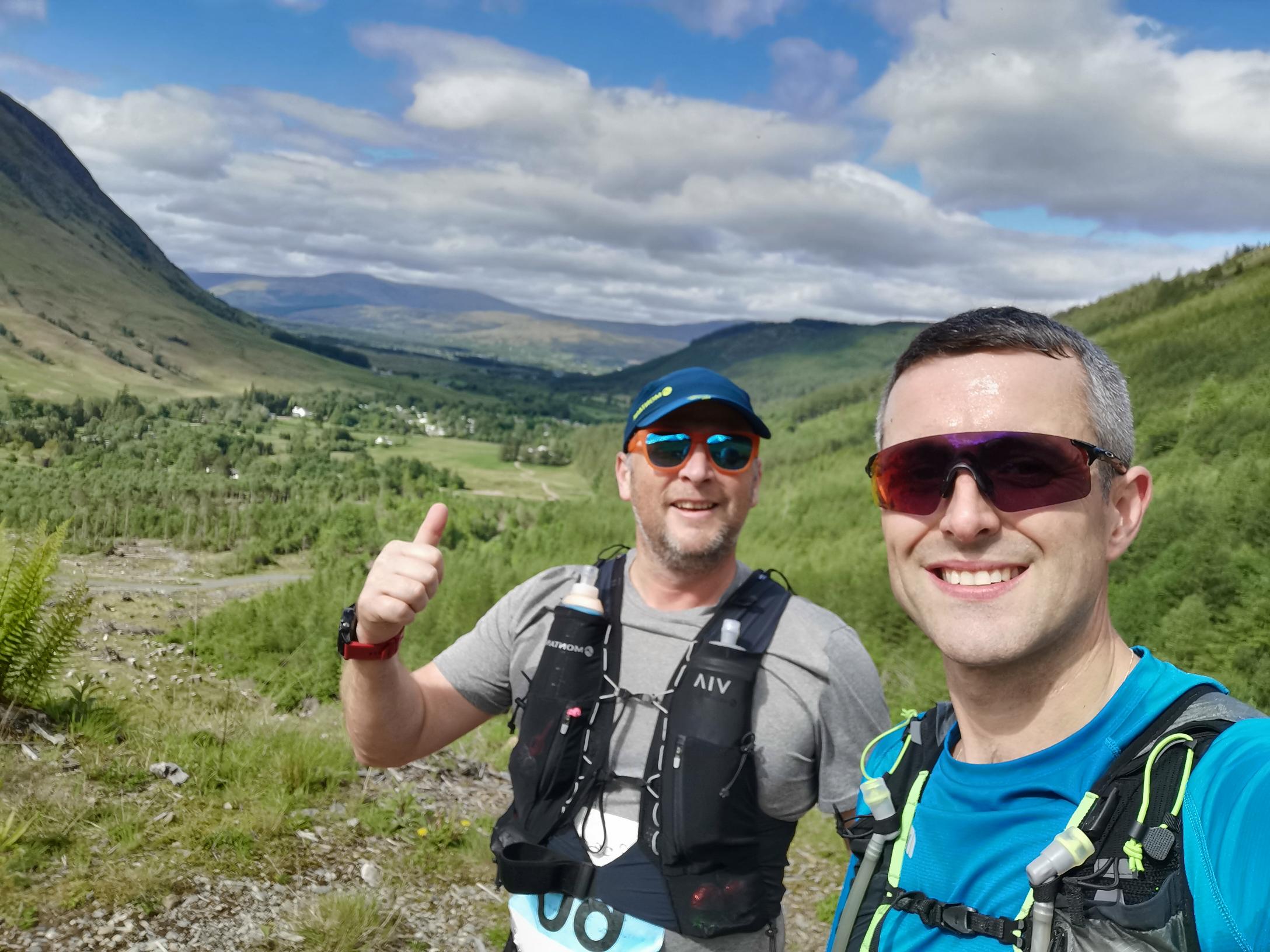 Bob and I at the top of the first climb looking back to Fort William - 10:28am
I chatted to a couple of great guys along the Lairig Mor - enjoying the stunning views. The sun was shining hard, and it was hotter than expected, and definitely hotter than ideal. When running with folk the question of time goals came up and I was conscious that my 22:30 was a bit faster than the '24 would be nice, but realistically 26-28' that was coming from my companions. Nevertheless, I felt good. I paid no attention to my watch but instead walked the uphills and ran a steady pace on the rest. Before I knew It, the sharp right turn down to Kinlochleven was upon us and the first check point only minutes away.
At the checkpoint I filled my water bottles, grabbed a banana, thanked the marshals, and headed out. All in around 2 minutes. When leaving the checkpoint I lapped my watch and composed the message to the group.
"Kinlochleven. 1241. Taking it nice and easy."
I had in my mind that I was already about 40 mins down on target time, though in retrospect I was only 15. Despite this I genuinely didn't think about it. The sun was shining, I was moving well and feeling fresh, the first section was done and there was a long way to go.
Kinlochleven to Glencoe
This section was never going to be easy. The Devil's staircase Northwards has nothing on the 5-mile slog heading south, where you go from sea level up 550m to the highest point of the WHW. It was cooking. The photos suggest that there were clouds in the sky, but my recollection is that they seldom screened the sun. I strided the uphills and was disciplined with myself where it flattened out, taking every opportunity to run what I could.
The WHW was busy, and walkers were effusive in their support. With more than 80 miles to go their praise felt premature and unjustified. I was moving well on the uphill sections. I could spot folk in the distance and was gaining on them. I spoke to a couple of other runners but moving faster, as I was, we parted company within a minute or two. From the top, the views back to the Mamores and forward to Buachaille Etive Mòr were other-worldly.
I took the Devil's staircase easy – no heroics and no injuries - protect the body for the second half! By this point I was melting and I remember thinking that if someone was selling 10p ice poles for a tenner, I'd be £50 quid deep.
I could see three runners up ahead spread out over a mile or two. Dave and Chris were just North of Kingshouse and Chris took an amazing picture of me with BEM in the background. It is a picture that I think I will always treasure. A couple of words with Dave and a swig of his water, and I pressed on to the washroom at Kingshouse. I had decided to fill my bottles from the public tap here as I reasoned that it would be quicker doing so than getting bottles filled at the checkpoint – and that the water would likely be cooler. I also took a minute to wash my face and neck in the washroom and felt much cooler and better for it. The climb up to Glencoe Ski Centre felt like it went on and on, but I got there happily enough. The folk I'd been tailing for the last couple of miles were here and I had a couple of cups of Coca-Cola, grabbed a handful of Haribo and a cheese sandwich and, with my bottles previously filled, lapped my watched and headed off to Bridge of Orchy.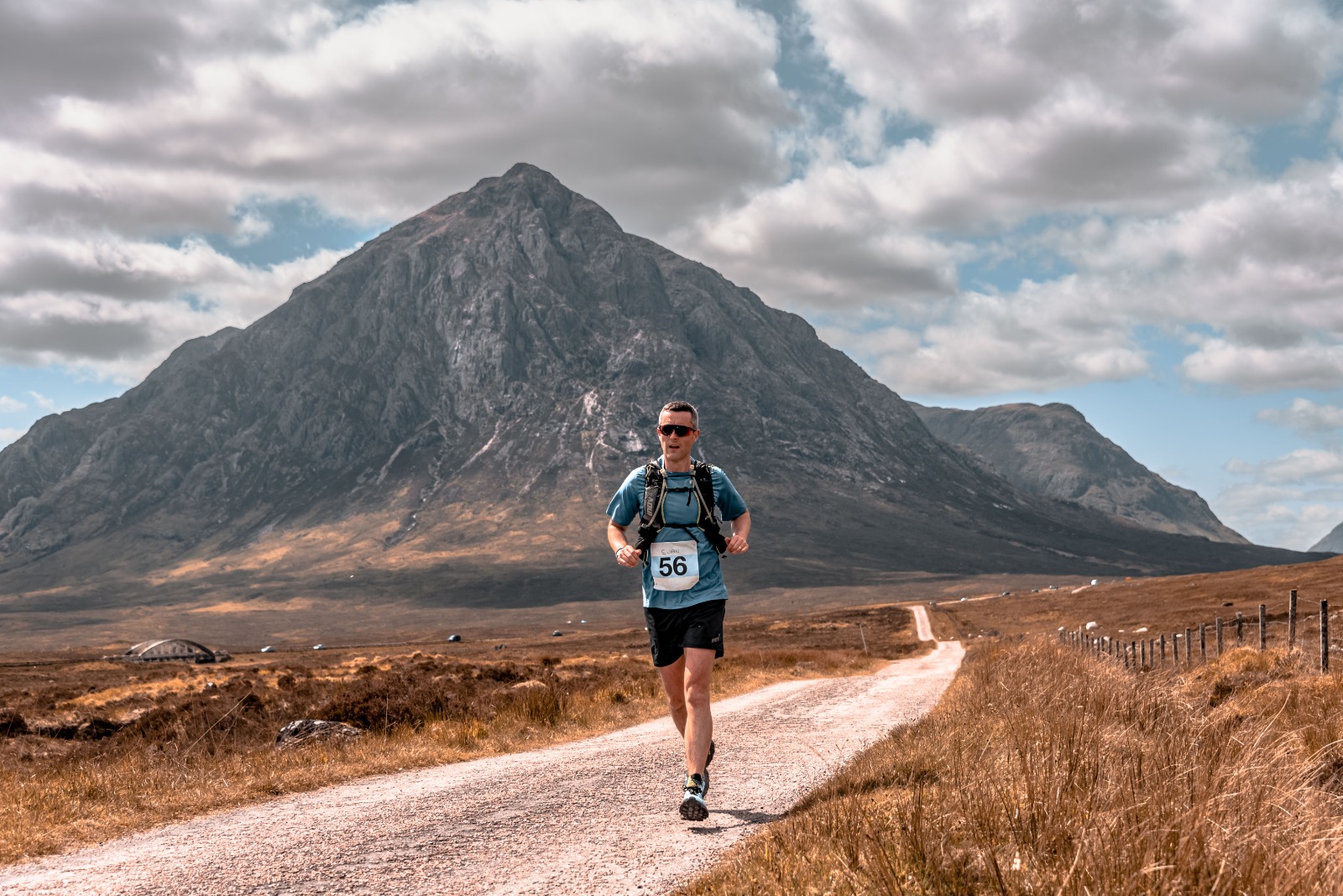 My message read: "U my my mmpuvGlencoe. 1500. all well. It's el scorchio but fortunately I'm impervious to the sun's rays. Ex"
The typos were caused sweat dripping off my nose and me being unable to dry it! Finger dexterity and lucidity were things that I was keeping a close eye on and - to my knowledge - all were fine.
Glencoe to Bridge of Orchy
This is a section that I was feeling pretty confident about and looking forward to from a scenery perspective. I had only been on it once before and it was a spectacular morning, touched by flakes of snow. An initial climb followed by a long descent, then a sharp ascent and descent, over 'Jelly Baby Hill', and then the first drop bag at Bridge of Orchy. The sun was high overhead and there was almost no breeze. But I was well hydrated, well fuelled and feeling good. It is hard underfoot at bits, cobbled and rocky and it takes it out you. One of my rules for today was to attend to any foot issues immediately – as I can guilty of running on for an hour and then a hotspot is a blister, then a wound and a limp. I felt a small stone in my shoe and stopped and fixed it and was moving again in less than a minute.
The climb from Inveroran Hotel is steep but I enjoyed the break from running and it allowed my legs and feet to recover from the Old Military Road. At the bottom of the downhill, Dave and Chris were there. Dave ran out to meet me and commented that I was looking fresh and moving well. It was nice to hear this and backed up what I was thinking. I knew it was good to be 35 miles in and feeling strong. He accompanied me up and across the A82 to the Community hall where the checkpoint was. I checked in, got my drop bag, and set about getting organised. In the Challenge race you carry Emergency Kit of a sleeping bag and bivvy bag from BOO to Rowardennan. I had this in a 10l Inov8 pack already to go. I'd practiced the checkpoints in my head – and packed so that they would be smooth and fast. The drill for this checkpoint:
Take off the starting pack; remove the mandatory kit dry bag and anything else from the pockets and transfer it all to the new pack.
Stuff the 2 x food bags into the pack pockets. Just get them in, organise late.
Stuff the 'tech bag' into pockets – this had my head torch and earphones in it.
Eat anything in the 'checkpoint food' bag – this was a rice pudding and salt tablets. I had a pot noodle packed and a bottle of Coca-Cola – but I used neither. Dave got me a couple of cups of coke and a banana from the Aid Station.
Consult the 'feel better bag' – is there anything that will improve your lot? I had a spray of deodorant, washed my face, head and neck in the bathroom and did a pee (a bit dark but nothing to worry about, and the fact I was peeing was a positive sign.)
Consult the 'Fresh Kit' bag – do I want to change into anything fresh? – I didn't.
Stuff the old gear into the drybag, Says thanks and get moving!
I thanked Dave and the volunteers, lapped my watch, and headed back out into the sunny evening. I reckon I was in the checkpoint for around 5 minutes, but I left feeling refreshed, revitalised, repacked, and ready to get after it. I didn't spend any time organising or eating at the checkpoint as I knew there were ascents ahead and I would be hiking these within a few minutes and that I could do that on the hoof while composing and sending my message.
"Bridge of Orchy. 1710ish. All good. Moving well. Fully Fuelled. In good spirits. Beautiful evening. Ex"
Bride of Orchy to Auchertyre
I was quietly confident that this section would be a smooth one and it turned out that way. Running with the heavier pack after 35 miles was noticeable. I had trained for weeks with this pack and I am well used to it, but it took a bit of adjustment nonetheless. When arriving at BOO I had noticed there were about a dozen names already on the check-in list. No one had passed me all day after the first couple of miles once the field settled into their stride.
This section is quite runnable and totally glorious, with the distinctive Beinn Dorain up ahead of you for much of the first half. It was a beautiful warm (too warm!) evening, and I enjoyed the buzz of running parallel to the road for this bit – hearing the motorbikes and seeing other travellers - it added to the sense of journey. I passed a couple of fellow runners and shared a few moments with each - bemoaning the additional pack weight, though in retrospect I was complaining to offer support rather than really agreeing. I didn't need the emergency pack during the event but a twisted ankle on Loch Lomondside could have changed that very quickly. I had trained with it and was used to it too.
After a solid first half, I was running down the main road at Tyndrum where the race diverted. A couple of Strava buddies cheered effusively from the beer garden – not polite 'keep up the good work' but rather manly and loud yells of 'Come on Euan – Fucking come on! Go on Son!' The 'Go on Son' really caught me. I got a boost from their cheering and ran all the way to where the Fling ends with a spring in my step. But I also knew that if I thought about them or let myself dwell on their camaraderie, I could easily have teared up. I watched a great video by John Kynaston with Stephen Brown about the Winter Spine Race, where Stephen discuss that you should try and modulate your emotions in these events – when feeling high, calm yourself down, and when starting to feel low try and bring the mood back up quickly- and I consciously displaced the thought. The curious thing is that a couple of hours later the memory of their cheers, and Dave and Chris's positivity, served only as fuel.
I passed another couple of competitors running smoothly through the community woods south of Tyndrum and pulled up with them at the Auchtertyre checkpoint. The volunteers were great – filled my bottles, gave me some coke and a banana and I left the checkpoint within a minute or so. It is flat leaving the checkpoint and I ran more or less to the A82 road junction and sent my message thereafter on the first climb up to Ewich Forrest.
"Auchtertyre 1845. That's the warm up over. Eating and drinking well. Moving smoothly. No injuries. The evening is just as I picture it and I can't help but feel someone is looking after me. Ex"
Auctertyre to Beinglas
I knew this section would start tough and ease up. And that was my experience. The rollercoaster of Ewich forest is heavy going and I strided it out the best I could. I was moving well, and I knew it, and I didn't agonise about not running. The forest canopy offered respite from the sun which, even though well into the evening now, was still shining hard. I took the downhills sensibly, as they are sharp, and I knew that I would be able to stretch the legs out in the gentler descent through Glen Falloch.
The evening was just as I had pictured it. I had been preparing myself for it to more typically Scottish – the previous Saturday the rain had hammered down and the weather was iffy all week. I had been preparing myself by telling myself it could be like that on race night. However, it wasn't. It was perfect and words escape me when I try to describe it. After the gate at Crianlarich it is a downwards meander pretty much all the way to Beinglas. It passed pleasantly and as I crossed John Kynaston's new memorial bridge I felt truly blessed. I really felt at one with the journey and that I was being guided along it – I was running home. I considered calling Fi to wish her and the babies goodnight but decided against it as I wasn't sure how it would leave me feeling, and I was feeling good.
One of my tactics to ensure hydration was at the approach to each checkpoint I aimed to drink my bottles dry. In the literature there are as many warnings about over-hydrating as there are about not drinking enough, so I wasn't drinking to any strict schedule. However, this way I knew I was getting at least a litre of fluids every couple of hours – which in this heat is far from excessive. It proved to be a good move. I had continued to eat well throughout – Jam sandwiches and Mr Kipling's Country Slices being the bulk of my calories, some Chia Charge bars and SIS Gels to supplement – hitting 300ish calories per hour. Tailwind in my water bottles at the start and after both check points (in pre-prepared soft flasks). Coca Cola at the checkpoints for some extra calories.
The experience of the volunteers at Beinglas was evident. I had my bottles hanging out and they were rapidly filled with water. A helper commented that I had evidently shed a lot of salt, which was visible on my shirt, and crisps or sausage rolls offered. However, I had been taking salt tabs, was eating and drinking well and didn't want to introduce anything that I hadn't tried on training. Instead, I had a couple of cups of coke, and I took a banana for on the move.
As I was about to leave, I was told that I was in 4th place – and that 3rd was only 5 mins ahead! This was a major surprise. I had been conscious that I was starting to get ahead of my schedule but at some point had decided that I wouldn't check my pacing chart – as I hadn't all day - and instead continue to run to feel. So, while I could tell I was ahead of schedule, I didn't know by how much. What I did know, however, is that I would be able to tackle the infamous Lochside in the twilight. I thanked the marshals for their care, lapped my watch and headed off.
"Beinglas. 2040. Next bit is the toughest and most technical and slowest but I'll be in day light for most of it <prayer thanks emoji>"
Beinglas to Inversnaid.
In a pre-race discussion with Race Director Jim Drummond, he pointed out that the bit everyone bemoans isn't as long we imagine. Going North to South, the first half of this bit is fine. It is the second half that is rough and risky. My strategy was to move as well as possible over the runnable bit, and then take it as easy as required on the second half and stay injury free.
Within ten minutes I spotted 3rd place, and his support runner, up ahead. At this point I had a fleeting thought of 'should I just sit back a bit and spur him into running beyond himself.' This is a nasty competitive thought and not one that I am proud to share. Regardless he took that decision out of my hand when he pulled up and waved me through with encouragement. I fist-bumped them both as I passed and wished them a good race. In retrospect, I always assumed that I would meet people again along the trail, as progress ebbed and flowed.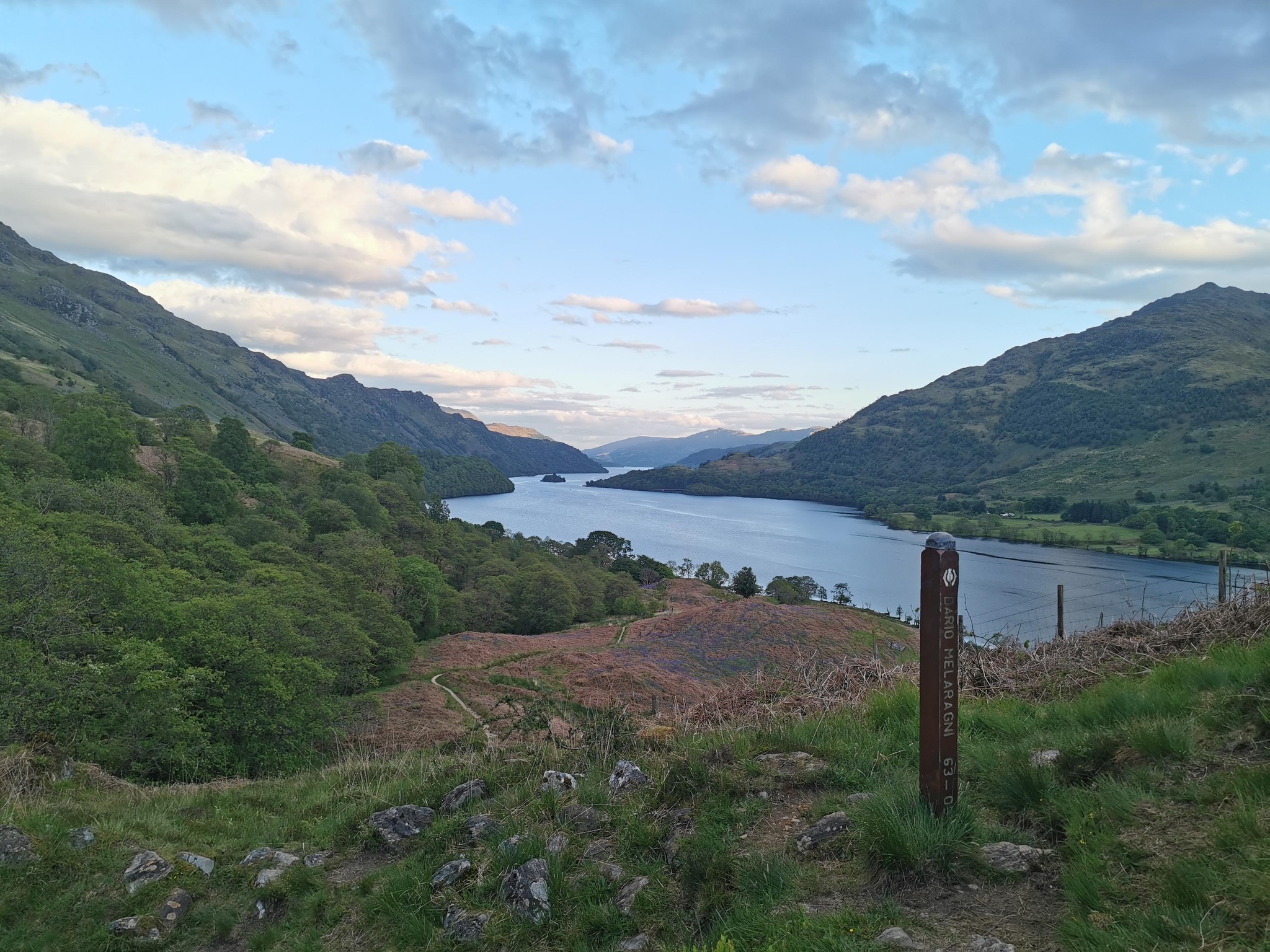 This section looked amazing in the evening light and it is especially clear at this time of day to see why people call it the Angel's playground. The bluebells radiated from the hillside, looking artificially vivid – almost neon - and I felt blessed to be here and feeling so good.
The tough bit was tough, but dry and in the gloaming, so despite the miles on my legs, it was as easy as I could have hoped for. A girl, assuming she was alone on a wee beach, got out her tent and was about to pull her trousers down to do a pee – but heard me at the last moment. I shouted, "I nearly caught you doing a pee" and then felt like a hooligan for spoiling the tranquillity.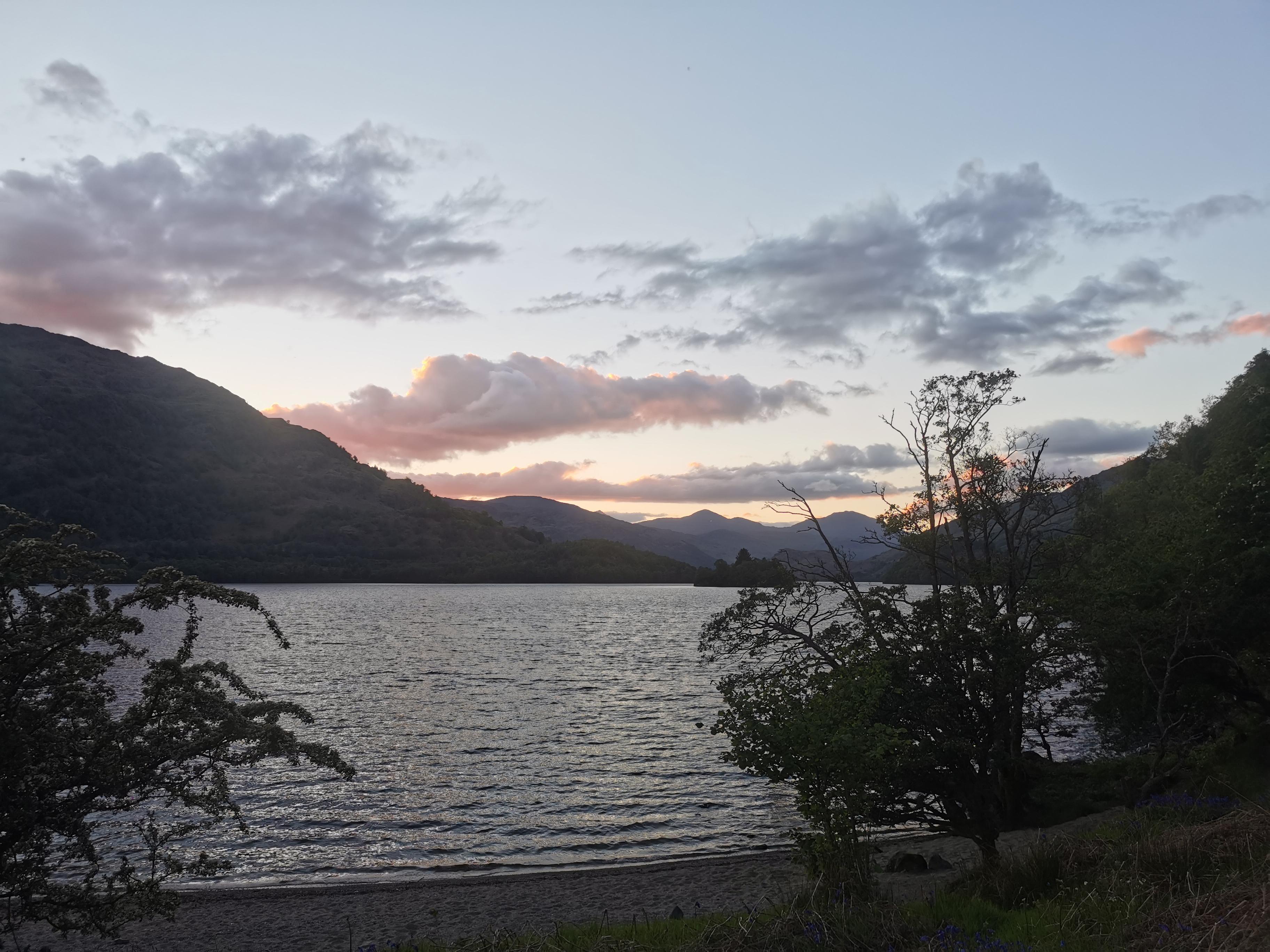 Loch Lomond looking resplendent! 21:42
Inversnaid buzzed in the gloaming and as I filled my bottles up at the tap, John Denver's 'Country Roads' emanated from the bar window. 'Almost Heaven' couldn't have been more apt. I lapped my watch as I crossed the bridge at the top whilst finishing a sandwich. I was pleased and relieved that the most challenging section was now done. My headtorch was on my head, but not yet switched on and I had a tingle of excitement about running through the night. I like running in the dark, and it would be a first to run all the way through the night! I decided to run on until I hit the big incline. This was much further than I remembered though and I never composed the message for another 20 mins or so, sending it at 22:52.
"Inversnaid at about half ten. This section is simple enough with 2 big climbs. Head torch is on. Mood is good despite the dark. To raise it higher I'm gonna run the next section like the Spartans – NAKED for speed (PURPLE DEVIL EMOJI)"
Inversnaid to Rowardennan.
This is a bit that I hadn't given much consideration too. The race takes the High Road which is simpler and safer in the dark. I turned the head torch on and progressed steadily. I strided the uphills and ran the downhills. The forest track was easy running with little consideration needing to be given to foot placement. This meant the pace was quicker and altogether it was a mentally easy section. I ran checking off the waypoints: the sign for the low road; the low road meeting the high road at the other side; the yellow vehicle goalposts; the honesty box along the cratered road; and finally, the Rowardenan war memorial. Looking through this I could glimpse the barest remnants of daylight as I looked back up the Loch to whence I came and enjoyed a profound sense of completion.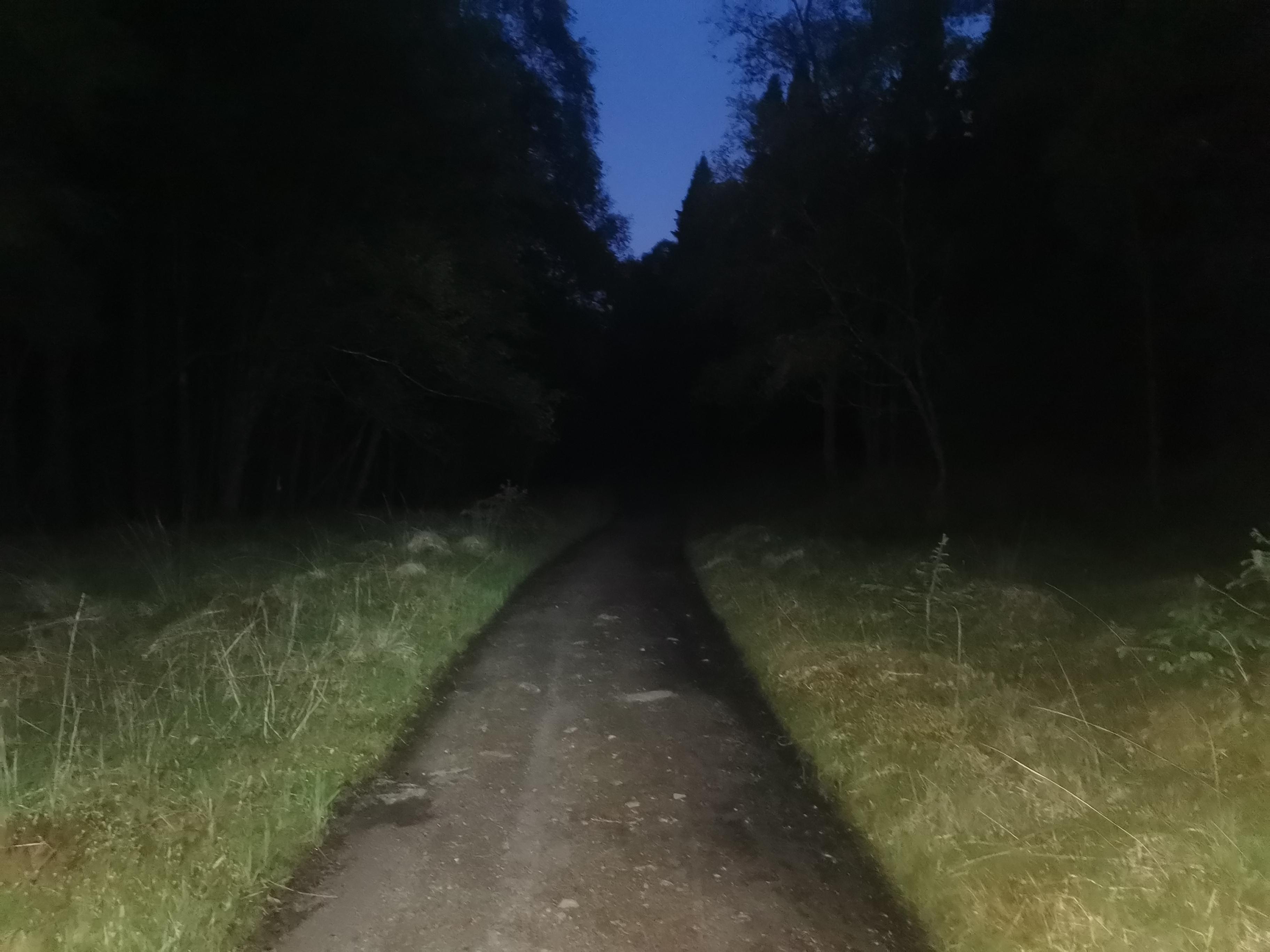 The checkpoint was just outside the toilet block. The young guys manning it helped me find my drop bag – the second and final of the day. I had packed a lot in this one, as I assumed that I would be feeling rough by this point – 95% of the gear remained untouched. I confirmed with the guys I could leave the Emergency Bag -which shed about 1.2kg of kit. I used the same protocol for this dropbag as for the first. I stuffed my pockets with my final food bags. I swapped my empty flasks for the two prefilled tailwind ones. I ate my rice pudding, salt taps, drank a cup of coke, cadged a banana, and then had a swig of mouthwash to try and freshen my furry mouth up a bit. I decided against any change of clothing or footwear.
I was almost ready to go when Dave and Chris arrive. Dave commented that I was looking good and alert. He took a photo and I think I look slightly manic in it. We all had a bit of a laugh – and it was a definite boost to see them.
The next section is the section that I had been fearing the most. My thinking had been that on my 22h30 schedule it would be 2am. I would have been running for 16 hours. I would be wrecked with 27 miles still to go. I also tell myself that 'I don't really like the Balmaha to Rowardennan section' (or Rowardennan to Balmaha in this direction). I'm not sure why. Perhaps because it is very runnable but is also exhausting as there are lots of sharp ups and downs and tree roots, wooden steps, jaggy rocks, puddles etc. One minute you are on the trail and then the road... and then the beach! However, it was midnight – not 02:00- and I was feeling great, not crap. I was on schedule for 20h30. I said to Dave that I was worried about the next section and he said 'well, just fucking grind it out,' and my response both externally and internally was a rather matter of fact: 'right, cool, I'll just fucking grind it out then!'
As I left, I asked the guy how far away was 2nd place and he told me he had left 30 mins previously. My response was '30 mins over 27 miles, may as well be 2 hours... I'm never catching him.' But given that I was on for a 20:30 finish and was feeling so strong and positive, I didn't care. I bid farewell, turned my head torch on and started off into the dark, into the bit I'd been fearing the most for the past 3 months. You can tell by my message that my mood was high.
"Rowardennan about 0005. Moving well. No GI issues. Might end this run on surplus calories!
Next section has a few slippy bits but is simple enough. I don't like it though. So I need to really lean in now.
I decided again nakedness. I've only got two gloves and can't afford a chill on the extremity incase its needed again for procreation. Ex
It's pitch black and spooky as fuck!"
Rowardennan to Balmaha.
I know this section well, having done it loads. It was great doing it just once, rather than an out and back, and it flew in. It had been the section I had been fearing and yet it went in so smoothly. I walked the uphills and any tricky downhills, taking no risks. My brain was buzzing. I felt completely connected to what I was doing – one of the rare times I've experience 'flow'.
I had an image of a close friend who had been vociferous in his encouragement the challenge, stood tall in the crimson cloak of a spartan watching over me as I ran. In my imagination he was saying 'One Foot In Front Of The Other'. I worked out that was the acronym 'OFIFOTO', and then combined it with the encouragement of the Tyndrum guys to 'One Foot In Front Of The Other, Until It's Over Son' 'OFIFOTUIOS' – an ultramarathon battle cry if ever I've heard one!
And before I knew it, I was topping my water bottle up at the Scottish Water Tap at the Tom Weir statue! The bit I had been fearing was over and I was feeling strong.
I gave myself a minute walking across the big carpark to settle myself and eat my last sandwich. I was carrying 300g of sweets which I had assumed I would be relying on by this point, but I decided against eating them at all in case they caused me problems – so I flung them in the bin. It was strange to see Balmaha carpark deserted, as even on early training runs there is usually some activity. As I crossed, a guy got out a VW Transporter. He introduced himself as the support runner of the competitor I'd overtaken to take third place. He said his friend was going ok but was a bit behind. I asked if he was likely to catch me and he said he didn't think so. He said he had stopped me to tell me that 2nd place had left the carpark only about 5 mins ahead of me! I asked if he was sure, and he said positive – 5 or 6 minutes.
I was surprised. Could I really have put 25 minutes on 2nd place in 7 miles? I thanked him and left him and ran out of the car park until I hit the first hill.
"Up and Over conic now. Will be careful on downwards side too as quads are suffering now. Then it undulates upwards for 2 miles before dropping down to Drymen. All well. Food is still going down. No nausea. Lots of fluids. Boom ex.
Sorry Balmaha 0151"
Balmaha to Conic
It was pitch black on Conic. It was a clear night and cool, but very little moonlight. Once over the messy steps I could see a headtorch twinkling ahead of me. I could tell he knew I was there and that I was somewhat in his head – as he was turning around every 20 seconds. His torch gave me an indication of how high there was to climb According to Strava it usually takes me 21 minutes to ascend. I know retrospectively it took me 24 minutes for the same segment, so my feeling that I was moving well was accurate. As it levelled out at the top, I was faced with a couple of hundred glowing eyes, as the sheep looked on perplexed!
It was on the downhill that I became really conscious of the 80ish miles in my legs - my quads were blown. I was mindful that a slip here could end the race for me and so I took it very easily. Again, retrospectively, I discovered that the segment took me 18 minutes and it usually takes 10. The headtorch was still checking my progress regularly as he put time and distance on me. Still, I really didn't care. I had a thought of taking some paracetamol – but what difference would two paracetamols make this far in? I decided to take them anyway, as I had carried them all day anyway, and while they might not do much good, they couldn't hurt.
The next 2 miles undulates upwards to the carpark at Garabhan forest and after that it is downhill right into Drymen. After the big gate it is track the whole way and easy enough running with little risk. On the downhill after the carpark, I realised that my legs were back – like spectacularly back - and I was bombing along at 8ish min miles. The image that came to me was that I had 'Diamonds in my legs.' What felt like only moments later, the big junction was upon me and I bore right down the track that leads all the way down to main road, and then right through the beech hedges into the last checkpoint of the day.
Water bottles filled, a couple of cups of coke and a banana pocketed. I asked the marshal how far ahead 2nd place was, and he said, 'he left here ten minutes ago.' My response was 'you've got no right to come second in your first one of these' referring to myself. 10 minutes over 12 miles – it may as well have been two hours. If I've got any running skill, it isn't on the smooth easy stuff, and so I was never going to make up that kind of time on the most runnable section. He commented that I was looking good, and I told him that I was having the run of my life and was feeling great. I then bombed off…ten seconds later he shouted after me 'Euan, it's that way!' Woops. Maybe I wasn't as lucid as I had thought. I composed my message crossing the dewy morning grass, eating my banana:
"Drymen 3:33. All great"
Drymen to Milngavie
Even the most approximate of trail maths suggested that sub 20hours was distinctly possible. I had 2 hours 20 mins or thereabouts to do the final 12 miles. I needed a solid section but not record breaking. When Sean had sponsored me, he had written, "Leave it all out there on the trail." A thought came to my mind that I was running the risk of not doing that. It sounds arrogant to say but it was this realisation that spurred me on. As soon as the hill levelled out, I went for it.
I was conscious of not emptying myself too early. 12 miles is still 12 miles and, moreover, miles 85-97! I couldn't afford to blow up after 6 and then have to hobble to the finish line. However, I was feeling great. When you've been at 12-16 minutes/miles all day and suddenly you are at 8-9 minute/miles, it really feels like you are shifting and the distance is eaten up.
My process for walking the hills is well ingrained. As I run towards the hill, I look for point that I intend on starting the hikinh at – it might be a bush, a mark on the trail or a puddle. This keeps me honestly running until I've reached the hill. On this section I was intending to still walk the hills, but I was starting much further up them. As it levels I usually count quickly to 20 and then start running. I cut this down to 10.
Suddenly the Beech Tree was up ahead, and amazingly so was 2nd place! At a distance of a couple of hundred meters, he saw me, turned on his heels and dashed across the A81. He was lucky not to get hit by a lorry such was his haste. As I ran past his partner, she shouted 'you've got 6 miles to go… keep fucking running!' This bit has lots of gates that need opened and then swing shut. I was gaining on him and after a couple of gates he held one for me, and we ran along together.
He (I now know him to be Alan) said 'How are you running so well? You've just put 9 minutes on me in 6 miles, and I've ran the whole way. I thought I had lost you coming down off Conic… you took a long time coming down!' I asked how he knew this, and he said that his partner had been at Drymen when I left. I told him that my quads were wrecked coming down off Conic, but that I'd had a couple of paracetamols and they had come back, and that basically I was having the run of my life. I started to lead him slightly when it occurred to me to offer him some paracetamol, to which he assented. I told him 'take them all' and then corrected myself to 'I mean only take two but keep the rest' – I didn't want him accidentally over-dosing on painkillers 91 miles in!
We ran together for a bit, he was chattier than I was, and I was perhaps beginning to lead him, but only by meters. I considered at that point offering to run in together and tie for second place, but the realisation came to me that I had caught up about 30 minutes in 21 miles and actually I should push to beat him.
At the completely unmissable right-hand turn, I ran through and started to try and open a gate that hadn't been opened in two decades. He shouted me back with a 'it's this way' and slowed up and we reconvened. He said something dead nice, along the lines of 'you're an inspiration' which felt completely unjustified but was a nice moment to share. I took this as an opportunity to 'break the elastic' – If I could put a hill between him and I then he wouldn't be able to see me and if he couldn't see me, he couldn't aim for me and if he couldn't aim then he couldn't catch me. I wished him well and pressed on, running the uphill as much as possible – and blowing out my arse.
Over the next 2 miles I worked hard. This section had been my last training run on the WHW and I was probably moving as well on race day as I had been on that final long run. I was confident that I was cementing a lead. Strava says that in the two miles after we split I managed to put about a 4 minute lead on Alan.
One of the things I was conscious of during the day was how present I felt. I almost always run with Audible, or podcasts, or music. On the day I'd intended on using music as a performance enhancer and keeping it for when I needed it- assuming I would really need it at some point. In the end I never used it. Earlier on, my brain had almost felt supercharged too. I had stripped all the metrics off the Garmin screen and for most of the day I only looked at Lap Distance and Lap Time. I would then work out my average pace for the lap which required a good grasp of the 11-16 times table! One of the conundrums I'd been working out was 'If Sean leaves the finish line at X time and travels at 8 min miles, and I'm travelling at 12 minutes miles... where will I meet him.' I worked out that I would meet him at the entrance to Mugdock park... and spectacularly I was within about 50 meters of the exact spot!
I don't know if it was the emotion of seeing Sean, the slow down of the pace, trying to talk when I'd be running hard for the last 10 miles, or the fact that I was 95.5 miles in... but within a minute or two of meeting Sean, I had my first, and only, physical wobble of the day. The run through Mugdock, going North to South, is as easy a run as you will ever get. Despite this, I slowed down to a walk at points and even thought I might need to sit down. I don't think it was a fuelling issue, more a blood pressure thing. Regardless, when we were within a couple of hundred meters from the bottom of the ramp, Sean said, 'go on Euan, take it home' and I bombed up to the Obelisk –slapped it and jumped in triumph! Regardless of placing or elapsed time or anything I had ran the West Highland Way in a day and no one and nothing can ever take that away from me.
We ran down the deserted High street and were welcomed by my wife, Fiona, and youngest, Alexander, standing at the stairs to the finish line! All done at 05:39.
Less than a minute later Alan came hurtling through the door. He had rallied in the last two miles and almost brought it to a racing finish. We hugged it out and it was a great moment. I apologised for 'pipping' him and sincerely meant it. He said that he had been racing the last two miles and couldn't believe what a run it had been. He had been aiming for sub-21 hours, so absolutely smashed his target too. Wins all round!
A Lidl bit further
We never hung around the finish line. It was a quiet place and there was a Lidl bit further to go. Fi and Alexander, Sean and I headed up to the Obelisk for a couple of photos. I accidentally stopped and, thankfully, saved the run. My Garmin read 97.1 – which is about right. 1.5miles to start, 95.5 miles of the WHW… I now had to make it up to 100. Only 3 miles. At the Obelisk there was a runner going out for his last long run before he competed in the West Highland Way Race (which runs south to north) in a few weeks' time. I could see an element of trepidation in him that my presence wasn't helping.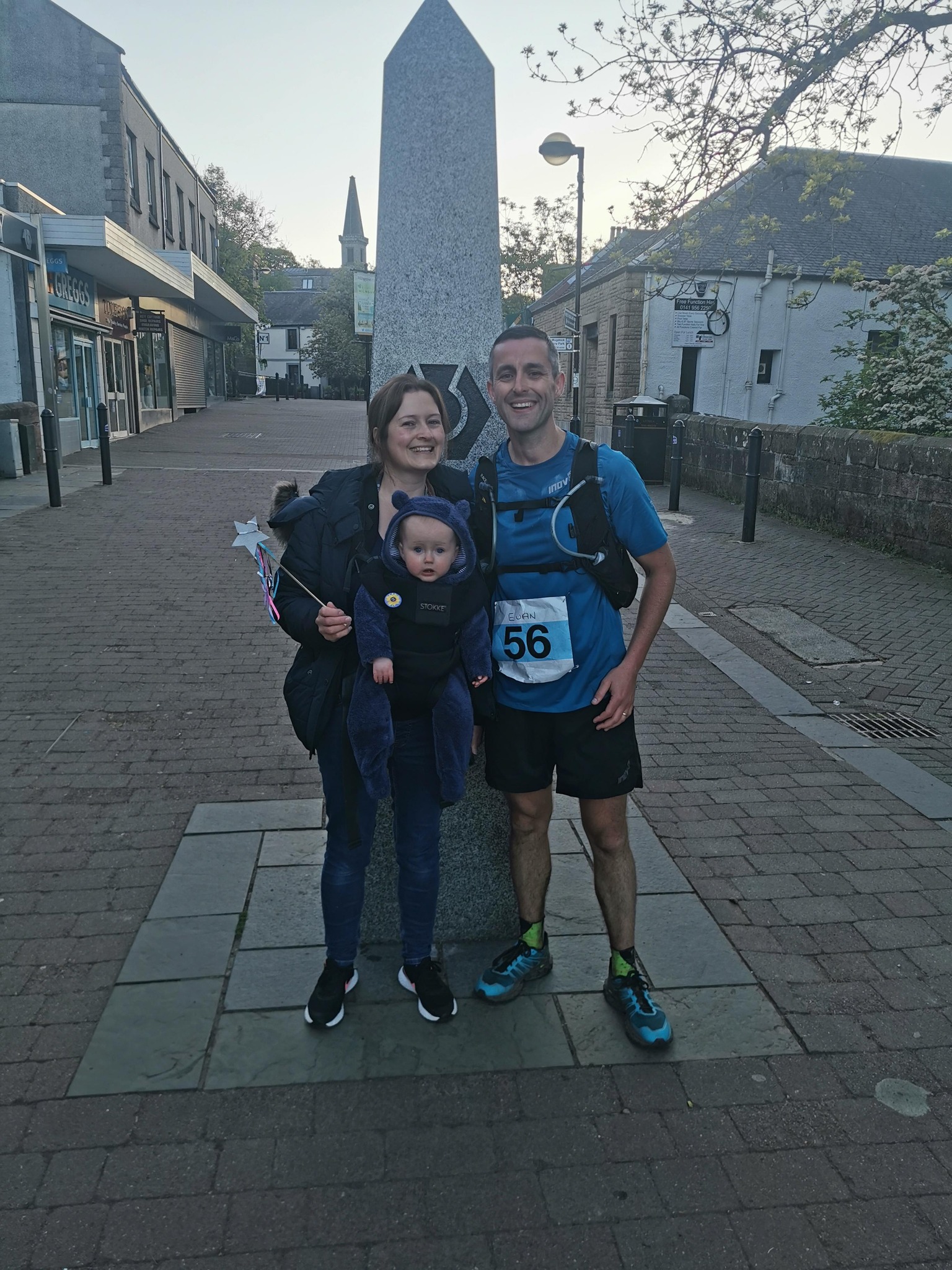 Out of nowhere my best mate Euan showed up. He had tried to intercept me at Beech Tree but had missed me. This was probably fortuitous as given my response to meeting Sean, the chances are that I would have lost my rhythm further out. But then I would have also enjoyed the run with him… Anyway, Sean, Euan and I headed from Milngavie up to Lidl in Bearsden. It felt like it was almost entirely uphill. Fi and Alexander went in the car to meet us there, along with Big Craig who had driven Euan to meet me. When we got there my watch read 1.5miles and so there was still another mile and a half to get done. We ran beyond the store and then back... and then I lapped the carpark until it said 3.1 miles and I called it quits. All done at 6:42am.
It was a glorious morning – bright sunshine, cloudless and still cool enough. Despite hurting a bit by this point I realised how lucky I was to be sharing these last couple of miles with friends and that I had friends and family who would come out in the wee hours of a Sunday morning and support me.
Afterwards.
I went home and got a couple of hours sleep. My Garmin Body Battery flat lined at 5, and only recovered to 12 the next morning, despite me getting 10 hours sleep. On Monday I was sore – every bit of me, bent but not broken. By Tuesday I could do stairs one after another, and I made it out for a run on Friday. A few toenails hung on, but eventually I lost 6 of them including my big two. All fine though. I was fatigued for a few weeks and even though I got back into running quite quickly I struggled to find my mojo. That said, I wasn't hard on myself. I'd been working towards this for a while and had pulled it off.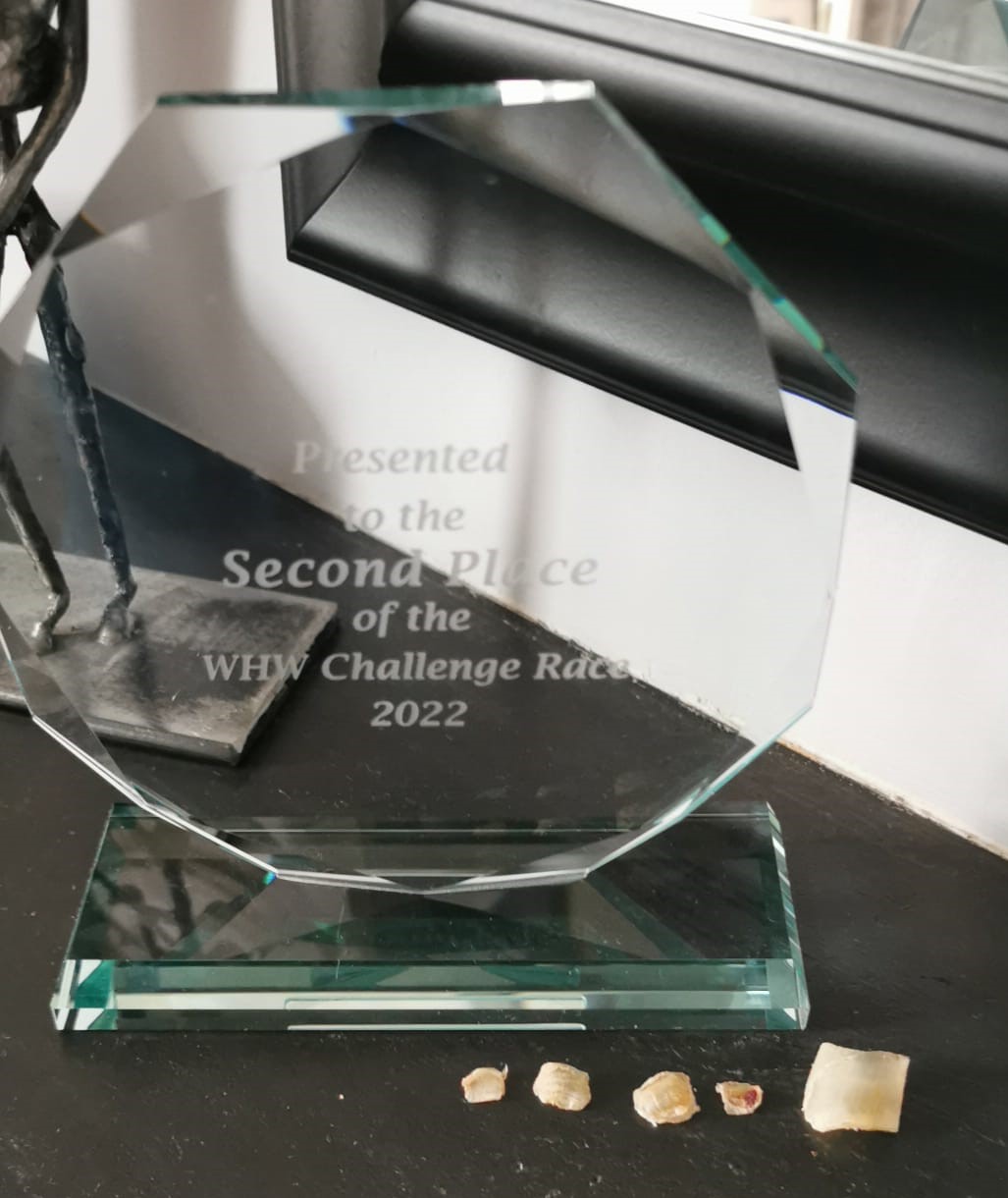 Having had time to reflect, while I don't have the story I was expecting to tell, I've got one of proper planning and preparation and good race management paying off. I imagine that people could go their whole lives and never get a run like I got, so I know how fortunate I am. I say fortunate because there was more to it than luck, but luck undoubtedly played a part in it. The stars aligned for me and I believe I was guided on my journey. A day that I will always remember and memories that will lift me up when low.
For the sake of completion I must mention that first place beat me by 1 hour 50 minutes!– some people are just different level.
In total A Lidl Bit Further raised £4545.49!
https://www.justgiving.com/fundraising/Euan-Fitzpatrick
The main event: https://www.strava.com/activities/7219714225
The extra bit: https://www.strava.com/activities/7219714685