Written by Neil Bryant for the URC
La Sportiva make some fine footwear for mountaineering, ski mountaineering and of course trail running. For a few years they have also been producing some really nice looking clothing too for the same sports. I haven't actually owned much of their clothing though, so when I was sent one of the new La Sportiva Hail jackets, I was excited and had high hopes as on paper, it sounds like an incredible lightweight jacket.
At a stupidly light 178g, this jacket is light enough to not really be any bother whatsoever to carry. It has taped seams, it's waterproofness is rated at 20,000mm, plus it has a hood which means it has everything necessary to pass kit checks for pretty much all races.
The material is 2.5 layer with the main fabric being 100% nylon and the backing being 100% polyester. This produces not only a surprisingly waterproof shell, but also a very breathable one which unless you are stood still and not generating much heat, is absolutely key to having an effective jacket that can not only deal with the elements from outside but also from our bodies internally.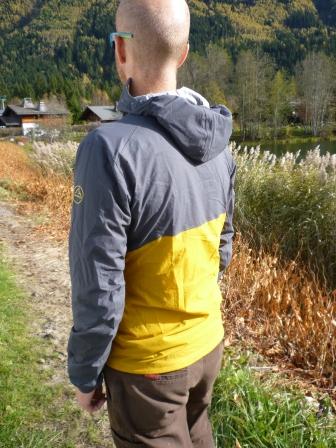 A single chest pocket is handy and also doubles as a pocket to stow the jacket in which is great for when packing it away in a bag to keep it a little neater.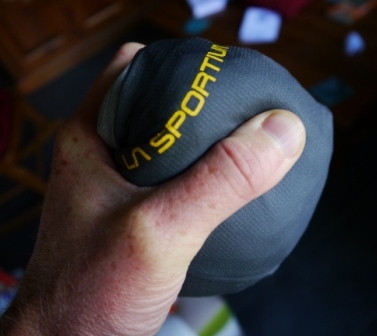 The armpits have a simple but surprisingly effective venting system as this is where a huge amount of heat is generated when working hard. The more excess heat that can be cut down on, then the dryer and more comfortable your experience. I guess pit zips would be even better though, but this is a super lightweight jacket and to add two more zips would compromise its weight.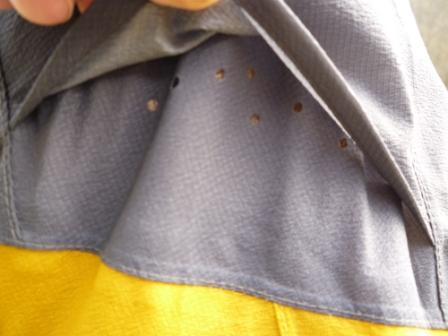 That is the thing with the LS Hail jacket. It has been designed as a super light, packable, and effective jacket that will pass kit inspections for races. To be so light, compromises will have been made in other areas. So, it only has the one pocket, the lack of pit zips, and a fully elasticated hood with no adjustment at all. All these features help to make the jacket so light. If you want something more in a jacket then you need to look for the slightly heavier jackets.
Which brings me onto the hood. I have worn this in some pretty foul weather here in Chamonix and although I would definitely prefer to take the extra grammes that an adjustable hood would provide, it has worked well, even in very windy, squally conditions. So, the hood doesn't get full points from me here, but it is not a let down.
I was a little surprised to find that during LS's weight saving cuts, they decided to keep a waist adjustment cord. It is certainly nice to have, but just some light elastic would have sufficed. The fit on me of the jacket is quite close or as LS say 'athletic' so there is no 'ballooning' like with some looser fitting garments, in high winds, so the waist cord seems a little unnecessary for such a light coat.
The zip is a very thin and no doubt light YKK zip which looks to be a waterproof one (?). It has a small string puller on it take make life easier when you have gloves on or cold hands. Not much else to say about this really. It is smooth and with enough friction to prevent it undoing by itself. It can't be opened from the bottom. I guess to save weight.
Finally on the features (or no features) front, we have the wrists. Generally jackets have an adjustable Velcro closure. You'll probably not be surprised to hear that the Hail, has elastic wrists that are not adjustable. If I'm honest, this is where I would certainly be happy to sacrifice a few grammes as elastic wrists aren't brilliant for me. If it's cold, then I like to cover my Suunto Ambit (huge watch) to keep my wrists warm. It can be very fiddly if I want to check my ambit and pull the thin elastic seal back over it. It can also feel too tight sometimes which can affect the circulation of blood to my hands, giving me cold hands. But, I also understand that the Hail is all about gramme saving so the sacrifices made all contribute to it's impressive weight and packability.
I have run many times in pretty horrible conditions with the Hail for protection, and I have to say, even with such attention paid to the lightness of it, it performs surprisingly well. The material has some stretch to it and the athletic fit all help to make it a close and comfortable fit. The arm length is just about long enough to not ride up when you swing your arms around and the waist is low enough to keep my lower back covered when reaching up for things.
It's waterproofness is surprising for such a thin material, yet it does seem to breathe well. I sweat a lot so nothing keeps me dry if I am working hard, so for me it is all about comfort. As long as I don't wear it over bare skin, then I would feel warm and it wouldn't feel clammy as thin jackets so often can. It basically does a great job of protecting me for a few hours. If I was to be out for a whole day (or more) in forecast rain storms, then I would wear something a bit more heavy duty. The hail is just not designed for that. I have often grabbed it on the way out for a run and tied it around my waist as safety in case the weather closed in when heading up the mountain. It's perfect for that due to its weight and (lack-of) bulk.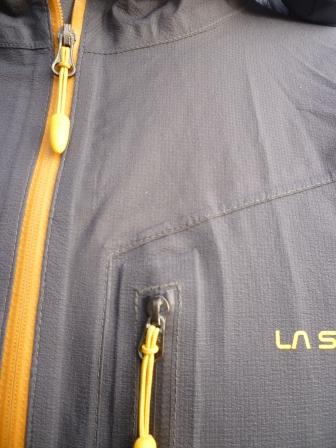 If you are concerned that such a jacket will be a bit flimsy and easily torn then don't worry too much. I have been using mine all summer and it has no tears or areas of wear on it. I even did an 8hr mountaineering route wearing it, where it was dragged on very rough granite many times with no ill effect. I think that part of this is due to the fact that it is stretchy. I also wore it on an ascent of Mont Blanc in very high winds and it did a grand job! Either way, I am very impressed with its durability especially as it feels like it should be fragile.
So who and what is the hail for? If you are doing the UTMB or some other mountain ultra that demands a hooded, taped seams jacket and the forecast is for good weather, then this is perfect. If you want an emergency jacket that you can bury in the bottom of your race vest and forget unless you really get caught out, then this is great. If you want a simple jacket that does a good job that you can grab as you leave for a two hour run then check out the hail. It is not for you if you want a really robust jacket with lots of adjustment (hood, wrists) and pockets. Look elsewhere.
As I have written this and have been thinking through how I have used it over the months, I have realised that for running I haven't used anything else. It has been my number one jacket. So, I suppose that shows how happy I am with it.