Written by Neil Bryant for the URC
When I received this pack of clothing to test, I wrote a 'first look' at all the gear which gives some info on how the garments constructed and with what materials, so you may want to read that first : First look
Here are my thoughts after trying it all.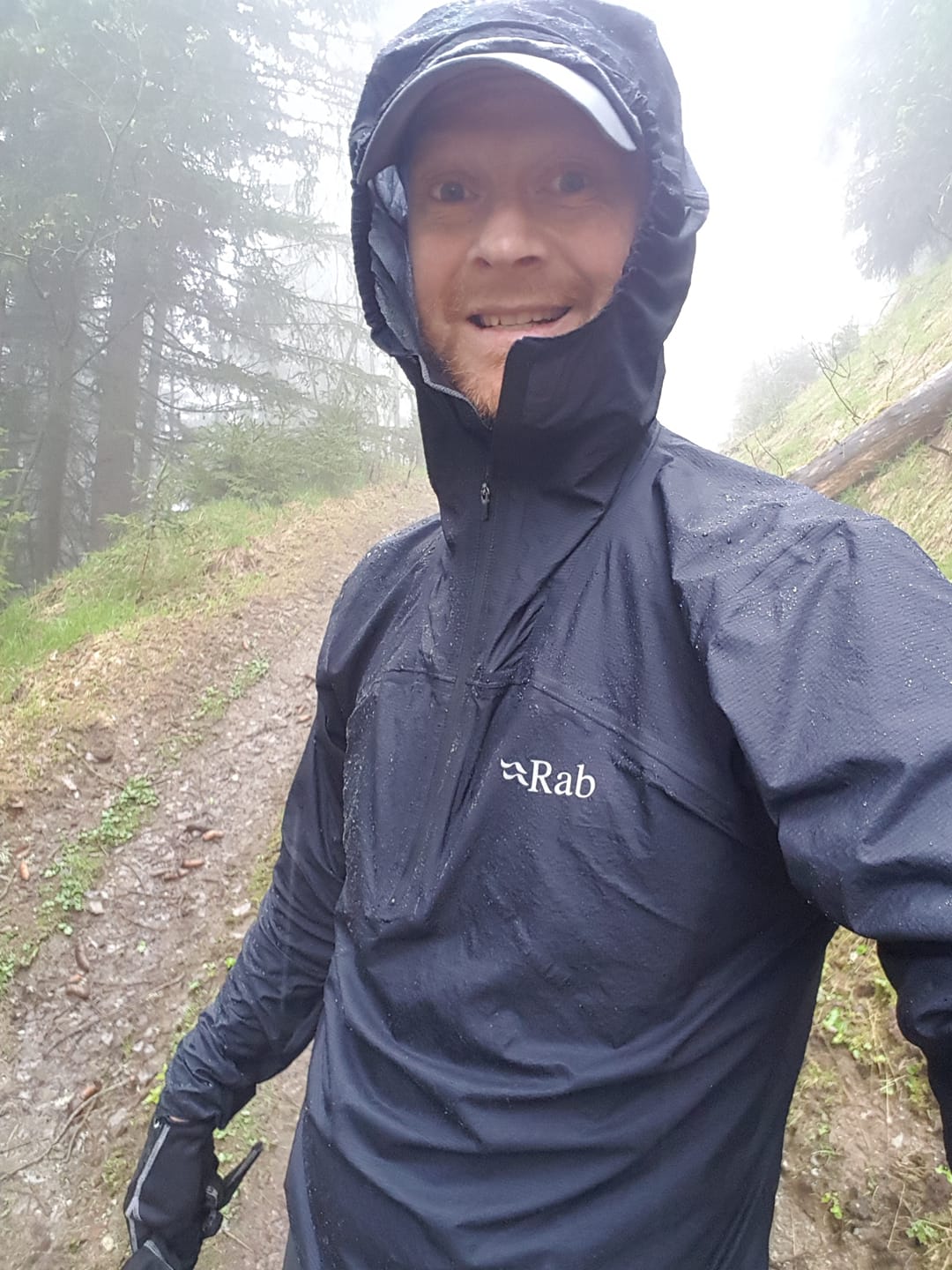 I have worn the shorts a number of times now and they are a little too large for me, but not as much as previously thought. They have no liner as previously mentioned which is a new concept for me. It's fine though. In fact, it is nice as you can customize things more by having a liner you like and shorts you like as separate items, rather than hunting down the perfect lined short. The material is incredibly light and soft and the waistband is nice and comfortable. There is a drawcord around the waist to tighten up if needed, though there is no toggle on there so you have to tie a knot. I would prefer them to be supplied with a toggle as it is so much quicker than fiddling around tying a bow after a call of nature on the trail, especially if racing. I will add my own.
There are two pockets. One zip pocket on the right side. It is a decent size, big enough for my phone (Samsung Galaxy S7), with the frustration that is sticks out loads due to being on my hip instead of flat against the centre of my back. I like to run and carry nothing in my hands during shorter runs, but with these shorts I have to carry my phone in my hand. A bit frustrating. Maybe I could get some underwear that has a rear pocket?
The other pocket is a stretchy drop in pocket on the other hip. This is great and would be good for keys, gels or maybe a super small jacket.
I would rate these as a mid-length short which feels good for me. They have a small split at the bottom of each leg.
Overall, the Talus is a very comfortable short which is light, stretches to your movements and doesn't really hold much moisture at all. I wish it came with a toggle on the drawcord and a rear pocket, but I am still wearing them when I can as they are so comfortable!
The cost is £50 which is neither cheap or very expensive.
I am one of those runners that rarely wears tights. This is not to say I have no need. When it is really cold, they can be good, but also when the occasional time to need waterproof trousers arises, then I will want to have some sort of leg cover on under the waterproof trousers, so that they don't stick to my legs and feel horribly cold and clammy. I have had a few pairs over the years and they have all fitted a bit strange. Usually the waist falls down and needs pulling up constantly. I must be an odd shape!? I last had a pair of Skins compression trousers and found them horrible for running in as they are so tight around the hips area that they would squeeze my bum together causing chaffing. Anyway, that's probably enough detail for you there! I guessed the Rab tights would have similar issues. The length and tightness of the legs feel perfect for me. Tight all down my legs with zips at the bottoms of the legs to help pull them on and remove them easily. The elastic around the waist feels wide and the whole hip area was tight but with a little slack which gave me hope that maybe they will be comfortable after a few hours.
They are coated with a DWR (durable water repellent) coat to help keep small amounts of rain away. There are double layered areas in the rear seat, knees ankles and in the rear at the centre is a fairly large zipped pocket. This is exactly what I would like to see on the shorts. It is easily big enough for my phone in its case.
The drawcord is quite chunky and again doesn't come with a toggle but otherwise is totally serviceable.
Most importantly, when I have run in the Skyline tights, they have felt great. No falling down, just the right amount of 'tightness' all around for me, providing a relaxed fit if that makes sense. The skyline tights fit me better than every other pair of tights I've owned! They provide warmth, but are breathable also to prevent overheating easily. I love them. Maybe I'll actually start wearing tights more often now!
At £70 these again seem fairly reasonably priced. They should last a while too.
Wow, this jacket is so light! It is also a nice soft feeling material that has reasonable stretch so moves well with you. Let's not be under any illusion here, this is never going to be a coat to wear when you are expecting heavy rain for long periods, but as a jacket that you will pretty much forget is in your pack due to its tiny size and weight, it is surprisingly effective. It is reasonably breathable, but I was quite sweaty after about 30 minutes. It feels quite robust considering its weight. If you are after a jacket that you are not really expecting to wear much but satisfies most race rules for obligatory equipment, then this is a perfect solution. It fits me really nicely, being close fitting but not too much so. The hood is excellent for a simple hood with no adjustments on it. I am not sure I can really fault the Phantom if it is used for the purpose it was designed for.
Priced at £150, I think this is a great price for such a great piece of super light kit
We go from the lightest jacket in the range, to the heaviest, though being a mere 240g, heavy seems a little harsh. If you were going out for a long run and were expecting some long periods of rain, then the Phantom would stay in the drawer and instead you would pull out the Pacer. This jacket is more of a fortress from the elements, being a more substantial, barrier from the wind and rain. It doesn't have that clingy feel when wet like the super light jackets. The hood is just brilliant having well placed adjustability that keeps it snugly in place no matter how strong the wind blows. It fits close around the face to keep out as much of the elements as possible.
The cut seems good for me, having arms that are close and a little more room in the shoulders allowing free movement of my arms. The body is quite close fitting , so I couldn't fit too much underneath if it was really cold. Maybe I need to cut down on the baguettes!
The Pacer jacket is a superb, tough waterproof that could be worn in the worst of conditions and keep you in relative comfort. It is far from the lightest, but that isn't its aim. It packs a lot larger than the Phantom, but it is still quite manageable, but to be honest, if you are expecting harsh weather for long periods, then a jacket such as the Pacer is essential!
£230 is the cost of the Pacer. A high cost for a running jacket, but if you do much mountain running and know what it's like to really get caught out up high with a lightweight jacket, then you may appreciate it's worth.
After looking at the lightest and the heaviest I imagined the final jacket would be somewhere in the middle, regarding weight, but it is only 10g lighter than the Pacer. I thought a good weight would be around 140g to round out the series. It is a really nice jacket that fits me similarly to the Pacer. It is also an effective waterproof and reasonably breathable when working hard. My confusion lies with the hood which has no adjustment, so needs to fit quite tight so that it doesn't blow down in strong winds. As I mentioned in the first look, it isn't tight, and this is not good for me. I wore a cap underneath one time, and the peak sticking out, and this took up a little of the slack, making it a little tighter, but I don't want to have to wear a cap when I wear the jacket. Otherwise it is a great jacket.
So, I am a little confused with the Charge jacket. It is like the Pacer in weight, but with a unadjustable hood that is too roomy. Another very imprortant point is the prices. The Charge is £150, whereas the Pacer is £230. A huge difference which I would assume is due to the fact the Pacer is made from Gore-tex Active. I would certainly stump up the extra £80 if I wanted a really hardy mountain running jacket. The hood of the Charge is a real let down for me. Maybe if you always wear a cap or have a big head or have loads of hair it may fit you better!?
If it fits you then the price is very good for the Charge.
Overview of the Skyline range
What a great range of mountain running gear from Rab. A really well thought out line which I have really enjoyed testing (with the one blip being the Charge). From the really comfortable, well fitted Sonic tee which I wear all the time (it is either in the wash or being worn running), the light, fast drying Talus shorts, to the amazing, featherweight Phantom pull-on this really is a cohesive line of clothing that has been well thought out and there has clearly been intervention from mountain runners. I really look forward to what Rab will produce in next seasons range.
Use the following links to purchase items from the range. A small commission will go to the URC at no extra cost to you