Written by Neil Bryant for the URC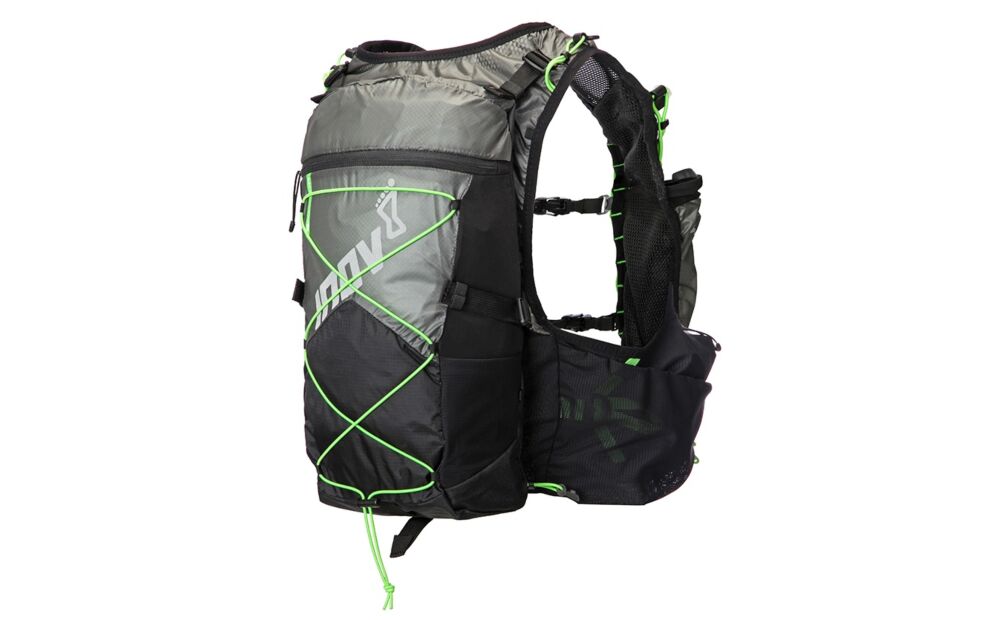 Vest with 10 litre pocket clipped in place on the rear
As mentioned previously in other reviews, I have been a Salomon vest user, and have been happy enough to not be concerned with looking elsewhere. I recently reviewed the Montane Gecko vest and was really happy with it, which made me want to try some other non-Salomon vests. The inov-8 range of vests looked really well thought out, but the Race Ultra Pro 2 in 1 in particular stood out as something really adaptable and innovative. Fortunately for me, inov-8 offered one for me to review.
What I like about this vest in particular, is the fact it seems to be the vest with it all. It can be a stripped down to a small race vest, or it can have the 10 litre pocket clipped to the rear section to make the volume larger and so better suited for days where you need to carry more. This is a great idea, and if it works well, will be a great way of having one vest for all occasions.
Secondly, there are the bottles and the way they can be reconfigured to whatever you prefer. There are 'traditional' bottle pockets fairly high up on the front, which I prefer, probably as I am so used to my Salomon. But, in case you prefer a straw on your bottle then there are also pockets below the 'traditional' ones to place the bottles with the straws easily fitted, leaving the ends rights next to your mouth making sure you don't forget to drink. The vest is sold with these two flasks (produced by Hydrapak) with the straws which you can just remove if you want. Unusually, you also get a HydrapakSpeedcup which is a brilliant piece of kit that folds up into nothing and is often obligatory kit in many races these days.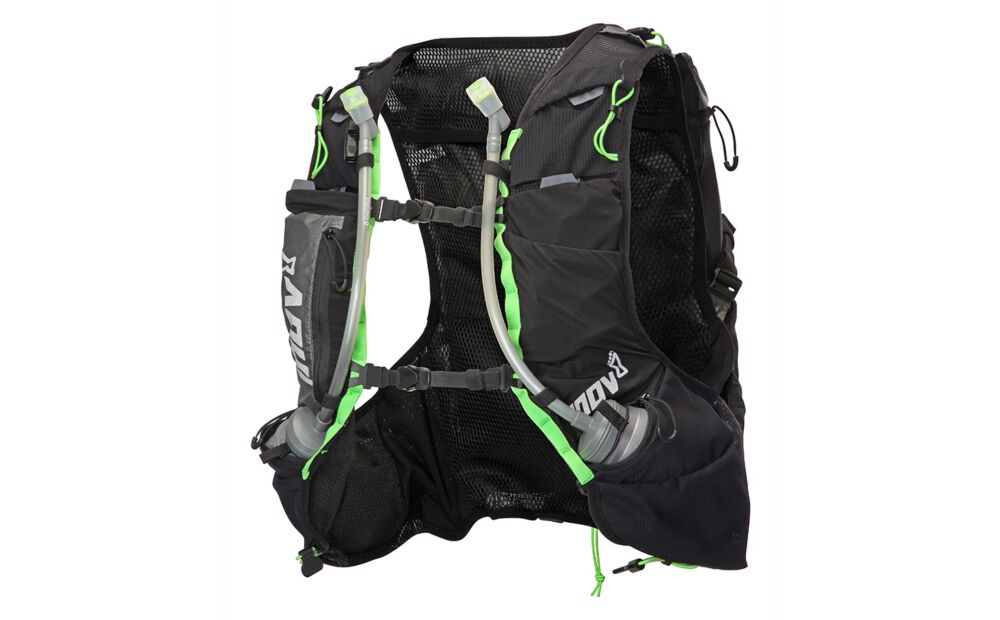 Here it is set up with the straws on the flasks, stowed in the lower pockets.
On top of these features, there are a wide variety of seemingly well thought out, useful pockets, pole carriers (which enable front or rear stowage!). A weather/sweat proof pocket on the back and quite a few of the pockets being zipped which is nice for all those valuable items we carry these days.
So, on paper, and indeed, when I had one in my hands, it felt like a great piece of kit with huge potential. But would this carry through, once I'd used it a few times?
I first carried it on a 2hr run. Around 1000 metres up and then back down, which would certainly give me a good chance to see how well it fares with being shaken around lots. A vest is of no use to me if it rubs, so this is a test that any vest I use needs to pass. On the first run, it was great. It hugged me firmly at all times, even on the steep and technical terrain I was hurtling (Think Kamikaze, not Kilian!) down. I am not the smoothest of descenders, so vests are well tested! My collar bones, stick out a fair bit, and this is often the point of irritation on me, but there was nothing. The pockets seemed all accessible even with my not very flexible arms. Everything seemed to stay secure too meaning there was no continuous tightening of straps as things shook loose (An issue I had with the Montane Gecko). I was happy! My next big run I had planned was the OCC race (56km), and I felt confident enough to take the inov-8 vest out for its second outing here.
...and here with the flasks, strawless, stowed in the upper pockets
Well, the race really didn't go too well for me (understatement), but the vest was really impressive. If I had to pick out a negative, it feels petty, but this is the point of a review I guess, when I removed the bottles at checkpoints to refill, on trying to slide them back in, it wasn't too easy. I think this was due to the larger pockets below putting pressure on it. Other than this, it was superb. Over 9 hours of running / walking and it was as comfortable at the end as on the start line. Often at the end of races, it is a joy to remove my vest, but this time it didn't cross my mind. A sure sign of comfort!
I have since used it many times, and it has now become my main pack. It also seems relatively durable considering the light weight (255g at stripped weight minus bottles. 345g with extra pocket minus bottles) . I am always happy with gear being a little more durable for a few extra grammes.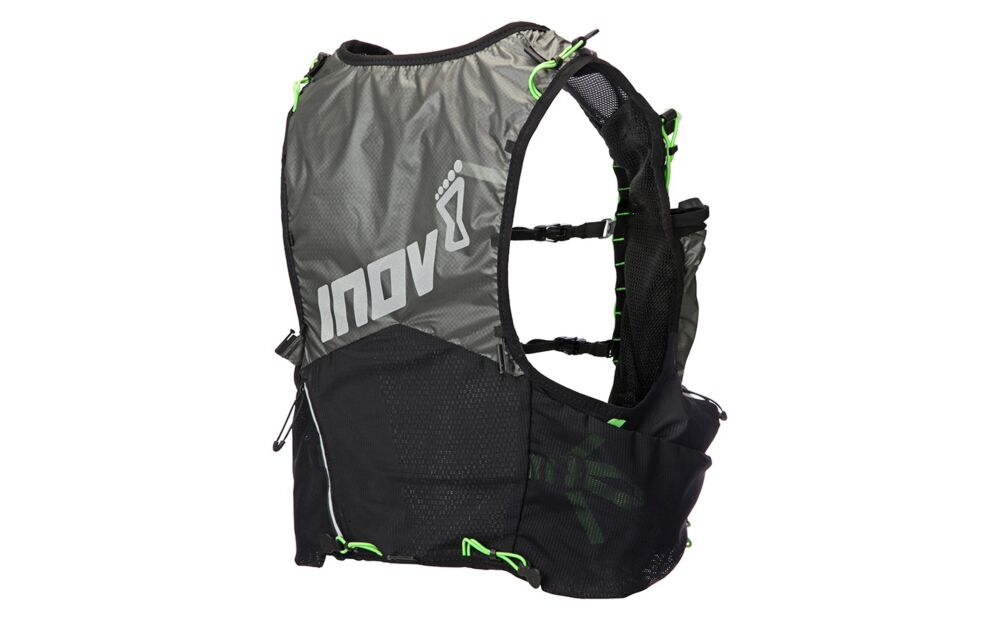 Here in its stripped down (10 litre pocket removed) lightweight mode.
In summary, the inov-8 Race Ultra Pro 2in1 really does deliver. I have really tried to think of anything negative about the vest so this doesn't turn into a 'I'd better not say anything bad about this freebie' sort of review, but other than the bottles not sliding in easily, I really couldn't think of anything. It only comes in the black and green colours as shown which I guess could be a negative for some. It fits me perfectly, but of course we are all different shapes and sizes, so I assume not everyone will have the same experience as me. Let me know what you thought of it if you have tried one on at some point. I am always interested to hear what the general consensus is.
If you are in the market for a new or indeed, first vest, then I would advise trying on the inov8, and if it fits you as well as me, then I am fairly sure that you will be buying one! Price wise, it sits fairly high, I initially thought, at £150 (on the inov8 site), but when you take into account the fact that you can add the extra volume, and it comes with two flasks with straws and a collapsible cup (which total £54 worth if bought separately!), it is actually well priced.
My Salomon vest may well be gathering dust in the cupboard for a long time now...
For more details, Check it out on the inov-8 site here
To buy the inov-8 Race Pro 2in1 vest and to support the URC, then please use the following link. Thanks