Written by Anthony Stevens - https://www.oldiesultras.com/
2022 Silva Northern Traverse: 2-4 April 2022
Pre-Race
There is something special about Coast-to-Coast races. Something about the fact that when you finish you physically cannot go any further without running into the sea. Something epic about running the breadth of a land mass. The first 100+ mile race that I completed was the Devon Coast-to-Coast ultra in 2019, a race I have really fond memories of as I managed to get a really decent time in it (31 hours) and I was supported during the race by my son James – sharing the finish with him there was a wonderful, unforgettable experience.
So, as I was thinking about my race schedule for 2022, and I saw a race-sized gap in April in between a couple of shorter races in Feb / Mar and the mighty 400km Cape Wrath Ultra (CWU) in May, the attraction of the Northern Traverse Ultra (NT), which follows Wainwright's Coast-to-Coast path across northern England, was obvious. The only question in my mind was whether it would give me enough time to recover before CWU – at 300km in length and almost 9000m in elevation, NT is a formidable multi-day race in its own right, and 6 weeks is not a huge amount of time in between two such long races. But with all the work that I have been doing over the past year on optimising my training and recovery, I decided to give it a go, and so it was that on Friday 1 April, I found myself chugging along the coastal railway from Lancaster to the small Cumbrian village of St Bees, the start of Wainwright's route.
Having already completed the Summer Spine and Winter Spine Challenger North, the distance and time was not unknown territory for me any more, and I had learned from my previous races, adapting and increasing the intensity of my training to specifically deal with the rigours of a multi-day hill race. However, every race is different and the NT route straddles three National Parks with very different terrain – the Lake District, the Yorkshire Dales and the North Yorks Moors – as well as some lengthy road and farm track sections as well. Moreover, with the race taking place in early April, the weather was going to be a source of great uncertainty – we might encounter anything from blazing spring sunshine to sub-zero temperatures, sleet and snow. Unlike the Winter Spine, where you know the conditions are going to be bad, here you could easily get 4 seasons in one day.
The mandatory kit list itself was not that extensive, and after experimenting over the previous few months with various back pack options decided to go with a lighter and more versatile option, comprising the 12 litre Salomon Adv Skin 12 vest and the 6 litre Montane Featherlight waist pack, rather than putting everything into a single pack such as the OMM 15 litre. I found the ease of access of a waist pack, where I could put those things that I might need frequently during the race, combined with the comfort and familiarity of the Salomon vest, was a good combination that had served me well on my preparatory 100k and 50k races in February and March. For hydration, I used a pair of Salomon flasks in the front pockets of the vest, and then for the waist pack rather than using the built-in Montane hard flasks, I had a couple of soft flasks that could fold up when not being used but could be filled when I needed extra fluids for some of the longer stages. As it turned out, this approach worked really well, and is something I'll now use going forward for other non-winter non-stop races such as the Summer Spine.
In terms of training, I put in place a far more structured approach in the preceding 3 months, with the most important discipline for me being starting to keep a training diary. I set myself targets for weekly mileage, weekly vertical, total average calories burned (an easy one to track), as well as number of hours on feet and equivalent proxies for the volume and intensity of strength and plyometric work that I was doing. By setting myself targets for each of these metrics, I could gradually see my training load increasing over time, along with my capacity to absorb that training load. By the end of March, I reckoned that my overall chronic training load was about 20% higher than it had been at the beginning of the year, which if I managed to taper correctly should mean big improvements in terms of performance. A slight complication in my preparations were some back spasms one week before the race, but if anything this forced me to do a proper taper, comprising a lot of rolling, stretching as well daily heat training sessions (which I have found to be a very low-impact way of maintaining / boosting cardio gains during the latter stage of a training cycle).
I was therefore coming into the race feeling reasonably confident that it would go well, and as opposed to simply finishing the race (which in the past has typically been my immediate priority), I had set myself a number of target times to achieve. At a minimum, I felt that I should be able to finish in less than 72 hours, as that would represent me running at a similar pace to what I had achieved in the Pennines in January, but with a lighter pack, spring conditions and more daylight. As an optimistic stretch target, I thought I might conceivably be able to finish in 60 hours, although this would require a combination of hyper-efficient checkpoint drill, no sleep and the ability to maintain a good pace on the runnable sections throughout the race. Knee and leg strength would be key to the latter. I made up a prompt sheet on waterproof paper with my key checkpoint checklist items and the target timings I would need for each checkpoint (and intermediate milestones) in order to hit 60 and 70 hour race times respectively. That should hopefully reduce the amount of time I spent in checkpoints getting my mind straight and deliberating over decision-making.
After checking into Lulu's B&B right by St Bees Station and depositing my kit, I made my way up the high street to the Manor Pub / Restaurant for dinner, where I was lucky to meet a couple of other competitors – Kate Farley and Sarah Smith – and we chatted over dinner about the race ahead and more generally about our experiences of other races and how we had prepared for this particular race. Registration started that evening, so by 9pm I had already been through the mandatory kit check, picked up my race numbers and tracker and had my photo taken. All that remained was to get a good night's sleep.
Start St Bees to CP 1 Rosthwaite (47km)
After waking up at 6am – just over 6 hours sleep so enough to feel that I had 'banked' sufficient to get me through the next 60 hours – I packed and repacked all my bags, applied K-tape to my toes, knees and all the other places that needed it, and proceeded down to St Bees School to drop off my 15kg drop bag and 5kg finish bag.
Following the safety briefing, we walked down to the beach at St Bees to follow the tradition of dipping one's toes in the water of the Irish Sea and taking a pebble to carry all the way to Robin Hood's Bay on the North Sea. The sky was fairly clear, but there was a slight chill in the air that prompted me to start the race with my hard shell jacket on top of my compression base layer. There were a couple of other runners at the start that I knew from the Winter Spine Challenger North back in January – John Murray and Jonny Ulett – so I took the opportunity to say hello to them and wish them luck on the race; I'd also bumped into Jim Allen, a fellow veteran of the UTMR race in Switzerland (we were both sporting our distinctive UTMR buffs) at the safety briefing, another race I have really happy memories of, even if the 2019 edition I had taken part in had been brought to a sudden end by heavy blizzards sweeping the course. None of us had done the course before so there was the usual mix of excitement and trepidation before the start. I had decided to take it really easy for the first few km and slowly ease myself into the race – on a long race like this you have plenty of opportunity to make up time later and I find that it takes my legs an hour or so to get fully warmed up such that I can run efficiently and with minimum effort.
The countdown started and at 10:30am we were underway. I pressed the start button on my GPS watch and already started to look forward to the regular buzzes as it notified me as each km passed by. With 140 starters and a narrow path, I stayed near the back and watched as the snake of runners in front of me gradually began to stretch out. The path north along the coast from St Bees is really picturesque, with cliffs, coves, the occasional lighthouse and the Irish Sea stretching into the distance on your left-hand side. I took the opportunity to enjoy the scenery, knowing that this would be the most relaxed and easy part of the whole race. Even at this relatively slow pace, the ups and downs of the coastal path meant that I soon warmed up, and after 30 minutes or so I decided that the weather would if anything only be getting warmer as the day went on, so took my outer jacket off and ran just in my compression base layer.
Before long, the path turned inland (we would not see the sea again for more than 2 days) and I fell into a small group of five runners – Jonathan Burnhams, Jackie Stretton, Sophie Littlefair and Greg Crowley – who were all running at a similar comfortable pace, comfortable enough for us to chat about the various races we had done or were planning to do. I found out that Jonathan and I had already chatted with each other on the FB group for the Cape Wrath Ultra, which we are both doing next month. I think we were all a bit intimidated by Jackie's 2h47m marathon PB and her sub-10% body fat percentage! The diversion around Cleator Moor meant that the course stayed largely on flat roads and well-defined tracks, something that is a feature of large parts of the Coast-to-Coast route (more so than the Pennine Way), which in turn meant that were knocking out 7-8 min kilometres and making rapid headway. As the path rose towards Nannycatch Gate and then turned downhill towards Ennerdale, I decided to pick up the pace a little bit and get some practice running hard on the downhill sections, something I was hoping to do across the whole race. It was not long before I was passing through the village of Ennerdale Bridge, and then the woods that led down to the lake of Ennerdale Water itself. I glanced at my watch – 3 hours elapsed, 26km completed, so an average pace of over 8km/h. This was a good pace, particularly as I felt strong and relaxed and was breathing very easily without any signs of tightness in my ankles, knees or back at all, which was a good sign.
Ennerdale Water itself is a beautiful sight, with the path staying close to the lake's edge but wandering up and down, the ground rocky enough to be interesting without ever getting so technical that it was overly hard work. By now I was passing quite a few of the Lakes Traverse runners, and there were also a lot of day trippers out enjoying the sunshine and exquisite views that Ennerdale offers.
It was less than 40 minutes before I came to the end of the lake, and the long, broad track that leads up to Black Sail Hut and the steep climb over to Honister and the first checkpoint at Rosthwaite. The track is flat enough, but has an undulating gentle upward slope to it, so I decided to power hike the upward parts, running the occasional flat or downward sections, while at the same time enjoying the tremendous views of the surrounding fells – the sharp spike of Pillar Rock, Pillar itself, Steeple, as well as the huge dome of Great Gable directly ahead. After about an hour I reached the (closed) Black Sail Youth Hostel building, where a small group of Lakes Traversers had stopped. I popped into the toilets to refill my water bottles and pushed on to the steep climb up towards Grey Knotts and the Honister Pass.
It was steep! I had done a lot of vertical work in my training – over 3,000m a week on treadmill, Stairmaster and trails – but still I found it hard going, and my lungs were doing overtime as I made my way up the slope. There were a lot of people in front of me, a mixture of Lakes and Northern Traversers, and I could see there were a few people slowly gaining on me from behind. It wasn't long though before the slope flattened out and we made our way across a small grassy plateau towards the long descent down to Honister and Rosthwaite. Although my experience of hiking, scrambling and mountaineering means that I'm pretty confident on technical terrain, in the past I have found that leg fatigue quickly becomes a limiting factor on how quickly I can descend, so I was really eager to test out my leg strength on the descents following all the downhill, strength and plyometric training that I had been doing over the last 6 months. I wanted to see if I had further built on the improvements that I had noticed on the Yorkshire 3 Peaks Ultra last October and the Winter Spine Challenger North in January. I was really positively surprised with what I found – the technical path felt much easier to negotiate than I was expecting and I could feel the strength and stability in my knees and hips as I hopped from rock to rock. I pushed my pace even higher, taking advantage of the help from gravity and just using my muscles to control the pace – sort of like "controlled falling" or "skiing with my feet". Of course, I hoped that this would not wreck my legs for later in the race, but at some point you have to trust the training that you have done and hope that it has prepared you for the impact you are imposing on your muscles and joints.
My Garmin was now ticking off the kms with regularity, at a pace that was consistently over 8km / h, very fast by my standards for trail running with a pack, particularly given the technical nature of the terrain. I must have overtaken 5 or 6 people on the descent, flew through Honister less than 30 minutes into the descent, and 40 minutes later was approaching the Rosthwaite checkpoint at the bottom of the valley alongside Nick Keen and Mark Lattanzi, unfortunately not without taking a wrong turn on the way and having to backtrack a couple of hundred metres.
CP 1 Rosthwaite to CP 2 Patterdale (71km)
The Rosthwaite checkpoint was bustling as I arrived, with several strong runners still there, which gave me plenty of encouragement that my pace was not only good compared to my plan but was also not too far behind what some of the 60-hour runners were managing. I'd resolved to spend no longer than 30 minutes in Rosthwaite, so gave myself just enough time to have some soup, rehydrate myself with orange squash, refill my bottles using a couple of my Tailwind sachets, and head out again, pausing for a brief stretch of quads, calves and hip flexors. It was just after 5pm, and I was well ahead of my 60 hour schedule.
The next stage comprised two large climbs and descents – over Greenup Edge and down to Grasmere, and then back up to Grizedale Hause Gap and down the Grizedale Valley to Patterdale. I was hoping that I would be able to continue to really hammer the downhill sections while not losing too much time on the uphills. In contrast to the steep climb up from Black Sail Hut, the Greenup Edge climb was longer and slightly gentler, but still hard work. I found myself behind a few people that I recognised – Jonathan Burnhams from earlier on and Jenny Yeo with her distinctive red rucksack were both a few hundred metres in front of me and provided me with a visual cue for me to follow. As the slope steepened, I then found myself being passed by Anna Troup (2021 Women's Summer Spine winner) and Richard Staite, who flew past me at what seemed almost double my speed. It wasn't long before Jackie and Sophie from earlier on had also caught up with me, right at the top of Greenup Edge. On the downhill stretch towards Grasmere I was again able to stretch my pace, recatching some of the people who had passed me on the uphill section, and as we passed through Grasmere onto the upward slope towards Grizedale Tarn, I found myself alongside Jonathan again, with Jenny, Jackie and Sophie all approaching from close behind.
Dusk fell and torches were switched on as we climbed up towards the pass and patches of snow started to appear besides the path. As we reached the top, we were greeted by a beautiful and quite moving sight – the Western sky, still glowing from a sun that had just dipped below the horizon, was reflected in the mirror-like stillness of Grizedale Tarn, the silver of the sky and the gold of the sunlit clouds mingling in the water. The trail started to descend again, and I would now have to test my downhill running skills in the dark, trusting that by wearing both a headtorch and a chest torch I would have plenty of illumination to light the way. The approach worked really well, aided by the lack of any mist or rain, and I was able to keep up a strong running pace all the way down the valley to Patterdale, surprising myself by arriving there at 9.30pm, 2 hours ahead of my target 60 hour pace. I had now built up a bit of a buffer for the rest of the race which meant that I could afford to be a little bit more conservative later on, particularly if the terrain or weather proved trickier, or if my own physical and mental state needed more careful management.
CP 2 Patterdale to CP 3 Shap (97km)
Patterdale was even more cramped and bustling than Rosthwaite as both Lakes and Northern Traversers were by now quite bunched together, and the checkpoint building itself was not huge. I put down my drop bag and poles, and found a seat at the back where I could quickly refill my bottles, have a bowl of soup, and run through my checklist – swap GPS watches and connect the previous one to the power bank, take on fresh snacks – and think about the clothing options for the coming night stage, particularly as the temperatures were forecast to drop below freezing, and the conditions at the top of Kidsty Pike apparently included a couple of inches of snow. I decided to wear my Montane Thermal zip top, which was midweight between the lighter Dart zipneck and the 300g plus Montane Protium fleece that I had also packed as part of the mandatory kit, and also put on my warmest pair of winter gloves. I was already wearing thermal tights, and given that I would be moving, I figured that I would be generating enough body heat to keep me warm without needing to wear the fleece as well, so kept that in my pack along with the extra zipneck in case I stopped at any point and needed additional insulation. I also kept my ice crampons in my waistpack in case the snow up top had refrozen into ice and would prove slippery.
I set out again at just after 10pm, keeping as close as possible to my half-hour budget for the first few checkpoints, and soon began the slow climb up towards the highest point of the race, the summit plateau of Kidsty Pike. The temperature had by now dropped substantially, although while it was definitely below freezing, the air was still and so it didn't feel particularly cold. The climb itself is about 7km long with about 650m of vertical, with flattish sections in between more sustained climbing, which made the climb seem to take forever, as the darkness made it hard to gauge progress and every flat section raised hopes that we had reached the summit only for them to be dashed as the sloped increased again.
We passed a couple of small tarns, and snow became more prevalent as we climbed higher. By now a group of around 5 of us had formed, including some familiar faces from earlier in the race – Jackie and Sophie as well as Karen Nash (women's winner in 2018) and Nicholas Rhys. Jonathan and Jenny had passed me earlier on the ascent and were a short distance ahead. As the snow thickened further to about 2-3 inches of depth, the ground flattened out and we reached the summit plateau shortly after midnight. Over 2 hours to cover 7km was slow going, but it was uphill and I still had plenty of time in the bank.
The descent to Haweswater was really hard work. Although thankfully there was no ice, so no need to wear crampons, the ground was steep, hard, and covered in grassy clumps, and with it being dark you had to be careful to avoid falling over while also putting a big load on your knees and joints with every step. I was certainly the slowest in our small group at negotiating this descent, and it was a big contrast to the previous downhills that I had been able to run at a fast pace.
Eventually we reached the small stream of Randale Beck and the footbridge that took us over it on to the path that followed the northern shore of Haweswater and out of the Lake District towards Shap. I breathed a sigh of relief as the largest climbs of the whole race were now out of the way, and, judging by the map, this coastal path would be a little like the path around Ennerdale, a flat and a pleasant rest after the rigours of the past few hours. I could not have been more wrong! Although it looks flat on paper, in practice the Haweswater path is horribly undulating and filled with tricky rocky sections, muddy parts and points where the path narrows and winds unpredictably. It was impossible to get into any kind of rhythm at all. At no point was I actually able to see the lake itself, except near the horizon in the reflection of lights on the far shore. My pace dropped in line with my spirits. I found myself stopping a couple of times to check on my watch exactly how far along the lake shore I had progressed, only to be disappointed each time with my snail-like progress. It took me eventually 1hr 20min to cover the 6km of the northern shore, a pace of only 4.5km/h, pitifully slow for what I was expecting to be a flat section. Those 80 minutes were definitely one of the low points of the whole race, made worse by the fact that I'd lost touch with the group in front of me and so felt in my own mind that I was the only one finding it hard, and that maybe my condition and form was not as strong as it had felt earlier in the race. By now it was 2.30am and while I was still within my 60 hour plan, I was pretty sure that I had used up a fair amount of the buffer that I had built up earlier.
It was with great relief when I saw on the map on my Garmin that I had reached the end of the lake, and almost immediately the ground became much easier – the path broadening out and the terrain genuinely flat this time. There were plenty of farm gates and stiles to negotiate, and it was still dark, but by jogging those sections that were runnable, my average pace lifted marginally to just over 5km/h and it did not feel like long at all before I was passing the signs for Shap Abbey and approaching the village of Shap itself. I jogged down the main road and finally came to the Ourea Events Northern and Lake Traverse banners outside the school that heralded the Shap checkpoint and the end of this stage.
CP 3 Shap to CP 4 Kirkby Stephen (130km)
Considering that Shap was the finish point of the Lakes Traverse race, the checkpoint was remarkably quiet. Jackie, Sophie, Karen and Nick Rhys were all still there when I arrived but there were only a couple of Lakes Traverse finishers arriving in the half hour or so that I stayed. I was still roughly an hour ahead of my schedule, but with the buffer having shrunk from 2 hours at Patterdale, I was keen to make sure that my pace did not slip any further, so kept tight control of my checkpoint discipline, which was somewhat easier as Shap was one of the checkpoints where we did not have access to our drop bags. So I took a couple of bowls of soup, refilled my flasks, again with Tailwind sachets, and had some salty popchips along with some orange squash to give my diet a little bit of a change from the relentless supply of Haribos, jelly babies and chocolate that I had been consuming for the past 18 hours.
It was still dark when I left, but I could occasionally see in the distance the headtorches of the small group in front of me. In my minds eye, I had pictured this stage as being one of the "easier" ones after the hills of the Lakes, with largely undulating farmland before the hills of the Yorkshire Dales started properly after the next checkpoint at Kirkby Stephen. As before, lack of on-the-ground experience recce-ing the terrain caused my expectations to be quite mismatched with the reality. Although there were not any big hills, the path wound across open moorland far more than sheltered farmland, and while the distinction may not seem particularly great, in the dark and the cold there is something particularly bleak, depressing and disorienting about making your way across featureless moorland, with no obvious features for your headtorch to pick out. The temperature had also started to drop again, and I started to feel the cold more keenly than ever before on the race. Despite wearing my winter thermal gloves, my hands felt painfully cold. More worryingly, I started to feel extremely tired and sleepy. My eyelids kept dropping, and I frequently found myself momentarily losing my balance and staggering to one side. All I wanted was to sit down and close my eyes, but I knew that if I did that I would fall asleep where I sat, which in this cold could be quite dangerous, over and above the impact that it would have on my race time. I simply had to keep going.
I forced myself to keep walking forwards, although my pace slowed significantly, and tried to use chocolate, jelly babies and fluids to boost my energy levels. As the darkness faded and dawn approached, I hoped that light would bring relief from these symptoms of what seemed to be severe sleep deprivation. I couldn't understand why after less than 24 hours of racing I was having them as it is usually not until the second night and more than 36 hours of time awake that I start to experience the first signs of sleep deprivation – hallucinations, heavy eyelids and loss of balance and coordination – and these are always worse in the hours of darkness than they are in the light. However, sunrise did not appear to bring any relief. My hands continued to feel painfully cold, I could not seem to generate any energy in my legs or body, and I kept on tottering along the path, still struggling to keep my eyes open. It was at this point that I started to seriously consider whether I would be able to continue in the race; I really doubted whether I would be able to reach Kirkby Stephen in my current condition and started to think about whether this might be the occasion for using the SOS button on my GPS tracker.
Somehow I managed to put these thoughts to one side and carry on, until at around 7.30am, another runner, Adam Close, caught up with me and we exchanged a few words. I told him that I was struggling a bit, and then tried to tag along behind him, hoping that having someone else to follow would at least give me a focus for my efforts and would help me get to the next checkpoint. Almost miraculously, within half an hour the temperature started to lift again, my hands warmed up and I was able to even take my gloves off. One less problem to worry about. The moorland gave way to mixed farmland and on arriving at a road we were greeted by Adam's brother who had been tracking him and had come to give him moral support. This also lifted my spirits. He mentioned that quite a few of the leading runners had retired, something that surprised me a lot but which at the same time reassured me that my own struggles were not solely down to my own shortcomings and that other runners, far stronger ones than me, had also faced some struggles as well.
As the warmth of the sun finally started to spread throughout my body, I was able to take off some layers and at the same time the fatigue and sleepiness also seemed to lift as well, and I was able to run the flat and downhill sections again, picking up speed from Sunbiggin onwards as the quality of the track even on the moorland seemed to improve, and I finally sloped into Kirkby Stephen at 11am. I had pretty much exhausted the 2 hour buffer I had built up, but was still on target for a 60hr race time as long as I could continue for the whole race without any sleep breaks, but the tiredness and sleep deprivation problems I had experienced earlier that morning had introduced a lot of uncertainty into my mind as to whether that would now be a viable strategy. Would I able to manage a second night out without sleep, or would that be a risk too far? At the same time, I was also very grateful for getting these past two stages out of the way and was looking forward to what I hoped would be an easier next stage across the Yorkshire Dales to Richmond. At any rate, it was a stage that would see me passing the half-way point of the course, as well as seeing familiar territory in the form of the Pennine Way, which I knew well from my Spine Race adventures, and which crosses the Coast-to-Coast Path at Keld. Races always somehow feel easier once you have passed the halfway mark.
CP 4 Kirkby Stephen to CP 5 Richmond (185km)
With the Kirkby Stephen checkpoint giving us access again to our drop bags, I took the opportunity to change socks and have a look at my feet. Although I didn't have any major blisters as yet, a result of my decision to use waterproof socks from the start of the race was that the retained sweat had led to them become quite macerated, and I could feel a couple of hotspots developing under the arch behind my toes and on the side of one of the heels. Luckily I had some Moleskin dressings (think of it as furry K-tape) in my medicine bag, so I applied a couple of strips of these, covered them with K-tape to hold them in place, and then put on a fresh pair of waterproof socks, which I figured I would certainly need for the next stage given the notoriously boggy ground of Nine Standards Rigg. I'd also started to feel the first signs of chafing between my thighs and bum cheeks, so applied some Vaseline in the appropriate places, and put both a small jar in my waist pack as well as a tube of Lanacaine, just in case I needed any later on for some emergency chafing relief!
Sitting besides me in the checkpoint was Pavel Paloncy, a two-time Spine Race winner and one of the front-runners here until he had withdrawn. I also heard that Anna Troup, who had passed me earlier on, had withdrawn at the Shap checkpoint. It just shows how challenging these races can be, even for top-calibre experienced athletes such as these.
With my mood having been lifted by a couple of bowls of soup, some caffeine in the form of Coke, and more Popchips, I packed up my drop bag and set off at 12.30pm, hoping to arrive at Richmond by 10.30pm which would keep me roughly on my target of 60 hours. I'd stayed probably a little bit longer in the checkpoint than I originally anticipated, but fresh socks, a visit to the bathroom and some stretching again of my key tight spots were worthwhile investments in making the next stage more pleasant and hopefully more productive.
The climb out of Kirkby Stephen to the top of Nine Standards Rigg starts almost as soon as you have left the checkpoint, and as the slope slowly steepened, some of the strength that had appeared to elude me earlier in the race felt like it was returning. It was not long before I could spot the distinctive nine stone cairns on the horizon, and while there were a number of false summits, I soon found myself approaching the flat summit plateau. There were several other day trippers up there, some of them struggling in the muddy bogs that were increasingly prevalent on the approaches, and as I made my way to the cairns themselves, I spied the official photographer from No Limits Photography who kindly took some photos of me running alongside the Rigg (one of which made it into the Event Director's Official Report!). The views from the top were truly spectacular, with clear blue skies and a 360-degree vista of the Dales – conditions much better than those confronted later on by the runners further back who faced heavy rain, wind storms and poor visibility during Sunday night.
I turned south from the summit following a barely-distinct path that led across the wild, boggy moorland towards Swale Dale, and the next two villages on the route, Keld and Reeth. I wasn't feeling any aftereffects from my struggles with fatigue before dawn, and began to wonder whether it was just the lack of caffeine that had been the problem – maybe I needed to make sure from now on that I drank a couple of cups of coffee at each checkpoint, as well as an emergency ProPlus tablet if I ever started to feel sleepy on the trail itself. It was not long before I was surrounded by the greenery of Swale Dale and could see the River Swale itself down and to the right of the trail. Up ahead I could see the narrow valley that led towards the Tan Hill Inn and for the briefest moment I stopped at the signpost that read "Pennine Way", reflecting on the fact that I was standing on this very spot in the Winter Spine Challenger North race 3 months earlier, and the Summer Spine Race 6 months before that as well; I certainly felt a lot fitter and stronger now than I was on either of those two previous races, and that gave me a lot of encouragement for the rest of the race. After all, I was now at the official halfway point by distance, and over halfway if one took into account elevation gain as well. 29 hours had passed, and while I was now ever so slightly behind my 60 hour plan, at the same time I felt more confident in my own abilities and was sure that I could make up some time in the second half of the race if I pushed myself.
The route from Keld to Reeth is completely different to anything else you encounter on the Coast-to-Coast path, as the trail passes through old lead mining country, with a couple of steep climbs and plenty of scree and rocky slopes, followed by long sloping descents along the disused mine roads. Although the ascents were hard work, they were fun, technical challenges that felt more like rock scrambling than trail running; equally, the descents were extremely runnable, and I found myself upping my pace considerably to see how fast I could run. For the first time in what felt like hours I started to catch up with some other runners again, first Jamie Hardman on the way into Keld and then Nick Rhys and Nick Keen on the descent towards Reeth. Shortly after Reeth, I caught up again with the earlier group I was with – Jonathan, Jackie, Sophie and Karen – and decided that rather than pressing on quickly towards Richmond, I would nurse my energy a little bit and stay with the group for a chat and some company. Ultra runners are a relatively small community and you're likely to meet the same runners again at other races, so one of the joys is getting to know people and spending time talking to them during the long periods that you spend together on the trail or in checkpoints – particularly during long, multi-races such as this one.
The 15km from Marrick Priory to Richmond seemed to tick by painfully slowly. It was beginning to get dark when I caught up with the group, and soon our head torches went on, and we made our way across farmland and roads towards the outskirts of Richmond. Light rain began to fall, and as the number of road sections increased, I pushed ahead into a run in order to try and get to the checkpoint more quickly and get out of the rain. I had slightly naively assumed that the path would go through the town centre, but it skirted around the edge of Richmond, then crossed the river and appeared to pass between some derelict outbuildings before eventually reaching a side road that led up to the rugby club and the fifth checkpoint. By now the wind had really picked up and the weather was beginning to considerably worsen. It was 10.20pm and I'd arrived 10 mins ahead of schedule, encouraging as it meant that I had arrested the gradual slippage in my pace from earlier in the day.
CP 5 Richmond to CP 6 Lion Inn (254km)
There were half a dozen people in the checkpoint when I arrived, soon to be augmented by the rest of our small group as they trickled in over the course of the next 15 minutes or so. We had all been discussing whether or not to take a sleep break at Richmond before the final two sections and 110km stretch across the Vale of York and North Yorks Moors to the finish. The general consensus was that it was better to get a couple of hours sleep at Richmond, get some fresh energy back and reduce the risk of mentally and physically falling apart due to lack of sleep. I was in two minds – my race plan for 60 hours was to go without sleep, my experience from January was that I should be able to manage it without too many problems, and I felt very fresh as I arrived in Richmond; at the same time, I remembered my struggles in the morning, so knew that I would be taking a risk if I headed out now. It was a finely-balanced decision, but I eventually decided not to sleep but just take a short break, changing socks again, fuelling up properly, having a good stretch and then press on through the night, taking advantage of what was an extremely flat 35km of terrain between here and the Moors, with large parts of it on roads and the rest across non-technical farmland. I figured that with a head torch and chest torch, I would still be able to move quickly across such easy ground, and with the Shell service station on the A19 in Ingleby Arncliffe at the halfway point of the stage, I would be able to refuel again there before tackling the hills and more challenging terrain to come.
As the others curled up on various parts of the floor to get to sleep, I once again went through my checkpoint drill, refilling flasks, changing leggings from full-length thermals to 3/4 length compression leggings, taking on several bowls of soup and mugs of coke, and doing my hip, quad and calf stretches. Although the wind had by now really increased in strength, picking up and depositing one of the outside tents in a neighbouring house, it was coming from the West so gave me a comforting tailwind. The temperature had also noticeably increased, and it wasn't long after leaving the checkpoint just after midnight that I was able to take my gloves and hat off and run with just my base layer and an unzipped hard shell.
My legs were still feeling remarkably strong, pain-free and without any tightness, so I found myself running almost all of the time between the various periodic obstacles – stiles, gates, footbridges etc. – that we had to negotiate. My watch vibrated with great regularity as the kms were ticked off, and I could see that I was managing roughly 7km/h pace – which would do wonders for my time if I could maintain this for the next few hours until the A19. By not sleeping at the checkpoint, I had managed to gain several places and left Richmond in 18th place, but soon found myself passing a couple of other runners – Jonathan (again) and Matt Neale – to move into 16th place, although there was then a 9km gap to the 15th place runner, Jenny Yeo. I checked my watch when 3 hours had elapsed and the distance was showing 22km covered – I was maintaining my 7km/h pace and finding that I could quite easily maintain a 75/25 run/walk mix on what were very runnable roads and tracks.
Not every good thing lasts forever though, and it was while negotiating a farm gate that I managed to catch the heavy metal latch on one of my fingers, which both hurt immensely and caused it to start bleeding profusely. With my first aid kit in the drop bag that was now on its way to the next checkpoint at the Lion Inn, I had to think of something that could stem the bleeding – luckily I had a couple of hair ties around my poles that I usually used to tie the poles together when they were not being used, as well as a short piece of K-tape above my knees. With the hair tie as a tourniquet, the K-tape as a makeshift plaster, and swallowing a co-codamol to dull the pain, I was able to stem the bleeding sufficiently to resume my progress. Just over 5 hours after leaving Richmond, the moving headlights of the traffic on the A19 came into view and at around 5.30am the fluorescent Shell sign appeared to the left of the trail. Thankfully, the convenience store in the service station was open, and I dashed in to get a couple of bottles of orange squash, one of which I used to refill a water flask, and a canned coffee to both rehydrate myself and give me some fresh energy for the next and more challenging part of this long stage.
As I walked back out across the forecourt, Matt Neale trudged in to take his pit stop, and I exchanged pleasantries with him before making my way towards the dual carriageway, which I was able to cross after a couple of minutes of judicious waiting for gaps in the traffic. Although it was still dark, a faint glow was now discernible on the horizon and I quietly breathed a sigh of relief that I had gotten through the night without any major sleep deprivation problems, and that if all went well I would not have to face any more nights in the open before the end of the race.
The climb up to the escarpment of the Cleveland Hills, the northwestern edge of the Moors, commences almost immediately after the A19, and it was not long before the light had improved sufficiently for me to switch off my head and chest torches, another psychological milestone that I could tick off. As the path runs along the crest, every few kilometres it plunges into one of the periodic valleys that cut into the escarpment, resulting in a number of steep, staircase-like descents via rocky steps followed shortly afterwards by an equally steep ascent back up again – exhausting and somewhat demoralising work, particularly as the wind at the top of the escarpment was extremely strong and no longer blowing from behind but appeared to have changed directions and was coming in from the north as a cross-wind. Its gusts were so strong that it threatened to blow you off your feet, and made forward progress increasingly hard. It had also started to rain, and the rain seemed to be accumulating to form a steady stream in the channel of the path itself – I was now regretting changing from waterproof to regular socks at the last checkpoint. After a couple of hours of fitful progress I stopped for a drink and a bite to eat, and had a quick look at the open tracking on my phone to see where I stood relative to the other competitors. It looked as though I had a established a 3km gap ahead of Matt Neale behind me, and was in turn about 2km behind Dave Beales and Jenny Yeo ahead of me. This gave me some reassurance that I was not alone in finding my progress slowed, and that I both had a bit of a gap now behind me and was gaining ground on those in front. Suitably encouraged, I redoubled my efforts to get through the challenging terrain, knowing that before too long the path would turn south along flatter moorland tracks towards the next checkpoint at the Lion Inn.
After negotiating the rocky outcrops of the Wainstones and one more down-and-up section, the path finally turned to the right, broadening and flattening out, with the added benefit that the wind was now behind me. I broke into a faster run, surprising myself with the pace that I was still able to maintain after almost 150 miles. There was about 13km to go until the next checkpoint, and it was just before 10am. I should be able to make it there by 12.30pm at the very latest, which would see me back ahead of schedule again, but given that I felt good and the ground was easy, I wanted to push it as hard as I possibly could. I tried to keep to a 75/25 run/walk mix as much as possible, and as the kms ticked by saw that my pace had picked up to around 6-7 km/h. Before long I caught up and overtook Dave Beales, and then tried to keep the same pace going right up to the checkpoint if possible. After about 90 minutes, the track rounded the bulge of High Blakey Moor, and on the opposite side of another long bend the silhouette of the Lion Inn was visible on the horizon, jutting up above the long outstretched finger of Blakey Ridge. With the wind now a crosswind again, and seemingly increasing in strength, my pace slowed, but it was at 11:50am that I made my way through the car park of the Lion Inn to the large tent and portaloos that made up Checkpoint 6 – an hour now ahead of schedule. Those efforts to maximise my pace on the flat, well-tracked sections had really paid off. I just had to make sure now that I had enough in the tank to get through the remaining 46km in 10 hours or less.
CP 6 Lion Inn to Finish Robin Hood's Bay (300km)
The Lion Inn checkpoint was a desperate place! Gale force winds constantly buffeted the tent, with the sense that at any moment it might spontaneously take flight across the moors. With no indoor facilities, and limited refreshment options available, I decided to spend the bare minimum amount of time possible at the checkpoint before pressing on. Jenny was already in the checkpoint when I came in, and seemed to have very similar thoughts as she left shortly after I arrived. I followed my usual drill, accessing my drop bag once more to change my socks (back into waterproof socks, for which I was subsequently very grateful) and also stow away any additional kit that I would no longer need to carry with me. Into the drop bag went my spare power bank that had served so well in keeping my Garmin watches continuously powered, my chest torch (with only a couple of hours at most of darkness to negotiate, I figured that a head torch and spare battery would suffice) and one of my extra mid-layers. My packs felt curiously light when I put them on again and got ready to set off on the final stage.
h only 46km to go, and no hills that bore comparison to the terrain already covered in the race, I had imagined that this would be one of the easier stages, notwithstanding the cumulative fatigue that had built up. It certainly started out that way, with an easy couple of kms hike along the road before turning right onto another moors section. Unlike the escarpment, which although flooded had well-defined paths that were paved in many places, these moors were largely trackless and boggy, conditions very reminiscent of the northern sections of the Pennine Way, and so my progress was slowed as I picked my way through the marshy ground, closely following the GPS trail on my watch and keeping an eye out for any sign of where the 'true' path might be. As Danby High Moor gave way to Glaisdale Moor the ground started to descend slightly, which made progress quicker, and the bogs were interspersed with harder, stony ground where it was possible to run for short stretches. As I descended into the Esk Valley and the village of Glaisdale, it was possible to glimpse the North Sea in the distance, although it looked a lot closer than it was as there was still 30km left to run! Coming into Glaisdale, I caught up again with Jenny – astonishing really that we had first passed each other more than 200km earlier in the Lake District and were still matching each other for pace. We unconsciously paired up for the next few miles as we walked through first Glaisdale, then a seemingly endless wooded section at the bottom of the valley, and then the villages of Egton Bridge and Grosmont. They were all extremely picturesque, especially with the Esk Valley railway line and its picture-postcard railway stations. The main challenge was dealing with a recurrence of the symptoms of sleep deprivation, which seemed to be accentuated by the presence of trees (particularly dead trees) by the sides of the road. In my own mind, I imagined that there were groups of teenagers, small children and pet dogs gathering by the sides of the road, only to find out that these were simply the twisted shapes of bushes and trees. At one point, I was about to engage in conversation with what I thought was a group of local bystanders but managed to stop myself before I initiated conversation with a cluster of hawthorn trees.
As it leaves Grosmont, the road heads up a long, steep hill to the top of Sleight's Moor. At this point I started to pull away from Jenny – although early in the race I had not had a lot of pace on the uphill sections, I still felt as strong as I had felt at the beginning so was able to maintain a reasonable uphill pace even this far into the race, while doing my best to ignore the ongoing visual tricks that my mind was playing on me. After resuming jogging on some more easy downhill sections, the path re-entered another seemingly endless wood at the bottom of the valley, with yet more weird and wonderful hallucinations to experience. I must have counted hundreds of imaginary dogs sniffing among the trees.
By the time I emerged from the woods it had just passed 6pm, and with 15km remaining I would only need to maintain a pace of less than 4km/h to beat my 60hr target. My spirits began to lift, but it was only after negotiating one final, extremely boggy moors section that I started to relax and believe that I was almost home and dry. As I left the moors behind and entered the village of Hawsker, I stopped to have a look at the open tracking on my phone – Jenny was over 1km behind me, but only 1km in front of me was Billy Reed in 12th place, and 1km in front of him was Graham Dawson in 11th. There was still 7km left to go, so while it was unlikely that I would be able to catch either of them, I decided I would give it a go.
I ran all the roaded sections as fast as I could – flat, downhill, uphill, it didn't matter – pausing to walk only when I needed to gather my breath. The strength remaining in my legs continued to surprise me, and as darkness came down, I kept on expecting to spot a headlamp or red rear light in the distance that I could latch on to and pursue. However, sign of a headlamp never arrived, and as I passed through Northcliffe Holiday Park and the coastal path that led to the finish line, it started to rain, more heavily this time, and visibility with a headtorch shrank to no more than 10 or 20 metres. As the asphalt turned to mud, I found myself slipping and sliding, ending up on my back at the very first turning, and with the visibility so poor and a cliff on my left hand side, I decided that self-preservation was a higher priority than gaining any places, and so took my foot off the gas, sticking to a fast-ish hiking pace as I made my way carefully along the cliffside path. Occasionally I thought I caught a glimpse of a headtorch ahead of me, but it was hard to tell in the rain – it was only afterwards when I looked at the GPS tracks that I discovered I was only 400 metres or so behind Billy, but it was going to be too late to make up the ground now.
As the path descended into the village of Robin Hood's Bay, the rain worsened, but I was greeted by an unexpected and really delightful sight. John Murray, who I had run the Spine Challenger North with back in January (finishing less than hour behind him) had retired from the race at Patterdale, but had been watching my dot on the screens in the school hall and made his way out to greet me and accompany me down the steep slopes towards the finish line by the sea. It was a wonderfully kind, touching gesture, and one that I hope to be able to reciprocate some day. And so we walked down the streets of Robin Hood's Bay together to the finish line, where we stopped for some photos before heading back up to the school hall, where I was also delighted to find some of the other earlier finishers including Eoin Keith and Elaine Bisson.
My time? 58 hours 36 minutes, 13th place overall and 11th in the men's race, a time that I was absolutely delighted with, especially as it had not at all been an easy race, and I had been forced to struggle through a few dark moments, as well as maxing out on effort and speed during those sections where things were going well.
A huge thank you to the organisers, who did a superb job at taking on the race from Open Adventures and delivering a superb overall experience, to the volunteers who coped admirably at all the checkpoints with the unpredictable influx of tired and weary runners, each with different needs and priorities, and to the other athletes, as it is the companionship and camaraderie that is forged by going on these adventures together that is such a large part of the enjoyment and attraction of ultra running. I can't wait for the next adventure!
https://results.opentracking.co.uk/event/northerntraverse2022
As a side note, this was my 15th Ultra and Number 7 of the races in my 1,000 mile challenge to run 1,000 miles in ultra races within 12 months to raise money for Mind UK, the mental health charity (see the below link to donate), with every £1 donated also being matched with a £1 donation to the Ukraine Emergency Appeal. £1,399 has already been donated, so I'm hoping now that we can get to £2,000 by the end of June. This race brought up 601 miles, so over 60% of the way there - with the 250 mile Cape Wrath Ultra next month and then the 268 mile Summer Spine in June the next two months are going to be hard work!
https://www.justgiving.com/fundraising/anthony-stevens14
Kit
Pack:
Salomon Adv Skin 12
Montane Featherlight (waist)
Shoes: Hoka Speedgoat 4 wide (Size 11)
Waterproofs: Montane Spine Jacket (Top), Inov8 Ultrashell (Bottom)
Socks:
Liner: CoolMax
Non-waterproof: 1000 mile compression socks
Waterproof: Otter, 360Dry
Shorts: Montane Via Full-Length tights, 2XU 3/4 compression shorts
Top: UnderArmor sleeveless compression top, Shinymod UV sleeves, Montane Dart ZipNeck, Montane Thermal ZipNeck, Montane Protium Fleece
Underwear: Runderwear long boxer shorts
Gloves:
Fingerless gloves: COOLOO Cycling Gloves
Thin thermal gloves: Anquier Winter Touch Screen Running Gloves
Waterproof thermal gloves: LERWAY Winter Warm Gloves
Hat / Buff: SealSkinz waterproof cap, Multiple buffs
GPS: Garmin Forerunner 945 (+ spare)
Headtorch / Chest torch: LEDLenser Neo 10 x 2
Written by Harry Adair
This is just a short(ish) report for those who were perhaps tracking or following my progress and wondering why I was so slow and why I gave up with only 32 miles left to go.
Some background info. I was running this race with Ben Hall, one of my running chums from the Marathon des Sables in 2015. We had both tried to do this race in 2016 along with Gavin Fletcher, another MDS chum, but Ben pulled out half way between Shap and Kirkby Stephens and I gave up at Kirkby Stephens, Gavin made it to the end. Ben is an unlikely running companion for me as he is half my age and a mad keen Derby County supporter but he is supportive, quite funny and we get on. We both entered the race in 2018 but I didn't start and he pulled out at Richmond with a twisted ankle.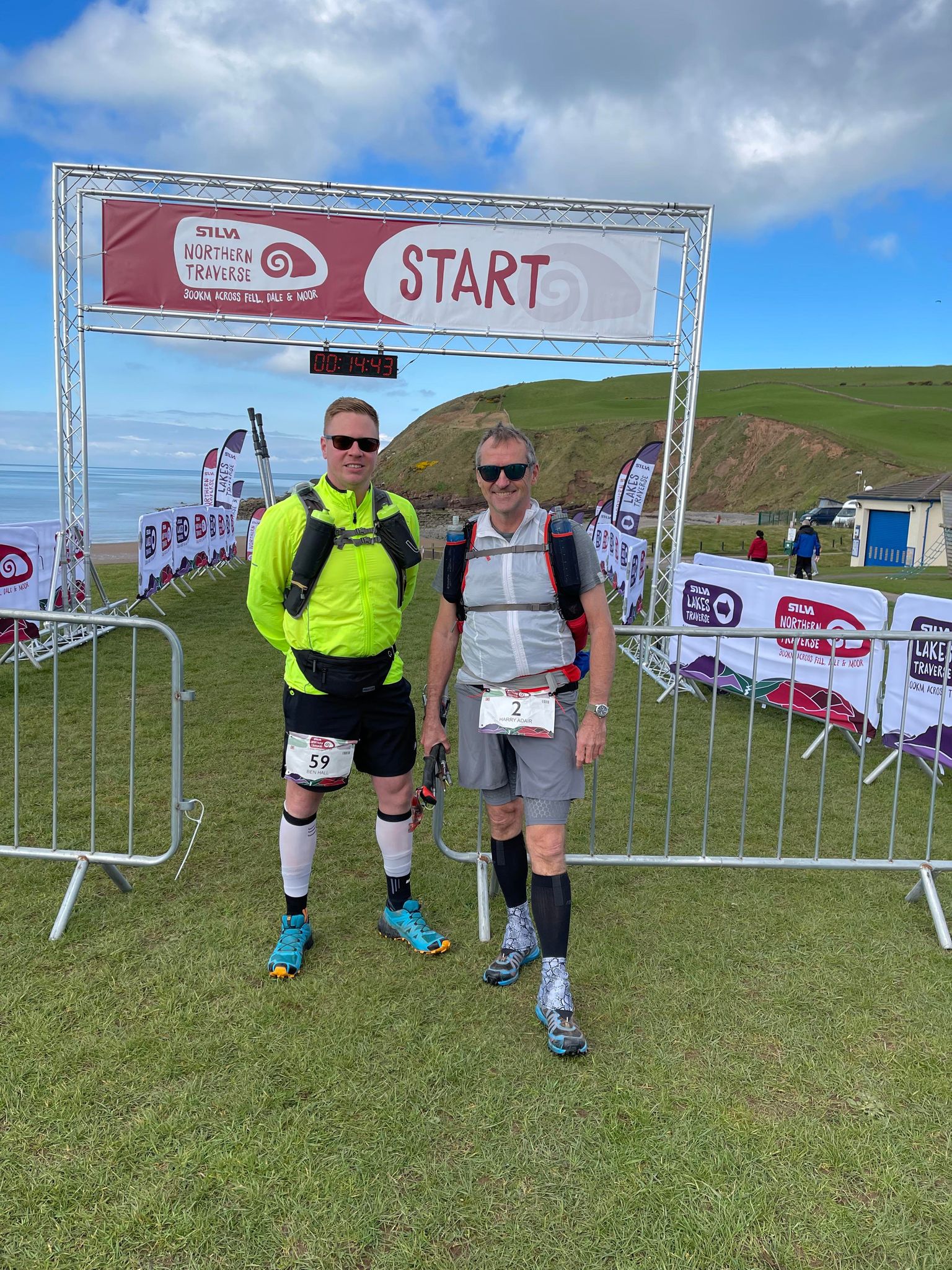 Leading up to the race neither of us had the best preparation, Ben twisted his ankle in January and had done very little running and I had Covid and only tested negative on the morning of the race.
The Race
The race is nearly 190 miles over the Lake District, Yorkshire Dales and North York Moors with four main feed stations where you could also sleep in tents if required. In 2016 we had decided to run through the first night and then carry sleeping and bivvy bags so we could sleep on the course. Our plan this year was to sleep at every feed station for at least a few hours to give ourselves the best chance of completing the course. Our main aim was to complete within the time limits and we didn't mind if we were dead last.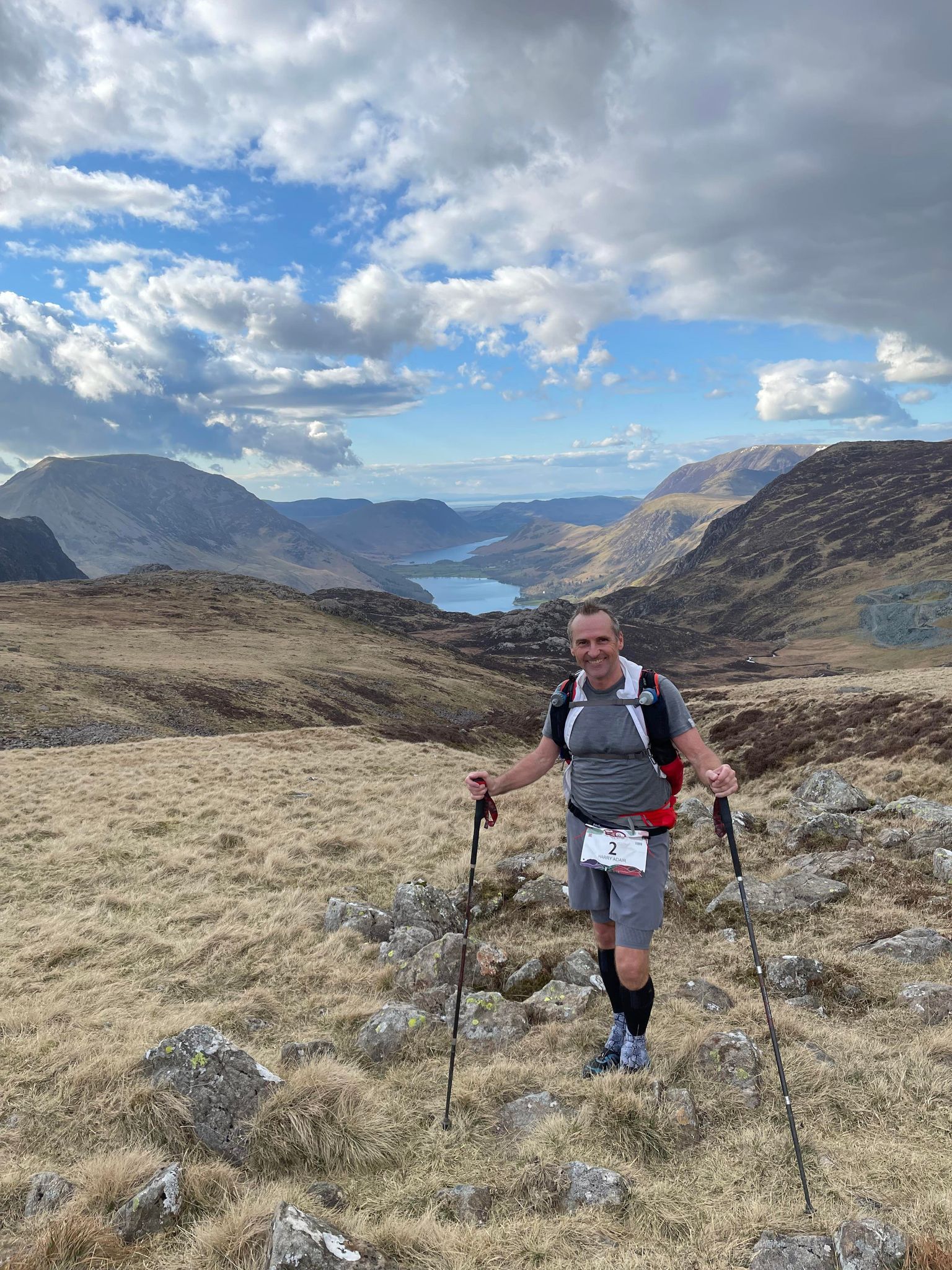 Stage One
The first stage is the longest at 44 miles and has the most elevation change with four main climbs. We started last over the start line on purpose so that we didn't get carried away and go too fast and also so that we were hopefully catching and overtaking people which is good for your ego. This worked quite well and we did overtake people but it was a long stage and we were a bit slower than we expected. In 2016 the race was in May and started an hour earlier, so we were only in the dark towards the end of the last descent into Patterdale. This time the head torches came out at the start of the second last descent and we had five hours in dark before reaching Patterdale. I had a fall on this first dark descent, hurt my knee and broke one of my walking poles. I was lucky, if it had been a few steps earlier or later I would have landed on rocks and it could have been much worse. We had meant to get in by 11 or 12pm, eat, get some sleep and start about 5am. We didn't get there until after 1am and decided just to sleep until first light and leave about 7. The sleeping arrangements were 8 man Berghaus tents with 4 'rooms' for two people and a central area to leave your drop bag and running stuff. There was no organisation of this and the event team had completely underestimated the number of people wanting to stay. You had to go into the tents with your torch to find out if there was any space shining your torch about and no doubt waking people up. We were lucky and Ben found a spare room in the third tent we tried but by the end of the night most tents had one or two people sleeping in the central areas amongst the bags. I took my socks off to sleep as they were wet but left my compression calf guards on. My feet had got very cold and as I lay there hoping to
warm up I also discovered that I had jarred my shoulder when I fell and I couldn't find any comfortable position to lie in. As I lay there I then started to worry that the calf guards were cutting off the blood to my feet and they would never warm up. Anyway, an uncomfortable night and I don't think I got much sleep.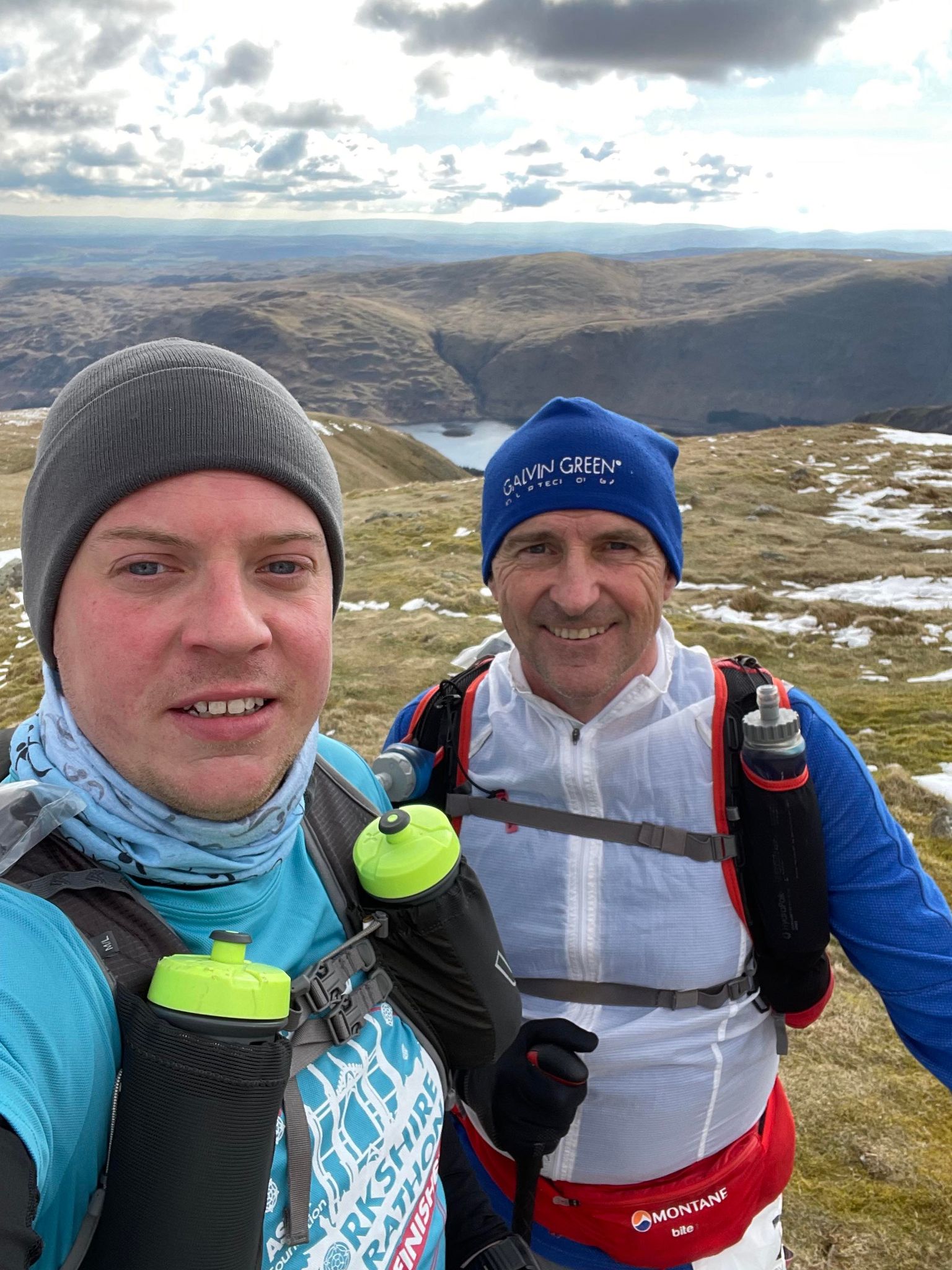 Stage Two
The second stage is 36 miles and starts with the biggest climb of the race with a long downhill to Haweswater and then farmland to Shap. After Shap it is undulating moorland and farmland to Kirkby Stephens. We started in the light at about 7am and had a nice climb out of Patterdale in the sunshine. In 2016 we had done this in the dark and got quite lost at the top of the climb but this time it was great to see the route ahead and the views were fantastic. It is a long climb and it was a bit alarming when Ben said we had done five miles and we had been going for two and half hours. There was plenty of snow at the top and again it was amazing looking round at the views over the mountains. On these events you have to stop and look at the views because when you are moving you have to be looking at
the ground the whole time. You are either stepping from rock to rock or avoiding tripping on rocks. The descent to Haweswater was very long and steep, in places you have to use your hands to climb down the rocks for safety. Ben found this hard going and his quads were trashed at the bottom. You then run along the side of Haweswater which sounds easy but it is actually up and down and the trail is so rocky you can't really run. The rest of this stage was fairly uneventful, we met Ben's parents before Shap and they were also there at the feed station at Shap. They were supporting him the whole way and we saw them once or twice each day. A big and I would think unrewarding effort as they stand around waiting and when we see them its a quick hello and off again as we need to keep going or get cold,
but it was nice to have the support.
It took forever to reach Kirkby Stephens, this is common with every stage as you start thinking about intermediate targets but once you start thinking about the end it just never comes. My feet were very sore by now and I couldn't wait to finish as there were showers at Kirkby Stephens and hopefully I could get a decent sleep. When we arrived I was extremely disappointed to be told that the boiler was broken and there was no showers and all the tents were full. This was one of my low points. Luckily one of the event staff had a booking system going for the one ladies electric shower and also the tents so we actually both got showered, fed and into a tent before too long. When we arrived at Kirkby Stephens it had just gone dark and was starting to spit with rain but by the time we went to bed it was very windy and lashing down. I woke several times during the night and the weather was the same and I thought if it's still like this tomorrow I'm not going on.
Stage Three
In the morning it transpired that a couple of the tents had blown down and people had to sleep in the feed station which is normally not allowed. Stage three to Richmond is 35 miles and starts with a long climb to 9 Standard Riggs and then there is endless marshy bogland and finally rolling moorland and farmland. We got up at 4am but faffed around in the feed station and didn't leave until six. I had one raw area on my left foot and an unburst blister on my right. It took a couple of hours to reach the Riggs and it was very windy but thankfully no rain. You try to keep your feet dry as long as you can by jumping from rock to rock or tussock to tussock but in the end it is pointless. You also come across dips in the path where it is all water and sphagnum moss, sometimes you can go left or right and find
somewhere you can jump across but other times you can't. Ben is a good bit taller than me and has longer legs and can therefore jump further, he did find this endlessly amusing! I undoubtedly went in more water than him but at one un-jumpable crossing we picked different routes and we both went in up to our knees, which cheered me up. After the endless bogs there was some nice farmland, ups and downs, old mine workings and great scenery. Ben was complaining about sore shins on the downhills but was much stronger than me going into the last few miles into Richmond. My feet were again really sore and I was very concerned as the next day was the second longest at 43 miles and they was no way I was going to put up with the pain in my feet for that long.
When we arrived in Richmond we discovered there were no tents. They had to be taken down as one of them had blown away and been caught in a power line and the fire brigade had to rescue it. Richmond feed station, like Kirkby Stephens, is the rugby club and the sleeping area was the changing rooms, unheated, bare concrete floor and full up. There was even one chap sleeping in the fully lit shower room concrete floor with people walking past to shower. We ended up sleeping in the feed station which was much nicer as there was a carpet. The lights were on all night and people going in and out and getting fed. This was another low point for me, my feet hurt, there was no comfortable position to sleep in and I thought I wouldn't get any sleep. After about an hour or so of shifting and groaning Ben lent me his sleep mask and I went to sleep almost immediately. 3 or 4 hours of minimally interrupted sleep, bliss.
Stage Four
We wanted an early start as it was another long stage so got up at 3am and left just after 4. Stage four is in two halves the first half up to the A19 is mainly roads and farmland and you can get press on. The second half is quite hilly with 3 or 4 steep descents and then moorland and the last seven miles are on an old railway line to the checkpoint. I had a different blister approach in the morning and had drained the ones I could and had borrowed better tape from another competitor. There was also a medical student volunteer who applied the tape for me and she did an excellent job, much better than I.
It's quite nice leaving early in the morning, if you can get in 6 to 8 miles before it gets light you feel you are ahead of the game but Ben was struggling from the start, he was fine on the flat and uphill but downhill very painful. After about an hour Ben told me to just go on myself and try and catch the two people in front. I didn't mention before but Ben was our navigator, he had a Garmin Fenix watch with maps and I only had a map (I do have a fancy watch as well but it went tits up the day before the race). He didn't want to give up but was concerned he was holding me back too much and thought I'd get lost if I didn't catch the pair in front. I set off like a rocket and ran until I caught them up which was astonishing as we hardly ran at all on stage 3. I honestly felt like I could run the whole stage (which I couldn't) so clearly I was concerned about getting lost as well. I stayed with them until it got light and pressed on when they stopped for a break. Sometime after this I felt a pain in my forefoot and I was thinking I had got shin splints the same as Ben. I had a swelling above my ankle bone and it was quite red. I reached the A19 at about 12 which is a big milestone.
You can get food and water at the Shell service station which is fantastic and it is also the most dangerous part of the route, crossing a four lane dual carriage way on foot. I was now feeling quite sleepy and very much on my own but luckily the weather was fair and I could read the map with my glasses. I was going through a forest section when I passed a new wooden route sign, pointing back the way I had come it said St Bees 132 miles and the way I was going Robin Hoods Bay 48 miles, I was elated, it was about 1pm and I knew the last stage was 30 miles so I only had 18 miles to walk that day, how mad is that! Shortly after I passed another runner, Luke Craig, who was having a wee lie down at the side of the path in a forest, we chatted for a bit and off I went. Shortly after I was convinced I'd made a
mistake and had to back track when I met up with Luke again. He had an extremely fancy satellite phone/navigator so I thought I'd better stick with him! I had phoned Ben before I reached the A19 and he had decided to stop which was a sensible decision as there was another reasonable four climbs but with difficult descents which would have been agony and impossible for him. On the last seven miles I was thinking about the finish which never comes, my feet were sore again but my forefoot was getting quite uncomfortable. I was desperate for end to come but with two miles to go I heard/felt a snap in my foot and my race was over.
I hobbled on for a few more yards but then went and lay down at the side of the track in some heather to get out of the wind. Luke was a bit behind as he had stopped to put on another layer as it was getting dark and it was cold but when he caught up he was great support. I had tried phoning race support but was getting no signal and he said I should press my emergency button on my satellite tracker. He managed to contact race control with his fancy sat phone and tell them what was happening. I could overhear race control asking if I could hobble and I thought that I should, I thought Ben would hobble on with only a couple of miles to go but actually I had only hobbled twenty yards since the snap and I doubt I could have done another 20. Equally, going that slowly you are going to get very cold. Luke was very good in the situation, he told me to put my spare layer on, get in my emergency bivvy bag which was the correct advice. I was now more concerned about Luke getting cold and told him to get on and leave me which he wouldn't. I also had an emergency blanket in my rucksack which I gave to him while he waited. One point, Ourea events insist on you having an extra warm top and an emergency bag rather than blanket, it's good advice. The bag was so much better than the blanket Luke was trying to wrap round himself in the wind. Again, I was lucky, I was on a drivable track and only two miles from the end.
The rescue van arrived fairly quickly, Dr Nat, driver Dave and search dog Fern. The first two were great but Fern growled at me, I suspect she was pissed off I was just sitting at the side of the road and there was no searching involved. I was driven to the Lion Inn check point where I was given my drop bag so that I could change into dry clothes. Luke turned up at the van to see how I was having completed the stage in the cold and dark, They obviously didn't want me staying in their van as they asked if I wanted to go into the feed station (the back of a transit van as there were no tents standing anymore) or wait for my taxi in the Lion Inn, umm, a difficult choice. I was driven the hundred yards to the pub and then tried to hop in but actually fell in the door. Why I thought I could hop up some steps on one leg after being unable to run for two days is beyond me. A taxi arrived (paid for by Ourea events) to take me to Middlesborough Hospital and into the hands of the NHS, and that is another story!
Throughout the event Ben and I both agreed the event was too long, too hard and too expensive and if we failed this time that was it, we wouldn't try again. However, strange as our minds are, we both think we should have another go. But when?
Written by - Colin Bathe
February 1st/2nd 2019 - Cornwall
At school I was always the second to last person to get picked for a team in games. This was because I was rubbish. Games wasn't something I hated like some people, it was just that I wasn't very good at it. I would like to think I did better at the cross country running but I think this was mainly due to the kids who were bunking off in the middle of the course coming in behind me.
In 2010 I started running as I had put on weight and also discovered that it's possible I have a genetic lung condition. Improving my lung function by getting fitter seemed a good idea and running was far more appealing than getting stuck inside a gym. I started out by doing a three mile loop from home maybe once a fortnight which I couldn't complete without walking lots of it. Slowly I improved and in 2011 (maybe 2012) I joined Truro Running Club.
From such small starts, great things grow.
Naaah. Sod that sentimental tosh. Running is stupid. Don't do it. It's a drug, that gives you a buzz that makes you try stupidly faster runs that are stupidly longer on stupidly harder terrain. I'm now so far gone that before the Arc of Attrition, without exception, all my stupid running friends were calling me stupid for going into it. This includes the really stupid ones who have done the stupid race themselves in the past.
The MudCrew Raidlight Arc of Attrition is a 100 mile race around the end of Cornwall at the beginning of February. It starts in Coverack and ends at Porthtowan, following the coast path all the way. The weather is typically awful and the terrain is brutal for long sections which, together with tight time limits, means that on average well over half of the starters don't make it to the finish. You have to be stupid to want to attempt it. Amongst stupid people though, it is considered a classic so sells out really quickly each year.
The race started on Friday midday but for many the fun started the day before with a big dump of snow causing traffic chaos in Cornwall. This caused major issues for out of county runners who got stuck in their cars overnight and arrived for race registration with little or no sleep or not at all. Absolutely gutting as for many the race they had been training for was blown even before the start.
4x4 Lift out of Village - Credit Nik Bathe
For me and my crew, Nik and Lee, the fun started early Friday morning as we discovered that the lane out of our village had a good layer of ice making driving on it a bit iffy. A quick call to our neighbour Rebecca and a lift in her 4x4 was arranged to get us out of the village to the A30 where we were picked up by Lee. A bit of entertainment but nothing compared to what others had been doing overnight.
On the coach to the start of the race at Coverack, the snow on the ground slowly disappeared as we got closer to the South coast and it looked like we wouldn't be running through slush which was a great relief. Indeed, the first 25 miles to Porthleven was great running. The ground was a bit muddy and wet in places and it was a tad chilly and windy but the sun was out and the coast line looked absolutely stunning. The sun setting over the sea in particular was spectacular. Cornwall is beautiful, I was running well and enjoying myself.
Around the Lizard with Danny and Rob - Credit MudCrew
Before the race, I had done a lot of race prep. Probably too much. One major concern was how fast to start the run as I hadn't run anything more than 64 miles before and only one of those. Go off too fast and you blow up and don't finish. Go off too slow and you risk hitting the cut off times at various points around the course. My main aim was to get to the end before the 36 hour final cut off which I would have been very happy with. There was also the little nagging bonus aim of a 30 hour finish and a gold buckle. I was honest enough with myself to say this was a bit of silly target to aim for. Only the top fifth of starters made it to the end in this time in previous years and I wasn't really in this league.
In a training run over the first 25 miles to Porthleven, I was 45 minutes outside of the time needed for a gold buckle finish over this distance. So that settled that, a 30 hour finish and a gold buckle wasn't on. Let's target 32 to 34 hours and guarantee the main goal of a finish.
On race day, I actually got to Porthleven within 6 minutes of the gold buckle time though I didn't know it at the time. I was running to how I felt rather than worrying about my actual pace too much. I was just chugging along at the effort level I thought I could keep going at for the next 24 hours plus. The gold buckle was on but I wasn't thinking about it so therefore not stressing about it. A good place to be.
Ultra marathons are difficult. One way of making them easier is to have a support crew. I had one of the best in Nik, my wife, and Lee, my builder and good friend. Nik and I had supported Lee in running the Arc in 2017 and 2018 so Nik knew what to do from the supporter's side and Lee knew what needed to be done from the runner's side. Give or take, they met up with me every 5 miles with food, water, clean clothes and most importantly encouragement. They really were fantastic!
Without crew, you have to rely on the checkpoints which are roughly 20 miles apart. They are absolutely lavish with a great choice of hot and cold food, medics and physios if you need them. It would be hard to see how they could be improved but they are still not the same as arriving in car park in the middle of nowhere to see a happy pair of faces and a pair of clean new socks.
With me on the run were four other members of Truro Running Club. Andrew I didn't see after the start but Rob, Danny, Aidan and I ran together for the first 10 miles. Rob and Aidan dropped behind but Danny and I ran together for pretty much most of the first 40 miles. We were joined by Richard from Looe Pioneers and the three of us ate up the miles to the next checkpoint at Penzance with head torches on. (6 minutes outside of gold buckle time.)
Penzance Checkpoint with Danny - Credit Nik Bathe
The run from Marazion into Penzance is basically miles of boring flat tarmac but I was still feeling great so went along at a fair pace but not pushing too hard, having changed into road shoes. At least it didn't feel to hard for me. Danny and Richard told me otherwise when we were sat down in the checkpoint stuffing our faces. I'm really sorry if I pushed you too much at this point guys and hope it wasn't the cause of your later issues.
The next stop was Mousehole and a quick change back into my trail shoes. Unfortunately Danny dropped back at this point (he had a quick sit down with my crew at the end of Mousehole) and it was just myself and Richard who continued on the Minack Theatre and the half way point. More food and water from Nik and Lee and we were off again to Land's End and checkpoint three. (15 minutes outside of gold buckle time but I still didn't know this.)
Feet cleaned by Lee at Land's End. Beyond the call of duty really mate.. - Credit Nik Bathe
Running with Richard was an absolute pleasure. We didn't say too much but weren't silent either. We were pretty evenly matched in pace and although I did most of the route finding, Richard was able to spot me making mistakes and stopped us going the wrong way on quite a few occasions. I often run by myself during long races but at 2am on a very dark, cold and windy remote Cornish coast path it was great to have his company.
4am at Cape Cornwall with Richard - Credit Nik Bathe
From Land's End to Pendeen Watch is a little lumpy but not too bad. It does though set you up for the next section to St Ives which is 13 miles of the toughest terrain on the course. Unfortunately, at Pendeen Watch, Richard decided that he was shot and dropped out of the race.
Making a decision to retire is one of the hardest things a runner has to do. In races like this, they will have been training for it for many months with finishing that race being the only objective. It's hard and it hurts to have the dreaded DNF (Did Not Finish) against their name. However, continuing beyond your limits is absolutely not the thing to do, especially in a race like this. The section to St Ives is brutal, gets the worst weather and has no direct road access and little mobile phone reception. If you have a problem then it would likely take hours for the medical teams that are on standby to reach you and extraction would likely by helicopter, not that they could fly in the weather we had!
Richard, I salute you for making the decision to drop. You completed over two thirds of the route in a very respectable time and should be proud of what you achieved. Next year mate.
Losing Richard was a blow especially considering the difficulties of the next section but I still felt good. I had eaten lots, had drunk lots and felt I was going at a reasonable place, easily good enough not to have to worry about the cut offs at all. I was still in a good place and that is half the battle on ultras.
The weather wasn't being friendly whilst I battled the route to St Ives during the early hours. Hail being blown sideways into your face with 50 mile an hour winds tends to get your attention. Fortunately, I had done this route a few times in the past, including at night so the mud, bogs, hills, rocks and boulders didn't come to me as a surprise. It was just a matter of grinding on, trying to keep your pace up even though the terrain was too tough to run forcing you into a walk.
As I said above, there is no direct access for crew on the 13 mile Pendeen to St Ives stretch. However, if you have a crew that are willing to walk half a mile with kit to the coast then stand around with no cover getting very cold waiting for you to turn up, then Zennor is your choice. As always it was great to see them.
Storm Clouds at Zennor - Credit Nik Bathe
Eventually the weather eased a bit, the sky lightened a bit and my spirits rose as morning came. It was at this point of course, when I was so happy with the way that my race was going, that the wheels completely came off the wagon and I was looking a DNF straight in the face.
It started simply. The rain kept stop starting so after each shower, I gave my glasses a wipe to give myself a better chance of seeing the rocks ahead. The problem was that there was obviously some crud on the right hand lens that had smeared all over it making it difficult to see out of. No worries, I'll get it the next time. Then the time after that. Ok so it isn't going away, no problem, I'll speak to Nik at St Ives and get her to clean my glasses properly.
The problem wasn't with my glasses, it was with my eye. I had lost almost all the vision in my right hand eye. A white fog obscured the image similar to what happens if you enter a warm room from the cold when wearing glasses. Lots of blinking later and the fog wasn't going away.
Running ultras does a lot of strange things to your body but it also greatly affects your mental health. Mood swings are common and violent and I hit rock bottom very quickly. I was very very close to bursting into tears but maybe not for the reason you would think. Rational thought and ultras don't always go together very well either. No, I wasn't worried about the potential loss of sight in one of my eyes. I was worried about it being stopped by the medics at the checkpoint because of the problem and getting a DNF. Yes, completing the stupid race was more important to me than my eyesight!
At this point it would have been sensible to call the medics to discuss the situation but as I said, rational thought and ultras don't go together well. Instead I continued on to the checkpoint at St Ives as my other eye was fine and I could see easily enough. I arrived in St Ives and was met by Nik and Ferg, one of the race directors. They immediately caught on that I had a problem, was mentally all over the place and took me straight to the medics. (25 minutes behind gold buckle time.)
I really was in a mess mentally as I sat down with the medics, however within seconds I was right back in the room. The words "Don't worry, you are the third person I've seen today with this" were the best tonic I could ever receive. "It's a temporary problem caused by the cold, low blood sugar and dehydration. Solution is to eat and drink lots then get back out there. Here, have some pizza."
Well I could live with that.
St Ives Pizza with Jim - Credit Nik Bathe
I spent an hour in the St Ives checkpoint. Probably longer than I should have but I needed the break to mentally reset from the down point and refuel with lots of pizza. The long break also gave me chance to talk to some of the many people at the checkpoint. Checkpoints are all staffed by volunteers with most being part of the running community in some way or another including many from Truro Running Club. So we of course were talking about running and how the race had gone so far. This brought up the subject of the gold buckle.
Becky - "You do know that if you get out before 12pm, you will have 6 hours to do the last 22 miles to get the gold. That is very doable. If I can do it, so can you."
Me - "Stu, is this true? I thought I was way over time."
Stu - "You need to go for it but yes."
Me - "Lee?"
Lee - "You can do this."
I didn't believe them but if there was a chance, any chance, I was going to go for it.
From this point on my only focus was to get the gold. Obviously I needed to go quickly but equally I still had 22 miles to go, I needed to to judge my pace carefully. However, I was well fuelled with pizza and knew I would be seeing my crew regularly on the last section so I would have all the support I needed. The weather had improved as well and I knew I had the finish in the bag so it was just down to the time and whether the 30 hour target was possible.
I was doing all sorts of maths in my head trying to work out how fast I needed to go but how do you adjust for the big long hills and other obstacles on the remaining route? I gave up in the end, I just needed to go as fast as I sensibly could.
St Ives to Hayle is pretty flat and fast so I was able to keep my pace up. I also picked up some of Nik's flapjack, small wedges of sugar, calories, glitter and magic. This was going to be my power source for the way to the finish. Fantastic stuff. (39 minutes outside of gold buckle time.)
Dunes of Doom Looking Beautiful - Credit Nik Bathe
Next up were the Dunes of Doom, the section of coast path that takes you to Godrevy Lighthouse and a section which has been famous in the past for people getting lost. Fortunately, this was a section I had surveyed recently and I knew the route through. I arrived at Godrevy to be met by own set of cheerleaders in the form of the Oarsome Foursome. The shrieks could be heard from miles off and really was an uplift. I had some great support all the way around the course from many, many friends as well as complete strangers. All was very greatly appreciated and I'm sorry a lot of it was barely acknowledged. I was on a mission and really didn't want to stop. Oarsome Foursome did win on the volume stakes though. (16 minutes outside of gold buckle time.)
Godrevy to Portreath was, I thought, generally flat so that should be quick. Portreath to Porthtowan though had three major ups before you reached the finish. They would knock the speed right back eating into my remaining time. Could I do it? I still wasn't sure. All I could do was push and hope.
Godrevy to Portreath was generally flat but I have completely forgotten about Carvannel Downs which contains two very large down and up dips. Would this unwind all the good work I had put in getting to this point? No matter, keep going.
Carvannel Downs - Credit: https://bit.ly/2Dm1Kxt
Surprisingly my legs felt pretty good going down and up the dips. I wouldn't have won any races but I wasn't going slowly either. I reached the top of the second dip quicker than I expected and into Portreath I went. Nik and Lee were waiting for me again with all I could possibly want but, taking the racing line, I just grabbed a gel for the final leg without stopping as I knew that would give me the boost I needed. Three big hills left.
The first big hill is the road leaving Portreath. There were 4 miles left and it was 4:30pm. 90 minutes left to get the gold buckle. It was enough I could do it. This was the first time in the whole race that I thought that the gold buckle was possible. Better go and get it.
Sally's Bottom is a silly name for another large down and up. For some seeing for the first time might have been a horrible sight but I've come here many times and know the steps well. Down and up I went.
Sallys Bottom - Credit: https://bit.ly/2HVIGeG
The final down into Porthtowan was fantastic, I was reaching the end, I had plenty of time to make the 6pm gold cut off and I was met by Nik, Lee and the Oarsome Foursome. This was great. I did though still have the final hill, the climb into Eco Park and the finish line. For some people I guess this final hill may have been a negative but for me I loved every step. The Arc of Attrition 100 mile finish was mine and a Gold Buckle finish as well.
Required Silly Pose at Finish - Credit MudCrew
Ultra distance running is stupid. 100 mile ultra distance running is really stupid. The Arc of Attrition 100 mile ultra is really, really very stupid. It is also absolutely fantastically, awesomely brilliant. Everyone should do it. Or a marathon. Or a half marathon or a 10k or a parkrun or a couch to 5k. I started at the bottom of this list and gradually worked my way up. Maybe so can you?
Gold Buckle with Best Crew Ever - Nik and Lee - Credit MudCrew
Oarsome Foursome
I ran the Arc for myself, you may have gathered that from the above. This is because I love running, I love the challenge and because I'm stupid. However, I also ran it is help the lovely Oarsome Foursome get closer to their own monster challenge of rowing across the Atlantic.
Oaresome Foursome are a team of 4 ladies from the South West who are taking part in the Talisker Whisky Atlantic Challenge, raising money & awareness for Cornwall Blood Bikes, Carefree & Hospiscare Exmouth & Lympstone. This is a 3,000 mile epic row in a small, compact ocean rowing boat which will be their 'home' for possibly 3 months while they are at sea.
If you have a bit of spare change that could help these lovely ladies get to the start line in December 2019, I am running a fund raiser here: https://www.justgiving.com/crowdfunding/colin-bathe-oarsome-foursome
Things I've Learnt at The Arc
Mental Game
Getting your head in the right place on an ultra is more important than running ability. If you ignore the eyesight issue, I was mentally in a very good place for all 30 hours. This is the first time I've achieved this as previously I've hit multiple low spots in ultras. I've not got any great insights into this apart from saying that by keeping everything else in a good place is a good way of keeping your mental state there too.
Nutrition
Running ultra distances means that you have to eat and drink well. Everyone knows this but equally it is something that can be very difficult as your body can just straight refuse to take anything down.
During the Arc, I drank something like 5 to 6 litres of water and was peeing all the way around which is a very good sign that I was drinking enough. Apart from at the Land's End checkpoint, I was also able to eat well and I am sure that this was key to my good performance.
As I knew eating was going to be a problem, I had been practising eating on all runs over around 10 miles in distance. I'd also practised running straight after large meals. This gave me a good idea as to what I wanted to eat, gave my body chance to work out how to digest food whilst running and gave me the confidence to know I could eat properly and then run.
During the first three quarters of the race, I just ate normal food. Cocktail sausages, pork pies, baby tomatoes, radishes, grapes, Snickers, Bounty, mini cheddars, soup, rolls, pizza, peanuts. Basically anything that felt right to eat at the time. After St Ives, it was flapjack and a bit of chocolate with just one gel right at the end.
Clothing
The weather on the Arc wasn't great and the cold was a particular problem for the crews standing around waiting for their runners. I personally didn't have any major issues with the cold or the weather and this was mainly down to the gear I was wearing.
Most of the race I had a single long sleeved running top and an Omm Kamleika waterproof jacket on my top half. During the bad weather overnight I added a second long sleeved running top and a hat and gloves. The jacket was zipped on and off to help regulate temperature.
Bottom half was runderwear, multicoloured Sturdy By Design tights (a Christmas present from Nik and she tells me that they were brilliant at helping her spot me from a long way away!) and a pair of Omm Kamleika waterproof shorts.
Waterproof shorts sounds like a crazy idea but worked really well for me. My core was kept dry for the entire race with no chafing even in the horrible weather and the bottom half of my tights, though wet, kept my legs at a sensible temperature. Full waterproof trousers wouldn't have done this.
Shoes were two pairs of Peregrine 8s and a pair of road shoes for the Marazion to Mousehole section. I changed socks six times I believe.
Feet
Running for a long time in wet weather and/or wet ground means that you really need to look after your feet.
I finished with an almost perfect set of feet and I owe this to tips given to me by runners of the 2018 Arc. They suggested that a good layer of Vaseline applied frequently works well and it certainly did for me. At most sock changes, I cleaned my feet (or had it done for me) of the worst of the mud and then applied a new layer of Vaseline. A big dollop each time. It kept my feet dry and also helps with blisters.
Crew
Having crew makes the run easier. Having great experienced crew like I did is fantastic. It's not an easy job so look after them. Money for Fish and Chips is a good ploy but you do have to get them to actually accept it!
Navigation
I used a Garmin Forerunner 235 to give me a rough map to follow. This allowed me to check the route ahead and whether I was grossly off course or not. It wasn't very detailed though so it wasn't the perfect solution. All settings apart from GPS were switched off to give max battery life but this still wasn't great. Through multiple recharging at check points and en route I managed to get it 95 miles around before it gave up. A broken charging cable being the only reason it didn't make the last bit.
The detailed map was kept on my phone using the Locus Maps app and a downloaded offline copy of OpenStreetMap.
GPX used was one Christopher Mathers put together with updates from myself. We got it wrong in the odd place but in general it was highly detailed and highly accurate. Thank you Christopher.
Preparation
Being prepared for the race was key. I read as much as I could, spoke to as many people as I could. Ran almost the entire route as prep and generally annoyed the race directors with questions (sorry). I put a training plan in place over 6 months and pretty much kept to it. I ran around 30 miles per week but I made what I did count as far as I could. I did four long runs of around 25 miles and tapered to almost nothing in the last couple of weeks before the race.
Kit
I carried all the mandatory safety kit (of course) but very little more. Without water and food, the carry weight was 2.1kg. This was around half of what some other people were carrying and I'm sure this made a difference. I only carried the full 1.5kg of water on the long Pendeen to St Ives stretch and in general had around 0.75kg at the start of a leg knowing that I would get a refill from my crew in 5 to 8 miles ish.
Corneal Oedema
The eyesight problem I had also affected around 10 other runners during the Arc. I was blind in the right eye for the last third of the race but it started to recover at the finish. I was 100% back to normal the next day. More details on Corneal Oedema and Ultra Marathons is available here:
https://www.irunfar.com/2017/10/vision-loss-in-ultramarathons-looking-at-the-research.html
Written by - Antonio Codina
The why
I just love running winter ultras in the UK, which is strange because I am Spanish and in theory I am more adapted to milder climate. How the hell did I end up embracing being out for hours in the cold, wet and darkness of the UK winters? I have lived in the north east of England for a number of years and I love it here, but I can tell you that the first two years I found the winters very long and dark. I am sure I was even suffering from SAD. Slowly I started to make friends and know the area better and I started to do a lot of hiking and climbing in winter. I discovered that the best antidote for winter blues was to get out in the elements regardless of the weather. Believe me, when you come back home after a winter day in the hills you are glad to be indoors. Yes, that is right, instead of being sick of being at home you are glad to be in the house! I also find that there is something satisfying about being out there when the weather is shit while most of the people are indoors.
Over the years my need for getting out in winter has given me my magnet for winter ultra races, so ever since I heard about the ARC of Attrition I was attracted to it like a moth to a lightbulb. The race follows the South West Coast path in Cornwall at the end of January, when there are only about 8 hours of light and the weather can be most horrible. The route does not have any long climbs but it accumulates more than 5000m of elevation over 100 miles, starting in Coverack the south coast of Cornwall and finishing in Porthtowan in the north coast. The path has a bit of everything, muddy trails, road, very rocky and technical trails and even sand dunes.
It also has some really cool details, like the fact that you can get a golden buckle if you finish in less than 30 hours, or the volunteers that are called ARC angels and they come to find you and direct you to the checkpoints.
The Build up
Around February or March 2020, fresh from finishing the Spine race I registered for the ARC of attrition race of 2021. But there was no race in 2021, a few weeks before the event we entered a COVID 19 lockdown and the race was cancelled and referred to 2022.
Cornwall is 8 hours away drive from my home in the northeast of England so I had no chance of going there to see the route before the event. Instead I read all the blogs that I could find and watched all the videos available on line. I also talked to my friends Chris and Cajsa that know the route well. Chris McClymont completed the route in 2020 and Cajsa has run quite a lot on the South West Coast path. I had therefore a good idea of the route without having ever been to Cornwall.
I also was going to run unsupported, despite the advise from the organisers to have a crew. I know it may sound strange but I don't like the idea of having a crew supporting me on a race. Crewing for an ultra is really hard work and I just feel guilty about having friends spending their weekend following and tending to me day and night over so many hours. There are 4 checkpoints in the route and one drop bag half way for unsupported runners so I just planned to carry enough food and clothing to survive the 20 odd miles between checkpoints. During the briefing I learnt that there are some volunteers (flying Angels) in some locations between checkpoint offering water and some food so that was going to be even easier.
I had recovered quite well from the Dragons Back Race in September and I felt quite strong and ready for the ARC. Then about 3 weeks before the race a managed to strain my right leg quad on a run with friends in the Lake District. I jumped over some rocks and landed on my right leg totally extended. I managed to finish the run but the day after I could not walk due to the pain shooting along my quad. I consulted a physiotherapist (Michael from the Whitley Bay clinic) and he could not see anything damaged badly, so there was still a chance to run the race? for the next 2 weeks I was cycling and doing strength exercises but I could not run or even walk without pain. 6 days before the race and after a painful physio session I got the go ahead to try to run and I managed one hour with discomfort but no excruciating pain. I kept with the physiotherapy exercises and easy runs and walks until the race and it was getting better every day. It was really hard to know if I was going to be ok over that distance but I had the go ahead from the physiotherapist to go and try. We had planned a holiday in Cornwall around the race so we were going to drive down anyway.
I arrived to Cornwall with Ivonne and Thandi Tuesday night so we had a couple of days to explore before race day. We were staying in Portreath, a small town on the race route just about 3 miles from the finish line. We got to explore a bit of the route and appreciate how truly amazing is Cornwall.
The race. From the start to Lands End
So there I was at registration on Friday 28th of January, very excited but nervous. Excited to spend time on those trails and with long not seen friends, but very nervous of not knowing if my quad was going to hold over that distance. The quad felt ok if I was careful and I had warmed up and stretched it but I had quite a lot of niggles and it felt weak. I decided to take hiking poles and use them in all the technical sections to offload weight from my legs and give me a chance to finish. Before the injury my objective was to finish in less than 30 hours, to obtain the coveted golden buckle. Now my objective was just to finish.
At registration I met dragon's back colleague Alan Jeffrey, my mate from up north Chris McClymont, my Spine challenger buddy Trish Patterson, and finally met Leo Pinnock, a friend of Cajsa. It was just amazing to be there. I got in the bus with Leo and we were chatting no stop so in no time we were at the start line. We then met Leah, another friend of Cajsa that was volunteering in the race. Adam Lucas was also there, it was just great to see so many friends and known faces.
The start was awesome, drumming, flares, rock music, the lot! I tried to be close to the front as I heard you can get stuck in bottlenecks early on. The trails were in good condition, I would say dry for this time of the year. I was trying to move easy to save my quad, and I was feeling ok. It would only feel weird if I was landing suddenly on my right leg after loosing balance, so things were looking good!
The coastline in Cornwall is absolutely amazing, round every corner you discover new rock formations, dramatic cliffs or lighthouses with the sea always crushing down below. Being my first time ever there I was like a kid in Disneyland. The area around the Lizard was absolutely fantastic, it just felt amazing to be there. From time to time we passed the areas where you could meet support crews or Flying Angels. I run quite a bit with Paul Bennet, who remembered me from a Cheviot goat race, Karen Fronteras and Rodrigo Freeman, who I was going to meet again later. We caught the sunset just before the first check point of Porthleven. While we were running on a narrow trail high over the beach, the sun dipped into the sea bathing us in golden light. It was just magical.
I didn't spend long in the first check point. Just had some soup and fruit and headed out of the door. Leo was leaving as I arrived and he was doing great so I wished him well. I don't remember much of the next section, it was the start of the night and there were some lovely trails until Marazion, the start of the road section. Lots of people swap shoes to tackle the road section between Marazion and Mousehole but being unsupported I did not have that luxury . I was fine on my Scott supertrac RC ultra, I find that they can cope with very muddy or rocky trails like a fell shoe but they are well cushioned and are also ok on roads. I did have a hot spot on my left little toe, and I got it taped by the medic at the checkpoint in Penzane. I had lots of pizza and watermelon there which went down amazing. I left Penzane as soon as possible to finish the dreadful road section. The only highlight of the road section was somebody playing the guitar in the middle of nowhere. He was singing "500 miles" as I passed and it made me smile big time so I gave him a big cheer.
Its a long section from Penzane to the next checkpoint of Lands End and once the road its finished the trail is awesome and technical. I run quite a bit with Gareth Rowland and Leo joined us after the Minnack theatre. Leo had not enjoyed the road section and had taken a break to swap shoes again with his crew. It was awesome to run with him, the miles were passing fast in the dark with wind and drizzle but he was awesome finding the way ahead. In no time we arrived to Lands End and I got a massive hug by Alasdair Moffett that was one of the ARC angels volunteering there. I know Alasdair from Dragons Back and Race Across Snowdonia last summer and it was just great to see him again. I spent a fair amount of time at the Lands End check point. I had lots of food, got my feet re-taped and changed into fresh socks from my drop bag. Filled my bag with more gels and bars and headed out into the night for more fun. I knew the next section was the crux of the race so I made sure I was well ready for it.
Lands End to the Finish
I had spent too long at the Lands End check point and I had lost sight of Leo and Gareth but Rodrigo suddenly caught up with me and we started to work as a team. He is a local and knows the route very well and was telling me details about it. Roddy has done some really epic races so it was great to hear his adventures. We were moving very well despite how rough is the trail is at parts. Some sections have large boulders that you have to hop from one to another. I was using my poles for balance and my legs were doing pretty well!
I thought it would be a shame to run such a stunning route at night without seeing the landscape but it was still brilliant. You could always hear the sea crashing close below the cliffs and I loved being out there exposed to the wind and the rain. I kept thinking how lucky we were with the weather. It was just a drizzle and wind but in such an exposed trail any stormy weather would be very challenging.
It took us hours to cover the section between Lands End and St Ives but time seemed to fly, specially when it got light again. At one point (Pendeen I think) we were surprised by two friends of Roddy, Paul and Reene that came out to offer us some food! Paul had staarted the race but had to retire early on as he was just recovering from covid so he was very happy to come out to see us.
We were in St Ives well on time for a sub 30 hour finish so we were ecstatic. The sun was shinning at that point and we stayed as little as possible at the check point. Just long enough to eat lots of food brought over by the lovely ARC angel Leah Atherton, the friend of Cajsa that was looking after us. Ivonne and Thandi had come to see me and were waiting outside the checkpoint. They walked a few meters with us, Thandi was so excited to see me, I guess she was wondering where had I been the previous night and why did I smell like that.
Its a bit of a drag on the road from St Ives until the Towans and the start of the 'Dunes of Gloom' section. I can see how this area of sand dunes can be very tricky to navigate in the dark or bad weather, you have to follow some slate signs that are quite far apart. But it was the middle of the day and the weather was quite good so we cross them without problem.
While crossing a car park I heard my name and it was Trish Patterson calling me from a car! I was not expecting to see her, she is way faster than me so I knew something was not right. It turned out that she was having stomach problems pretty much from the beginning of the race but there she was, still ahead of me. I told her to make sure she was getting out on the trail again and obviously she did, still finishing below 30 hours. Trish is such an amazing athlete, not just because of how fast she can run over long distances but how much she pushes herself in events like this. I have no doubt she would have reached the podium if she had no stomach problems.
Roddy and me were on fire after the dunes. Specially because Paul and Reene appeared by surprise again around Godrevy and brought us some pasties! We shared a pasty that tasted like unicorn tears and that really gave us a boost. It seems like is impossible to run ARC unsupported!
We saw a couple of runners ahead and we decided to push our pace and catch them, that is how good we were feeling. Ivonne and Thandi met us again in Portreath and were amazed how well we were moving! We passed the two runners that we had ahead and we realised that we could probably finish in less than 29 hours so we tried again to push the pace a bit more. We passed two more groups of runners and kept going, up and down the last hills into Porthtowan and we even run the last hill into the Eco park to cross the finish line in 29 hours and 1 minute.
The aftermath
I was in a considerable amount of muscle pain the day after the race, it looks as if nearly total rest the three weeks before the race is not the best preparation for a 100 miler? Having to drive 8 hours back home right the day after the race definitely did not help either. My right quad was a bit sore but 2 weeks after the race everything feels normal and I have been doing a few short runs.
I still cannot believe how well the race went, and the fact that I finished on my target time of sub 30 hours despite the last minute quad injury. I had so many doubts before the race , I was really not sure it was going to be ok for such a distance but once I started moving all the doubts went away. May be the fact that I started so easy helped me to finish with so much in the tank. This was definitely one of the races that I have finished feeling stronger.
I absolutely loved the event, the area and the people down in Cornwall. The volunteers or ARC angels and medics could not be more awesome and helpful, and the whole affair seems like a family business. I am tempted in coming back next year, despite how far its from here. I don't repeat many races, so that tells you how good it is.
Gear used:
Shoes: Scott spertrac RC Ultra
Socks: Injinji ultra, two pairs.
Top: Icebreaker merino and Montane primino after Lands End
Runderwear boxers and Inov8 leggins
Alpkit fleece gloves, Icebreaker hat
Shells: OMM kamleila waterproof and salomon and alpkit windproofs
UD adventure 4.0 vest
Scott shoes are not as wider and comfortable as my favourite Altra Lone peak but they are a good all rounder. I tape my little toes when I wear them and I had no blisters. I used Trench on my feet (thank you James Forbes for bringing it to my accommodation in Cornwall before the race). It was not a very wet year but still my feet were in an amazing condition after the race.
Written by Jean Baptiste Rouvelin - https://jbrouvelin.blogspot.com/
Another weekend down in Cornwall to be part of the run fest Mudcrew organise every January.
This time it was for the 50 miler, so the start was on the Saturday morning from the Minack theatre all the way to Porthtowan using the south west coast path.
The day started pretty early, I decided to leave on Saturday morning from home instead of staying the night close by. So 2.45am alarm time and with my wife Laura for crew, we were on our way to the Eco park in Porthtowan where the finish and registration was.
Nice to see a few familiar faces and getting my race number.
Eco Park early in the morning
Sat in the car for a late breakfast and wait in the warmth for the buses to take us to the start. At 6.25am we could hear someone shouting in the eco park car park, so I got out of the car and a Mudcrew marshall asked me if I was running the arc 50 because the buses were leaving, 20min earlier than plan..?! No idea why, but I grabbed my running vest and ran to the buses joined by a couple of other runners.
I love the bus journey because I put my head down and just sleep for a bit. I think I managed nearly 30min and that felt great after the early start.
Minack Theatre
We arrived in Minack theatre low car park and walked up the hill to the theatre. I met Laura there who decided to come to the start and cheer me on.
The wind was blowing but the weather was cloudy but dry, not as cold as I ever experiment it before.
We made our way to the Minack theatre and met Charlie Ramsdale. She is part of the Mudcrew Ultra team as is Laura so the chit chat was flowing and I have to be honest I wasn't feeling the fact I was going to run 50 miles.
We went inside and I left Laura, the start is right down the middle of the theatre. Amazing view and caught up with Joanna Turner. Nice to be with a familiar face and just relax before the race start.
At 8.30am the blue flares were lit, the horn buzzed, the music was going (Led Zeppelin) and Stephen Cousins was sending us on our way. It is congestion time a bit and I used a side alley because I didn't want to be stuck too much in the back of the pack. I had no idea where I would come if I finish but the idea to not be able to pass and get bottle neck on the coast path didn't fill me with joy.
I decided to start at a pace I would keep for a long time, so not crazy fast and effort at 5/6 ish I would say.
So we all get out of the theatre, ran across the car park, pass a small gate and straight onto the coast path. Rocky, muddy up and down. Be ready for a lots of miles like that. I do like this sort of terrain I have to admit.
Land's End
The first few miles went pretty quickly and in the distance appeared the Land's End Hotel, I decided to not have my wife there but instead in Sennen, a mile + down the road. Easier access and cheaper car park also. I didn't need anything, just the moral booster and removed my waterproof jacket. It was warmer than I expected.
Off I went with only seconds spend with Laura. I was still running with few people at that time and we all made our way to Cape Cornwall. The coast path become at some point from here a bit more scrambling with big boulders to go up and down from.
Happy life for the dogs crewing with Laura
Cape Cornwall, arrived pretty quickly, 11 miles in the race, I ran with an other runner for a bit(sorry I don't know your name) and we discussed race goal, experience and the rest. I think it is the first time I admitted I would love to run sub 11hr on the course. Felt pretty good at that point. Laura was in the car park. Filled bottle (Tailwind and water) ,fuelled (Rice pudding and coke) and was on my way.
Pendeen light house was only five miles away and came quite quickly. Laura was parked in the tiny car park. Quick food top up and I was on my way. Now was the crappier section from the race. 13 long technical miles. I know that section pretty well by running it when I ran the 100 a few years ago and the recce. I attacked it harder on fresher legs and had a blast to be honest. Met my Mrs at the half way point next to Zennor and I was absolutely loving my time on the trail. The weather was really kind, cracking views and lush trail with my fairly strong legs at the time.
Lots of people was there waiting for their runner, top up water and tailwind (ran out of fluids at the time..) eat some custard and drank some coke and crack on towards St Ives 6 miles away.
Zennor
The journey to St Ives after Zennor doesn't improve really. Still hard going and pretty up down. You pass headlands and go back inland a few time and pray the next headland will revel St Ives.
Laura was in the first car park arriving into St Ives. I decided to change shoes (giving up grip for comfort) T-shirt, buff. Refuel as much as I could even if food and especially gels started to not go down so well. 30 miles done and now the trail was using a fair bit of road passing Hayle and all the way to the dunes of doom. I didn't stop to the only checkpoint of the race which was in the middle of St Ives. Just had to put my head through the doors and say Hi. I have bad memories of this checkpoint on the 100. I nearly pass out for the two years I ran the 100 and had to look at the ceiling for nearly 45 min each time. Glad to just be in and out this time.
St Ives
Hit the road/trail out of St Ives and I had a one of my recurring problem starting… "cramping" argh. A bit annoyed with it because I look after my salt and electrolyte intake but clearly wasn't enough. I find myself lying on the floor on the trail with a man walking by asking me if I was okay. My right inner quad muscle didn't like the steps anymore and I knew too well how many up and down with tall steps were coming. A runner passed me and gave me a tip to stretch that muscle and told me he had exactly the same problem. I managed to move again and he left me for dead… not great to be pass so easily at a later stage of the race but he clearly felt great and I wondered if I had gone too hard from the start. Doubt entered my mind a bit but the easier running made the few miles going to Hayle tic by nicely. The 100 mile race start on the Friday at midday while the 50 start at 8.30 the next morning, so just before St Ives I started to caught some 100 miler competitors. Some were struggling but everyone I met were still moving forward.
Hayle beach car park, not too happy
Arrived in Hayle beach car park and met Laura. Heart rate was high and felt I was working hard and was generally struggling in the same time. Food was starting to not go in, really well. Had a proper moan to Laura, some food and grabbed my poles to helped my tired legs. The dunes of doom aren't that bad to be honest. Soft under foot and all runnable. Ran with a few people including the first two ladies. I felt I was the weakest runner of the group I ran with. My legs, head and stomach weren't playing ball and the next crew point couldn't arrive quick enough. It was 5 or so miles before arriving into Godrevy car park.
Godrevy
I met Laura in the car park and it was buzzing of spectators and crews. Topped up water and tailwind and decided it was time for some music to help me out. I was starting to properly flag and any help was a must. Got out my head-torch also. Light was fading quickly.
I left the car park and realised the mist was coming down and temperatures were dropping, so I stopped and put my waterproof jacket. Felt a bit unorganised because I could see all the people I ran with in the dune disappearing in the distance.
The north cliff trail were fairly dry and really runnable. Unfortunately my stomach was letting me down and I started to slow and felt really sick.
I meant Laura after a couple of miles and she gave me some coke to try to top up my energy levels. After 300m everything came back out… in some way I felt a bit better. At that point I barely ate anything until the end.
This section is a bit of a blur all the way to Portreath. I only remember the two big up and down with the high steps. The Portreath lights was a nice sight and going through the town was my priority and pushing to the finish. Laura was there and I only waved and told her I would see her at the finish.
The last section to Porthtowan is brutal, it has an other sections with two big up and down and big steps, maybe the last thing you need at that point. The path becomes hard under foot all the way to Porthtowan. Coming down the road into the village felt great and at that point you have an escort or marshals who push you to the next marshall standing at a road junction or the last massive (WTF) hill to climb back to the Eco park and the finish.
Crossing the finish line felt amazing. It is one of my best race for the last two years, my legs felt solid for most of the race and I managed to run solid. My food intake worked alright for 40 plus miles and the salt and electrolytes intake nearly left me cramp free, nearly still have to work on that cramps issues. I managed to go round in 10hours and 31 min which was my target, so well happy of the final results. When I finally stopped and sat down in the finish section of the Eco park, I started to not feel that great and then decided to lie on the ground to stop me passing out. Not hours on end but an easy 15 min to recover from the effort I pushed my body to. The lack of food for the last 10 or so miles showed at that point.
Finished and feeling queasy
All in all, the Arc 50 is a lush race. Lots to see, the scenery is breath taking, the organisation is fault less with great support all the way even if you haven't got a crew. I would recommend it to anyone who worry to go for the 100 and the event coverage is amazing with Facebook feed and live coverage.
Finished and clearly happy
Laura and I having a quick chat on the live feed before driving back home