Written by Andy Day
I've done a few of Hobo Pace events before & I've got to know the organiser Ronnie. He's a genuine guy with a clear passion for running & the countryside & this clearly shines through.
The events are always well organised, fun & friendly & the marshalls are some of the best I've known.
Originally I was a racing cyclist, then duathlete, then triathlete, then a runner. As with everything I start I like to push the distances & see what I can do, so inevitably running moved to Ultra running. I had returned to Ironman Triathlon over last 2 years but I actually hate swimming, so I've gone back to pure running. it's raw, natural & I love it.
I'm 50 next October & 6 weeks ago I decided I wanted to hopefully run Spartathon in Greece next September. In order to get into this iconic event you have to set a qualifying time & there are a few different race distances to chose from. You have to qualify before the Feb in a hope to get in that year, so this narrowed down my options. I decided to do the RH100, as its local to me, I knew some of the route & it was in Sept, so hopefully still warm.
There are too options to qualify -
Complete the 100 miler in under 21 hours & go into the ballot.

Complete the event 20% quicker in under 16hrs 48 to get an automatic qualification.
'Go big or go home' was my view, so that was the plan
This gave me 5 weeks to turn my training from a triathlete into an efficient ultra runner. Upping the miles without getting injured & not doing too much too soon. I never make things easy for myself but I am stubborn, stupid & I like to push it..
Well, the training went well, I didn't get any injuries & I arrived on the start line in the best shape I could hope for in the time..... The sun was shining, less than 10% chance of rain, a light/moderate breeze & 13 degrees over night. Let's do this!
Ok the route (Cut & paste from the hobopace.co.uk event page)
From the hall you head out towards the Chesterfield Canal. Once the route hits the towpath runners simply follow this all the way to Worksop to eventually join part of the Dukeries race route which enters into the heart of Sherwood Forest. Navigation on the canal could not be simpler as the towpath hugs the canal water. Once you hit the forest it is well taped.
The race loops 30 miles in Sherwood Forest twice, before returning on the same towpath once again. The Dukeries lap offers some of Nottinghamshire's most famous, finest and picturesque trail.
Following forest trails, minor roads and footpaths, the route passes charming lodges, through Creswell Crags and skirts the Welbeck Estate.
It then crosses Clumber Park and through peaceful farm land before looping back to pass by the Thoresby Estate before returning to the thick of the Forest again.
The route passes The Major Oak!
The return is made on the same Chesterfield Canal towpath to head back to the village hall for an easy navigational finish. (Oh how we laughed )
Clear marking is in place throughout so you can enjoy the race with the vastly reduced risk of going off trail. (No stop... you're killing me )
I believe there were 115 eager runners on the start line & I positioned myself..... right at the back.
This was a new concept to me but I had no care or thought for my finishing position. I had worked out that in order to qualify I needed to run at 10 minute miles but then taking into account stops at Aid stations, I decided that I'd run at around 9 minute miles.
Now in the past (I have always set off far too fast, knowing I had set of far too fast but still continuing far too fast. In the vast majority of cases this results in struggling like fook & internally shouting "you stupid t#@t, you've gone & done it again, when will you ever learn" to myself.
This really is a nice event & feels relaxed. The first few miles passed as I chatted to other runners & enjoyed the morning views. I was also trying to check out the way back, as navigation is never my strong point (more on that to follow) Only a few miles in & I did that, follow the leader thing & turned left instead of straight on. Luckily the runners behind were more awake & kindly shouted us back on track. Once you hit the canal, even I couldn't go wrong! (Turn right you run into the hedge, turn left you're in the canal...simples )
I was keeping to my pace but still found myself running alone after about 4 miles. I had no idea how many were in front of me & neither did I care. It was all about the time.
At the end of the canal there is a very small section of road & two islands to navigate around. At this point I past two runners just before hitting an aid station. I remember the lady informing me that I was in 5th place & I smiled & said there's a very long way yet.
I then began to hit the trail & continued on my pace, checking my watch for too many times to make sure I wasn't going too fast.
I was looking forward to reaching aid station 6 at Hazel Gap because this is where my better half & step daughter Nicole were marshalling. I ran in in joint third but all I had been doing was my own pace. Slowly, slowly, catchy monkey
A couple of pics, a nutrition top up & a kiss & I was on my way. I was told that I was 23 mins up on schedule at this point. The next part is a lovely 10 mile loop & back to Hazel Gap
I set off running with the same runner I had come into the aid station with but a short time later he stopped to stock up with his crew, I carried on alone. Back to Hazel Gap ( now 30 mins up) & then off out to Creswell Crags, tree lined Clumber Park & then back into the forest. This is another loop of around 20 miles, which again brings you back to Hazel Gap. It was somewhere around the 50-60 mile point that I moved into second place. Now for the second 10 mile loop back to Hazel Gap. I had already started to power walk the inclines at this point, in fact probably a lot earlier but I forget (I'm getting old) I do this to give my legs a break from running / use different muscles / mentally breaks it down into sizeable chucks.
Then in the last 1/2 mile back to Hazel Gap(mile 70)I saw the race leader Paul for the first time. Now this chap had flew off at the start like a steam train & was running at a great pace. I believe he came through 50 miles at not much over 7hrs - Smokey!
I hit 50 miles at 7:51 running time but 8:04 actual time.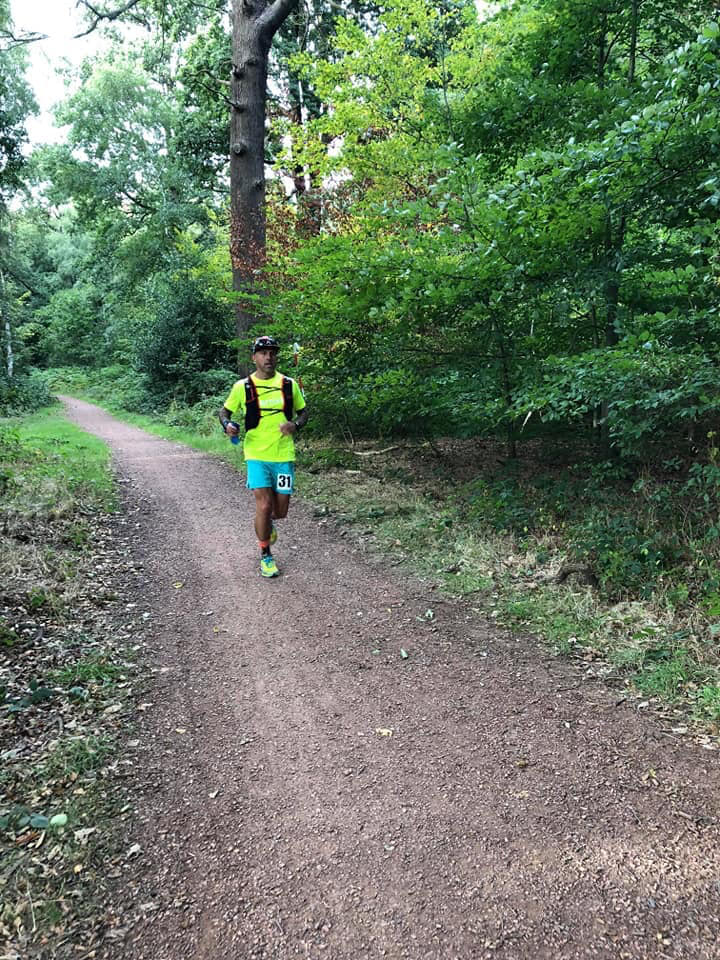 We ran into the aid station together but here is where my race mindset really came into play. I hadn't given it any thought at the time but Paul ran in, grabbed a quick bit of food etc & ran straight out. I on the other hand had already phoned ahead to my good lady for Maccy fries a vanilla shake (other unhealthy fast food outlets are available) & a leg rub & this didn't change. I royally took up my place in a deck chair - munched & slurped away, whilst Di applied the baby oil & gave my legs a tender rub. 15 minutes later I set off to Creswell Crags for the second time.
**What this has finally sunk into my head after all these years is you have to just run your own race. Deeeeeeer! Lightbulb moment.
It was now just about to turn dark, so I had put on my head torch. There's something special / hypnotising about running at night & just that bright tunnel of light to follow ahead of you, so peaceful. On this section I passed a couple of other runners & for the first time I asked how far the runner was ahead. "10 maybe 20 minutes mate" said one, "a long way, at least 15" said another.
I came to aid station 4 (drop bag zone) for the third & last time & being a tight ass I emptied the last of my food into my rear pack & threw the now empty bag into the bin. I can hand it all to Di at the 90mile point & save it all - Always thinking
The lovely ladies dutifully handed me a hearty portion of cold mushy peas & some soup. Deeeeeeelish! I thanked them & off I ran, heading back towards the canal.
I was still running quite well, walking the inclines & on track to finish within 16hrs 48, which was my only goal for the day. As I dropped down to aid station 3, The helpers kindly filled up my water flask ( as they had done all day) & told me the leader was only a couple of minutes away. 'Really I thought. He must be struggling. I might actually catch him'
I ran back out onto that small tarmac section with the two roundabouts. The street lamps were on here & as I looked down the road I saw the rear red blinking light of the leader Paul. This was the point where we went back off the road & re joined the canal. I could see Paul just on the canal as I approached the bridge over it. I stopped... F@#k! I can't see the tape showing me the way. I thought I saw a gap in the foliage & proceeded to trample through it but then it got narrower & I realised I was wrong. I turned around, went to run back & promptly fell face first into the plants. I stood up & saw that I was covered in prickly balls & in my yellow t shirt I now looked like a very badly decorated Christmas tree. These were also like nettles & I was now itchy all over my legs & arms. Well..... it woke me up a little if nothing else.
Thankfully I was still awake enough to ring the race organiser Ronnie & explained where I was. He promptly told me to walk back a little & I then instantly saw the tape to my left - straight on to the canal. It was that easy!
However for the second time Paul had again ran off into the distance & out of sight. I can't remember exactly but I think I was now about 15miles from the finish. I set off still at a steady pace & as there were no inclines on the canal, I could keep running. Around mile 87 I saw Paul for the third time, just before I had to negotiate my way around a small section (about 10 foot) of builders orange mesh & over some railway type sleepers that had been put down underfoot. I tripped & my right knee hit the deck. 'Ouch' 'Ouch' & 'Fookin Ouch' I thought I'd done something bad but as much as it initially hurt it soon wore off. (I think you're ahead of me, as was Paul AGAIN!) I was beginning to think I wouldn't catch him now.
However a short time later I finally caught up with Paul, who was clearly struggling & paying for that very fast start. "I think I'm out of ideas now" he said as I asked if he was ok. I felt for him, we've all been there. This guy had been out in front for 87 miles poss around 14/15hrs at this point. There was still a long way to go yet but I know the point when the brain makes demands that the legs can't keep.
I carried on to aid station two where I met Di & & my good friend Gordon, who had very kindly travelled for over 2 hrs to pace me the last 10 miles. As I approached I was feeling good "Come on Gordy" I shouted. Di asked what I wanted & I said "Just empty my rear pocket".
As I left the aid station Di told me I was still on track - exactly on the time I said I'd needed to be. (23:08) This meant I had to do the last 10 miles in 1hr 40 mins. It was very close.
We set off chatting side by side & then I let Gordy go in-front of me, guiding the way & shouting out any tree roots etc.. At the back end of these long events it becomes near impossible to lift the legs up high & kick back.
It gets a little hazy from here but after a mile or two, things began to change. I was obviously a little mentally & physically tired at this point. I remember that I fell down twice, hitting a couple of tree roots I believe. Each time I went down like a sack of spuds & each time I couldn't physically get myself up. I remember Gordy having to help me up, when I said I couldn't do it myself. It was quite funny. I know I looked like a complete plonker but Gordy didn't laugh once (well not to my face but I know he has since ) We've both been there before. This is one of the things I love about ultra running & pushing yourself, the mental battles you have in your head & with your legs.
I remember suddenly feeling really hungry & realising I'd told Di to empty my pockets. No fuel left!! - school boy error. In the words of Julia Roberts in Pretty Woman " Big mistake..... huge" The fact that I actually felt hungry, meant I should have eaten a while back (Is that obvious?) Luckily Super G came to the reduce with a Nine Bar. That was the god dam best Nine Bar I've ever eaten. A couple of times I had tell Gordy I need to walk for a minute (even on the flat canal) We were both looking for the light in the distance that showed us aid station one at 97 miles wasn't too far. For me, it now seemed like it was never coming! I do remember shouting out "Where the fook is this aid station" Gordy saw a light about 400m away "I think that's it mate" We ran to the light like an excited moth, only to find that it wasn't the aid station at all. At that point I think G phoned Di as I was worried we'd missed it. In my tired foggy brain I heard G say " Oh so it's just over a mile"
Oh how I laughed. " That's perfectly fine Gordy. I'm having such a spiritual experience at the moment" said Daysey........ Never!!!
Needless to say, even though I was running, that mile seemed to take forever!!!!
We arrived to the sweet voice of my number one girl. I sat down as I was feeling hungry & craved a peanut butter & jam sandwich with banana (Food of the gods!!)
I then had to ask Gordy to lift me out of the chair (Legs don't fail me now!)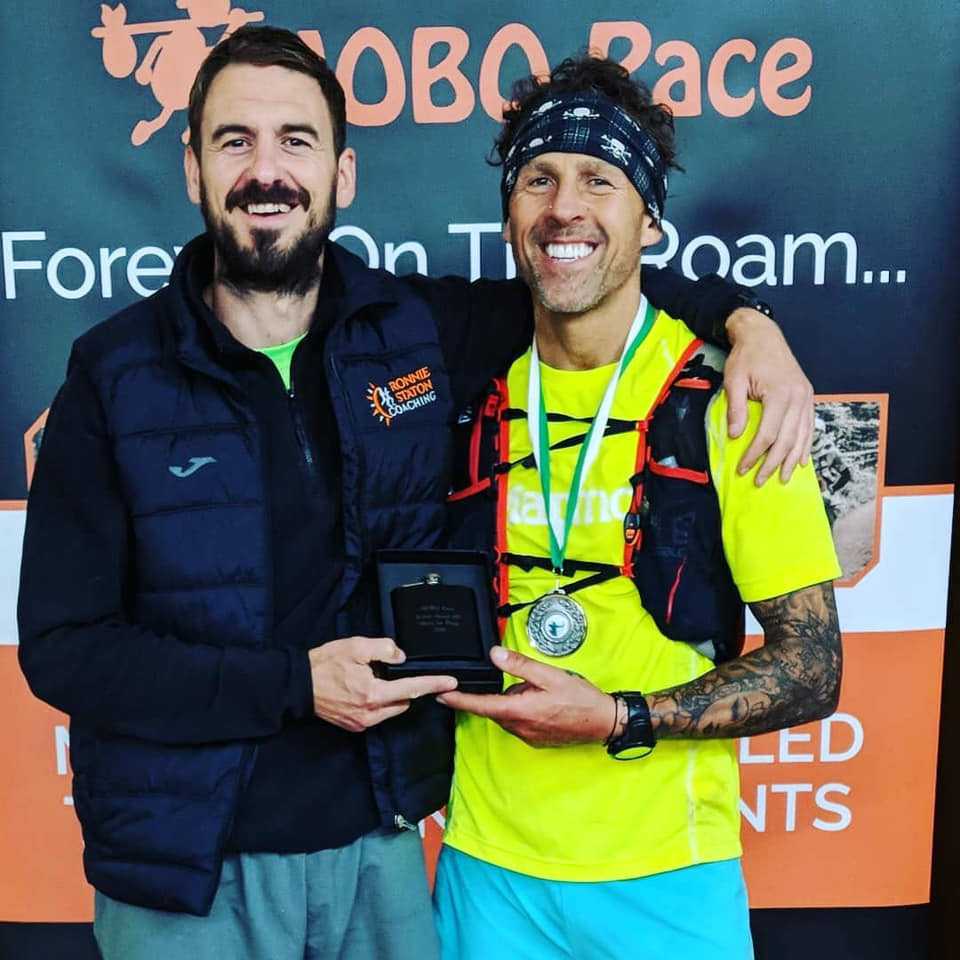 We knew that the Spartathlon auto time had gone now. I told Di I thought I might have to walk the last 3. "Get running" was her sympathetic reply but that's why crew are Soooo important. They tell you the basics & make you eat / drink when you actually start to forget the simple things.
Di guided us off the canal & pointed us in the right direction. There's a steep piece of road at this point & obviously I walked it. At the top we turned left, where I saw a piece of tape, then another but then nothing. We carried on for a short while when I told G we must have gone the wrong way. We rang Ronnie & Yeap, we had indeed gone off track a few minutes lost. Back on track we continued on & headed into a field. Pitch bloody black!! I'd ran it earlier in the day in the opposite direction but that was in the light. Now I hadn't got a chuffin clue where to run. Another call to Ronnie, another few minutes lost but we finally conquered the field & headed in for the last mile.
Ronnie had mentioned that Paul must of had a second wind because he was catching me. I still don't know if it was a cruel joke for me run faster but run I did. I then heard Di shouting ahead of us & G telling me to run hard into the finish. I saw Ronnie congratulating me & guiding me into hall, where I had to finish at the table. Guess what...... I ran through the wrong door. Lost again, right at the finish, much to everyone's amusement
Sooooo I was the 2018 Robin Hood 100 winner. I couldn't quite believe it & it didn't sink in until the next day. It was obviously a little bitter sweet, as I hadn't made the time but all I ever ask of myself is to do the best you can & that was all I had on the day. I finish in 17hrs 27 mins, the second fastest time in its 3 year history. I have to be very happy with that.
A massive thank you to Super G. We met ( with partners) by chance, looking at the information board in Chamonix before UTMB in 2015 & have been friends ever since. I wouldn't have finished in that time without him for those last 10 miles. Thanks buddy!
Thank you to Nicole (Little Bit) Hamilton for helping me at the aid station. She's a real diamond!
Thanks to Ronnie for putting on a great event, answering my numerous texts before the race, his help / guidance during the race & in advance of him coaching me hopefully towards a Sparta entry. Finally (thank god! I hear you cry) a big big thank you to my lady, my number one supporter & the best Facebook updater, Diddy. She is one in a million!
What next??? Well I ideally don't want to risk the luck of the ballot, so I've entered another event. The Flitch Way 100k in January. It's a shorter event but I think a lot harder to hit the auto qualification time. BUT nothing even turned, nothing gained. I'll need to run the 62.5 miles in 8hrs, that an average of 7:41 per mile. However to take into account brief stops I'll hope to aim for 7:30. Simples!! How hard can it be!?
Watch this space..... Nothing is impossible.
Oh & for you doubters out there. It was all done plant based... just saying
Thanks for reading!
Daysey!