Written by Max Willcocks - Mens Running blog

Just to avoid any confusion whatsoever, and so that no one runs 100km along The Ridgeway hoping to see Stone Henge, this race finished at Avebury Stone Circle. OK, so I might have spent the whole day expecting to see Stone Henge cresting the horizon at some point. But, this minor disappointment aside, Race To The Stones is a great race perfect for first time ultrarunners.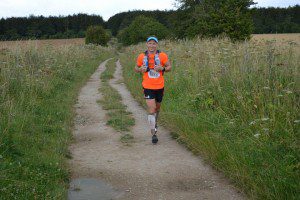 The race starts in Chinnor (Oxfordshire) and finishes at a farm in Avebury (Wiltshire) running along the Ridgeway, a route used since prehistoric times. Through farms, over golf courses, along the Thames and skirting poppy fields, there are moments when this course delights. There are, however, a lot of occasions when the route runs along single track, which proves dangerously awkward underfoot and incredibly annoying if you're caught behind enough of the 1,600 people competing.
I was lucky enough to be reprieving my role running for event sponsor Team ProFeet and tackling the 100K over a single day rather than the two-day option. Everyone knew it would be hot but we were hoping the anticipated thunderstorms would keep the heat at bay. The sun didn't disappoint; the thunderstorms most certainly did. My Garmin Fenix 2 topped out at over 31 degrees and my team buddy, Chris, certainly felt the effects of the humidity. We set out at a fast pace, sitting in second. It was a case of 'let's make hay while the sun… err… ISN'T shining', and once we rounded the last corner before reaching the halfway mark he turned to me to proclaim he wasn't feeling great. I didn't have time to respond before he began being sick and gesticulating with his arms that I carry on. He would pull himself back from this and eventually finish 13th, after what I can only assume was a very tough second 50K.
The aid stations are roughly 8-12km apart which makes this a particularly user-friendly race. Although you only have to follow the Ultra Running Community on FB to read a review of the checkpoints, personally I thought event organisers, Threshold Sports, put on a very good event. For all those who complain there aren't sausage rolls, pork pies and scotched eggs at the checkpoints, I urge you to take a long hard look at yourselves in the mirror… preferably in your underwear… while standing on your scales. As a sports nutritionalist, these choices don't make sense to me. However, from a psychological perspective, I suppose the 'reward' nature of such food provides huge encouragement. Personally, I was mostly grabbing 9bars or fruit and hitting the trails again.
If, like me, you are navigationally challenge, you will really enjoy the comfort this race affords. You'd have to try very hard to get lost. Although not overly challenging in terms of hills, there was still the odd climb to contend with. My legs felt pretty good for most of the day and I put that down to the gallons of water and electrolytes that I took on.
I panicked massively when, in the afternoon, the thunder finally arrived and I still had 5K to cover. Cooler weather meant faster runners and, as I'd spent pretty much the entire race in third position, I really didn't want to relinquish it now. My Strava file only covered the final 16 miles of the race due to my Garmin being rubbish but still makes for some interesting viewing. Finishing in 9 hours 21 minutes, I exceeded my own expectations. And although I didn't have anyone to propose to me at the finish, as I one runner did, I went home happy nonetheless.