Written by Gene Beveridge - https://genebeveridge.nz
Woohoo! My first ultramarathon victory! And in no other event than the Tarawera Ultramarathon!
This stunning 50km has been my target since the start of October with a 19 week build starting after my recovery from ankle surgery, covering Kepler Challenge in December, my first delve into fasting and then finishing with a different approach to tapering. I felt fit and fresh leading into this A-goal race and was ready to give it all to see if I was making progress at these longer races.
A brief simplification of the course through my eyes:
0km – 15km: True single trail
15km – 43km: Sealed road, firm gravel road, and non-technical single trail
43km – 44km: Technical single trail descent
44km – 50km: Very firm foot path
I also had a nutrition plan below which breaks down when I planned to take on fluids, consume food and take on fluid from the aid stations based on my estimated paces. The purpose of this is to run with as little weight as possible, but still have fluids when I need them. Click to download the spreadsheet.
This planning hinges on having a fair idea of how fast I run on different trail surfaces at the planned intensity. I did an accurate pace prediction at Kepler in 2017, but my accuracy for Tarawera this year is off the charts. I predicted my finishing time EXACTLY. 4:18, on the dot, as calculated on Thursday night when I did the maths. Of course there is a lot of luck involved in this, as the early trails were slightly faster than predicted because they were so hard and dry, and I slowed towards the end slightly more than expected. But, the table below is proof that the more you pay attention to your heart rates and paces in different conditions, the more accurately you predict race day schedules, given good info on the course. I used the Strava segment times of people I know and also inspected the topo map, including counting every contour that the course crossed and looking at the type of trail on each part of the course. I've also looked at my previous 3 ultras to see how much I slow down as I fatigue at the end of these long races.
I started the race paying close attention to my heart rate and really taking the time to dial in to the feeling of 164 beats per minute. I pushed up to 170 to 175 on the short climbs and dropped to 145 to 150 on the descents. This was all as expected, telling me that my body is in control. I focused a lot on smoothness through the corners and over rougher patches and basked in the sense of flow on this stunning trail. The trail itself was so wonderful to glide on that I spent almost no time appreciating the forest or lake, which I expect was wonderful too. I was just wolfing up the trail for the first 15 km, but I was also eager to get into some thicker forest with more complete shade from the scorching sun.
I took 500 mL of water and 250 mL of Tailwind at the Buried Village aid station and hooned on up the road. I was still feeling invincible until 20km when I developed a strong stitch pain on the left hand side of my diaphragm, which migrated halfway up the side of my rib cage before exploding with stabbing pain. This is an old problem I haven't had for years and I was very surprised to witness it raise its ugly head. I slowed on the downhills to alleviate the pain, but had little problem on the flat or hills. No biggie, I thought, as this slight decrease on the downhills wouldn't ruin my race.
Apart from the minor slowing on the downhills, I dominated the next 10 km of the course. This was expected to be my strongest part, and the splits show that I put substantial time into my rivals here. The firm and flowing roads and trails allowed me to stride out with high efficiency. I think about trying to move as fast as possible without raising my heart rate. Things that help include keeping my breathing relaxed, but full and deep, keeping my stride long for a hamstring and glute-powered pull-back, but not over striding, and minimising vertical oscillations. On steep pinches I engage my calves and quads more to maintain an efficient bounce before shifting to my glide on anything less steep. I do running drills frequently to keep my brain tuned in to the subtly different gait patterns.
I kept the water coming on board and got into my second bar, at 2:30 into the race. 10 minutes later my gut was tying itself in a knot just like at Kepler. And just like at Kepler, this second bar of the race was a One Square Meal, not my preferred Awaken bars. At both Kepler and Tarawera I had found myself with only one Awaken bar left at home so picked up some One Squares Meals as a substitute. With the Green Lake aid station out of Tailwind, I was already behind on the carbs and once my gut was out of action I was a little concerned.
Over the next hour, I went through all sorts of bloating and pains, resulting in burping and finally some epic gas. Luckily I only had a third of a bar, unlike the whole one I munched at Kepler. I stuck with the water and resumed gel consumption as scheduled. Fortunately I had a back up gel to fill in for the remainder of the bar which I wasn't going to touch.
Between the stitch and gut pains I was very uncomfortable, but going slower on the flatter second half of the race was not going to help the situation so I had little reason to slow down. I could feel my energy pick up after each gel, so I knew they were getting absorbed, unlike at Kepler where the pipes were completely blocked. With 10 km to go, I was feeling stable, but not as strong as earlier in the day. I knew what I had to do and I kept the intensity up to a level I felt was sustainable.
The final climb before descending in to Rotorua was a real enjoyment for me. I gave it a good nudge and was really happy to be moving fast enough to keep my efficient bounce up this final climb.
The last 5 km were more bleak however. I struggled a lot with the stitch, even on the flat now. I tried to focus my attention away from it, but yielded, and I settled on a slower than expected pace for this final flat section. Interestingly, I felt my energy fading in the final km, regardless of the pain in my side. This tell me my pacing must have been close to optimal, all things considered.
I crossed the line feeling jaded and wanted curl up on the ground. I held on for a brief interview with Kerry before heading away from the finish line to shove water melon down my throat and arrange my body more horizontally.
Because of the solo format to the race I had no idea that I was leading until I crossed the line. It was a surprise to beat athletes such as Sam Clark and Vlad Ixel and I'm very satisfied that my fitness has reached this level. This performance also gave me more confidence that my pacing settings are dialled in nicely for a 4 – 5 hour race.
Thanks to Awaken, I've been using their products for a few years for racing and general use.
Thanks to Sports Lab for the continued opportunities to learn about my own body as we work to keep the engine maintained.
Thanks to Trailblazer Nutrition for helping me get the nutrition planning sorted.
Written by Michael Miracolo - https://liveslowrunfar.com
Ultravasan 90
August 18th, 2018
90 km, 868m gain
Sälen to Mora, Sweden
For those unfamiliar with the stats of UV90, here's a little summary (those of you who know this already, you can hop to the next paragraph). The course measures 90k (approx. 57 miles), and has a humble 868 m of vertical gain. The course takes you through deep woods, along lakes, across swamps (but these sections are made runnable by boards) and past quaint villages. You'll run on fun, technical trails where you get to watch your step, on fast and smooth dirt roads, on wide gravel roads, and on pavement (but just a little). The breakdown looks something like this: 60k dirt road, 18k trail, 6k gravel, and 6k pavement. The race organization provides water stations (with both water and sports beverage) roughly every 5k, and bigger aid stations with a plethora of food every 10-15k. The race is growing in popularity every year, and 2018 saw around 1100 participants, with approx. 75 % males and 25 % females. A note on the race organization: it's truly terrific. We've never run a race as professionally organized and carried out as this one. Email correspondence and bib pick up before the race, aid stations during, reception at the finish line – smooth, friendly and structured. A massive A+ goes out to everyone working for the Vasaloppet Team.
Training
UV90 was the goal of the year for us, as well as our fourth race ever, our first race over 45k – and our first ever run beyond 50k. Needless to say, we're still beginners when it comes to racing! However, running (and running a lot) has been a part of our lives for a long time. It seems fitting to include a short recap of our most recent training, leading up to the big day. Our average weekly distance hovers around 100-120k, and a regular week always sees a long run, a fast tempo-run and a speed-work session. The rest of the runs turn into what feels right at the time. Our training log shows 14 30+k runs since April 1, and we squeezed in two sets of back-to-back 30+k. The longest run measured 50.2k (which was done in July, about 6 weeks out). We also ran the 45k EcoTrail Stockholm race in June. We started tapering when the race was three weeks out. We dropped to 80 % load the first taper week, 60 % the second and 20 % the last one. This meant we ran about 20k total over the Monday-Friday before the race day of Saturday. With no kids and a good amount of free time at our hands, we really try to also incorporate yoga, core work, daily stretching, foam rolling etc. You know – the whole shebang. Sophia is a vegetarian of 18 years, Michael is a majority-of-the-time-vegetarian-since-he-met-Sophia but does crave his animal protein every now and then. Oh, and before you wonder 'but what about cross training?' – we live in a house out in the middle of nowhere, where your average day includes wood chopping, working in the vegetable garden, schlepping things here and there. So no, no organized cross training.
Pre-race
Now, to the preparations. The week leading up to the race, we diligently got up at 6am every day, and the two days before the race, we got up at 5:30am. Obviously, everything in an effort to adjust to an early wake-up time on race day, and also to facilitate being able to fall asleep early the night before. Well – we didn't have an issue waking up early, but we sure as heck had a hard time falling asleep. Way too much excitement going on in our bodies and minds!
We went up to Sälen on Thursday. We had rented a house in Lindvallen, only 10 min by car from the starting area. Many choose to stay in Mora, and take the early bus up to Sälen on race day. We didn't want to do that, and didn't mind driving back the 1 hour up to Sälen after the race. Of course, we were fortunate enough to have a 'crew' with us, who would transport our car along the course down to the finish and take us back. There are, however, buses that will take race participants back the same way as well. Our cabin was very comfortable, and even came with a really nice sauna. We highly recommend both the area we stayed in (Dammkölen) and the actual house (address Dammkölsringen 10A, booked through skistar.com). It came down to approx. SEK 2500/$300 for 3 nights, for a house that could sleep up to nine people (three bedrooms). We were just four, thus we had plenty of space
We had prepared all the food for the weekend in advance, in an attempt to reduce the risk of any upset stomachs on race day. We had a really bad experience during EcoTrail Stockholm, when Sophia's stomach blew up completely – this will be described in full in the RR from that race, which is quite delayed but in the works! Thursday night dinner consisted of a Greek inspired rice-and-vegetable dish, which was topped off with halloumi (recipe will be posted soon to this website). We went to bed at 9:30pm. Friday morning, we woke up at 5:30am and had a slow first hour. A little yoga, a little stretching, a cup of coffee, before a 30 min comfortable run around the area, just to shake out the legs and move around a little. As per our breakfast tradition approx. 350 days out of the year, we hit up a giant bowl of oatmeal after that little outing, with sliced banana, raisins and nuts on top. After getting our stuff together, we killed some time by browsing some of the stores down in Sälen. As the time went on and the bib pick-up time of 12pm drew closer, the more people around us seemed to look like they fit right into the category of runners. For us, it's so hard to not get intimidated! You know, when someone walks in all geared up, looking like they've done nothing but train their whole lives? We usually whisper to each other "intimidation factor high" if we spot one of those. When nervous and anxious, it's easy to fall into the trap of thinking everyone else has everything under control. Is there any level of recognition out there? Anyway – back to the story. We picked up our bibs, stopped by the ICA store in Sälen By and then went home. There might have been some chocolate eating happening in the car (sport lunch for the win). Lunch consisted of fruit, yogurt, muesli, some rice leftovers and some slices of bread. All in all, a quite random spread.
The afternoon was spent preparing this and that, with zero stress involved. Our crew (Sophia's mom and stepdad) went for a walk when we picked our outfits, mixed our sports beverage for the next day etc., and when they came back, we did a sit-down run-through with them. We had the course map laid out and went through it all, step by step. On our drive up from Stockholm, we had popped into all three aid stations they were going to be at, handing us stuff (Mångsbodarna, Evertsberg and Hökberg, all approx. 24k apart) so we were all familiar with the layouts of the places and had decided roughly where they'd be standing so we'd know where to look. This was helpful, for them as well as for us, so if you happen to stay in Sälen and you're doing the drive anyway – pop in. When 5pm rolled around, we started prepping dinner, and sat down to eat an hour later. We had penne pasta with a white bean and vegetable sauce. This had been tried and tested the night before a long run with an early start before, so we knew this was a safe bet. For those of you thinking 'these are some extreme people', please don't. It's just that Michael is an engineer, so things do tend to end up quite streamlined in this family We went to bed – not tired at all – at 10pm and tossed and turned until midnight. We might have gotten a few hours of sleep at most, but when the alarm went off at 3am, we were wide awake and SO ready to get rolling.
Race
And so, race day. Finally. Michael had coffee and two slices of whole wheat bread with messmör, Sophia the same but no coffee. We both did some gentle warm-up stretches (mostly dynamic ones, only a few static), rolled around on the yoga mat a little bit… and then, we were all ready to go. Our crew was equipped with all the important notes and bags worth of replacement bottles, food and extra underwear (guys, there's no point in tabooing the fact that… there might be a case where you'll need new underwear). We also had them carry a first aid kit, in case we needed to pop a blister or something like that, and hitting up the medical tent would just feel like a waste of time. We left the house at 4:15am, which might seem late to some but since it was chilly and we knew all we would have to do was walk into the starting line area – well, it made sense to wait inside for as long as possible. We arrived at the starting area at 4:30am, right around when it was about to get light (there is no need for a head lamp) and there was PLENTY of parking space. They have one massive field, really nicely organized, and there was absolutely no stress about finding a spot. Walking a few hundred meters to the starting line just felt good anyway. There were, however, somewhat long lines to the porta potties (Swedish: bajamaja), so we ended up skipping it – but then we spotted ladies squatting in ditches left and right, so no need to wait in line if you just have to pee. Sophia gave it a try, as a matter of fact, but no luck – the desire to pee was deemed induced by race nerves. While it was fairly chilly (8 C), it was by no means hard to handle despite wearing just shorts and tank/t-shirt. There was music playing, and the atmosphere felt pretty relaxed. The speaker got everyone emotional when talking about the history of the route between Sälen and Mora, how many people have set out on skis to complete it and how many are now going to attempt to run it. Definitely got the heart beating and the goose bumps going. And then there was a countdown, and off we went! We spotted our crew in the crowds, and it truly meant a lot to have them there to see us off.
Sälen-Smågan
Distance: 9.2k, Elevation Gain: 160m, Time elapsed: 52 min
We purposely started a little bit back, simply because we didn't want to start out too fast or get stressed by those rushing up the first hill. The hill does go on for a few kilometers, but we had expected a tougher incline. It wasn't hard to keep a good pace running and still feel comfortable. After the first long hill flattens out, it goes a little up and down the rest of this section. You start out on pavement which then turns into gravel, and in no time we found ourselves at the first aid station. Our plan was to do a 5:45 min/k pace for as much of the race as possible, and we ended up doing around 5:40 up to Smågan. We had just gotten "stuck" behind a smaller group of people, but since we had decided to not stop at all but they all did, we could pass them smoothly – and we didn't see them again. Michael went through as 207th male and Sophia 33rd female.
Smågan-Mångsbodarna
Distance: 14.3k, Elevation Gain: 89m, Time elapsed: 2 hrs 12 min
We were feeling so good this section, passing people left and right and really dancing through the woods. We had to hold ourselves back from running too fast, and continued at a steady 5:40 min/k. We run mostly trails in our training, and many sections reminded us of those at home. The trails here weren't too technical but you definitely have to watch your step. Since we're used to roots and rocks, we felt strong and as if in our right element. The trail sections were interspersed with gravel sections, and we could tell other runners generally sped up on the gravel stretches but slowed down on the trail ones. We did pretty much the same pace everywhere. The morning sun was coming through the trees and it was really a magical atmosphere. Already at this point, we found ourselves alone from time to time, able to enjoy having a conversation and letting the kilometers and minutes just tick away. We had given our crew a 2-3 hr time window from the start to Mångsbodarna, and we came in at 7:12, 2 h 12 min into the race. We were really the only people going through the aid station at this point, so it was nice and quiet, and our bottle exchange went smoothly. We had carried 2 x 500 ml Tailwind sports beverage each, but due to the early hour and slightly chilly temps, neither of us had finished them entirely. Sophia grabbed a pouch of fruit-and-rice puree, Michael a Clif gel, and we both got 2 x 350 ml bottles with 100 kcal Tailwind in each. And off we went, cheered on by all the early risers and so energized from seeing our crew. We spent approx. 20 sec exchanging bottles, so this was really an 'in and out'-kind of thing. And for those who might wonder – did you forget to mention what you grabbed from the aid station? No, because we didn't take anything. Sophia's plan was to solely rely on the pouches and Tailwind since this had been practiced and she has a sensitive gut, and Michael was going to do the same plus Clif gels and maybe a snack from a station if it seemed appetizing. But Smågan – nothing, Mångsbodarna, nothing. Trust us though, when we say this – we were quite tempted to stop by later, as finishers, just to get some more bang for our buck. Michael went through as 177th male and Sophia 24th female (this, by the way, is not information we were aware of at the time. Until we crossed the finish line, we had a very vague idea of where we were in the standings).
Mångsbodarna-Risberg
Distance: 10.8k, Elevation Gain: 136m, Time elapsed: 3 hrs 17 min
We continued to feel really strong and light. Conversation flowed easily and we were surprised by how fast everything seemed to be going by. We were already more than a quarter into the race? Also, we concluded that so far, the course had been prettier than expected. You really, truly feel like you're in the heart of Dalarna. Our pace slowed down a little, to 5:57 min/k, but the technical trails explain that more so than any desire to slow down (there was also one quick stop to pee, which turned out to be our only 'bathroom' break the whole day). Soon after you leave Mångsbodarna, you go through a beautiful patch of woods where the ground is almost covered by rocks – big, small, sharp, smooth. Michael managed to lose his shoe, even, when it suddenly got stuck between two rocks and his momentum was stronger than the shoe laces. No harm done though, and speaking of harm – no aches and pains for either of us at this point. Just pure enjoyment, as pretentious as it may sound. The last few kilometers before reaching the next aid station, you go uphill. The ground is soft and very absorbing, so this part can get a little tiring. This year saw a very dry summer, so it's possible that you usually get quite wet and muddy here. We passed a few people in the aid station (didn't stop again, as per plan) and continued on. Michael is 165th male, Sophia 21st female.
Risberg-Evertsberg
Distance 12.4k, Elevation Gain: 127m, Time elapsed: 4 hrs 28 min
This section is fairly gentle on you. Some humble hills, some dirt road, some gravel road. One section runs along a beautiful lake, and you also have the pleasure of passing the marathon distance sign posting. We were doing a 5:42 min/k pace and feeling comfortable, except for the fact that Sophia had started to feel a slight ITB-pain on the outside of her left knee (that sharp, almost stabbing sensation where the ITB rolls over the outer aspect of your knee joint). Once we came into the Evertsberg aid station, she did a quick stretch, which solved the problem for her (temporarily, we should add). We had given our crew the same time window, 2-3 hrs, from when we left Mångsbodarna to when we could be expected in Evertsberg, and we came in after 2 hrs 16 min. Seeing how well we were doing with regards to our expected times was obviously great motivation. We did the same quick procedure here, where we both got a new set of 2 x 350 ml bottles with 100 kcal Tailwind in each and a new fruit-and-rice puree pouch for both of us. We still didn't stay for more than 1 min at most, and again – didn't claim anything from the aid station food-wise. We got the same energy boost from seeing our people this time, and from just feeling the atmosphere. There were lots of people out spectating, cow bells cheering us on as we took off. Oxberg, next up! Michael went through as 130th male, Sophia 17th female.
Evertsberg-Oxberg
Distance 15k, Elevation Gain: 156m, Time elapsed: 6 hrs 1 min
Leaving Evertsberg, you run on pavement for a little bit before hitting up gravel and more woodsy areas. This starts out as an easy stretch, because it is mostly downhill or flat – and boy, it feels great passing the 50k mark (the 40k sign – the signs count down). Last 5k to Oxberg is tough though, with a lot of up and down. Things were starting to hurt a little here, approaching 60k and our longest run ever. Small aches and pains kept popping up, some would disappear, others would move around, a few would linger in the same place. It was bound to get painful, it was bound to get tough – it might have come on a little earlier than we had hoped for, but that's okey. We had, after all, only raced three times prior to this and we concluded that you can train all you want, but race experience is something you simply can't make up for. Do you all agree? It's also possible we told ourselves this when out there, to make us feel better. Eventually, we did reach Oxberg though, and Sophia had somehow moved up to 14th place. Michael had polished his position into a 121st. Our pace of 6:14 min/k this stretch serves an indicator of how the rest of the race went down (a.k.a. slow). As per our plan though, we didn't stop at the Oxberg aid station but instead just chugged onwards. So far, no stomach issues whatsoever. Such a relief for the mind!
Oxberg-Hökberg
Distance: 9.2k, Elevation Gain: 106m, Time elapsed: 7 hrs 5 min
Most of the technical trails are done by this point. This is where it started to get seriously tough for us though. The beginning was fine, but the section from 54 to 71k is 'challenging' with lots of uphills and downhills (and by that, we mean challenging because you've been out for 6-7 hours – it's by no means anything out of the ordinary). The downhills started hurting a lot, mostly for Sophia because her ITB issues were growing by the minute and didn't like being ignored, but the uphills were starting to feel heavy too. Around here, we did as a matter of fact walk our first uphill. We were also passing lots and lots of people running the 45k, since they had started at 9am in Oxberg. A 'busy' stretch, which both served as a distraction from the discomfort but also was slightly annoying since those we caught up with were fairly slow and some parts were narrow trails sections. Our pace started dropping, our conversation faded. It turned into 'are you hanging in there', 'are you hurting as much as I am' and phrases of the like. The 6:14 min/k pace made the 9k drag on and on. Coming into Hökberg was such a relief. We noted 2 hrs 37 min from the last time we had seen our crew, so still within the 2-3 hr window we had given them, but definitely less cocky than previously. Sophia had started feeling some cramp twitches in her groin and dove headfirst into the little cups of potato chips and started – against better judgement – licking the chips in hopes of getting salt into her system. Note to self: equip your crew with some seriously salty stuff. While there's sodium in Tailwind, there was room for a salt injection for sure. We repeated the bottle replacement for the last time, Michael munched on some watermelon provided by our crew and grabbed a fruit puree pouch as well, but Sophia said no to all things sweet. Toothbrushing addict as she is, she kind of just wanted to brush her teeth to get rid of that yucky sweetness. Her stomach was a growling empty hole (it even made funny noises that people around us could hear – like a roaring lion in there) but the mind was still clear and the body still energized (how you might wonder? Us too!). Just really, really painful knees. Michael was mostly struggling with pain in his TFL, and a little bit of ITB pain was starting to creep in. We both stretched a little and took off, spent maybe 3-5 min at aid. Sophia's mom caved in and gave us sad puppy eyes, questioning if we should really continue – you'll have to forgive her, it was her first race and she couldn't stand seeing us struggle, but Lasse just smacked us on the backs and said 'see you in 19k' and that was it. Off we went. Michael noted 128th place and Sophia 17th.
Hökberg-Eldris
Distance: 10.2k, Elevation Gain: 66m, Time elapsed: 8 hrs 16 min
Oh, this was painful, everyone! Easy easy running though – just flat on soft ground. We did get a boost from seeing our crew in Hökberg, and while we knew our pace had dropped significantly, we still had the men's medal time of 9 hrs and 30 min well within reach. Heck, on any given day 19k in almost 2.5 hrs would have felt like we had all the time in the world! It's funny thinking back on that now, how long 19k felt. We managed to keep a good pace the first few kilometers towards Eldris, riding on a wave of potato chips, watermelon and sheer buzz. But that unfortunately didn't carry us all the way in, because it got tough and painful again, and every sign marking a new kilometer elapsed felt like such a victory (but boy, those were spread far apart at this point!). We started conversations upon conversations in hopes it would make time and distance go by but nothing really managed to catch on. We couldn't really focus on anything but the 'one foot in front of the other' mantra. Or, as Michael put it: "All I want to do is just go in to the woods, crawl up into a ball and cry". That sums it up quite nicely, don't you think? Reaching Eldris felt amazing for obvious reasons, just knowing that it was the last aid station before the finish. Sophia had cramp twitches in her right groin/adductor region again so she tried a gherkin (Swedish: saltgurka) for the first time in her life – well, never again! That was some intense stuff. Michael went through as 137th male and Sophia as 20th female.
Eldris-Mora
Distance: 8.9k, Elevation Gain: 39m, Time elapsed: 9 hrs 14 min
Sophia got a boost of energy knowing how close we were to the finish, and almost felt like she could've booked it. Michael was still in pain and fighting off hamstring cramps, but knowing we were almost done kept the spirits up. We had 9k to go and we started dividing it into sections. We said: 'Ok, let's keep it up till 7k left and then let's allow ourselves to walk a little'. So we did. And then we did the same thing for 5k, and then for 3k. But when we got to 3k, we said 'let's continue to 2k' and when at 2k, Michael said 'I just need 10 sec' which he of course got, and then we just ran. We ran and ran and it felt like forever but really, it wasn't. We ran and ran and it felt like we went so fast, but really, we didn't. But the clock tower did come closer and the crowds were growing and the speaker's voice got louder and louder. And then we pulled ourselves up the last bridge crossing and made a left onto the finishing stretch, and now tears rose in our eyes and the pain? All the pain was gone. We looked at each other as we ran, smiled at more strangers than ever before, and we ran and we ran and then we finally got to run across the finish line, after 9 hrs and 14 min out there. We came in with a solid 16 min margin down to the men's medal time and 1 hr 46 min to spare as far as the women's medal time. Sophia made 20th place among the females, Michael 137th among the men.
Post-race
Suddenly, this one long day of running with lots of pain turned into one of the best days of our lives. We got our medals, we got the finishers t-shirts. Then, we fell into the welcoming arms of our crew, who had bounced up and down at the sight of us at every meeting point, cheered us on and clapped their hands and made us move on. There were some problems bending over. There were some moments when we needed help to get more clothes on. There might have been a scene where Sophia's Mom actually tied Sophia's shoes. On stiff legs, we hobbled our way to the food tent, where there were hot and salty tomato soup, bread with butter and cheese, pancakes with jam, potato chips and candy. Beer might have been spotted but we opted out. We saw our big, big idol Ida Nilsson (who placed 2nd) but we were too shy to say hello. We sat close to each other, getting colder by the minute. Repeated phrases such as 'can you believe it?' and 'we did it' to each other. After maybe half an hour, we got up (read: with great difficulty) and went to claim our race certificates. After that, our crew shoved us in the car and turned on the heat. Back at the house, we did a few cycles of sauna and cold showering to aid in recovery, and then had leftovers from the previous night's dinner. Ended the day by finishing 2 liters (4 pints) of ice cream (although to our defense, we weren't the only ones eating) while looking at pictures from the day. We didn't sleep all that well, but that was as expected for us – it seems our bodies are pretty restless after a race. Woke up to some lingering aches and pains around knees and hips, and an overall soreness but nothing too crazy. We did get a few blisters but nothing too bad at all, and no chafing anywhere thanks to the best product ever, Squirrel Nut Butter (not sponsored). Packed up the house, had a massive breakfast and then left Sälen and this great milestone of ours behind. Will be back, and will go after a sub-8. Until then… some other fun races this fall and hopefully a winter full of skiing plus race planning for next season.
Next Up
Ängsö Trail Run 25k, September 15th
Åre Trail Tour (7k + 24k + sprint), September 28-30th
Sörmland Ultra 50k, October 13th
Last but not least, link to Strava activity: Ultravasan 90 2018
Thanks for reading all the way until the end
Written by David Caulfield
What is the point of a race report? Well for one they make great reading for those considering taking part in the featured event, providing a valuable introspective on the course and what to expect. For that reason I am very grateful to those that have come before me in taking the time to record their experiences in their WW race reports 2013 – 2016.
No matter how you slice it, 127 kilometres/ 80 miles is a long way to travel in 21 hours. Mentioning that distance to anyone outside of the ultra running world will get expressions of disbelief and looks suggesting you ought to be committed for your obvious madness.
The challenge is both physical and mental and so it helps to break the distance down into smaller targets. Thus think only to the next CP and what time you need to arrive there, then to the next and so on. These smaller achievements add together quickly getting you beyond the half way point, to the three quarters way point and eventually…..to the finish.
Training
I started 2017 injured and so was unable to run until mid March. I was recovered enough to do the Maurice Mullins half and from there I eased myself back in.
A significant birthday in 2018 raised the idea of an entry to the UTMB to "celebrate" my encroaching decrepitude. The requirement to have 15 points over a maximum of 3 races (just to enter the lottery) started the grey matter turning. I had 4 from last year's Transvulcania so to get to 15 I would need to do two 6 point races or one 5 point and one 6 point. I settled on the Wicklow Way Race and if that went well then the Kerry Way Ultra. I was in no way sure that my recovery would continue in the face of ramped up mileage but I was about to find out.
Training over the next twelve weeks included recce's of the course sometimes with friends but mostly on my own. Solo recce's invariably mean an out and back thus can end up being very long sessions. Over this time I logged many long runs the longest ranging from 26 to 30 miles; recovery from these was monitored carefully and happily all went well (I swear by chocolate mile and recovery tights). I had enough time that I was able to include a few back to back long runs and was very happy to see that my injury was now almost gone.
I ran the Clare Burren Marathon at a very easy pace two weeks before. By this time I had reccied all but the last 16 miles of the WW so on the Sunday before, I ran/ walked the first 7 miles from Crossbridge towards Clonegal and back. Probably not the smartest thing to do so close to race day but it helped ease the "I might get lost anxiety". There would only be 7 or so miles on race day that I had not covered previously.
Race Day Plan
Given my lack of running and the overall length of the race I set about dissecting its various stages and cut off times to see what flex there was in the paces I could run to allow me finish comfortably within the cut offs. Using Excel I calculated several scenarios and settled on the following (I still work in miles).
• CP1 Crone 13.75m (22km), cutoff 3am: 12 minute mile pace to arrive at 02:37.
• CP2 Glendalough 17.5m (28km), cutoff 8am: 12.5 minute mile pace to arrive at 06:31 (take 15 min rest).
• CP3 Ironbridge 15.63m (25km), cutoff 12pm: 14.5 minute mile pace to arrive at 10:42 (take 15 min rest).
• CP4 The Dying Cow 16.25m (26km), cutoff 4pm: 14.5 minute mile pace to arrive at 15:01 (15 min rest).
• CP5 Raheenakit 6.25m, (10km) cutoff 6:30pm: 16 minute mile pace to arrive at 16:51 (20 min rest).
• Finish at Clonegal 10m, (16km) cutoff 9pm: 16 minute mile pace to arrive at 19:46
The above plan put emphasis on the first two CPs, which were the tightest to make with time pressure reducing significantly by CP3. These paces were pedestrian but given the significant distances covered and my under trained state I felt they were realistic. The rest stops I included also looked very generous but when stops to change batteries, take out a jacket, take a whizz etc, are included they were again probably realistic.
Race Day Prep
I took the Friday off to try to get a few hours sleep during the day and to prepare my drop bags.
No two people will pack the same food; I included lots of drinks I like drinking since I find it hard to stomach eating during races. Small cartons of orange juice proved to be very palatable and a good energy provider. Also successful were small easy peel oranges, two per drop bag. Other food included chocolate (snickers which I didn't anticipate I would bother eating but did), crisps, cheese nachos and small tuna & sweet corn sandwiches (one per drop bag, I ate the first sandwich and couldn't stomach the rest), plain water in my hydration vest and gels. I also had a triple shot of coffee to be consumed shortly before the race (to give me a boot up the arse).
Notable kit included
• Black diamond z trail poles
• A small waterproof stuff sack (keeps items kept inside completely dry, weighs ounces)
• Light long sleeve running top; it was to be cold over Djouce (Richard N you were right)
• East West Map guide to the Wicklow Way
• A small power pack to charge my Garmin and phone (my watch can be charged whilst recording a session)
• Salt tablets, pain killers and deflatine
• 50 euro note (in case I needed to make quick exit)
• A couple of gels (with others dispersed over my drop bags)
• All of the above were in addition to the mandatory kit
Kit that might be worth including (much of which can be left in a drop bag)
• Change of top/ bottom
• Change of socks
• Road runners
• Motilium or crystallized ginger
I got a lift to Marlay Park with friend Liam Costello and was quickly through registration, kit check and tracker collection (race organization fantastic, thanks Jeff, Robbie, Richard, Tricia et al). My head torch is a Petzl Nao+ and it was my first time using it so I made sure to practice the settings to ensure I got the maximum time from the battery in the hope that I wouldn't have to stop to put in the spare.
Marlay Park to Crone 21km (Climb 684m)
After a short race briefing we were off! It was good to get out of the park and up towards Kilmashogue carpark and Fairy Castle. I have run this part of the Wicklow Way many times so there was no chance of me taking a wrong turn. However the fear of my missing the first cut off ensured I kept up the pace. The weather was already proving to be wild but since much of this part of the way is sheltered it wasn't too bad. Through the gloom sheep's eyes reflected green, the field quickly spread out and already if felt like I was on my own in the mist, rain and blackness. I was soon over Prince William's seat and to the nice descent that provided recovery before putting the boot down again. I made Crone at 2:32, 5 minutes ahead of schedule. It was lashing rain; thanks to the volunteers that had to stand in it. I stopped for less than a minute to grab the contents of my first drop bag and then was off again towards Djouce. Judging by the wind and heavy rain this part of the course was going to be interesting!
Crone to Glendalough 29km (Climb 868m)
I have been over Djouce on many occasions in all sorts of weather. I was there on the day of the Maurice Mullins Trail and Ultra in 2013 with the crazy weather that happened on that day. The weather tonight however trumped all that. As I passed the point that looks across to Powerscourt waterfall the wind through the trees was alarming; was I going to be flattened by a falling tree? On I went to the left turn that started the descent down to the footbridge over the Dargle. Up the other side and onto Djouce where as anticipated it was WILD. The trail was an ankle deep running river, my head torch lit just a 2 metre bubble of light beyond which there was thick mist, pitch black, torrential rain and gale force winds. I'd last been here in February so the undergrowth of green that had grown since made the trail hard to pick out.
As I ploughed on through the maelstrom I was getting a bit freaked out. I pressed on with the mantra, "it will be light soon, the rain is going to stop and the sun is going to come out again". Then the battery went on my torch. Damn! No choice but to stop, dig my spare battery out of my pack and whilst doing that put on my waterproof legs, neck gaiter and gloves. I was cold now and needed to get moving again. Once on the boardwalk progress was a little easier and soon I was out of the worst of it and running past the Pier gates. The rest of this section was unremarkable; I arrived in Glendalough at 6:45, 15 minutes behind schedule; a lot of time had been lost on the side of Djouce.
Glendalough to Ironbridge 25km (Climb 882m)
The CP at Glendalough was like an oasis, bacon sandwiches and coffee!!! The restorative power of coffee cannot be underestimated. Thanks once again to the organisers, fantastic job.
I stayed a bit longer than I'd intended but felt very much restored. Once at the upper lake I began the long climb out of Glendalough. On reaching the top the wind was blowing strong on the board walk and it was still cold. I moved on quickly down the other side to Glenmalure and to the last significant climb of the day. The Wicklow Way from Glenmalure is quite twisty for the first couple of miles followed by a significant section on the road. I met up with a couple of fellow runners, Andreas and Paul and stayed with them for the next 20 miles or so. Thanks for the company guys. I was beginning to feel tired around this time so stopped for a couple of minutes and ate two oranges before setting off again. A check on my pace and time to the next cut off had me speed up again and soon I was on the downhill towards Ironbridge arriving at 11:12 a half hour behind schedule but still well within the cut off.
Ironbridge to The Dying Cow 25km (Climb 525m)
Another great set up; more coffee (from a coffee plunger!!), home baking and a deck chair to sit down! Luxury. Thanks guys, ye are legends. As myself, Andreas and Paul were leaving Ironbridge (50km to go) Andreas decided he would change into his road runners. I went on ahead knowing they would catch me. I made a quick phone call to my wife to let her know all was well and by the time I'd finished Andreas and Paul had caught up. This section seemed to take forever when I reccied it in April and it seemed to take forever again today. By now the rain had gone and the sun was out; the Djouce experience seemed a very long time ago now. I shed any unnecessary clothing, put on suntan lotion and connected the charger to my watch. I recorded a couple of very slow miles at this time and in hindsight I was clearly very tired. I made sure not to repeat the wrong turn I'd taken back in April in a forest section early in this part of the course. I had reccied it again in May and found the marker I'd missed behind a gorse bush (which I pruned).
We pushed on eventually reaching Cuckoo Lane and shortly after, Crossbridge. Andreas and Paul went on ahead at this point; I was slowing but didn't feel like taking any more gels (which was probably a mistake). At about a mile and a half from the Dying Cow I came around a corner to see in the distance my brother and two nephews! My niece and sister in law were there too. What a great surprise! Hugs all round and a quick photo and then a quick dash to the Dying Cow to make the 4:00 cut off. I got there at 3:36, phew!
The Dying Cow to Raheenakit 11km (Climb 267m)
My arrival time to the Dying Cow would prove to be the nearest I came to not making a cut off. Beyond this however lay just 16 miles to the finish and 5 hours in which to do it. Surely nothing could stop me from finishing now. First I had to make the Raheenakit CP 6 miles away by 6:30. Thanks to the guys at the Dying Cow, great encouragement as I left. A last goodbye to my brother and I was off up the steep road towards Raheenakit. This section of the Way is fairly non descript and almost entirely on road (so a change to road runners is an option here). Just before the last CP came the much-vaunted Coronary Hill (a long uphill boreen with grass in the middle); I put the head down and power walked up (my poles aiding my progress). I made the last CP at 5:10; I just had to stay upright and keep putting one foot in front of the other and I'd finish.
Raheenakit to Clonegal 16km (Climb 222m)
Heeding the warning that many have taken a wrong turn in Raheenakit forest I made sure to be extra alert for the WW markers. At this point I was doing virtually no running but instead power walking. With the exception of one marker I almost missed which takes you left down a narrow grassy track, I didn't go wrong. Shortly after I entered the last forested section which as mentioned by others is paved with very pointy rocks that are agony on tired feet. A short way in I met fellow runner Martin; I'd last seen him near Lough Dan many hours earlier. He was running on empty, the offer of a couple of oranges seemed to help and he was soon back on his feet to keep me company. A wrong turn by me cost us 10 minutes; I am very grateful to Martin for having the GPX file on his watch thus noticing my mistake; I would have walked much further in the wrong direction otherwise.
The highly anticipated Clonegal 5km road sign was at last reached. Some of the race volunteers appeared here to offer us chips! Thanks Lillian and the second person who's name I don't know.
Many have said it before and I will confirm it again here. This is the longest 5km I have ever run/walked/ shuffled; it seemed to go on forever. Over the majority of the race I had stayed true to my plan of power walking the uphills and running the flats and downhills. But now sadly I could only manage to run for a few metres before stuttering back to a walk. I was passed by a couple of other runners in the last kilometer but I couldn't give a damn. I had set out with the sole purpose of finishing within the cut offs, a good time had never been a possibility so my finish place was of little consequence to me.
I could see the town in the distance! As I rounded the final bend I found myself muttering repeatedly "thank god, thank god, thank god". Clonegal at last and the Wicklow Way sign. YES! I DID IT!!!!!
I finished in 20 hours and ten minutes, 24 minutes behind schedule. I'd been up and awake for 34 hours.
I was greeted by my wife and son, (emotional, sniff, sniff). Then Jeff appeared, congratulated me on finishing and presented me with my granite finisher's plaque with the little yellow man. Chuffed to bits!
I am constantly surprised at what the human body is capable of. I managed to come back from injury, squash my training into a period of less than three months and finish well within the cut off. Thanks legs, heart and lungs, I'll go easy on you for the next couple of weeks, I promise!
A huge shout out to all involved in organizing this fantastic event. An amazing job! We are very lucky to have a race of this calibre on our doorstep.
Race Tips
• Recce the course for peace of mind on the day (the only wrong turn I took was on the 7 mile stretch I hadn't run before).
• Get to bed early on the nights of the week coming up to the event.
• Include variety in your drinks and food; this will improve the likelihood you will keep fueling (unless of course you are fat adapted and don't need to eat).
• Trail poles used properly can be of great benefit in prolonging endurance.
• As with any long distance event, expect to experience "bad patches" and know that they almost always pass.
Written by James Parsons - https://medium.com/@jampars88_56611
Distance: 81.9km (50.9 miles)
Elevation: 4,001 metres
Participants: 485 sign-ups, 378 starters, 240 finishers
Wind: up to 70mph (on summits)
Rain: shitloads
Official result: 13:03:05 (19th overall, 18th male).
Race prep
You know the score by now — Lakes in a Day (LiaD) is a 50 mile ultra-marathon between two picturesque Lakeland villages (Caldbeck and Cartmel), with a few climbs in between. It's what I'd been building towards all season.
I signed up to LiaD as soon as entries opened in late-2017, instantly attracted to the idea of a point-to-point adventure race from the top of the Lakes to the bottom. At the time I had zero experience of traversing the mountains of England — and couldn't navigate my way out of the back garden. Thankfully I convinced Chris to sign up, too, so we'd enjoy the next 12 months prep together.
The early mornings, stupid distances and multiple trips to the Lakes — they were all aimed at conditioning the body to go that little bit further, falling apart a little less each time. I took part in my first proper fell race in early August 2018. Borrowdale was, to put it mildly, an ordeal. I had started off at the back, giving the occasion the respect it deserved. Worked my way through the field, thinking this ain't so bad, powering up a couple of fells and hurtling down the scree off Scafell Pike. Then came Great Gable. The climb was okay, but people started coming past. Not a problem, I thought — I'll get them on the way down. When I passed the summit and started the descent, however, something wasn't right. My hips had aged at least 50 years. As I shuffled down Great Gable with seasoned fell runners bounding past, I learnt a painful lesson — my legs just weren't up to the rigours of long-distance fell running. Oh, and note to self: don't start LiaD like a lunatic come October.
By the end of the holiday I'd recced the entire 50 miles (and then some). Great, I thought — I know where I'm going and when the big efforts are needed. But how on earth am I going to stitch it all together come October? Fast forward two months and I was still asking myself the same question. Training over the summer had gone well, culminating with a 70km run along the north Norfolk coastline. But there were still some lingering doubts going into LiaD. And these doubts were up to 950 metres in height.
In the two weeks before the race I prayed for good weather — checking the forecasts daily, hoping beyond hope for a cloud-free day on the fells. At least a week out it was obvious this wouldn't be the case. Callum was planning to blow his load all over us on Friday and Saturday. Bastard! It would have been easier to take if the storm had been given a double-hard sounding name. Storm Axel can do what he wants to me and I'll come back for more. But Callum? Anyway, come the Thursday before the race I was properly shitting it.
Mum and Lena have been permanent fixtures at my 'big' races over the last couple of years, but this time was different. Shortly after signing up I asked Dad to come with me. He'd not been to a race before and I thought this would be a good opportunity. Obviously, I'm a big boy and do possess the ability to go to these things by myself, but love having family waiting for you at the finish line. I was a little nervous about how Dad would find it, but I needn't have been. He was awesome and totally got it, providing great support over the weekend (thanks for the stew at 2am on Sunday morning, Dad!).
So, we went up to the Lakes a couple of days early, familiarising myself with the shite weather and enjoying a couple of pre-race beers. Chris joined us on Friday night. When I picked him up from the train station we gave a lift to a chap who was camping in Cartmel on race eve. He would be enjoying the storm before the storm in a tent. Braver than me. But more on him later…
We went and registered, picking up our race numbers and checking out the competition. We posed for photos by the route map like a couple of ultra virgins. The chap who took our photo commented, "First ultra, eh lads?". Ha, yep.
All that was left was to go and pack the neatly laid out gear into a tiny rucksack. At least the weather meant that I would be wearing most of my clothes rather than carrying them. It was a rather nervous night's sleep.
Race day
Race day started at 4.30am. Time to get fed, dressed and spend some time in the bathroom. The bus taking us to the start line left Cartmel not long after 5.45am. Took 90 minutes to get to Caldbeck. Bit of an anti-climax to turn up for a race and spend the next hour and a half on a bus. It should have been a good opportunity to visualise ascending and descending the mountains like a fell-running hero. Instead, I just sat there fretting and wishing I'd spent more time on the toilet.
The much-anticipated meteorological shitstorm didn't turn up at the start of the race. It was more like steady drizzle at this stage — the type you don't really notice once you get going. And get going we did, bang on 8am. The moment had finally arrived after 12 months of training and anticipation. It would have been easy to get carried away — but remember, I told myself, not too fast. I had no intention of smashing it up the first hill. That's a debt you'll repay with interest later.
Caldbeck to Blencathra (13.5km, 02:11, 53rd overall, 53rd for section)
The first climb up to High Pike (658m, 5km in) was relatively leisurely. Chatting with Chris and a chap we'd done a couple of official race recces with earlier in the year. We were passed by a good number of people during the first few kilometres, and we'd started mid-pack. Important thing was not to panic and feel like you're getting left behind. It's an ultra-marathon, not, err, a marathon. We settled into a natural rhythm and reached the summit pretty much on schedule.
From High Pike we made our way down to Caldew river, where we'd cross before starting the climb up Blencathra (868m, 13.5km in). We had been warned that the water level had risen steeply and that race organisers had kindly installed a rope to help us get across. We took a good line down to the river and made up a few places. The water was high and fast flowing. Getting in you immediately felt the force of the current. One slip and you'd soon be heading down river at quite a pace. I hadn't brought my goggles, so crossed cautiously.
The climb up Mungrisdale Common to Blencathra summit is famously miserable. There's no distinct path, but rather a slog up boggy terrain. We'd recced it twice and were cursing both times. I decided to just get my head down and climb. I'd given myself an hour on this section and stuck to the task of maintaining the prescribed pace. What was waiting for us at the top of Blencathra was Halls Fell. A legendary ridge line leading down to Threlkeld, consisting of a rocky descent and not much wiggle room. I'd recced it three times, twice in the rain, so was prepared for the worst. I reached Blencathra summit and had a little breather, looked behind hoping to see Chris appear through the mist. I guessed he wasn't too far behind, but I had a decision to make. We had talked about sticking together until Ambleside. Here I was at the top of Blencathra and we'd already split up. There'd been chat on the event Facebook page about mates doing it together, helping each other out through thick and thin. One voice told me to wait. Another told me to get going. I listened to the latter. I knew Chris would be okay.
Blencathra to Threlkeld CP (2.5km, 00:39, 47th overall, 51st for section)
I ended up descending Halls Fell well, 10 minutes faster than the recces. The specks of blood over the moist rocks kept me honest, though. At the bottom of the mountain was the first checkpoint (Threlkeld, 16km in). The village hall was a lot more relaxed than I was expecting. I had anticipated busy runners urgently grabbing some food and liquid before shooting off. But I found people sitting down, chilling out, taking their time. Fair enough. Was my strategy of getting in and out as quickly as possible a bit naïve? Some were handing in their numbers already — their race was done. I was surprised by this. The weather to Threlkeld had been mild. Yes, I was wet, but the rain had not been sideways, and the wind slow enough to pass by a school without breaking the speed limit. In hindsight, I think some were better at anticipating what was to come and decided to quit while they were ahead. Anyway, I grabbed a couple of pastries and got going.
Threlkeld to Helvellyn, (15.5km, 02:25, 21st overall, 14th for section)
From the Threlkeld CP to the bottom of Clough Head was a few kilometres of easy running. I felt pretty good and caught up with a group of runners just as they were starting the ascent. One chap reckoned we were top 40. That'll do me. My aim before the race, without really knowing what to expect, was top 50 and sub-14 hours. The little schedule I'd printed and laminated (NERRRRRD!) broke the route up into sections with a view to making it appear more manageable. Our climb up Clough Head followed the Bob Graham route. It was hard going, and I'd figured this might be the toughest part of the day. Boy was I wrong!
When we reached the summit (726m, 22.5km in) the weather changed dramatically. Slightly annoying rain turned to sideways sleet and where had this bloody wind come from? The weather in this next section was the worst I'd ever been out in. 70mph gusts coming at you head on. I was running with a very prominent lean just to stay upright. Still, I was moving better than others and made up a few more places. However, between Great Dodd (857m) and Helvellyn (950m) I felt myself getting colder. My base layer had become sodden and I was starting to shiver. I wanted to stop and change but felt this wasn't an option. There was no shelter and trying to swap layers in these windy conditions could have meant lost clothing. I just carried on. My inexperience on the fells here was obvious. I was relying on my ability to move quickly, rather than an ability to handle the conditions well. How much longer would this last? I was relieved to see Helvellyn trig (950m, 31.5km in).
Helvellyn to Ambleside (14.5km, 02:56, 33rd overall, 78th for section)
Things didn't get better, however. The passage from the top of Helvellyn down to Grisedale Tarn was the worst part of the race for me. I was getting colder, moving slowly, and felt my legs starting to suffer. This was Borrowdale repeated, just minus the sunshine. The waves coming off Grisedale Tarn were impressive. I had said to Chris previously that I wouldn't mind a swim in there. Not today. I found enough shelter to take my jacket off and add another layer. I was soaking wet, but this would add some warmth. Arriving at the bottom of Fairfield was a relief as it meant I didn't have to run. This would be the last big climb. I'd lost loads of places by now but was starting to think more in terms of just finishing the race regardless of position.
I had three runners above me in sight, and as I got closer it was clear that something wasn't right. Two of them were helping the third up the mountain. On closer inspection I realised that the chap in trouble was the one we'd given a lift to the other night — he was struggling to put one leg in front of the other. At the time I didn't stop to think whether taking him up the mountain was the right thing to do. I just put my shoulder to his arse and helped with the push. What were we going to do with him at the top of Fairfield? Was one of us prepared to sacrifice our day to get this chap to safety? Fortunately, we never had to answer this question. We met a group coming off Fairfield and they offered to take him down. Good lads, you got us out of a hole there. (I saw matey after the race and he said he was fine, and that he wished he had carried on. I told him that was never an option and that we should all be thankful to the descending group).
Arrived at the top of Fairfield (873m, 37km in) without further drama, and began the journey down to Ambleside. This section is easily underestimated, as the terrain over Hart Crag and Dove Crag is hard going and requires (from me anyway) more scrambling than running. I was struggling to find any kind of rhythm. One of the chaps with whom I'd climbed Clough Head came past and could see I was struggling. He shouted at me 'Just get off this fucking mountain'. This became my mantra for the remaining miles into town. Just get off the mountain. Don't think about what you're going to do when you get there. Just get off the mountain. It was tough, but I was over the hump — literally and figuratively. I wasn't moving particularly quickly, but the terrain started to improve. The last bit of drama was a fellow runner telling me I was going the wrong way. I disagreed and suggested we stick together. He chose a different path. Despite this seed of doubt being planted I was 95% sure of my direction. I was relieved to find something familiar from my recce and followed the path into town. Tarmac never felt so good! But I was sore, very sore.
Ambleside to Finsthwaite (22.5km, 03:17, 20th overall, 16th for section)
My plan had always been damage limitation in the first half of the race, and then hopefully be in a position to run the flats and downhills in the second half. I felt like I'd blown it, entering the Ambleside CP (46km in) with a mix of relief and frustration. Had I gone too hard? I'd tried to take things steady, but I was almost broken. Then something miraculous happened. I took my time, without sitting down and getting too comfortable. I changed into my remaining dry clothes and felt immediately better. 10 slices of pizza and half a litre of coke later, and it was time to get back out there.
I have difficulty explaining this transformation at Ambleside. Was it really as simple as a change of clothes and scoffing a medium-sized margarita? Or had I entered the CP feeling a bit too sorry for myself? Anyway, I left feeling brand new. The momentum was momentarily broken by a bit of flooding on the route out of town. The cars were struggling to pass and there were long queues. At one particular pinch point a policewoman was directing traffic. I asked her if it was okay to for me to pass — she smiled and nodded the way forward. It was a bit weird running (wading?)down the middle of the road past a load of stationary cars up to their wheel arches in water. Some encouraging words helped me on my way, and it wouldn't be the last time I'd get wet that evening.
I was more in my element now. The rain was lighter, the wind had dropped, and I was moving relatively well. All that was left was a 35km trail run with a few ups and downs. Bread and butter. And it did feel good. I figured I'd left Ambleside just inside the top 40, and the prospect of picking off a few runners between now and Cartmel was enough motivation to keep a steady pace.
The second half of the race wasn't entirely without its challenges, however. The route takes you along a path adjacent to Windermere. Except tonight we would be running through the lake, rather than alongside it. Not exaggerating to say that I was waist-high in water on more than one occasion. Tripped over a couple of times on some well-hidden roots, and nearly went nipples skywards on a couple of wet, wooden bridges. All part of the fun, but these obstacles would be even more lethal in the dark. I spared a thought to those runners who would be passing through here in the next few hours. Massive respect to anyone who completed this race, especially those who took the longest — demonstrating huge willpower to just keep going.
The head torch came out not long before the climb up to High Dam (67km in). I say climb, it felt more like a brisk walk considering what had come before. High Dam looks like a lovely spot, even in the dark. As I started the descent into Finsthwaite, decided I wasn't going to stop at the final CP. From there it's only 12k or so to the finish, and I had a bar of chocolate to get me through. It was one of the best decisions I made on the day, as I felt pretty good on the final section into Cartmel and didn't need a break. Having a checkpoint strategy for these races is really important. It's easy to waste time at CPs.
Finsthwaite to Cartmel (12.5km, 01:39, 19th overall, 7th for section)
Bit of a hairy moment running through the field out of Finsthwaite, though. I managed to upset a cow, who made a rather loud noise and appeared to make a move towards me. It helped me run a little quicker. Caught up with a runner a few minutes later who complained that a cow in the same field had tried to headbutt him! Sensitive beasts, those Finsthwaite cows.
Not much happened from there on in. Have to say that I was really impressed with the waymarking on the second half of the race. I vaguely knew where I was going, having recced the route, but the little yellow signs were a massive help. It was such a relief when the light from your headtorch caught the fluorescent arrow. The last tricky part of the race was running through the fields of Speel Bank (76km in) where you have to dodge sheep that look like boulders, and vice versa. Once you're through there, its downhill all the way into Cartmel. My penultimate kilometre was the fastest of the day at a leisurely 4min 42secs. At the time it felt like I was going at the speed of an Olympic sprinter and that my quads would need to put out with a fire extinguisher.
Slowed down again to enjoy the adoration of the assembled hoards in Cartmel. In fact, I only saw one person as I ran through the village — my Dad. He was outside the Kings Arms in the rain shouting encouragement. I told him I'd be back soon. That first pint wouldn't touch the sides.
I finished not long after 9pm. I was delighted with that. It was under my target time and good enough for 18th male, and 19th overall (congrats Katie Kaars Sijpesteijn on her win and new course record). I'd made up a fair bit of ground in the second half of the race and still wonder whether I'd be better suited to lumpy trail running than this mountain stuff. I won't be giving up on the fells quite yet, though.
It was great to see a friendly face in Liz Aitken at the finish line and have a chat about the race. With her determination and endurance she'll make a great Lakes in a Day competitor.
Liz told me that Chris was either still in Ambleside or his tracker had given up. I'd received a text from Chris when he reached Ambleside a couple of hours earlier, and there was no mention of any problems. I wasn't worried in the slightest, he knows how to get through tough times. The man himself texted me a bit later, ETA of approximately 1am. Time for the best shower in the world and a couple of pints then! I was chuffed to see him cross the line bang on time. We'd both worked bloody hard to get this far. What a wet and wonderful day!
Post-race
I was overwhelmed by the number of messages from family, friends and Freedom members post-race. Ultimately, you do these events for your own sense of achievement. No one cares more than you. That said, I feel very lucky to be surrounded by people who are genuinely interested in how you get on. You know when you've done well, and it's great to have that recognised by others. If you've managed to read this far, it shows that you care, so thank you.
Running is such a massive part of my life now. I bloody love it and embrace the challenge of getting better. It doesn't matter where you are in your running journey, or where you finish in a race — as long as you enjoy working hard, you'll make gains.
Bring on the next challenge!
Written by Stuart Shipley - https://shippo88.blogspot.com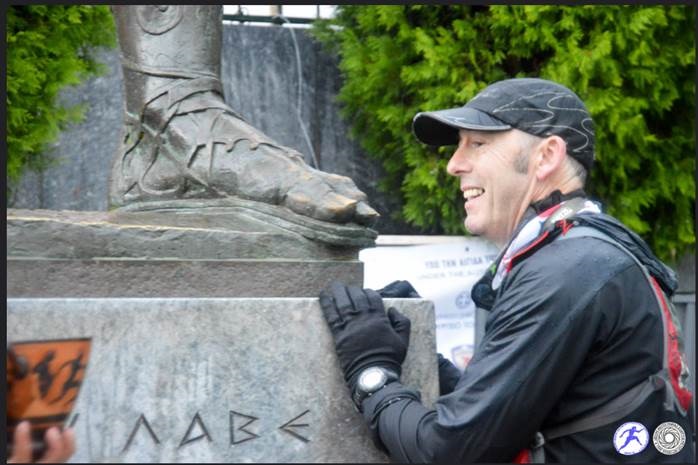 The sweetest finish
I have learned a new word in the last year or so. Patience. More importantly I have learned what it means. If you are reading this then you may have to be patient too. If you aren't and just want to hear about the race then I'd advise you skip to page 6 right now.
It's no secret that I have a long and unsuccessful history with the Spartathlon, going right back to 2004 but at times, 2007 in particular when I attempted it within a month of doing UTMB, I have been impatient.
You see, I have been worried about getting too old to achieve a finish for over 10years now, the more so recently since I turned 60 this June. There are runners who do finish Spartathlon at 60+ but they are usually grizzled veterans who have been knocking out finishes on a regular basis for years. There are a lot fewer who manage it for the 1st time at that age and I was distinctly worried that any prospects I did have of ever finishing were growing smaller and smaller every year.
I had basically retired in 2012. That year I was part of the 77% who failed to finish and the following year I had a back injury that threatened to stop me running altogether. It put me out effectively for the whole of 2013 whilst I recovered from the operation. In 2014 I was able to return to running of a sort and very glad to be able to do so, but it wasn't stirring stuff and I was fat and slow.
Somehow though, in 2015 I started to lose weight and started to get faster again. I have no idea why really, since I wasn't doing a lot different but just recall being glad about it. It was the first time I started to consider the possibility of a rematch. I looked for something that would push me and found the Spine. Although the race itself is the polar opposite of Spartathlon they do share the requirement of needing a near perfect mental state to get anywhere near to a finish. And I did finish. The finish rates were on a par with Spartathlon but this time I was on the good side.
2016 went from good to marvellous and I decided to enter Spartathlon again … But didn't get in. I got to the very top of the wait list but there I remained. No.1 in the world not to get to do it. The fact that I had been able to knock 1¼hrs off my 2007 GUCR PB was tainted by the fact that the new, harder entry requirements for 2017 meant that it was still ½hr too slow. It's a shame since in 2016 I was the fastest I had been for a good 10-15years over all distances and I would for the 1st time have been able to go into the race with some confidence of a finish. Patience.
In looking for a qualifier for 2017 I ran at Tooting in 2016. I hadn't thought that running round a track for 24hrs was likely to be too interesting but I really enjoyed the experience, getting my qualifier and knocking 3¾hrs off my 100mile PB in the process. It confirmed my feeling that 2016 really could have been my year.
Then my knee went. Running downhill on a session down at my running club towards the end of the year I heard as much as felt a loud 'pop'. 'That was the end of your femur collapsing' the consultant told me when diagnosing an osteonecrotic condition known as SONK. There was a lot of bone oedema but he told me that if I was patient (that word again) took regular Vitamin D and offloaded the joint whilst it healed, it is usually a self-limiting condition and should heal 100%. So followed 4months on crutches, 2 months in a brace and much of 2017. I didn't get in again anyway and was a lot further down the waitlist this time. I couldn't help but compare the popularity of the race now with what it had been in 2004 when there were only 5 Brits, I had left it until May to enter, there were nearly half as many entrants and the race didn't fill up anyway.
I was able to return to running again in about June/July 2017 on the condition I built up gradually. I was patient and my only Ultra of a sort that year was a few laps of the Equinox 24 with a team from work. It was good though and I dared to harbour thoughts of building things up again until whilst just walking down the hall at home in October, I caught my left leg against the dogs cover. As innocuously as that, I tore my Left meniscus. This time the consultant didn't have good news. He told me that basically the meniscus was shot. It was hard and crumbling, the tear was inoperable and degenerate - stitching it would be like stitching frayed cotton and the stitch would just pull through. Moreover, it was unlikely to heal given the poor blood supply to the meniscus. He would review it again in 3 months but considered that the pain would stop me from running on it again. In the meantime it was back to the brace. Patience.
I wasn't expecting much in January but against the odds the consultant told me he could see some evidence of repair. He said this was unusual but put it down to the fact that the tear was right at the end of the meniscus in the only place where it has any real blood supply. A cyclist himself he'd heard of Kouros and knew of my desire to compete in Spartathlon again. He didn't rule it out but told me that the clock was ticking in respect of the meniscus' degeneration, that my cycling career was likely to be longer than my running one in the long term but I would in any event be guided by the pain. He did however tell me I could ditch the brace and if I gave it another couple of months of patience I could try light running on it, 1K at a time. Time was very definitely ticking but in a fit of optimism I entered Spartathlon again. I didn't have any option really. If I harboured any hope at all I had to. This year I would have 4 names in the lottery hat but if I didn't enter and left it another year, I would be back to zero.
So, in January 2018 I walked a 50K with my brother… the consultant had told me I could walk, he didn't say how far. My physio daughter had her spies out and they were all instructed, as they passed me running, to make sure I was behaving and just walking. In February I was allowed to jog/walk on a 15mile cake eating cross-country run with my wife and in March I increased to the 4 Inns, a 40mile run/walk across the moors with my son. It was my 1st Ultra at 17 and also now his at the same age. It was a proud moment and I remember thinking that if my running career had to end here and now I would be happy enough. But my knee seemed ok, it grumbled a bit on some of the downhills and hated Grindsbrook but seemed fine on tarmac where I could be more confident of my foot placing. I then progressed to running the Grand Union Canal Race again in May. I knew that it would be hard given the lack of training and continuously had to remind myself that it was the beginning, not the end of my training and that it would be mainly training of the head – to see if I still had it.
GUCR was painfully slow. I had to keep permanently reminding myself of the fact that it was the beginning of my training and not a yardstick of progress. Overnight we had a torrential thunderstorm. I thought at the time that this sort of training was not at all representative of what I would be facing in Greece – how little I knew! I felt my knee at about 120miles and so exercised patience, telling myself that I was in it for the long game and deathmarched the rest in, missing my train and having to kip out at Little Venice (fortunately dry by then) overnight. The beginning of my training was however nearly the end of it too since I contracted cellulitis in my left ankle over the course of the run. A day or so after the race I noticed my ankle stiffening up which I though was odd since I didn't remember going over on it. Fortunately when the shivers started I recalled all those GUCR pre-race notes I'd studiously read over the years and knew straight away what it was. It put me out of running for another 6 weeks altogether. Even when my ankle went down, every time I started to try to run on it, it would swell up again. Patience.
Eventually however I was able to run, starting from scratch yet again, but the clock was ticking and I had another issue now. Since it had been my 60th birthday in June I'd been treated to my choice of a holiday of a lifetime by the family and I had chosen to walk the Inca Trail in Peru, something I'd always wanted to do. A year previously when we'd decided on it, Spartathlon had sounded like just a pipe dream and I'd felt that I couldn't just put my life on hold on the off-chance I'd be able to run again, but now they were perilously close to each other. Because I couldn't risk my ankle wrecking the holiday I'd had to drop out of LLCR and my training was now limited to about 6weeks running, 3 weeks in Peru not running, a week back to running when we got home and then another 2weeks, mostly tapering. It was getting to feel very much last minute and the 'wing and a prayer' preparation that I'd promised myself I'd never allow to happen again.
I put myself into running again trying to build up incrementally but I knew there wasn't a lot of time. I wasn't sure there'd be enough time but I had to try. It was my last chance. I managed to increase my mileage from a very lowly 20mile week, to 30, then 40, then 50, then 60 and this time I was helped by the weather. Running a couple of 50K training runs in what I considered was likely to be a much more representative 28-31c in our most atypical extended British summer I was able gradually to get to the pace I knew I'd need out in Greece, in the heat too and without wrecking my ankle or more importantly my knee. My knee had been a star. When I'd started out earlier in the year it had felt distinctly weird. For a mile or so from cold I'd have to limp before something would almost just click into place and it would feel fine, with no need to limp or run off balance. Eventually I was able to shorten this distance down to ½ a mile, then ¼ mile but I was having to break the habit of a lifetime and actually warm up to get my knee into the groove. Its still like it even now. When I start a run, for the 1st few hundred yards it still feel like something is not quite in place and until I've been able to hammer it back, I do have to be very careful. I guess sooner or later its going to give up the ghost again, after all the degeneration is a one-way street but I was beginning to hope that I might just be able to eke out its running career for perhaps just a few weeks longer. I did fear that it was just waiting for me to commit and then just grind me to a painful and unrewarding halt on a hot and dusty road next to an oil refinery just outside of Athens but my head, still strong after all it had been though even just this year, was getting more and more determined to say 'what the hell, lets just do it'.
I'd been training my head patiently too. 6 prior DNFs when I was younger and faster is not the best way to get some confidence but I knew that to finish this race you can't have an off day. If you can't be confident that this time you will finish, then you are immediately at a mental disadvantage. I was never going to manage that but I had to strengthen my determination and I had been very singleminded all year. I had survived all that could be thrown at me and come out of it stronger. I knew my head was as good as it ever had been. Deathmarching GUCR had shown me I still had it despite the time it took me and I'd been using lots of little things to constantly hone the edge. On my phone I had the most atmospheric photo I've ever seen of Spartathlon (thanks Mark W) so I'd know what I needed to do every time I used it. I also bought a BST Spartathlon mug – only a little thing for sure but little things stack up. I'm not sure if Louise ever noticed but whilst I often made her a cup of tea in it, I never drank out of it myself. I hadn't earned the right yet. Little things like that stack up and I knew my determination was stronger than it had ever been. Just let me get out there.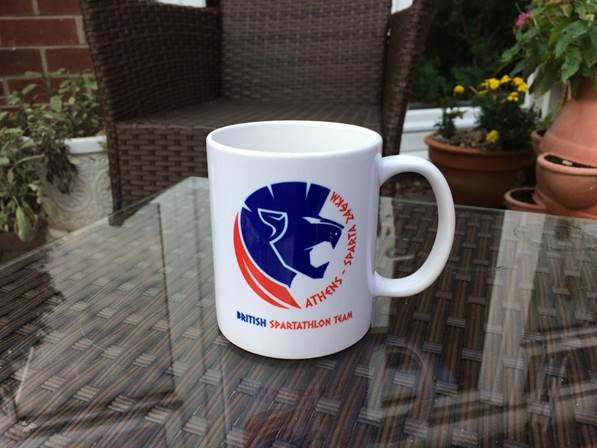 Every little helps
There'd also handily been a showing of Barneys 'Road to Sparta' in Derby only a few weeks before the race. It was an excellent mental preparation for what I would be going back to but I'd felt a bit of a fraud responding to the Q and A's. I'd not been to see the showing at the BST do at the beginning of the year. I'd felt I need to withhold from that do since I wasn't a Spartathlete ... yet. It was part of an exercise in catharsis and I certainly didn't want or need the 'so how many times have you finished …' conversation. I could go once I was a finisher and not until.
Anyway, my knee survived all that Peru could throw at it. It managed 3 weeks of no running, a 17,100' acclimatisation peak, 4 days of the Inca Trail, a further 2 days climbing in/out of a canyon twice as deep as the Grand Canyon, white water rafting and even sandboarding. It had told me to be careful a couple of times but I had come back as light as I can recall ever being before and certainly as light as I have ever been since the age of 18 before I found beer. I might not have been as fast as I'd been in 2016 but I was certainly as fit as I've ever been since 2016 and a lot lighter than on any previous Spartathlon attempt. Things were looking good at long last … apart from the weather forecast.
I'd been keeping an eye on the weather pointlessly, for weeks. As if the BBC can accurately forecast the weather a day in advance in the UK let alone 3 weeks, the other side of Europe. At first the forecast seemed to be the same furnace in Europe it'd been all summer but as Spartathlon got nearer the forecast looked a bit wet. One day it looked very wet and the next it was back to a bit wet. Thunder was even forecast a few times but the forecast varied so much that I knew I couldn't rely on it, but it did worry me. Not that I feared running in the wet. Having spent most of my life running in wet weather in the UK I was more than used to it but it introduced yet another variable into the mix. I would have no crew out in Greece and in addition to figuring where I'd put what in the way of hydration, food, warm clothing and wondering whether I'd ever need it, I now needed to factor in what I'd do to protect myself from rain, chafing and from cooling down from being wet for long periods at a time. As the day approached I found it hard to work and hard to think of anything else but I figured that this race was still going to try and find something I hadn't thought of or hadn't prepared for to throw at me, just to tell me 'I told you so, it's not for you'.
Oh dear, I've just noticed I'm getting a bit carried away. 5 pages already and I'm not even out in Greece yet. I hope some of you are still here at any rate. I wanted to set the scene and show just how much a finish in this race would mean to me and how much an ever present part of my life being intent on one day getting a finish out of this race it has been, even if it's a race that really doesn't play to what remaining strengths an old mountain runner still has. I hope it also shows just what a fixation this race can become, eating its way into every part of your life if you let it … and you just do. One of my remaining strengths though apart from the new one of patience has always been stubbornness. Louise tells me it's not always a positive character trait but it is necessary for an Ultra runner. I just needed to know whether the race would ultimately and eventually reward that persistence/stubbornness with a finish or if it would just ridicule another pathetic attempt and tell me I should really have given up, got on with my life and stopped wasting what time I had left well before now and what did I really hope or expect to achieve at 60 that I couldn't achieve at 46.
Fast forward now to Athens and it's all comfortingly familiar and close to becoming a 2nd home. Last time I was here at the beginning of 2017 was on crutches having had to drop out of the Athens 48 but having paid for the flights Louise was much happier doing the tourist thing. I was up at Herod Atticus to remind myself what the start looked like and could have posted my 2017 entry by hand.
Nerves were mounting by the time I arrived at the Fenix. I met Laurence, with whom I have shared many a GUCR hour and Spartathlon failure in the past, virtually straight away. Laurences persistence and ultimate success in 2017 was one of the major spurs for me to get my act together and I looked forward to reminiscing and planning this new adventure with him. For me though this year the planning was going to be as simple as possible, no crew just Hokas, Tailwind and S-caps, topped up with pinole/blue corn Ultrabites and strategic Weetabix drink placement. The Ultrabites had been pre-prepared by opening them up and retaping closed (and fortunately bore no taste resemblance to the blue corn chicha morada that had been everywhere in Peru) but the Weetabix drink was a problem. I hadn't been able to bring it over with me in hand luggage and scouring Glyfadas shops found very little in the way of breakfast cereals or drink. The 1st part of the plan was already awry and chocolate milk would have to do instead. Nerves carried on getting the better of me at one of the race briefing too. Blimey, this race was a big thing these days.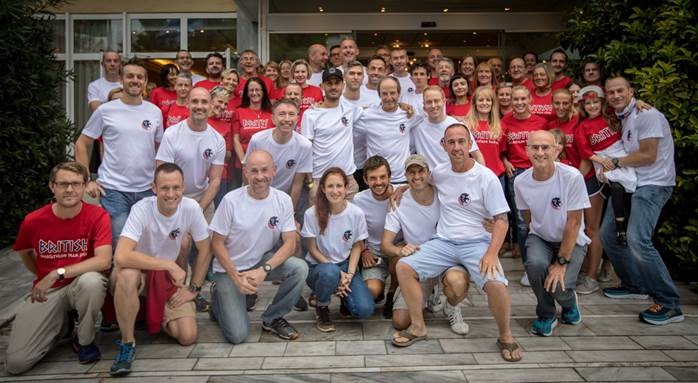 The BST team. It's a big thing these days. Me top left … trying to hide
The race start at Herod Atticus below the Acropolis just before dawn is the most amazing start you could imagine. This year there were no stars above and this was good. It meant no sun to burn into me from dawn onwards. There were even toilets so that meant no hunting for a vacant bush in the pre-dawn.
I hung around at the back and sat down with Sam from Ireland. Sam has been one of my major inspirations over the years. He's a couple of months older than me so whilst he carries on, I have no excuse not to either. This year Sam has done Badwater and a couple of weeks later did a 100miler to Sparta qualifying standards. I am in awe. Sam in his early days here had problems similar to me and it took him 2-3 times to get a finish. He even got over the mountain one year only to succumb to hypothermia. It's a warning that this race never gives up but he seems to have the knack now and is a regular finisher. We are relaxed and chat until a few seconds before the start until I take up my place and try to hide in the midst of other runners towards the rear. Sam is even more relaxed and stays sat down for a while longer. No hurry, it's going to be a long day.
And then we are off downill on wet cobbles as dawn arrives. I haven't warmed up my knee but I figure I'm not going to be pushing it so I am not worried. I take time to cast my eye behind me a couple of times to catch sight of the Acropolis, all lit up and dominating the skyline still, after all those thousands of years. It's a reminder of what this race is all about. We are all Pheidippedes in a last ditch attempt to get the Spartans help in saving us from Persian hordes. I need to be with Leonidas in Sparta by sunset tomorrow. This race has history.
The race
Things quickly become a blur only hours after the race so I really ought to have got this down sooner but in truth the first few miles did disappear very quickly. The route seemed all too familiar even though it had been 6 years since I was last here and I ran from the back up the hill to Dafni Monastery and down the dual carriageway on the other side, all in a low drizzle, not enough to put on waterproofs but enough to keep me cool, meeting up occasionally with a few Brits now and then until differing pace and each running their own race forced the necessary separation. I ran with Russ for a while but spent most of the 1st few miles with Paul Ali since we appeared to have synchronised our wee stops.
Paul A and I in between wee stops
I'd noticed right from the start that I was having to wee more than I usually do. After a while I noticed an occasional pink tinge. I was momentarily concerned but I knew it wasn't going to stop me so closed my eyes. Potentially foolish perhaps but I decided I would pay the penalty. I was drinking enough and taking my S-caps so I knew there was no more I could do.
I missed the schoolkids with the wall of high fives at Elefsina. I found out afterwards that the kids had all been given the day off school in view of the approaching storm. It was perhaps a good job I didn't know this at the time but in my determined state I would have run no differently.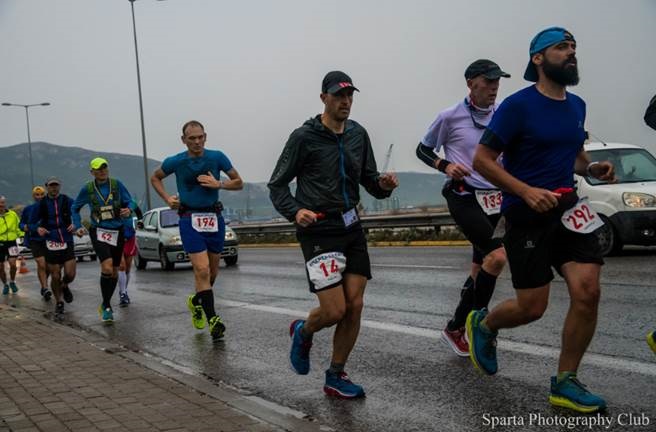 As it was I was running what to me was a perfect race. I got to Megara at the first marathon point in 4.07, maybe a little faster than my planned 4.15, but right on the money.
I knew after that that I next faced 'the hill' my nemesis and least favourite point on the route. It's not that its particularly steep, it's just very long. In the past when I've had a maximum of 10-15 minutes buffer and been forced to walk in the heat, my buffer has evaporated in a matter of a couple of miles. I knew this early on that to walk the hill would be fatal and was prepared to give it my all. As it happened it wasn't the beast it usually is, partly because it wasn't as hot as it had been in 2012 and partly since I was ready for it. I ran the hill apart from the odd step and was rewarded at the 50K point, my drop point in 2012, with the loss of only a minute or two buffer. So far, so good and confidence not dinted.
So far this was feeling too good to be true. I had ticked off the drop points in 2012, 20010 and 2007 and was feeling good, apart from a niggle in my R hip that I had felt in the weeks before I left. Last time my R hip had troubled me was when I had flattened off my orthotics and on commissioning a new pair, it had gone. Maybe I was due for some new ones but too late to worry about that now. My quads were making themselves known too but nowhere near as much as they had in 2007 when I'd tried to run within a month of UTMB and died about here as a result. The trekking in Peru was certainly paying off in my ability to move up the hills but maybe my quads weren't fully recovered from it.
The 2nd marathon is where I've always found it hard. My lack of pace has always put me too close to the cut-offs and left me with no margin for error but today I was building on my buffer and not seeing it drip slowly away. As a consequence I really was enjoying myself. It's hard to explain just how much easier it is not to have the mental burden of worrying about whether you will actually reach the next CP in time, places upon you. This race over 152miles has 75 CPs all with their individual cut-offs and if you fail to make just one of them, that's it, that's your race over. That the hard bit for me has always usually been between 25 and 50 miles has on occasion made my race much shorter than a trip out to Greece really warranted.
The next issue I faced was with my nipples. I had remembered to tape them before the start but the rain had washed it off. I had replaced it at a CP but it wouldn't stick. Eventually I was offered some Vaseline at another CP and used it profusely. It removed the issue but not the signs of it and my BST race T shirt made it look more heroic than it actually was. I did have to decline more Vaseline at every subsequent CP until I covered up at dark since I didn't have the luxury of having packed a spare this early on.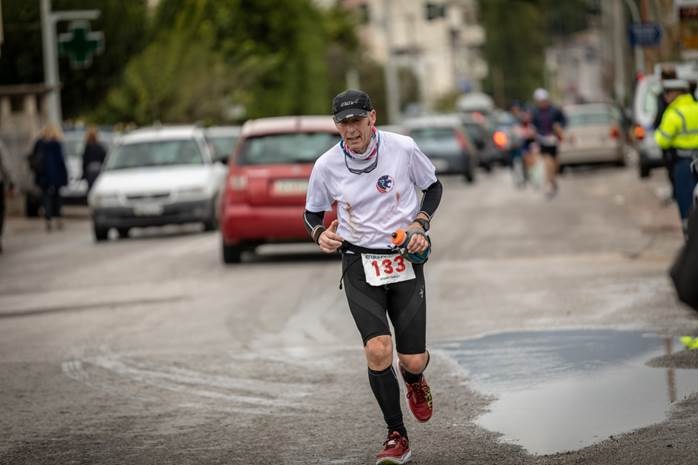 Does anyone have any Tip-ex?
Again the curtains dropped down protecting me from too much worry. When you are feeling good the miles seem to go much quicker but as a result you remember less about them. If alternatively you are in anguish over an evaporating buffer you can do nothing about, every step seems to take about 5 minutes and miles turn over so slowly. I vaguely remember looking out over the gulf, passing ships and refineries and through dusty little towns, generally enjoying myself really. Even if some of the photos show an old man grimacing, I was smiling inside.
The Hellas Canneries 50mile cut is 9½hours and before you get there there's a tough ascent up to the bridge. When I've made it this far in the past I've often found that I'm better off walking – something I can do quite fast and that proved to be the case today too. I was catching and even overtaking runners just by walking but encouragingly I'd found that I didn't want or even need to walk all of it. It was also at the point that I'd started toing and froing with Dean Karnazes. He'd said that he'd been clipped by the wing mirror of a car in one of the preceding towns. He was ok but it had alarmed him a bit and he had slowed down. It certainly doesn't take much. The roads are narrow through these towns and the cars do come alarmingly close at times. There's not a lot you can do about it and so you just tend to carry on in a blinkered jog whenever you can. In Greec e I'd found that in the main pavements are for parking cars on and so you do have to run a lot on the road even where there is a pavement.
Corinth canal is one of those places that make it to your head as a major 'tick' point. It's a great sight and a milestone on the route. In the past I've always been guilty of thinking that when you get here your right at Hellas Cans, but you are not. In reality it's a good couple of miles away along a busy road. Today my head was ready for this and took it all in its stride. I really was having a good day. My day got even better when I eventually arrived at the CP in 8.40, 50minutes up on the cut. In the past even on a good day I've never had 5minutes here, let alone 50minutes and I've always had to just run in and out like a frightened rabbit, with my chest doing cartwheels and no time to refuel – the start of an ever downwards spiral until you just run out of fuel entirely, slow down even more and eventually time out. In 2004 my day and 1st attempt had ended here grinding to a halt with a seized hip.
But that day was not today. Today I had a buffer to be proud of. I had hoped to get here in around 9 hours and as a consequence worried that I was going too fast. But I had time to eat, drink and be merry. Rob came up as my de facto crew until Russ arrived, got me some food and my drop bag … but I wasn't allowed to sit in Russ' chair (in no uncertain terms) since he was almost here too! Anyway, I knew that buffer or not once I'd took in some fuel I might as well get on my way since the hard earned minutes evaporate much quicker than you can build them up, if you are not careful. I took with me the canisters of Tailwind prepped for a quick mix at future CPs, stowed them in my utility belt and opened up my 1stchocolate milk. Yuk it was strong. Now, I am a great fan of both chocolate and milk but together I now found I am not. It was however calories in the bank so I necked it nonetheless but wishing as it went down that they ate Weetabix in Greece.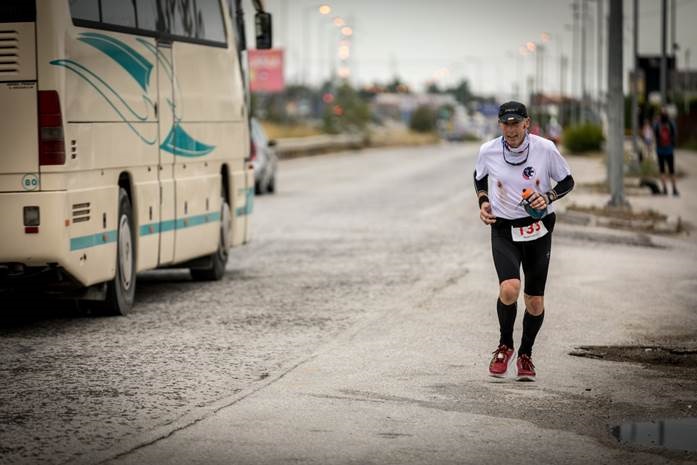 Approaching Hellas Cans and the 50mile point … I think (and close to smiling too!)
After Hellas Can the route gets more rural and nicer as a result. The weather also seemed better too and it had even stopped raining and I managed to get back into the zone again to-ing and fro-ing with Russ and DK, with both of them passing me each time I stopped for a wee.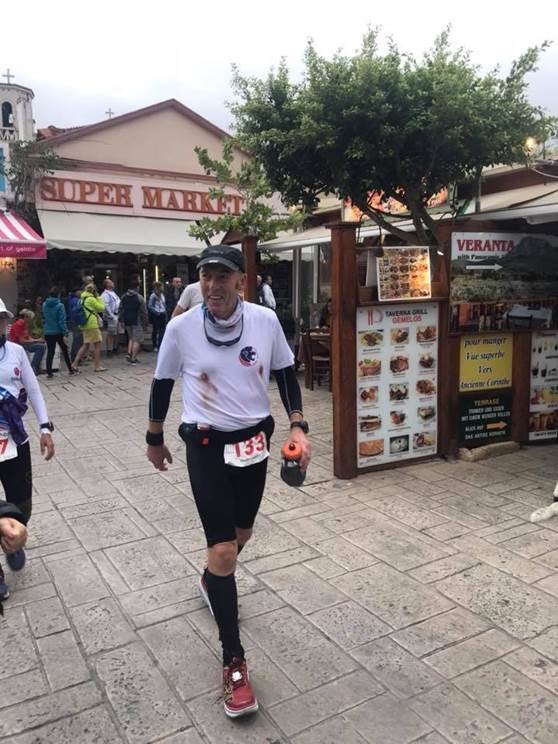 Ancient Corinth
Ancient Corinth came and went. It was good to see the ruins but it was really a stop for those with a crew so I just filled my bottle and cracked on to Zevgolatio, the 100K point. Zevgolatio is one of my favourite CP's. A lot of CP's, especially those in the villages have their own character and tradition. Elefsina has the schoolkids and their wall of high fives and Zevgolatio has the kids all looking for autographs. It's been the same since I first got there in 2006 and for me it's part of the race so I didn't mind at all sparing the time to write my name and number in their books along with a little Union Jack flag. I must have done 6 or 7 and must admit to being a little disappointed on seeing some runners just waving the kids away. Zevgolatio is also the place where I stow some warmer kit and my headtorch, although today it was far from dark. I picked up my drop bag and spied a 'vacant' chair to open it up on, only to be told in no uncertain terms by a crew member rushing up to me, that the chair had been 'reserved for Mr Karnazes'.
He arrived shortly after, most apologetic for his crews over zealousness but I assured him that I didn't need a sit down, just somewhere to open up my bag and sort the kit out and that the pile of bricks next to the chair would do fine for that. We'd had a couple of chats already over the miles, the main one being in respect of his advice what to do to protect the nips (for some reason he seemed to think I needed advice here, can't think why). I even got to see his and his nip- guards. Quite a nice chap I thought but a lot slower today than he normally is, which he put down to being put out of his stride by the wing mirror incident. It had been a while ago now and many miles in the past, but it doesn't take much to knock you back. I picked up my torch but decided I didn't need a dry T shirt since it hadn't been raining for a while now and I was dry again. I jogged off with a chocolate milk – still yuk, but easier to get down this time.
I was well out of Zevgolatio and heading up into the hills when it started to get dark. It's a shame that probably the prettiest part of the route is done in the dark, but at least I was seeing some of it this time since I was now over an hour up on the cut-offs and over an hour up on the fastest I have ever been at this point. I was looking forward to getting my head down and pushing on past my 2006 failure point, the next in the little ticks that would give me a further mental boost.
But I guess it was too much to hope for that it would be all plain sailing from here on in. Up until now I had run a perfect race but it was about to start getting tough. As I got closer to the hills in Halkion where my race had ended in 2006 it started to rain again, lightly at first. It seemed innocuous enough and I thought (and hoped) it might just be one of the sometimes heavy but shortlived squalls you can get at this time of year, but it got gradually heavier and heavier – and the wind got up too. I cracked out the plastic poncho I'd been carrying from the start and wondered how long it would last.
It was only a few minutes after that that I realised it was no squall. The wind was now whipping my poncho around and in minutes the road was running with water. My Hokas helped me stay out of a lot of it at first but it wasn't long before we were running though ankle deep puddles the width of the road and into a fierce wind. As I approached the hills at Halkion that had seen me off in the past, the water was running down the road like a stream. I barely noticed the hills though. What had ended my race in 2006 barely registered this time and I found I was much stronger on the hills than most. I had slowed to a fast march up the twists and turns but was still able to march past some of those who were trying to run.
It got no better. Soon the rain was washing down streams of mud into the road, making my road soled Hokas slip and skid around. I was close many times to falling over but I learned that the deeper the water, the less mud there was likely to be, so gave up trying to avoid the puddles. After all we were all soaked from head to foot so it mattered very little.
It was like that all the way to Nemea, the half way point. I'd caught up with Russ again on this bit and we pushed into the CP pretty much together. Russ went to his crew and I tried to find somewhere where I could sort stuff out. There wasn't a lot of room inside. It was full of wet runners, trying to eat and change, and the odd one trying to convince the CP staff that they were too unfit to go on. One guy next to me was getting a bit of an earbashing to get him out there again in it, but he was having none of it. He seemed ok to me and was well over an hour up on the cut-offs but had clearly decided that was it for him.
I dried off as much as I could and put on a showerproof jacket I had in my drop. It wouldn't keep me dry but with the poncho would hopefully keep me warm. I ate some real food, filled up my handheld and got out there again. It had taken me much longer than it would have done if it had been dry but it was very necessary to use some of my buffer to get sorted for the next section – to the mountain, still over 20miles away.
It felt very lonely back out on the road. There didn't seem to be many runners around and I was finding it hard to see the markings on the road because of all the water. I knew the route, but not well and a couple of times wasn't 100% sure I was on the right road. There then followed a long downhill section which helped me to get warm again. My hip seemed ok now but my quads were still hurting and I had to be careful with them. The next section was uphill and off-road. Again I found I was stronger than those around me when walking and quickly left the couple of runners I caught up with behind me. The only annoying thing on this section was the continual crew cars coming up the road and forcing me off the centre of the track, the only bit mud and water free and into the mud at the side of the road, splashing me as they passed. Had I not been so chuffed about getting this far into the race, that could have easily turned into a Mr Grump moment.
Eventually the hill relented and started to go downhill towards Malandreni. It was at this point that one of the most bizarre episodes happened to me that I have ever encountered whilst running and I am still not 100% it wasn't a dream or a hallucination. I had just waded through one of the deepest and longest puddles, about 25 metres (I know I am old but I am in Europe so metres will do, as long as its metres and not meters) and over ankle deep when I came across a Japanese lady stumbling across the road. As I got nearer she staggered up to me saying 'sleepy, sleepy' and gestured that she wanted me to slap her across the face. I recognised her as the Japanese lady who has the back of her head shaved and a face painted on the back so that she looks like she is running in two directions … apart from the fact that at present she was actually looking in only one direction with a hood over the other face. Anyway, she wouldn't let me go and kept urging me to slap her. I held up my hands and said 'look duck, I'm not going to hit you' at which point she grabbed one of my arms and proceeded to whack herself about the face with it. After a couple of whacks she let go and I chaperoned her to the next CP, which was fortunately only a short distance away handing her over to their care before blasting away as quick as I could. I was convinced she was a goner at that point and no-one was more surprised than me when I actually saw finish photos of her, having beaten me by about 30minutes. Either the whack about the chops had done its stuff or someone else had given her a few more. Either way this episode certainly woke me up.
I am not keen on the route into Malandreni. It is steeply downhill but the cut-offs recognise that and so you have to run it all, and quite fast too, or lose time against the cut-offs. Today it was painful on my quads and I was also worried about going too fast since I was still having to run through streams of mud and worried about slipping over. In Malandreni itself, there is often a party going but tonight was so wet there were fewer people around. I got some young lads to make me a quick coffee and since it had about 6 teaspoons of coffee in it I thought it would do me some good. It was very strong but I'm pretty sure it helped. The route out of Malandreni was equally steep downhill and by the time I got down to the valley bottom, my quads were shot.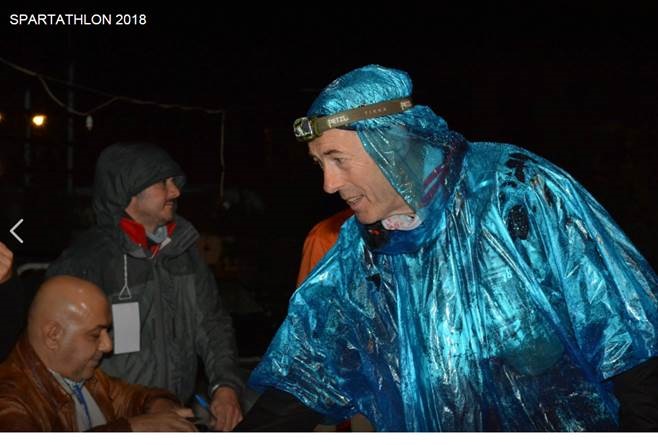 Coffee stop
It was about this point that I hit my darkest hour. My quads were so painful that even though the route was now flat I just couldn't run and runners were coming past me. I could see my buffer slipping away and knew that I had to speed up. I took some Paracetomol and just hoped for the best but I seemed only to be able to run for a few yards before pulling up in pain. It was also still raining.
The valley bottom was a dark place and I was losing ground on those who overtook me. The only relief came as we approached Lyrkia and started to go uphill again. The change of angle seemed to help and I made up some ground, even though it was mainly fast walking. In Lyrkia itself I stopped for some soup and this, or the Paracetoml finally kicking in, seemed to make a difference and I was able to jog towards Kaparelli, the CP before the switch backs a lot more easily.
It was around here I caught up with Russ again too. He seemed inordinately worried about the cut-offs and that we didn't have enough time to make it over the mountain. Now I'd been worried about this myself just a few miles previously but now I knew I was going better again and knew we still had over an hour on the cut. I tried to reassure him but I'm not sure he was convinced. Anyway, as we approached the notorious switchbacks at the base of the mountain I was feeling a lot better and my pain and frustration of only a few miles previously were a thing of the past. It's strange how things can change so much in such a short space of time. One minute you can be as low as low can get, harbouring all sorts of black thoughts and the next can be as high as a kite again. If I hadn't been experienced enough to know that these dark moments can be so transitory it could have done for my race. Even so, and even though you are half expecting one of these moments to arrive at some point it's difficult to prepare yourself for just how low you can actually feel. At the time it really does feel like the end of the world with no resolution in sight.
At this point I was walking with a German guy who lived in Miami. He'd had a go before and had failed but was feeling better this year too. He asked me how far was the furthest I'd got in any of my attempts. I answered by pointing to the CP about 100yards away – there, I said. And it was true. My best race so, far back in 2009 had ended in a mess of puke and diarrhoea about 50metres after this CP. I'd been the last person allowed through about 10minutes down but only yards afterwards my race had ended in ignominy in a drainage ditch at the side of the road, a result of having had to rush through the last half dozen checkpoints without the time to refuel.
But this time I was halfway up the switchbacks already and feeling strong on them, probably as a result of my hill training in Peru. I carried on through and onto new ground for the first time in the race. Head down I powered up the rest of the switchbacks and up to the mountain base CP. It was great to be on new ground and finally meet the mountain, after all these years.
I hadn't wanted to spend much time here. It was wet and there wasn't a lot of shelter. The tent was full and I had to lean into a wooden gazebo out of the rain to change the batteries in my headtorch. I managed some bread and soup and just headed off. Although I had dry kit here and a waterproof, it wasn't really the best place to strip off and although wet, I was still warm.
Immediately onto the mountain path I found it hard to see where I was going. Visibility was poor and light from my headtorch was just bouncing back. I had to turn it down to its lowest setting and just put up with the gloom it produced. The path did get steeper but I must admit I was wondering what all the fuss was about. Sure it was steep, wet and slippery in my road shoes but it wasn't the hand over hand stuff I'd been led to believe it was. I was overtaking runners on it too and on the way to the top caught up with DK again. From the rather gentle but insistent and repeated 'oh dearing' and slipping around, he was clearly having a torrid time. I was impatient to get past but the path was too narrow to try. At one point he slipped and waved an arm out which hit me over the head behind him, but I'm sure it wasn't deliberate and at another turn he allowed the group of us to pass. I powered away again and although the top was a bit further away than I thought, I wasn't unduly troubled. In fact the only issue came when I reached the top and found I no longer had a race number … or race belt either come to that. I do remember the wind whipping at my poncho at one point and it must have ripped away at the Velcro fastening and sent my belt complete with two sets of numbers, wheeling off somewhere into the mist and wind. I had to explain to the staff what had happened. It surprisingly perhaps didn't seem a big deal to them, they said they would look out for it and I was ok to go on. I did have to explain however at 20 odd more CP's why I didn't have a number though. So, anxious not too cool down I did carry on, without a break at the summit.
It was harder work down the other side. My knee is still good for climbing but doesn't like steep downhill anymore and I was anxious not to tax it. One slip or twist and it could be game over. The route was rocky, slippery and treacherous and the visibility less than the distance between light sticks. This meant that you had to set off in a direction you hoped would be correct and then vary it when the next light stick came into view. If it didn't you were going wrong and needed to look around. As a result I was slow going down the hill, cold and soaked by the time I reached Sangas village and also down to about an hour over the buffer. I had just done 100miles in exactly 21hours though. My only faster time over this distance was round a track in Tooting in 2016 and today was far from being the picnic that day had been. There was also a long way left to run. 50miles in fact.
And then it started to get hard. It was still dark and I was running painfully downhill towards Nestani. I was cold, my quads hurt and I was struggling to run on them. I'd heard this was usually a nice, easy stretch in fine weather. Easily downhill and so a recovery run into the breakfast CP. I had lost some time down the mountain but was struggling to get it back again in the 5miles to Nestani. The route was a little convoluted too and I ended up getting momentarily lost in Nestani itself. I couldn't see any road markings due to the shiny, wet tarmac and ended up coming into the CP from 180 degrees out.
Rob told me to get in and get out, and that Russ was not far behind me but I knew I needed to do something drastic or I ran the risk of just tailing off as it is easy to do on the next section even in good weather. I still had an hour over the cut-offs but I needed to do some drastic running repairs so I went to toilet to prevent me from having to do this in a less hospitable spot, stripped off all my wet gear and put on new kit. I also ate properly and picked up a new batch of Ultrabites and Tailwind canisters. It's never good to waste time at CP's since after all, there are 75 of them and a minute in each is an hour and 15mins. It was a hard decision to use up so much of my heard earned buffer but if I had just raced in and out I ran the risk of running out of energy and even succumbing to the cold. I hoped therefore the pit stop was a sound idea even if it did mean I was now only 35minutes up and with not now a great deal of leeway.
In fine weather I reckon I would be confident in building my time back up over the next section but I confess I didn't really enjoy it today. I was able to run again after my break but I felt like the route was bitty and unnecessarily twisty and turny and the more open nature of the course mean that the wind was harder to cope with. The route to Tegea really dragged and several times I stopped a run in despair of ever getting out of that wind/rain and in pain with my quads. I was convinced my pace was slowing off so much that I would inevitably lose my buffer. The CP boards however, comfortingly said otherwise. On other occasions these boards have confused an addled brain and converting kilometres to miles had proved just too awesome a task. Today I was trying to simplify it and just look how far ahead of the closing time I was and that told me that whilst I wasn't gaining any time, I wasn't losing any either and consistently over the next 10-15miles or so, I remained 35minutes up.
Eventually the country road turned into the main one and the big, long hill that had looked so intimidating on the route profile. I recall John Foden telling Glyn Marston on this hill back in 2004 that he couldn't walk it or he would gradually erode his buffer. I also recall other runners talking of just fading on it being out the race before they knew it.
Again the wind made it hard but once again I found my walking pace better than those around me and to be almost as fast as others running pace. As a result I was able to just power it and not lose much to those who tried to run it all. I was able to jog more of it than I thought I would too and again the buffer remained constant and as I reached 130 and then 135 miles I dared to start believing that it would be enough to get me to the end, but the more negative side told me that that road into the wind, which was getting stronger and stronger was surely going to have another go at spoiling the party.
My last drop was at the Monument at about 138miles. As I got to this CP the wind was now showing just how strong it was. I felt guilty at asking for my drop bag since the physio tent was in tatters and open to the elements and the majority of the CP staff were just trying to hold the main gazebo down on the ground. In some of the previous CPs the mood of the staff was unfailingly encouraging despite the wet adversity that everyone faced including them and I simply cannot thank them enough for their sterling efforts to keep us runners on the road despite the conditions. Eventually however, one of the staff emptied a box full of water to find my drop bag at the bottom. I had spent too long here but needed the fuel to stand any chance of getting me to the end and it had to be done.
I couldn't believe it would get any worse, but it did. Not long after Monument the wind turned up the dial big time and the rain was slashing at me like knives in my face. My poncho was now shredded and I was having to pull it together tight over me to keep any protection. I had held onto my headtorch after leaving Nestani since it wasn't quit light and now that paid off since I was able to use it to keep my cap and poncho hood battened down over my head. The noise of my poncho hood blatting around was so loud but it did provide some helpful respite from the elements, if I could only hang onto it.
By now I could barely stand up in the wind let alone walk or run in it. I knew now my pace was really slowing off. It must be, I was barely moving. At this point it seemed almost funny to think that I had tried to foresee what adversities this race would throw at me and prepare for them. It seemed just so comical that this race had done it again to me and after letting me get so far, it had turned out to be something so bizzarely unexpected as a hurricane that at 140miles into a 152mile race was going to end my day, just like the snow in the Cheviots only 10miles or so from the end of the Spine in 2016 had been so close to doing. There it had taken us close to 24hours to do what usually takes no more than 10 or so, because of the deep snow and wind.
I was cold and wet and thought that I was only going to get colder. Surely I've no chance of finishing now. In the UK this race would probably have been stopped by now but as time went by no-one came to collect me. There was no death bus picking up drowned rats so I began to think, what would Rocky do if he had been knocked down – well, he would get back up again. And what would Leonidas have said at Thermopylae if the Persians had told him to lay down his arms and surrender – well, he would have said 'molon labe' or 'come and get them'. I just had to stop feeling sorry for myself. I kept looking ahead out into the wide open landscape of the mountain road sweeping round. I could see a sparse line of competitors all with their heads tucked down into the wind. I had no option but to just do the same and just try to march into it as strongly as I could. I would not give up.
It carried on like that for I know not how long in a seeming alternate reality where time just seemed to stand still, until I was dragged out of my trance with the route turning off the main road. Having to do something else other than trudge into the wind brought me back into the real world and I trotted off down to another CP. A lady ran out of the CP towards me telling me that because of the weather everyone who got to this CP would be allowed a finish, even if it was outside the 36hr limit. I was pleased at that news. I didn't see the CP time board so I wasn't sure how long I had but I knew now that one way or another I would finish the run. Would I be happy with a finish outside 36hrs? Well, I told myself I was and that I was never coming back although I'm not sure I would have been 10minutes after I'd finished, but by now my brain was a bit fried and I had no real idea how long I had left or how far I had to go.
I carried on anyway, now downhill. Now that I was off the wide open mountain road and going past houses I could see just what the storm had been doing. It was still windy and raining hard but not as exposed, but I could see tree branches across the road, roof tiles all over the road and one house even had the whole of its rendered front sat in a pile on the pavement. I had only seen stuff like this on the news before.
The next CP arrived quickly and I was met by a British support crew. Darren was still there and we jogged off down the road together. I told him I was worried that we might have to finish outside the36hr limit since I had worked out from my watch that we had about 9 miles left to do. Darren assured me however that in fact it was only about 6 and he knew we would do it because he had done this final section before and knew how far it was. It looked like my watch was a bit out. I had put it on the lowest GPS setting so that the battery would last 36hrs and as such, over 140+miles had lost about 3 of them. It wasn't much over that distance but this far into the race it meant about ¾hr of time. Enough to get there in under 36hrs.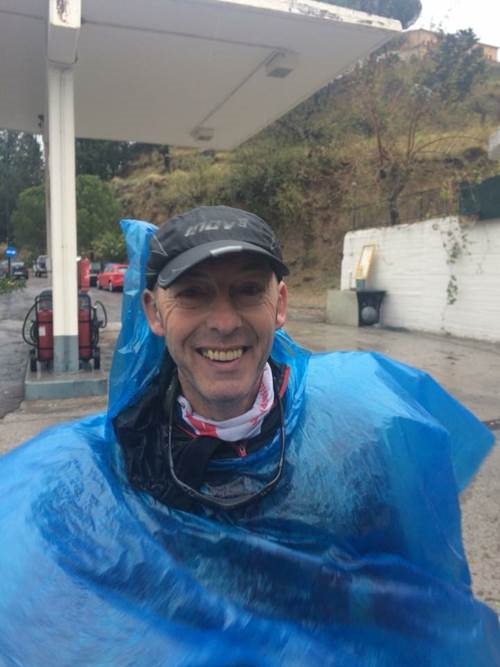 When I realised that and started to see signs to Sparta which confirmed the distance a huge weight lifted from me. I could have run faster down that last long hill if I'd had to but I knew now that I would make it. As a result I started to take it a little easier and just trogged happily down that final road into the outskirts of Sparta. We crossed the Evrotas which was swollen, fast, full of debris and very brown and looking more like something Wildebeest would crash through, through an ankle deep puddle on the bridge and whilst being splashed by cars. I didn't care and just ran through it all like I was on a cross-country race.
We passed the final CP on an island, but it had been effectively abandoned and there was nothing there but debris strewn all over the island. It looked like … well I suppose it looked like it had been hit by a hurricane.
After that we came into Sparta proper. I knew the route was a bit circuitous but there were no kids on bikes to guide us. Instead the locals were all out on their balconies cheering and waving. I dumped the tatters of my poncho into a skip and turned the final corner. There he was right in the distance, Leonidas, waiting for me. The last strait is a long one and half way down Darren told me to crack on ahead and 'milk it'. I was all for waiting for him and running in together but he was insistent that it was my moment. And that moment will live with me forever.
Aftermath
So will I do it again? I certainly don't need to do it again. Had the weather on the Saturday been as favourable as it had been to me on the Friday then I reckon I could have retained or even built on my 1¼hr buffer, but this race to has never in the slightest been about time to me. Instead it has been just about survival and just somehow grinding out a finish. Now I've done that I really don't think I could ever replicate the feelings I had on that final stretch into Sparta, or indeed and more to the point I don't think I would ever want to water down that unique feeling by another finish, maybe a bit easier next time or worse, another failure. I have often thought that I might in fact have become a better runner over my advancing years for not having finished this race till now, with constant training for a possible race finish as the carrot to keep my 'Eye of the Tiger'. A finish earlier in my running career might just have allowed me to take up retirement much more easily, and sooner.

So, I think it was probably a one-off rematch. One time in 7 the variables might just be right for me to finish but I'm not sure my knees have it in them or I can stave off old age and inevitable decrepitude long enough for that to all come together again. I am never going to get an autoqualifier so it could be another 3years or more before I get in again even if I did apply.
But that run (ok, run might have a bit of artistic licence here) down that final road to Leonidas was just indescribable, just something otherworldly. It certainly wasn't the finish I'd had in my minds eye. No adoring crowds drinking beer and lining the roads, cheering me on. No kids on bikes escorting me to the finish, but it was still the best race finish by far that you could ever imagine and I never want to better it. The road to Leonidas has been a very long one, so much more than 152miles but it now has an ending and is not the Greek tragedy I feared it might be.
There was I confess, some trouble holding it together as we tramped through puddles below the cheering balconies into Sparta and some dampness of the cheeks not cause d by the rain as I arrived at the statue after Darren had kindly urged me on ahead. I will treasure the memory forever but my time at the statue was all too brief. The Evrotas water I drank had certainly not been pulled from the river recently but was the sweetest reward, before I was tenderly escorted away. That this was for my feet to be washed would make Louise cringe (my feet, like every ultra runners are not a pretty sight at the best of times let alone after having been immersed in water for 36hrs) and brought me back into the real world, one where I could sit down without feeling guilty and think about life again.
Finally, my thanks to the BST - I never started with a crew, but I felt like I ended with one. To the ISA for organising such a great race and holding it together in such demanding conditions. To Darren for calmly reassuring me at CP72 that we would make it in time and for sharing those last few miles with me. To Mark for all these years believing I could do it but mostly to Louise who, whilst she could never understand why I wanted to keep going back to this race with only a 23%-50% chance of a finish, allowed me to chase and ultimately realise that dream.
Oh, and finally thanks too to Pheidippedes, without whom we would have no such race at all.
Written by Neil Bryant for the URC Along with the Race Ultra Pro 2in1 vest, I received the brand new Trailroc G 280 shoes from inov-8 as free samples to run into the ground…

Written by Neil Bryant for the URC Vest with 10 litre pocket clipped in place on the rear As mentioned previously in other reviews, I have been a Salomon vest user, and…

Written by Tremayne Dill-Cowdry - https://dill-runs.blogspot.com After Western States 2017 I still felt incomplete. Yes I'd finished, yes I got a buckle but it wasn't the race I had wanted. I had…
Written by Neil Bryant for the URC I feel very lucky to have got my hands on a Gecko race vest courtesy of Montane. My only previous experience with Montane vests…

Written by Gene Beveridge - https://genebeveridge.nz Woohoo! My first ultramarathon victory! And in no other event than the Tarawera Ultramarathon! This stunning 50km has been my target since the start of October with a…

Written by Michael Miracolo - https://liveslowrunfar.com Ultravasan 90August 18th, 201890 km, 868m gainSälen to Mora, Sweden For those unfamiliar with the stats of UV90, here's a little summary (those of you who know…
Written by James Parsons - https://medium.com/@jampars88_56611 Distance: 81.9km (50.9 miles) Elevation: 4,001 metres Participants: 485 sign-ups, 378 starters, 240 finishers Wind: up to 70mph (on summits) Rain: shitloads Official result: 13:03:05 (19th overall, 18th male). Race prep You know…

Written by Neil Bryant for the URC *scroll to the bottom for update after 785km* Full disclosure. I was given this pair of Kaptiva shoes for free to review. I first saw the Kaptiva when I was…

Written by Stuart Shipley - https://shippo88.blogspot.com The sweetest finish I have learned a new word in the last year or so. Patience. More importantly I have learned what it means. If you are reading…