Written by Andy Day
I've done a few of Hobo Pace events before & I've got to know the organiser Ronnie. He's a genuine guy with a clear passion for running & the countryside & this clearly shines through.
The events are always well organised, fun & friendly & the marshalls are some of the best I've known.
Originally I was a racing cyclist, then duathlete, then triathlete, then a runner. As with everything I start I like to push the distances & see what I can do, so inevitably running moved to Ultra running. I had returned to Ironman Triathlon over last 2 years but I actually hate swimming, so I've gone back to pure running. it's raw, natural & I love it.
I'm 50 next October & 6 weeks ago I decided I wanted to hopefully run Spartathon in Greece next September. In order to get into this iconic event you have to set a qualifying time & there are a few different race distances to chose from. You have to qualify before the Feb in a hope to get in that year, so this narrowed down my options. I decided to do the RH100, as its local to me, I knew some of the route & it was in Sept, so hopefully still warm.
There are too options to qualify -
Complete the 100 miler in under 21 hours & go into the ballot.

Complete the event 20% quicker in under 16hrs 48 to get an automatic qualification.
'Go big or go home' was my view, so that was the plan
This gave me 5 weeks to turn my training from a triathlete into an efficient ultra runner. Upping the miles without getting injured & not doing too much too soon. I never make things easy for myself but I am stubborn, stupid & I like to push it..
Well, the training went well, I didn't get any injuries & I arrived on the start line in the best shape I could hope for in the time..... The sun was shining, less than 10% chance of rain, a light/moderate breeze & 13 degrees over night. Let's do this!
Ok the route (Cut & paste from the hobopace.co.uk event page)
From the hall you head out towards the Chesterfield Canal. Once the route hits the towpath runners simply follow this all the way to Worksop to eventually join part of the Dukeries race route which enters into the heart of Sherwood Forest. Navigation on the canal could not be simpler as the towpath hugs the canal water. Once you hit the forest it is well taped.
The race loops 30 miles in Sherwood Forest twice, before returning on the same towpath once again. The Dukeries lap offers some of Nottinghamshire's most famous, finest and picturesque trail.
Following forest trails, minor roads and footpaths, the route passes charming lodges, through Creswell Crags and skirts the Welbeck Estate.
It then crosses Clumber Park and through peaceful farm land before looping back to pass by the Thoresby Estate before returning to the thick of the Forest again.
The route passes The Major Oak!
The return is made on the same Chesterfield Canal towpath to head back to the village hall for an easy navigational finish. (Oh how we laughed )
Clear marking is in place throughout so you can enjoy the race with the vastly reduced risk of going off trail. (No stop... you're killing me )
I believe there were 115 eager runners on the start line & I positioned myself..... right at the back.
This was a new concept to me but I had no care or thought for my finishing position. I had worked out that in order to qualify I needed to run at 10 minute miles but then taking into account stops at Aid stations, I decided that I'd run at around 9 minute miles.
Now in the past (I have always set off far too fast, knowing I had set of far too fast but still continuing far too fast. In the vast majority of cases this results in struggling like fook & internally shouting "you stupid t#@t, you've gone & done it again, when will you ever learn" to myself.
This really is a nice event & feels relaxed. The first few miles passed as I chatted to other runners & enjoyed the morning views. I was also trying to check out the way back, as navigation is never my strong point (more on that to follow) Only a few miles in & I did that, follow the leader thing & turned left instead of straight on. Luckily the runners behind were more awake & kindly shouted us back on track. Once you hit the canal, even I couldn't go wrong! (Turn right you run into the hedge, turn left you're in the canal...simples )
I was keeping to my pace but still found myself running alone after about 4 miles. I had no idea how many were in front of me & neither did I care. It was all about the time.
At the end of the canal there is a very small section of road & two islands to navigate around. At this point I past two runners just before hitting an aid station. I remember the lady informing me that I was in 5th place & I smiled & said there's a very long way yet.
I then began to hit the trail & continued on my pace, checking my watch for too many times to make sure I wasn't going too fast.
I was looking forward to reaching aid station 6 at Hazel Gap because this is where my better half & step daughter Nicole were marshalling. I ran in in joint third but all I had been doing was my own pace. Slowly, slowly, catchy monkey
A couple of pics, a nutrition top up & a kiss & I was on my way. I was told that I was 23 mins up on schedule at this point. The next part is a lovely 10 mile loop & back to Hazel Gap
I set off running with the same runner I had come into the aid station with but a short time later he stopped to stock up with his crew, I carried on alone. Back to Hazel Gap ( now 30 mins up) & then off out to Creswell Crags, tree lined Clumber Park & then back into the forest. This is another loop of around 20 miles, which again brings you back to Hazel Gap. It was somewhere around the 50-60 mile point that I moved into second place. Now for the second 10 mile loop back to Hazel Gap. I had already started to power walk the inclines at this point, in fact probably a lot earlier but I forget (I'm getting old) I do this to give my legs a break from running / use different muscles / mentally breaks it down into sizeable chucks.
Then in the last 1/2 mile back to Hazel Gap(mile 70)I saw the race leader Paul for the first time. Now this chap had flew off at the start like a steam train & was running at a great pace. I believe he came through 50 miles at not much over 7hrs - Smokey!
I hit 50 miles at 7:51 running time but 8:04 actual time.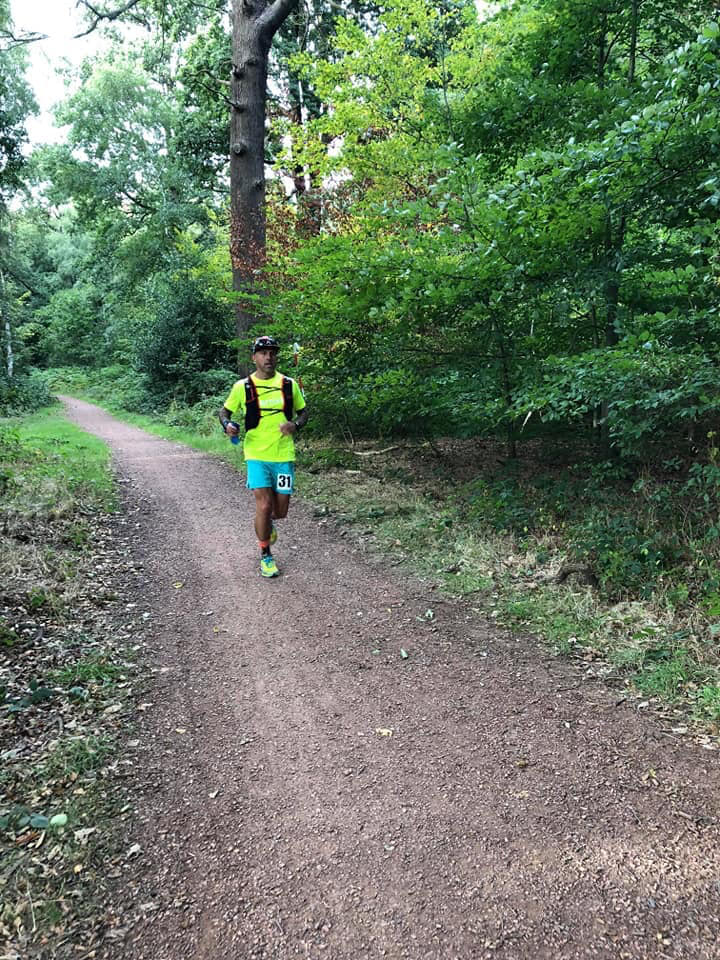 We ran into the aid station together but here is where my race mindset really came into play. I hadn't given it any thought at the time but Paul ran in, grabbed a quick bit of food etc & ran straight out. I on the other hand had already phoned ahead to my good lady for Maccy fries a vanilla shake (other unhealthy fast food outlets are available) & a leg rub & this didn't change. I royally took up my place in a deck chair - munched & slurped away, whilst Di applied the baby oil & gave my legs a tender rub. 15 minutes later I set off to Creswell Crags for the second time.
**What this has finally sunk into my head after all these years is you have to just run your own race. Deeeeeeer! Lightbulb moment.
It was now just about to turn dark, so I had put on my head torch. There's something special / hypnotising about running at night & just that bright tunnel of light to follow ahead of you, so peaceful. On this section I passed a couple of other runners & for the first time I asked how far the runner was ahead. "10 maybe 20 minutes mate" said one, "a long way, at least 15" said another.
I came to aid station 4 (drop bag zone) for the third & last time & being a tight ass I emptied the last of my food into my rear pack & threw the now empty bag into the bin. I can hand it all to Di at the 90mile point & save it all - Always thinking
The lovely ladies dutifully handed me a hearty portion of cold mushy peas & some soup. Deeeeeeelish! I thanked them & off I ran, heading back towards the canal.
I was still running quite well, walking the inclines & on track to finish within 16hrs 48, which was my only goal for the day. As I dropped down to aid station 3, The helpers kindly filled up my water flask ( as they had done all day) & told me the leader was only a couple of minutes away. 'Really I thought. He must be struggling. I might actually catch him'
I ran back out onto that small tarmac section with the two roundabouts. The street lamps were on here & as I looked down the road I saw the rear red blinking light of the leader Paul. This was the point where we went back off the road & re joined the canal. I could see Paul just on the canal as I approached the bridge over it. I stopped... F@#k! I can't see the tape showing me the way. I thought I saw a gap in the foliage & proceeded to trample through it but then it got narrower & I realised I was wrong. I turned around, went to run back & promptly fell face first into the plants. I stood up & saw that I was covered in prickly balls & in my yellow t shirt I now looked like a very badly decorated Christmas tree. These were also like nettles & I was now itchy all over my legs & arms. Well..... it woke me up a little if nothing else.
Thankfully I was still awake enough to ring the race organiser Ronnie & explained where I was. He promptly told me to walk back a little & I then instantly saw the tape to my left - straight on to the canal. It was that easy!
However for the second time Paul had again ran off into the distance & out of sight. I can't remember exactly but I think I was now about 15miles from the finish. I set off still at a steady pace & as there were no inclines on the canal, I could keep running. Around mile 87 I saw Paul for the third time, just before I had to negotiate my way around a small section (about 10 foot) of builders orange mesh & over some railway type sleepers that had been put down underfoot. I tripped & my right knee hit the deck. 'Ouch' 'Ouch' & 'Fookin Ouch' I thought I'd done something bad but as much as it initially hurt it soon wore off. (I think you're ahead of me, as was Paul AGAIN!) I was beginning to think I wouldn't catch him now.
However a short time later I finally caught up with Paul, who was clearly struggling & paying for that very fast start. "I think I'm out of ideas now" he said as I asked if he was ok. I felt for him, we've all been there. This guy had been out in front for 87 miles poss around 14/15hrs at this point. There was still a long way to go yet but I know the point when the brain makes demands that the legs can't keep.
I carried on to aid station two where I met Di & & my good friend Gordon, who had very kindly travelled for over 2 hrs to pace me the last 10 miles. As I approached I was feeling good "Come on Gordy" I shouted. Di asked what I wanted & I said "Just empty my rear pocket".
As I left the aid station Di told me I was still on track - exactly on the time I said I'd needed to be. (23:08) This meant I had to do the last 10 miles in 1hr 40 mins. It was very close.
We set off chatting side by side & then I let Gordy go in-front of me, guiding the way & shouting out any tree roots etc.. At the back end of these long events it becomes near impossible to lift the legs up high & kick back.
It gets a little hazy from here but after a mile or two, things began to change. I was obviously a little mentally & physically tired at this point. I remember that I fell down twice, hitting a couple of tree roots I believe. Each time I went down like a sack of spuds & each time I couldn't physically get myself up. I remember Gordy having to help me up, when I said I couldn't do it myself. It was quite funny. I know I looked like a complete plonker but Gordy didn't laugh once (well not to my face but I know he has since ) We've both been there before. This is one of the things I love about ultra running & pushing yourself, the mental battles you have in your head & with your legs.
I remember suddenly feeling really hungry & realising I'd told Di to empty my pockets. No fuel left!! - school boy error. In the words of Julia Roberts in Pretty Woman " Big mistake..... huge" The fact that I actually felt hungry, meant I should have eaten a while back (Is that obvious?) Luckily Super G came to the reduce with a Nine Bar. That was the god dam best Nine Bar I've ever eaten. A couple of times I had tell Gordy I need to walk for a minute (even on the flat canal) We were both looking for the light in the distance that showed us aid station one at 97 miles wasn't too far. For me, it now seemed like it was never coming! I do remember shouting out "Where the fook is this aid station" Gordy saw a light about 400m away "I think that's it mate" We ran to the light like an excited moth, only to find that it wasn't the aid station at all. At that point I think G phoned Di as I was worried we'd missed it. In my tired foggy brain I heard G say " Oh so it's just over a mile"
Oh how I laughed. " That's perfectly fine Gordy. I'm having such a spiritual experience at the moment" said Daysey........ Never!!!
Needless to say, even though I was running, that mile seemed to take forever!!!!
We arrived to the sweet voice of my number one girl. I sat down as I was feeling hungry & craved a peanut butter & jam sandwich with banana (Food of the gods!!)
I then had to ask Gordy to lift me out of the chair (Legs don't fail me now!)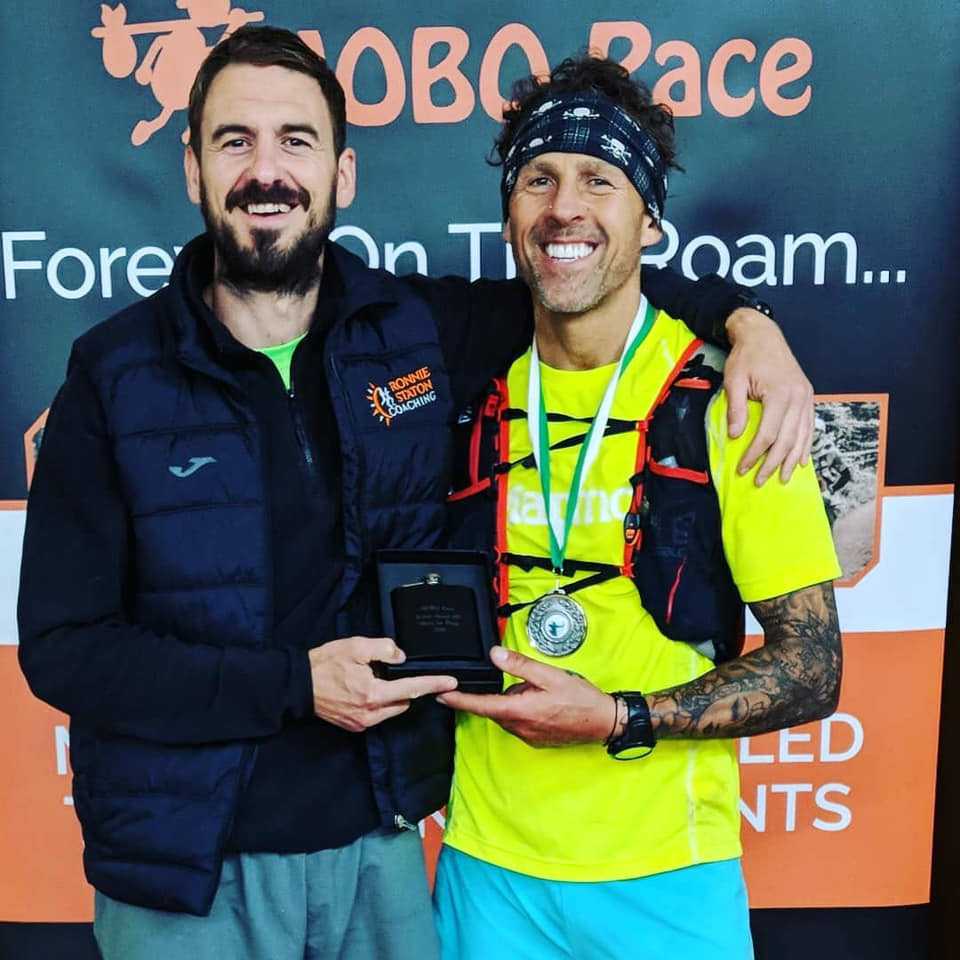 We knew that the Spartathlon auto time had gone now. I told Di I thought I might have to walk the last 3. "Get running" was her sympathetic reply but that's why crew are Soooo important. They tell you the basics & make you eat / drink when you actually start to forget the simple things.
Di guided us off the canal & pointed us in the right direction. There's a steep piece of road at this point & obviously I walked it. At the top we turned left, where I saw a piece of tape, then another but then nothing. We carried on for a short while when I told G we must have gone the wrong way. We rang Ronnie & Yeap, we had indeed gone off track a few minutes lost. Back on track we continued on & headed into a field. Pitch bloody black!! I'd ran it earlier in the day in the opposite direction but that was in the light. Now I hadn't got a chuffin clue where to run. Another call to Ronnie, another few minutes lost but we finally conquered the field & headed in for the last mile.
Ronnie had mentioned that Paul must of had a second wind because he was catching me. I still don't know if it was a cruel joke for me run faster but run I did. I then heard Di shouting ahead of us & G telling me to run hard into the finish. I saw Ronnie congratulating me & guiding me into hall, where I had to finish at the table. Guess what...... I ran through the wrong door. Lost again, right at the finish, much to everyone's amusement
Sooooo I was the 2018 Robin Hood 100 winner. I couldn't quite believe it & it didn't sink in until the next day. It was obviously a little bitter sweet, as I hadn't made the time but all I ever ask of myself is to do the best you can & that was all I had on the day. I finish in 17hrs 27 mins, the second fastest time in its 3 year history. I have to be very happy with that.
A massive thank you to Super G. We met ( with partners) by chance, looking at the information board in Chamonix before UTMB in 2015 & have been friends ever since. I wouldn't have finished in that time without him for those last 10 miles. Thanks buddy!
Thank you to Nicole (Little Bit) Hamilton for helping me at the aid station. She's a real diamond!
Thanks to Ronnie for putting on a great event, answering my numerous texts before the race, his help / guidance during the race & in advance of him coaching me hopefully towards a Sparta entry. Finally (thank god! I hear you cry) a big big thank you to my lady, my number one supporter & the best Facebook updater, Diddy. She is one in a million!
What next??? Well I ideally don't want to risk the luck of the ballot, so I've entered another event. The Flitch Way 100k in January. It's a shorter event but I think a lot harder to hit the auto qualification time. BUT nothing even turned, nothing gained. I'll need to run the 62.5 miles in 8hrs, that an average of 7:41 per mile. However to take into account brief stops I'll hope to aim for 7:30. Simples!! How hard can it be!?
Watch this space..... Nothing is impossible.
Oh & for you doubters out there. It was all done plant based... just saying
Thanks for reading!
Daysey!
Written by Steve West - https://theparttimeultrarunner.wordpress.com
Midnight on June 4th 2016, I had just finished the inaugural SW50 in second place. I had a brilliant 13 ½ hours in the sunny Welsh countryside. This was a major part of my training for an attempt at my first 100 a few months later.
October 2016 – Autumn 100 – 23:38 – this broke me for weeks.
SW50 was brutal but my 100 was relatively flat (which I now think is harder but I didn't then), so after finishing my 100 all I could think about was how on earth can people run 100 miles all on terrain like SW50. I hoped that one day I too would be able to do that.
October 2017 – After a good block of training I had my first ever DNF at Gower 50 due to a tendon injury which didn't go away for a few months. This really worried me as I was training for the Arc of Attrition in the February.
Arc – I recovered from the injury and threw myself into 70-110 miles a week for the next few months. I was feeling confident and I was running well on race day – comfortably inside the cut offs despite the nasty diversion and small time allowance that was given as a result. However, the Arc is brutal; the distance between the CPs, the lack of food (not at the CP's but just because there are so few CPs) and water and the general conditions underfoot got to me and at 80 miles and in just under 24hrs my mind and body admitted defeat.
I knew I had it in me to finish a nasty 100 and I like summer and I do well in the heat, unlike others I know who are stronger than me but can struggle in the heat. I had learnt a lot about running 100 miles from both my success and my failure and of course I knew half of the SW100 route. So for 2 months the thought of SW100 as a revenge race for my failure at the Arc bubbled away in my mind. I finally took the plunge in late March and entered, not huge time to prepare (12 weeks) but I was coming off the back of good Arc training and had recovered well, much quicker than from Autumn 100. I had 10 weeks training and 2 weeks on holiday for taper – trying not to get too fat.
I ran good weekly mileage of at least 50, but often 65 and when really wanting big weeks I managed a few 90-110 mile weeks. The difference here though was I knew I needed to drop my obsession with mileage and focus on elevation instead. I live by the sea in the Vale of Glamorgan and the highest point in town is only about 200ft, and the biggest hill climb is only 150ft. I work in Bristol City centre with a similar issue. I run 3 times a day when in peak training, usually all on the flat, but this time I was doing hills regularly, twice a week to start with and in the end 5 days a week at lunchtime, 700 – 1000ft. Towards the end I was doing my long runs, which were short for a 100 miler, of about 12-15 miles on hill repeats, sometimes doing 30 reps and managing 3500ft in the process. You do get funny looks from tourists at the seaside when you run up and down the same hill 30 times whilst they are having ice-cream in the sun.
I was feeling strong before holidays, but now was danger time, 2 weeks in Majorca, don't get fat! I knew I wouldn't do lots of running as it was during my taper, but I thought a few medium sized runs in the heat would be good preparation as last time in ran this route (SW50) it was sweltering. A few hill sessions on a treadmill in a non-AC gym were also good practice. As well as this I did a short heavy weight leg session in the gym each day, which I still think was of major benefit. I always wonder about building strength training into my plan, but like most ultra-runners, fall back on the false belief that time not running is wasted.
I came back from holiday feeling great and in the final few days before the race did some really quick runs (for me that is), which felt quite easy. I was now feeling confident.
A lack of planning for the Arc found me out, too little water, food, clothes at the right time. I wasn't going to make this mistake again. The CPs were much closer together on SW100 than the Arc but 11 miles over the Brecon Beacons across the middle of the day is still a long way.
There were 2 drop bags allowed for the 100, 1 at 45 miles and another at 71. I thought very carefully about what I had to carry from the start, what I didn't need until DB1 and what I may want at DB2. For example, all mandatory kit from the stat and a decent amount of food and tailwind powder. Powerbank, watch charger, suncream and more food at DB1. Road Hoka's at DB2, and more food and tailwind powder. A full change of clothes was also in both DB's, I wasn't going to make the same mistake again.
I knew the Runwalkcrawl CPs would regularly have my favourite snack, cold rice pudding and jam, so I knew I could access that at least every 15 miles or so at every other CP. I added a Pot Noodle and a pot of Porridge to each DB also. The DB routine was planned out well in advance. Arrive and bag off. CP marshals to fill both bottles and add tailwind whilst I got hot water for both Pot Noodle and Porridge. Let it cook for 2 mins, then add cold water. Drink/eat them quickly, grab anything else I wanted to eat. Change of clothes/socks as necessary, final grab of food for small plastic food bag to carry and eat whilst Pot Noodle and Porridge were settling in my stomach. I didn't want to bring them straight back up again! It worked perfectly!
I arrived early for registration, got the kit check done, tracker fitted, then went for a walk with the Etrex to ensure I knew how to use it. Then it was just a matter of waiting it out and being ready for the start – apprehension builds naturally.
I had a quick chat with Emma Williams from RWC fame who commented on my cool race vest. An Innov8 race ultra with front fitting pack. I thought it was great, but I had never raced with it. Off we go streamiling live on FB. FUCK – end FB live.
Literally my first step over the line saw the front pack disconnect from the main pack. I had to try to tie it on – but it didn't work. The 'No Limits Photography' video of the start shows me being the final person out fiddling with it trying to bodge it together.
What a start! I had to basically run to the first CP at 10 miles, holding my poles in one hand, which also wouldn't sit in their holder properly (again hadn't run with that before – I know I know!), holding part of my bag with the other. This means I didn't have a third hand to hold the Etrex. This meant I had to run to keep up with people to ensure I didn't get lost, meaning a quicker start than planned. What a disaster. 36 hour race and all this happened in the first 30 seconds. When I arrived at the Llantrisant CP I managed to find a way to drop a load of non-mandatory kit and somehow stuff the other bits into the 5l race vest which I didn't think was possible. Just shows how much you can actually get in.
I thought I was pretty much last and I was trying to calm myself down, 'don't get angry, there is a very long way to go'…'you're only racing yourself'. However, CP1 is where it all started to go right. I was running well, enjoying myself, taking it easy and ticking off the miles.
I forget where, but a few hours before darkness fell I started to run with Anthony Howells, we made good conversation and helped each other through the first night. We took a bit of a detour through the bogs around the wind turbines – my god they are massive – and I had to pull Anthony out a few times as his legs disappeared to his knees, but we were in good spirits. We left the final CP before Drop Bag 1 (Hirwain) just behind 2 other runners, maybe 10 mins. Before leaving the CP, Ben Morris, RD, said to me that this next section to Ystradfellte was gorgeous and very runnable especially the first bit to Penderyn and so 'make the most of it'. I didn't mean to leave Anthony but a few minutes later I started running and just didn't stop. I soon caught the 2 guys who left the CP 10 mins before us, as well as someone else about 20 minutes later – I left them all and despite looking back I couldn't see any of them.
I could now hear the waterfall at Ystradfellt. I had been waiting for this for 2 years since hearing stories from the 100 runners in 2016 when I ran the 50. I saw John, a walker I knew from other RWC events and stopped for a quick chat with him. He looked in a fairly bad way and I gave him some paracetamol and wished him well for the day ahead. Unfortunately I later found out that John DNF'd. My phone had died for some reason just after the start so I had no battery to take a photo of the waterfall which after waiting 2 years to see it was rather frustrating. (Below is a stock photo just so you can see how amazing it is). As I walked behind the waterfall I didn't really know what to do as I couldn't take a photo so I just stopped and shouted at the top of my voice. I had to do something to mark the occasion. I felt amazing and I ran all I could to the next CP and Drop Bag 1 where my DB routine worked brilliantly and I was leaving as Anthony was coming in about 15 minutes later.
It was all a bit of a blur really from there until Storey Arms, apart from I recall putting sun cream on before leaving DB1 CP and then sweating instantly and trying to wipe sun cream out from my eyes for the next 4 hours. Oh well I suppose it was a distraction of sorts and helped pass the time! This photo was taken somewhere in this section – I think!
The section from Storey Arms to Talybont Resevoir was the make or break part of the run. 11.5 miles, lots of elevation gain and no shelter from the now sweltering heat and strong sun. I made sure I ate a lot at the CP just before Storey Arms, 3 bowls of rice pudding, 2 bowls of soup and bread and was sure to make sure I had all my bottles full and the spare 500ml bottle was full too. Whilst only 11.5 miles it was going to take over 4 hours. Did I mention the heat?
The SF (Special Forces) Experience was out in force on Pen-Y-Fan, much like the rest of the world when the sun shines in the Brecon Beacons. I was moving fairly slowly but these people had 40lb ruck sacks on and were hardly moving at all. They also had SF people shouting and swearing at them to 'move it'…'keep going'. One guy was half way up PYF, but he hadn't moved in minutes, he was totally gone. When I got level with him they had almost given up on him and were now asking him if he had any food…protein bars. He replied feebly with 'its in my car' which was met with 'what the f**k is it doing there' in raised voices to say the least. I felt so sorry for him I gave him one of my Clif Bars. He tried not to accept it but I showed him how much food I was carrying and I made him take it. He actually hugged me! Very strange experience. I moved on and didn't look back.
Corn Du – done. Pen Y Fan – done. Fan Y Big – done.
I still felt good and ran when I could. Rounding the headland just before you first see Talybont reservoir I had a short chat with Barry Griffiths who had caught up with me from the 50 starters, his final prep before LL100 attempt in mid-July. I also managed to stop for a call of nature when no one was around, it all rots away in the end!
The view of Talybont Resevoir is gorgeous, but lingering in the background is the dreaded Tor y Foel. Personally, I think its worse than anything else on the route. I hate Tor y Foel. Head down and get it done. It was slow progress but I still felt strong. Its almost the place where you can say Im going to do this. There is still a very long way to go, but the back is definitely broken.
My feet however were starting to hurt now. Not blistered just painful from unsupportive trail shoes with less support than I am used to (Road Hoka's). I did another FB live as I had charged my phone. This was partly to break up the boredom of the now walk off the fire road into Trefil CP and DB2. My ankle was on fire as well. I said some hello's to people and thanked them for messages of support but I stated that with over 20 hours to do 30 miles (was actually 35) I was going to walk it in and not risk running and my ankle getting worse and causing a DNF.
The routine for the DB worked well again with lots of food being consumed. Imagine an all you can eat buffet approach, plates and bowls of food all around me, whilst I got out of the sun for a bit.
The pivotal moment of my race now happened. I asked RD Ben if he thought I could get away with my road shoes. He said 'Hoka's, put them on'. I bounced out of the CP. I was running and running well. There was a group of 4 of us now, three 50 mile runners and myself. We stayed together until New Tredegar where I immediately headed for the shop and bought a 2l bottle of water, a white magnum ice-cream (which I had been dreaming about for 10 hours) and a mars chocolate drink.
I was walking out of New Tredegar and enjoying my ice cream thinking the other 3 had gone a good 15 minutes up the road, when one of them appeared out of Tir Phil train station, Michelle McCully. Michelle's friend started the 50 knowing she wasn't well or fit and very quickly decided to drop, which meant Michelle had herself a support crew for the rest of her race. We walked out of town and onto the slopes and overgrown path that led back up. The 'No Limits Photography' people jumped out of the bushes and caught this shot of me here too.
Michelle kept saying she was going to drop at some point and was not sure she could make it to the next CP. It was her first ultra and so I knew her self-doubt was a bigger issue than her fitness. She was strong and moving well so I made it my mission to make sure she didn't drop – hoping she would thank me in the end.
My Garmin had buzzed once for low battery and it did it again now which got me in a bit of a panic as if I'm going to run a 100 miles I want it on my Strava! This wouldn't usually be an issue, I would just charge it on my powerbank, but I left my phone charging longer than I should and now the powerbank was dead (its old and only holds half charge – I definitely need a new one). It was at this time that Kelly Felstead, a FB friend and fellow 100 mile runner, had been messaging me, just with encouragement and trying to get me to run quicker to catch people a few kms ahead. A few km's really!
She had offered to meet me somewhere with a bag of goodies and alike, which was amazing but unnecessary so I declined. However not having the run on Strava called for desperate measures. I asked Kelly if she had a charged powerbank I could borrow. She said yes but then said she had had a drink and couldn't drive. I was deflated, but only momentarily as her amazing husband and ultra-runner in the making, Dewi, had agreed to meet me instead. Now I thought this was a short 2 mins up the road for him as we agreed to meet at the Bargoed CP. However it turns out he drove, on a Saturday night, 15 minutes from home and sat waiting for me for another 15 minutes at the CP. Oh and he did bring a back of goodies as Kelly made him. The guy is a legend. I offered to post the powerbank back on the Monday and put a fiver in for a few beers.
Dewi also joked that Kelly said she would come and run with us for a bit too. I said but she's had a drink, which Dewi simply laughed off saying, and. Michelle and I left Bargoed CP in good spirits, with Michelle again making plans with her friend to potentially meet somewhere before the next CP in Caerphilly if she wanted to drop and me jokingly saying that was never going to happen. About 10 minutes after leaving the CP and at a set of traffic lights in Bargoed town, a car pulls up, the door is flung open and out jumps a blonde woman in running kit and race vest. Yes, Kelly decided to tag along anyway – her poor husband!
Kelly knew the area well so I was able to put the Etrex away for a few hours which meant I could switch off for a bit. We chatted, ran, walked and took photos of a gorgeous sunset as we made our way to Caerphilly.
Kelly headed home and we were now approaching Caerphilly and were running on what was a lovely sloping road into the town centre. We ran it all in the middle of the road like we owned it. Why not? It was nice to get some flow going for a change.
We headed around the castle wondering where the CP was and when finally finding it and heading in we were greeted with Pizza and chips. Heaven. The chips didn't agree with me, but the pizza, oh man!
We headed out renewed of energy and Michelle was now feeling confident she was going to get this done. This was the final section where the only real climb was Crag y Alt. We were back to the 4 of us again and despite being the only 1 on the 100 I was keen to really push on but we held it back slightly and found the compulsory clip on Caerphilly mountain after circling the top once and missing the very unobvious path to the summit. From here it was on to Crag Y Aly which wasn't as bad as I had feared and heard about. We dropped onto the Taff Trail which allowed for some easy running but the group wanted to walk again which I did find frustrating at times.
However I was quite grateful as the climb up Castel Coch was much longer than I expected. We had a great pace on for the walk with the poles but it just went on and on. At 2am and with a narrow head torch view you can't see or recognise anything so it is the same step after step until it's over. Michelle was amazing on the nav around here as she used to live locally and knew the area well.
We were dreading the descent down Castel Coch driveway as it is very steep, just what the quads don't want. We heard a scuttling noise and the next second we were confronted with 2 badgers who were heading up the driveway. The 4 of us and the badgers all stopped in our tracks. They turned around and we gone as quickly as they appeared.
My Garmin was now showing around 104 miles but I knew from previous CP supposed mileage points vs actuals that we still had about 2 miles to go. I got slightly confused as to where we were as I thought we were coming out by the Motorway bridge but there was still a mile to go on the Taff Trail first.
Michelle and I wanted to finish strong and we started to run again, somehow getting under 10mm pace – speedy stuff for 32.5 hours in. We dropped the other 3 people that were now with us, walked for 30 seconds before agreeing to run in all the way across the line. My head torch died the moment we entered the field and the finishing funnel but it was done.
31 hour and 56 minutes. 105.7 miles. 19,416ft.
After picking up our medals and having the obligatory finish line photo, we picked up our drop bags and hobbled up the stairs to sit down and let it all sink in. Michelle's friend Hannah had promised us a can of beer if we got to the end which she duly handed over. It was very refreshing but it quickly did its work and half a can later I was feely very sleepy – not a huge surprise.
I eventually picked up all of my stuff and headed down to sleep in the car for a few hours. I tried to unlock the car but nothing happened. I slowly realised that the car battery had died. I couldn't figure out for the life of me why (turns out I had left the lights on) but I couldn't think of anything else to do. So I just stood there….pressing the key fob and watching nothing happen. This went on for at least 3 minutes! I went inside and asked Joe (RD) for some jump leads. Don't know why as I wouldn't have been able to get in the car anyway to open the bonnet. There were some jump leads going to be available in the morning but what use would they be anyway. I went back to the car and just stood there pressing the fob again.
Remember now that my head torch had died so it was completely dark. It took a few more minutes before I remembered that you can open cars with keys! Boy did I feel stupid, but ultra brain fog was at work. I tried to open the back door to sleep across the back seats but it wasn't having it and I couldn't be bothered, nor did I have the physical manoeuvrability, to climb into the back so I just slept in the drivers seat. I couldn't even get my sleeping bag open properly so I just lay it over me and went to sleep. I managed an hours sleep before the cold woke me up and I made myself get into the sleeping bag properly. I managed another 2 hours sleep and woke up just in time to see another group of 100 runners finish including the guys I ran with Friday night. I'd somehow managed to gain nearly 4 hours over them.
I loitered around for a short while, got the car started with the help of Pete from the RWC team and headed home for a proper sleep and feed.
This race had been in my mind for over 2 years. For most of that time it had been in my mind as unachievable or certainly a major step outside my comfort zone. The reality of the race is that I loved every second of it and I didn't want it to end. I could have happily turned around and headed back to Brecon at least. Easy to say, far less easy to do.
Joe from RWC did offer in the following days to support me back to Brecon next year for an unofficial 150 (which I reckon would be 160) and whilst I am tempted by this, I have other plans for similar distances next year – namely Canalslam if I get in GUCR via the ballot.
I also have enough points now for CCC 2019 so I may enter the ballot for that too. Choices choices. There is something about this route though that the SW150 or even SW200 appeals.
What the hell is wrong with me!
Thanks for reading.
Written by Richard Stillion - https://richyla.wordpress.com
Pure Outdoors Events 1st September 2018
http://www.pureoutdoorsevents.co.uk/index.php/the-grand-tour-of-skiddaw
Race Director Gaynor Prior
Event HQ Chris Preston
Event Manager Clare Shannon
Race Winners: Andy Swift 6.35.40 and Sabrina Verjee 8.07.00
1976 – the drought year! That was when I first went to the Lake District. I'd like to say I've been back every year since, but it would be a total whopper. 2018 was the next time I went back. Yes, this year. We'd stayed in the Dales and popped over to Windermere for the day. I really thought it was time to go back and have a look around! A couple of years ago I was having a bit of a mooch running with a few guys including Jacqui Byrne and she said she was running Skiddaw. I had a look at it online – 42 miles in the Lakes looked good – and tucked it in my head . So, it ate away and after the Windermere visit this year, it ate a bit more until June when I couldn't take it any more. It was a bit of a risk as it was sandwiched between The Plague and Cotswold Century but I somehow thought they could all dovetail. It won't go down as one of my best ideas. Besides, what was I going to do for training – the highest point in Oxfordshire is 261m, hill training at its best.
6 weeks ago, I tore my calf, so no running. 3 weeks later I slogged through the Plague picking up the inevitable niggles and didn't run for another three weeks – Grand Tour of Skiddaw weekend. The whole family and another family were supposed to be heading up for a weekend in the Lakes, but somehow I found myself alone driving up the heavily congested M6. I'd hoped to get there with a bit of daylight, but watched the sunset around 8pm as I turned off at Junction 42. A few country lanes and thankfully the satnav took me to Lime House School Race HQ and campsite. I parked in a field where I was to camp, and went straight to registration and received a very friendly reception, collected my number, dibber, vest, tracker and Mountain Fuel gel. And pins, don't forget the pins. I was pretty tired after the drive so wanted to get my tent up and crash. I bumped into Nici as I came out of the sports hall registration. I don't know how she recognised me in the dark, but she said it was my beaming smile. Such wit.
The tent went up pretty well, not that it was big, I stuffed everything inside that I'd brought and went to sleep. No, no I didn't. I lay awake listening to a dog barking most of the night. I can't fathom why the owner didn't shut it up. I didn't mind the owls and deer making noises, but the dog…
I think it was around 6am when Guy Garvey woke me up telling me to throw my curtains wide – I was in a tent, I didn't have any. It was, however, looking like a beautiful day. Nice and warm too. I munched on some flapjack I'd made with added chia seeds for breakfast, got my stuff together and pins, where are my pins? I went back for more. I didn't know where to put my tracker either and was told it would be okay to tuck it into my upper running vest pocket.
I stood around until race brief where I was told the route was approximately 44 miles (eh?!, thought it was 42) and then we had around 10 minutes to kill and as I was standing next to the mobile canteen, I thought it would be rude not to take advantage of some freshly ground coffee. Double espresso done and it was time to race. I say race. We were told if we wanted to race we'd have to get up front as there was a kissing gate not far away and would cause a bottleneck. I stayed where I was in my usual spot.
And go…
And off we went. And then stopped.
And rest…
It was for around 5 minutes but it was nice to have the rest… There were quite a few kissing gates on this section so whilst the field of runners spread out, they also bunched at the kissing gates. I got a bit frustrated with this and tried the run ahead of others to get to the next gate before you technique. It was the first mistake of many in the day – – the majority of the field would be passing me on the way back. It was nice to see Nici, Sharon and Jacqui at a road crossing as they were helping out with marshalling duties – there were others, I just don't know their names. I pootled on over the sparkling new Bell Bridge which had been trashed by Storm Desmond in 2015.
There was some nice pottering along here and I was feeling a bit excited about the views opening out. I must have been daydreaming a bit here because I went flying. I was blatantly tripped by some root, bramble or twig – I don't know which one as they were all grinning and not owning up. I really don't like that sort of thing, hanging around in woods doing nothing but photosynthesising. Go get a job, like oxygenating the planet. I jogged on with a flesh wound of pride.
The first checkpoint was in Caldbeck and Nici and Sharon were there post-road-crossing detail and were now on dibbing detail. The Byrne was sat on a wall cheering runners on. I went inside and filled my bottles up, ate some peanuts and a banana. And so to my second mistake of the day – I didn't bother drinking any water because I couldn't be bothered to take my cup out of my vest. You can't make it up. Well I was going to pay for that before long.
And so to the hills…High Pike at 658m is, according to Wikipedia, the most northerly of the Lakeland fells over 2000 feet. It's uphill. I am terrible at going uphill and a lot of people I'd passed at the kissing gate section were sauntering by chatting away whilst I blew out my backside. The route was waymarked this year for the first time and there were loads of little red flags marking the way up. Not needed today but if the clag had come down they'd have been most useful. Eventually got to the top…
..and then started downward. I was getting thirsty already and saw a marshal at a refuge – Lingy Hut – and he said when we got to a sign we should turn left. It was a really good downhill bit – by Grainsgill Beck.
Head down there and turn right..
I really enjoyed it, going as fast as I could, which compared to a fell runner would have been risible, but it felt good. There was a sign at the bottom about a mine but I didn't stop and then turned right onto some very runnable terrain. It should have been runnable anyway. I got a mile or two along and then simply crashed. I was done already. Out of water and praying for an aid station. I hadn't checked where they were so had no idea when one would come along. What about those houses up there? Nope, that's Skiddaw House. Nothing doing. I remembered I had a nakd bar and ate that. I'm not sure whether the bar started to kick in or a change in terrain snapped me out of my slump. The path went upwards and onto a bit of a ledge looking ahead towards St Johns in the Vale (I think). It was beautiful to see a bit of valley and hill with clouds and sunshine coming out across part of it. Stunning stuff.
I headed round towards my right and Keswick and Derwent water came into view. Then I saw what I hoped was an aid station (thankfully it was – Latrigg). It took a bit of time to get there and I saw some runners coming back towards me. I asked them why they were coming back and they pointed over my shoulder. I looked around and there, disappearing up to the clouds was Skiddaw. I was suitably impressed.
Skiddaw
I got my cup out this time and let it overfloweth to slake my thirst type thing. And there was meat and potato pie! I've never fuelled up on that before and wasn't sure about it, but carbs, fat and salt can't be all bad on a run. A few salty crisps too and I was ready for storming the Skiddaw – let the ascent begin. There's a Simpsons episode where Homer is supposed to be climbing the Murderhorn and he's been through about 3 oxygen bottles.
Summed me up perfectly
The scene pans back and it shows he's just set off only marginally above Marge. That was me. Again, my uphill skills and all that training in the white horse vale were paying dividends with embarrassing riches. A family of sloths on holiday from the Amazon rainforest walked by chatting away. Followed by some other slow animals that I can't remember the names of. It was great though, looking back over Keswick – the traditional start of the Bob Graham Round at the Moot Hall steps.
Keswick and Derwent Water
The views eventually disappeared as I went into the cloud. There were plenty of tourists doing the climb as well. I'd been chatting with Jacqui's friend, Sharon D on the race and she was ahead of me going up but it was levelling off and I managed to catch her up with a bit of running and we had a bit of a chat. There's a bell that the race organisers put on the trig point and I was desperately listening out for it as a guide that we'd be near to the top. I couldn't hear it. There seemed to be even more tourists coming down now and I was desperate to ask them if it was far to the top but there was little point, it wouldn't come any sooner whatever they said. We'd started going upwards again and Sharon forged ahead out of sight. I was following the cairns in the mist on my own.
Hello…..?…..Hello?
Hello?
It was Sharon. She'd got a bit disoriented in the cloud but she was heading the right way, we walked together and soon came across a couple of marshals. How they hadn't frozen to death I don't know – despite warm weather clothing. They said it wasn't far and sure enough it wasn't. We rang the bell and thus began our tour of campanology.
Some young lads were sheltering by a cairn and asked us if we wanted any sausage roll for some reason. Very kind, but I declined. I wanted to get under the cloud as I knew I'd get cold soon if I stayed, so we headed back to the marshals we'd seen before. It's down there, they said. It was great! Steep scree, I didn't know how to go at it. I'd read about the brakes off, brain off theory but there were people coming up as well.
Brakes off, brain off. Photo courtesy Pure Outdoor Events
I did the best I could. Legend fell runner Billy Bland had described how the only time he'd got injured going off Skiddaw was when he was a bit older and tried braking a bit too much. I'd say I flew down because it felt like it, and I overtook quite a few people, but looking on Strava it wasn't very fast. I got to a bit that levelled out and there was a photographer there for the race. I simply asked him if he could make me look like a runner.
Trying to look like a runner. Photo courtesy Pure Outdoor Events
The path went upwards a bit and I thought I'd try my new cola caffeine gel.
"Don't worry about stomach issues, always try new gels at the top of a mountain in the middle of a race" suggested no one ever, but then I don't think meat and potato pies are on Kilian Jornet's nutritional agenda either.
Another welcome downhill bit ensued, and stunning views when I dared to look up.
I got to the bottom and chatted to a few runners – NDW50 man and walking pole girl. I needed to take a quick pitstop and went behind a wall. What came out was orange. Evil orange. I was seriously dehydrated.
I don't remember too much about the next bit, just bimbling along, occasionally chatting with the odd runner or two and then the aid station at Peter House Farm came up with welcome relief. There was a car coming along the road we were heading up and we moved to get out of the way, but it pulled over. Who got out of the car? – None other than my niece Sam! What an amazing and welcome surprise. I knew she was tracking me and lived not too far away in Penrith, but I hadn't expected her to turn up. I was joyous. I had a fight with some wasps over some cheese and pickle sandwiches and had a chat with Sam and she'd said she thought I'd dropped as my tracker had stopped working. I was a bit annoyed about this as I knew my family was keeping track of me and they're good fun to watch, (I watch them myself as well).
Runner 112 is erased from existence
One of the marshals had a bit of tape and now taped my tracker to the more exposed shoulder part of my running vest and it did eventually work again. Not sure what happened with it. Sadly had to say goodbye to Sam but she said she'd be at the finish. I was then travelling through a field and there were a couple of guys I spoke to and asked if the race was actually 44 miles, more or less?
Actually it's 46!
Eh!? I initially thought it was 42, then it was 44 and now it's 46? Where did the 4 bonus miles come from. I spat my dummy out. I was running along now trying not to trip up, but it wasn't roots or branches this time, it was my lower lip. I was shot in this race around the 10 mile mark, I didn't want to do any more than I needed! I was glad I knew now though, rather than finding out at mile 44 that I hadn't finished! The two guys ran off but I overheard them saying that the rest of the route was mostly rolling countryside with a few pulls every now and then. (The "pulls" were steep up bits that didn't last too long).
Rolling countryside (route marked) with pulls
Maybe I should have run a bit more, but I couldn't help stopping to take photos
For a fair bit of this part of the race I found I was running on my own, l would look around and no one was there and then people would appear from nowhere and pass me. Was I going backwards or what? I was following the route markers and up until now I hadn't taken a wrong turn but now, by a farm with the road going ahead, was an arrowed sign that was leaning to the right – was it right or straight on? Absolutely no idea which way to go.
What's that Richard, you didn't bring your course notes?
Well, I printed them off, they're in the car.
Well, you've got a compass, surely you brought a map then?
Err. Nope.
There was a GPS download on the Pure Outdoors Events website. Goes without saying, you uploaded that onto that expensive device on your wrist.
Ah. I mainly use that for daily step counting….Oooh look, there's a guardian angel disguised as a runner – Bright Orange Top Lady. I know she's an angel as she has a gps system around her neck and is telling me that the direction to go is along the road.
And I was thankful for a bit of road running if I'm honest. I sort of followed Bright Orange Top Lady for some considerable time as other runners caught us up or we caught runners up. The road was now exacerbating the grit and pebbles in my shoes and it felt like sandpaper rubbing away. I resolved to stop and found an ideal place against an open barred fence thing on a bridge over a brook. In hindsight it wasn't wise because if I dropped my shoe, then I'd have had to play Salomon pooh sticks and leg it after a disappearing shoe as it meandered down the stream. Shoes emptied (although there's always one bit of grit that hangs on for dear life), I felt a bit more comfortable. We left the road and I was talking to a chap with a Liverpudlian sounding accent for a while, then I pushed on a bit and caught BOTL up. I thanked her profusely as I'd hung on to her coat tails a fair bit. She looked at her gps and said we were on Caldbeck common. And then we got to the corner of a field wall and she said that that was it, we'd done the loop so we were now heading back the 10 miles we'd come out on. Then she disappeared! It was pretty flowing downhill though and I ran as much as I could towards Caldbeck. Reaching Caldbeck I suddenly dropped again. Absolutely wiped out. I knew the aid station was close, but I reached out for another bar to eat. I was still eating it when Nici's dulcet tones shouted at me to get a move on. The Byrne was still perched on the wall – although she denied it, I could have sworn she'd sat there all day. I went inside the hall and decided I'd shovel as much food in my face as possible – no more energy slumps. Soup and lots of cheese and pickle sandwiches. Cup of tea. Coke. Absolutely fantastic. People came and went but I'd stopped caring. Eventually I got up and decided to finish. 7-8 miles to go along the riverside. Hopefully those nasty bits of nature had moved on by now as well.
Off I went. Bloated and feeling sick from all the food I'd eaten. So I had to go slowly and let it settle a bit. I was good at going slow anyway, so all was well. I pushed on and stopped, as I'd done a lot of times this race, to take in the surroundings and take a photo or two. There was a wide bit of river at one point and I was almost expecting a kingfisher or dipper to fly along, but sadly it wasn't to be. I was so banjaxed by now that I kept stopping at gates and rested my head on them and I was blowing away. I was heading through a field when a farmer pulled up on a quad bike. For a fleeting moment I thought he was another angel and was going to offer me a lift. Sadly this wasn't the case, he just asked me about how many runners I thought were left. Over Bell Bridge and off the road again. I decided to take one last gel, no point in taking it for a 40 odd mile walk and it might just help me get to the finish. I looked behind me and there was another runner the other side of a field. I wasn't going to be overtaken again so I started to run and resolved not to stop again – which I didn't until I got to the final field full of cows. Dammit. I'm not overly afraid of cows, but have a healthy respect of them having witnessed (first-hand) them charging rather too close for comfort. Thankfully, they weren't interested so I got through them and the kissing gate without event. Just a little run along to the finish and Sam was there to cheer me on. I couldn't make out if she wanted to hug me or not, but she just told me to hurry up and finish so that's what we did. The same lady that was on registration the night before dibbed my finish and said hello again. She took my tracker and dibber and got me a coffee. There was a makeshift bar in the sports hall – the Stagger Inn – and I sat down with Sam with my slate finishers medal. I did my best to talk but was feeling out of it. Sam was brilliant and got me a pizza. And a second pizza. And coffee. We chatted for a while and I agreed to meet up with her the next day for lunch.
Slate bling
Some showers never have hot water. I don't believe these ones had any cold. They'd been turned up to Fires of Hell heat. Absolutely marvellous. I would love to have had a drink in the bar afterwards but was so shot that my tent was calling. I wasn't falling asleep any time soon as I was aching and full of adrenaline and feeling happy with the world. And there was loud music playing and huge whooping going on as other runners came in to finish. It was a great sound to hear and I just lay there in agony but felt good.
Morning After
After my shower the previous evening, I'd put my watch in a bag. My phone had run out of battery as well. So, when I heard cars leaving in the morning from the camp site and zippers going in tents, I thought it must be time to get up. I got out of the tent to be greeted to another balmy day (no music this time) but no one was about. I put my phone in the car to charge and it was only 7am. I went to the sports hall to have a look around and Jacqui was there having a cup of tea so I decided to have one. Sharon D joined us too and we had a bit of a chat. We were waiting for later because Billy Bland was coming to give awards out and have a bit of a chat and Q&A. There was also a light stretching session which Gaynor – the RD – was taking.
So the morning went by, the stretching was much needed and then we sat outside for a bit. Mr Bland turned up with cake made by Mrs Bland who was also there for a while. We then went back in for the presentations and Gaynor gave a bit of a washdown on the race. There'd been over 500 arrow markers put out. And a bunch of idiots that had either moved them or taken them down. Why? Who knows – it had sent a couple of the front runners the wrong way but luckily the crew were on it quickly to correct everything.
I think there were 140 starters with only one drop – someone who was ill, so sensible decision. That's a fantastic finish rate. Course records, third time win in a row in the ladies (who'd also had a storming LL100 earlier this year) and the third place male had run a half marathon that morning in 1.20 for a 4th place finish!
Billy Bland then gave out the awards and then had a chat about his running and, of course, Kilian Jornet who had recently taken his long-standing (36 years I think) record for the Bob Graham Round. He mentioned being buggered a lot and had also mentioned that Kilian too looked buggered at the end of the BGR. I had to laugh at the thought of Kilian picking up this expression then going on to to win the UTMB (sadly he didn't), then being interviewed on Eurosport – so Kilian, how do you feel? – buggered. Not standing still, Mr Bland then got changed into his cycling gear to ride his bike back home. I'm not a fan of selfies and don't care for celebrities, but I did ask for a photo with this fell running legend. What a guy.
Mr Bland with a groupie
I drove slowly back to the M6 trying to take in as much of the scenery as possible, then headed to Penrith for chilli made by Sam. It was great to see her again and have a bit of a chat before heading back home on a much quieter M6 than when I came up.
Thoughts
So, how did I feel after the event? Buggered obviously! But I felt appreciation, awe, bewilderment – for both the scenery and the runners. I slogged up Skiddaw, but these guys raced up it. The Bob Graham Round STARTS at Skiddaw then takes in a further 41 fells – all within 24 hours. Billy Bland's 36 year record was 13.52 and only beaten this year by Kilian Jornet in 12.52. I took nearly 12 hours just to get round this course!
My 42 mile race length supposition came from me not looking properly at the Skiddaw race page.
Note to self – read the information properly before starting
I'm not sure how the approximate 44 mile turned into 46 though, but this is NOT a complaint at the RD – they must be utterly sick of Garmin/Suunto Johnnies moaning about bonus mileage (and taped seems for that matter).
I confess, I hadn't looked at the map properly to work out aid station distances. I got my water and food badly, badly wrong. I paid for it plenty too, with quite dramatic energy crashes.
I'd been complacent about the route as I knew it was fully waymarked. To not have downloaded the GPS was real indolence on my part.
Pacing was just ragged. If I may make a plea – I've never done anything like this before – well, sort of half of it on Man vs Mountain, but it doesn't compare.
Having chided myself, what were the good bits?
It was utterly amazing. I loved it. Value for money as well. Helpful marshals from start to finish, good food, beautiful route and a fantastic introduction to the Lakes. Generous cut offs if you don't want to rush, but some fantastic runners at the pointy end if you want to race.
The runners that I talked to on the course and the next day over breakfast were great company and really friendly.
Gaynor clearly knew her stuff and put on a great event and it was fantastic to see and meet a running legend at the end.
Can't fault it. Top marks!
Thank Yous
Huge thank you to Gaynor for putting on a great show and the stretching session the next day was a great touch.
Billy Bland for showing up and giving us a few anecdotes.
Mrs Ann Bland for bringing chocolate cake.
Nici, Sharon and all the marshals whose names I don't know, for their friendliness and helpfulness, you made the race run smooth as clockwork.
The friendly people I met.
The Lake District. For being utterly stunning.
Oooh, and the weather. Damn near perfect.
Jacqui for pointing me in the direction of the Lake District.
Finally, Sam. Thank you so much for turning up at the aid station and for pampering a whimpering mess at the end. And for the chilli the day after.
Race Dedication
To the Lake District. I waited 42 years to see you again. Let's not leave it so long next time!
Written by Katrin Silva - http://runkat.com
The Wasatch 100 is the last race of the Grand Slam of ultra running, and the toughest by far. Back in January, running four 100-milers between June 23 and September 8 had seemed like a brilliant idea, but by the time I line up in darkness on a dirt road in the foothills of the Wasatch Mountains near Salt Lake City, I am plagued by serious doubts about the wisdom of my decision, and about my sanity in general. With Leadville just 19 days behind me, I feel lingering fatigue in my bones and lingering soreness in my hamstrings. The Wasatch elevation profile looks daunting: it starts with a steep, long climb, then continues going up and down, but more up than down – 25 000 feet of up. Leadville and Western States rack up about 18 000 feet of elevation gain, Vermont only 17000. Wasatch is definitely the hardest course of the four. Its only saving grace is the generous 36-hour final cutoff. I hope I won't need all of those 36 hours, but it's reassuring to know I could if I had to. The other thing I'm happy about is the weather forecast: after running a cold, rainy Leadville, and after reading piles of Wasatch race reports full of dire warnings about freezing conditions, I look forward to a hot day.
On Friday morning, I know won't see my crew, i.e. ultra husband David and ultra BFF Tammy, for several hours because the first crew-accessible station is over 30 miles away. We huddle in a group hug just before I find my place in the middle of the pack. At 5 am, we take off, leaving the lights of Salt Lake City behind us, and below us, on our way to the finish line near the Deer Creek Reservoir, 100 steep, rocky miles south of here. Wasatch is affectionately nicknamed "100 Miles of Heaven and Hell." We look forward to the joy and the pain of the next 30-plus hours, to the highs and lows we will experience while putting one foot in front of the other. It sounds like a reasonable plan to this crowd of 300 hardy ultra runners and their crews. It may sound like insanity to our non-running friends, but we know they're just jealous.
I settle into the conga line on the steep, narrow single track up Bair Canyon, climbing at a steady pace. It's still pitch dark. I feel relaxed, mentally preparing for all the tough miles ahead, when a disembodied voice somewhere ahead of me starts screaming "Run!" Wasp attack! The only problem is, there's nowhere to go. I'm trapped, sandwiched between runners in front and behind me, a steep drop to my right, a nearly vertical uphill on my left, running through a swarm of angry insects.
A sharp pain on my left wrist makes me yelp, even before I remember I'm allergic. Last time I got stung by a wasp, my face looked like a cauliflower. I can feel my hand swell up already. Others around me suffer, too. We compare, we curse, but we keep moving because there's nothing else we can do. I take off my wedding ring and loosen my Garmin, but I don't stop. Up, and up some more, we climb into the first hint of daylight, which allows me to see that my hand has ballooned to about three times its normal size. It's a good thing I don't need it for running
Finally, I reach the top and see Salt Lake City from far above in the pink glow of early morning, a view worth the climb, even worth the pain from the wasp sting. At the first aid sttion, mile 11, the volunteers take a look at my grotesquely swollen hand. They sound concerned, but agree that, since I got stung two hours ago have not died yet, I likely won't. Thankfully, ultra runners treat medical issues with a lot of common sense. I run on, happy that the evil wasp who tried to sabotage my grand slam finish failed. Mission not accomplished, you stupid insect!
On the downhill section that follows, I catch up to Sean Bearden, host of The Science of Ultra, which happens to be one of my favorite podcasts. He and his buddy Isaac let me join their animated conversation. I enjoy their company, but these two run 8 minute miles, which is way too fast for me, so I eventually let them go ahead
By mile 30, I fall in step with my old friend David Hayes, who is back to running 100s after heart surgery and looking strong. We haven't seen each other in a long time, so time flies in deep conversation as we run along a beautiful ridge trail and into Big Mountain. My hand looks like one of the pink balloon sculptures that point the way to the aid station. David and Tammy are as happy to see me as I am to see them. They look at my sausage-like fingers with alarm, but try to sound like everything is normal, which is exactly what I need. Best crew ever!
The sun is high in the sky by then. It's getting warm, though not nearly as hot as it did at Western States. I know what to do: time for ice on my hand, under my hat and in my bra, time for cold ginger ale, and watermelon dipped in salt. After so many 100 mile races, the three of us are a dependable team. David and Tammy cool me down, then send me on my way.
I reach Lambs Canyon, mile 46, in the late afternoon. I pick up my lights, but it's still early, still sunny, still too warm for long pants. I figure I have an extra pair at Big Water, so I stuff a half zip into my pack and go on The trail leads up another long climb. My legs feel heavy. Time to pull out my head phones for the first time. Slow, acoustic tunes for a slow pace keep me company as I make my way up the mountain in lengthening shadows under the canopy of an old forest. I feel serenity wash over me, from that deep well 100 mile races uncover inside many of us. Left foot, right foot, breathe in, breathe out, to the soundtrack of Mark Knopfler's guitar, Ryan Bingham's haunting lyrics, and rustling leaves. Here and now is just where I want to be until my bubble of quiet joy bursts when I catch up to a pig-tailed figure in a blue skirt. It's fellow grand slammer Bibo Gao, who is usually hours faster than me. My competitive instinct opens one sleepy eye, then wakes up with a jolt. Here and now is no longer good enough – I want to pass Bibo, so I switch my playlist to faster rhythms, kick my feet into a quicker gear, and pull ahead.
At Big Water, mile 54, it's getting dark and chilly. Time for warmer layers. Digging through my drop bag, I realize it contains no long pants. I must have taken them out during one of my last minute reshuffle sessions. Before I can panic, a volunteer named Kathy finds an extra pair in her car, which she graciously lends me. This type of kindness is common in the ultra crowd and one the biggest reasons I love running these races. On I go, thankful beyond words, through the dark mountains, toward Brighton, where my crew is waiting.
By mile 67, my legs feel like bricks and my eyelids are drooping. I have a hard time finding the Brighton aid station, hidden in a small town. I stumble around paved streets and dimly lit parking lots until I finally see someone with a head lamp move into a building. I follow. A good decision! Once inside, it's a warm piece of heaven, with my smiling, saintly crew, real bathrooms and volunteers handing out disposable toothbrushes. I remember hearing that it's easy to spend way too much time here, and can see why. It's a good thing I can depend on David and Tammy, who know they have to kick me out of my chair in five minutes max. I change into a slightly warmer pair of tights, eat a quesadilla, and it's time to go. Tammy will pace me from here to mile 90, a welcome change from the many solitary miles behind me. We take off in a happy mood
Soon, I regret the warmer tights. The night is not as cold as I thought it would be. I feel overdressed, but otherwise pretty good as we hike through an old forest, darkness wrapped around us like a velvet blanket. Next to a huge old pine tree, we stop and turn off our lights. I hug the tree. I hug Tammy. We look up at the stars, filled with wonder and gratitude.
(No picture can capture that sort of moment. You just have to imagine it.)
After that little break, more climbing lies ahead – steep, rocky climbing, for several miles. I remember this part form the elevation chart, which doesn't make it any easier. My glutes tell me they're done for the day. My hamstrings threaten to cramp. The urge to whimper and complain becomes almost overwhelming, but I keep it in check while I keep putting one foot in front of the other. "This is the last climb" becomes my anti-whining mantra.
At the top, near mile 70, we reach the highest point of the course and finally begin descending. Soon after that, the smell of bacon greets us. Am I hallucinating? No, it's the Pole Line Pass aid station, where all sorts of goodies sizzle on a grill. What a welcome sight! Munching on a rolled up pancake, I believe that the worst is over. Tammy and the saintly aid station volunteers reassure me that it's all downhill from here
I take off, expecting an easy cruise to the finish. Instead, I see another steep, technical climb rise before me. My hopes are crushed. The aid station volunteers are not saints, but cruel, vindictive sadists! Tammy is not really my friend – she lied to me! I start crying. I yell at the mountain. It does not care. Tammy tries to push me up the rocky incline, nicknamed "The Grunt" as I find out later. I tell her that I won't go up there, that she can't make me. Oh, what pacers have to put up with. "Come on, small steps . . . We're almost there!" she coaxes, like I'm a skittish horse. "You don't know that. You're lying to me!" I mutter, but I do start climbing, in spite of my loudly protesting leg muscles. We pass another runner who sits on a rock next to the trail, head in her hands, sobbing. Shared misery makes this tough stretch a little easier. At least I'm not the only this course has reduced to tears! Tammy tries to get both of us to move, but succeeds only with me. After just a few more agonizing steps, we reach the top of The Grunt. I breathe sigh of relief as I apologize to Tammy for my meltdown, thankful that everything that goes down on the trail between a runner and her pacer stays on the trail.
Finally, the last major climb is over, this time for real. Finally, this beast of a course goes downhill, but it's not the kind of downhill I had envisioned during the endless uphills of the last 80 miles or so. No, It's a steep, quad-busting downhill, decorated with loose rocks the size of watermelons. I have twenty more miles to go until I'm an official grand slammer. I don't want to miss the goal I've worked so hard for because of a busted knee or twisted ankle. On the other hand, super pacer and Wasatch veteran Tammy now mentions casually that sub-30 hour finishers earn a blue buckle, shinier and prettier than the standard sub-36 one. The sudden, irrational desire to win that particular piece of belt jewelry now burns in my gut with an intensity only ultra runners and rodeo cowboys can understand. My hamstrings are too sore to move uphill at anything faster than a turtle-like pace, but I still can run downhill, so I do, trying hard to stay vertical
Tammy soon falls behind my suddenly energized pace. She encourages me to go on ahead, which I eventually do, in hot pursuit of that shiny buckle. At the Pot Hollow aid station, Mile 85, it's getting light already. I look at my Garmin. It's dead. I look at my phone. It's 6:30 am. I freak out for a moment, calculating that I have not that much time to spare for a sub-30 hour finish. My brain is too mushy for exact calculations, but I know it's time to dig deep! For the second time in this race, I put on my headphones, this time blasting my power playlist. I'm glad I saved my performance-enhancing music for mile 85. With help from Freddie Mercury, Chris Ledoux, and the first hint of a glorious sunrise, I scrape up enough energy to powerhike the uphills, then run the a non-technical, dirt road downhill all the way to mile 90.
David meets me at the aid station, full of energy and ready to pace me to the finish line. What a welcome sight! It's getting warm. I change back into the running skirt from my drop bag, drop off my lights, put on a hat and sunglasses, and off we go, ready to dig deep for the last ten miles.
Ten more miles, mostly smooth and downhill, between me and the eagle trophy. We run a couple of sub-10 minute miles. One last aid station, one last slice of watermelon. Some white-faced Herefords stare at us through a barbed wire fence. We cross railroad tracks, then the trail tuns left, along a lake, which seems to go on forever. I fantasize about what I want most right now: a comfortable bed, a shower, a belt buckle, an eagle trophy. How much do I want these things? Enough to keep moving. Not enough to keep running.
Another 5k or so. I'm convinced this race will never end. My legs feel wobbly, my brain like a bowl of mashed potatoes. I put my headphones back on for the last time, blasting Don't Stop Me Now on autorepeat, three times, five times. Thank you, Freddie Mercury! A last loop through a park, then half a mile up a paved road, then, finally, the finish line! I did it! The clock says 28:34, good enough for 5th woman.
We go back to the hotel for a brief nap, but then decide to return to the finish line for the last hour, the golden hour. It's the best place in the world to hang out. Our friends, Our people. My -our – eagle trophy, finally, after 101 hours and 48 minutes of running. Only 187 of the 300 Wasatch starters persevere to the end, but all 17 of the grand slammers who started reach the finish, a remarkable feat. We are exhausted and dirty, but beaming. Seven of us are women, which must be a record. In 2017, not a single woman finished the slam.
The Wasatch 100 is a tough beast. A curmudgeonly old 100, with a down to earth vibe. It made me cry, but it also made me tougher. Thank you, RD John Grobben and all of the amazing organizers and volunteers who spent so much of their time keeping us safe, motivated, and hydrated. Thank you, Tammy, for your wisdom, your support, your friendship, and most of all for putting up with my whining on that evil last climb. Thank you, most of all, to ultra husband David Silva, without whom I would not be an ultra runner, much less a grand slam finisher. You mean the world to me!
My once in a lifetime adventure is over. I already look forward to new challenges in 2019. Suggestions are welcome!
Postscript:
There's a reason this race report is almost three months late. A week after the Wasatch 100, ultra husband David Silva had brain surgery for a subdural hematoma. He was extremely lucky. Now he is back to running and to planning the next season of ultras, but it took me a while to get my PTSD under control and my groove back.
Lessons learned:
Please take head injuries seriously, even if they don't seem like a big deal at the time they actually happen.
Live well. Love well. Life is fragile, and shorter than we like to think. It's definitely too short for regrets.
Written by Richard Stillion - https://richyla.wordpress.com
Mud Crew Arc of Attrition
http://mudcrew.co.uk/event/the-arc-of-attrition/
RD Andrew Ferguson
1st Female Maryann Devally 32.26.32
1st Male Steven Wyatt 23.44.18
*Some photos were taken in situ, some in more clement weather.
Short version: Up. Down. Bog. Repeat.
I'm not a fan of writing blogs when I've DNF'd (again), but if I wait to finish before I blog about the AoA, it's going to be a long time coming.
The Arc of Attrition describes an arc on the Cornish Coastal Path. It is hard. Very very hard. It has a very high DNF rate, this year was no exception – something in the region of 66%.
Anyway, I completed the (ahem) Arc of Attrition 50 last year and not satisfied (my crew – Tariq – wasn't satisfied either), I demanded a rematch. My IT band had "gone" last year which meant going downhill was exceptionally painful so there was no point in continuing. This year, apart from a Christmas cold, training had been going reasonably well until two weeks out when I tore/strained my calf. Joyous! I just had to rest it and see what happened.
Inclement weather in Cornwall had taken its toll on the Coastal Path and caused it to collapse in numerous places, the worst situation was between Loe Bank and Porthleven – 30 minutes extra time had been added to compensate for a detour in this area. The precipitous weather had also meant that the majority of Cornwall had turned into a quagmire.
There were approximately 150 runners this year and the briefing was in the Blue Bar in Porthtowan as usual – this is where the finish is – or so I'm told! Competitors are then taken on a coach over to Coverack to the start of the race. It was blowing a hoolie at Coverack, but the sun was out so the 20 minutes or so wait wasn't too bad. I had a quick chat with Drew Sheffield (who stormed to a highly impressive 3rd place on his Arc debut), Tim Lambert, and noted that Paul Ali still had "that hat". We had a minute's silence for former Arc competitor, Matthew McSevney who had attempted the race twice and was going to attempt it again but was tragically killed in a road collision when he was knocked off his bike.
The hooter went and we were off – at least for a short while, then we queued to get through a narrow gap – there's a lot of races start like this, it's just something you have to get used to, unless you vie for a position at the front. Getting going, it was surprisingly warm in the sun but it was clear from very early on, this was going to be heavy going underfoot. There was also a very strong headwind. I was hoping my calf would be okay but "ping", it went! I thought that that was it, but thankfully I could keep going. I reached the Lizard, but realised I was behind time already. There were about 5 diversions on the path – mostly minor, but time was everything in this race.
It was then on from here to the main diversion. I'd reached Porthleven last year before nightfall, but I was reaching for my headtorch before Loe Bank. I put my headtorch on and…..nothing. I'd put fresh batteries in that morning but kit fail!! This is why the mandatory kit demands two headtorches! Thankfully Tariq also had two spare head torches as back up, so when I next saw him I got one that worked – the importance of crew! And so to the diversion. I was really hacked off at it, if I'm honest. I think that in total for all of the diversions, it probably cost me an hour and this large one was full of mud for a good mile. With tight timelines I couldn't afford to lose any time – more on this later. I got confused at Porthleven as I nearly went into the pub where the checkpoint was last year. Thankfully a MudCrew ArcAngel took me to the proper aid station. I didn't stop though, just got my bottles filled and a jacket potato for the road.
Caught up with Tariq at Praa Sands, whinged about the diversion and grabbed one of his amazing flapjacks or two and wandered off towards Mounts Bay. I like rounding Cudden Point where you can see St Michael's Mount – albeit in the dark – I wish they'd light it up, it would look pretty impressive, but I guess that's a cost cutting exercise from the National Trust! There's a place just before Marazion where I took the wrong turn last year. I took it again this year and ended up on the beach. Back I went and bashed my head on a branch for my troubles. Then there's another bit where you do have to go down to the beach – down a metal staircase. Got into Marazion and my spine was beginning to feel compressed. It usually does (age you see) but not this early on. It was beginning to hinder my running and this section is a 6 mile bit of road where normally one can take advantage of not sliding around in mud and make a bit of time up. Into Penzance, famous for pioneering ultrarunner Humphry Davy – a bit of a word on him – frustrated by the lack of the availability of Petzls in the 1700s, he invented a portable torch so he could run in the dark. By shear coincidence, some local do-gooder bumped into him on a night run and struck up a conversation with him:
D-G "What's that you've got there Humphry? Is it a safety headlamp to save all the miners?"
HD "Errr…yes. Yes, that's exactly what it is."
The rest is history.
I had a bit to eat at the Penzance Aid Station and took a couple of paracetamol. Also bumped into Tim Lambert and we both had a chat about having to get a shift on. So, no more hanging around, and onto Mousehole. I could feel the paracetamol take effect and my back stopped hurting so I could do a bit of running. There's a garden on the way to Mousehole which has loads of scarecrows in it. It's pretty weird looking at them with your headtorch, but I like it. Into the quaint fishing village of Mousehole. There's a beautifully illustrated children's book by Antonia Barber which tells the story of the Mousehole Cat and why Mousehole puts all of its house lights on for Christmas Day. I'm thinking of writing the sequel entitled, the Mousehole Fat Cats which is about all the city slickers buying up the houses in Mousehole and why it's now all in the dark.
I digress.
Thankfully, some nice MudCrew helpers had put day-glow sticks to follow through Mousehole – it's a small place, but a labyrinth for sure. I was grateful for the extra guidance.
The Wilderness.
I always think that after Mousehole, it starts to get hard (proper hard is after Lands End). This is the up, down, bog bit that I described at the start. Depending how you look at it, it's also the fun part! I have run this section in the summer without 40 or so miles in my legs and it's a really beautiful area. With low hanging branches. This is also where there are bits of scrambling to do where you can use the grey boulders either side of a large drop/step to lower you down. What I did, repeatedly, was mistake dead gorse for the boulders. My hands still have gorse thorns in them. Souvenir. Lamorna Cove is possibly one of my favourite areas, it has a nice descent and a scramble, a small harbour and another scramble out, which I got wrong, scrambled up one bit then had to get back down to find the right bit!
Not much further on, you come across a beach full of huge boulders – St Loy – which could be quite easy to get lost on. But because of all the mud, it was easy to follow where people had gone from boulder to boulder to cross the beach.
Mooching on, I crossed Porthcurno where they laid the telegraph cables to America many moons ago, then up the steps adjacent to the Minack Theatre. This is where my "Arc 50" ended last year, so, after stocking up with supplies, I was happy to push on to Lands End. Porthgwarra was a mile and a half away, but with the strong winds I could already hear the lament of the Runnelstone Buoy – a buoy moored a mile offshore fitted with a hydrophone to protect ships from the Runnelstone Reef (I've lifted that information from Wikipedia, so it must be true). I'd been here before spotting choughs as it's an RSPB area. Come to think of it, it was blowing a gale then as well. When I reccied this area in the day time, I could see Lands End, so I just headed straight for it. During the race, I had latched onto some other runners here and one of them clearly knew the proper way. It took a while but I got to Lands End eventually. My calf was playing up pretty badly now and MudCrew took me straight in to get seen by a physio who taped my leg up a treat – it really helped.
My taped up leg. Got a bit muddy.
By this time, sadly, I pretty much knew my race was run. Dill Cowdry, who sub 30 "houred" last year, estimated to allow 8 hours from here to Lands End, and I didn't have that. He is also a lot quicker runner than me, so I would need around 10 hours. My newly taped leg worked well, but my compressed spine wasn't playing ball. I shuffled the mile into Sennen and I got to the car park where I was guided through by MudCrew helpers and a few day glow lights back on to the coastal path. Dawn was beginning to break, very, very slowly. It was very grey and drab, but I was more than thankful that the heavy rain predicted in the night hadn't started. Yet. Unless you are super-fit, weigh next to nothing and are agile as a kitty cat (of which I tick no boxes), there are few runnable sections from here to St Ives. There was a field of bog and if you have a moment – I'm thinking when John Bunyan wrote Pilgrim's Progress, he wrote about the Slough of Despond. This. This was the field to which he referred. And after that field was another field, which I couldn't see due to the amount of surface water that covered it. Normally, I would try to mince around a bit of mud to save my feed from getting wet. No point. Just pummel through and hope your shoes don't get sucked off! About a mile from Cape Cornwall I came across a chap who'd sat down in a sheltered spot. I asked him if he was okay and he clearly hadn't realised I was there. He jumped out of his skin and gave me a look of thunder for making him do so! I put my hands up placatingly and I got chatting to him. He was wanting to be picked up and I told him it wasn't far to Cape Cornwall. I wished him well and pootled on. I came across more MudCrew (were they in every cove??) in Porth Nanven and whinged to them that I was going to be timed out. "There, there" – they said – "run along whingey pants!" I bimbled along to Cape Cornwall and it started to rain. And wind. Tariq was there and I said I was going to be out of time. He treated me with the same contempt as the MudCrew guys, so off I went.
The weather was really taking a turn for the worse now and this really left me in a state of self-pity. Wallowing in self-pity is great. It goes hand in hand with ultra running at times! On a positive note, I had a tail wind, which helped the rain lash against my back. I reached Pendeen Watch and rather belatedly put on my waterproof leggings. I was trying to give Tariq my best puppy dog eyes. Please, please let me drop. He told me afterwards that he told me to put my leggings on in the boot because if I'd put them on in a nice comfy seat with the heating on in the front, I wouldn't have got out. After Pendeen Watch is a 14 mile section which is largely inaccessible and off I went out into it. I realised very quickly that my leggings were falling down. I took off my soggy gloves to try to tie them up properly but, after putting my soggy gloves back on again, I realised that, along with my headtorch, I'd had another kit failure. I was just walking along holding them up! I could chide myself for not having checked my kit, but where's a force 10 gale with rain when you need it?! My upper back had joined my lower back's protest now and whenever I went up hill it was aching. I'd slowed to two miles an hour and realised it would take seven hours to get to St Ives. Bizarrely in all this wilderness, there was another MudCrew with a clipboard (unless I was hallucinating) asking how I was? "I just want to go home." I couldn't believe I said that. She just replied – yes, I think most people are feeling like that! I pushed on a bit more and a man and woman at the top of a hill stood there and clapped and said they were there to cheer people on! Had I lost the plot or what?! What were these people doing there? Much appreciated though.
Ooh, and I saw a couple of gannets too! (And whilst I'm on a wildlife tour – last year I saw a badger coming up the trail towards me near Porthcurno).
I think I had gone about five miles and I was now starting to cough quite badly. I was wet, cold, not really able to move and realised I was going to be in trouble if I didn't do something about it – put bluntly, the course had well and truly broken me. As remote as this section is, there were houses dotted about so I realised there must be roads leading to them(!). I was going to try to call Tariq, if I had reception, to locate my satellite tracker, so he could pick me up. As it turned out, I could see a runner at the bottom of a hill walking with two other people who had "normal" coats on so I slopped and slithered my way down the hill as quickly as I could without falling on my ass, and then hollered to them. They stopped and waited politely as I negotiated the boulder field (slight exaggeration) in the slowest of motions, to get within earshot. I asked them where they were parked and they said Zennor. I walked with them and tried to phone Tariq but got no reception. They then offered to take me into St Ives with them as that's where they were heading. I could have cried. Maybe a slight exaggeration to say they saved my life, but they certainly saved me from deeper trouble. Looking at the satellite trackers it looks like it was David Dicks and crew. If it wasn't David Dicks, then sorry, but if it was, then to you all, I am eternally grateful. Thank you.
So close! Needed to get to St Ives, dropped at Zennor.
Having arrived at St Ives I was shivering and teeth chattering and I was put under blankets and given a hot chocolate straight away. Allan Rumbles mentioned in a Facebook post about bursting into tears at someone's kindness at this stage and I can only say that it took every will not to do so myself here as it would only have hindered the guys trying to sort me out. Sometimes I can't believe how stupid this all is – we pay to do this, then whimper when it all goes wrong and have a hurty knee, whilst volunteers sort us out! Ah well, what can you do! I was brought food. Then more food. And more hot chocolate. Tariq had met me at St Ives and brought dry clothes which I now changed into. The adventure was over. I got to 75 miles. Close but no cigar.
One goes back to the hotel, attempts to sleep, realise the legs are hurting so you can't sleep and there's a rush of adrenaline kicking in. Awake in the early hours I tried to think if I could have changed anything – I was only a few miles from St Ives and if I could have made that cut off, I could have continued to the finish. I mentioned earlier about the diversion and how it cost me time, I took a few wrong turns here and there….. and many other excuses to hide behind. But excuses are what they are. In truth, that was the best I could give and it wasn't good enough. This is a race that requires a pace of 2.8 mph to finish. I couldn't manage that, so that is my fault. I have to train harder for it. Make no mistake, you have to know what you are doing and be in very good shape to get to the finish line – that is why the DNF rate is so high. The Race Director, Andrew Ferguson, makes this very clear – this is an extreme coastal ultra. It is very difficult – not to mention dangerous and this must be appreciated. Some ultras do time cut offs that graduate ie 10m/m for the first few aid stations then 12m/m, 15m/m etc. This race you have to keep going – you can't "bank" time (well maybe if you're elite, you can, but for the likes of me, you can't). However, therein lies the appeal!
I can't recommend this event enough – but prepare for it – get down to Cornwall to reccie the course (and get some money into the community while you're at it), do your hill repeats, do your squats etc.
The Thank You Section:
Mr Tariq Malik – without your support there would be no weekend of misery. There when I needed your help.
Stillion Vs The Arc FB group – many thanks for being interested and keeping tabs on me!
MudCrew: What can I say? What an event this is. It gets under your skin! Andrew Ferguson, Jane Stephens and Andy Trudgian – superb organisation and an utterly amazing event. You must have nerves of steel sending 150 or so people out in the night with cliff edges on one side and mineshafts on the other!
The ArcAngels – I think there were nearly 150 (so 1 to 1) – you guys were everywhere – and I mean everywhere – to support and encourage, feed, water. Superb.
First Aid/Medics – Again, thank you so much for your support. My EAB worked a treat and the rapid treatment I got at St Ives was very much appreciated.
The National Trust, RSPB, National Trails for maintaining this constantly changing coastline – the recent diversions are testimony to this.
Whoever was responsible for getting the diversion in place around Penrose at such short notice to make this race possible.
Thank you all.
Dedication
I usually like to dedicate my race to someone and this one I would like, if I may, to dedicate to Matthew McSevney – as a mark of respect, MudCrew sent his family a finisher's buckle.
Written by Neil Bryant for the URC For a 20% Pulseroll discount code, scroll to the bottom. Roller competition on the URC FB group here I think I am like a lot of…

Written by Ilsuk Han It was shaping up to be the worst of times. And we didn't know it yet, but it was to get bleaker still. It was still relatively…

Written by Neil Bryant for the URC If you have already read the 'first look', then scroll down for the update. The first thing to notice with the TERRAULTRA G 270 is…
Written by Neil Bryant for the URC I have had many Petzl headtorches over the years and am generally very happy with them. They are not always perfect, but that is…

Written by Neil Bryant for the URC When I received this pack of clothing to test, I wrote a 'first look' at all the gear which gives some info on how…

Written by Neil Bryant for the URC If you have a GPS watch,it is likely either a Suunto or Garmin, but there is now a new kid in town who wants to join and eventually…
Written by Neil Bryant for the URC I own a few items of clothing by Arc'teryx and am really happy with them. I recently tested the excellent Norvan SL hoody jacket and was…

Written by Sarah Oppermann Sarah Oppermann, Ireland / Stage wins: 2 / Finishing Position: 5th Female 24th Overall/ Finishing Time: 39 hours 37mins 45 What and where: The Atacama Crossing (by RacingThePlanet) is…

Written by Neil Bryant for the URC Many of you will be aware of RAB from their climbing and mountaineering clothing. They have now ventured into the mountain running market with…