Written by Ross Hay
Last weekend at 5am in the morning I was at the start line of the Mozart 100. How did I end up here for my longest race to date (103km with 4600m of elevation change)? Two and a half years ago, I was 50lbs heaver and I had to make a decision to buy new trousers or lose some weight, so started counting calories with myfitnesspal. I also thought Id start running so I could eat more! In order to motivate myself, I decided to enter some local races. 6 months later, Id lost the weight and was doing a half marathon in Davos on the trails. The whole experience and atmosphere blew my mind, and seeing people doing ultramarathons (specifically the K78 race I would end up running the following year) inspired me to want to run longer distances in the mountains.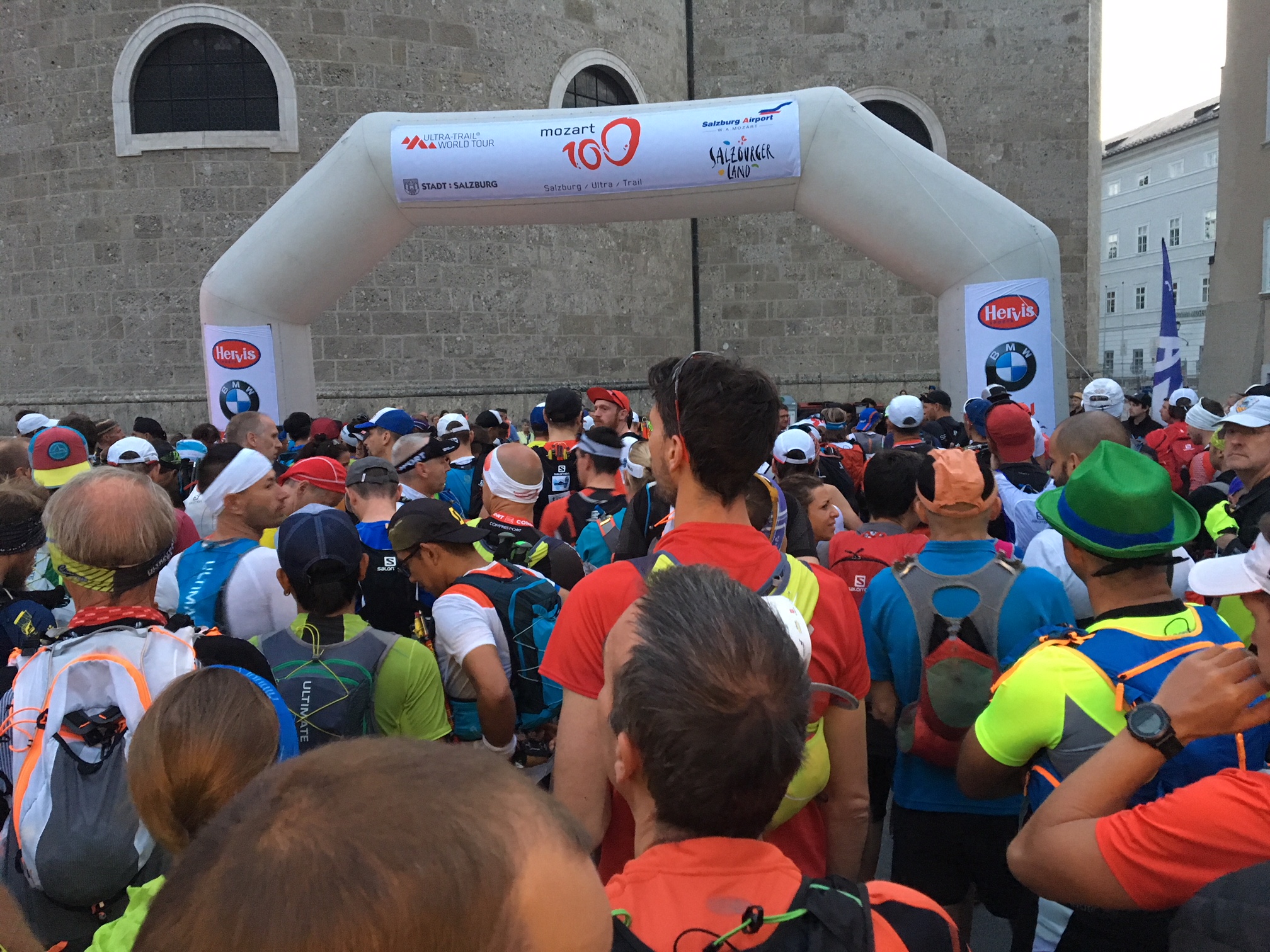 So here I was on a sunny day in June running across the hills that were made famous in the Sound of Music. The start is in the old town of Salzburg surrounded by historic, medieval architecture. Not that I took much of this in in the dark while desperately trying to start of slow and steady for what I knew was going to be a long, tough day, compounded by a less than ideal training effort over the previous months due to substantial travel with work. The first 7 – 8km were nice and flat on a mix of roads and gravel paths before heading up the first hill. This didn't seem to bad though and was followed by more gently rolling paths and roads. I was beginning to wonder if this would be easier than I thought!
I had wondered if I should drop down to the 61km Ultra at the drop bag aid station at Fuschl (30.5km), but I was feeling strong and fresh so decided to carry on after drinking a coke and eating a packet of salami sticks. Shortly after, the first big climb up Schafberg kicked in. It was tough going, but with poles (which I had only practiced with a little before) I was overtaking people (only to lose places on the subsequent decents. I also had a good chat with some kids from a local international school who were doing a trail walk about getting lost – they had just climbed down a small cliff face having taken the wrong route.
By the time I reached the lake at Sankt Wolfgang, I was feeling pretty spent and hot. But joy! A kiosk selling ice cream appeared! I was enjoying my ice cream while walking to the next aid station 1km away I totally forgot my poles, so added an extra couple of kms running back to get them. As I climbed the next major peak of Zwolferhorn I had my first low. I really wasn't sure Id be able to make the cutoff at Fuschl and for a moment considered if I should go back and catch a shuttle back to Salzburg. I pushed on though with the attitude that if I miss the cutoff, I miss the cutoff – if that ends up being the end of my race, then so be it.
Although I didn't feel strong, I continued to push up the hill overtaking people again. And again the downhill felt a lot harder than it should. Mental note to do more hills in training! Back at Fuschl I had a good 1.5 hours before the cutoff, so had another quick coke, some sweets and off I went having picked up my head torch for the later stages.
Next followed a lovely rolling path along the lake. I knew there was a bit of a hill before descending to Salzberg, but had no idea how tough it would be. This felt the hardest section of the course after a long day as the sun started setting. At the top of Nockstein I had to put on my headtorch for the final decent to the town, watching fireworks over the city. I knew there was a last 'surprise' hill before the finish line, but had no appreciation of how steep it would be! Asking at the final aid station, they said it was 200m high, but only 2.5km to the finish.
I felt drained, but knew I would finish come what may now I was over 100km and had 3 hours to get there. I had a coke and started up the steps. I think because the finish felt so close, I got a rush of energy. I was (at least I felt I was!) flying up the steps, overtaking several people, go to the castle at the top and then headed down the trail to town. Towards the bottom, you hit some old cobbled streets and people having dinner or drinks start cheering you on. I come up to some traffic lights where another runner is waiting to cross. I can help it – with everyone shout I put on a turn of speed I hadn't had for 50km and start racing through the Old Town to the finish line to come in 171st in 18 hours and 8 minutes – what a feeling! Evenbetter, my friend doing the half is there waiting for me with a burger and a beer!
Written by Phil Bradburn - https://untrainingultrarunner.com
This was the final race in the Canal Slam series – which includes the legendary Grand Union Canal race and the Kennet & Avon Canal Race – which are both 145 miles and which take place at the end of May and end of July. You can read my blog about each of these races if you click on those links.
Having trained as hard as my little (fat) body would allow – working through injuries since the Centurion Grandslam in 2017 (which left me nursing an injury at the end of the year) and a bit of a disappointing start to the new year with various groin strains and calf pulls, I felt it was a bloody miracle that I made it to the start of GUCR and KACR let alone finishing both of them in 40h38, and 38h32 respectively.
Phew! Part and parcel of completing these annual race series is good training, good recovery, good luck and good race strategy. I never have got all of these in line together. I am a stubborn idiot with lots of great support from my wife and family and friends and my coach so if I didn't finish any of these races then the blame would be firmly at my own feet and head. It helps of course that I bloody love running, and I've learned to at least like walking fast (which is handy for some portions of these races).
Friday before the race – Pluckley to Brightwell – cum – Sotwell
On Friday me and my wife Susie had headed off to Oxfordshire to meet Vanessa. I have been blessed this year with the most amazing and experienced crews – and they have learned so much about handling me during races. I too have learned alot about how to stay positive and resist the slip into being an idiot with my crew. It's never intentional, I just have had a tendency to moan and whinge a lot when things get hard. I managed to crack that at the last race – KACR and I was hoping to be equally good this time around.
When we arrived at Vanessa's she had somehow misplaced her phone and was turning the house upside down trying to find it. In the process she lost her car keys. FML!!! Eventually keys and phone were reunited with Vanessa and we loaded the car up with what seemed like the WHOLE of the kit and equipment that I own for running.
Brightwell – cum Sotwell – to Widnes
A trip to my parents was straightforward (though riddled with congestion and the weather was looking horrendous!)
We soon arrived in Widnes – which is about 25 minutes drive from the start of Liverpool Leeds Canal Race in Liverpool near the Pier Head. It was great to see my parents and we were rewarded by a lovely spag bol (salmon and potatoes for vanessa) and lots of cake! My mum had also made a cake to celebrate my race too
After dinner we talked about the plans for the race, and gave my mate Graham a quick intro to the world of crewing a race
Went to bed early to settle down to a light sleep before waking up at 4am and getting dressed and sorted. The journey to the start in Liverpool was pretty easy – though we ended up going the wrong way down a road and doing a u-turn in full view of a police car. YIKES!
Registration – Saturday morning 5:20am
There was a gazebo erected on the pavement near to the Radisson Blu hotel. The wind was stronger than I expected and it was pretty cold – a shock given the hot weather we had been experiencing for months in the UK during the summer.
I registered, picked up my hoodies and t-shirts, buff that I had pre-ordered and then went back to the car to rest before getting out to chat just before the briefing. I then had to drag myself back out of the car to go and get a diversion sheet for later on in the race (around 72 miles). I had forgotten to do this 2 years back and had ended up traipsing around a shitty housing estate in the dead of night and having to ask a gang of kids for directions. As it happened back then it was fine and I didn't end up as a crime statistic (or worse…. LOST!)
The usual suspects (minus a notable exception Georgina Townsend who had health issues and couldn't make the start line for the finale of the canalslam) – Fi McNelis, Javed Bhatti, Allan Rumbles and others – including one of the organisers Keith Godden. The amazing band of volunteers are just brilliant. There for the fun and to support the race. They get nothing in return other than the overwhelming thanks of the other runners. I will volunteer in future years on some of the races – I just love the vibe of this race.
Start – 6am – Old Hall Street
Soon it was almost 6am and we crossed the road to the start of the race. Keith did his briefing – "don't overdo the painkillers…..!" and we were off. All 36 of us. It was a small start line, but you could bet that given there were 8 other canal-slammers here, everyone was pretty motivated. I had counted around mid-60 people entered on the provisional start list on the website – so wondered whether injuries had decimated the start line.
I set off with Fi – we had a lovely little catch up, and both said that it wouldn't be the same without our running pal Georgina who can always be relied out to bring some comedy-drama and calippos to the races I soon let her go ahead (by let…. I mean she was running faster than me and I couldn't keep up without breathing through my arse!). She told me she had some rather driving rock music to run to so I figured that would keep her company.
I was using my new Suunto 9 and had it on the absolutely best GPS setting (which predicted over 40 hours on 1 second recording) but I had also set it up so that there would be no display showing to minimise battery consumption. That of course meant that I couldn't check my current pace without pressing a button – but it felt easy though we seemed to be running pretty fast. That's quite difficult because with a small pack of runners and starting on rested legs (having done virtually nothing since the KACR four weeks earlier) I was in danger of going too hard and may suffer later.
Everyone was so excited up front after a few turns a heap of runners missed a key turning onto the canal itself! I had settled in towards the back but then found myself almost at the front – which was weird just one mile in – and I didn't want to be there! Over the next few miles it seemed that the previous front runners had settled down a bit and approximately 10 other runners overtook. On a race this long it is so important to run your own race and that's what I intended to do. I kept running to feel and didn't bother to turn on my watch display to check how I was doing. There were, in any case, stone mileage markers counting up the distance from liverpool and counting down to Leeds. So I could keep a handy check on my progress.
I remembered from 2016 (DNF at 90 miles) that there was a lot of tarmac on at least the early sections and I was glad to be wearing my New balance road shoes which were lovely and springy and comfortable. For the most part, I just jogged along, keeping things easy, and trying to settle into a nice sustainable and comfortable pace.
I remembered lots of this route and remembered the two bridges we had to cross too. At around ten miles, I spotted the section where there was a cancelled diversion (apparently the hot weather had caused problems during the summer and they had to do some towpath works). Jog, eat, drink, jog, eat, drink, wee, jog, eat, drink and then in the distance I saw the first checkpoint.
Checkpoint 1 – Br 16 – Running Horses – 14.5 miles – 8:26 – 8:29 – (2h26m)
This was the first main checkpoint. It had rained a little bit before getting here. I saw Vanessa and Susie. I swapped my bottles out. I grabbed a couple of ham sandwiches from Susie and took them away in a bag. I took a bag of sweets as well.
I spoke to a chap early on. A lovely guy with a homely northern accent. I really miss the north sometimes and the overwhelming openness and friendliness of others (working in London if you look at someone the wrong way they seemingly want to gouge your eyes out!). We had a chat for a few hundred yards. He was saying that he had done 3 peaks in Yorkshire before and he was already feeling pretty shattered on this race. He said he was a bit worried because some of the other runners seemed to have run 150 mile races before and a few 100s. I told him to stick with it and keep it easy. Don't worry and focus on checkpoint to checkpoint. I think that's what I said – at least I hope so!!
During the first section there was lots of tarmac and while the route went through a relatively urban area it was really well kept towpath and surroundings (litter free canal towpaths and signs proudly announcing that they were litter picked by various local groups). Contrast this to the London end of the Grand Union Canal which is used by both the GUCR and KACR, and which is absolute filth. For a few moments, I remembered how angry I felt during that section on both of those races (fortunately the overwhelming positivity and great experiences I had during those races could not be swamped by the litter and my feelings of wanting to gouge the eyes out of anyone who drives to the canal and empties their household and commercial rubbish for others to clean.
But I digress……
The towpath and the scenery was as I remembered. Simply beautiful. I knew that I would have a thoroughly enjoyable time. I resolved that I was going to do the best job of eating and drinking that I could. I would be the best eater and drinker EVER in the history of canal racing. I was using water – pure simple water – plus separate S-CAPs for electrolytes to supplement the salts and minerals etc I would get from the 100 callipos and other food and drink I would have over the next day and a bit.
I was also using my new Salomon Sense Ultra 8 race vest that I bought from Alton Sports. Absolutely perfect and meant that I had everything I needed for the race, where I needed to store it. After a little while it began to rain. It was still sunny so I thought I would just carry on without stopping to put my jacket on. It was lovely to be jogging through the rain and I was really loving life. Five minutes later the rain didn't abate and got harder, and the sky greyed over.
Time to put the jacket on. I was using a La Sportiva Hail jacket for the race and it was a new one this summer for me having found that my old Kalenji one from Decathlon was way past it's best. Soon my jacket came back off again as it heated up and the rain stopped. I remembered to drink, and I resolved to eat early – unlike on KACR when I found I didn't want to eat much til later on. I took a longhaul endurace Sweet potato and Quinoa pouch. The previous time I had one of these it tasted nutty (sesame seed as it happens!) but this time my taste buds made it taste much more like a vegetarian version of the chicken and turmeric one.
I came across Richard again and he was feeling worse for wear. He was saying he had stomach cramps. I told him to walk a little bit, and offered a couple of s-caps which he took. I wished him well and carried on. I hoped to see him later or at least on the finisher board – sadly he pulled out around halfway. I hope he will be back!
Checkpoint 2 – Br34 – Ring O Bells – 25.7 miles – 10:45 – 10:50 – (4h45m)
I came into the checkpoint and the first thing I said was…..
"I think you need to be on calippo duty!!!!!".
It was warm. Warmer than I expected and I felt sweat on my forehead. I was going to need ice and calippos. I swapped out my bottles. Took some crisps and some more sweets. Always good to have a selection!
I was feeling reasonably good anyway so I carried on along the towpath. After a while I caught up with Fi and Carl who were running closely together and had a few words. I ran a little with Carl and had a catch up about his KACR race (which he hasn't completed yet and was the reason he had entered LLCR the day afterwards).
After a while he decided to drop back a little leaving me to trot on. Eventually I was looking for a bridge that didn't exist so I went over the one that did (after some confusion on my part) and then spotted an ice cream opportunity! RESULT! I noticed that the instructions for this race were much easier and fewer in number than for GUCR and KACR but that it does help to apply a bit of common sense…. WAKE UP BRAIN!
Posh Cheshire ice cream was on the menu. I really wanted a calippo. FFS. WHAT IS WRONG WITH ICE CREAM OUTLETS! I don't think I was fully able to conceal my disappointment to the young woman behind the counter, but nevertheless I was going to have to make do with Strawberry full dairy ice cream in a tub.
I managed to throw all of my change on the floor but I had an ice cream in my mitts! Result! I resolved to walk until I finished the ice cream. While I was doing this, Fi caught up with me. It was lovely to see her and have a chat. We pushed each other on for a bit. During a walking break I said that I was going to have a brief moan – I complained about my piriformis hurting but I was going to MTFU and manage it.
Jog, jog, walk walk, whine about piriformis…… Fi suggested I ram my thumb into my arse and pulsate it. I did that and she reminded me that the pain wouldn't necessarily get worse and that she had suffered 40 miles with her piriformis on a previous race. With my thumb pulsating in my arse cheek I was taking my mind off the pain and also giving myself something to focus on other than whining about it!
Crew point – Br42 Apley Bridge – 30.5 miles – 11:50 – 11:53 (5h50m)
Eventually I spotted my crew, who said that Javed had been asking how far I was behind him…. I think they told him 5 minutes and he had got a scoot on I saw Fi carry on through. She was running strong. I hoped I would share some miles with her later on.
My crew hadn't managed to pick up any lolly-ice or callipo but I grabbed a few other bits and pieces, changed my water, had some lucozade and trotted on. It was still warm weather. I was feeling positive and enjoying the race. The canal is just SOOOOO pretty! I thought to myself how lucky I was to be able to run on a bank holiday weekend along a beautiful canal and to see my friends and wife regularly.
After a while I came into a town and had to do a funny bridge manoeuvre before heading onto the left hand side of the canal in a slightly different direction. At this point I had caught up and been caught by another runner so we mulled our decision before carrying on. Part of me remembered this section from 2016. But I didn't know whether than was for good or bad reasons! Anyway, I pretty much thought "fuck it" and went with my gut instinct……
And then……..
My stomach hurt. It was cramping. I needed the loo. I had to walk for a mile or so to avoid an "accident". Eventually I spotted a toilet and went in. After a long stop I came back out and spotted Javed Bhatti who carried on running – we said a brief hello.
I spotted my crew. My mate graham was here with susie and vanessa. I grabbed a couple of fruit pastille lollies. While my crew filled my hat with ice, Allan Rumbles turned up and took some ice. I quickly headed off. Fi also had a fruit pastille lolly – she was there before me!
I then cracked on. This was the section where there were some locks to climb. I decided against jogging the flat bits and just walked this section because I find changes in pace over a short distance really mess me up. So I kept a good walking pace and passed a few other runners. I have really practiced my powerhike and I can get a good pace going.
The weather was warm and I remembered that there was a pub further up. So I got some money ready and leapt at the chance to order a packet of crisps and a half lager shandy. There were some cyclists and others outside the pub and they were amazed that I had come from Liverpool that morning. I polished off my shandy. They wished me luck and I was on my way. I walked to the top of the lock section and then as the towpath turned a corner I dropped into a jog which I kept up for a while. Eventually I arrived at the next checkpoint. Aware that I had probably taken a while to get here!
Checkpoint 3 – Br63 Red Rock Bridge – 40.2 miles – 14:24 – 14:26 – (8h24m)
I came into the aid station and there were several runners in the aid station. I spotted Javed and Fi who I think were both eating. I grabbed some ice. Changed my water. Had a strawberry milkshake. I took some crisps (monster munch), a longhaul chicken and turmeric pouch and some fruit pastille lollies and headed off again.
I am grateful to my crew that I was able to get in and out of aid stations in 2 minutes flat! Really well tuned crew these days It was going to be about 5 miles to the next time I would see my crew so I cracked on. It was just over an hour until I spotted them again.
They had found it hard to find the "right" bridge but they were roughly in the right place and I was grateful for some crisps and a mixed bag of sweets/nuts plus a change of water. I pressed on. It was just over 45 miles in and I was feeling quite good still at this stage and I could feel that the weather was just how I wanted it. Not too warm and not too cold.
After a little while I made it to the Br88 Whithnell Fold crew point (50 miles in and at 16:46 – leaving at 16:50). Graham and Susie were here. They were brandishing all kinds of goodies. I took a banana milkshake which was delicious and I grabbed my usual combination of crisps, and sweets. I again swapped my water over (though I hadn't really drunk much over this last section and I was scolded by my crew for not having done so). I somehow managed to practically fall over a cliff edge piece of tarmac! I'm so bloody clumsy!
I dutifully drank a litre of water (while protesting……) and then shoved off. They quite rightly wouldn't let me go until I had drunk – especially since I had 10 miles before the next time I would see them (though I did have a checkpoint (no crew allowed) slap bang in the middle (and which I did take advantage of for a filll up of water!)
Checkpoint 4 – Br96a Navigation Pub – 55.1 miles – No crew allowed here
I arrived at Navigation Pub – remembering vividly from last time I ran in the race. Last time it was dark when I went through here. This time it was still light. I stopped for some water and then I pushed on. No crew was allowed here anyway so I just ran through with a few nods to the volunteers and some of the other runners who I recognised. I took the opportunity to drink and eat some of my snacks while I walked swiftly, and after a few hundred yards I broke into a trot again.
Soon I was switching over a bridge and onto another branch (I think!) and some bits of up. I remembered again from last time. I was having a nice little trot, and sometimes I would drop into a strong power hike. I find the way to deal with these distances is to not push it too hard and just keep it nice and easy.
I was pleased it was still light and I was doing well. Occasionally I would pass by Debbie Jewson, before dropping to a walk, and then she would pass me. We carried on like this for several miles – she seemed pretty strong going up the slight inclines that I was deciding that I would much rather walk!
Crewpoint – Bridge 107a Norden Bridge – 60.8 miles – 19:23 – 19:40 (13h23m)
I came into this crewpoint after what felt like quite a tough section and I was feeling tired. It was still warm but I could see that it was going to get cold soon but I was still hot and I was sweaty. I reckoned I would have about an hour or so before it went dark and figured that I might be able to make it 5 more miles before sitting down for food, taking the opportunity to change into night-time clothes and getting my head-torch on.
My crew point a swift end to the plan that I hatched in my head….
"The next point is 10 miles away"
WTAF!?!
I had a mild WTF moment and had a moan. This wasn't what I was planning. I must have been a right drama queen. They basically told me to man the fuck up and get on with it.
I really didn't want 10 miles before eating or changing. They tried to get me to change at this point but it didn't feel right. We discussed back and forth for 10 or so minutes while I changed bottles and took some food for my pack.
Anyway as I headed out for the next section after a few steps I realised that I did need to change to long sleeves after all. It was cold. And I didn't want to change on the side of the towpath in the dark by torchlight. So I took another few minutes sorting out before I headed off on the towpath again with my night time long sleeve gear and led arm bands and main head-torch on my head (albeit not switched on).
And off I trotted…..
I could see the brothers in front of me. I had been catching up with them at their stops with their crews, and then generally they would then jog past me again. I had seen them a few hundred yards ahead – glimpses here and there. I went past a sign saying footpath closed and diversion. I ignored it. I was sure that there was only one diversion mentioned still in force. I went past another sign saying closed. I ignored that too. Even though both were clean and new I figured that there were not in operation.
Eventually the two brothers were running back towards me saying it was closed ahead. We used their iphone to navigate back on to a road and around the closure and back onto the towpath and straight back onto the correct side of the canal. We saw Debbie running ahead of us about 200 yards. She obviously worked it out before we did. That perhaps tells you something about men and women!
We came up to another diversion through a pub car park and this is one I remembered from the previous time I had run this race. This was easy and were were in the centre of town again (with some fairly happy people hanging around and who were really excited that we were running from Liverpool).
Checkpoint 5 – Business First Car park – 70.6 miles – 22:12 – 22:35 (16h12m)
I came jogging into the checkpoint. I remembered this one from the last time I attempted the race back in 2016. I soon saw my crew.
"I'm having a sleep. 10 minutes. First… I want a pot noodle, and a blanket over me while I sit in the car".
My crew was marvellous. They had already made my pot noodle (a curry one! My wife didn't want to give me anything too spicy) and allowed it to cool enough for me to get it down me. They changed my bottles and did the checkpoint admin and let me get my food down before a ten minute sleep. I find a little shuteye (regardless of whether I actually fall asleep) is a great boost which lasts for hours. I had no idea at the time whether I was on track for my A, B, or C goals and I didn't much care. In my experience the last 20 miles of the race is what makes the difference and how you can approach those final miles.
This next bit had a section that I had previously found difficult in 2016 – and it was as it rose away from the canal. The instructions were to go through the underpass and follow the towpath east signs. There were a couple of times I was doubtful of my direction choices, but eventually I got to a bit that i remembered well from the last time I was here and soon I was scurrying across the road (taking good care not to get mowed down) and then up the steps and down a fairly steep slope eventually leading back to the canal. I stopped on the side of the canal for about 20 billion wee wees
I came up to the diversion that was pre-published and expected a set of steps after the bridge. There were none. So I had to go back on myself a few yards to walk up the steps before the bridge. Jogged past a couple of security dudes and over the bridge. I had checked out the diversion on google street view beforehand so I knew exactly where to go. I went past a (closed KFC, pizza hut and mcdonalds!!! Argh! Unlucky!)
I soon made it to the roundabout and over the next bridge. On the way over I saw that the path I was supposed to take back onto the canal was closed off. So I figured I would have to go past it and find an alternative. I did for a few moments consider whether I could either squeeze through or climb over but I would probably have fallen over and cracked my head – I'm so clumsy!
I entered what looked like an entrance to an industrial area and a car park at the end. I had sensed I would probably find a set of steps upwards – and there they were! Lots of them! At the half way point there was a path that headed onto the canal. I'm not sure where the other steps lead up to – maybe a bridge?
Happy I was back on the canal I ran – walked some more.
This whole section was one which I was a bit worried about. Back in 2016 I had got lost. And it was at the time impossible to work out where to do, to look at the map and instructions. I had looked on line at google streetview and done my best to memorise the route as it rises away from the canal (it disappears into a tunnel at Foulridge) and down a track and road into the village itself before rejoining the canal.
Thankfully things went more smoothly this time and I was soon on the down hill section into the village where I was meeting my crew. I took the opportunity to check my headtorch battery, and I changed it as a precaution. I had a few hours of darkness left and there's no point messing around changing the battery on a towpath when i could do it with my crew. I had a brief stretch on the wall (my legs were a bit achy) and then I headed off again. I had said too that I would have a kip at the next aid station.
This next stretch was easy peasy along the path. It is a relatively easy section though, with blisters, there were some bits which were a little painful.
Checkpoint 6 – Salterforth Br151 – 84.1 miles – Sunday 2:35 – 3:05 – (20h35)
I came into the checkpoint – which I remember was just after the bridge (I read a few blogs afterwards from other runners who couldn't find it for a while) but I came in and saw my crew (they gave me a pointer towards the checkpoint itself). I announced my bib number and that I was going for a power-nap. I shoved a couple of caffeine bullets in as I got into the car.
I let my crew deal with the water and food and I got in the driver's side and had a 15 minute shut eye. It always helps so much. I also applied sudocrem to my feet, which were feeling a bit sore with blisters. (sorry vanessa for leaving sudocrem slathered tissues in your footwell!!!!). Soon I was off again feeling really refreshed. I would jog a bit and then walk a bit and then every 10 minutes (not an exaggeration) I would stop for a wee wee!
Overnight I found a beautiful peace in the countryside. I was slowly putting one foot in front of the other through the peaceful night. Some sections were really rutted. Some sections were easy and flat – and inexplicably some sections seemed to be up-hill without the use of locks!
This is a hallucination I often experience during the night on canal races. I am sure it must be the body telling the brain it wants to work and then the brain producing an apparently uphill sections to make it ok to walk. Either way, power-hiking anything that looked and felt uphill seemed to be what I wanted to do.
By this point most of the sections were 6 or 7 miles in distance in mentally it seemed more manageable in comparison to the 10 mile sections in the middle of the race. At one point I crossed over a bridge and spotted the two brothers and their crew with them. They offered me a slice of pizza! I was like "What? Really? You have PIZZA?!?!!?" I took them up on their offer and snaffled a pizza that tasted like everything I wanted in a pizza. For all of the world it tasted like a mighty meaty pizza. Later I found out it was a margherita pizza with stuffed crust. What can I say….. it was delicious and my taste buds must have been out of whack to have thought it was meat
My blisters were hurting and this section had some pretty badly rutted towpath which was driving me up the wall. Every time my feet shifted in my shoes due to the rutted path, I grimaced. This was annoying but I tried to stay positive. I was enjoying this race thoroughly and I was way past where I had got to in 2016 when I had DNFd. I was counting up the bridges and it was already very much light! I finally came across my crew. They were hanging out at a bridge at approximately 95 miles in.
Br174 Thorlby Swing Bridge – 95.4 miles – Sunday 6:50 – 6:56 – (24h50)
The two brothers left the checkpoint just ahead of me as I came in. I had a bollocking for not drinking enough water…. (AGAIN!) and I asked for a longhaul endurance pouch – specifically a chicken and turmeric one. I had been stuffing these as much as I could. Susie had to go running back to the car for one. So tasty and while I love the sweet potato and quinoa ones, the slightly spicier chicken and turmeric are definitely my favourite. I took some more crisps and my pouch with me and cracked on.
More footpath and busy road in the distance, and eventually I was running along some railings next to a road. I spotted Carl (i think) having a snooze in the car. Meanwhile I cracked on. The weather was favourable. I whacked another caffeine bullet in and off I went. I don't know whether these things actually do anything but I do seem to move better about 20 minutes after stuffing one in my face (it takes about 20 minutes to chew one into submission!). The canal became more urban and I soon reached another bridge and my wife, and Vanessa.
Further on approx 5 miles i had managed to jog up to and past another runner. I felt good again and was ploughing on. The footpath was good quality and while my feet hurt when I ran, they also hurt when I walked. So I basically MTFUed and jogged along. Soon I spotted a lady at the side of the path and she jogged into the checkpoint with me for about half a mile
Checkpoint 7 – Br182a – Bradley Bridge – 100.4 miles – Sunday 8:11 – 8:16 – 26h11m
I saw a plastic bag on a seat and saw some chocolate and started rifling around in it. Then Susie said…. OiOi that's someone else's….. I wanted chocolate! Susie gave me her Bueno and I swear it was the most lovely thing I had eaten. I went through the usual process, gave my number at the checkpoint, water etc.
Not much point hanging around. I thanked Graham who had been crewing for about 20 hours at this point and he went home. It was great to see him and I was wondering what he thought of his first taste of crewing. I cracked on. It was generally good quality towpath. Crushed gravel and very even. Run, jog, walk and everything else in between. Occasionally I would stop to stretch my legs out by bending over and crouching down. It really felt nice.
There were a few runners out by now. Some fast looking athletic types. Occasionally we would share nods of acknowledgement and other times they would be engrossed in their tempo run and drills. Sometimes a jogger would go past me one way and then the other as if mocking my slow pace.
Bridge 191a – Silsden – 104.5 miles – Sunday 9:30 – 9:35 – (27h30)
This was in town and I was handed the most delicious thing…. a petrol station special breakfast of a breakfast sandwich! Lush! As it was raining I popped my jacket on, while avoiding cyclists being bad citizens by cycling under a bridge and soon I was off again.
The canal soon left the urban bits behind, and became a little more green. I was loving the countryside.
Soon I was descending through a lock system and I spotted the Jenkins brothers and their crew. I had the offer of a doughnut. As appealing as that genuinely sounded to me, I didn't think I deserved one (WTAF!?!?!) and i carried on. At the bottom of the lock system there was a chapin the pouring down rain with a brolly insisting that the chap in front of me was just round the corner and that I could easily catch him because he wa fucked….. And looking at 5pm finish.
Whatever…. I was running my own race. Jogging when I could and walking when I couldn't. I trick I was employing was to make sure I was eating and drinking whenever I was walking. But I didn't have anything I fancied. I took some strawberry sweets and immediately wished I had grabbed a doughnut when I had one offered to me. For a few moments I wondered if I should go back up the hill to get one…. Then I realised I was an idiot and pressed on to the next checkpoint.
I was wet. Really wet. Everything was grey. The rain was fine and everywhere. It was that kind of rain that means that you get soaked within minutes. I was trudging along a very soggy towpath and wondering just how many hours I was going to take to get to the end while the bridge numbers counted up slowly. I was nearing on the final aid station before the last 12 or so miles to the end.
Checkpoint 8 – Bridge 209a – 114.5 miles – Sunday 12:50 – 12:58 (30h50m)
I arrived at a gazebo in an industrial estate. If I was not doing a canal race I would have found this a rather sorry site, but as this was the final aid station it was like an oasis in the desert. Except on this canal race it was like a desert in an oasis given the amount of rain that had pissed down on me over the last few hours.
I came into the gazebo to find the Jenkins brothers there, with their crew, plus canal race volunteers and other runners. I sat on a chat at the edge of the gazebo. I was still getting rained on and it was freezing as I sat there. I grabbed some crisps from my crew and some other food in shoved it in my pack. I didn't
I had a choice. It was wet and cold. I could have trudged the rest of the way well within the cut off – or I could man up and run when I could. I chose the latter. I downed 4 caffeine bullets (400mg of caffeine in 4 minty chews) and went off like a mentalist. I'd run for what seemed like ages…. And then I'd walk for a bit, and then repeat and then after awhile I would see a stone mile-marker post counting up the distance to liverpool, and down the miles to Leeds. I could tell from this that there were about 6 miles left.
I soon met my crew at the next point. It was very wet by this point but I was feeling great. My feet hurt like shit but they would hurt for less time if I moved faster. Running at this stage wasn't as painful as walking and it was a damned sight faster (well, a bit faster anyway!). I briefly sat in the drivers seat for brief respite from the rain. Didn't bother changing my water bottles, but I did get rid of all the empty packets of junk I had and after a few minutes got moving again.
As was becoming a pattern, I would walk for about a quarter mile from a crew point and then start jogging. I would see a marker up ahead and challenge myself to run at a good pace up to and past it as far as I could. Sometimes I would just make it to that point, and sometimes I would will myself to go further and stick with it until it became too much. This was the pattern that I settled into.
My wife had insisted it was 4 miles to the end. The last marker I had seen before I met them had said 6.25 miles. I had decided to believe the marking stones instead. If it came up short then it would be a bonus
I was aiming for Bridge 226. Bridges came and went. Things that looked like Bridges came and went (but without the reward of a bridge number to count off). Things that looked like they were once bridges came and went. Things that I wished were bridges passed. All the time the bridge numbers were counting up slower and slower. I jogged when I could but mostly walked.
At this point I checked the bridge numbers on the map…… 225….. 225a, 225b…..225c…. All the way up to H. Joy of joys!!!
Finally with what I estimated about a quarter mile to go I got a jog on and rounded the bend in the canal to see the finish line gantry.
And off i went….. As fast as my little legs would carry me.
Crossing under the finish line gantry was an amazing feeling.
Dick was there waiting to put a medal around my neck.
Finish – Br226 Office Lock – 126.8 miles – 16:15 (34h15m)
"Wow – you certainly got a trot on there!" he said as I tried to work out how to press stop on my watch.
Dick hung my finishers medal around my neck. I mumbled a few words of thanks and appreciation for the organisers of the race and the volunteers and then had a hug with my wife – Susie – and Vanessa and had a sit down and asked for a coffee with "all of the sugar and all of the milk".
Hanging around the finish Gazebo
It was the best coffee I had had for ages! It was nice to be able to sit down with no time pressures. I glanced at the finish board. I was the 13th name on that board. Turned out my new Suunto 9 recorded the whole race, without me having to charge it, and it was recording every 1 second and still had 13% left. That makes it good for 40 hours approx on the absolutely best GPS setting without resorting to the clever battery settings that it has available on it. Recommend highly!
I had a scan for some of those ahead of me…. I saw that the Jenkins brothers had finished about 25 minutes ahead of me (I had seen quite a bit of them during the race and their crew had been marvellous). I also saw that Javed Bhatti was not yet on the board.
I'd been chatting at the start with Javed, and I think between the two of us as there was an hour on the Canalslam that separated us, we both wanted to make sure we finished ahead on this race. I had seen him running strongly on this race and in front for quite a bit of the first day. I hoped he was ok.
I sat around chatting and soon Allan Rumbles and David Allan came in to the end. Allan had had a good race and I was pleased to see the old codger!
Reflections on the Canalslam
It was still sinking in. I'd finished the LLCR130. Which I had previously in 2016 DNFd. I felt quite a sene of achievement, and that was before Canalslam result – which it turned out gave me 5 / 9 ranking of those who completed the race series in terms of time. Just over 113 hours.
This race series – is a special one. Run between the end of May and the end of August it leaves little to chance. Anything other than a minor injury and that's it up the swanny.
Grand Union Canal Race – 145 mile from Birmingham to London
Kennet and Avon Canal Race – 145 miles from Bristol to London
Liverpool Leeds Canal Race – 130 miles from Liverpool to Leeds
These are races with a small number of entrants – no more than 100 runners – and so friendly. Some runners have crews and supporters along the route and there is a custom of each helping each other out. Other runners crews have given me many cold drinks, or offered me food, and my crew have handed out calippos, ice and drinks and food to others. It's what makes it special. Everyone is in the same boat (figuratively speaking) and happy to lend a hand.
In a world of big brash commercialised races these are a great series to support into the future. If you haven't taken part in any of these races, consider entering. They have all of what you need and nothing that you don't. Finishing the Canalslam 2018 is my biggest achievement so far. I'm so grateful to have had the opportunity to do it, and an amazing group of good friends and my wife to crew me on my races this year. Love you all xx
Strava link – https://www.strava.com/activities/1801121392
Thanks to everyone who has helped me. I couldn't have done it without any one of you! x
Paul Pickford (Buddy Runner – GUCR)
Tracey Watson (Buddy Runner – GUCR)
Spencer Milbery (Buddy Runner – KACR)
Lou Fraser (Crew – GUCR, KACR)
Vanessa Armond (Crew – GUCR, KACR, LLCR)
Pete Watson (Crew – GUCR)
Susan Bradburn (wife and crew – GUCR, KACR, LLCR)
Marek Kowalek (Crew – GUCR)
Lee Kelly (Crew – KACR)
Graham Cleary (Crew – LLCR)
Mimi Anderson (Coach) – http://www.marvellousmimi.com/
My mum and dad (looking after us in Widnes before LLCR)
Rockstar Sport (http://rockstar-sport.com) for continued support and great gear!
Caffeine Bullet (www.caffeinebullet.com/ – 15% off with BradBuriedAlive code)
All the other runners – including those who I have shared some miles with
The other runners crews who gave me drinks and food, and encouragement
And most of all, the amazing Canalrace CIC who organise the races – Thanks Keith Godden, Dick Kearn and Wayne Simpson and the amazing volunteers too! You're all special and you put on an amazing set of races! Thank you!
Check out the dates for the three Canalslam races in 2019 – here
Written by Jamie Chaffey - https://mountaintrailrunning.com
The Jurassic Coast 100 follows the historic clifftop trails along England's southwest coast.
I'm in the process of accumulating points to eventually enter the UTMB one year. The furthest I've ever run was last year's 101km CCC so I figured that a non-mountain trail like the Jurassic Coast 100 might be an easier introduction to the 100 mile distance than some of the Alpine monsters on my doorstep.
Climb South West are a Devon-based organisation who deliver a range of rock climbing and mountaineering activities, but have recently branched out into hosting fully-supported ultra distance trail races including 50km and 100km races along the Jurassic Coast in South West England.
The Jurassic Coast trail covers some of Britain's most scenic coastline – apparently.
2018 saw the first incarnation of the 100-mile event – taking in the whole of the Jurassic Coast Trail between Studland Beach near Poole, in Dorset, to Exmouth in Devon. The route would also include the 100km and 50km races which would start at later points and follow the same trail, from Chesil Beach and Lyme Regis respectively.
Although not particularly high (the highest point is around 150m), the route is like a row of hacksaw teeth with constant steep ups and downs as the paths trace the cliff edges of the coastal trail and the 100 mile route accumulates 5000m of vertical height gain. Still, that's half the height gain of the UTMB so I figured this would be manageable within the 36 hour cut-off limit.
Amy and I had spent the week in the UK visiting friends, and luckily we have some good friends who live close to the start line in Poole which meant I could avoid an early start. Mark and Amy accompanied me down to Studland beach where I managed to avoid the rush and get registered quickly and efficiently. That just left some double-checking of kit and rampant abuse of the National Trust toilets before the pre-race briefing, after which we were off at 9am sharp.
Pre-race briefing at Studland Beach in Dorset
The start of the race on Studland Beach. Photo courtesy of www.NoLimitsPhotography.co.uk
The weather was misty and cool, but this suited me fine as heat has always been my nemesis in ultra marathons. We left Studland beach and ran along the hardpacked sand where the sea meets the shore for a couple of kilometres before making our way up onto the coastal path. In theory the route was easy to follow. Keep the sea on your left and keep going for 100 miles and eventually we should end up in Exmouth. In reality there were many points in the early stages where the route deviated, or where it was easy to miss a turn – especially around the many seaside towns and villages, and at one point about 30km in, where myself and a few others carried on oblivious in the mist until two runners ahead came back towards us having checked with some hikers – we'd managed to add an extra 4-5 miles on top.
Still smiling despite the extra miles after getting lost. Photo courtesy of www.NoLimitsPhotography.co.uk
Specatators along the route
On the first day the mist obscured a lot of the great views – Old Harry Rocks, Lulworth Cove, Durdle Door. However it had the advantage of keeping the temperature down and meant that the running was fairly easy.
Only 63 runners signed up for the 100 miler but in the early stages we stayed bunched together and there was lots of chatting and camaraderie.
The trail was generally easy to follow but sometimes it was all too simple to take a diversion.
The view from the trail
The checkpoints were basic – water, Coke and homemade cakes with a few crisps. However the help and attention was second to none with volunteers falling over themselves to help fill your water bottles. Luckily, being half term in the UK, all of the seaside towns and villages were packed with visitors and full of shops and cafes selling fish and chips, crepes and snacks so it was easy to stock up on other food.
The first main checkpoint was basic but the homemade cakes were delicious.
I'd asked Amy not to join me at the 40 mile mark at Chesil Beach – I would have access to my drop bag and I didn't want the problem of having to wait for her if the journey took a long time like I did last year at Champex. However she'd been overruled by our friends Mark and Christine who were keen to come out and visit, and it was a pleasant surprise to see their faces after a long day on the trail. I was still feeling fresh (or at least as fresh as you can be after 12 hours and 40 miles of trail) but the run in from Weymouth had been quite a monotonous drag and they were also a big help in getting me fed so I could concentrate on changing into dry clothes and tending to my feet. This was also the start of the 100km route and I'd arrived about an hour before that started so the place was buzzing with dozens of fresh runners.
Fed, watered and into a dry change of clothes I felt quite refreshed on the way out, although the road back towards Weymouth was pretty bleak and on my own it was a little depressing. However after 30 minutes or so I caught up with Dave, Nick and Mathieu who I'd ran with briefly earlier on in the race and settled in with them as we ran into the night.
As night fell, the first 100km runners gained on us and we stood by to let them speed through. The night dew was making the long grass really wet so we stopped to wring out our socks and try our best to keep our feet dry as we were only really just over the halfway point at this stage.
Mathieu mentioned that he was planning to sleep at the next checkpoint which we would get to at around 2am. However when we got there it turned out to be little more than a table of food in a car park with no shelter or anywhere soft to lay apart from the grass. He was ready to give up at that point and the organisers mentioned that he would have to wait for the broom wagon, which would take him to the next checkpoint at Lyme Regis, around 25km away. The rest of the group managed to convince him to keep running, at least until Lyme Regis where there would be hot food, and somewhere to sleep – so off we went.
Thankfully the hours of darkness at the beginning of June in England are pretty short, and by 4am it was starting to get light again which lifted our spirits, and eventually after around 22 hours and 120km of running we made it into Lyme Regis Rugby Club. There were already a few 100 mile runners ahead of us taking a quick sleep on the floor.
No sooner were we through the door and the volunteers were taking our water bottles to refill while we sat down, and fullfilling orders for tea and coffee. Out came the cook who asked how we wanted our chilli and potato wedges which were quickly brought out and despite my initial misgivings that it might not be the best food to have on an ultra, it did the trick.
Dave reminded us that what had once seemed like a generous 36 hour cutoff limit was getting closer and we weren't moving hugely fast so it would be best not to hang around too long. Mathieu seemed happy to continue running and had given up on abandoning so we all quickly taped up our feet and got back on the trail.
After running through the night, the potato wedges and chilli, washed down with sweet strong tea at Lyme Regis Rugby Club were sublime.
As the sun rose on the Saturday morning it was shaping up to be a beautiful summer's day.
The descent into Seaton golf club and another checkpoint.
Mathieu, Davem Nick and I had now been running as a tight group for the beset part of 12 hours so we'd pretty much made an unspoken pact to stick with each and see this through.
More checkpoints, more villages and towns as the day wore on. By now as we answered the common question of "Where have you run from?" to passing tourists, the answer of 'Poole', 80 or so miles to the east prompted more and more incredulous looks. We also got lots of enthusiastic encouragement not just from tourists, but from other runners on the 100km and 50km trails as they sailed past, and then noticed our red numbers and shuffling gait.
After 100 miles, 60 of which we'd pushed through together, we'd made it onto Exmouth seafront.
Somebody taking a breather with a view.
Amy texted me to say that Mark and Christine had insisted on coming to offer more encouragement along the way, and would meet me at the Sidmouth checkpoint some 18km before the end, rather than just seeing me at the finish. I was glad of the friendly face at this point because the lack of sleep and general fatigue meant that I was feeling dizzy and disoriented, and the balls of my feet were so sore that I was struggling to keep up with the others.
The peaks in this race aren't high, but there are lots of them and they're very steep.
After changing into clean socks, I told the others to go ahead and I would catch them up – it was more of a Captain Oates style way to say there's no way I'll see you guys again and I think we all knew it. Amy is quite used to seeing me in ultras now and literally force-fed me salty chips, and then popped out and got me a bottle of Coke and a chocolate milkshake to take out on the next section. She also ran with me on this one – not hard as I wasn't moving fast. However she made sure I drank and ate regularly, and also badgered me into running the downhills, and just generally having some company meant that just after Budleigh Salterton, where she switched places with Mark as my pacer, we caught up with Dave, Nick and Matthieu.
Grinding out the last few KMs with Amy
I was having a new lease of life but Nick, who had knee trouble for the whole race was struggling on the downhills. However we all stuck together and after the long drag into Exmouth we finally made it over the finish line as a group, with 90 minutes to spare until the cutoff.
Crossing the line as a group after 24 hours together, and 34 hours non-stop running. Photo courtesy of www.NoLimitsPhotography.co.uk
Photo courtesy of www.NoLimitsPhotography.co.uk
Finisher's buckles and very relieved faces
Relaxing the next day while waiting for a coffee and a bacon buttie.
As a first attempt at 100 miles I'm still buzzing from the experience of having made it through, especially when the clocked distance was closer to 110 miles. It was hard, and although I had some very negative patches, not once did I ever feel like giving up or that I couldn't finish – it was really just a constant re-evaluation of how long it would take.
A large part of the success came down to the other competitors. Everyone along the route was really friendly, and then running with Nick, Dave and Mathieu for the final 24 hours we helped each other through – by encouragement, distraction, or just simply knowing to ignore each other when it was time to retreat into your own personal space.
Obviously my first goal was to complete the race and avoid a DNF. In the back of my mind, based on my CCC time I thought I might be able to complete in 28-30 hours so the 34 hours this took on first glance seems like a bit of a disappointment. However looking at the results, coming in (joint) 26th out of 59 starters the abandon rate seemed quite high, but I think that just underlines how deceptively tough the route was.
Written by Phil Bradburn - https://untrainingultrarunner.com
With 7 weeks between Grand Union Canal Race and the second race in the Canalslam series – Kennet and Avon Canal Race – it was always going to be a bit of a test to recover and train to be ready.
The KACR covers 145 miles of canals and rivers – from Bristol Temple Meads station to London Paddington – non-stop with an overall time limit of 45 hours and rolling cut-offs at checkpoints along the way. If you stop for more than 45 minutes you're deemed to have retired.
I was really looking forward to the race. Training had gone well – much better than my injury prone GUCR preparation and I was feeling ready and confident about the distance. My A goal was around 36 hours. My B Goal was 40 hours. My C goal was to finish in 44 hours.
A week of a couple of easy 5km jogs brought me to the race weekend and the inevitable kit shot!
The journey to Bristol
Susie saw me off at our local station for a train to London before going onto Bristol.
I arrived at Paddington Station to find that the train was delayed (grrrr) and that the seat reservations that they insisted on were not going to be honoured (double grrrr). Nevermind…. Gave me time to get Mcdonalds meal and milkshake and some water for the train. Eventually there was a bunfight to get on the train to Bristol Temple Meads and I found a seat. We were on our way. I got a message on twitter from Allan Rumbles saying that he and Fi McNelis were on the train – two carriages further down. I decided to join them for a chit chat…. And so we did!
The hotel
We made our way to the hotel – Travelodge in Mitchell Road (Pro: It is where registration is held. Con: no air conditioning in the rooms!). We had agreed to all meet up beforehand for a trip to the supermarket for some snacks for the next day and water. On our way we stopped for a coffee and Fi had a moist flapjack. She was convinced the barista girl was eyeing me up – but both me and Allan were convinced that it was Fi that was holding her eye and why we had our drinks brought over to us in a Pret!
Shopping for scooby snacks
Soon finished we were blitzing the tesco express for water and snacks. I grabbed a couple of porridge for breakfast at 4:30am in the room and we headed back. Registration started a little later than planned but it was beautifully smooth. And somehow I had found myself at the start of the queue. I had thought everyone else had already finished!
I picked up my hoody, t-shirts and buffs that I ordered, picked up a diversion map, and said hi to a few friends including Georgina Townend, Roz Glover and Rich Cranswick (who were both volunteering), Keith Godden of course, Lindley Chambers, Maxine Lock and no doubt others I have forgotten to mention.
The pub the night before the race
Off to the pub next. We found it completely empty! Lots of excited chat and new people to meet. We all sat together – about 12 of us.
I had the burger and chips with a couple of lager shandies. Allan Rumbles ordered a HUUUUUGE sharing platter to himself – which was undoubtedly the best value thing on the menu at only a quid more than my burger and chips but with about 20 x the quantity of calories!
Soon it was around 9pm – and already later than I planned to go to bed. Me and Allan headed back to the hotel and I met up with Lee and Susie before going to bed. They were half of my crew for the next day
The (non!) sleep
Didn't really happen. I swear I got about two hours maximum. The room was hot so i opened the window. Then it was too noisy so I shut it. Then it was too hot so I opened it. Then I shut it because it was too noisy. GRRRRRR annoying AF! I even woke before my alarm so figured there was no point getting another ten minutes sleep and just got up and got my stuff sorted out. The time goes so quickly in the morning it is worth being super prepared. I forced myself to eat two bowls of porridge. Do two visits. Soon it was 5:10am and time to go to reception to meet Lee.
Heading to the Start
We turned up at the amassing runners just down from the railway station. It was good to bump into Alan Rumbles, Fi McNelis, Georgina Townsend and others. I managed to grab a lovely cup of coffee from the volunteers at the start. Soon we were walking up to the station for the briefing. 55 runners lined up at the start line
Dick gave the usual thing which is becoming really familiar to me now and dropped his arm and we were off!
I started my watch and noticed it wanted me to calibrate my compass! ARGH FFS. I had it on a funky setting that was going to last the whole race and more besides. But I forget it always wants calibration first. That's a lesson already.
Bristol Temple Meads Railway Station – 6am – 0 miles!
Off we went. I was keeping things easy. The pace seemed fast though of the other runners and soon I found myself with a HUGE gap of possibly half a mile between me and the runners in front. I was aware that there was a big group of runners just behind me and while I stayed to the side, no one overtook so I figured I wasn't holding anyone up.
I was so glad to get running after tapering for the race. Soon my I hit my head on a branch and my hat was knocked clean off! I stopped to get it off another runner who had picked it up for me. Good start
Soon we were on a trail and I bumped into Andy Persson who I had met the night before in the pub. We jogged along for a while chatting to each other. We were around the same pace for quite a few miles just happily jogging and chatting and enjoying the scenery. At one point he pulled his tiny video camera out (link here).
I wasn't meeting my crew until 13 miles in at the main checkpoint 1 – so I just ran for a couple of hours just settling into my easy pace and drinking little and often. I was running a little with Helen Pike – who looked really strong and she seemed to be adopting a run / walk pattern from the start.
CP1 – Locksbrook Inn – 13.7 miles – 8:04am (2:04 hours)
Soon I came into the first checkpoint. Grabbed some tomatoes and grapes from my crew and a double water bottle change. And off I went once again! I was running on my own once again. I went over the bridge next to the pub and turned left down the path.Soon I spotted Fi McNelis ahead. We had a brief chat and I carried on running.
I had around 10 miles to go before the next time I would see my crew. I figured that this would be fine. I could fill up with water using the water taps (I spotted one a few miles later) and I wanted to make decent inroads into my race without losing too much time with stops and starts.
The heat of the day was rising, but everything was absolutely fine. I had been running in heat in training and I was very much used to it. Before then I had been running in the cold and then being screwed by even moderately warm weather during races. This time I hoped would be different.
According to the map there was due to be a watertap around mile 20. I missed it. Couldn't see it anywhere. Nevermind I was soon to be with my crew.
Mile 23.5 – Avoncliff Aquaduct – 10:01am (4:01 hours)
I saw Susie and Lee who were part of my crew. As I approached Lee ran into a cafe! I was hoping I was right in what was coming next and I was not disappointed as he turned up with a very posh version of a calippo. LUSH!
They added ice to the top of my hat, and buffs, and changed my water. And off I went once again. I was loving the race. I had already started to incorporate tactical walking breaks into the run so that I wasn't destroying myself, and especially as the heat was rising. I was coping just fine though.
Not long after this I spotted a sign outside a cafe….. Calippo SLUSH!!!!!!! – WOW – I couldn't miss this opportunity. I mixed one myself and had coke, orange and strawberry and marched along while enjoying it so much! I knew that my friend Georgina Townsend would be getting one too – and come to think of it – I was wondering when I would bump into my Grandslam and Canalslam running Calippo pal! We usually run around the same pace around 30 odd miles in. But I didn't know whether she was in front or behind.
CP 2 – Parsons Bridge – mile 27.4 – 10:55am (4:55hours)
Spotted Roz Glover at the aid station – who took a photo of me looking like a simpleton idiot villager with my hat . She said she thought I was having too much fun!
I added more water and a took some orange squash with me. It wasn't long til my next crew point. But I took the time to soak my hat again and wipe my face over with a cloth at the checkpoint.
Mile 30 – Semington Bridge – 11:45am – (5:45 hours)
Hot now but I was still feeling ok – but commented on the heat to Lee and Susie when I met them. I grabbed some more S-caps (making Lee run back to the car for them). Some watermelon of several varieties. I also drank some of Lee's coke (sorry Lee!). I left with a goody bag full of strawberries and grapes.
Georgina, Dave and another runner – caught up with me shortly after. Great to see them. We ran together for a few miles until we reached Caen Locks. At least I wasn't the only one in a silly hat!
Me and Dave walked up that section as it was up hill – and then he jogged the final bit. There was a cafe at the top. In we went. I grabbed a can of Sprite and a blackcurrant posh calippo. Georgina soon appeared and I knew she would do that same.
Mile 39.5 – Bridge Inn – Horton – 1:50pm (7:50 hours)
We left together and chatted a while. Did some jogging. It was a hot part of the day. Eventually I met up with my crew who gave me more calippos and they gave Georgina one too – she carried on through – and I caught back up with her a mile down the canal. We jogged together on and off and I ended up at the CP3 just ahead.
Cp3 – Mile 45 – The Barge Inn – Honeystreet – 3:05pm (9:05 hours)
Ginger beer was my abiding memory. It was wonderful! It was here that I saw Lou for the first time. She was in cheery spirits which was great and exactly what you want in a crew. I soon left after topping up my water and a brief sit down. I walked out of the CP for half a mile – that's how I find it works best for me – means I don't throw up.
Mile 49 – The Waterfront – Pewsey Wharf – 4:10pm (10:10 hours)
I met Lee and Susie here. More ice. And off I went again. I also grabbed a Longhaul Turmeric Chicken which was lush. It's always good to have something that is savoury, easy to eat and easy to carry (it has a screw cap on the pouch). I tried them in training and found it to be like a delicious cold spicy curry.
Mile 56 – Freewarren Bridge – 5:50pm (11:50 hours)
I spotted Lou across the bridge. I went over to meet her. I was in good spirits. More water. More milkshake. A lemon french fancy. And a couple of swigs of cold coke. Lush. I had a brief sit down here.
CP4 – Mile 60 – Oakhill Down Bridge – 7:02pm (13:02 hours)
I did some good running into this section and was having a total blast. I was pleased to bump into Rod Viggers here – we remembered each other from the start of the GUCR. He seemed to be supported by some running group called the Shinsplints!
Vanessa was here and she had some lush Oasis citrus drink! Just perfect. I didn't fancy the cake that she had brought along and I was offered a hot drink or food by my wife. I was happy to wait another 6 miles. I was also making the calculation about whether I would need my headtorch yet but figured that it would act as a motivation to get to the next crew point for me to pick it up there. I said I would change into long sleeves there and put my torch on, and have some warm food.
It was during this section I started to feel a bit tired. I was stumbling along at points. I whacked a caffeine bullet in and 15 minutes later all was good with the world and I was flying along with no issues at all! I managed to bust the zip on my racevest which is annoying since I had only had it for about a month! I had to shift my gear around to leave that pocket free.
Mile 66 – Dundas Arms Kintbury – 8:33pm (14:33 hours)
Soon I was with my crew – Susie and Lee this time. I was feeling pretty hot so I removed my t-shirt I was running in and stayed topless for 5 minutes before putting my long sleeve merino top on (albeit with sleeves rolled up). I stole some of Lee's drink again!
Susie gave me her leftover chips while she made me some cheesy pasta using the chinese knockoff Jetboil that we got a few weeks ago. It worked well, but I was finding it hard to eat fast enough. Soon I was on my way again. Virtually kicked out by my crew . This next section I loved so much. I was enjoying running and it was quite an urban area so was making a change to have something different to look at. I put in a reasonable amount of running before this aid station and I was pleased to see my crew here.
CP5 – Mile 72.4 – Whitehouse Roving Bridge – 10:28pm (16:28 hours)
I was feeling happy and strong. I had been really fancying a milkshake here. So I asked for some milk. Lou went to the supermarket though Lee had managed to get some from the volunteers for my strawberry Nesquik. I felt good. I was smiling. Off I went.
This next few miles I don't really remember many details. I was feeling pretty tired. I stumbled along frequently. Sometimes I jogged. I changed positions with a couple of runners on and off and I used a tonne of caffeine bullets. I saw my crew at Thatcham Bridge at 11:33pm (75.5 miles in 17:33 hours) and Aldermaston Wharf at 12:46am (80.4 hours in 18:46 hours). Maybe they will help me fill in the details!
I was close to the next checkpoint. I ran past the Cunning Man pub – and saw no signs of life….. Then i noticed from the maps that the CP was at a bridge – so under the bridge I went and then I saw the beautiful sight of the checkpoint. I had planned to have a brief sleep here. I knew I would have to – I was suffering from feeling really mentally exhausted.
CP6 – Mile 86.5 – Cunning Man Bridge – 2:47am (20:47 hours)
I saw Susie, Lee and Lou here. I gave instructions for a 10 minute sleep. I closed my eyes. But it was a noisy checkpoint and I couldn't actually doze off. But even a rest was fine and I left fairly refreshed. I walked for the first half mile and then got running again. I got a bit confused with the directions though and got freaked out by being on apparently the wrong side of the canal. I retraced my steps and was still confused. I had to make a decision. I decided on balance I was probably right in the first place. But I must have added an extra mile. Anyway, the next section I would see Lou and Susie in Reading.
As it was getting lighter due to the lighting near Reading, my headtorch started dimming and then it ran out. Dammit! I couldn't believe it. Hardly any warning at all. I grabbed my emergency headtorch (only 50 lumens though) and held that in my hand to illuminate my way ahead. I would have been screwed without it. I called Susie and told her I needed a replacement battery or torch. I also had to get some reassurance from Lou on the directions (she is a local and apparently as a teenager spent alot of time hanging around the canal in Reading!).
Mile 89.5 – The Oracle – Reading – 4:15am (22:25 hours)
Finally I ran through the Oracle Centre food court and I spotted Lou and Susie. A quick refill, head torch swap and Lou said it was due to rain in 20 minutes time. Great – i would get to try out my new La Sportiva Hail jacket. It was starting to get lighter but was still headtorch time because it was just street lighting and I would soon be in the countryside again.
There were a few groups of lads wandering around – I shouted a greeting at them – and they returned a greeting. I couldn't say whether it was positive or not. I was beyond caring. I figured if they wanted to cause me any hassle I would outrun them anyway as I was feeling pretty good. Though they would probably catch me within 100 metres in reality.
I finally came to a section I knew from the TP100 (which has some of the route in common – though in reverse) – and ran past the Watersports centre. I was feeling blinking marvellous in contrast to every other time I have been there. I bumped into one of the organisers of the Round Reading Ultra. He pointed me in the right direction along the river Thames.
Soon after it started spitting and then the heavens opened. I dived under a tree (which wasn't much help in sheltering me) and then I put my waterproof on. It felt great. I pushed on through the rain and even under the tree covered wooded sections it was still heavy. Finally I made it to my crew.
Mile – 94.3 – Sonning Bridge – 5:09am (23:09 hours)
I decided to have 20 minutes sleep here. I wanted to get some sleep while it was still dark and while it was pissing it down. I went in the back of Lee's car and had a kip. I knew a sleep would help me and it would be time well spent. It was just after 5am. I had been moving for almost 23 hours. I woke up – pondered changing my shoes but decided not to.
I got back on the trail – started running well and soon overtook another runner. It had stopped raining and it was light now and I felt rejuvenated. I ran practically the whole way to the crew point in Shiplake (the instructions were confusing to me though and it was only because I ran TP100 that I could piece together the route). During this section my feet had blistered – i think due to the rain and the trail section I had just done.
Mile 97.5 – Shiplake – 6:28am (24:28 hours)
I had a brief stop with my crew and then got moving again. I had some prawn cocktail crisps and a LongHaul Chicken & Turmeric Pouch of food. I was feeling great! And the Turmeric chicken was bloody lush! Slightly spicy and was so welcome!
This next section went on forever. I remembered the route perfectly – it went through Henley but I was convinced at one point that I had missed the turning to the checkpoint. But both a local and my crew Lee said I was spot on track. After a bit of fast walking due to the bumpy ground and that the heat was rising – I finally made it to the CP7.
CP7 – Mile 102.8 – The Flower Pot – Aston – 8am (26 hours)
My mate Rich Cranswick was here manning the checkpoint. Great to see him. Always so cheery! I grabbed another LongHaul Turmeric Chicken from my crew and I I soon got a shift on. The sun was up. It was 26 hours in and I was slower than at GUCR. I wanted to beat my GUCR time but didn't know if it would be possible. But 145 miles is a long way and I knew that I could put serious dents into my previous time by jogging when I could. So I did. I ran through a beautiful country estate with lots of sheep and cows. This is truly stunning. I remembered it from TP100 in 2017.
It was only around 5 miles to my next crew point but it took what was close to 2 hours. Which made me think that given the jogging I had done – it must have been a bit further! There was a diversion to deal with and I had to ask my crew for directions again. I was on the right route but I was having doubts. I soon made it to them but my feet were bloody killing me due to two blisters. One on each foot. OUCH!
A brief stop with them at Marlow – at 9:46am – and off I went again. The next point would be at Cookham in about 4 miles. My feet were hurting with every single step. I manned up and got jogging. The route was getting busy now with joggers and dog walkers. There were lots of steps and steep bridges to go over. ARGH!
It wasn't long before I approached Cookham – and a toilet! I had been dying for a toilet for ages. While I was in the cubicle I noticed what looked like a spartathlon buff on the floor next to the toilet. I figured it was probably full of shit so I left it. There was no toilet paper but I had packed some in my bag for such an occasion. Top tip that! On leaving the loo, I saw my crew Lee – who directed me to the car.
Mile 112 – Mill Lane Cookham – 11:05am (29:05 hours)
Another milkshake but I couldn't really take any other food. Didnt fancy anything much. I started off on my way and shortly I felt some rubbing in my compression shorts. Tooo late. My undercarriage was rubbing. The reason was the compression had gone in that area. This was a problem. I tried to arrange so it didn't rub but I had to walk to the next point. I would have to get a change of shorts. I found the instructions a bit confusing through Maidenhead but I eventually found the Jubilee River.
CP8 – Marsh Lane Car Park – Mile 116.5 – 12:30pm (30:30 hours)
I was so pleased to see this checkpoint. What a great sight. I had to change my shorts. Used Lou's Dryrobe while I did so because there was nowhere to change, and i slathered a load of sudocrem down my pants. That would sort everything out! I had a milkshake and some ginger beer. I also bumped into Ian who was on the aid station.
I soon got moving. I had around 6 miles to the next point. It was along the Jubilee River and it was bloody hot by now. At least I wasn't experiencing pain down below – only in my feet. I jogged where I could and walked where I had to. Soon I felt raging hunger! I remembered I didn't take any food with me! ARGH – that was due to the shorts issue. I found some cashew nuts that I had squirreled away and some sweets. I ate those and that helped abit. Soon I realised I had been walking along in a daze and then panicked that I had missed the turning into Slough. I checked with a cyclist who confirmed I was still ok and soon after I spotted my crew (turns out I was confused because I wasn't expecting to see them at that point and there was some issue with the crew point postcode). Anyway, more milkshake and food and off I went again. The next bit would be where I would see Lou – around 5 miles on.
Mile 120 ish – So this was Slough!
My feet were hurting whether I jogged, or whether I walked. At least if I jogged, then I would be finished hours earlier. So the choice wasn't hard for me this time. I had 25 miles to go until I could finally stop and have a proper sleep. That's the thing that I really hanker for – not having to tell my crew to wake me up in 10 or 20 minutes during the race.
I jog / walked up a slight incline through slough town centre and eventually I turned right onto the slough arm of the Grand Union Canal. I was getting closer to the end, but still had almost 25 miles to go. The canal seemed to be slightly uphill – which is clearly ridiculous – but it felt good to run. I managed to overtake two runners who looked like they were suffering a bit – I chatted as I went by, but I couldn't slow down – I found it too hard to get going again. I ran all the way until I met Lou at Iver.
Mile 125.8 – Iver – 3:03pm (33:03 hours)
She had a lovely Milkshake ready for me. Had a brief chat and off I went again. I was close to the penultimate checkpoint. I think I walked a bit of the rest of this section to the checkpoint so that I could make sure I was drinking my water and eating. It was a beautiful experience going under the M25 and then over the bridge onto the main Grand Union canal. I remembered this section from the GUCR in May.
CP9 – Mile 128.3 – Yiewsley – 4pm (34 hours)
Mile I finally came under a bridge and into the checkpoint 9 at 4.00pm. I spent ten minutes here – eating 2 calippos and getting ready for the last section. I wanted to run as much as I could – even if only a few minutes at a time – but as soon as I started I ran most of the way to the Bull's Bridge turning. As I had left the checkpoint a chap had come in and I was determined he would not overtake me so that was extra motivation.
I must have run a solid 4 mile section – and I started feeling hungry. So I ate some sweets for a bit and then jogged on a bit This whole section from Bull's Bridge is grim. It is usually the slowest section, some of the ground is uneven before it improves significantly before then end, and there is ALL OF THE LITTER AND DETRITUS! It's like a local dumping ground for unwanted furniture and life.
Mile 136 – Greenford – 6:10pm (36:10 hours)
After what seemed like ages, I met up with my crew – Lee, Susie and a lovely surprise in the shape of Spencer Milbery! I had completely forgotten that he might come along to run the final 9 miles with me. I had done the whole race so far without a buddy runner and it had worked well for me this time now that I had learned so much from more experienced runners like Paul Pickford and Tracey Watson who buddy ran with me on GUCR.
It was great to see Spencer. My pace was slacking. I needed a bit of a change. I had a brief sit down in the pub car park, drank some more milkshake (strawberry) and a melted calippo. Off we went. I did a couple of decent sections of jogging – about half a mile at the start, and another mile or so a little later. I told Spencer I didn't need to see anyone before the end. I just wanted to get this finished.
The rest of the time I was putting in a good walking pace. We chatted about races – Spencer was doing North Downs 100 shortly after, and training, and my race. It was nice to have some chat after what had been a quiet and well spread out race. We hit "Sainsbury's Mountain" which is a horrendous "hill" and I goaded Spencer into running up it while I struggled up it. The route was getting more urban now, I was still moving along nicely. Sometimes putting in a jog, but mostly just moving as fast as I could while walking. Spencer made a joke about my next race being a "fun run" because it is only 130 miles rather than 145 miles of these two races I found that pretty funny.
Spencer asked me if I had a time goal. I said I just want to finish. To tell the truth I didn't want to talk about the time. I thought I was doing well and faster than GUCR but it would have killed me to find at this point that I was slower. So I preferred not to know. That was my thinking anyway, but Spencer mentioned 38 hours something and I was blown out of the water. I couldn't believe it! Could this be possible? Could I really be near the end and complete it faster than GUCR?
We came into Little Venice. I was dying for a wee….. I briefly thought about stopping at the toilet but carried on.
The finish line I knew was further on from here by perhaps a half mile. The towpath was crowded with people out for a night out – it was still early on. It was light. No headtorch – in contrast to my finish at GUCR.
We ran past some slightly tipsy girls who looked like they were on a hen party and finally came through a tunnel – almost running into Dick Kearn.
"HEY DICK!!!!!" I shouted. A few people turned round – no doubt thinking I was shouting abuse at them for being in the way.
Dick said hi and gave me the thumbs up. I saw the finish line gantry slightly hidden by trees and gave it a little jog in to the end.
I was finished! I couldn't believe it. It was still light. I could have a proper sit down and not have to be rushed to get up again. I stopped. I gave a bow – i don't know why… I just did it. I must have looked like a total tosser!
I tried to stop my GPS watch and because my brain wouldnt work and that it was new, I had no idea what I was doing. I finally paused it. 38 hours and 32 minutes. 20th position out of 33 finishers and 59 starters. More than 2 hours faster than GUCR which was only 7 weeks previous! And my watch battery still had battery left! RESULT!
Keith Godden was there to hang my medal around my neck. "Hey, Phil – come on…. This is what you are here for" he said. As he put the medal around my neck, my legs buckled and I shouted "FUCK!!!!! My fucking quads!!!!!!" Susie captured the moment perfectly
And of course the famous plastic results board. Green for the KACR. Yellow for GUCR
I wandered over to find a seat under the gazebo. One of the volunteers made me an amazing cup of coffee. My mate Lee put my hoody on for me and I wrapped up in a blanket to stay warm.
It was then that a random tipsy girl wandered up. Couldn't believe we had run from Bristol and insisted on giving me a bottle of Rose wine to drink. I decided to save it to cool it down and drink the next day. Lovely gesture – but I found it hard to answer her questions because I was so exhausted!
Canalslam 2018 – 2 races down….. 1 to go. Proud moment. I am so grateful to my wife – Susie – and my friends Lee Kelly, Lou Fraser and Vanessa Armond who all crewed me during the race (and mostly getting no sleep!) and also Spencer Milbery for seeing me in by buddy running me for the last 9 miles or so.
Thanks to Mimi Anderson for coaching. Rockstar Sport for their support. Thanks to Keith, Dick and Wayne and all the canal race volunteers and crews for being amazing and putting on an awesome and so beautiful a race.
Strava link – https://www.strava.com/activities/1734729499
Written by Luke Latimer - https://jurarunner.com
I was expecting to find you hunched over your poles, headphones in, grinding through the dark miles with gritted teeth.

Are you sure you've just run 85 miles? I don't think you're supposed to be smiling.
This was my greeting from Olly as I came into the Southease checkpoint to find him tucking into the huge buffet laid out on the trestle tables. As is now usual I didn't hang around and within 2 minutes we were hiking up the next steep ascent to pick up the now familiar rolling trails of the South Downs way.
I would have been smiling if I knew I was in Cocking
Apart from the blistering heat, and a recurring, searing, breathtaking pain in my left knee, it had been a nice and easy day. Plenty of friendly people to chat to, some cyclists to banter with (I kept overtaking the same ones on every uphill), and lots of well stocked aid stations to break up the miles.
It wasn't as hot as it had been on the Thames Path, but there were still plenty of people falling by the vomit streaked wayside. There was less shade perhaps, the bulk of the route follows a high ridge without much tree cover. Also we weren't far off the longest day of the year so the delicious cool of the night took an age to finally arrive.
Even then it wasn't actually cold, apart from a brief chilly moment when I changed my vest for a t-shirt, and that was mostly because I'd been walking for a while as a concession to my complaining knee.
Just making it harder by keeping my eyes shut
I'd never had a pacer before, and this was Ollys first time pacing someone, so I think both of us were a little bit apprehensive about how it would work out. There was always work to fall back on; he recruits data scientists for a living, I am an aspiring one. So we could always bluff about how much statistics we knew and trade mutual acquaintance related gossip.
Thank goodness it didn't come to that.
The nicest thing about having someone join me for the last 20 odd miles, was that I could pretty much turn my brain off and let them navigate and remind me to eat and drink. Also having someone to talk to was great. I might be a bit quiet at work sometimes (it's called being focused, actually), but stick a pair of running shoes on me and I'll talk the arse off a donkey (not that that's a thing, but you get my point).
This was Ollys first proper night run too, so it was actually a proper adventure for him, not just an exercise in keeping me moving fast enough so he didn't get too cold.
My knee pain was a mystery, it really had come out of nowhere and was ridiculously painful. Not the deep, sharp stabs of the red-hot needle of a stress fracture, nor the instantly disabling agony of a torn muscle.
I'd kept it under control for 15 hours with a mixture of friendly and understanding chatter and easy walking when it really made a fuss.
The talking aspect was bolstering my budding theory that one can strengthen the neural pathways involved in sorting out attention-seeking body parts without cadging drugs off strangers (how could I think that was a good idea?).
No, I reckon that by just thinking hard about the sore parts, and speaking to them out loud, you can encourage your brain to send whatever the rights things are needed to sort things out.
It certainly provides a form of distraction and can pass for a twisted sort of entertainment on very long runs.
Having a deep conversation with myself
I was patiently explaining this to Olly while we were on another pain induced walking break, when he just looked at me with his head tilted sideways (as anyone would look at a dusty simpleton, in a field, in the middle of the night) and interrupted with:
Mate, stop talking bollocks.

Your hamstring is tight, and it's pulling that stretchy thing on the side of your leg, and that's pulling some other thing which is making some knee bone-but-not-bone pieces rub together.

Which hurt like hell.

Stop and stretch, you'll be fine, I promise you.
(It may have been more anatomically accurate, but that's how I remember it).
No no no, I patiently admonished, you're missing the point, it can't be my hamstring, because…
Actually, he was right, of course he was right.
I might have found a way of dulling the pain to ignorable levels, but the cause was indeed my hamstring. I was too sleep deprived to be anything other than sheepishly grateful, and after a really long stretch at Alfriston (91 miles) we picked up the pace and flew along, banging out 11 minute miles to the finish line (they felt like 7 minute miles in my defence).
"Flying"
Done!
In terms of kit and food, I'm very happy with splashing out on a very fancy Salomon rucksack ("It's not a bag, it's a carrying solution"), which was really comfortable, could fit loads of food in the front pockets and after some initial fiddly faffing had easily refillable soft flasks.
Again, like the Thames Path 100, I didn't eat very much, and again nothing from the aid stations apart from the hot food at the half way point. I'd rather carry more weight than risk eating what was on someones hands while they'd rummaged through the crisps, but then again I can be a bit OCD about that sort of thing.
I did get a bit bored of saucisson and flapjacks, so finding a bag of crunchy M&Ms in my final drop bag probably made my race.
Massive shout out to the Centurion crew for superb organisation, there were a lot of runners out on the trails, and keeping everyone safe and on course for (just under!) a hundred miles is a truly impressive achievement.
Champions!
https://www.strava.com/activities/1628930636
Written by Neil Bryant for the URC For a 20% Pulseroll discount code, scroll to the bottom. Roller competition on the URC FB group here I think I am like a lot of…

Written by Ilsuk Han It was shaping up to be the worst of times. And we didn't know it yet, but it was to get bleaker still. It was still relatively…

Written by Neil Bryant for the URC If you have already read the 'first look', then scroll down for the update. The first thing to notice with the TERRAULTRA G 270 is…
Written by Neil Bryant for the URC I have had many Petzl headtorches over the years and am generally very happy with them. They are not always perfect, but that is…

Written by Neil Bryant for the URC When I received this pack of clothing to test, I wrote a 'first look' at all the gear which gives some info on how…

Written by Neil Bryant for the URC If you have a GPS watch,it is likely either a Suunto or Garmin, but there is now a new kid in town who wants to join and eventually…
Written by Neil Bryant for the URC I own a few items of clothing by Arc'teryx and am really happy with them. I recently tested the excellent Norvan SL hoody jacket and was…

Written by Sarah Oppermann Sarah Oppermann, Ireland / Stage wins: 2 / Finishing Position: 5th Female 24th Overall/ Finishing Time: 39 hours 37mins 45 What and where: The Atacama Crossing (by RacingThePlanet) is…

Written by Neil Bryant for the URC Many of you will be aware of RAB from their climbing and mountaineering clothing. They have now ventured into the mountain running market with…